Spring is finally here in St. Louis and that has me so excited to start tackling some outdoor projects at our house. One thing that needs some major love is our sweet little front porch. I wanted to round up some front porch railing ideas for you all today incase you are in the same boat. This post will help you decide just what is right for your house!
This post may contain affiliate links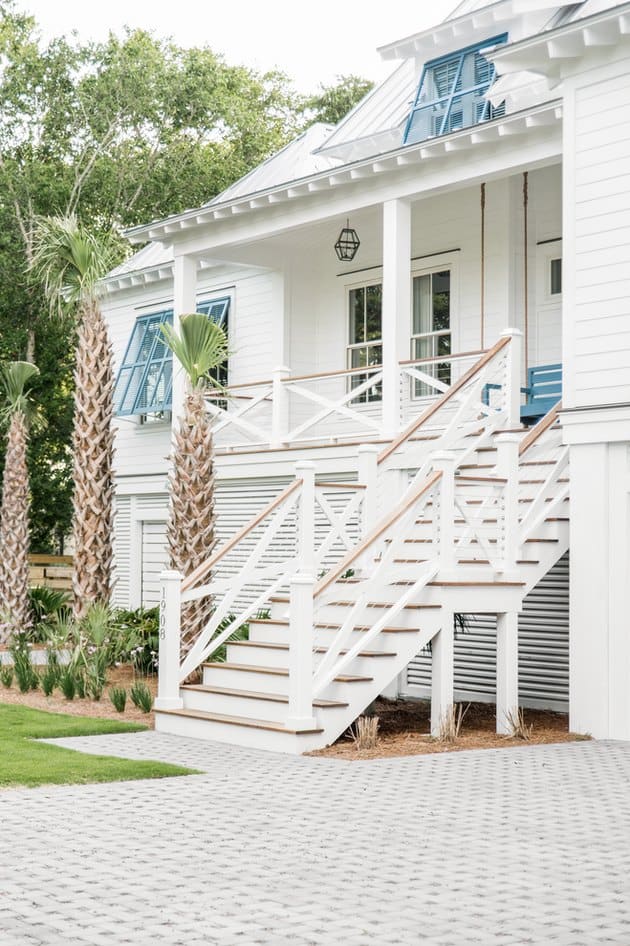 Updating your Front Porch Railing
The front of your home is truly key for curb appeal and resale value. Most people don't realize how easily a new railing can be added either with a handyman or DIY. It will instantly add value to your home.
Updating and adding to your outdoor space also makes your home feel more enjoyable, while instantly making you feel like you have added square footage, by giving you a new area to spend time in.
That has been a major goal for me in our update – making the front porch a space we want to spend time!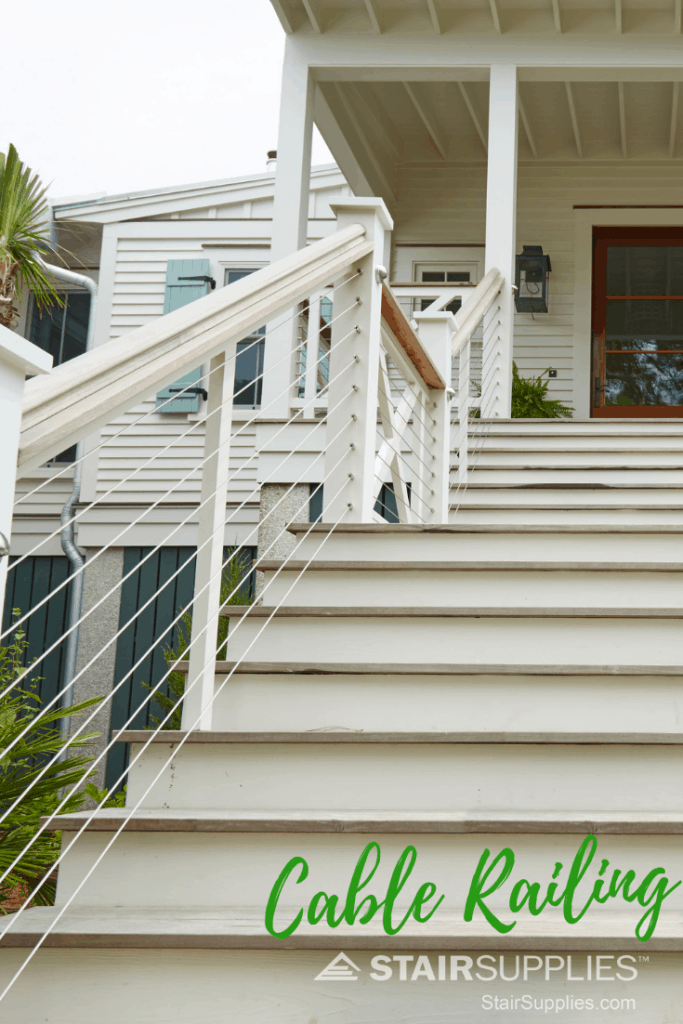 Finding the right railing isn't always super easy, and can come with a lot of considerations, so I will talk through some things to think about before picking your porch railing in this post. I will then share some railing styles and options so you can see what's right for you when you are ready to make that update.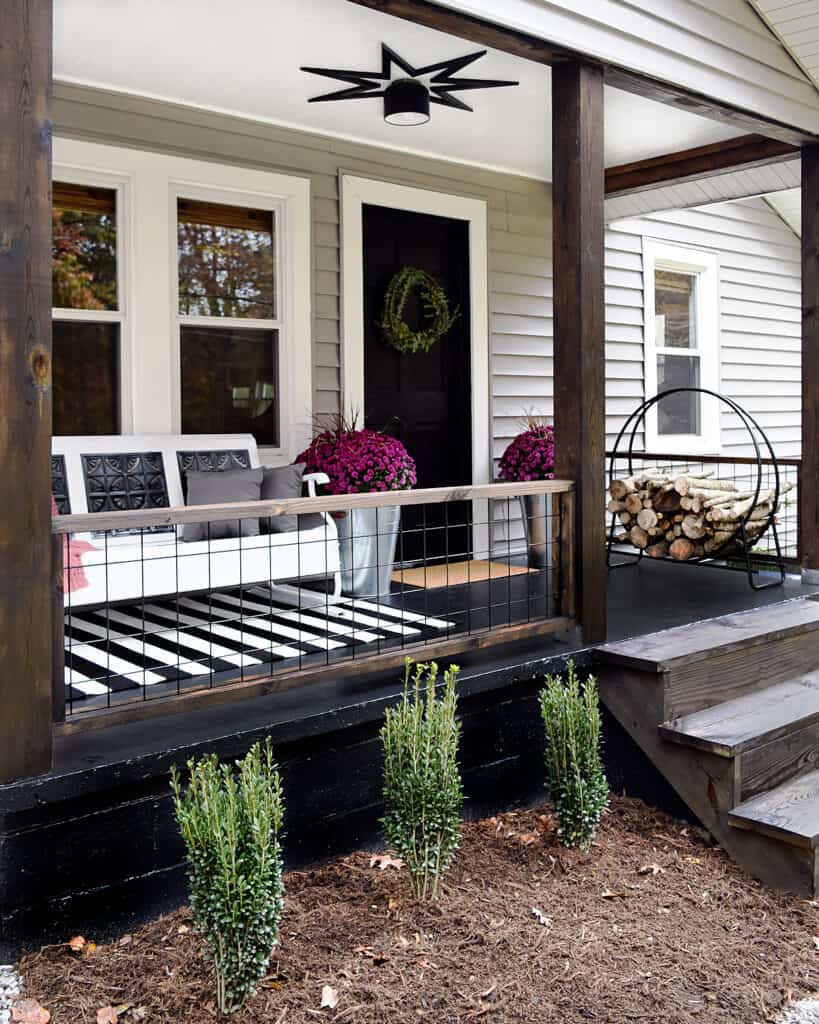 Our Front Porch
Incase you are new to my blog – in the past year my husband and I have been renovating an 1860's home in St. Louis, MO.
To say we purchased a home that needed some love would be the understatement of the century. The house from top to bottom, has needed renovation and love, and that includes the outdoor spaces.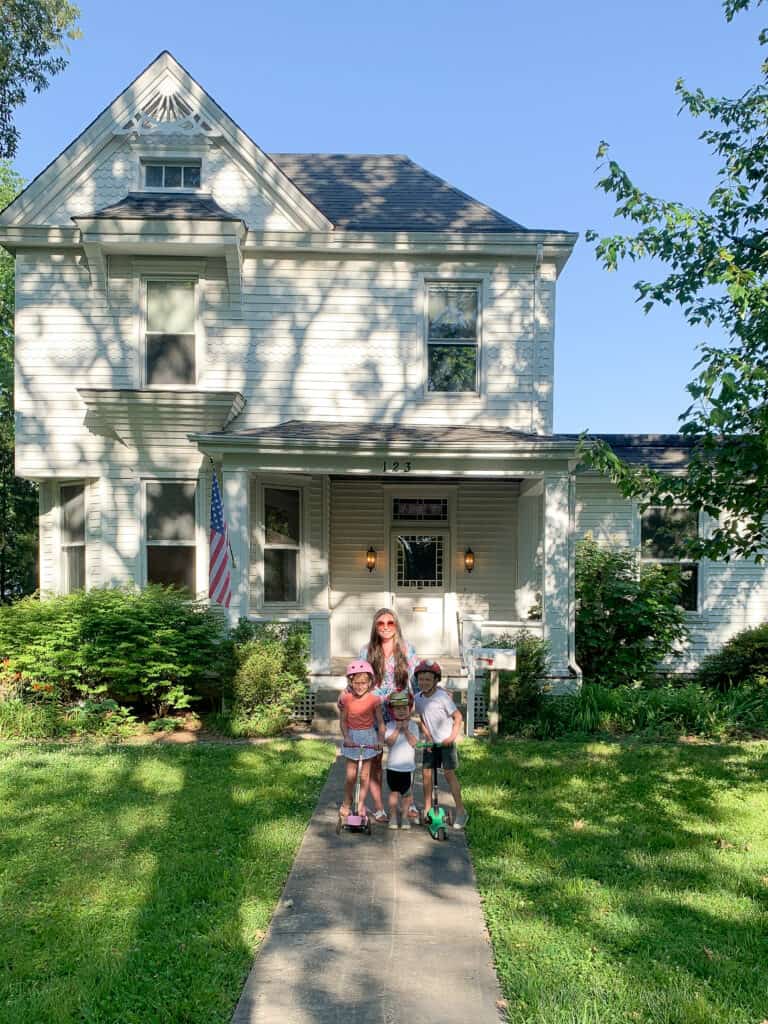 We are tackling the front porch and the back patio this spring so we can enjoy the spaces as the weather gets warmer here, so expect to see many more blog posts talking about ways you can update and upgrade your outdoor living space.
The hardest part in this front porch update in my opinion, is figuring out what both fits your (my) style and the style of your (my) home. With this being an 1860's home, marrying styles is something I am learning to take into consideration on all of my choices.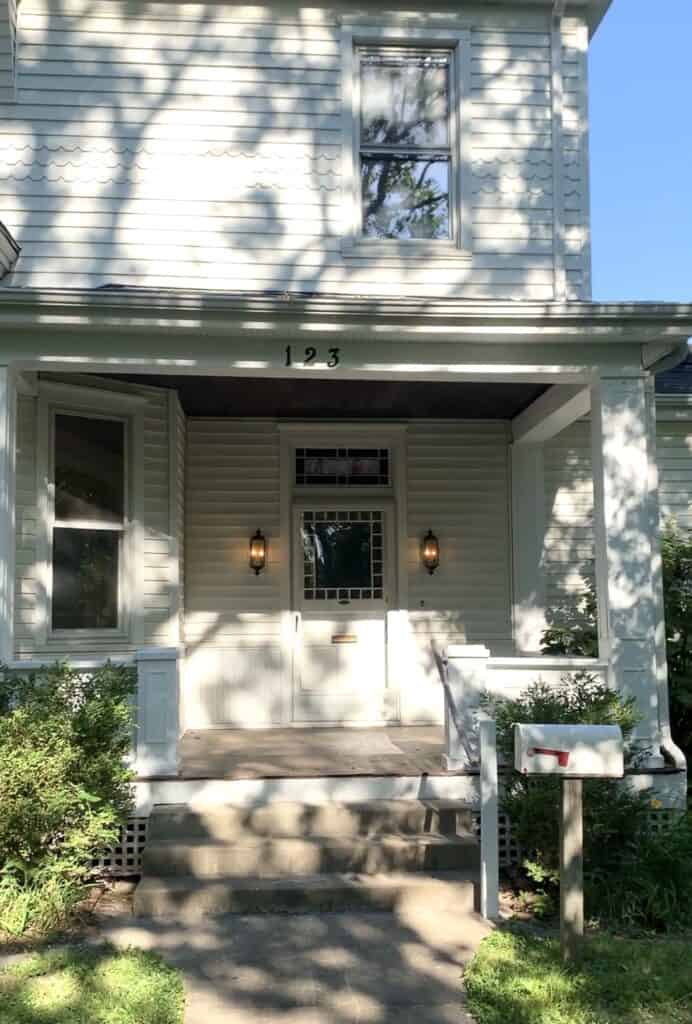 The siding on our home is white, but has some scalloped detail that leans into its vintage charm on our new home – so certainly nothing modern, and honestly something you don't see used in todays homes. (but it sure is cute!)
In contrast – I tend to decorate in a modern or mid-century modern style so I am doing my best to look at options that marry those styles and give me an end outcome that I love, but that also enhances my house. For us I know that the front porch railing won't be the focal point, but rather a safety feature that just needs serious love.
A modern front porch railing wouldn't fit well with the architectural style of our home. We have a vintage front door and old home, so trying to find a front porch railing that I love and fits our home has been a huge priority.
I have personally decided to decorate and handle our front porch in a sort of 'art deco' manner to tie in the old charm with my love of modern design, which is one possibility. I tend to think before you make a choice on one aspect of the space you need to think about the overall whole look first.
Because I know that many of you area also looking for ways to update the curb appeal of your house, in this post I will walk you through some different front porch railing ideas, and where they might best fit.
Safety and Local Building Code as a first priority
First thing when you start thinking about making any kind of porch railing update or deck railing option, is to check your local building code. This is especially important if you are doing this DIY.
Make sure you pay close attention to what the code is in your exact area, because it will vary greatly depending on the location of your home.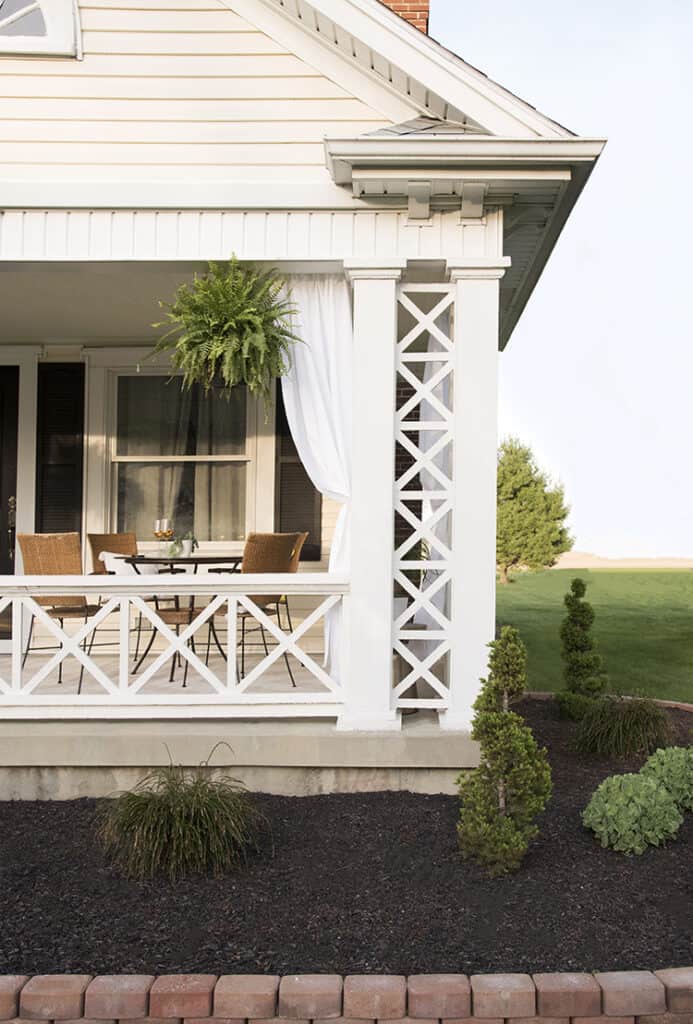 An important thing to remember is that front porch railings are not just there for looks, but also safety, so it is really important to know what you are doing if you decide to go with a DIY!
The best way to find out your local building codes is to reach out to your local city office. If you do hire someone to do this project they will either pull a permit (which will then ensure you have done things right) or you will need to talk with them and make sure they are doing things up to code prior to the work.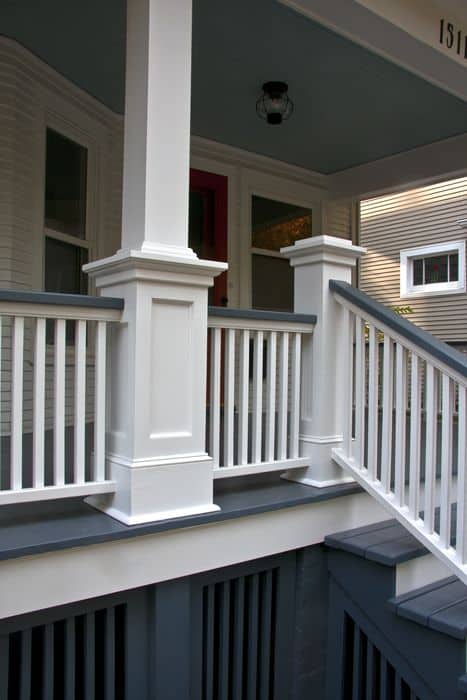 There are some areas where railings I will share in this post – such as horizontal railings, or wire railings won't pass your building code. You may not realize that until you go to sell your house and it comes up in an inspection, so it is important to check beforehand.
Where To Get Front Porch Railings
There are MANY options when it comes to where to get or order your railings. Some people choose to find something at your local hardware store such as Home Depot, and others can go with a building supply or custom build option.
The cost will vary tremendously pending which railing option you decide to go with, the size of your porch, and how much of the railing you are choosing to replace.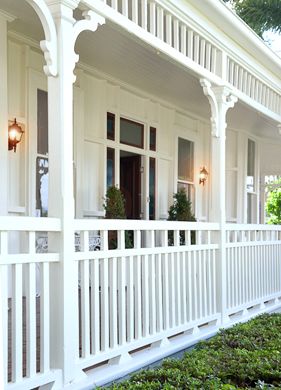 For us – we are currently only looking to update the railings on our short set of stairs because the rest of our porch is finished off. Because of that the cost will be more minimal and the project is straight forward enough that a hardware store would have what I am looking for.
How to install a front porch railing:
Like I said above when talking about building codes, this can be a simple DIY project that you, and many others will take on on their own. We plan to do ours DIY, so stay tuned for that post.
You can also reach out to places like Home Depot for install options, and many deck companies would be able to provide unique options with safe, and unique options in order to get the exact look you are going for.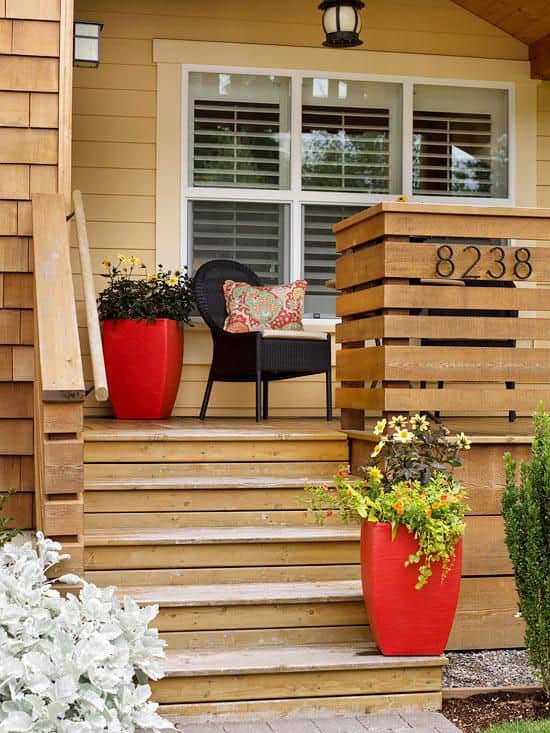 If you are a beginner DIYer be sure to look up railing kits that will take some of the guess work out of the project.
** One thing to note in this blog post – although I am specifically writing about front porch railings because that is our immediate need, if you are in the process of deck design, many of the railing design would also make for a great deck railing idea. Deck railing design in many situations is just a larger project than the front porch, but most would still be a great option in either situation.
Front Porch Railing Ideas
Now that we have talked a little bit about everything leading up to actually getting the railing – lets actually dive into some front porch railing ideas and the options you have. I won't be able to touch on all of them, but we will give you a general idea of several of the best options out there.
White Craftsman Front Porch Railing
For the first of my front porch railing ideas I am going to talk about are craftsman style porch railings. In particular – for the most part a white railing. I am touching on this first because I think it is a popular choice for a lot of homes, and it is fairly timeless.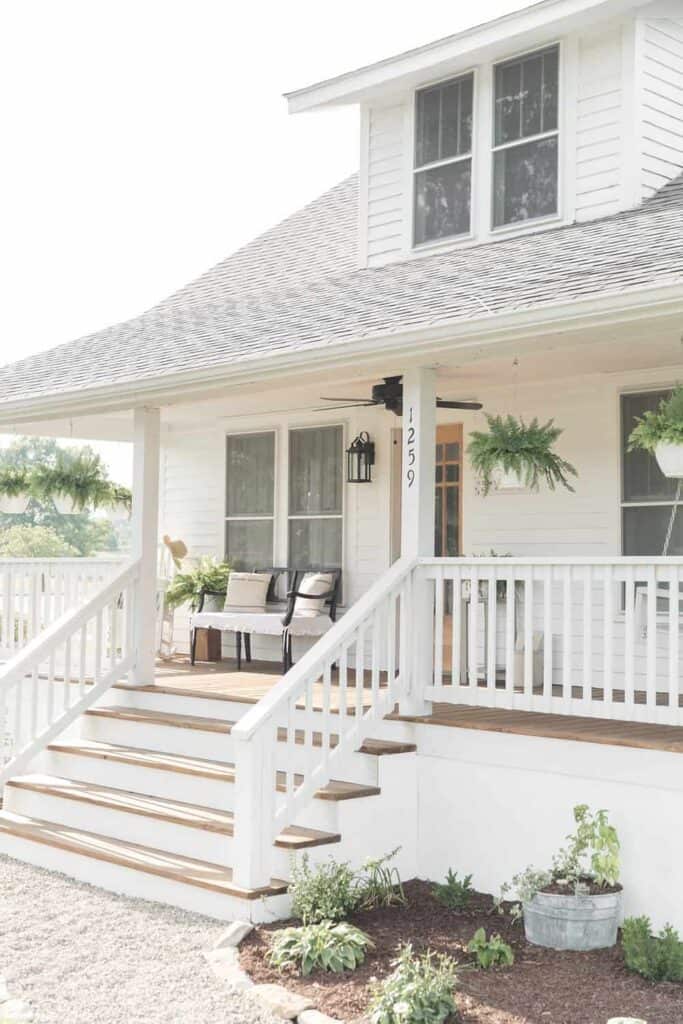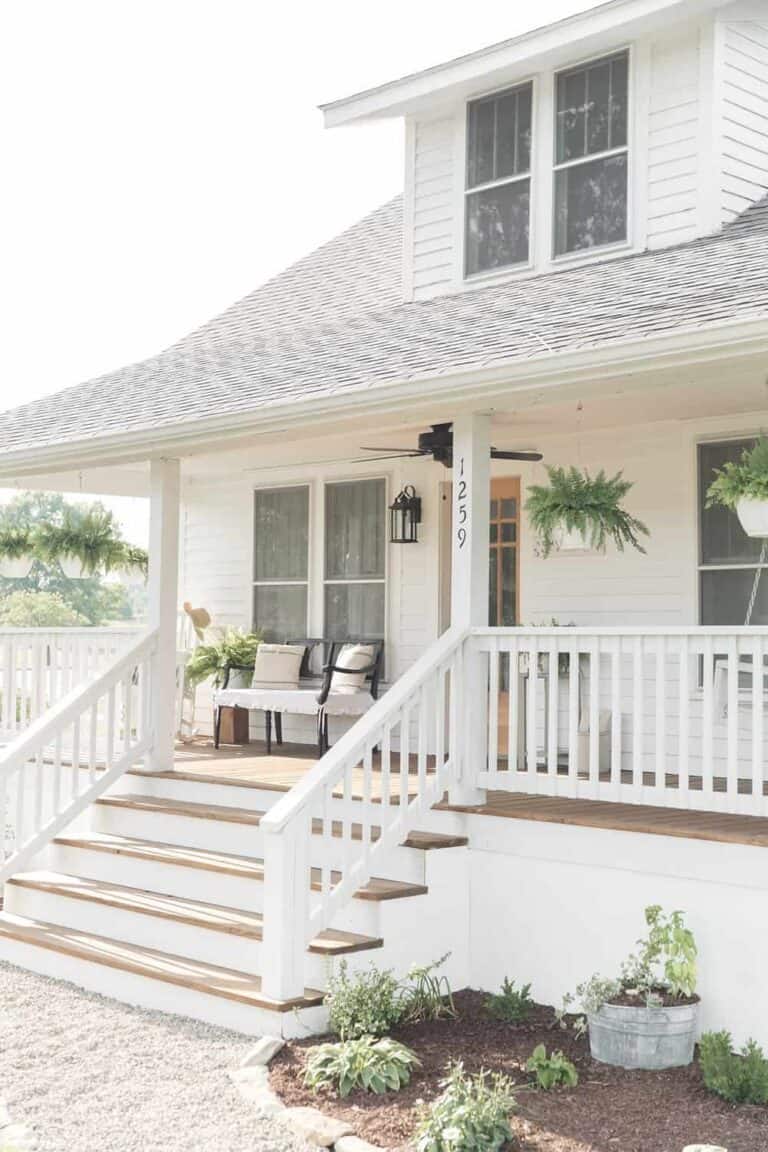 In my opinion craftsman style railings can take on whatever your personal style is. They have a traditional look, that can be accented by many different styles of homes and decor needs.
There are several different styles within the white craftsman umbrella. The craftsman front porch has a wide open layout that maximizes limited square footage. Many times they pick a white color as a great contrast to a darker color scheme of the house.
To sum that up you are looking at a small porch where you are optimizing the open space in order to enjoy the entire front porch area.
These white craftsman style railings can be wood railings or vinyl railings. The Later will hold up to the elements and require no upkeep, verses wood that will need to be kept up with sanding and painting from time to time, so they are a good option for busy families who want to enjoy time with their family members, instead of focusing on constant porch upkeep.
Large Columns with traditional vertical white slat front porch railing
One thing you you see a lot with craftsman style front porches in new build homes is larger columns in different materials. Many times in more current homes have stone, brick, or natural wood. Coming off those columns are your white railings.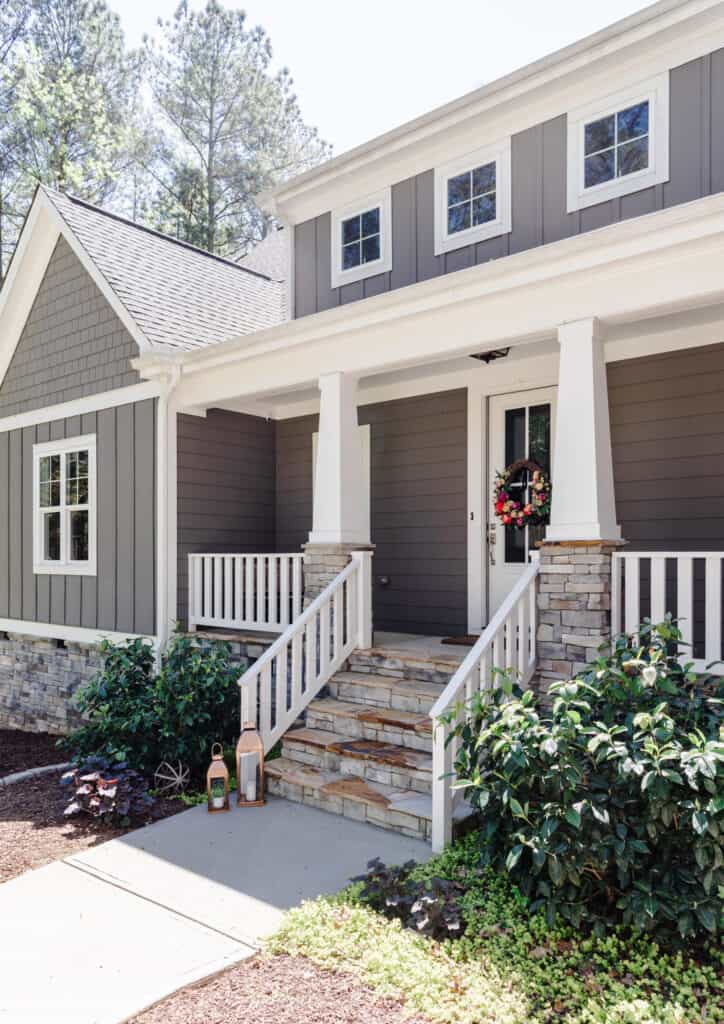 The traditional white slat railing is timeless and in my opinion meshes well with MANY different decor styles.
You can also use round columns with the white railings for an elegant look to your front porch.
Horizontal or diagonal white slats
As an alternative you can go diagnol for a 'X' style or horiztonal with your white slats that will have a slightly more farmhouse style look while still being classic and timeless.
These are great ways to switch things for your style while keeping a pretty classic look for resale value of your home.
Iron Railings
Iron railings are another really popular railing type that can be done so many different ways to suit your style on your front porch. Iron railings have made a major comeback in the past few years in more modern homes, however they have been around for YEARS. I remember them being on my grandparents old home, and love seeing how they are making more modern comeback.
You will see iron railings run both vertically and horizontally for a totally different feel. The Horizontal railings give tend to lead to a very modern look with little maintenance.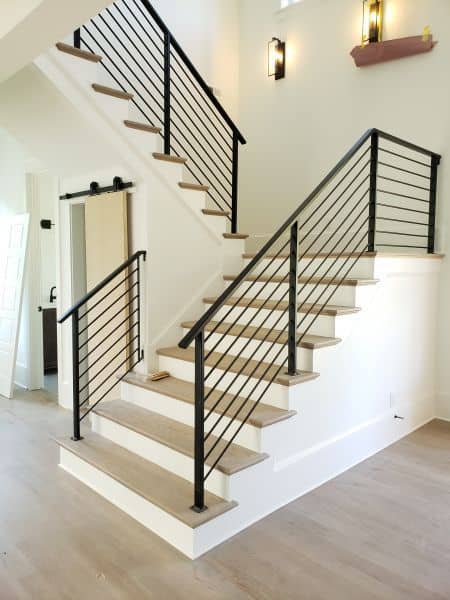 A Craftsman and Iron Mix
During my hunt for railings one thing I ran across that I LOVE is a white railing for the top rails and bottom rails, with iron bars running either vertically or horizontally between. It is such a soft way to add a slightly modern feel to the traditional white porch railing, and is something I am heavily leaning towards with our own home.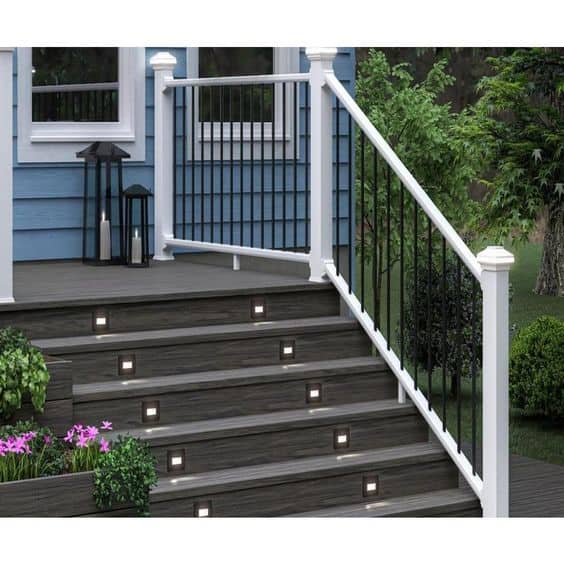 If you go with this route I would definitely opt for aluminum railings or something with easy upkeep as painting around the iron bars would be difficult, and that would be required more often being outside in the elements.
Cable Railings
This ties in closely with iron railings in my opinion. A modern take on iron railings is to have iron posts with horizontally running wire cables. It gives the porch railings a very minimalistic and modern overall look, while allowing you to see into the porch or deck fully.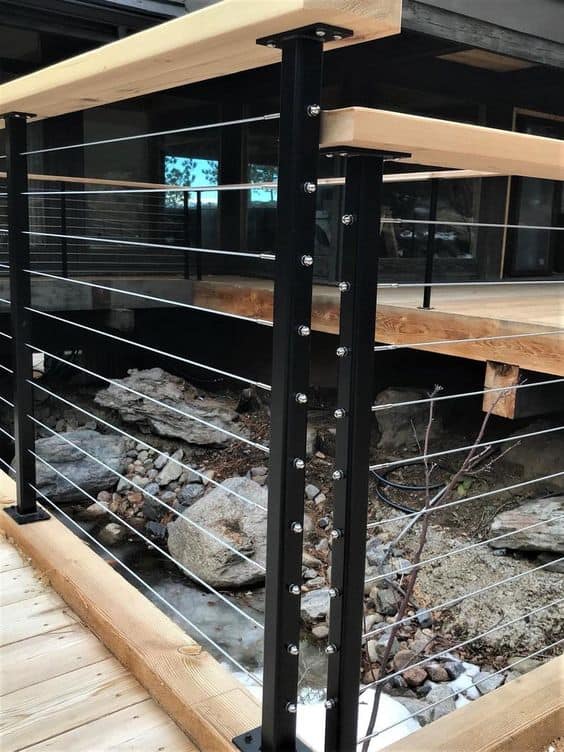 (buy the gorgeous railings above here)
I have seen the cable railings tied into white wood railings recently as well and it is just beautiful. It is a great way to add to a deck railing around a pool or with a beautiful view for an unobstructed view of the space below.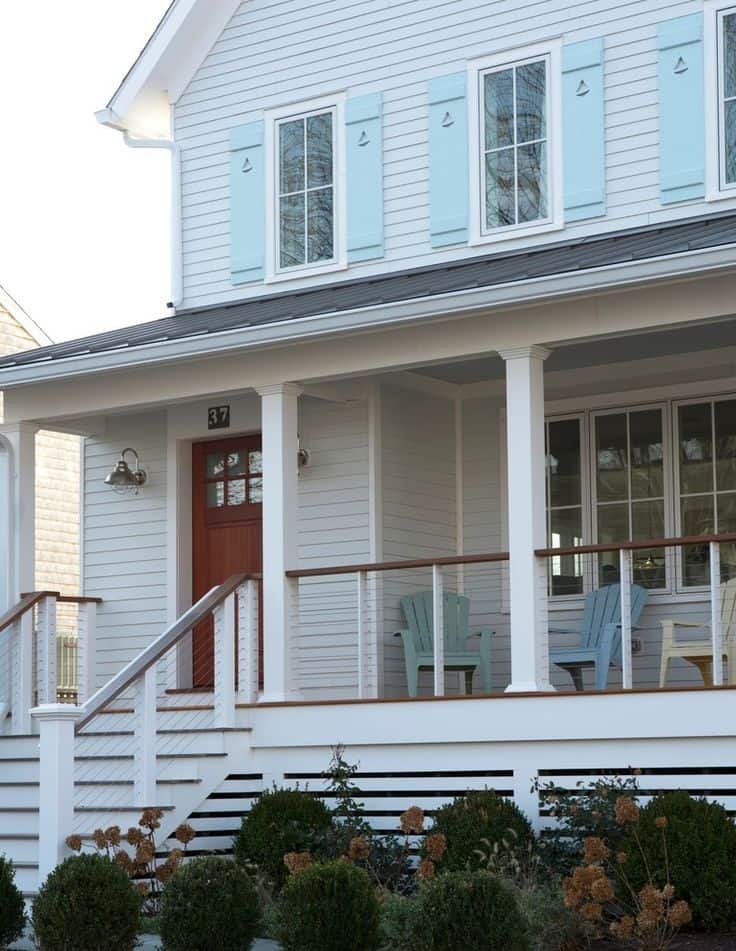 Glass Panel Railings
Similar to the wire railings glass panel front porch railings allow for a very modern design. You will see these paired with everything from natural wood to iron, but it will only tie in well with a modern front porch and home design in my opinion. You are looking at more of a high end cost on this style front porch.
Wood Porch Railing
Wood front porch railings come in so many varieties and styles. This is by far the most broad category because it can literally fit your home no matter what you are looking for.
You can go with an ornate wood railing for a vintage look like the one below.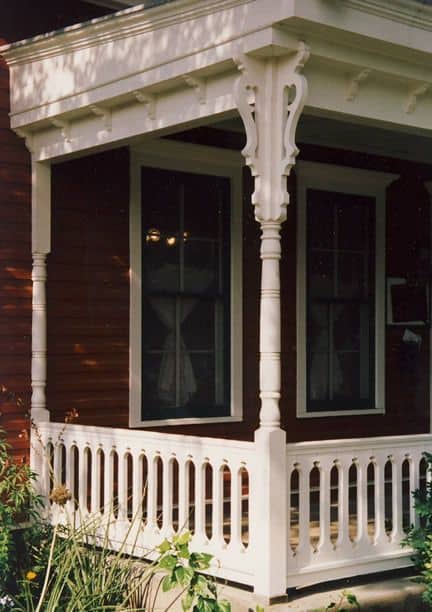 A more modern take on the wood railing would be similar to below. Keep in mind that doing something like that will really become a focal point for your home – that is by no means a bad thing, you just don't want too many things competing.
There is also a more full coverage front porch railing like ours that allows for full privacy, and optimal safety. Ours is original to our house, but it allows for packages to hide, and for the house to really have a fully enclosed porch.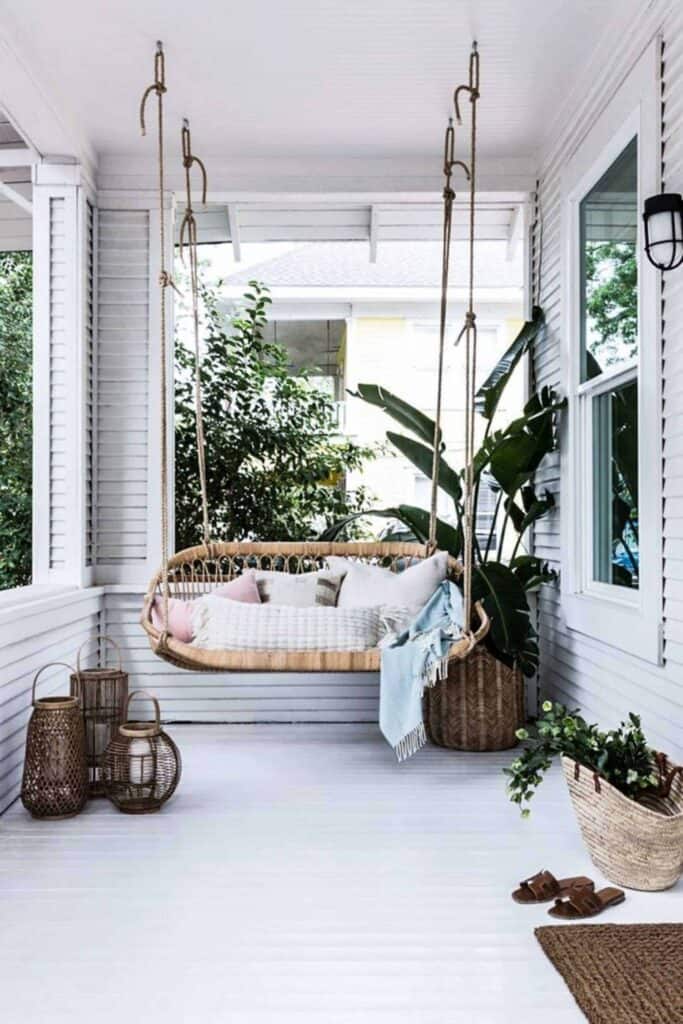 We Love that our front porch 'railing' is more of a half wall that can be sat on, and truly makes our front porch feel like a small room.
Another option is to go with a more rustic wood front porch railing for a cabin feel, or a typical wood banister style railing like you often times would have on your wood deck. This can be done from your hardware store pretty easily, and you can paint or stain it to fit your current style and change it as time goes on.
Other Posts You May Love
If you are looking for ways to update your home and your curb appeal, check out these other posts below for more blog posts you will love.
What it's like to Own a Bernedoodle | Pedestal Sink Storage Ideas |Trash Can Planter Hack | Amazon Porch and Outdoor Furniture | Painted Floor Tutorial | Painted Cabinets Tutorial
Pin the Photo Below for Later
Hopefully while going through these front porch railing ideas you found something just right for you and your home, and you feel ready to update your front porch railing, no matter your style. If you have any questions leave them in the comments below, and make sure you are following me on Instagram (@arinsolange) to see what I end up with. Before you go pin the photo below to find this post later.