Let's talk Buy Buy Baby Registry. I am a 4th time mom, having my last baby, and am on a mission to help moms who are expecting their babies know where to register, why to register, and what to register for!
This Buy Buy Baby registry post was sponsored by Buy Buy Baby – as always my options are all my own. Post originally written in 2019 and was updated in 2021.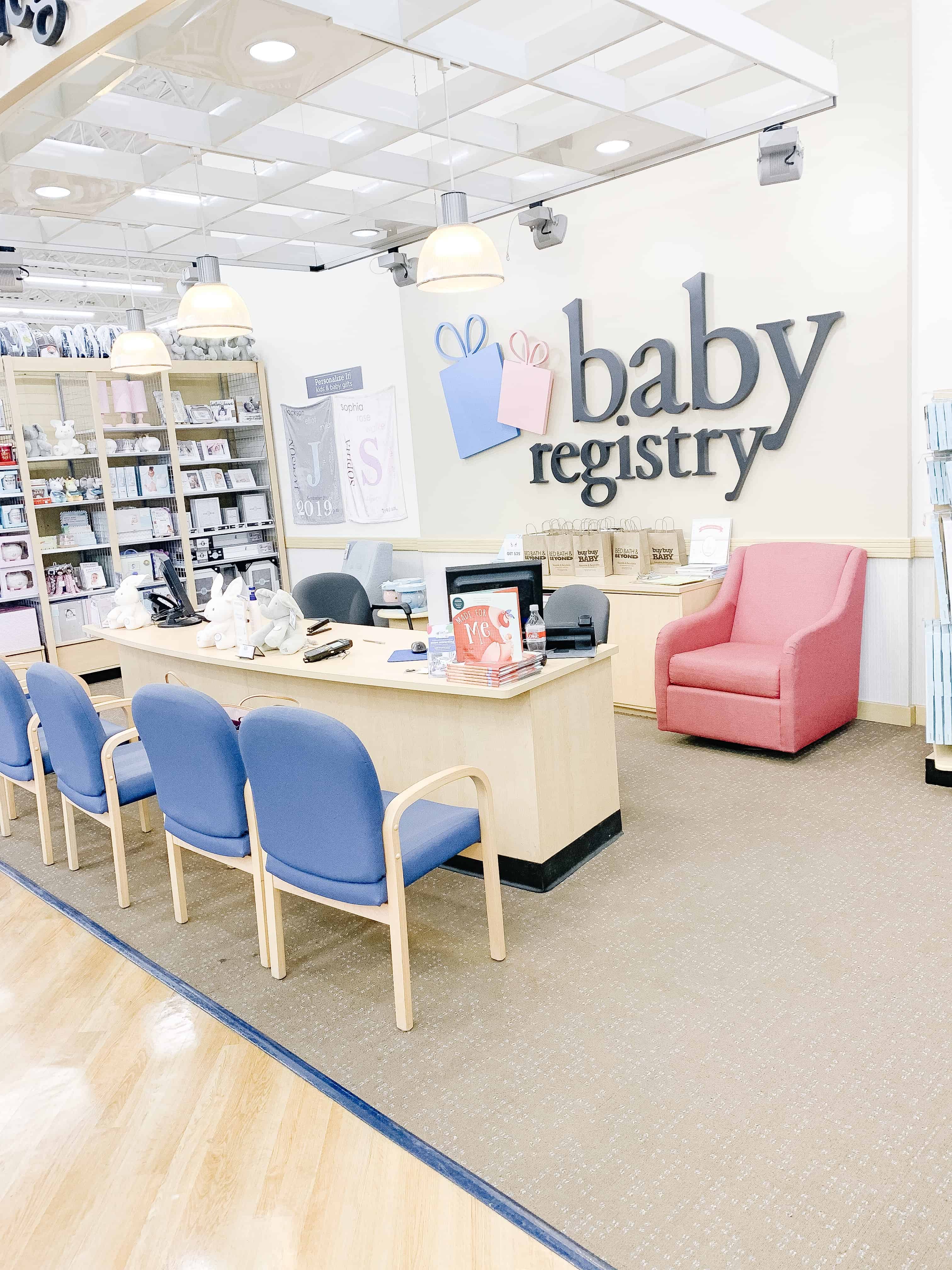 Buy Buy Baby Registry
Many of my readers, followers, and friends are expecting their first babies, which always brings up the registry questions, and rightfully so. It is hands down one of the most exciting parts about having your first baby. All the tiny and cute things you have been dreaming about and now it's time to get them!
What to register for and where to register is also a hard question. You want to make the choice that makes the most sense for yourself and your friends and family that will be be using the registry.
I will of course talk you through the ins and outs of registering at Buy Buy Baby in this post, but also want to give you tips and tricks on other places as well. (Because let's face it – most moms have more than one registry and there are perks to several options!).
IN STORE Buy Buy Baby Registry
Now a days there are a million options for registering for babies online. And let me be clear – I think that is amazing and has its place. I mean most of your guests will be shopping online as well, and we have become a generation of researching things well without ever having to see them.
But I want to talk about why it is so important to register in store if possible in this post.. And not just register in store, but register at a store that has knowledble staff about baby gear. Buybuy BABY has been my go to for baby registries since I was pregnant with my first 7 years ago.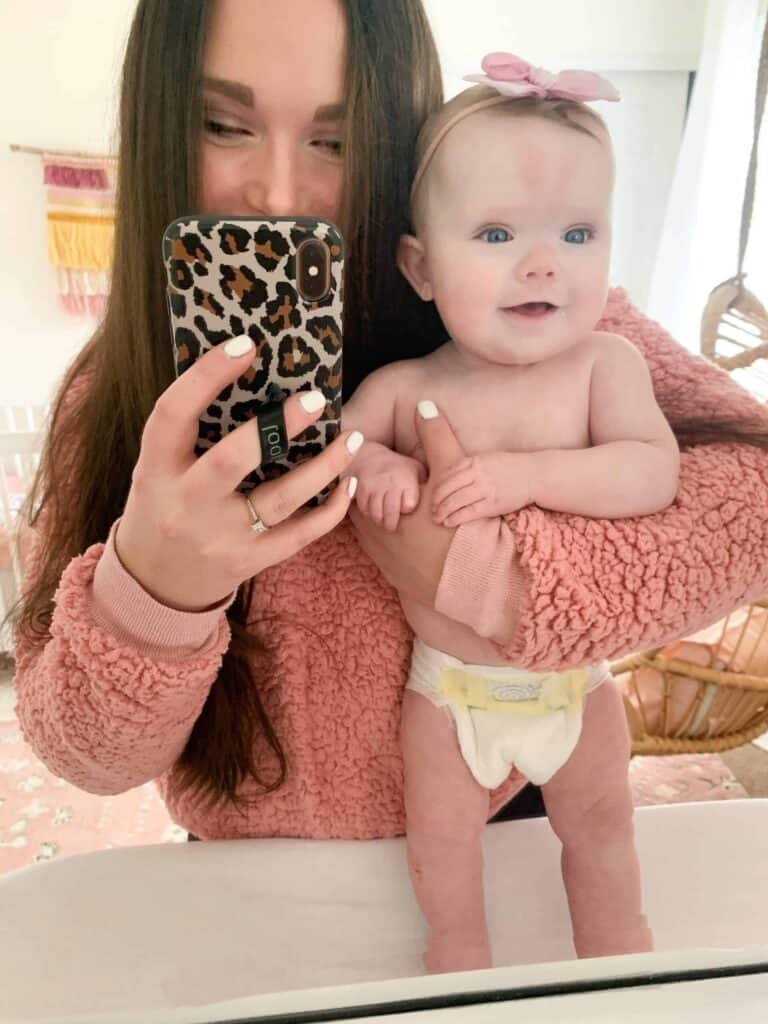 Originally it was my choice due to the brands they carried. I knew that I could get some higher end items there, while also getting so many basics.
Now I still like to go because I need to see and compare those new fun items in person. I always see something I haven't seen before when I go in. Sometimes I want that item and sometimes it sparks my mind to look around at other similar ones.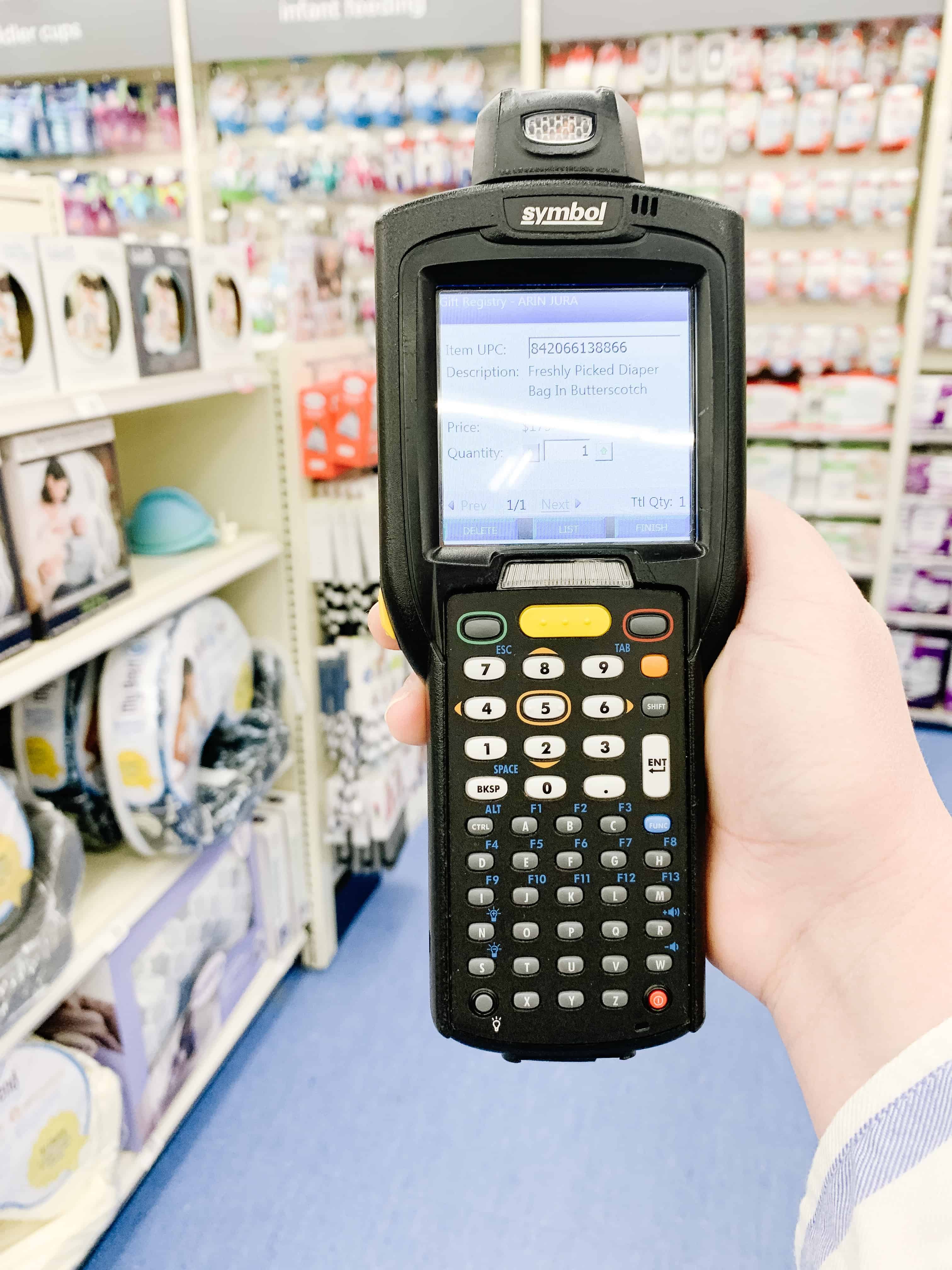 My big reasons for registering at Buy Buy Baby IN STORE are:
Touch and feel
I think you can check the boxes of things like clothing, bottles, pacifiers and so on while you are registering online. Actaully in some cases it might be less overwhelming to do so.
BUT when it comes to the big ticket items – many times items you will use daily you want to see them in person. For instance – for a stroller it may look great, and sound great, but maybe doesn't handle well. (I won't share the brand but I recently received a stroller from a brand that on paper was amazing, and it is GORGEOUS, however it is horrible to use.)
High chairs you want to see the footprint, and bouncers are the same. You want to try the clasps and buckles and just really see how it will work in your life.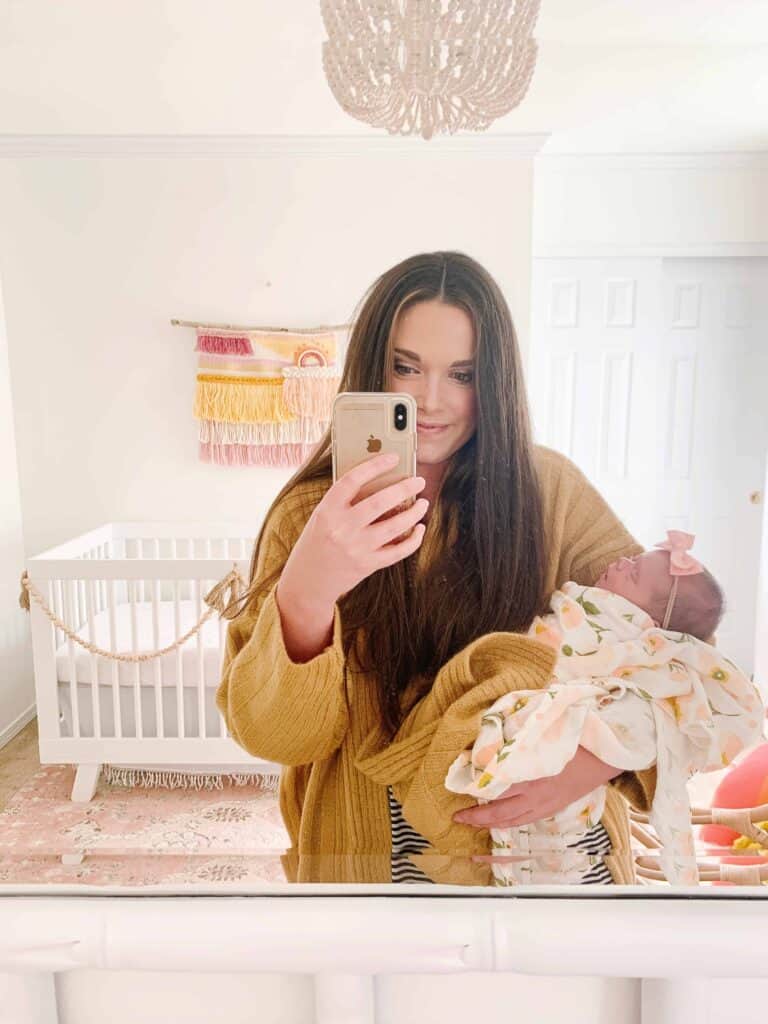 Unbiased Answers to your Questions
I will be honest – I a a blogger who has done PLENTY of reviews. I read them and write them, and that means I know that not everyone is totally transparent with their reviews.
Companies can also pay for positive reviews on products online – so although blogs like this and reviews are a great, talking to someone in store who has no reason to sway you between the options is so beneficial.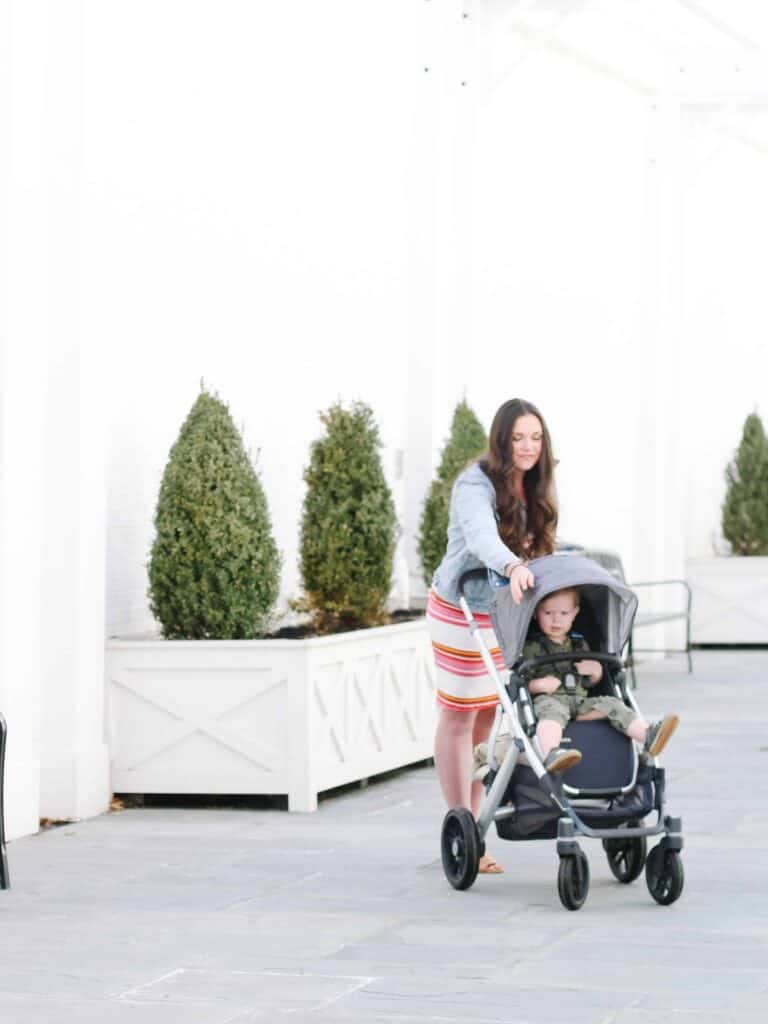 One thing about buybuy BABY is that their staff is super well trained in their specific department. They have an employee that does nothing but keep the other employee's up to date on knowledge of all the baby gear.
For me this is so important. I want to be able to ask an employee about a carseat and feel like they really know about the ones they carry, and maybe even some they don't. I think when they show that kind of knowledge its obvious they are answering your questions well.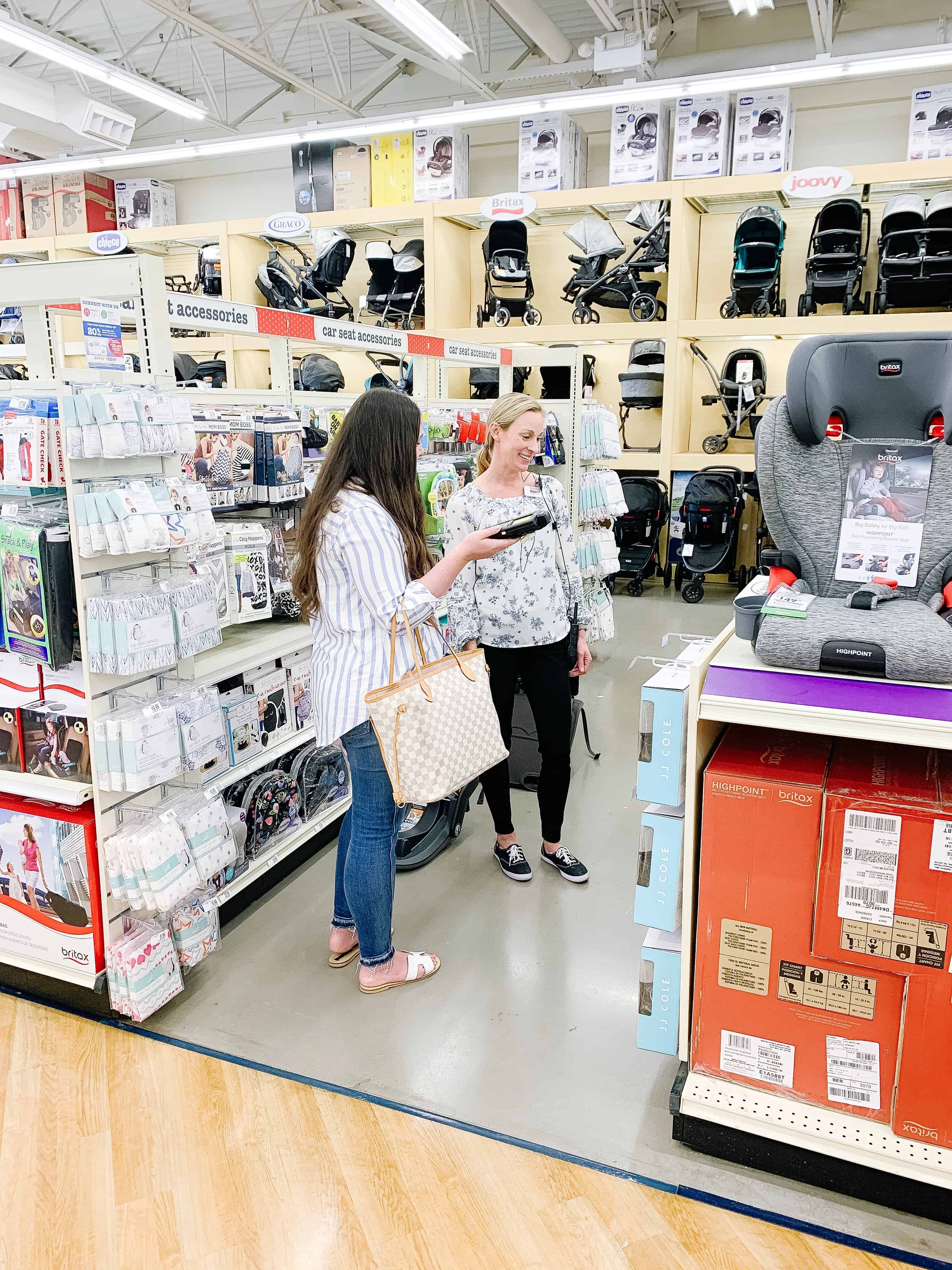 In store helpful tools
Another thing about doing a Buy Buy Baby registry in store is that there are helpful tools you can't find at home.
This is especially helpful in the carseat and stroller arena (also the two items that I truly stand behind saying you need to TRY). Buybuy BABY has weights you can add to strollers so you can see how they really handle.
Here is the thing – all strollers push like a breeze with nothing in them. Thats not always the case when you add in 60 lbs of wiggling children. They also have baby 'dolls' that you can fit into carseats to see how they work, as well as a mock seat to a car with latch and all that you can try installing a carseat on.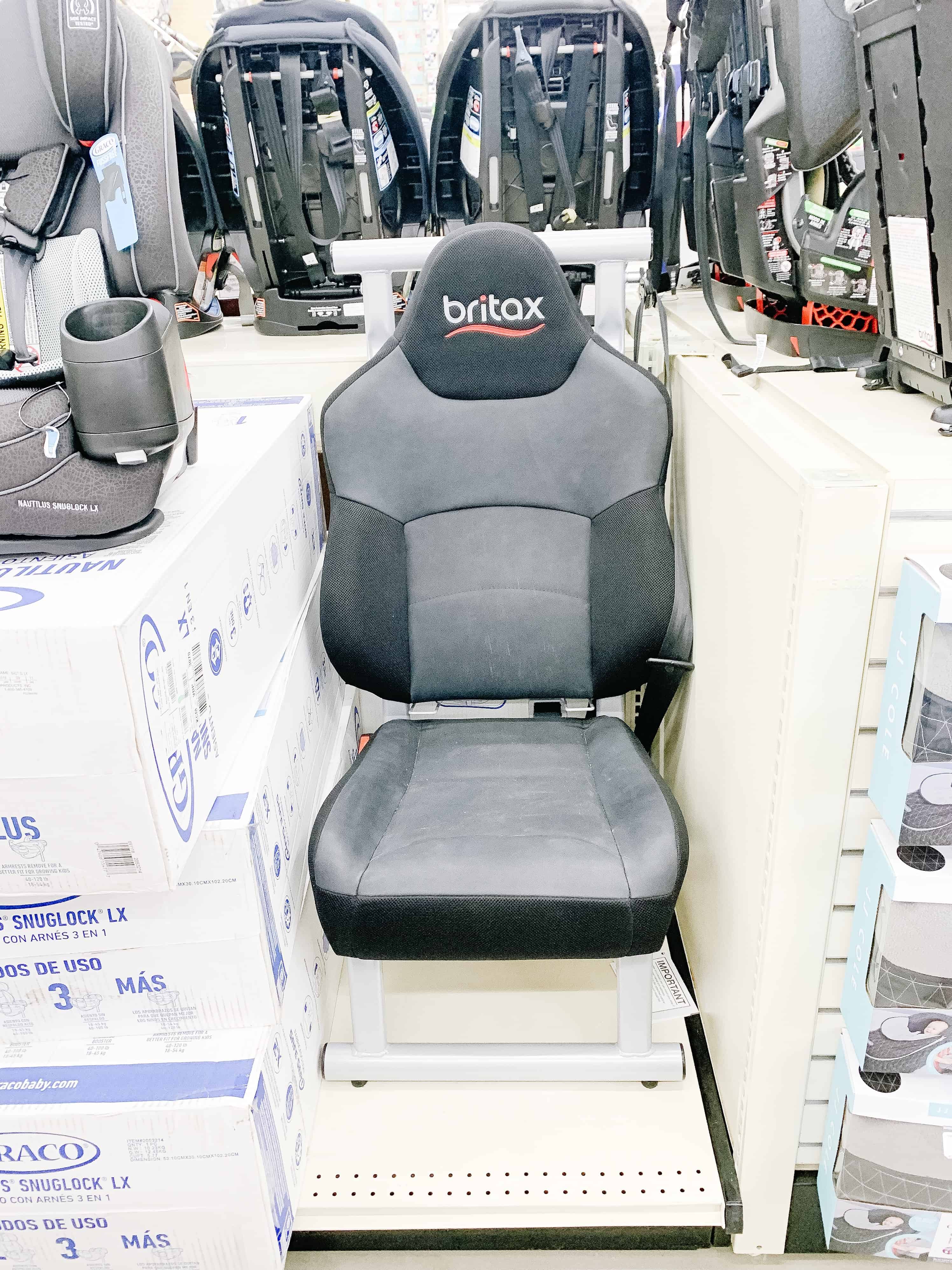 Prepping to Register in Store at Buy Buy Baby
You can set up appointments ahead of time so you get extra help in the areas you need it. If you know you're going to be coming in on a certain day they will call you and know your specific needs for the session before you come in and have people on hand. (IE – carseat specialist, feeding experts, design consultant for furniture, and so much more!)
Staff that will help you with what you picked. So maybe you are nervous because you need to see how ____ carseat will fit in YOUR car.
An employee will help you install it so you can see how it will work. To me this is huge. When we welcomed Walker, I had to do 3 across for a while and having carseats that allowed for that was NECESSARY.
You will get a goodie bag, as well as a booklet really walking you through all the departments. This is so nice, especially if you don't have time to complete the whole registry in store and want to add most of it online.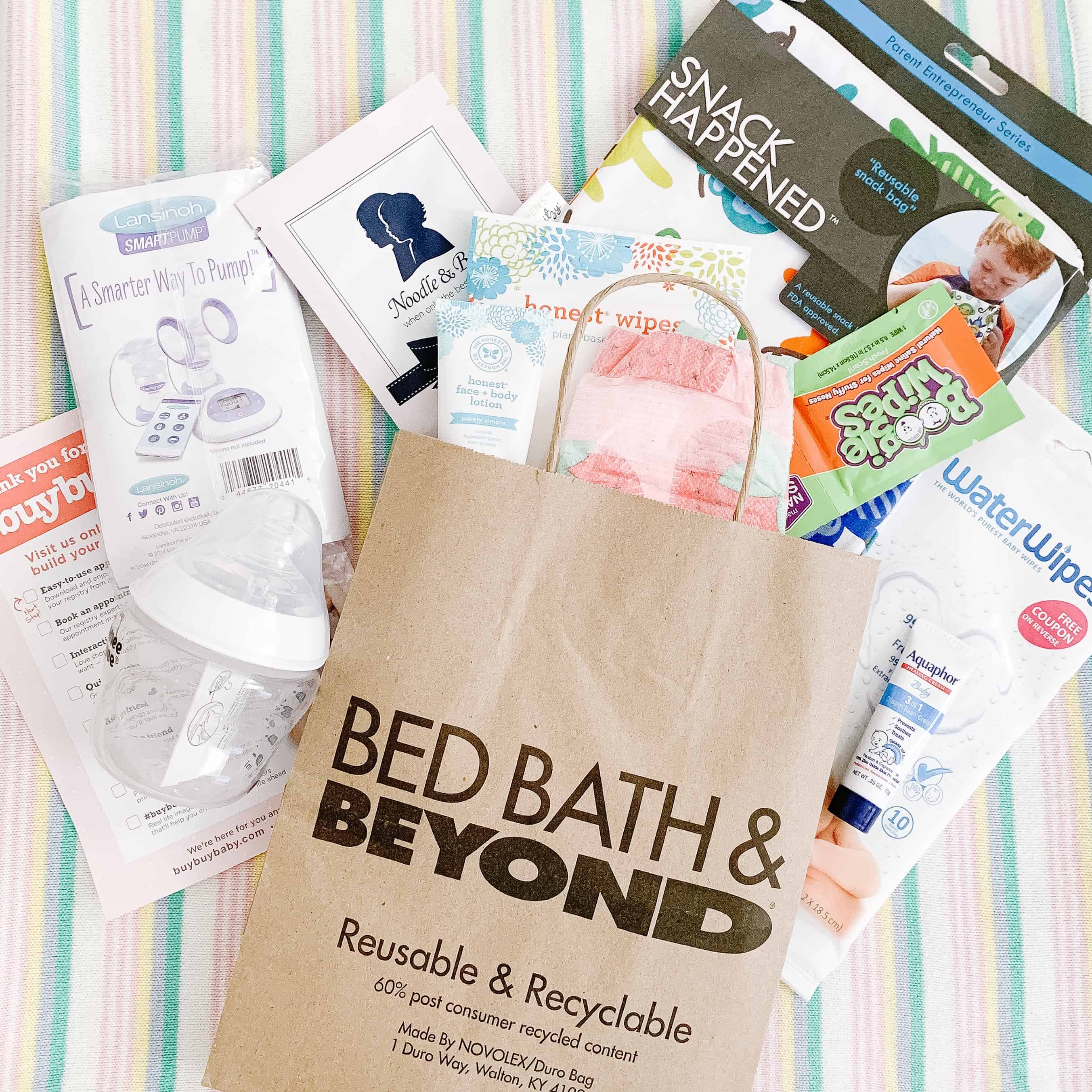 Online Flexibility – Buy Buy Baby Registry Online
Okay so here I am writing a blog post on the importance of going in store to register, and I'm going to talk about registering online? Like I said at the start – there is nothing wrong with online. This is 2021, and we all love to complete what we can from our couches.
The perk of registering with buybuy BABY is that you can go in store, touch and feel what you need to, then you can head home and add the rest online.
It also allows for your friends and family to have the same flexibility in shopping for you in store and online. (trust me – if I am invited to your shower, I am buying the gift within 24 hours of showing up, so please give me an in store option haha!)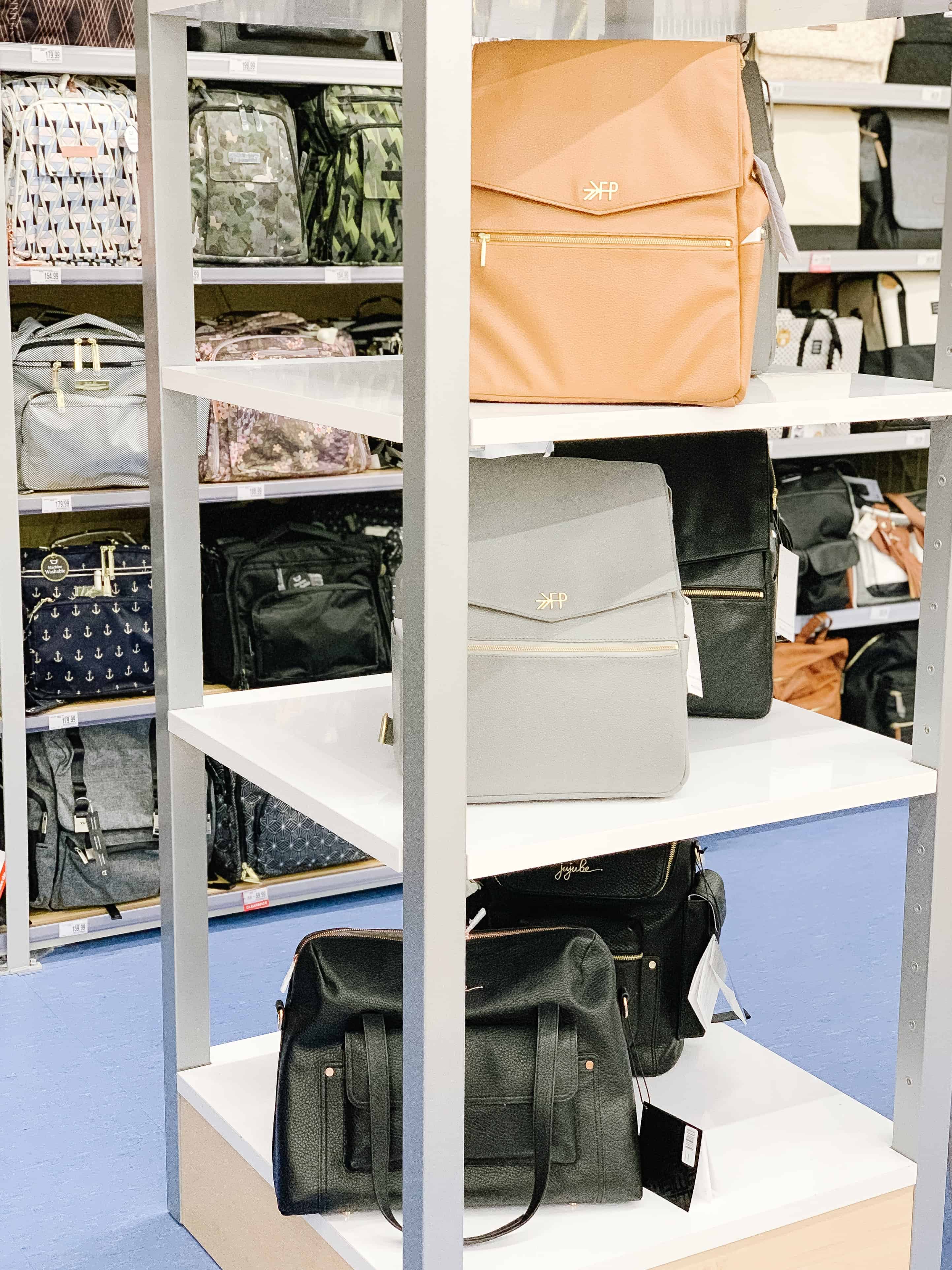 Other Added Perks
On top of just knowing that you registering for items that you truly want due to the in store experience, buybuy BABY offers some other really great added perks to their registrants.
You will get a completion coupon in the mail towards the end of your pregnancy. You can bring that in and use it one time for 15% off anything left on your registry. There are no exclusions on that coupon, so thats a HUGE deal on brands that are typically restricted. This coupon is good until 3 months past your due date.
You are going to get the same coupon to use online and that one is for multiple uses.
They have a price match guarantee.
If you register for an item and don't use it, you can return it for up to a year. This to me is HUGE. Also a good reminder to us not to open items until were ready to use them.
You will get a referral code – anyone who uses it will earn you $25!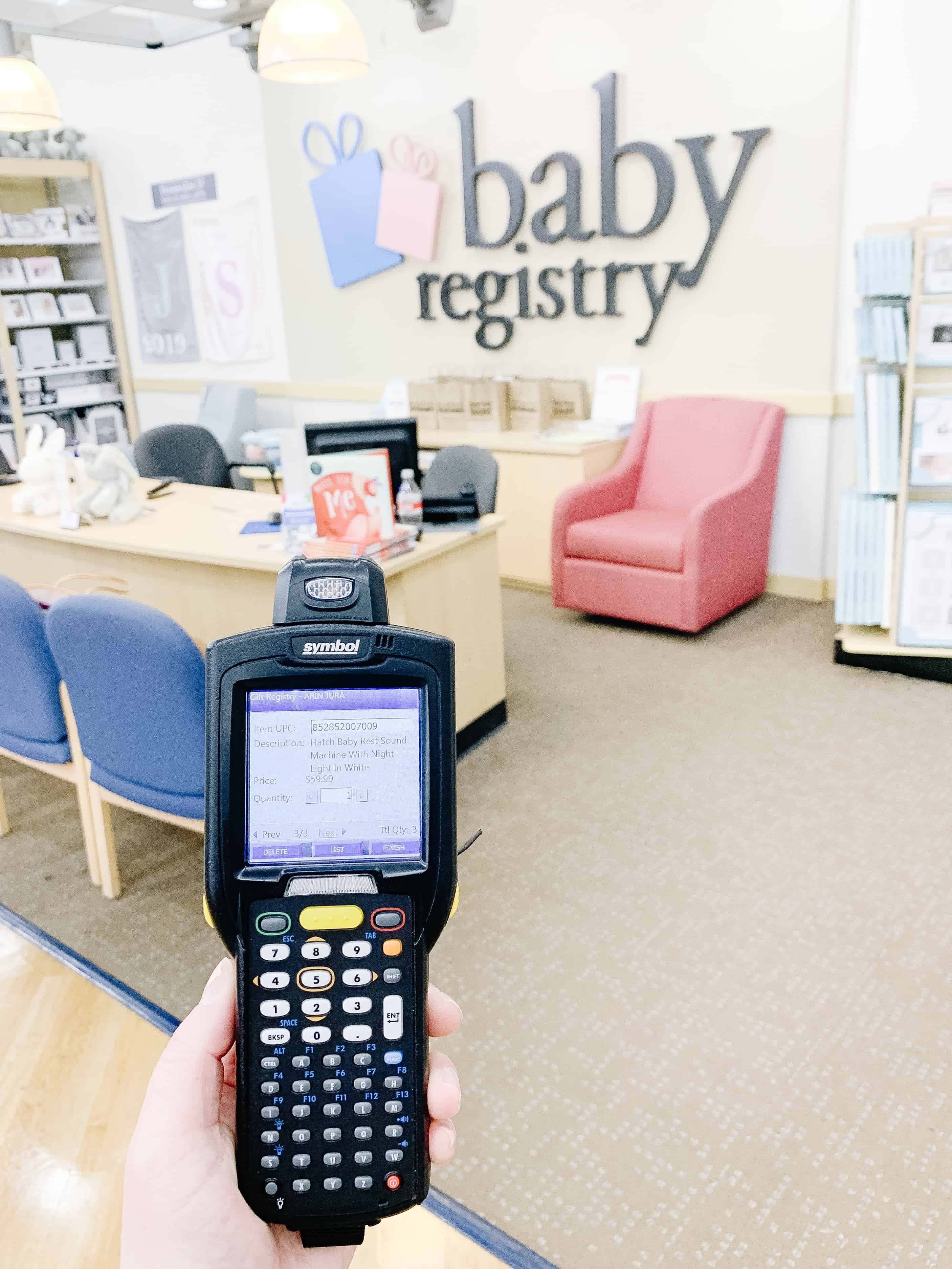 Registering other Places
Now I am here to tell you how great Buy Buy Baby Registry is and I stand by that. That said – in todays day and age I would register a couple other places – below are my suggestions and tips on why.
Amazon – you all know I LOVE Amazon. Amazon has everything under the sun but also allows for last minute gift givers to stick to the registry. you get the complete your registry coupon that can never hurt.
Target – Super easy on returns and extra gift cards for diapers and wipes is a HUGE WIN!
Baby List – Baby list is a great option! You can register on one 'list' from any site – think Etsy, small shops, Nordstrom and so on.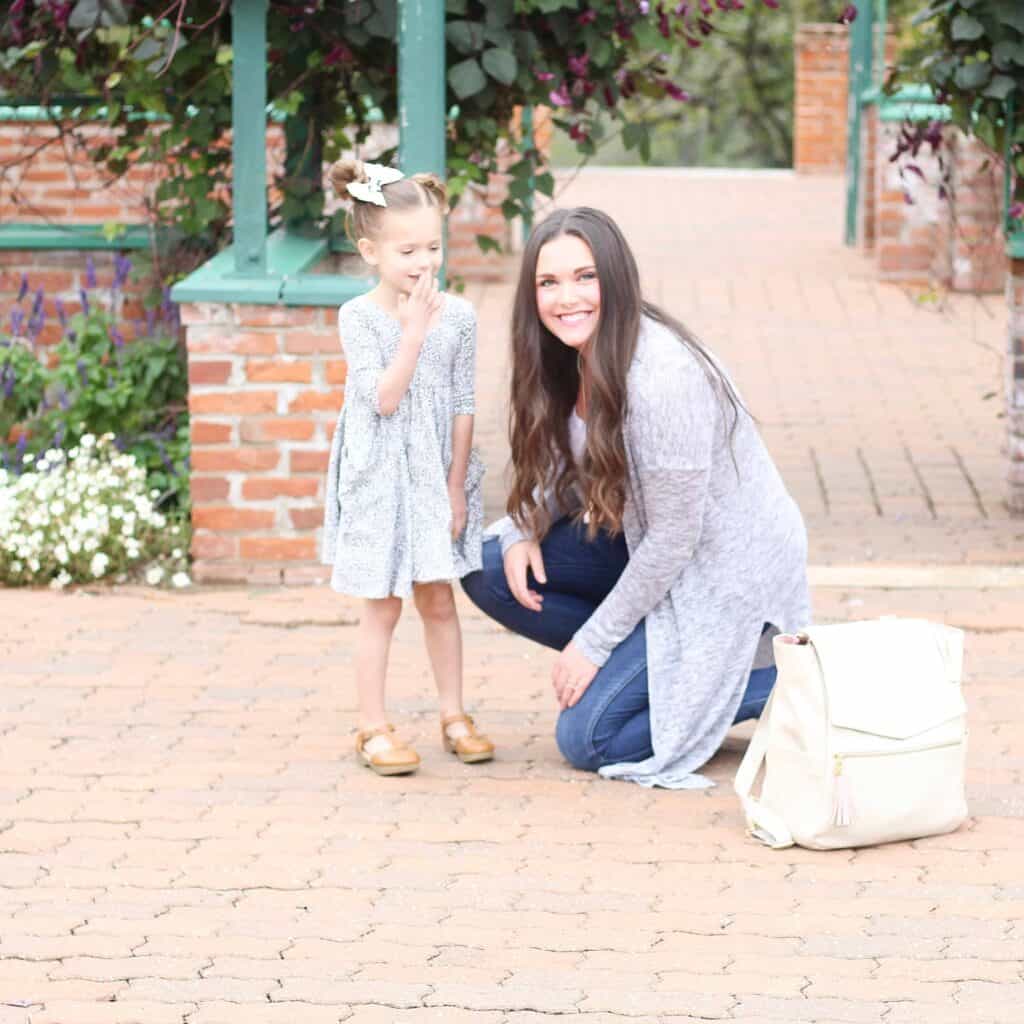 If you have any questions on registries be sure to shoot me an email or comment below.  I will be working on several more posts like this for my pregnant followers and readers, but in the mean time if you're looking for some great items to add to your registry check out this post!
Some of My Favorites from my Buy Buy Baby Registry
Clearly this will only barely touch on some of my favorite items – but if you are looking for a good starting place with your registry below are 15 of my favorite items from Buy Buy Baby.
I am also linking to SEVERAL other posts I have done giving full reviews of some great pieces of baby gear.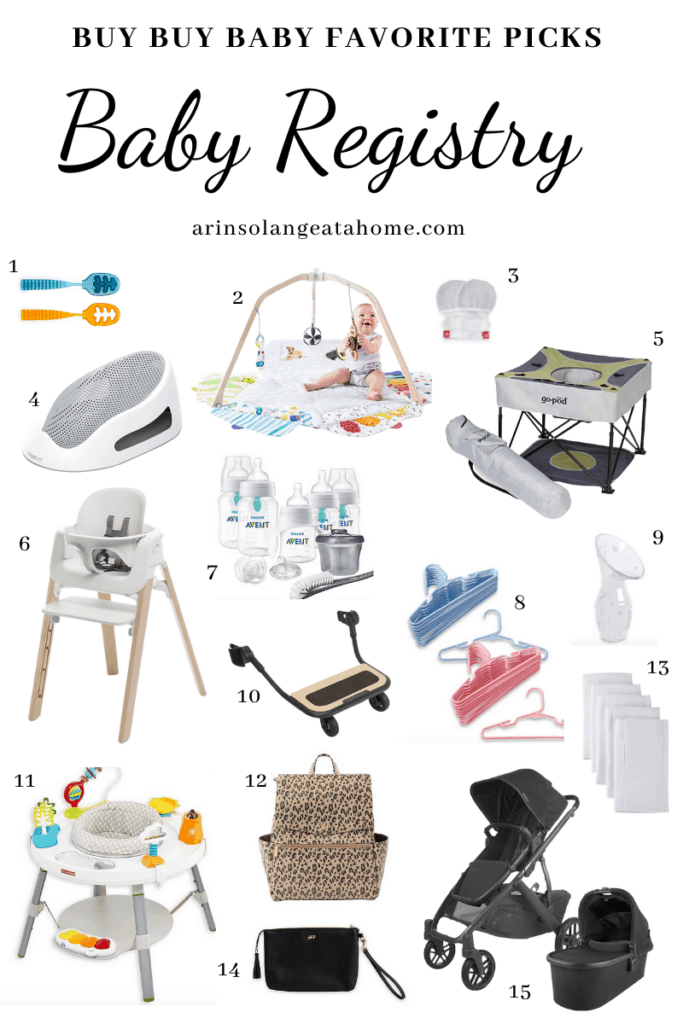 Shop My Picks
1 | 2 | 3 | 4 | 5 | 6 | 7 | 8 | 9 | 10 | 11 | 12 | 13 | 14 | 15
Other Posts You'll Love
Freshly Picked Diaper Bag Review | My Monthly Baby Favorites | Veer Wagon Review – if you have been considering it check it out here. | Ollie Swaddle Review and coupon code | DockATot Review
Pin Image for Later
Hopefully this helped you feel prepped and ready to do a Buy Buy Baby Registry, and you are excited for your experience. Be sure to pin the photo below for later to find this post, and follow me on Instagram (@arinsolange) for more helpful information!