We are on house number 3 – and in our minds this is our LONG TERM house. We have learned so much over the years when it comes to owning homes, and making updates – and I will share more on the indoor areas later, but since it's summer – and we all want to be outside enjoying our spaces – let's chat about some simple outdoor fixes and updates to do that will make the life of your home more enjoyable!
This post was graciously sponsored by Hoffmann Brothers.  All opinions are my own.  Thank you for supporting the Brands that support my page!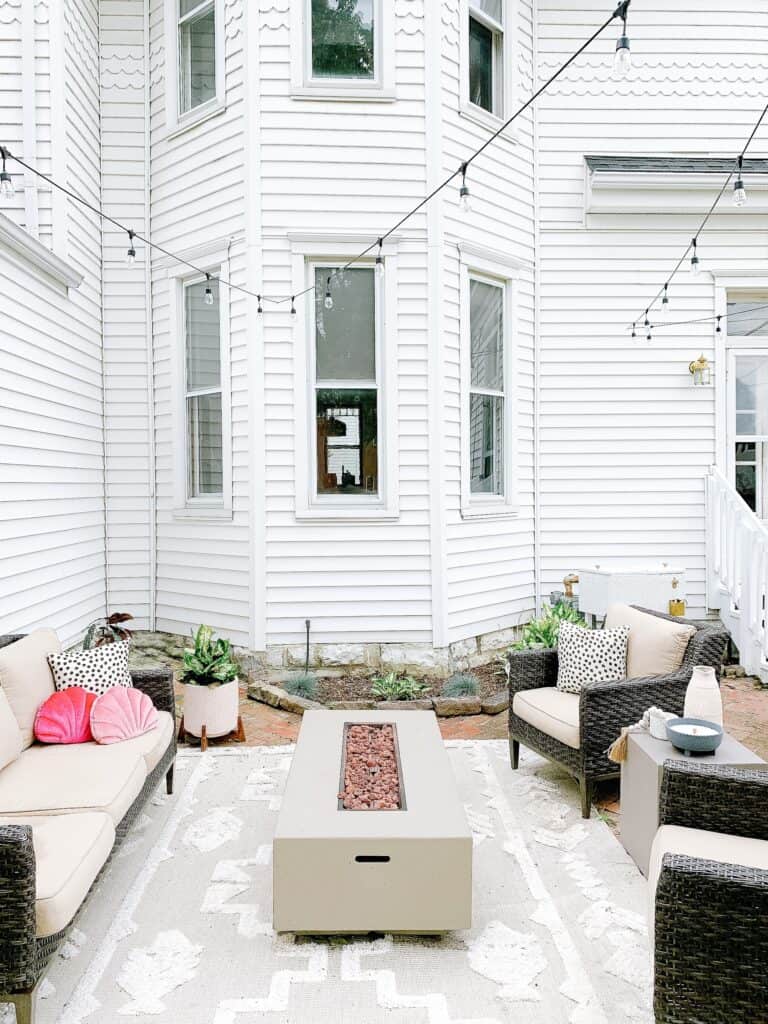 Simple Outdoor Fixes to Your Home
I feel like before I hit on all of these fixes – note that we have done some of these, but they are all on our 2 year list. I never want it to come across as though we have all the money in the world to do all the updates right away.
I think it is important to pick and choose which fixes are most important, but also group them when you can to cut down on calls to get them done. After all, our sanity with less phone calls does count for something!
Although I have touched on some other FUN things you can do outside on my page this is going to be one of my more PRACTICAL posts – because it can't all be smore's and bonfires right? Haha
Adding or Moving Outdoor Electrical Outlets
When we moved into our home we had 1 electrical outlet outside of our house.  ONE – and it was smack dab in the middle of our yard haha.  It was literally a metal pole that stuck up in the middle of the grass with an electrical box on it.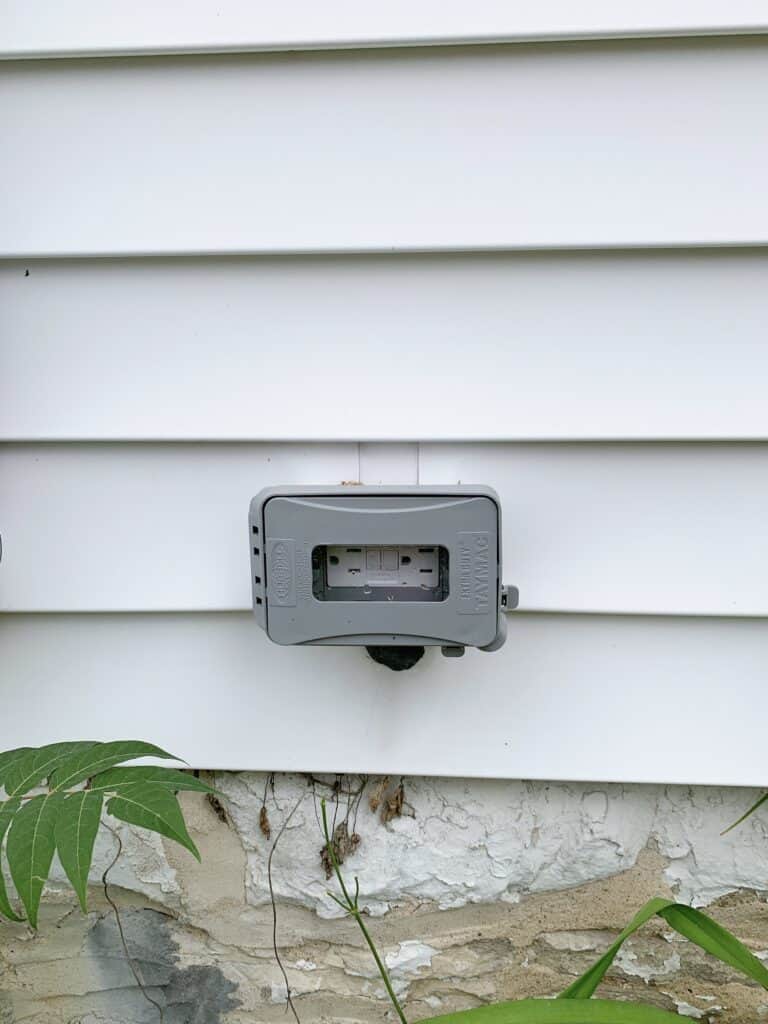 We made an assessment for what we would need electrical for most and had the electrical box moved to the house, but have since decided it would work best to have 2 more added. This was a simple fix for Hoffmann Brothers in St. Louis. They came out and in the matter of a couple of hours had quoted the project, completed the work, and were on their way.
They were also able to help walk us through where some other 'easier' places would be to add them in the future so that we can get that scheduled.  One thing I love about Hoffmann Brothers is that their technicians are all so knowledgeable so we KNOW the work is being done safely, but we are also always able to sort of vet some info on future projects.
In this case we had so many other expenses we knew adding 3 outlets wasn't going to happen that day, but now we know how to prep for that.
Places to consider when it comes to outdoor electrical:
Patio: This is huge and will be our next outlet placement. Thing Projectors, Fans, Music, and so much more. With a back patio being an extension of a living space you definitely want an outlet there if you don't have one!
Front Porch: This is a great place to add an outlet for holiday lights. We plan to do this before this coming holiday season, but were just trying to figure out our best placements for doing so!
Work Spaces: If you guys use power tools, having an outlet added to a space to designated work can be really helpful. You all know that is the case for us!
Charing Station: Another thing to consider is if you think you need an outlet where yourself or your kids can charge things.
These are just a few of the options to consider, but we have realized that having the outlet added instead of investing in 20 extension cords, and to make life easier is a maybe 'not fun' expense, but will save you so much headache while you're living in your house!
Running Gas to a Fire Table or Grill
Here is another fix that will help keep your sanity as time goes on.  If you love to grill or use a firepit, have a gas line run to your grill or fire pit.  Not having to pick up propane tanks or store extras over the years will make this a worthwhile update (and ultimately is much safer than having additional propane in your garage!)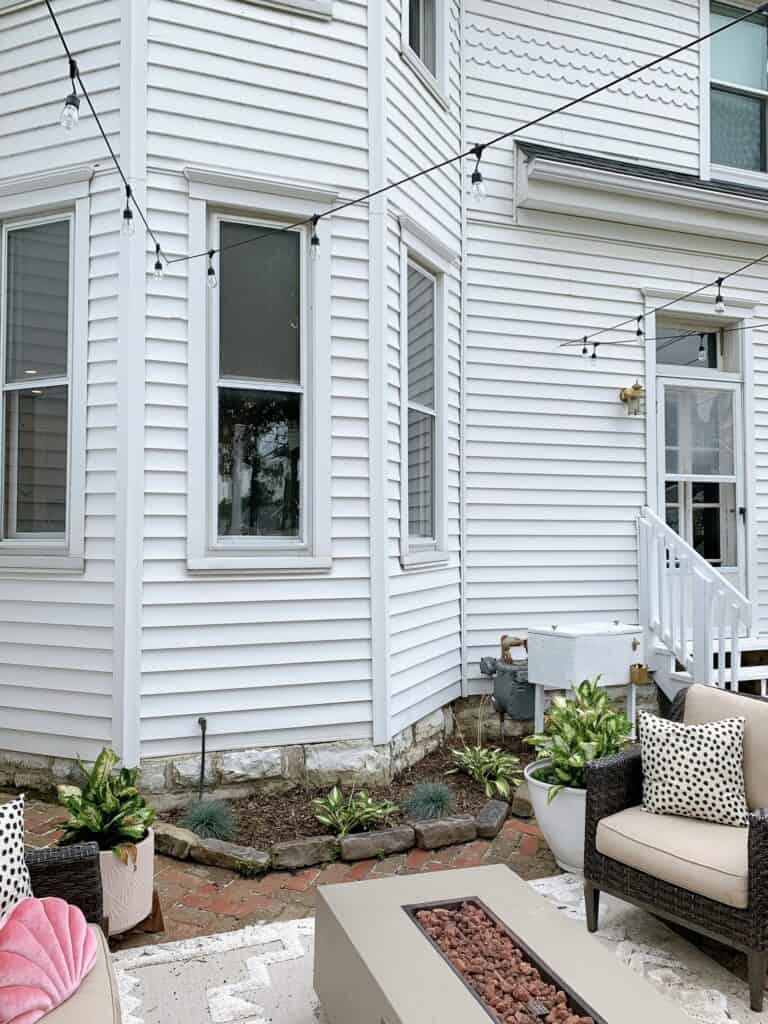 Add Outdoor Beams
One of the best things we did this year was add outdoor beams by our patio. We did this initially only for hanging bistro lights – which we love, but have realized for the price they have so many additional uses.
Hanging Bistro Lights
Instead of Large Umbrellas We can hook these up for added shade on our patio!
We were able to get an inexpensive projector screen to hook on the posts for easier movie nights.
Consider Comfort
The last outdoor useful update I will chat about is slightly less of a 'need' but still something to consider. In St. Louis it is hot and HUMID all summer. So there is nothing better than a breeze. Hoffmann Brothers can come and install a fan to your outdoor (or indoor) living space to make you more comfortable.
Adding a ceiling fan to your front porch, or even a wall mounted fan to a back patio if you don't have a covered portion can increase your comfort in big ways!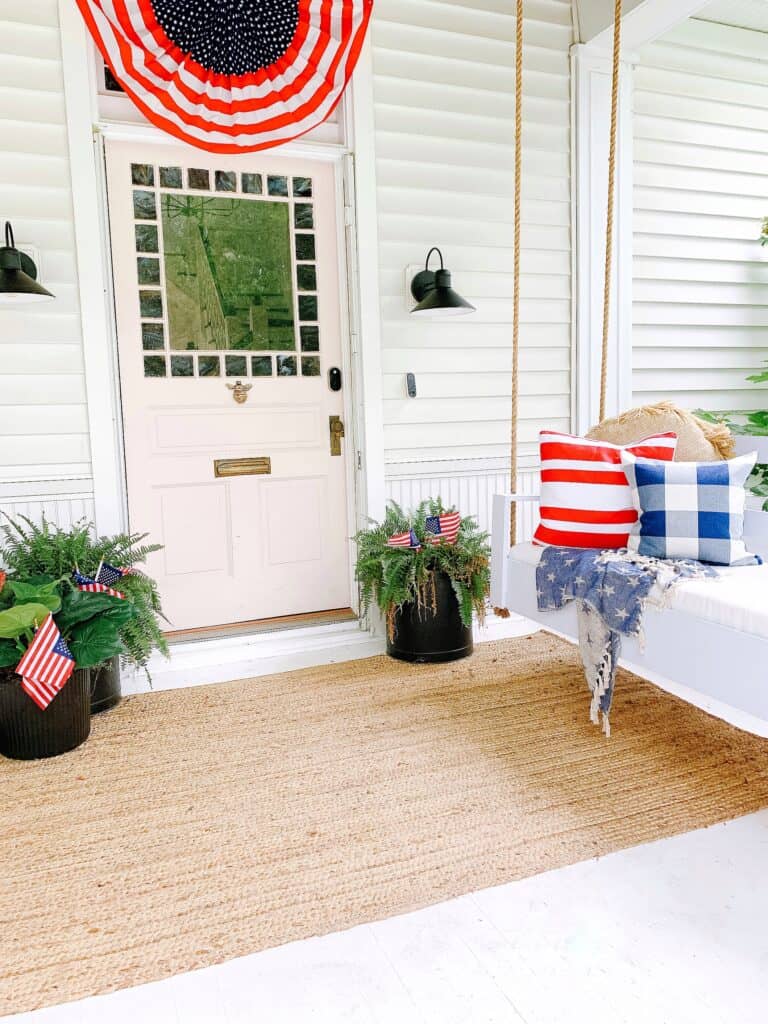 All in all – what I am saying is. Don't wait on some of the more 'practical' updates to your house. Sam and I have lists of projects we want done. One list for the pretty/fun, and one list for the stuff we need to intertwine to make our lives easier and safer in our house.
We are always JUST as thankful when we do the practical updates because they make enjoying the 'pretty' ones that much better.  If you are in St. Louis and are looking to have some of these updates done – reach out to Hoffmann Brothers.  They are so friendly and will walk you through how they can help!
Pin the Photo Below for Later
Hopefully this gives you a list of some things to be thinking about for your outdoor spaces, and will help you to more fully enjoy your home.  Be sure to follow me on Instagram (@arinsolange) for more tips and fun – and to watch us update this historic home!