How many of you have heard of the air fort? My assumption is most of you have been considering buying one if you are here on this post. I recently got one for my 4 kids after going back and forth for a few years, so figured I would leave you guys a review if you are also on the fence!
This post may contain affiliate links – all opinions are my own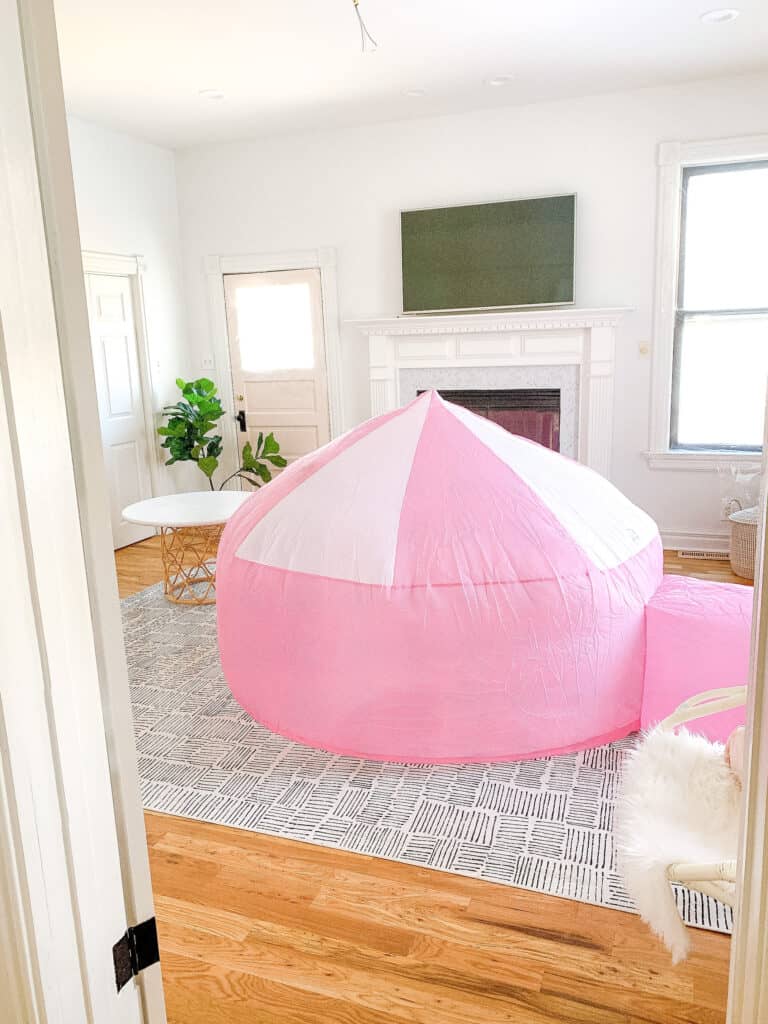 The Air Fort
Before I jump into my overall thoughts on the air fort, I wanted to share a bit more about the product, where you can get it, and the options, so you know exactly what I am talking about.
The air fort is literally what it says – a simple fort for kids that is held up by the air from a fan. They are available on Amazon ( and let me tell you there are some super cute variations like a barn and UFO). Here they are on Walmart as well!
The forts are made of a breathable polyester and is set up in 30 seconds as well as a 30 second breakdown. So now that you know all the normal stats let's talk about what I think of it, and who it would be great for.
Overall cost for the fort is roughly $50.
Overall Review of the Airfort
Without wasting a ton of your time – my overall review of the Airfort was for sure a win. It is a really cool product and makes life easier for mom and dad.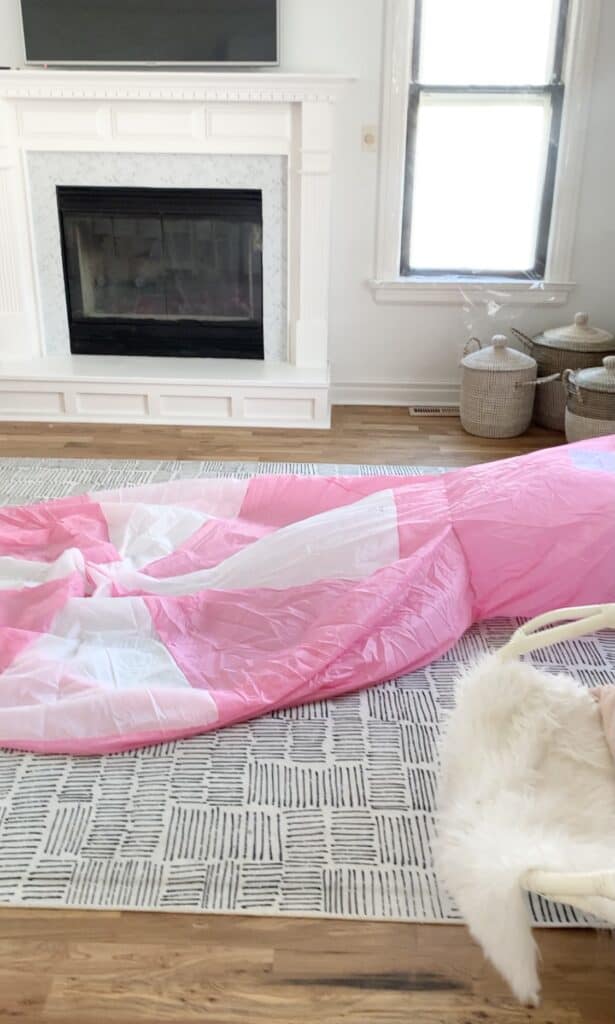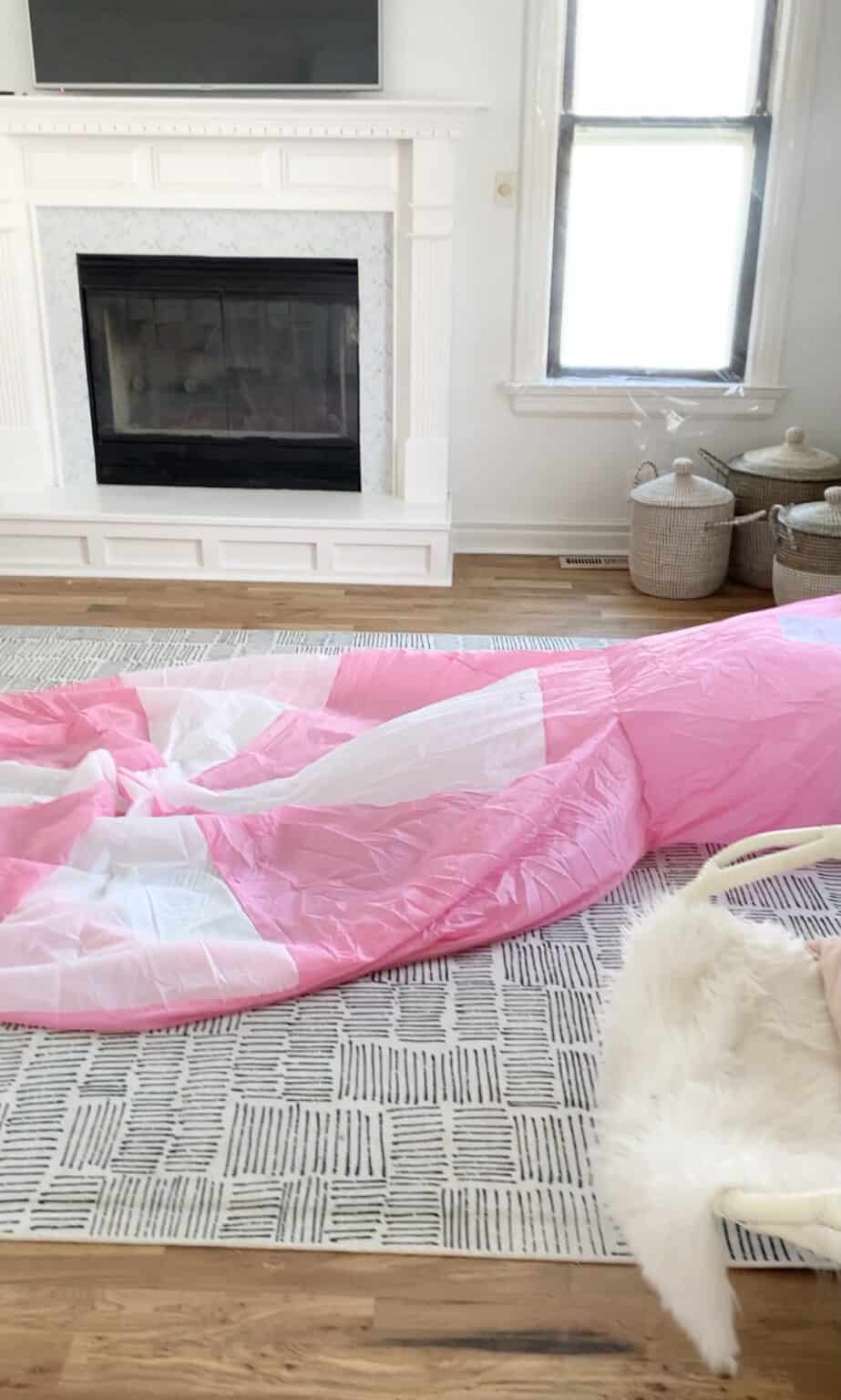 We have considering the Air for for our 4 kids for years, but honestly I assumed as with most forts that it would be a pain in the butt and or really loud because of the fan. Neither were the case.
This review is based on my thoughts as a mom of 4. My kids are 1,3,6, & 8.
Watch this Video to see how it is set up
The video on this post shows how it is set up and how it works incase you have been confused. I hope you find it helpful!
Pros to the Air Fort
The biggest pro to the Airfort is the quick set up and take down process. The fact that the fan does ALL OF THE WORK is a parents dream. I literally hooked the fan to the velcro straps and it was basically instantly set up.
I also LOVED that the kids can't really destroy this fort. With typical forts and 4 kids my biggest thing is that someone always does something to mess it up and then the kids all freak out and I regret doing something fun (please say you relate, parents!).
Because the air is what keeps it up, even if they lift the sides and such it instantly goes back to a full fort so it is no big deal.
The size was also plenty good for all 4 of my kids to hang out and watch a movie or something fun which I thought was great. I was worried it wouldn't be able to hold them all at once.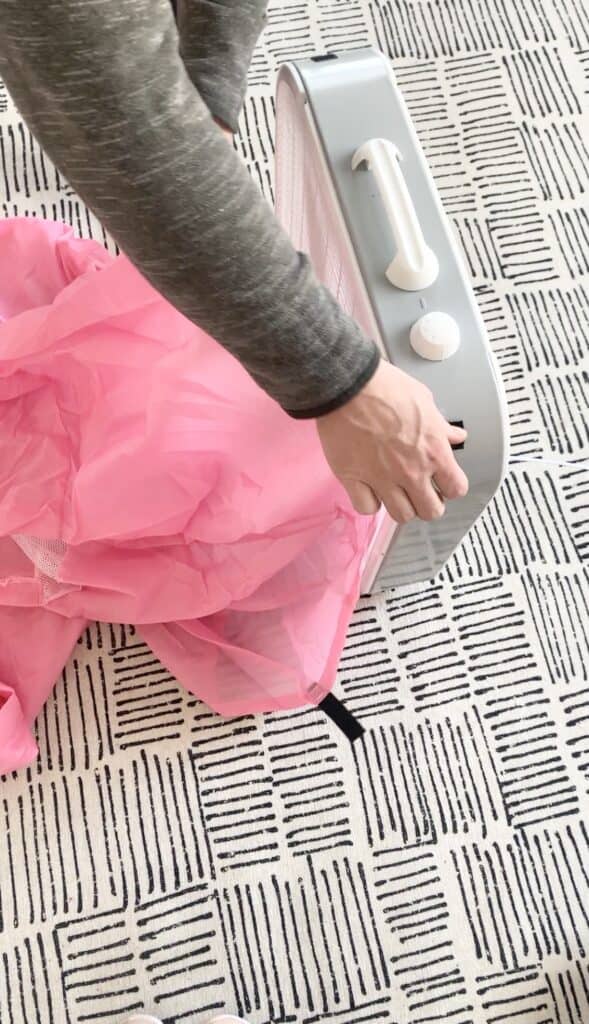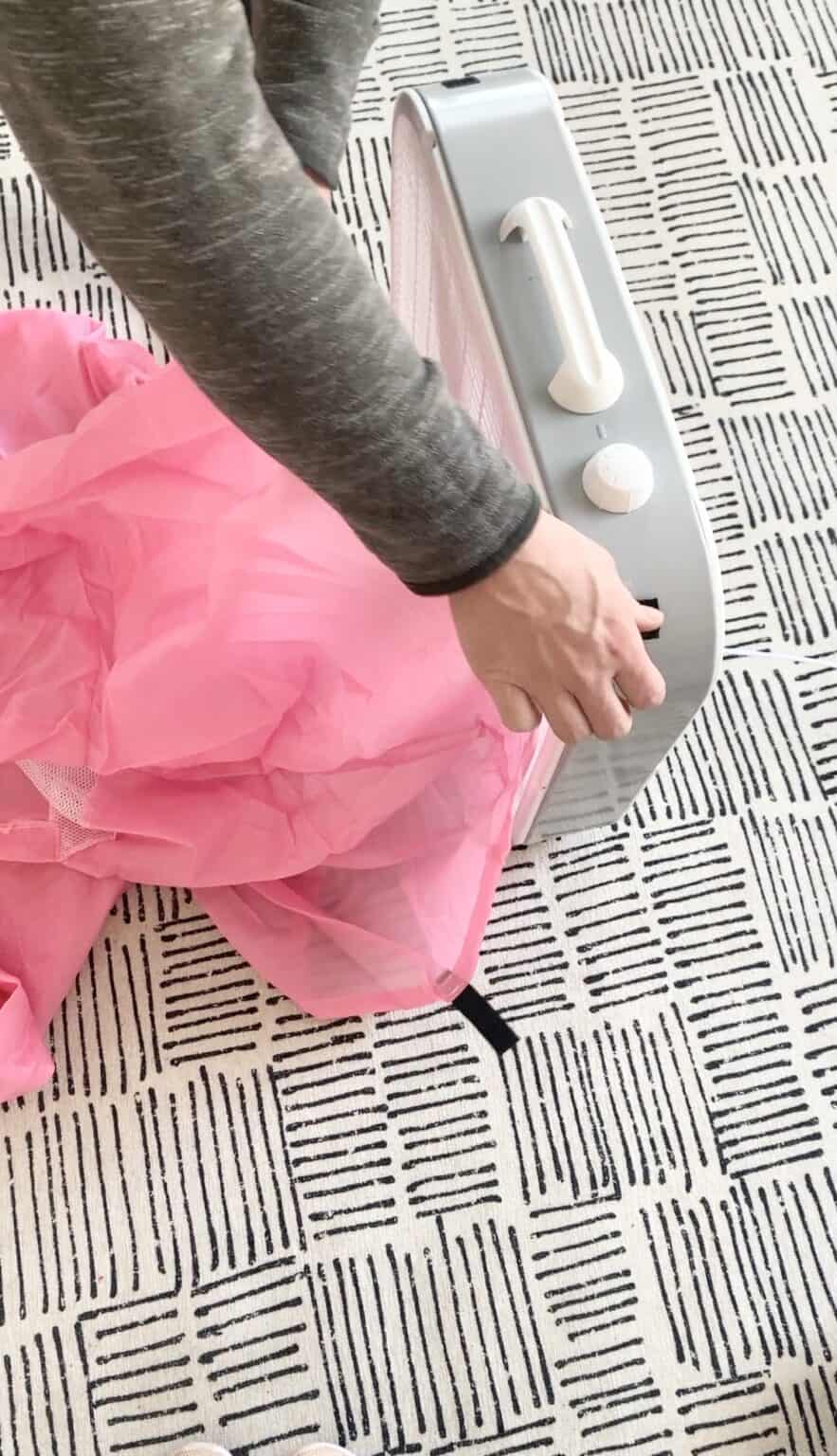 Safety – I like that there is a 'window' to see in, as well as a guard so the kids can't get to the fan at all when they are inside. I wasn't sure how that would work before getting it so was happy to see that.
The last huge pro is storage. It is so small and fits in a little pouch smaller than a gallon sized baggie so it makes it easy to bring along with you. We actually plan to bring it on spring break with us this year for something fun for the kids to do at their grandparents house.
The Cons
Admittedly this list is small because I don't think there is much to complain about with the product, but more considerations that you should think about before purchasing to make sure it is right for you.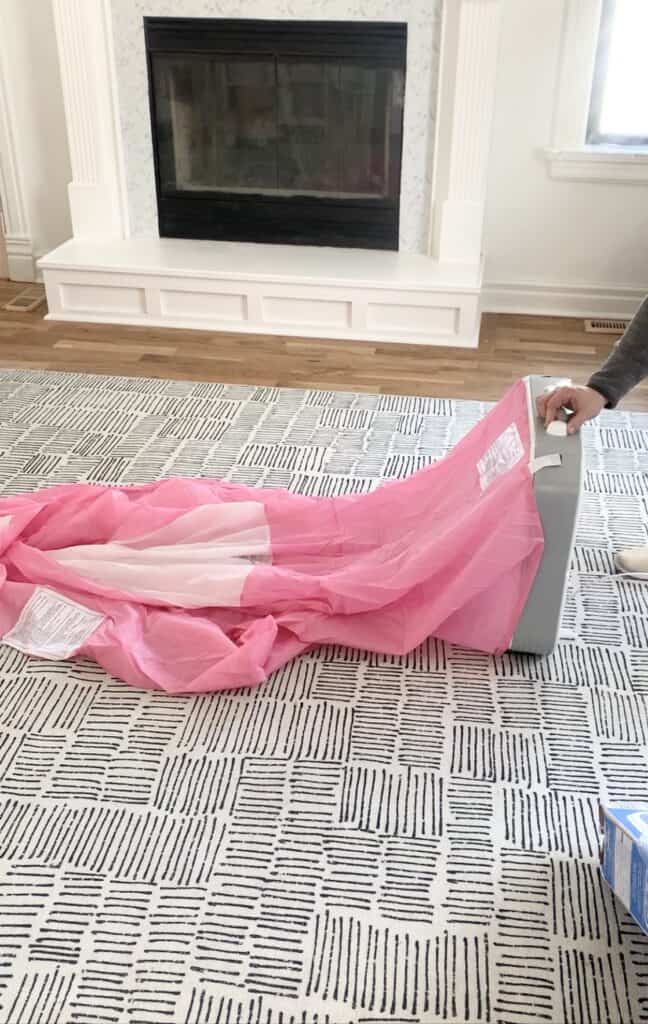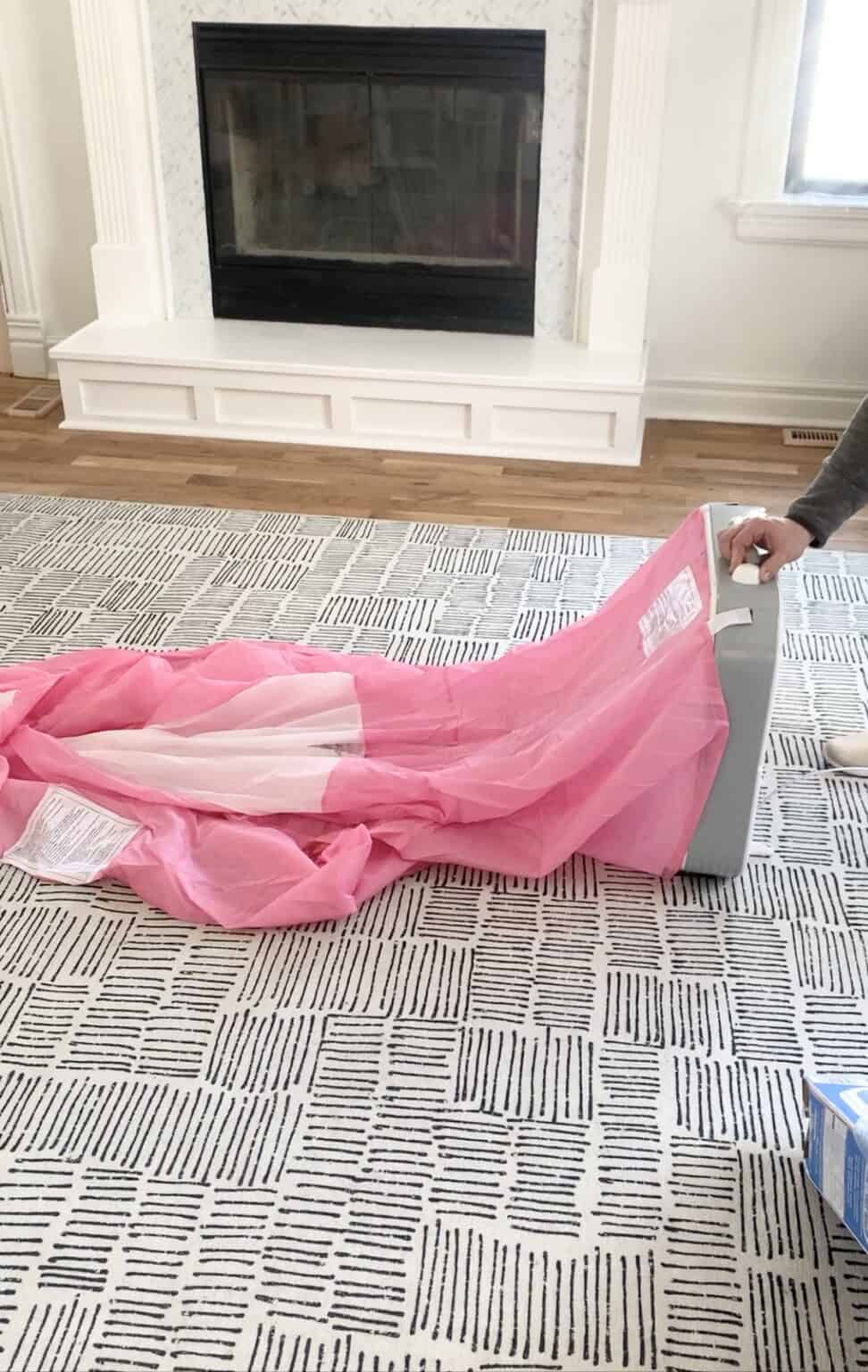 The fan has to be running the whole time they are in it. When the fan goes off so does the Air fort, so you will use electricity the full time it is in use.
To me on that same front it is a better warm weather toy. We got it in the coldest months of the year and the last thing I wanted was a fan running in our house – so that is something to keep in mind.
Last – it doesn't come with a fan. They DO NOT market that it does, so I knew that, but it is something you should factor into the price if you don't already own one. You can grab one for about $30 here if you don't own one – but I would think ahead and have it on hand for arrival if you decide to purchase.
So what is my overall thought? Buy one…unless maybe you live in Alaska ha.
Other Posts You'll Love
Veer Wagon Review | Wall Mounted Easel | Hanging Rattan Chair (seen in these photos) | Jenny Lind Bed Review
Pin the Photo Below for Later
Did you find this review of the Air Fort helpful? Hopefully you feel more confident in buying or or leaving it to be the fun thing your kids play with at the neighbors. Be sure to pin the photo below to find this post later, and leave any questions you have in the comments. I share so much more fun content on Instagram (@arinsolange), so if you're not already following, be sure to head there to follow along!