After a year of owning our Poly and Bark Napa Sofa it was high time I wrote a review of the sofa for anyone else that is considering it. I know when I was deciding on which sofa to get (and ultimately landed on the Napa) I did SO MUCH research….because let's face it – buying a couch online is a big decision. Hopefully my review will help you decide if it is right for you!
This post may contain affiliate links – you can read more in my privacy policy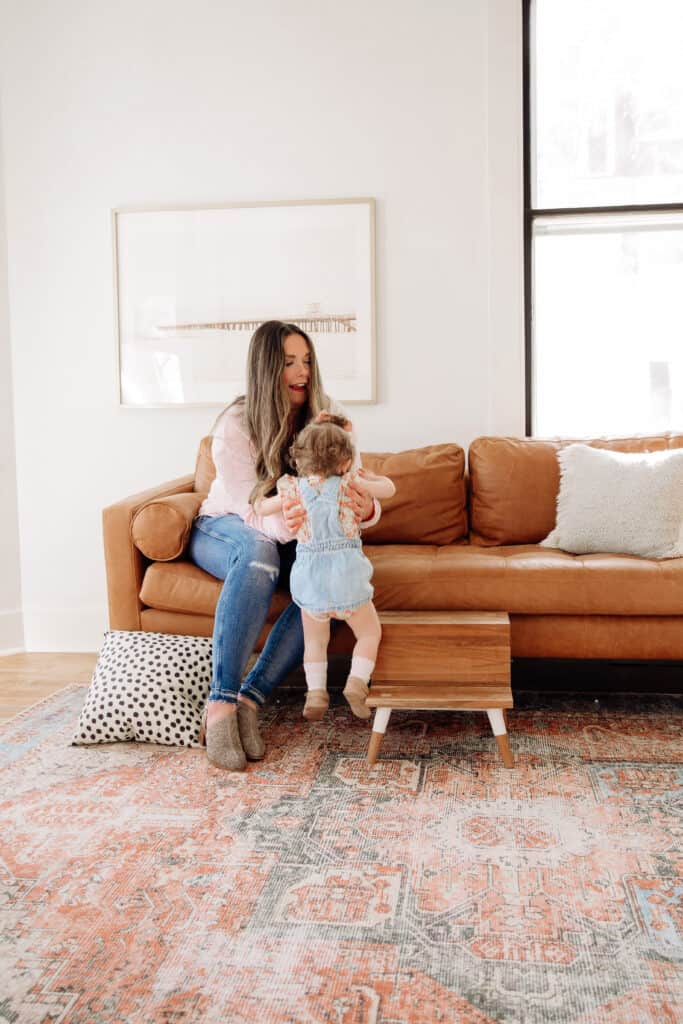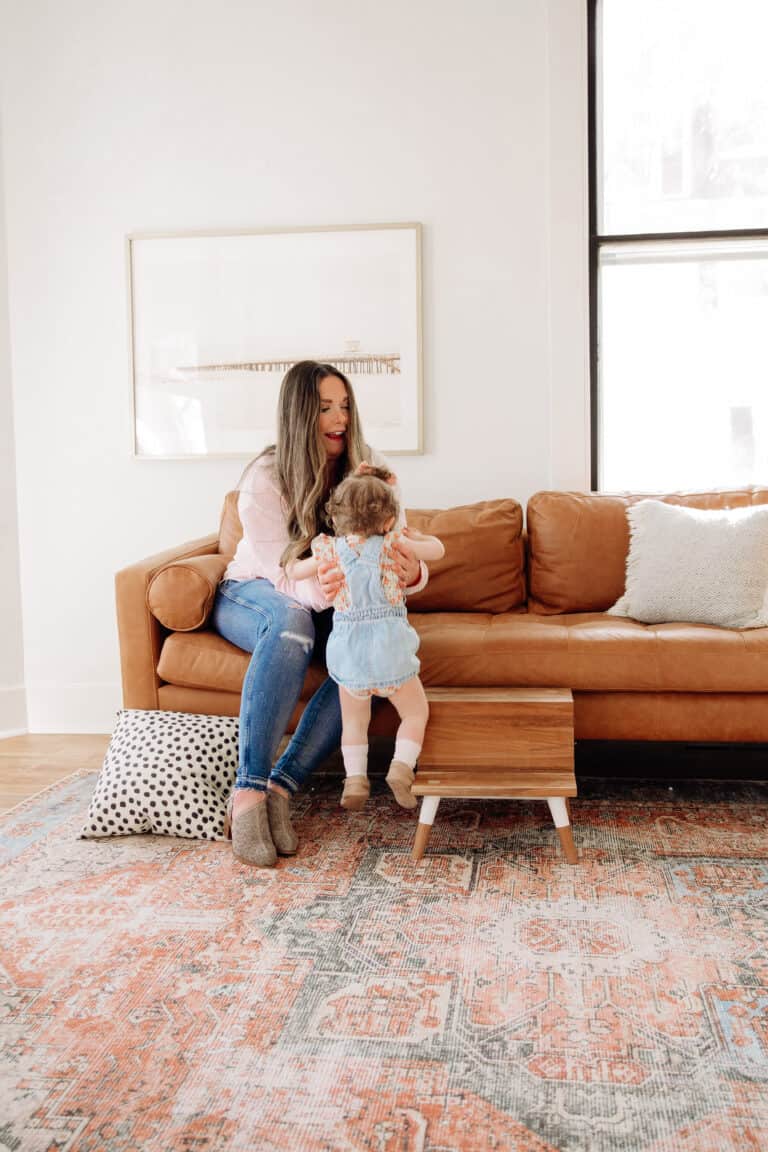 Talk about a difficult time in the world getting furniture. Shipping delays and supply chain issues has everything delayed, and a lot of us scrambling to find quality furniture with a quick delivery date. We are currently looking for chairs for our hearth room, and it honestly feels all but impossible!
1 year ago my husband and I purchased a 150 year old home to renovate. Moving in during a pandemic came with LOTS of challenges – one of which was longer than we cared to live with only camping chairs.
We have several rooms to fill with furniture and I really wanted to add leather to our house somewhere – and landing on the Poly and Bark Napa sofa was one of our best furniture decisions. Actually just this past week we did a major furniture swap all over the house, with talk of selling one, and that one was the only one my husband was NOT willing to get rid of.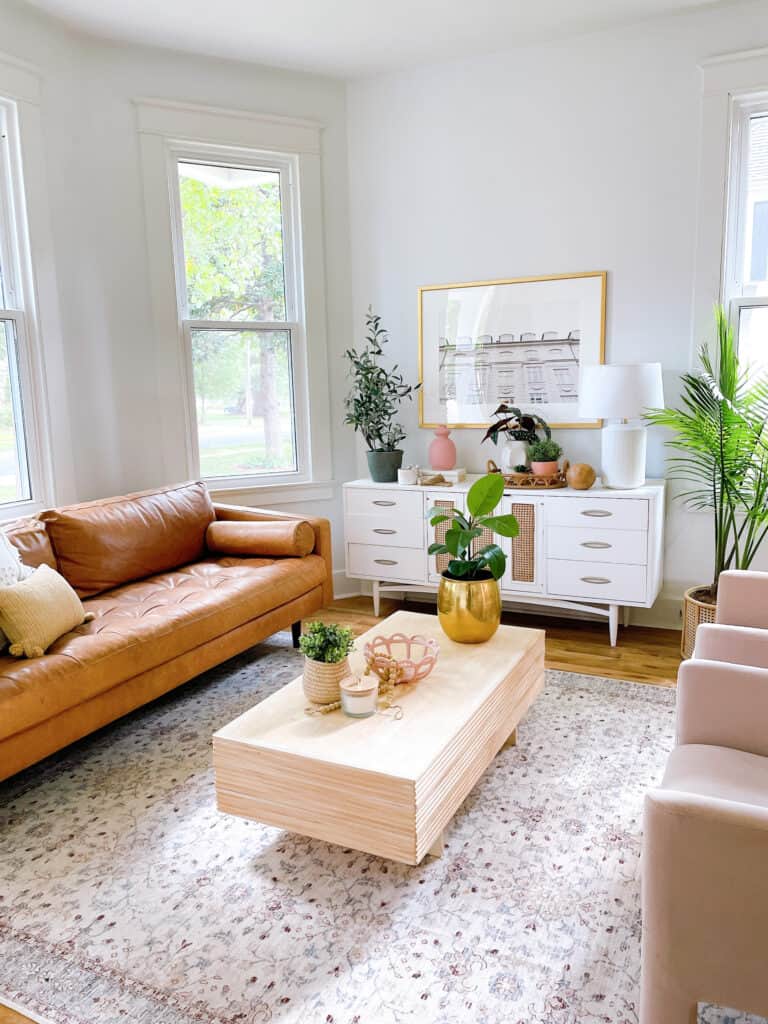 Poly and Bark Napa Sofa
Last year we had just moved into our current home and the wait time on furniture was INSANE. I loved the idea of a leather sofa, and landed on the Poly and Bark Napa Sofa after countless hours of research and comparing with other similar sofa options.
If you are also in that position I want to talk to you about our experience with the sofa, all the way down to the delivery, and what I learned in my `research on similar sofas.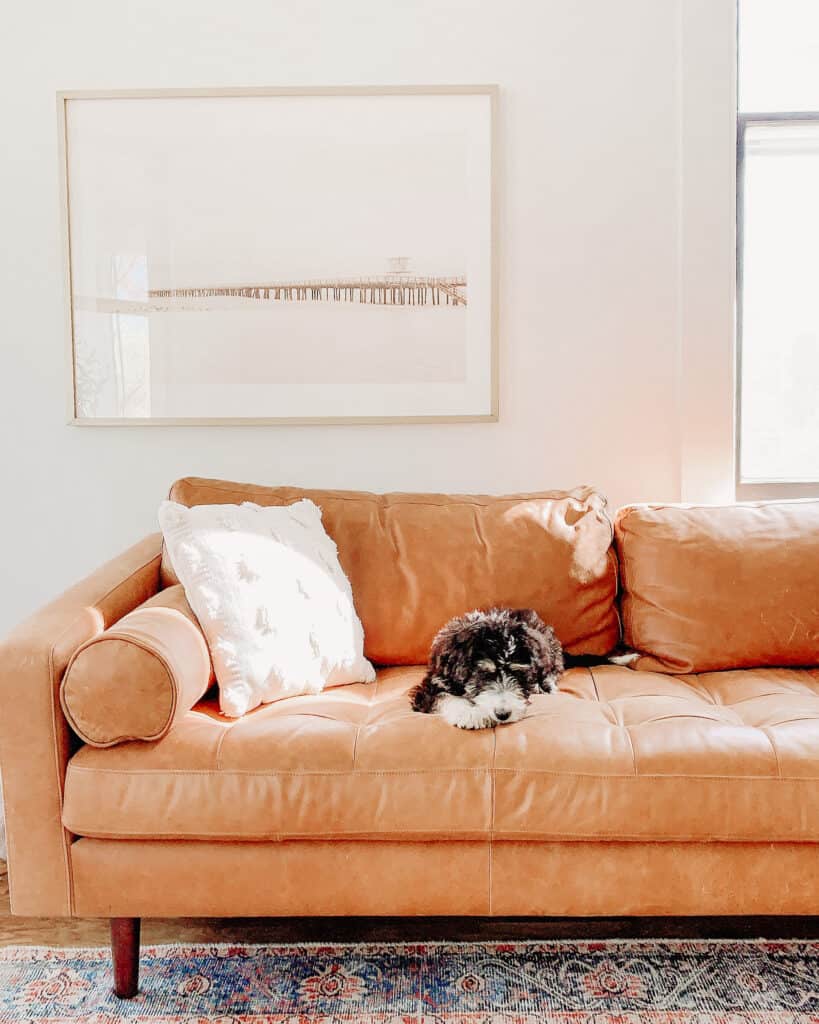 Why I chose the Poly and Bark Napa Sofa
Before I talk more about the sofa – my overall review is that the Napa sofa is GORGEOUS and one of my best purchases for this house. I have 4 kids and a large dog (although we didn't have the dog when we got the sofa) so I was honestly slightly nervous about leather and scratches.
After a year and a 60 lb puppy the sofa has weathered in all the right ways and it just added to the charm! The way leather weathers is loved by me – which is not normally the tune I am speaking after a year with a sofa.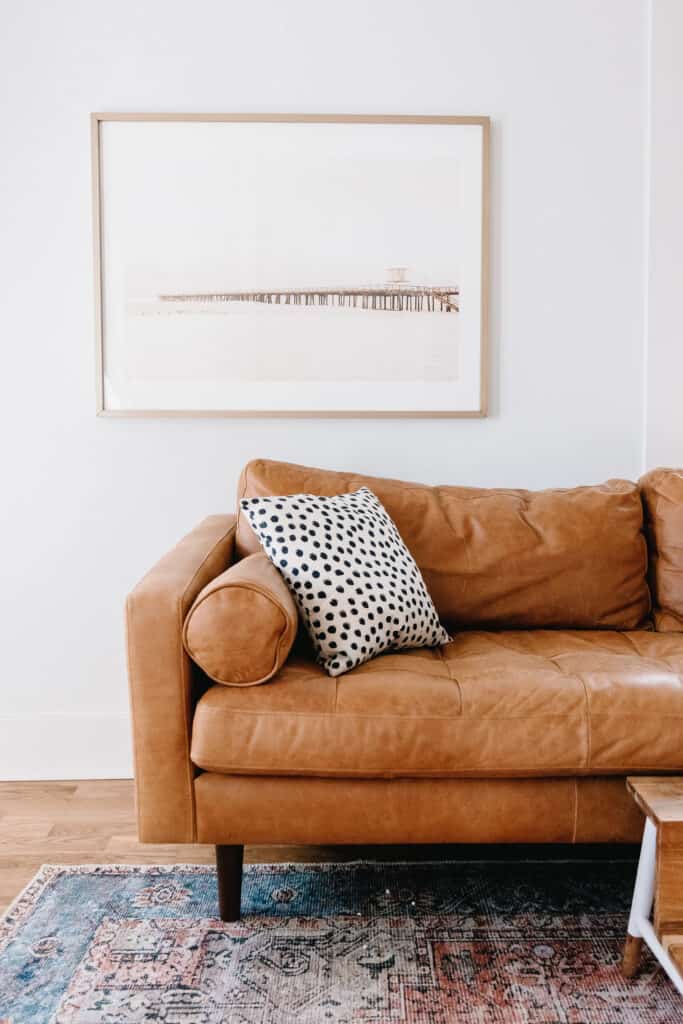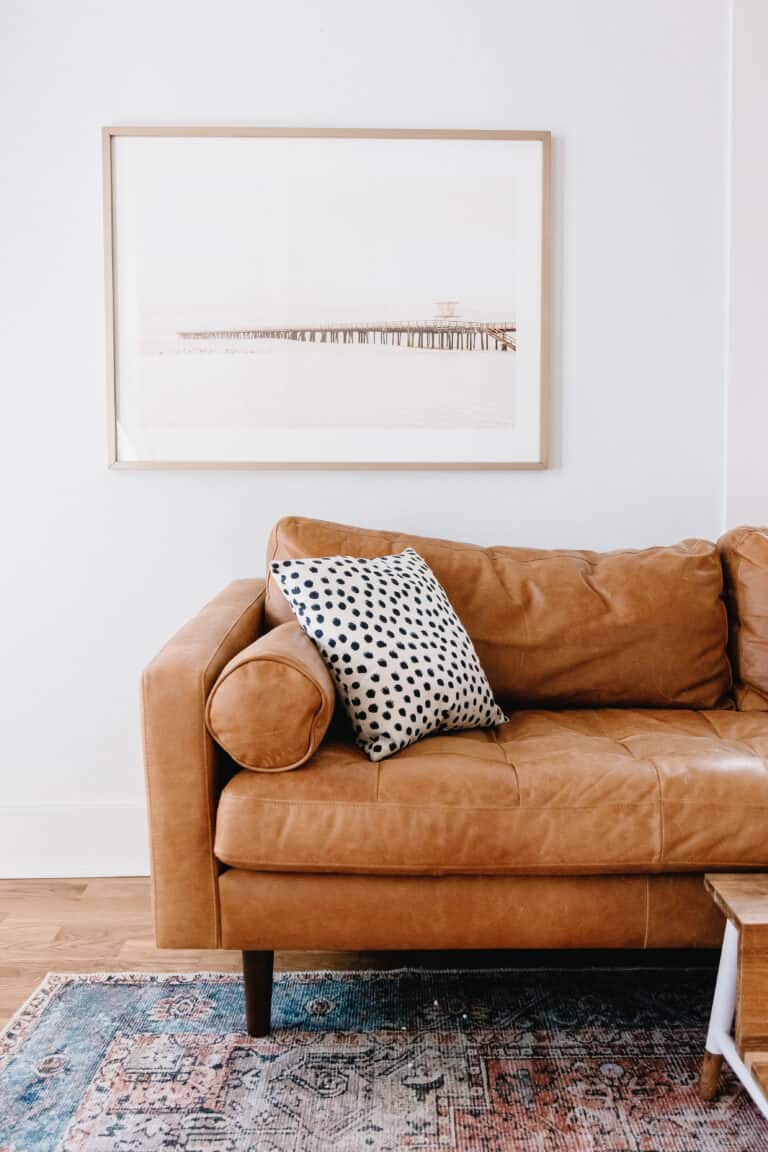 I want to talk about why I landed on the sofa, but I am going to be really honest – delivery date played a HUGE roll in the sofa choice for me. I wanted something that would be to my house quickly because we had sold all our furniture before our move.
I personally purchased our sofa on Amazon (highly recommend this, and will touch on it again later) and from the day I ordered to the day it was delivered was exactly one week. In a world where there were such long wait times on furniture this was HUGE for us.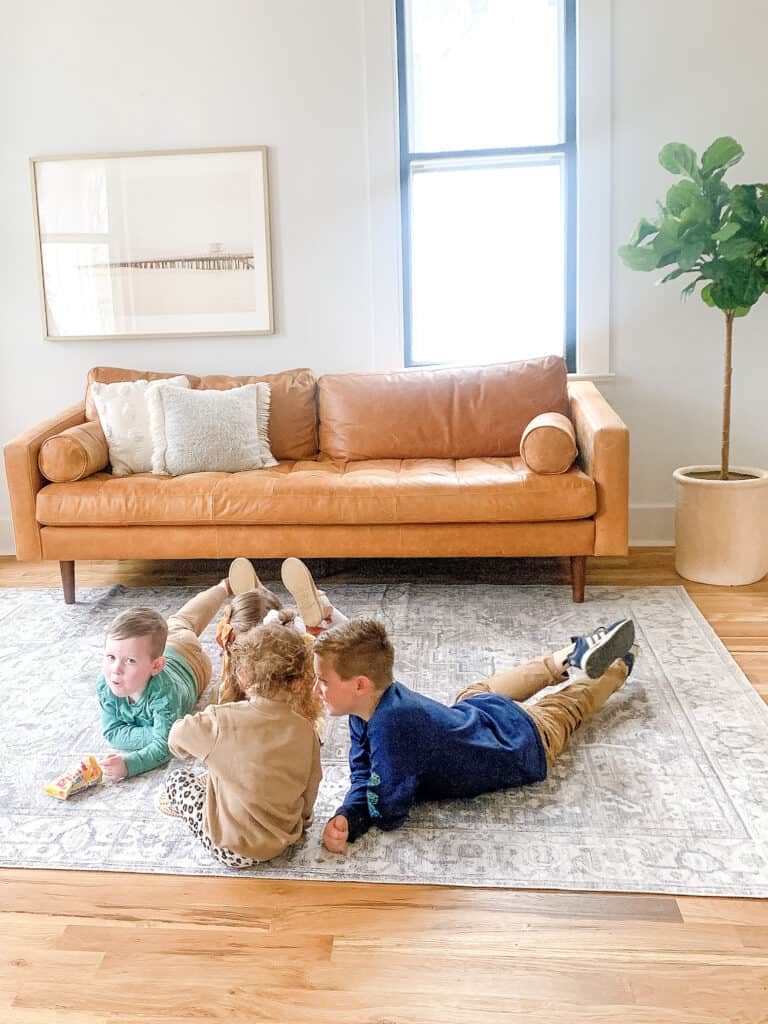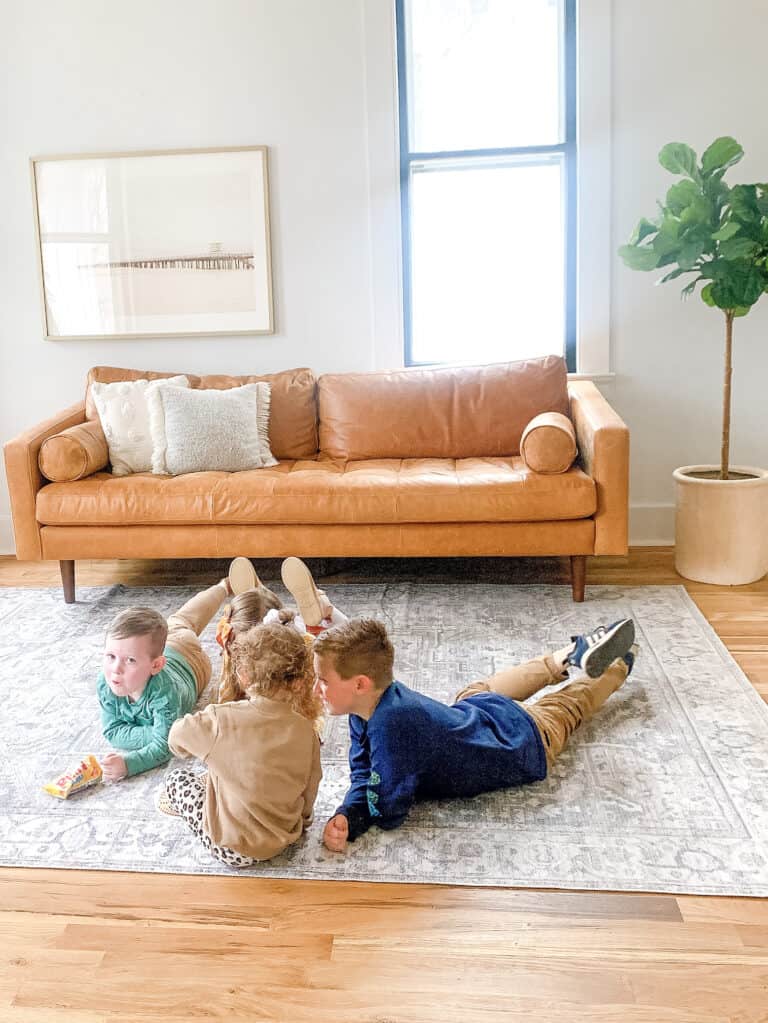 I also loved the color of the Napa sofa – we went with the cognac tan color, and I felt it looked high compared to some other similar leather sofas.
Last – when looking at a leather sofa, one of the big perks is that leather is timeless. I knew this had the ability to last us for years to come, so I needed something with reviews stating it was comfortable and had high quality cushions that wouldn't look deflated in a year.
Things to know about the Poly and Bark Napa Sofa
The Napa sofa is a high quality leather sofa upholstered in Napa leather. This means it is a high quality leather that will soften and wear with age. It does also come in a velvet option now which I can not speak to the material on, however the rest of the details will remain the same.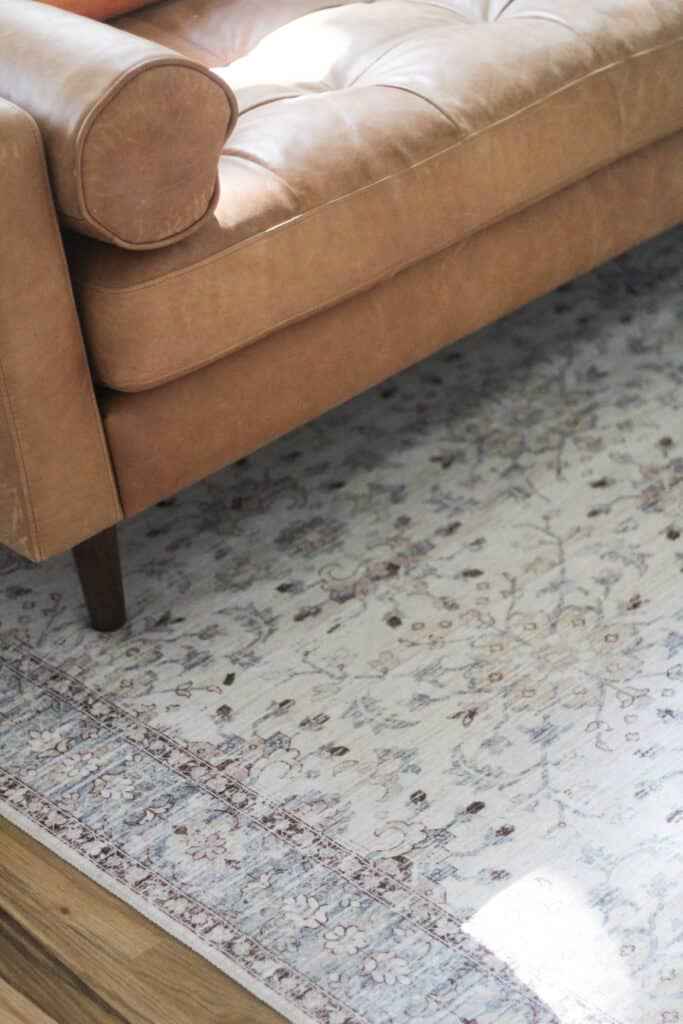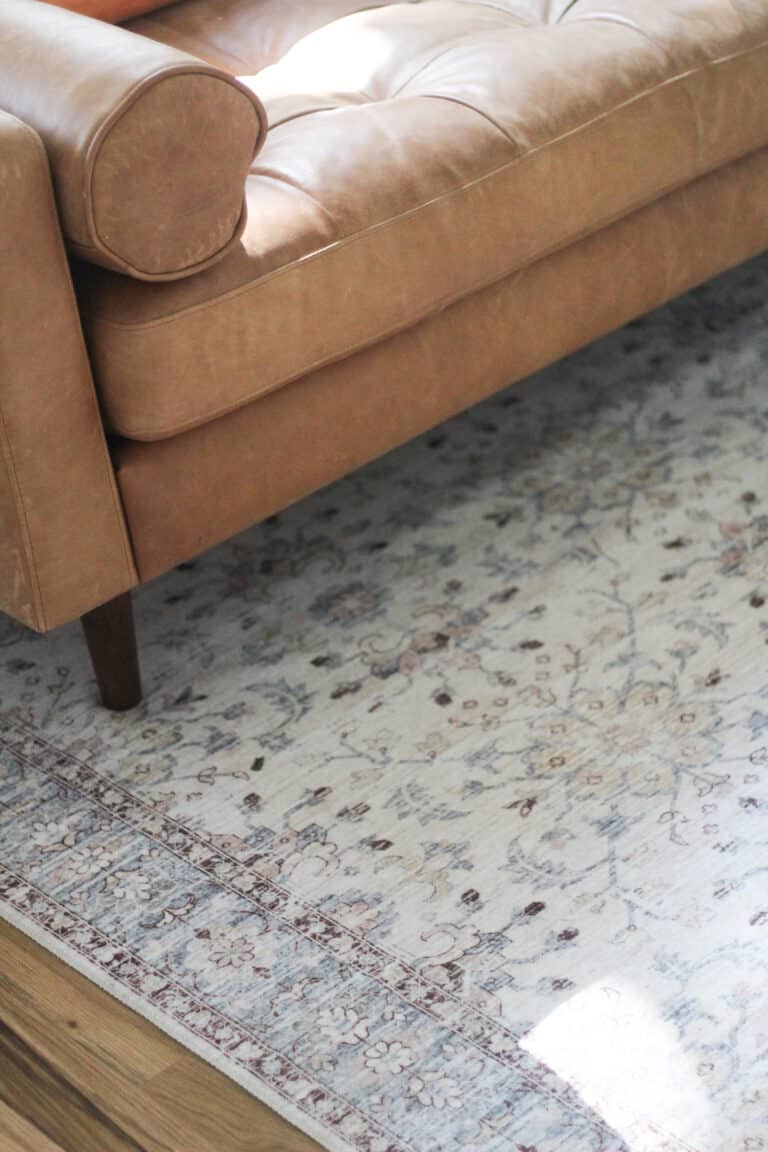 There are several configurations and sizes available in the Napa sofa including a 88.5 inch length (this is what we own), left-facing sectional, right-facing sectional, and even a chair. Each size is comprised of a wooden frame with a single long cushion that is made of high-density foam over polyester filling. It then has a duck feather topper which makes it soft and comfortable while keeping its support and form.
What to know about the Napa Leather
Napa leather is made of aniline hides which means that each sofa will have its own unique look that is not exactly like another. With that said – when I read that I was kind of nervous thinking it was going to be a bit too rustic for my home. I decorate on the more modern side and didn't want a cozy country look with this sofa.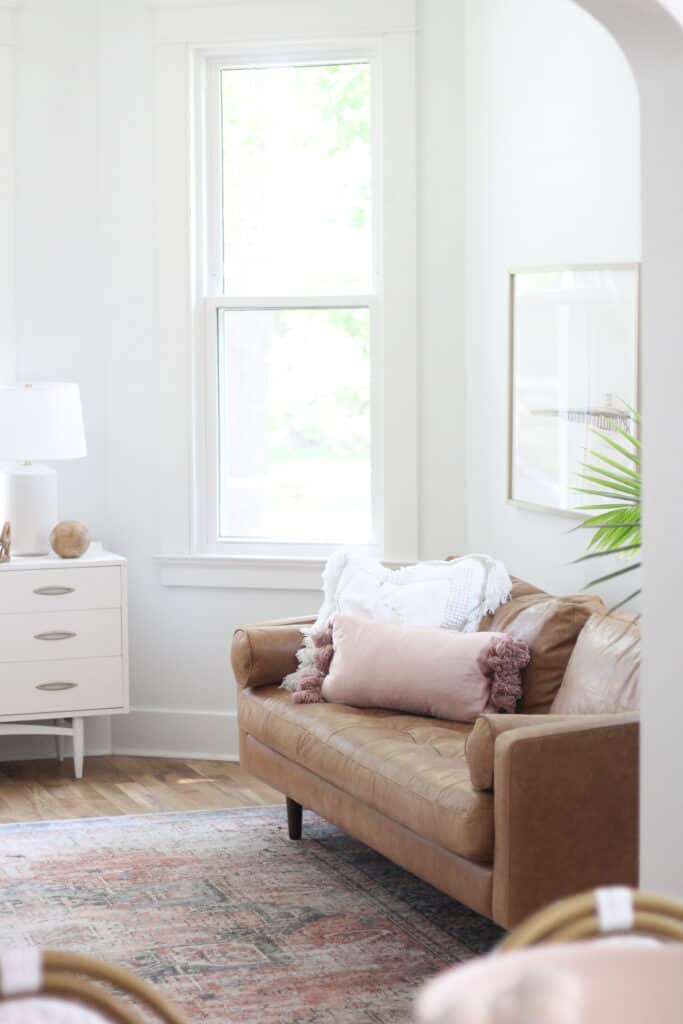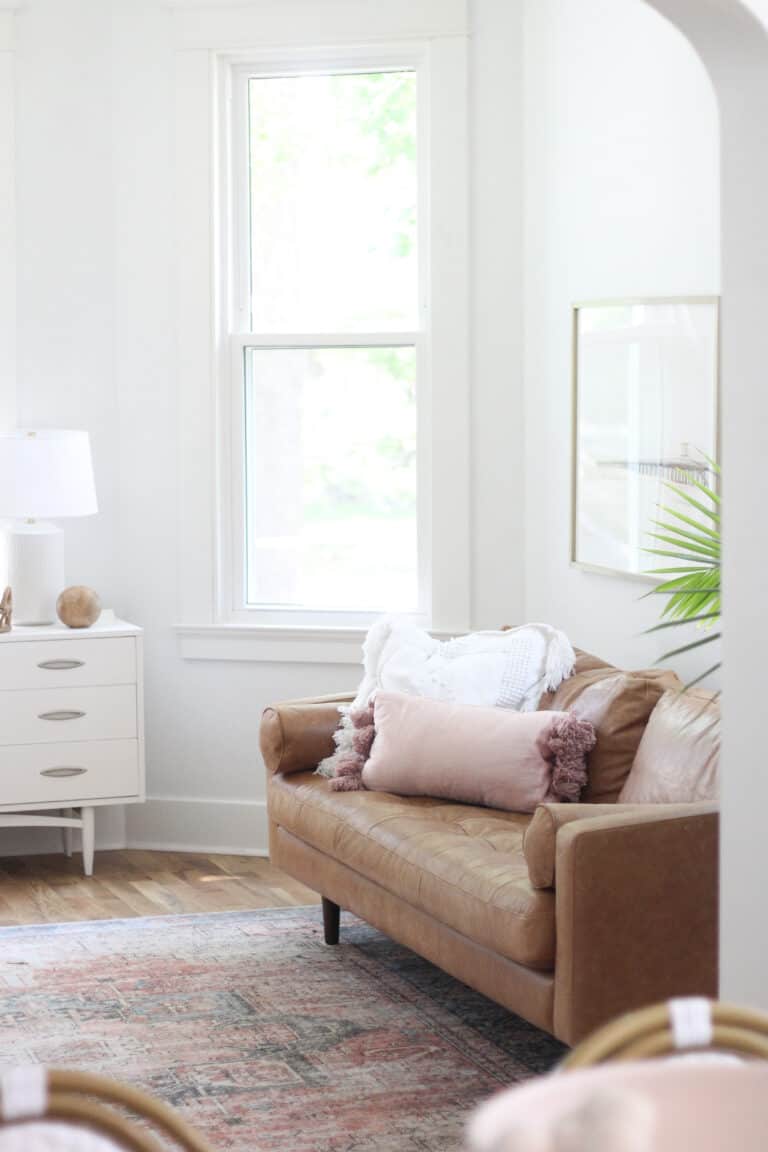 In fact it was smooth and gorgeous and very modern in its coloring. That said I think it would fit well in any style home (which is pretty unique!). Over time the sofa will show scratches and the natural hallmarks of genuine leather that are nothing short of gorgeous. The photo below shows you our sofa – never conditioned after one year with my kids and dog on it all the time.
Where to Buy the Poly and Bark Napa Sofa
I mentioned earlier in this post that I personally chose to purchase my Poly and Bark Napa Sofa from Amazon. I know that seems nuts, right? But it was actually a faster ship date than on their website at the time of ordering for me.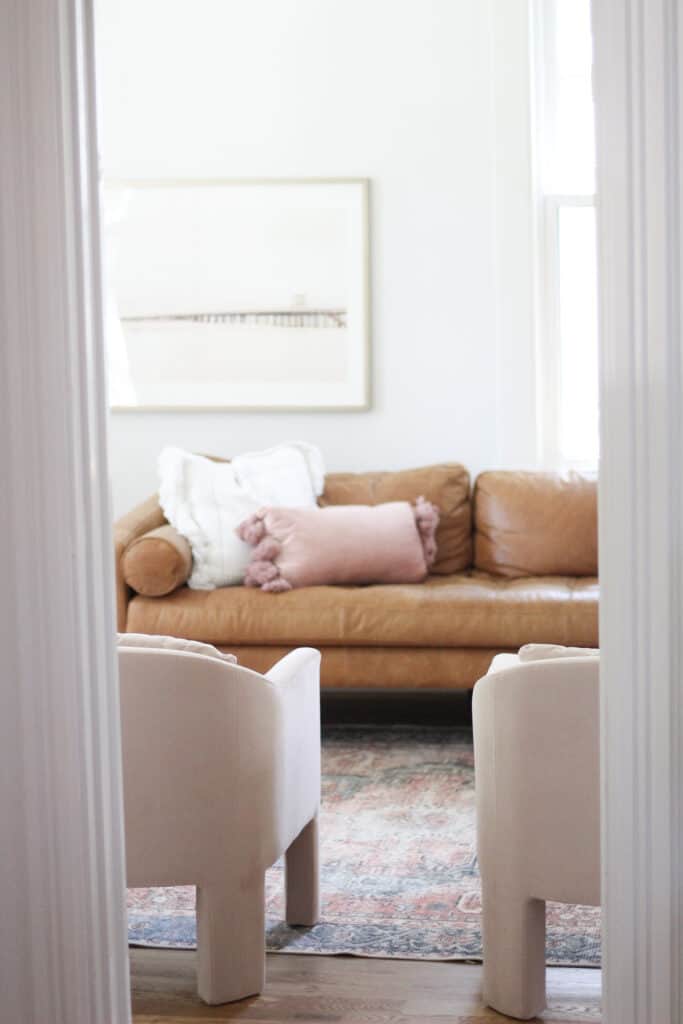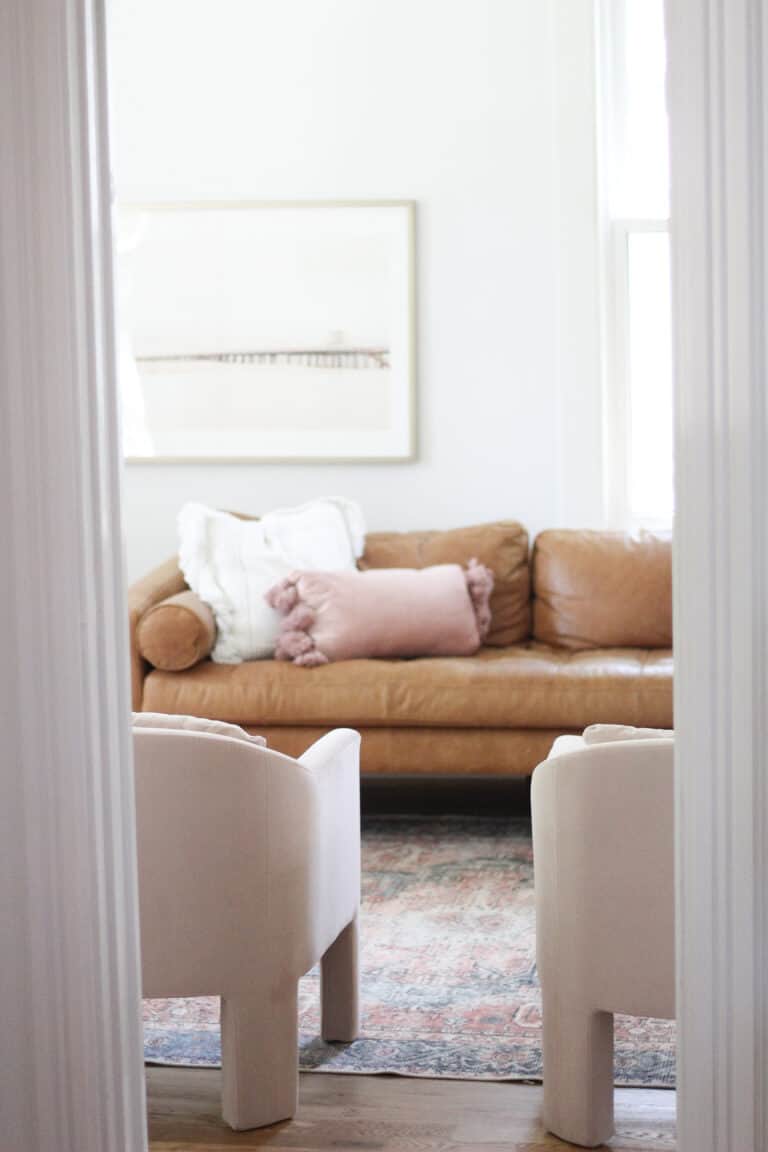 Both locations however do offer free shipping and offer a free return option, which I think can be huge with ordering something so large online. I would personally: Compare the delivery estimate between the two places, but also just decide which site you're more comfortable with. For me – I knew I trusted shopping with Amazon, so I went that route.
You really can't lose when it comes to purchasing the sofa – and it seems as though it will get to you pretty quickly either way.
Caring for your Poly and Bark Napa Sofa
One thing I am asked frequently is how to care for the sofa. Like I said above – due to the kind of leather it weathers well, and the scratches and wear and tear really do add to the look. ( I am not just saying that! ha). That said – I know there may be times that you want to clean the leather a bit.
I have personally used vinegar and water on small spots and that has worked well but you may also want to have this leather conditioner on hand for keeping it looking its best as well.
Other Posts You May Love
Amazon Home Finds | Beddys Bedding Review & Discount | Nursery Closet Organization
Pin the Photo Below for Later
Hopefully this Poly and Bark Napa Sofa review has you feeling more confident on if it is the right sofa for you! Feel free to leave any questions you have in the comments below, or as always you can DM me on Instagram ( @arinsolange).