Boys bathrooms are on my mind, with some fun renovations to come this year. When we first moved into our historic home we knew there would be a lot of projects. Even after undergoing a major renovation there are rooms that still need attention. One of those rooms is Jack and Walker's shared boy's bathroom, so while I am doing all my research on boys bathroom ideas and planning I want to take you along!
This post may contain affiliate links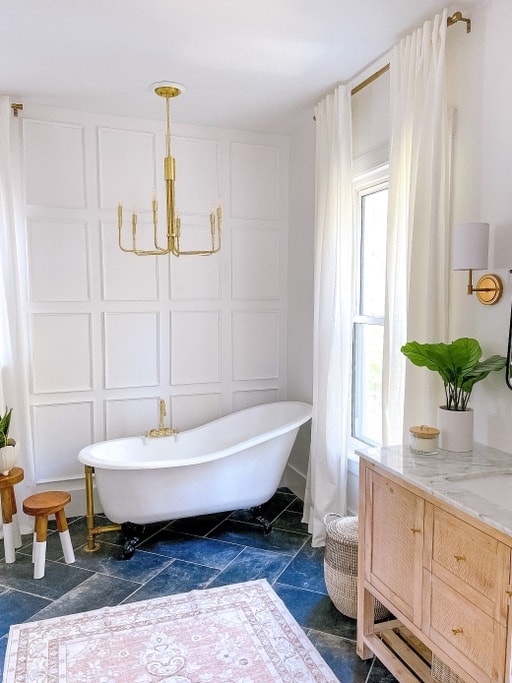 The Best Boys Bathroom Ideas
I love pairing function with style when it comes to my home. When I looked at the boys' bathroom and the blank canvas of it, I knew I had some big bathroom design ideas. For those of you who do have little boys, you'll know that a boy's bathroom can come with caution tape across the door due to their bathroom habits. Why is it that young boys just love to practice target shooting?
For my boys, we will be making their bathroom into a half bath complete with a toilet and urinal. The shower space will be shared with another bathroom on that floor. This is practical for our family and I can't wait to get the renovation started so I can get in there to design the space.
Whether you are deciding to remodel your son's bathroom or redesign the bathroom look you'll need to take into account several considerations.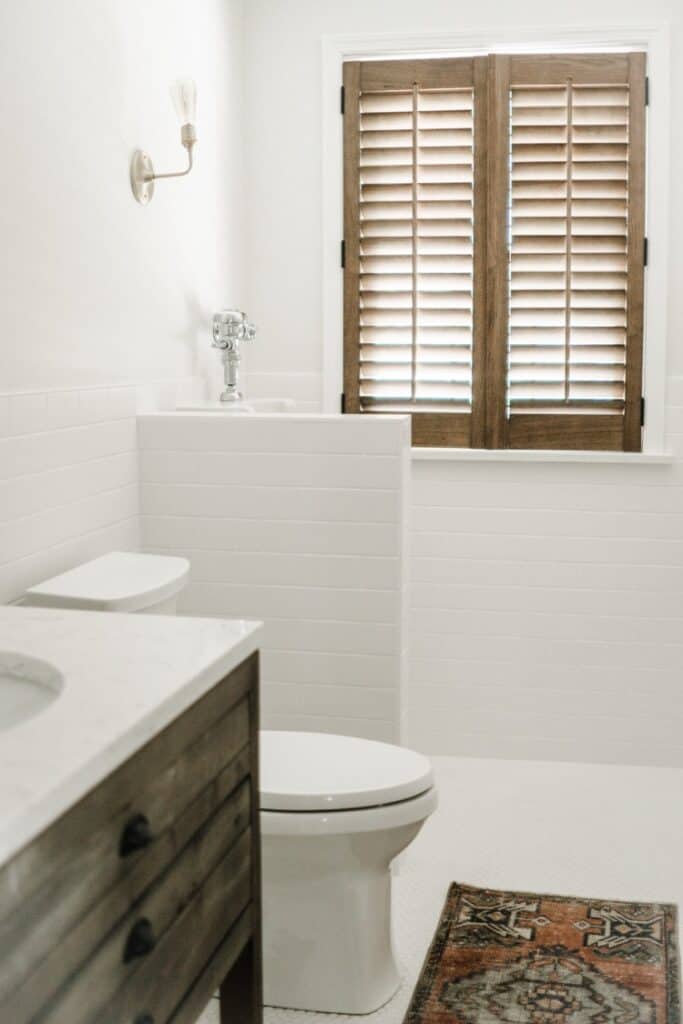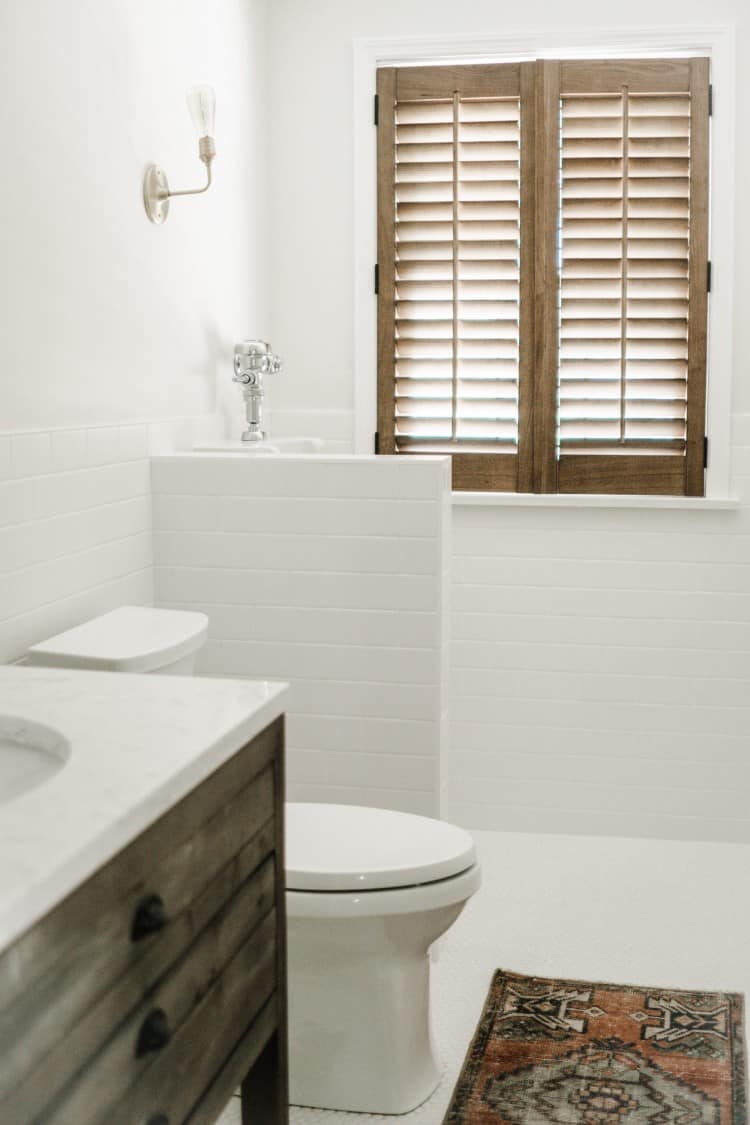 Behind that half wall is a full urinal in the bathroom for my friend Val's boys.
Remodeling Boys Bathroom Ideas
If you are going to be undergoing a remodel this can be a huge undertaking. I know after going through our own master bathroom remodel that surprises can certainly pop up. You'll want to do plenty of research and be prepared to have your options thought through.
Budget
The first thing you need to consider before undergoing a remodel is your budget. No one likes to talk about money, but in all this is the most important step. Your budget will dictate what you can and can't do during your bathroom remodel.
Did you want those heated floors or would you rather have a really impressive backsplash? Unless you have an unlimited amount of cash you'll need to know what your priorities are and what you are willing to spend. Compromises will most likely need to be made.
Time Frame
Have a realistic time frame in mind before undergoing any remodel. Especially since we live in a pandemic world, it seems like there are constantly shipping delays, supply chain issues, and just backlogs in general.
If any issues are found during the remodel, keep in mind that will most likely put you behind your schedule. If you need your remodel completed by a certain deadline, make sure you are upfront and honest with your contractors before they begin. Open and honest communication is key.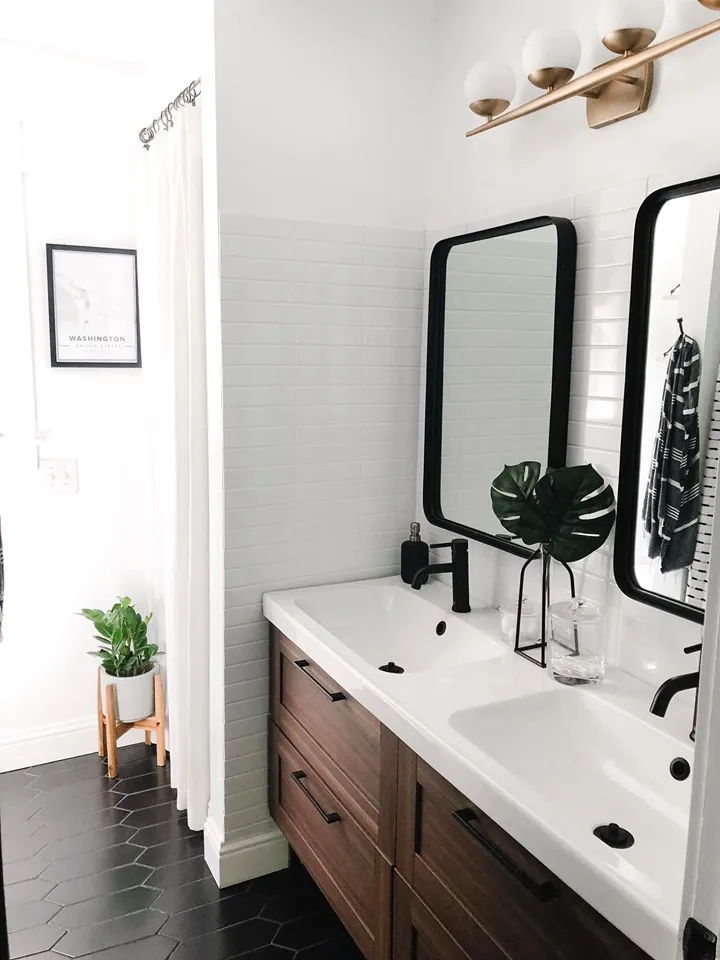 Stunning mid-century modern boys bathroom by Home On Mount Forest.
Space Layout
Generally speaking, you are working with a set amount of square footage that has already been established in your bathroom. Within that space, you'll have to fit wiring, plumbing, and venting all within those walls.
You'll need to consider where your plumbing is currently placed and whether or not you want to change that layout or keep it as is to avoid an added cost. If you are working in tight spaces, layouts can be tricky and you may not have lots of options.
Consulting with your contractor is an easy way to figure out the best layout for your bathroom makeover.
Decisions will need to be made
Be prepared to make a lot of decisions. You'll need to look at cabinets, flooring, shower and bathtubs, lighting, toilets, vanity area, accessories, paint color etc. Whew, just typing that out brings back memories.
There are so many little details that need to come together to make your kids' bathroom a reality. Keep in mind that all of these decisions you make go right back to your budget.
You may not be able to splurge on both cabinets and flooring. Sorry heated floors, but you've got to go! Keep in mind what is important to you and what works for your budget.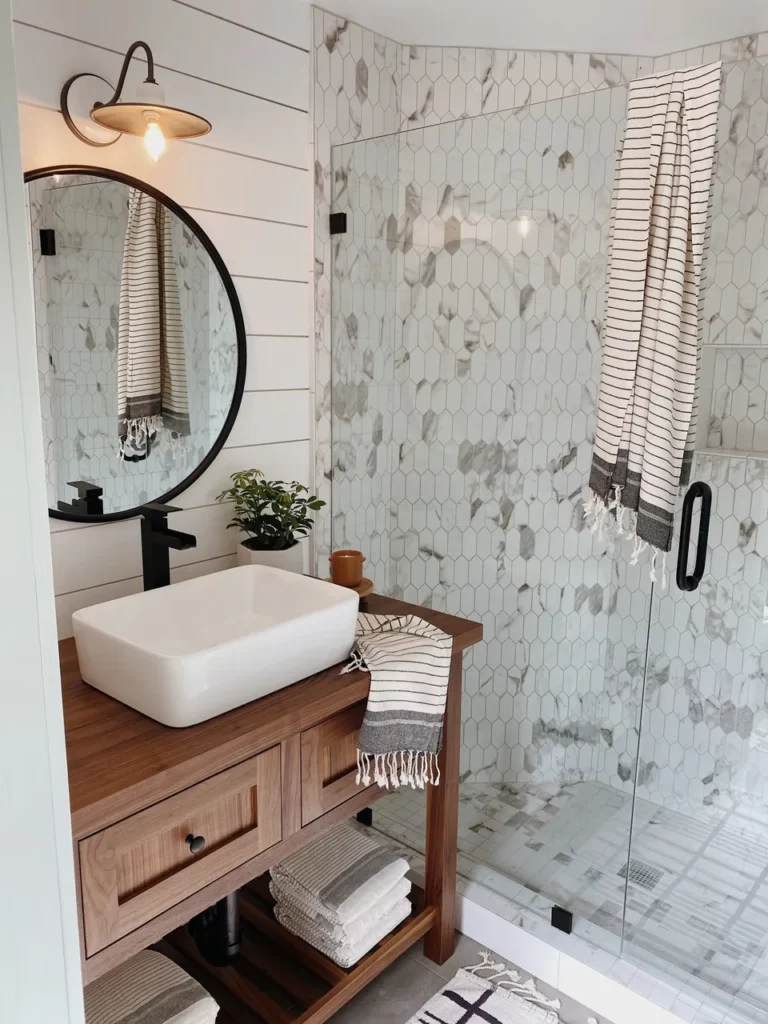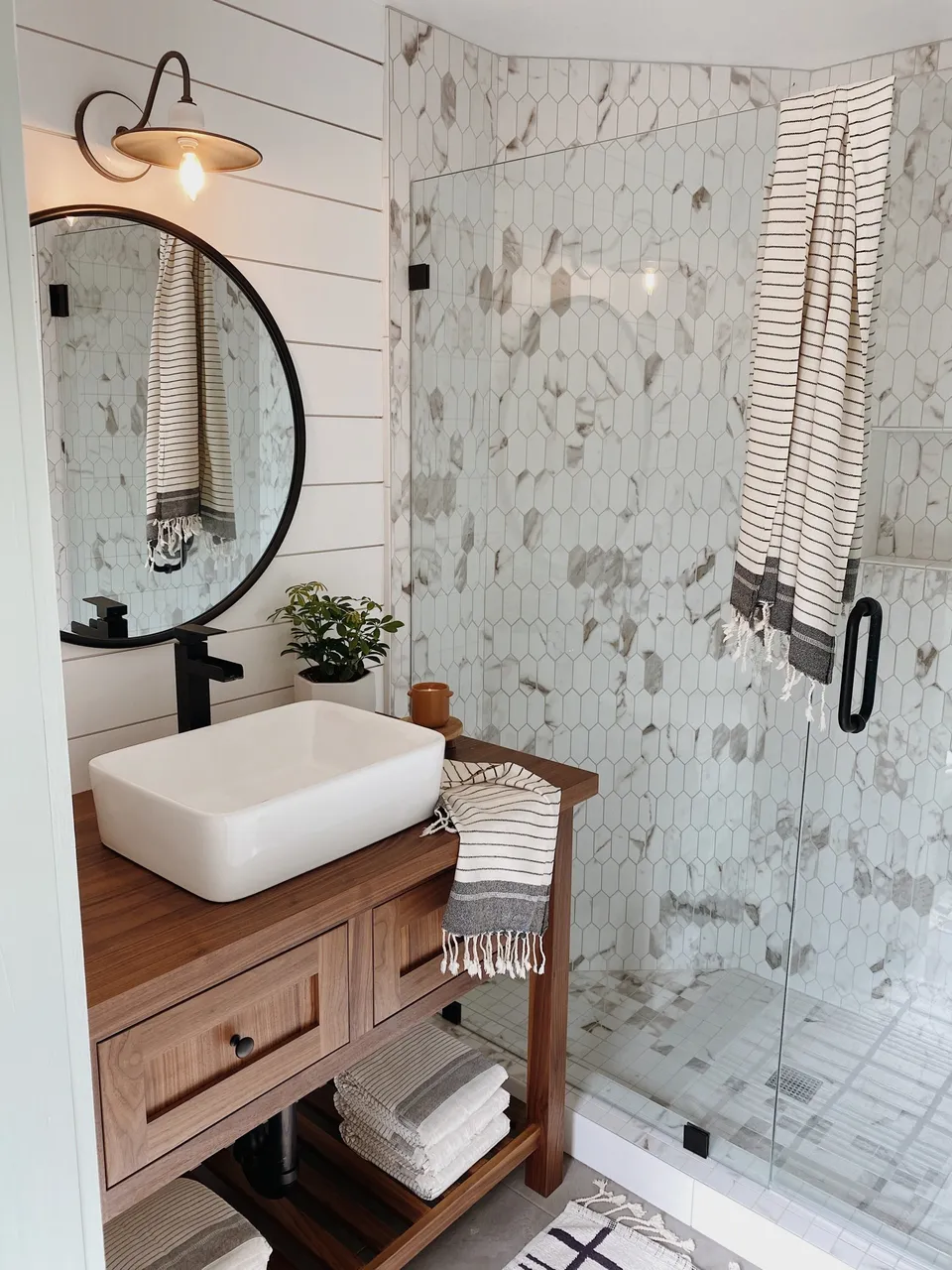 Arrows & Bows functional bathroom for her 4 kids!
Boys bathroom Ideas with Smaller Updates
In our last house, I took on many DIY projects to update the space we were living in without spending the cost of a remodel. If you know you aren't going to be living in your house forever, it may make more sense to update your child's bathroom rather than undergoing an entire renovation.
By updating the space, you give it a fresh new look without the complete hassle and cost of renovating.
Boys Bathroom Ideas – Light Fixtures & Hardware
Light fixtures and hardware are easily updated without spending an arm and a leg. You can make a huge impact by just changing out your cabinet's hardware to something more modern and can be done all by yourself.
You may opt to hire an electrician to switch out any light fixtures you change, but you can certainly do this yourself too. When in doubt, always hire out. You don't want to be unsafe, especially when dealing with electricity. Fortunately, switching out a light fixture is a fairly inexpensive task.
Changing out your sinks and shower faucets are another great way to provide a new look to a tired space. As an added bonus, you could install a spa-like showerhead to give your bathroom a luxurious feel.
This is an easy fix that you can do all by yourself. Unless of course your faucet is so old that it has rusted through and you are unable to get it off. Then you'll need to hire a plumber to take an actual saw to the hardware.
I may speak from experience on this. But in all seriousness, this is a DIY you can do in little time that makes a big impact with little cost and time.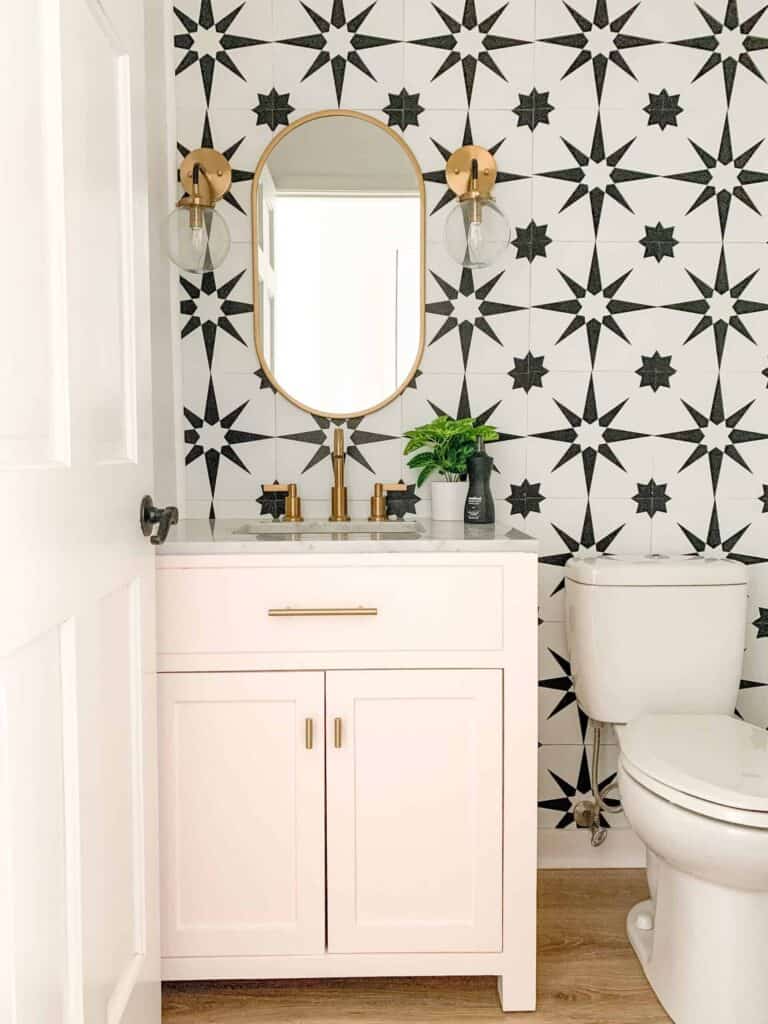 Check out my post on this 3 week room challenge reveal. This shows you the power of paint, new hardware, new faucets, lighting, and a backsplash.
Boys Bathroom Ideas – Cabinets
You don't have to buy all new cabinets to have a new look. Painting your old cabinets can bring life back to your bathroom. Check out my DIY post on painting cabinets. If you've already thought about painting your cabinets you can also read more about the best cabinet paint.
Don't be intimidated by this project. It takes some time and patience, but you can have a brand new look for a fracture of the cost of new cabinets.
If your current cabinets are too far past their prime for painting them, then a great idea is to consider stock cabinets. You can always try your hand at using stock cabinets from Home Depot in your bathroom.
From there, you can paint the cabinets any color you'd like, and have a completely new look without the extra cost of custom cabinetry. To give you an idea of what stock cabinets can do, check out my DIY with some stock cabinets from Home Depot.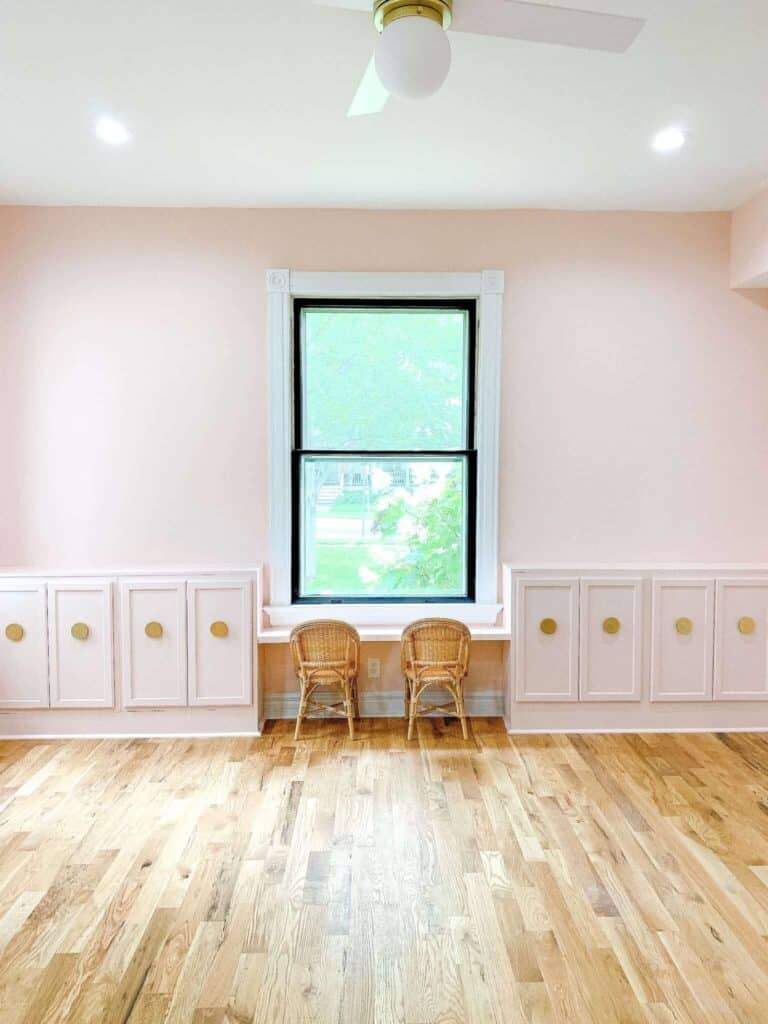 Stock cabinets are a great alternative to custom cabinetry.
Boys Bathroom Ideas – Paint
Painting is an easy fix to a worn looking space. Think of how much wear and tear your walls see on a daily basis. If you don't have kids leaving tons of handprints on your walls with their sticky fingers, then your walls may look a lot better than mine.
But, if you have kids like mine, a fresh coat of paint can make a world of difference for your space. Pick out a color scheme and head to your nearest Sherwin Williams store to start.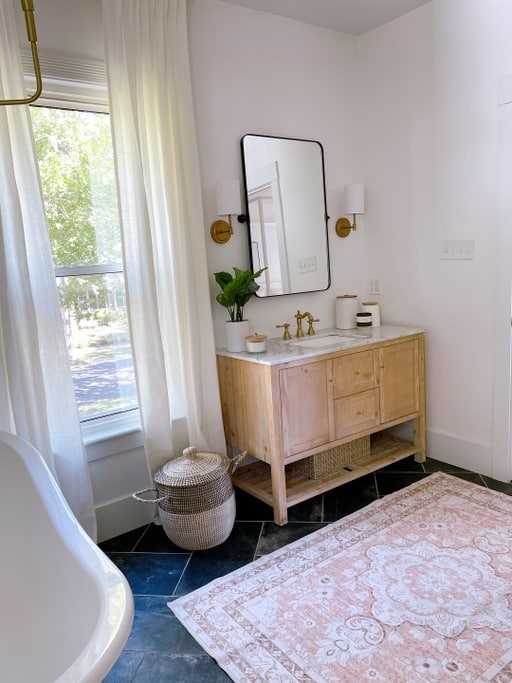 Clean, Regrout, and Repaint
Do you have grout or a bathtub that looks constantly dirty? No matter how much you clean it, it never looks clean. I've got a great tool that I use for cleaning my grout, but sometimes, even tools can only do so much.
Regrouting can give your shower walls and bathtub a bright and clean look. You can also repaint your bathtub to give your bathroom an update. While you could technically do this yourself, it is a ton of work that does require precision and may be best handled by a professional.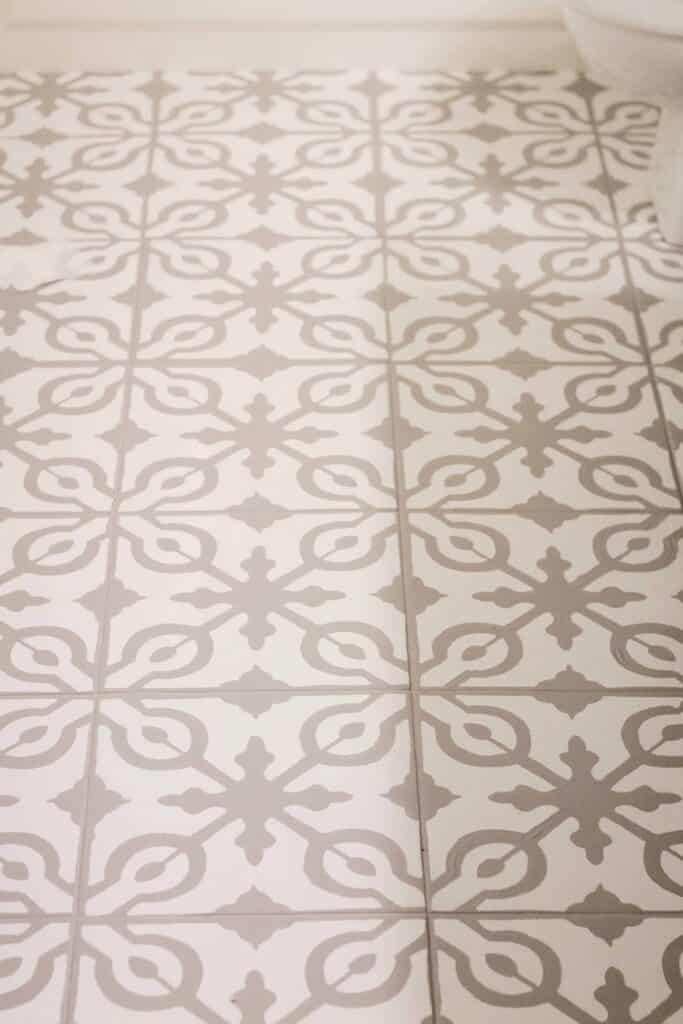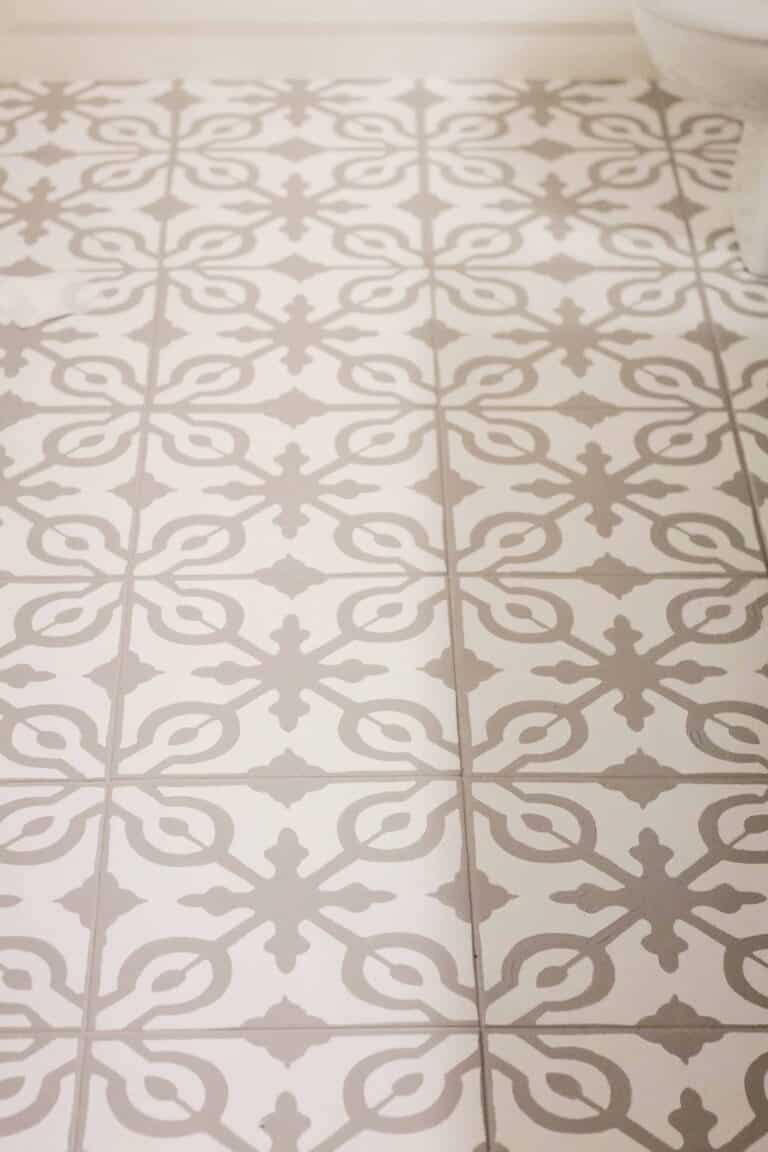 Floors
Floors are a great way to make a huge impact on a space. You don't have to go out and spend a fortune on brand new floors. Certainly, if you want to prioritize that cost, be my guest, but you can do a DIY with your existing floors that can make them look brand new.
Check out my DIY here where I show you how to paint your tile floors with a stencil. This was a project we did in our last house for our kids' bathroom. We knew that we didn't want to spend the money on brand new floors in our children's bathroom, but I also needed something that would go with the aesthetic of the rest of your house.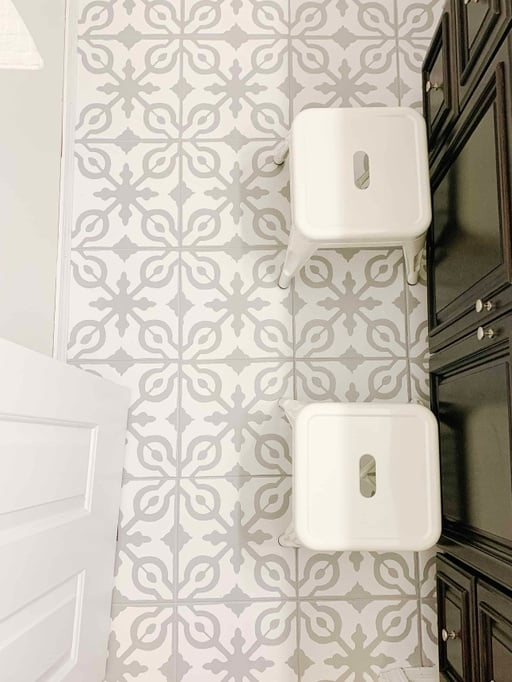 If you are set to get your DIY on and want to know more information on the best paint for tile floors, then check out my post here.
Switch out Accessories and Textiles
You may think that switching out your shower curtain or bath towels won't make a huge difference in the look of your bathroom, but you would be wrong. Switching out those textiles, like your bath mat, curtain, and towels can give your room a new look.
A good idea is to also look at your art and wall hangings to add additional personality to the space. Do you have whimsical funny sayings on the wall, or pictures of your kids?
Boys bathroom Storage Ideas
Storage is so key in any home you own. Without proper storage space, your living space can just look cluttered and messy. Your bathroom is no exception. If you don't have the proper storage space, then small items can take up that space and clutter the room. Check out my post here to maximize storage space in a bathroom.
Invest in some baskets, open shelving units, door hooks and organizers, and you'll have a much nicer looking room. Organize smaller items with storage jars and a shower caddy.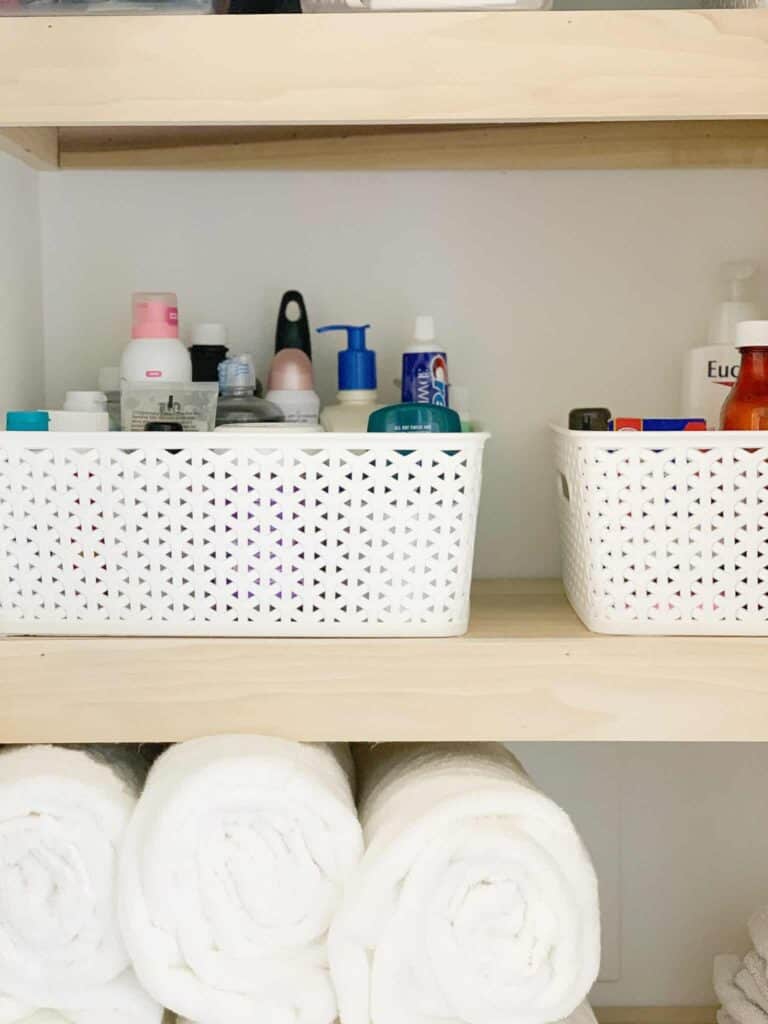 Add function to a small vanity by installing a toothbrush and toothpaste holder. This will clear up valuable counter space. If you do have a linen closet in your bathroom space, remember to keep that organized too.
My linen closet organization post has great tips on how to create the best organized closet that works for you and your family. This would be a great place to store extra towels and bath toys too.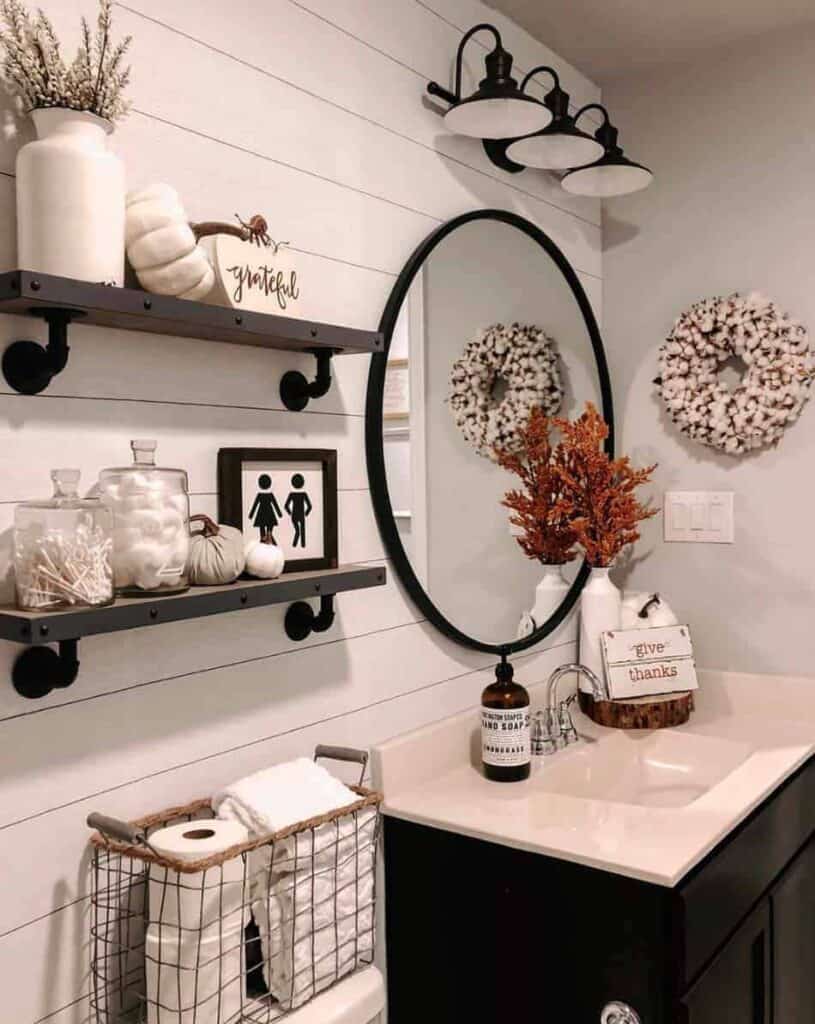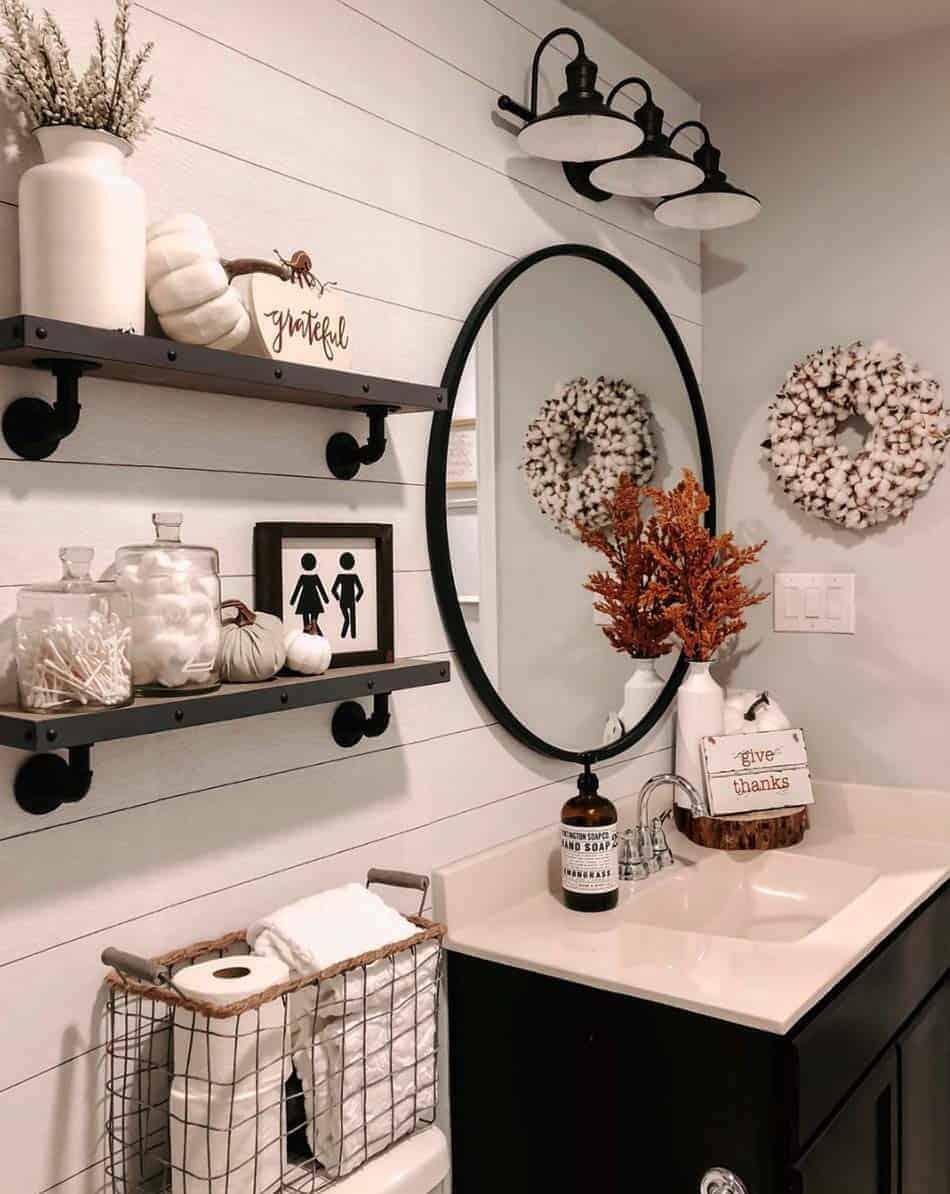 This is a great example of utilizing storage space in a small bathroom.
All of these updates can be done or you can do only a few to make your kid's bathroom a great place to practice target shooting. The best part is if your little boy's taste changes, you can always update it again for a new cool bathroom that he will love.
Boys Bathroom Ideas Combining Style & Function
Once you've decided on whether you plan to renovate completely or update your space, you'll need to take into consideration a few things.
Take into Consideration the Age of the Child
Consider the age of the boy whose bathroom you are completing. Younger children can grow into something as they mature. They don't necessarily need something that is too adult looking, but there are always ways to make a space more age-appropriate without much effort.
Use their favorite colors and add wall art, bath mats, or towels with their favorite character for a playful look. You don't want the space to be overly themed and decked out in Paw Patrol only for them to move onto Bluey the following year. By keeping the themed items at minimum and easy to switch out, you can update the space without much effort.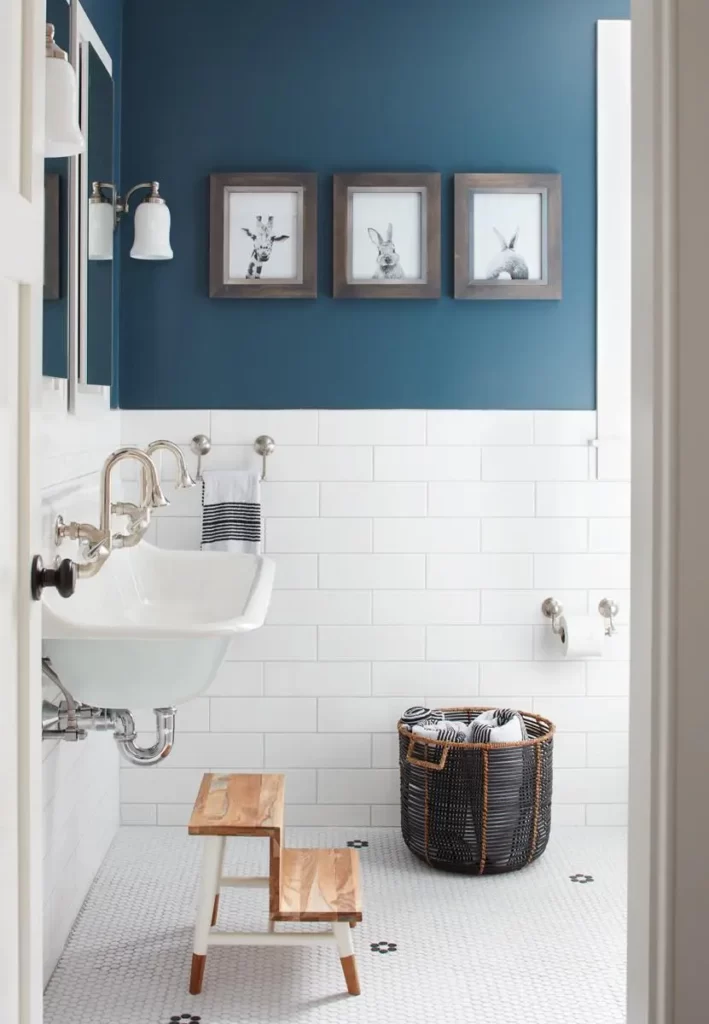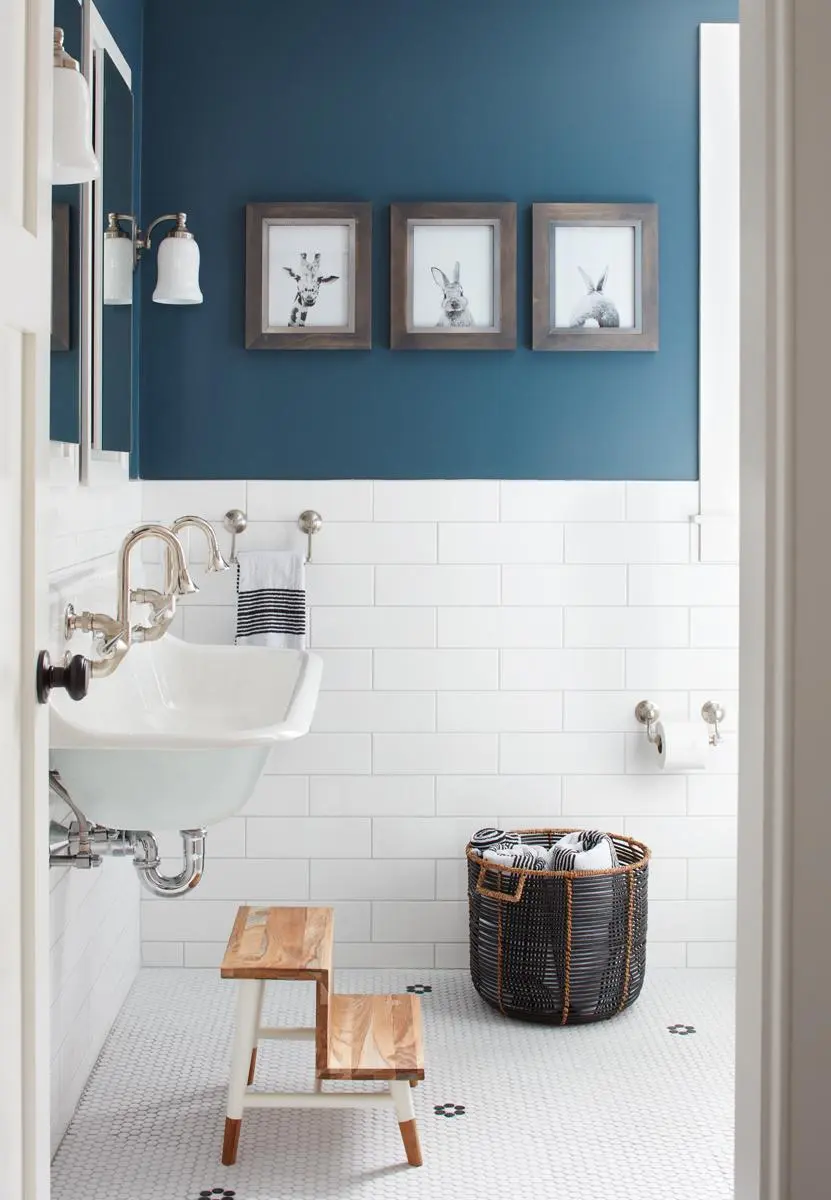 This bathroom is a great example of keeping the main elements of the bathroom mature with age appropriate accessories that are easily switched out as the child ages.
You'll always want to consider that if you are completing this bathroom for little hands, to make sure you have adaptive devices in place. A toddler insert toilet seat, faucet extenders, step stools, detachable shower heads, a stand alone toilet paper holder are all good options to allow your little kids easy access to using their bathroom as independently as possible.
A great tip is to avoid built in toilet paper holders until they are old enough to climb off and on the toilet. I've learned over the past couple of years that even though your child may have a step stool to climb off and on the toilet, they will still use the toilet paper holder as a grab bar, which will ultimately lead to that toilet paper holding coming out of the wall. Save your walls and yourself from having to patch it.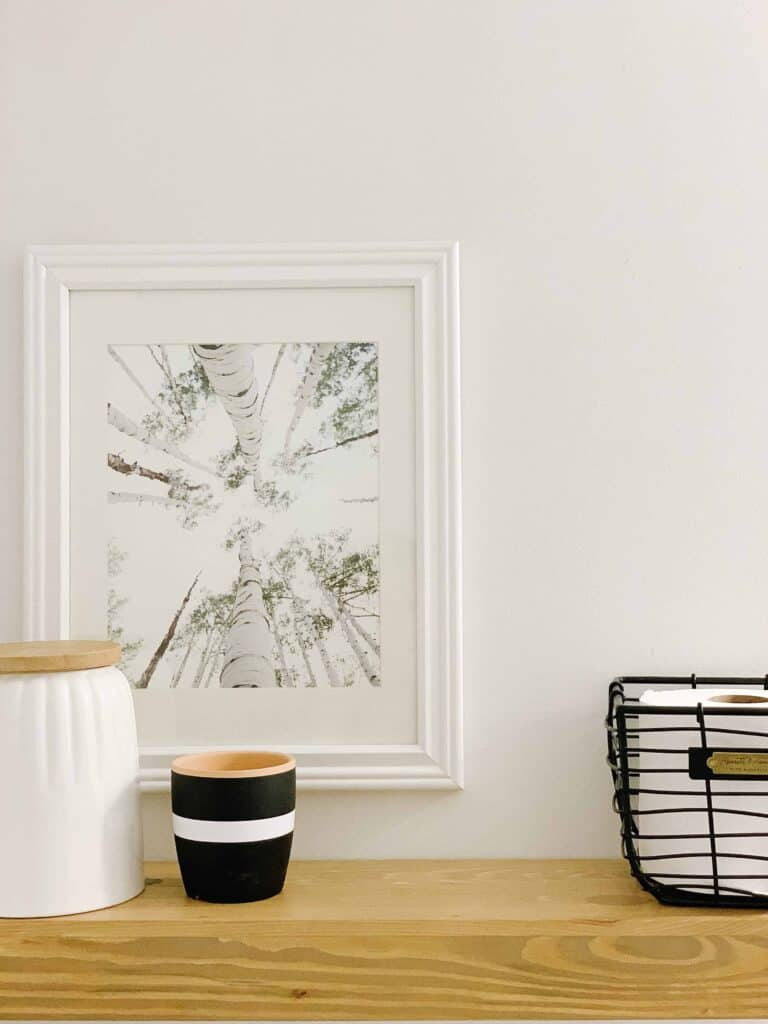 For older kids, you'll want to consider the fact that they will want privacy. Additionally, you'll need to consider if your kids are sharing a bathroom or not. If you are renovating the bathroom, consider installing double sinks or a double vanity.
A separate room to house the toilet is also another great idea for privacy and sharing purposes. You may also consider whether you place a glass door shower or use a shower curtain. All of these are considerations you'll need to think of and can affect your young boy as he grows into a teenage boy.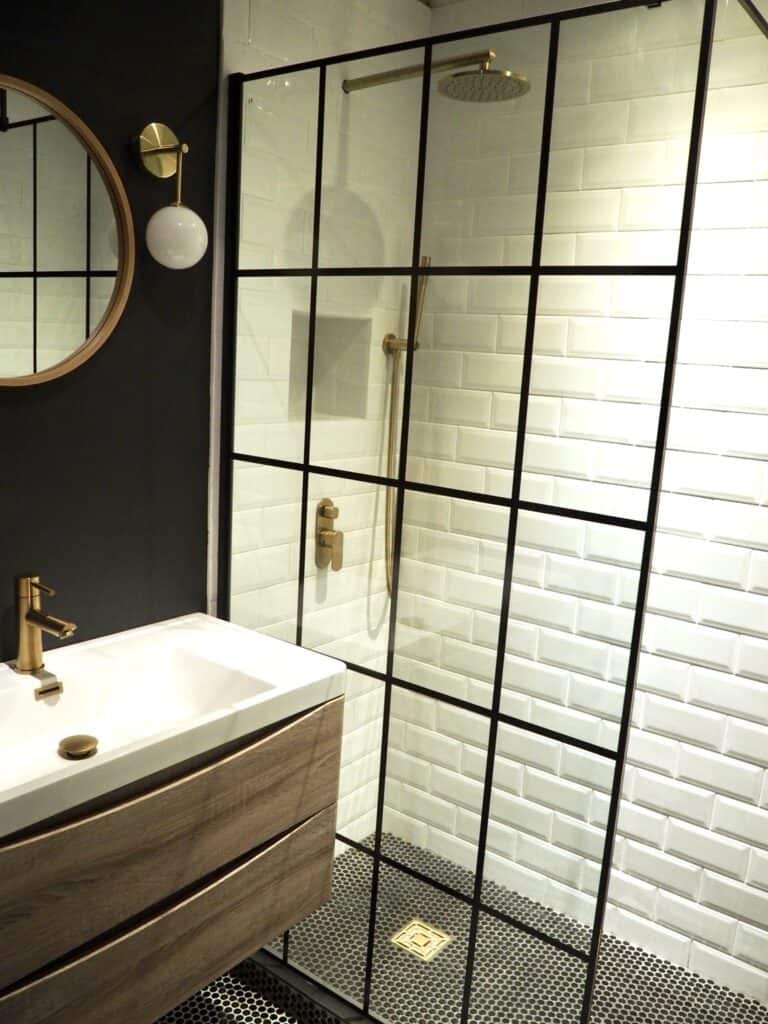 This masculine and mature bathroom was designed for three teenage boys.
Materials Used
You'll also need to consider the durability of the materials you use while choosing said materials during renovation or updating. Cutting corners on materials can lead to larger expenses in the long run.
Consider that you have a bathroom with a high moisture area. Anything that doesn't stand up to moisture whether that be type of paint or wallpaper won't do well in a bathroom. You need to ensure that it is mold resistant before you utilize it in your space.
You also need to think about your future plans. Is this your forever house and you want to use the highest quality materials or do you plan to move in a few years and you can get by with using nice materials but not necessarily top of the line.
Lastly, an important tip comes to mind when we are discussing the materials you use in your bathroom. I know marble is beautiful and looks amazing in a bathroom. However, remember who this bathroom is going to be used by. Younger boys love to target practice and urine and marble do not mix.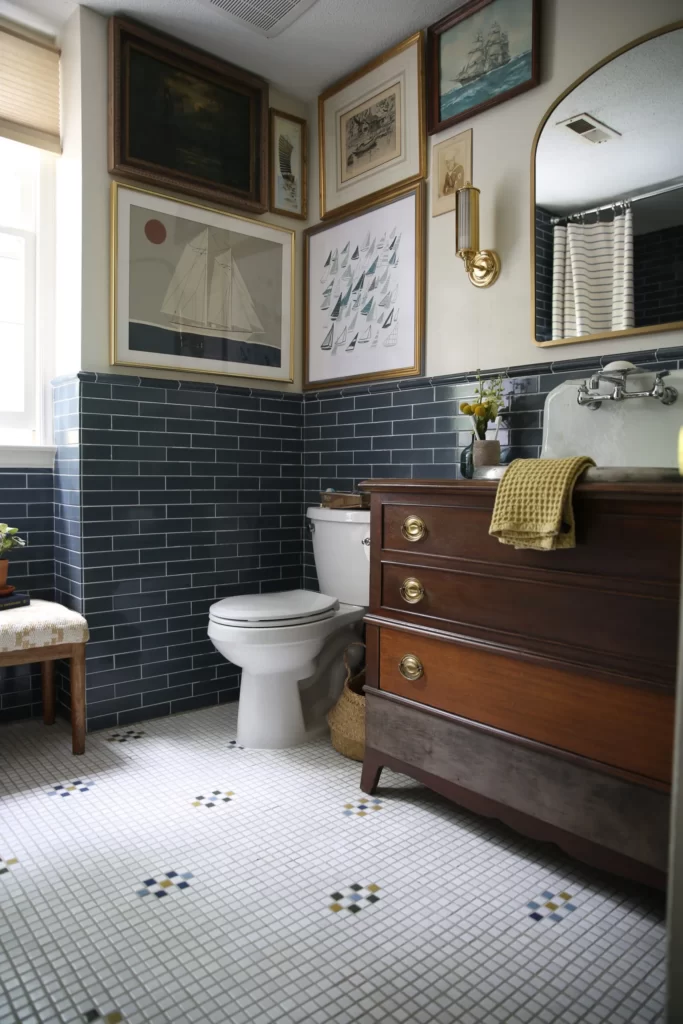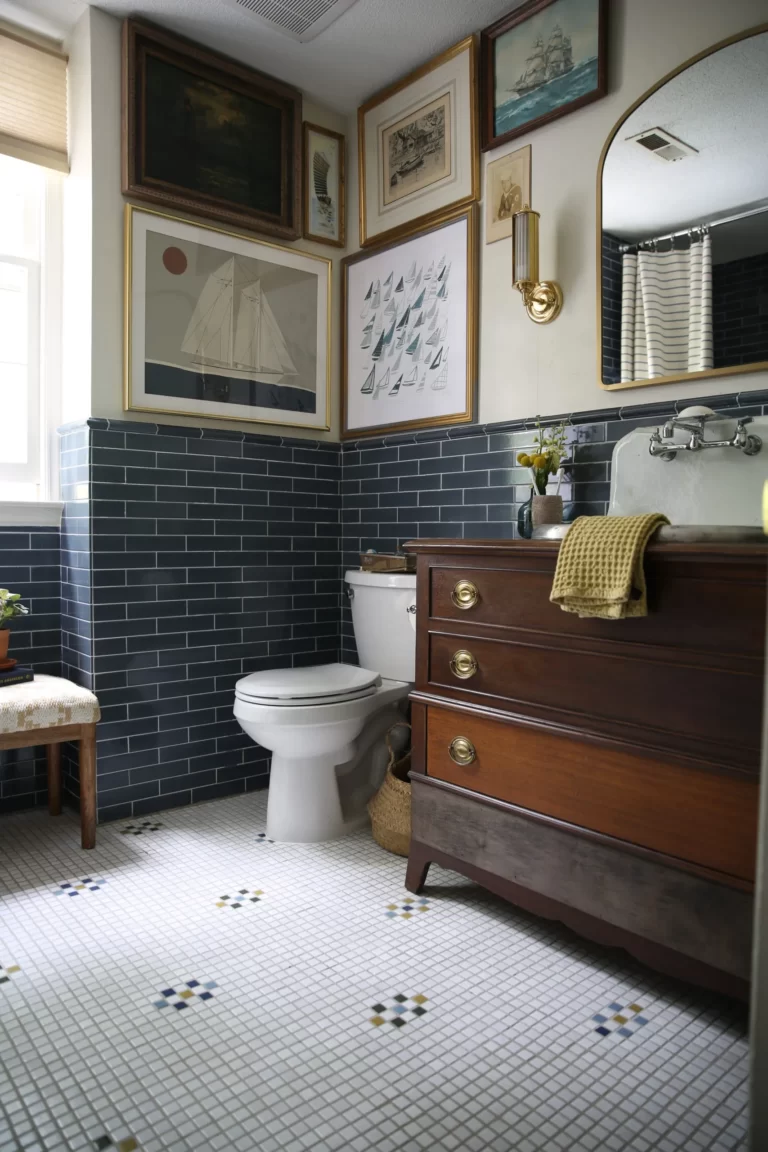 This nautical bathroom is quirky and filled with repurposed materials.
Theme Boys Bathroom Ideas
Now that you've made your decision on whether you want to renovate vs. update and you've considered all the factors that go into your decision, you'll need to decide on a themed bathroom. Overall, what aesthetic do you want in a boy bathroom? Below are some of my favorite bathroom themes for a boy's bathroom.
Nautical & Navy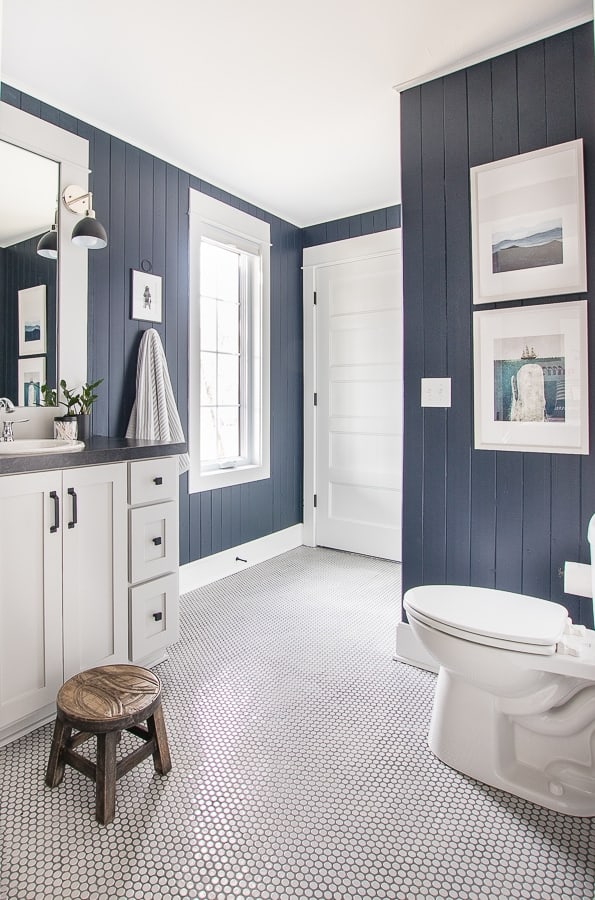 This nautical theme bathroom is brought to life by The Lily Pad Cottage.
What's not to love about a nautical bathroom? The dark navy walls are moody enough for a teenage boy but the crisp white cabinets, amazing white penny tile flooring, and white mirror bring plenty of light into this space. I love the small step stool that she used to help accommodate her younger son. This is a great example of a bathroom that a younger child can grow into.
Farmhouse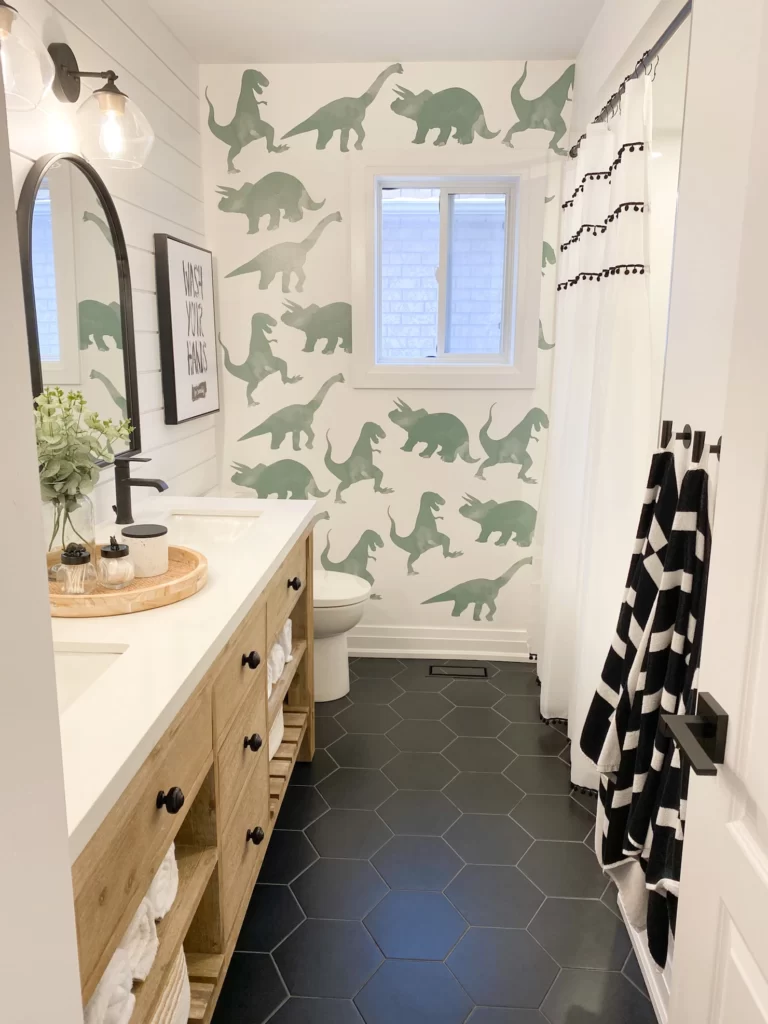 This is a great example of capturing a farmhouse style with a modern kid spin!
This bathroom is amazing! I love how they captured the farmhouse style with the white wall color and offset it with the black hexagon floor. The dinosaur wall decal might be my favorite thing about this bathroom.
This is another great example of creating a classic mature look but making it your own by incorporating a kid approved dino decal! If you look really closely, you'll see storage jars that are dinosaur themed as well. The wall art is also a great reminder for little boys, "Wash your hands." What a great use of detail.
Minimalist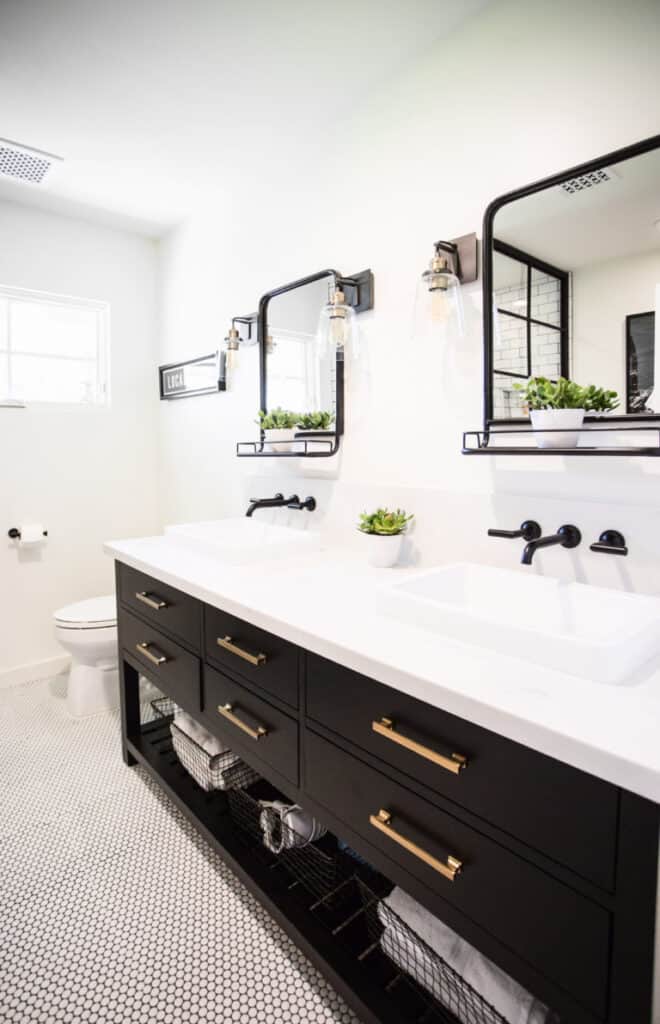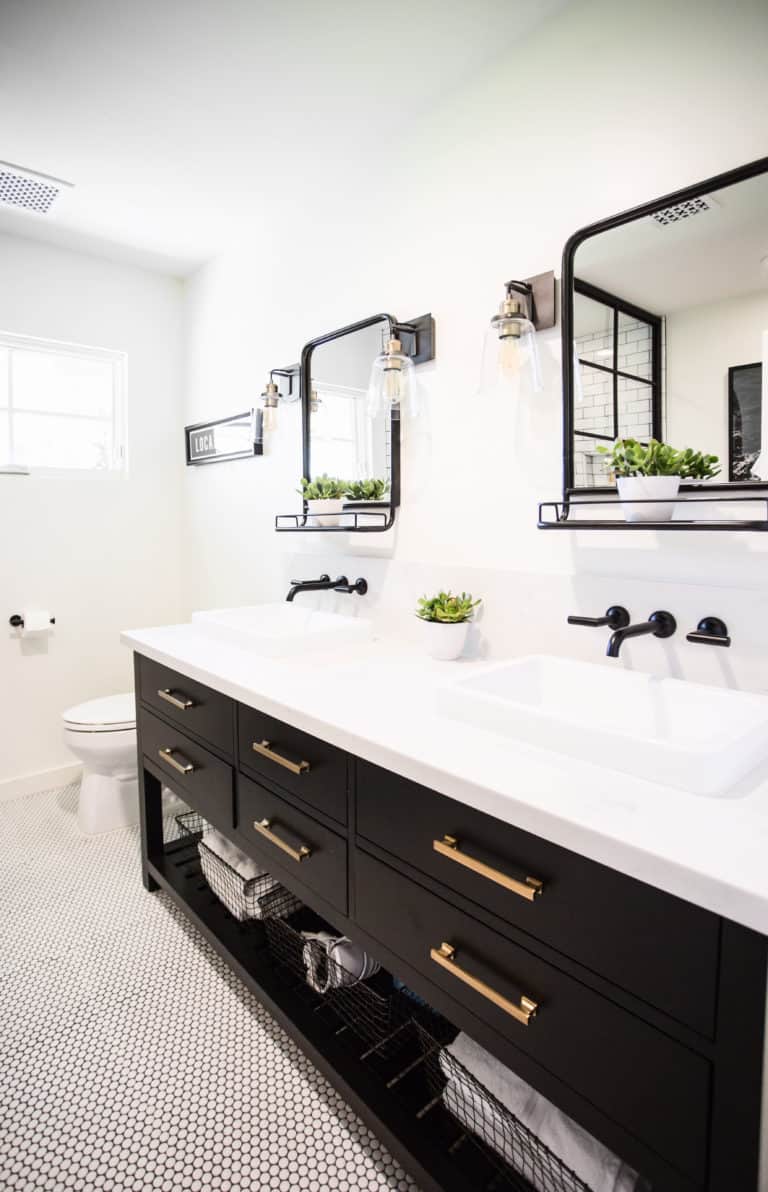 This boy's shared bathroom has a great use of contrasting colors.
This shared bathroom shows how well contrasting colors can elevate a space. The white floor tiles, black cabinets, stark white walls, and black and gold accents create a bold and cohesive look.
This is a great example of what a shared space can look like as well. If you have a wide age range, creating a more mature bathroom where the children can grow into it is a great idea.
Character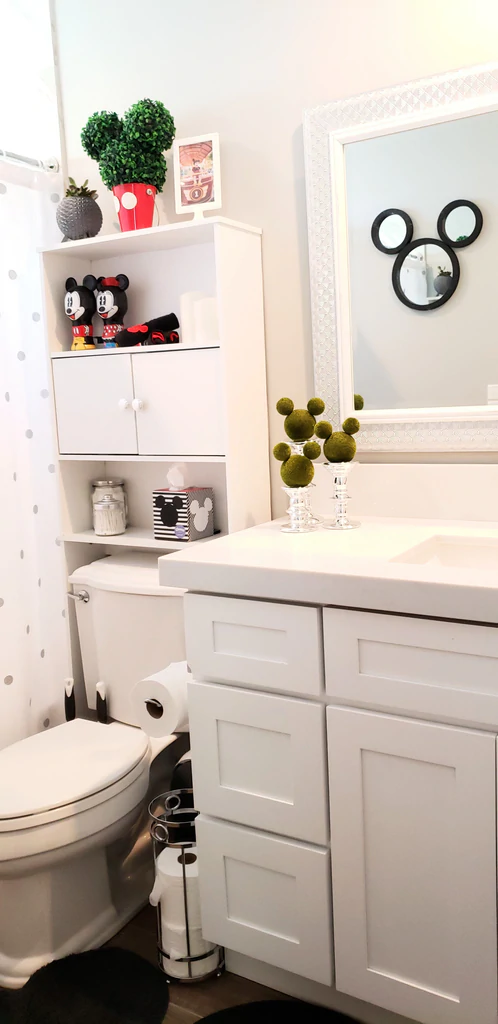 Check out more pictures of this Mickey Mouse bathroom .
A character themed bathroom is a great option for younger kids. Since kids often change their minds and opinions so quickly, your best bet is to keep the character details to materials that are easily switched out. You don't want to do anything too permanent that would be difficult to change out once their taste changes.
Industrial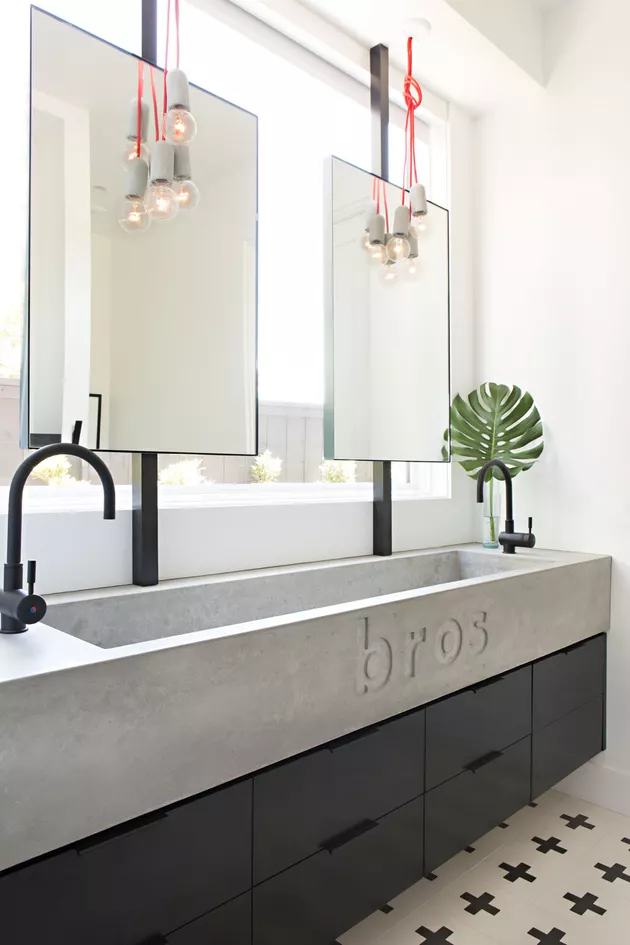 An incredible concrete trough industrial sink created by Raili Ca Design.
When I think of the industrial style, metal, concrete, exposed beams, and loft apartments come to my mind. This bathroom is a perfect example of industrial style. I love the concrete trough sink basin completed with the word "bros" etched into the concrete.
The hanging lights with the pop of red creates a modern design. The shared space would be amazing for teenage boys. If only I could see the matching industrial bedroom that accompanies this bathroom.
Modern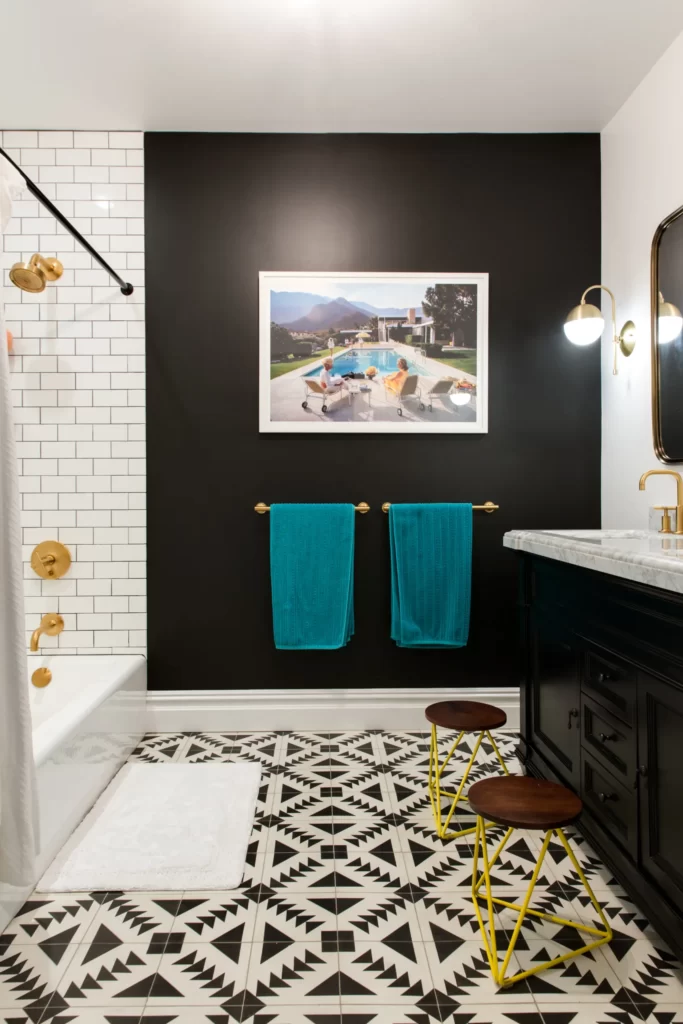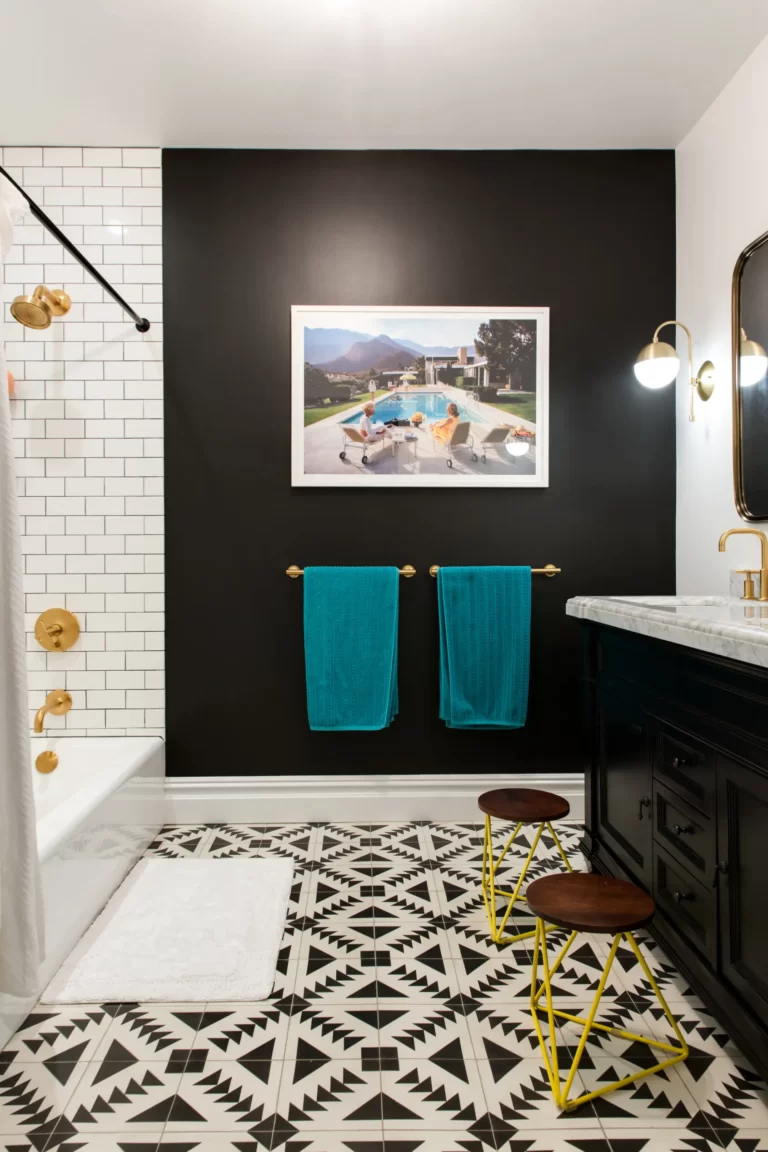 A bold look for this kid's bathroom . Photograph by Minette Hand.
This bathroom is complete with black walls and pops of bright colors found throughout the bathroom accessories. When you take out the step stools, towels, and artwork, you see a black and white bathroom that is beautiful and classic. When you add in the pops of color you get an entirely new look altogether that is modern and edgy.
Vintage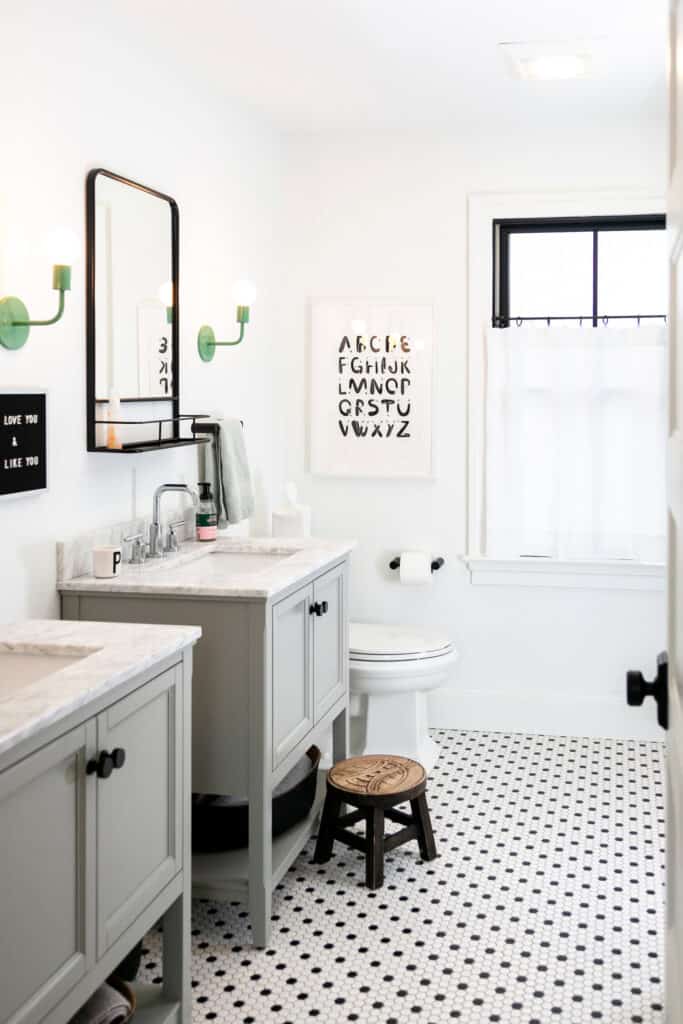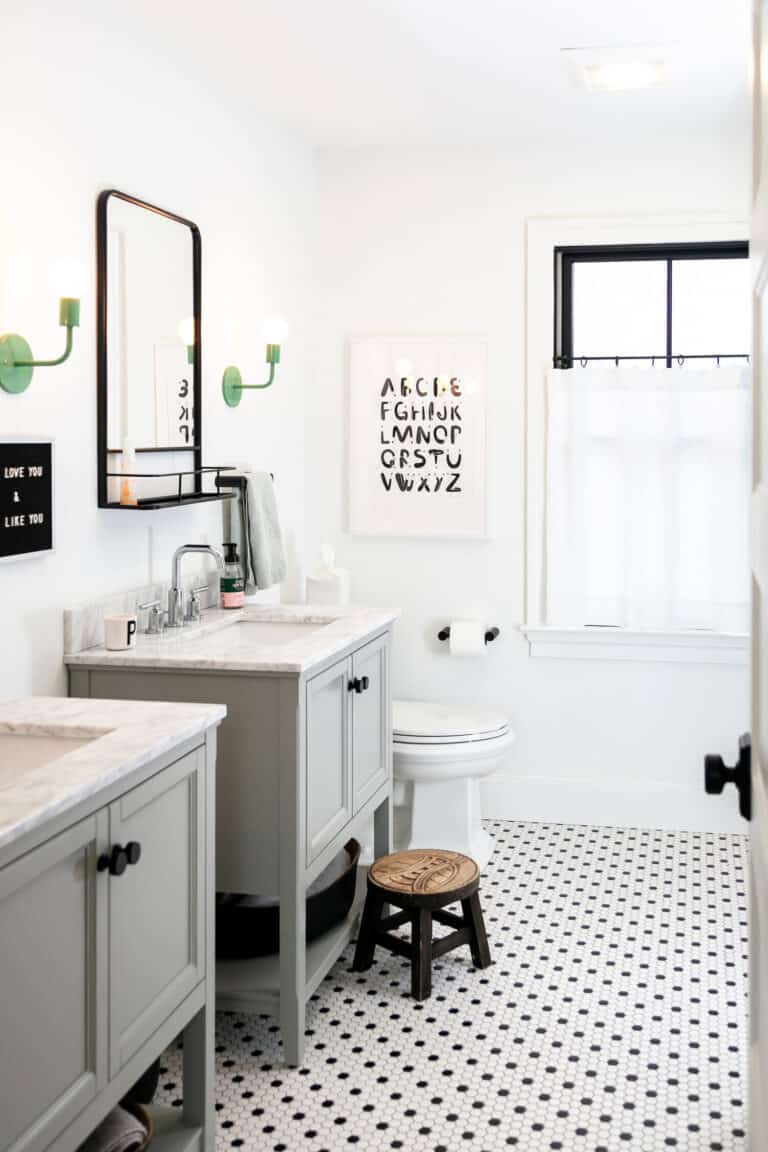 Check out this vintage bathroom.
Maybe it's the ABC wall art or maybe it is the old school penny tile floor, but this bathroom is giving me major vintage bathroom school vibes. I love how the penny tile floor gives the appearance of black and white polka dots. The green lights bring in a touch of color to this otherwise neutral palette.
Patterns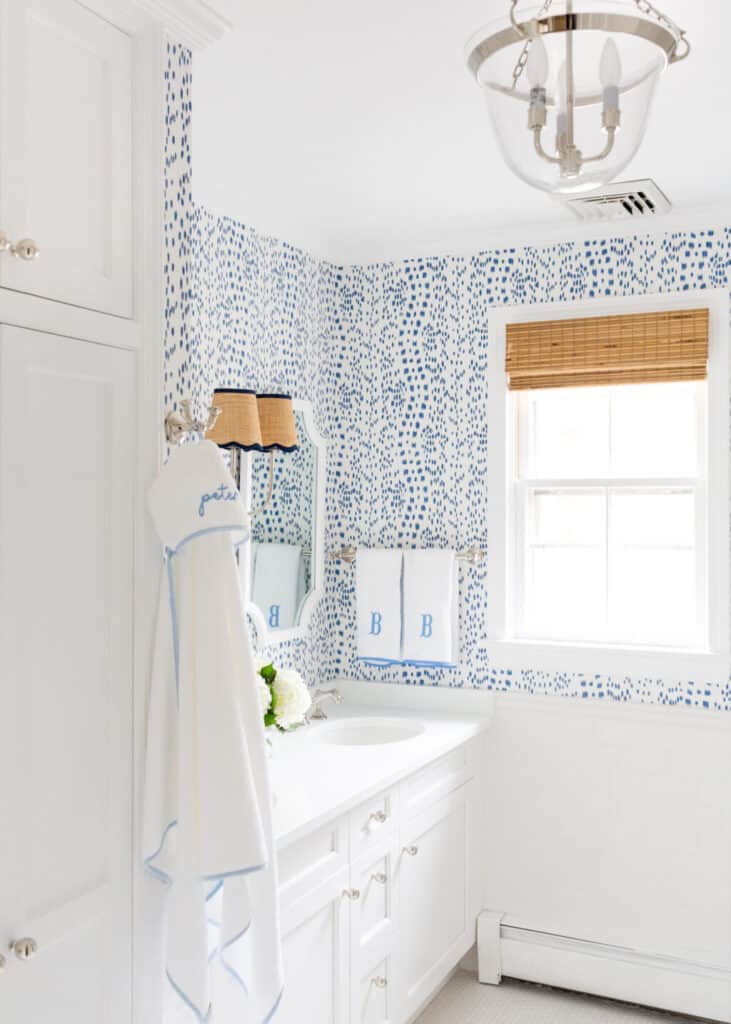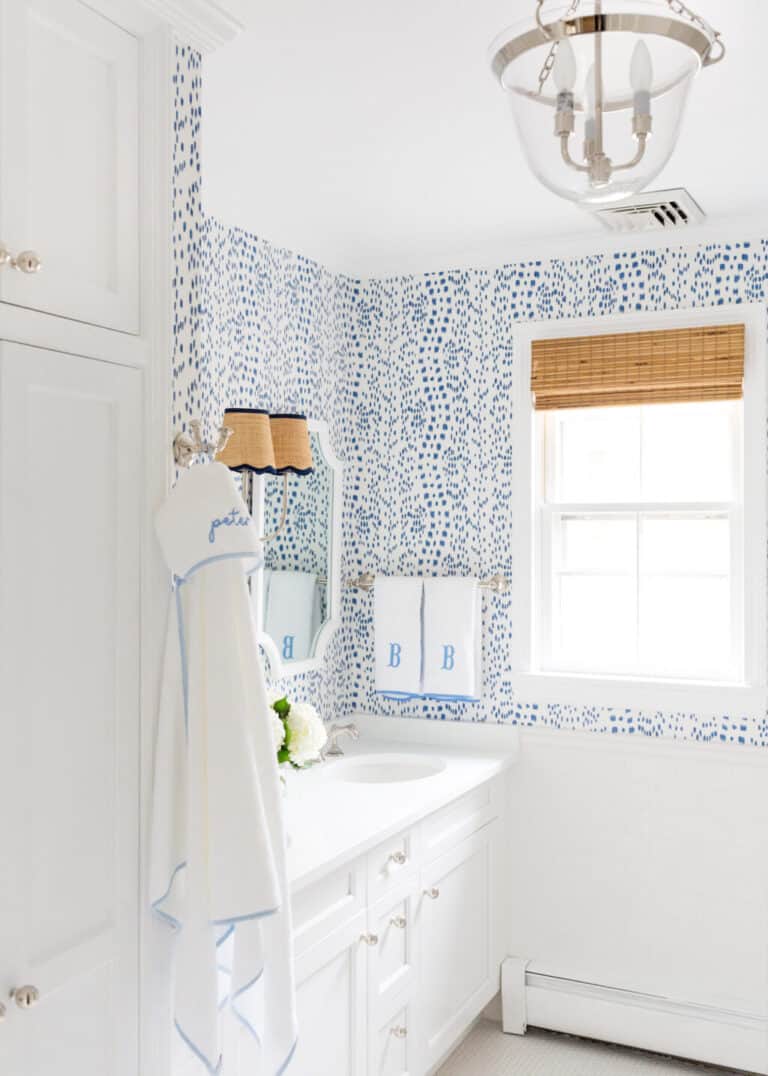 This adorable blue bathroom is a coastal dream.
If you haven't noticed by now, I have a thing for black an white bathrooms. I'm not sure if it is the neutral tones or sleek look that I love more.
However, this blue bathroom is also equally as amazing. I love the blue color in the pattern wall that gives off such a playful feel. The pattern resembles waves and with the added rattan accessories this coastal bathroom is perfect.
Shared Space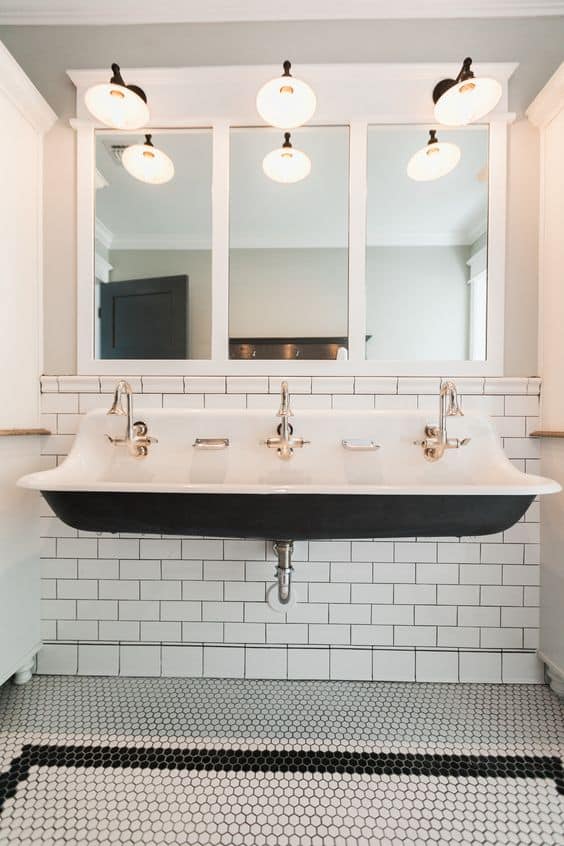 No one will have to wait in line to wash their hands in this kids bathroom.
When you think about sharing a bathroom space, no one likes waiting in line to brush their teeth or wash their hands.
The hot water is usually used up by the time you're last in line, and you don't seem to get much privacy, if any. In this rustic bathroom, this three sink faucet is perfect for those impatient little boys who don't like taking turns.
Whimsical Wall Art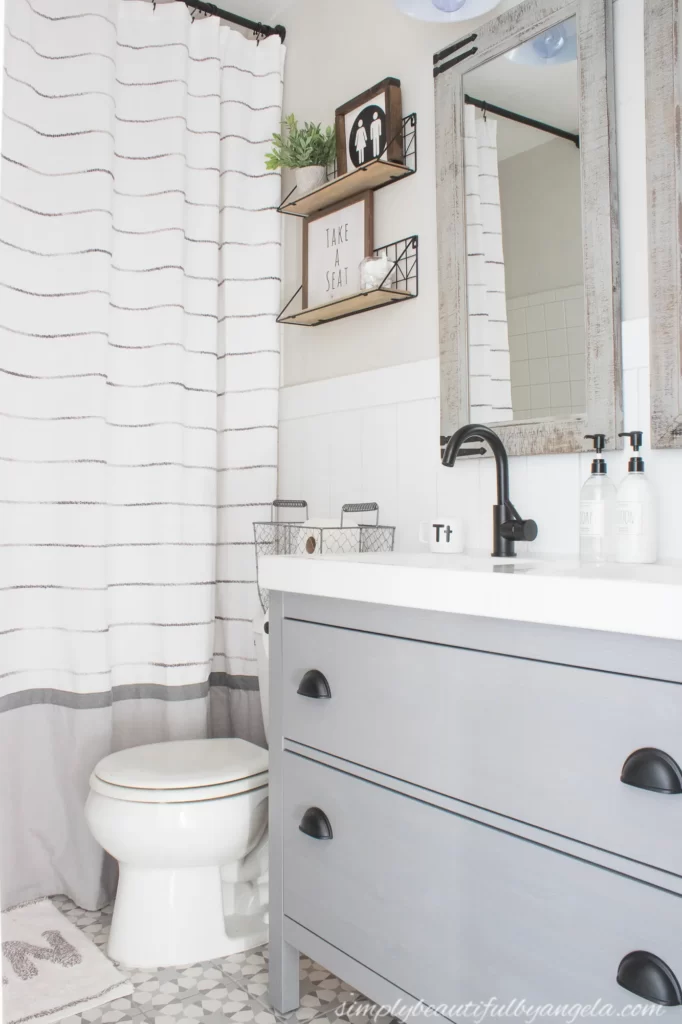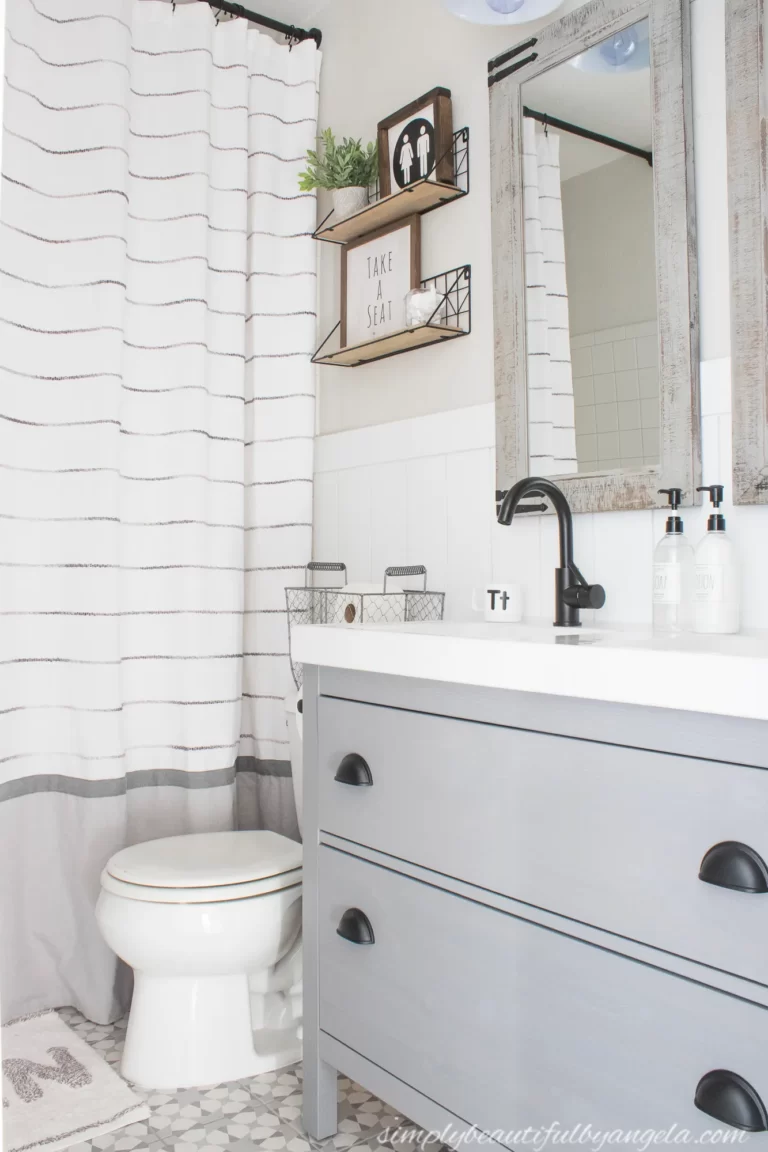 This neutral bathroom comes complete with whimsical sayings.
I have a confession to make to you. I really enjoy potty humor. I think signs such as "Take a Seat" and "Ready. Aim. Flush" are all pretty hilarious. It might be because I have two young boys so I have the mentality that if you can't beat them then join them.
Either way, I love a good subtle potty humor sign to liven up the bathroom. After all, it's no secret what bathrooms are used for.
My Favorite Products For Your Boy Bathroom
To help you get started on your boy bathroom, I rounded up some of my favorite products.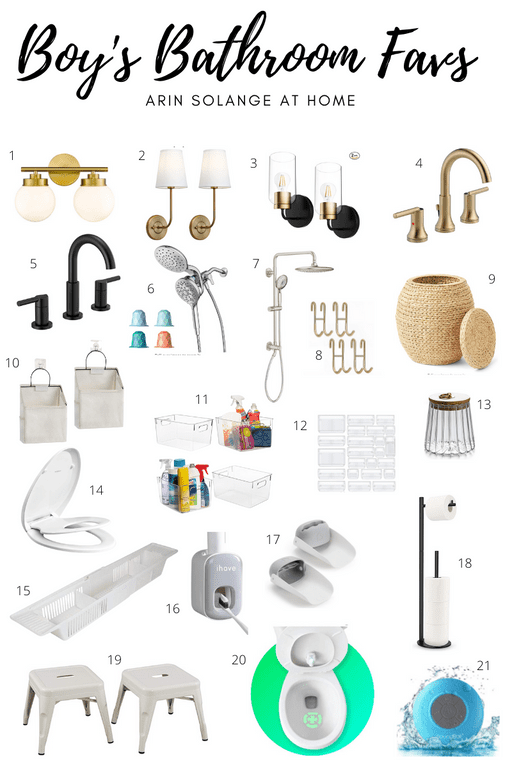 1 | 2 | 3 | 4 | 5 | 6 | 7 | 8 | 9 | 10 | 11 | 12 | 13 | 14 | 15 | 16 | 17 | 18 | 19 | 20 | 21
Shop Boys Bathroom Favorites Below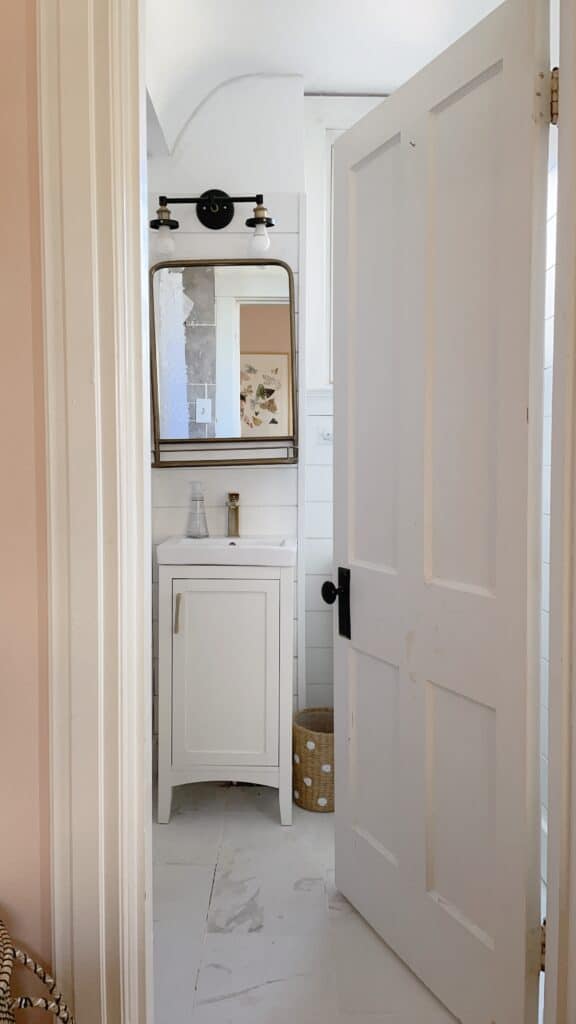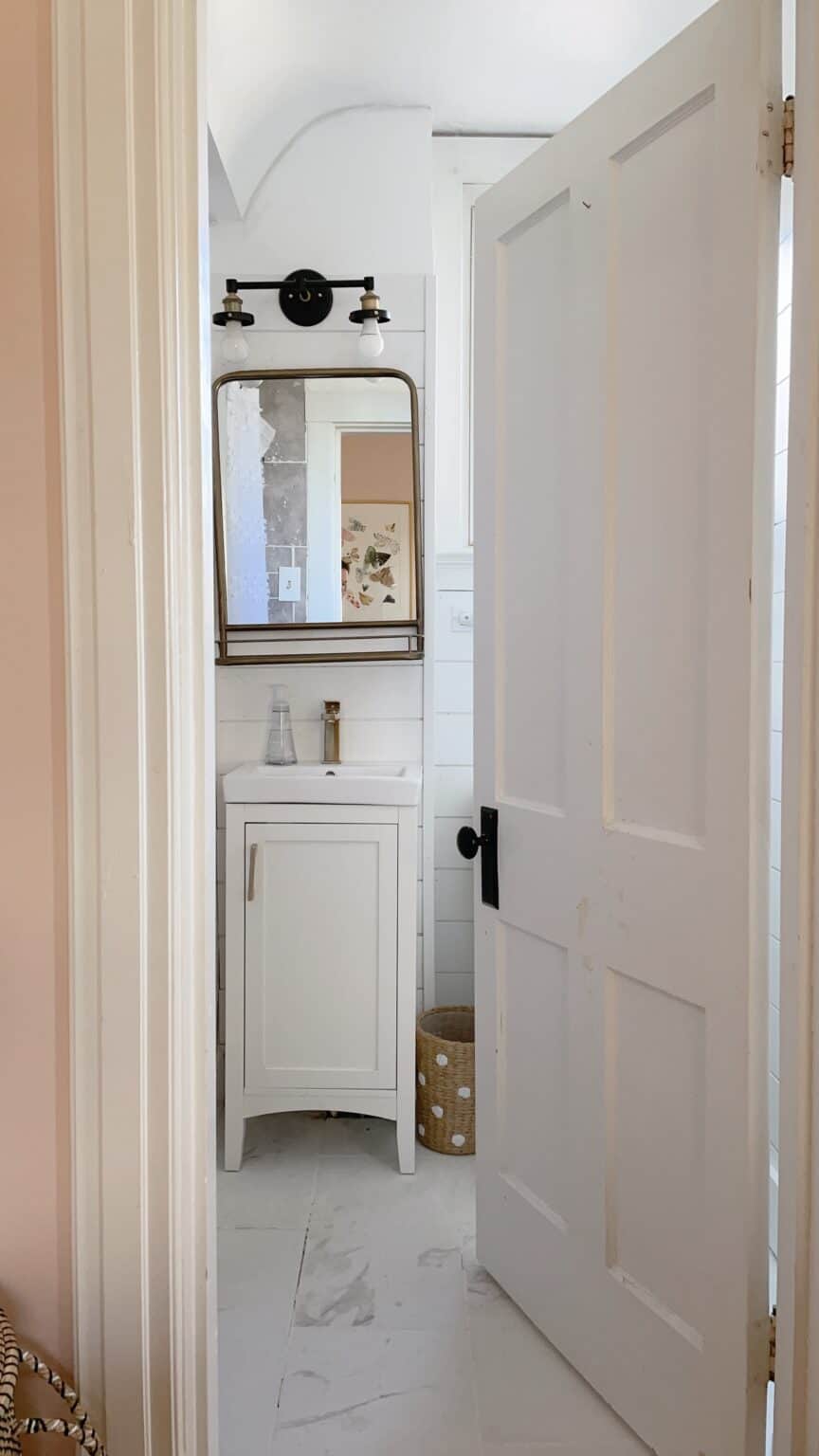 Other Posts You'll Love
Best Bathroom Wall Materials | Inexpensive Ways to Update Your Bathroom | Pedal Sink Storage Ideas |  Easy DIY Fluted Wall Tutorial |  How To Paint Tile Floors  | Black and White Wallpaper
Pin The Photo Below For Later
I hope this post gave you plenty of boys bathroom ideas. Whether your son is a toddler or a teenager, you can create a space that he will be comfortable in for years to come. If you have any questions, feel free to leave them in the comments section, and follow me on Instagram @arinsolange for more home, decor, and DIY.