Have you been wanting to do something drastic? Maybe not as drastic as chopping off your hair, but what about trying your hand at a DIY project that will make a huge impact. If you are interested in painting cabinets, whether that be kitchen, bathroom, or built-ins, then you are in the right place. In this post, I'll go over the best paint for your cabinets. What a huge undertaking it is but the payoff is so incredibly worth it! I promise, you won't regret taking this chance.
This post may contain affiliate links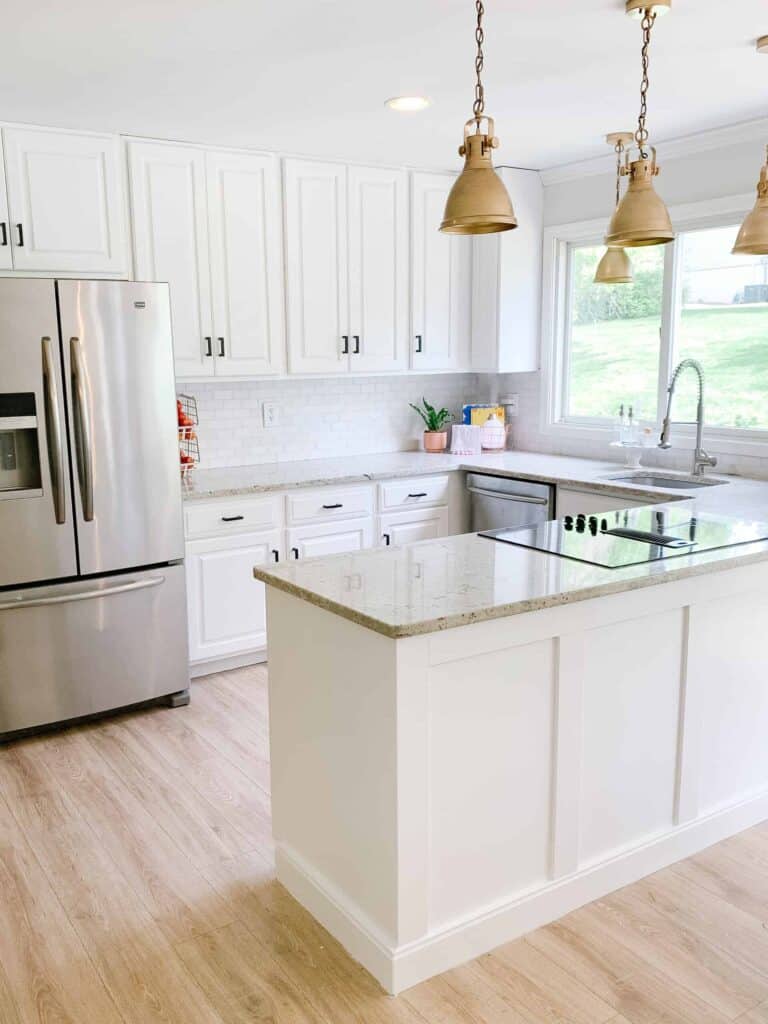 Best Paint for Cabinets
I've spent my fair share of time painting cabinets. Cabinet painting makes an incredible impact to a room and is a super cost effective way to update an outdated space and make a huge impact without buying new cabinets. One thing I have learned along the way, is before you take on this project, you'll want to make sure you have the right paint and best finish for a paint job that will stand the test of time.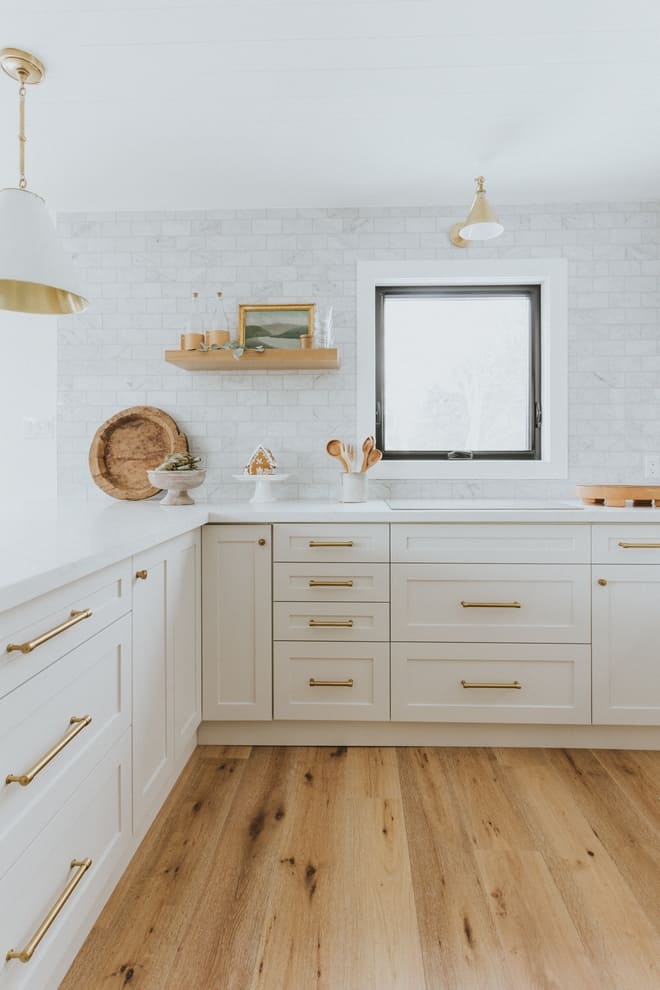 Painting Existing Cabinets
The first time I painted cabinets was when we first moved into our last home. I wanted a fresh look to our main bathroom and gave the cabinets an update with blue paint. It was actually not that hard of a process, and held up really well…so after a few years I was ready to try something bigger.
Last year, when the pandemic first started, Sam and I thought to ourselves, "What a great time to take on a big DIY project! Let's paint our kitchen cabinets!" Okay, maybe we weren't as enthusiastic as that, but we did think that the long time off would be a great opportunity to update our space.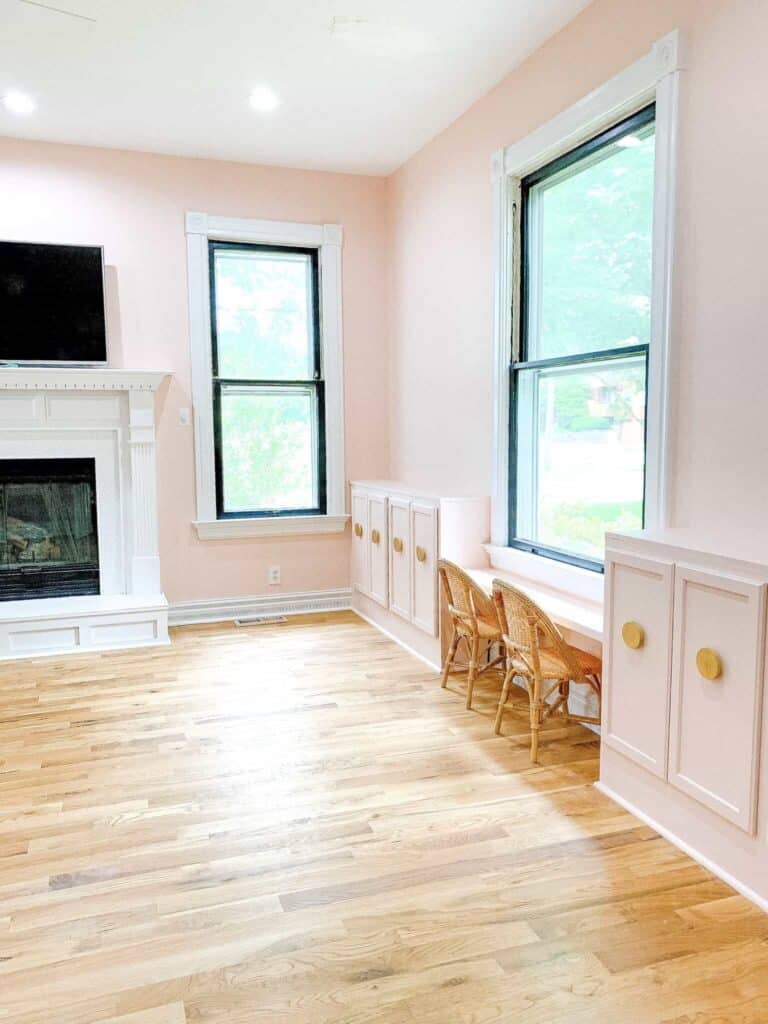 We had lived with our dark brown cabinets for 4 years and I was more than ready for a change. I was slightly apprehensive of the project, thinking that perhaps doing such a large scale project while all 6 of us were home at the same time was slightly insane, but what project of mine isn't slightly insane?For my entire DIY of our kitchen cabinets, check it out here.
Painting your Cabinets can be really scary. For us, the kitchen and bathroom cabinets above were in great shape…and replacing kitchen cabinets is EXPENSIVE so the thought of messing them up was a bit overwhelming.
I did tons of research and what to use, how to do the process, and learned some things along the way…which has brought me to this post.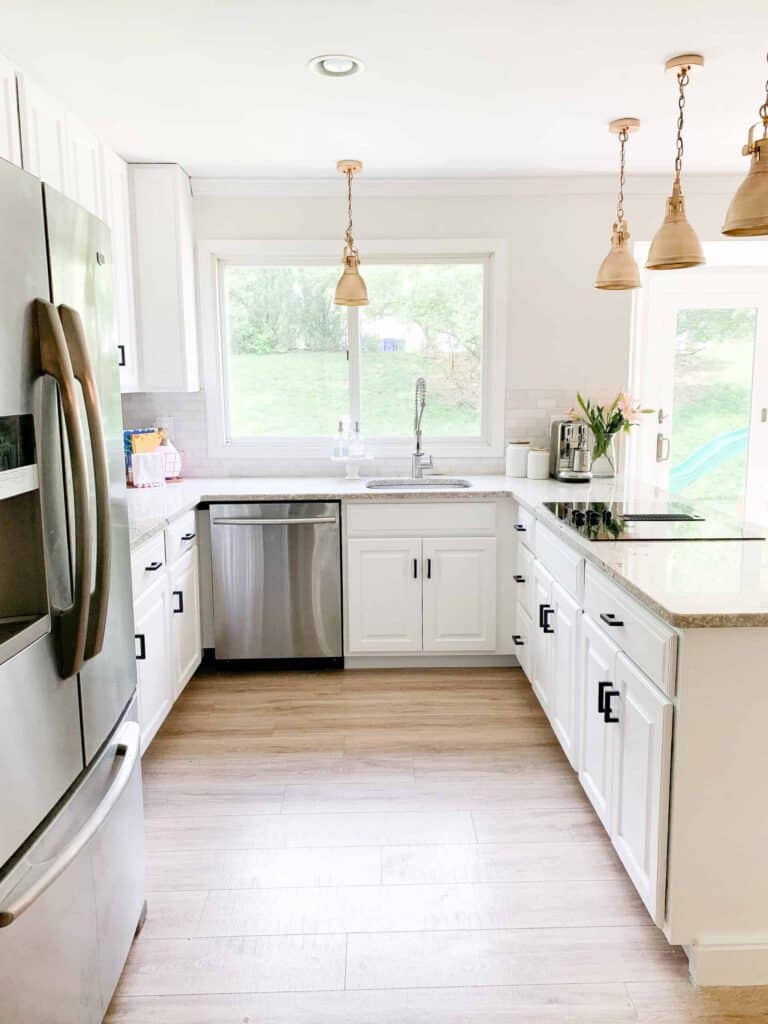 Kitchen Cabinet Painting Stock Cabinets
Since the big kitchen reno, we have moved during a pandemic, renovated our 1860's historic home, and appeared on HgTV, still all during a pandemic. I wanted to add storage to our playroom, and decided on built-ins.
I was dying to do a DIY of stock cabinets. And since we used those lovely standard oak cabinets for our space, I knew I had to jazz them up with some paint. After completing our kitchen cabinet makeover at our last house, I knew these stock cabinets would be a cinch. For our DIY with stock cabinets, see our post here.
Presently, Sam and I are in the middle of building built-ins in our living room (more on that later). Of course, I'll need to find the right paint finish and a good quality paint to complete that project. All of this is to say that just because you may feel intimidated by painting your cabinets- don't be!
This is such a great DIY and relatively inexpensive project that you can do with minimal tools. You just need to do the proper prep work: research and supplies.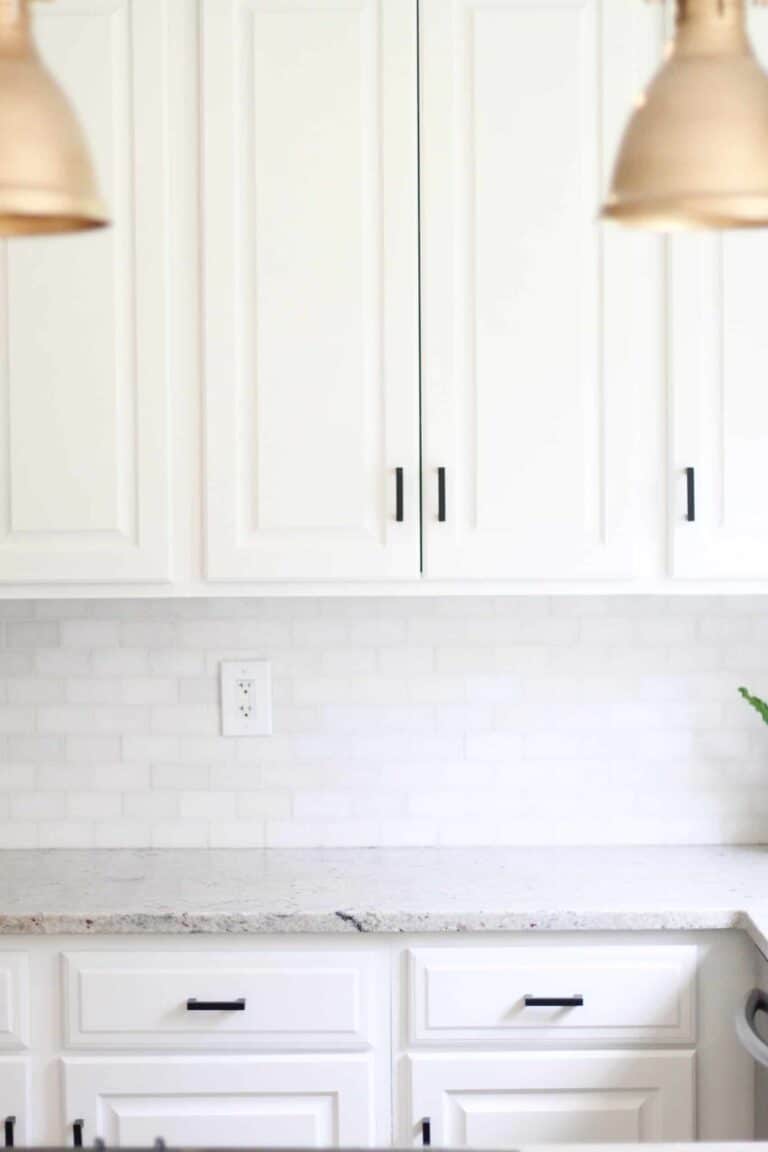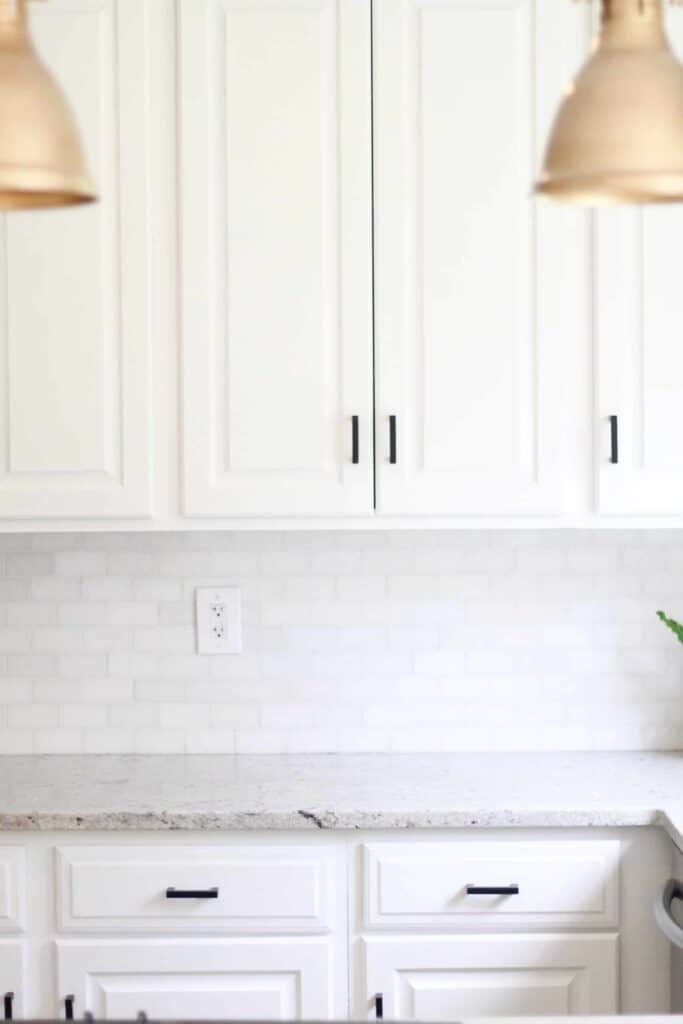 Painting Kitchen Cabinets – Proper Prep & Research on Paint Types
When you begin gathering information on painting your cabinets, whether that be bathroom cabinets, kitchen cabinet doors and drawers, or bare wood built-ins, you need to make sure you get the right type of paint.
Not all paint is created equal and you'll need to ensure you are picking the best paint for the project. You may know that paint can come in different forms: oil paints, latex paint, alkyd paint, chalk paint, etc.
All are different kinds of paint. So let's quickly go over some of these foreign paints and talk about which ones you want to look for and which ones you'll want to straight up run from during your cabinet painting project.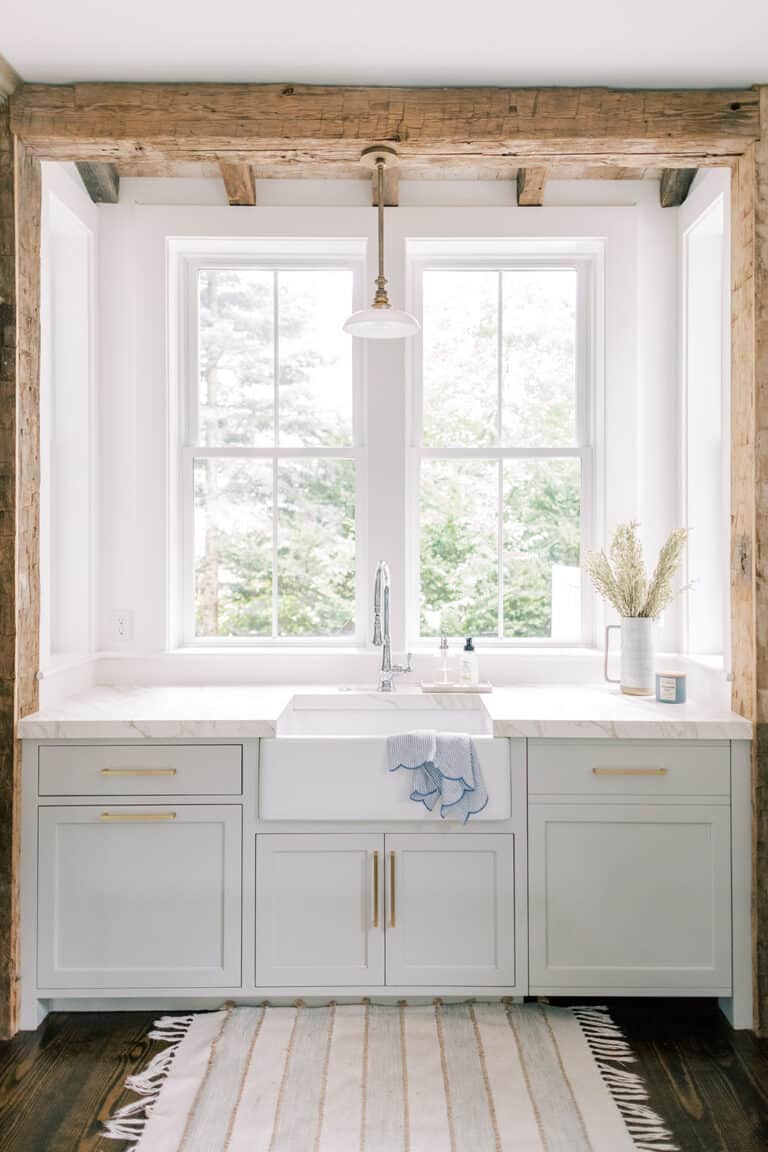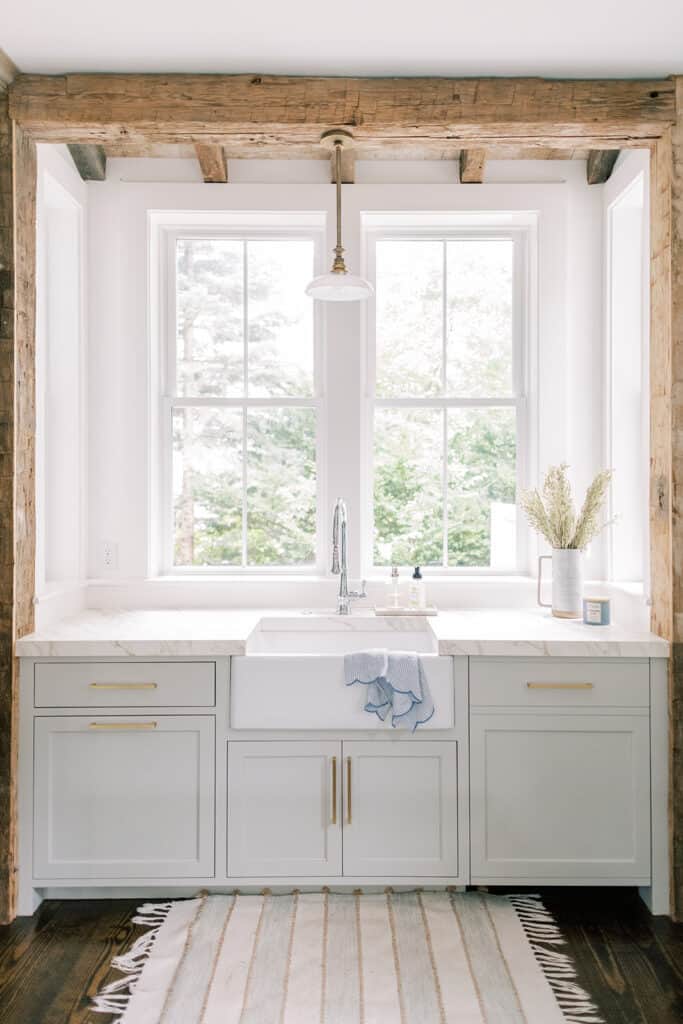 Oil Based Paint
True oil based paints aren't even used anymore in today's environmentally conscious world. These paints have a strong smell and have volatile organic compounds that can spontaneously combust. Let's avoid burning our homes down, shall we?
Latex Paint
Latex paint may be a paint that you commonly see in a paint store. Latex paint is a water based paint made from acrylic resin. Like latex, acrylic paint is also made from acrylic resin but instead of being water based, acrylic paint is a chemical based paint that makes the paint a bit more elastic than latex.
Latex can be easily cleaned with soap and water, and is a popular choice for painting walls in homes. However, latex paint can flake more easily and makes a poor choice for painting cabinets. Acrylic paint, on the other hand, is better at expanding and less likely to flake with temperature changes.
Keep in mind that wood swells and contracts with temperature changes. If your cabinets are painted with latex, you'll notice cracking. Who wants to spend time painting their kitchen
cabinets just to have them flake off?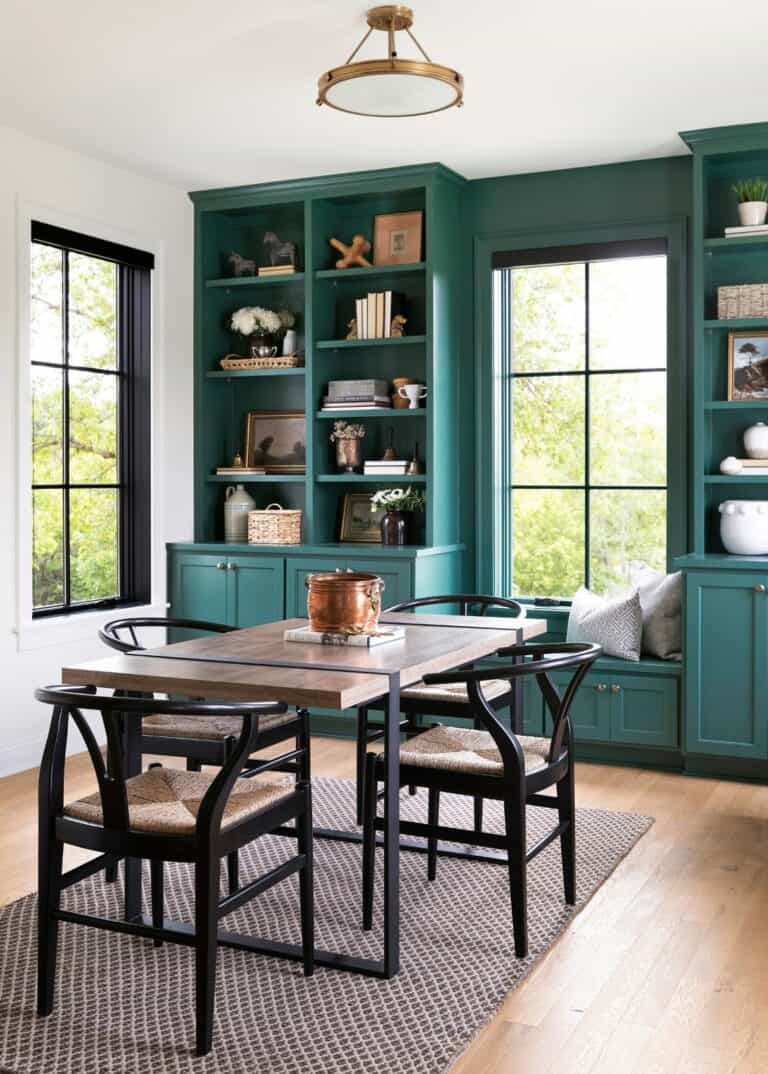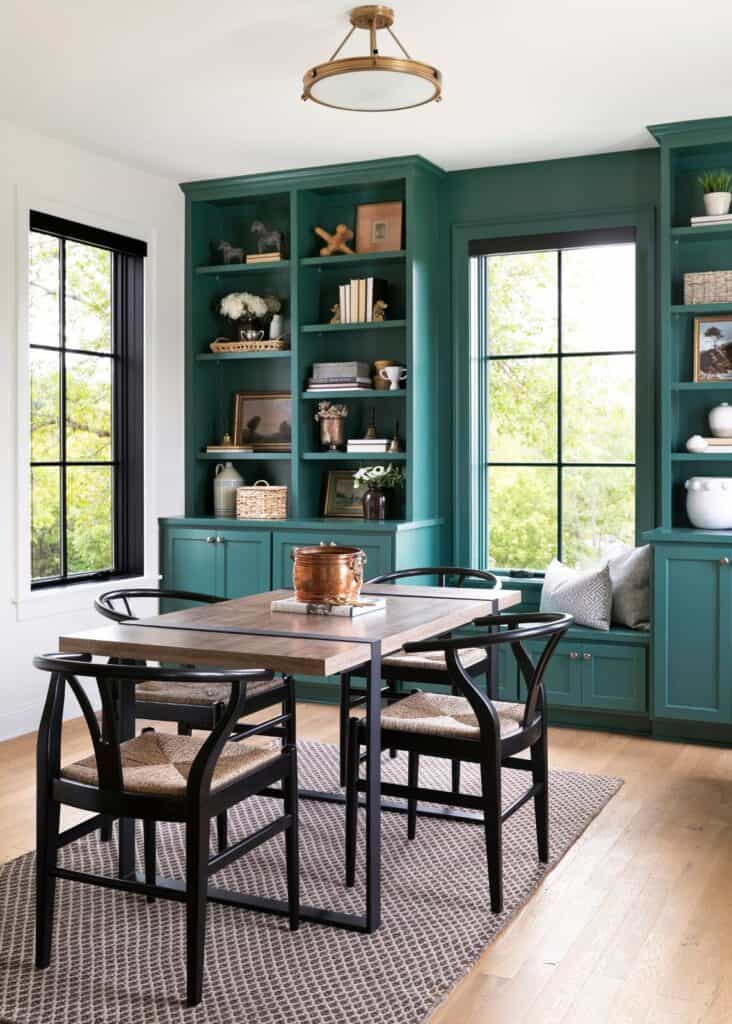 Enamel Paint
Enamel paint is another durable paint option for cabinets. Enamel paint is a paint that dries as a hard and glossy substance, not much unlike nail polish. This can be very beneficial for projects that require durability (like cabinets). However, this kind of paint is oil based and can be difficult to clean up and gives off pungent fumes.
So What is The Best Kitchen Cabinet Paint?
What you really need is a durable paint that has properties that are similar to an oil based paint but is a water based paint with easy clean up, quick dry time, and low VOCs like latex paint. What I just described is a paint known as alkyd paint.
Alkyd Paint
Alkyd paint is a great paint for cabinets in that it mimics the durability of oil based paints but cleans up like latex with warm water and soap. Alkyd paint dries with a hard surface (similarly to enamel) that typically only requires one coat of paint (not always but typically).
You don't generally see brush strokes or roller marks (down side of latex paint) and the paint overall is very durable. This is key if you decide to use this type of paint in your kitchen. Consider the amount of dirt and grime that your cabinets will be in contact with. Wiping down latex cabinets in a kitchen will lead to worn out and flaking paint. Alkyd paint is a great option for kitchen cabinets and cabinets in high traffic areas.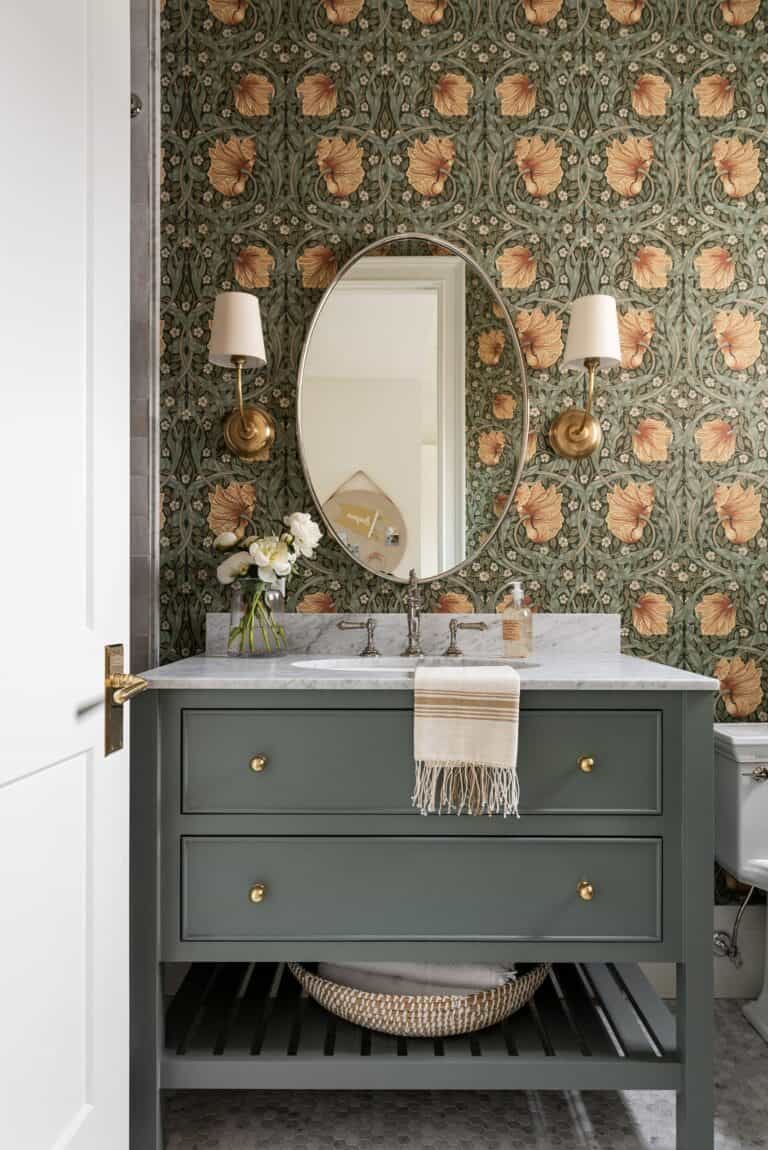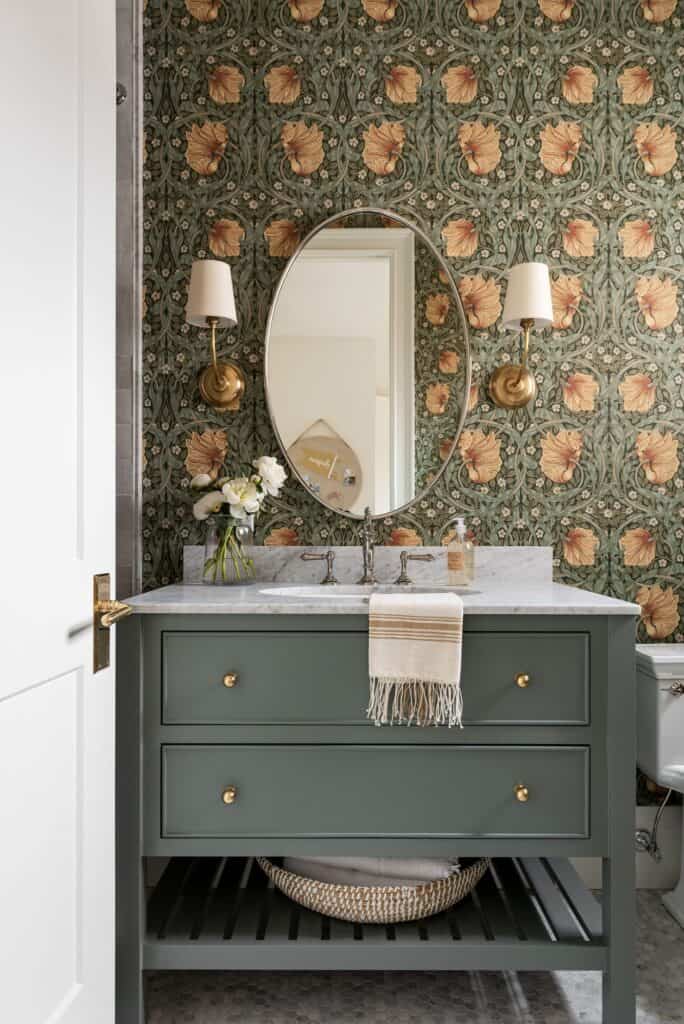 While we have covered many types of paints, in the end, the choice is yours. You need to consider the type of project you are doing in your home, your budget, and your end goal. Do you have cabinets that are being painted in a high touch area of your home that will be prone to spills and stains like kitchens (and a child's bathroom perhaps?).
Once you pick the type of paint you'll want to use, keep in mind that paint can come in several finishes. You'll want to pick a durable finish for cabinets. One that can handle high traffic, being wiped clean, and avoid showing fingerprints and scuffs. A high-gloss finish will give you the best results.
The higher gloss reflects light providing a smooth finish that is not only shiny, but can be wiped clean easily. A semi-gloss finish would also be a good choice as it is still durable, easily cleaned, and less likely to show scuffs. Matte finishes tend to be dull and can easily show those spills and stains.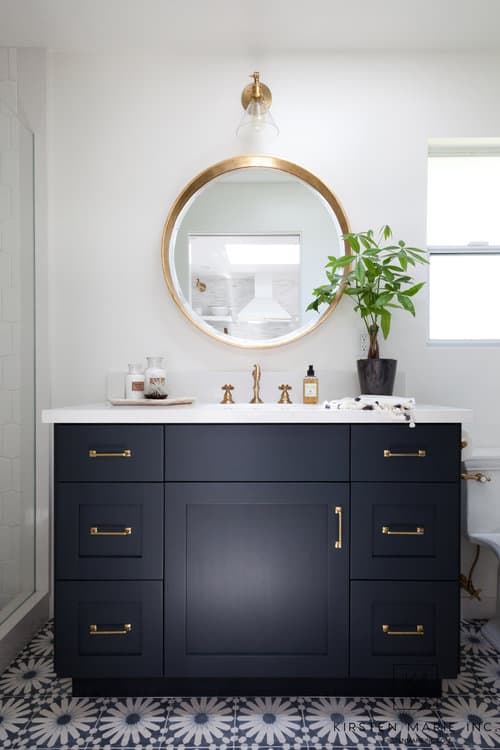 Tips for Painting Kitchen Cabinets
I have a more in depth post on how to paint kitchen cabinets in this post, but still wanted to get you started here in this post as well.
Before you go to Home Depot or Sherwin Williams to pick out your new paint, let's talk about prep work first. Now that you know the various types of paints that can be used, you need to have a game plan on how to actually paint your cabinets.
So don't go picking out a new color just yet! To get good results, you'll need to put in some serious prep work first. The end result will be well worth it but these things take time, best not to rush it!
Step 1: Take Apart Your Kitchen h3
If you aren't a fan of clutter or messes, you are going to hate this project. Breathe. It will all be put back together again later. You'll need to take apart your entire kitchen. That means take all your drawer fronts off, hardware off the drawer fronts, and cabinet doors off the hinges. You'll want to label your cabinets (left, right) so you don't get them confused.
Keep the hardware in bags and label them as well. If you are switching out the hardware, then feel free to disregard. However, keep in mind that not all hardware is applied in the same way. You'll want to get hardware that matches the drilled holes already existing in your cabinets.
Of course you can get different ones, but it may require some extra elbow grease, wood filler and sanding in the end. Now you may be thinking, "There is no way I'm taking my doors off and disturbing my kitchen," And if that is the case, then you might as well just turn around and not even start the project. Yes, you must take the doors off the hinges. Yes, you must label the doors. Yes, this does make the biggest difference. If you don't, you won't get a smooth finish or a professional looking outcome.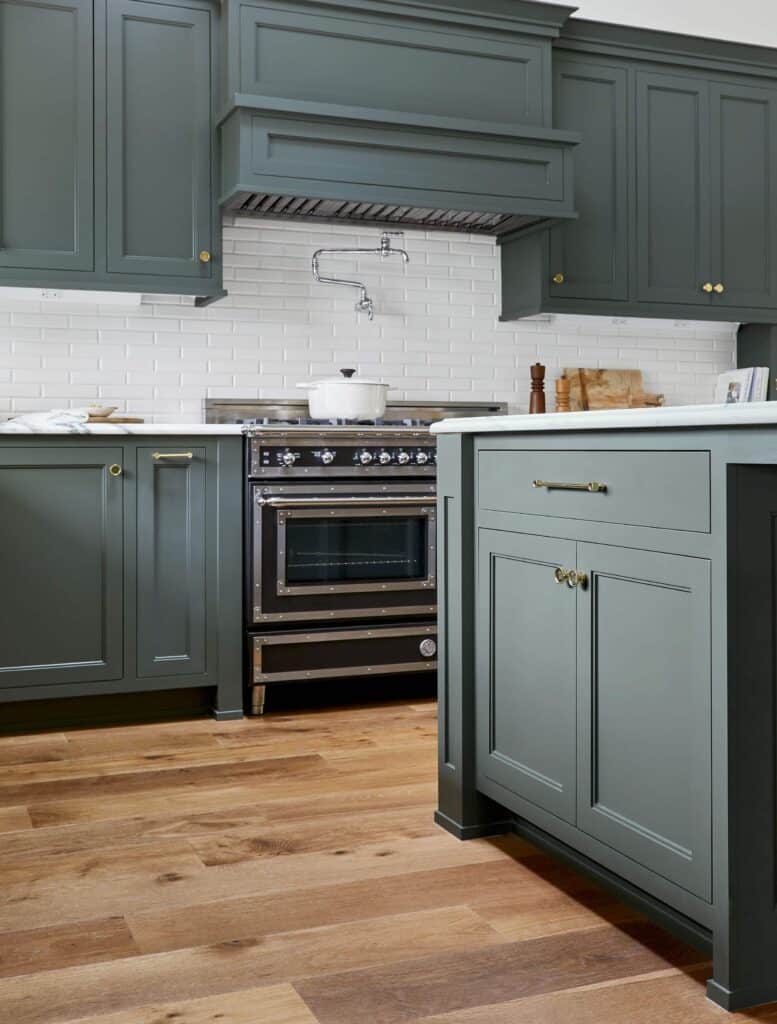 Step 2: Dexter-ize Your Kitchen
Have you ever seen Dexter where he takes all the plastic sheeting and uses it to contain the blood in his "kill room"? If you haven't seen Dexter, just trust me on this. You are going to make your kitchen space very Dexter-esque.
Take plastic sheeting and tape it across your appliances, backsplash, inside of the cabinets, etc. You want to prevent paint from spraying or getting anywhere it shouldn't go.
Step 3: De-Funk Your Cabinets
You are going to want to invest in some serious degreaser. All of the cabinets will be cleaned to get all of that built up grime off the surface space that will be painted. You can buy products at your local hardware store that are specific to cabinet cleaning. If you skip this step, your paint won't stick well and you won't get a smooth surface.
If you have any imperfections that need to be fixed, now is a great time to do it. Wood filler can be used to fix any dings or holes that require attention. Once cleaned and patched, you'll want to sand your cabinets.
We used this sander with 220 grit sandpaper in our last project. If you don't own a sander, you can rent one or use some elbow grease with a sander block.
Once sanded, you'll need to rinse and wipe down the cabinets again to completely rid the cabinets of any debris. This step goes a long way in creating that professional finish at the end. I go much more in depth on this part of the process in my blog post about painting our cabinets.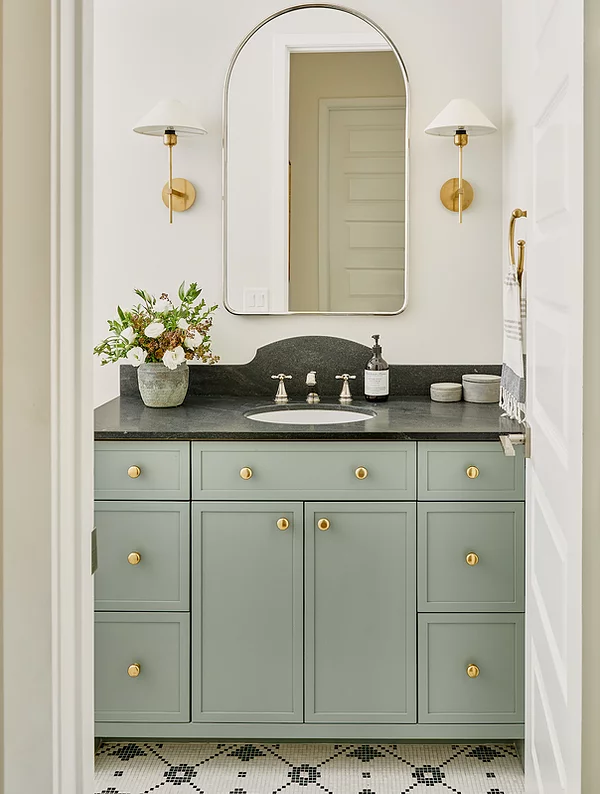 Beautiful bathroom cabinets by Lexi Westergard.
Step 4: Prime Time
Grab your paint brushes and foam roller and apply your first coat of primer. You may need a second coat depending on how dark your cabinets are and how light you are going. I'd say if you are going from dark cabinets to white cabinets, a second coat of primer wouldn't hurt. Keep in mind, you don't want to lose the labeled doors.
You need to keep track of this! Allow your primer drying time before going on to the next step. Once the primer is nice and dry, you'll want to sand (yes, again). This is going to be a quick sanding to create that nice smooth finish. It's a good choice to use a microfiber cloth to dry your cabinets to ensure all debris is free.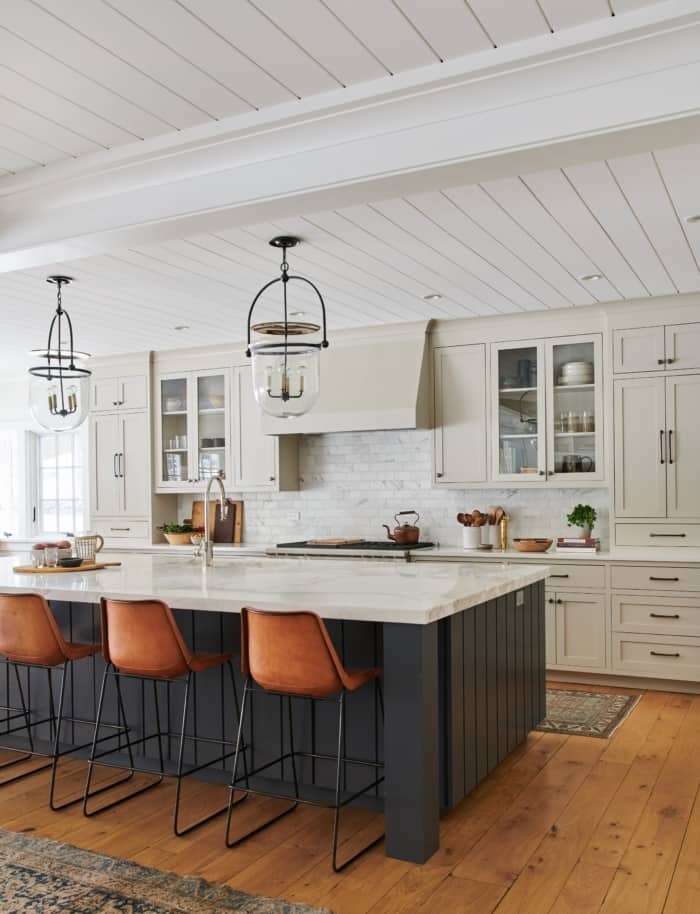 Step 5: Paint
Patience is key here, people. You can't rush perfection. We started with our cabinets and then moved on to the doors. With the cabinets, we applied a base coat of paint first with brushes and foam rollers. We allowed a dry time of 24 hours and then we lightly sanded the cabinets.
After we washed the dust off and dried the cabinets, then we added an additional second coat. Again, we allowed 24 hours of drying and then added a 3rd coat. Yes, there were multiple coats of paint, but we wanted to ensure that we had the best coverage. For the doors of the cabinets, we followed the same process.
Keep in mind, you may have details on doors that require some brush work. Do that first and then smooth it out with a foam roller to finish the process to avoid brush marks. An alternative is to use a paint sprayer rather than rollers and brushes.
Professional painters use a paint sprayer for a seamless finish, but I will say that they can be pretty expensive and you have to be proficient in using it. If it is your first time using a paint sprayer, you may want to get some practice under your belt before busting out cabinet painting.
Step 6: Re-Assemble
Lastly, reassemble your kitchen once your cabinets and doors are fully dried. This is the fun part! You get to admire your work!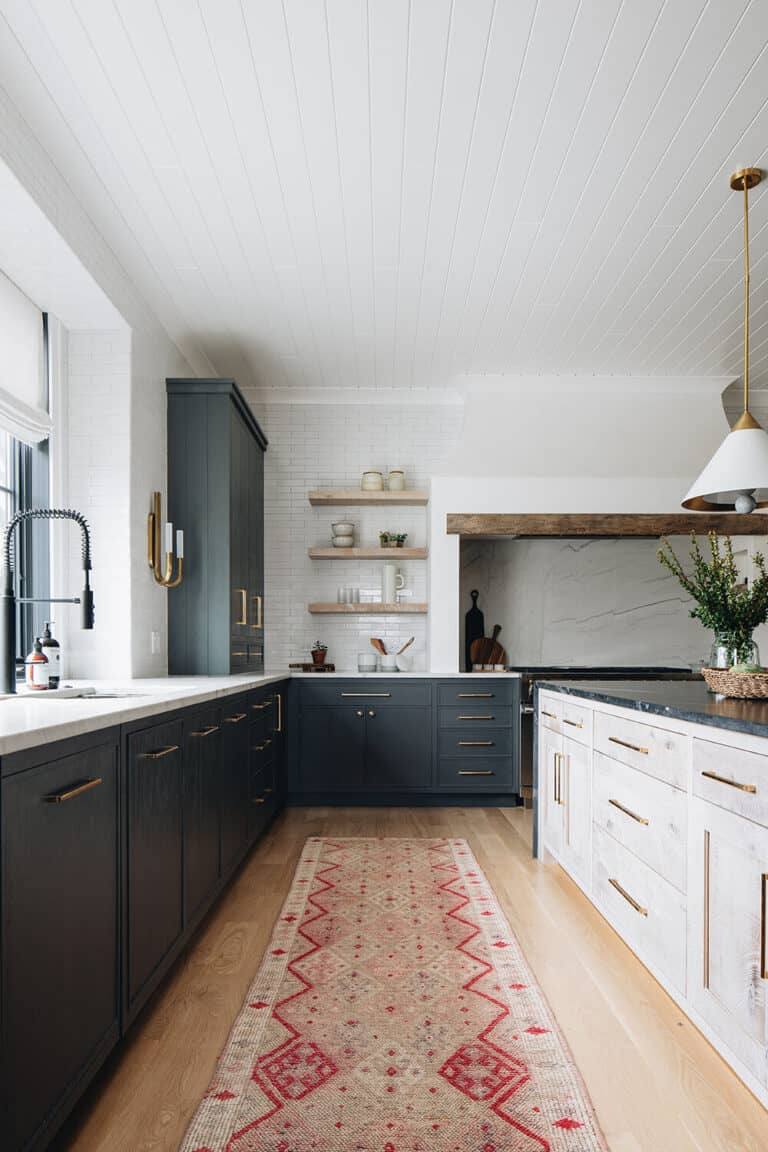 The Best Paints I've Found
Now that you've decided to take on this DIY, you'll want to pick out new paint to get you the best end result. You don't need to invest in premium paint to get a professional finish. There are some great options out there to fit every person's budget.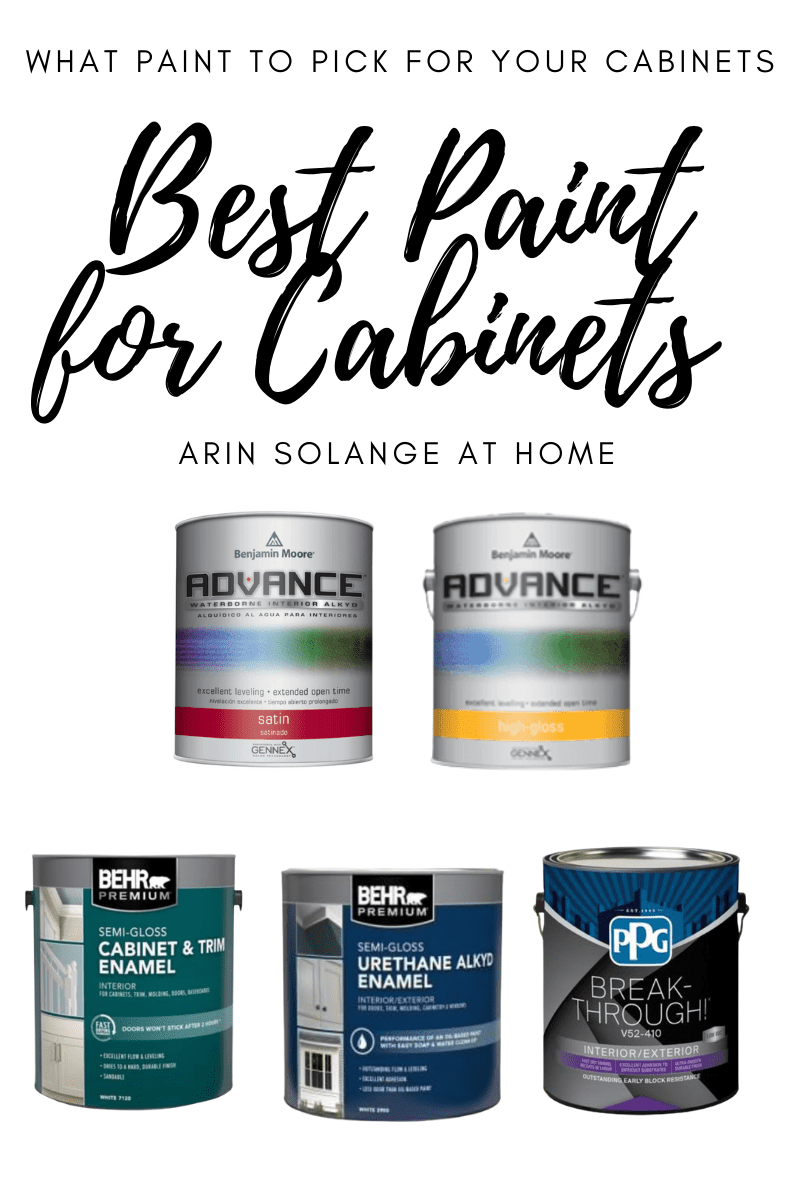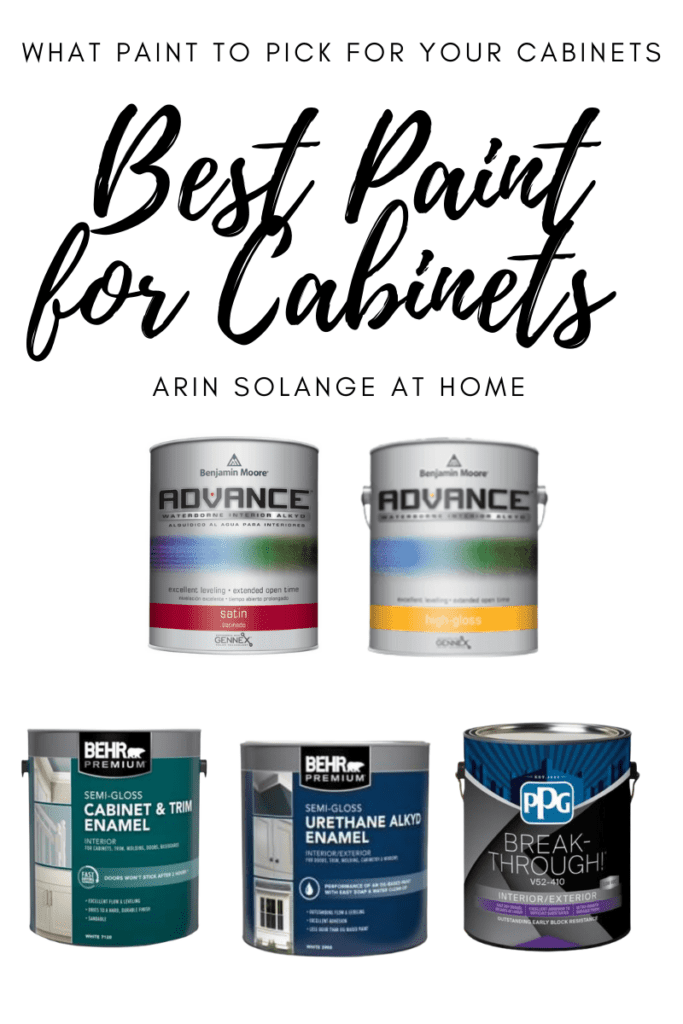 This is actually the paint we used in our last house when we painted our kitchen. This is a popular choice, available at Home Depot. Since it is an enamel paint, this dries as a hard and durable finish that is excellent for cabinets. The semi-gloss paint was a great choice in our kitchen as it is washable and does not easily show grime and dirt.
This is another great pick that is available at Home Depot. Honestly, this is extremely similar to the Semi-Gloss Cabinet & Trim Enamel by Behr. The alkyd paint acts like an oil based paint with the ease of clean up like a water based paint. This does give you a bit more ability to use with other materials like stucco, wrought iron, and brick.
Benjamin Moore's Advance line is an alkyd based paint product that creates a great finish with easy clean up. You get the same benefits of the oil based product without all the hassle. High gloss is a popular choice because of its durability and likelihood to hide smudges and stains. This does cost a bit more in comparison to the Behr line.
I added in the same Benjamin Moore Advance line but in a satin finish. Normally, you don't expect to see a satin finish in cabinets because of the durability and the fact that it can show smudges. However, this satin finish is a great option if you don't want that full high gloss shine but still want to hide those smudges. As a bonus, Benjamin Moore carries thousands of different colors!
This is a water based acrylic so clean-up is easy and comparable to an alkyd paint. The finished product is super durable and can apparently be used to paint laminate (according to PPG). This comes in a satin finish, semi-gloss, and high gloss. PPG also has an impressive array of colors so you'll be sure to find a favorite color.
Other posts You'll Love
How to Paint Kitchen Cabinets | White Kitchen Cabinet Backsplash | All About Shaker Cabinets
Pin the Photo Below For Later
Now that you know the best paint for cabinets, I hope you the confidence to finally try your hand at painting your cabinets. Just remember, go slow and give yourself plenty of grace and time. You can have a beautiful finished product without spending tons of money on new cabinets. You just need a little time and patience. If you have any questions, feel free to leave them in the comments, and follow me on Instagram @arinsolange for more home, decor, and DIY. Happy painting friends!