Talk about a marathon of a bedroom. We FINALLY finished Walker's light blue bedroom and oh my gosh am I in love. We went with Sherwin Williams HGTV Fresh Idea for the paint, and a VERY blue room, and honestly it is everything I envisioned. I will share all of the details in this post, and later this week will also be sharing the blog post on how to build his bed incase that is why you are here!
This post may contain affiliate links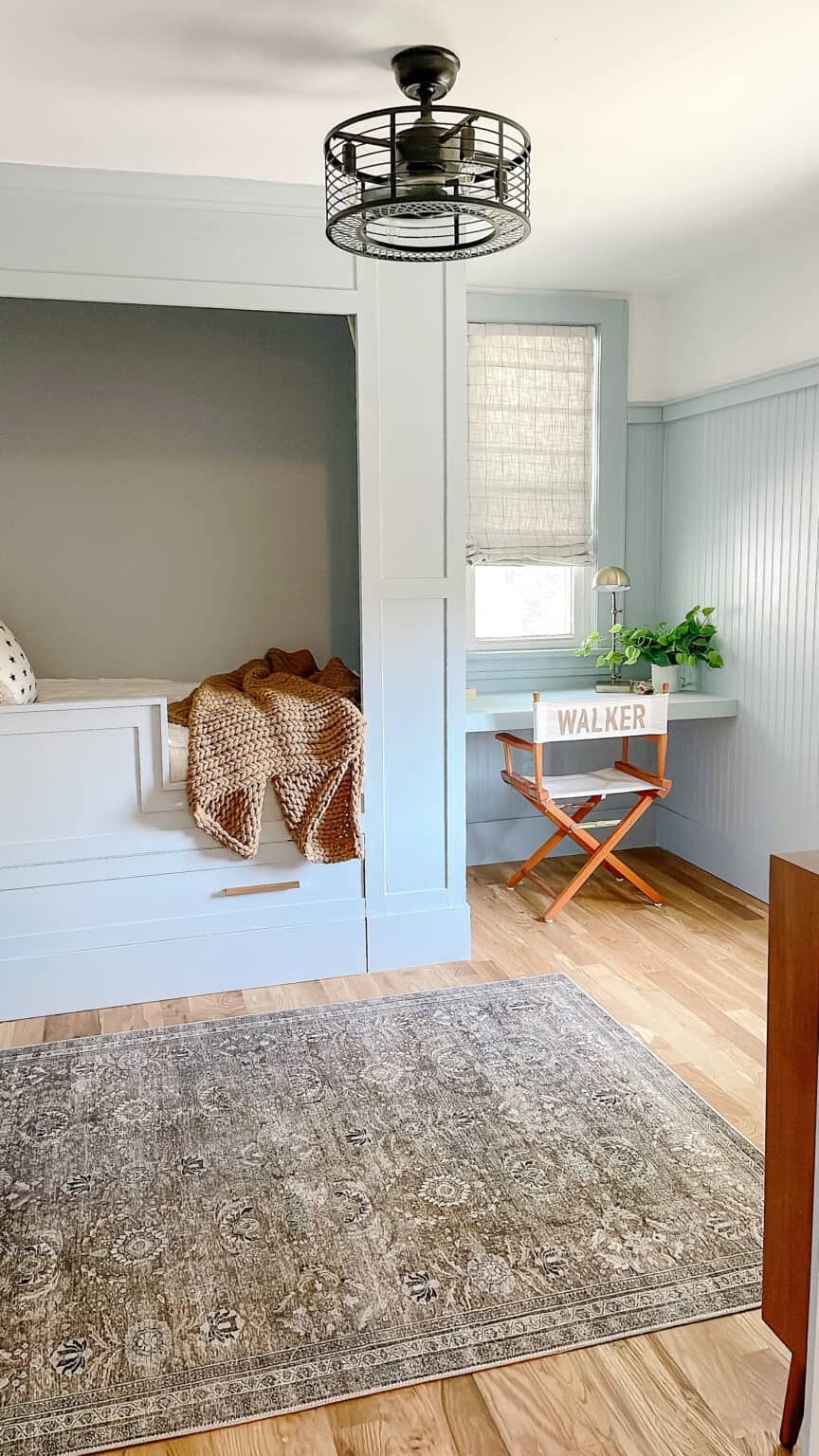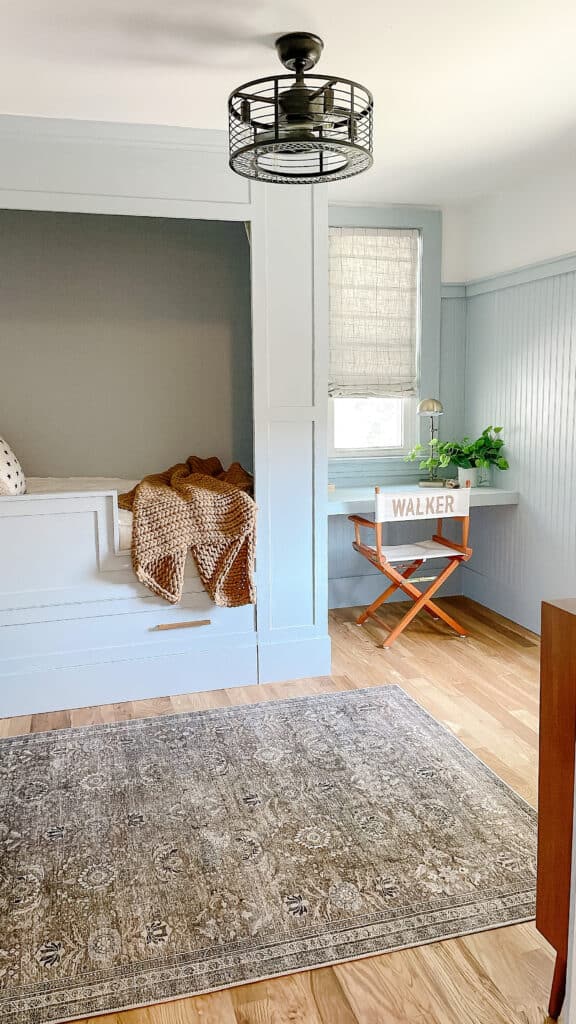 Light Blue Bedroom for Walker
My sweet Walker John is almost 5 years old and it honestly feels like just yesterday I was designing his nursery. Sam and I were discussing the fact that that was the last time we designed a room for just him. He moved from said nursery to a shared room with Jack. We then moved and in the year and a half in this house we still hadn't tackled his room.
Dare I say, it was worth the wait? I had big dreams for Walker's room and a true vision for a while, but wanted to hammer out the details so it could function well for him before we worked on the space. Walker is my messy kiddo who hoards everything so I knew I had to be very smart with my selections.
Something about Walker has made me gravitate towards classic designs and blue since he was born, so doing a light blue bedroom seemed natural. I went with a sort of classic sports/country club vibe in the room, and just love the simplicity that came together.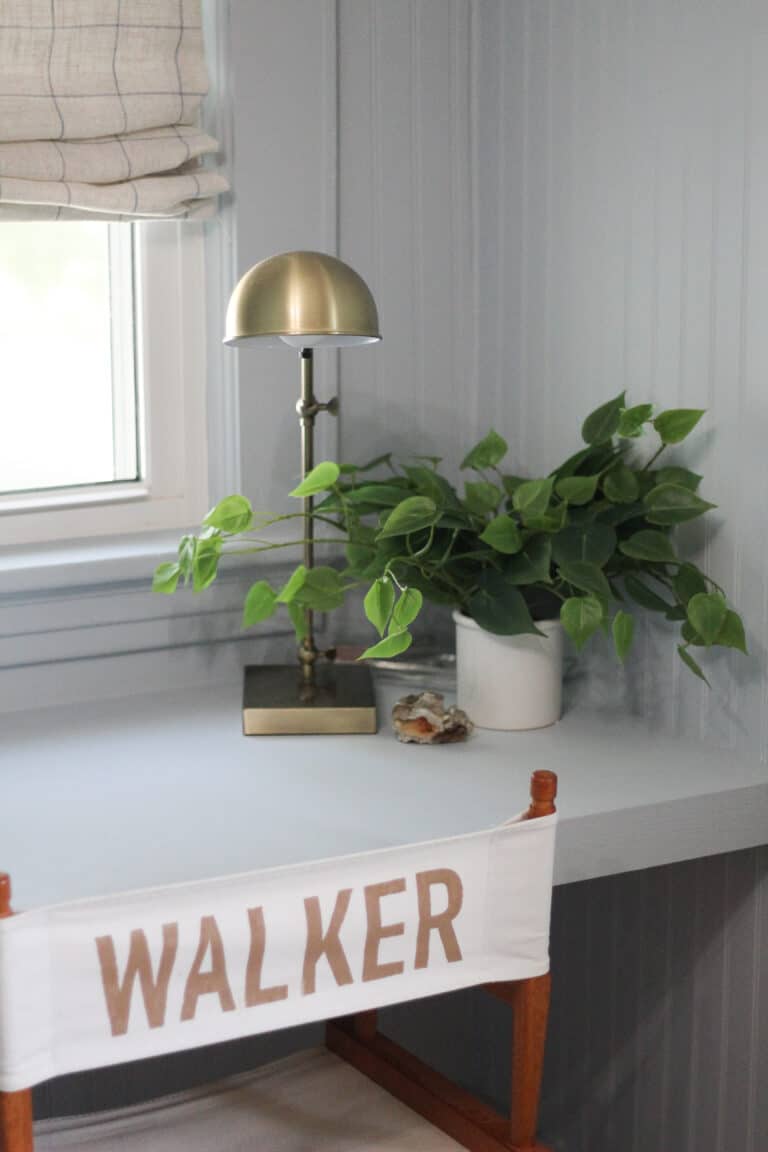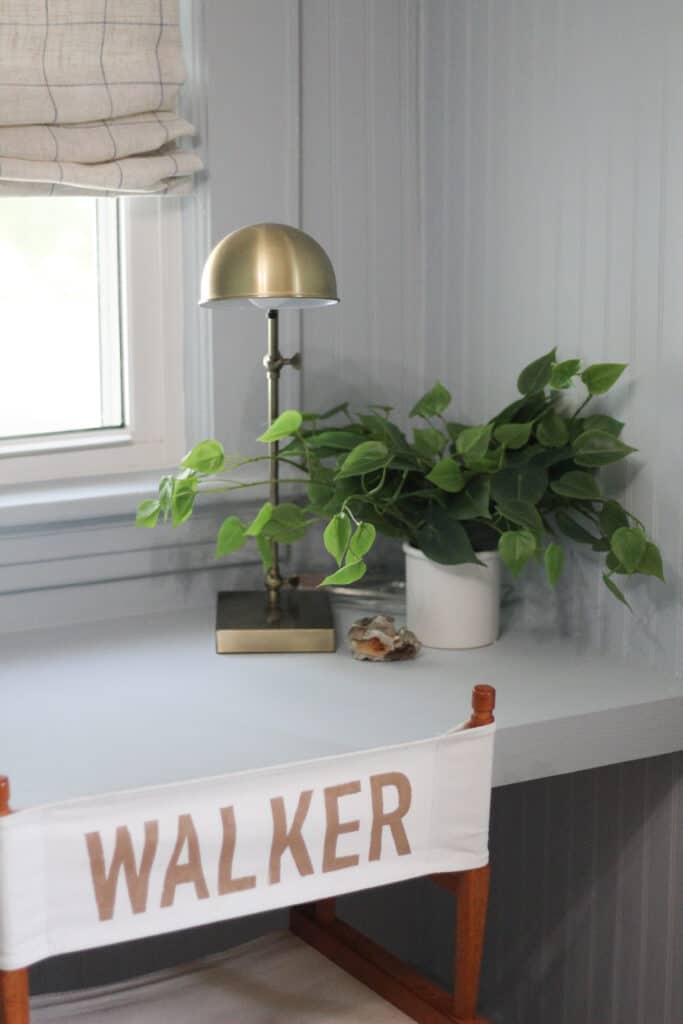 Sherwin Williams HGTV Fresh Idea
When it came to this bedroom hands down the biggest choice was paint. I knew I wanted A LOT of blue, so it needed to be the right blue.
I settled on Sherwin Williams HGTV Fresh Idea, and Honestly the shade of blue couldn't have been more perfect. It is definitely a light blue, but is just dusty enough in color to not feel like an infants room. We opted to paint most of the walls, all trim, the bed, and the doors in the Fresh Idea paint color, so we really leaned into the color!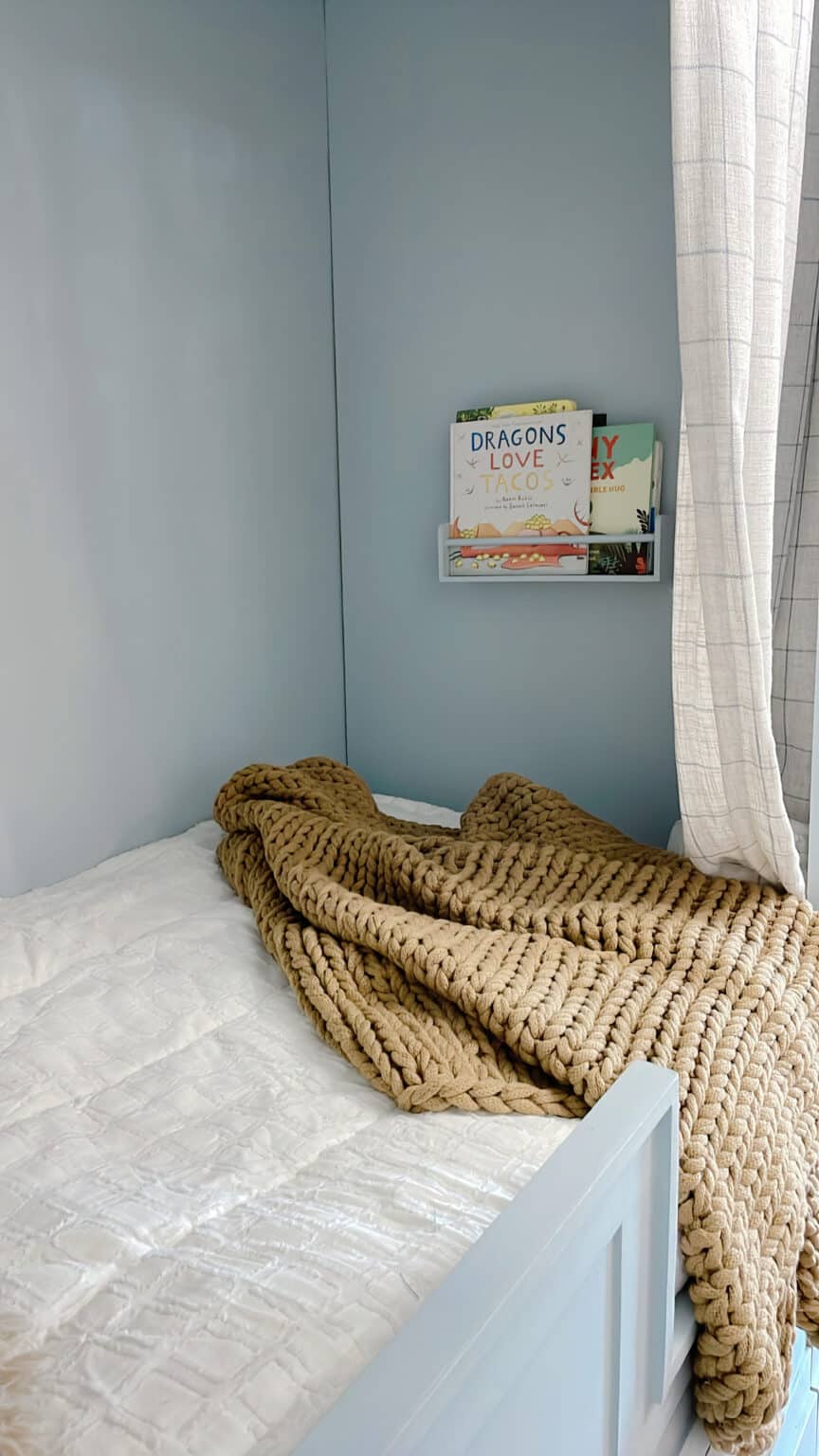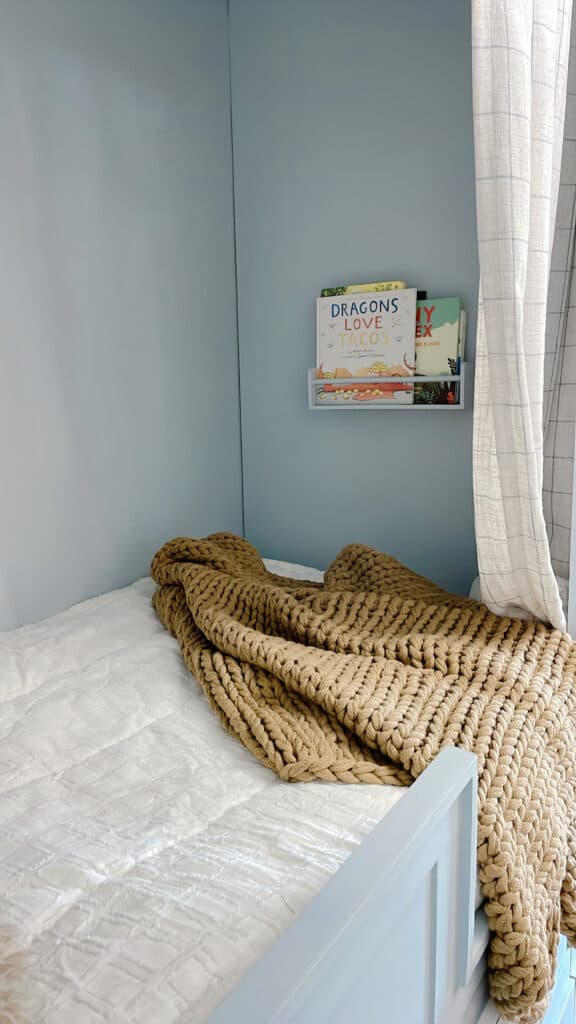 Designing Walkers Light Blue Bedroom
Now that you know why I went with light blue, I will walk you through all the details for his room, and the links to everything we included. Like I said at the start of this post, we will be sharing a separate tutorial for the bed this week.
We overall went for a room that would have great storage, would grow with Walker, and didn't have too many things he could move around. Walker is creative, and that sometimes means with his room as well – and I am particular, so I have learned that we mesh better if I make sure I remove some of the temptations for mess.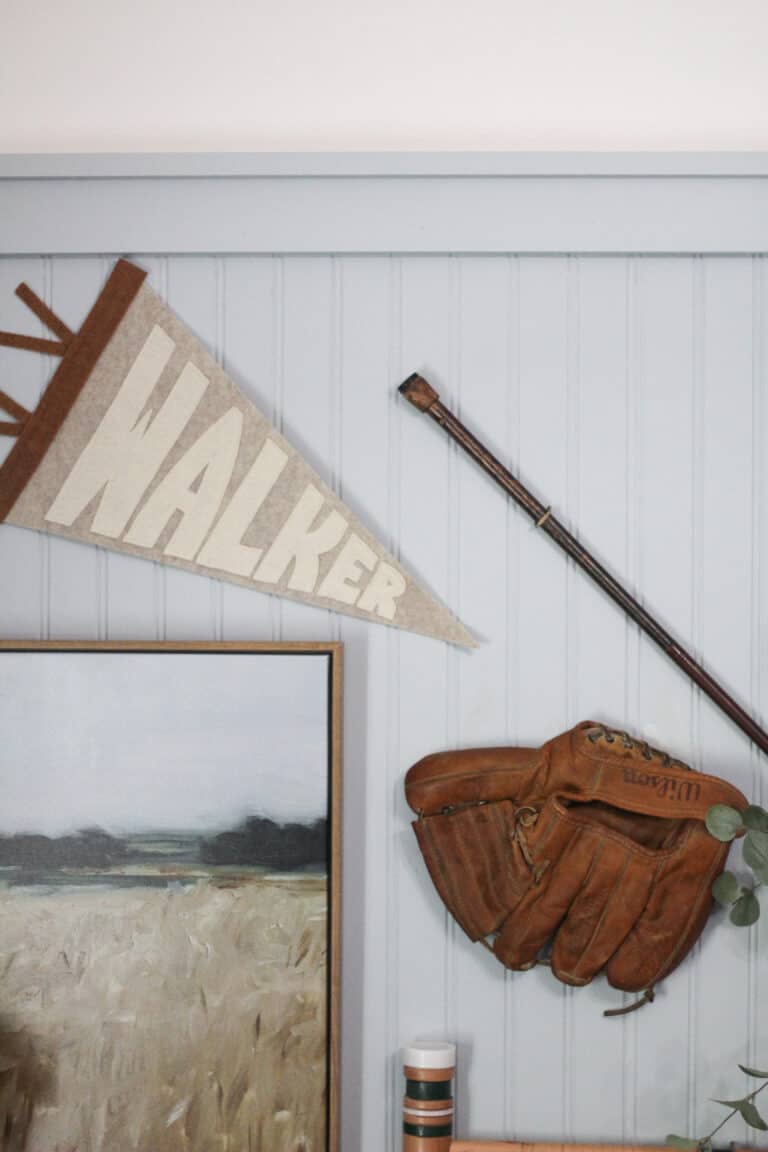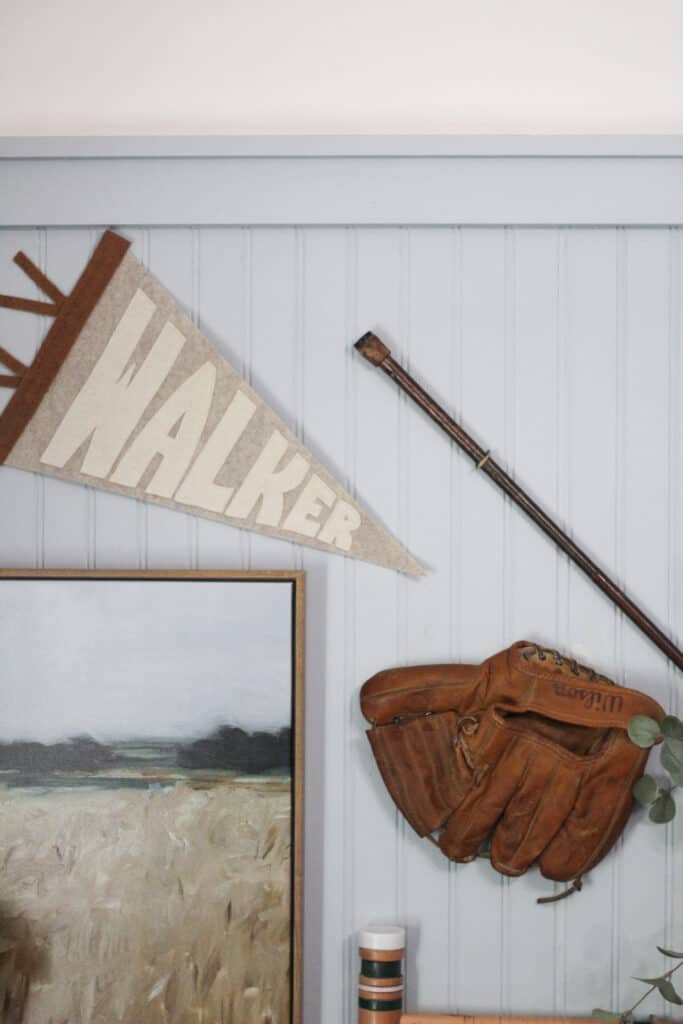 The built in bed, with the built in desk under the window worked so well for his room because it really optimized space for him to play, but gave us major pieces of furniture that couldn't be moved. We also designed the bed to have storage beneath, so it was all something that was both pretty, but functioned well for us!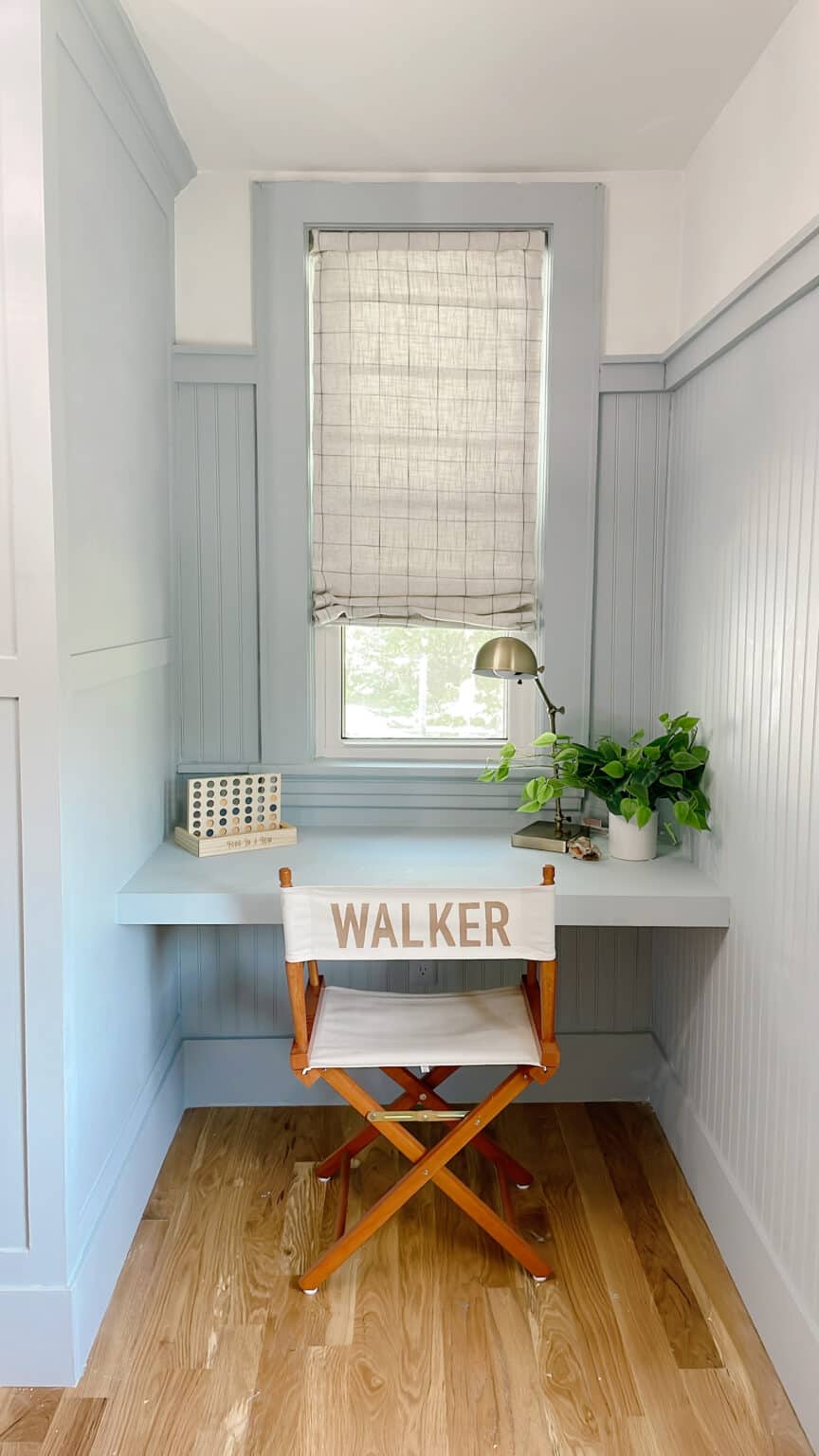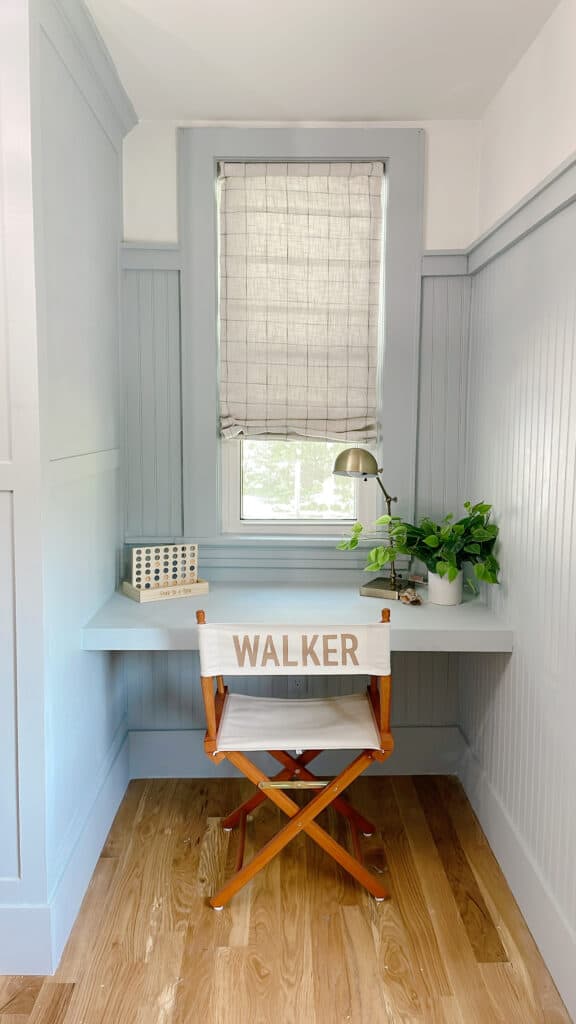 Bead Board Walls
The first step for this bedroom was to add bead board to the walls. This was honestly more of a need than a design choice, because the walls are old plaster and had a rippled effect that I wanted to conceal. The bead board ended up being such a pretty way to handle that!
If you are tackling bead board there are a few things to keep in mind in order to have a great end result.
1 – cutting bead board was actually not as easy as we anticipated. It is difficult to get a clean cut. Make sure you use a really sharp blade on your table saw or circular saw, and cut with your front facing down if possible.
2 – You will need tools for cutting outlet holes and such. This is definitely a material where a jigsaw is important. This can be less expensive – but you need one of some sort.
When hanging the bead board you will add liquid nails to the back, and then attach to the walls with a nail gun. I will link to all of those tools we used below incase this is new for you.
We personally measured up our walls to a given height, cut all the bead board to that height, then we added a 1×3 over the top, with a 1×2 going horizontal on the top of that. It gave a finished look across the room.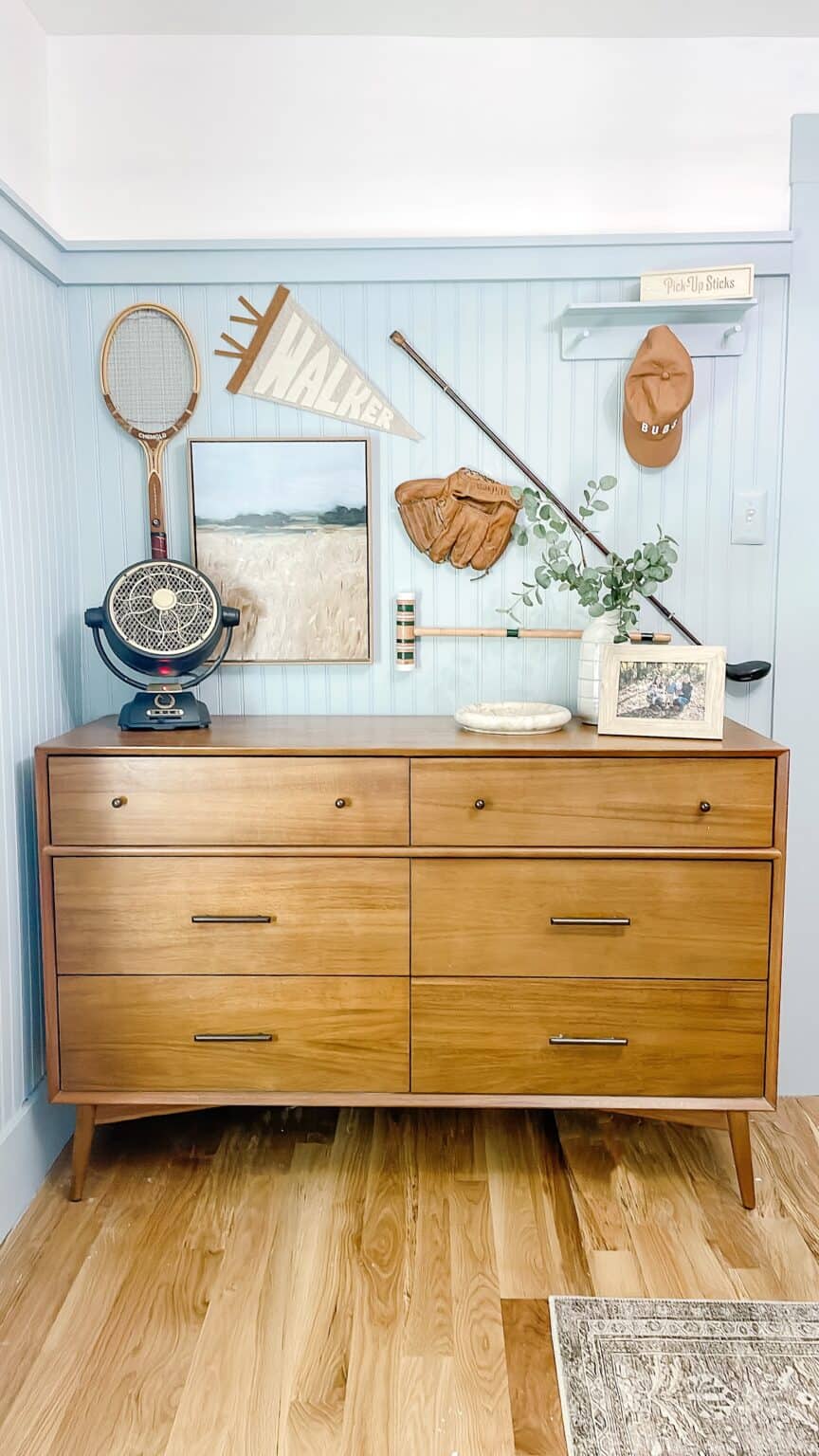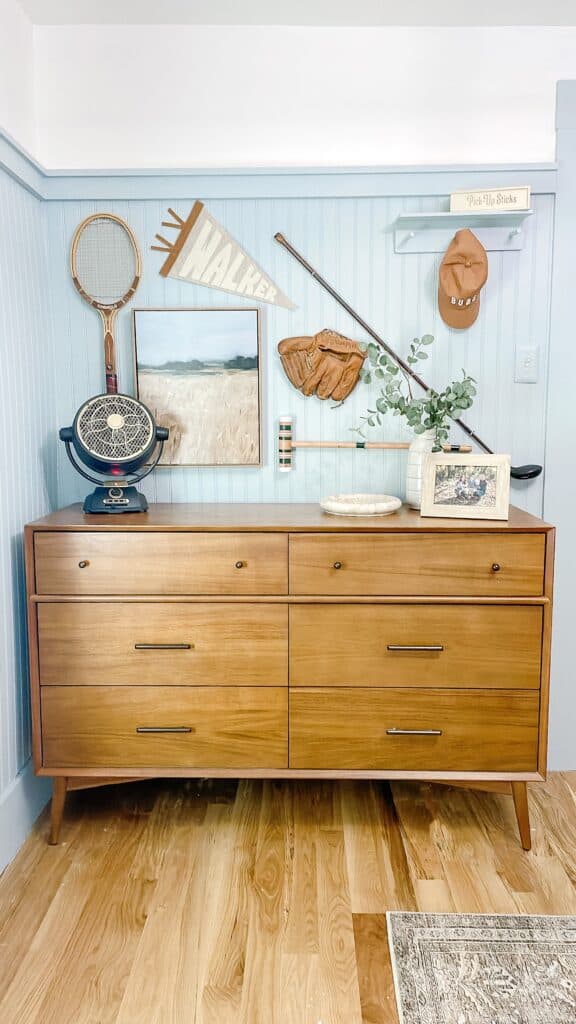 Supplies Needed for Bead Board Walls
If you are wanting to add bead board to your room below is everything you will need + paint!
Bead board sheets
1×3 boards
1×2 boards
Nail gun – we have this one and love it
Liquid Nails
Caulk for seams
Wood filler for the holes from nail gun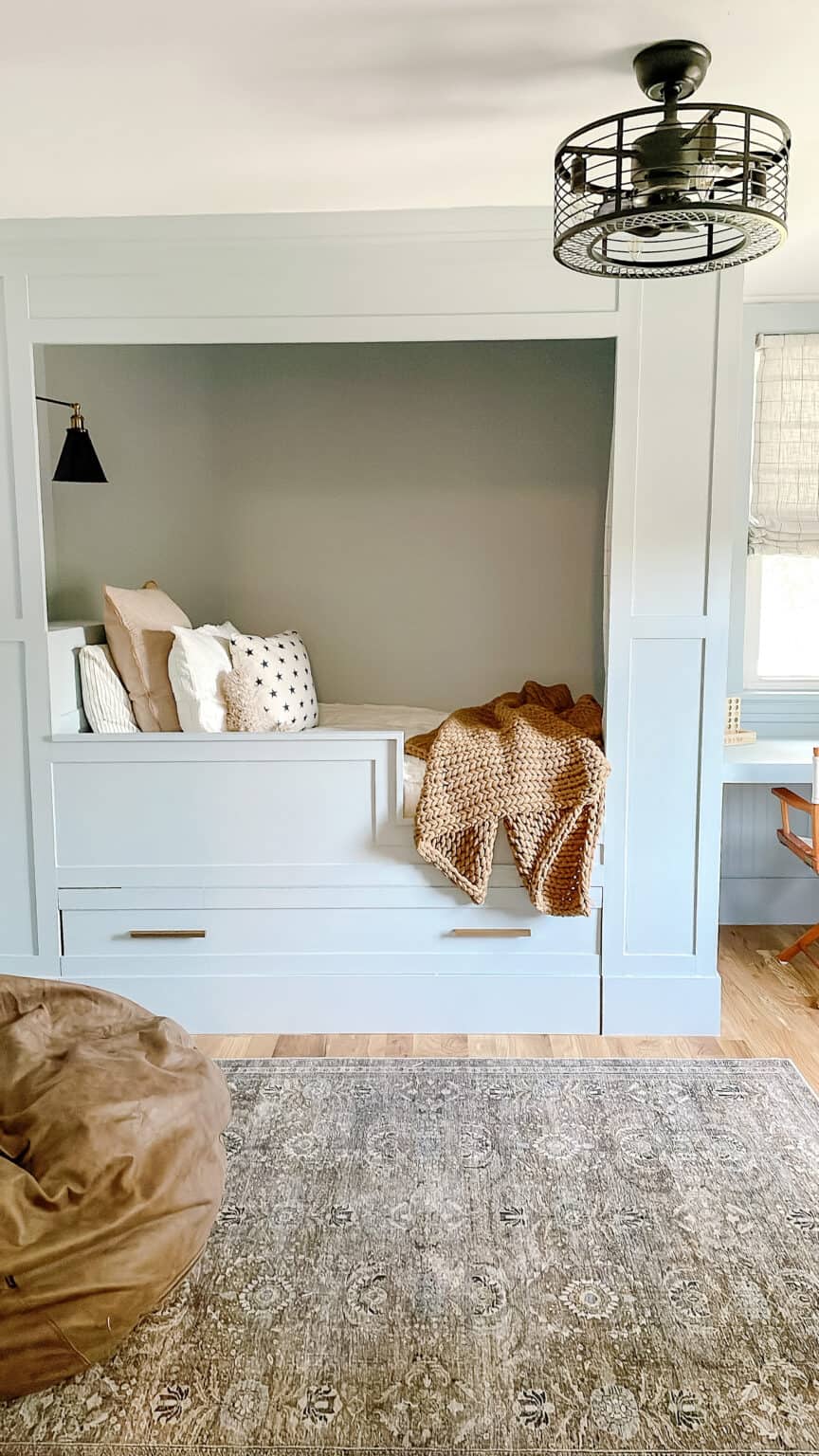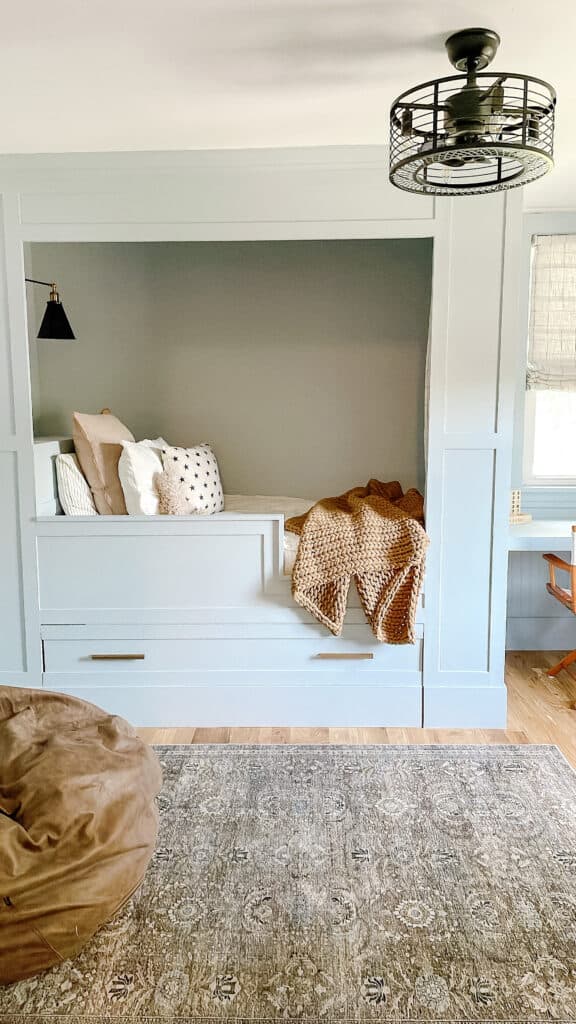 Light Blue Boys room Details
For the details in Walker's room we went with simple accents that would give a really simple and preppy feel. I went with a mix of favorite brands, simple DIYs, and Amazon finds to create a space that is very simple and cute.
The Bedding
I am going to share a graphic below for you to shop all of these items, but I wanted to highlight the bedding first! For Walker's room we went with Beddys Bedding – which if you have followed me for any length of time you likely know that I add this all of my kids rooms.
It is all in one bedding that zips for closure and is just the most functional and pretty way to finish a bedroom. They are so kind and always offer 20% off to my readers and followers with the code ARINSOLANGE so be sure to check them out and use that code at checkout!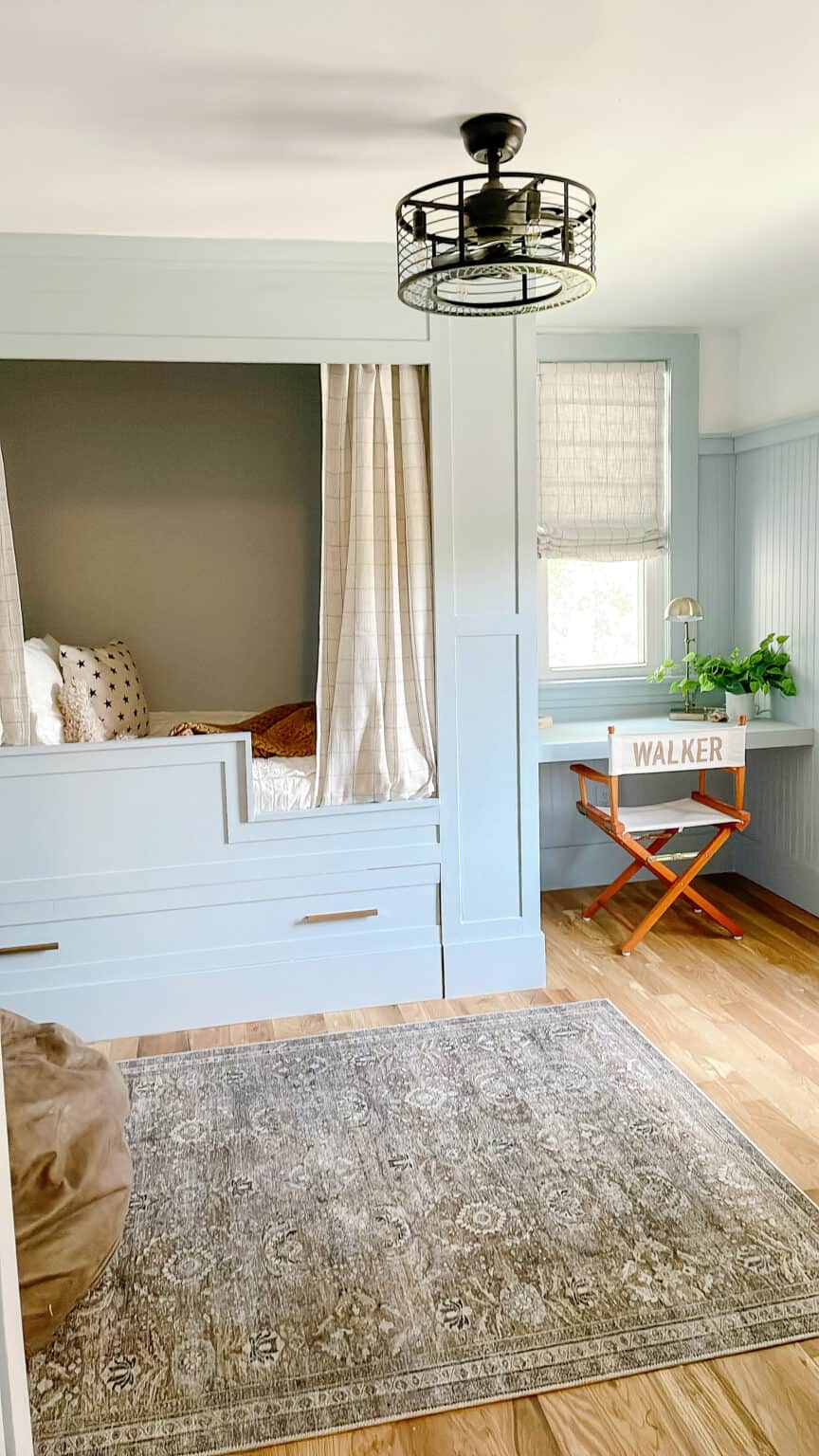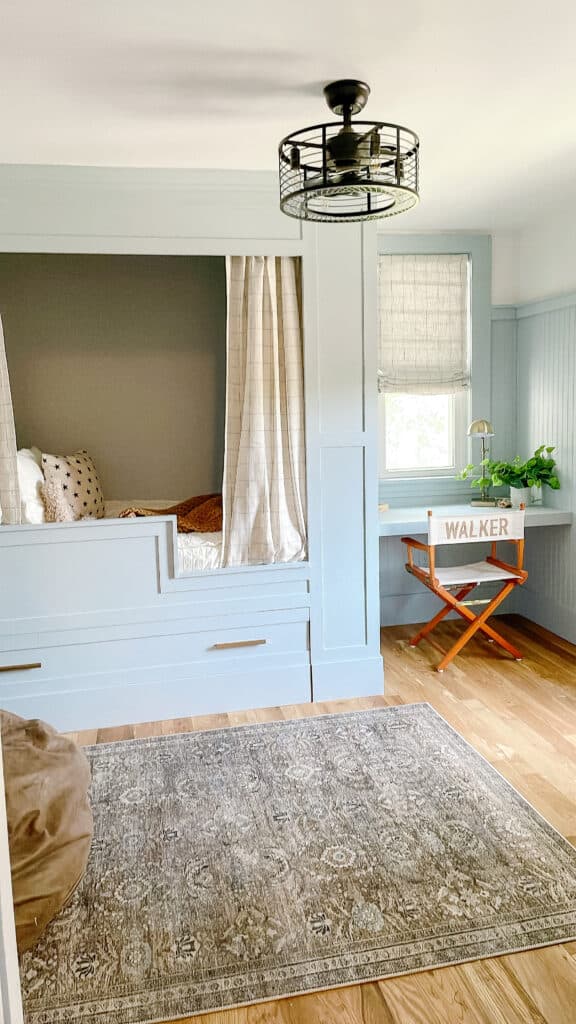 Adding Antiques
Some of the items on the walls are antiques – this was a fun way to give the feel we were looking for and it was also super budget friendly. If you are going to try this as well, we found that using these large staples was a great way to hang some of those odd shaped items!
Window Treatments
For the Window Treatments we decided to try a DIY and they honestly turned out great. We used the fabric from the curtains that we also used on the bed, and some inexpensive blinds – I will do a follow up video on that process on my TIkTok and Instagram if you are interested.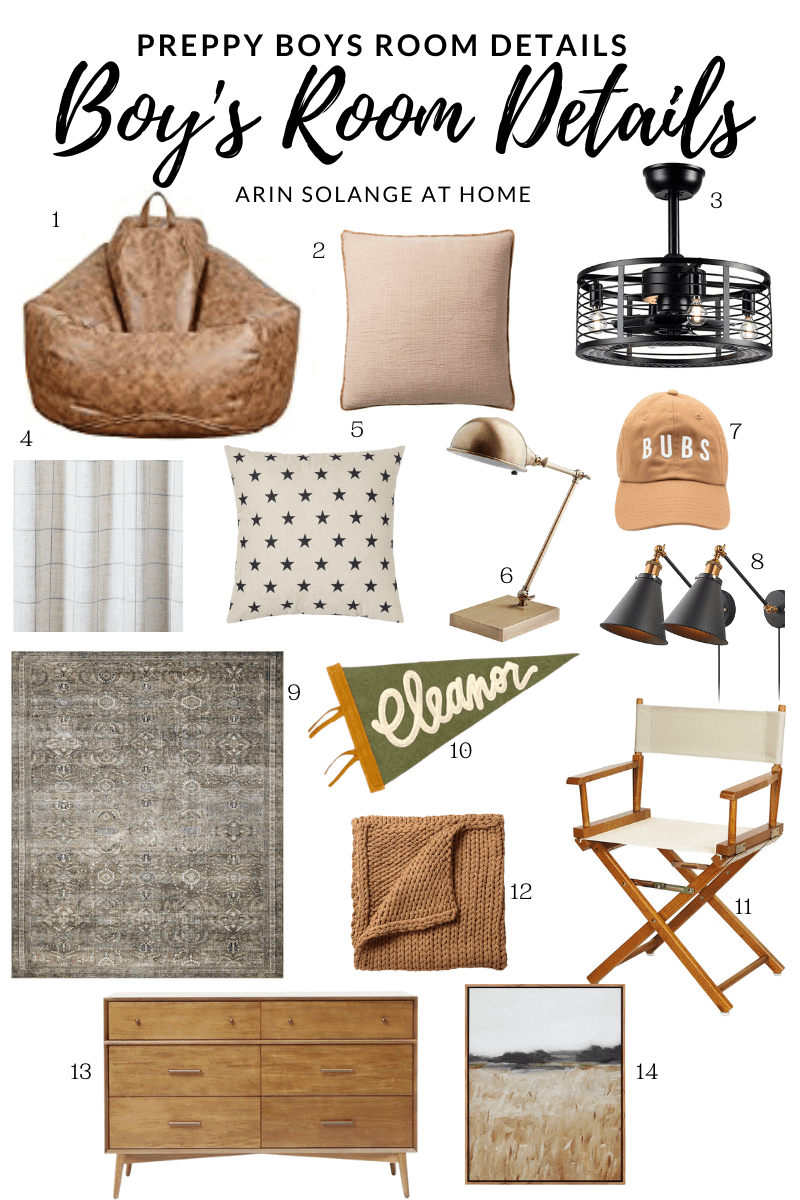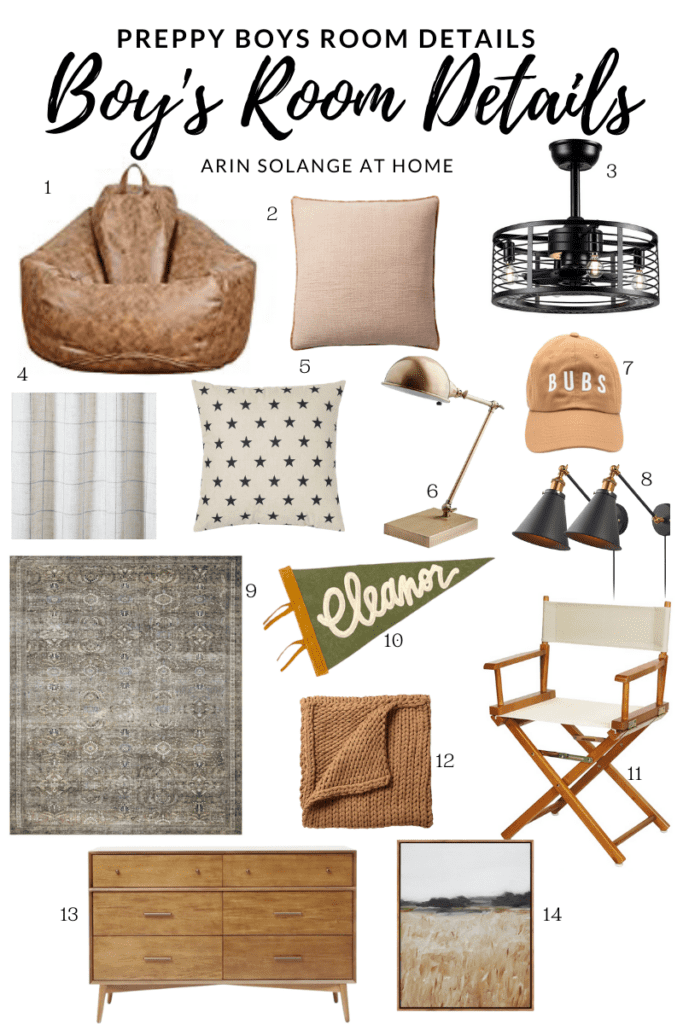 1 | 2 | 3 | 4 | 5 | 6 | 7 | 8 | 9 | 10 | 11 | 12 | 13 | 14
Shop Light Blue Bedroom Details Below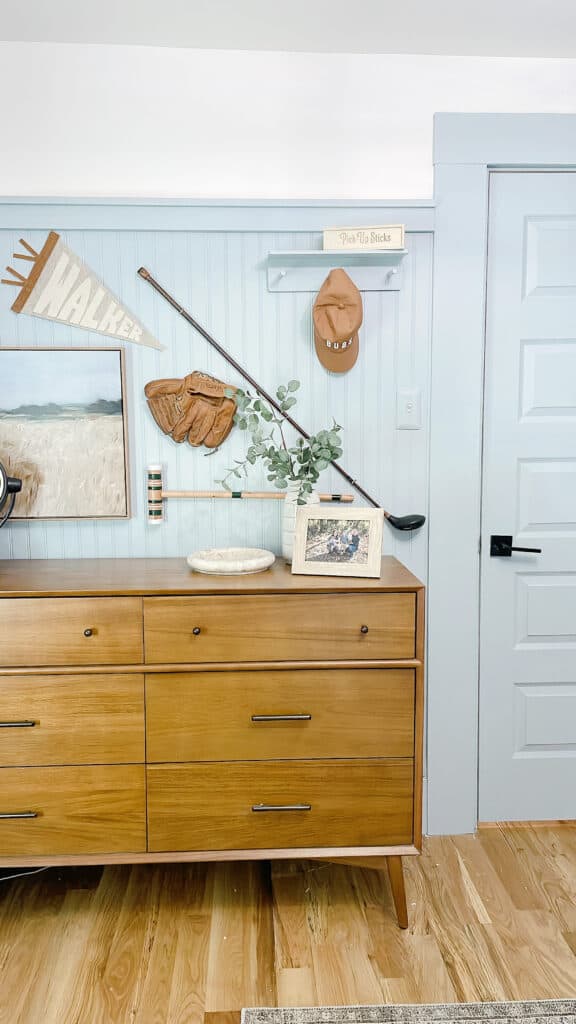 Other Posts You'll Love
If you loved this light blue bedroom you will love these other posts below!
12 Best Coastal Paint Colors | Black and White Boys Room | Jenny Lind Bed Review | Desert Bone Girls Room | Boys Bathrooms
Pin the Photo Below for Later
Hopefully you feel inspired to create your own light blue bedroom, and if you try out HGTV Fresh Idea be sure to let me know! I think the color created such a gorgeous space for our son, and would love to see your rooms. If you have any questions leave them in the comments below, and be sure to follow me on Instagram and TikTok (arinsolange) to see more of what I am sharing!