Please tell me I am not the only one who ponders an area rug choice for FOREVER? Today I am going to share some modern rugs for living room spaces that you will love if you are getting ready to change a rug or decorate a room. Hopefully it will help narrow down your choices for your own home so you have the perfect living room rug.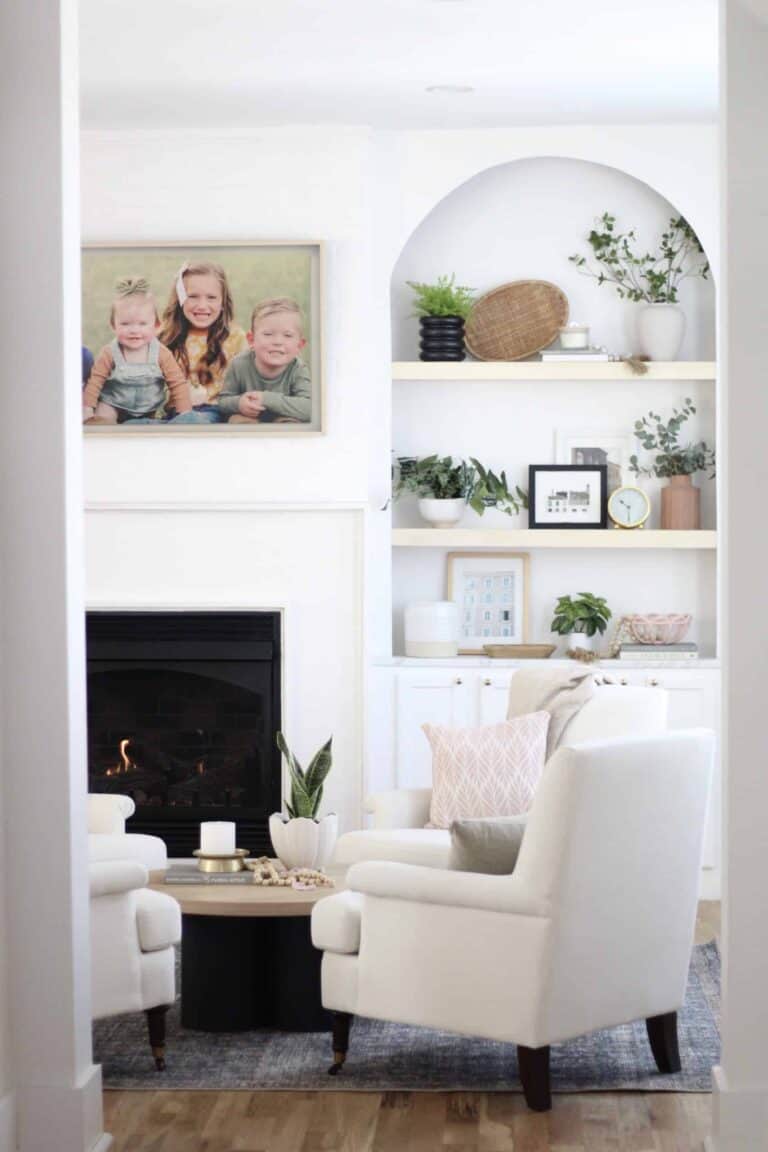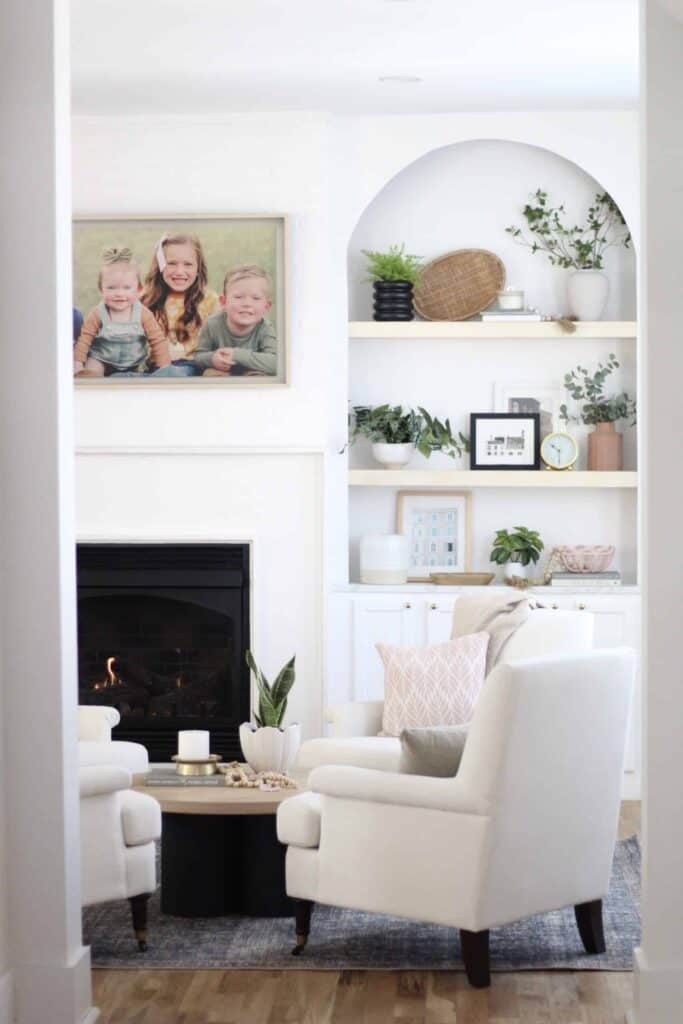 This post may contain affiliate links.
9 Area Rugs For Your Home: Modern Rugs for Living Room Spaces
As I begin transforming a new room in my home, I always like to start with a piece of decor that sparks interest. Oftentimes, that piece is a great rug. Picking out an area rug can be super intimidating.
From knowing the right size to picking from a variety of styles and materials; the right rug can be challenging to narrow down, but will make a big impact in your living space. If you are interested in changing out your living room decor, the easiest way to give your space a new look is by investing in a new living room area rug.
I'll go over what you need to know before buying that perfect modern rug and give you a look at some of my favorite contemporary rugs that range from bright colors with intricate patterns to a more neutral color with natural materials. Whatever your decorating style, you'll find a great option that will breathe new life into your living room. I'll share with you my top 9 modern rugs for living room spaces that will elevate your home's decor.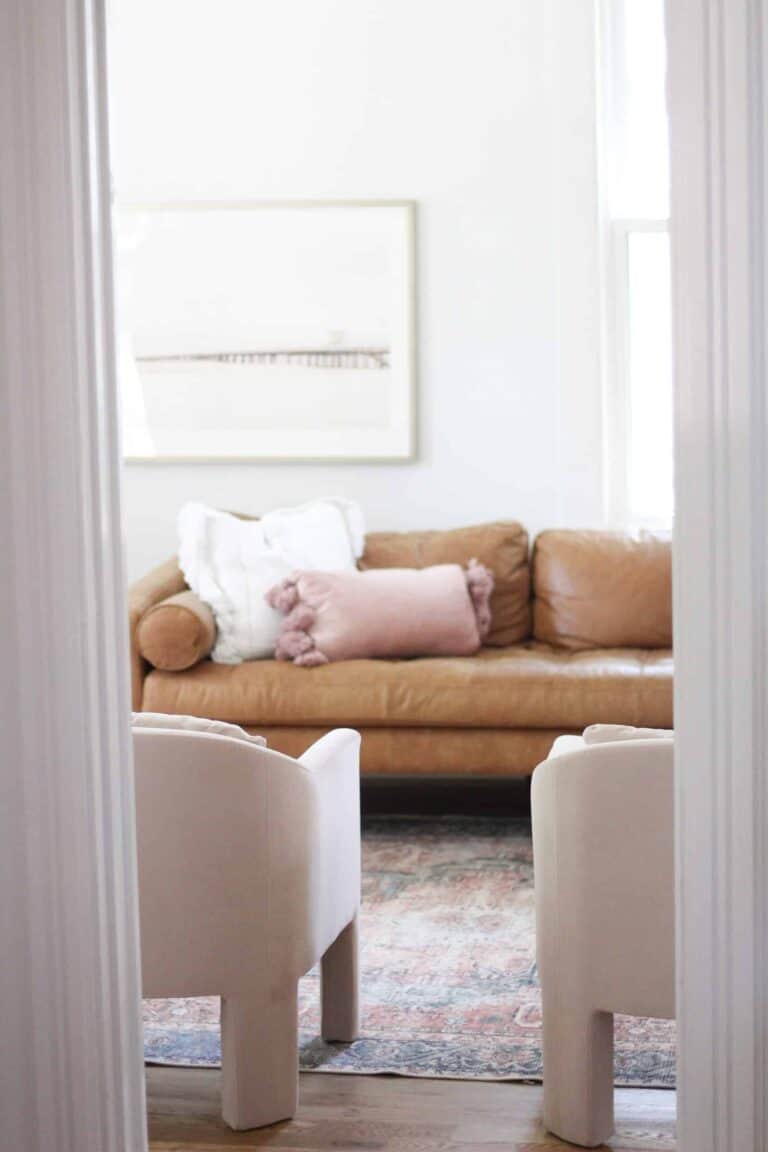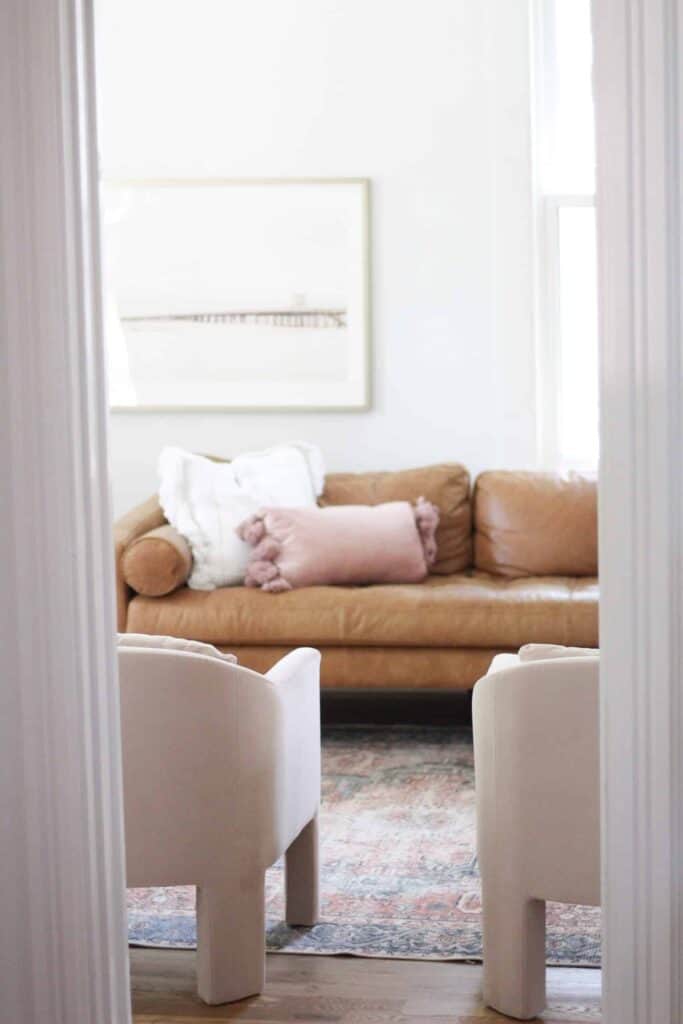 If you talk to anyone with a background in interior design they will tell you that living room area rugs are a must. Not only do rugs anchor your room, but they often add depth and texture to a large space.
Deciding on a new rug can be challenging. You need to pick out the right sized area rug, but you will also need to decide on the rug pattern, type of materials, style, and color. All of this must be done while making sure it is within an affordable price range.
This may seem like a daunting task, but let's break down some key considerations before you bring home a new area rug that you ultimately regret.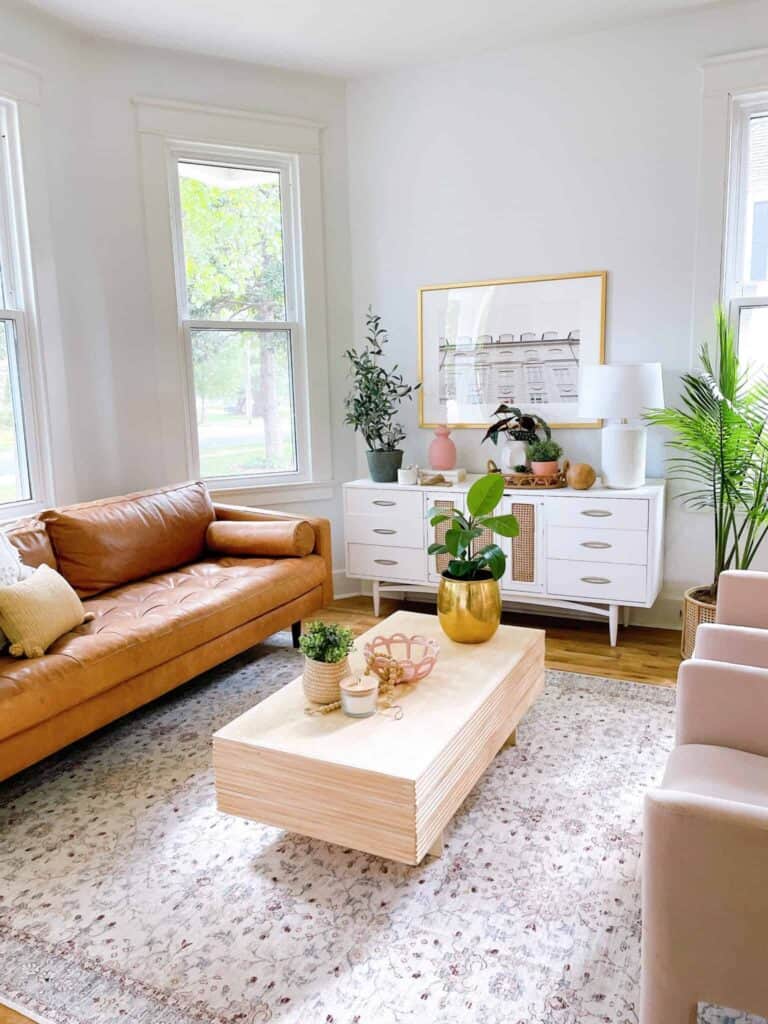 Things to Know Before You Buy A New Rug
Before you run to HomeGoods or shop online to peruse modern rugs, you'll want to make sure that you know exactly what you need.
Rug Size
There is such a thing as a rug that is poorly fitted to your living space. A rug that is too small will make the room look unfinished and the furniture out of place. On the other hand, if your rug is too large for the space, your room can feel cramped.
You do have some leeway in regards to your rug's size, but you need to know just how much leeway. Before you begin your search, you'll want to measure the room where your rug will live. Take into account any natural pathways you'll want for walking to and from the room.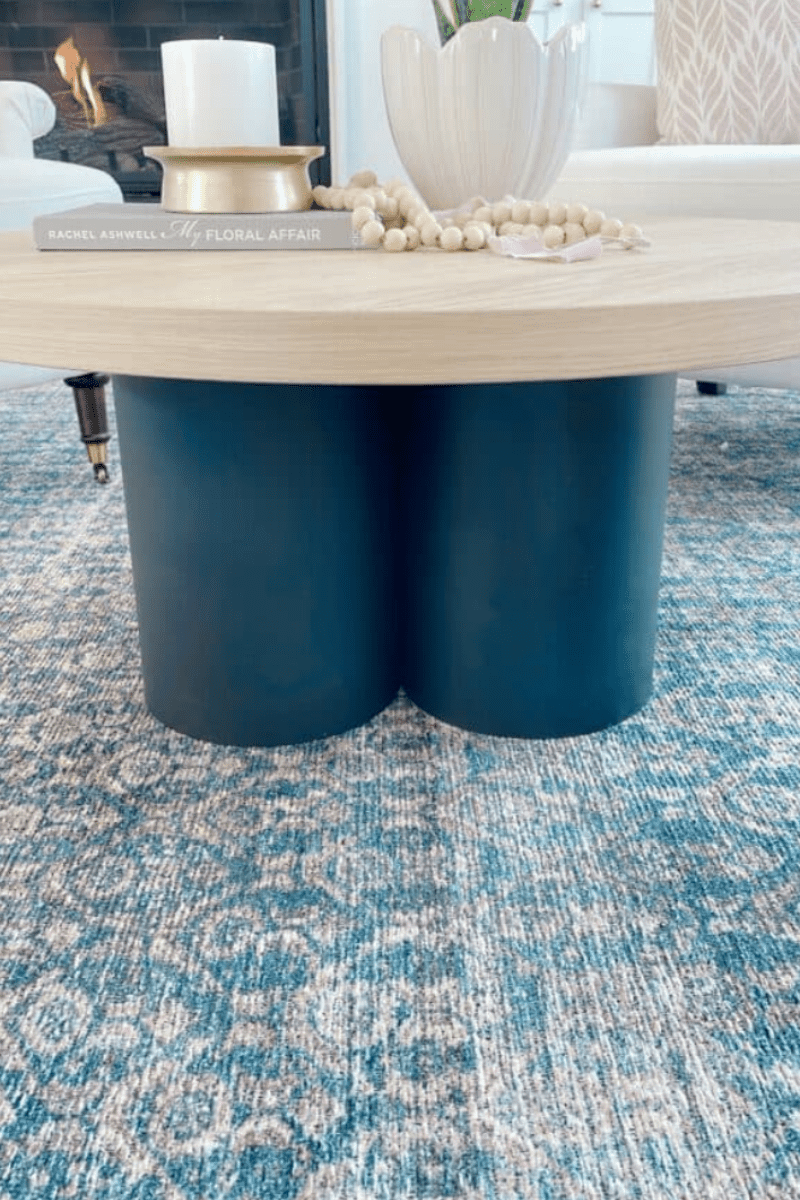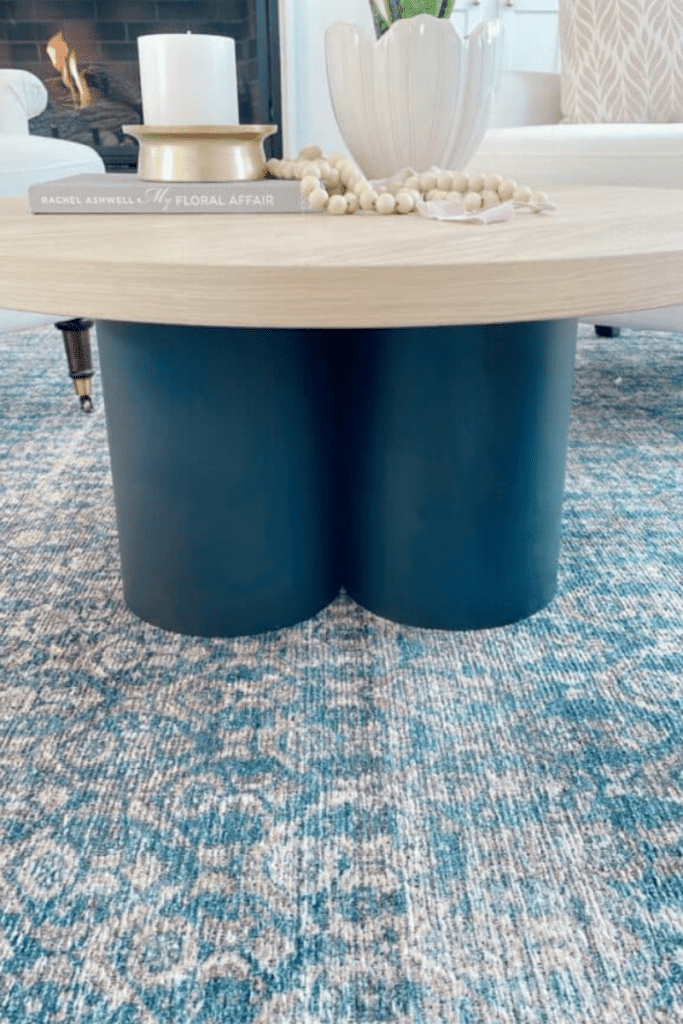 In your living room, you'll want a rug that will cover at least the length and width of your furniture. You should have 4 to 8 inches of uncovered floor that borders your rug for any heavy traffic. You'll also want to keep in mind how you want to arrange your furniture. If you want a more open seating area, then a larger sized area rug can be accommodated with your furniture placed around the border.
If your couch is on the wall, make sure you have at least the front legs placed on the accent rug. On the other hand, if you want a more intimate setting then consider placing your furniture on a smaller area rug ranging from 5×8 or 6×9 with floating furniture.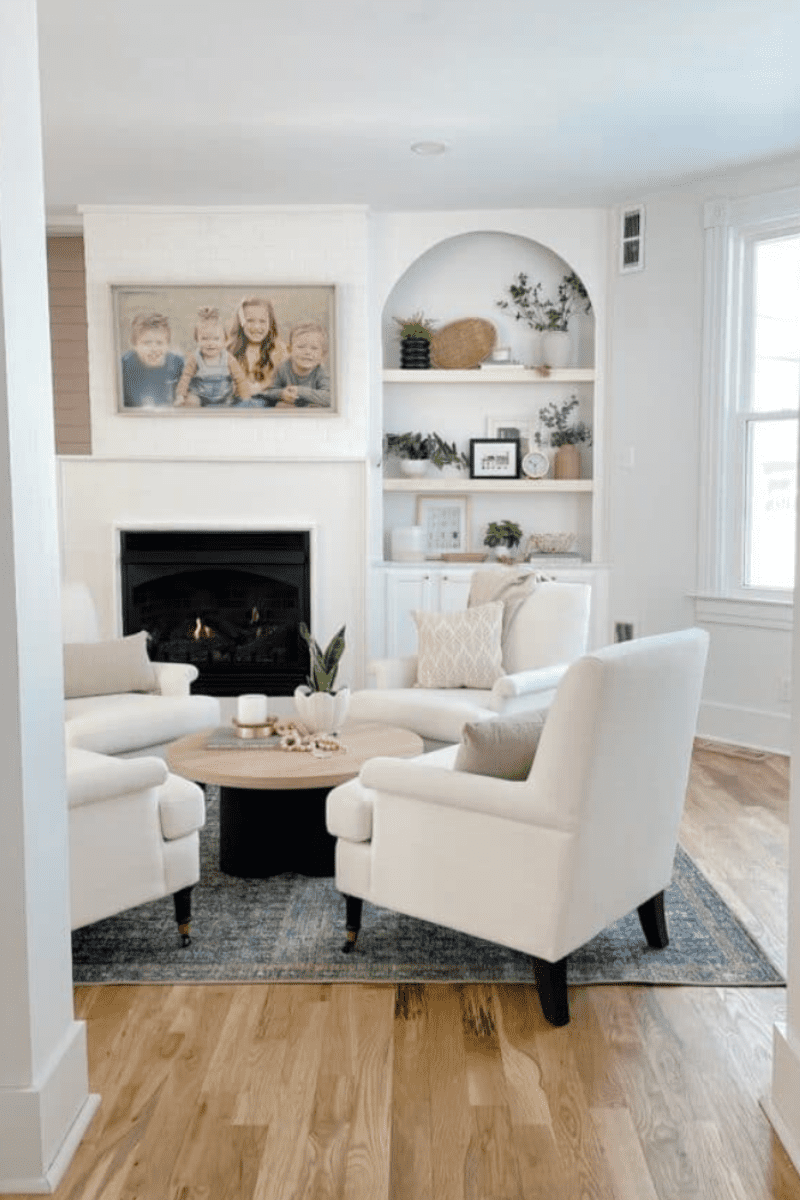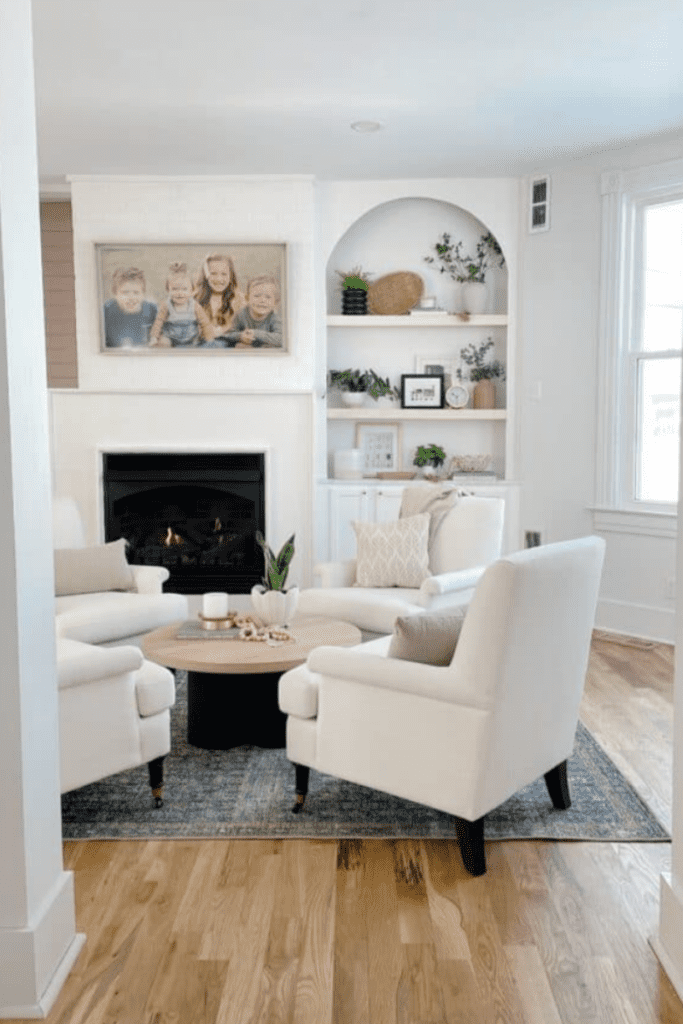 Rugs can come in many different sizes, but the most popular sized rugs for your living room are on the larger side and include 6×9, 8×10, 9×12, and 10×14. If you are unsure of how the rug will look in your space, an easy way to find out is to use painter's tape to outline the rug in your room.
From there, you can see how the size, shape, and layout can affect your living room. The right area rug is out there, you just have to first decide on its size.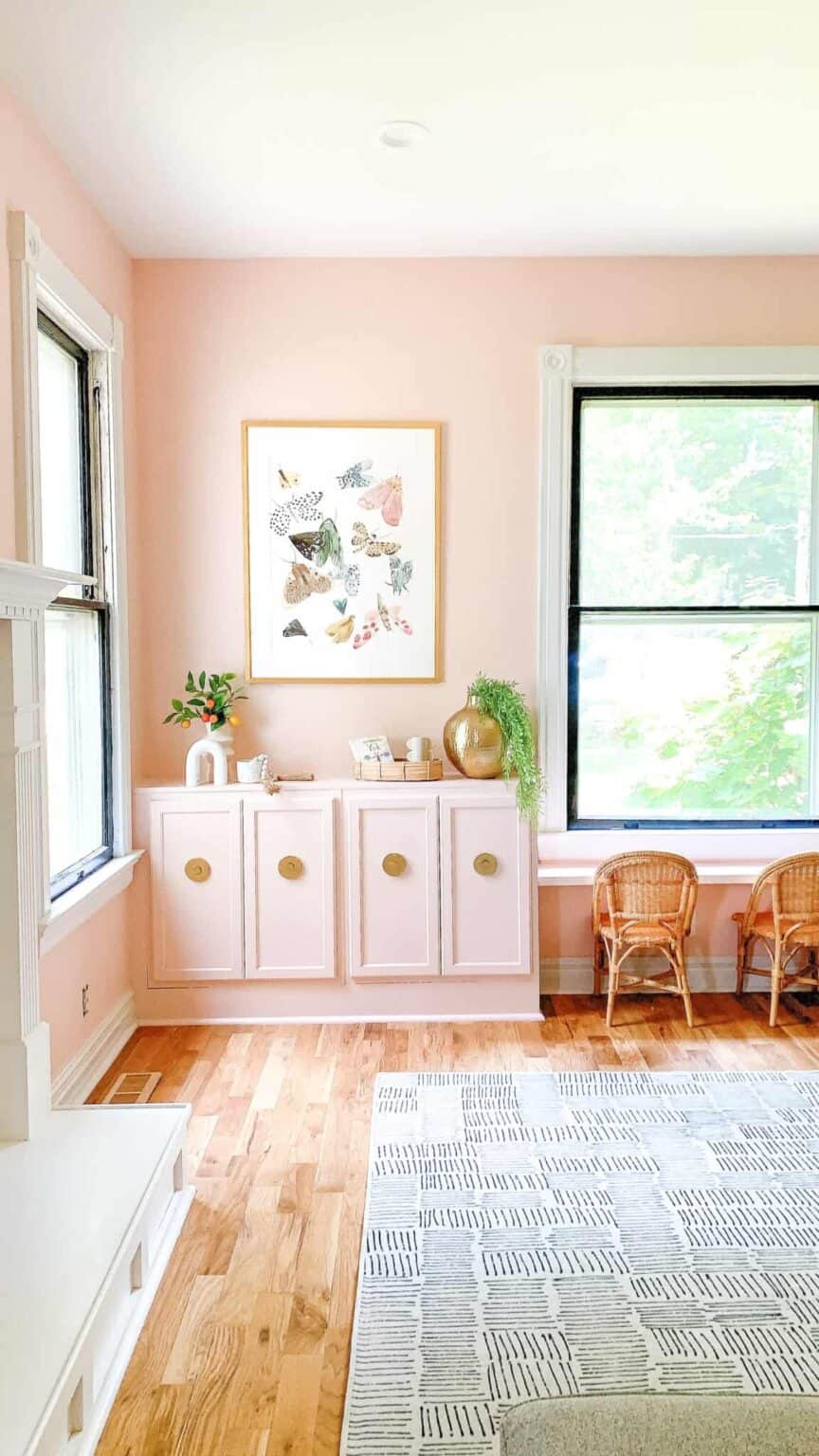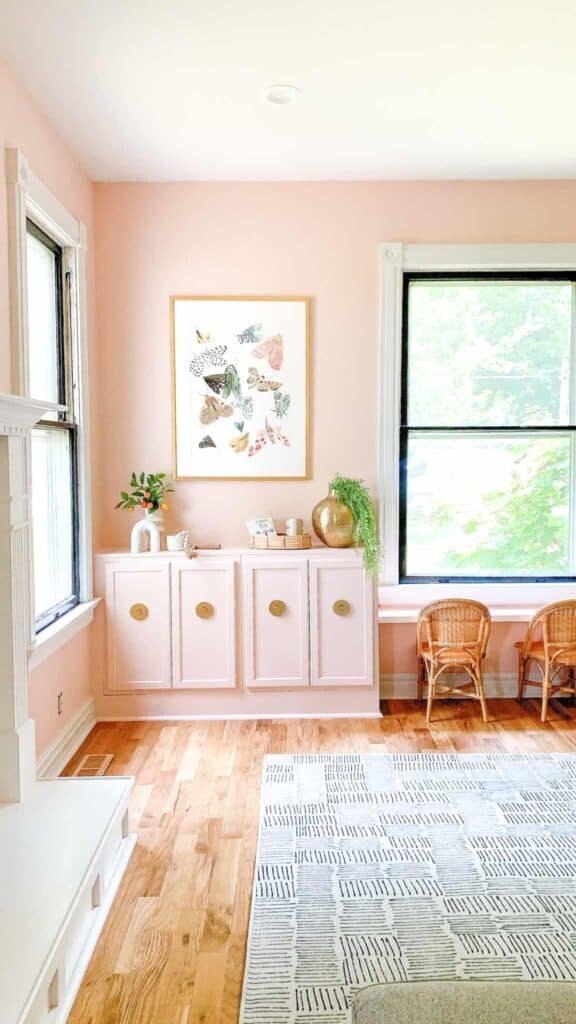 Consider your Lifestyle To Match Your Living Room Area Rug
Now that you have an idea of size, you'll want to narrow your focus a bit to find the best rugs for your lifestyle. Not all area rugs are ideal for the same people. For instance, if you have pets or children, you'll need to spend some extra time taking into account the type of materials used as well as cleaning instructions.
With four kids, I need rugs that are durable and can handle a high-traffic area. On top of that, I also need rugs that have easy care instructions that don't require any professional cleaning services and can withstand our Bernedoodle, Penny.
Accidents can happen and if I have to take my rugs to get professionally cleaned each time a kid or dog spilled something then I would never have a rug in our living room. Materials matter and the type of material you pick will directly impact how well it can be cleaned up, how durable it is, as well as how it feels on your bare feet.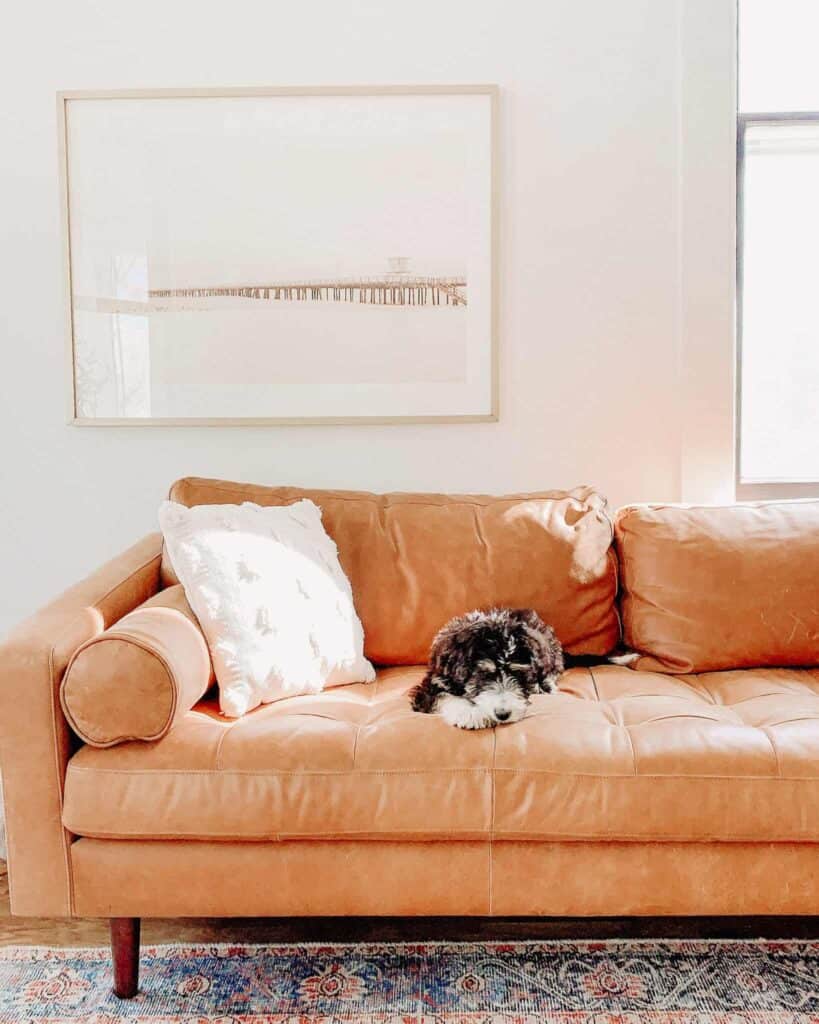 Materials Matter In A Rug
Rugs range from plant based materials to natural fibers to synthetic materials. All of these materials have pros and cons. Depending on your lifestyle and what you want in a rug, you'll be drawn to one material over the others. Here is a quick breakdown of the different materials.
Cotton
Cotton is a plant based natural material that is common with coastal decor. It has a flat weave that does not add much in terms of texture or depth. On the plus side, it can be machine washable- but beware it will shrink! This is not necessarily the rug for you if you want something that is warm and fuzzy under your toes.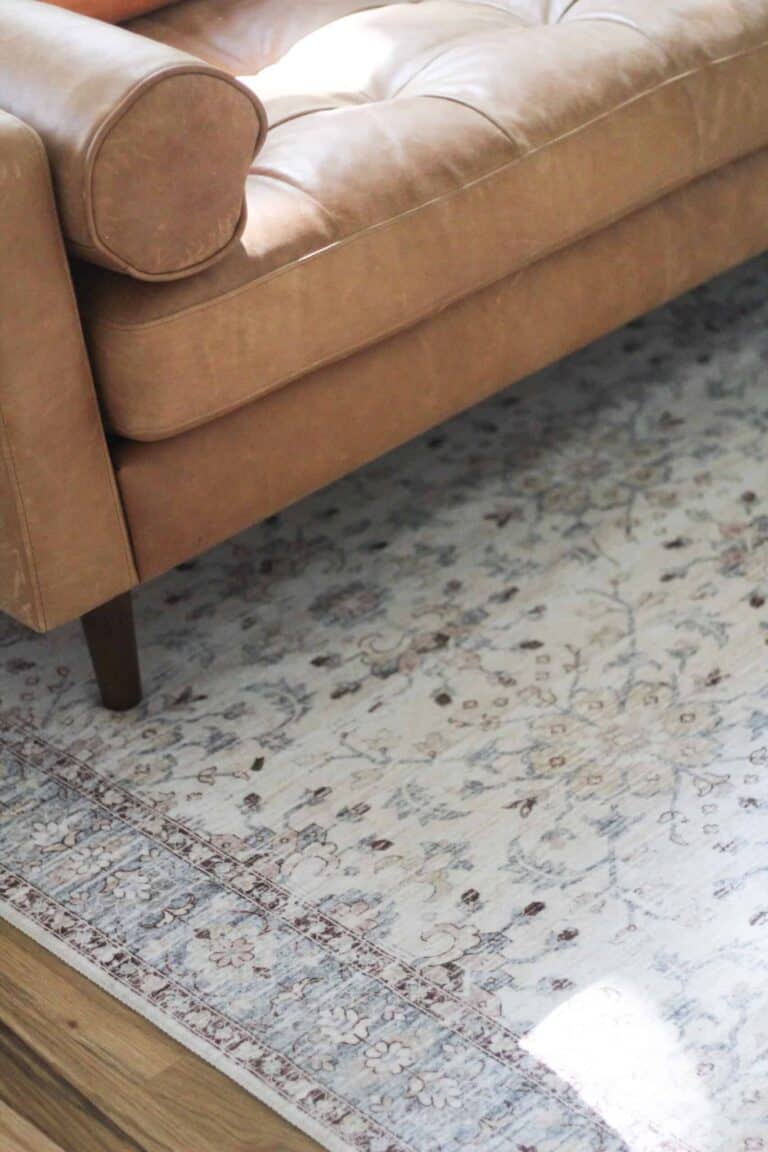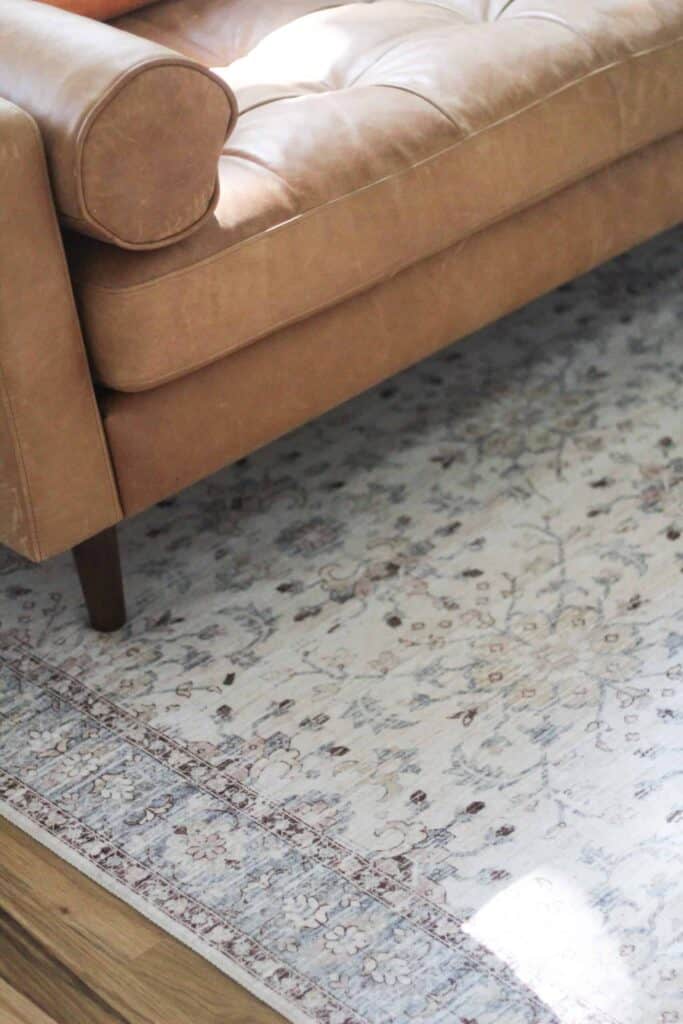 Jute
Natural rugs have been taking over the home design scene for quite some time. These are generally created from jute or sisal. The neutral design adds texture and depth to a room without any vibrant colors or bold patterns.
You do have to be careful with these rugs as you can only spot clean them. If you have kids or dogs, these rugs may look great but you'll have a hard time cleaning them. If you are still dead set on a jute rug, consider laying another rug over your jute area rug. This way, you can still have that desired look, but you'll also have a large surface area protected by another material.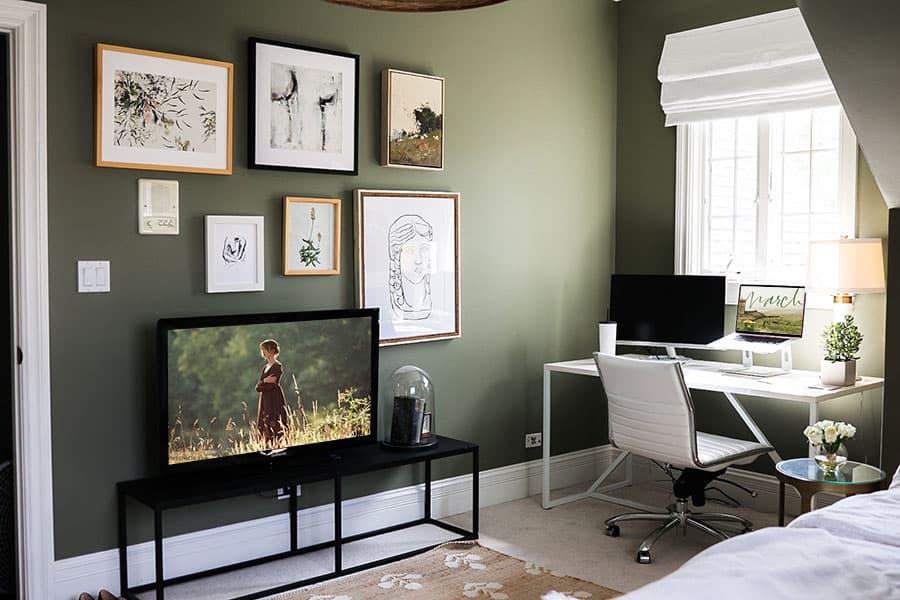 This guest room-office makeover uses a jute rug and warm green paint to add depth to a small space.
Wool
Wool is natural fiber that gives you that soft and cozy feel. While it is durable, it is not necessarily a budget rug. Additionally, you'll also have to have this material professionally cleaned. In my opinion, these rugs look great, but the maintenance can be a bit of a pain. For those of you with kids and animals, it is a big risk having a more expensive rug that is difficult to clean.
Also, if you have allergy sufferers in your family, wool itself can be a trigger for those. It can also hold on to allergens more easily than other materials.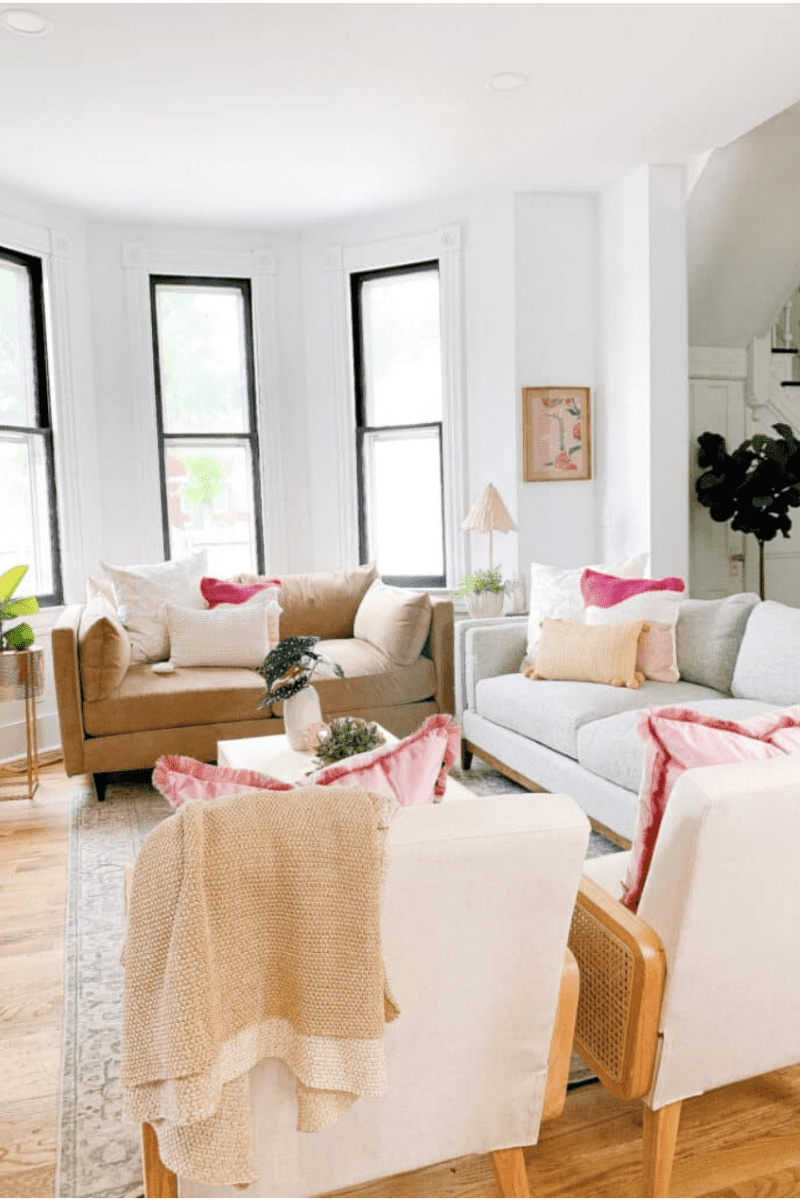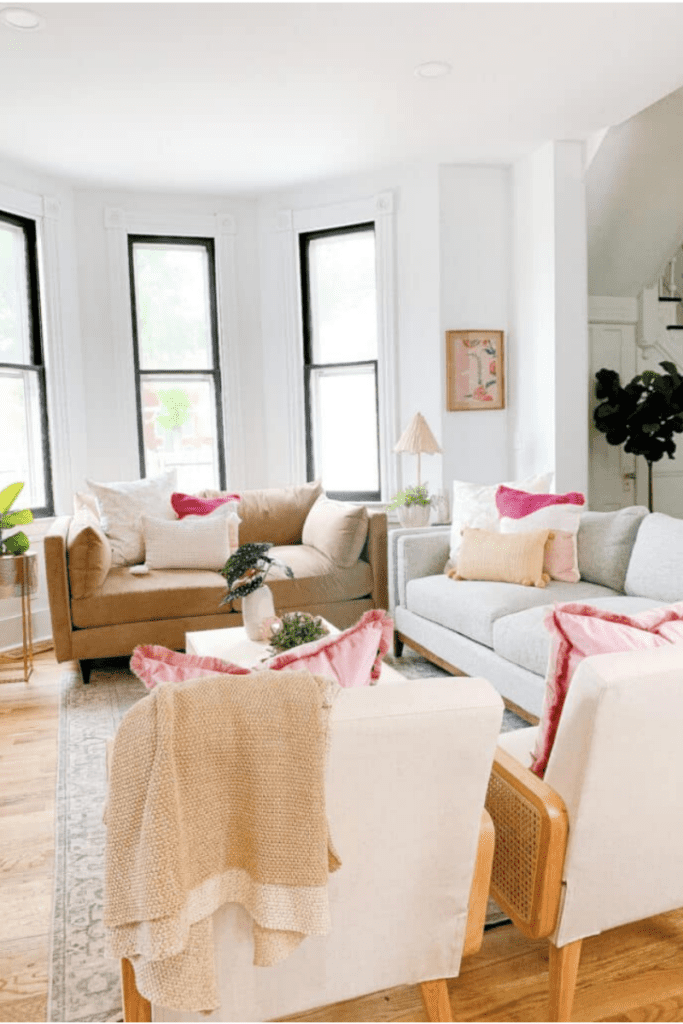 Synthetics
While I love the look of natural materials, from a practicality standpoint synthetic fiber rugs are more desirable for our family's lifestyle. Nylon and Polyester rugs are easily cleaned, durable, and come in a ton of different patterns, rich colors, and unique looks.
These are a popular choice simply because you can get a durable rug for a high traffic area like your living room for a great price. You have a wide selection to pick from with tons of different designs.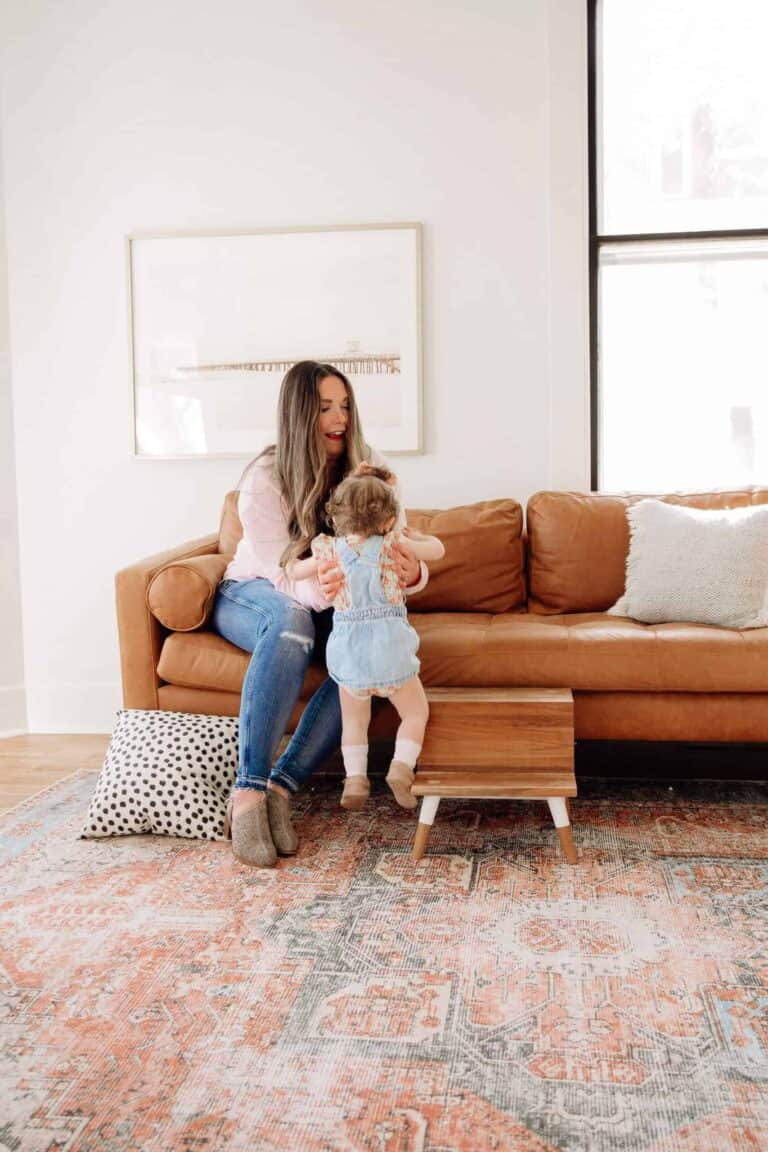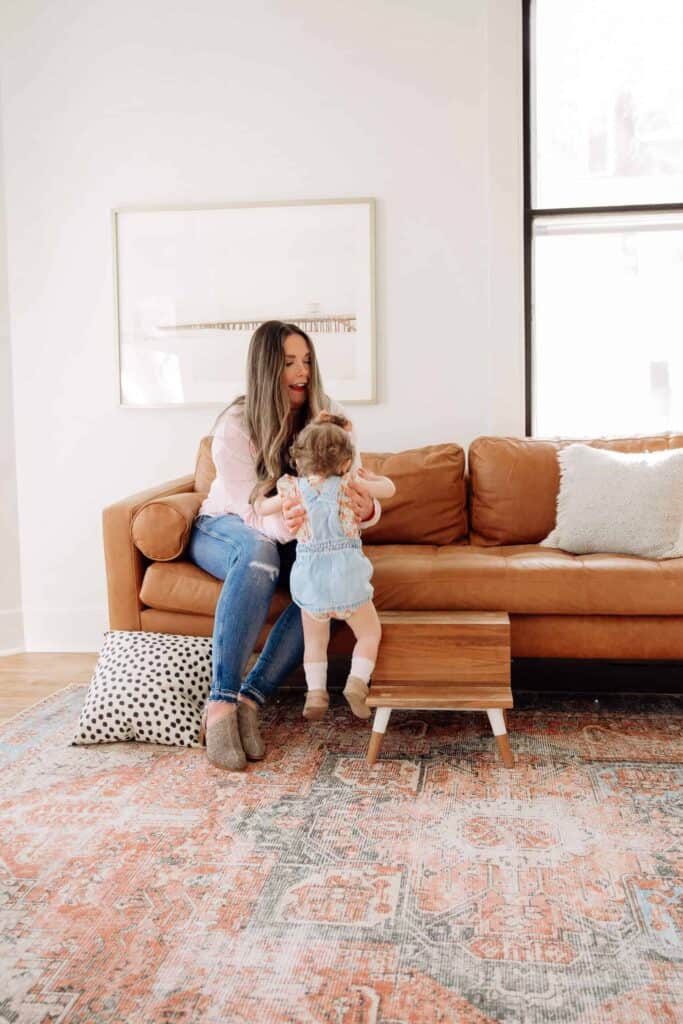 You may also want to consider an indoor outdoor rug option. Generally, indoor-outdoor rugs are created from acrylics or polypropylene. These rugs have come a long way and are often difficult to distinguish from strictly indoor rugs. You have the added benefit of durability and easy clean up. Simply take your rug outside and power wash it for a quick clean.
On the other hand, you won't have that nice cozy feel you would with a high pile. If you have young kids, this may be a great option until they get old enough to refrain from destruction.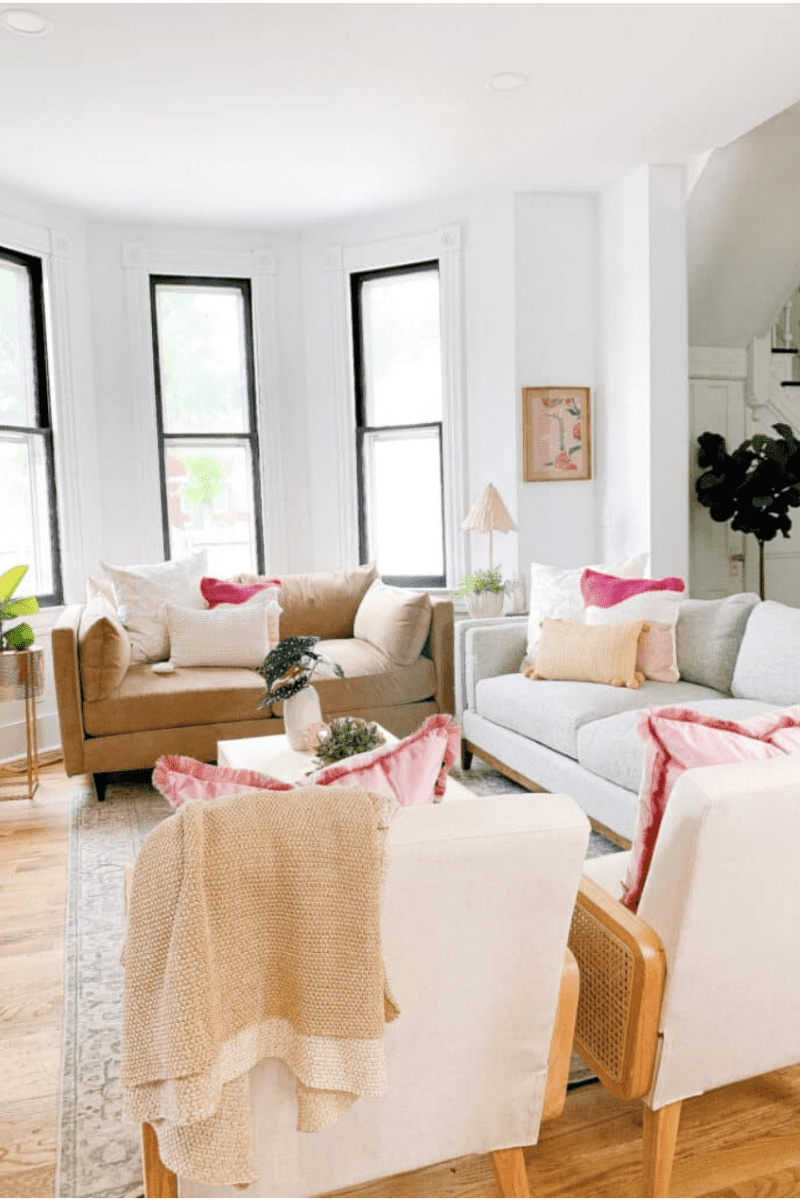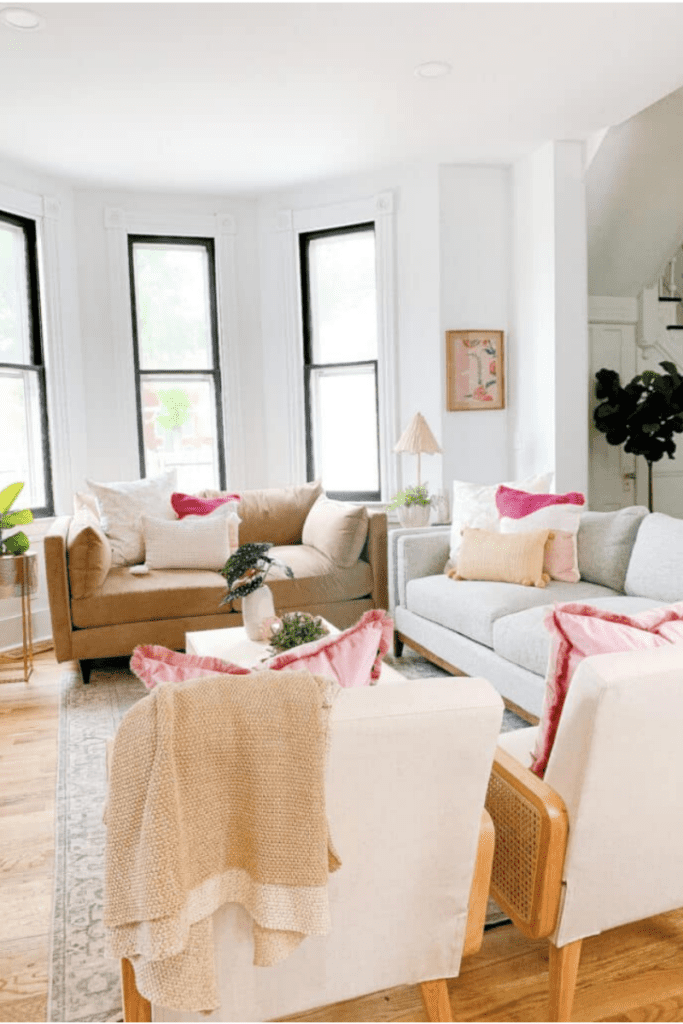 Consider Your Aesthetics For A Modern Rug In Your Living Room
Once you've decided on more practical matters like materials and size, then you can have fun with the design. Consider the colors already in your living room. Your color scheme will help narrow down your choices.
Your rugs should complement your living room from your furniture to your drapes to your throw pillows and to your decor. If you have solid color furniture, you have more room to go for bolder patterns and designs. Geometric patterns or floral designs add texture and accent colors in an already neutral setting.
Rich colors add warmth and luxury, while more neutral tones can make the room feel larger and brighter. On the other hand, if you have patterned furniture, you'll want to stick to more traditional designs and a neutral color palette.
You don't want multiple pieces to compete for attention. Pick one focal point and stick to it. From there you should simply complement the focal point adding accent colors throughout the room.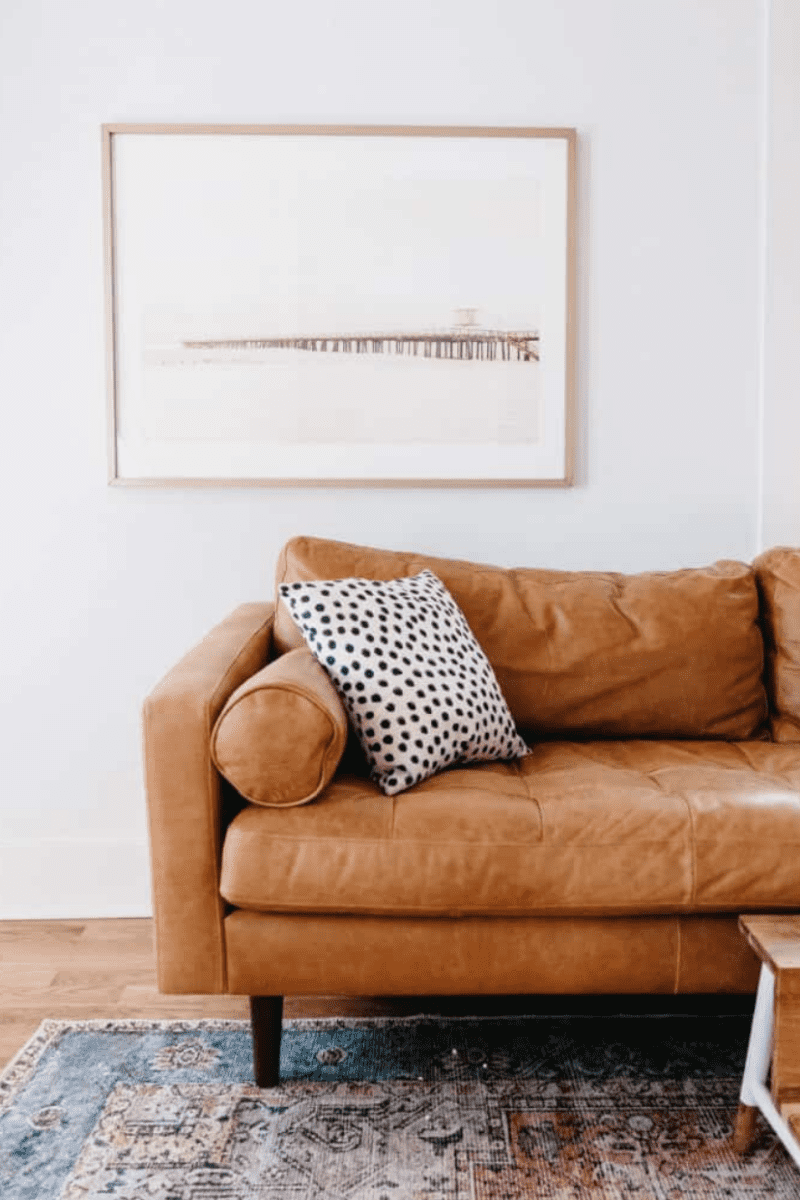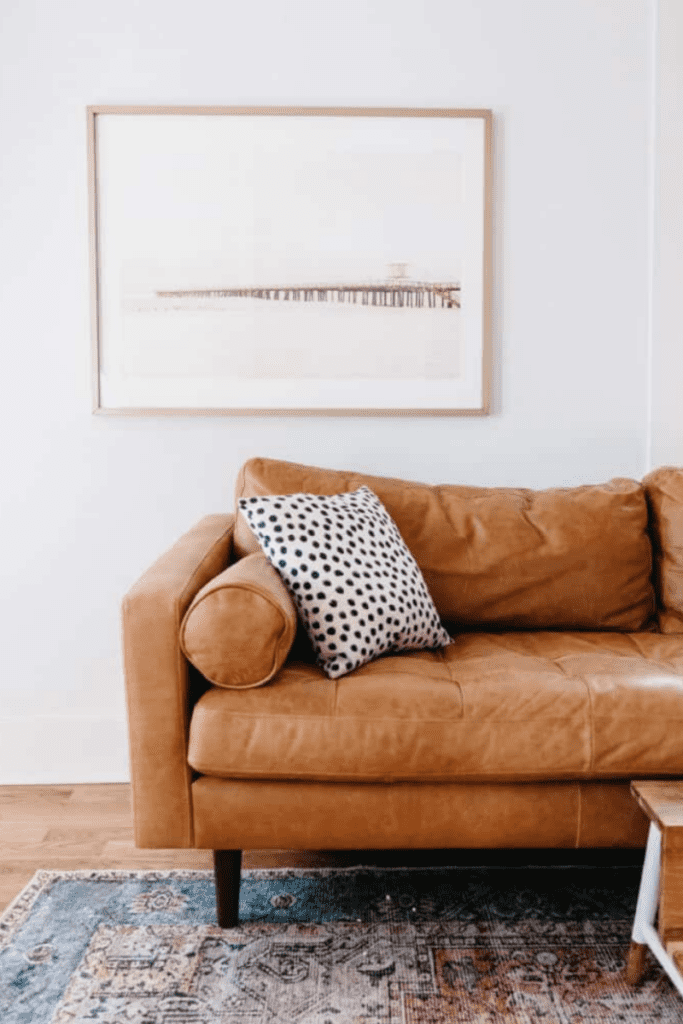 Ultimately, the design and style of your rugs comes down to your personal preference. If you tend to move towards a more traditional style, an oriental rug or jute area rug are great options. For more contemporary rug designs, you'll want to look for different shapes, geometric designs, coastal, or farmhouse inspiration. Neutral and natural rugs look beautiful in any setting whether that is in your dining room, living room, or bedroom.
Boho inspired designs are popular right now and can be easily achieved with a Moroccan rug, southwest rug, or even rug layering. Whether you pick a contemporary design or a traditional style rug, the best area rugs are picked with your family's lifestyle and your own personal preference in mind.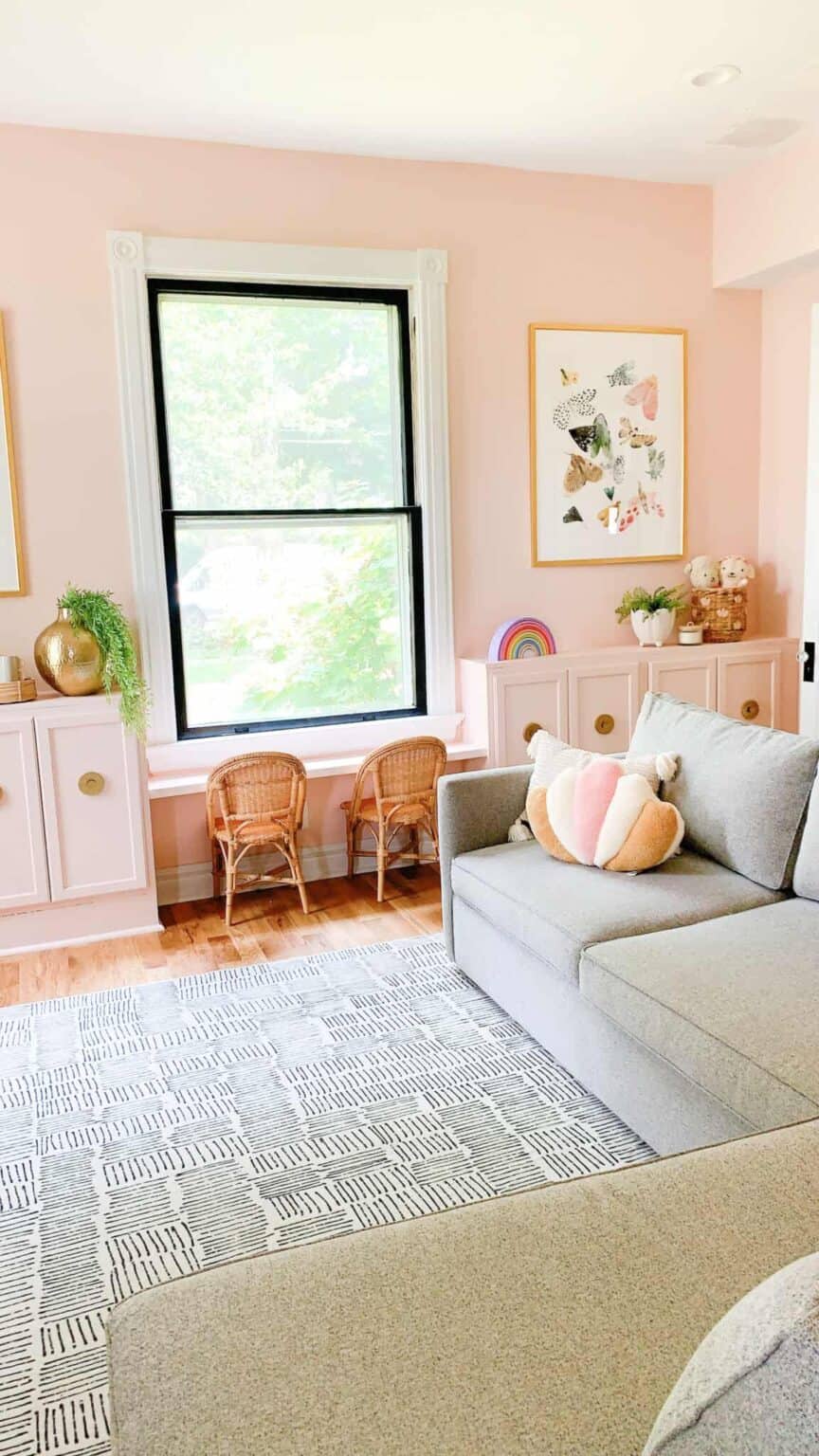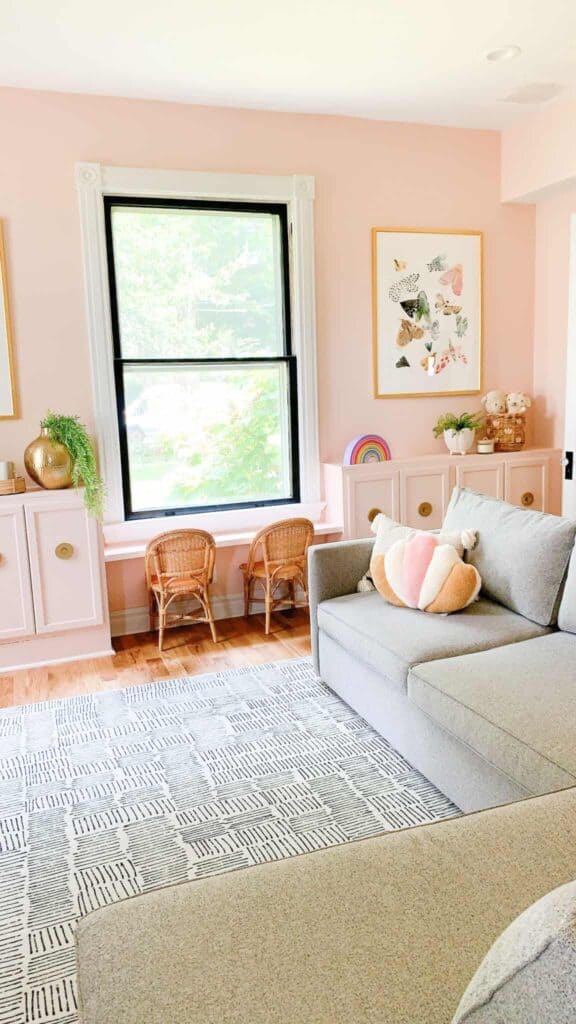 Shop Favorite Modern Rugs for Living Room Spaces
Below is a round up of my favorite modern rugs for living spaces in my opinion. I like to find options that tie in different elements and hit different price points!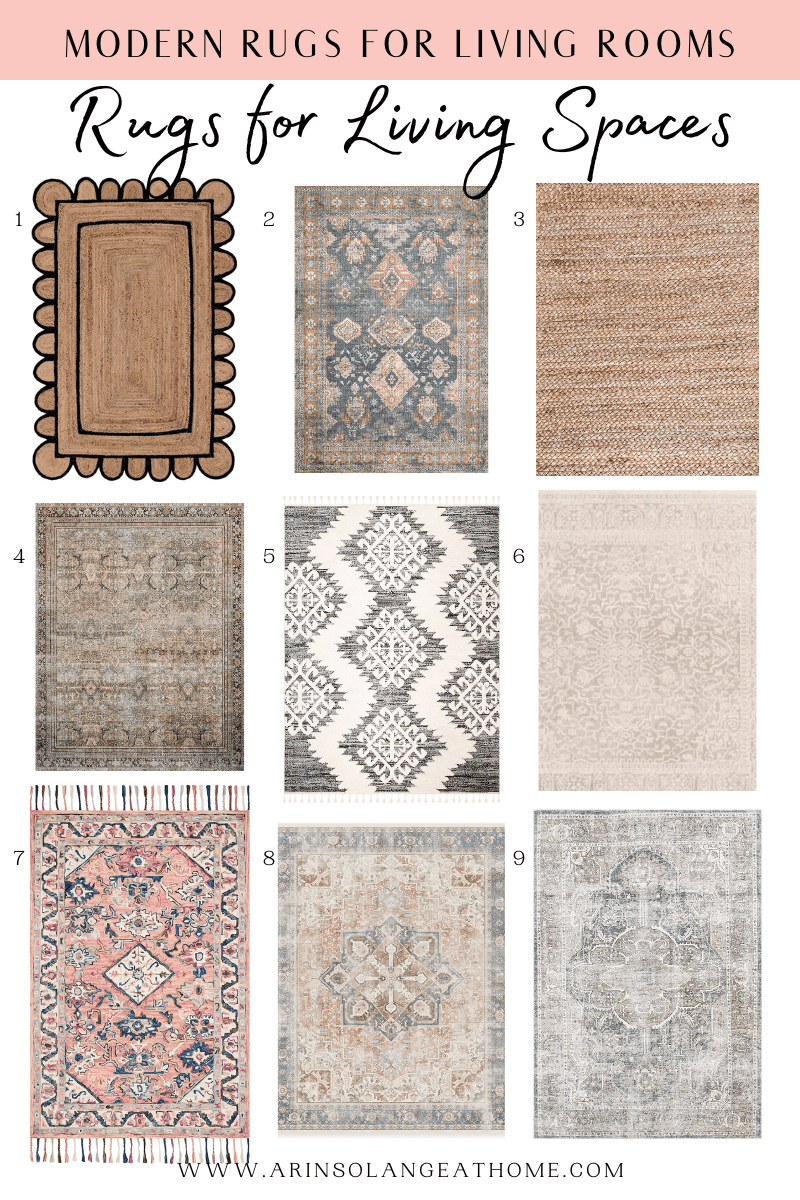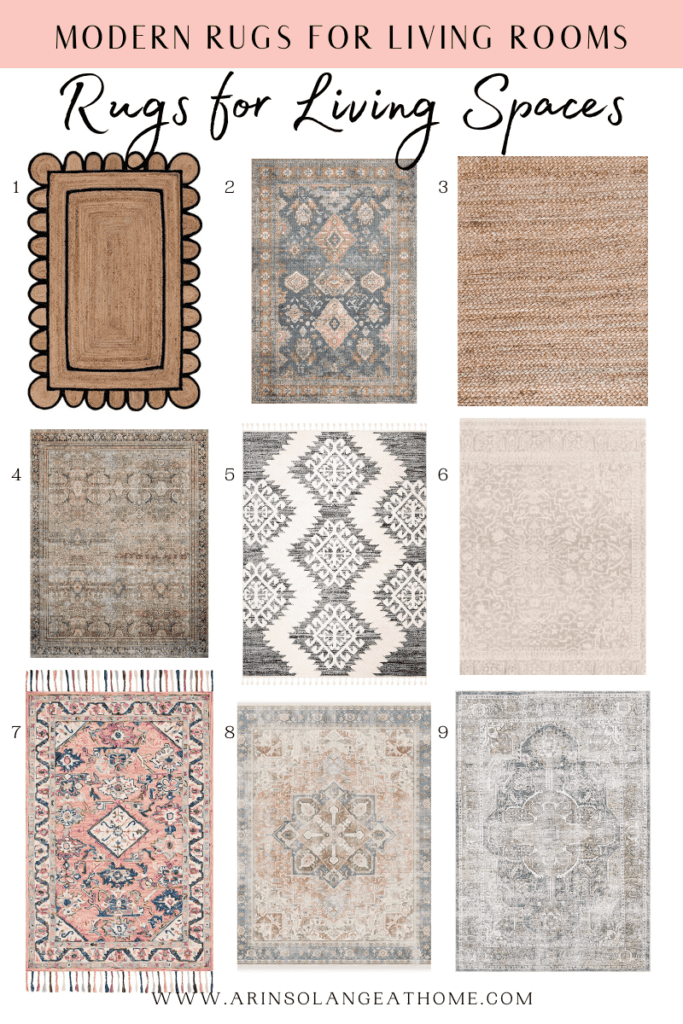 1 | 2 | 3 | 4 | 5 | 6 | 7 | 8 | 9
Modern Area Rugs For Living Room Spaces
Take a look at some of my favorite modern rugs for living room spaces in the examples below. You'll notice that these examples pair perfectly with the rugs I listed above in terms of design and style. Plus you can find tips on how you can pick a bold or fun rug and make it work in your space.
A Pop Of Color For Your Family Room Area Rug
While I tend to gravitate towards more neutral colors, I understand that other people may love more color. This boho inspired home has the perfect mixture of neutral tones with pops of bright colors that are used to accent the room and provide a modern vibe.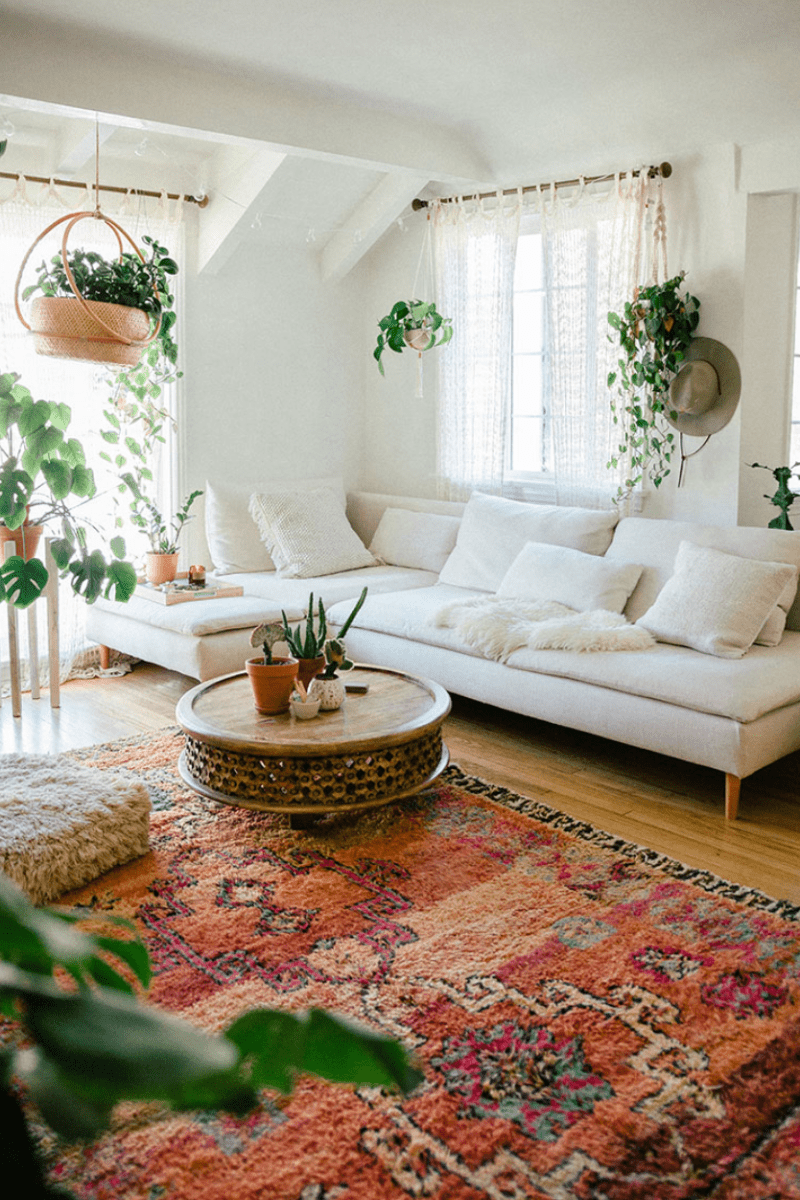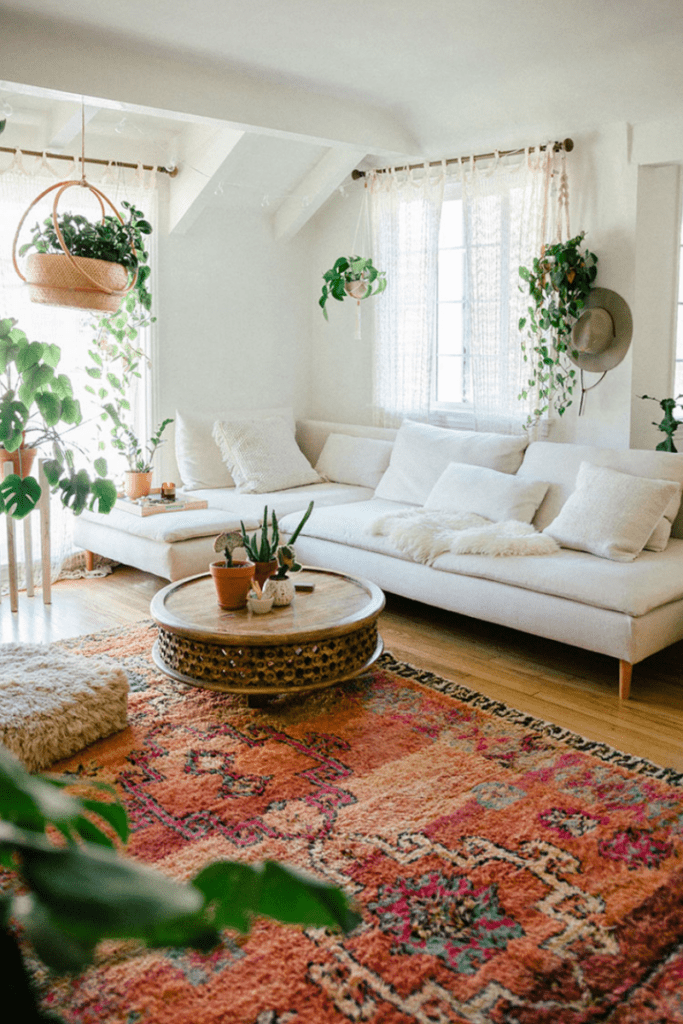 A Neutral Rug
Pure Salt Interiors is the brain-child behind this large and airy living room. The neutral colors enhance the living room's floor to ceiling windows which stream the room full of light.
The rug, while neutral, has a subtle hint of color that pairs perfectly with the throw pillows on the couch. The whole living room is a seamless transition to the rest of this beautiful house. I love that this rug ties in so nicely with the modern coastal decor and brings the whole space together.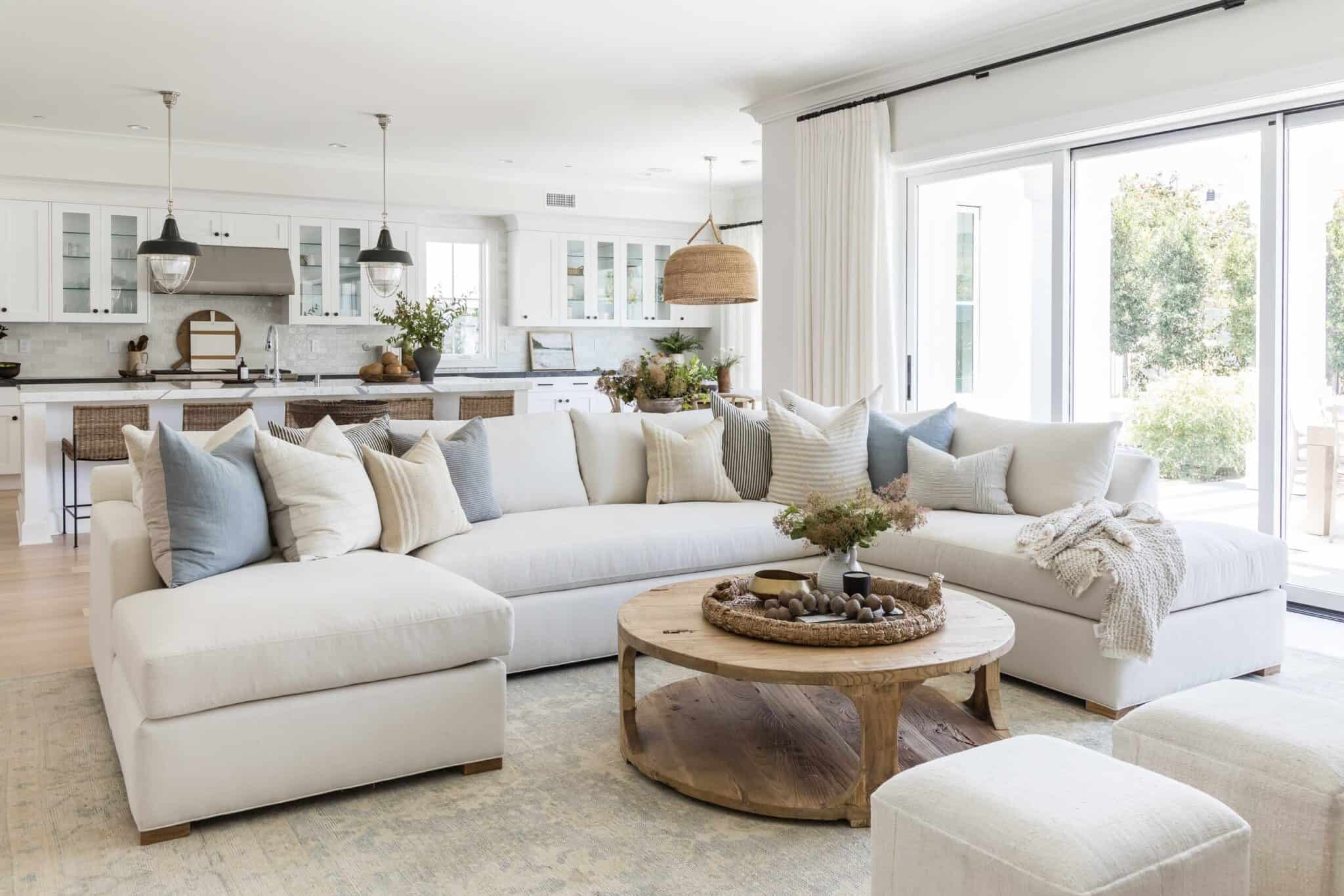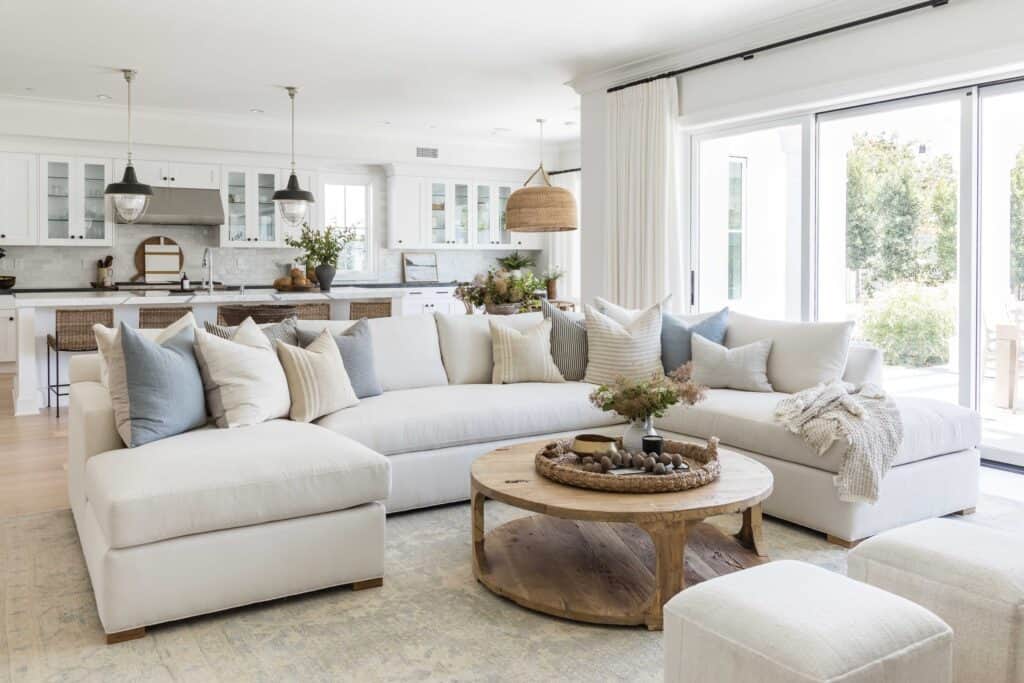 Jute
You would never expect that this living room is in a smaller home. The minimalist design, high arched ceilings, and natural elements create a space that is full of light and character. With the jute rug adding texture, it perfectly complements this neutral space. Take notes of this technique to maximize your architectural features and nail your design.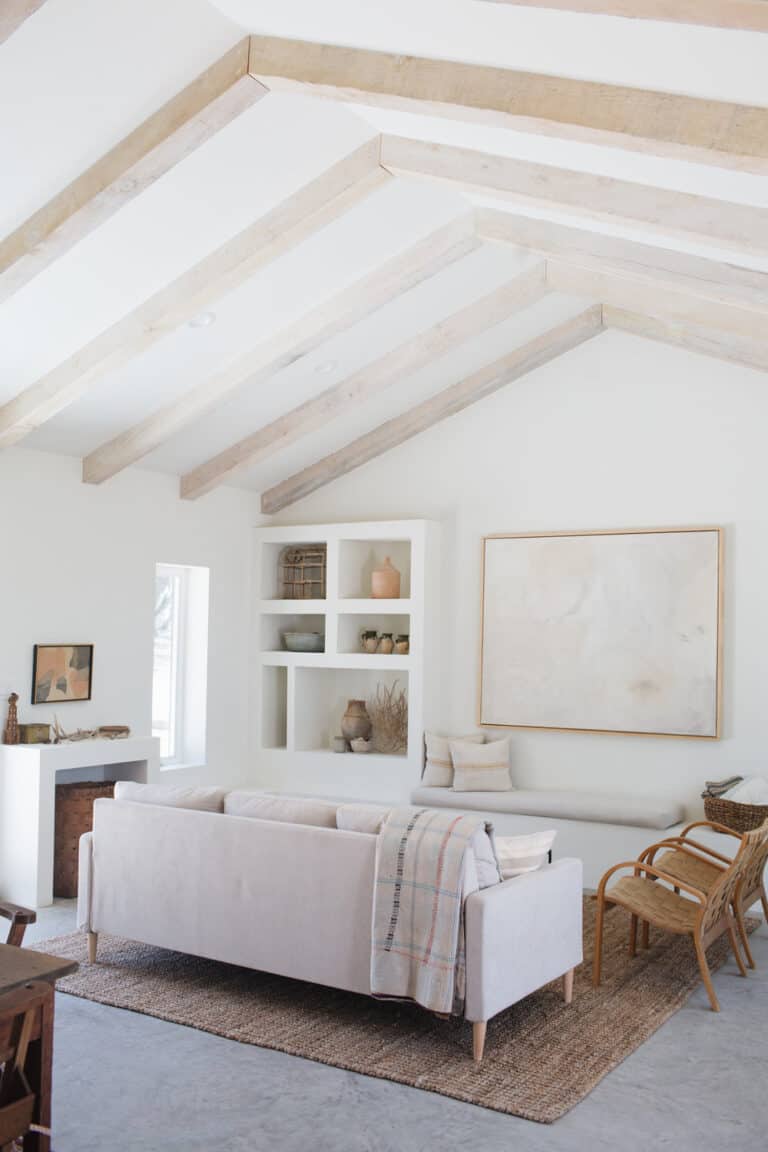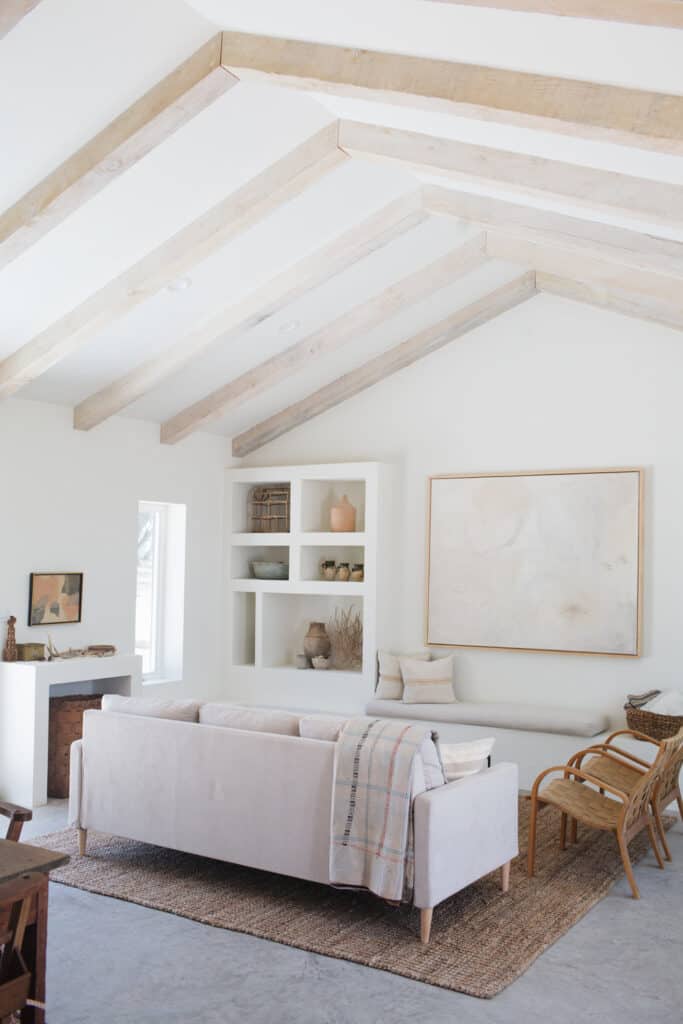 Floral Designs
The beautiful floral patterns on this rug are paired perfectly with every detail in this living room. From the greens in the rug to match the couch, the earthy tones which match the coffee table and leather chair, to all of the greenery sprinkled throughout the room- this is sheer perfection. I love the cozy and warm atmosphere the colors and rug create. This would be a great reading space or place to take a nap.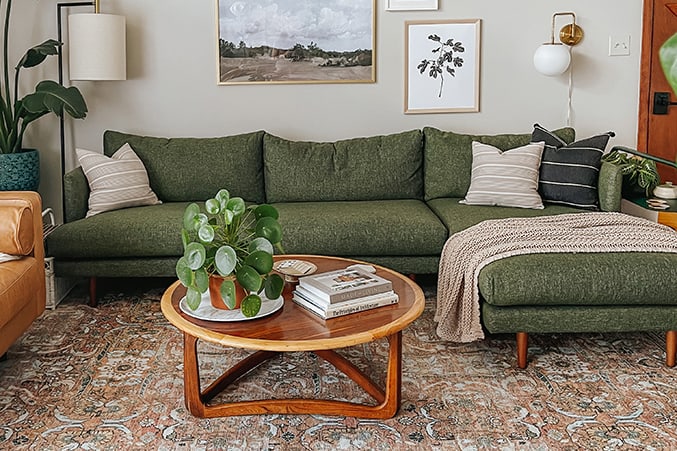 Geometric Designs
Studio McGee always hits it out of the park. This rug perfectly defines this living space. The open floor plan allows for the furniture to frame the outside edges of the rug, yet still allows for an intimate setting for conversation. The geometric design and neutral palette complements the earthy elements in this home.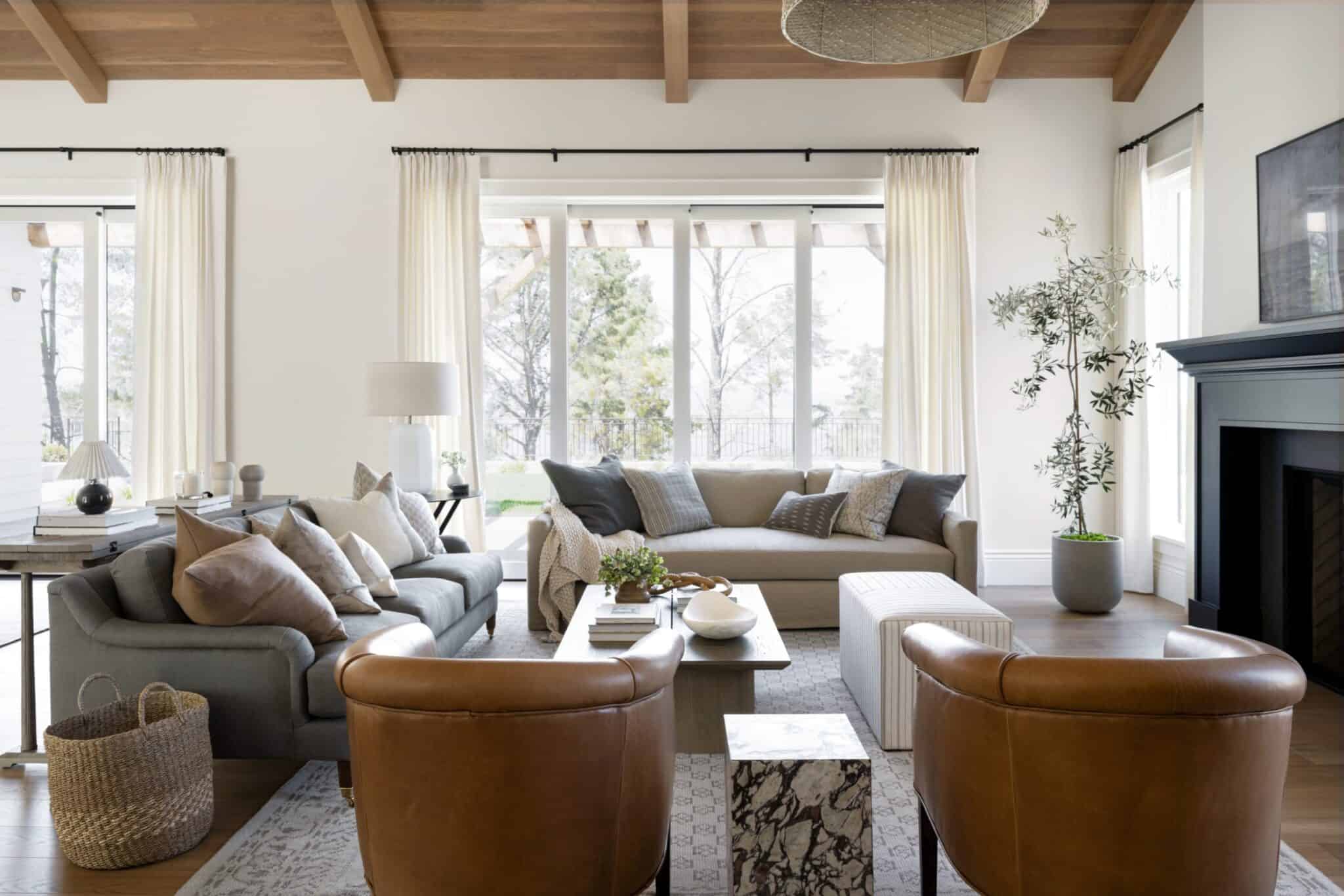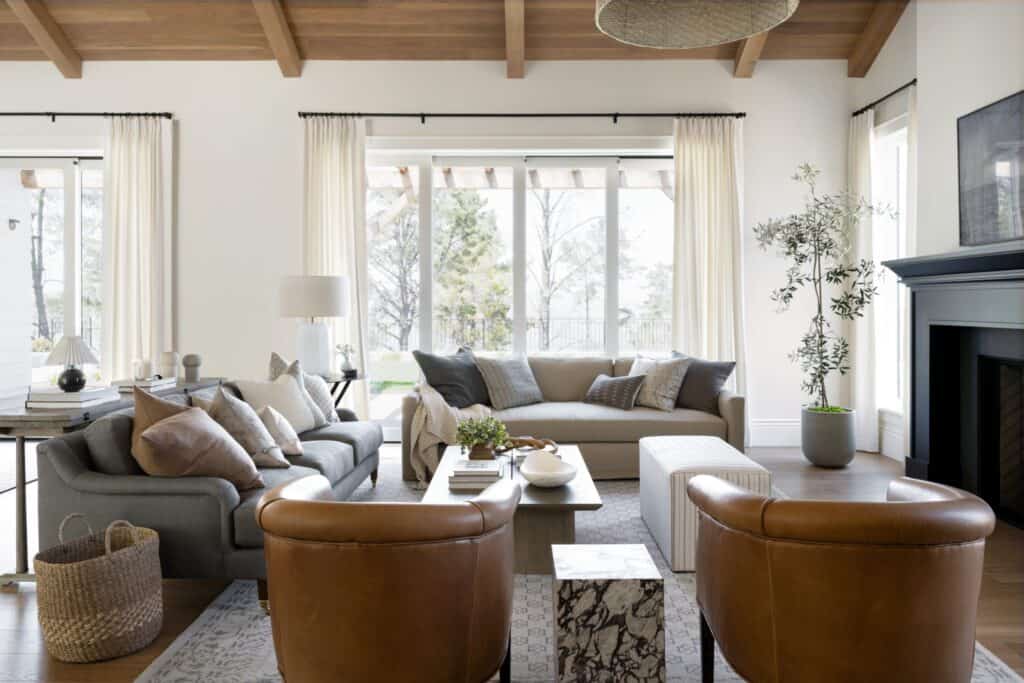 Layering
Layering rugs is a great way to achieve different textures and adds depth to a living room. In this living room by Park & Oak, the natural jute rug is further enhanced by the smaller hide rug that is layered which accentuates the coffee table. The hide rug complements the leather pouf and leather throw pillows perfectly. These area rugs are starkly different, yet complement one another for a cohesive and modern room.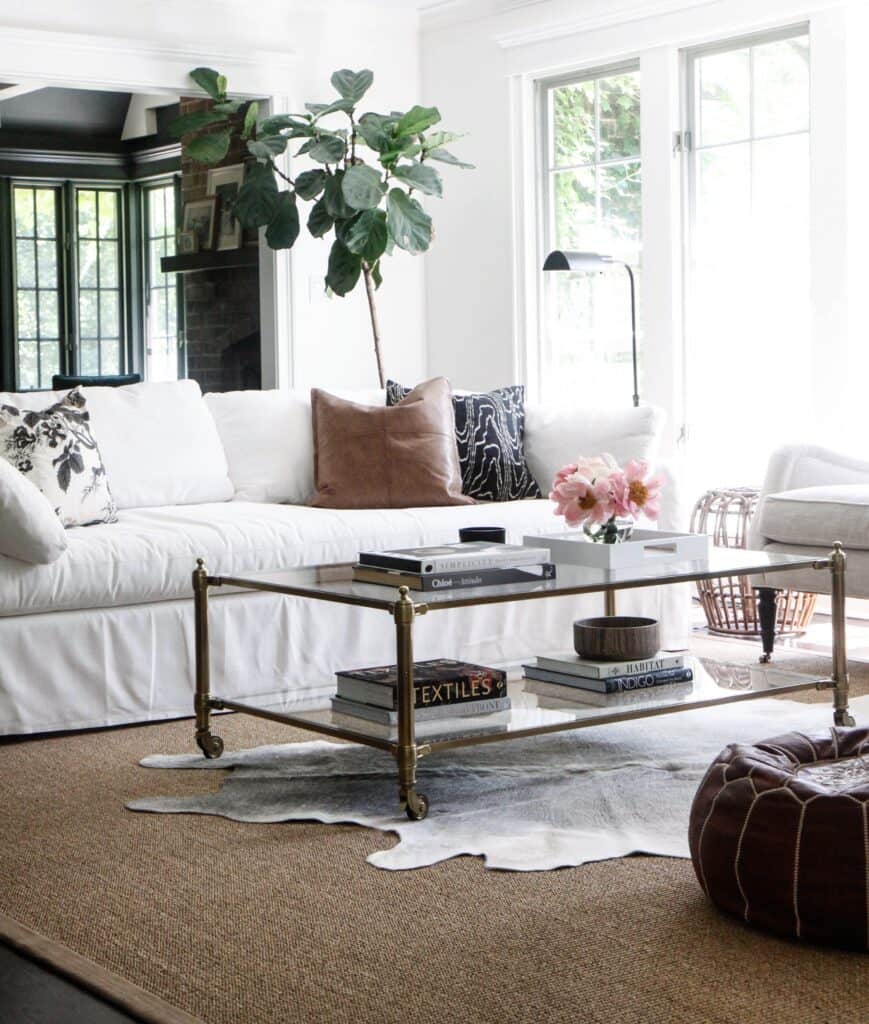 Boho Inspired
This boho inspired living room not only showcases a rug that adds amazing texture to the living room, but also is another great example of layering. You'll notice that the furniture is floating around the larger jute rug with the smaller boho rug anchoring the larger furniture pieces. The combination of these rugs really adds an extra layer of warmth and coziness to this living room.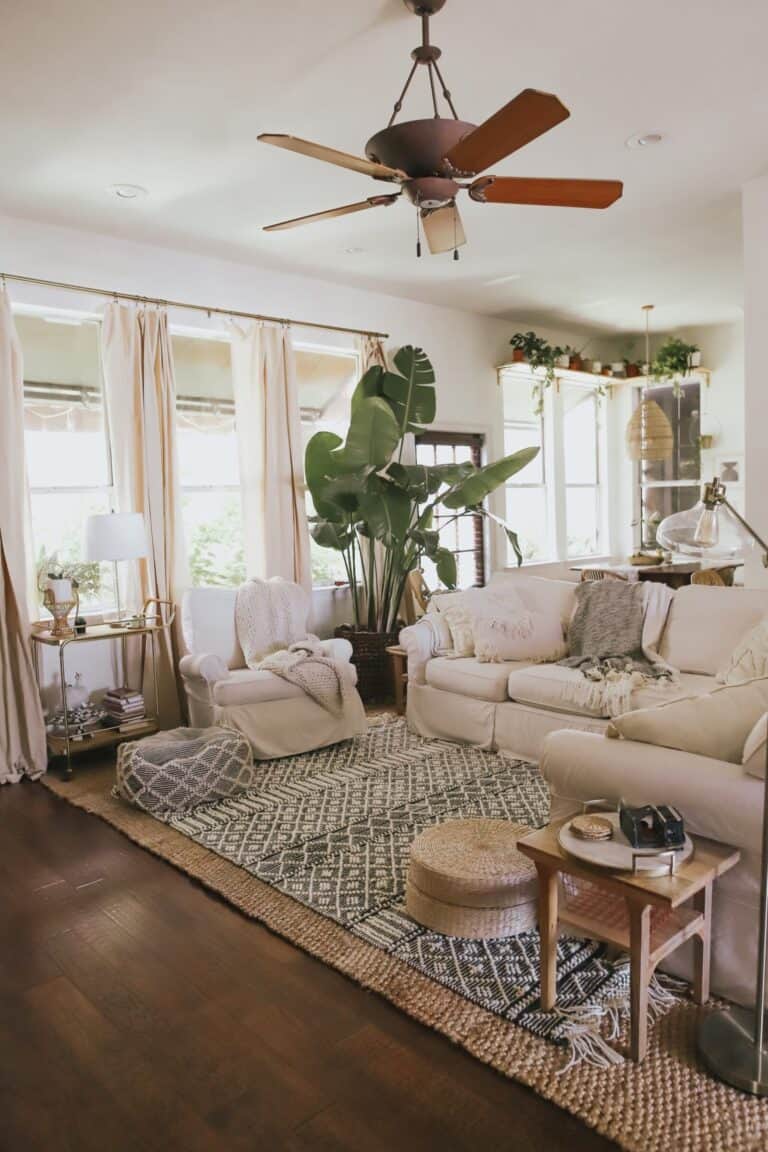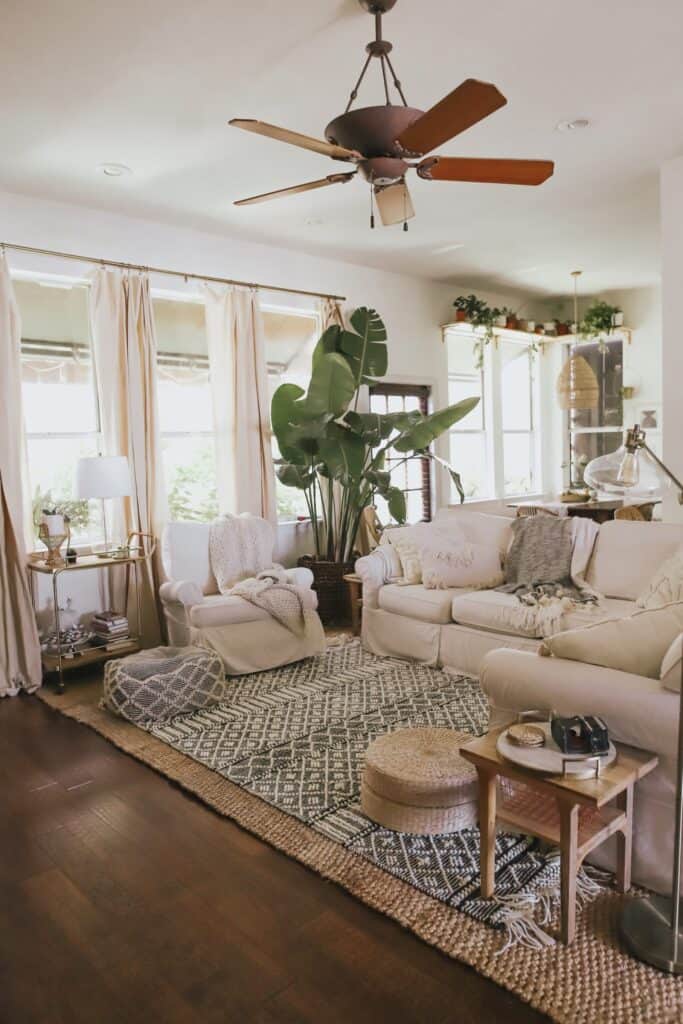 Other Posts You'll Love
20 Curtain Ideas for Living Areas | Dining Room Rug Size Guide  |   Best Paint Finish For Dining Room  |   Best Modern Neutral Paint Colors  |  Easy IKEA Coffee Table Hack
Pin This Photo Below For Later
With a little bit of planning you can find modern rugs for living room spaces that compliments your home. You'll want to pay attention to your rug's size, the materials, style, and color to help you pick a rug that works for your family's lifestyle as well as your living room's aesthetics. If you have any questions on the best modern rugs for your living room space please feel free to leave them in the comments below. ​​Be sure to pin the photo below for later, and if you don't already – follow me on Instagram (@arinsolange) and Tik Tok (@arinsolange) for more decor tips!