Are you trying to figure out the right dining room rug size for your house? The dining room is such a special place to gather with your friends and family. Do you use your dining room for every day dinners or is it reserved for holidays and special occasions? You'll often see dining rooms as one of the first rooms when you walk into a home. This means that this is one of the first impressions people get of your home when they walk in your front door.
Create a dining space that is warm and inviting by setting the perfect ambiance. Find the perfect rug for your dining room table to create that atmosphere. If you've ever wondered how to find the correct size rug for the size of your table and dining area, then you are in the right place. I'll go over how to find the perfect dining room rug size for your space.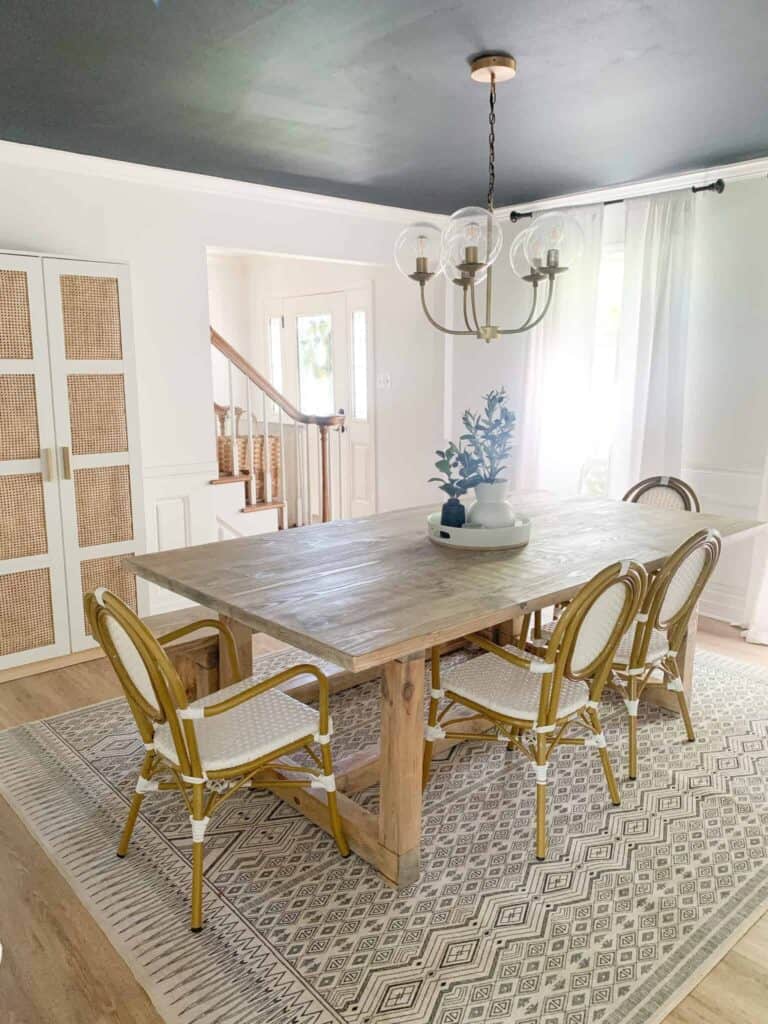 This post may contain affiliate links.
All About Dining Room Rugs
For many years, I longed to have every room in my home picture perfect. That longing is still there, but with four kids, I get hit with a dose of reality any time I look over and see a rogue pair of underwear.
One of my favorite milestones in my kid's lives is when they finally outgrow the messy food eating phase. Goldie is now at an age where she actually keeps all her food on her plate and avoids throwing it most days.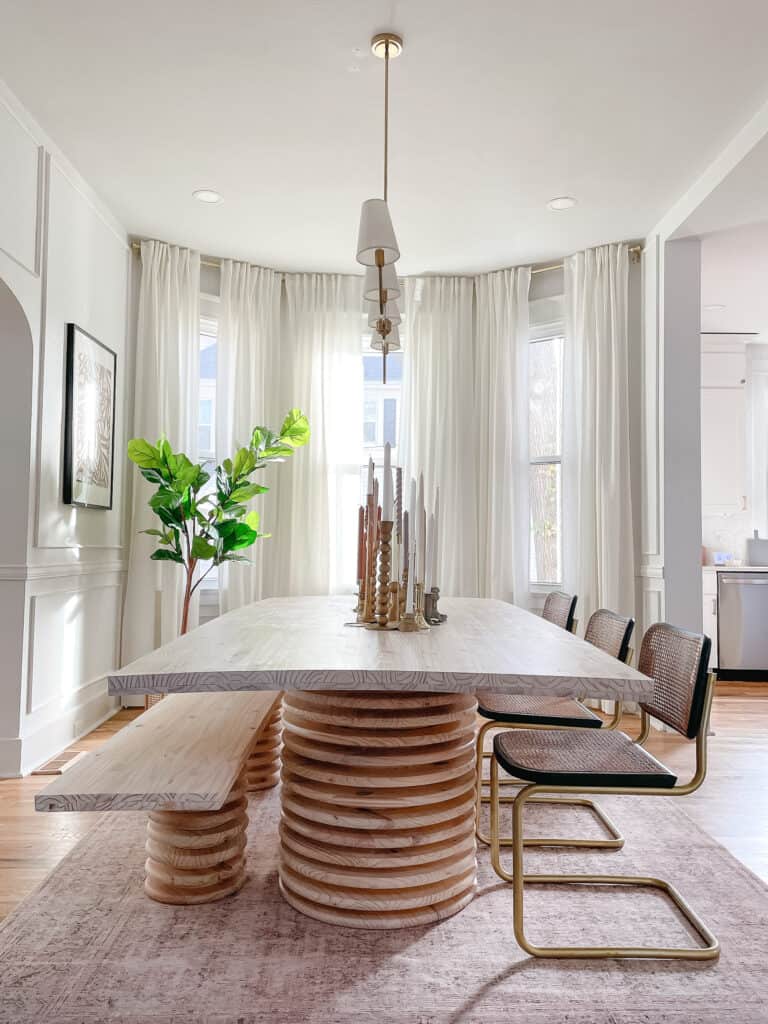 This means, Mama gets her floors back! That's right, no more cleaning up spaghetti off my hardwood floors! I've been waiting for this day where I can finally put down a beautiful dining room rug and have a completed room.
Why a Rug in the Dining Room?
Of course not everyone chooses to pair their dining room furniture with a rug. So why even do it? Won't this just be another surface area you need to clean and another excuse to avoid using the dining room altogether to keep in neat tidy.
In my family, we only used our dining room on special occasions and holidays. As a kid, I always remembered that the dining room was off limits. Avoid getting anything dirty in there at all cost, and on the rare occasion we did eat in there, you better be on your best eating behavior.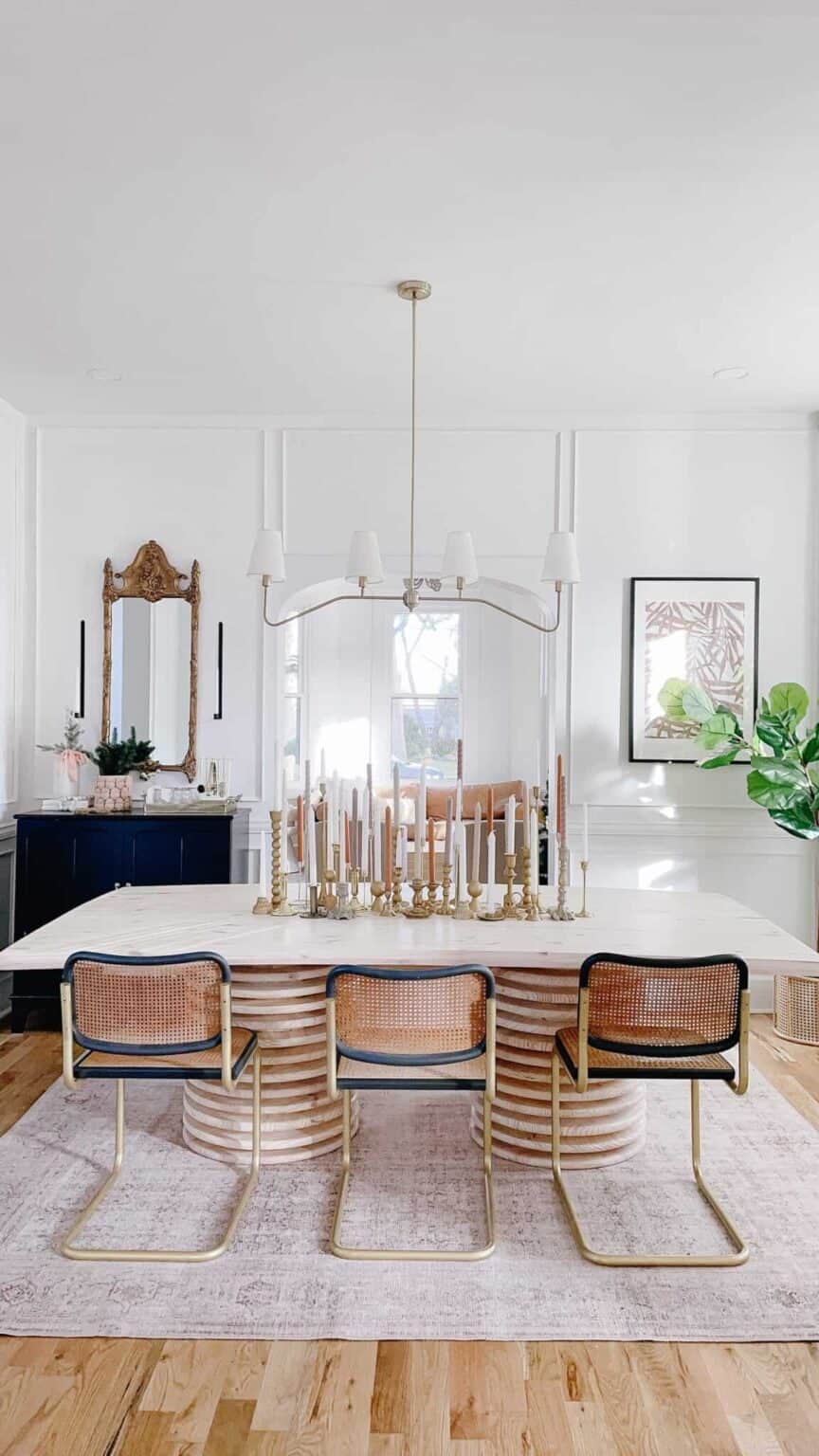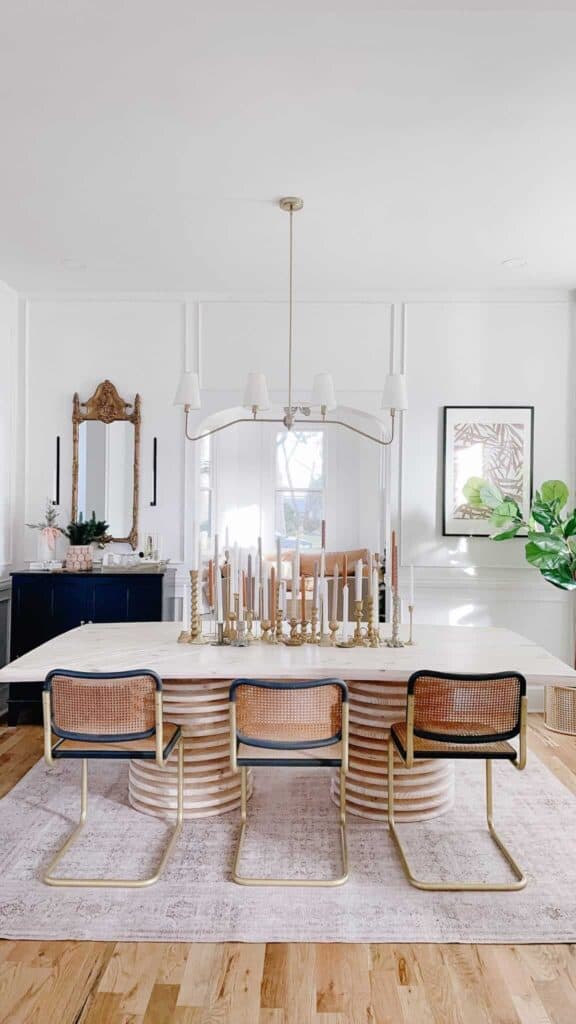 I'm a firm believer in adding a rug to help frame a room. Rugs can go a long way. They can bring a room together, create a focal point, provide texture to a room, add a splash of color or pattern, or tone down and neutralize when necessary.
While rugs can add warmth and comfort to spaces that may lack carpeting, they also add to the style of the room altogether. Rugs aren't just a good choice for hardwood floors. You can add rugs over carpeted areas too.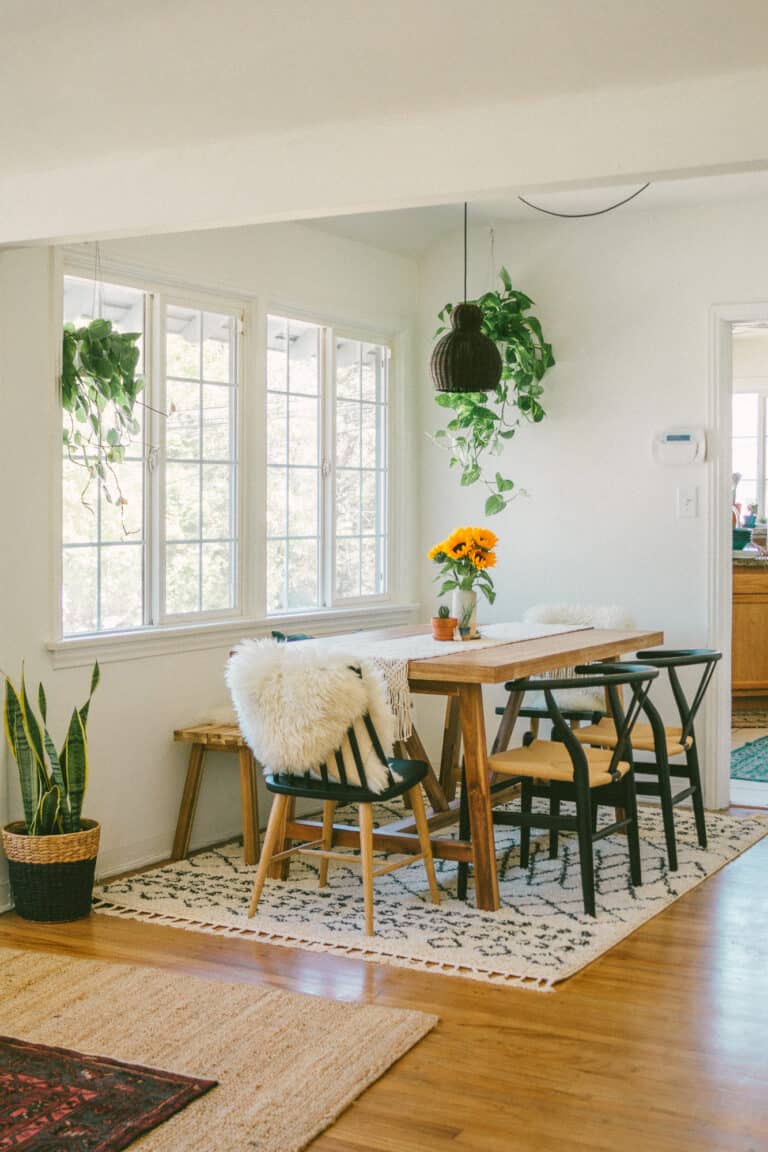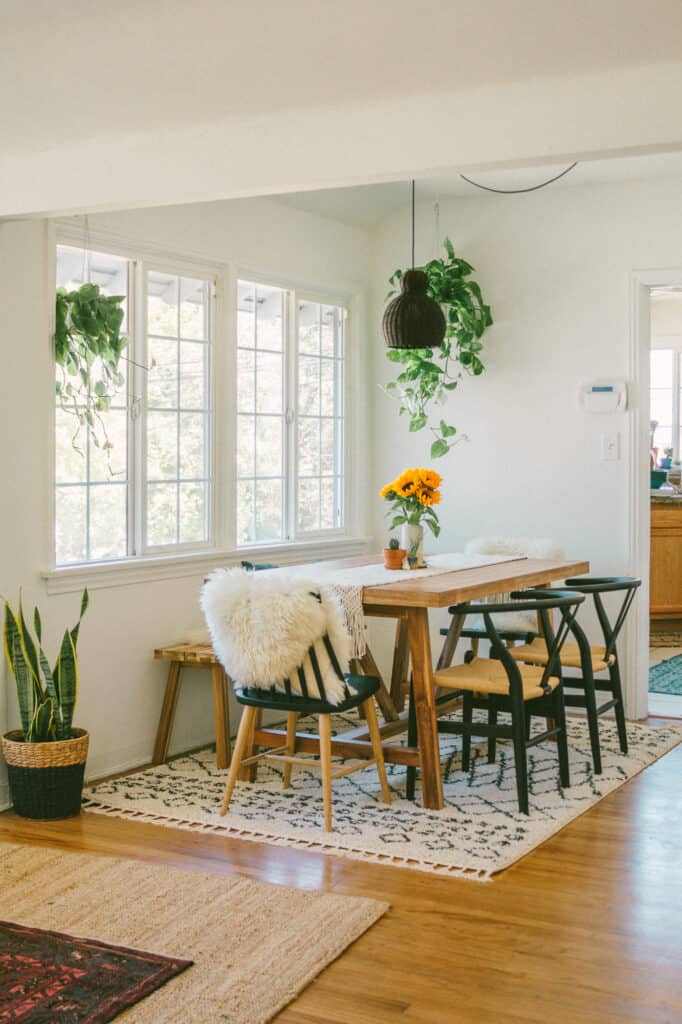 Neutral boho dining room rug by Black & Blooms.
So how do you know what is the right rug size for the amount of space you have? What shape do you get and how do you pick the right material?
Dining Room Rug Size Guide
Finding the correct rug size for your whole room is important. If you go with a large rug that is too big for the space it will make your room look cramped and feel like smaller.
If you get a smaller rug that is too small for the space then your dining chairs will catch on the rug, creating tripping hazards. Plus, it will just look odd- like someone cut off the rest of your rug.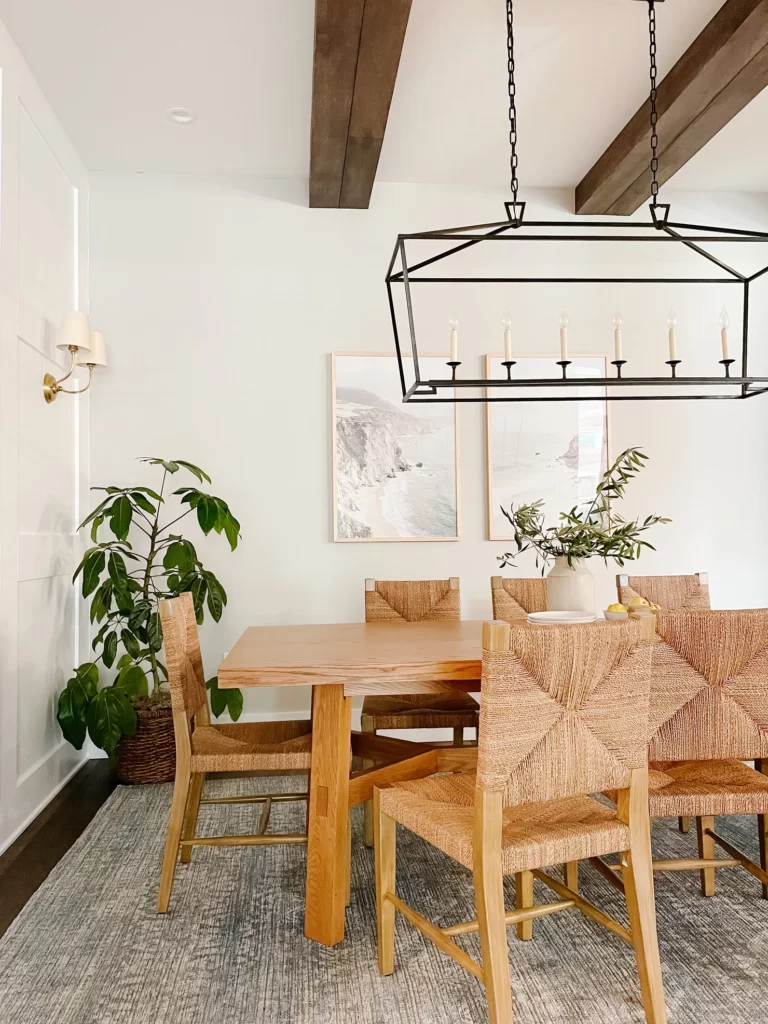 I love this neutral dining space with pops of blues and greens for color designed by California Daydreams.
To find the correct dining room rug size, you'll need to pull out your tape measure. Don't worry, this measuring isn't going to involve much math. As a general rule of thumb, the best dining room rugs are larger than all sides of the dining table by 24 to 30 inches all the way around.
In other words, the size and shape of your table dictates the size of your rug. As a starting point, get all your furniture pieces that you intend to have in your dining room in place. This means that if you have a dining room table that can extend, extend it fully prior to measuring.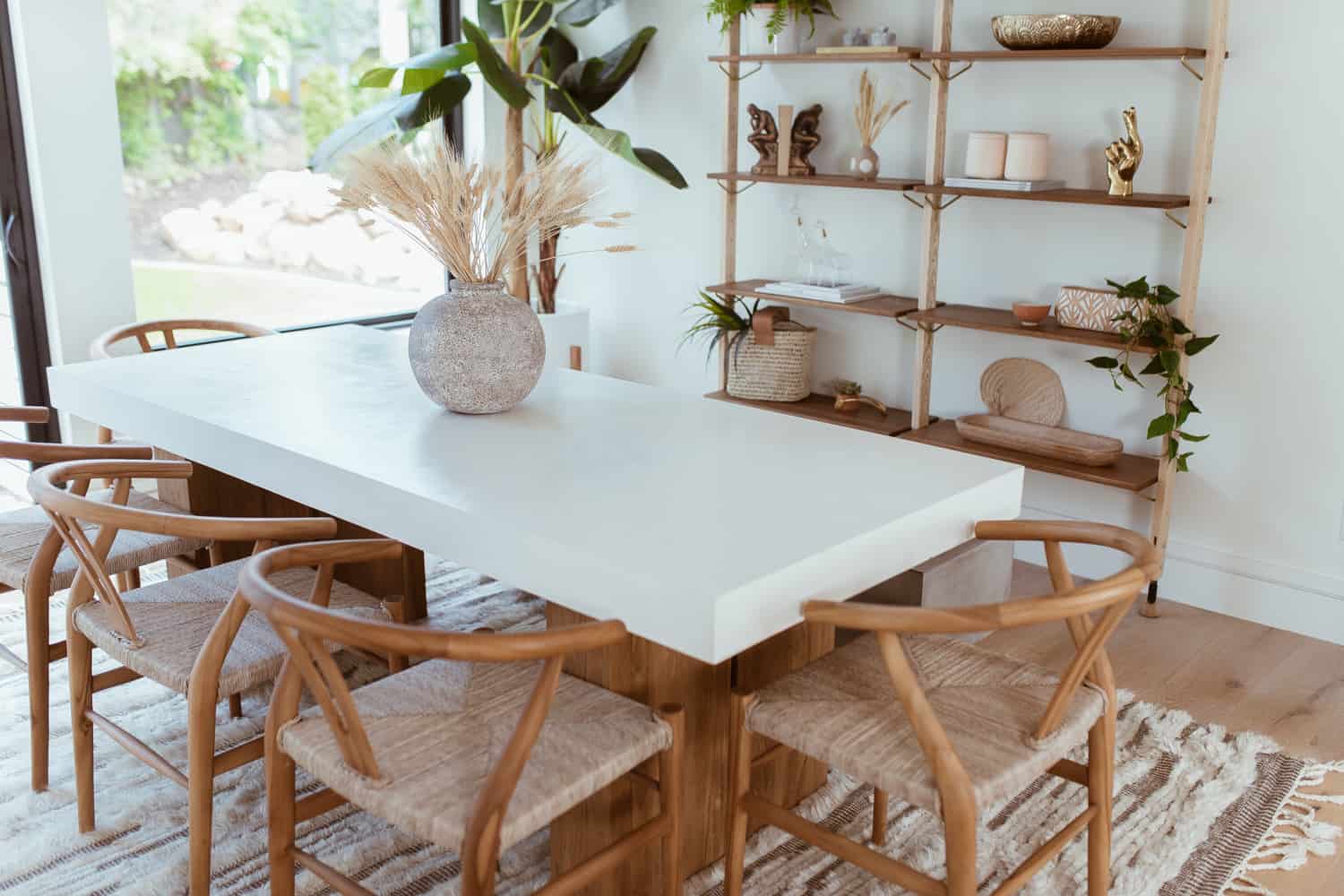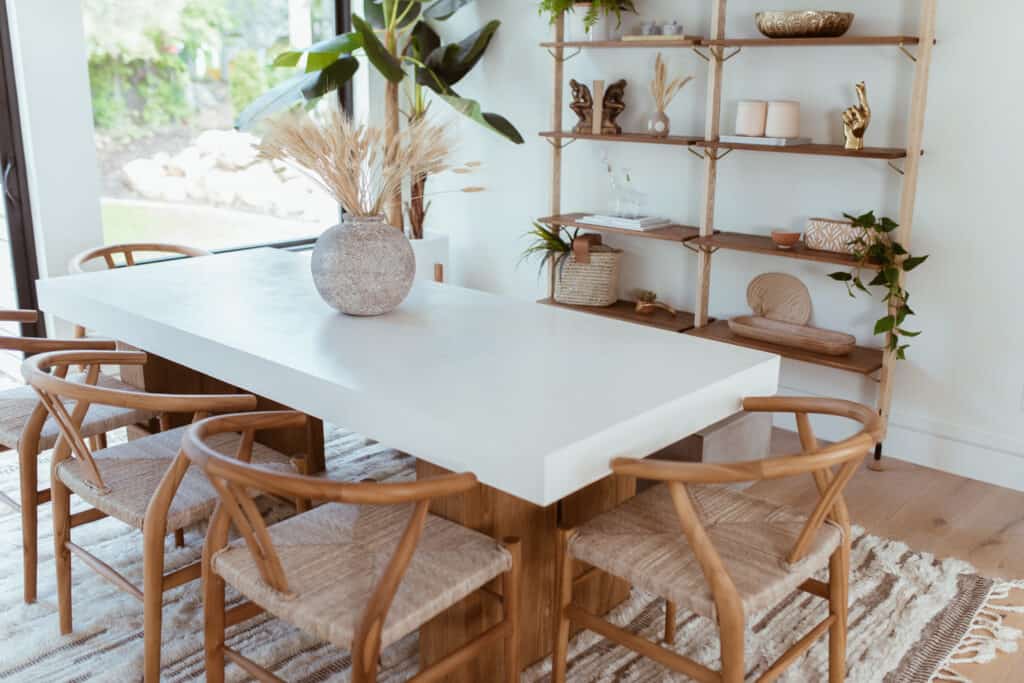 I'm sharing Cara Loren's beautiful dining space once again because I love these neutral boho-Scandi vibes. Plus that rug is full of texture.
Pull your dining room chairs out away from the table, as if you were to sit down. Mark this spot with masking tape and measure it. Again, you'll want 24-30 inches of space around your table, including when you pull your chair out.
You'll also want about 8-12 inches between the wall/furniture pieces and back of your dining room chairs. Mark this set up with tape and then measure the length and width to get the correct size of rug.
Another important thing is to avoid the rug going under any other furniture pieces. You'll want it to stick to just under the legs of the chairs and dining table. If you have other furniture pieces, it should be framed around it and have enough space to show the divide.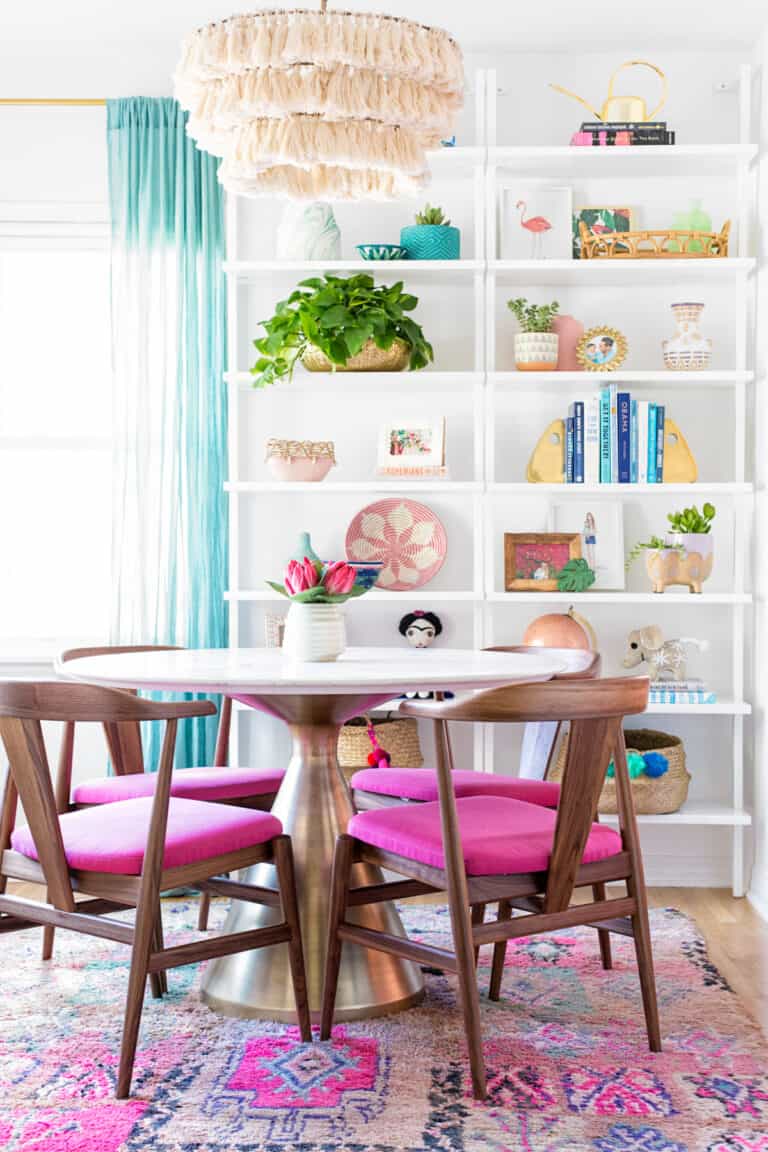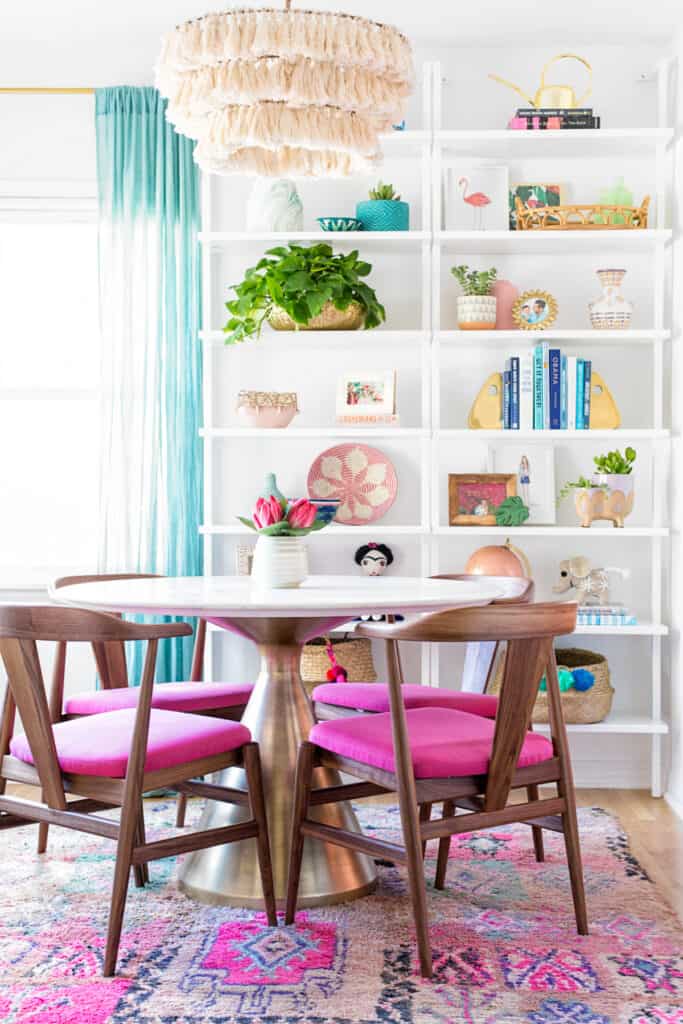 For a dining room rug with a pop of color, check out this dining room reveal.
If all that measuring sounds too complicated, then you can follow these general guides to help you find the right size of rug.
Consider the Table Shape
Rectangular tables that fit 8-10 people will require a larger rug size. Most dining tables with a seating area that can fit up to 10 people are about 4'x6′ in size. Take into account the 24-30 inches of space all around for the chairs, and you are looking at a 9'x12′ or 8'x10′ area rug.
Either size would work, but keep in mind the space. If you have a larger space with an open dining area, the 9'x12′ oversized rug would complement the room better and be the perfect size.
If you have a more enclosed space or other furniture pieces nearby, you'll want to avoid having the edge of the rug be under other furniture or too close to other pieces. In that case, the 8'x10′ size would be the right rug for your space.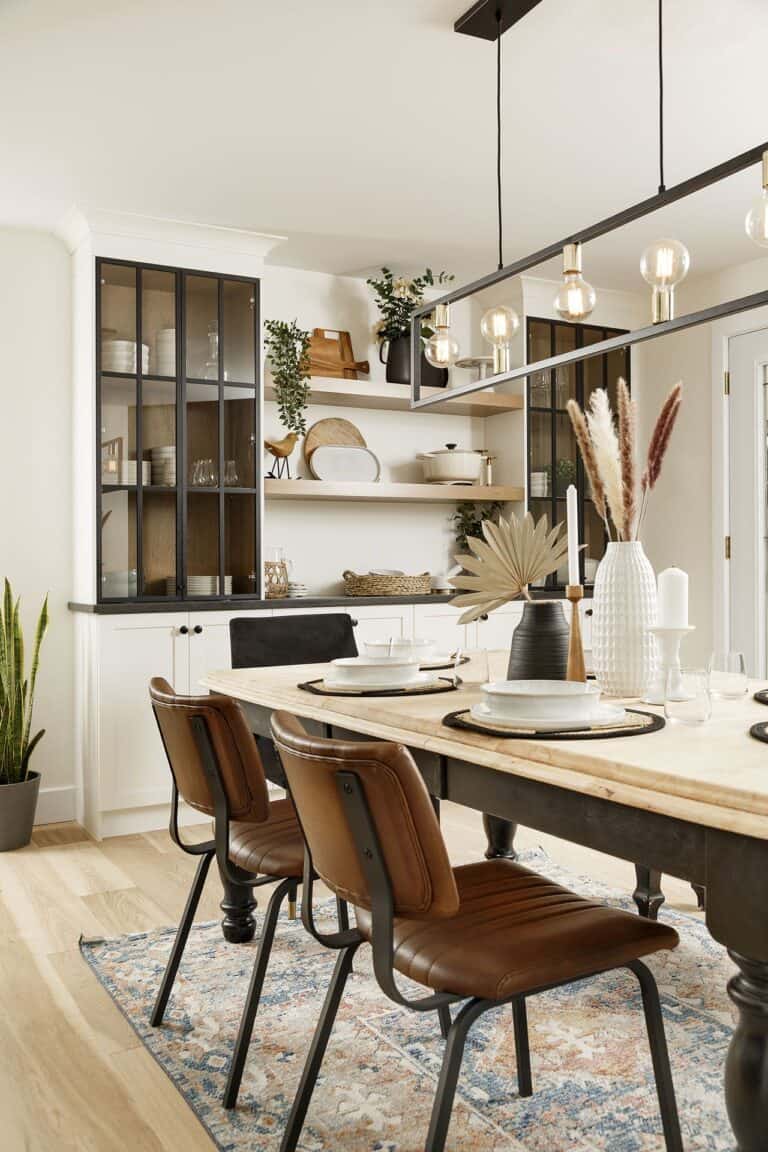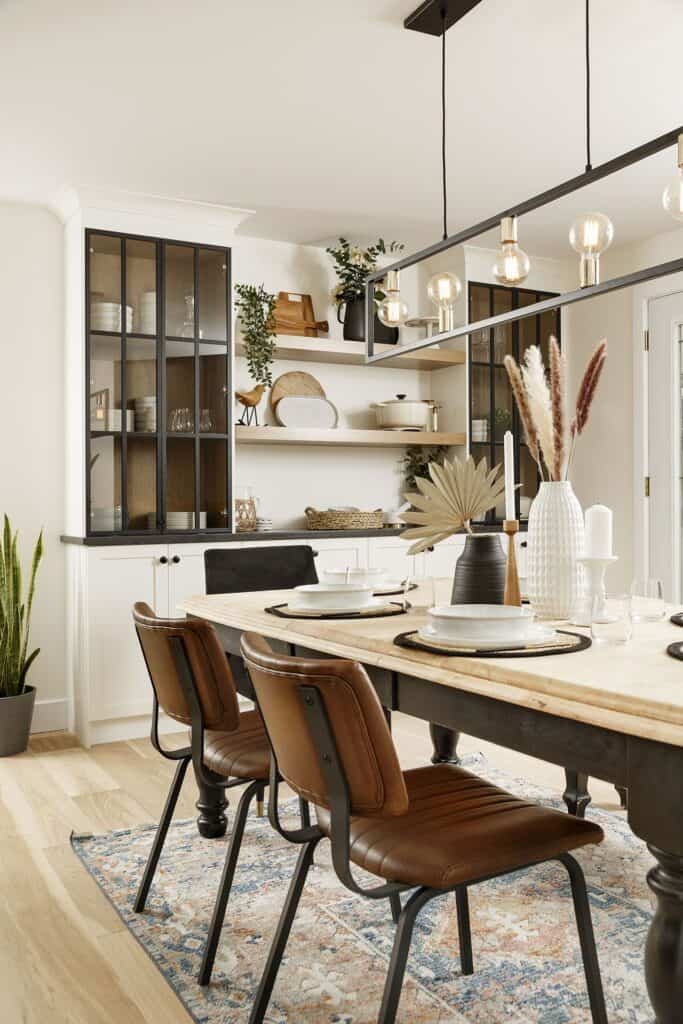 This modern farmhouse dining room was designed by Cuisines Action.
A dining table that seats up to 6 people is generally about 3'x5′ in total space. Your best bet is to get an 8'x10′ rug. This would give you enough room to have your chair legs stay on the rug when moving them in and out.
For dining tables that are on the smaller size, you'll want to pay attention to their shape. A round dining table that seats up to 4 people is generally about 3 feet in diameter. This round table and size would best be complemented by an 8 foot round dining room rug.
For dining tables that are more square shaped, then square rugs would be more suitable. Of course you can still go with a more standard rectangular rug of 5'x7′ or 6'x9′ and have your table and chairs be placed in the center. Ideally, you want to pick the rug shape based on your table's shape.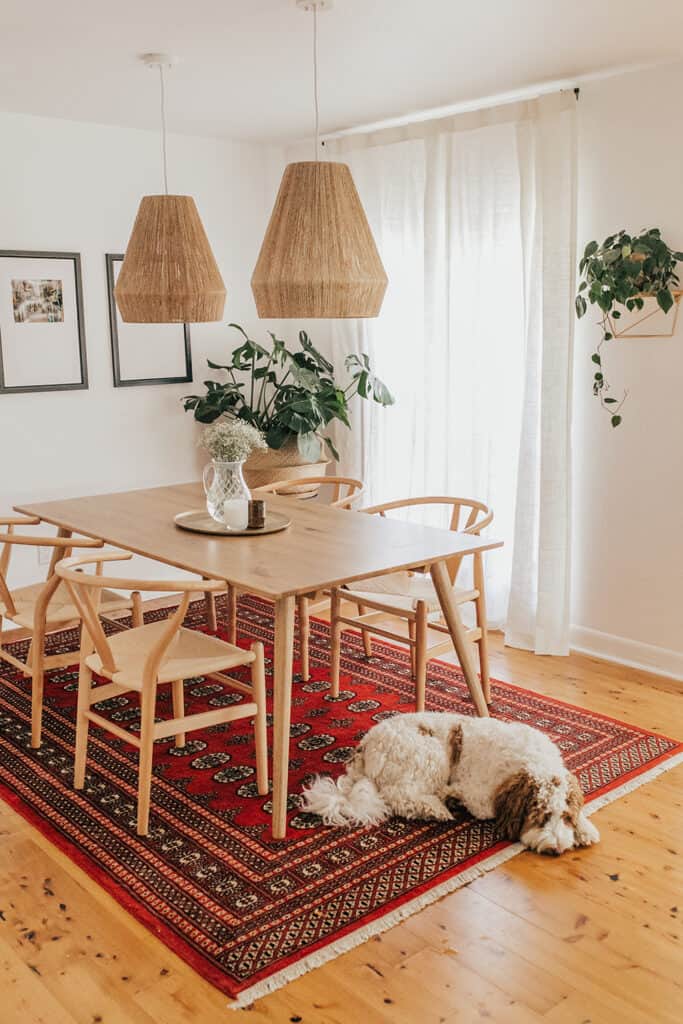 This is a great example of how a bold color can warm up a space and create a completely different atmosphere. This is a great guide to how to use a rug to define a space.
Pay Attention to Rug Materials – It Matters
The rug's material is entirely up to your aesthetic, use and budget. If you intend to use this space heavily for entertaining and dining and you have small children, then I'd suggest a rug material that will clean well and hold up to stains.
Natural fiber rugs aren't the easiest to clean since you really shouldn't get them wet, but they can create great texture in your space. On the other hand, synthetic rugs are much easier to clean, but can appear flat.
Indoor outdoor rugs are great alternatives. If you need a rug that can easily be taken outside and hosed off to be cleaned, but still has fun patterns and colors, then this may be your best bet.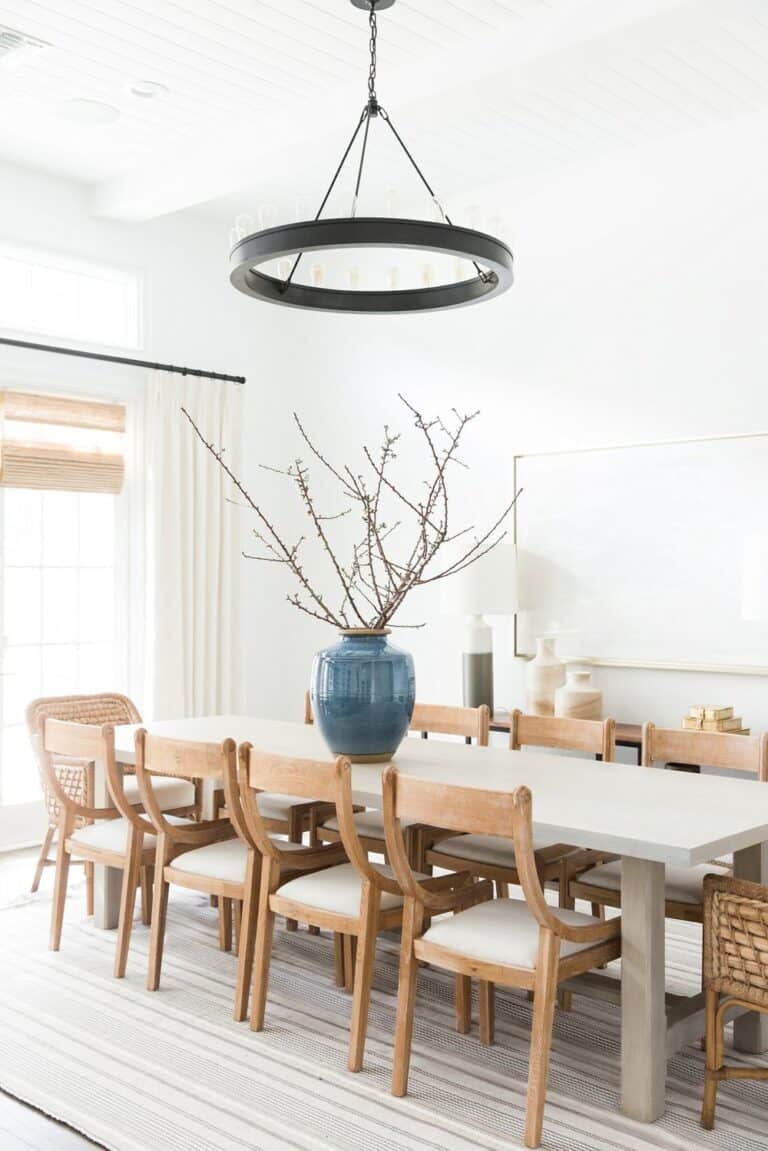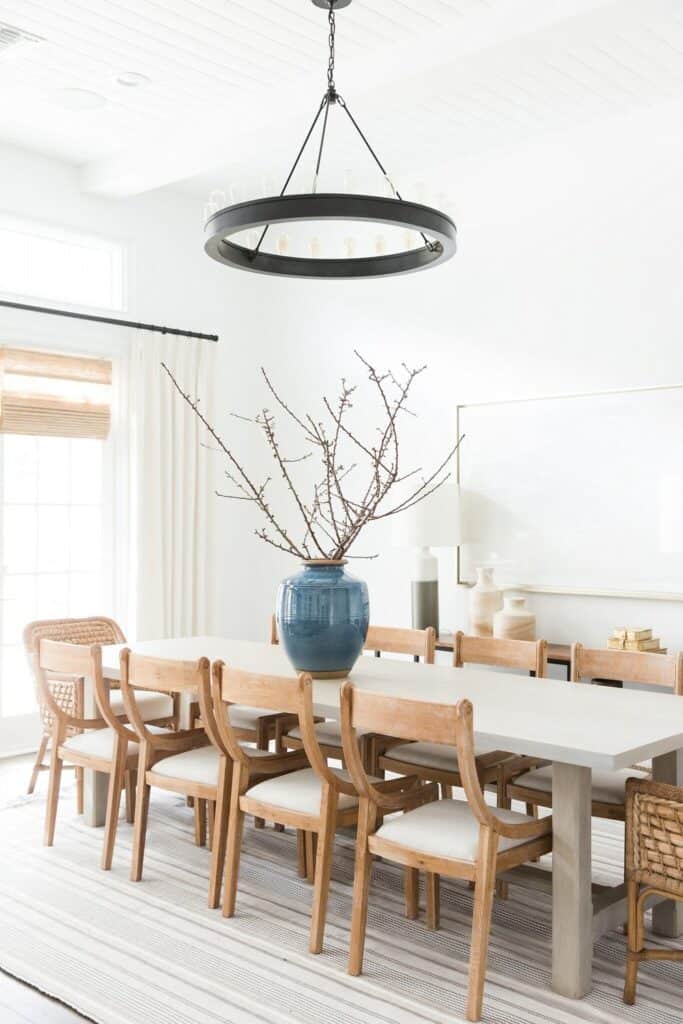 This coastal dining room by Studio McGee uses an indoor/outdoor rug in the dining room to keep the space casual.
Keep in mind that the right area rug can also help bring your entire room together. If you need something to help emphasize the style of your room, pick a rug that adds the perfect finishing touch.
If you need to create the illusion of a wider and larger room, then a striped area rug may be the right rug for your space. If you have a dramatic mirror or art work in your dining room that you want to be your focal point, then pick a color that is more neutral and a pattern that is muted. Likewise, if you want to create a focal point, pick a rug with more colors and patterns.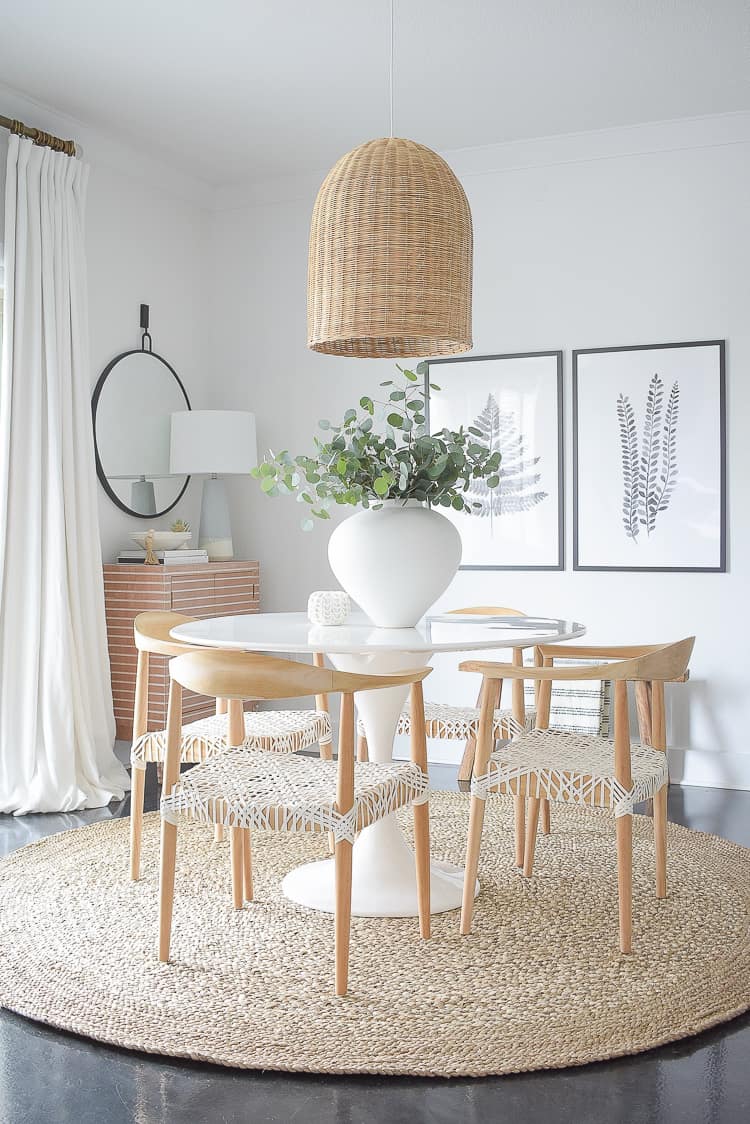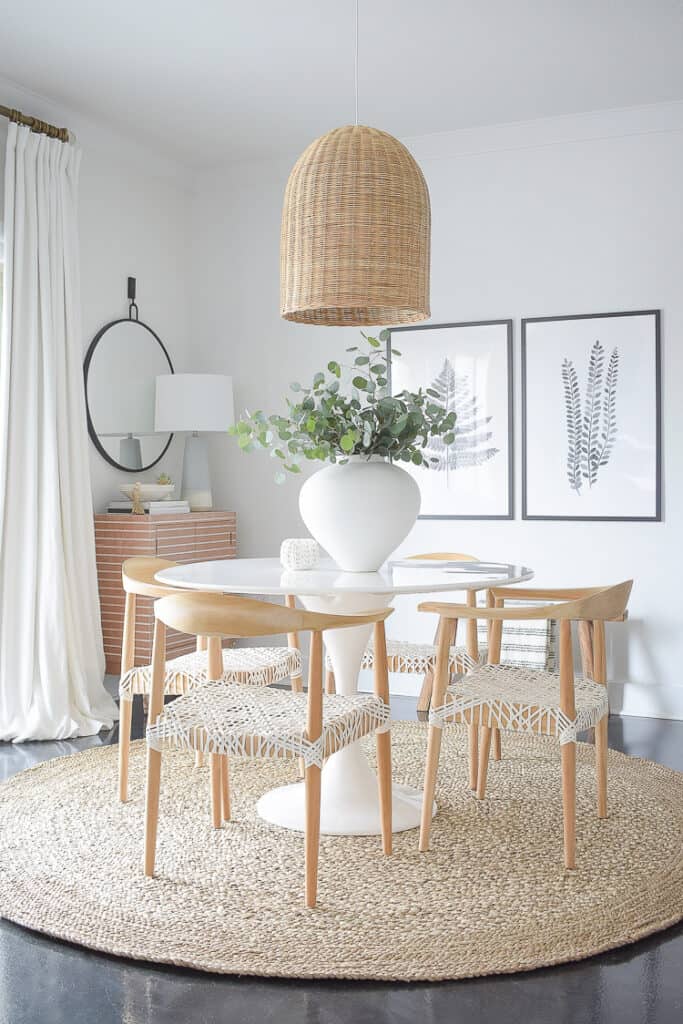 The jute rug complements the textured chairs perfectly in this neutral dining room.
Dining Room Rug Round Up
To get you inspired, I rounded up some of my favorite rugs that would look great in any dining room.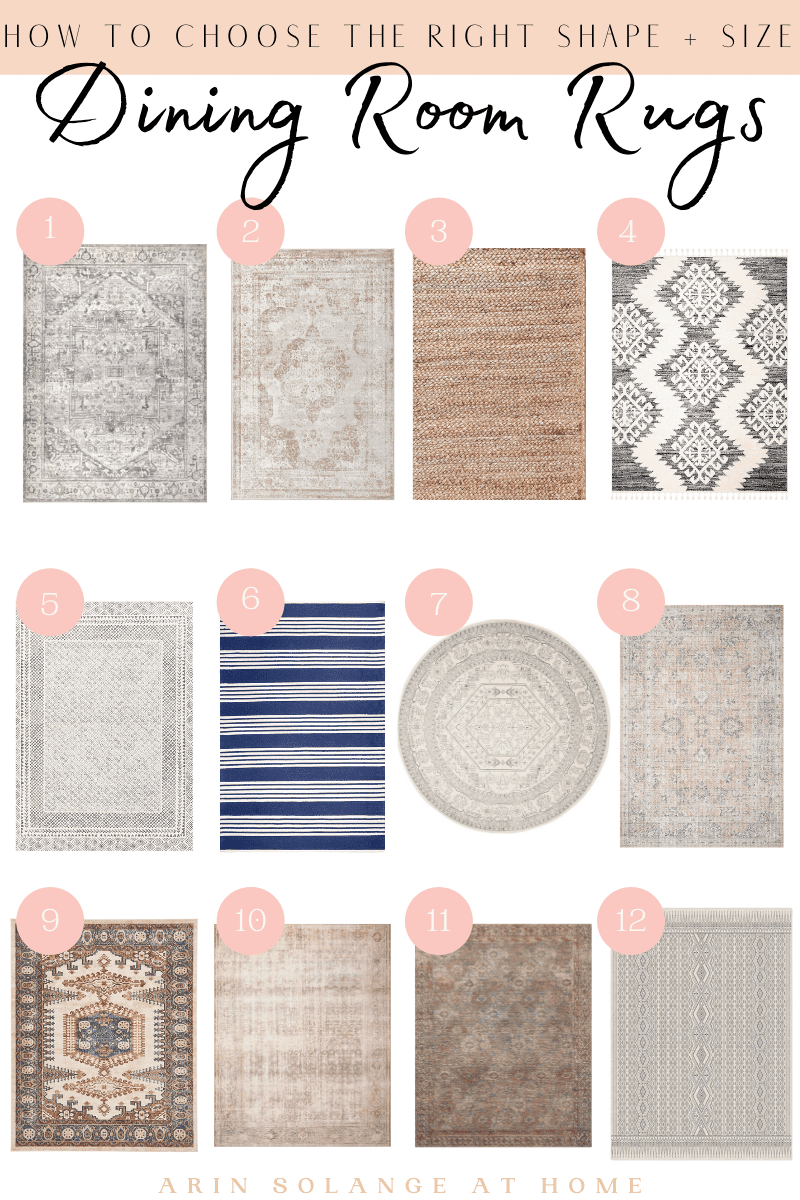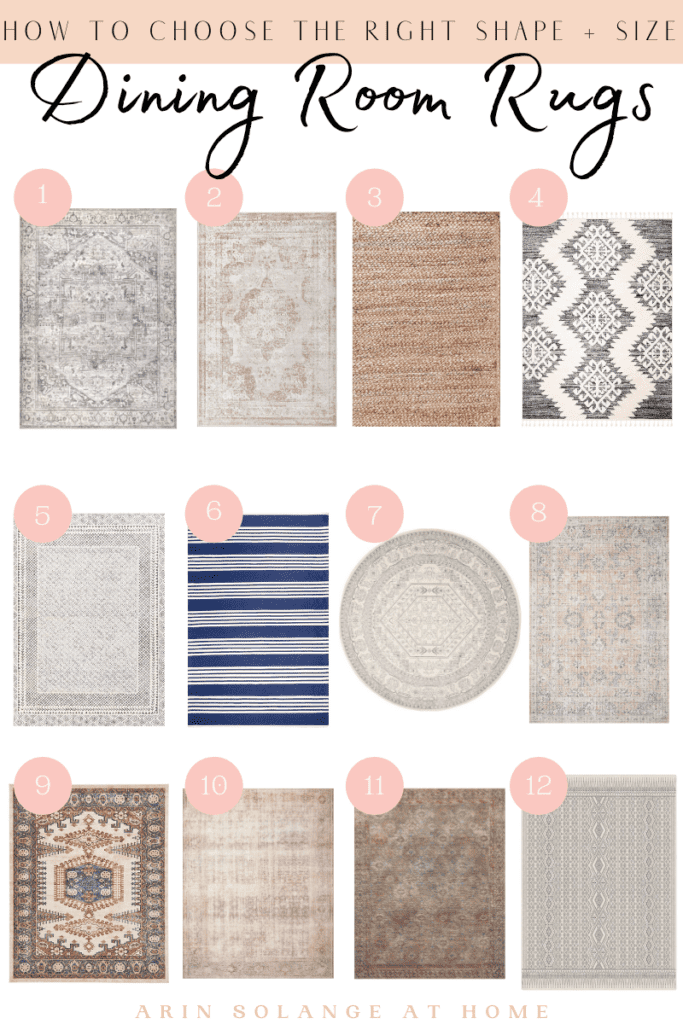 Shop Favorite Dining Room Rugs Below
1 | 2 | 3 | 4 | 5 | 6 | 7 | 8 | 9 | 10 | 11 | 12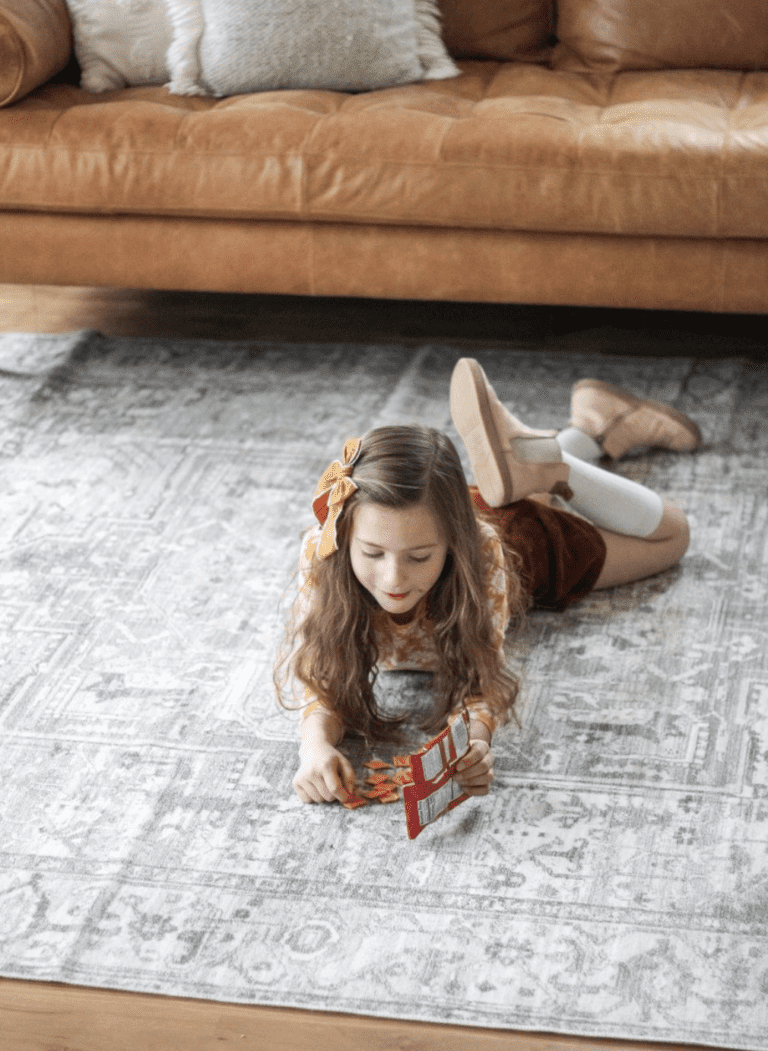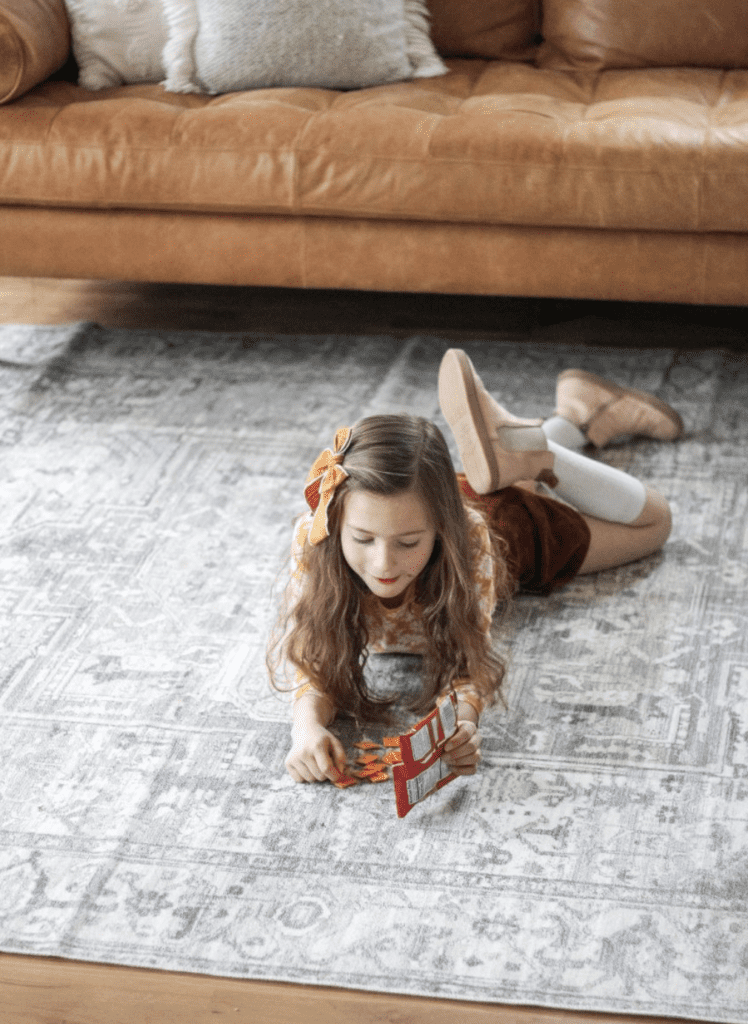 I love this low pile washable rug by Rugs USA. We currently have this rug in our living room but this would make a great dining room rug too. The neutral gray tones in fun patterns would look incredible in any room. As an added bonus, there is a great sale going on right now too!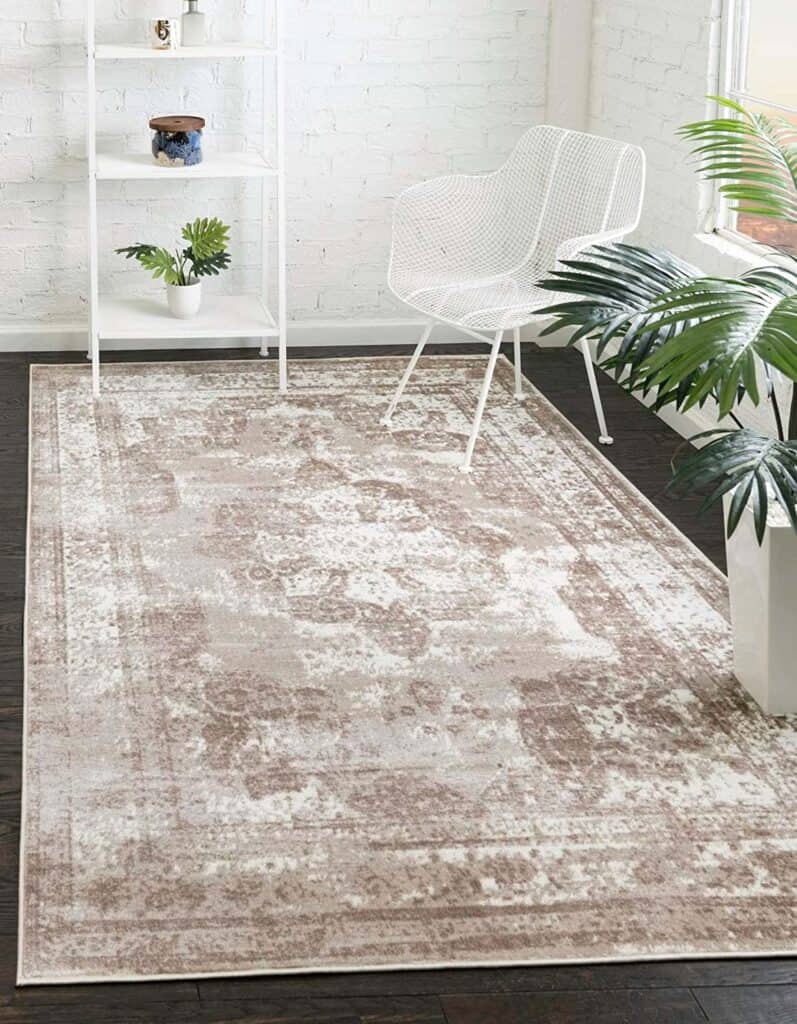 You know I can't resist pink tones. While it says beige, I'm definitely getting some pink tones from this area rug and I'm not mad about it. This would look great in any space for a vintage upscale feel. The best part is this is a stain resistant rug!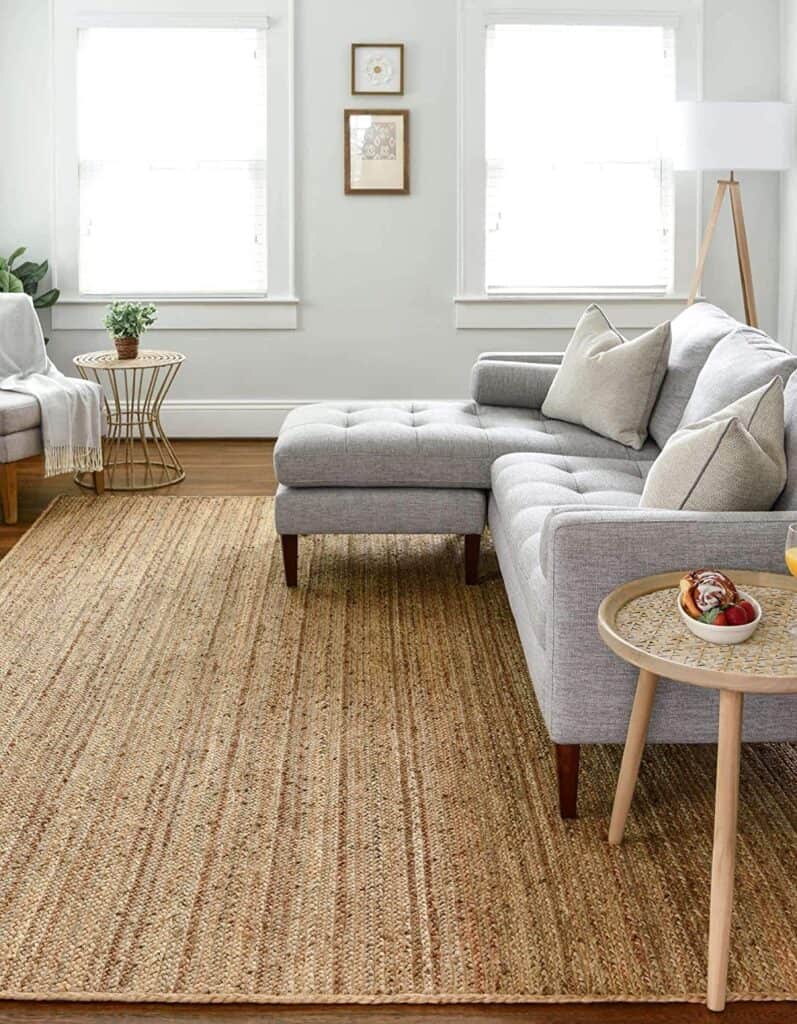 I am a sucker for a natural jute rug. The texture and neutral color gives me major boho vibes and I love the look in a neutral dining room. This would look incredible next to a large fiddle leaf fig tree, open floating shelves, and vintage dining set. Keep in mind this is spot clean only, so plan accordingly – consider layering it with a smaller, more stain resistant rug for added texture.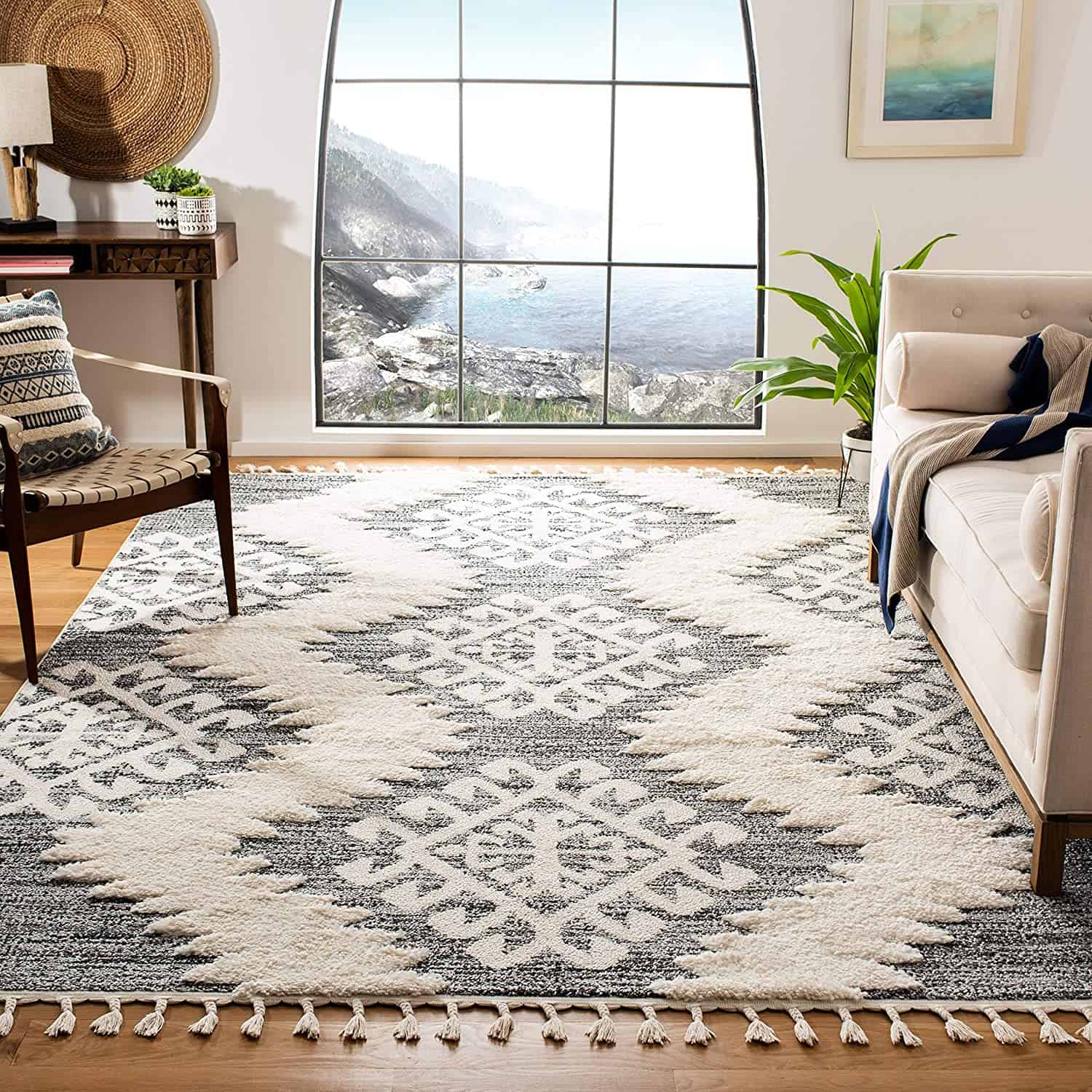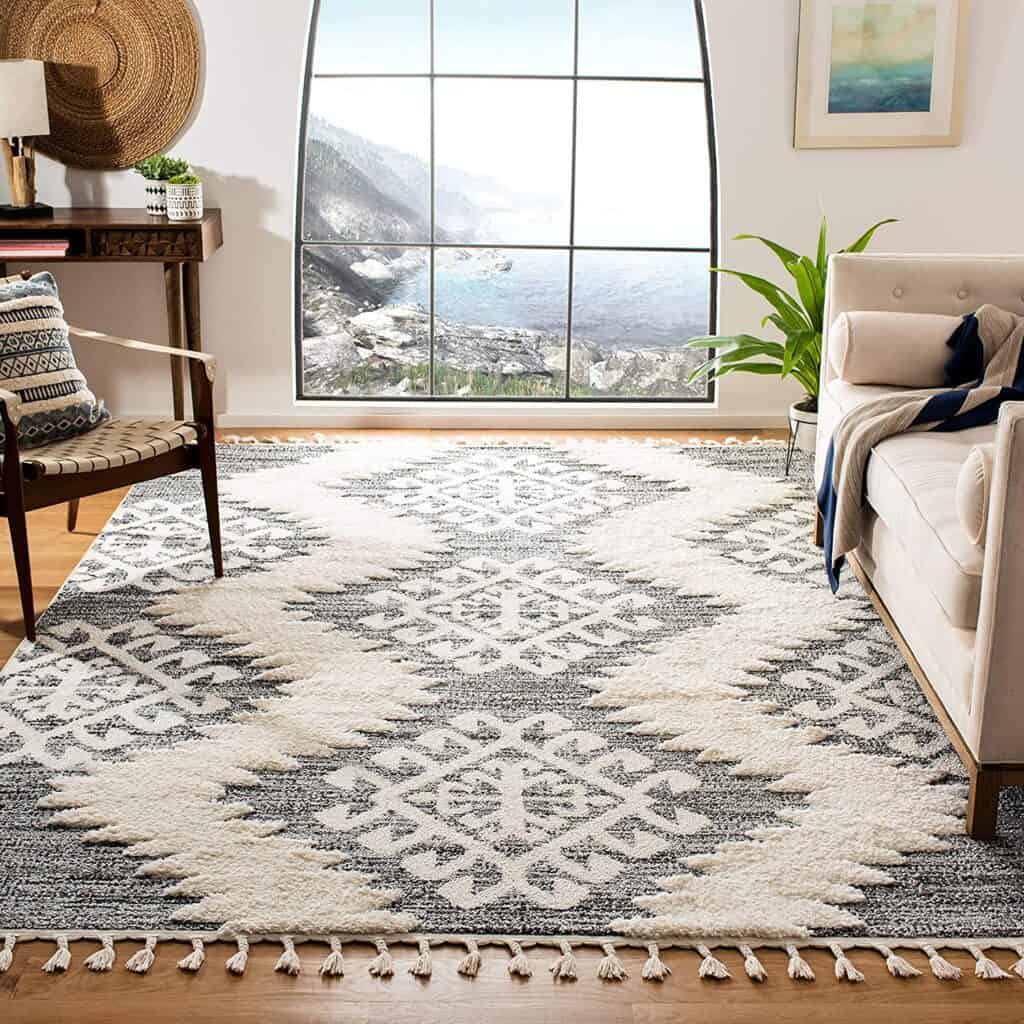 If you are looking for a boho rug, look no further. This shag rug would be so fun. It is non-shedding and looks ultra comfortable. I love the added texture and neutral tones that would complement any space.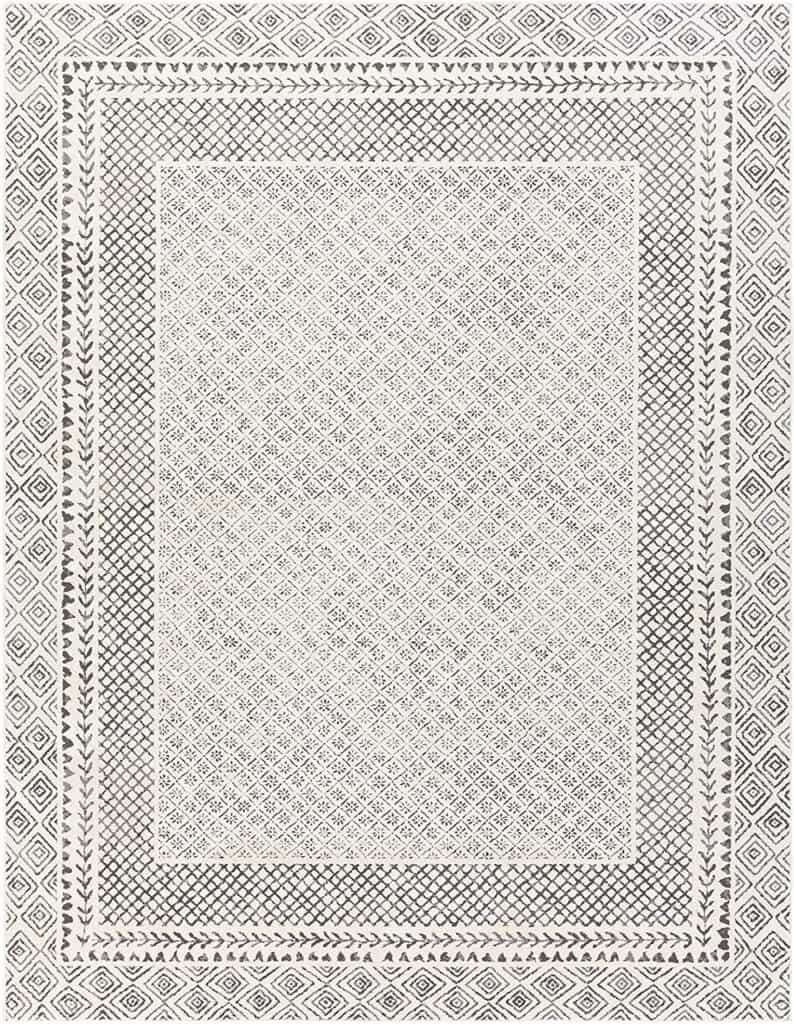 This is another great neutral rug. It has a vintage farmhouse look to it and would complement both light and dark wood tones. The rug is stain resistant and easily cleaned.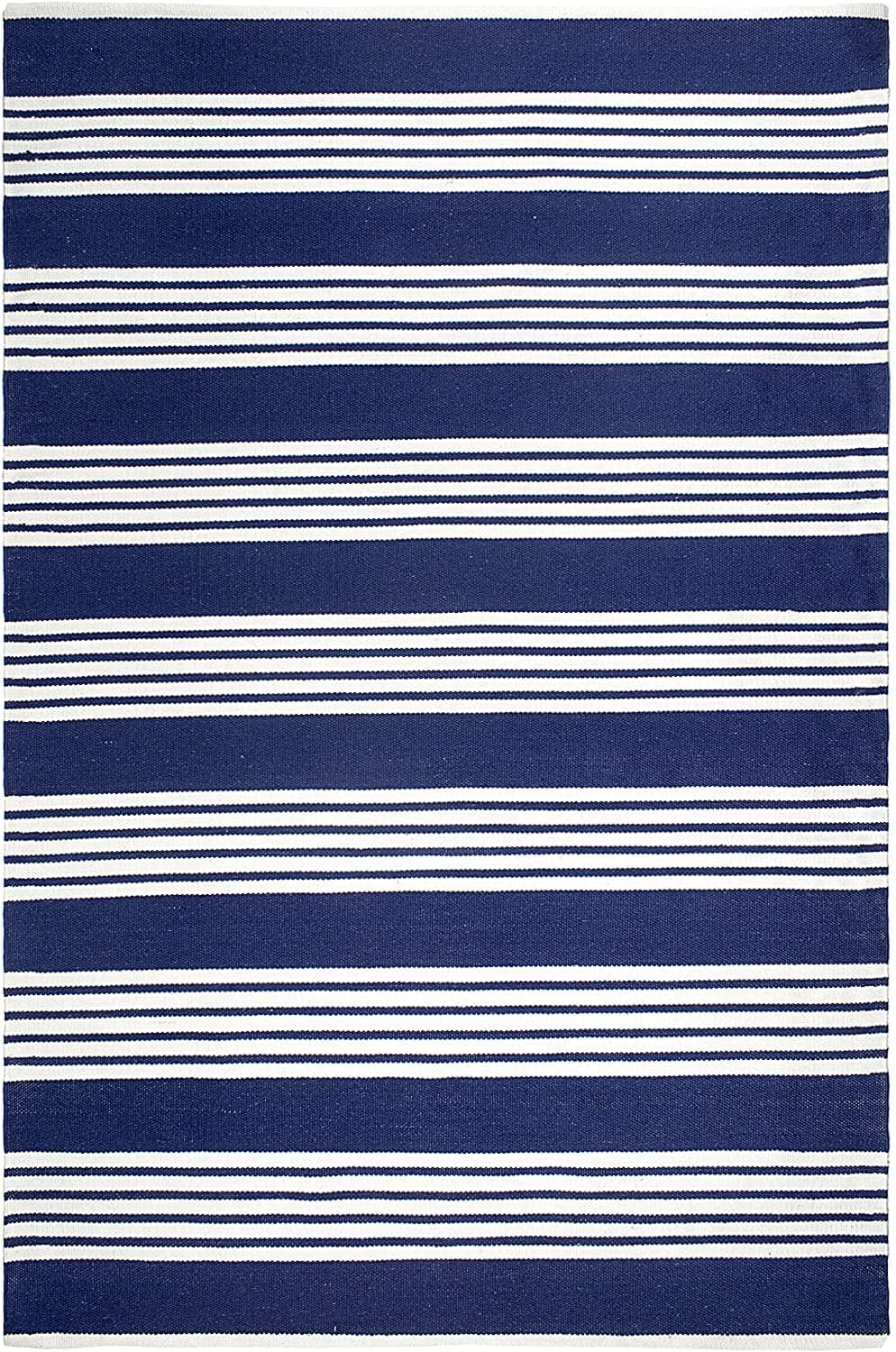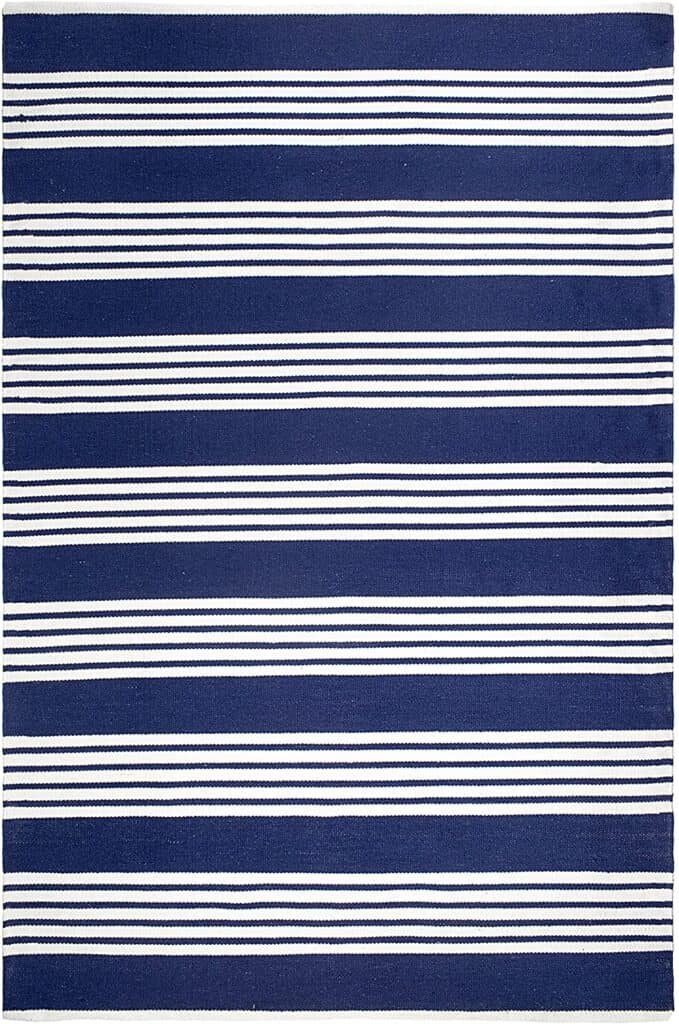 This rug was made from plastic bottles! It is handwoven, stain resistant, and UV resistant with both indoor and outdoor use. I love that this rug has been repurposed from plastic bottles and is environmentally friendly. The striped design would also elongate your space.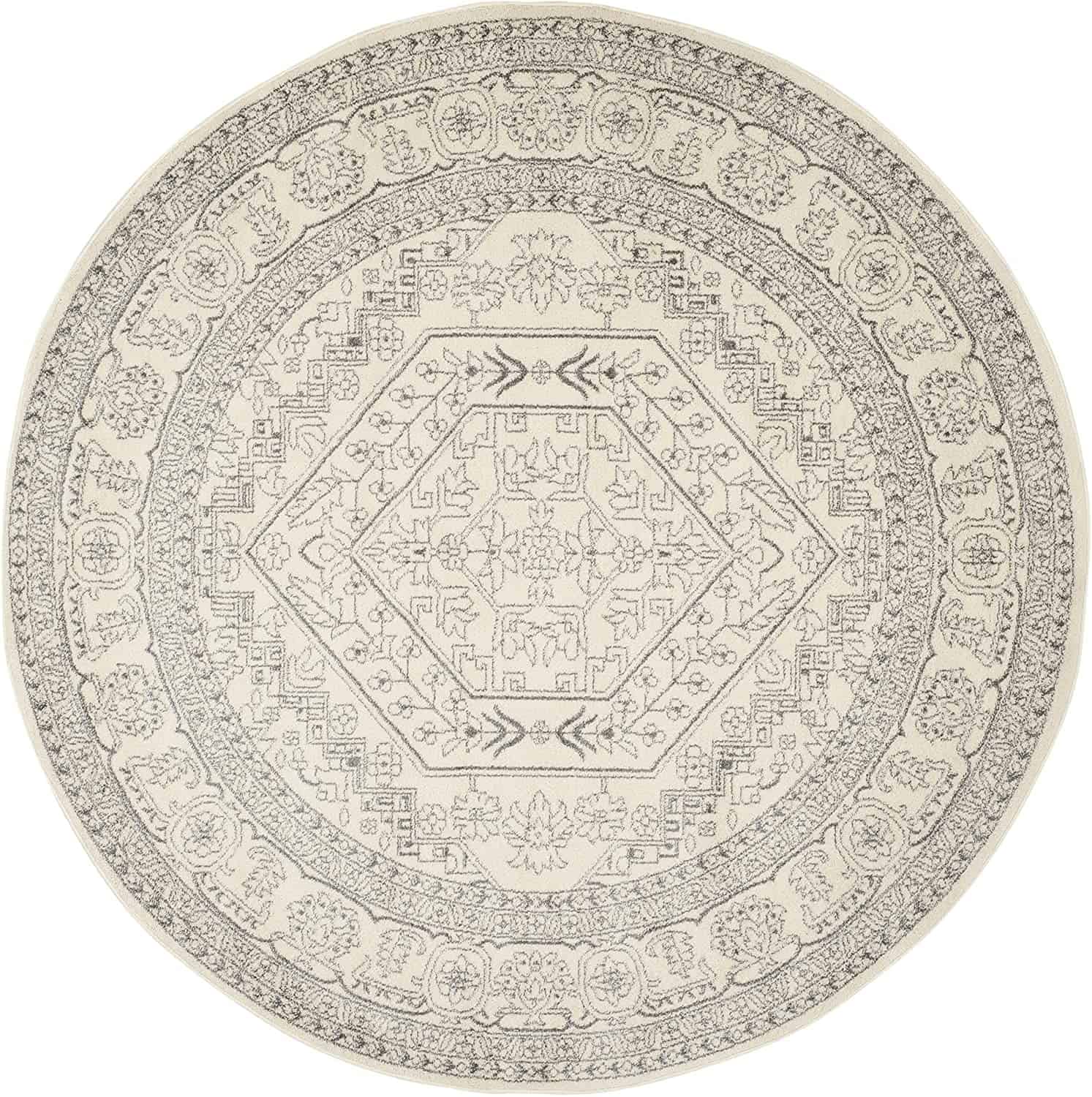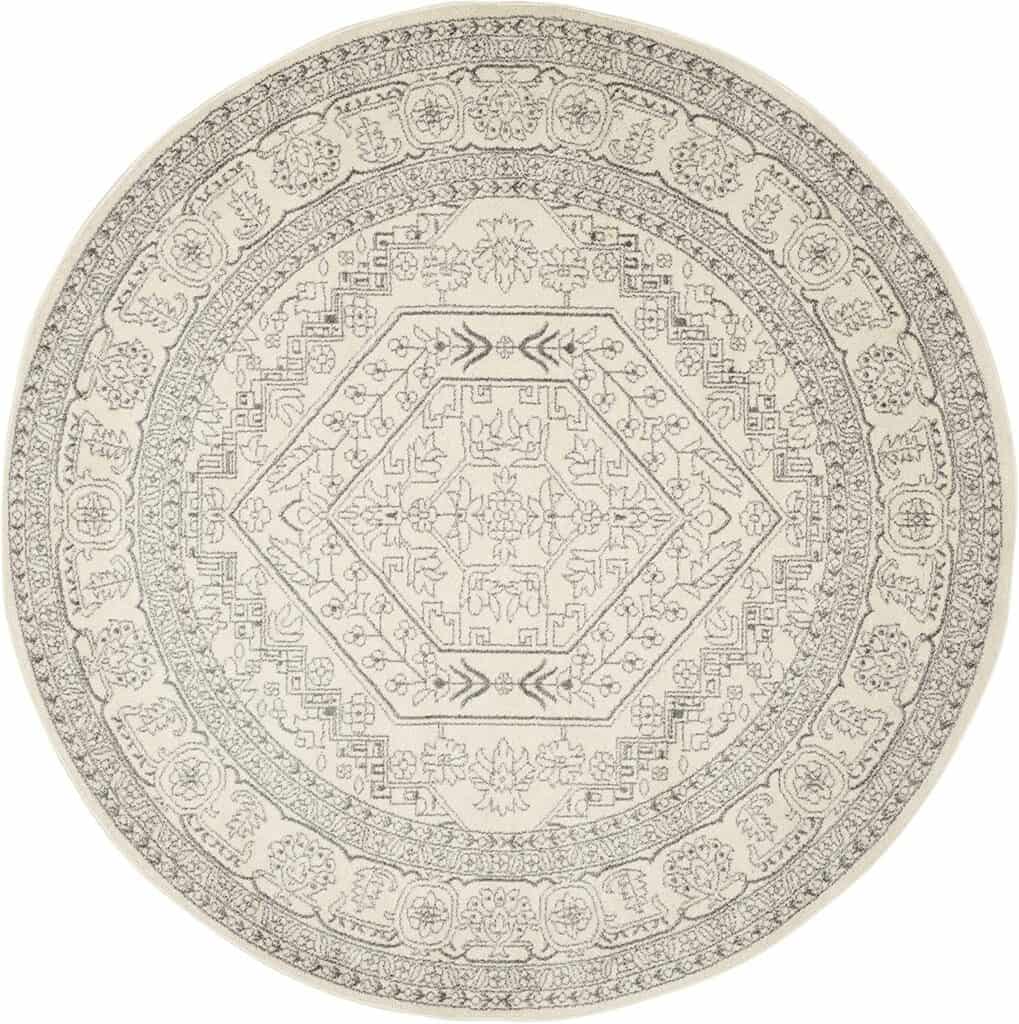 This 8′ round is a great neutral rug to add a round 4 seater table. But, it comes in multiple colors, sizes, and is stain resistant.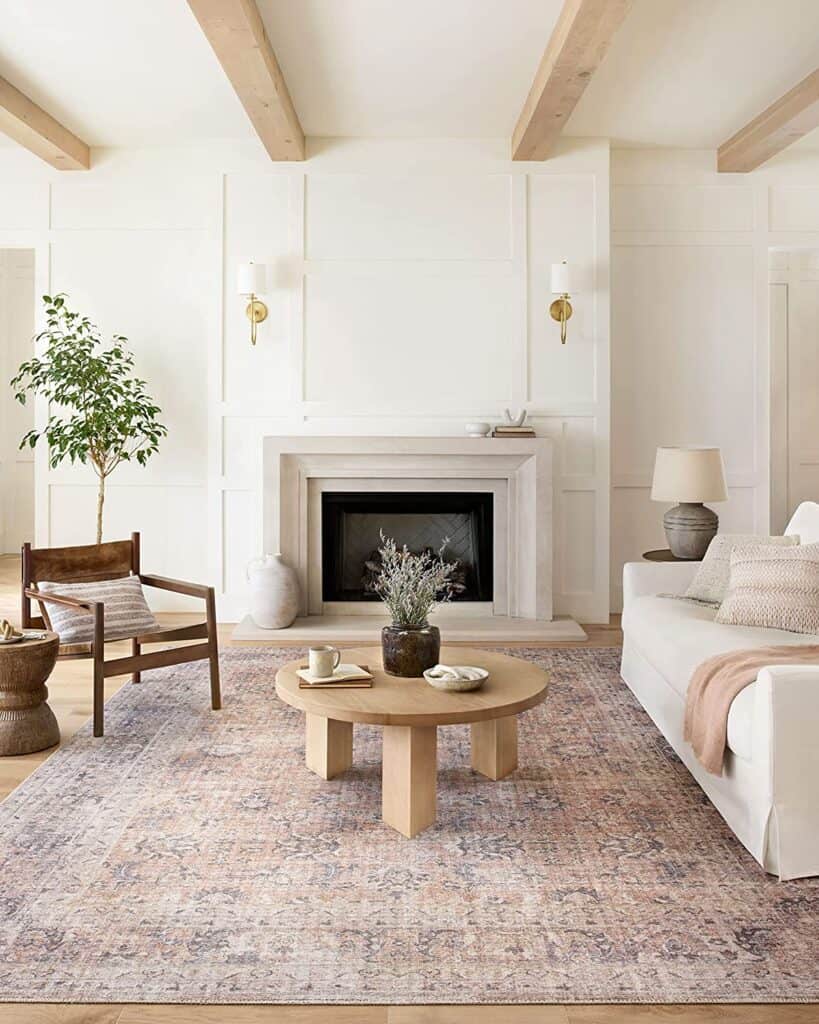 This 9'x12′ rug is on major sale right now- 50% off! If you are looking for something with a bit more color but still has a neutral upscale vibe, this is a great option. I love how it complements the light wood tones in the coffee table but also looks great with the darker chair. Check it out for more sizes and colors!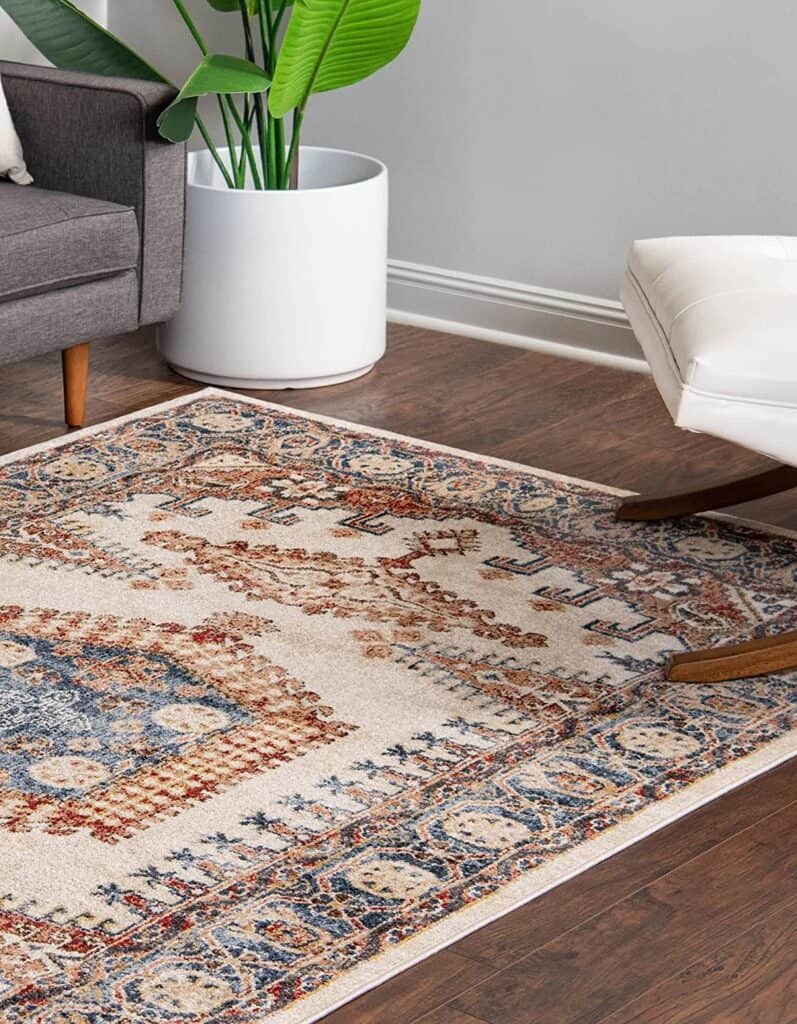 This 8×10 or 9×12 rug would be a great option to warm up a space with more neutral tones. With pops of color from red, blue, and mustard, to more neutral tones of brown, cream, and beige this rug would make a great statement.
10. Amber Lewis x Loloi Georgie Collection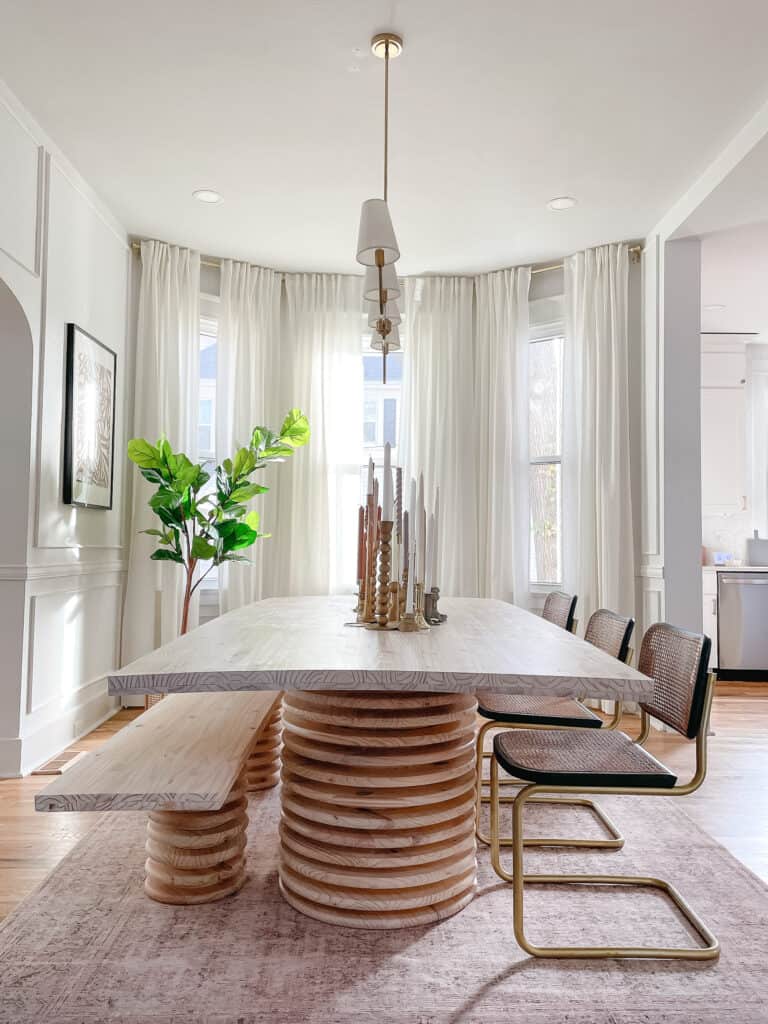 This is my dining room rug, and I adore it! It adds a perfect blush tone that isn't too pink. You can read all about how I decided to use this rug and how it works in the room in this post about how to add texture to a room.
11. Amber Lewis x Loloi Billie Collection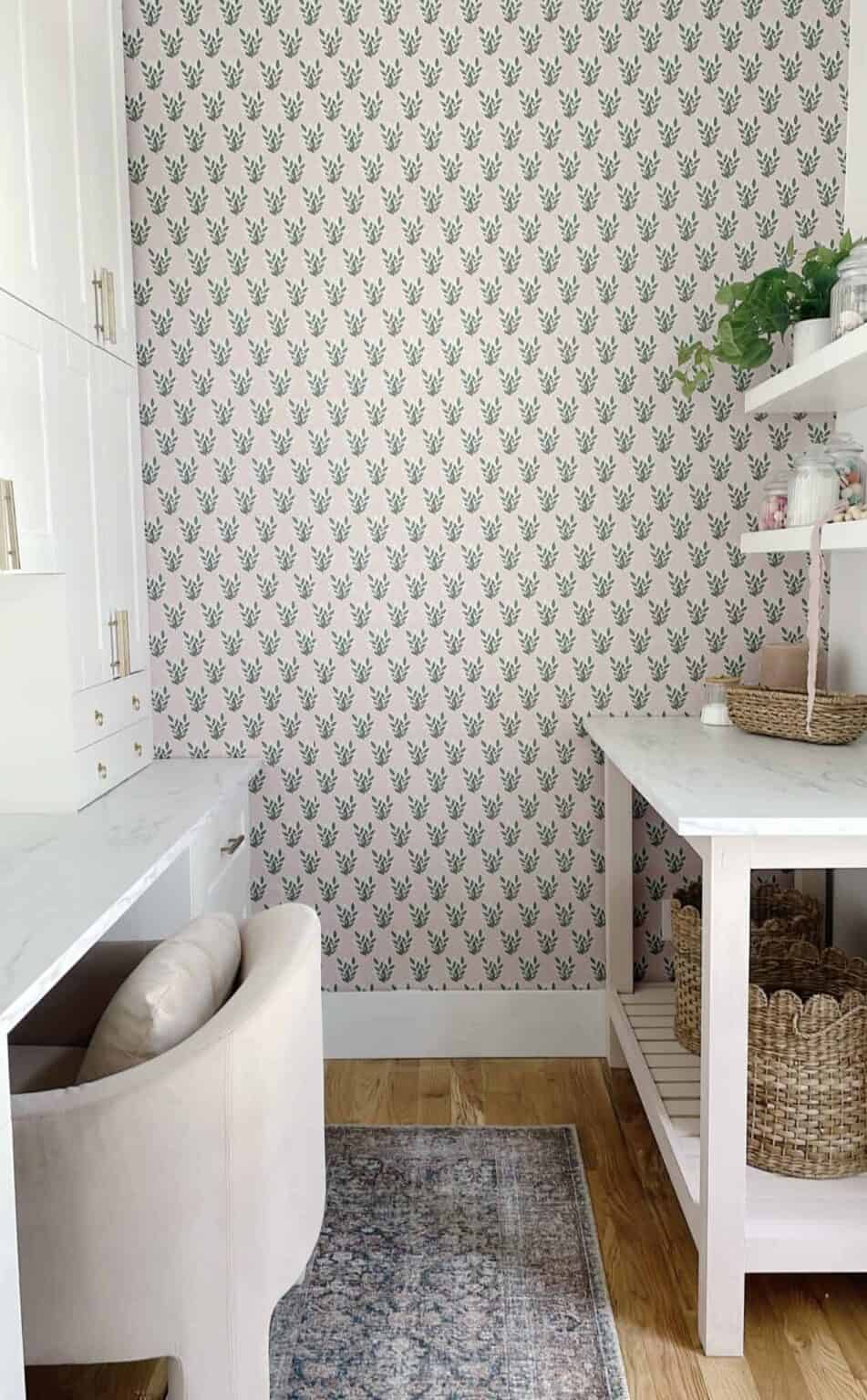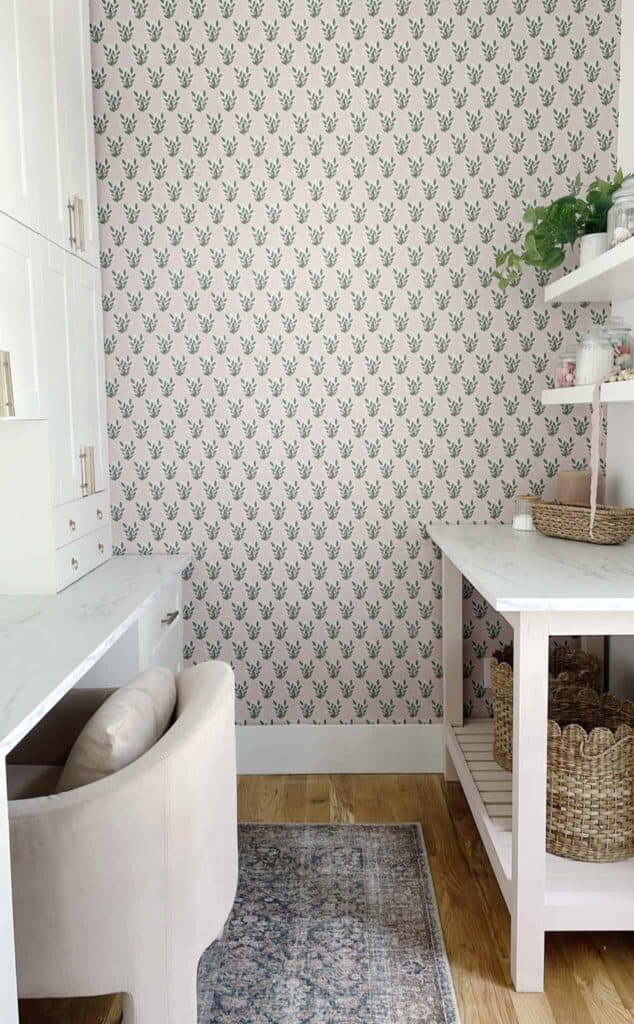 I have this rug in my Small Home Office design, and I absolutely love it. There are so many different hues in the rug that you can hone in on one color to accent the room. I chose pink accessories to pull out the salmon color, but you could also opt for more modern charcoal accessories for a more masculine look. And it is stain and fade resistant so don't worry about putting it in a high traffic room!
12. Herdanza Black & White Rug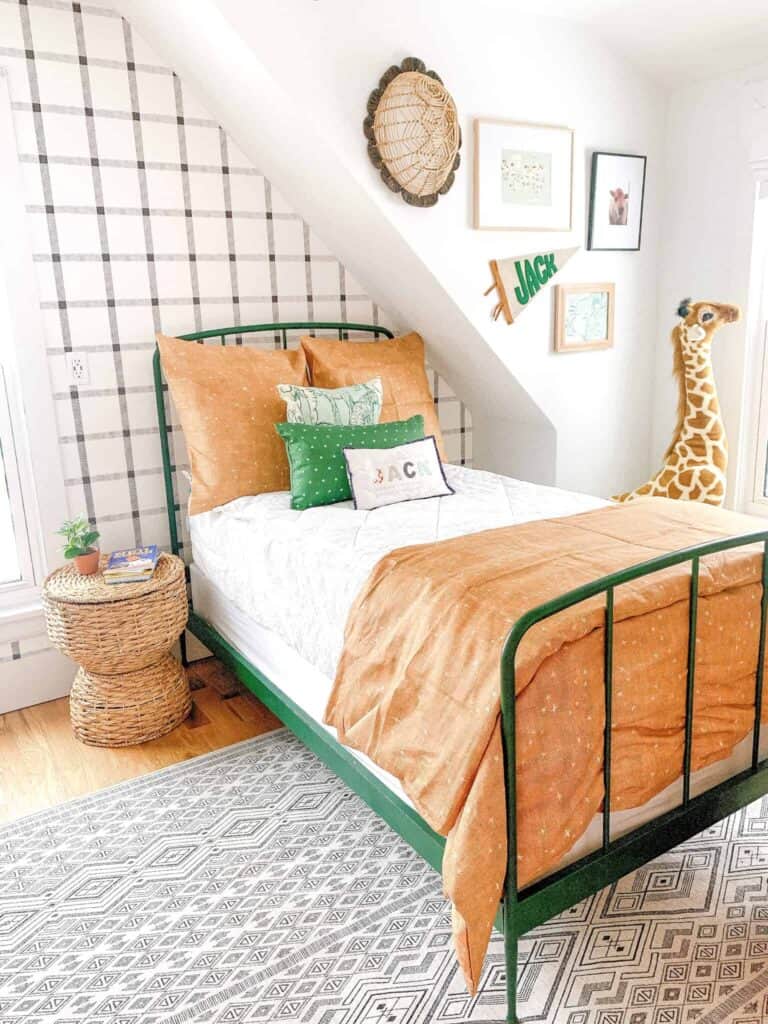 This is such an interesting rug! The pattern is busy, but the neutral colors allow it to play well off of other patterns! I used this in Jack's room and it adds so much interest. I also love that you can just throw the Ruggable into the wash and call it a day. Now, if I could just throw the rest of his room in there!
Don't forget Accessories!
Don't forget your rug pads! You'll want to put these down before placing your rug down. This will help prevent slips and slides and will keep your rug in place. I also swear by this rug tape that will keep your rugs from going anywhere but doesn't damage floors!
Other Posts You'll Love
9 Modern Area Rugs for Living Rooms | Favorite Rugs  |   Pink Bohemian Rugs  |   Best Wood For Dining Table  |  Dining Room Light Fixture  |  Kitchen Rug Runners
Pin This Photo Below For Later
I hope this post gave you some good insight on how to pick the right rug for your dining room. One of the best ways to create a cohesive dining room is to frame your dining area with the right sized rug. Choose the size of the rug based on your dining table's shape and size. The material can be entirely your choice, but you'll want to keep in mind how you intend to use your dining room to find the perfect material.
Adding texture, patterns, and colors can further enhance your dining room's aesthetics and create the perfect place for your family to gather. If you have any questions on my dining room rug size guide feel free to leave them in the comments section, and follow me on Instagram @arinsolange and TikTok for more home, decor, and DIY.