Easter is around the corner – so you know I had to give some kids Easter Party inspiration! I teamed up with my sweet friends at Party Hop Shop again to show you just how gorgeous you can make an Easter party, but with the added bonus of some floral inspiration for any party needs!
This post may contain affiliate links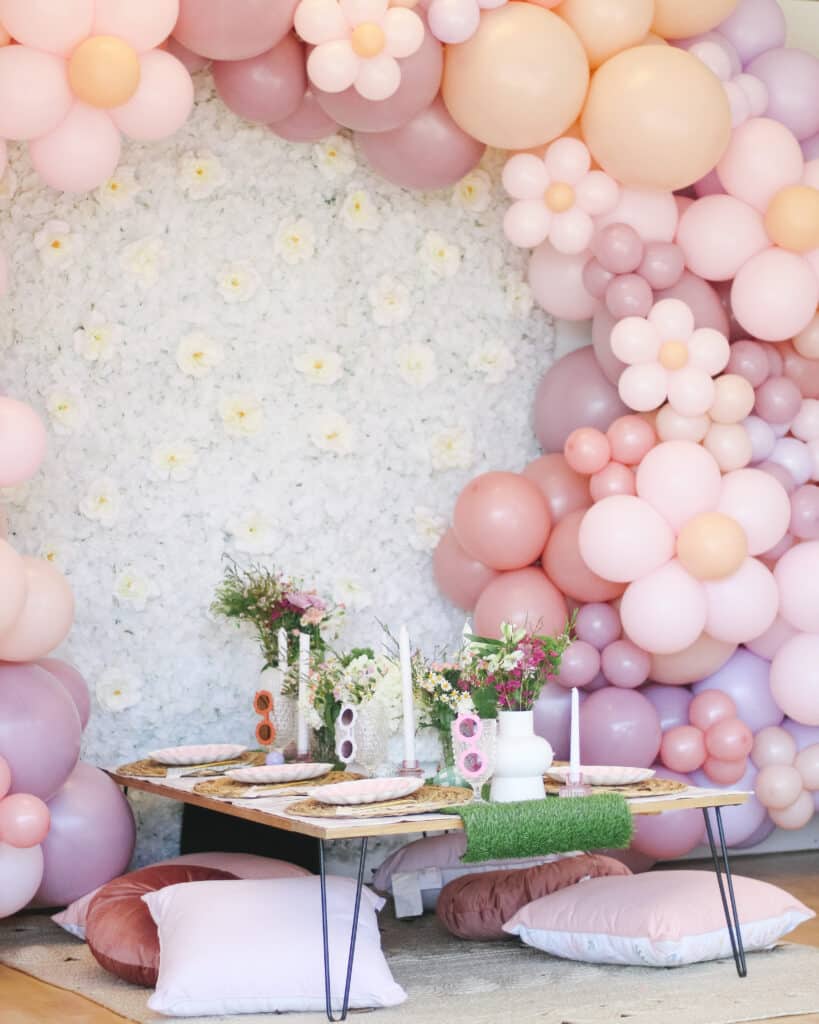 Kids Easter Party
One of my favorite parts of being a mom over the years has been the elaborate set ups for holiday parties….none ever THIS elaborate, but elaborate none the less. When the Ashley's from Party Hop Shop and I team up for these fun parties we always aim to give you inspiration you can draw from, full well knowing most of you wont be throwing this whole thing together for your kids on Easter!
This year for the kids Easter party we tried to really elevate the tables cape a bit so you cold use it as inspiration in your adult Easter dinner table.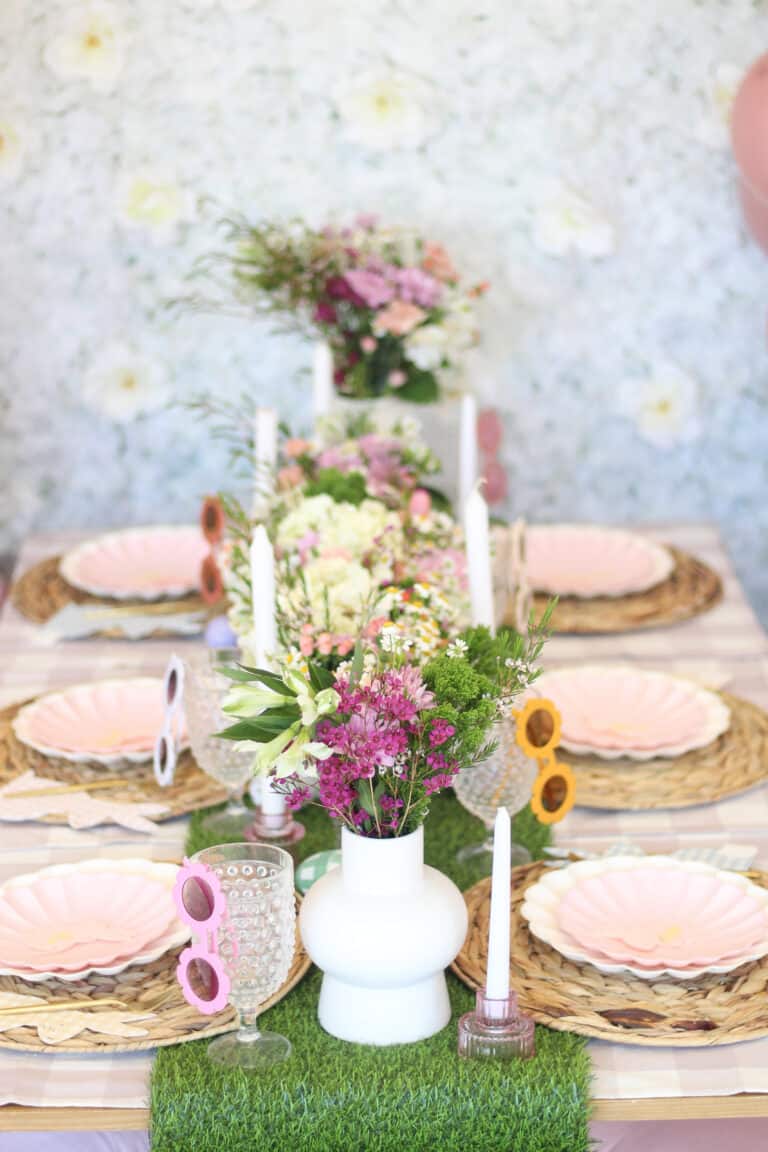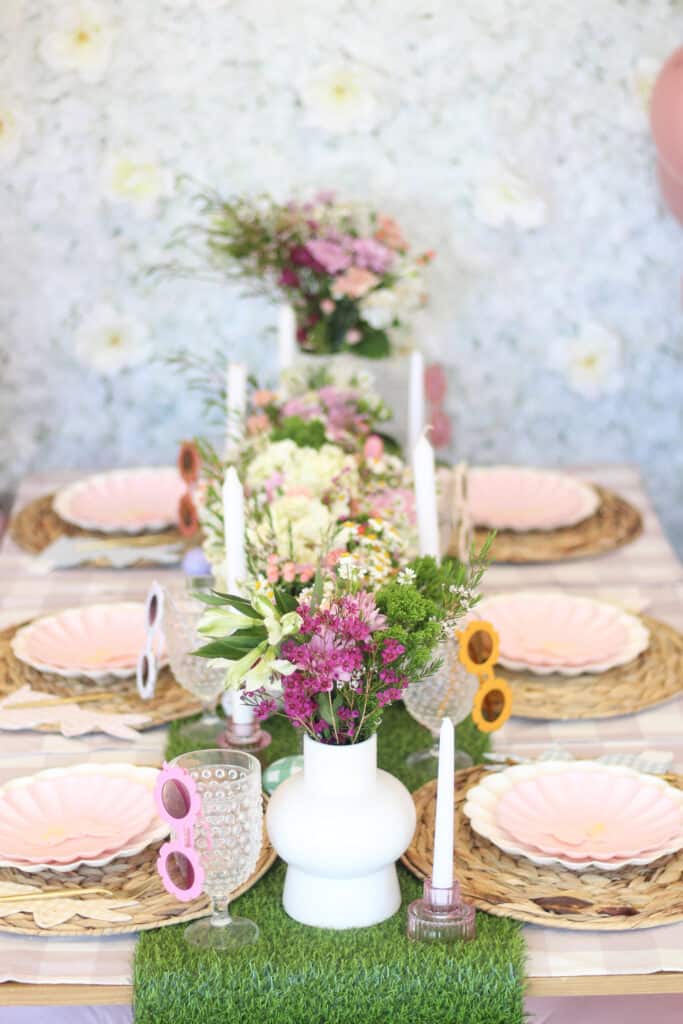 Creating an Easter Table
Easter tables are so fun to create. I think there is something about getting out the pastels and the flowers for that first really springy table of the year that just makes my heart so happy. Like I said above – when it came to this table scape we did a good mix of 'kids Easter party' and adult table scape – so I think there is plenty you can draw from.
I tend to follow a few rules when creating all table-scapes, but in general with Easter have some tips below that are easy to follow.
I will both link to the items that we used below, but also give some tips on how you can implement this look into your own table this year, whether for your kids or your dinner table.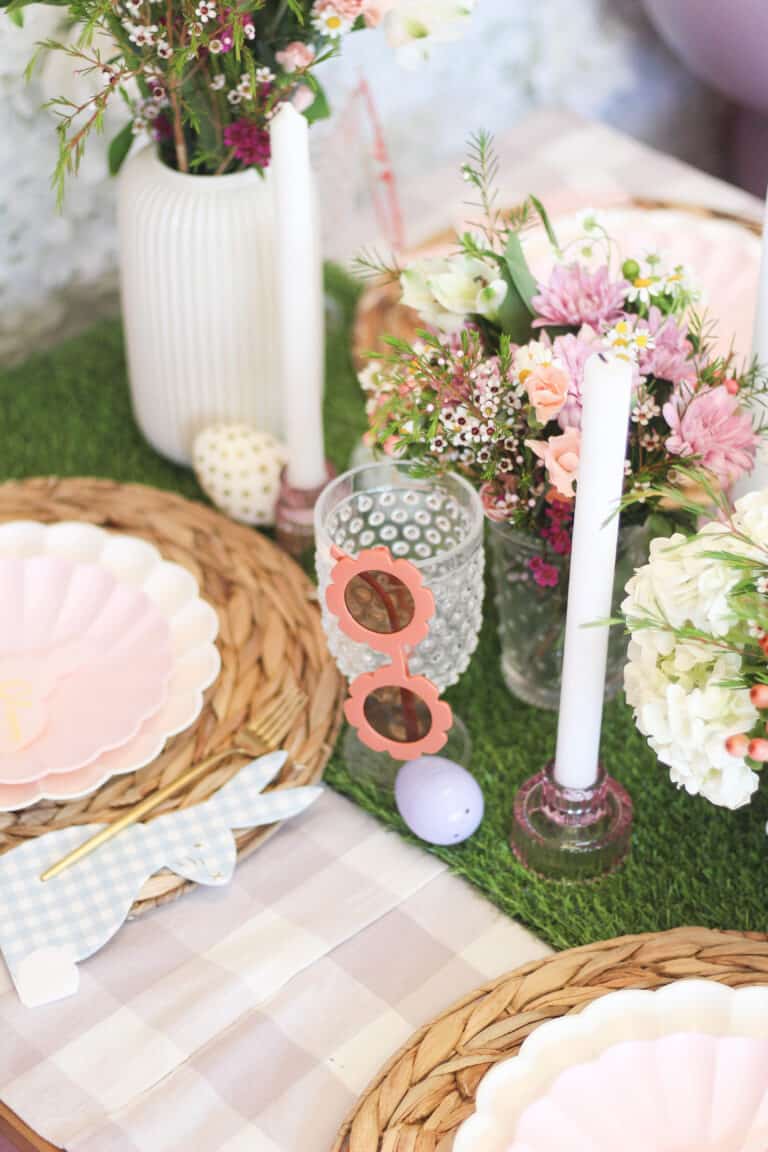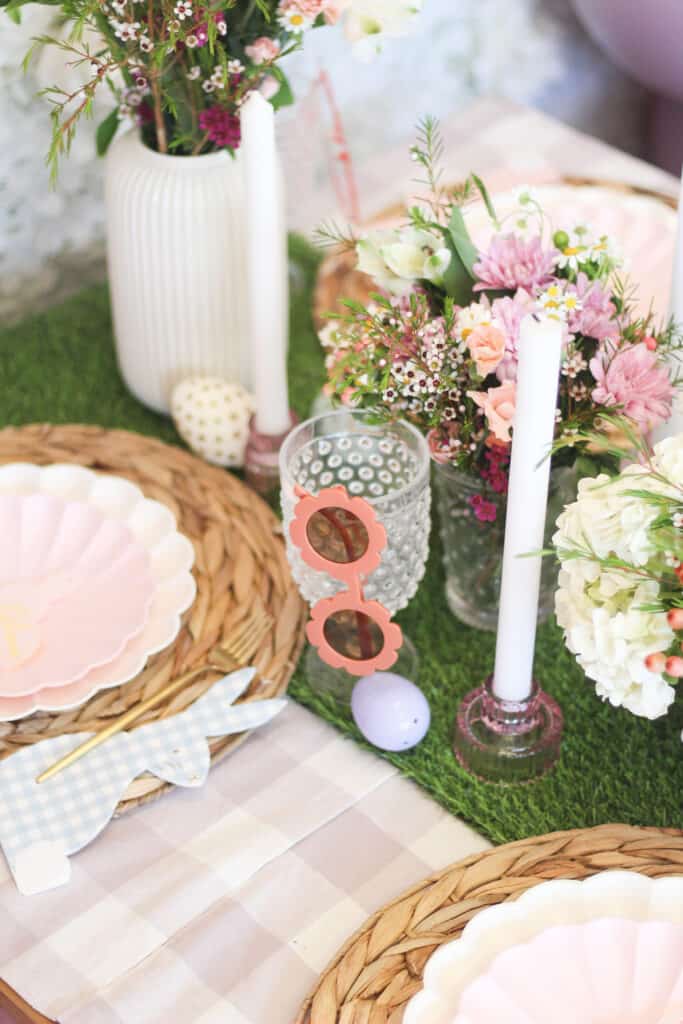 Table Cloth
A tablecloth or table runner is almost always a must for me when it comes to creating a table scape, but in this case we got really creative. Our vision included a white table, but the table we were working with was not white, so we decided to use large oversized and layered cloth napkins to create the tablecloth and it was so cute in the end.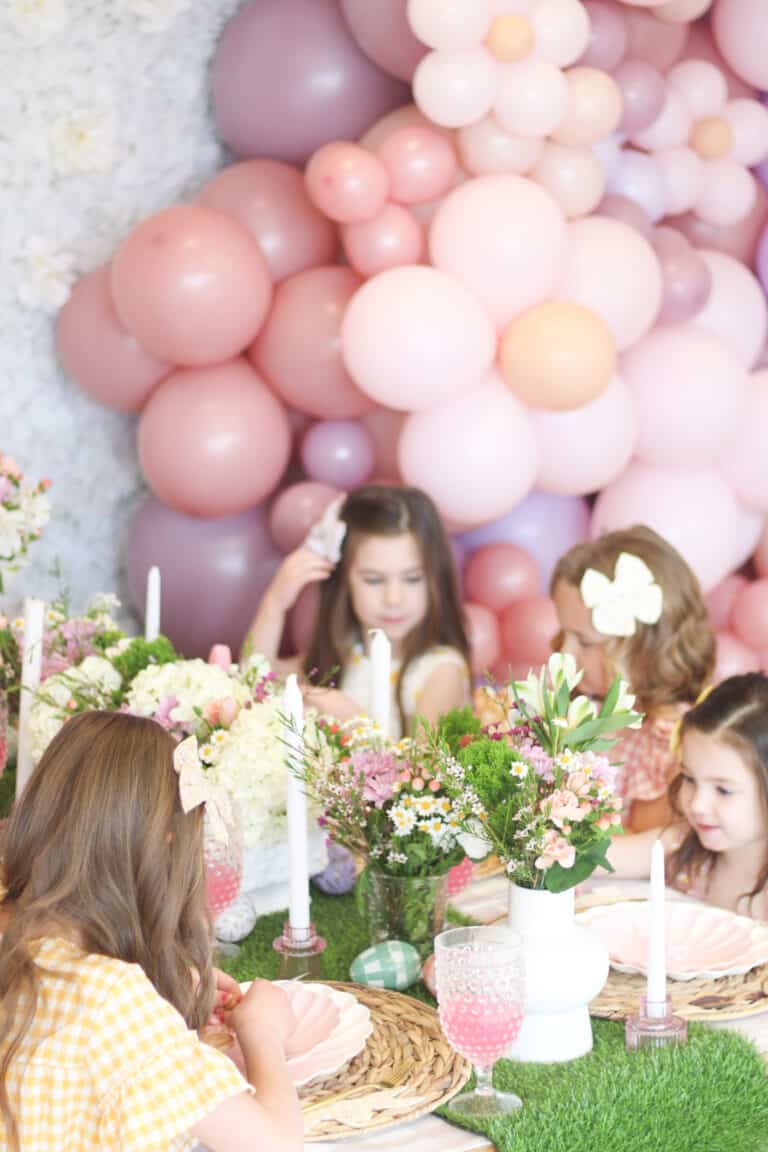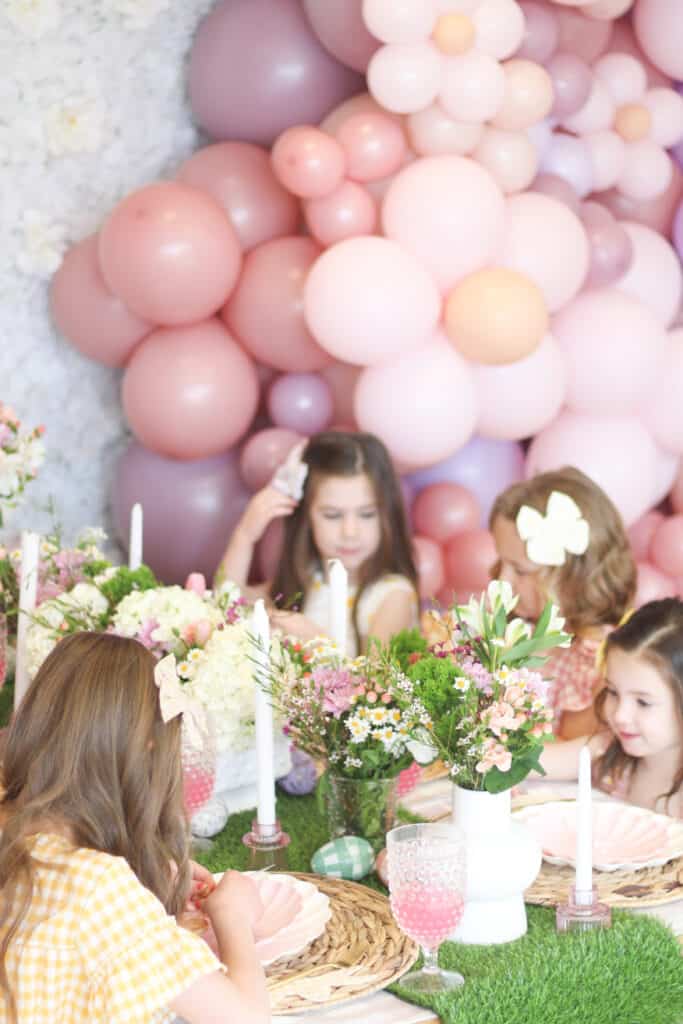 The bonus to this was we were able to get a fun and creative look for a tablecloth, but with something that will be more frequently used in other tablescapes with the cloth napkins. Below are the cloth napkins we used for out table covering, a link to my favorite Amazon table, and some gorgeous napkin rings to pair with them.
For this table setting we also went with a faux grass table runner and that was such a fun addition that would be amazing with so many kids parties.
Purple Gingham Cloth Napkins | Gorgeous Scalloped Table Cloth | Gold Bunny Napkin Rings | Faux Grass Table Runner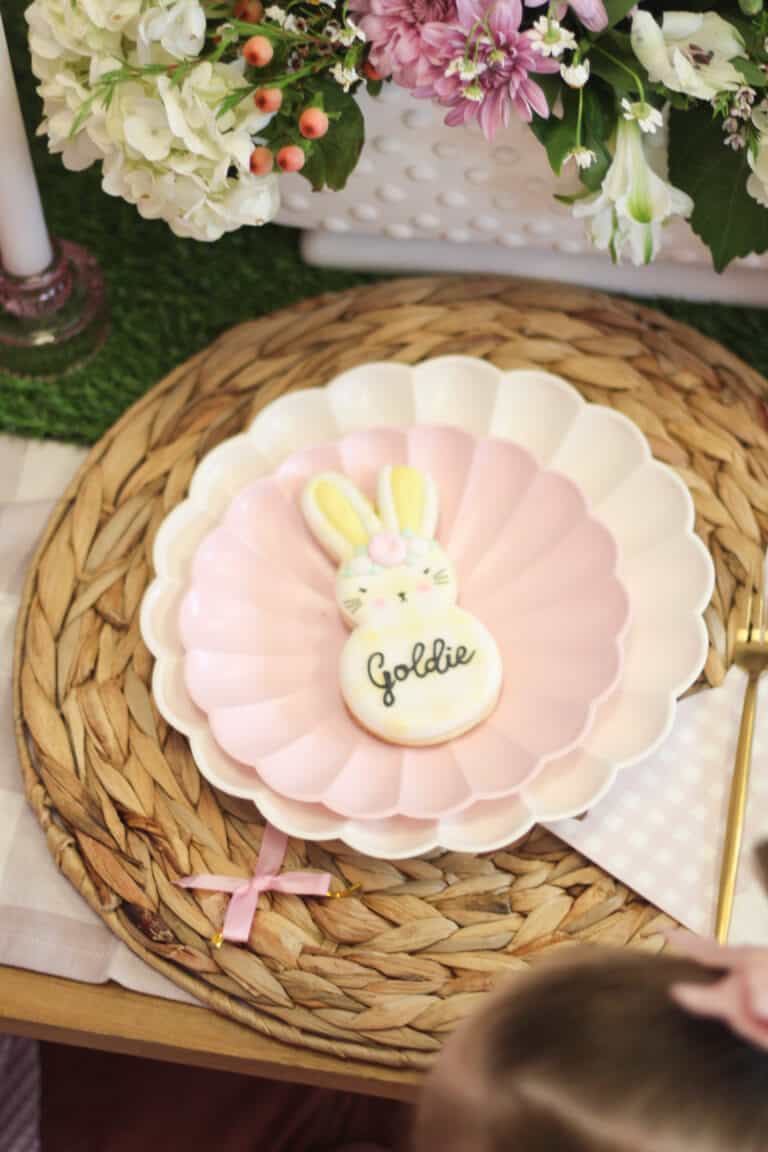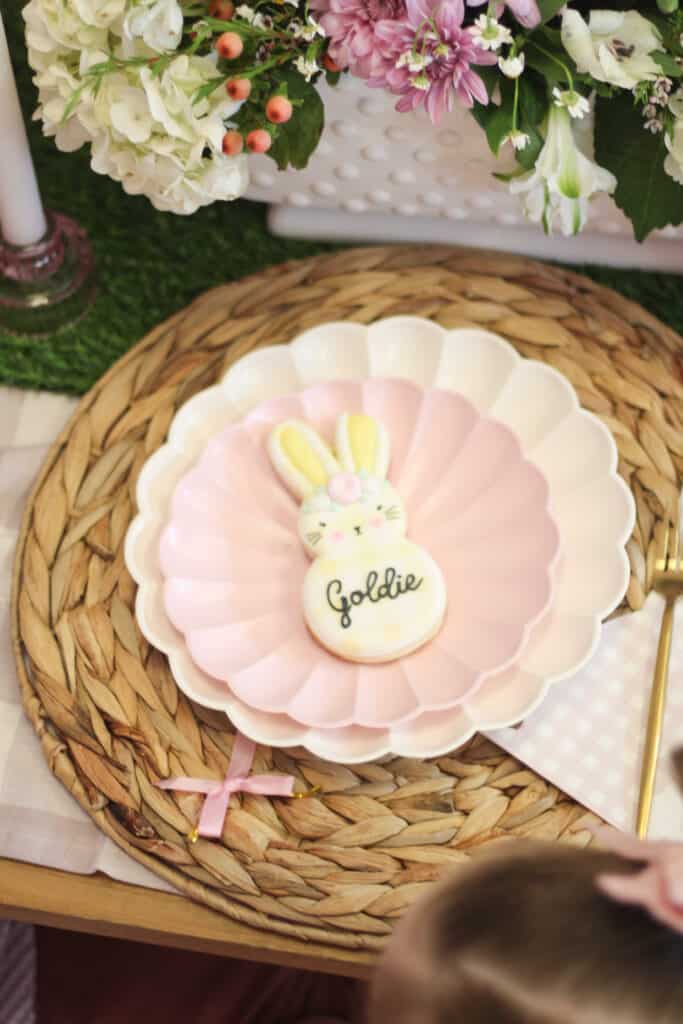 Setting the Table
Once you have decided on a table runner and or cloth it is time to set your table. With this being a kids party we did a good mix of some non breakable plates that are reusable (so they could feel fancy), and disposable plates. It was a great mix that allowed for a fun, stress free set up, and visually should make for an easy transition to an 'adult' table if you are going that route.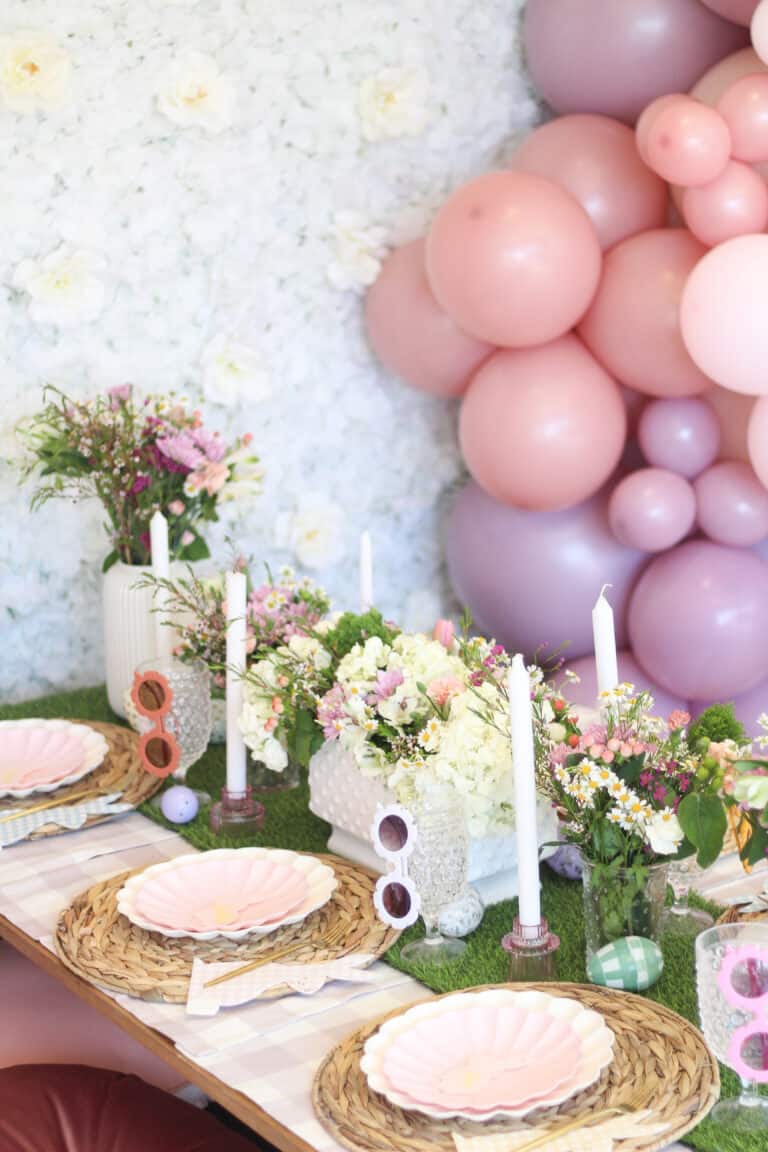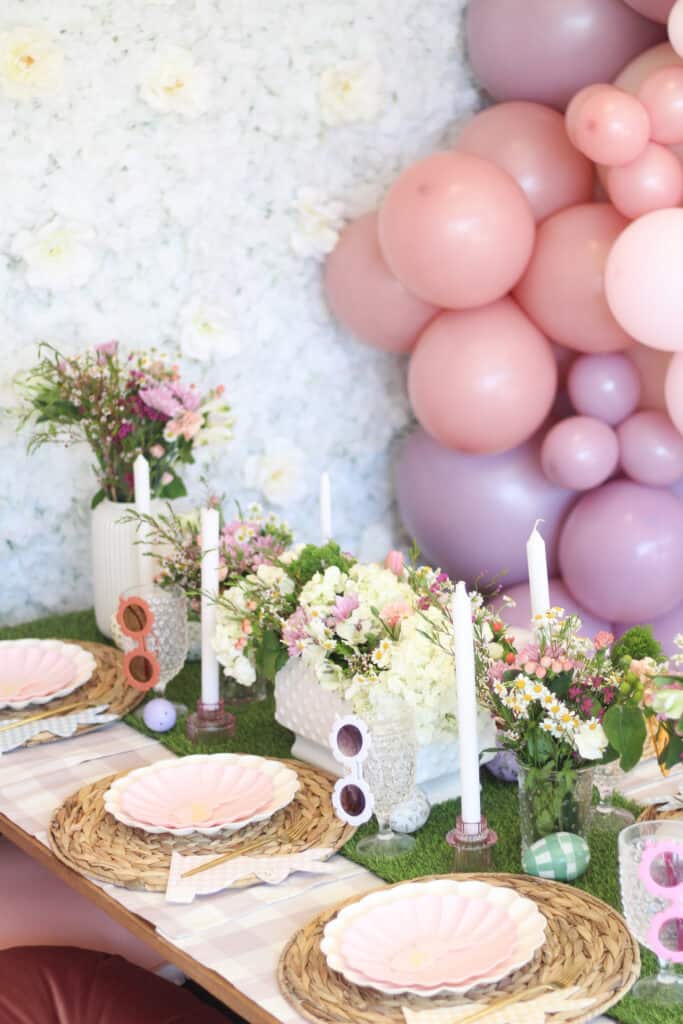 I try to mix color and texture when it comes to my table settings, and in this case started with rattan chargers, then the two different plates. For silverware we added in another element with the gold, and the cups add texture without being overly loud.
I use the same cups for many of my table settings because they are so simple and elegant and they are very affordable to keep on hand. Everything in this particular table setting is from Amazon and you can find the links below.
Chargers | Large Plates | Small Plates | Glasses | Napkins | Silverware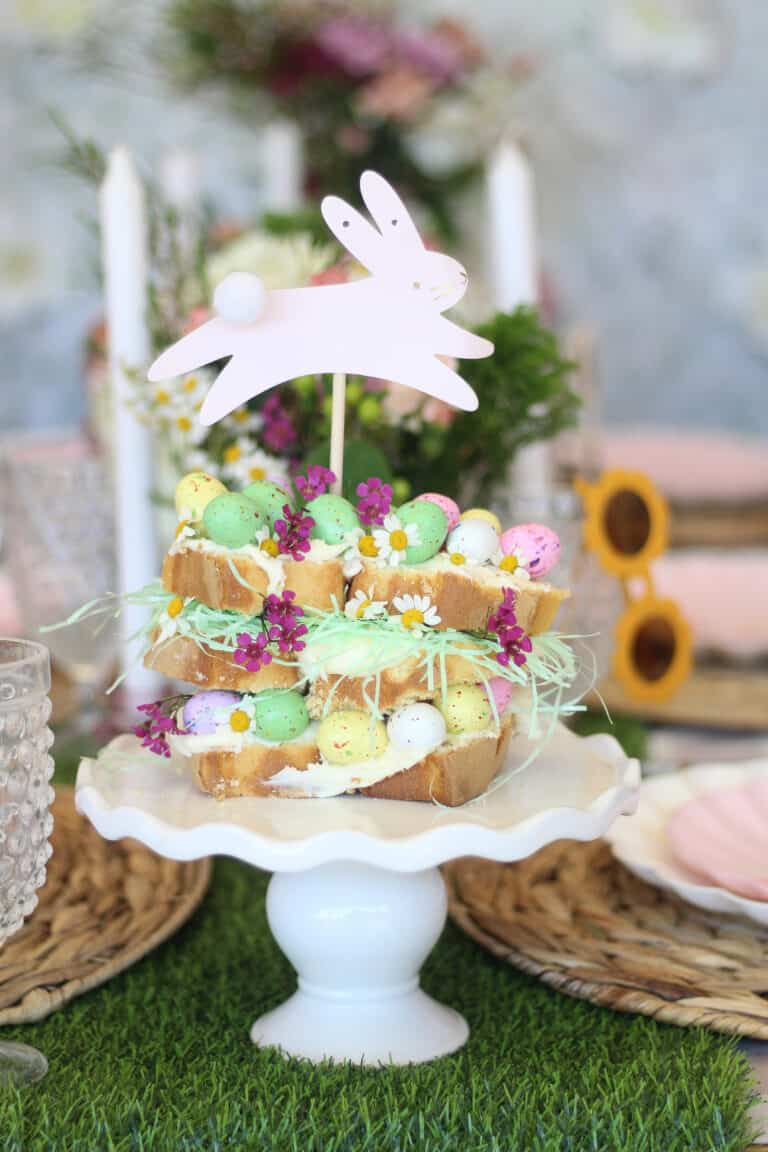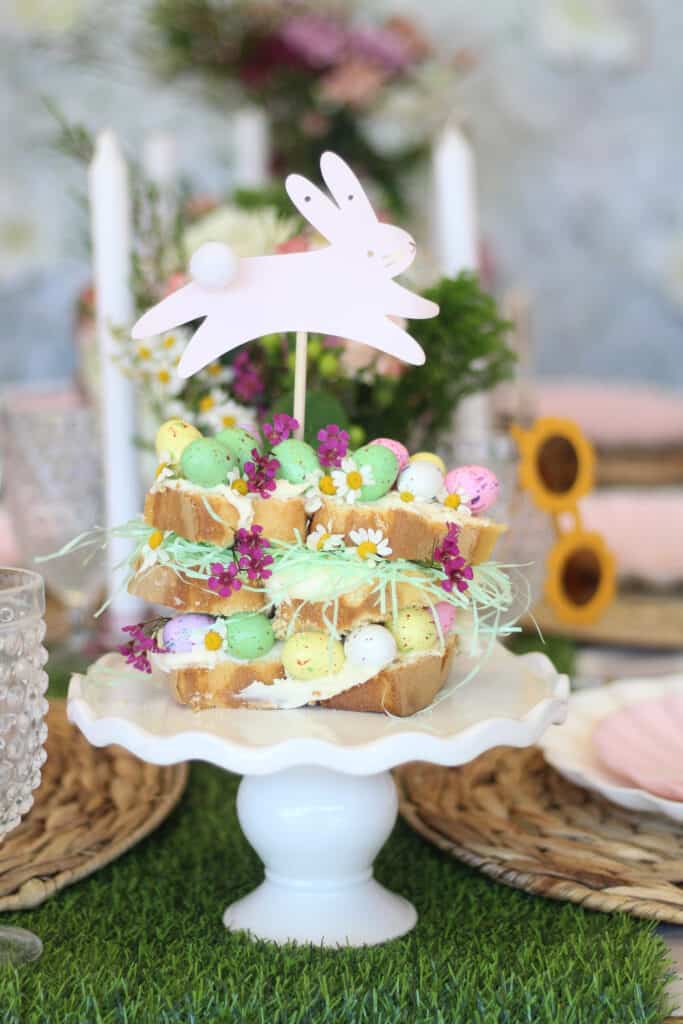 It's all in the Details – Finishing the Kids Easter Party Table
Now you have the necessities done and we added some fun details to the table. In this case I used white vases and gorgeous flowers from Trader Joes to create the table setting. We added in some plastic Easter eggs, and some gorgeous pink glass candle sticks and we were good to go.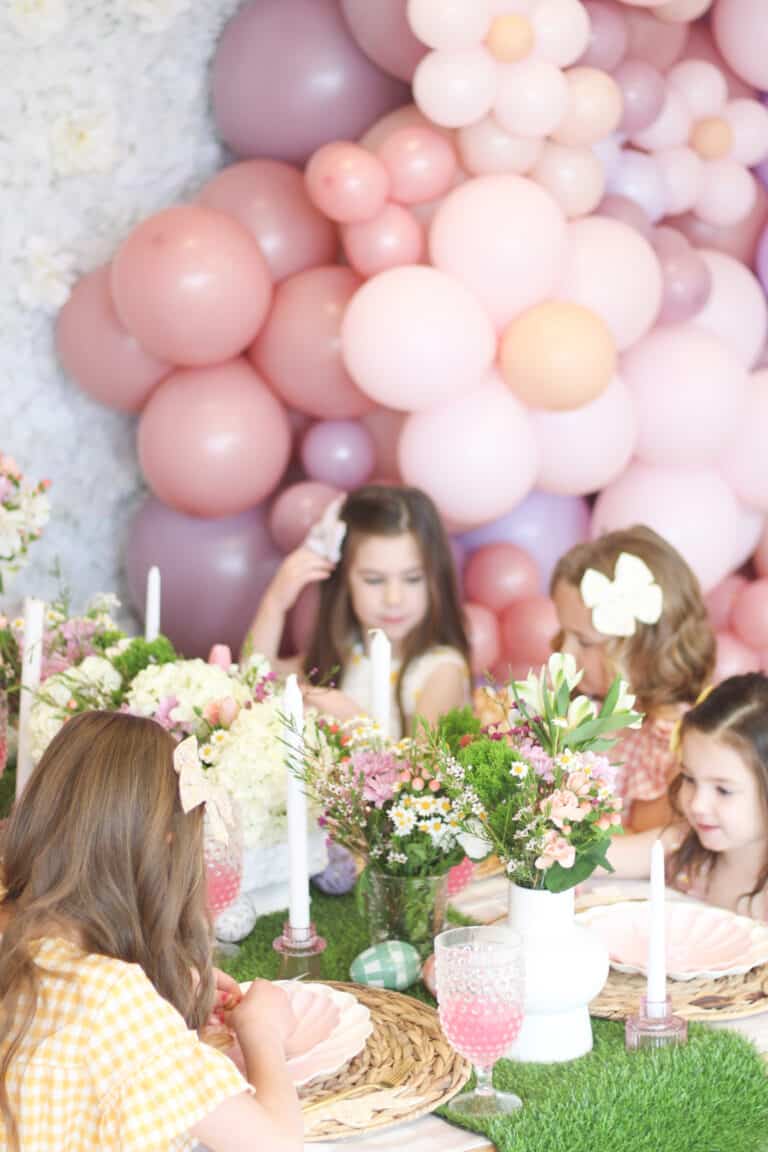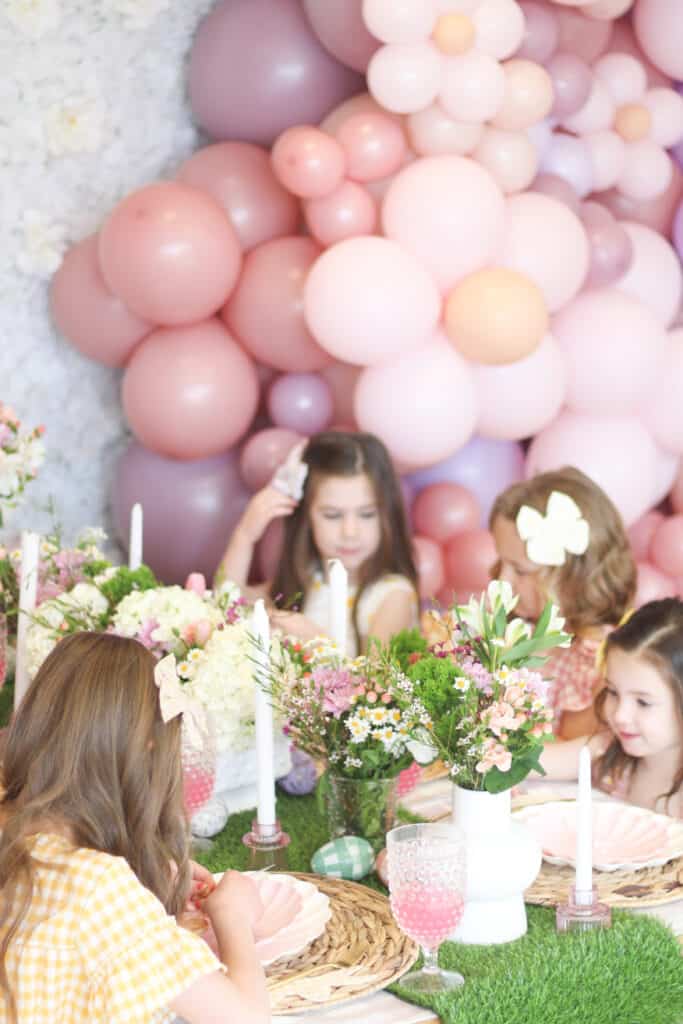 I think often times we try to do too much when it comes to the centerpiece, and it is not necessary. In this case the flowers did all the work, and we were able to just showcase them with the small details.
Long White Vase | Pink Candle Holders
For the backdrop and balloons Party Hop Shop did all the work and it was AMAZING. I Think they did a great job of showing both Easter balloons and inspiration while also showing how it could translate to a birthday party or any other spring or summer event.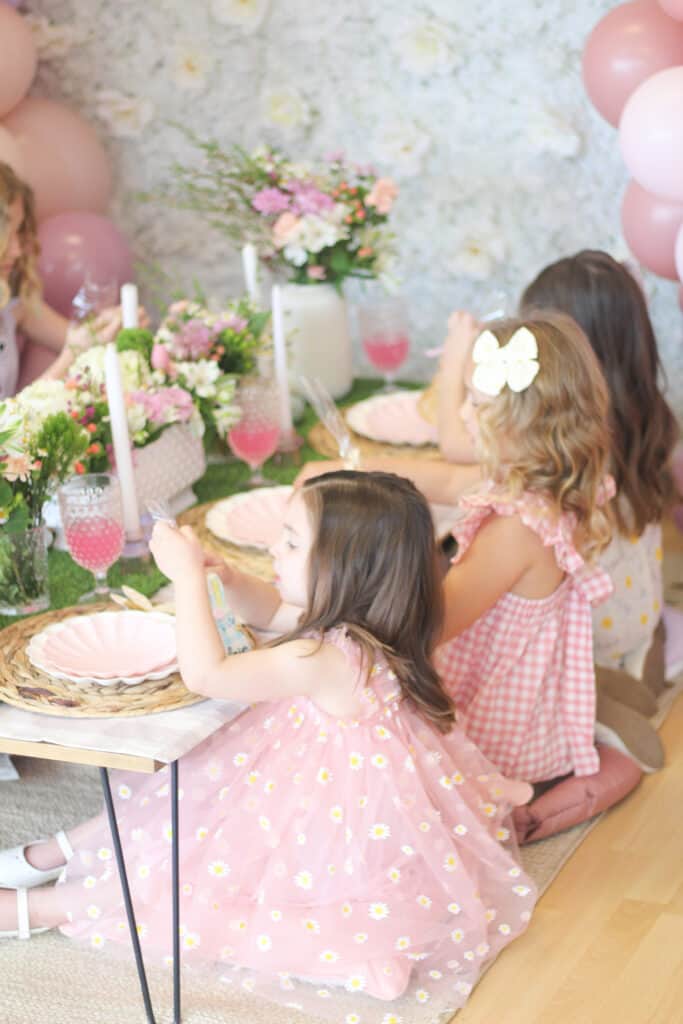 They share a lot more about how they create these gorgeous master pieces on their Instagram and TitTok so be sure to check them out!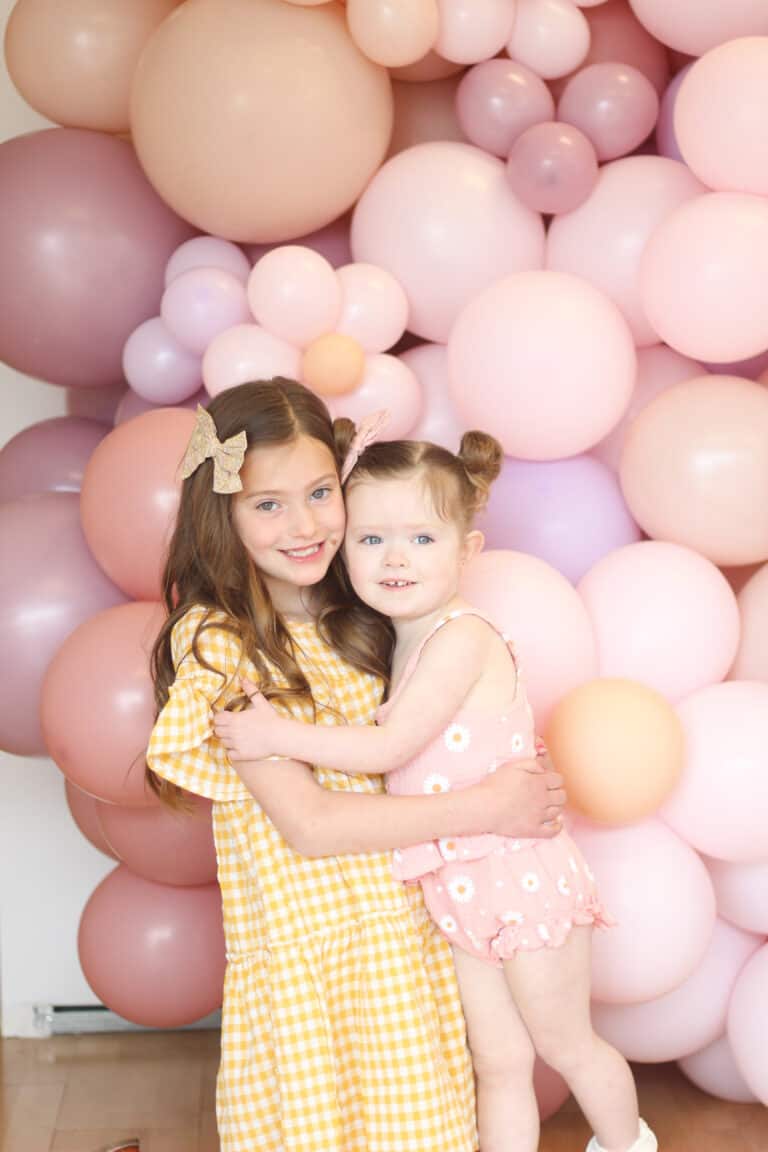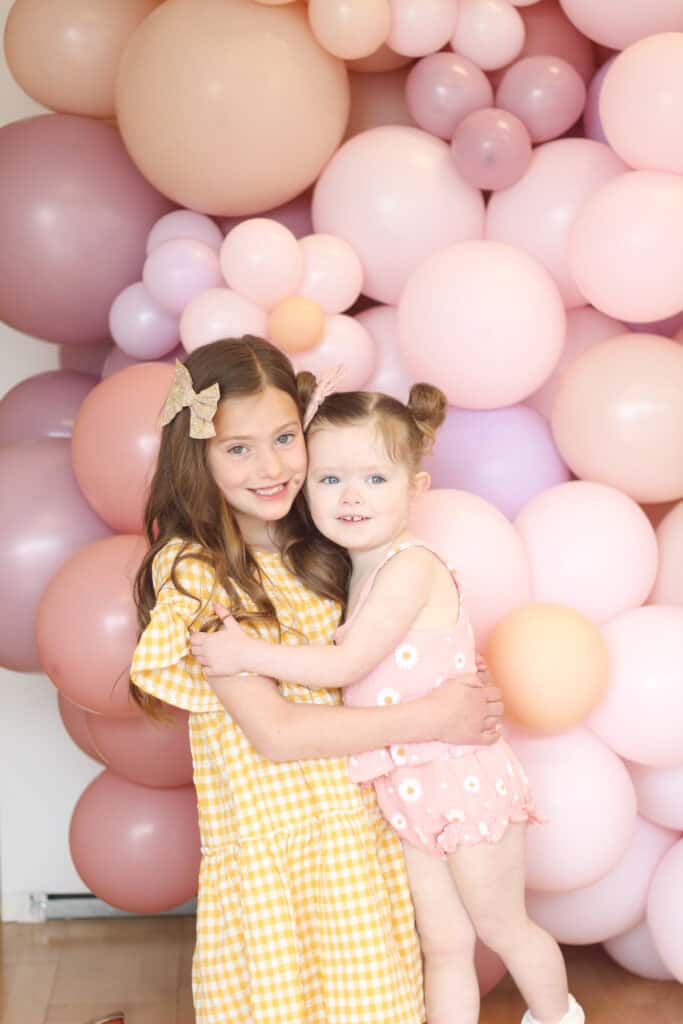 Kids Outfit Inspiration
For this little party we ended up getting all the girls absolutely adorable outfits from Amazon, so if you are looking for some cute outfits for spring or for this party be sure to grab some of these as well!
Purple Striped Dress | Yellow Gingham Dress | Daisy Dress in White | Two piece toddler outfit | Pink Daisy Dress | Flower Sunglasses | Pink Gingham Dress
There are also lots of other cute accessories and pieces linked here on my Amazon store!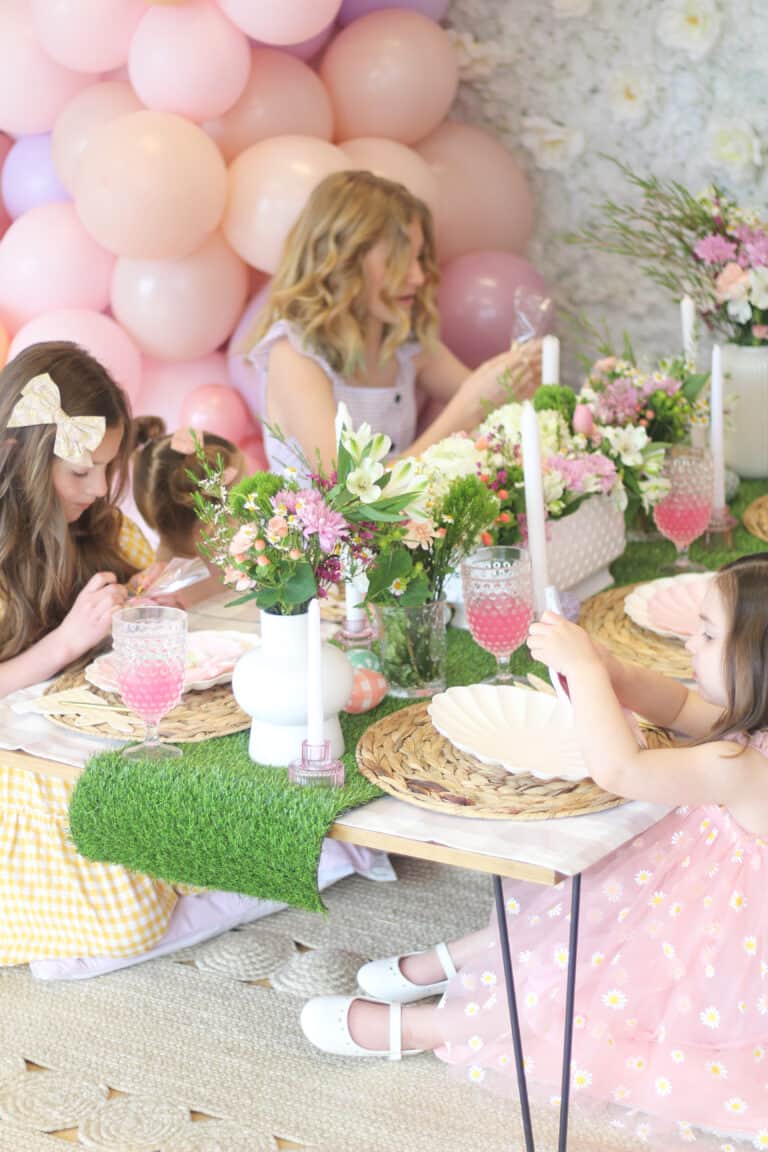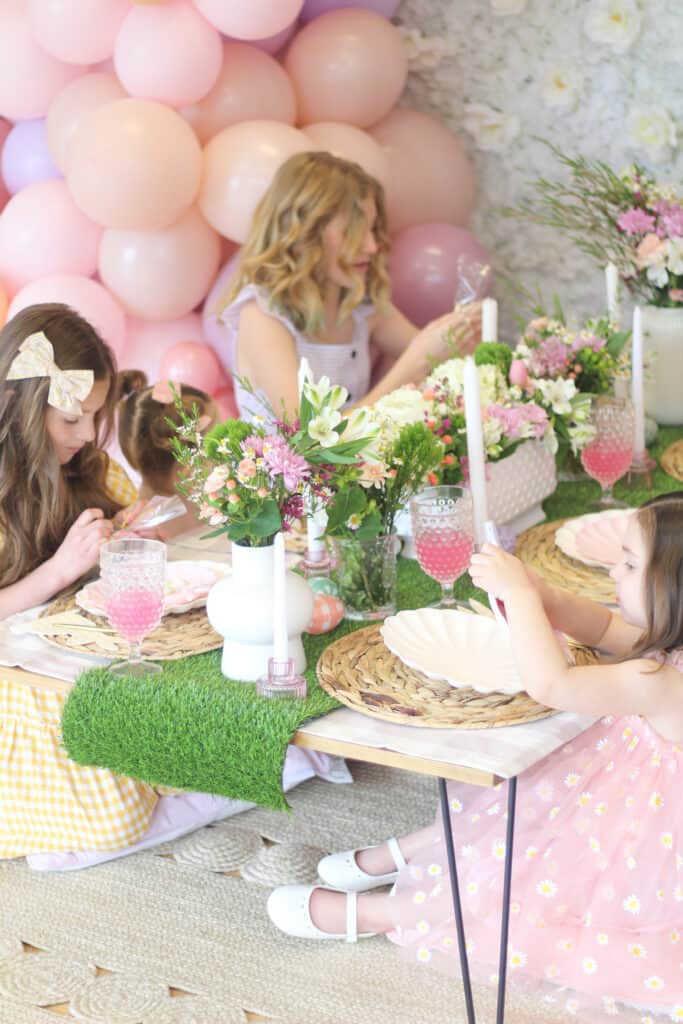 Shop this Kids Easter Party
Although most of the details have been linked already, I wanted to share links to everything in one place incase that makes things easier for you. Shop the image below to find all the items we used to create this gorgeous kids Easter party.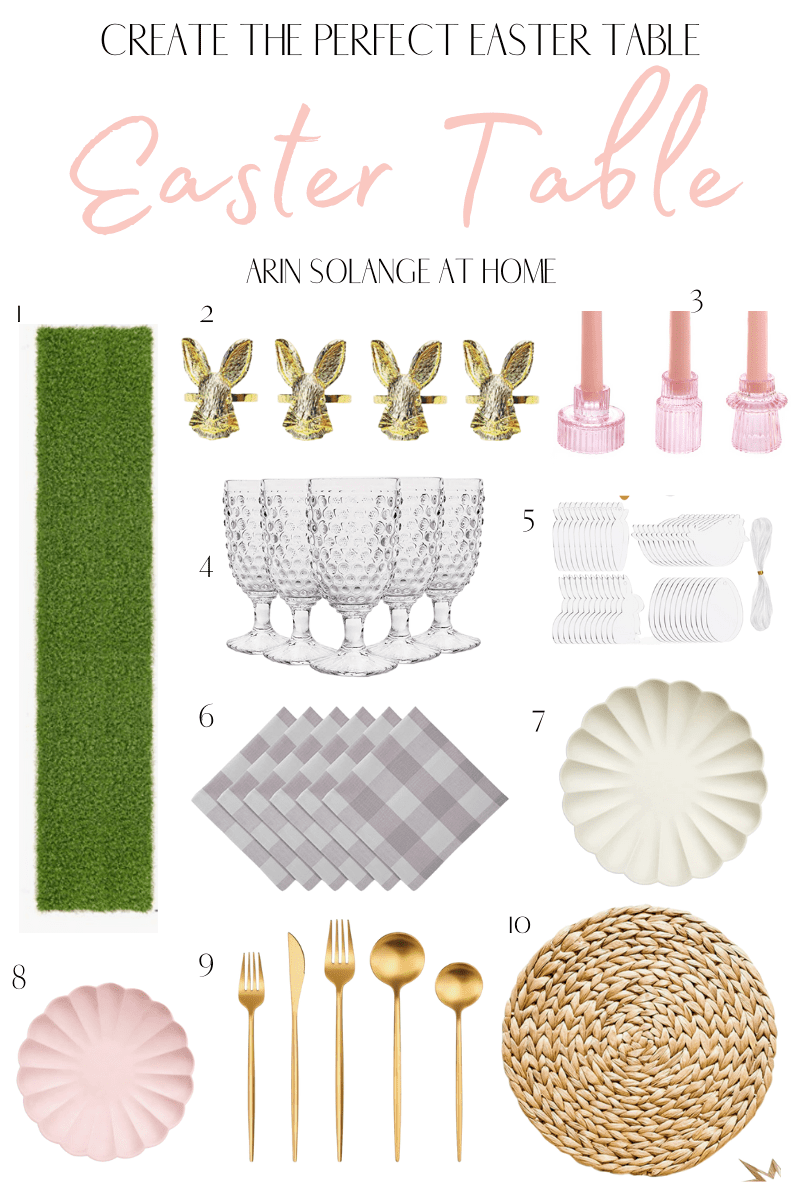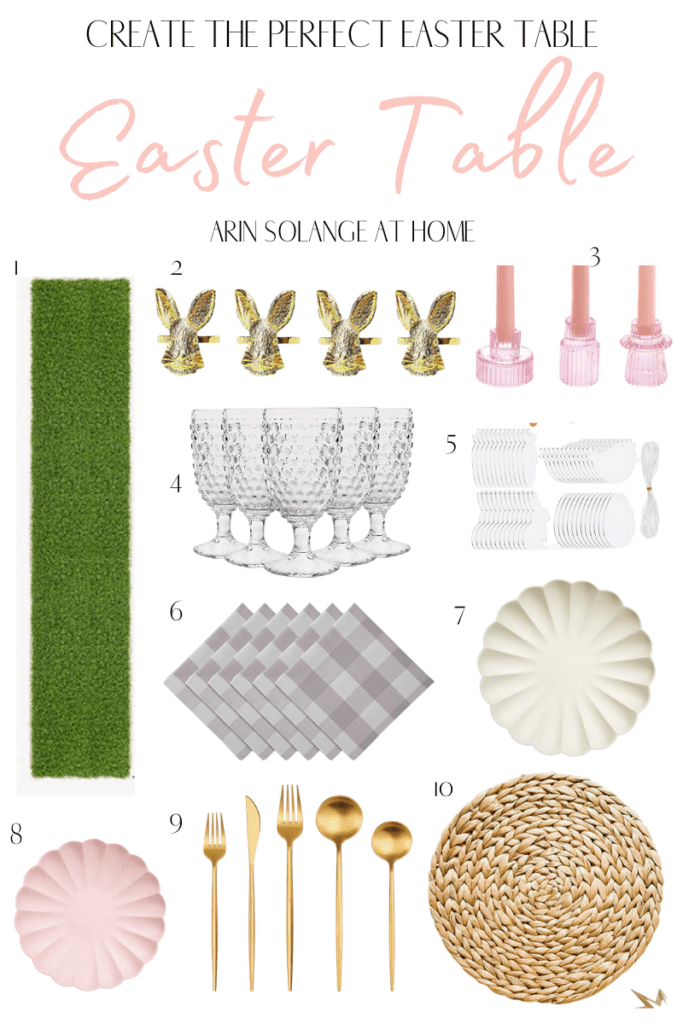 1 | 2 | 3 | 4 | 5 | 6 | 7 | 8 | 9 | 10
Shop Items Below
Hopefully that covered all the bases and you feel like you can tackle a kids Easter party or Easter dinner table scape this year that will wow your guests.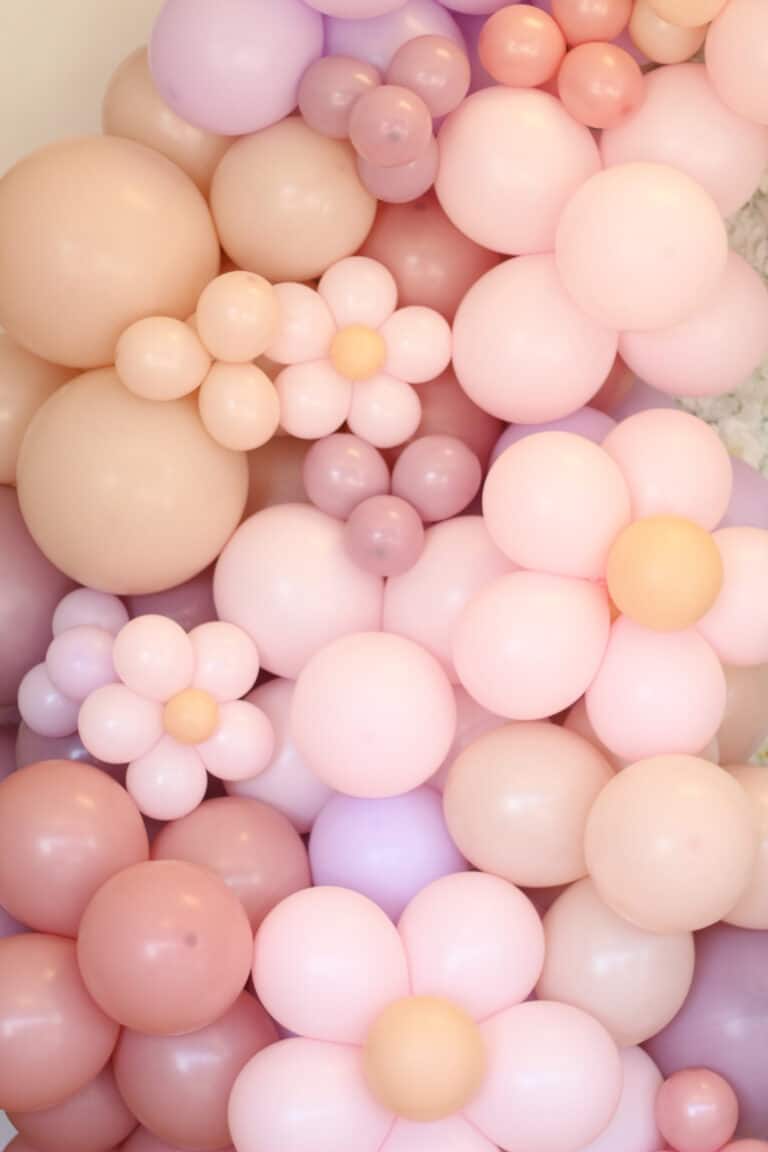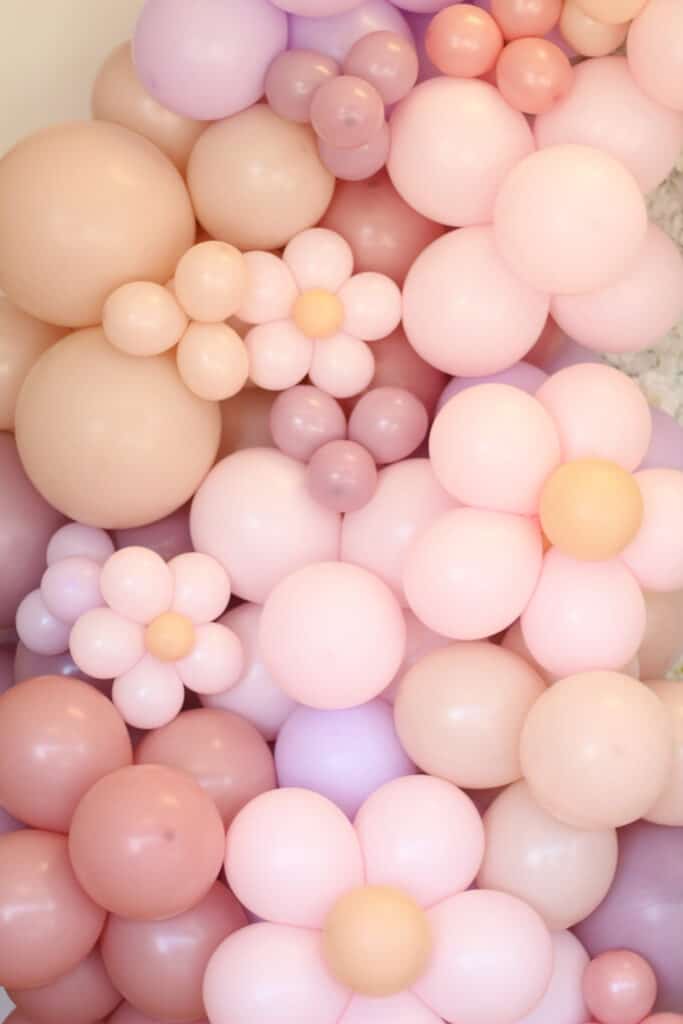 Other Posts You'll Love
Round Table Runner Ideas | Girls Easter Baskets | Baby Easter Baskets | Easter Books | Boys Easter Baskets | Easter Dresses | Easter Pajamas
Pin the Photo Below for Later
Hopefully this helped you find the kids Easter Party inspiration you needed for this year, and you left ready to create a fun and meaningful Easter for your whole family. Be sure to pin the photo below to find this post later, and leave any questions in the comments, and don't forget to follow me on Instagram and TikTok (@arinsolange) for more inspiration.