Have you ever found yourself wondering how much knee space for your kitchen island is needed?  If you are about to embark on a kitchen remodel, chances are you have your head spinning with dimensions for every selection you make or still have to make.  This post will help make that one decision in your planning process much more simplistic.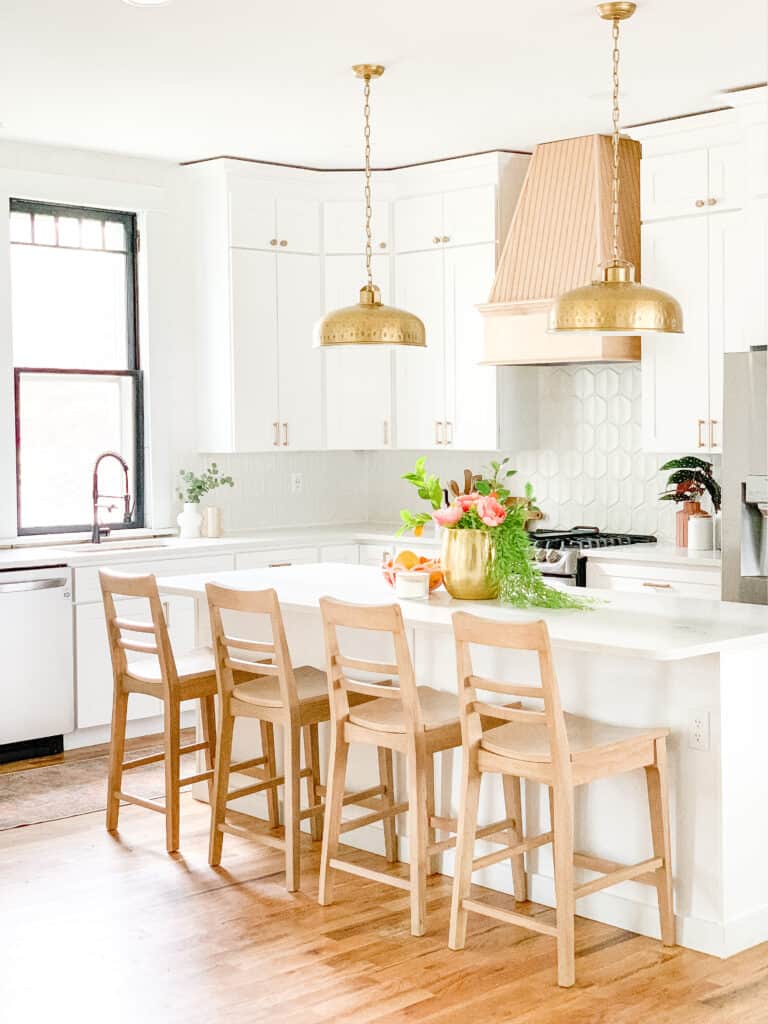 This post may contain affiliate links
How much Knee Space For your Kitchen Island is Needed?
There are so many questions surrounding your new kitchen design. Basic selections like color scheme, floor plan, and countertop material shifts into more detailed specifications quickly. The countertop material is not the only important decision regarding your kitchen island.
If you've ever wondered about your island's size and how the height of a countertop allows your guests enough knee space for a comfortable seating area or the perfect serving area, then this post is for you.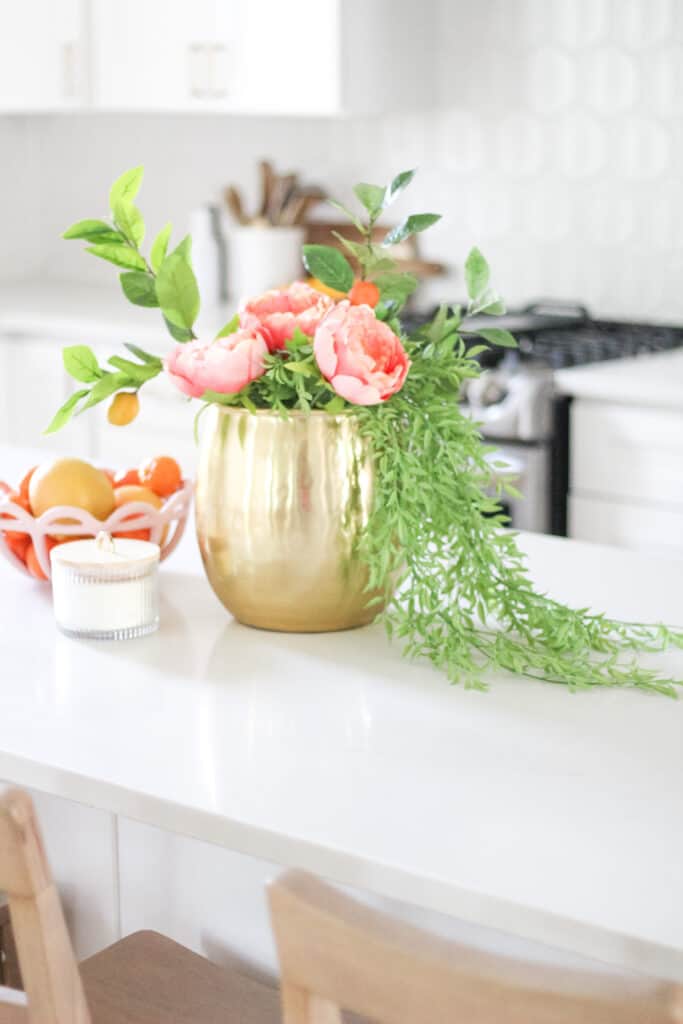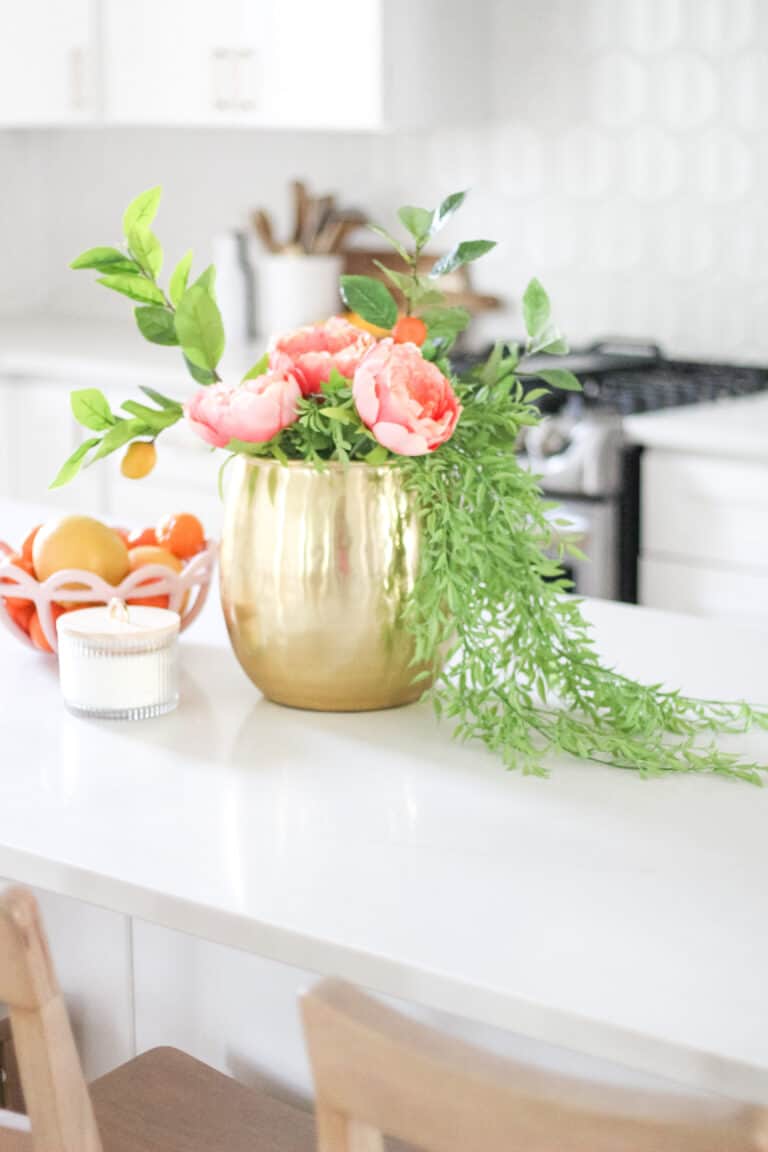 Key Considerations to Make on Knee Space
Most people don't take too much thought into how much space is available under your island for adequate knee space. If you've ever sat behind a tall person on an airplane who sits with their seat reclined for an entire 9 hour flight, then perhaps seating space is important to you. But for the average person, adequate legroom may not be a priority.
If you are undergoing a kitchen renovation, every single detail needs to be thought of and accounted for in your renovation. You don't want to spend the time and money on a kitchen that is less than perfect.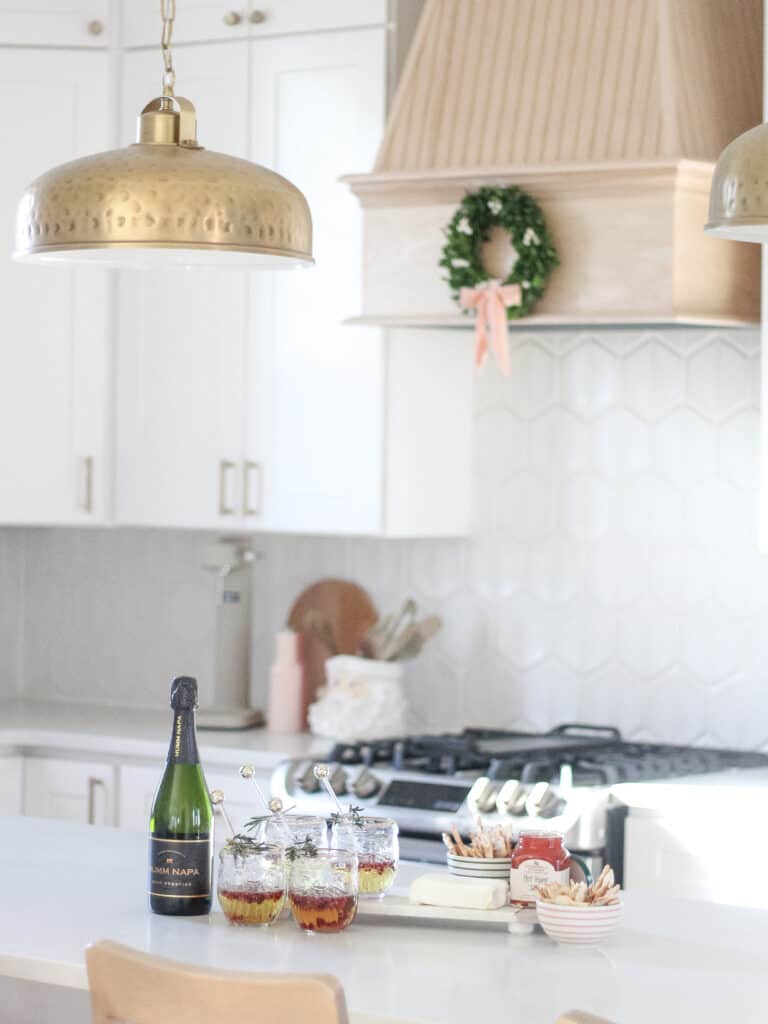 People have different requirements for what they want in a kitchen. For our kitchen renovation, I knew I wanted a large island in the center of the room for food preparation and casual dining. With four kids, we needed to have enough room to fit plenty of seats around the side of the island without it being too cramped.
Below are some key considerations to help you have an island that works for your family in your kitchen space.
Purpose & Function
As I had mentioned, having counter space large enough to fit my kids around the island as an informal dining space was important. Consider the purpose of your kitchen island and place it strategically in your kitchen to enhance your kitchen's function.
For example, if you plan on using your island as a dining and entertaining space, then you'll want to consider the height and depth of your island (more on that in a minute).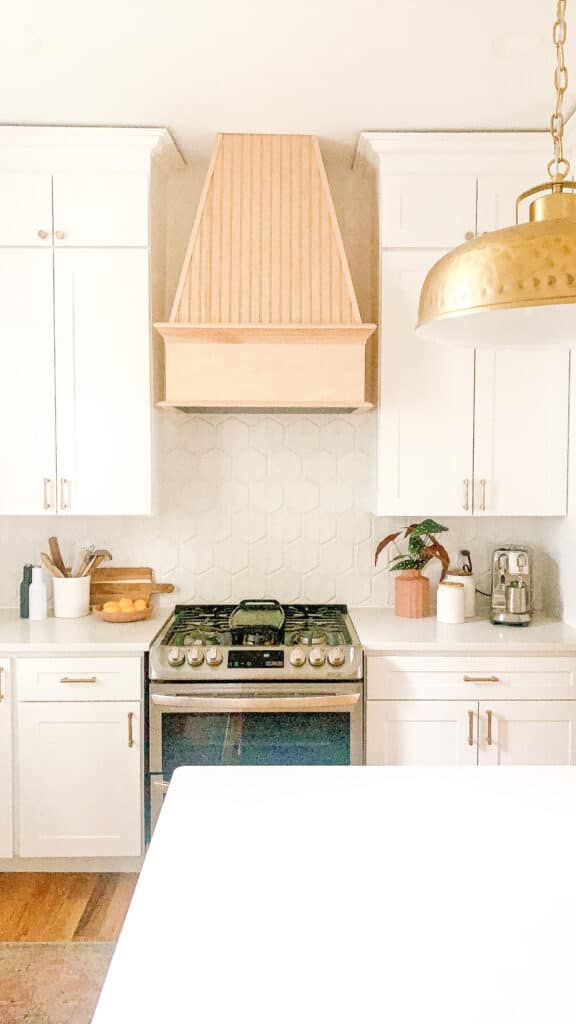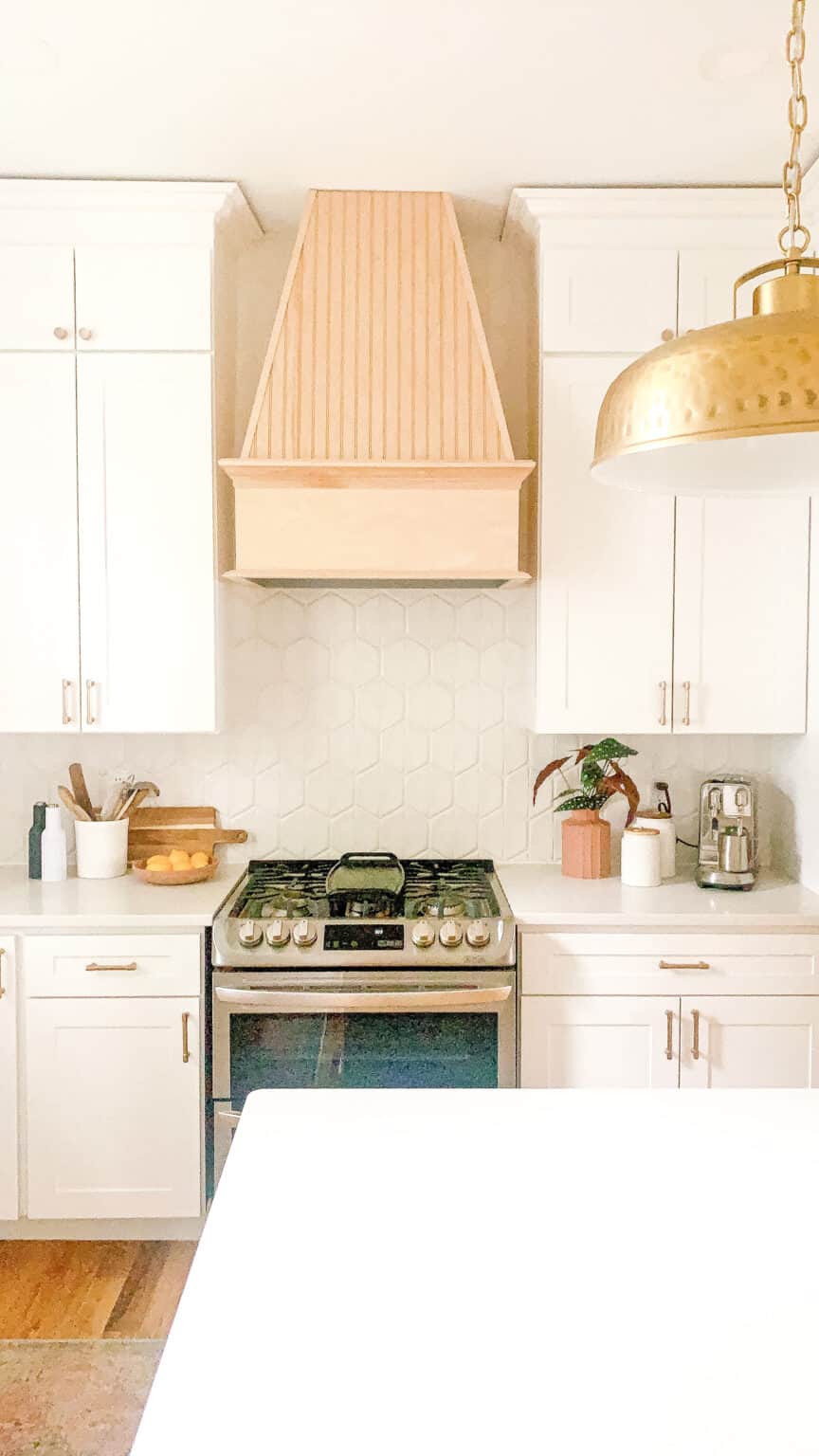 For people who love cooking and intend to use their island for prep work, then you'll want to have your island close to your range and refrigerator. You may consider different countertop materials like a butcher block or a cutting board that slides out from the bottom of the counter. An ample supply of easy access outlets is always a good idea.
Those who have their cooking surface within their island, will want to focus on heat resistant countertops like quartz. They will also need to ensure that there is 18 inches of available space on either side of their cooking surface to safely maneuver.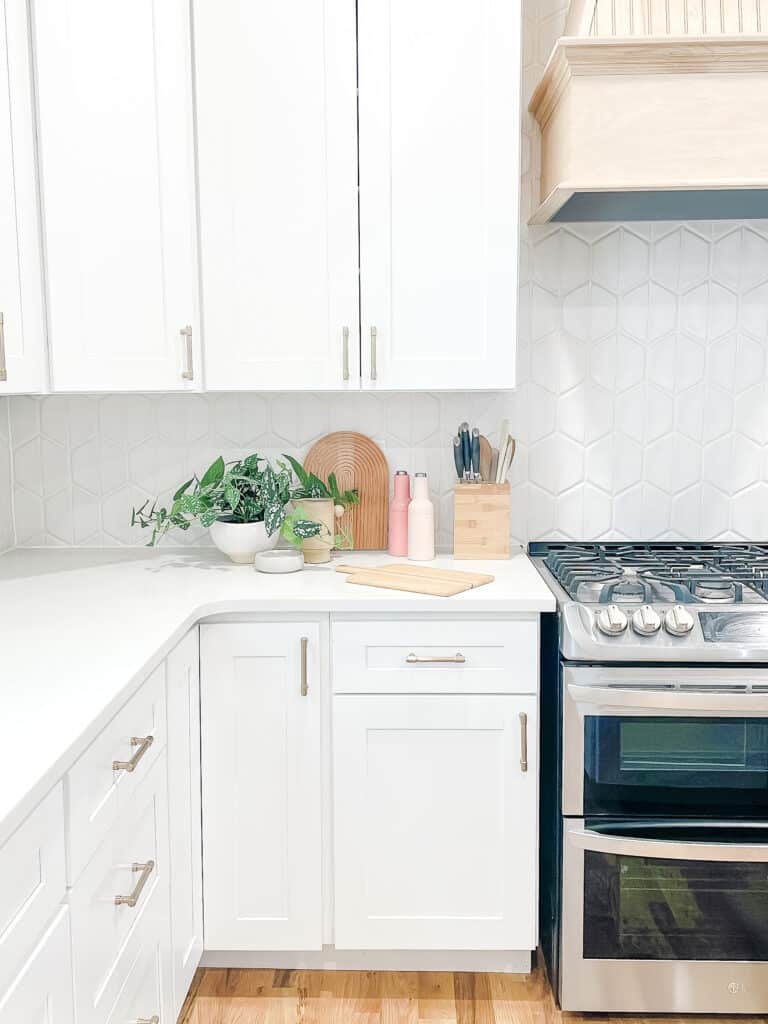 Consider your clean up process as well. You'll need plenty of drawers for towels and cleaning products. A trash bin and dishwasher close by or built into your cabinetry is also helpful.
How Much Countertop Overage for Seating?
There are 3 basic seating types that you can choose for your kitchen island. The function of your kitchen island will help dictate which seating and height is the best.
Based on the height, the countertop overhang will vary for enough knee room.  As a general rule, the lower the height of the counter, the more knee room is needed for adequate space. For reference, my kitchen is at counter top height, so when I was looking at how much knee space for kitchen island is needed, I went with those specs.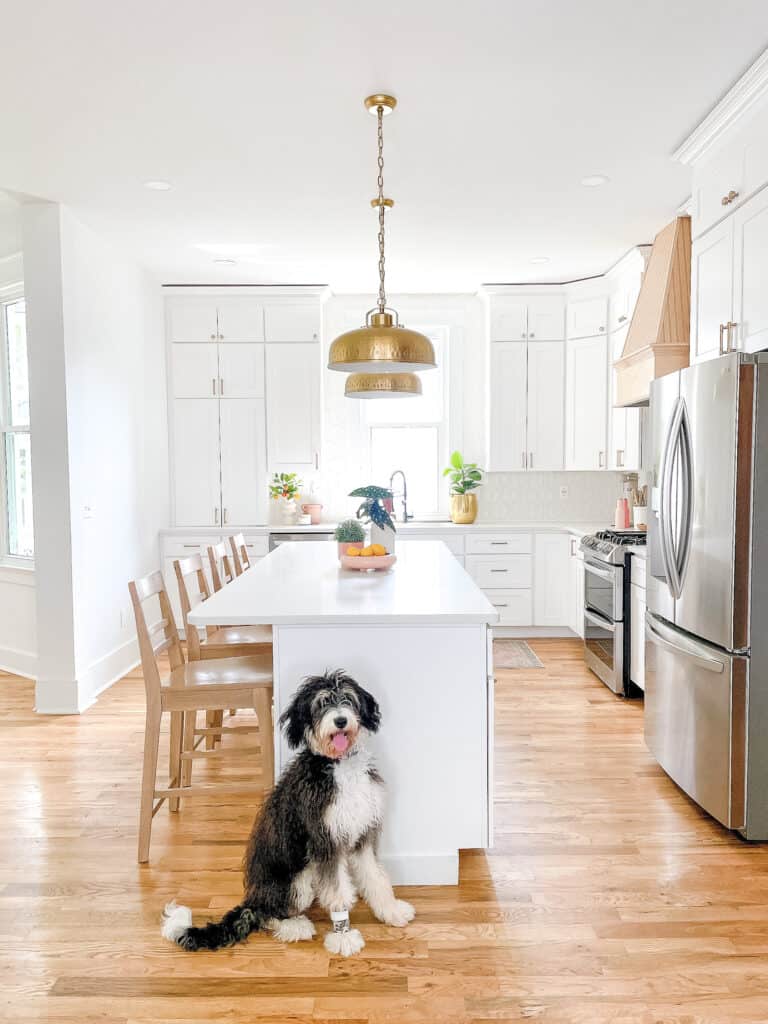 What is Bar Height ?
A bar height countertop is the tallest island height available and therefore requires the least amount of knee space. A bar height island is 42 inches high with only a 12 inch overhang creating enough space for a comfortable experience.
Keep in mind that you'll need to have bar stools that are about 30 inches tall to reach the body of the actual bar. Any bar stool seating that is less than 29 inches will result in your stool being way too low and you'll be staring at the edge of the countertop.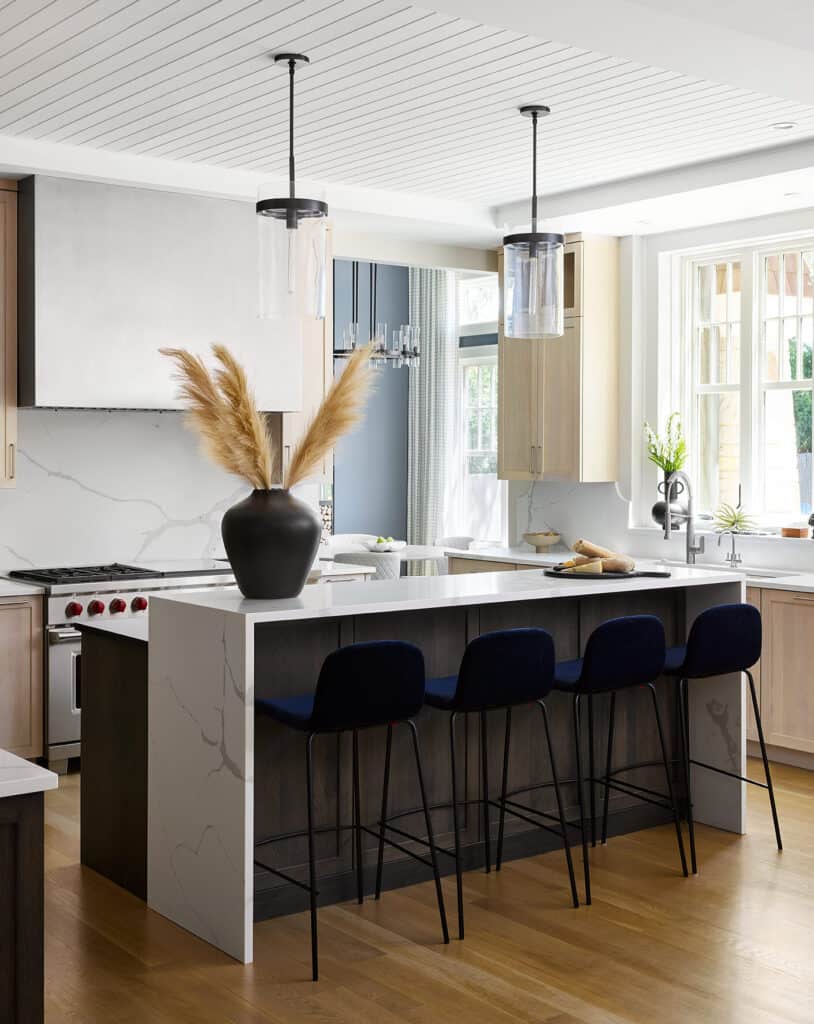 Beautiful bar height island designed by Devon Grace Interiors.
This raised counter height is great for people who enjoy entertaining. You can set your dishes up on counter height and allow guests to freely grab food while they mingle. The taller height also helps conceal an open kitchen from any workspace prep you may not want your guests to see.
On the downside, this height is less than ideal for smaller kids or those with difficulty getting up and down from their chairs. Because of the tall 42-in countertops, it can be difficult to get on and off those taller stools without assistance.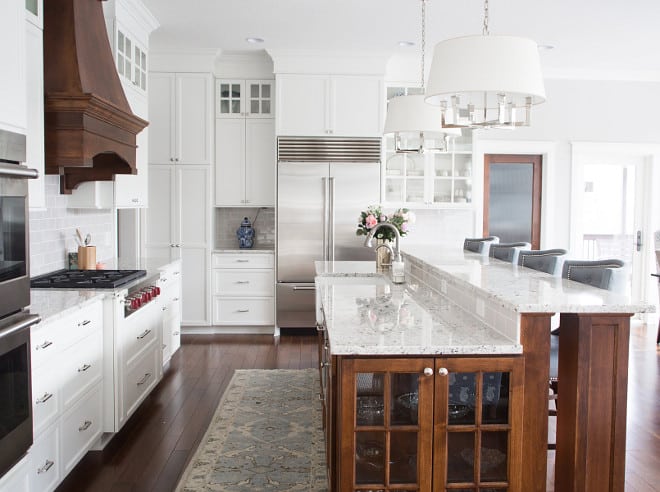 This beautiful two toned kitchen was created by Bria Hammel Interiors for her own home.
What is Counter Height ?
Just below your tallest island bar height, is your standard kitchen island height also known as counter height. This is the height of our kitchen island and it works perfectly for us. What I love about this 36-inch height is that it provides the appearance of a continuous workspace throughout the whole kitchen and makes my kitchen appear larger.
This is a great height for using your island for multiple purposes like dining, homework, food preparation, and just hanging out. The amount of countertop space available made it a perfect place for all of my DIY projects and the kids' school projects. Fortunately, for my family, I've got a dedicated office space now and our island has been saved from resin.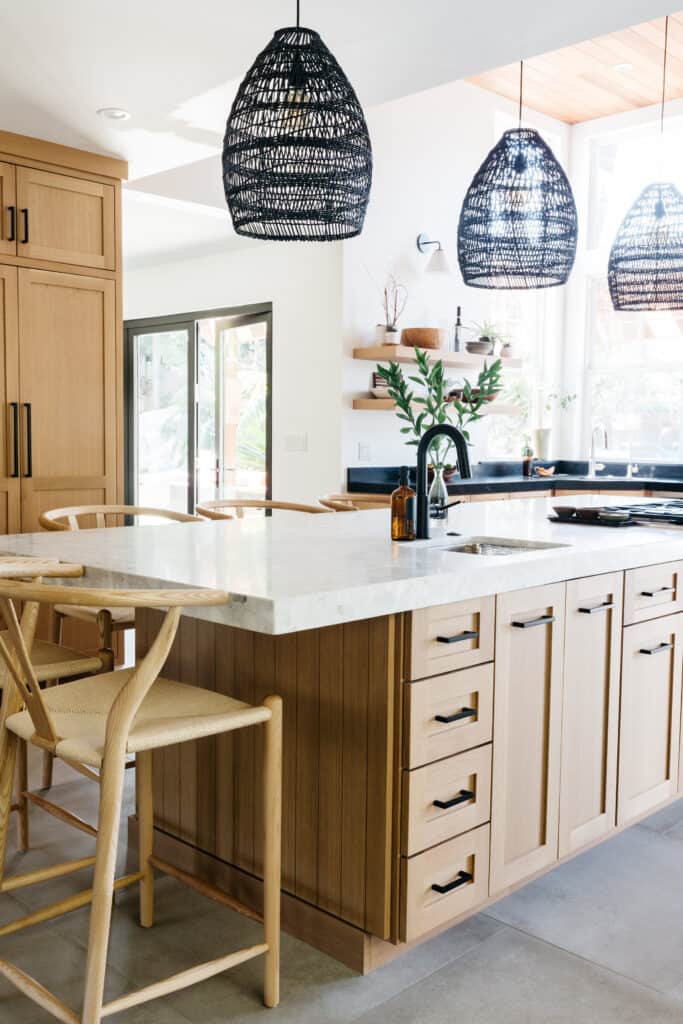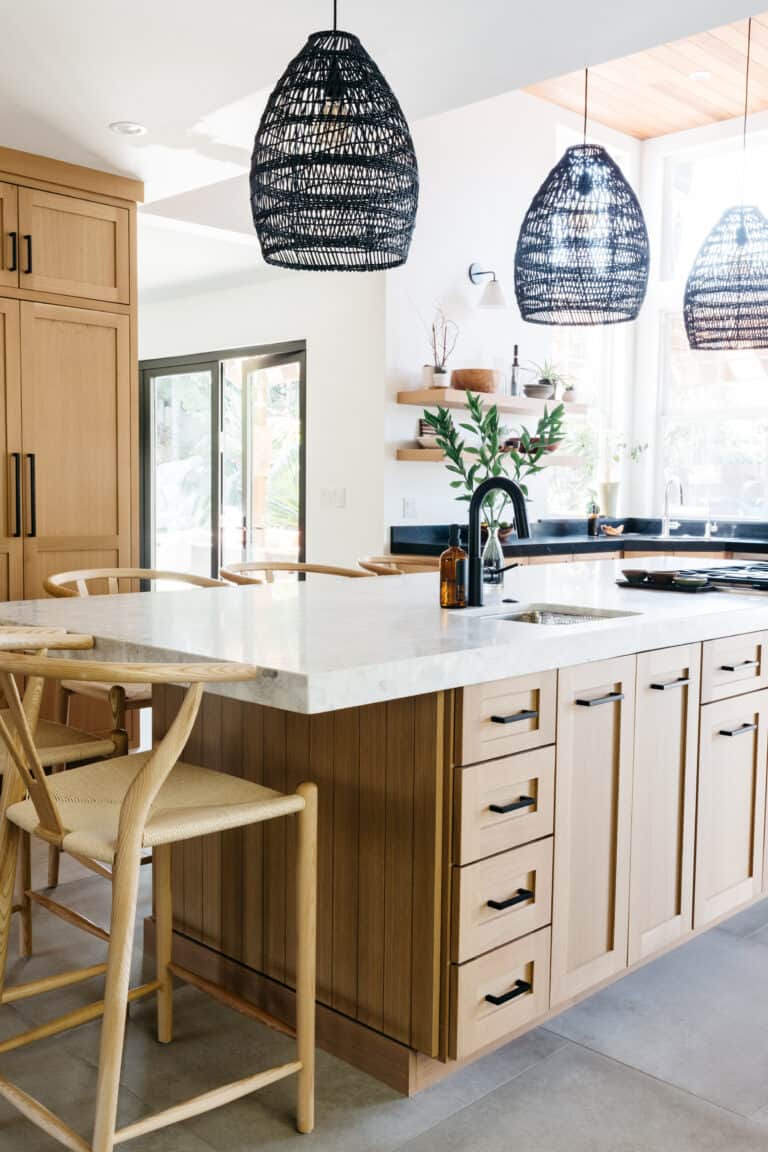 Salt + Willow designed this incredible coastal Scandinavian kitchen.
Because our kitchen is in the center of our home and our island is in the center of our kitchen, I wanted the space to be a place to entertain and have our family gathered around.
We have four chairs, approximately 24 inches high, that are spaced out and serve as the perfect place for our kids to do their homework. Any stool you choose should not be taller than 24 inches tall unless you want to hit your kneecaps on the edge of your countertop. The recommended counter overhang is 15 inches to give enough space for leg room.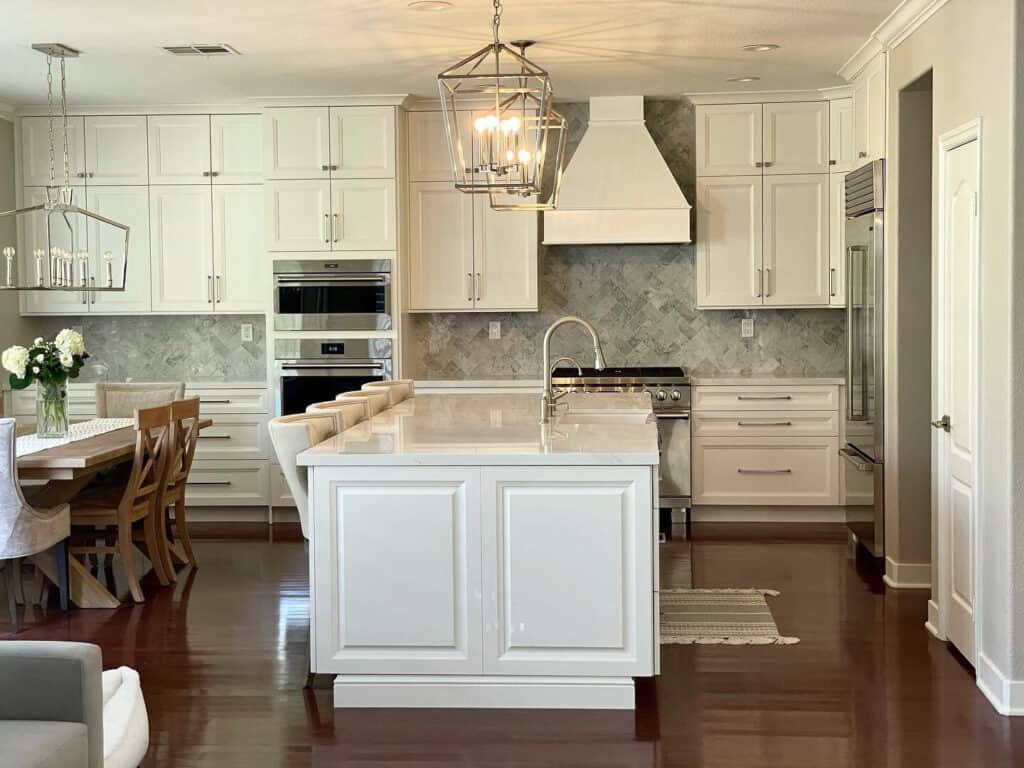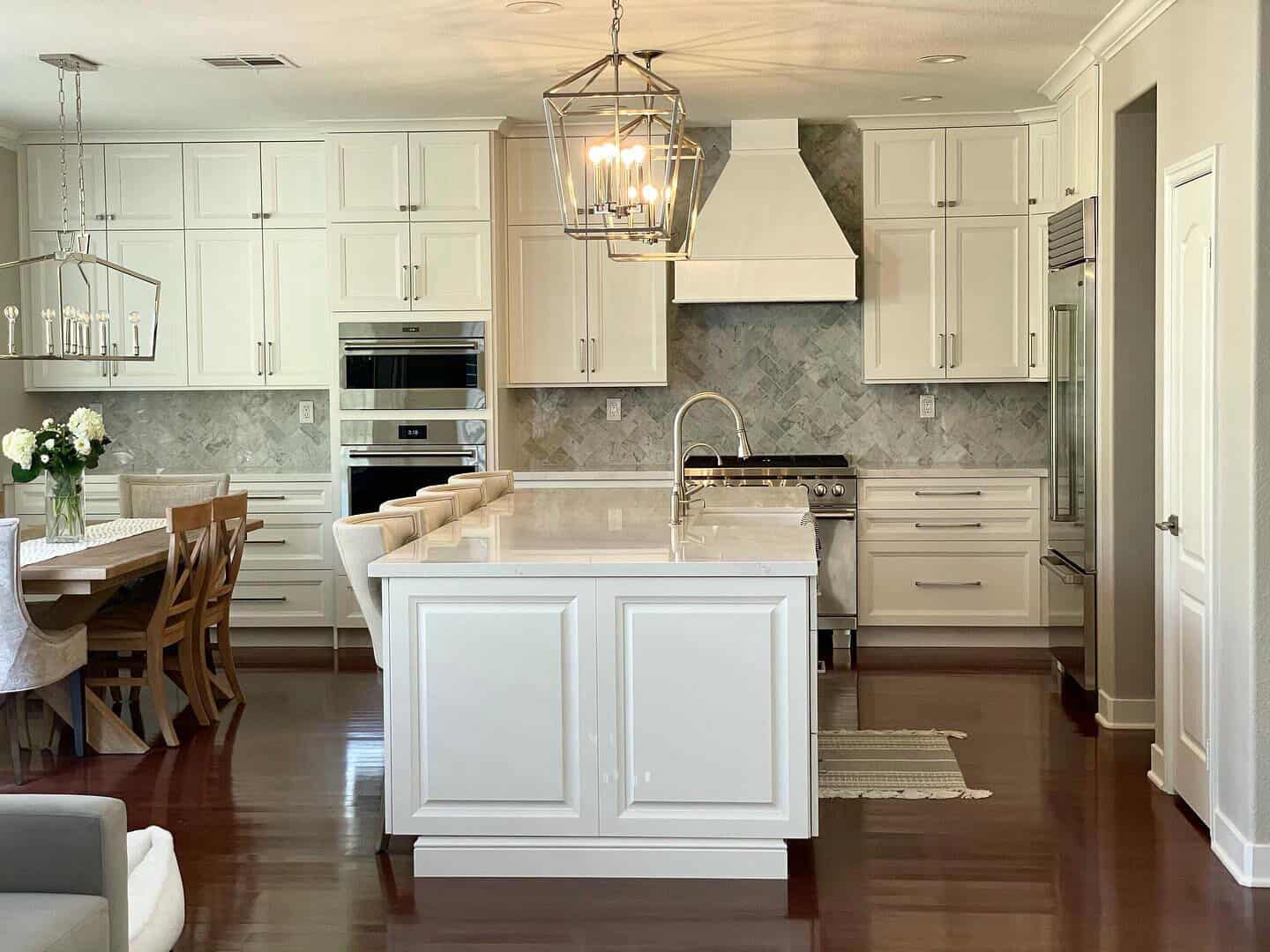 This traditional kitchen with a countertop island is timeless.
What is Table Height ?
The most open space for legroom is also the shortest height of an island. Table height is a 30-inch-high island that has 18 total inches of overhang. This is a great choice for people who wish to use their kitchen island as a seating and dining area, such as those in a home without a formal dining area.
You can use chairs that are 24 inches high and could pull double duty at your dining table. Because of the lower counter, you wouldn't be able to use this space comfortably for food preparation or cooking without causing back pain. Your island's function is essentially limited to dining.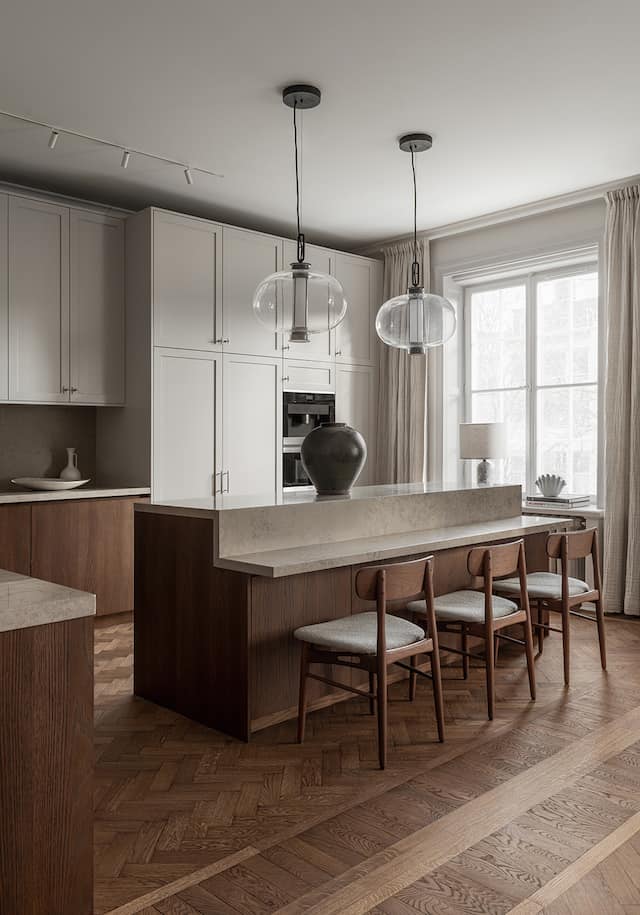 This two tiered kitchen island has a counter height prep surface with a table height dining island.
How much room and knee space do you need for an island seat?
So to fully answer the question: How much knee space for kitchen island is needed? The average size of a kitchen island is 80 inches by 40 inches with approximately 36 to 42 inches of  clearance space around for a walkway with optimal traffic flow. However, the size of your kitchen island may be smaller or larger based on your kitchen's size and the openness of your floor-plan.  
The length of your kitchen island will help determine how many seats you can have around your kitchen island. Keep in mind that you'll want to space each seat about 20 to 25 inches apart. If you have chairs with arm rests, you may have fewer chairs.
For the length of our island, we can fit 4 armless chairs at our island comfortably. If you have a smaller island and need to fit more stools, check out backless and armless bar stools to help bridge the gap.
While 20-25 inches is only a recommendation, keep in mind that you won't want to overcrowd anyone. Nobody likes eating with their neighbor's elbow in their lap.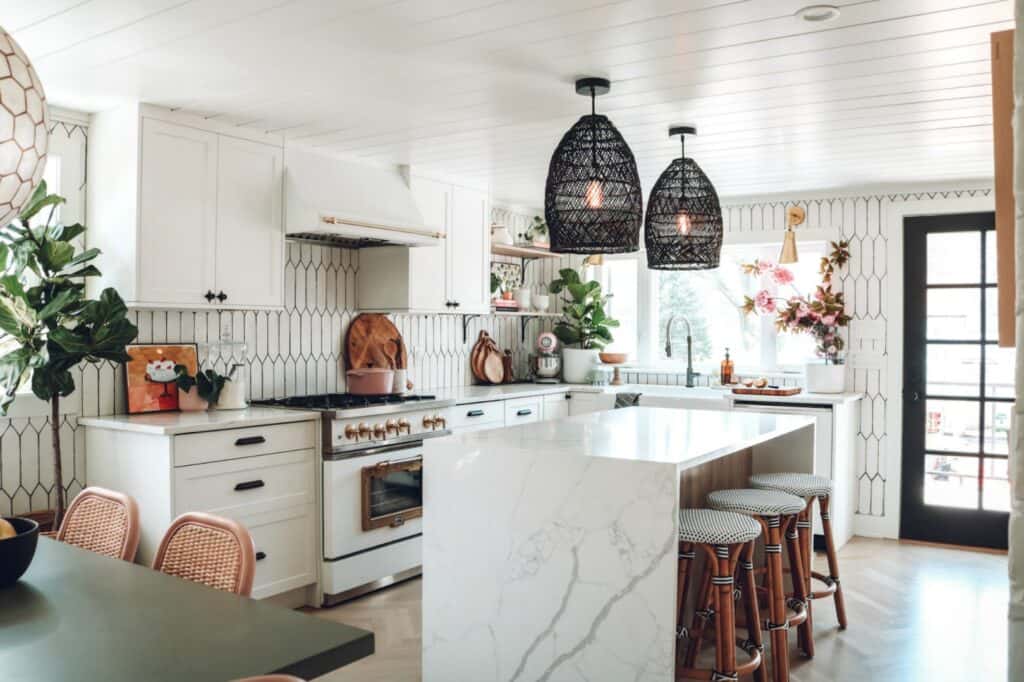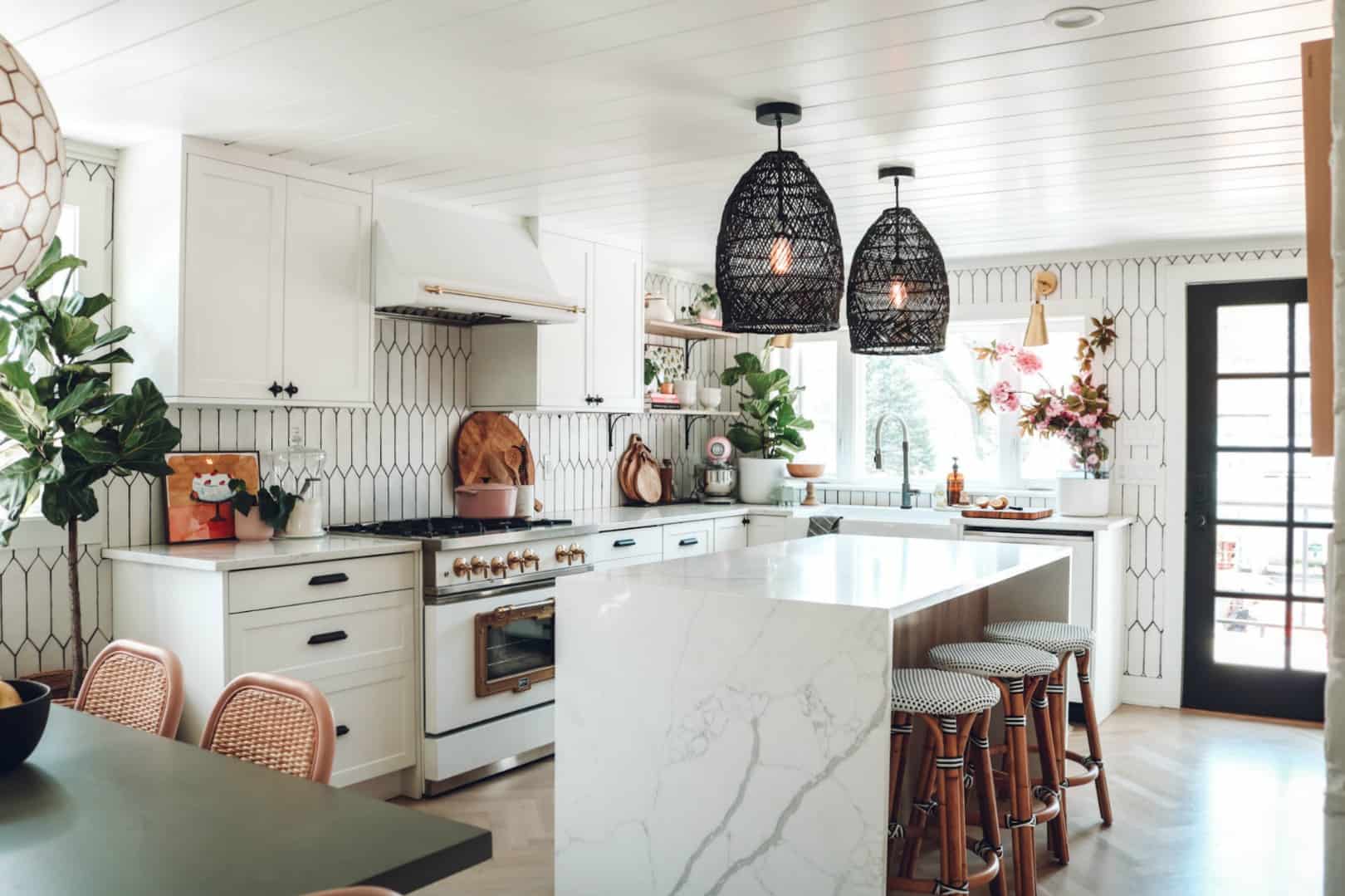 For small kitchens, you can still have your dream small kitchen island. Check out this kitchen reveal to see how they made this space functional.
Quick Kitchen Design Guidelines
The size of your kitchen island may vary based on the size of your kitchen and how you plan to use the cabinets and the corresponding depth of the cabinets. Regardless of those facts, you'll want to ensure that the walkway space surrounding your island is at least 42 inches. Anything smaller than 36 inches of available space will cause traffic and workflow issues.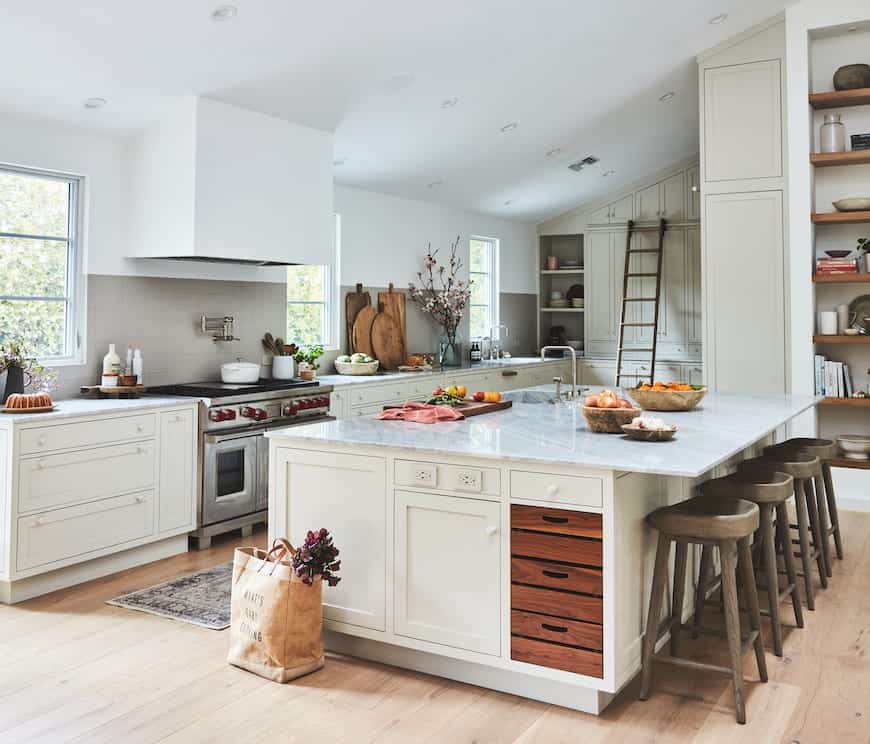 What's Gaby Cooking has an incredible kitchen with a very well thought out floor plan. Bonus points because her recipes are on fire!
The National Kitchen and Bath Association (NKBA Guidelines) recommend sketching out your island and placement of your appliances during your kitchen design planning phase. If you are unable to have 42 inches of space surrounding your island then you'll need to reconfigure. Placement of your appliances is also important to avoiding those workflow issues.
Ideally, your kitchen should be laid out according to a work triangle. Most kitchen work happens at the cooktop, fridge, and sink. The imaginary lines that you draw between those three areas should create a triangle in a functional and aesthetically pleasing kitchen renovation.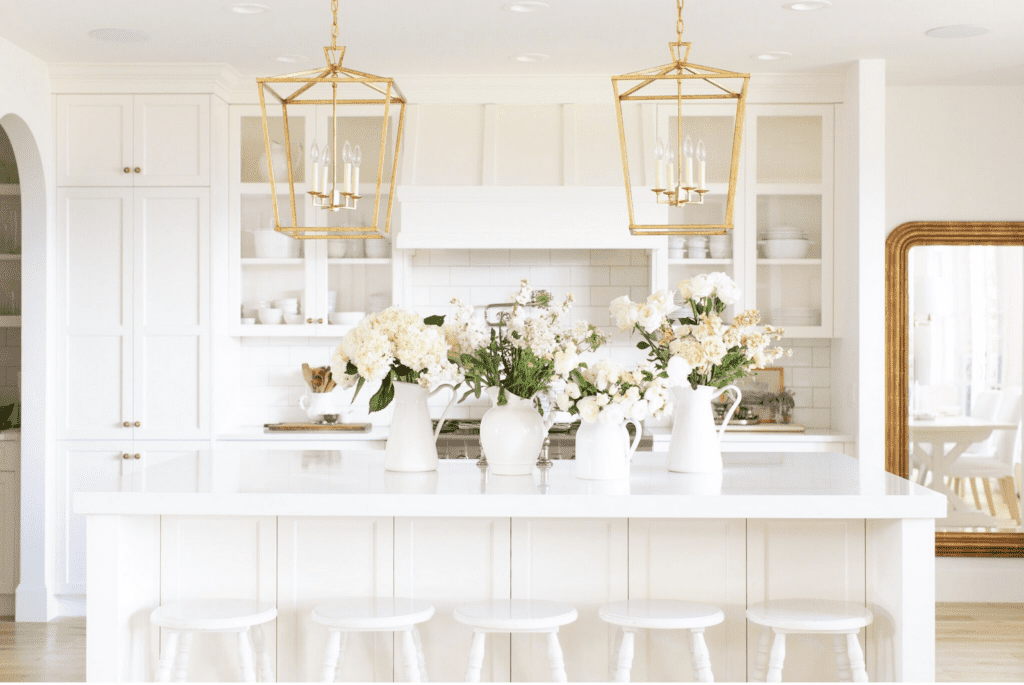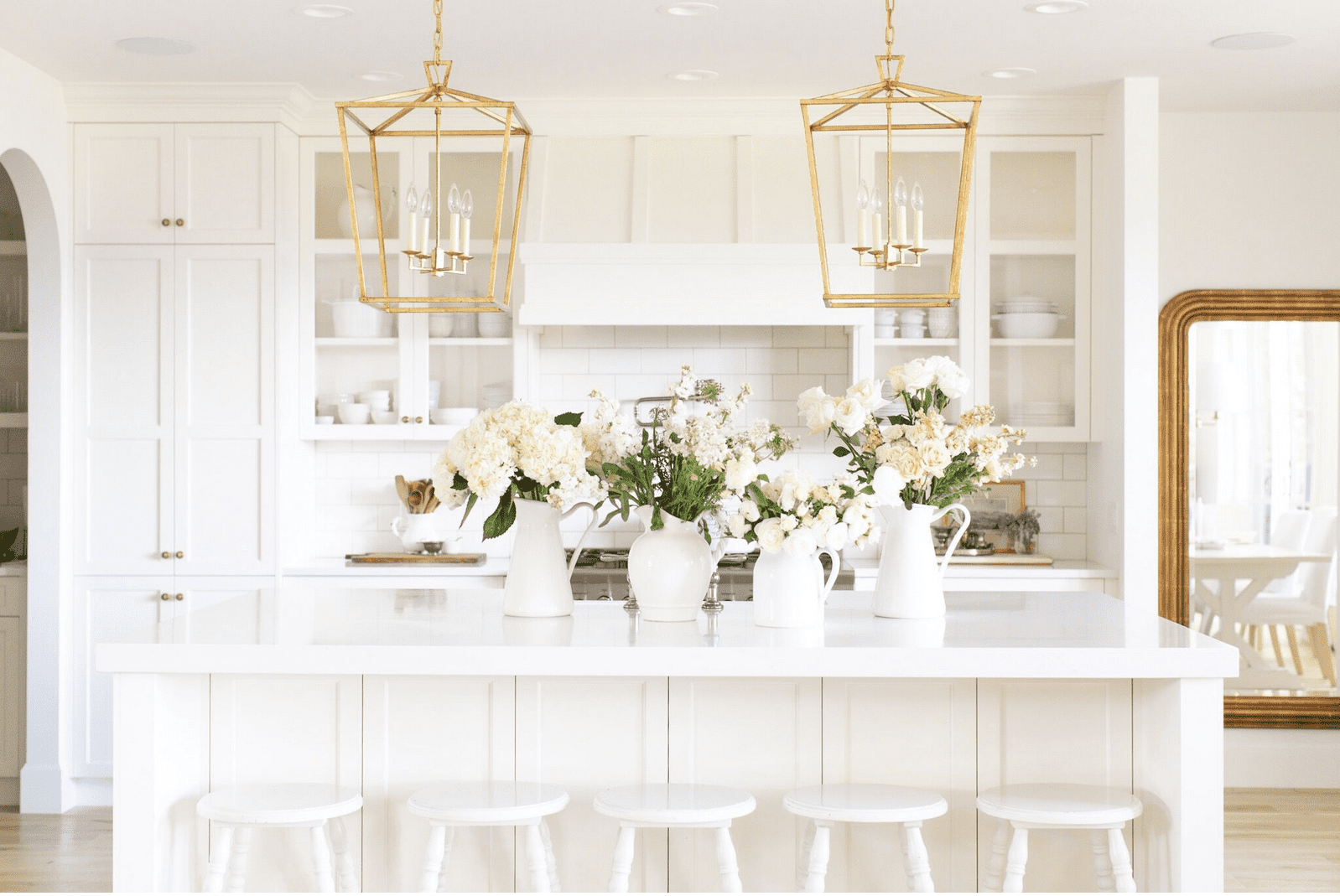 This all white kitchen and counter height island create an illusion of wide open spaces.
Other Posts You'll Love
How Deep Are Kitchen Wall Cabinets? | White Kitchen Cabinet Backsplash | Small Home Office Makeover
Pin This Photo Below For Later
Do you feel more clear on how much knee space for kitchen island is needed?I hope this post helped clarify the differences between various kitchen island heights and how much overhang allows enough room for a comfortable seat. If you are undergoing a kitchen renovation, these detailed decisions are crucial for the function and purpose of your kitchen island. Take the time now to decide how you intend to use this space to have a successful renovation and fully functioning kitchen in your future. If you have any questions feel free to leave them in the comments section, and follow me on Instagram @arinsolange and TikTok for more home, decor, and DIY.