How many times have you walked into your kitchen and wished you had more storage space? Did you know that there is a standard depth of kitchen wall cabinets?  That isn't something that you have much room to change, but we are going to dive into how you can make the most out of your space in this post, and answer how deep are kitchen wall cabinets.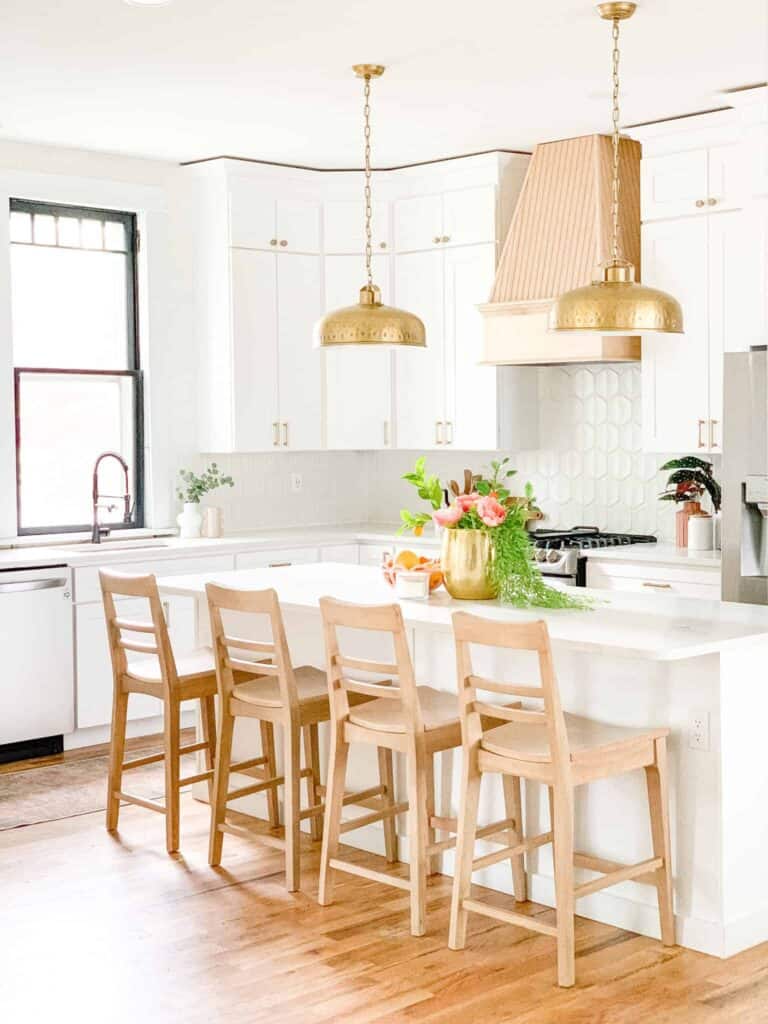 This post may contain affiliate links.
Standard Kitchen Cabinet Dimensions – How Deep are Kitchen Wall Cabinets?
Have you ever noticed that one random cabinet that doesn't seem to make any sense? You know the cabinet, the one that is usually above your refrigerator and filled with your kid's hidden Halloween candy.  
Or, maybe you have extremely tall cabinets that no one can reach. If you've ever wondered about your cabinet size, I'll be sharing with you some insight into standard measurements for different types of kitchen cabinets and how to make them work for you.
Designing a Kitchen
If you are thinking about a kitchen renovation, you'll have several choices to make your dream kitchen a reality. Before you begin your renovation, you'll want to consider every aspect about your kitchen and how your family uses it to make your space both functional and stylish.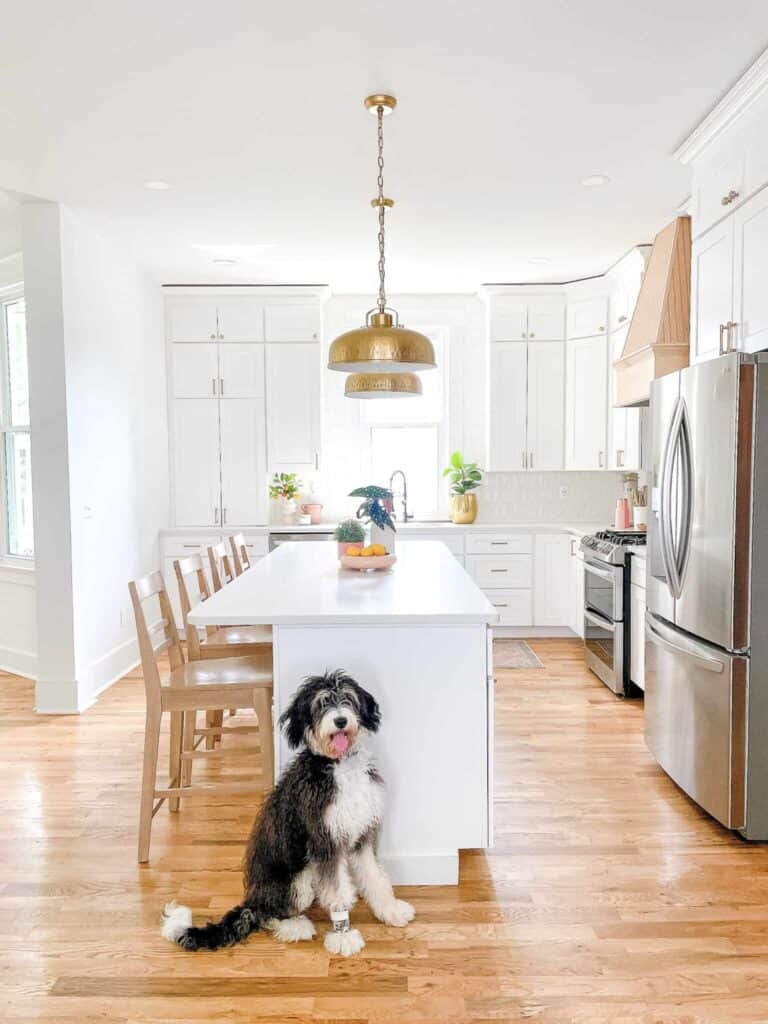 Kitchen Designer
Consider hiring a kitchen designer who can help you think through every small detail and create a floor plan that makes sense. If interior designers aren't in your budget, you'll want to keep some key concepts in mind.
Layouts Are Key
There are so many different design layouts to consider.
Ideally, your kitchen should be laid out according to a work triangle. Most kitchen work happens at the cooktop, fridge, and sink. The imaginary lines that you draw between those three areas should create a triangle in a functional and aesthetically pleasing kitchen renovation.
Also, consider the walkways and traffic patterns. By opening kitchens up and creating wide walkways you can create a much more functional area. Even with smaller spaces, try to keep the walkway path open by 36 inches and the path surrounding the cooking area at 42 inches. You've now created enough space for an open walkway, but keep in mind that you may have to adjust the rest of the kitchen design accordingly.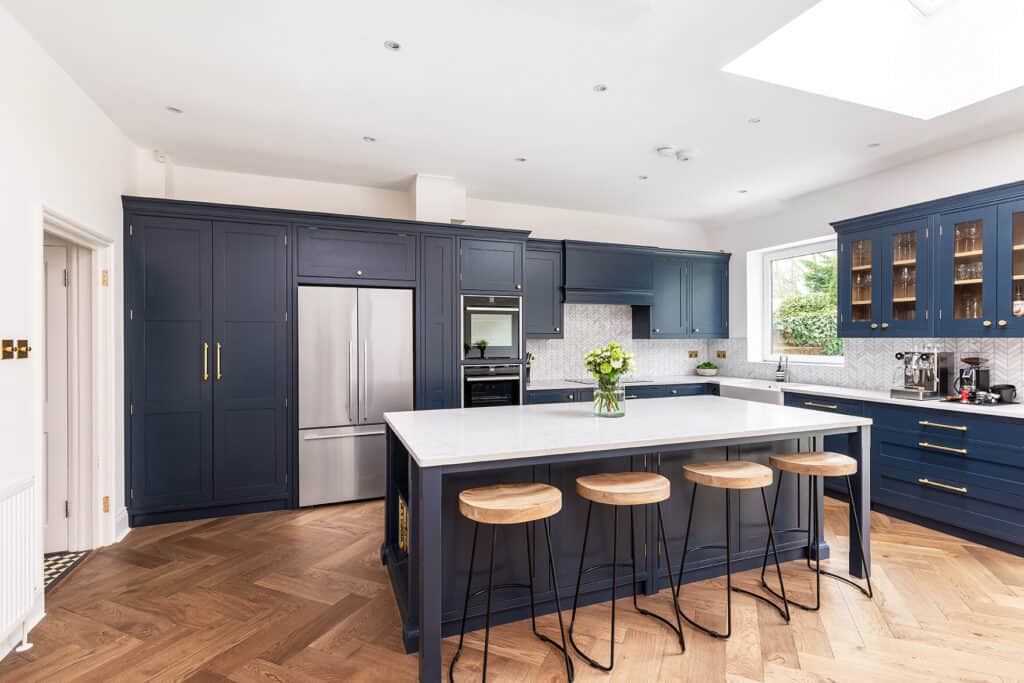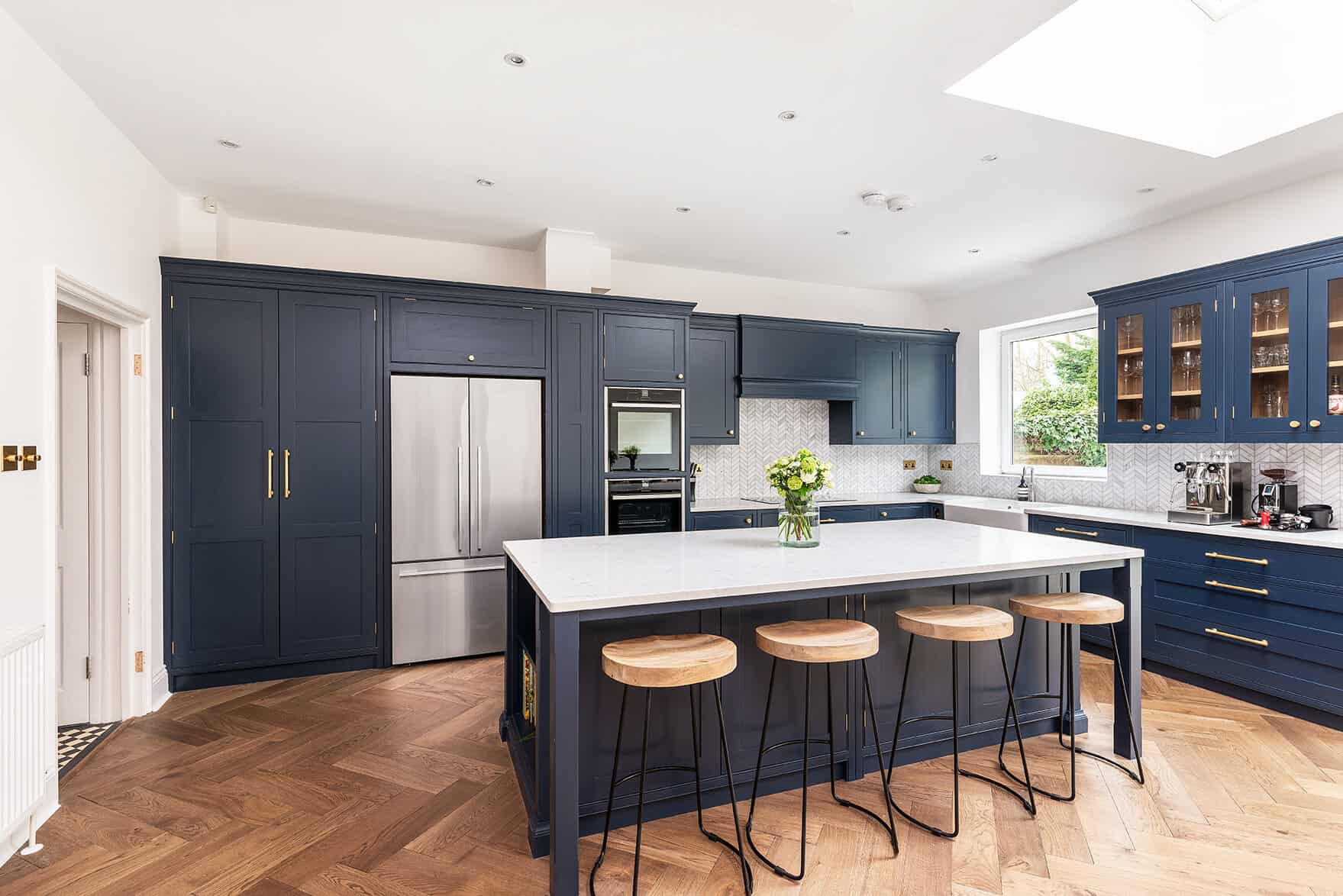 Herringbone Kitchens designed this incredible and functional kitchen layout
Consider your Countertop Space
Consider your lifestyle in regards to your kitchen countertop. If you enjoy cooking and hosting, you'll want to ensure you have a large enough space to not only prepare your meals, but also serve. If you are less of a cook, then you can get by with less counter space. Instead, you can repurpose that space and money savings into another area that would benefit you, such as a countertop appliance garage.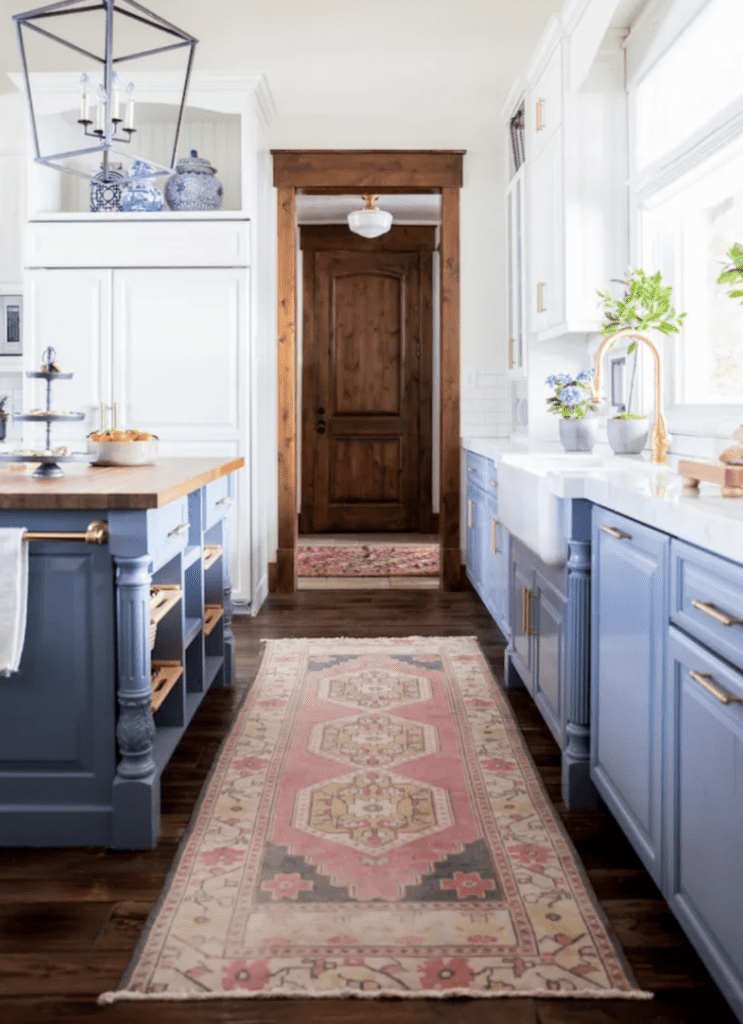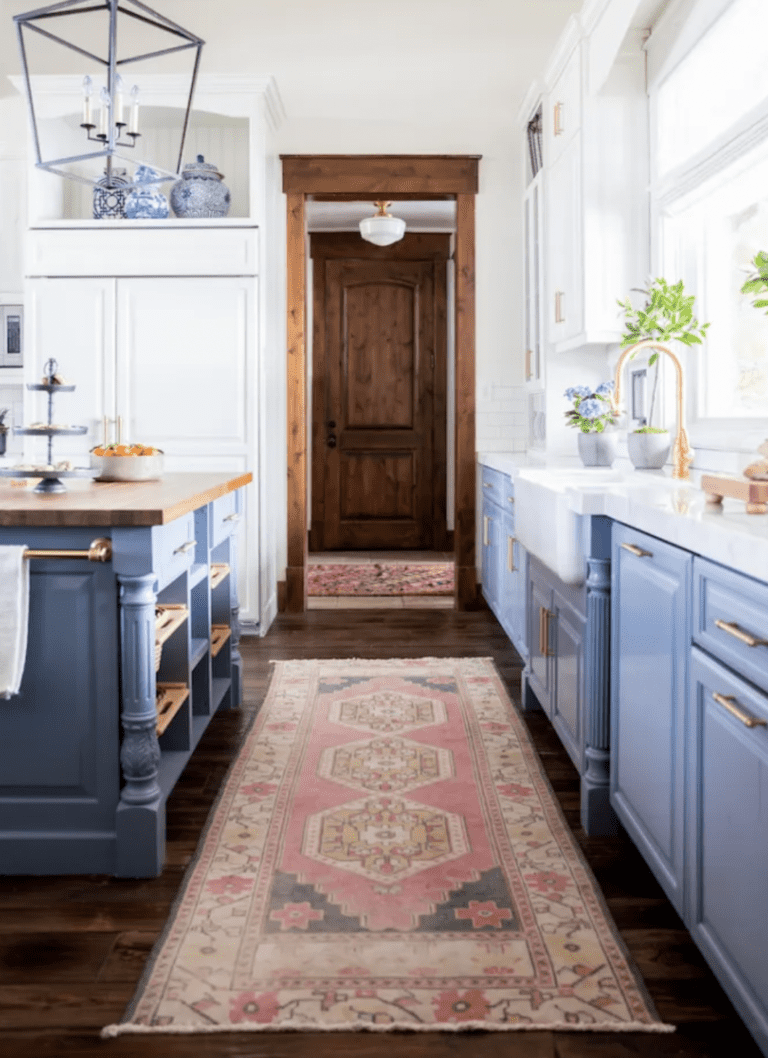 Becki Owens designed this amazing kitchen.
Backsplash & Focal Point
Create one focal point in your kitchen. Try to avoid having too many competing elements. If you look at modern kitchens, you'll notice that while they may have a bold color or pattern, the remaining details are generally more simplistic and subdued.
I'd recommend sticking with an incredible backsplash or a pop of color on your cabinets. If your budget doesn't allow for a statement backsplash idea, consider a more affordable subway tile laid in an unexpected way such as a herringbone or vertical offset pattern.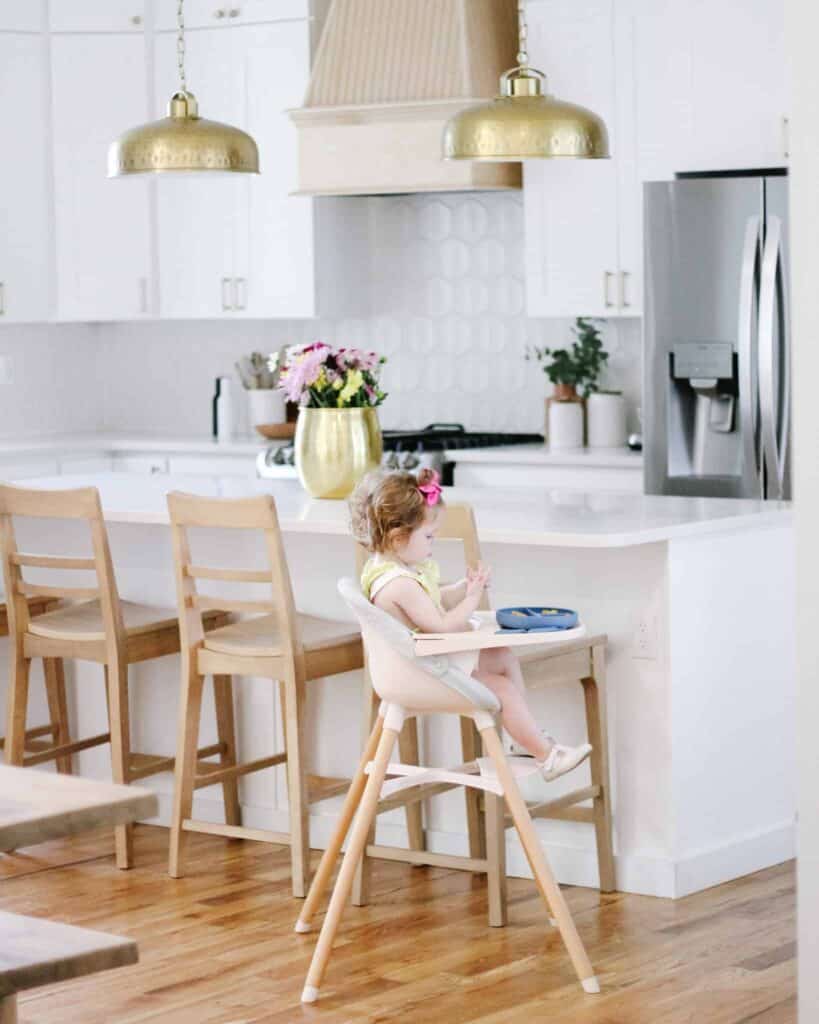 Appliance Finishes
Choose your kitchen appliances carefully. You'll want to select a finish that complements your kitchen but also won't show all those little fingerprints from your cooking assistants.
Consider the location of your appliances. Remember the kitchen work triangle mentioned above.
The refrigerator should be accessible to bystanders in the kitchen without causing a traffic jam – this is where the walkways and traffic patterns come into play. You also want to minimize foot traffic around the stove as much as possible for safety reasons.
Also consider placing the microwave oven in your kitchen island or in a drawer. This could free up counter space and allow you to have an impressive range hood.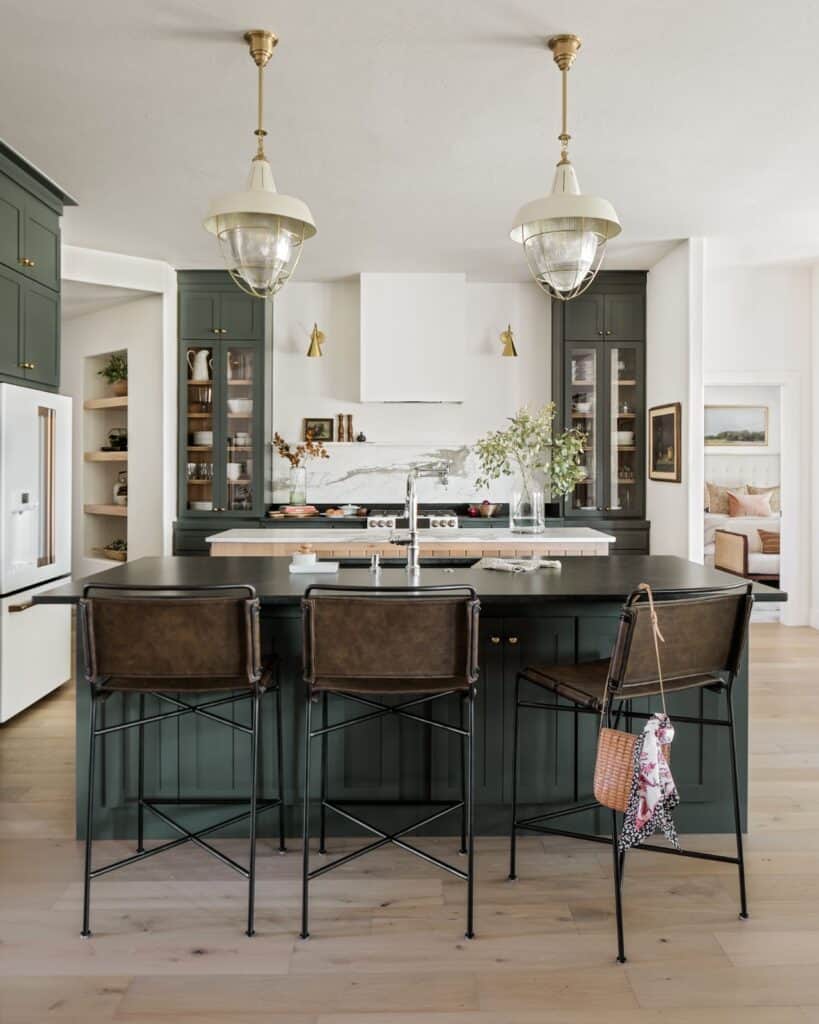 Kelsey Leigh Design Co used mixed metals in the kitchen for the perfect blend of masculine and feminine details.
All About Cabinets – Custom, Semi-Custom, and Stock
Carefully consider your kitchen cabinets – price, style, and function. A large percentage of your kitchen's budget will be spent on cabinetry.
Custom kitchen cabinets provide the most options in terms of wood types, style and design but it comes with a hefty price tag. Semi-custom kitchen cabinets are a great option to help save money, while still offering many options for customization. Stock cabinetry is cabinetry that is premade in a predetermined selection of woods, door styles, and sizes. These are the most affordable.
For a timeless kitchen, consider classic styles of cabinets like glass doors, flat door fronts, beadboard, and Shaker style. These will provide the most bang for your buck and can be reinvented by adding new hardware or painting the cabinets in the future.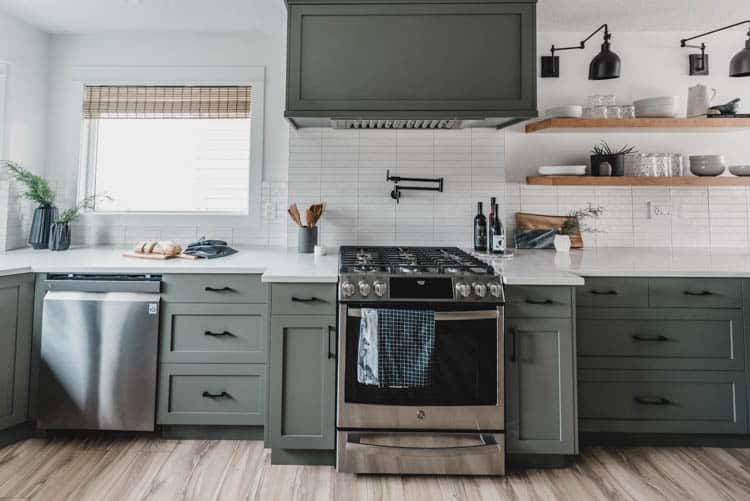 The open shelves next to the range is a great alternative to cabinets in this kitchen. I also love the oven cabinets and varying depths – it adds so much interest!
Shaker style kitchen cabinets are considered classic for their unassuming and simple design. Shaker style cabinets can be used in either traditional or modern kitchens with a few adjustments like hardware and backsplash selection. Due to their popularity, they are widely available in both custom cabinetry and stock cabinets like IKEA cabinets and Home Depot cabinets.
With some paint and flashy hardware, you can transform these basic stock cabinets into the best kitchen cabinets for your kitchen and within your budget.
The most budget friendly kitchen renovation is to reuse your cabinets by repainting them. We did this in our last house and it made a huge impact.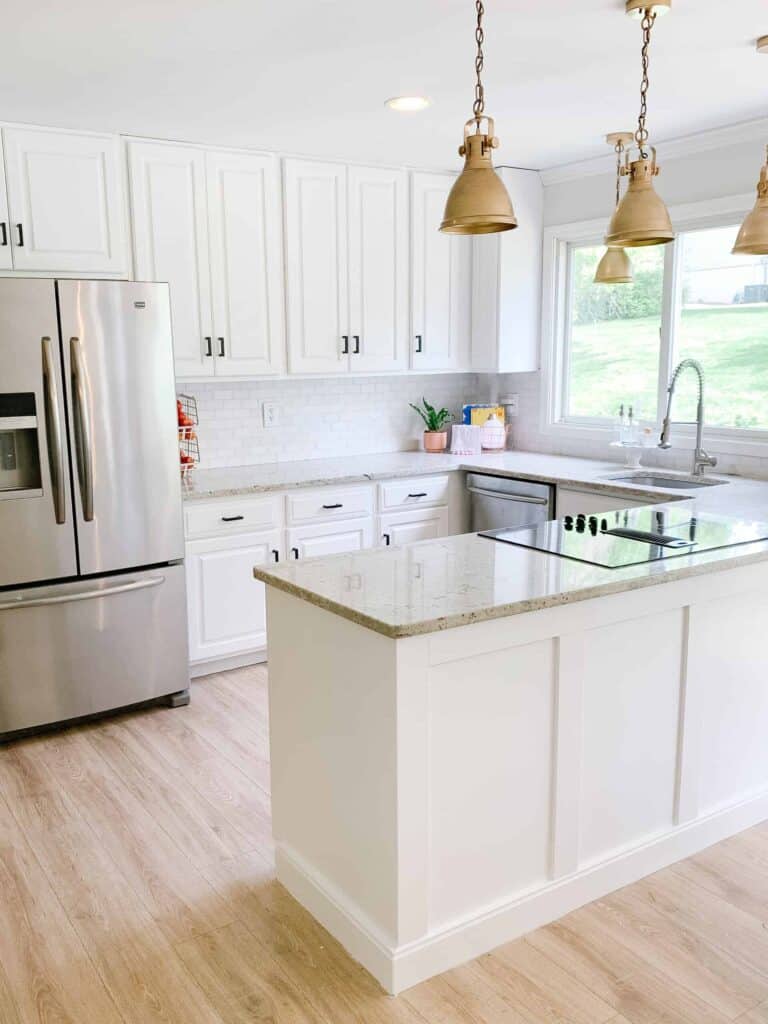 Whether you decide to buy custom cabinetry or reuse your own cabinets, or a combination of the two, you will still want to consider your cabinet dimensions to make the best use of your space. Cabinets create functional storage and have a purpose based on the cabinet's location within the kitchen. The layout of those cabinets is also key to preventing any workflow issues within your kitchen.
If you are unable to open a cabinet without it running into your refrigerator, then you don't have a fully functioning kitchen or cabinets. The measurements of the cabinets are key to creating functional storage.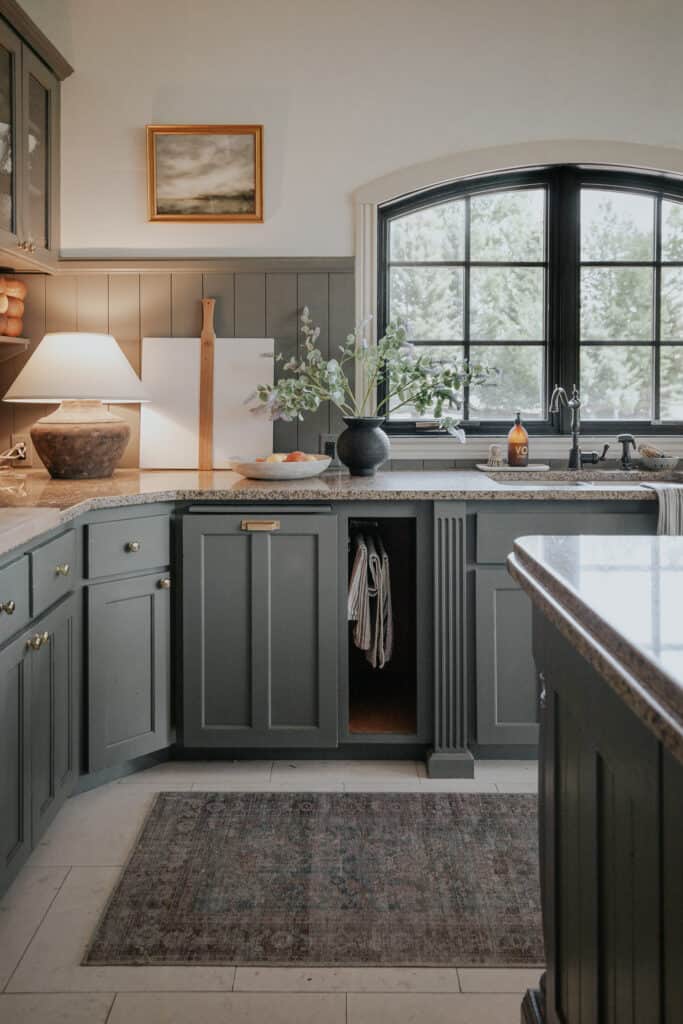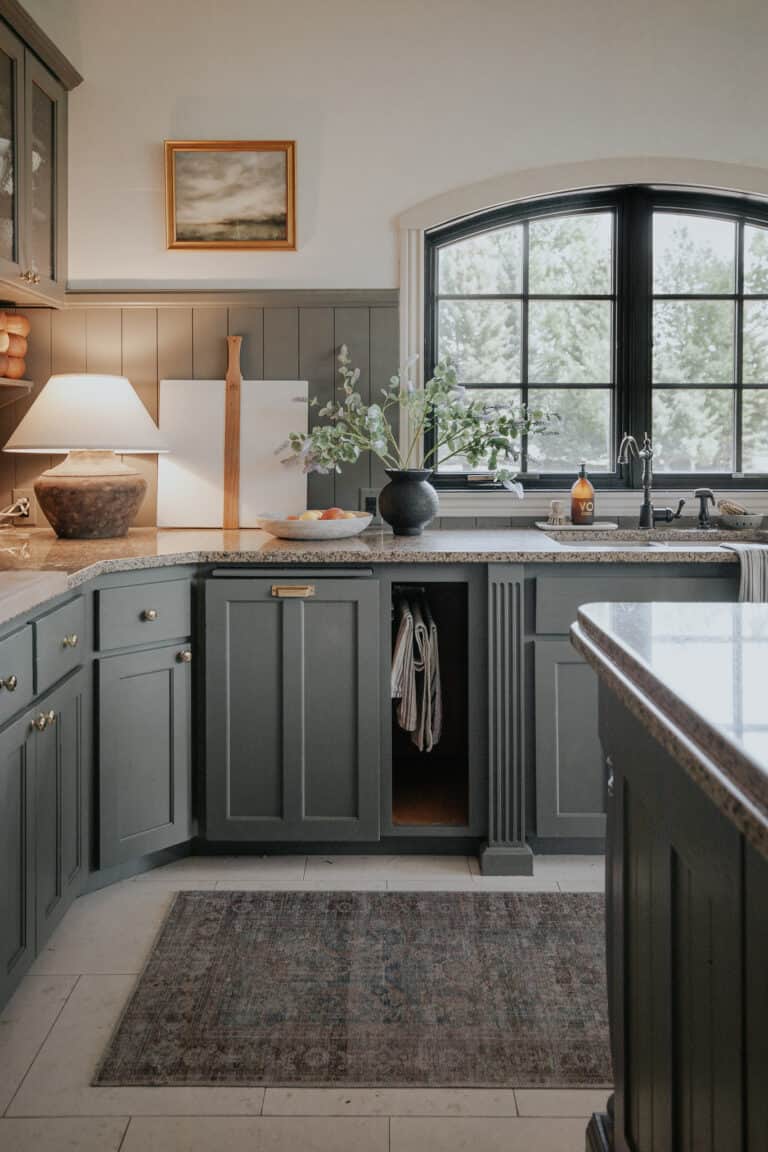 This incredible kitchen was actually a low budget kitchen renovation! Can you believe that?!
Standard Kitchen Cabinet Dimensions
If you are wondering, how deep are kitchen wall cabinets, then you probably want to understand the depth of the rest of the cabinets you will be working with. Whether you have custom cabinets, semi-custom cabinets, or stock cabinets, all cabinets serve as a functional storage space for the heart of your home, the kitchen.  The design layout of these cabinets is key to preventing traffic jams within your kitchen.  But, more importantly, the dimensions of these cabinets is what is key at creating a functional kitchen.
There are three main types of cabinets: base kitchen cabinets, kitchen wall cabinets (also called upper cabinets), and tall or specialty cabinets. Each of these cabinets have different standard sizes as they typically serve different purposes.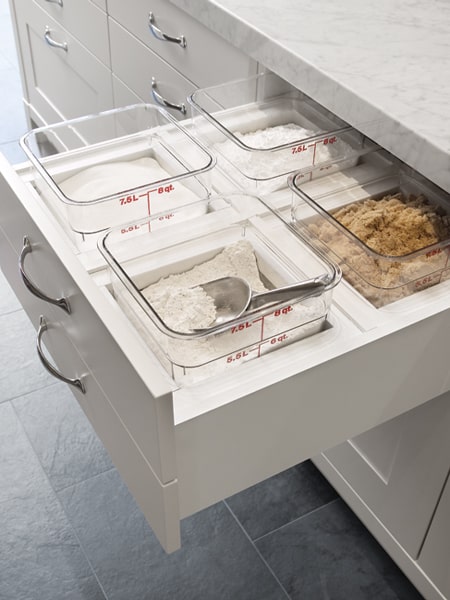 What a great idea for dry good storage by Maison & Demeure.
How Deep Should Base Kitchen Cabinets Be?
Base kitchen cabinets are the cabinets that I personally love. These are the cabinets that are the rock of the kitchen and have the most options in terms of functionality. You'll see rollout drawer boxes,lazy susans, hidden spice storage, and so much more!
The base cabinets are installed into the floor and are your most important cabinets. Without these base cabinets, you wouldn't have that incredible kitchen island. Your sink and cooktop would be non-existent, and you'd have to resort to the early 90's trend of storing your pots and pans on a ceiling rack.
Their importance in the kitchen is highlighted in their price tag. This is not the time to try to arrange a bargain deal. You want to have a sound foundation to lay the rest of your small appliances and store your kitchen belongings.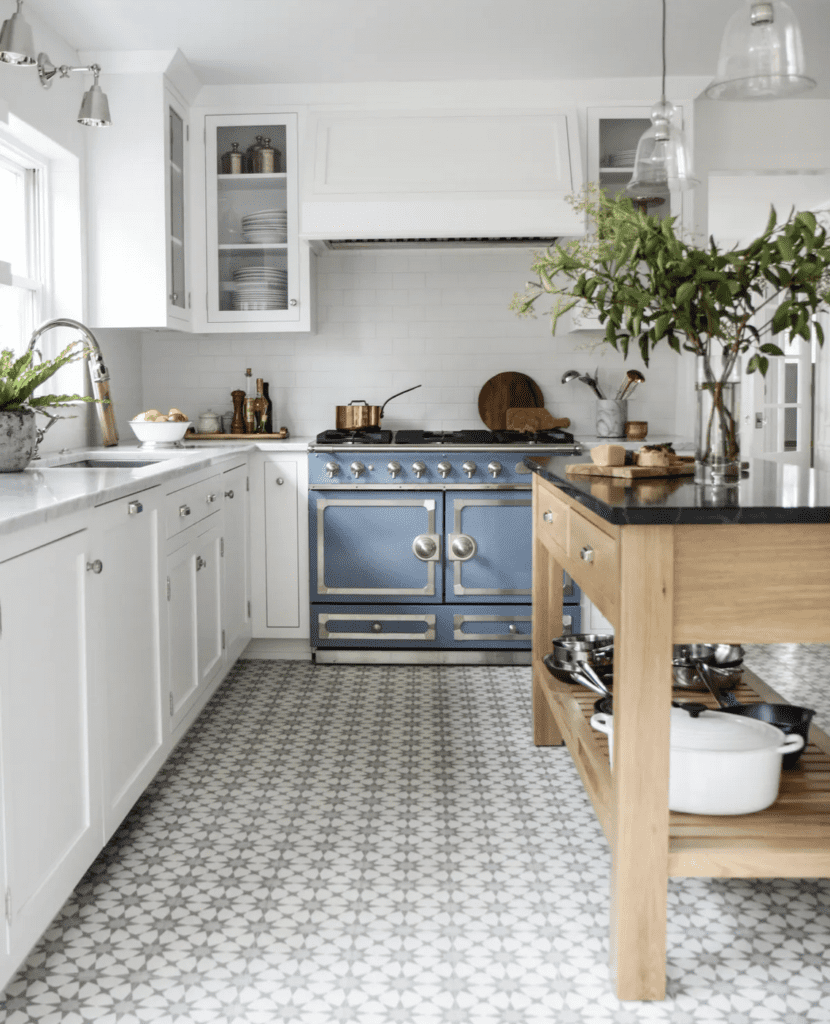 An eclectic kitchen by Park & Oak
A standard base kitchen cabinet will vary its measurements based on whether or not a countertop is installed. The countertop thickness adds additional height and depth. The standard height for a base kitchen cabinet without a countertop is 34.5 inches. Once you add a standard countertop to that base cabinet, your height rises to 36 inches.
This is the most consistent measurement across the board. Of course for special circumstances, like wheelchair accessibility, height measurements would need to be modified for the specific circumstances. Otherwise, this height remains pretty consistent.
Generally, most base kitchen cabinets also contain a toe kick section; the area between the floor and bottom of the cabinet frame where all your crumbs likely live. This section is approximately 3.5-4 inches tall and included in the 34.5 inch measurement for the height of a base cabinet.
This means the countertop on which you will prep your meals and wash your dishes will likely be about 36 inches from the ground.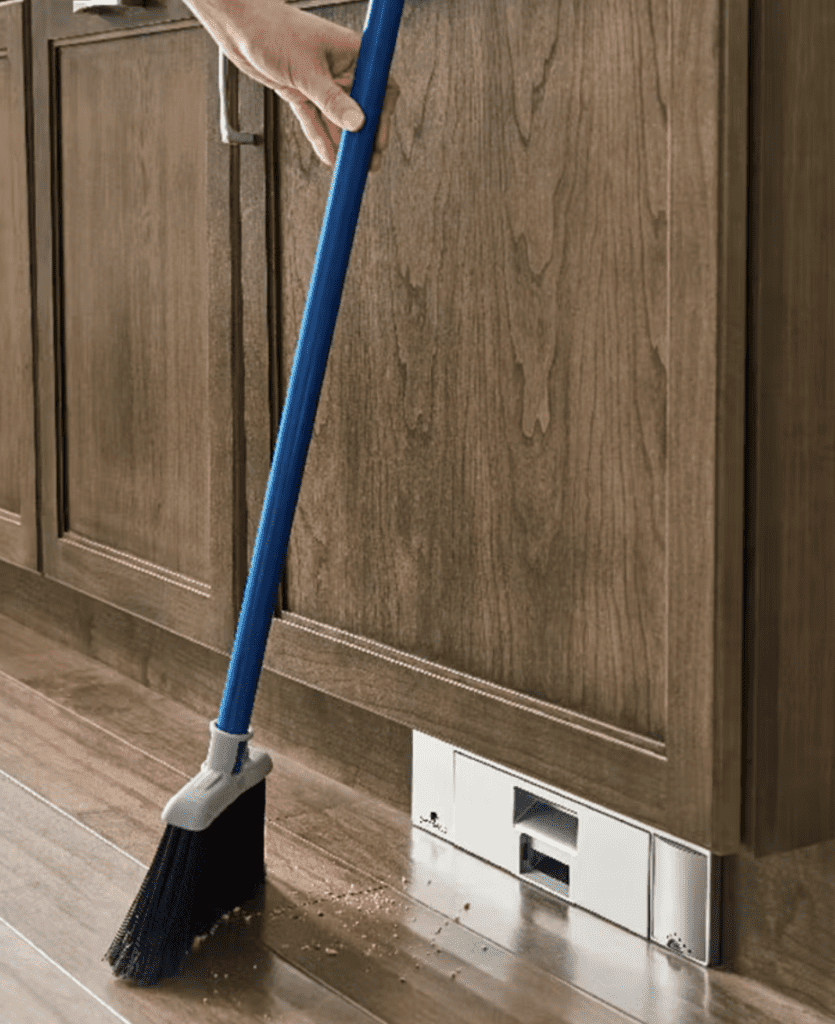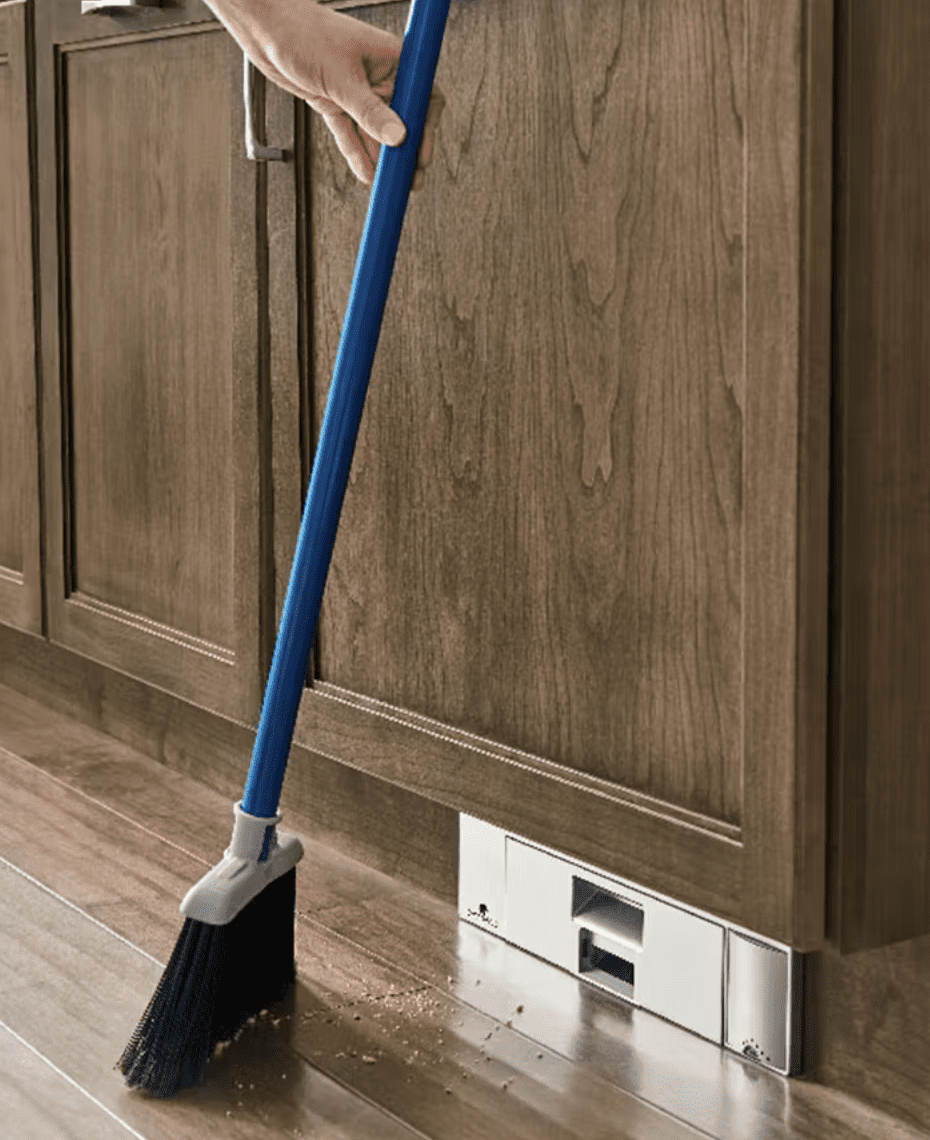 These base cabinets have a toe kick vacuum that fits right into the base. Now I may need to invest in one of these!
The standard base cabinet depth is 24 inches with an additional 2 inches added for your countertop edge for a total of 26 inches. Anything deeper than 26 inches is pretty much wasted space, unless you have a toddler who loves hiding in your cabinets. Otherwise, it becomes too difficult to crawl back into your cabinets to reach your InstaPot.
Even in a base cabinet at 26 inches deep, a rollout drawer box can become useful – especially as a kids snack drawer that they can access themselves.
Standard base cabinet widths vary based on the base cabinet's specific purpose. As a general rule the width of the base cabinets range from 9 to 42 inches. For example, a base cabinet below a double basin sink is around 36 inches, while a single basin sink's base cabinet will be about 30 inches.
Cabinets that house various pots and pans, baking sheets, and silverware will have different sizes based on their specified purpose. These can range anywhere from 9 to 18 inches.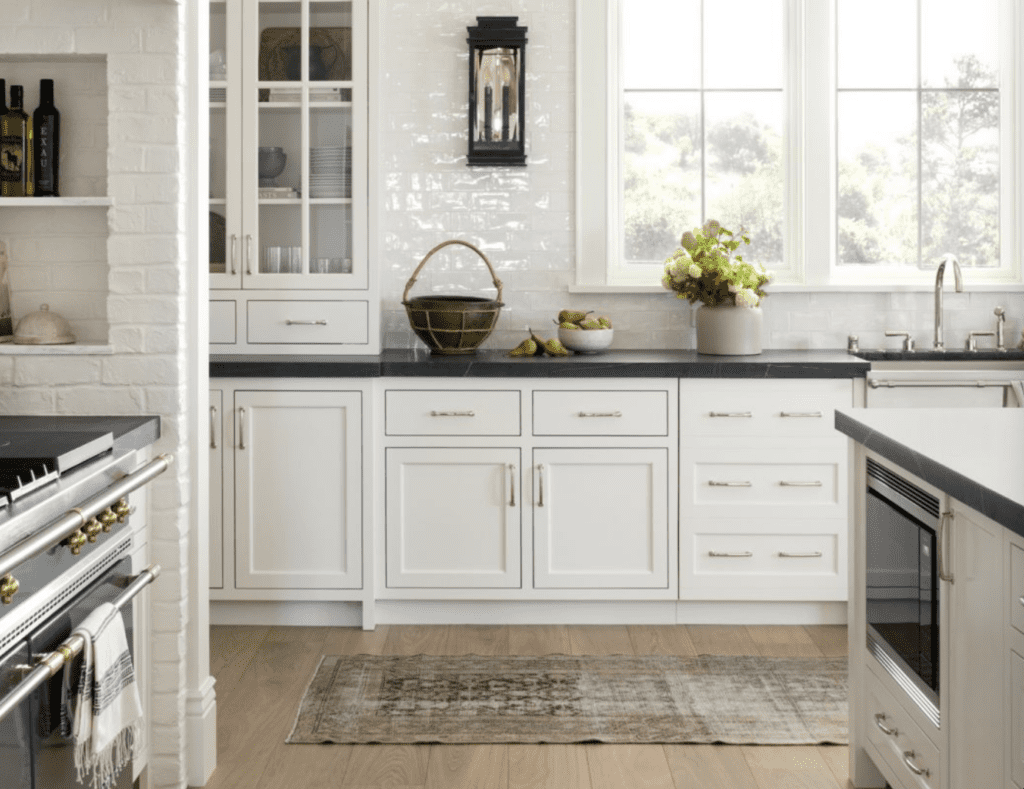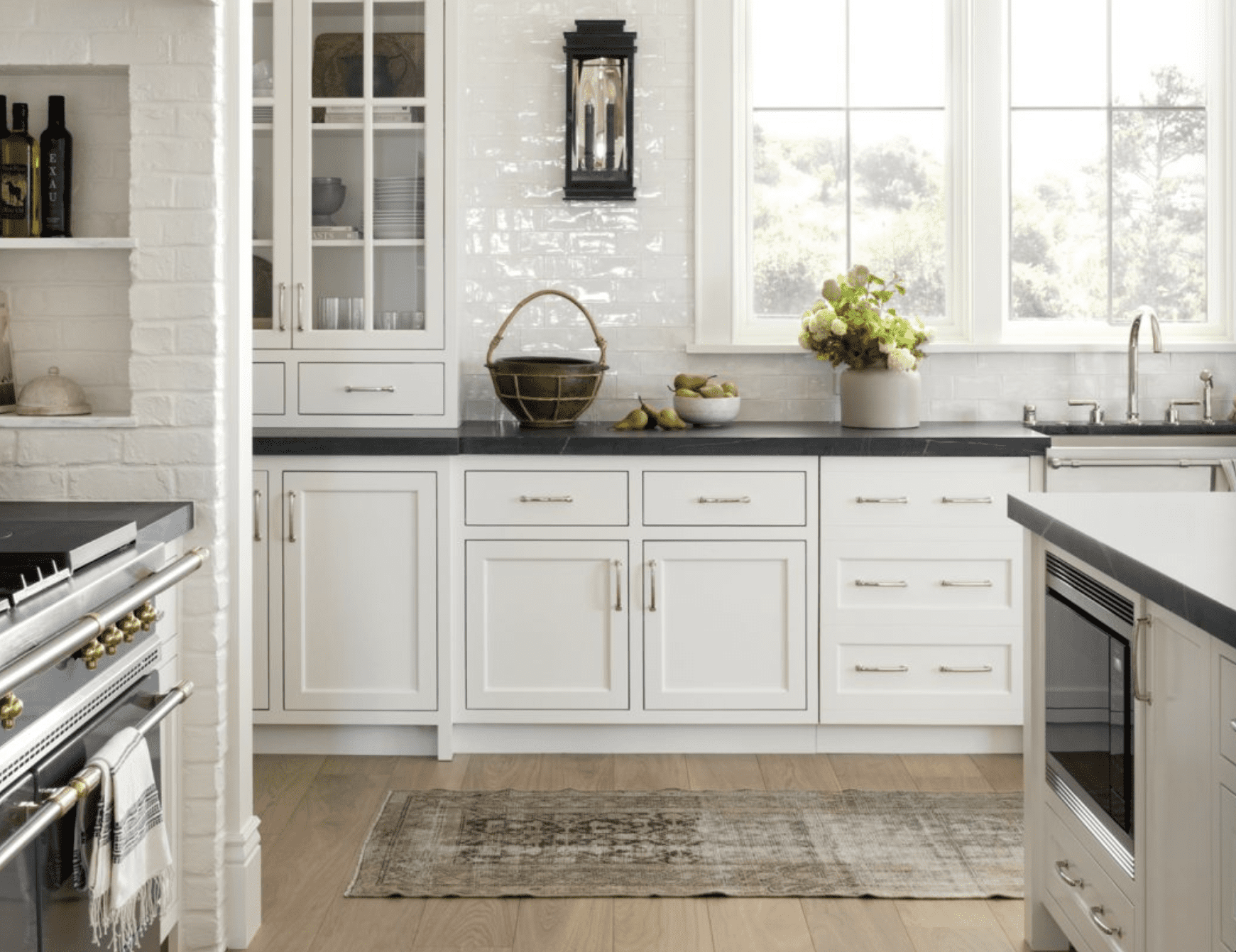 Kitchen by Studio McGee
How Deep is a Standard Kitchen Wall Cabinet?
If your base kitchen cabinets are your rock, then your kitchen wall cabinets are the face of your kitchen. These are the cabinets that get noticed and are on display for everyone to see. The cabinets are fixed into the wall studs and generally hold items like servingware, plates, glasses or decor.
Because these cabinets are on display, I love incorporating mixed materials to break up the kitchen cabinetry. For example, you can mix glass double doors on upper wall cabinets with Shaker style base cabinets. Install lighting within your glass cabinet to showcase your beautiful servingware.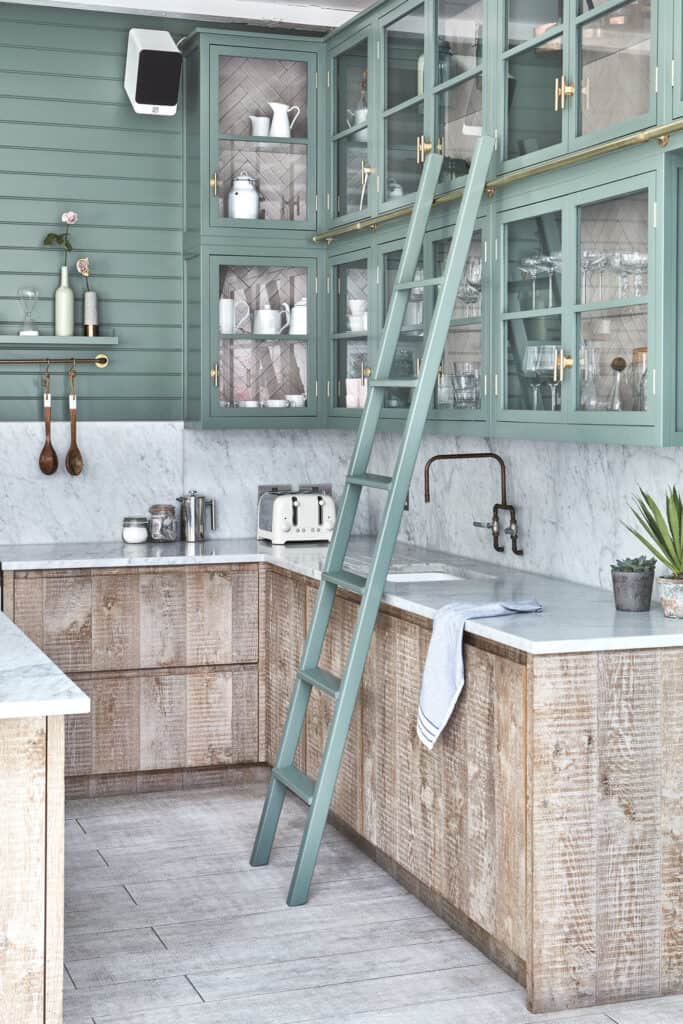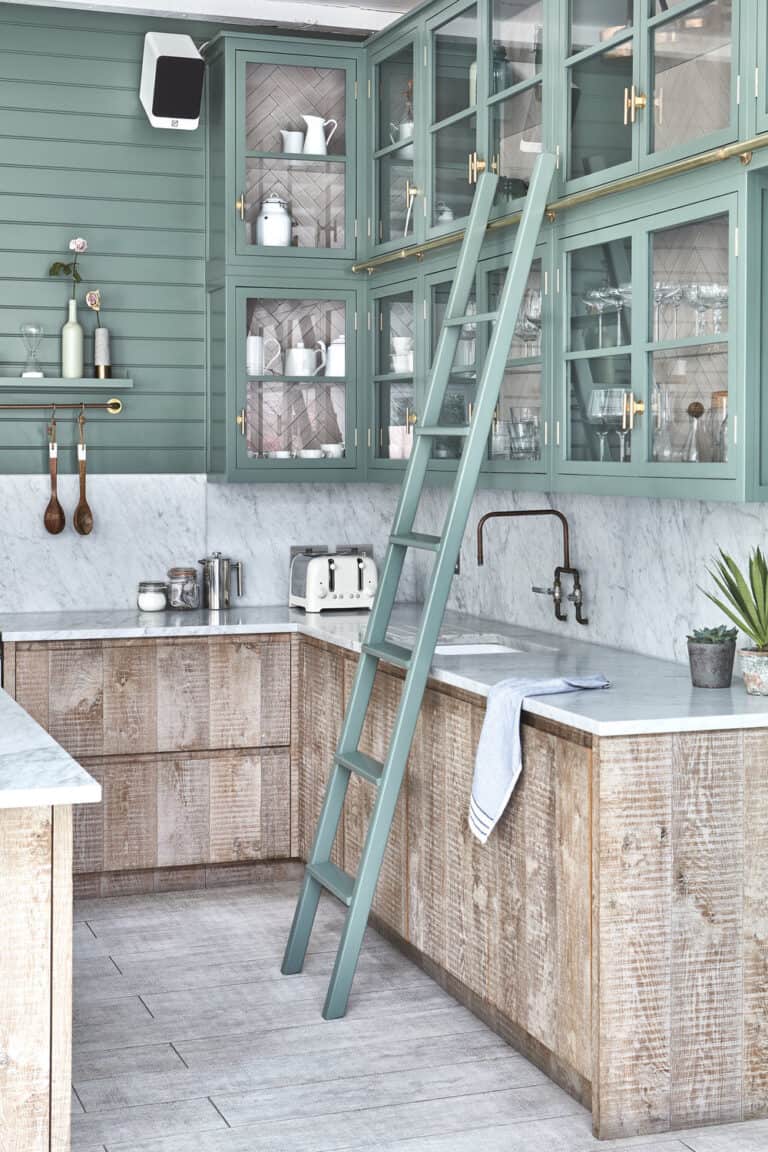 Talk about the perfect kitchen cabinet set up! This design is by Blakes London.
The height of your wall cabinets depends on your own preferences and your ceiling height. Keep in mind that while you may have cabinets that reach your ceiling, these high cabinets may be inaccessible to those of us who are vertically challenged.
Consider challenging your ideal upper cabinet height by creating the illusion of your cabinets reaching your ceiling height. I love this look for high ceilings. It not only elongates the height of the kitchen, but also makes the space feel grander. You can create this illusion with crown molding all around the top of the cabinet.
I know I'm guilty of having a few bare shelves where I can't reach. While I don't use the space, I do love the aesthetic of full ceiling height cabinets. So the payoff was worth it to me even if it isn't fully functional. It just depends on your priorities.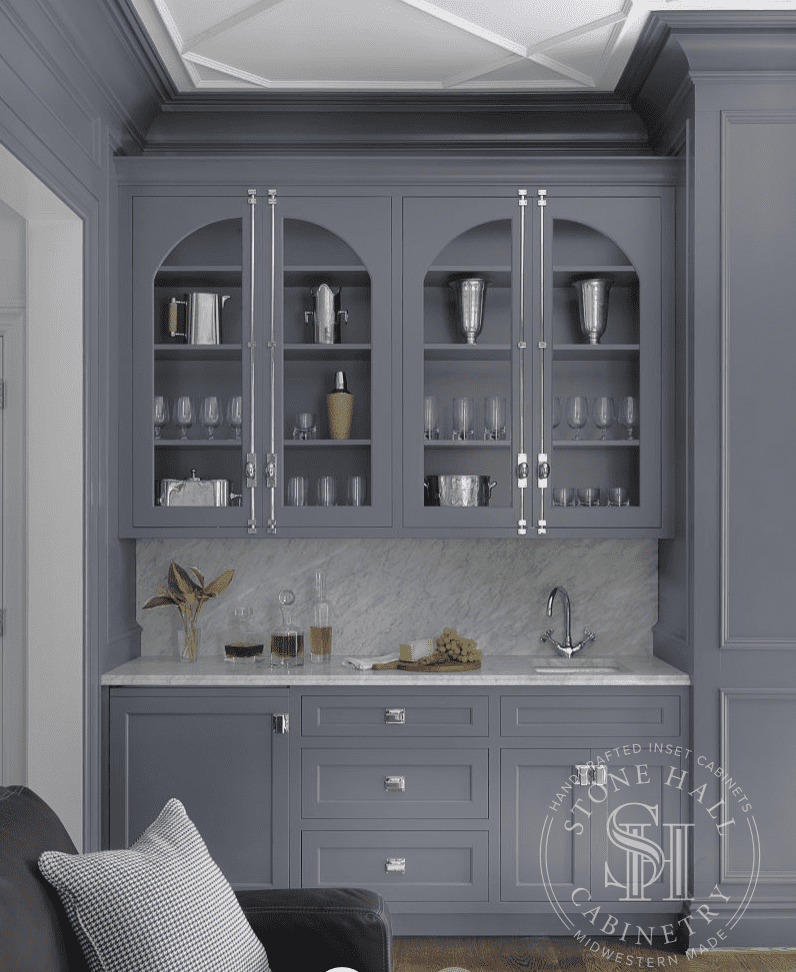 Beautiful bar with crown molding around the top of the cabinets which adds height and dimension. Cabinetry work by Stone Hall Cabinetry.
Keep in mind these cabinets must fit between your ceiling and your base cabinets. For the best result, 54 inches is recommended between the floor and bottom of the upper cabinets. Now for some math: subtract 36 inches (height of the base cabinet) from 54 inches ( recommended spacing between base cabinet and ceiling) and you'll have 18 inches total. This leaves plenty of room for a backsplash and workspace.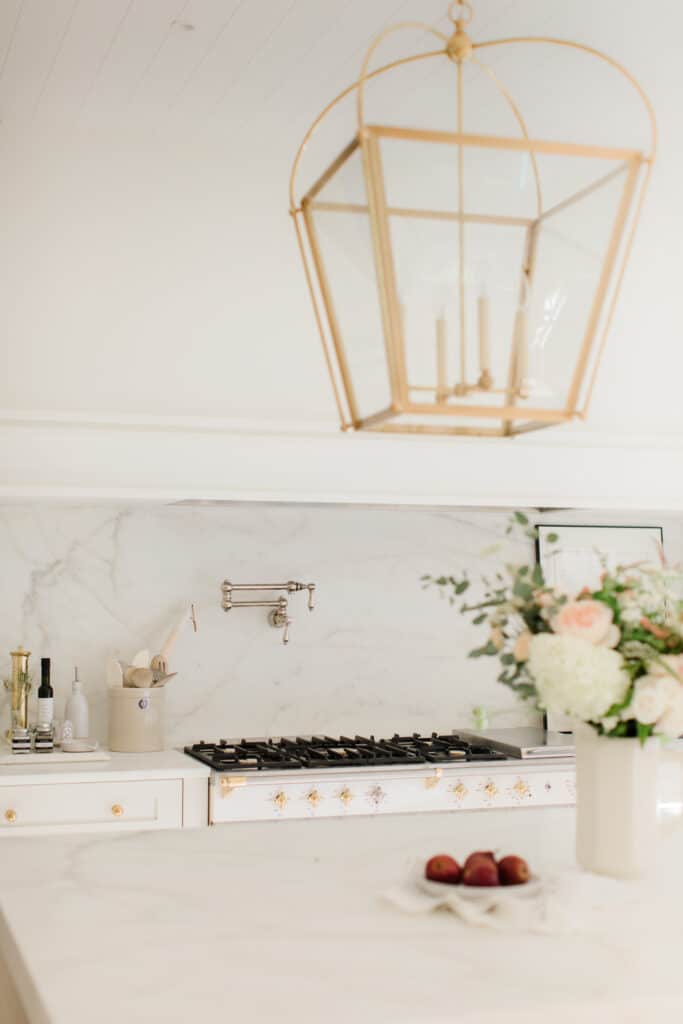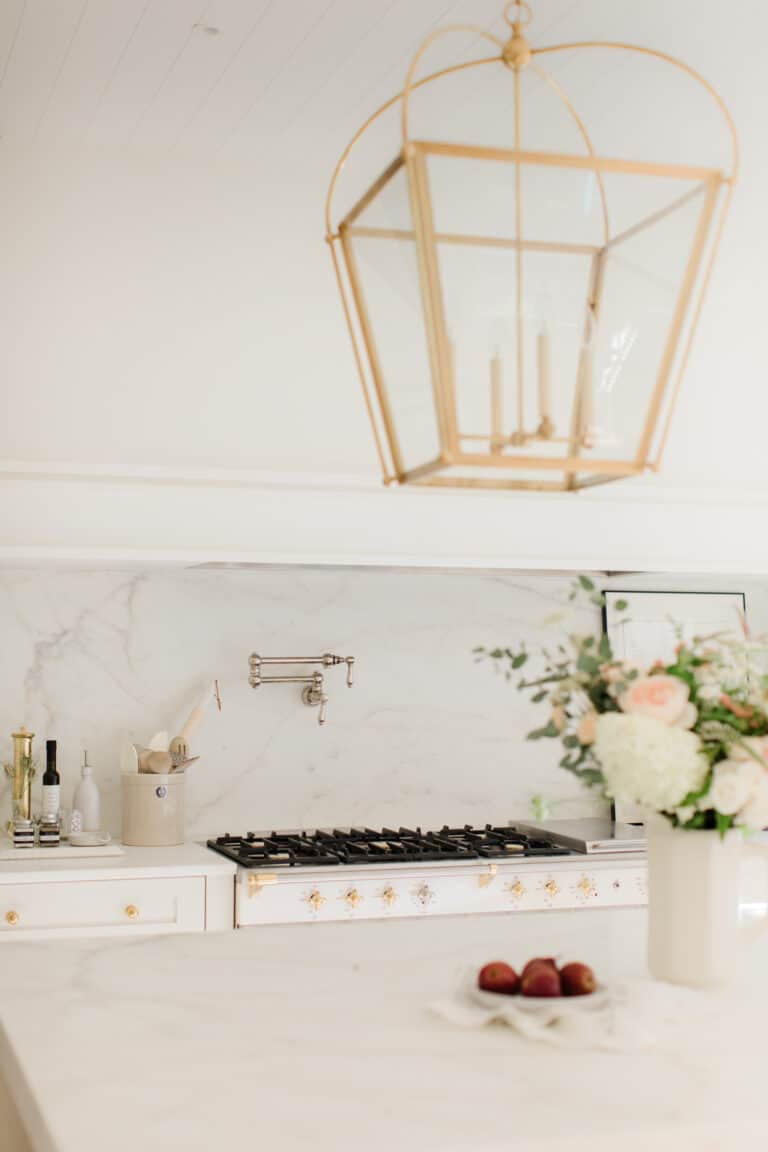 Check out more pictures from this incredible feminine kitchen
Standard wall cabinets range anywhere from 30-48 inches as the ideal height. For those who prefer to have their cabinets reach their ceilings, then these high cabinets could come in at 48 inches.
Wall cabinets must be between 12-24 inches deep so that they don't jut out beyond the base cabinets. (Reminder: base cabinets have a standard depth of 24 inches.) The standard depth of wall cabinets is 12 inches. However, cabinets above the microwave or refrigerator tend to be deeper cabinets.
Like the base cabinet, the standard widths of wall cabinets range from 12-48 inches deep. Depending on whether you have a single door or double cabinet doors, your width will change. However, most are 30 inch wide cabinets.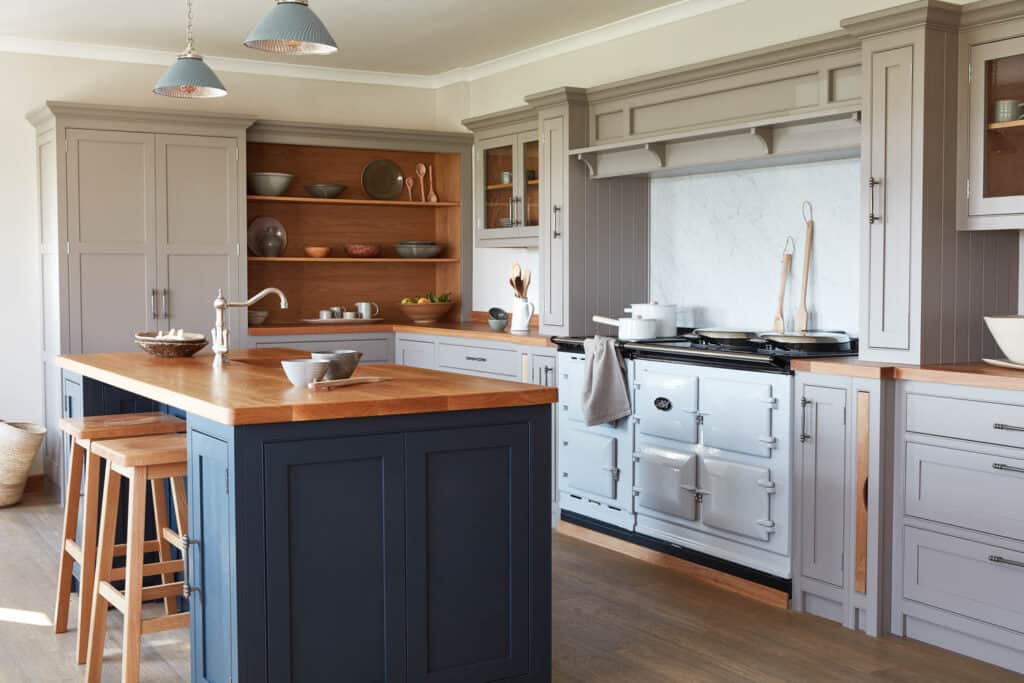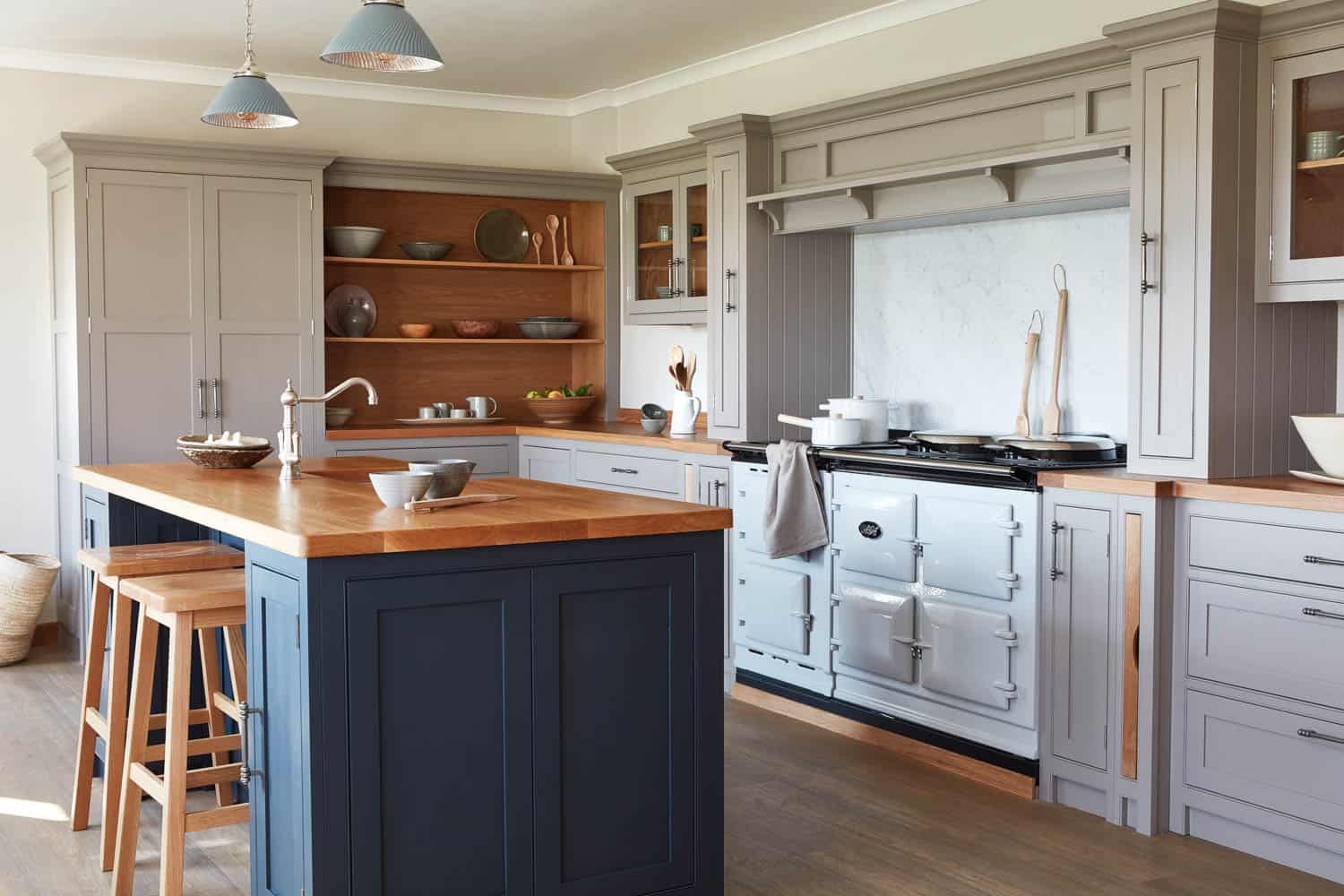 Naked Kitchens designed this transitional kitchen.
How Deep are Kitchen Wall Cabinets – Tall Cabinet Dimensions
Tall cabinets are also known as pantry cabinets or utility cabinets. These are the random tall cabinets that extend from floor to ceiling. You'll often see people house their cleaning supplies or other miscellaneous items here.
I'm not a big fan of these cabinets, unless of course these serve as your pantry. I'd much rather have this space used in a different way, whether that be in the form of a larger refrigerator or wider stove and then utilize a beautiful armoire as a pantry. To me, I think these cabinets are often just awkward and not necessarily functional for storage. They also just look out of place to me.
I prefer to have a cohesive look to my kitchen. When you throw in this type of kitchen cabinets that are tall and narrow while all the rest of your cabinets are wide and uniform, it affects the general aesthetic.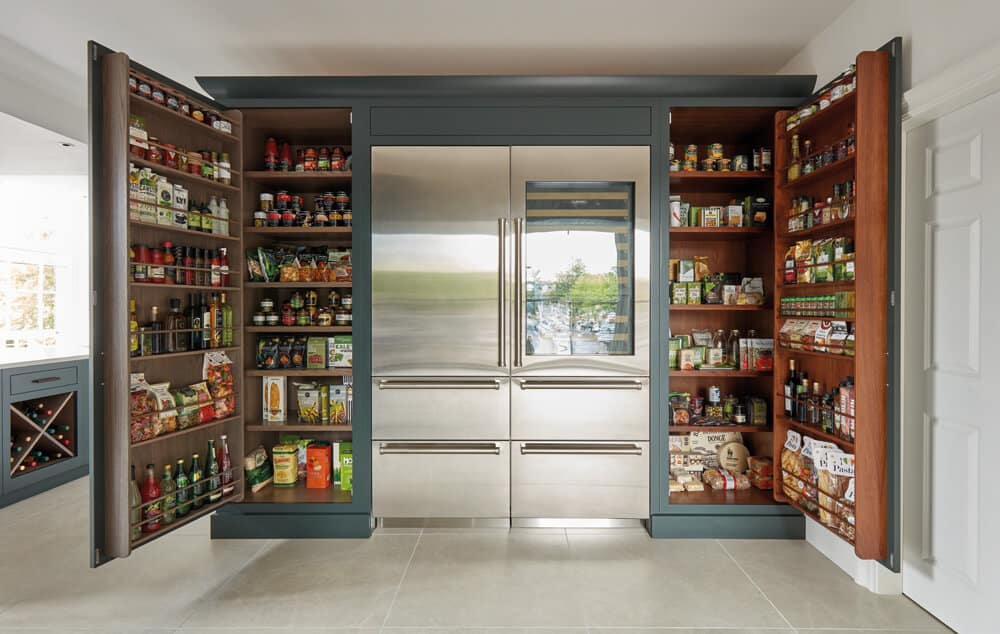 These tall cabinets on either side of the refrigerator are the exception to my opinion that tall cabinets are awkward and not as functional as I'd like. Wow this is a functional tall cabinet!
Nonetheless, these tall cabinets range anywhere from 84-96 inches tall as the standard distance from floor to ceiling with an 8 ft ceiling. The cabinet depth generally stays between 12-24 inches.
You can't have anything too deep or you'll end up with a walk in closet or be struggling to reach the back of the cabinet. The width of these cabinets range anywhere from 18-24 inches wide.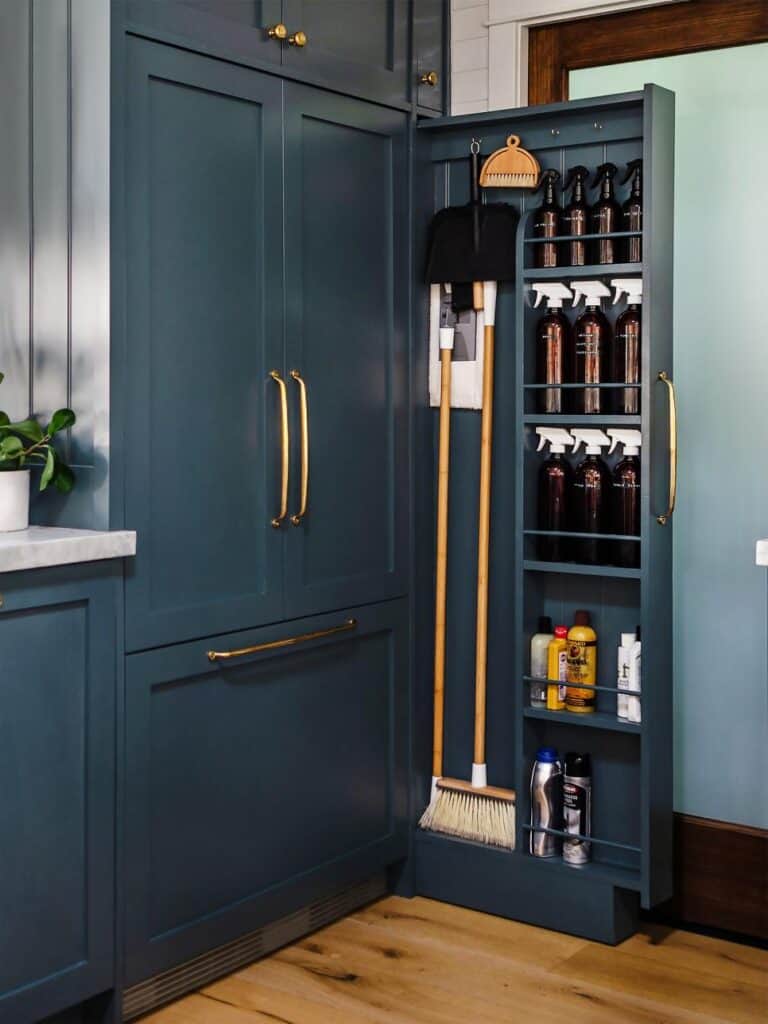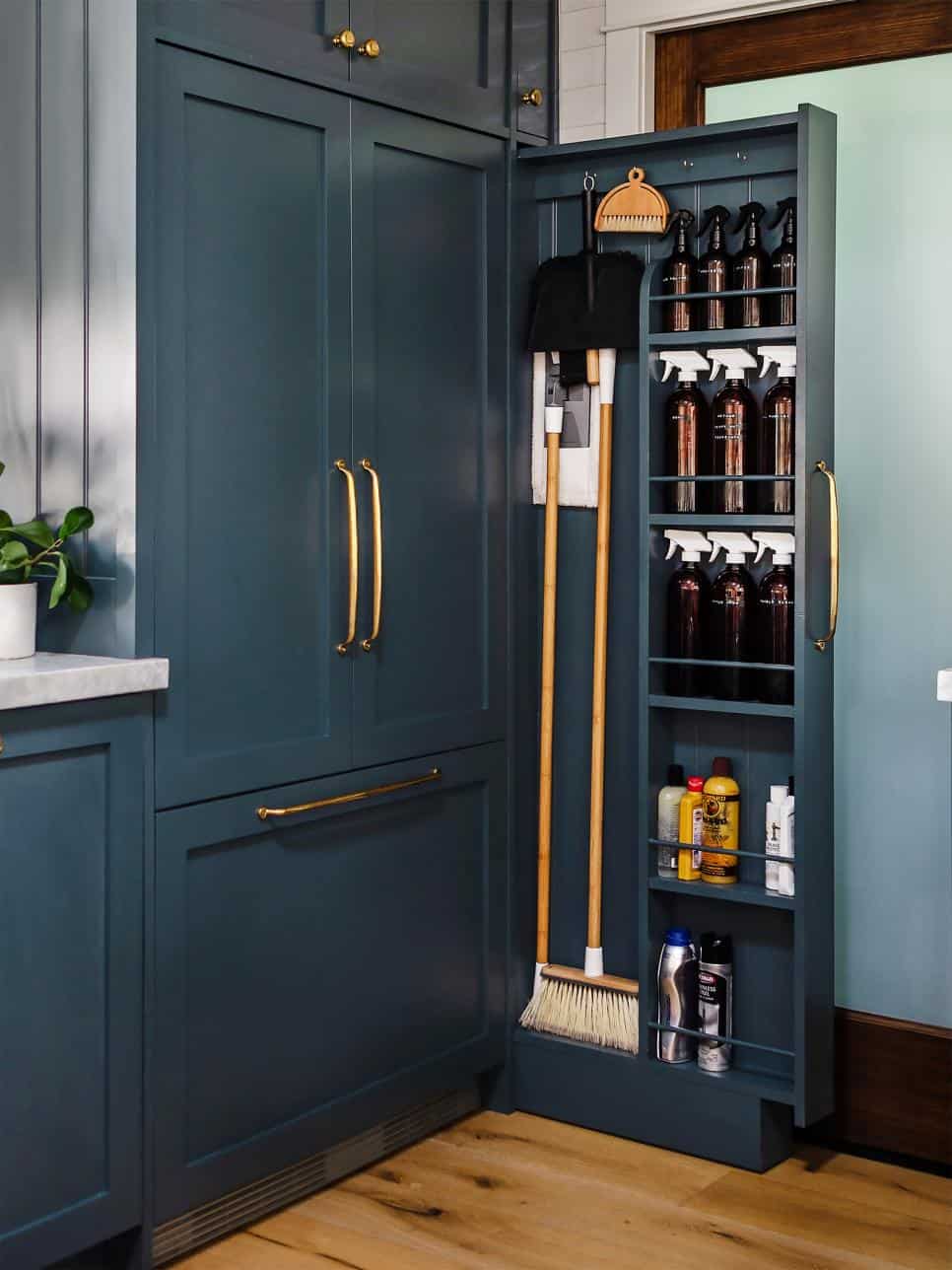 Again, I stand corrected as this is a very functional cabinet space and makes use of all space in small kitchens. 
Alternative Uses for Kitchen Wall Cabinets
Before I send you off to design your own space, one thing I want to share is some alternative uses for Kitchen wall cabinets. Our current home is 150 years old, giving it some weird spaces to fill – where I want modern solutions.
We have added built in cabinets using stock cabinets two times now, and both times when faced with finding something that fit, I found myself researching how deep are kitchen wall cabinets – because a standard base cabinet wouldn't fit!
I was able to use standard wall cabinets on the ground level in both situations to give a built in cabinet look where depth was an issue, so that is a creative solution to keep in mind for your home if you are the DIY type!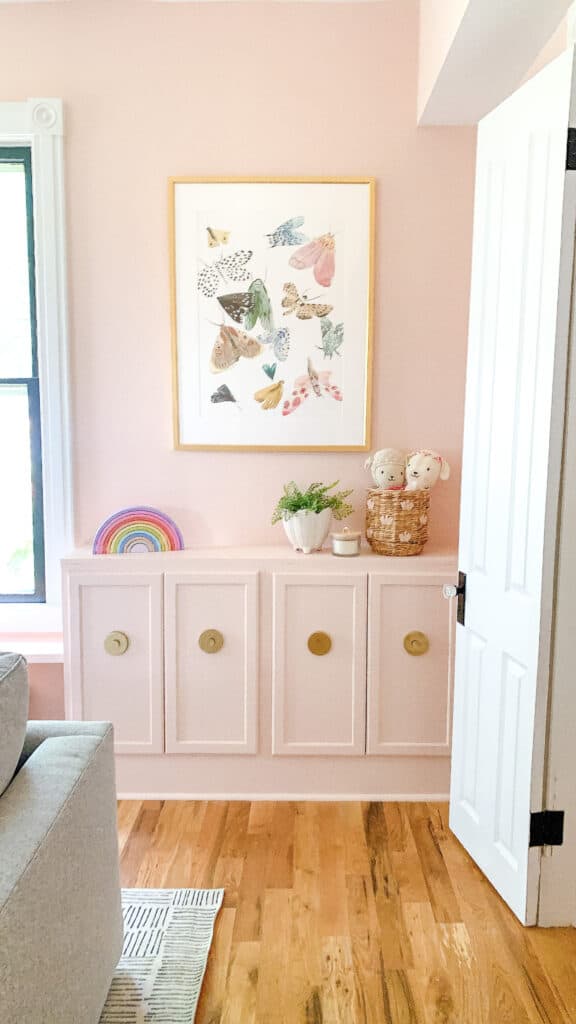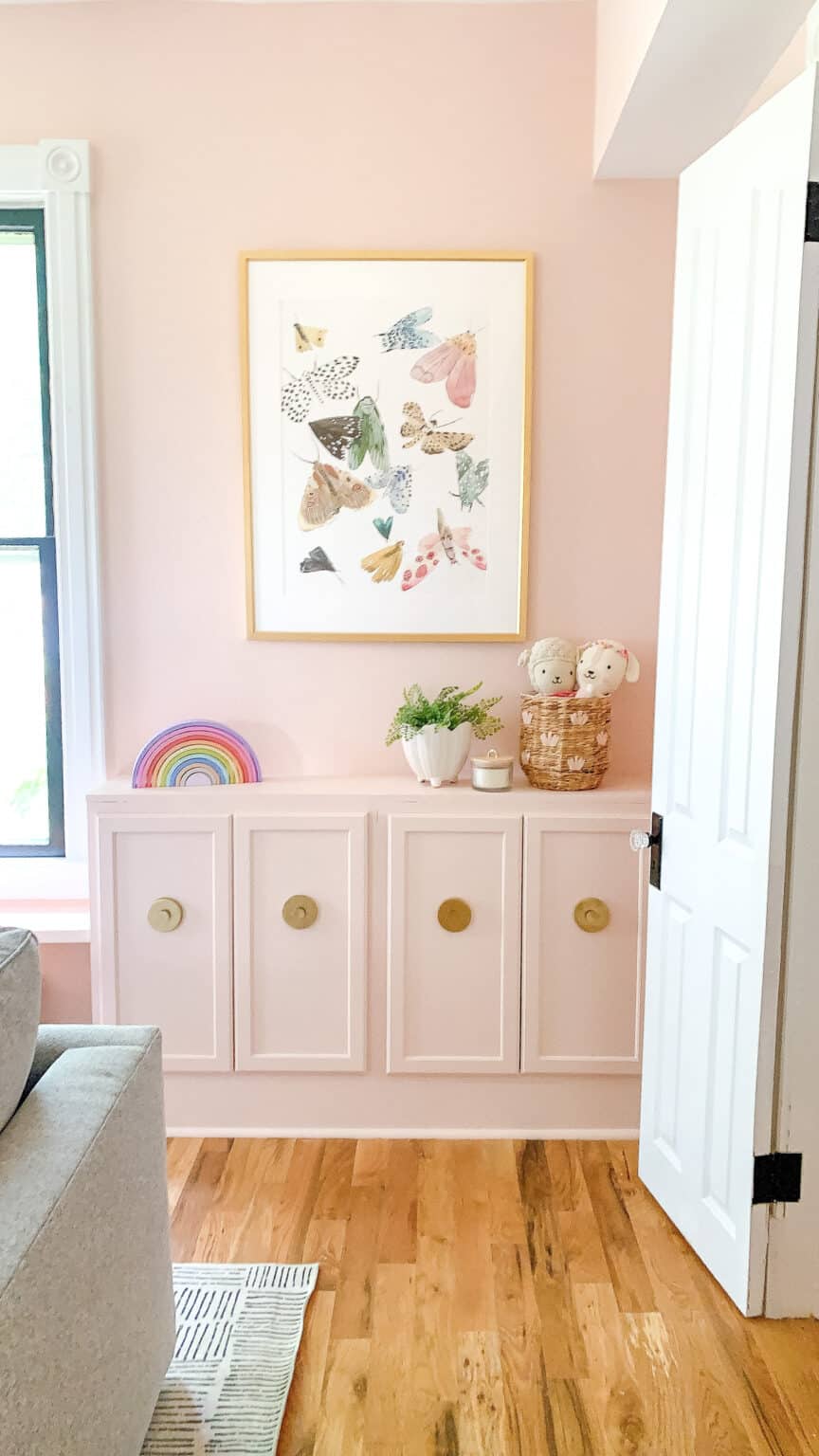 I hope this post gave you some insight into the importance of your kitchen cabinets. Whether you plan to remodel your kitchen and get custom cabinets or stock cabinets, you will have plenty of options to choose from.
The perfect kitchen cabinet is both functional and aesthetically pleasing to your kitchen's overall look. Take the time to consider how you and your family utilize the space. That will be the biggest factor in determining your layout and cabinetry needs. Your dream kitchen will come together in no time!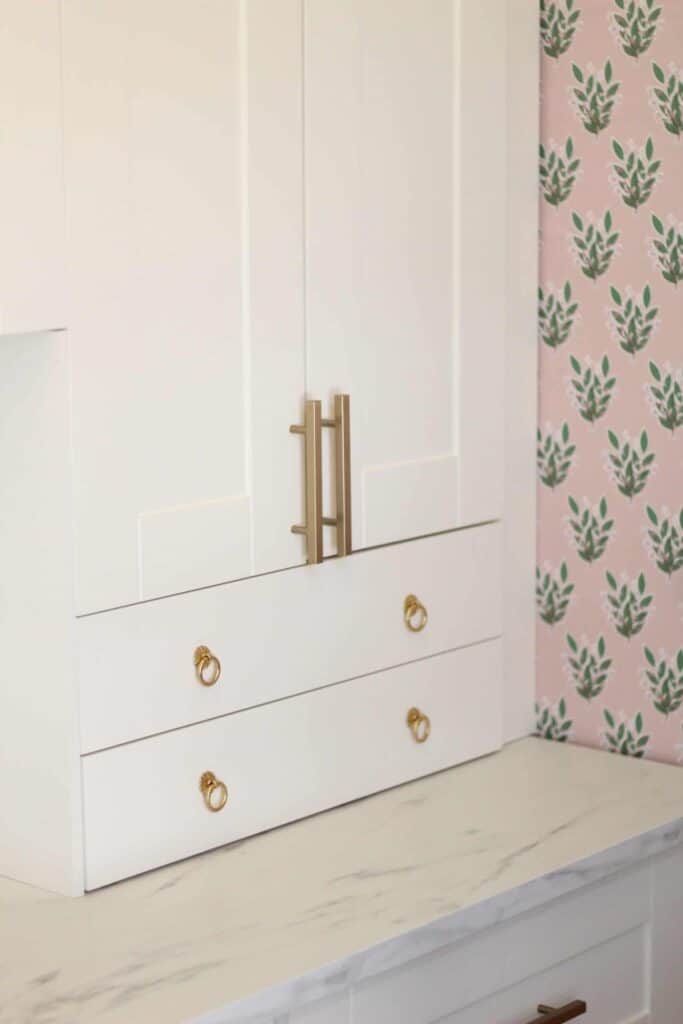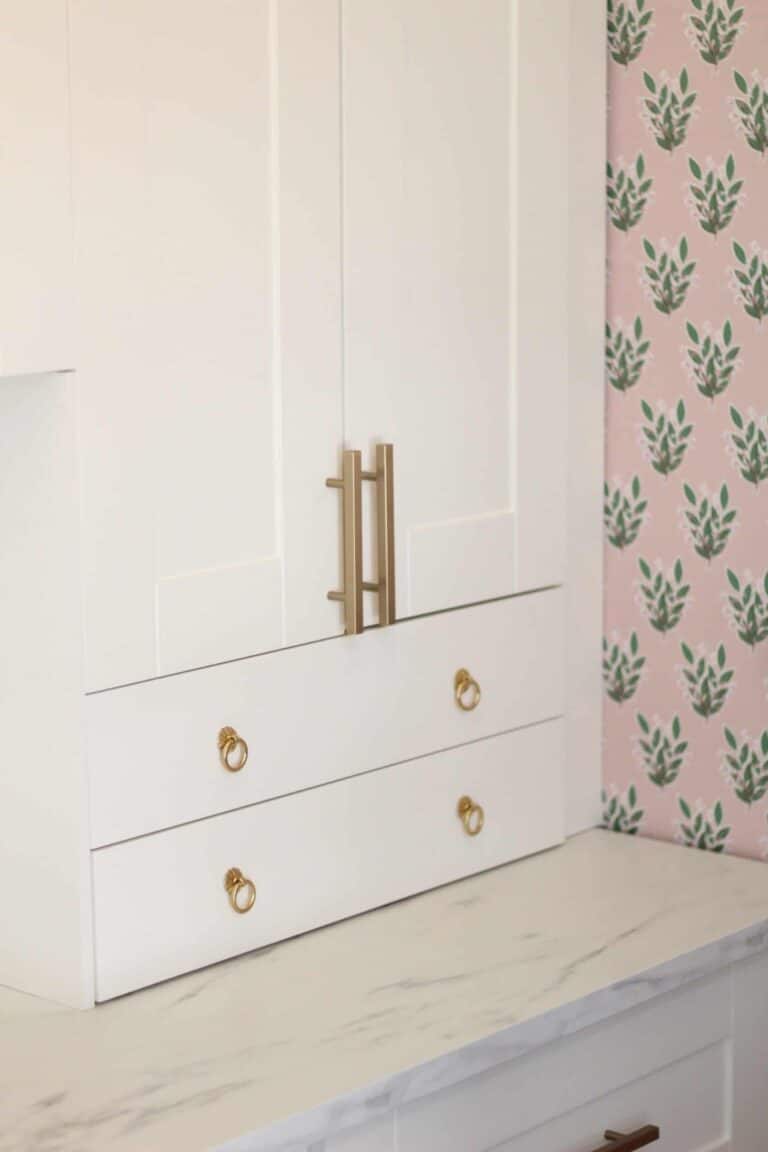 Other Posts You'll Love
Shaker Style Kitchens | White Kitchen Cabinet Backsplash | Best Paint For Your Cabinets | Painting Kitchen Cabinets | DIY Built In Cabinets
Pin This Photo Below For Later
I would say we definitely answered 'how deep are kitchen wall cabinets?'. Hopefully you feel confident in designing your kitchen, or planning your projects and have a better understanding of the depth of kitchen wall cabinets.  If you have any questions feel free to leave them in the comments section, and follow me on Instagram @arinsolange and TikTok  for more home, decor, and DIY.