I am SO excited for this post. Finally, after 5+ years I finally have a home office that will function fully for me and my job. Over the past few weeks Sam and I transformed my small home office into a space I could DIY, film, and work in, which is such a dream, and I can't wit to share it with you. If you are here looking for inspiration for a compact space in your home that you want to transform into an office you came to the perfect place.
This post may contain affiliate links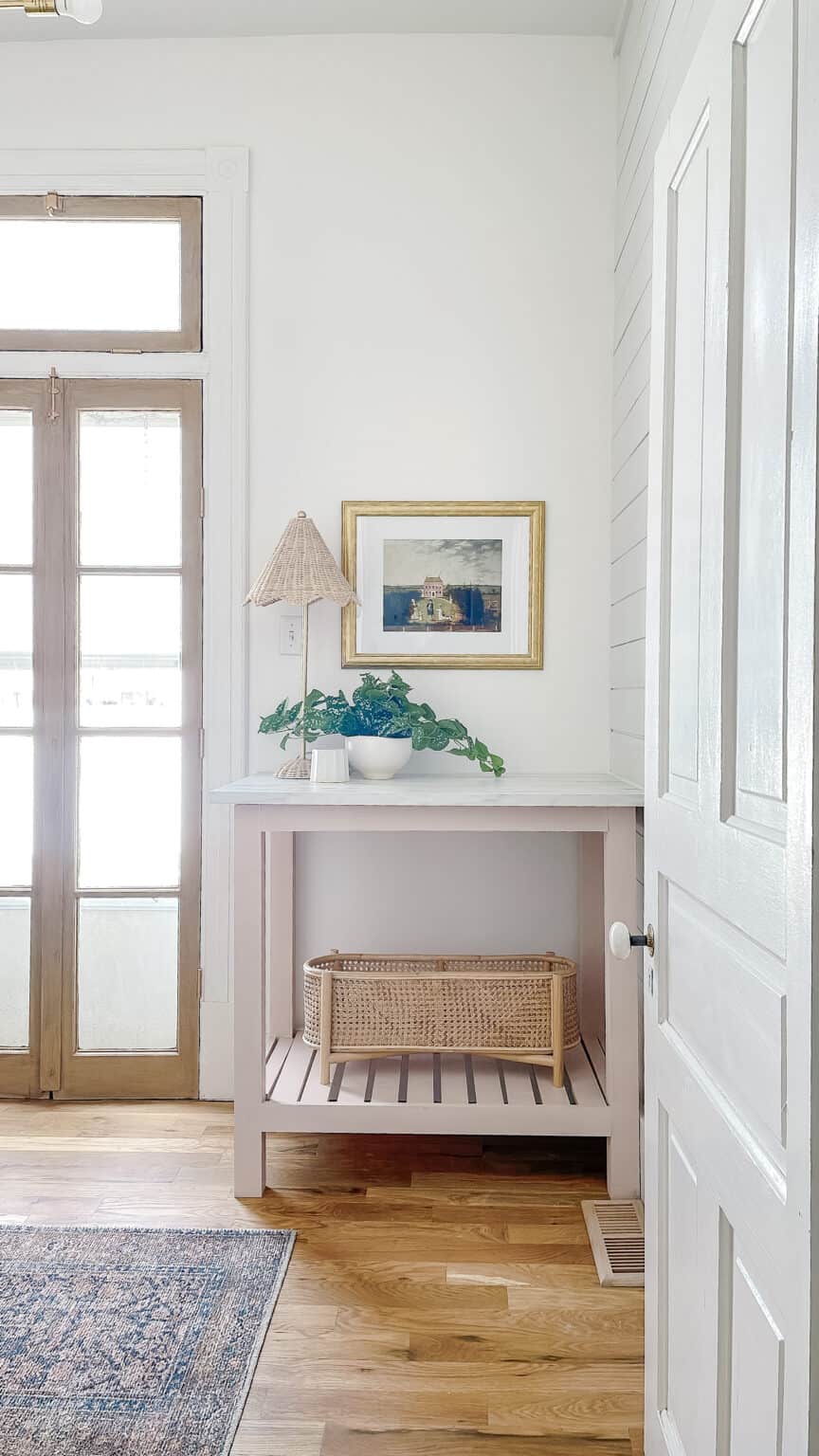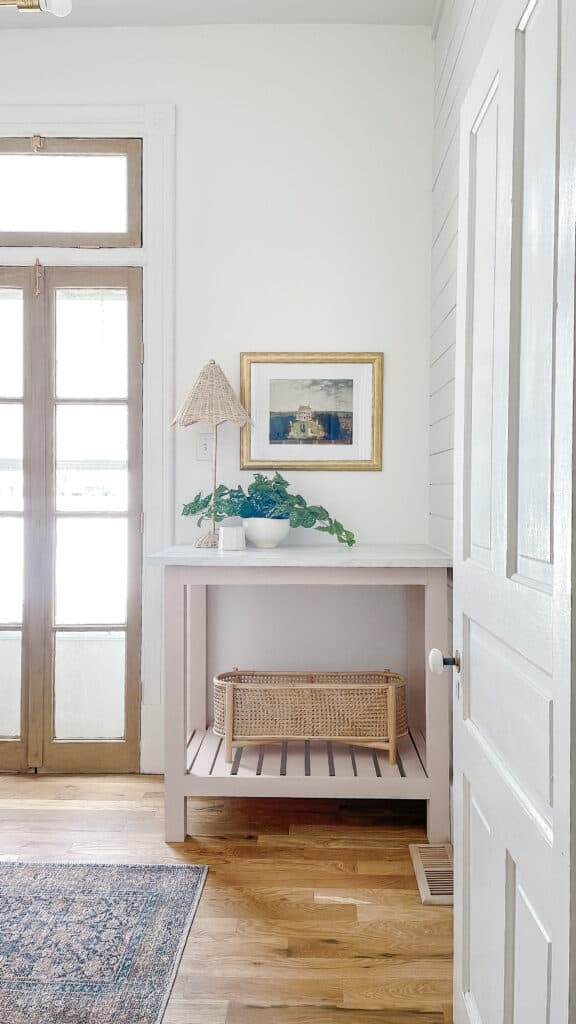 All about Small Home Office Spaces
When we moved into our house and renovated last year there was a small space on the main floor that we knew would be perfect as a work space of some kind. We decided to wait on it for a bit to see how we really wanted to design and use the space, and I am so glad we did because I think my choice a year ago would have been much different than it was today.
I work from home as a decor and DIY blogger and I really wanted a work area that would work for both the DIY aspect of my job, but also allow for me to film videos and do computer work. We worked hard to maximize the awkward space to check all those boxes.
The space was full of potential with great natural light, and although it is a small room it has so much of the natural character of the home with original doors to our patio and high ceilings.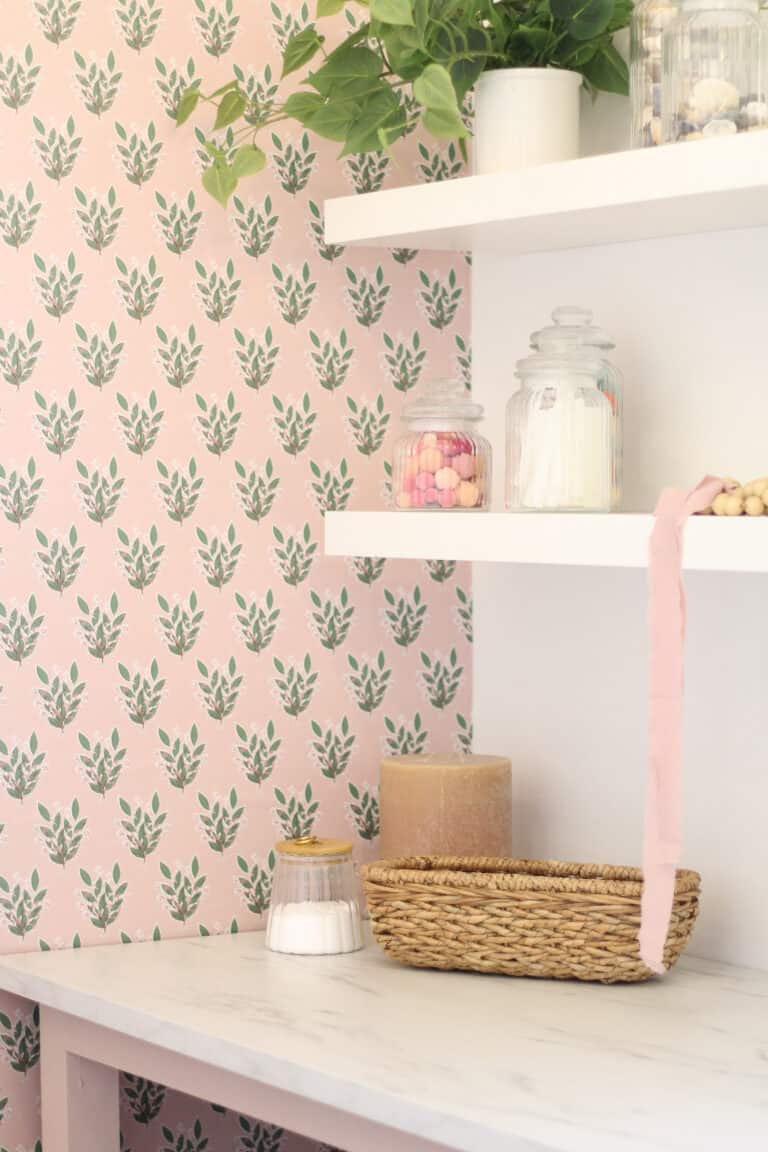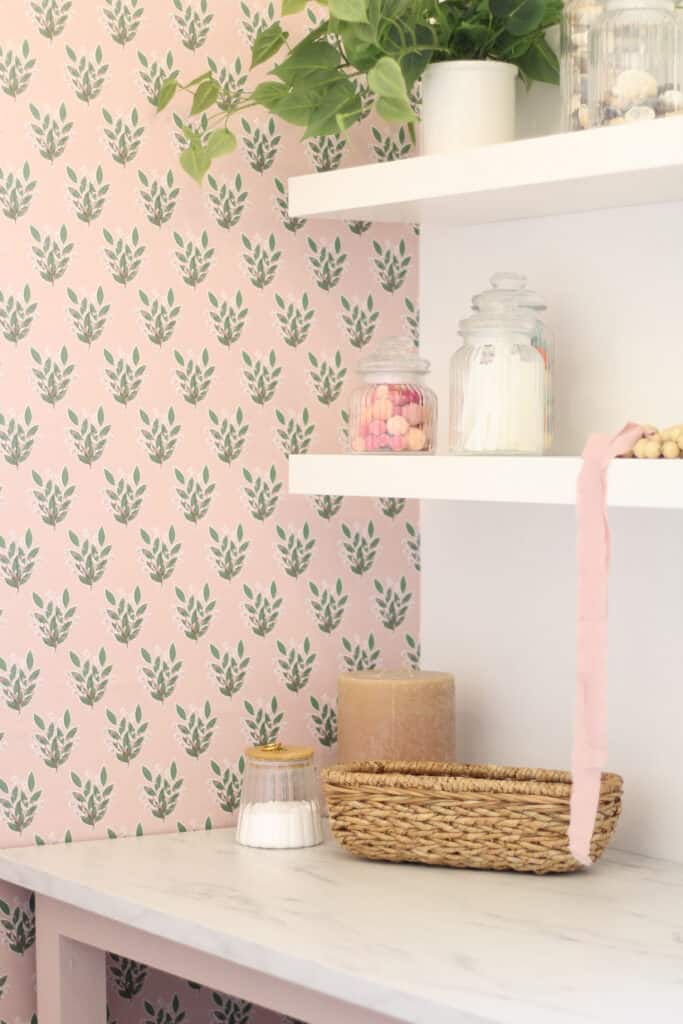 Utilizing the Entire Room
When it comes to a home office, we all have different needs. Our jobs look different, and our lives look different. I have friends who have turned a closet into an office (or a 'clofice") and friends who have large open office spaces in their house.
If you are on this blog post you are likely trying to design a small home office just like I did so I am going to walk you through some things to consider in your own space, and how I utilized that in my space.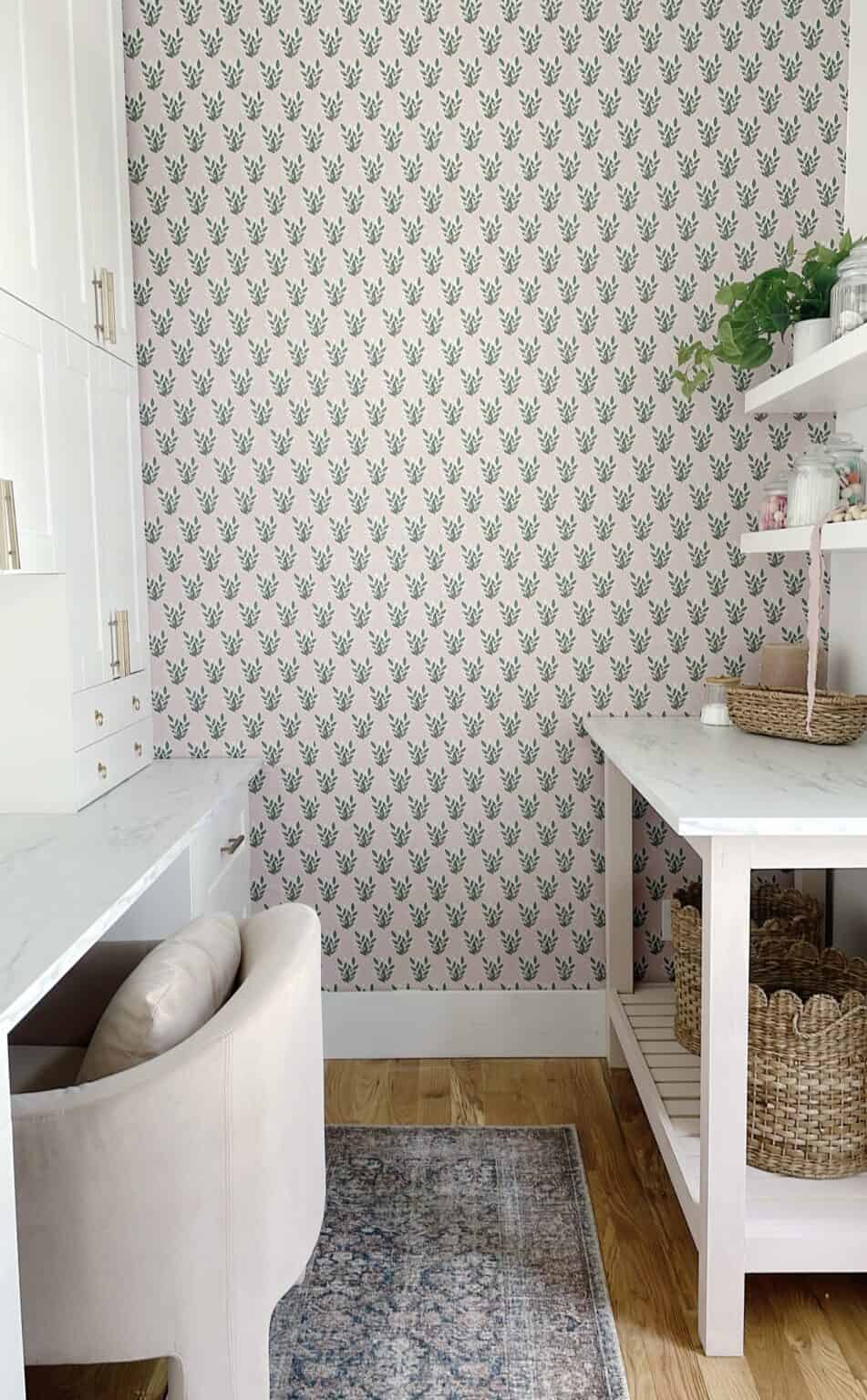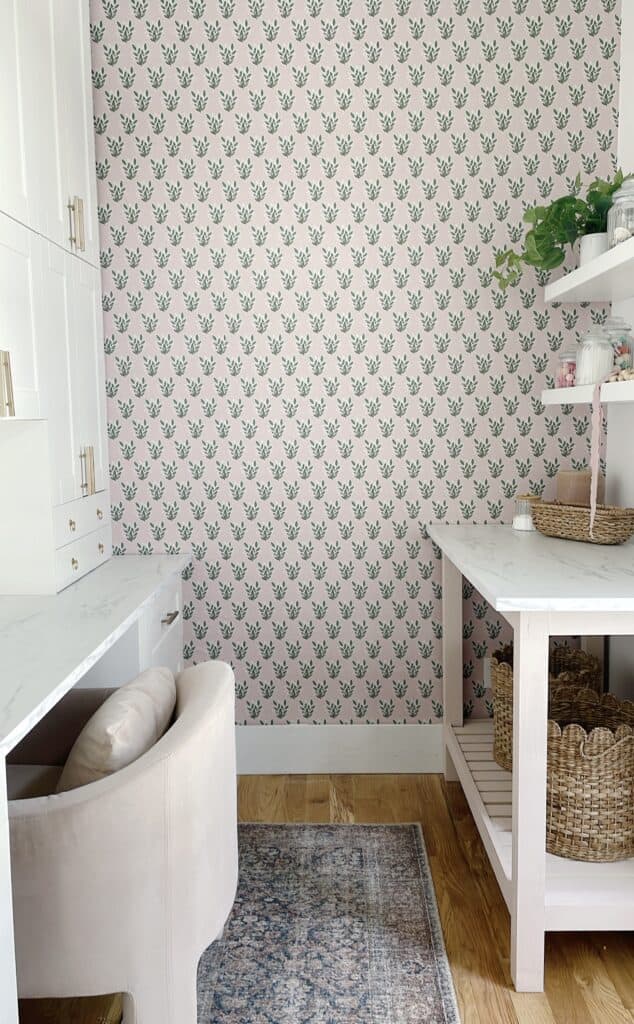 Pick a Focal Point
When you are designing your home office you will want to pick a focal point, and a color scheme. This is especially important when dealing with small spaces because you don't want the room to feel visually cluttered. For me that focal point was wallpaper. I knew I wanted to do a fun wallpaper on the back wall and that would both set the tone on color scheme, as well as serve as the focal point.
I was lucky enough to design this wallpaper with Our Local Wallpaper Studio, and will share next month how you can use this in your own home.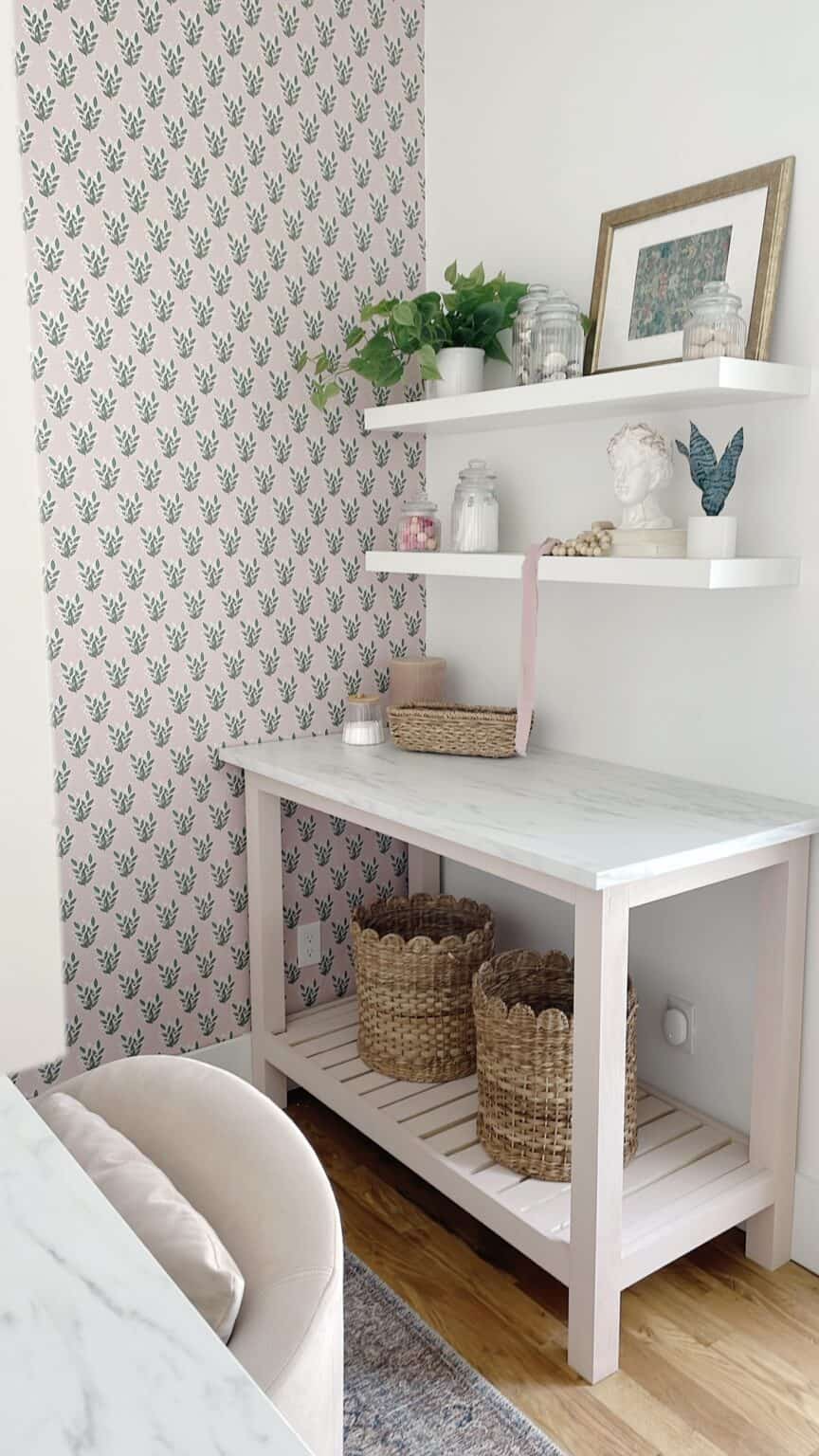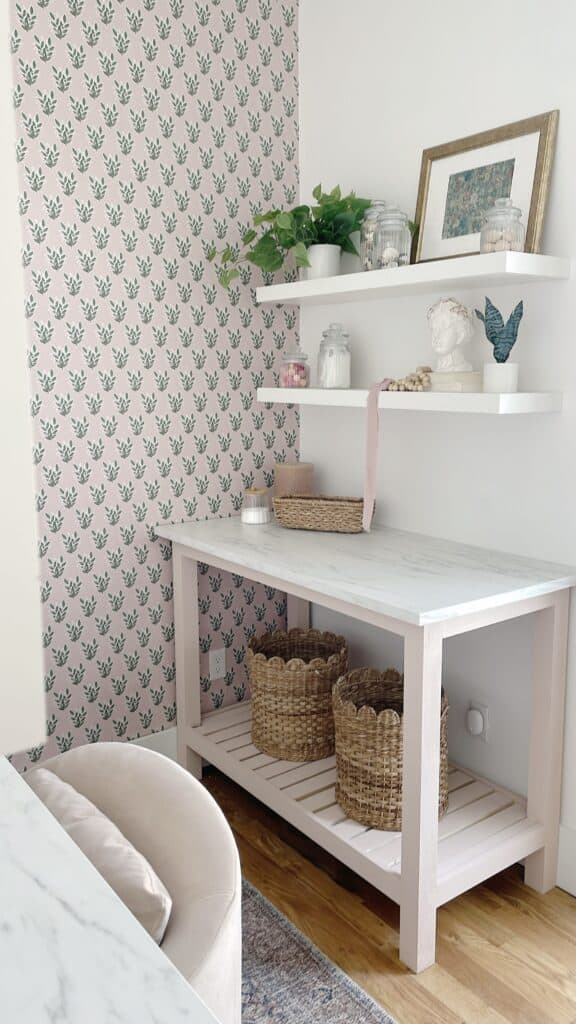 In other rooms you may work off of a piece of art, a rug, or even the rest of the room if your small home office is a dual purpose space such as a guest room. Because it is a small space I would stick to a light paint color for the majority of your walls to keep things feeling bright and light.
Make Sure it is Functional
An offie space means that it is for work. Which ultimately means function comes first, right? A functional home office again looks different in all homes, but for us I needed 3 things:
Ample Storage Space
A desk for computer work
Standing work bench for DIY space
That is a pretty unique list of thing that are needed, but also 100% dictated how we designed the room, and is where we focused our efforts. In a lot of small home office spaces utilizing a small built in desk, or floating desk can be really helpful and will make things feel less heavy.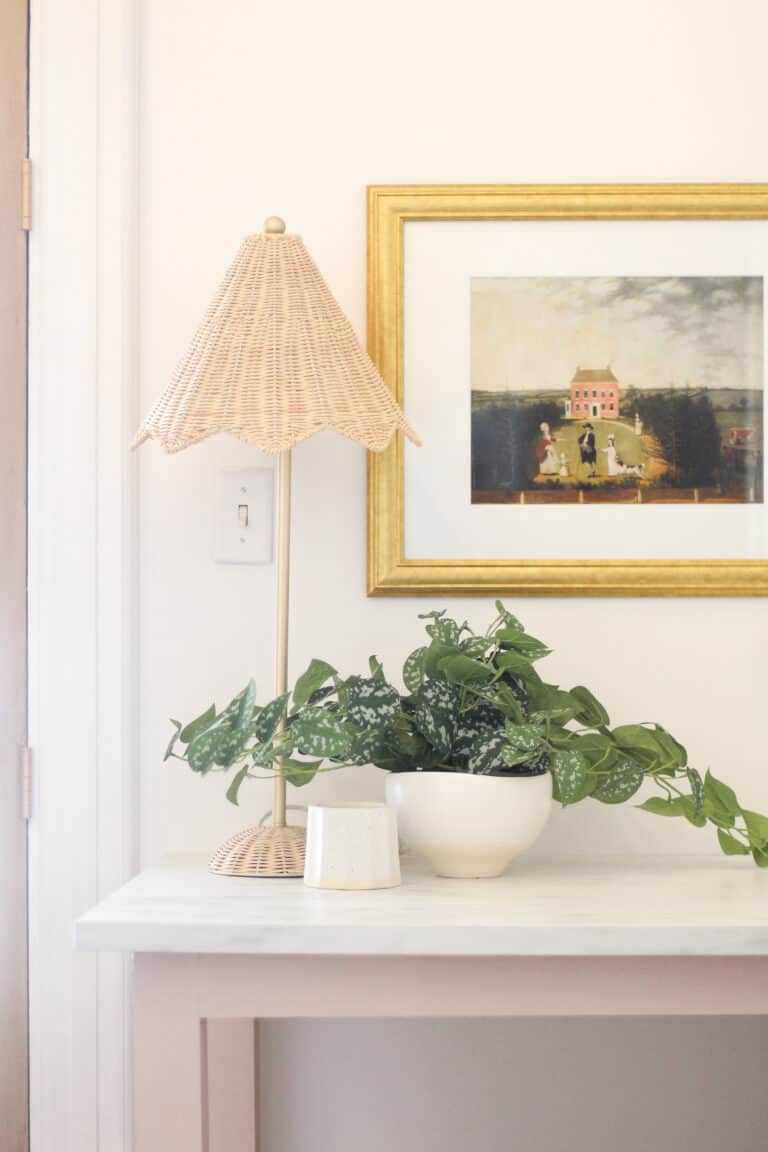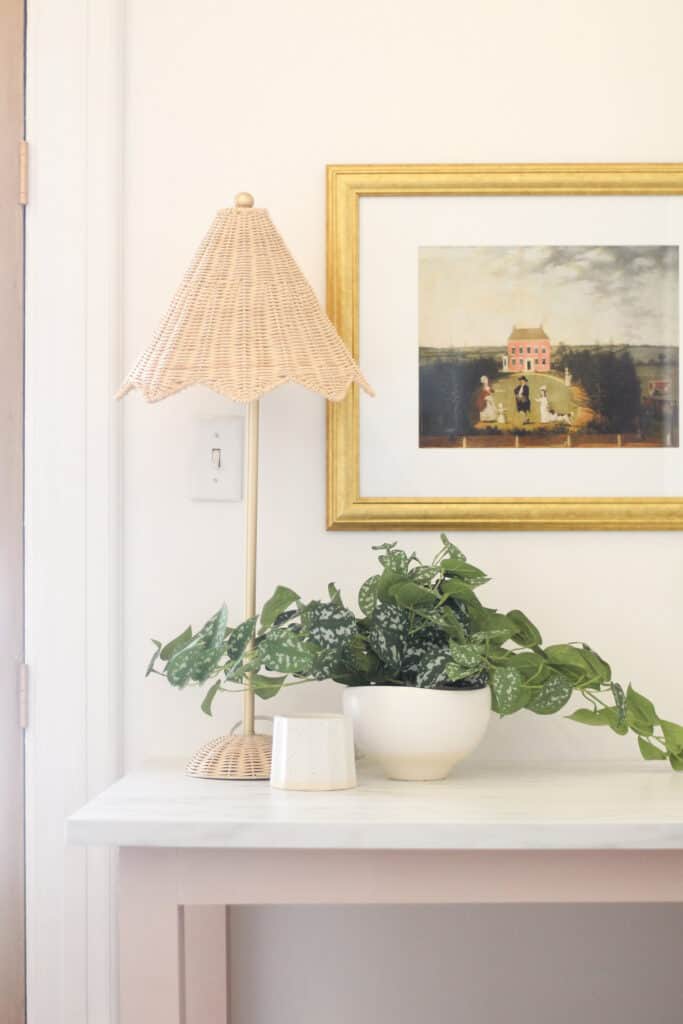 My mother in law needed a small office space in a bedroom upstairs and we did a super simple, inexpensive DIY that gave her a small desk that was a great way to fill a weird nook in a bedroom. I think the built in look can be especially nice for dual purpose rooms because it makes the office space feel less like an after thought.
Our Small Home Office Makeover
Like I said above – our small home office was a pocket of space in our home that actually was the kitchen when we purchased the home. I initially thought the space would be a great room for my 4 kids to do homework. I thought giving them a dedicated room with that work space would be great, but quickly realized they are no ready to not trash a room like that.
Long story short we ended up turning it into a dedicated home office space for my small business and we LOVE IT. In our last home I had a large home office that I loved, but it worked as only an office. I utilized an office space in our guest bedroom for my DIY projects, and that wasn't ideal. The fact that we were able to transform a small workspace into the perfect space for me to work is such a dream.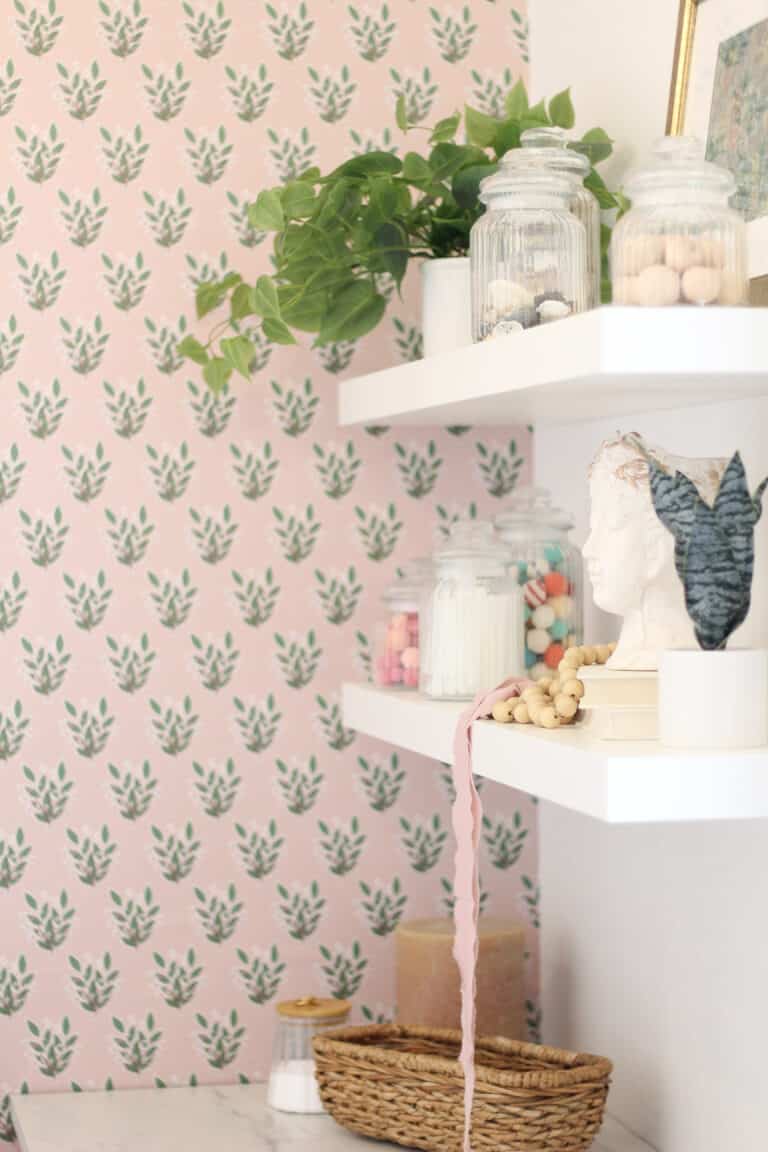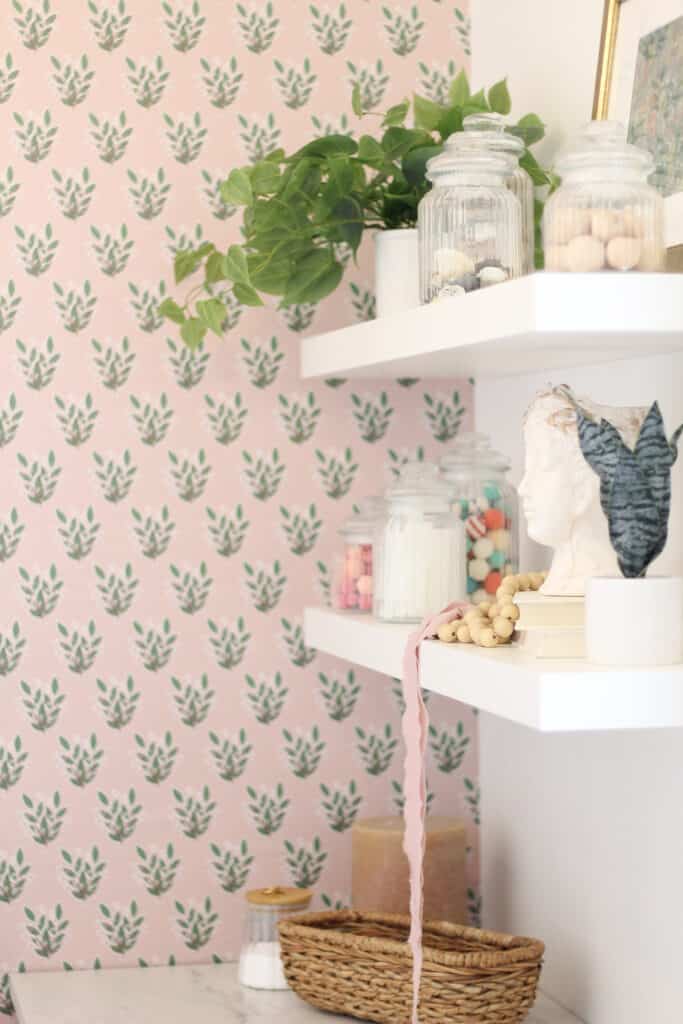 Home Office Set up – Cabinetry
Like I said a above, storage space was a huge need for me, and with really tall ceilings we knew we could add a lot of storage going straight up. I went with Klearvue cabinetry from Menards, overall we picked them because they were quick delivery, easy assembly, and affordable.
I designed the whole office on the Klearvue software which was great because I really haven't ever done a cabinet design before. It was a great place to get my feet wet! The design was pretty straight forward. If you are trying to figure out a small home office layout you could use this design tool for free without purchasing cabinets too.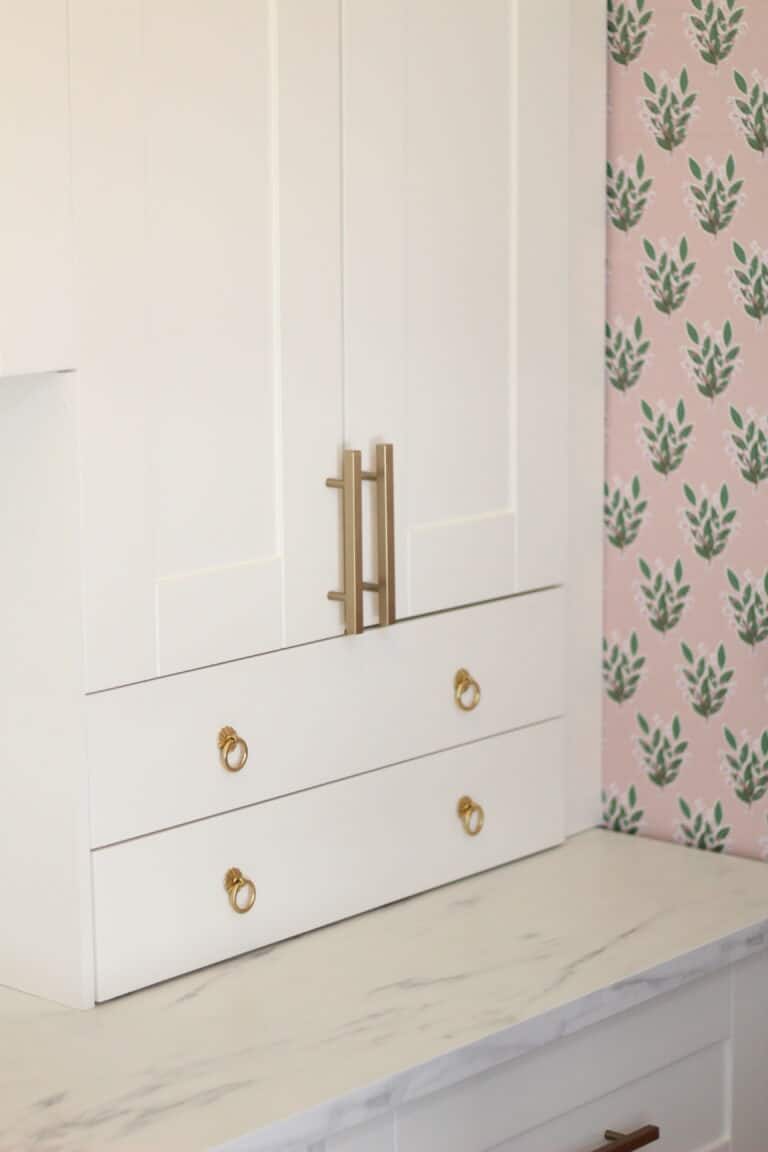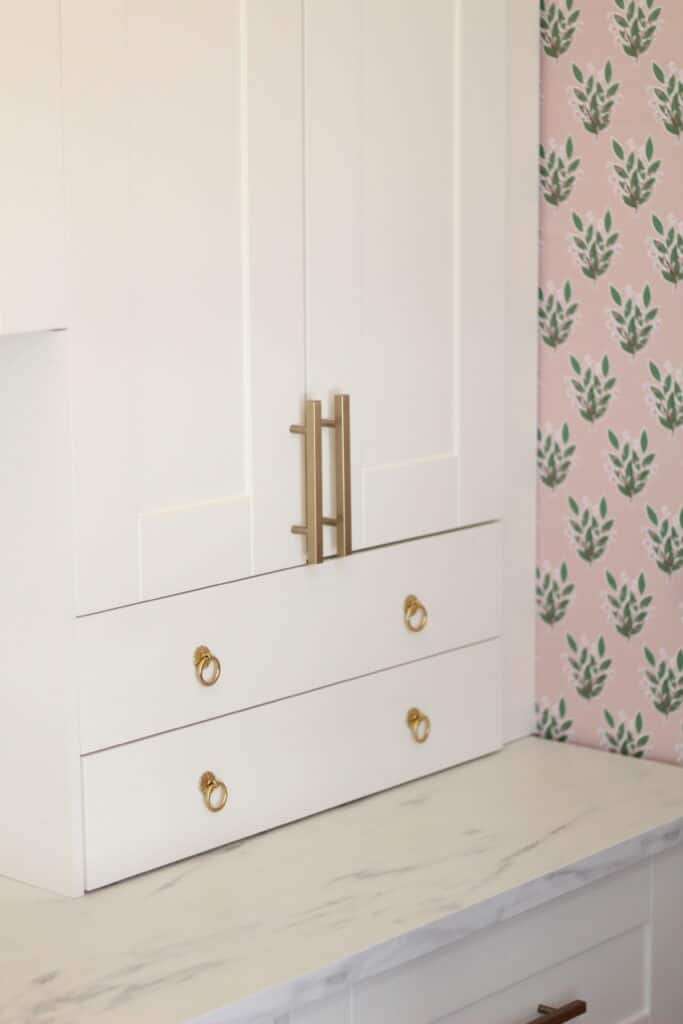 One thing I also loved about Klearvue was the huge variation in options for cabinets. I added a pull out trashcan drawer that I know will be handy when doing DIYs and not having trash cans sitting out is the best thing. you could also do a file cabinet drawer which for lots of home office needs this would be amazing.
For me, I needed an office desk area so knew I only wanted lowers on each side. One thing I did was add an 'appliance garage' type area, similar to our kitchen. This is essentially an area where the cabinets go all the way down to the counter top. I am using this area for our printer and other electronics to be plugged in and accessible but still hidden. We had an outlet added to the back of the cabinet and it has been great!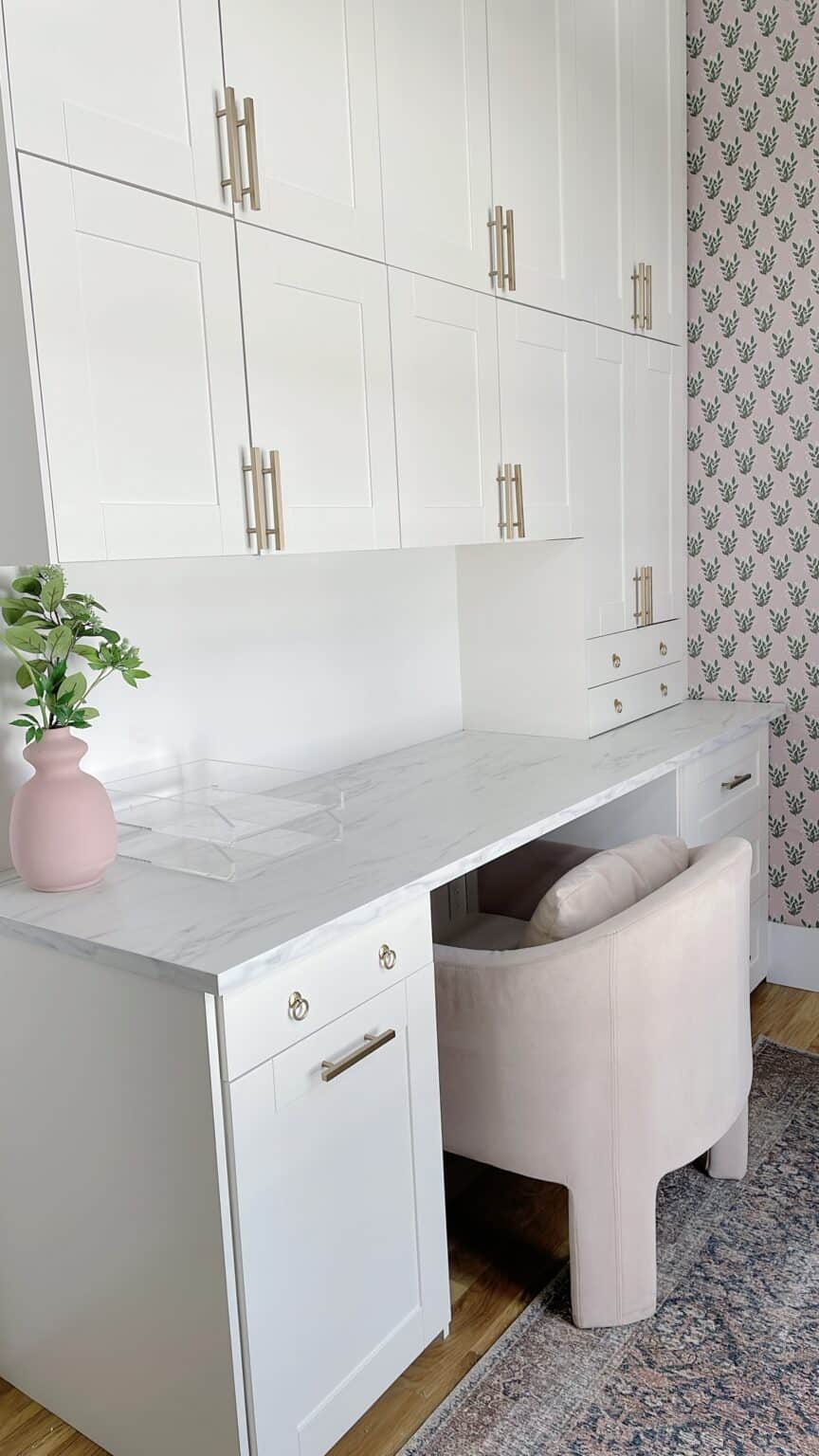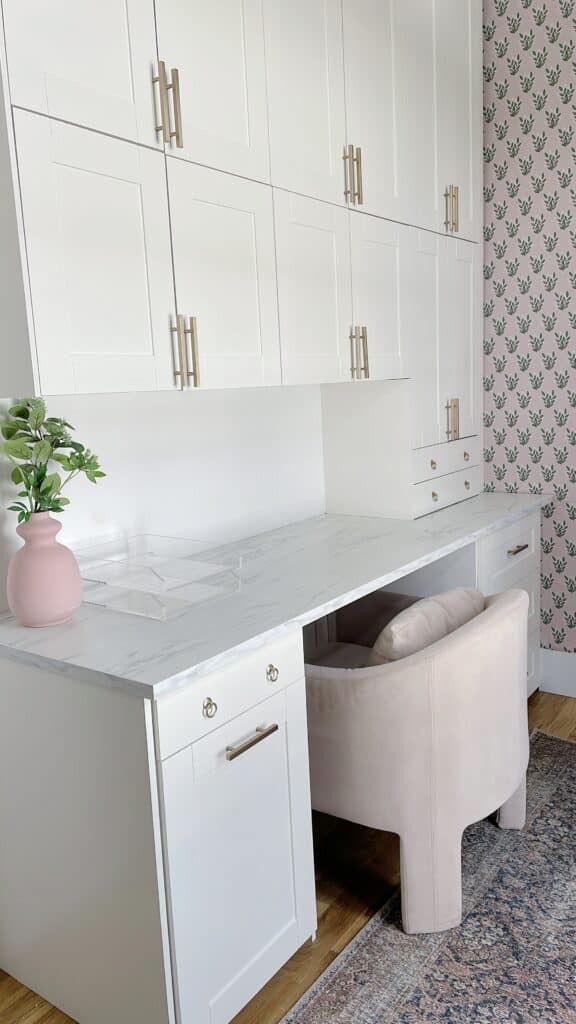 I went with the Stromma White finish, and got my hardware from Amazon, linked at the end of the post! For counter tops we went with some faux marble laminate from IKEA which was crazy affordable and looks great!
For my full review on Klearvue cabinetry, check out my post here.
Work Benches
We had enough room to add 2 work benches to our office, which are a dream come true! I didn't want to have to use our desk space for DIY projects, and tend to like to do that work standing up, so that helped a ton. In the past I have been using our kitchen island for all of my DIY's and I think both my family and I will be happy to no longer see that.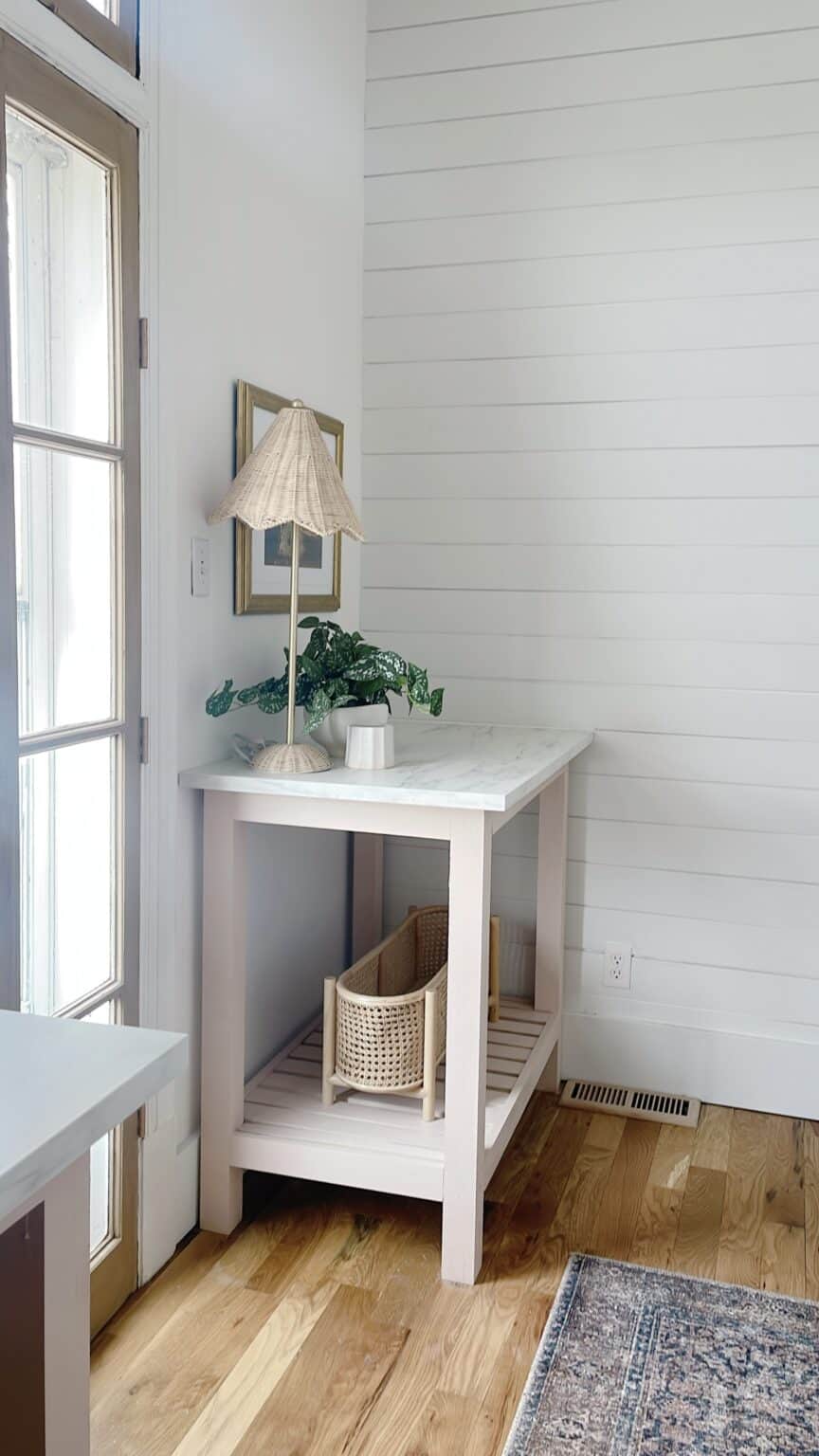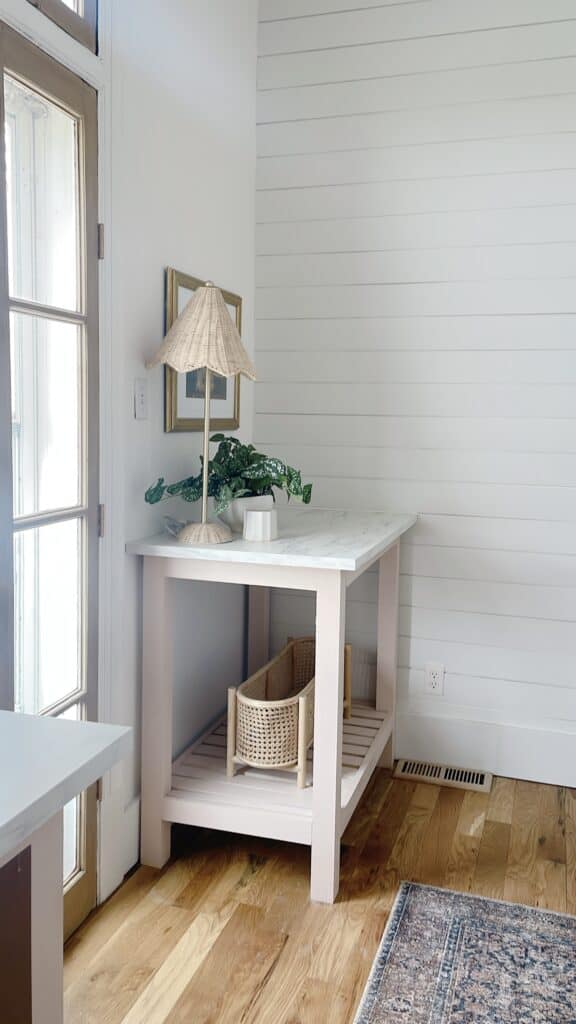 We used my friend Stephanie's tutorial for these benches, but made a few modifications. I will share more on that in a video on my social media channels, but essentially we used our kreg jig on the side pieces instead of wrapping around the legs. This was simply to keep things as light and airy feeling as possible with the small space.
We used the same IKEA counter top for the table tops which made things feel cohesive, and was really affordable, but gave it a somewhat elevated look. We also opted to paint ours in Odessa Pink by Benjamin Moore. I think this is a fun example of taking a great DIY tutorial and making it your own.
Decor and Finishing Touches
Like I said towards the start of this post, when you are talking about a small space the last thing you want is too much decor, however – you do want to make it your own! I am linking to all of my decor below, and will do a full blog post on organization, but for now – here are some of the highlights.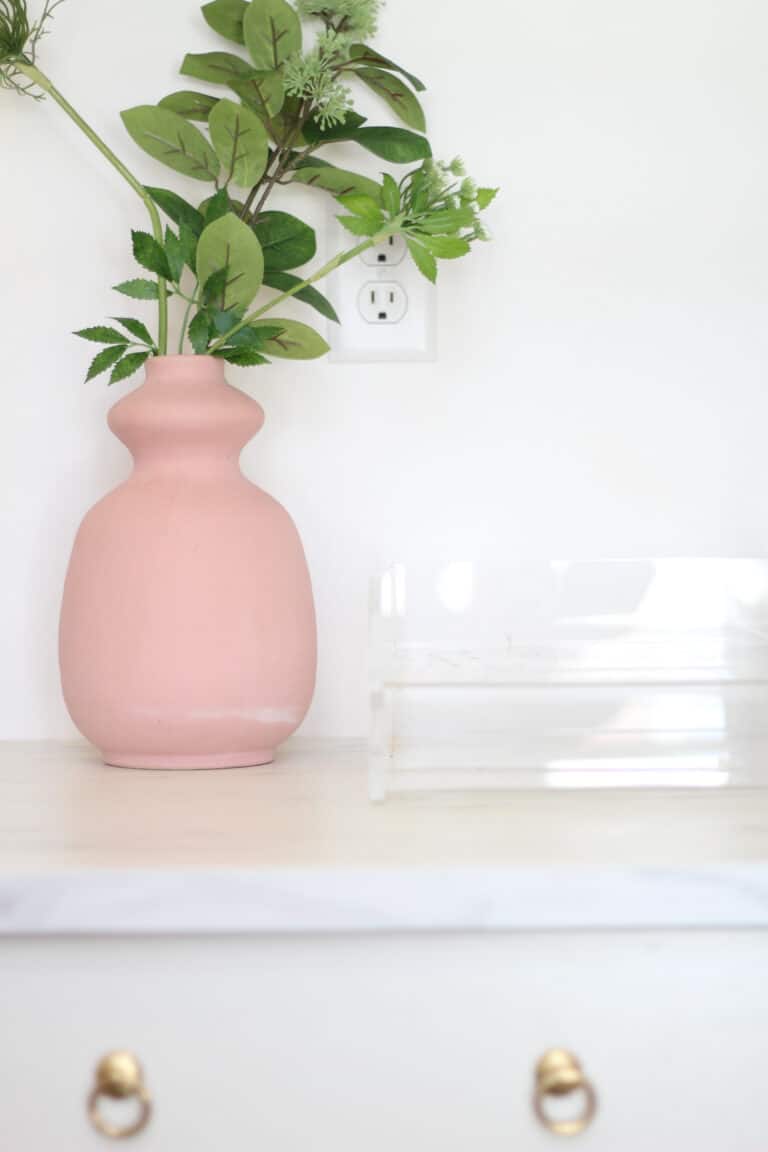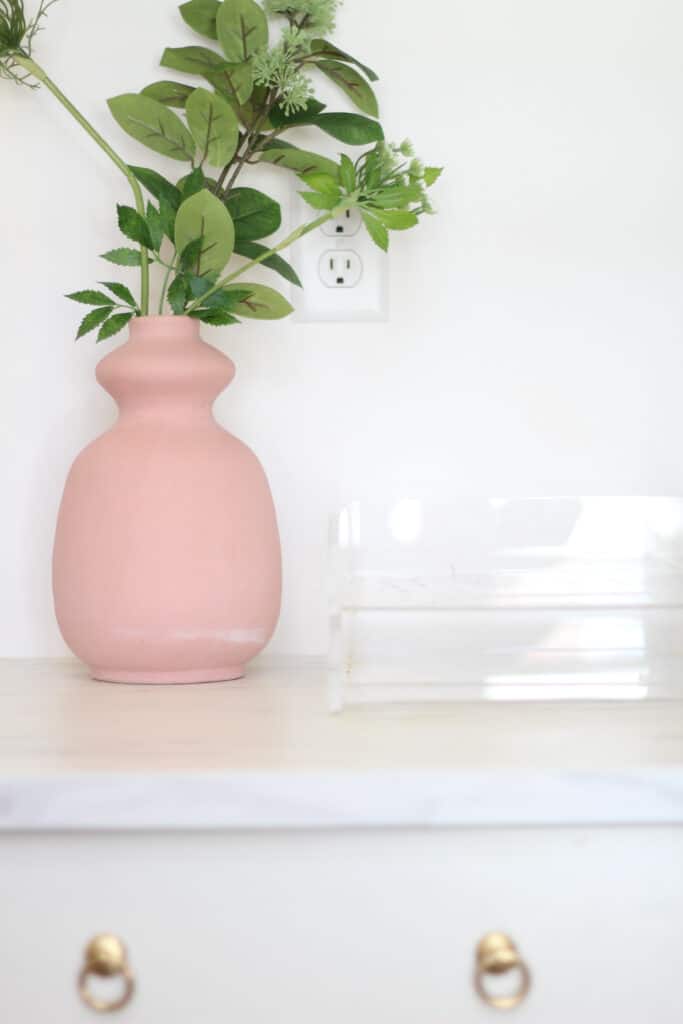 Over the work benches was my prime area for decor. I knew I wanted open shelving that could work as decor and organization both on at least oe side, but went back and forth on if I should do it on both sides. Once we got in the room I knew I wanted the sides to compliment each other but not match, so went with shelves only over the one side.
The open shelving allowed me to add canisters to store some of my craft supplies, as well as decor that really helped finish the room. Because my job is so creative, I find that I work better in a space that fits my personal style and inspires me to keep creating.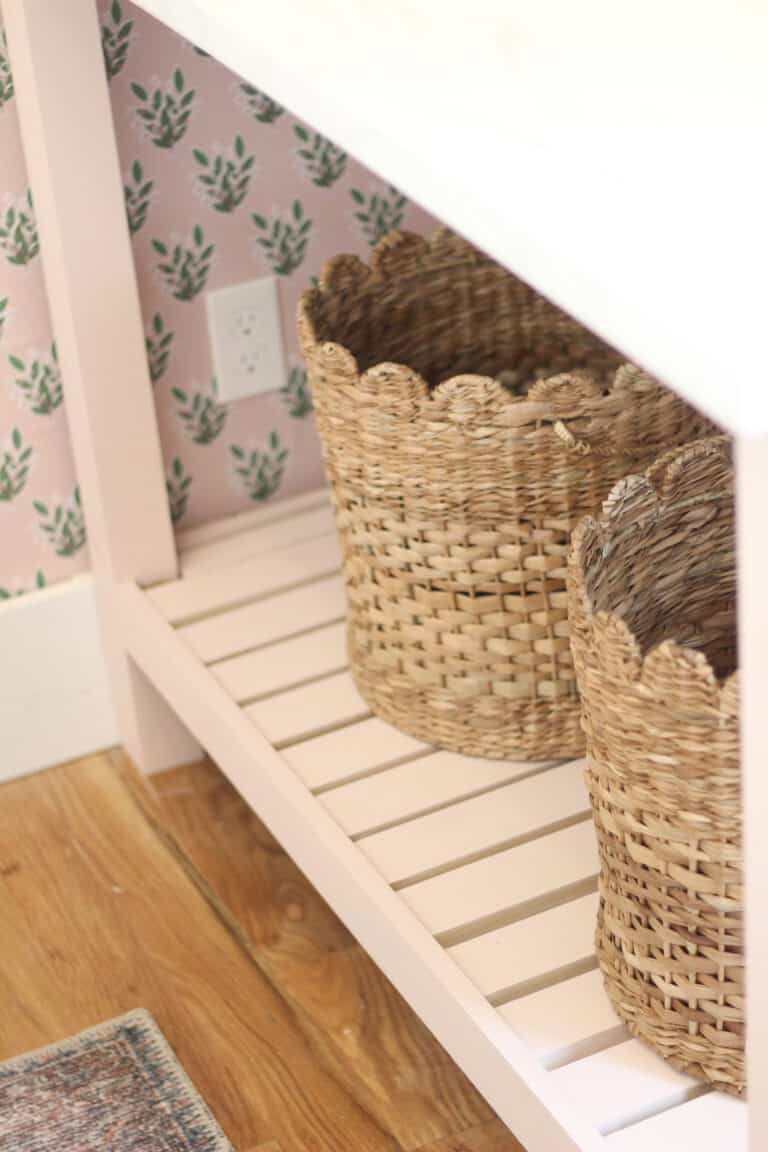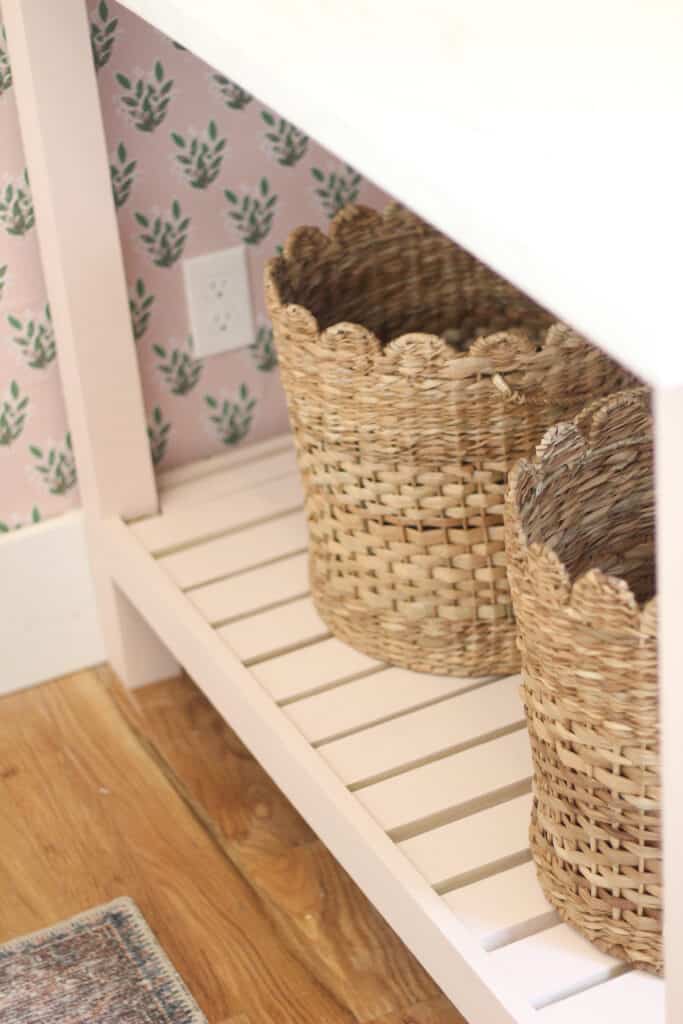 Over the work bench on the other side i went with a piece of artwork and seriously LOVE the one I ended up with. It is simple and cute but also has a bit of humor to the piece that I love. I added some complimentary decor, and baskets below both work benches that can work for both decor an storage when i am working on a project. This is another example of a practical solution to something that tends to clutter my spaces.
When we are mid project there is always a slew of tools and items that normally wouldn't live in my office. I love that those items can go in one basket until that project is done, allowing for the space to be very functional, but also do double duty as decor. Those little choices when picking your decor go a long way in the long run when enjoying a space.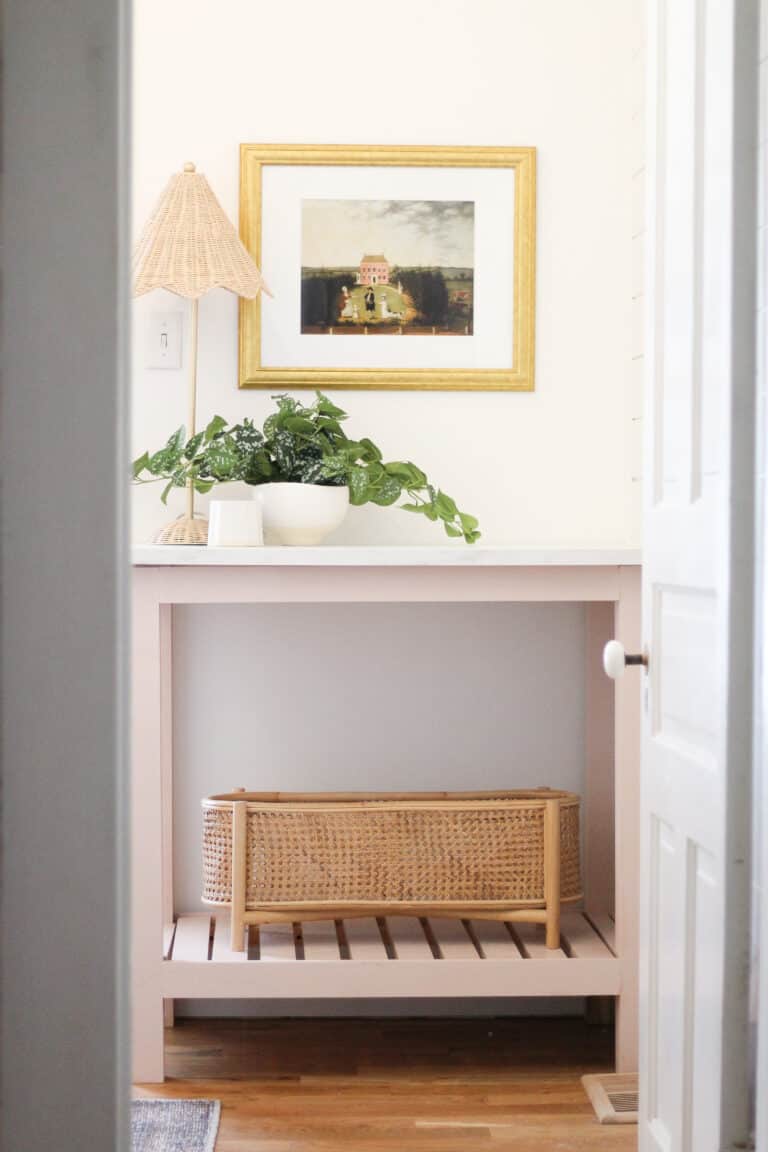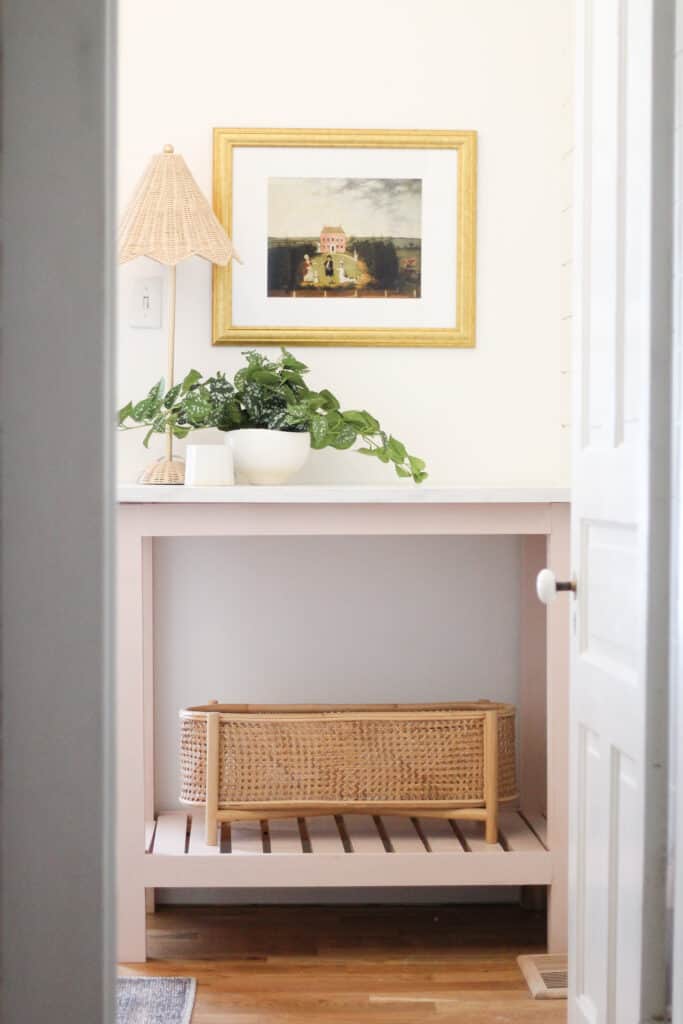 I did a DIY on the door to make it look like wood (more to come on that) and added an area rug, and a gorgeous ladder because I knew i would be getting in the cabinets constantly. You can find all of that linked below. And that was it. It was a simple space, where most of the thought went into the function, ad the small amounts of decor brought it together making it gorgeous,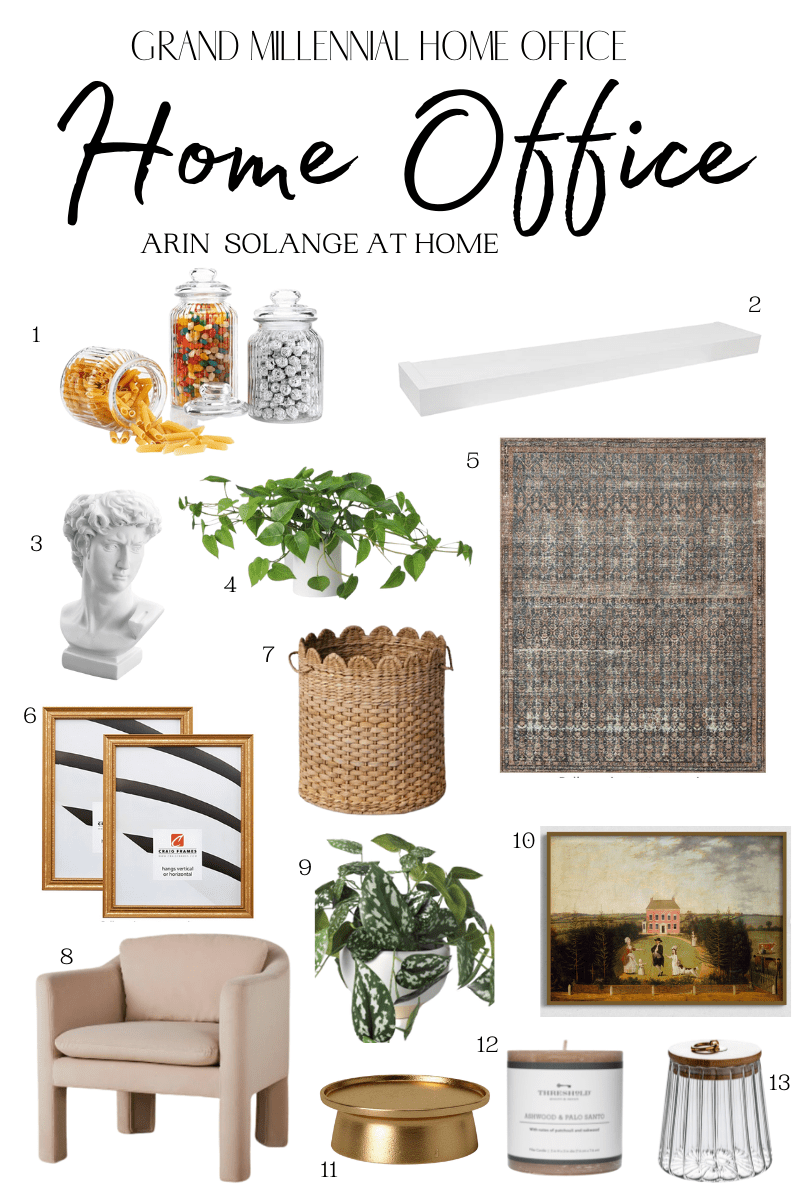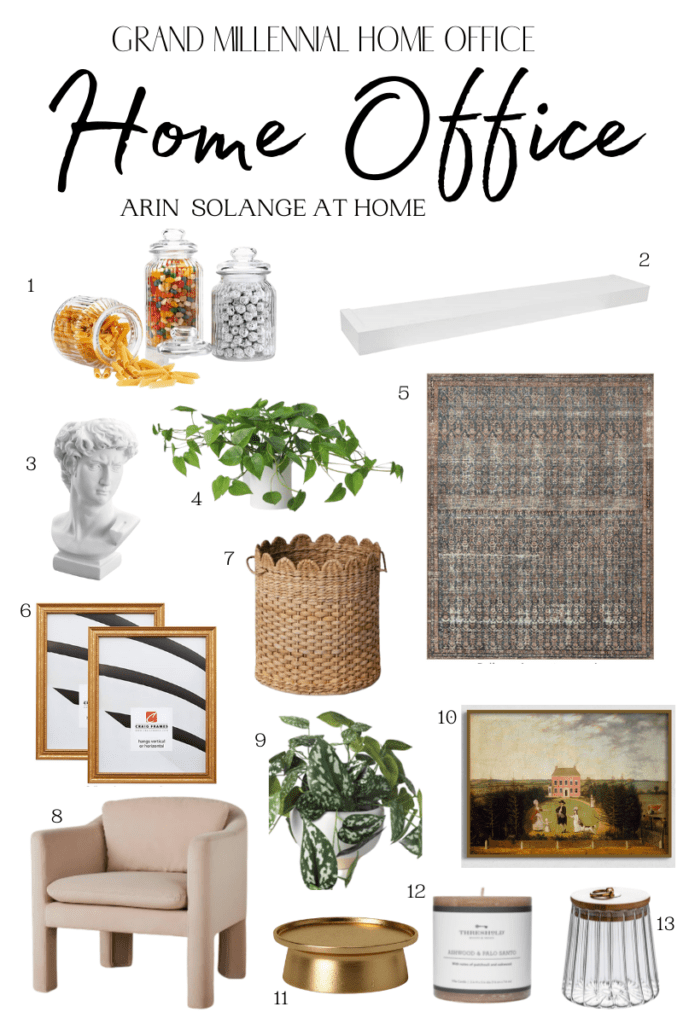 Shop my Small Home Office Details
1 (similar) | 2 | 3 | 4 | 5 | 6 | 7 (similar) | 8 | 9 | 10 | 11 (similar) | 12 | 13
Other Posts You'll Love
My last home office | Klearvue Cabinetry: An Honest Review | Miter Saw vs Circular Saw | The Best Faux plants | Functional Butler's Pantry
Pin the Photo Below for Later
Hopefully this gives you inspiration on where to begin with your own small home office, and you are ready to make the best of your limited space. and you enjoyed mine. Be sure to follow me on Instagram and TikTok (@arinsolange) to see more of our DIY's and Decor, and if you have any questions on this space leave them in the comments below!