What is the best paint sprayer for walls? How many times have you embarked on a painting project only to discover brush strokes and uneven layers? Or, are you ready to take your DIY painting projects to the next level? 
There is a reason why professional painters love using a good paint sprayer. The right paint sprayer can take your project from novice to professional. I'll share with you how I chose our particular model and go over important factors between the main types of paint sprayers so you can make the right choice for your needs!
This post may contain affiliate links.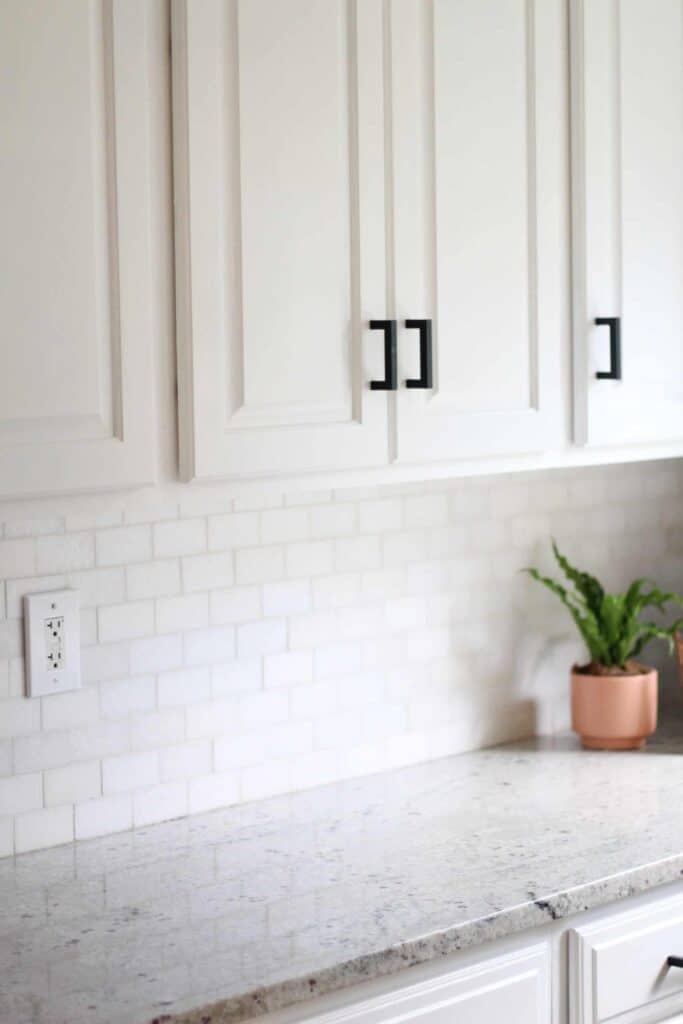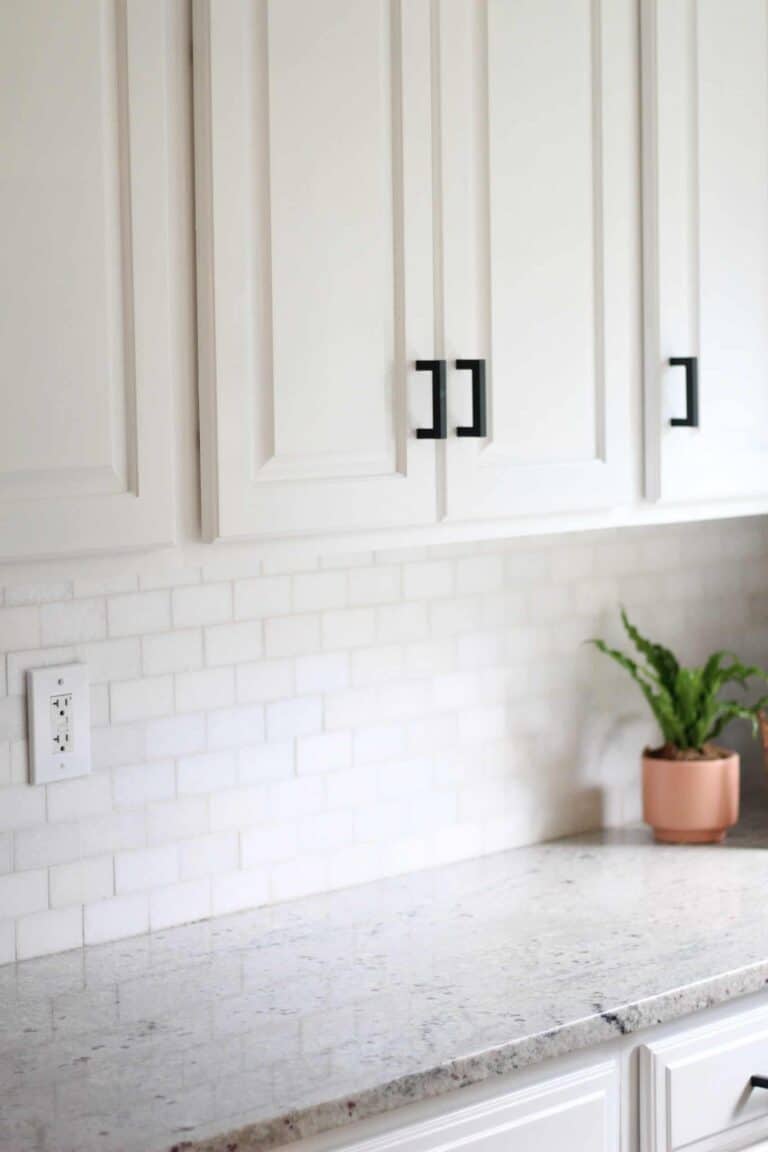 If you're planing on painting cabinets, be sure to choose the best paint for cabinets.
All About Paint Sprayers  – The Best Paint Sprayer for Walls
If you've never spent hours standing on a ladder only to discover drip marks and uneven paint smeared across your entire wall, have you even lived?
I used to spend so much energy gathering my painting supplies, taping off areas that I didn't want paint on, cutting around corners, and painstakingly rolling paint across my walls, only to discover a paint job that was far from my best performance. I needed something that would give me a smooth finish without the brush strokes and roller marks.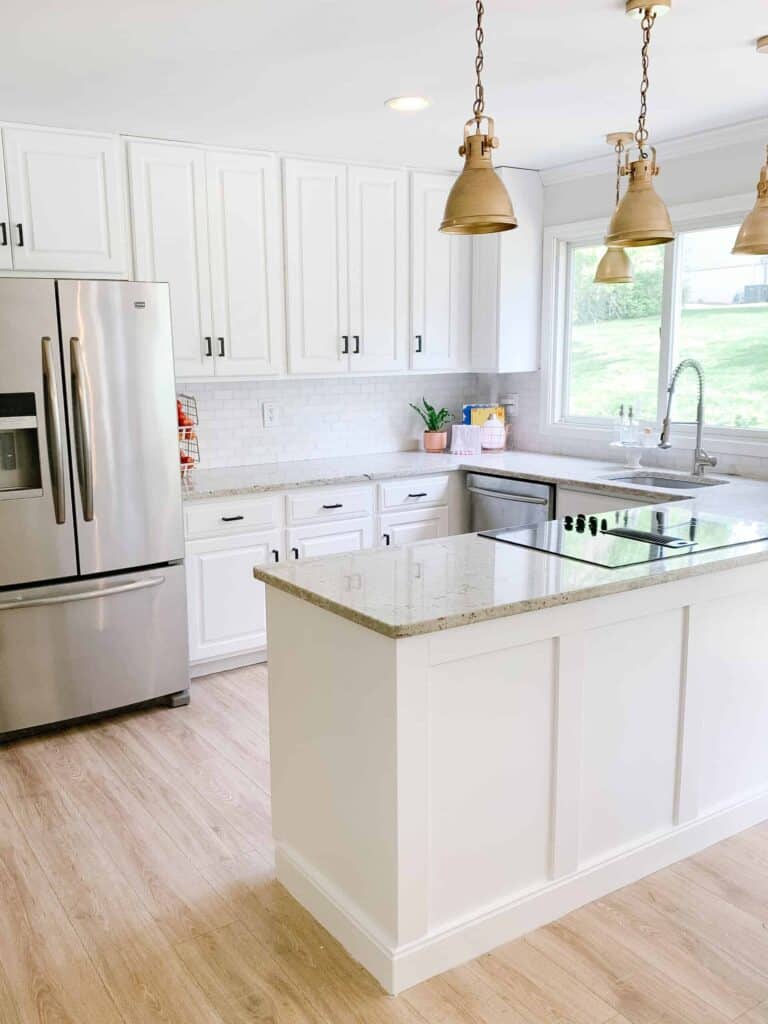 During our kitchen renovation in our last house, I realized that my best way to achieve those seamless results would be to purchase a paint sprayer. My husband, Sam, and I quickly dove into some research on the best paint sprayer out there. We needed something that would be easy to use, within our budget, efficient, versatile, and provide professional looking results.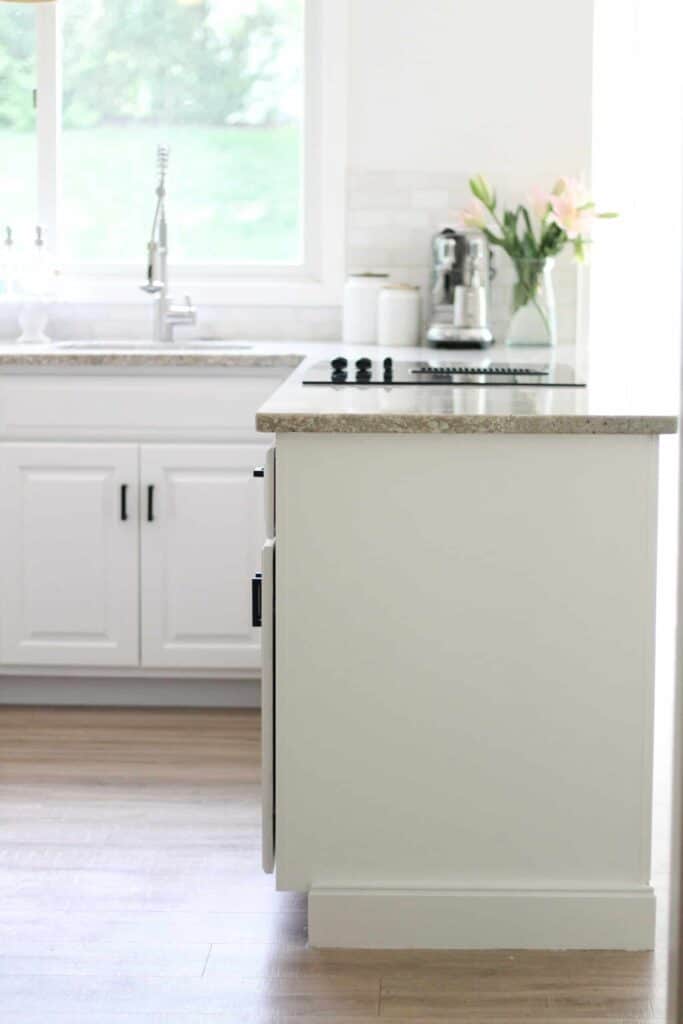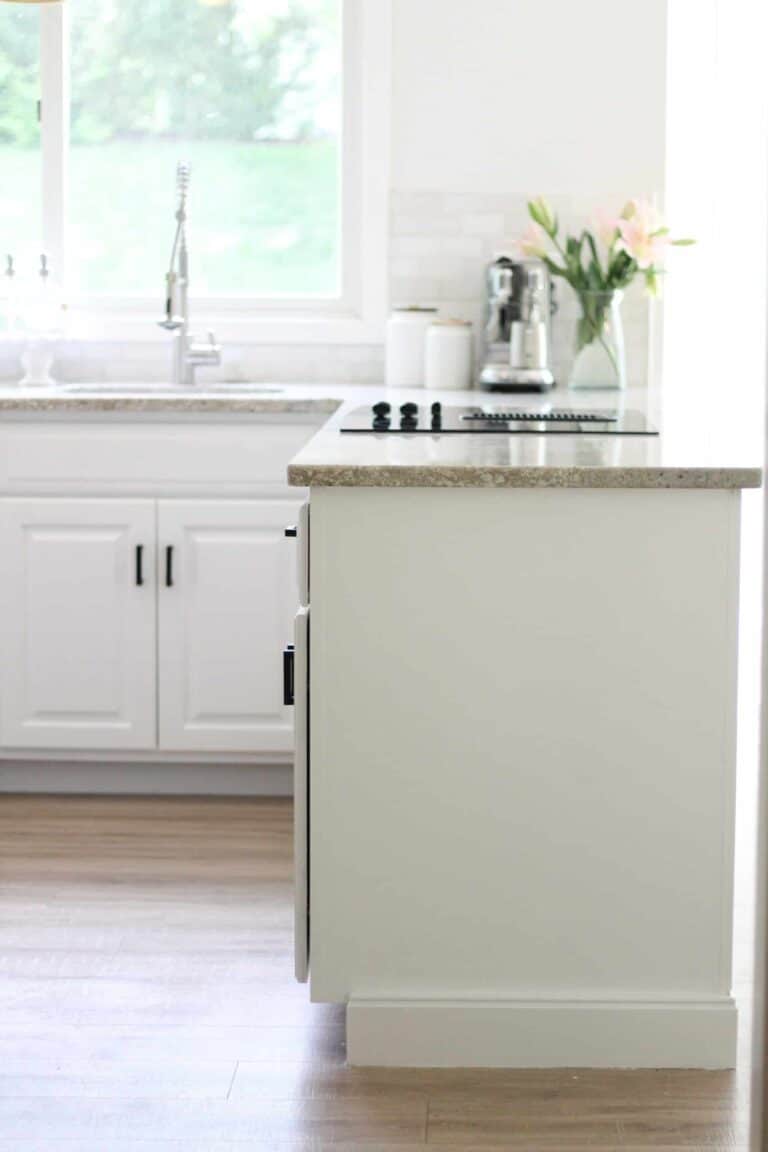 You may be thinking "what is so great about a paint sprayer?"  Isn't it just one more tool I need to store in my garage?  Here is the thing about paint sprayers.  If you plan to do a lot of home painting projects, then they are a great choice to have as a tool in your arsenal for all of your painting needs.
Paint sprayers can give you professional results even with those difficult to reach and uneven surfaces.  You won't see brush strokes or roller marks.  Instead, you'll see a smooth surface with a fine finish-whether that be on your interior walls, exterior walls, or even cabinets or furniture.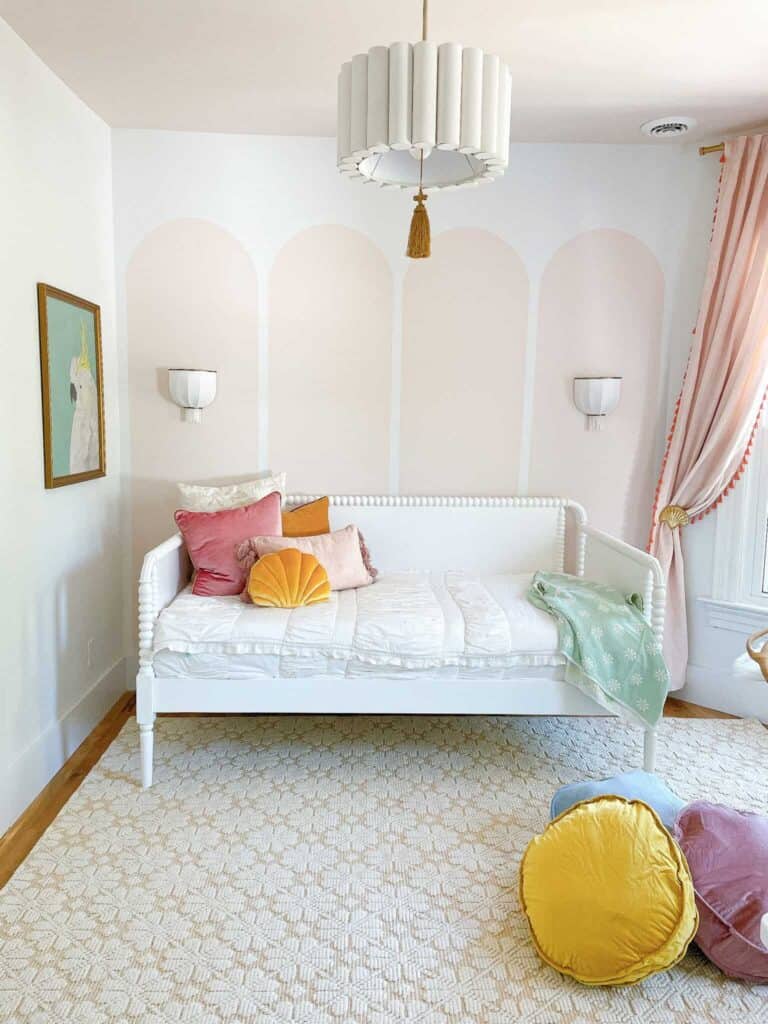 I love our daughter's bedroom paint color in Valspar's Desert Bone so much that we even painted the ceiling.
They are also incredibly efficient at producing results. Because you are looking at a mechanical process rather than manual labor, you are working smarter, not harder. You could have a single room painted in a matter of minutes, whereas, it would take hours to complete it with paint rollers and paint brushes.
Paint sprayers can be used with different types of materials (think: paints, stains, and finishes), and be used on various mediums (think: wood, ceramic, metal, and even fabric). While there is certainly a learning curve associated with owning a paint sprayer, with a little practice you can soon be a pro.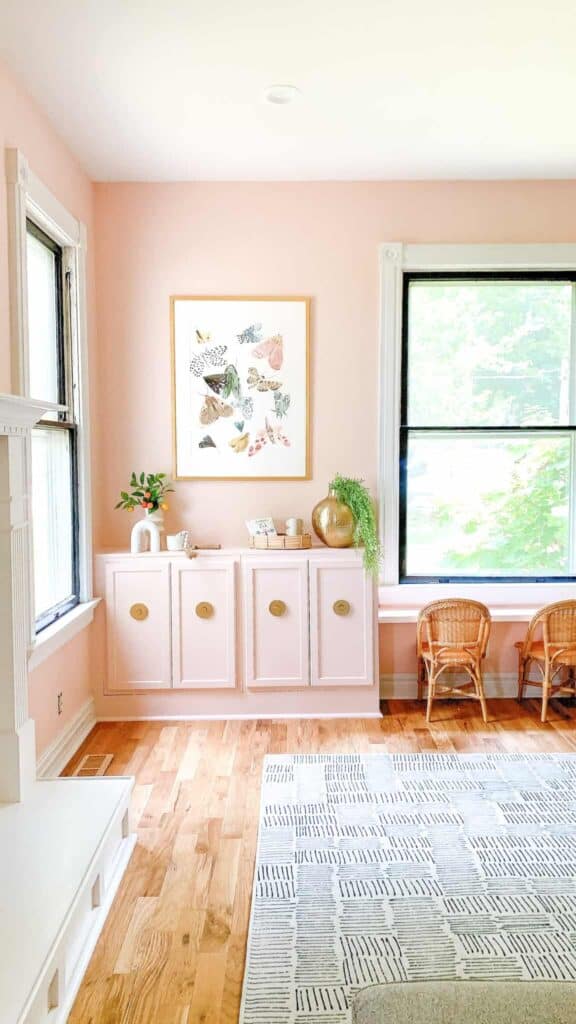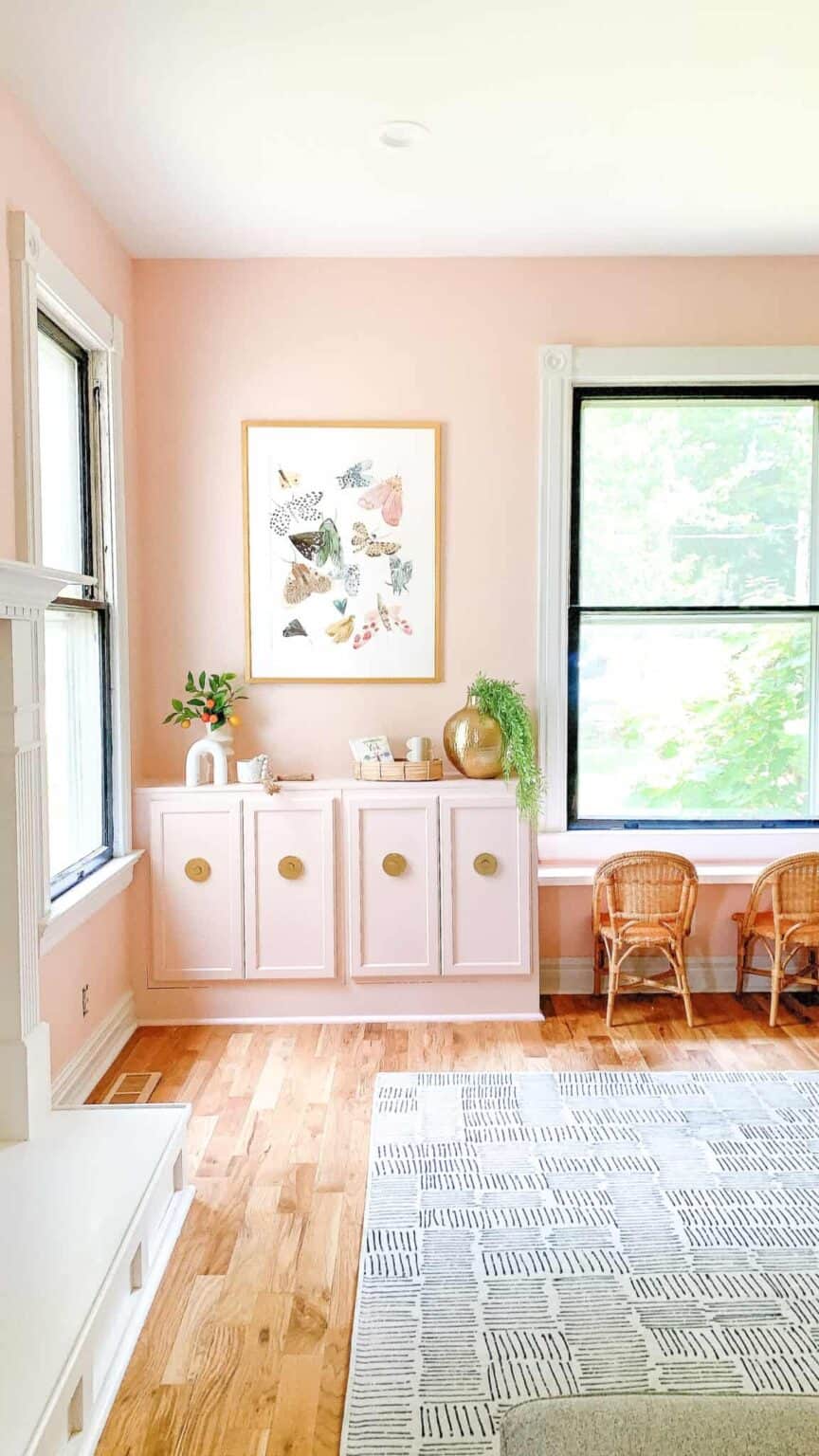 Paint sprayers made painting cabinets in our playroom so much easier!
I will say that while we use our paint sprayer for tons of projects, we prefer to reserve it for our larger projects. It does take some time to set up and clean up once you have it out and ready. Additionally, when you are first learning how to use the paint sprayer, I would recommend using it outside or in a controlled paint tent.
If you are using it inside, you'll need to have mastered controlling the paint flow to avoid any overspray. Overspray is that fine mist that floats away from your sprayer. If you aren't careful, you can coat items you didn't intend to be painted. With all paint sprayers, you'll have some overspray. The amount of overspray can vary depending on the type of paint sprayer you use.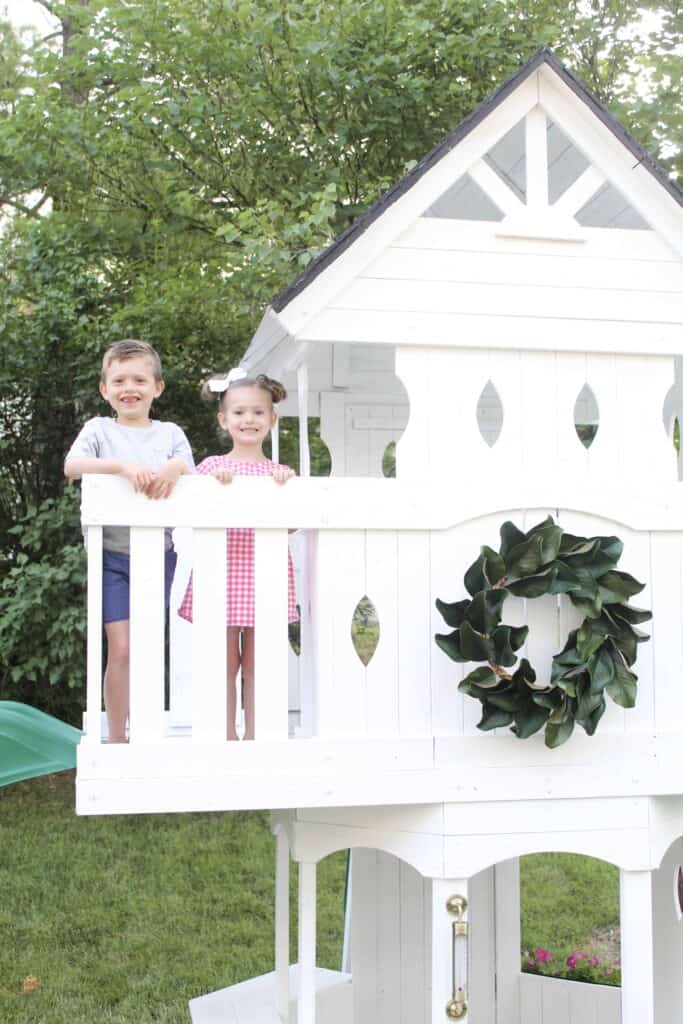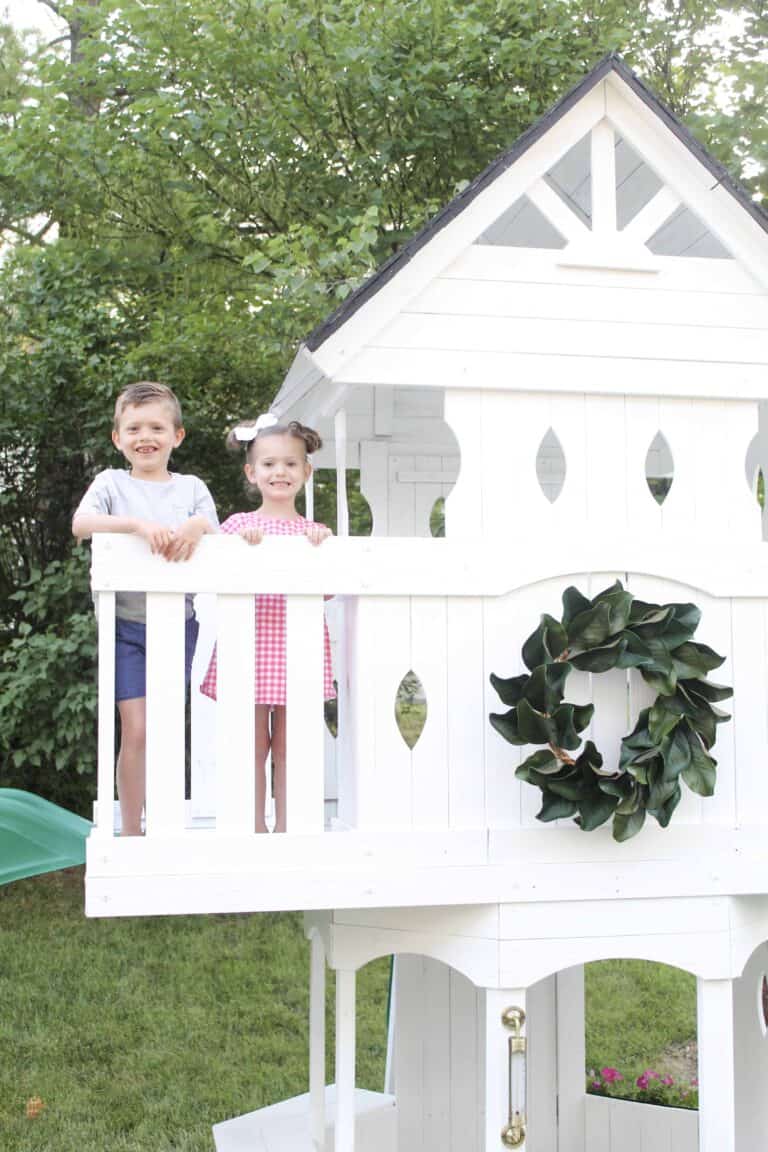 I am so glad we had our paint sprayer when we did this DIY swing set makeover!
The Best Paint Sprayer for Walls – Things to Consider Before Purchase
The type of paint sprayer you want will depend on a few key considerations.
Projects for Paint Sprayers
You'll want to ask yourself on which projects do you intend to use your paint sprayer.  Although we're talking about the best paint sprayer for walls, there are typically more projects on your mind down the road.
Do you intend to use this for large projects or smaller projects? Is this going to be primarily outdoor use or indoor use? What type of material do you intend to use your paint sprayer on and how much paint will I need?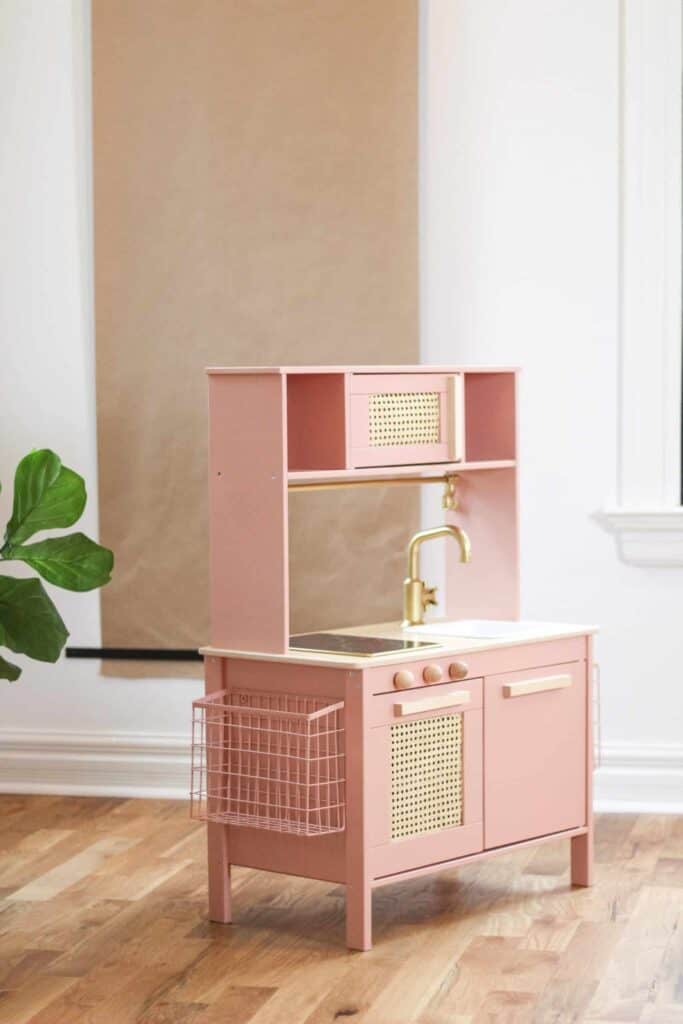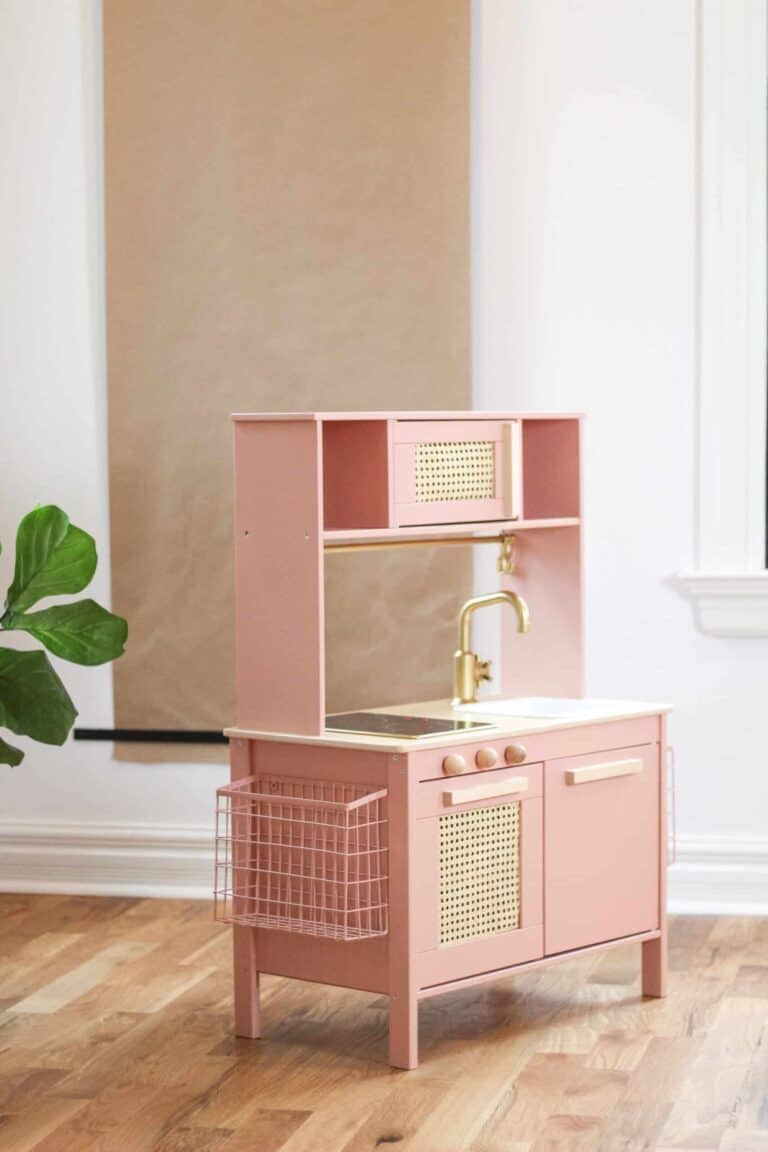 The IKEA play kitchen is a perfect beginner project to try out your new paint sprayer!
You'll want to make sure you look at the amount of overspray that can be produced by the type of paint sprayer you pick out. If you only intend to use your paint sprayer in an outdoor setting, then overspray may not be a huge issue for you.
How long does it take to paint with a paint sprayer?
You'll also want to consider your time. If you have a large project, this is a great way to save time. For small projects, it may take you more time getting your paint sprayer set up and cleaned up then it would if you just used a paint cup with some rollers.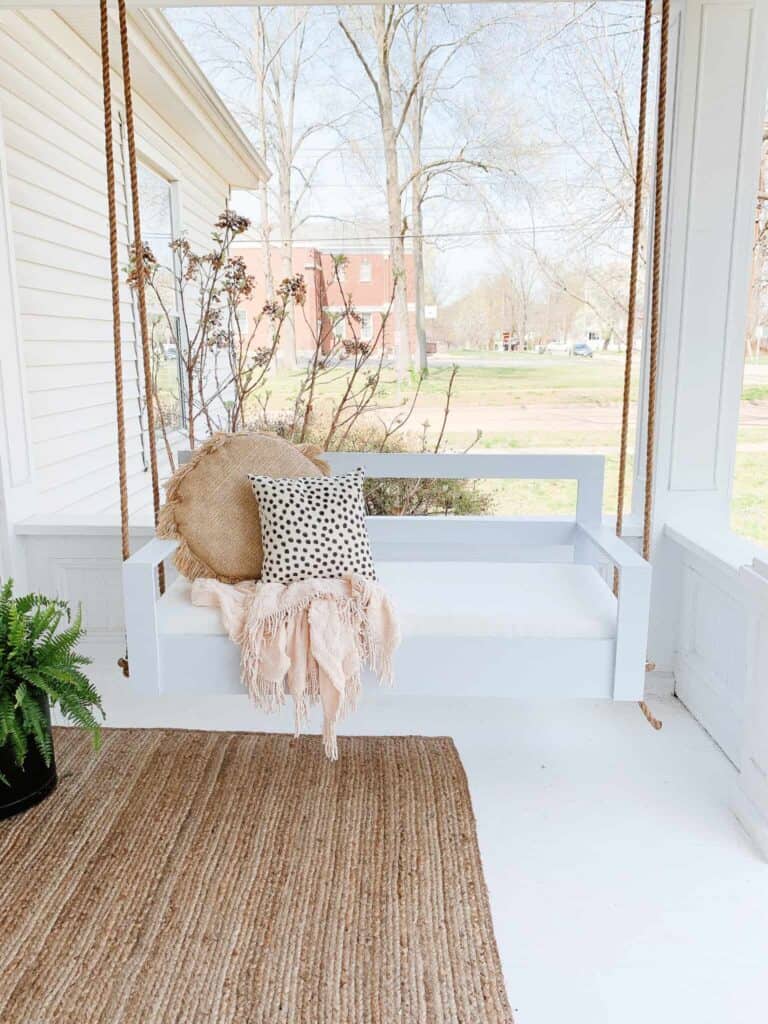 This DIY porch swing was a cinch with our paint sprayer.
The Best Paint Sprayer for Walls – Is it worth getting a paint sprayer?
Keep in mind that with paint sprayers, some require a large amount of paint to be used. If you are working on a small project, this is not only inefficient, but may end up being more costly in the long run.
Lastly, consider your overall budget. Professional painters have systems that cost in the thousands of dollars range. You certainly don't need anything that fancy, but also keep in mind that you do want a good quality product and that can come at a cost.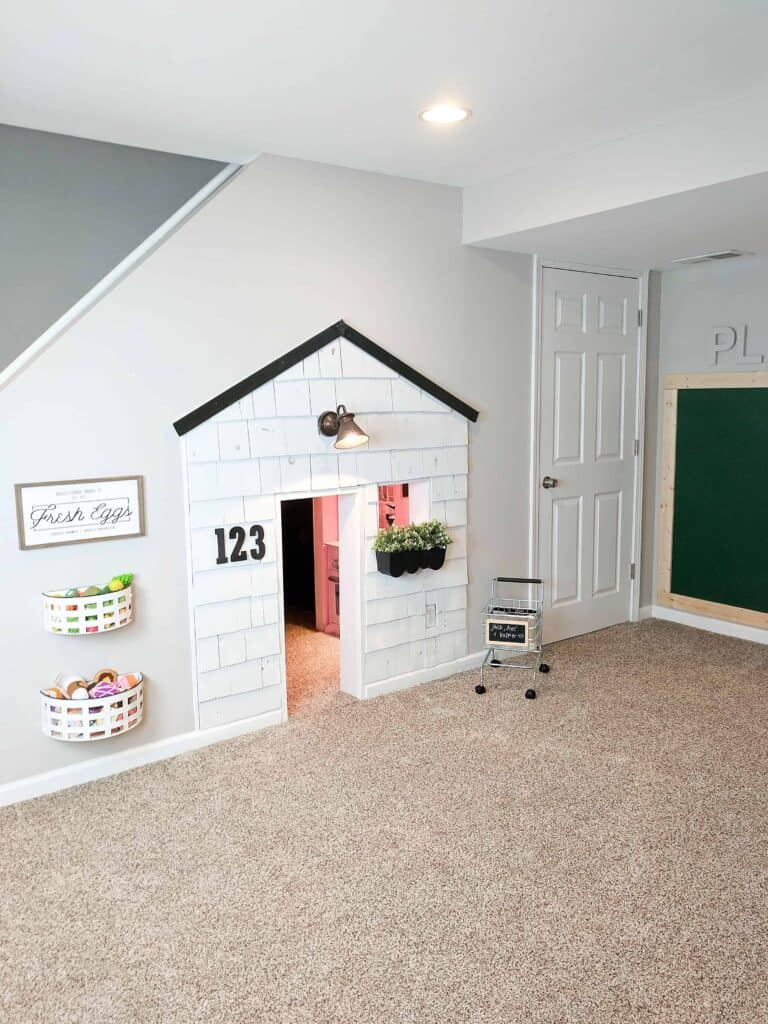 Check out this DIY under the stairs playhouse.
Which type of paint sprayer is best?
Before you decide to purchase a powerful paint sprayer, you'll want to research the different models out on the market. There are different pros and cons depending on what you want to use your sprayer for. Let's take a look at the different types of paint sprayers and discuss the differences so that you can make an informed choice before you hit that purchase button.
Best Paint Sprayer for walls – Airless Sprayers
Airless paint sprayers use an electric motor to power paint from the paint reservoir through the tip of the gun via high pressure. The paint then explodes out from the spray tip to the surface area of your choice.
Due to the high pressure (and notice I said explodes), you need to be extremely careful that you avoid touching the sprayer's tip. Never point an airless spray gun at a person.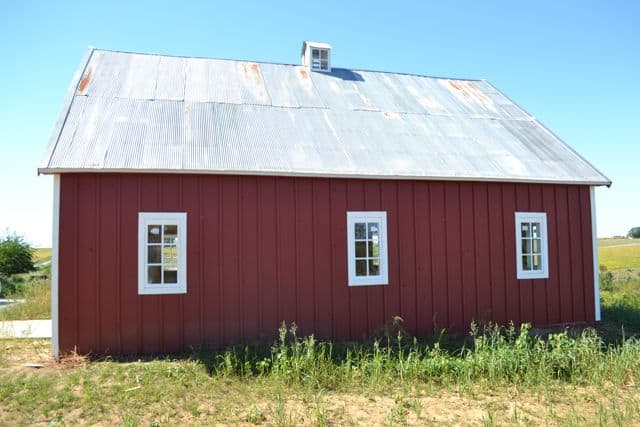 This barn window refresh called for a paint sprayer!
When it comes to airless sprayers, you can find these options available in a gun format or larger cart. Both work in a similar fashion, but keep in mind that the cart style will be larger and able to handle more volume of paint for those big projects. This can get expensive quickly! For your average homeowner, an airless gun would be a good choice.
The smaller gun option is a handheld paint sprayer that draws paint from a smaller reservoir. However, because the reservoir is smaller, your paint will run out more quickly.
If you are painting walls with a large surface area be prepared to refill multiple times. The gun is great for smaller projects.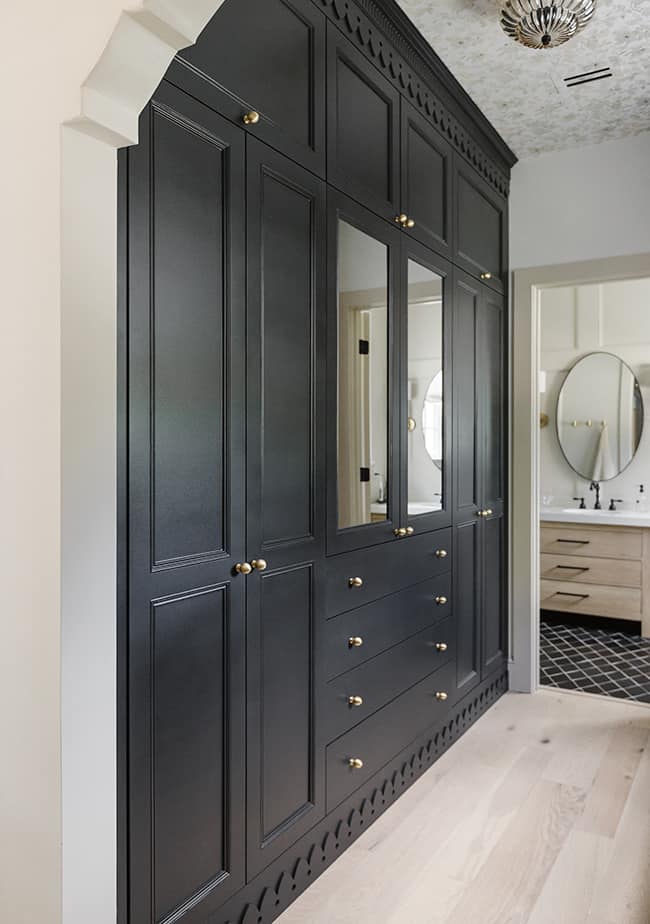 A professional looking finish was essential for this closet makeover by Jenna Sue Design Co.
If you have bigger goals in mind, then the airless sprayer cart is a good option. Rather than drawing paint from a small reservoir, it draws paint directly from the paint bucket or a larger bucket. You'll also have the benefit of using a longer hose to help cover those larger surfaces.
Both styles are extremely easy to use. Because of the high pressure, there is a significant overspray. You'll want to keep that in mind depending on where you plan to use your sprayer.
Additionally, you'll need to factor in more paint as it does get used up in overspray and not necessarily directly on the object that is being painted. This is less than ideal and you will use a lot of paint for those large projects.
On the plus side, these airless models handle latex paint and primer well. Other types of sprayers require you to thin out your materials which can be a major pain.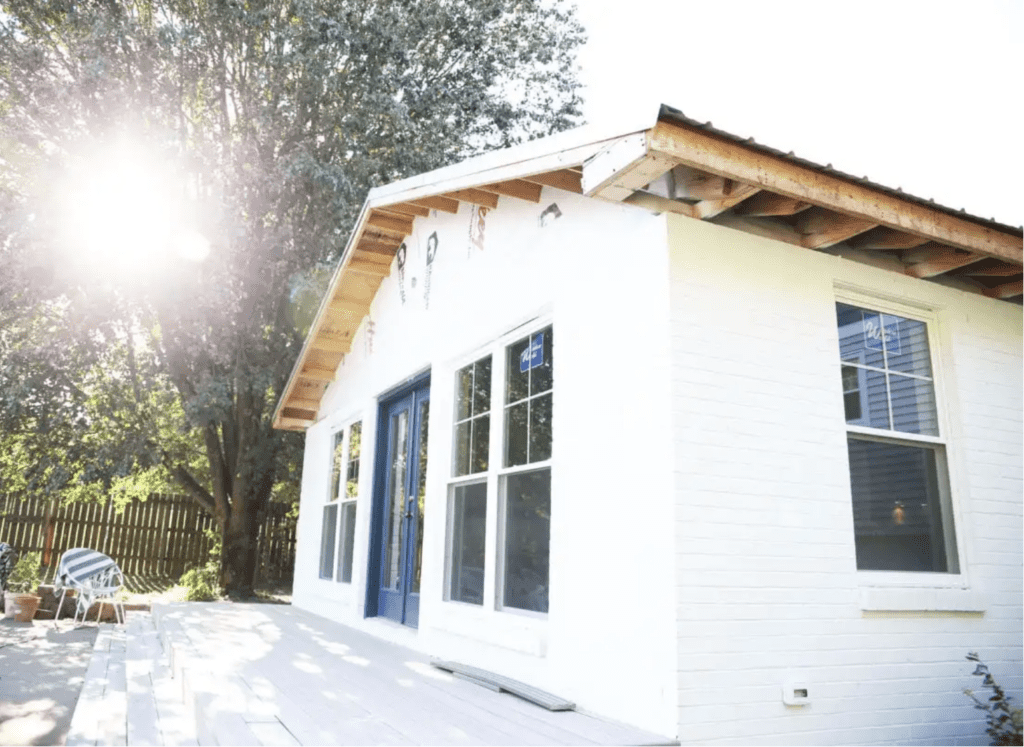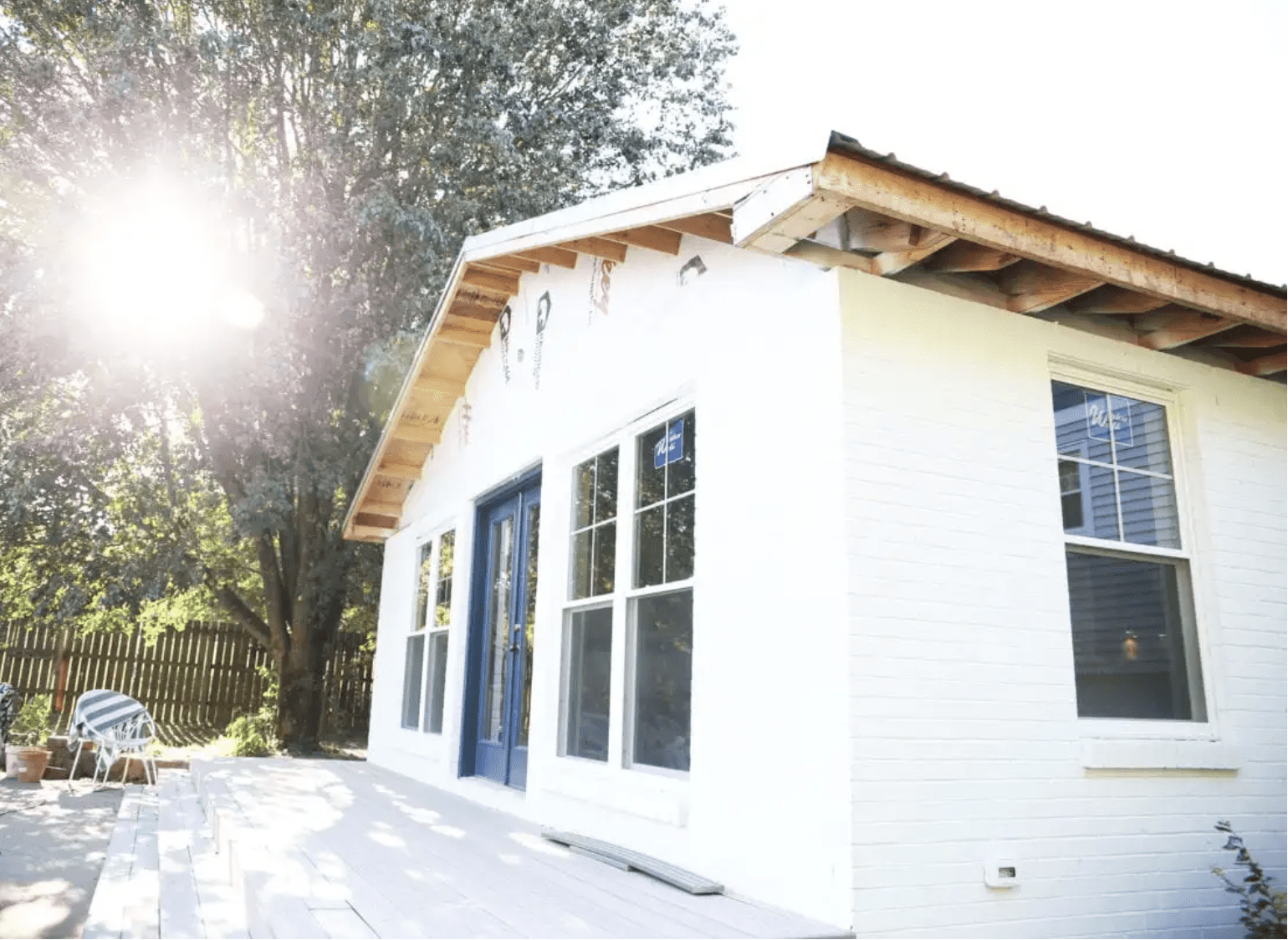 The spray painted brick on this home under construction looks incredible! Check out the before pictures!
In all, this is the best choice for large painting projects that you need to get done quickly and efficiently. This is also a great beginner tool. It is straightforward to use and doesn't require a lot of skill.
Best Paint Sprayer for Walls – Air Compressor Sprayer 
Like the name says, this paint sprayer requires the use of an air compressor to power the paint through the sprayer. You'll have your air compressor that is attached to a hose that then attaches to a sprayer gun.
Because you are using an air compressor, you do have to determine how much airflow to use to give you that control and fine spray. Don't be surprised to be required to mix thicker paints with a solvent to thin out your paint to get the desired consistency for your finished product.
There are many factors to consider when thinning out your paint. You'll need to understand the differences in paint and solvent types. Acrylicgiesson.com has a great guide on how to thin out paint for a paint sprayer.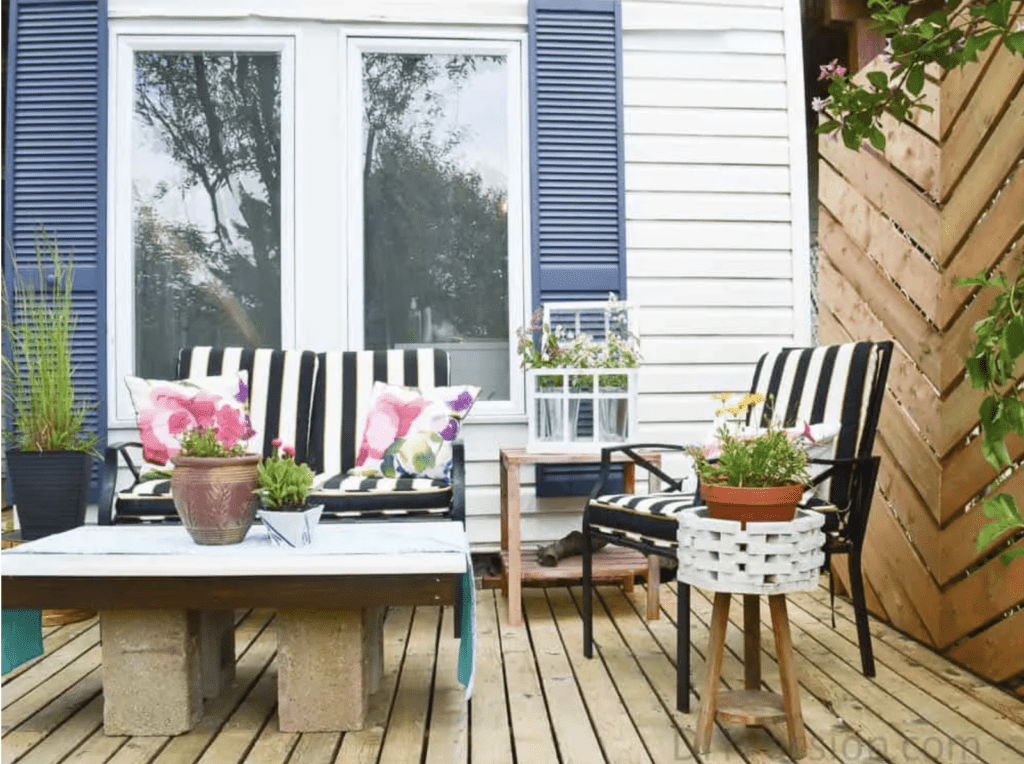 Check out these spray painted shutters and why a painting shelter was crucial for this DIY.
While these are fairly inexpensive, especially if you already own an air compressor, these too produce a lot of overspray. They also take more preparation as you will most likely be required to use thin materials rather than thicker paints.
If you are painting cabinets, this would be a great choice. Ideally, you'd use a painting tent to have more control over that overspray to provide you with a professional outcome.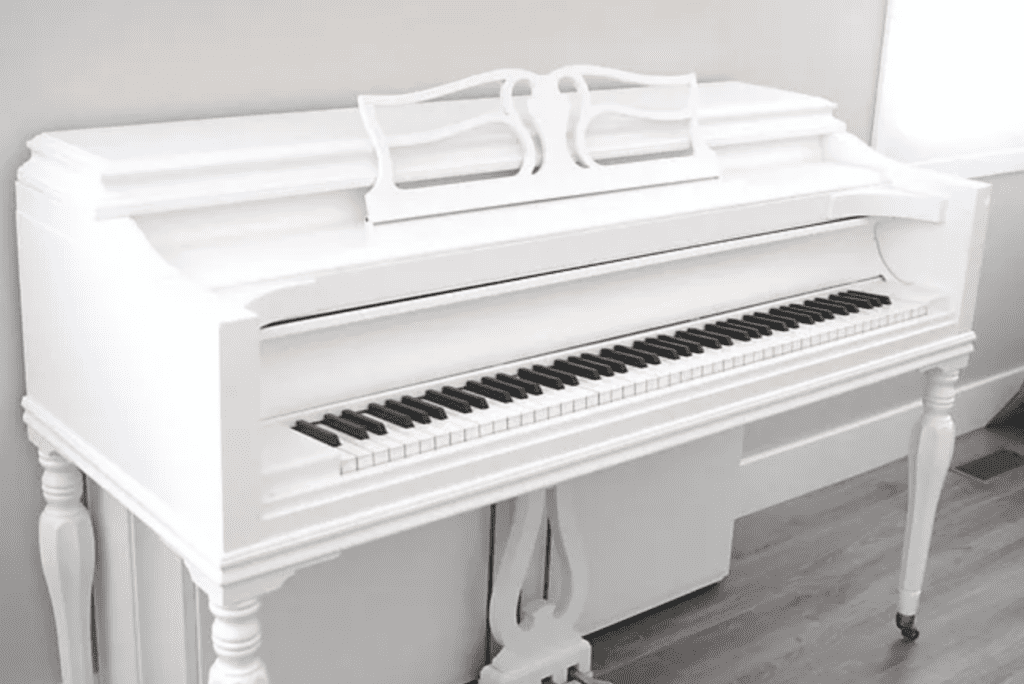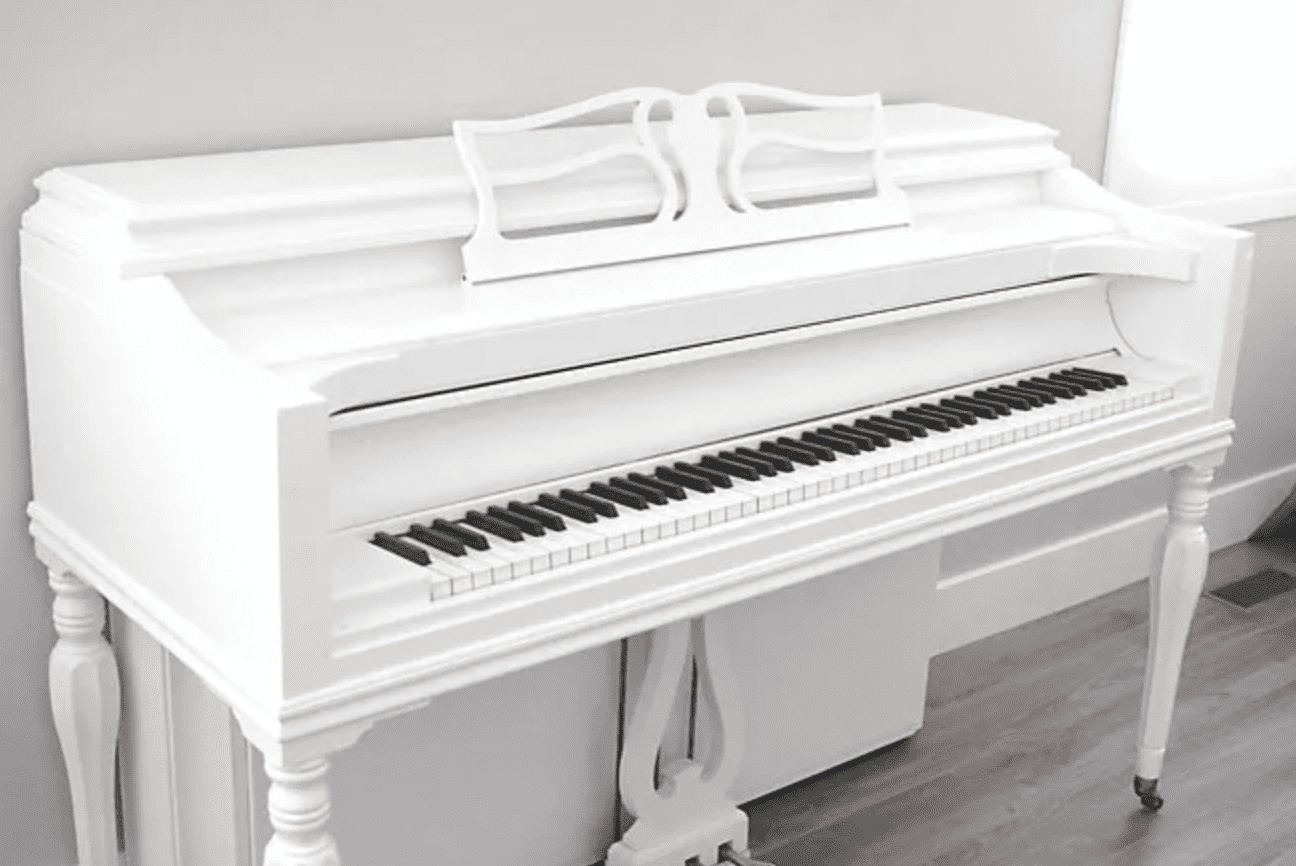 Painting our piano has been on my project list for a while. I love how this one turned out!
In all, this is a great choice for small projects that can be in a controlled setting with a painting tent to avoid overspray issues. Additionally, people who have used air compressors before would likely have an easier time using this style.
Best Paint Sprayer for Walls – HVLP Sprayers 
HVLP (high volume, low pressure) paint sprayers use air volume to move the paint from the gun out of the spray nozzle to your desired painting surface area. A compressor is used separately with adjustable pressure to help create that fine mist of paint that is being expelled from your spray nozzle onto your material.
The paint and air pressure are separate until they reach the nozzle where the spray occurs. This allows you a bit more control so that you can achieve more intricate and detailed work with less overspray. This is also a great sprayer if you wish to use it indoors without worrying about major overspray.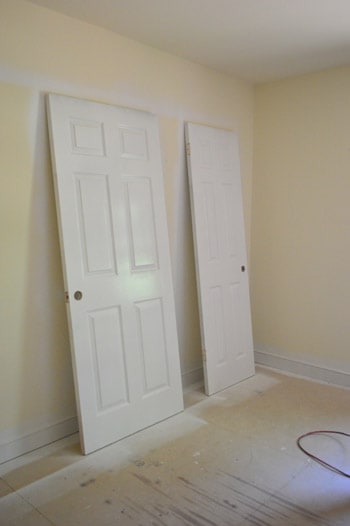 Young House Love shares their experience painting trim and doors in their home.
You'll need to consider that with an HVLP paint sprayer, you will need to use thinner paints. If you want to use latex paints, you'll want to consider switching to an airless pump that does not require you to thin out your materials. However, if a finer finish and more intricate details are involved, stick with an HVLP sprayer. You'll be happier with the end results.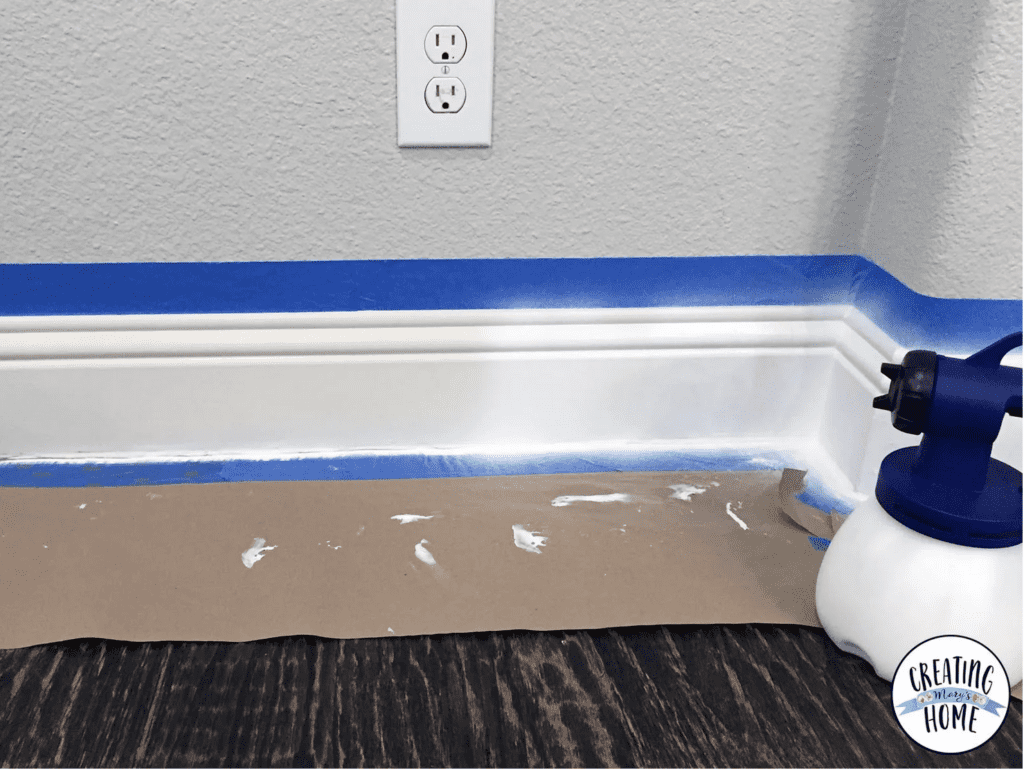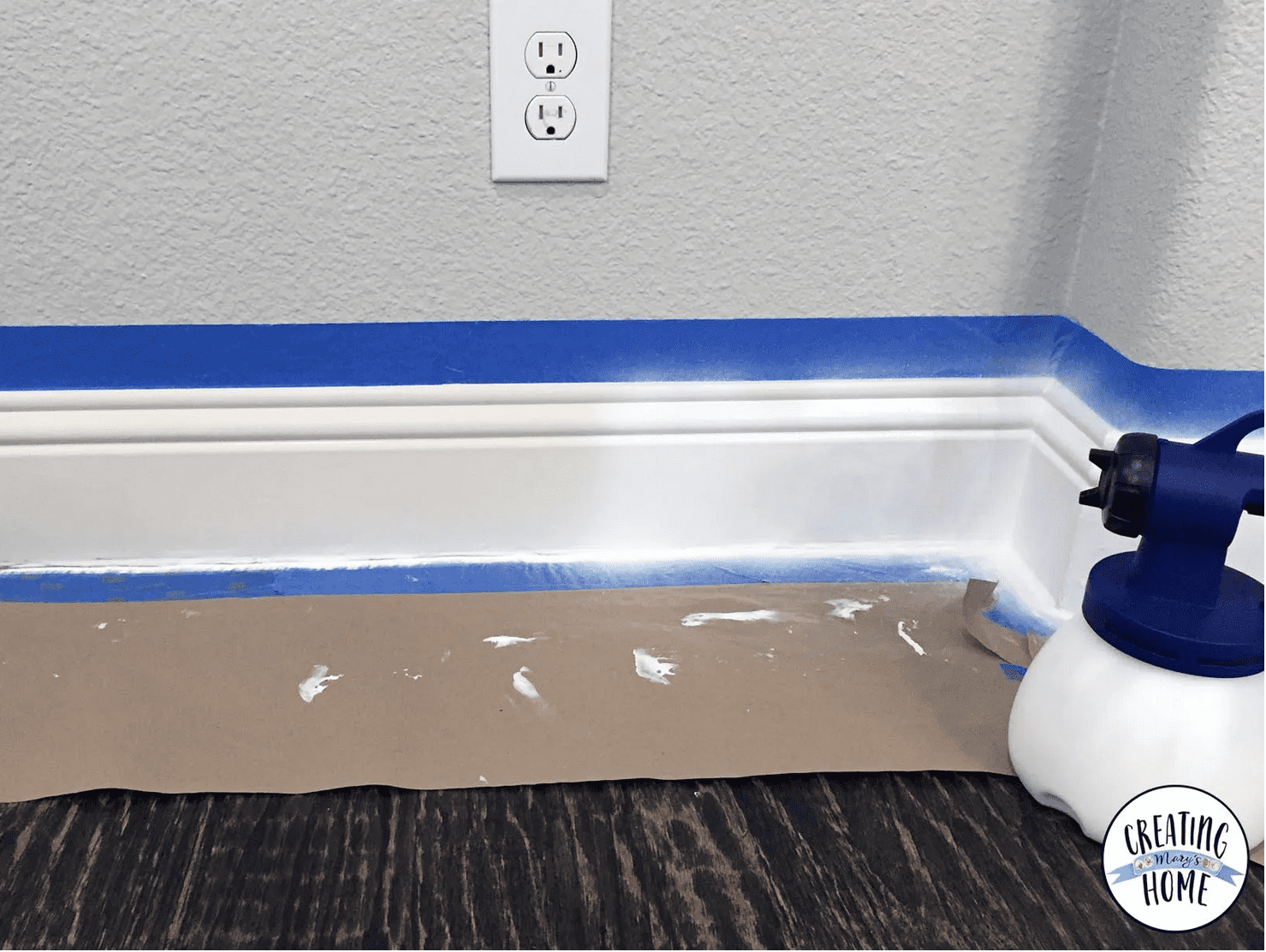 See what a difference freshly painted trim can do for your home.
In all, this is a great option for people who have detailed intricate projects that require a professional finish. Doors, trimwork, and cabinets would do well with an HVLP sprayer.
Different Nozzle Types
The type of spray painter you decided to purchase will help determine the type of spray tip you should buy. This can be extremely confusing and a quick Google search will yield hundreds of abbreviations, sizes, and charts all dedicated to spray gun nozzle sizes and tips.
Why the mystery? More importantly, why the difficulty? Spray tips are what send the paint out in a mist (or a fancy science term- atomizes the paint). The way the paint is atomized and sprayed out is what gives you a nice smooth finish. The whole point of buying a paint sprayer is for the finish. So really, the spray tip is quite important.

This sprayer compatibility chart courtesy of Graco. Utilize their drop down tool to easily find the correct size for you.
Once you've determined what type of spray painter you will buy, then you can decide what type of tip you need. Depending on the project, you may need different tips. The tip can be best determined by the type of material you are using. Thicker materials require larger tips to expel the material out and faster.
A smaller tip is best suited for thinner materials and will go out slower. Keep in mind how big or small your project is as well. Large areas will require a wider tip and smaller projects will require a more narrow type.
Ultimately, you can refer to your paint sprayer's manufacturing site to determine the correct size for your nozzle. This doesn't have to be rocket science. Use their drop down tools that will ask you model type, material type, and surface area. Voila! You have the correct size sprayer tip! No need to look at charts and sweat it!
Using Your Paint Sprayer
Once you pick out the paint sprayer that is best for you – these simple instructions will help you use it!
Tape Off Area
Before you get started, you'll need to make sure you have properly prepared your painting area. This includes taping anything you don't want paint on with painter's tape or covering large areas in plastic wrap or paper. This will avoid heavy overspray from settling a thin coat of paint on areas that weren't meant for paint.
Safety First
You'll also want to make sure you are wearing proper safety gear, including eyewear and a respirator. The last thing you want to do is breathe in those painting particles or spray yourself in the eye on accident.
Practice, Practice, Practice
Make sure you have practiced using your paint sprayer before the main event. Find some discarded cardboard pieces or spare wood and go to town. You'll want to practice different spray patterns and use different spray nozzle tips and sizes based on the type of paint being used. You may have to adjust your pressure (if using) to ensure you have an even finish.
Proper Form
To begin, you want to hold your sprayer's tip about 1 foot away from the item you are spraying. Make sure you are holding it straight and steady, otherwise you'll have an uneven finish. Use your entire arm to move the sprayer. There are 2 main techniques you can practice- a horizontal and vertical pattern.
Spray Patterns
To paint in a left-to-right motion, you need to think vertically. This is conducive to painting long vertical boards (like board and batten). Again, keep your sprayer straight and avoid any leaning or arches to get the most even finish.
To paint up and down, you'll need to go in a horizontal pattern. This is ideal for wider materials like walls. Some professional painters swear by a technique where you make both a horizontal coat and then a vertical coat for the smoothest finish.
Clean Up
Once you have completed your painting project, you need to clean up right away. Leftover paint will dry and lead to big trouble for your sprayer. For this part you'll need to use the appropriate solvent to clean it best. If you used a water based paint, go ahead and use water to clean it.
If you used an oil based paint, you'll need to use some paint thinner. Place your spray tip in the solvent and let it soak. Put the solvent in your paint's reservoir and run it through the sprayer until it is cleared.
Best Paint Sprayers For Your Needs
Best Airless Paint Sprayer
The Graco Magnum X5 Stand Airless Paint Sprayer is a great choice for homeowners who take on many painting projects. This airless model is well suited for both indoor and outdoor painting. It is lightweight and has a hose that can support up to 75 feet, making it extremely mobile and versatile.
It also comes with an ability to adjust the pressure to support a smoother finisher. Since it is airless, you also don't need to thin your painting materials, which is an added bonus! Graco also provides an adapter to attach the hose to your garden hose to assist with easy cleanup.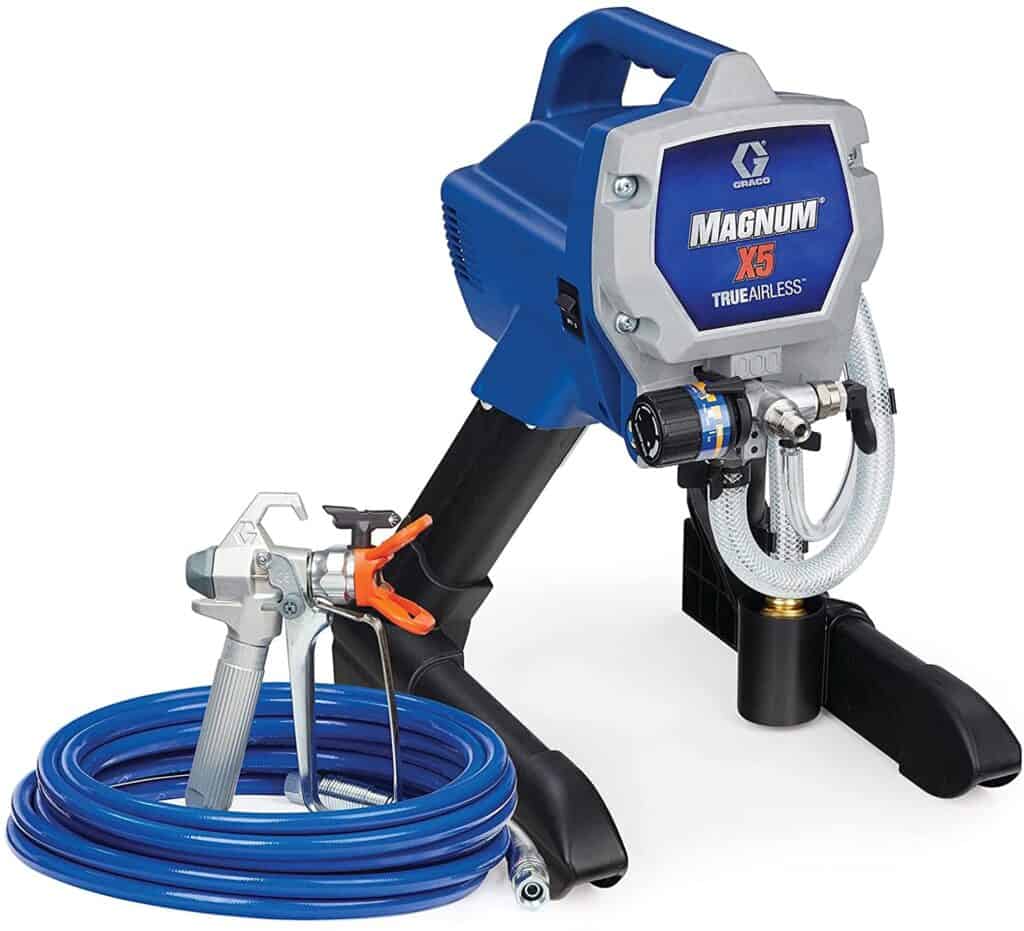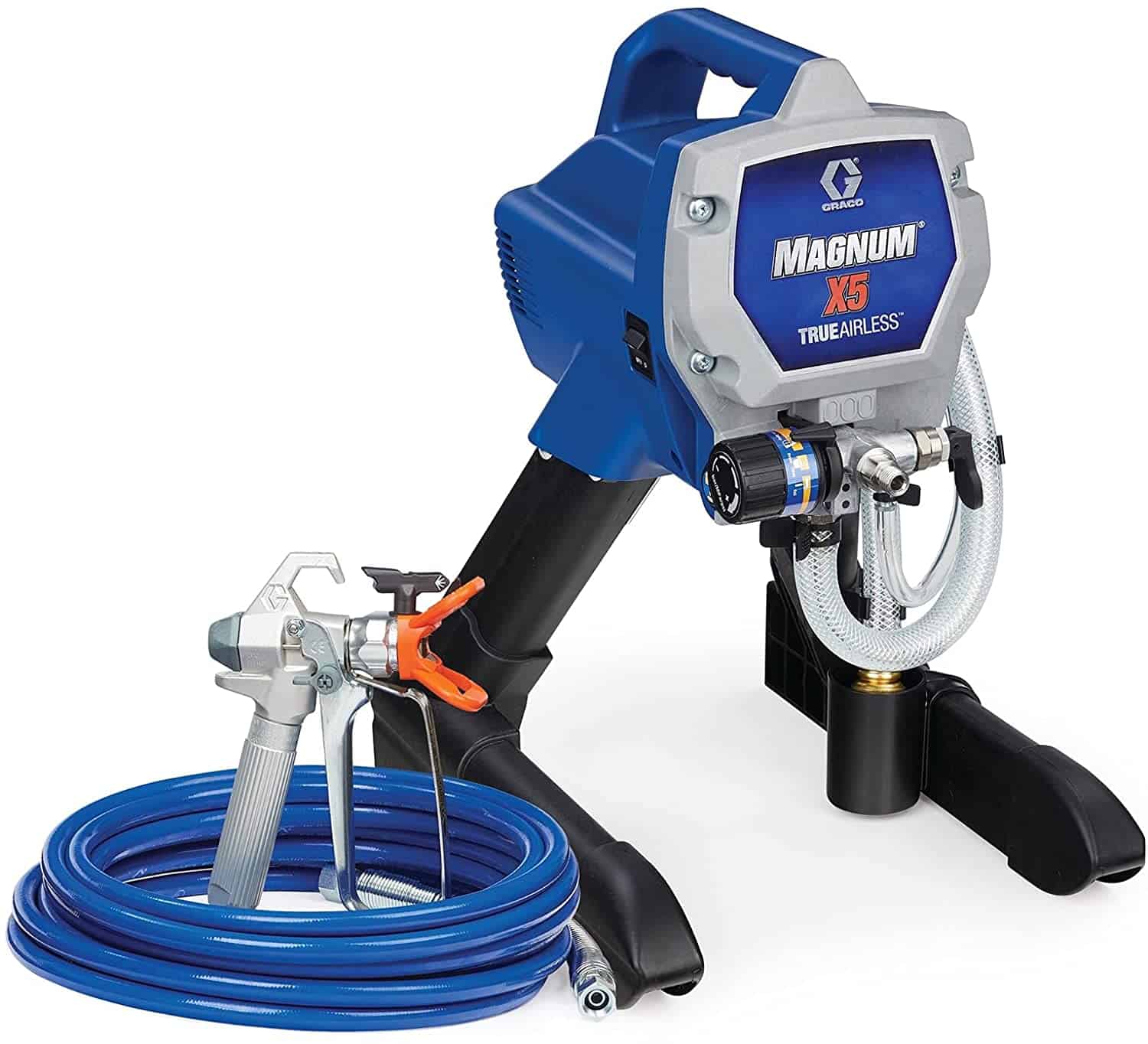 For smaller projects, I'd recommend the Graco 16Y385 Truecoat 360 Paint Sprayer. This is the paint sprayer that we have and it has been a great purchase. I loved that we didn't need to thin out our materials.
It also is extremely lightweight and easy to use. If you need to flip it over, you can even spray upside down, which is not a common feature. Clean up is a cinch and the price is great for this powerful sprayer.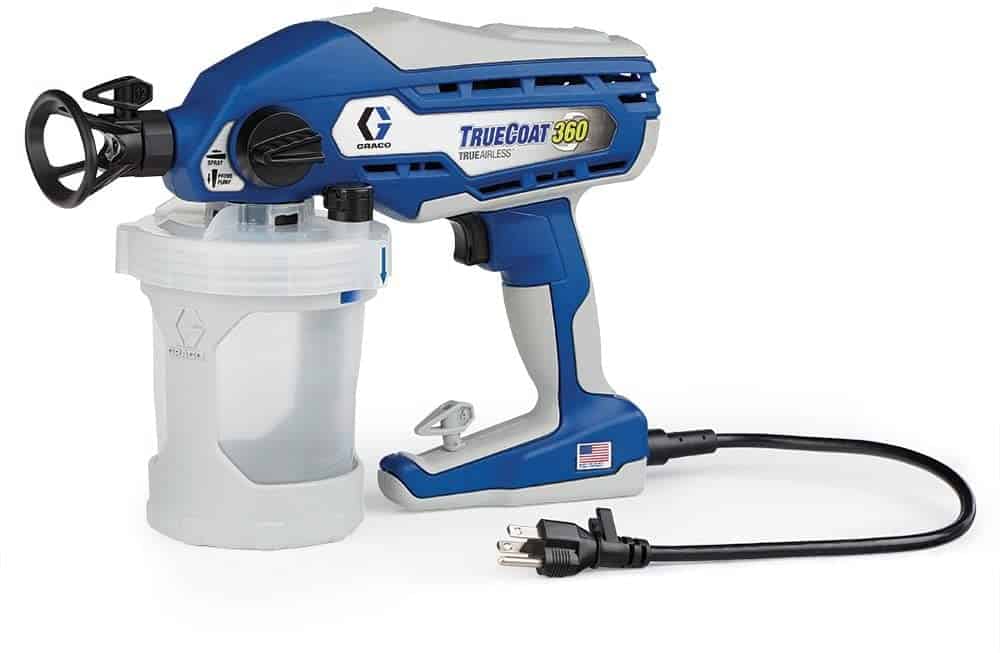 Best HVLP Paint Sprayer & Air Compressor Paint Sprayer
The Wagner Flexio 890 Stationary HVLP Paint Sprayer is a great versatile tool that is perfect for those intricate projects indoors and can be used for bigger projects outdoors. With an adjustable pressure and two nozzles, you have much more control over your painting outcome.
A nozzle for fine finishes allows you to reach that professional look for detailed work. What makes this paint sprayer stand out is its ability to paint an 8×10 wall in a mere 5 minutes! Talk about efficiency!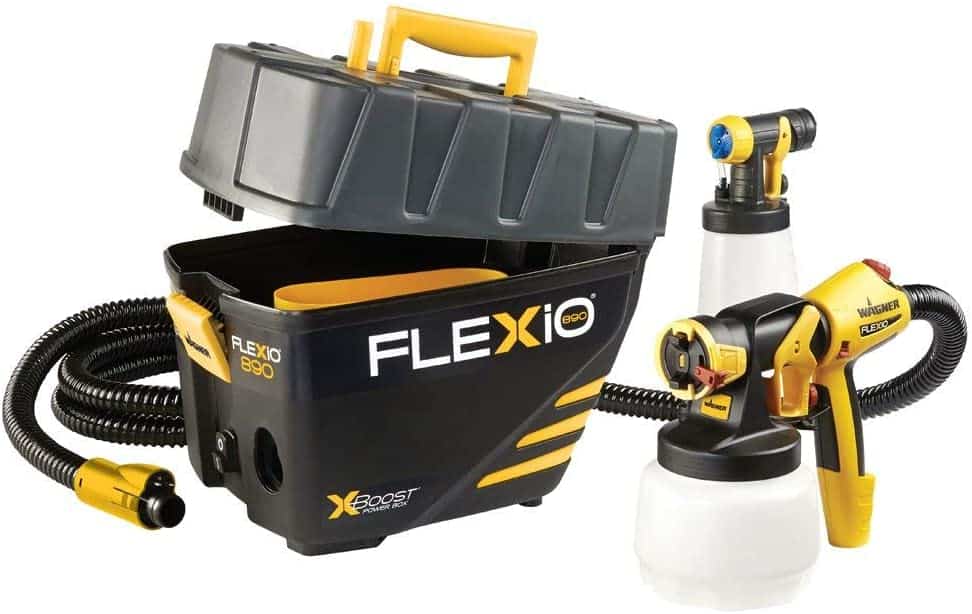 If you are looking for something a bit more compact, then the Graco Sharpe HVLP FX3000 is a great option. This product comes in several sizes and weighs only about 1 pound. This is a perfect option for smaller projects around your home.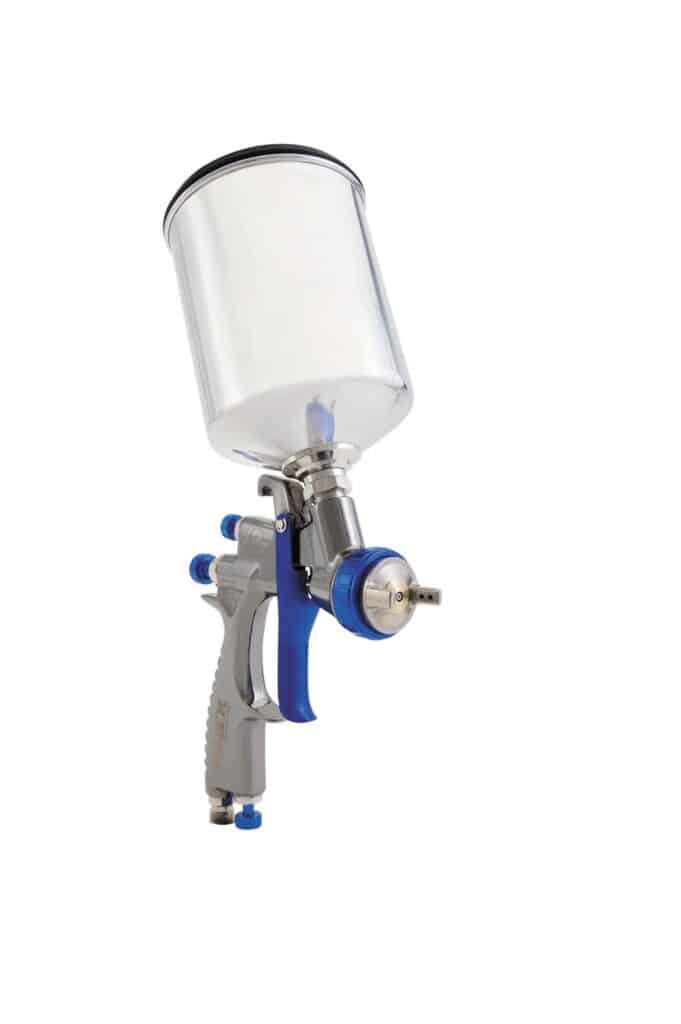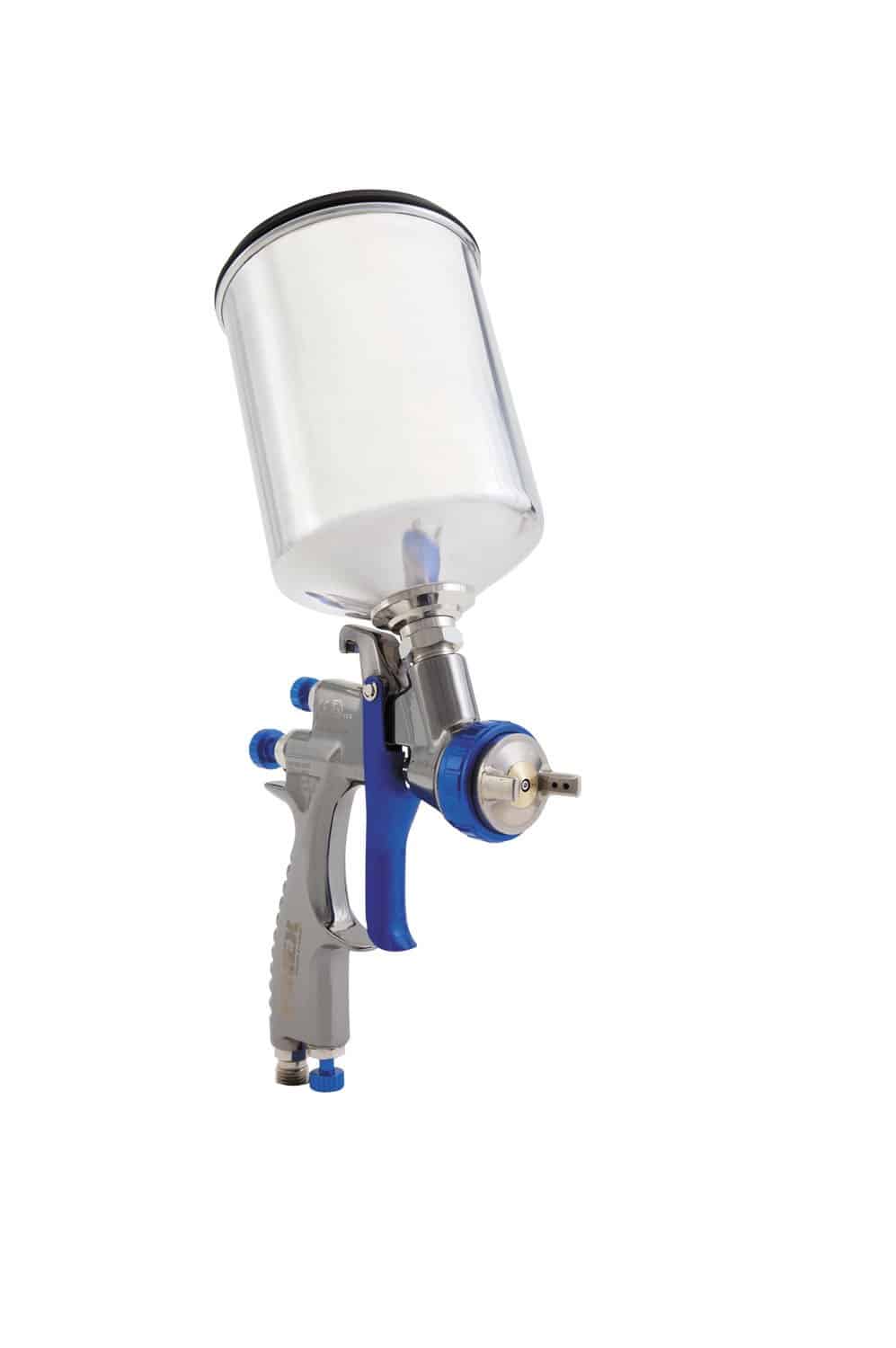 The Dynastus 33 oz Siphon Feed Spray Gun requires a 7-12 CFM/ 3 HP compressor. This is an extremely versatile sprayer that can handle materials ranging from paint to enamel or urethanes. You can use it for both indoor and outdoor applications.
Not only can it be used on home improvement projects, but it can also be used on automobiles. This is a great option if you want something with multiple purposes.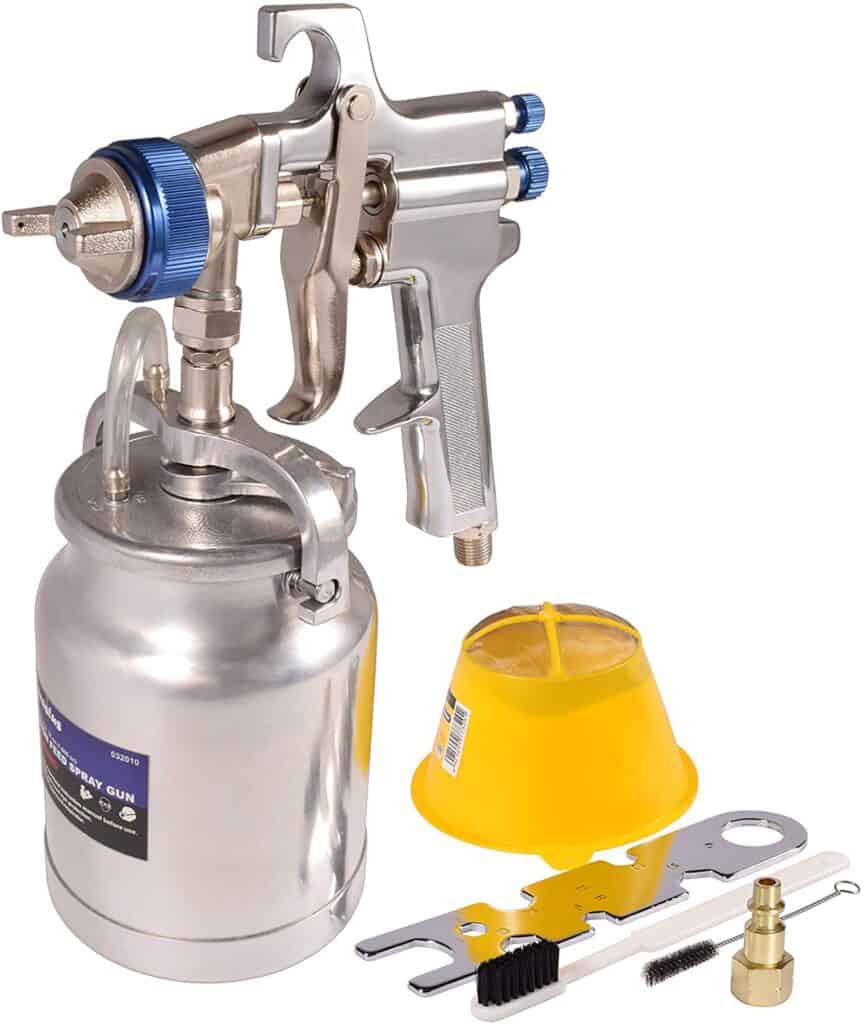 Did that make things clear as mud, or do you feel confident in your decision? I am rounding up all the paint sprayers we talked about below for easier shopping, so if you think you have made your decision go ahead and grab one from Amazon!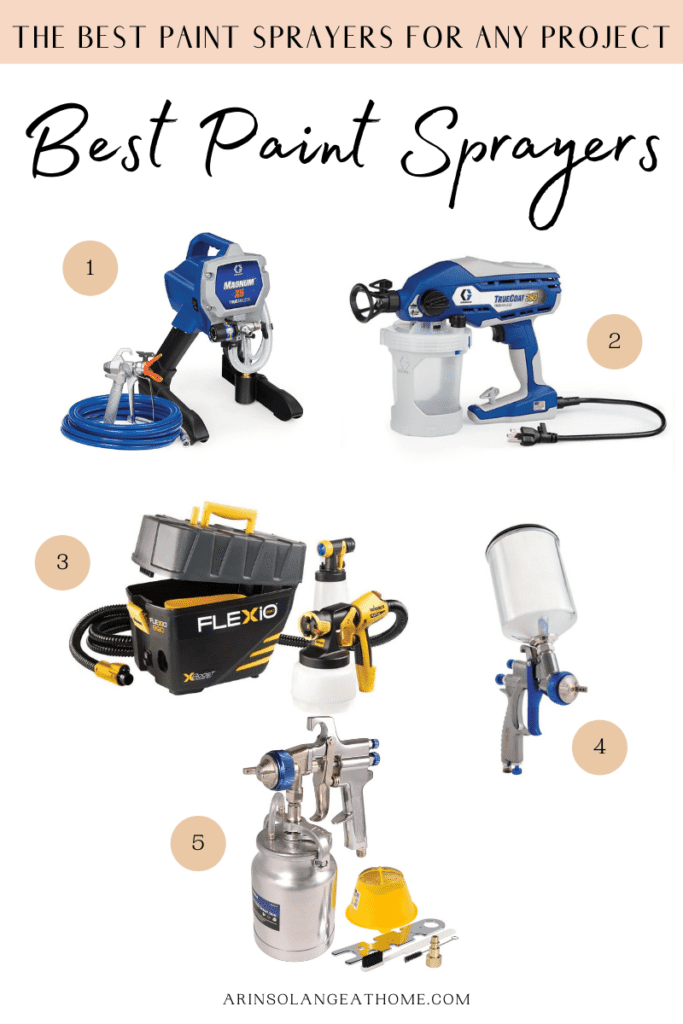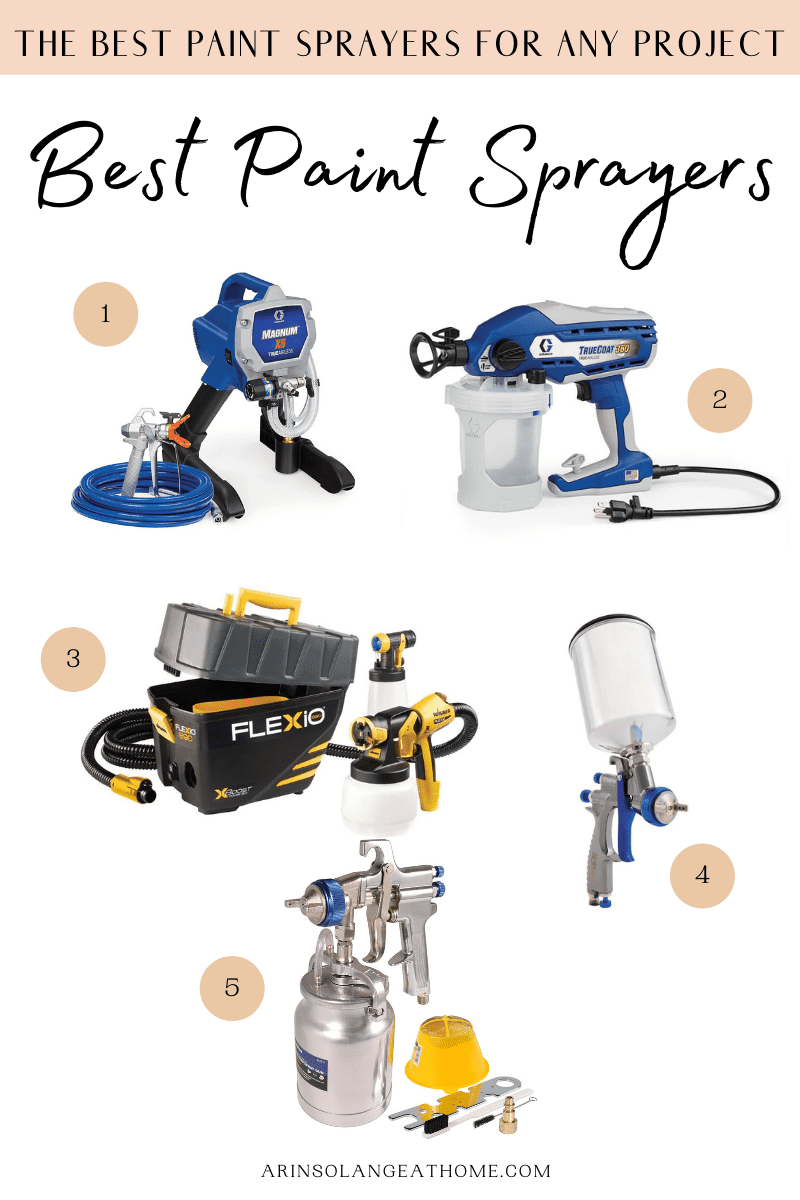 Shop the Best Paint Sprayer for Walls
Other Posts You'll Love
Kitchen Reveal | Valspar Desert Bone Girls Room | Modern Neutral Paint Colors | Best Paint for Kitchen Cabinets
Pin This Photo Below For Later
I hope this overview gave you some great insight on the best paint sprayer for walls. I never knew there were so many options out there until it was my turn to invest in one. These are great tools to have in your DIY arsenal and you won't be disappointed you purchased one, especially when you can paint an entire wall in only 5 minutes! If you have any questions, feel free to leave them in the comments section, and follow me on Instagram @arinsolange and TikTok for more home, decor, and DIY.