If you have LEGO lovers in your house, I am assuming you have spent more time than you care to admit thinking about the best LEGO storage ideas. How many times have you made the dreaded discovery of a LEGO landmine after suffering a casualty yourself? My sons, Jack and Walker love to play with LEGO sets.
Between both boys we have a huge LEGO collection and those little pieces can be difficult to keep track of. On any given day, I can find loose LEGO pieces all over our house- the kitchen, living room, even the bathroom! If you are tired of stepping on your kids' LEGOs, I'll go over some clever ways to store those LEGO masterpieces.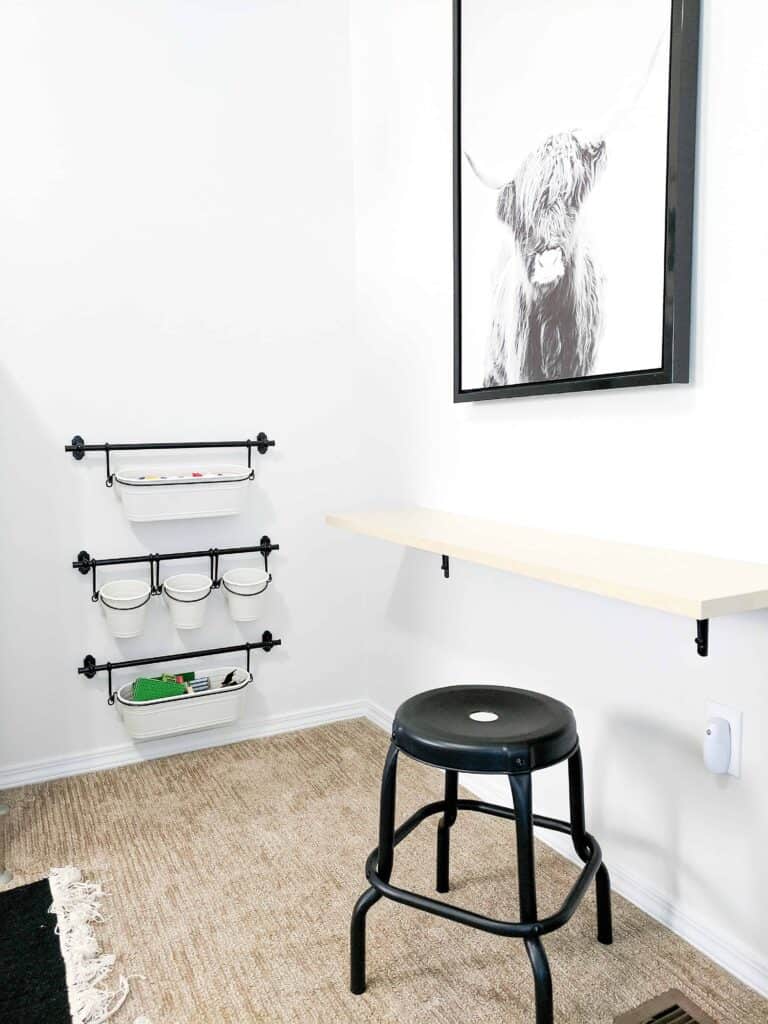 This post may contain affiliate links.
The Benefits of LEGOs
What is so magical about these small brick shaped plastic pieces that kids go absolutely nuts over them? Why do I even bother allowing these little pieces to end up all throughout my house?
Believe it or not, LEGO have a ton of developmental and educational benefits. These are a great toy for younger children to learn and practice their fine motor skills. LEGO builds help kids develop creativity, imagination, and problem solving.
Each time your kid builds a LEGO tower only to discover that the base wasn't strong enough to support the height, they are learning important information on math, science, and other STEM subject matter.
It teaches children how to problem solve and learn from their mistakes. When they finally accomplish that big LEGO tower, the look of determination, excitement, and sheer happiness is what makes these tiny LEGO pieces all worthwhile.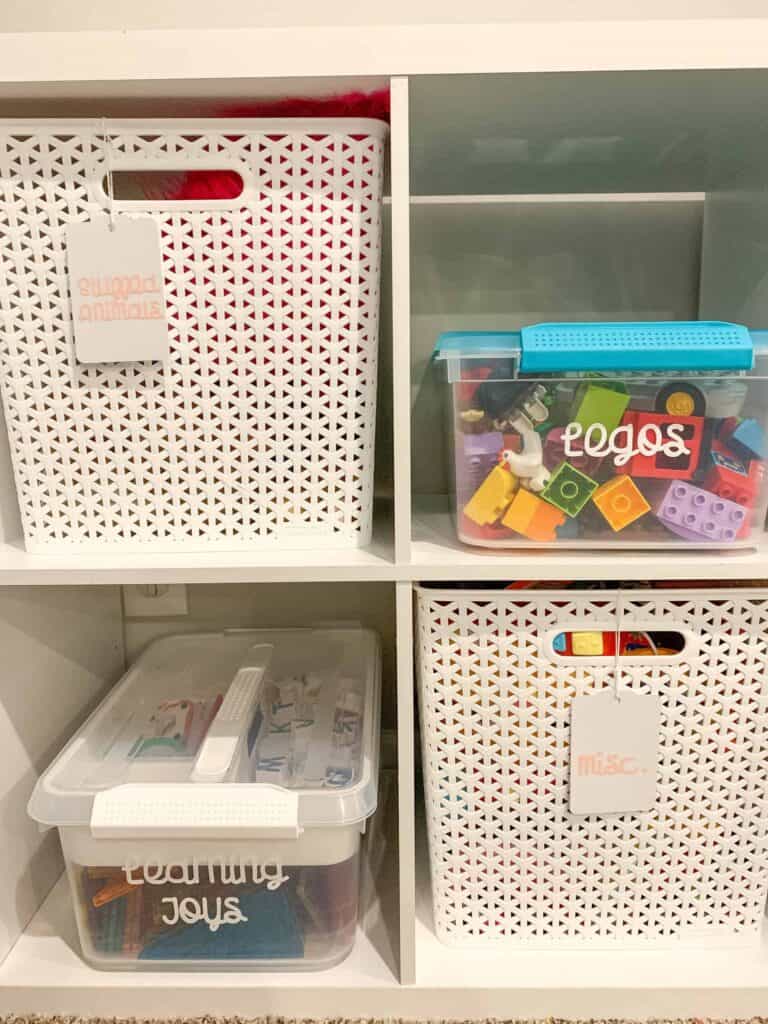 If you're looking for several different kinds of toy organization, I've got you covered.
Solutions To Conquer Chaos
LEGO kits come in all shapes and sizes. Your kids may love the big LEGO blocks or be more obsessed with the theme based LEGO minifigures. Whatever their poison, those small pieces are easy to lose track of and can cause some serious damage when stepped on. Before we get into the best LEGO storage ideas, you'll want to spend some time thinking about organization.
I know we aren't in a 30 Day Declutter Challenge, but trust me on this when I say, you need to make sure you have your house ready for LEGO collections.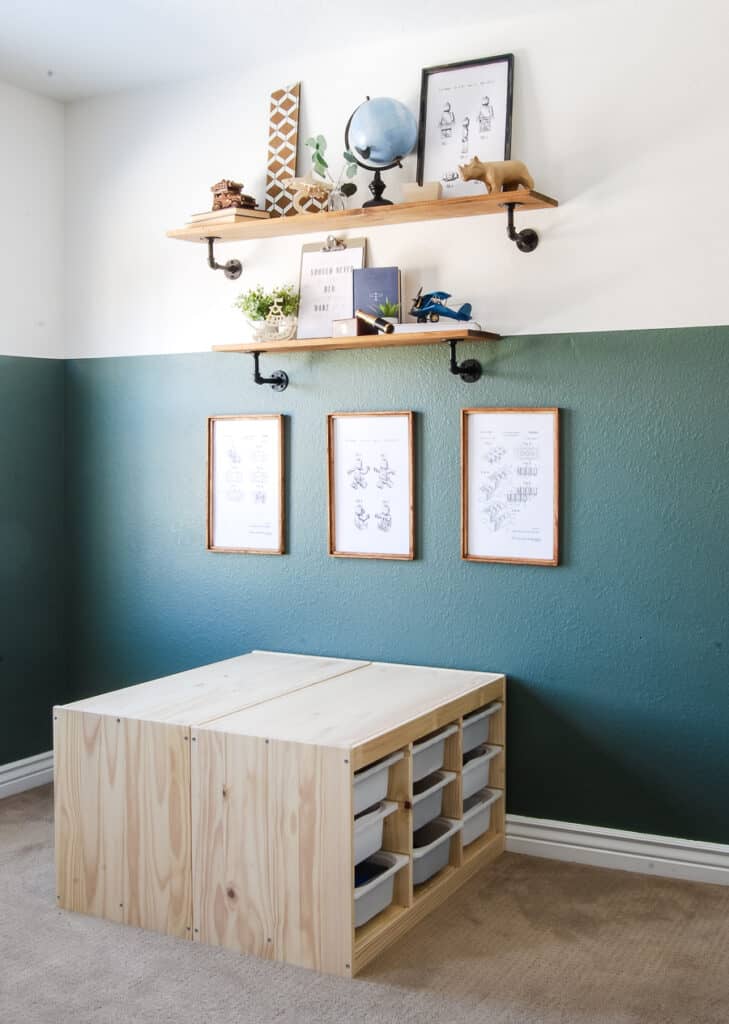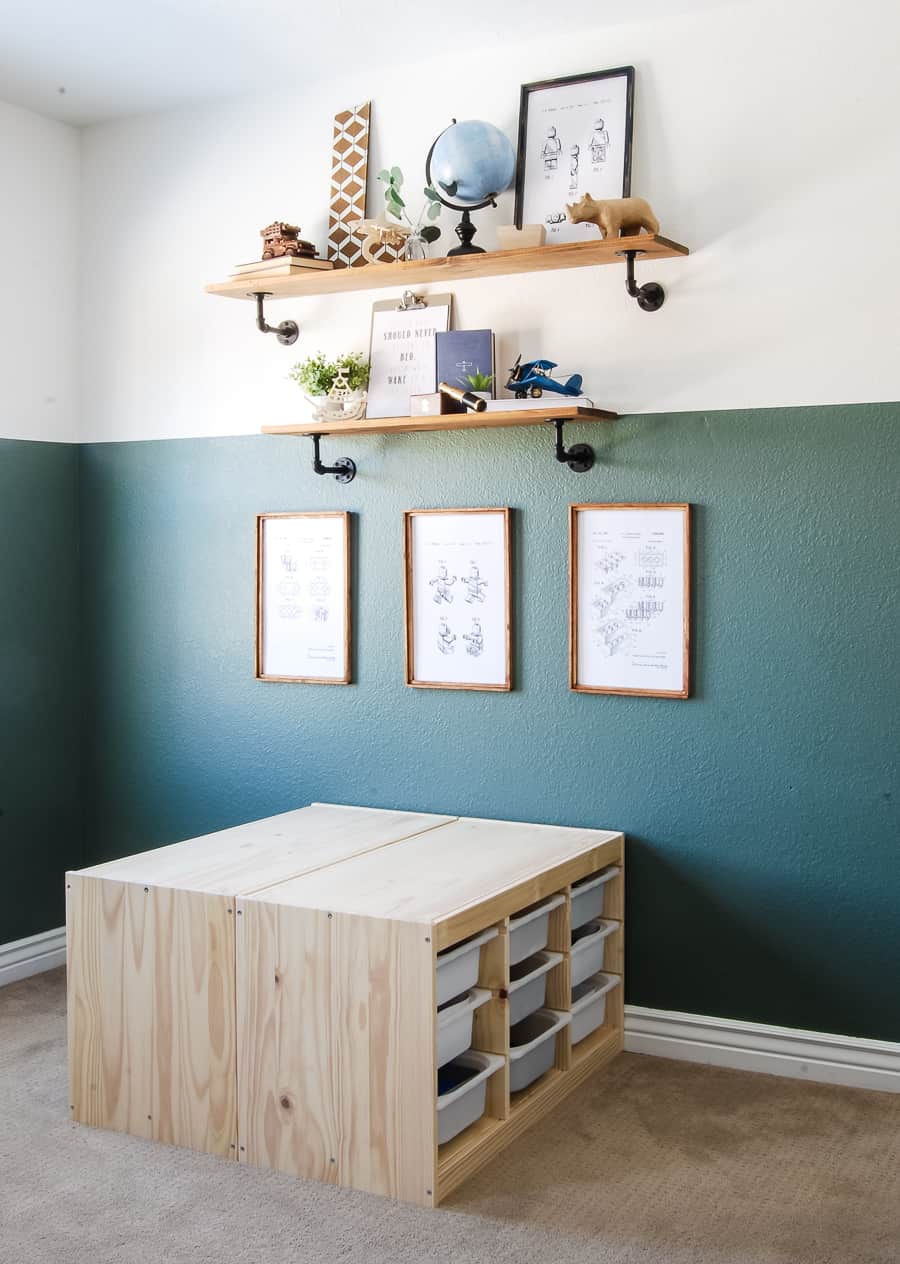 Check out this easy IKEA DIY LEGO storage solution.
Every time new sets come out, my kids can't help but need to add these LEGO bricks to their collection. Their collection started small, innocent, and easily manageable. But then something happened.
LEGO started to overtake their bedroom, our playroom, the living room. The more LEGOs we added, the more chaos unused, and organization went straight out the window. Have you ever tried finding a particular set of LEGOs when they are totally mixed in with other LEGO bricks in possibly 5 different rooms?
We needed law and order back to our house and I needed to never step on another LEGO again. Enter storage solutions.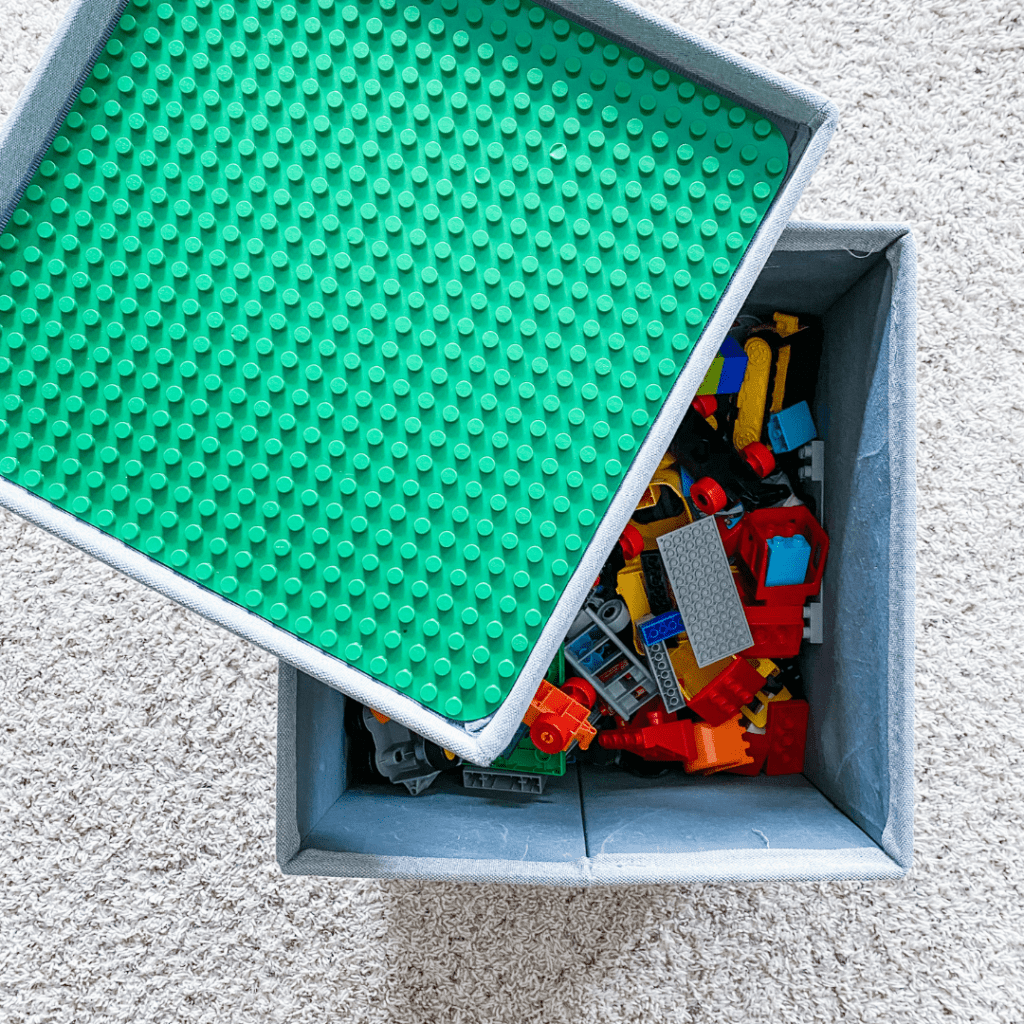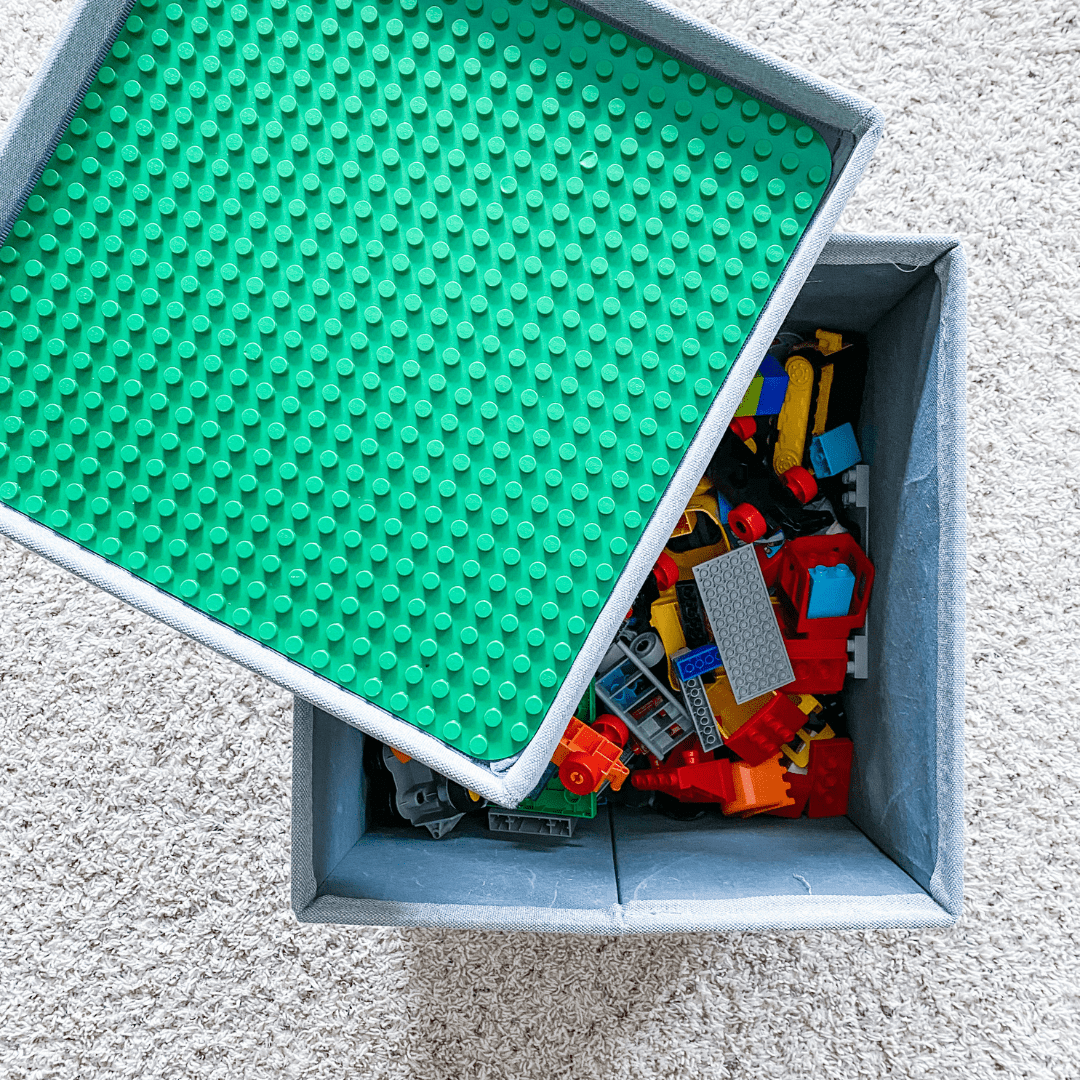 This LEGO storage idea serves double duty – as storage and an ottoman.
Setting Boundaries With Kids Around LEGO Sets
Before I decided on the perfect solution to my LEGO problem, I had to put some boundaries in place. The newest decree in the Arin Solange At Home household is that all LEGO must be kept in their designated room.
That's right, no more lone LEGO being separated from the huge collection. All LEGO will be played with in either the bedroom or playroom.
No more LEGO going out in the kitchen. No more LEGO building in the dining room. And for all that is good and holy, no more LEGO in the bath!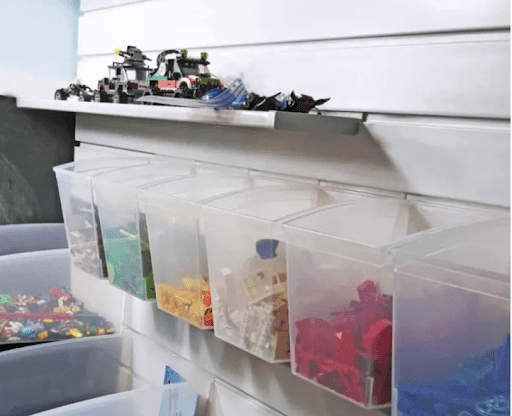 Check out how this Mom took control of her LEGO chaos and built this LEGO corner for her son.
By designating a particular LEGO play area, this helps keep the chaos more controlled. Large collections can be easily lost and separated if you end up moving these pieces all over. Narrowing down the playing field to one particular room is a practical solution at keeping your LEGO collection more organized.
Once you've decided on what room will now be LEGO Central, make sure you round up all those lone LEGO bricks. You may need to declutter some at first. I'd suggest doing this part with your kids.
Older kids can take part in helping declutter those LEGOs that they don't play with anymore and younger kids can go on a scavenger hunt to collect any LEGO bricks that may be hiding throughout the house.
Once you've collected all the LEGO bricks and have properly decluttered, you can begin conquering your LEGO storage solution.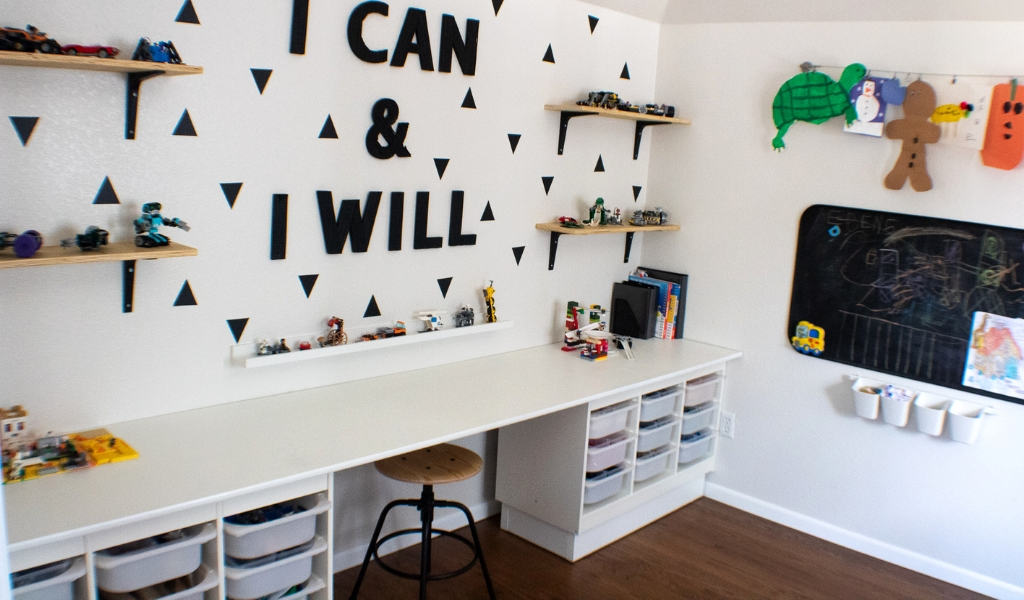 This LEGO play area includes display shelves for your kiddo to show off their newest creation!
The Best LEGO Storage Ideas
Now that you've decluttered and made the public proclamation that LEGO bricks shall now remain in one room, you can begin to look at the best option to store LEGO pieces.
The space you have available and how large your Lego collection is (or will become) may determine what the best LEGO storage system is for you and your family.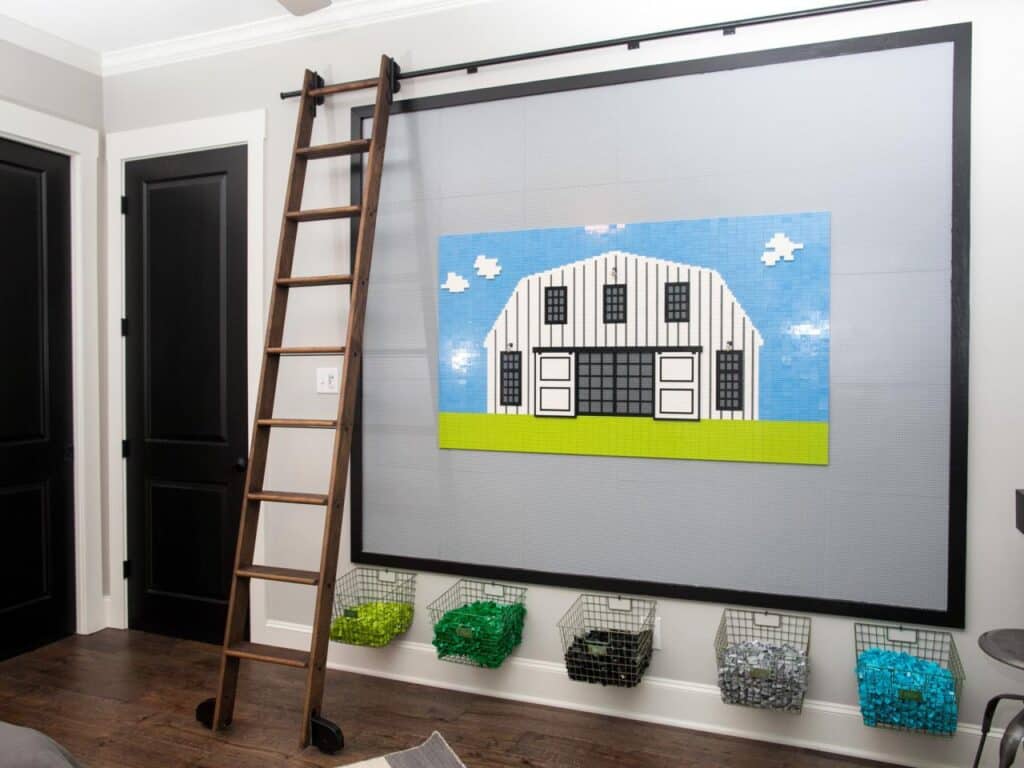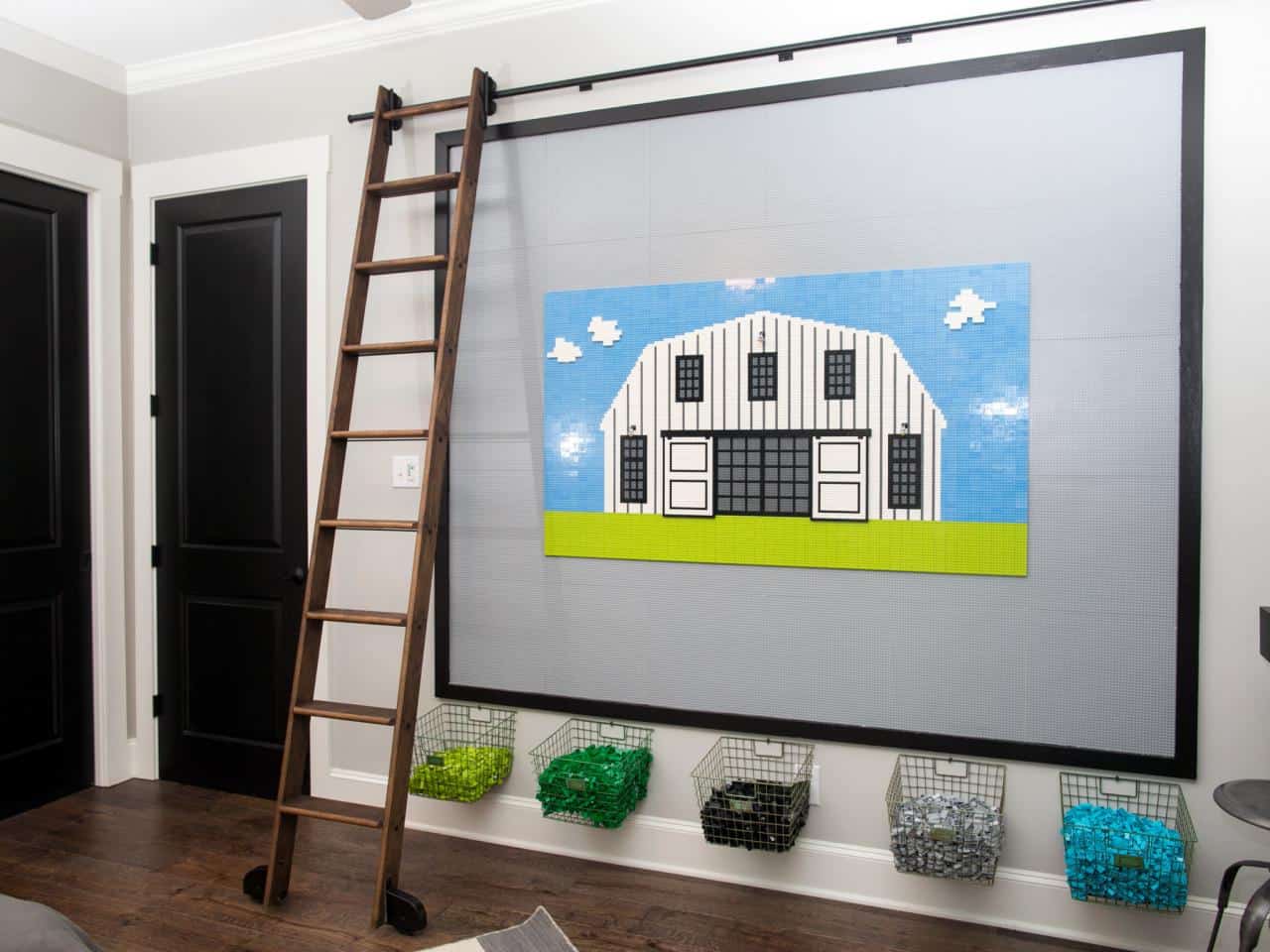 This DIY LEGO wall originally from HGTV's Fixer Upper is a serious dream room.
Consider your options with budget, amount of storage, function, and style. You may not have $300 to spend on a deluxe LEGO play table and that's okay.
There are many ways to store LEGOs that are within different price points and still offer great storage solutions. If style is important to you, then finding a storage solution that keeps the aesthetic of your entire room in mind will be higher on your priority list.
If you're more interested in the function of the storage, then lots of LEGO storage ideas will be available at your fingertips.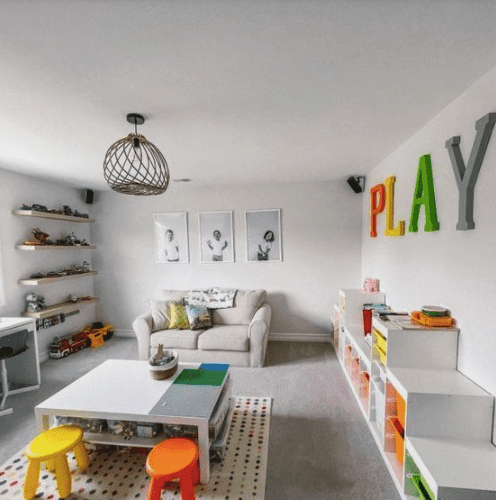 Check out this LEGO inspired playroom with a DIY table from my friend JeeYoung – her boys playroom is a dream!
Table Storage Solutions & Ideas
If you have some serious LEGO builders on your hands, then having their own LEGO table is a great way to encourage their LEGO builds to stay in a single room and off the floor.
You can find some great LEGO tables with storage bins that are readily made and waiting to be used. Or, consider a DIY LEGO table as a great way to personalize your storage solutions and design.

KidKraft LEGO Centers
When I think of LEGO tables, I have childhood memories of those red, green, and blue plastic LEGO tables.
The kind you would often see hidden in the basement because they were that hideous and your mom wouldn't allow them upstairs since they would clash with her floral wallpaper.
While I love a 90s throwback, I prefer to keep my LEGO tables looking much more stylish and belonging in this decade. These wooden KidKraft LEGO tables are much more pleasing to the eye.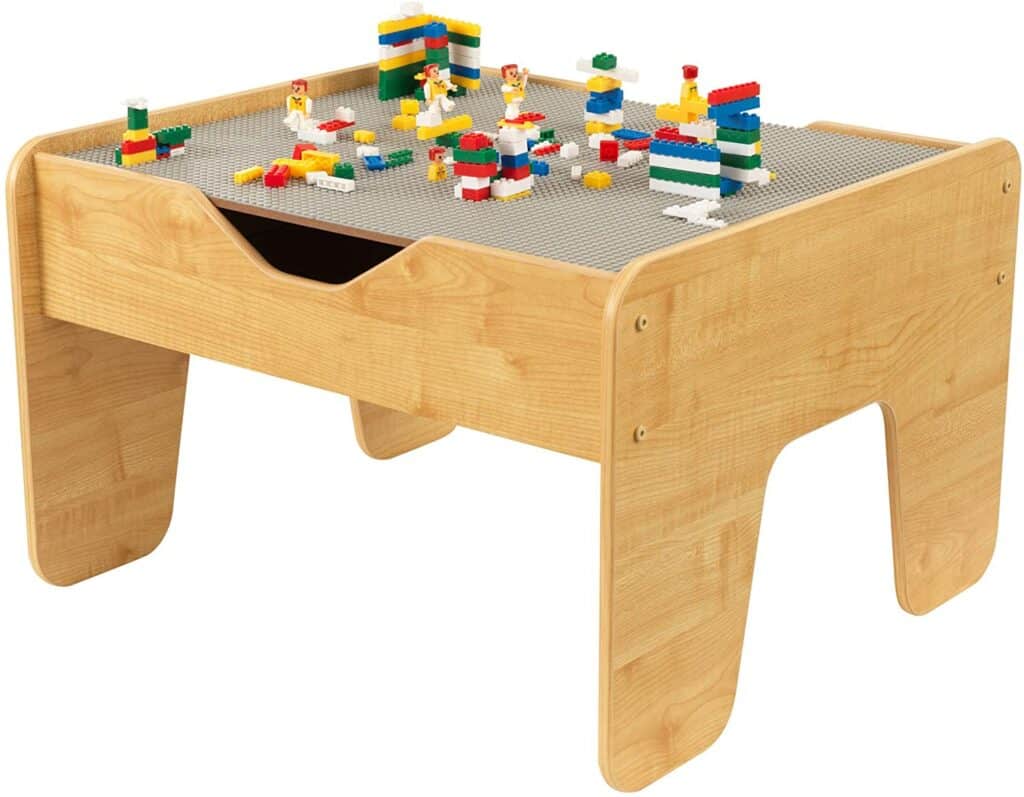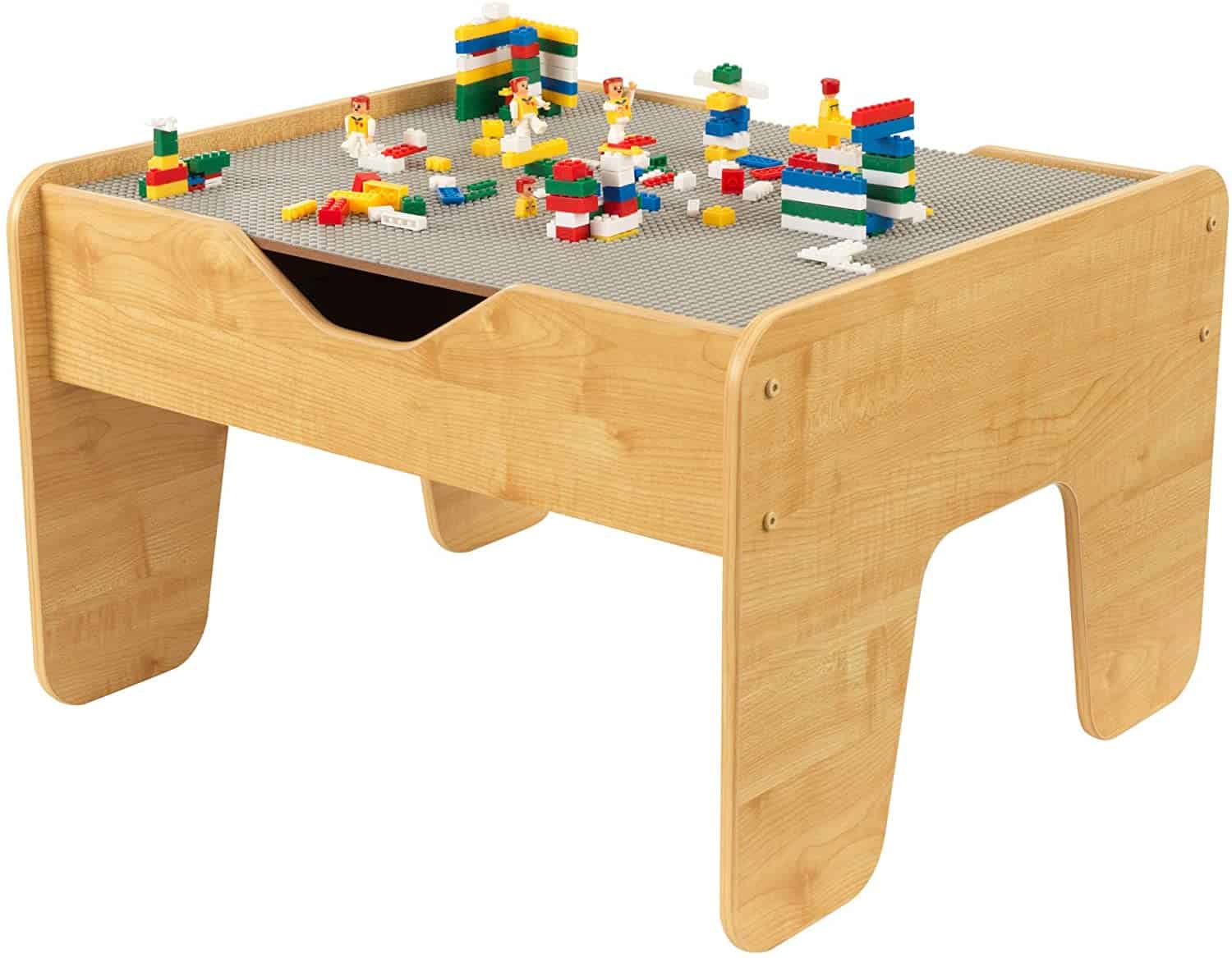 This KidKraft reversible wooden activity table has a designated flat surface and base plate for LEGO play. LEGO storage is conveniently located under the top of the table. The top flips over for a seamless wooden piece. This is great for a starter LEGO enthusiast!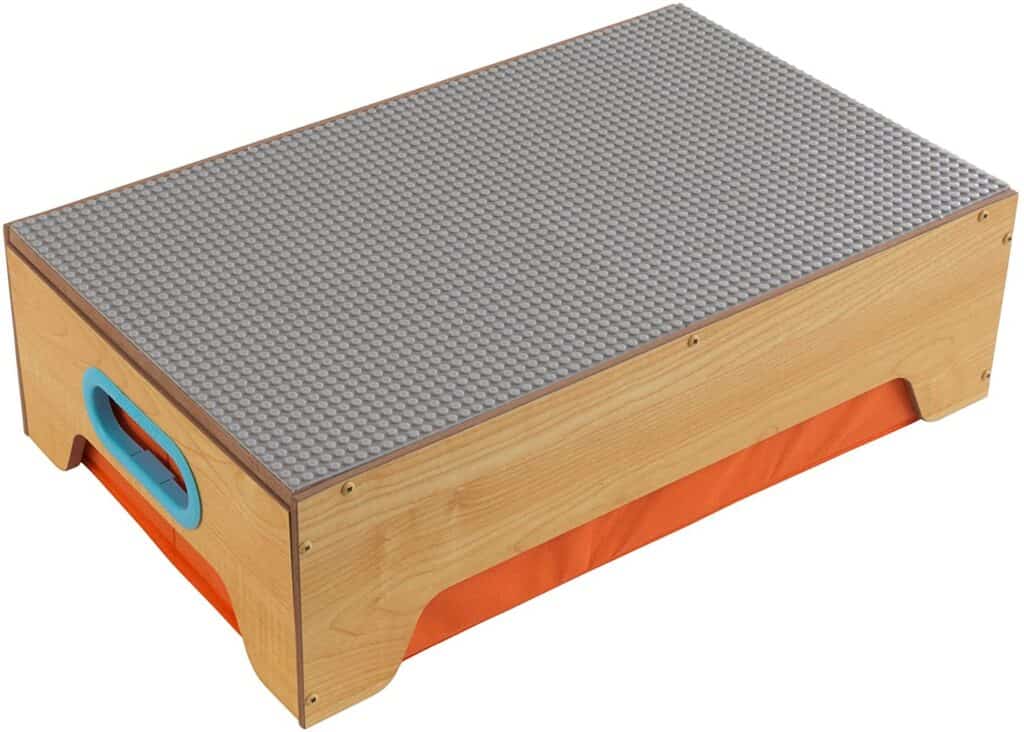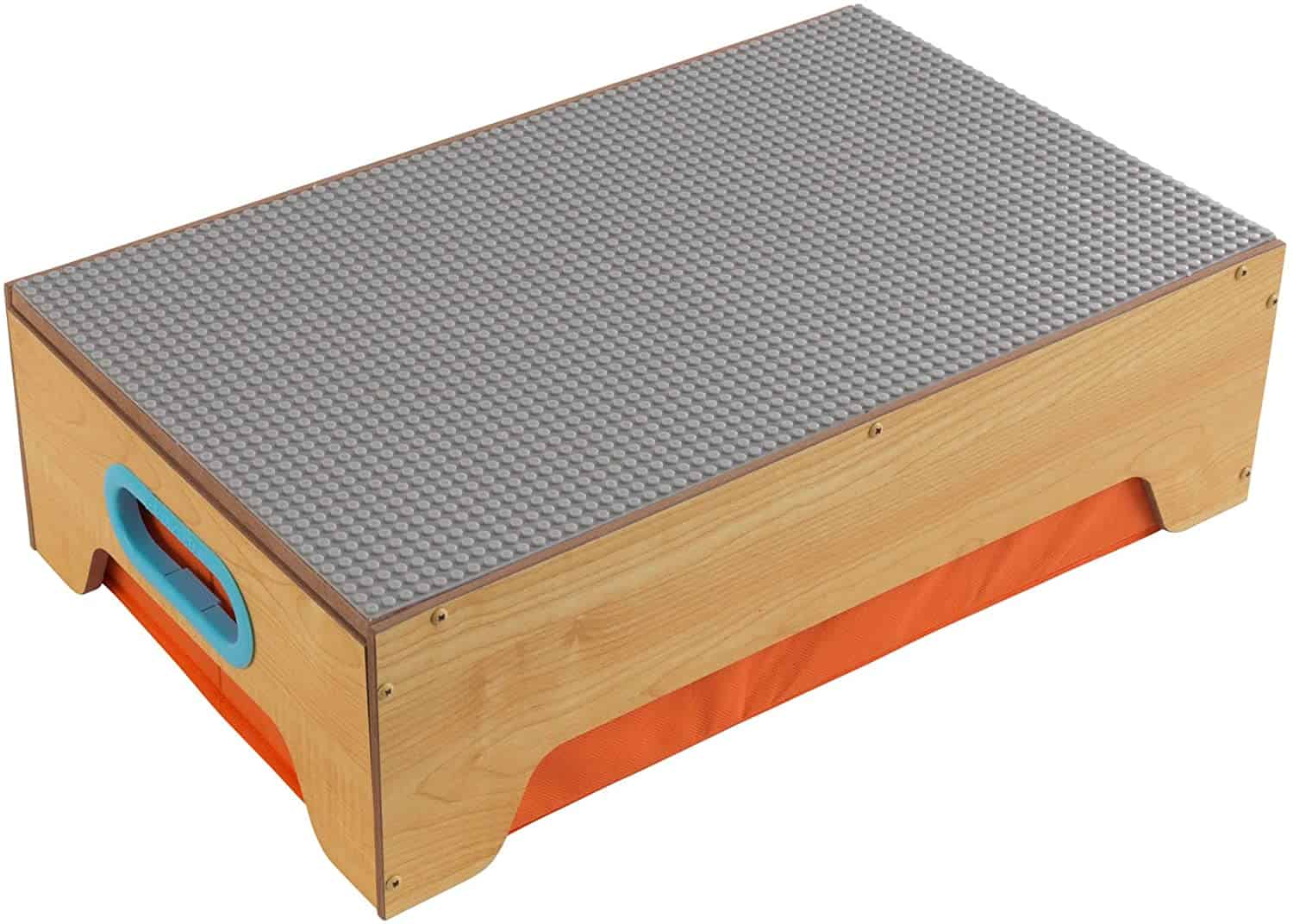 If you haven't made a no-traveling LEGO decree in your household yet, this KidKraft Creative Activity Zone Table is a great traveling piece. You can hide this in a closet when not in use or if you are living dangerously allow your little one to transfer it room to room.
This is a great option for small spaces as it doesn't take up as much room as a huge table. The storage box underneath offers a solution for easy access.
Ultimate Storage Table
If you have a LEGO-obsessed kid on your hands, you may need something with a little more oomph to it. The table itself may need to be bigger and wider to allow for more complex builds.
If you're kid is wanting to make complex builds, chances are you'll need some major storage containers to help keep those LEGO bricks organized.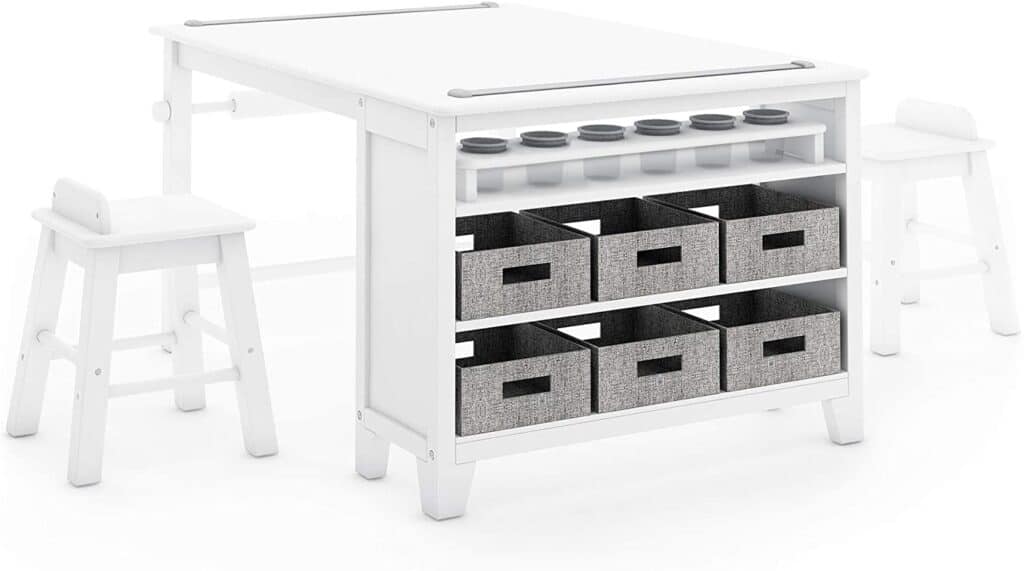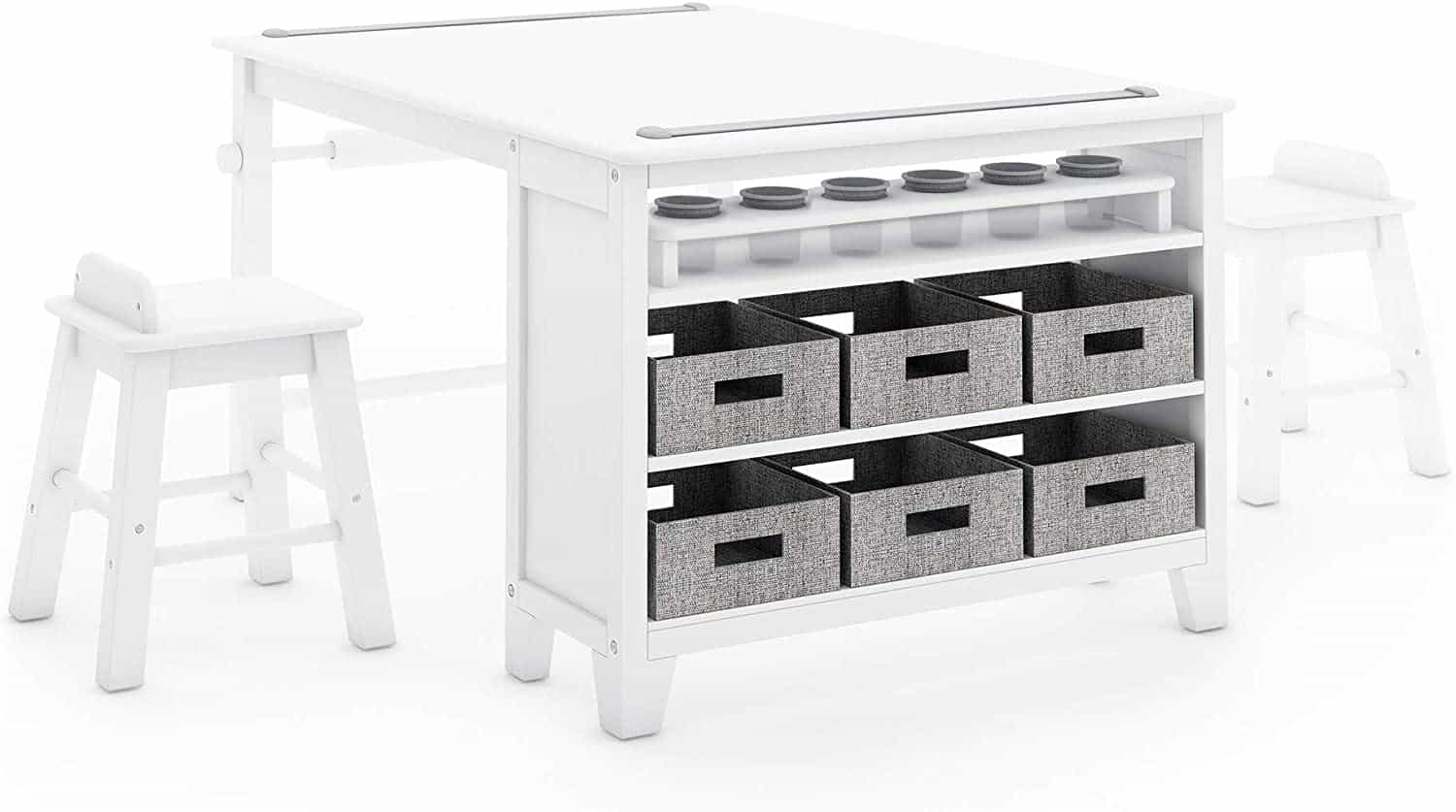 This Martha Stewart Art Table & Stool Set is a great option for those serious builds. As an added bonus, you'd also be able to use this to draw art on. To outfit it for a LEGO table, you can buy peel and stick baseplates that would fit the top.
I love that this table offers built in storage and has a wide base. If you prefer to use this as a dual LEGO/Art table, feel free to create a separate top for LEGO play that would come off and on when not in use.
IKEA DIY LEGO Storage Table
You know I love a cool IKEA hack. So when I stumbled on this amazing LEGO table made from the IKEA Trofast system, I knew this was a great solution. You have plenty of square footage for builds and LEGO storage drawers to keep those LEGO bricks organized.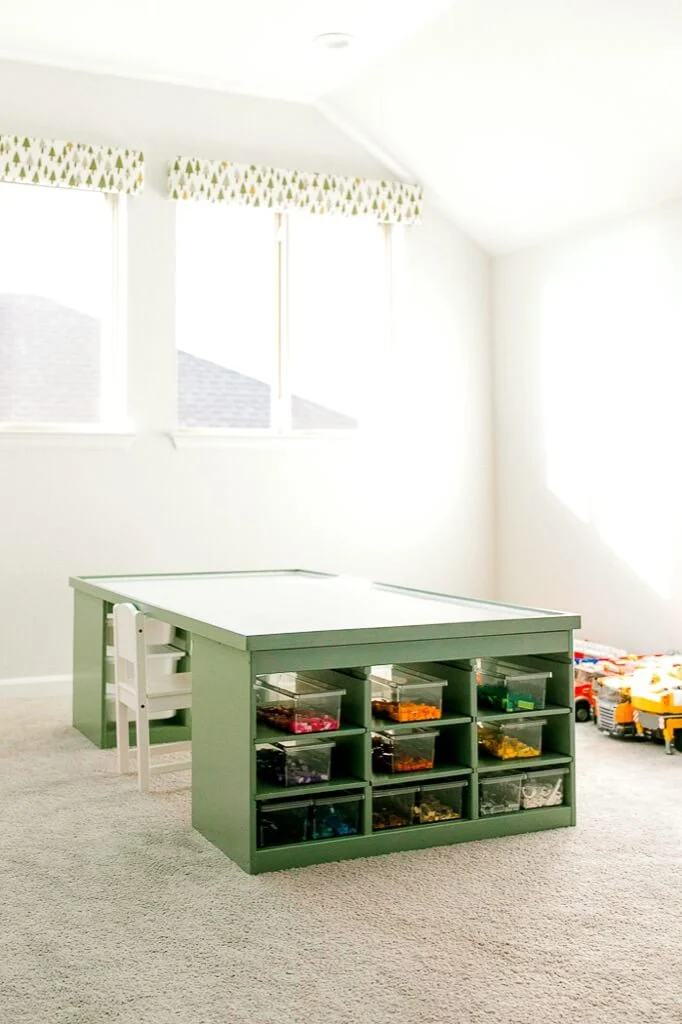 This IKEA DIY LEGO Table is made for serious builders! You can also make this same look as a train table if your kiddo prefers trains.
A DIY IKEA Flisat table hack offers another great use for those small LEGO pieces. I love that you can use the storage tubs to hold all your pieces. As an added bonus, the flip side could be used for a chalkboard. IKEA LEGO Storage is multi-purposeful and comes at a great price.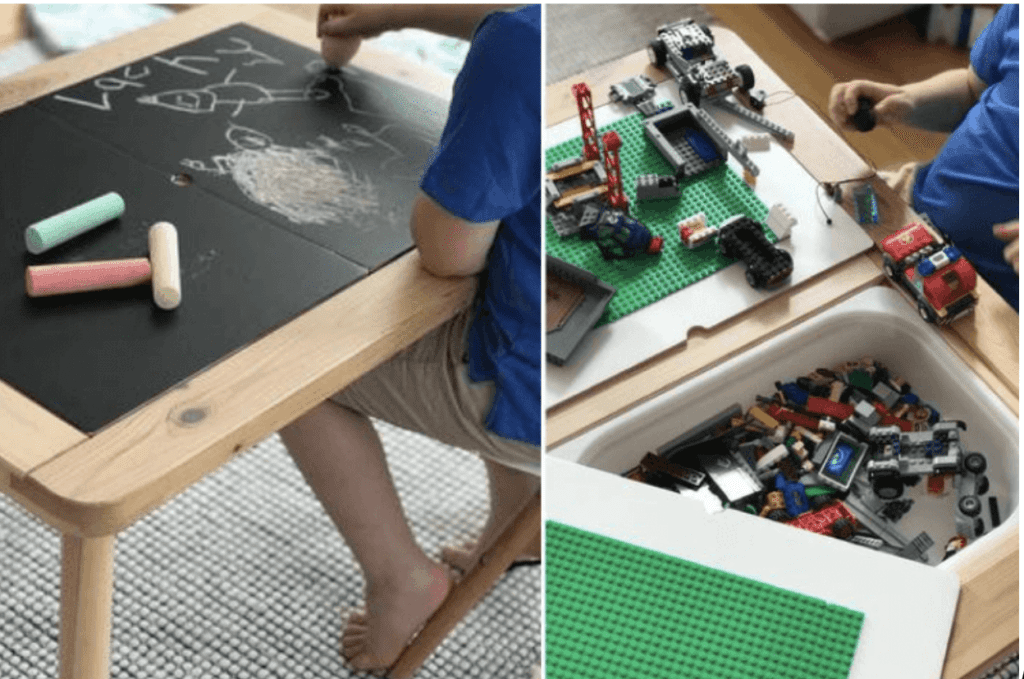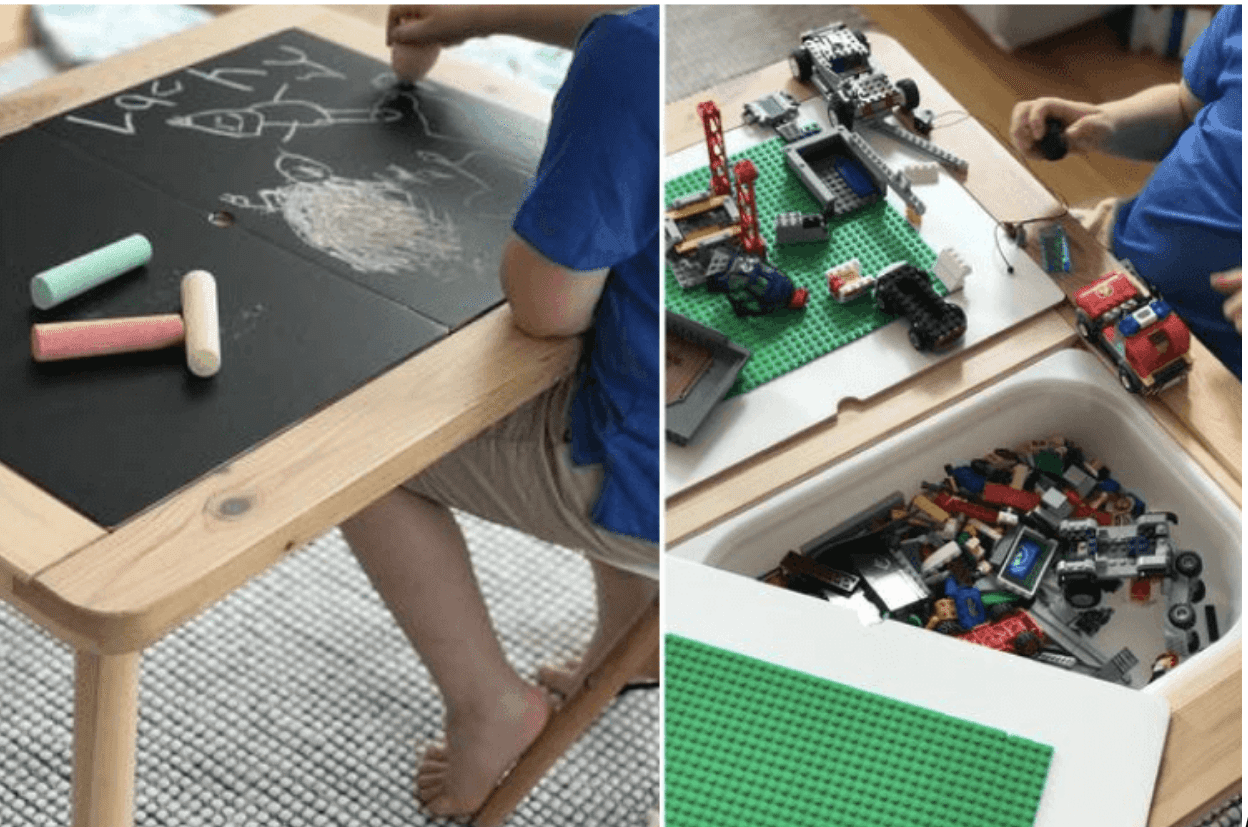 Check out the tutorial here for this DIY LEGO table! This is an easy hack that anyone could make!
Who doesn't love the Flisat and Trofast storage solutions? It seems like everywhere you look, you can create something that is both functional and personalized out of these two options.
As a result, the products can be difficult to come by or back ordered. If you are wanting to make your own LEGO table from an IKEA hack, then consider this next LEGO table.
With few materials and very cost efficient, you can make your own LEGO table from the IKEA Lack coffee table. At only $35, this is a great choice! You will need to invest in some clear plastic bins to store those building blocks, but this would make a great addition to any kid's bedroom.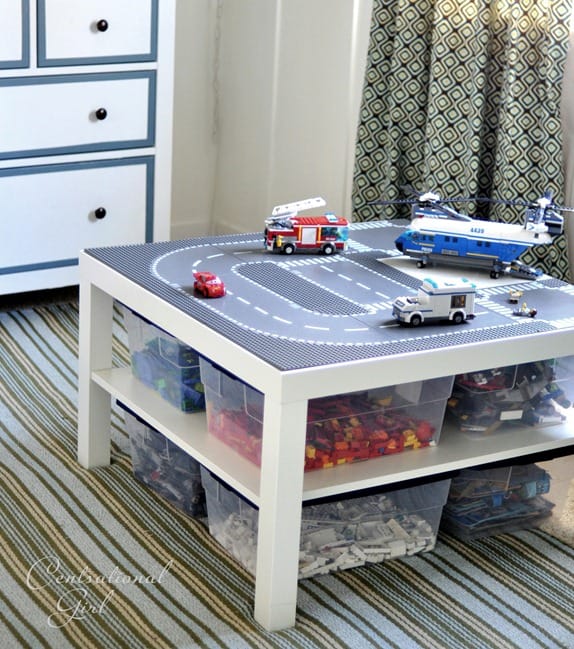 This simple LEGO table is a perfect quick fix!
LEGO Storage Containers For Walls
If you are limited on storage or would like to showcase your LEGO collection, then a great idea is to utilize your wall for some easy LEGO brick storage and to add a focal point to your room.
IKEA Hack
When Jack first began to love LEGO bricks our youngest son, Walker, was too young to be around them without trying to put them in his mouth.
To help Jack have his own personal LEGO space and to help keep Walker safe, I created this LEGO station in Jack's room. Using the IKEA Fintorp system, this was an easy way to keep all of those small parts contained.
Unfortunately, IKEA no longer has the Fintorp system available. They do have the Hultarp system, which is extremely similar to the Fintorp and would work just as well!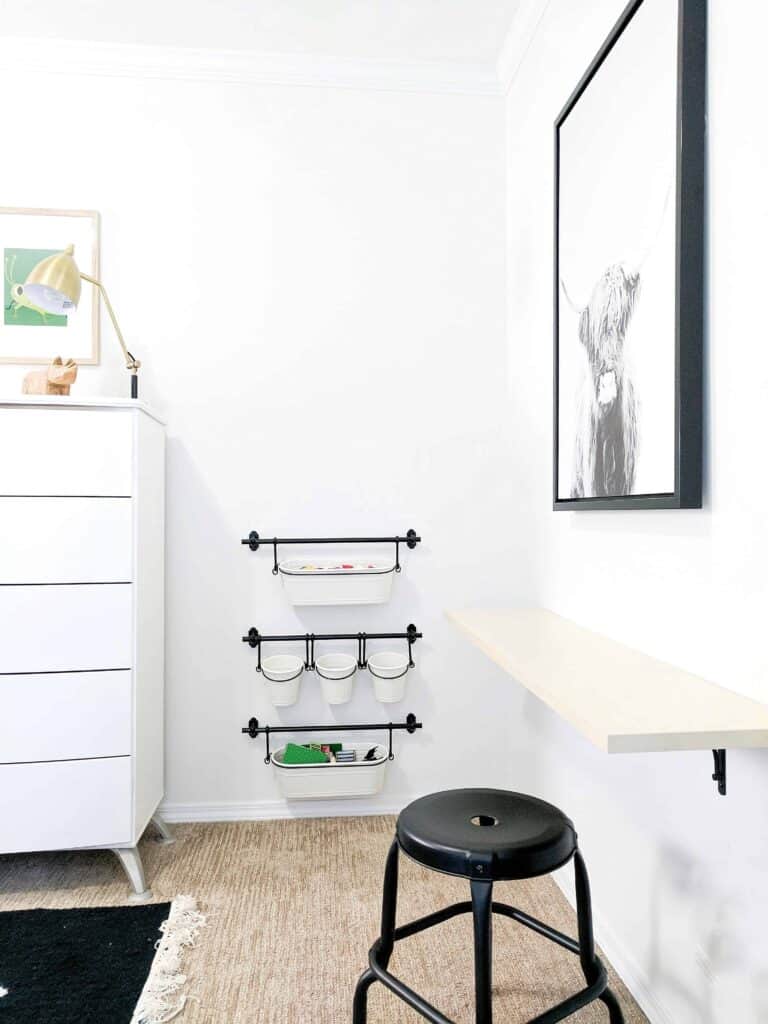 If you want a more modern look, consider using the IKEA Skadis system. The IKEA Skadis system is a pegboard wall unit that has accessory plastic containers that hang on the board. I love that this system gets the boxes off the ground and away from little hands. At the same time, it serves as a focal point and adds color and texture to your room. If you don't have an IKEA available near you, check out the Amazon version here.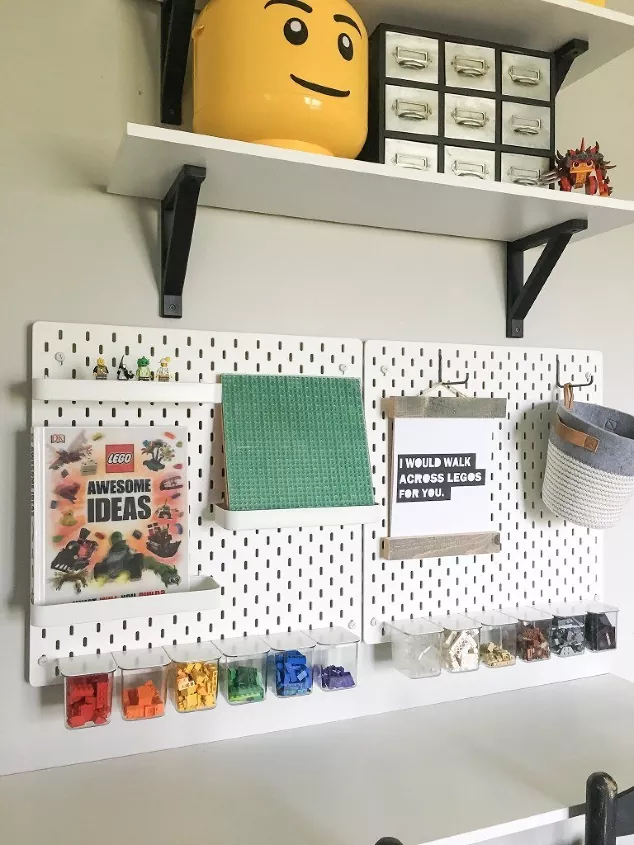 I love how functional the IKEA Skadis system is for LEGO storage solutions. Color coding adds a pop of color and you can easily store LEGO instruction booklets and other fun accessories on the board. It also serves as a display case where you can show off your smaller figurines.
Colored Baskets
If you have a dedicated LEGO area, then this easy DIY LEGO table and wall is quite the focal feature to your room. I love how functional and easy this idea is. Just make sure to put the wall storage at the right height for easy kid access but out of reach of those little baby hands.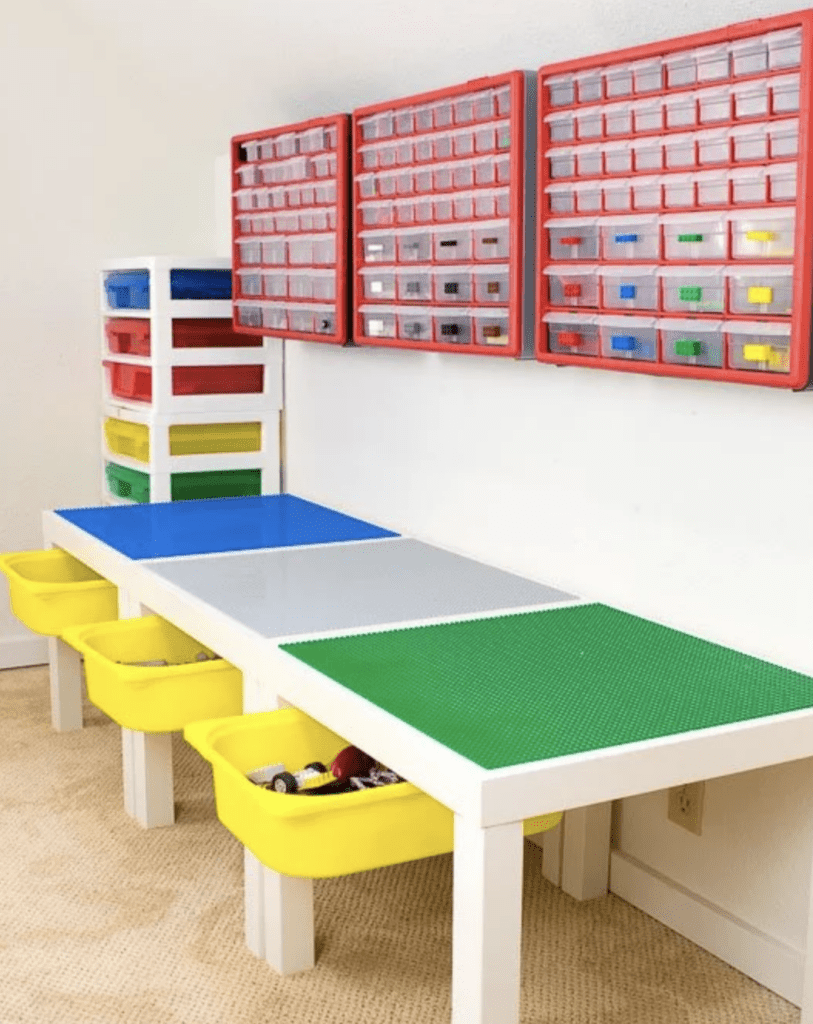 This simple IKEA hack LEGO storage is a fun and colorful kids play area!
Hanging Storage Bags
If you are limited on wall space, then these hanging storage bags are a great solution. We use these in Walker's room and they have been such an easy way to store all of his LEGO bricks.
To maximize our storage options, we hung these on the back of his closet door. He can easily access them and hang them back up when he is finished playing. I love that it doesn't take up any room on his walls, which is limited. This is a great small space storage solution.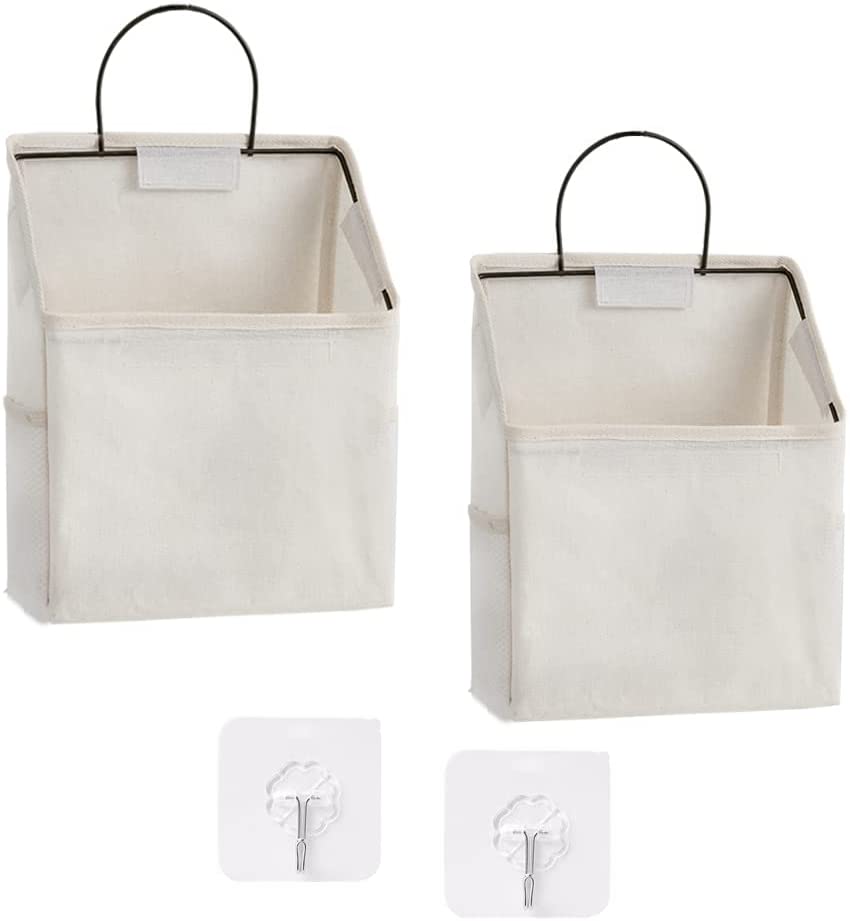 Acrylic Wall Shelves
I love the idea of using your LEGO collection as part of your decor. The West Elm acrylic wall pocket is an easy LEGO storage organizer for your wall. While I love the look of it, the price tag was not my favorite. I searched Amazon and found some other great options to give you the same look for less.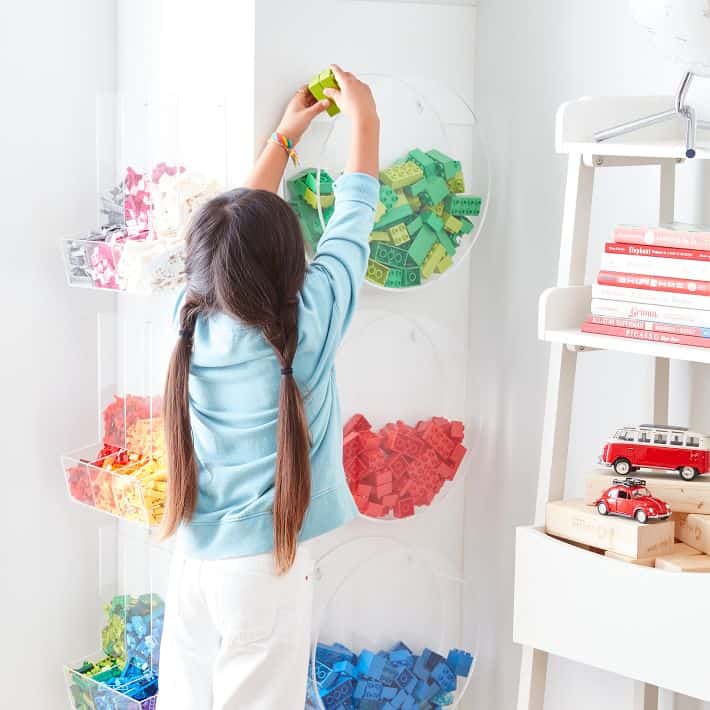 West Elm's acrylic wall pocket comes in at $90 a piece. It looks incredible if it's in your price range. I do love how each pocket is organized by color for a bright display.
mDesign has a series of wall mounted acrylic organizers that would achieve the same look for less. There are several different sizes and options to help you achieve the desired look for less. These containers have great reviews and high ratings on Amazon. While you don't have the same geometric design element, the underlying solution is the same.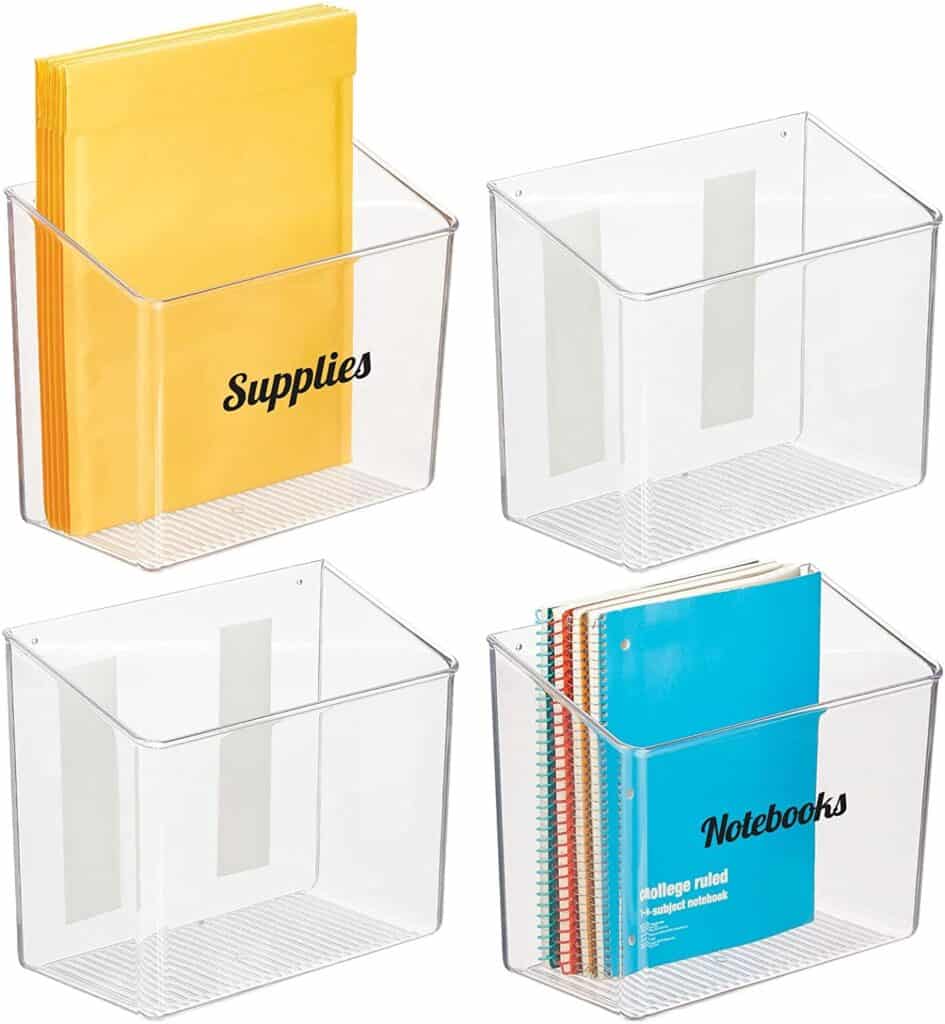 This 2 pack of containers is available by mDesigns and serve as great LEGO storage ideas. 
Baskets, Bins, & Bags: The Ultimate Lego Storage Organizer
Tables and wall shelves are all great storage solutions, but sometimes a good old fashion large plastic bin gets the job done. Bins, baskets, and bags offer quick clean up and are easy to use. There is no assembly required and you can put it to use right away. The best part is you can generally find these easily at the Dollar Store for cheap. Here are a few of my favorite LEGO organization ideas using bins, baskets, and bags.
Lazy Susans
Lazy Susans are a perfect solution for large LEGO collections. You can separate pieces by color and have a stunning and colorful display. This would look great in a kid's playroom bookshelf or on display in a child's room.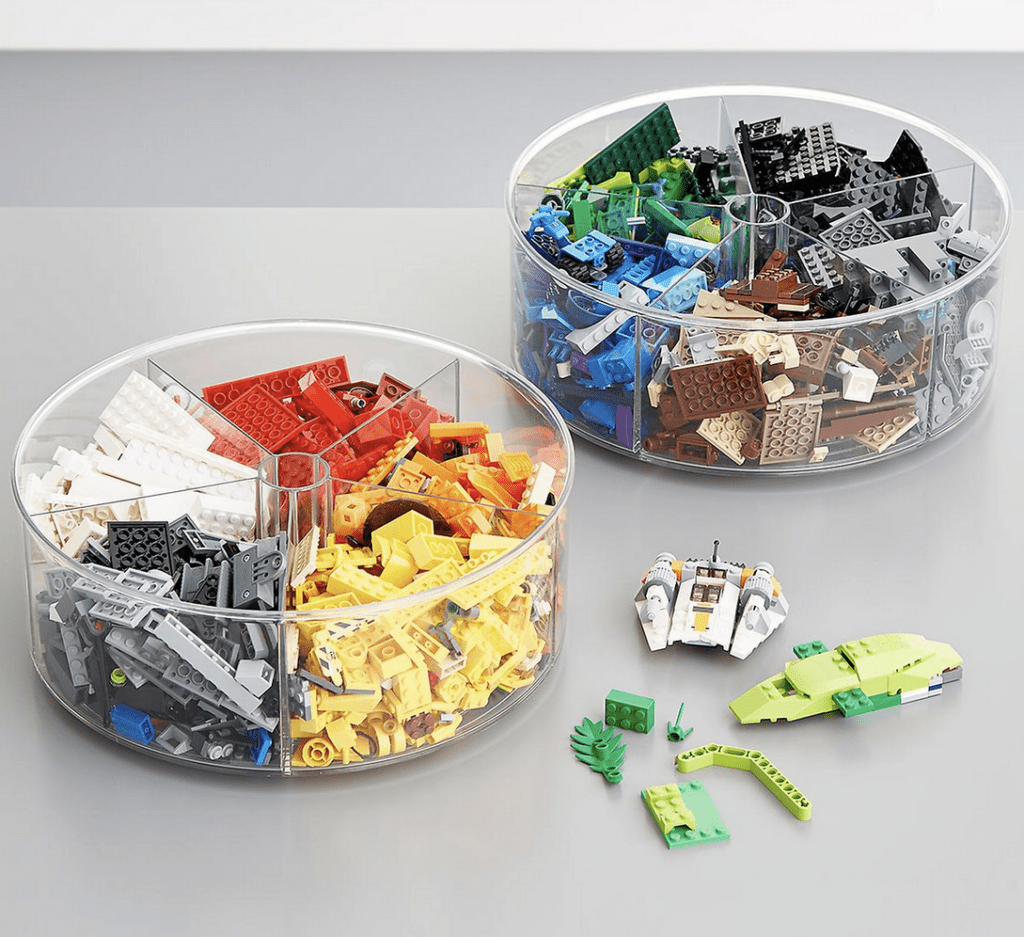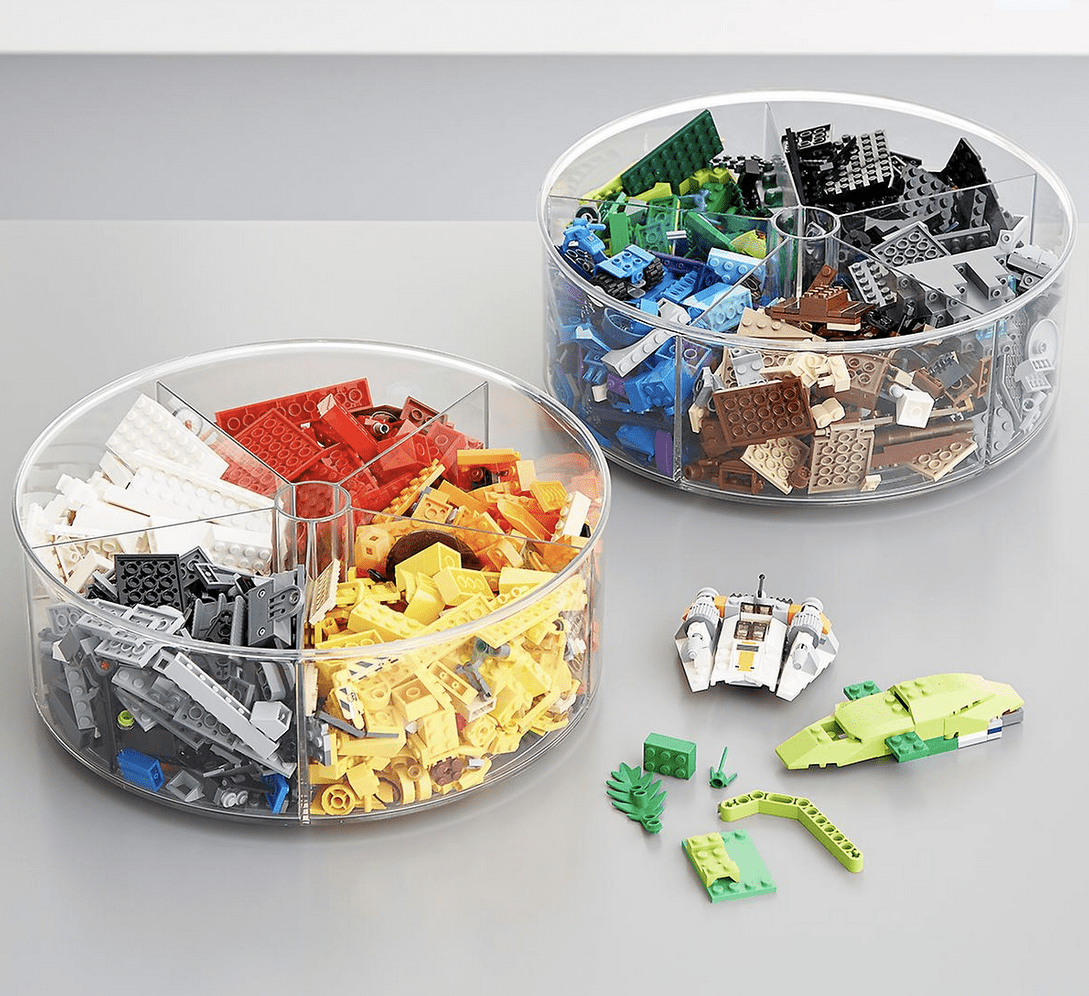 You can grab these Lazy Susans from The Container Store. Organize by color and you'll have a great focal point.
I also LOVE this lazy susan where you can remove the section you are currently using. This would be a great option for LEGO bricks (and basically wins every lazy susan race in my house for everything).

Clear Plastic Bins
Clear plastic bins are the perfect storage solution. You can easily see what is inside these LEGO storage containers and they can be stored out of the way when needed. There are so many options when it comes to these. You can find them on Amazon in various shapes and sizes.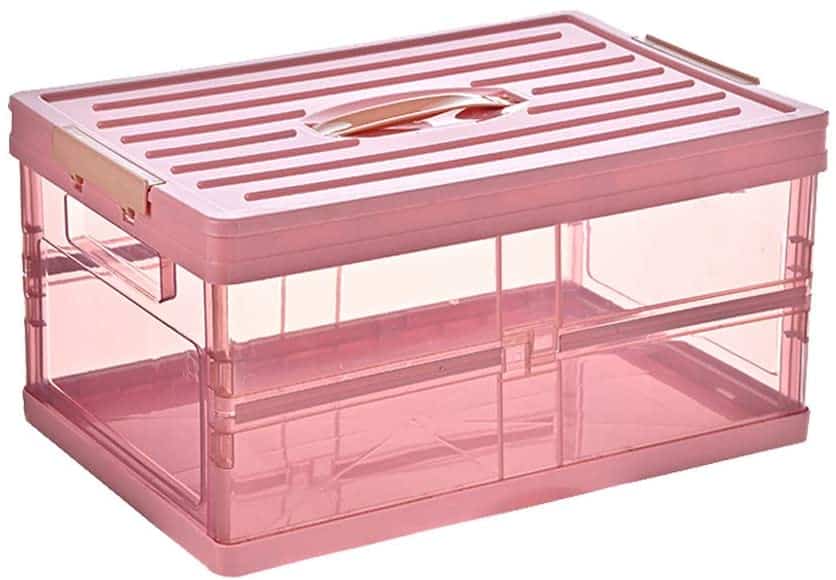 These are a great option to store large amounts of LEGO bricks. You can even stack them on top of each other to create a LEGO tower of organization. As an added bonus, you can easily carry them as a LEGO travel case.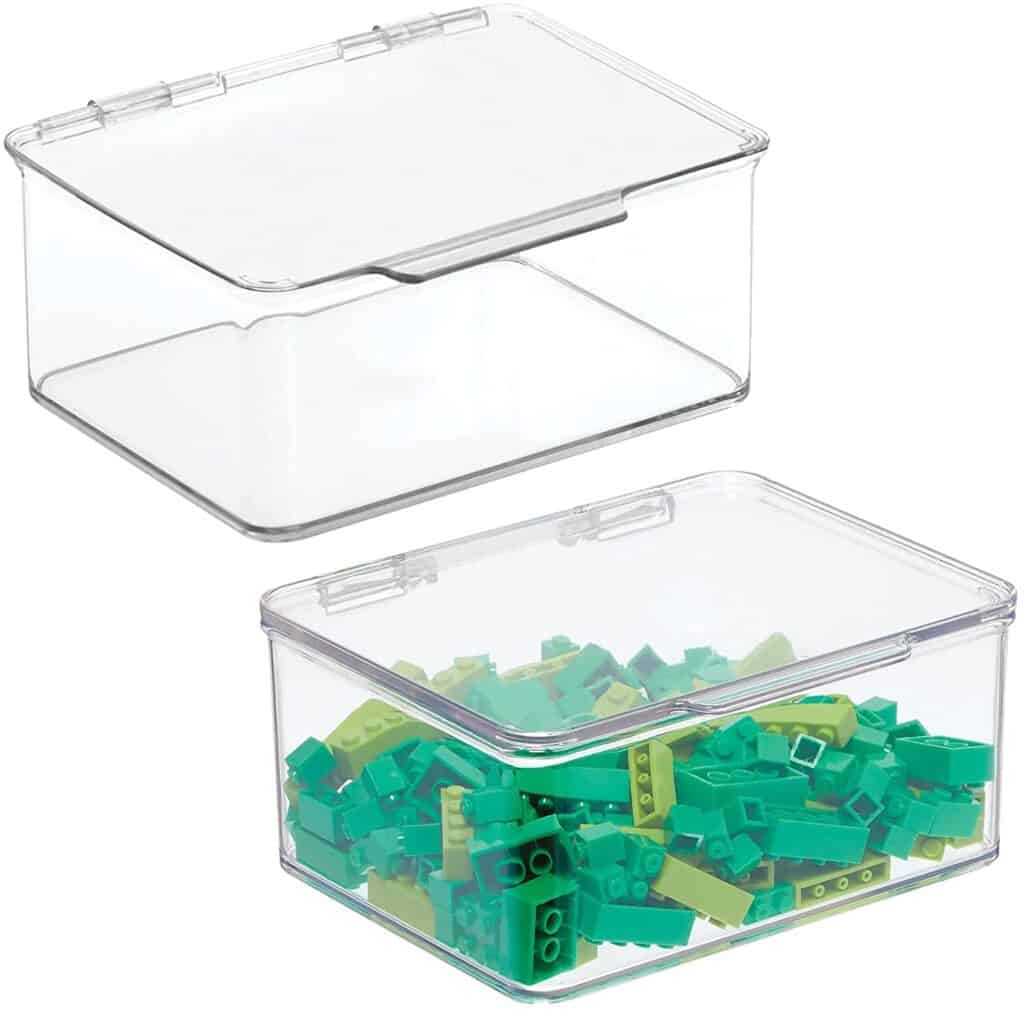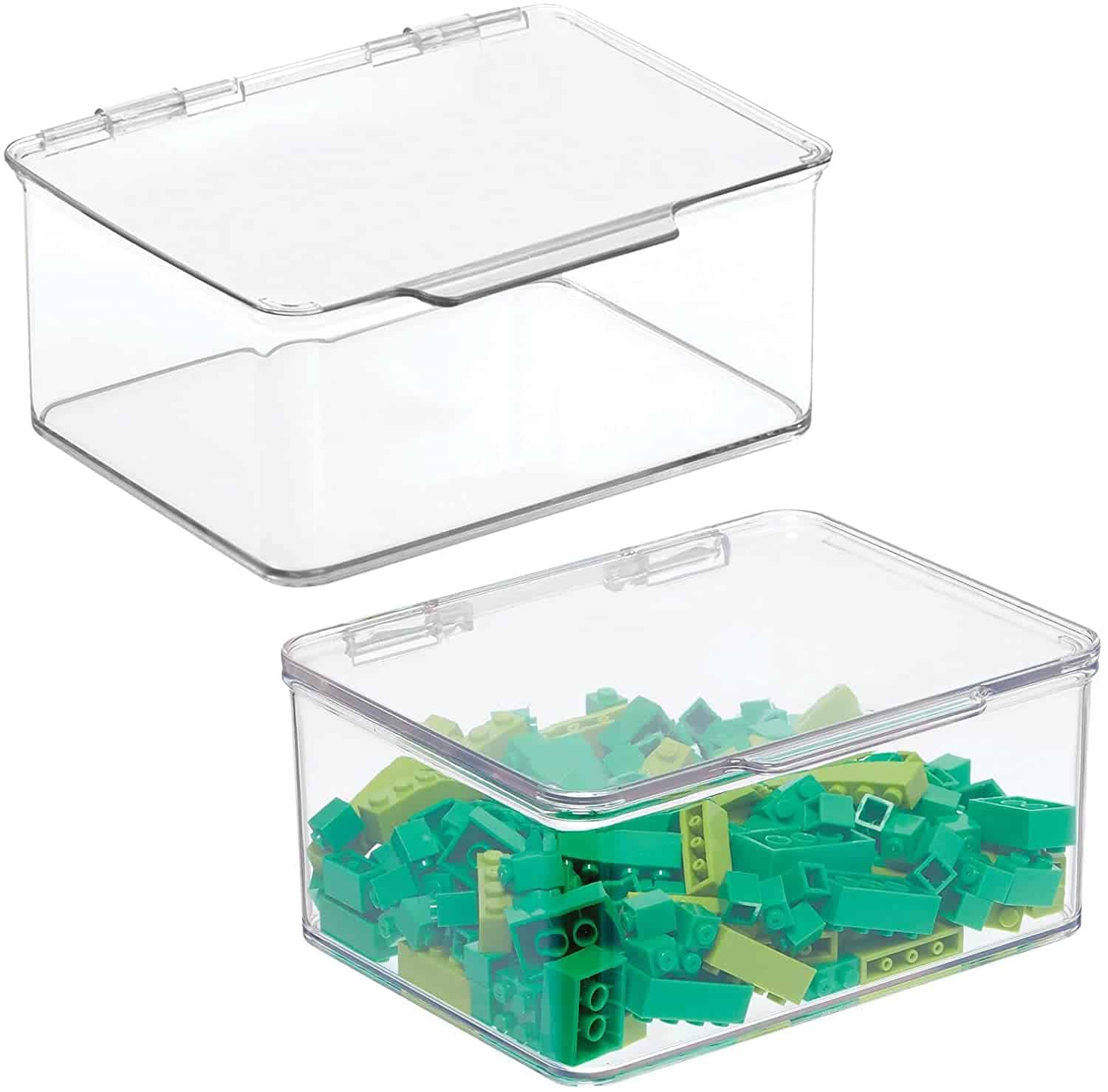 This is another great stackable storage option for LEGO bricks. The hinge lid design ensures all those little pieces stay secure. You can organize by color for a fun display.
Hanging Closet Organizers
If you are limited on storage, try this easy LEGO organizer. Hanging closet organizers are a great way to utilize that vertical space. Store your plastic bins within the closet organizer and you'll have ample storage solutions.


This closet organizer is a simple solution for LEGO storage. If you have multiple kids with LEGOs, utilizing one in each closet is a great way to help them keep their LEGO bricks separate.
Display Jars and Vases
Vases aren't just for flowers. Consider using a display jar or vase to display your LEGO collection. Color code the LEGO bricks and you'll have easy and functional decor.
Under Bed Storage Bin
Another great space saving tip is to try your hand at this DIY under bed storage bin. You can easily recreate this look with a few items from the hardware store. This not only works great for under bed storage, but you could also utilize it with your IKEA Lack coffee table LEGO hack (as mentioned above).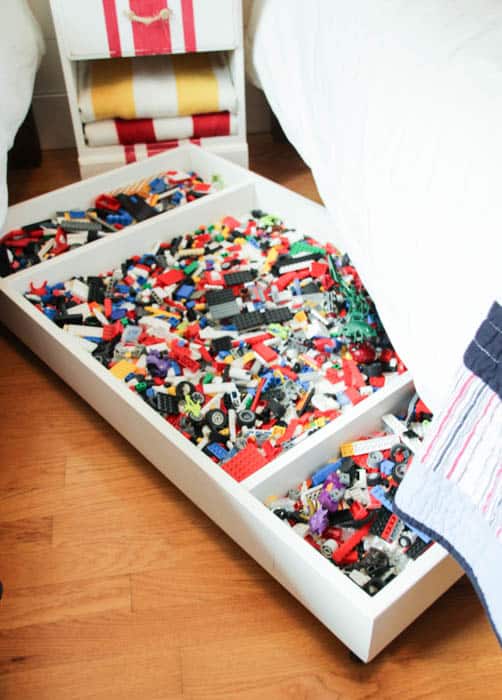 Check out this LEGO under bed storage tutorial.

LEGO Storage Bricks
What better way to store LEGO bricks than with an actual LEGO block? These LEGO blocks stack easily to create your very own life size LEGO. They also hold a ton of storage!
These LEGO storage blocks come in a variety of colors.
LEGO Play Mat Storage Solution
The LEGO SlideAway is a great solution for helping control all of those little pieces. If you have your LEGO playing field in a main living area of your home, then this storage idea is the best solution for you.
The Slide Away folds up into a toy storage basket for easy concealment. When you want to play with your LEGO bricks, fold out the play mat, and all of your LEGOs are contained on the mat.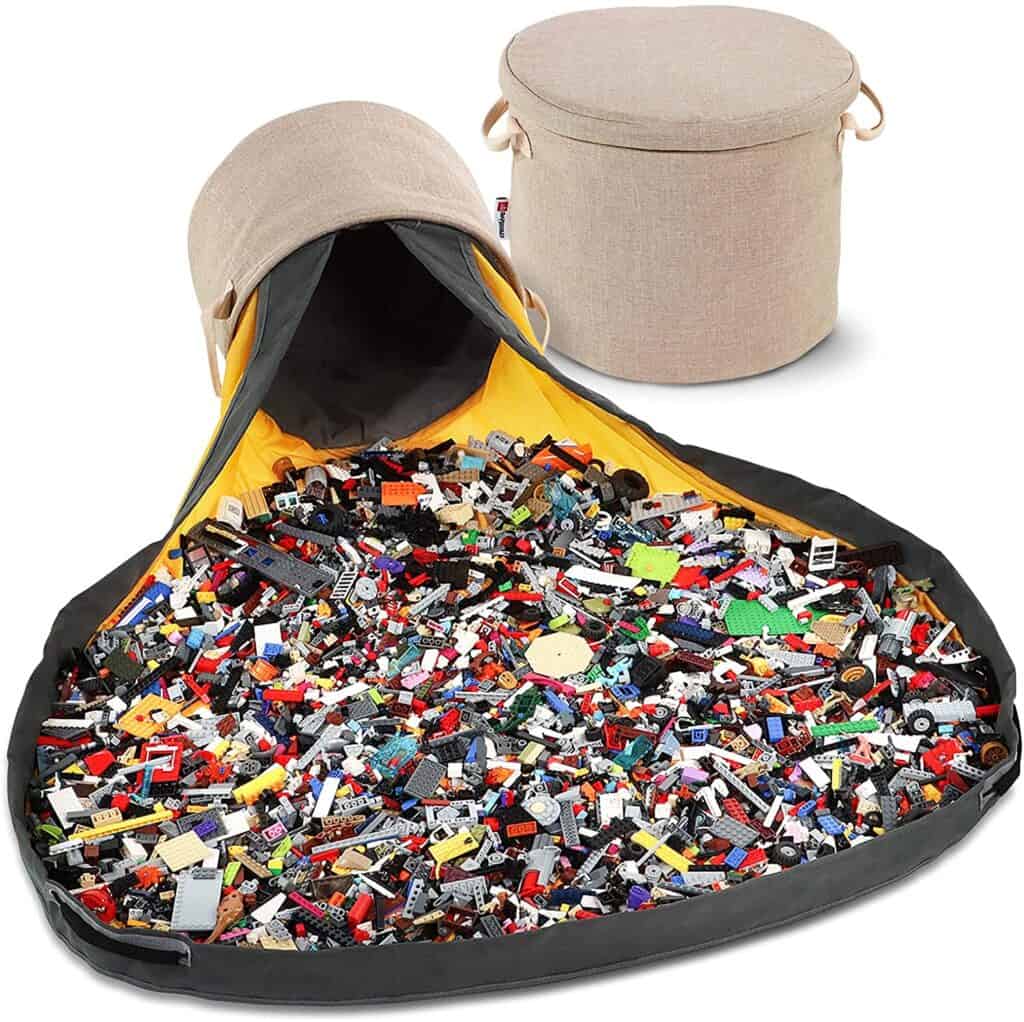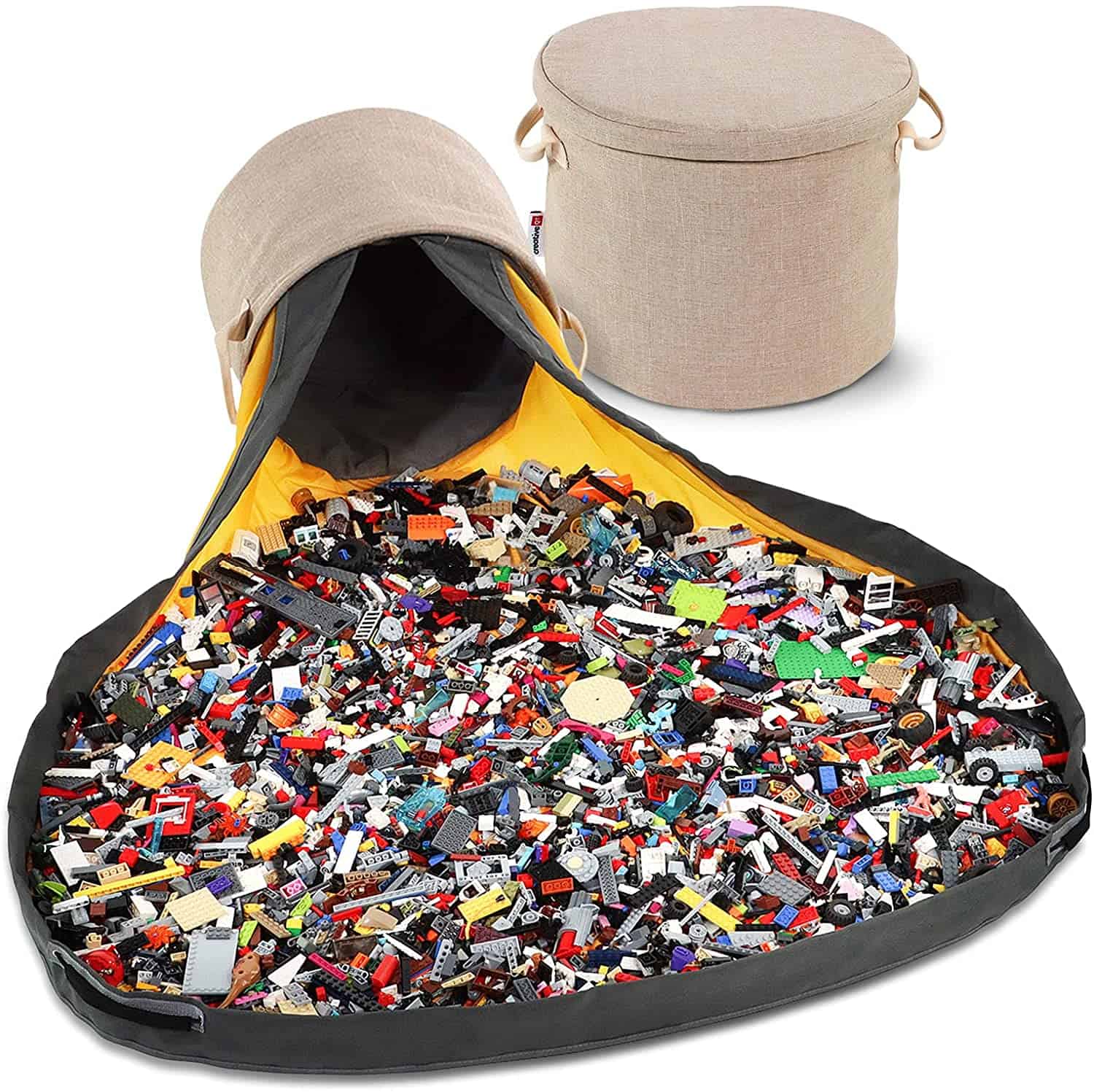 The Creative QT SlideAway holds up to 7 gallons of LEGO bricks!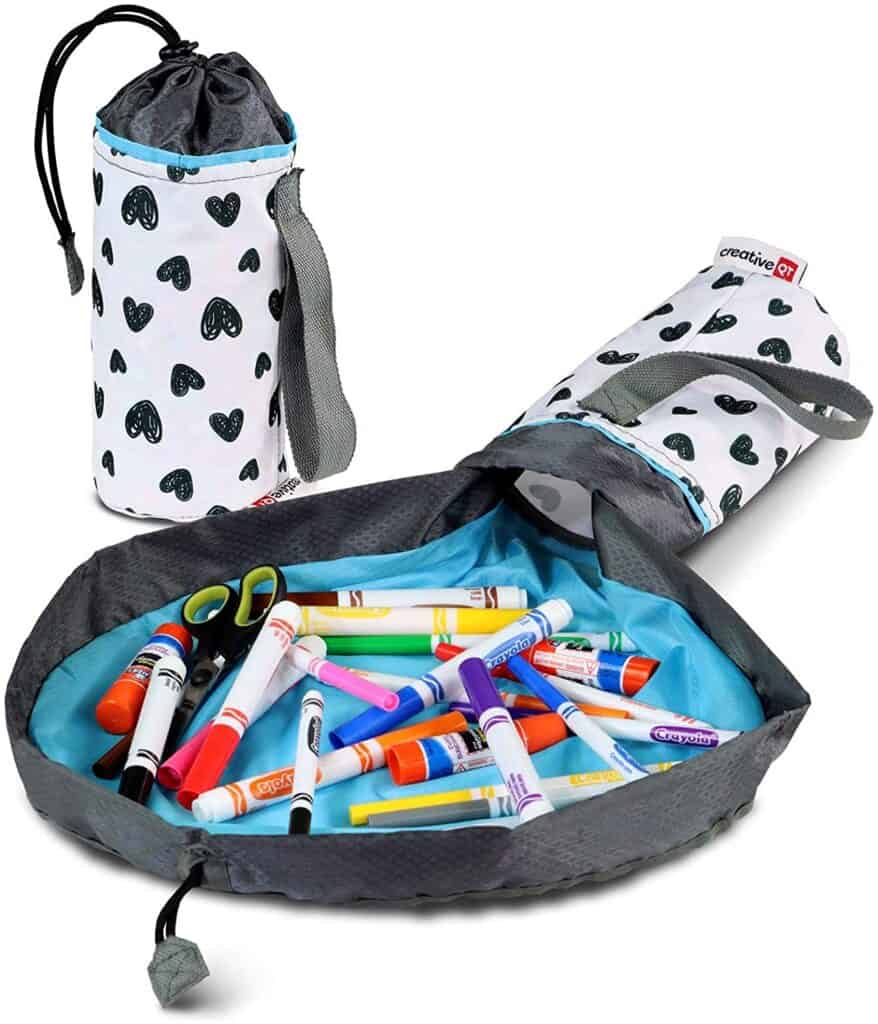 Check out their mini version which would be a great LEGO travel case to take on car rides or trips.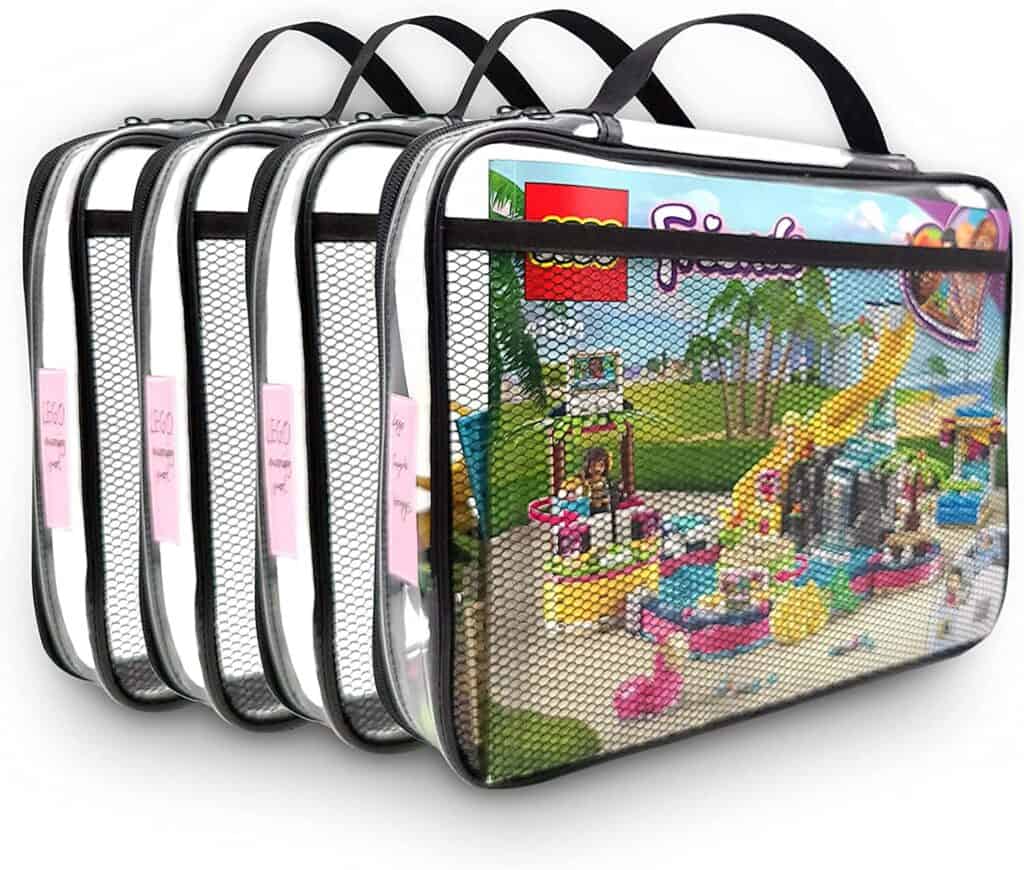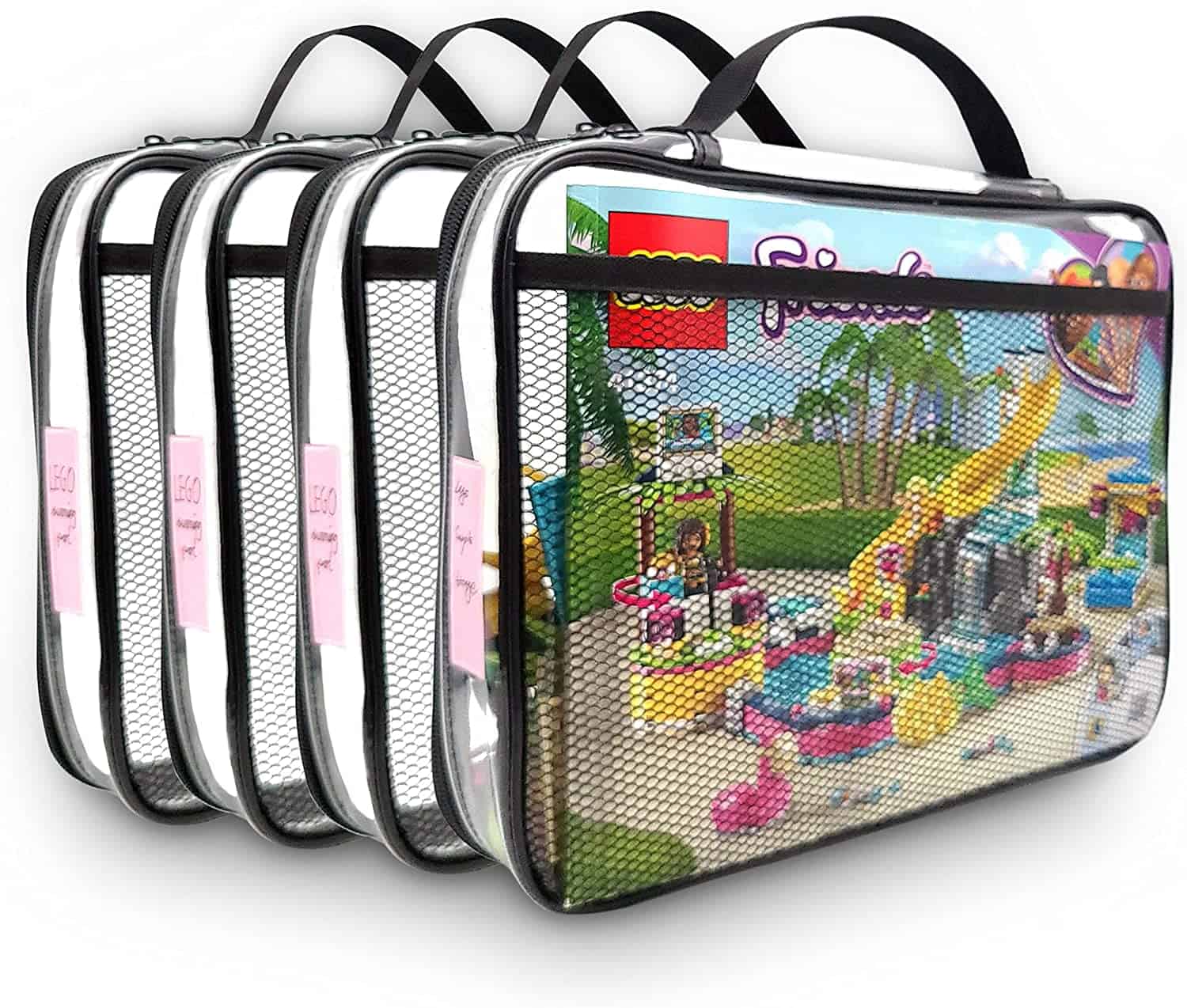 And as your kids get older and prefer the sets that need to stay together if you want to maintain your sanity, these bags are great! There is a dedicated spot for the booklet so that everything stays together.
As an added bonus, these are a great gift for LEGO loving families! You can gift both a small LEGO set and one of these bags – you could even put some tissue paper in this bag and use it as a gift bag!
The Best LEGO Storage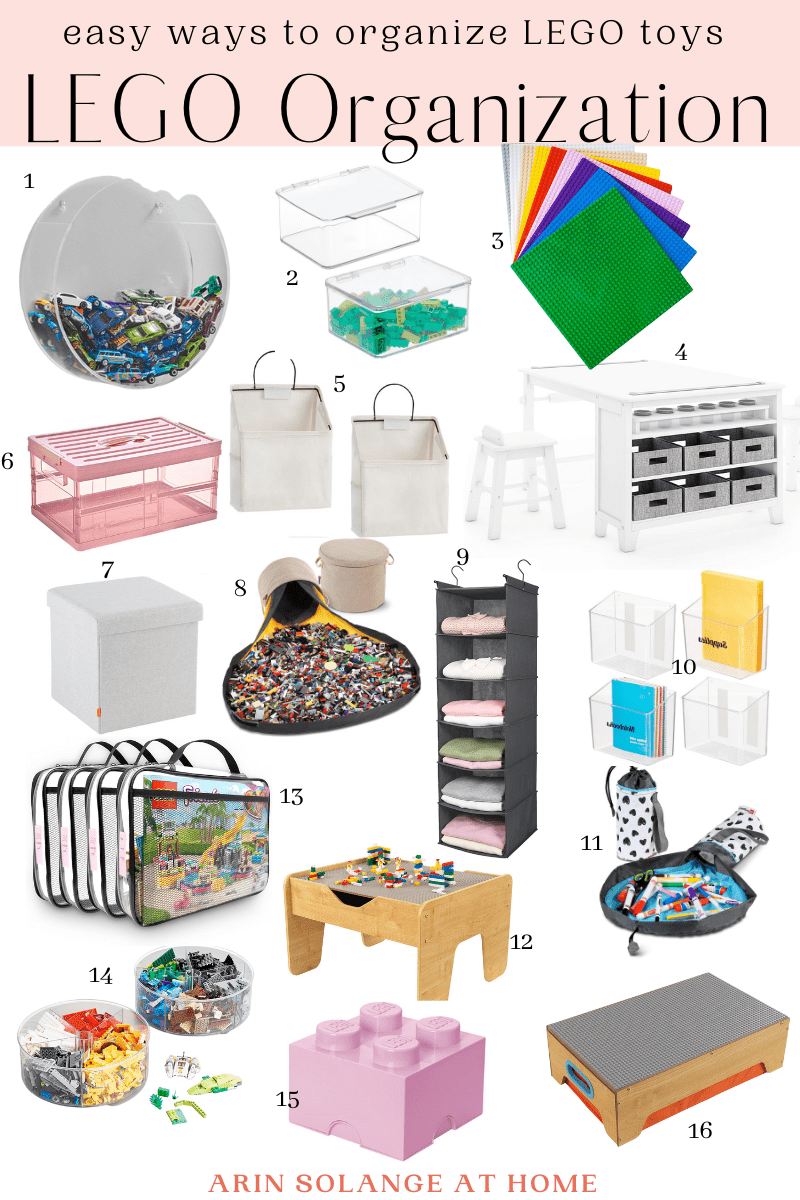 Shop all the items you saw in this post
1  |  2 | 3 | 4 | 5 | 6 | 7 | 8 | 9 | 10 | 11 | 12 | 13 | 14 | 15 | 16
Other Posts You'll Love
Modern Boys Room | Best IKEA Hacks | DIY Storage Ladder
Pin The Photo Below For Later
I hope this post gave you some great ideas on ways to create the best LEGO storage ideas for your home. Make sure you check out my Amazon Storefront for more organization ideas!
From buying a set that is already complete to creating your own DIY LEGO storage, you have plenty of options to contain those LEGO bricks and keep them organized. If you have any questions, feel free to leave them in the comments section, and follow me on Instagram @arinsolange and TikTok  for more home, decor, and DIY.