Every Valentine's Day season I dream of ways to make sure my kids have a special day filled with sweet decor, treats, and of course, love. But what about when it comes to your closest friends? You and your best friends are worth celebrating. If you've ever wanted to throw the best Galentine's Day party ever, I'll share with you the secrets to one of the best days of the year and how to throw the ultimate celebration.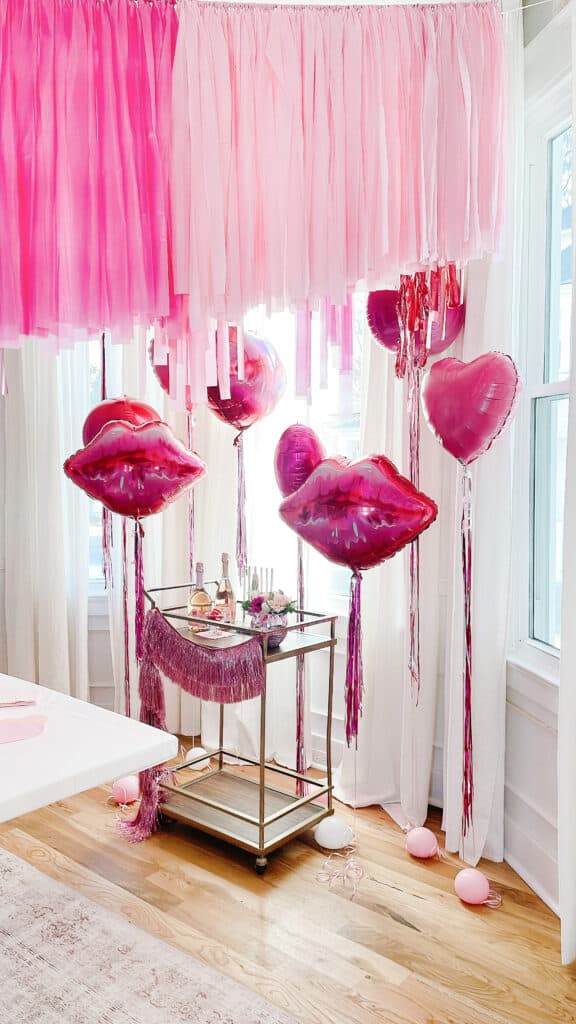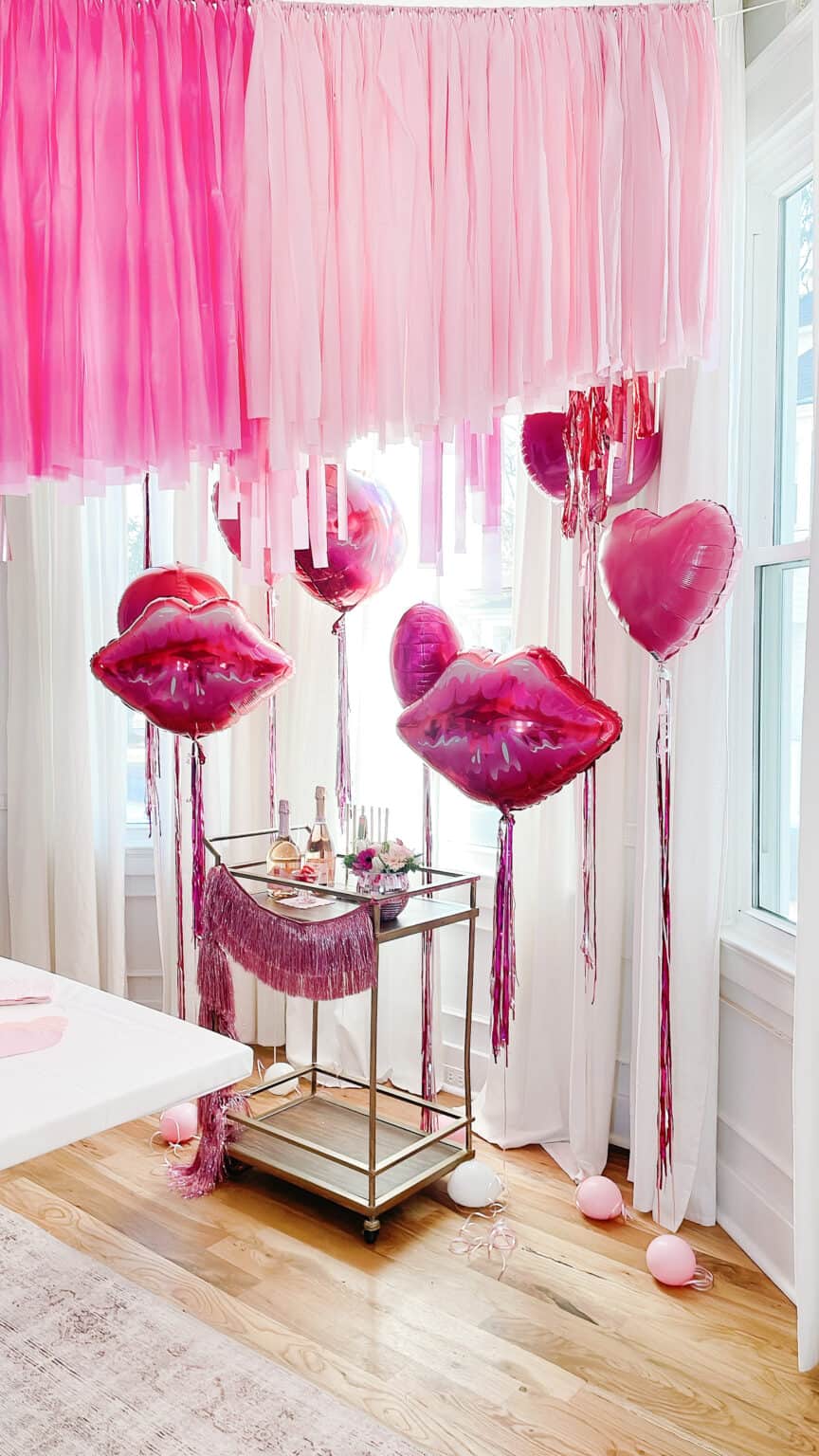 This post may contain affiliate links.
Galentine's Day Party
A few years ago, I started a new Galentine's Day tradition where I invite over my best gal pals to celebrate our incredible friendship. It is the perfect excuse to get together for some delicious desserts and our favorite drinks.
More importantly, I love that we all take the time to take a pause on our busy lives and spend some quality time together for a night of fun and girl talk.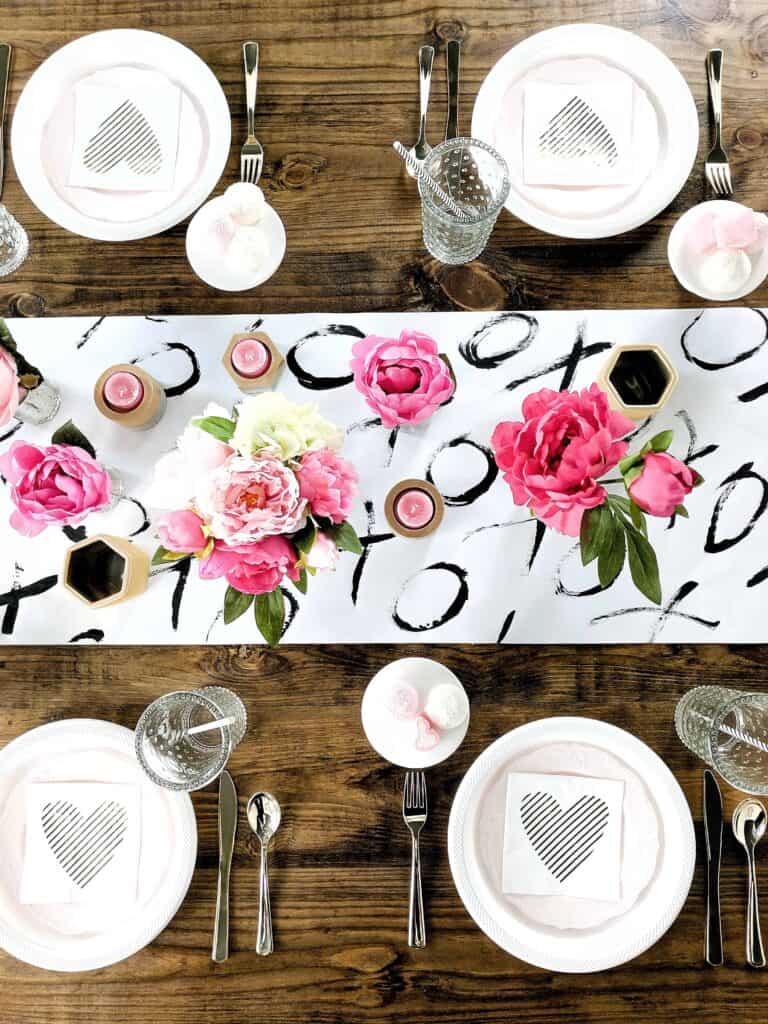 The Galentine's Day tablescape at our first party was DIY perfection and so easy!
Won't You Be My Galentine?
So you may be wondering what exactly is a Galentine's Day and where in the world did this all start? This isn't a holiday that has its origin stories from ancient times. Rather, Galentine's Day dates back to 2010. Yes, 2010. Back when a young Amy Poehler played Leslie Knope of Parks & Recreation.
The show was a huge hit and it aired an episode in which Amy Poehler's character, Leslie Knope, threw a huge celebration on February 13th. In this episode, Leslie celebrates her friends on Valentine's Day Eve.
Leslie's eventful celebration had waffles, champagne, and of course personalized gifts to her friends. It was the perfect way to show her friends how much they mean to her.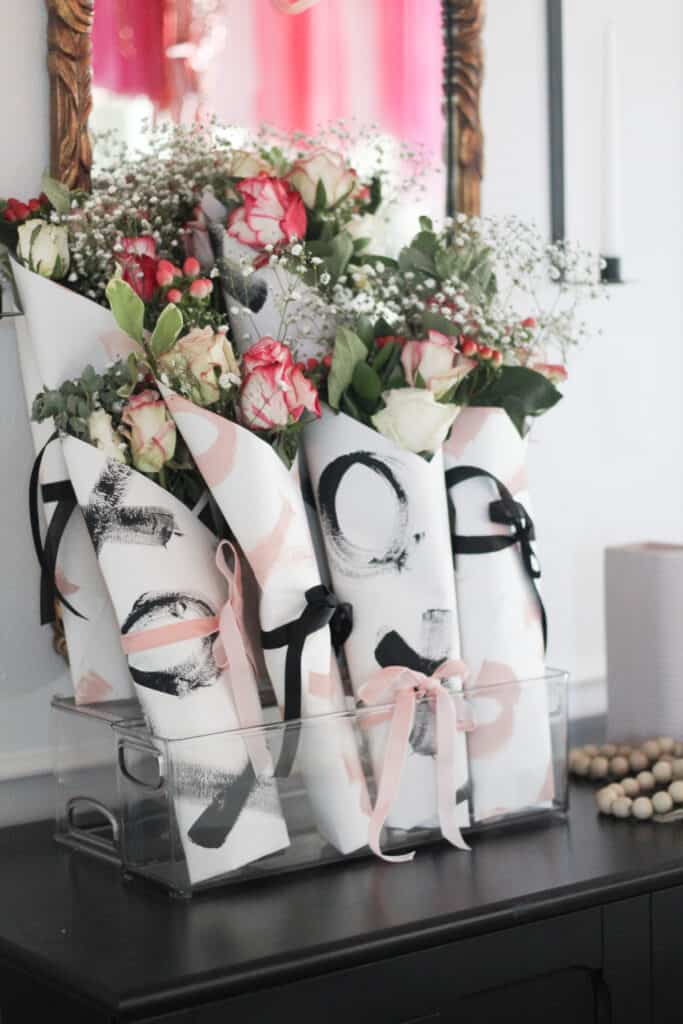 Become the Hostess With The Mostest
The good news is that if you are wanting to get in on this loving holiday and shower your friends with love, I've got some easy ideas to pull off your own Galentine's Day party.
There is no one size fits all when it comes to celebrating your friendships. The sky really is the limit and whatever you and your friends enjoy is what you should focus on in terms of the type of party you plan.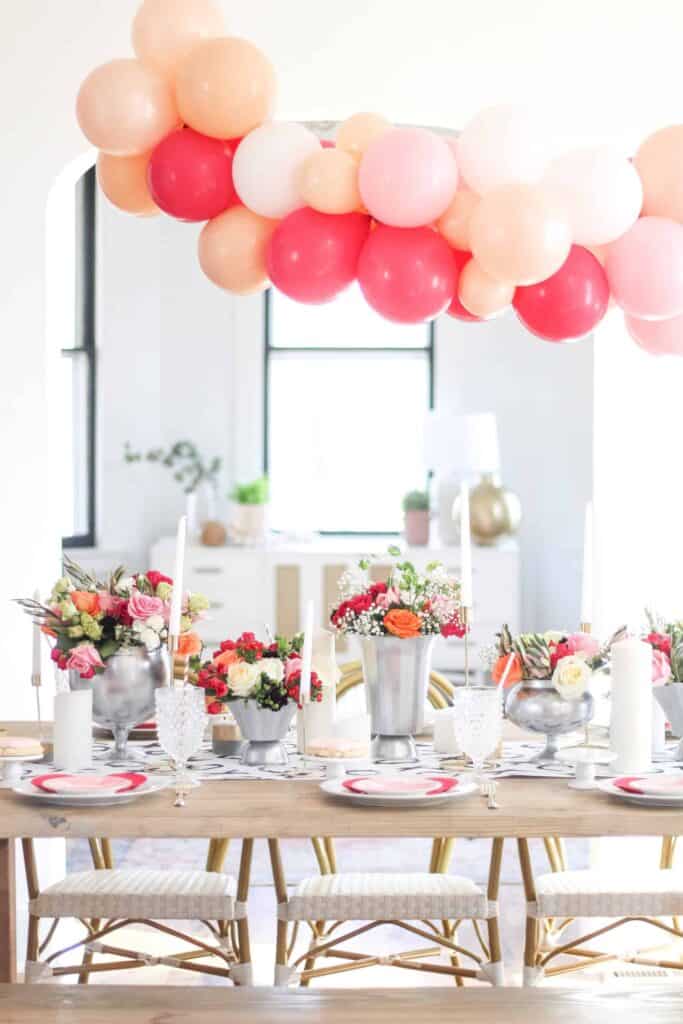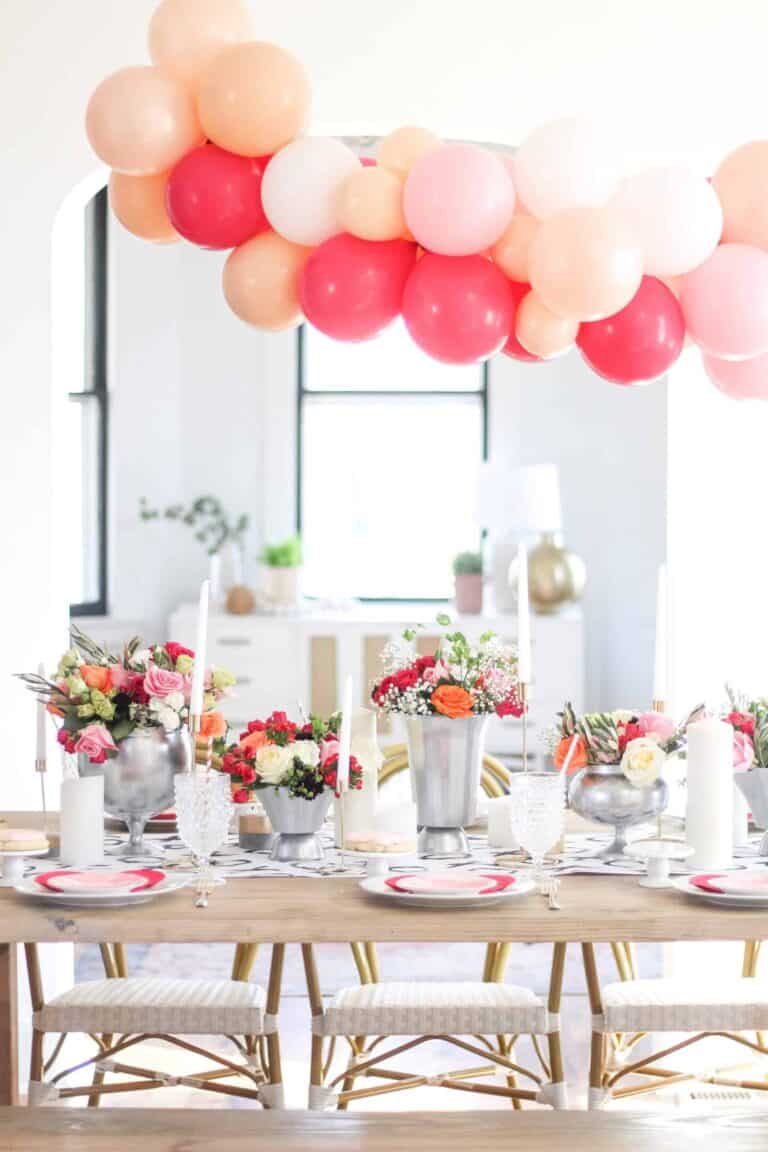 If a cheerful Galentine's Day party with bright florals is wrong, I don't want to be right.
Plan Your Logistics
You'll need to plan a few logistics like day, time, and location. Ideally, Galentine's Day is on February 13th as it was intended. But, Valentine's Day weekend is a great option if you can't swing something mid-week.
Make sure you also consider who you invite. You'll need a list of your best Galentine friends to invite. You don't need to have a formal invitation, even a text would do. You can find some cute invitations that are free online to be sent via text or email.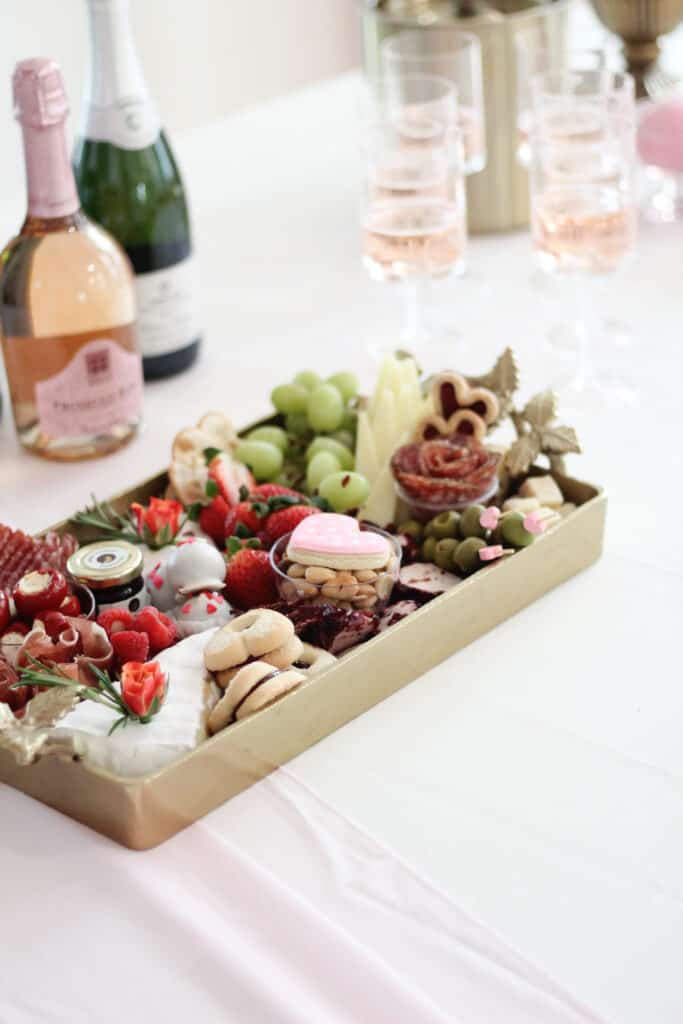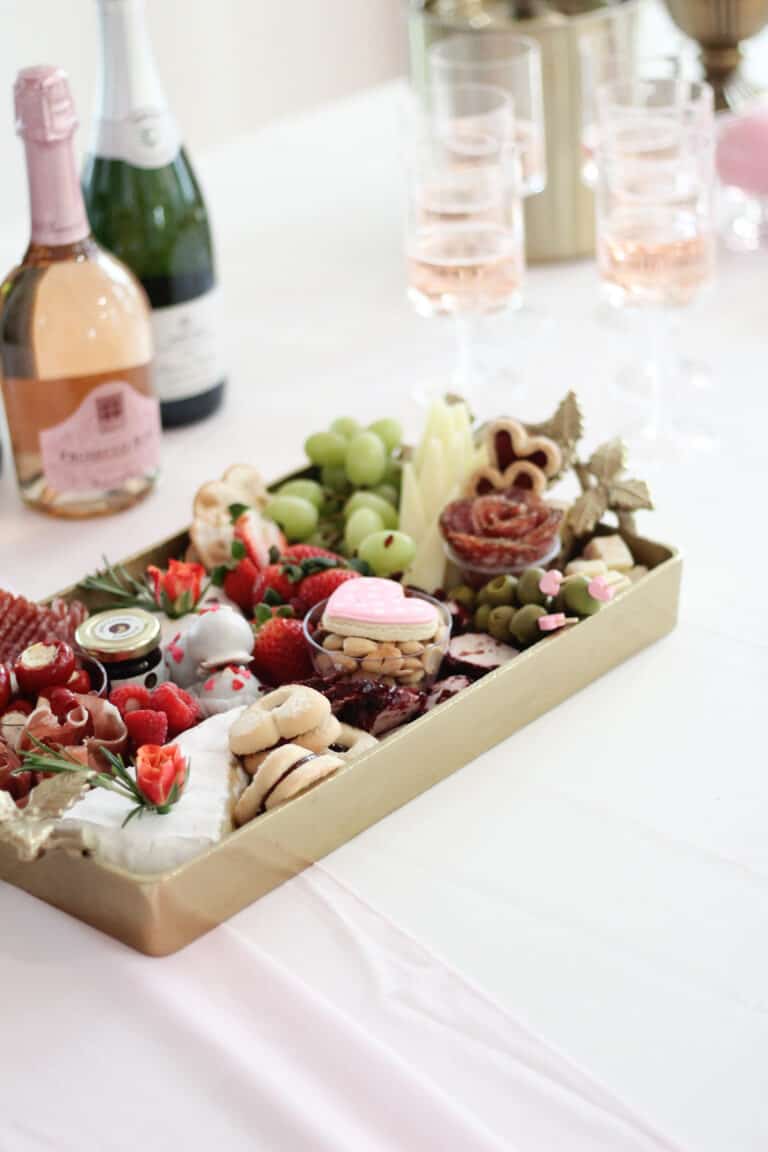 Galentine's Day Themes
Night On The Town
What you intend to do at your Galentine's Day party may dictate where you can hold your soiree. If you want to have a night of dancing and music, you could host the party at your favorite night club where you can bust out the karaoke set and your best dance moves.
But, let's be honest, if you and your friends are all moms, chances are you'll be too exhausted to have a stiletto dance class and will want to stick to something more low key.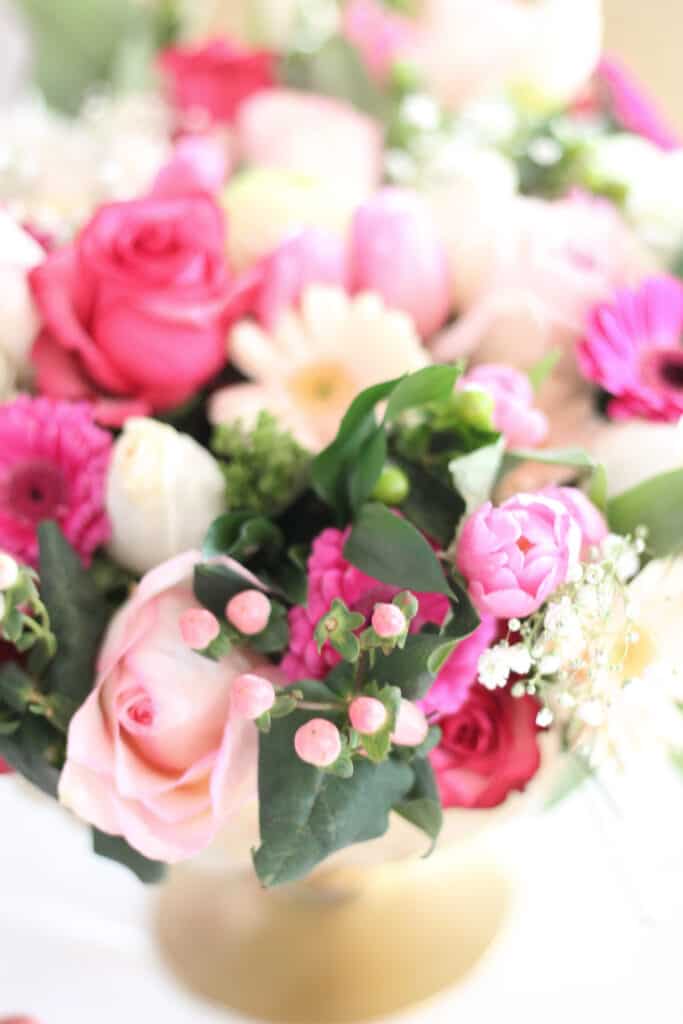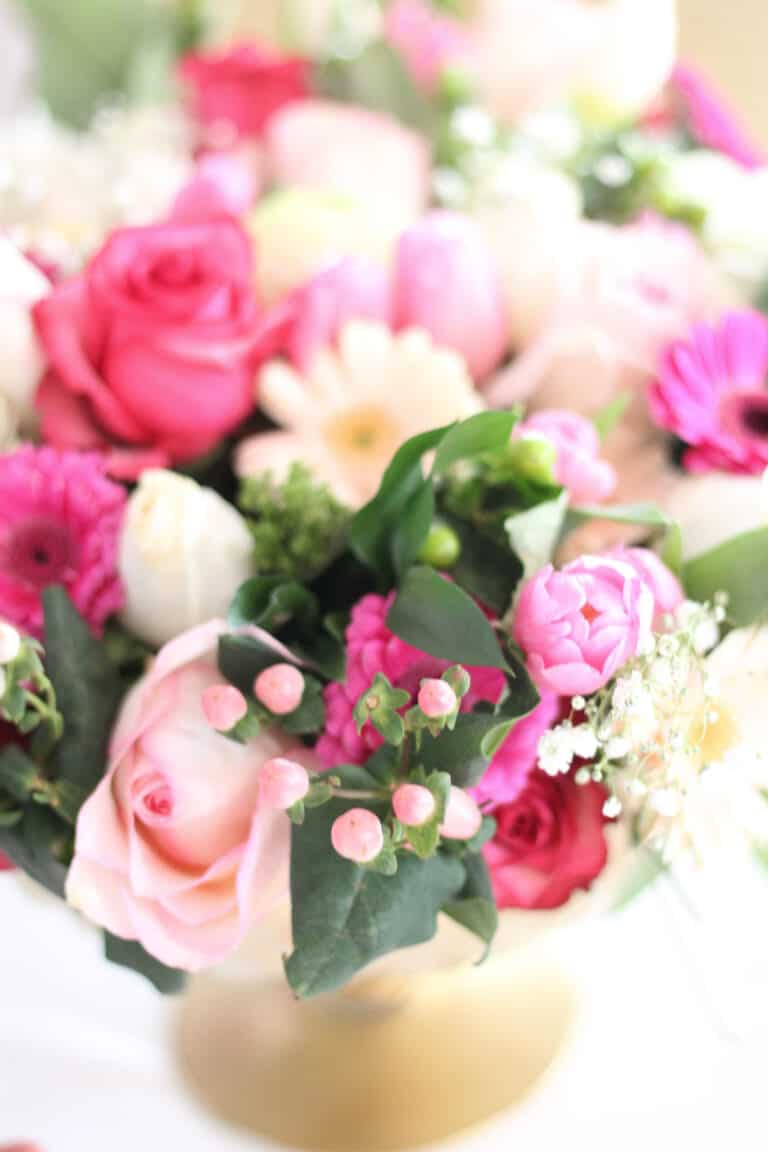 Movie Madness
Hosting a movie marathon with your favorite romantic movies is a great idea for a low key celebration. You could do a chick flick theme and have a popcorn station along with some incredible chocolate fondue and a signature cocktail.
Turn it into a game night and get competitive with your friends. Test your movie knowledge or play a personal favorite, "Heads Up." You'll be laughing all night long.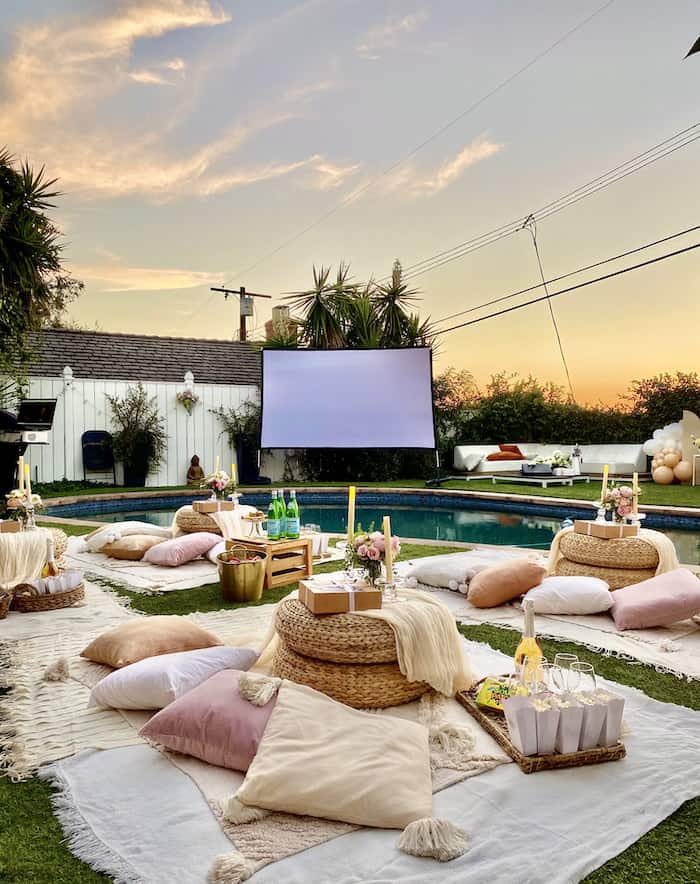 I could sit at this backyard movie night all night and watch Rom-Coms.
Treat Yo Self
Personally, I would have loved to attend a home spa day, or even a real spa day! For moms, it is extremely hard to take time away from your kids and all of the hustle and bustle of everyday life.
Whenever I'm able to catch a break and pamper myself it is such a treat. I can't think of a more perfect opportunity than to have a day with my closest friends where we all get to pamper ourselves. In the words of Parks & Recreation, "Treat Yo Self."
The first step to taking care of other people is to care for yourself. Rest and recharge those batteries with your closest friends.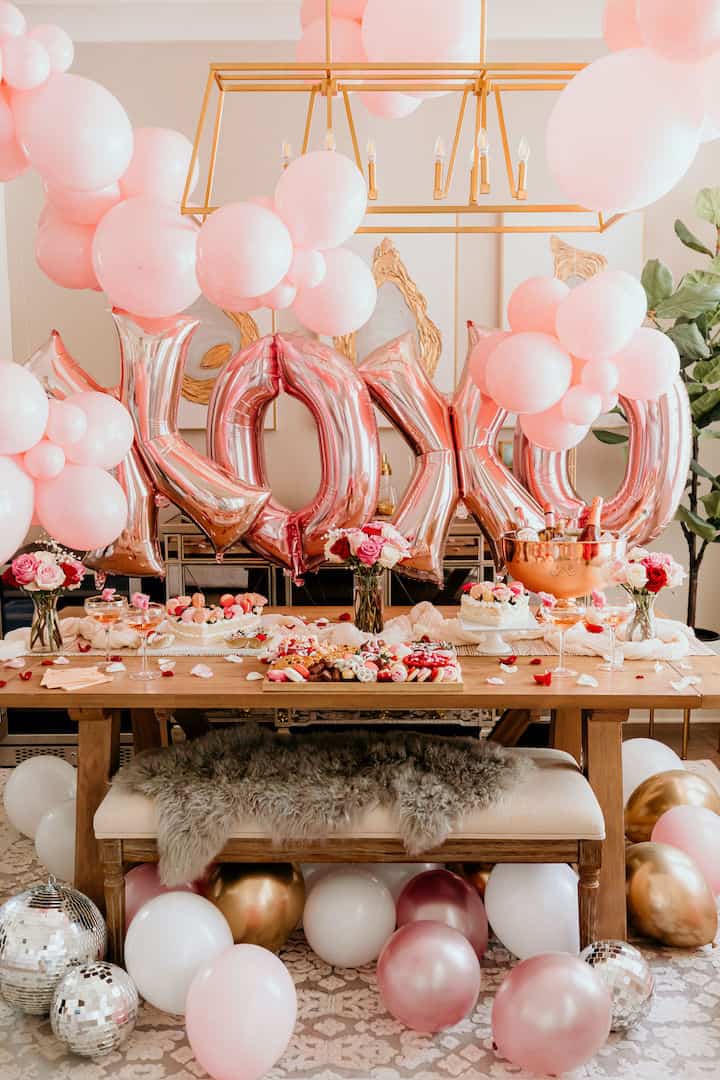 Such a fun loungewear and champagne themed Galentine's Day set up for this party.
Breakfast Club
Another great way to celebrate your friendship is to hold a weekend brunch. I love Sunday brunch with girlfriends and this would be a perfect theme.
Set up your tablescape with some fresh flowers and break out your best china. You could even take it up a notch and elevate it to a sophisticated tea party.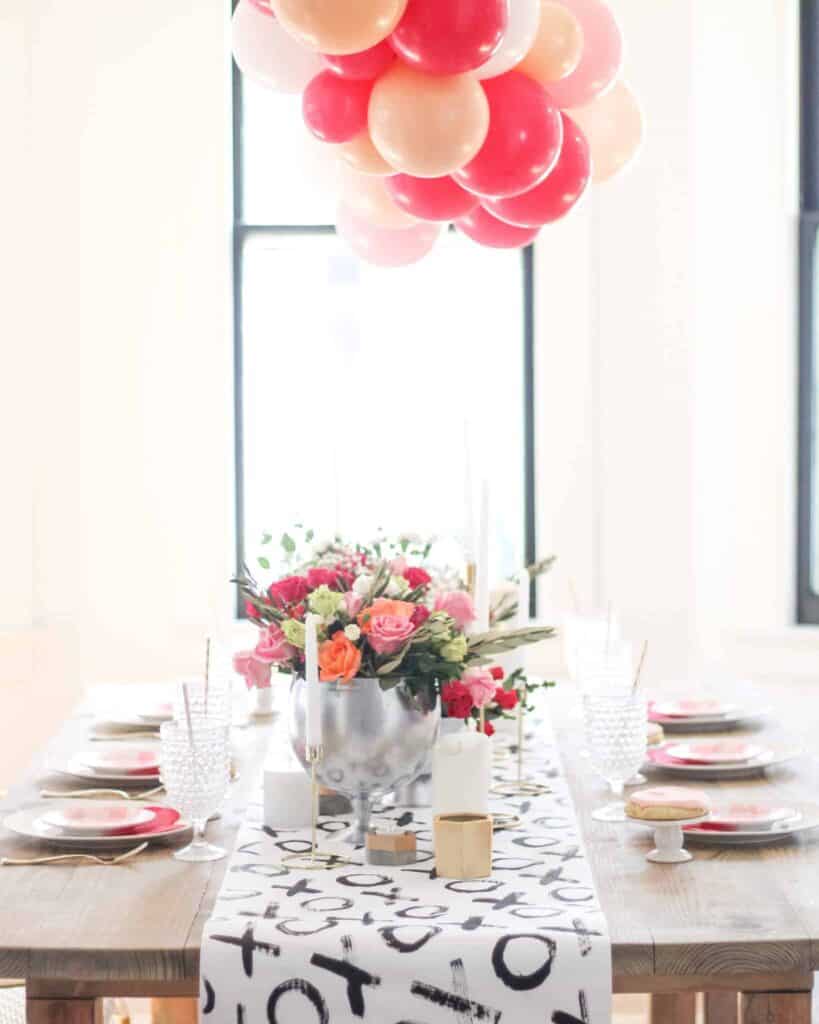 Check out my Valentine's Day brunch from last year.
Class Is In Session
If you and your friends are into trying out different restaurants and experimenting with cooking, hold a cooking class party. Hire a private chef to come teach you and your friends how to cook certain dishes you've always wanted to try.
This would be another fun way to relax, try something new, and enjoy the company of your best friends. You have a variety of options when it comes to picking out what type of cuisine to cook.
Or, you could focus on Valentine's Day breakfast ideas and get some fun inspiration to cook for the big day for you and your family.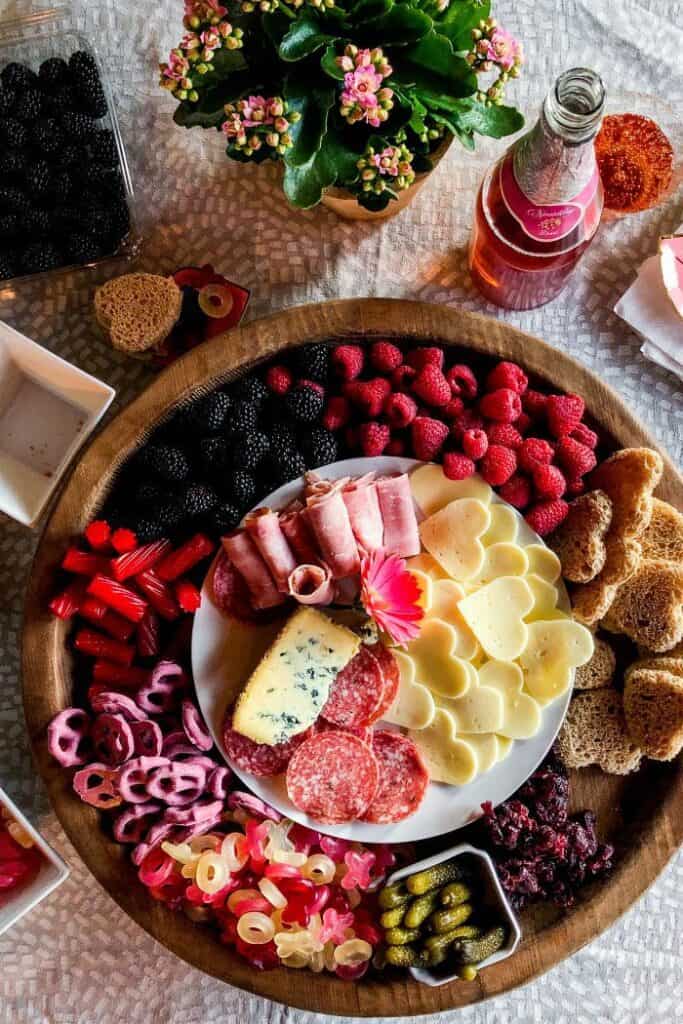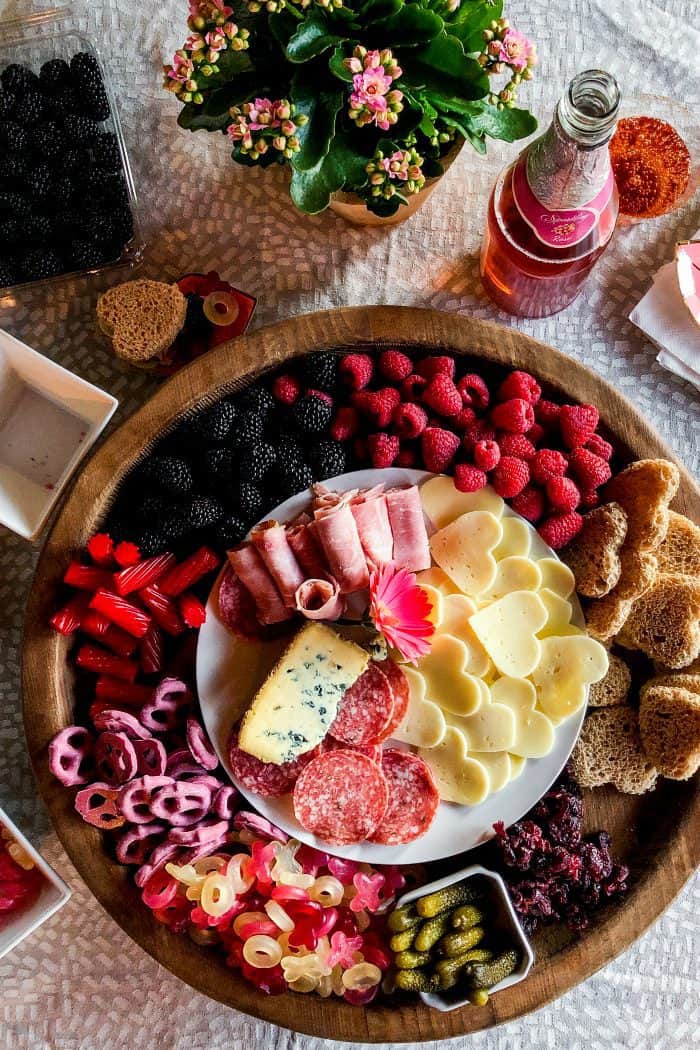 Create this amazing Galentine's Day charcuterie board.
Arts & Crafts
If cooking isn't your thing, then order out some sushi and grab some paint! You and your friends could spend time together in a home art session.
From a DIY wreath party to a flower arrangement class, you have plenty of options to choose from to get your creativity flowing. Personally, I'm more of a power tools girl myself, but you all know that I love a good DIY.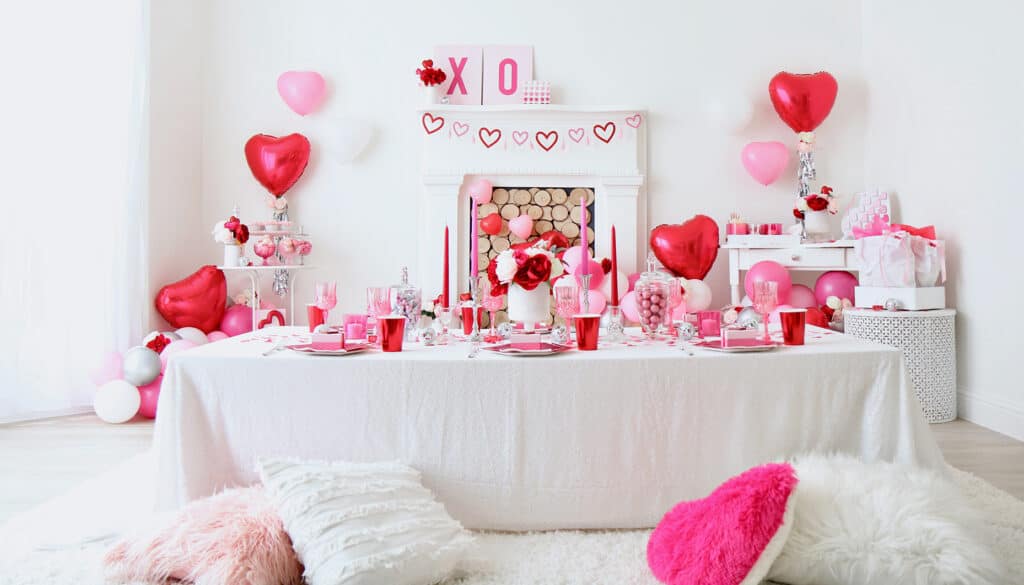 This Galentine's Day crafting party had beautiful decor.
Elegant & Low Key
Who says you have to have a theme for a Galentine's Day party. You can always invite your best friends over and have a great time just chatting and enjoying each other's company. You don't have to have an activity.
At the end of the day, Galentine's Day is all about spending time together and letting each other know how much you appreciate and love one another.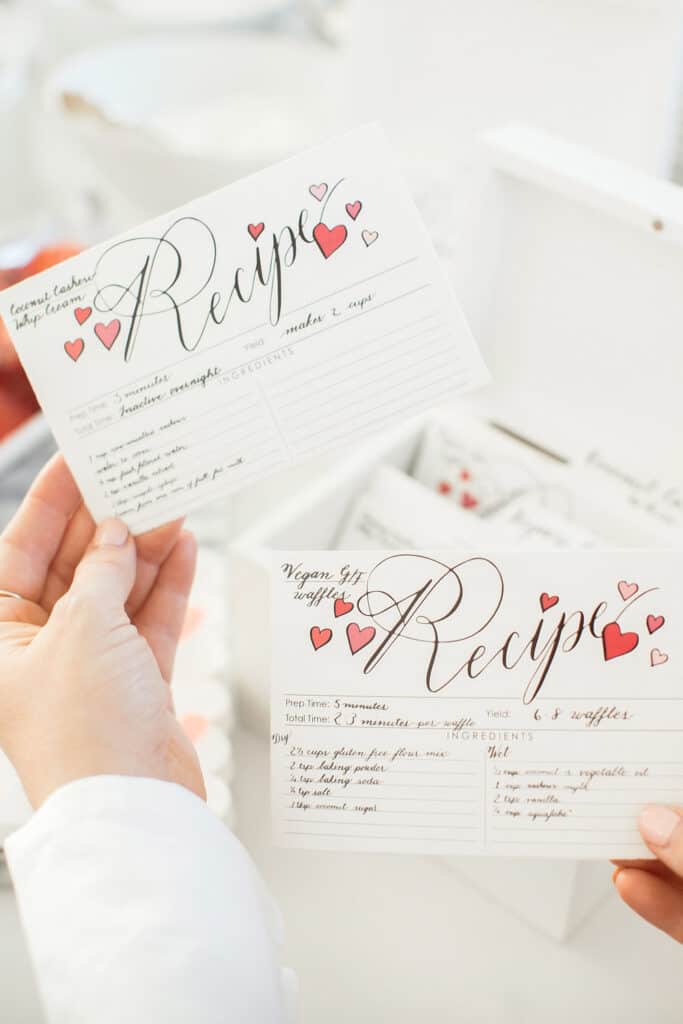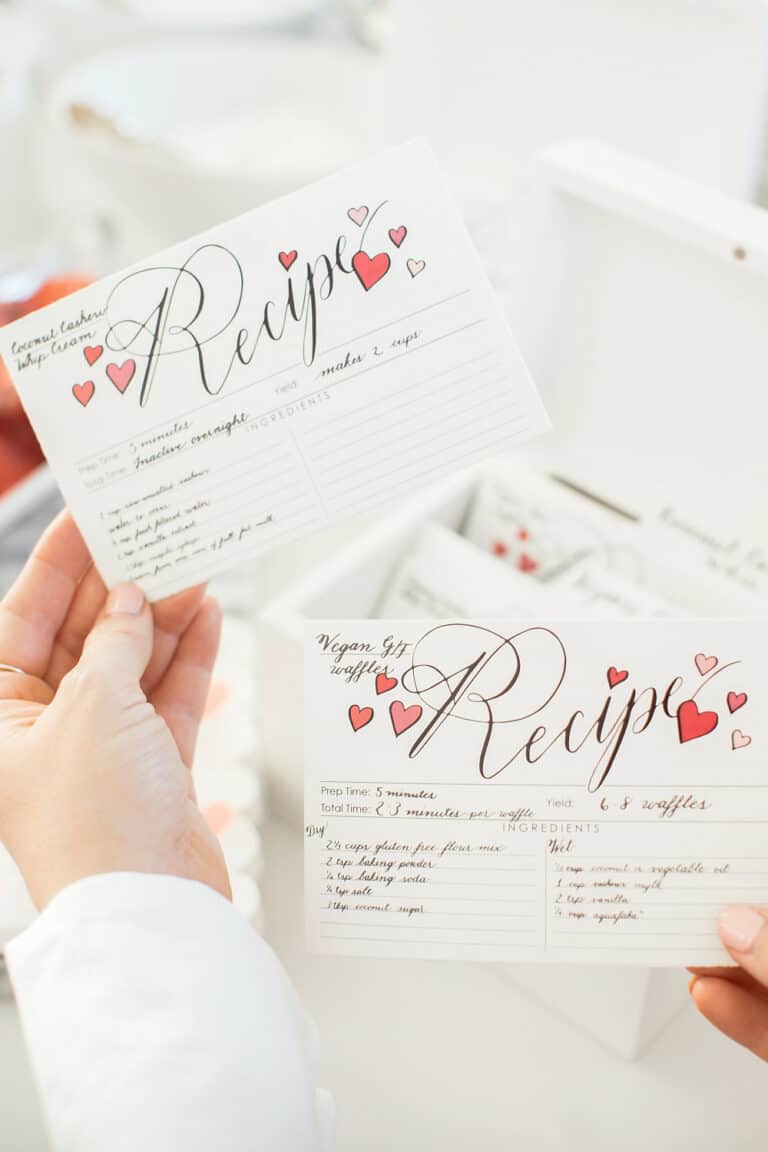 Such a fun idea to swap recipes at this Galentine's Day brunch.
Our Galentine's Day Party Details
For my Galentine's party, I wanted to treat my friends to a night of fun conversation catching up with one another. We are all moms and have extremely busy lives between our work and families.
It is hard to find a time where we can all get together at the same time. I'll share with you the details of our Galentine's Day filled with plenty of laughter.
Galentine's Day Party Decor
For this Galentine's Day party, I teamed up with my friends over at Party Hop Shop to create the ultimate decor. Ashley and Ashely (yes, both Ashley) are two friends who have an incredible party retail and rental shop for any celebration you can imagine.
I knew when we teamed up to create this Galentine's Day party it would be nothing short of spectacular. Boy, did they not disappoint!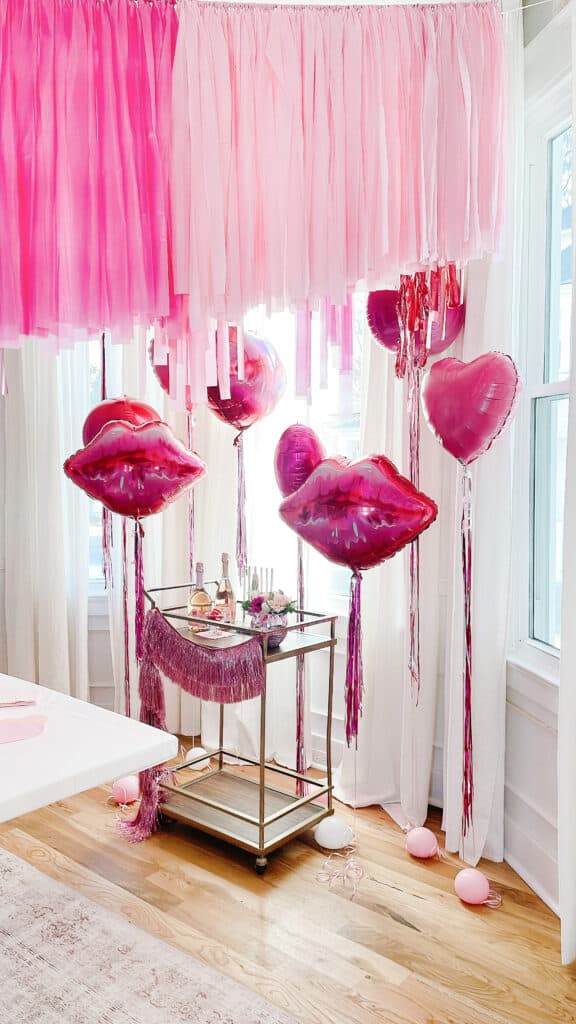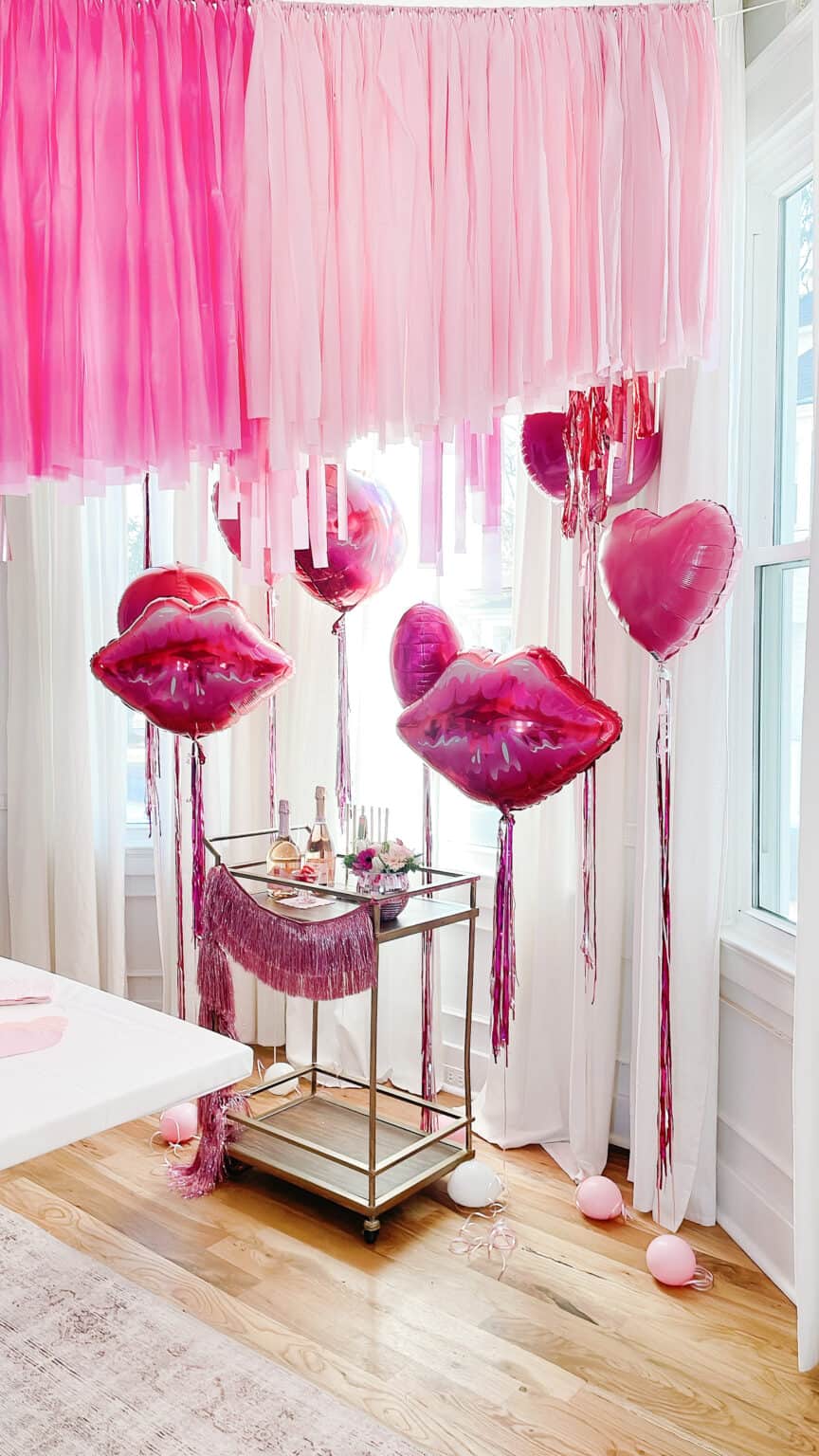 For our decor, we focused on all things girly and pink! Party Hop Shop created this incredible ceiling fringe showstopper. We even went the extra mile and had it nailed into the wall. It may just become a permanent fixture in our household and I would not be disappointed.
Our table was simple, yet elegant. A sheer pink tablecloth draped across our table that was set with gold accent pieces filled with fresh flowers. An assortment of roses, baby's breath, tulips, daisies, and other greenery filled various gold vases.
The flowers came from a mixture of Trader Joes and Whole Foods. I love filling my home with fresh flowers and those two places never disappoint!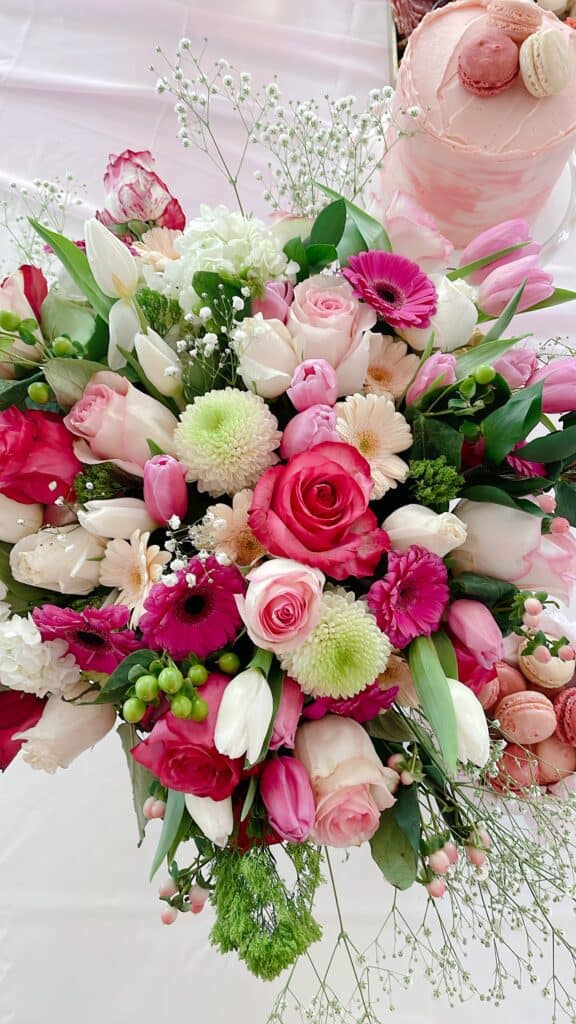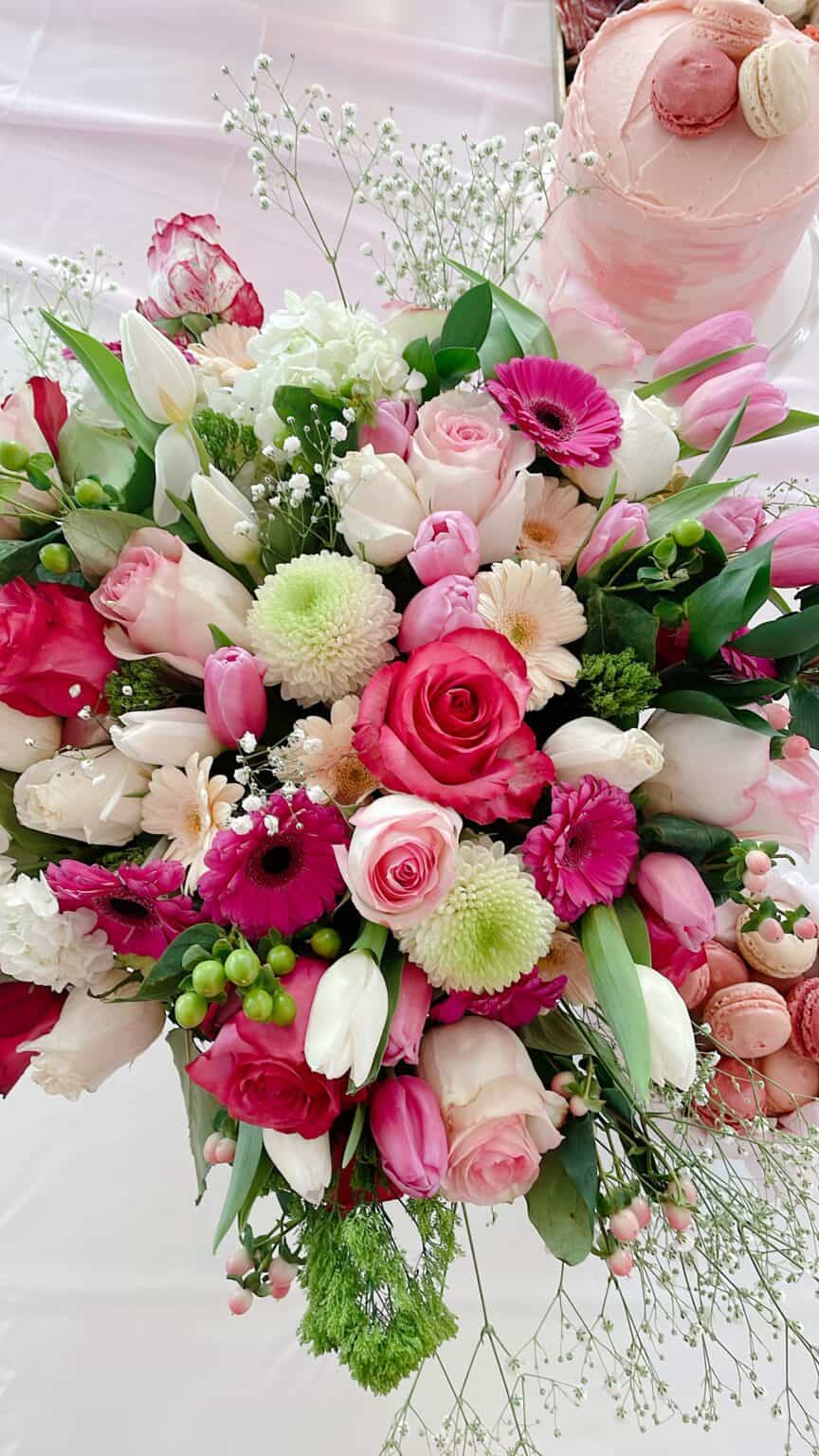 Most of my vases were previous DIY projects from the Dollar Store or my own materials. You can spray paint any vase to get your desired look for way less.
Party Hop Shop did a fabulous job showcasing our bar cart. Fun shaped balloons and bright pink garland flooded the space, which reflected tons of light.
The bar cart was filled with our favorite champagne and was accompanied by the most incredible pink disco ball vase that was filled with even more fresh flowers. These fun details created a playful and youthful space for a night filled with fun banter.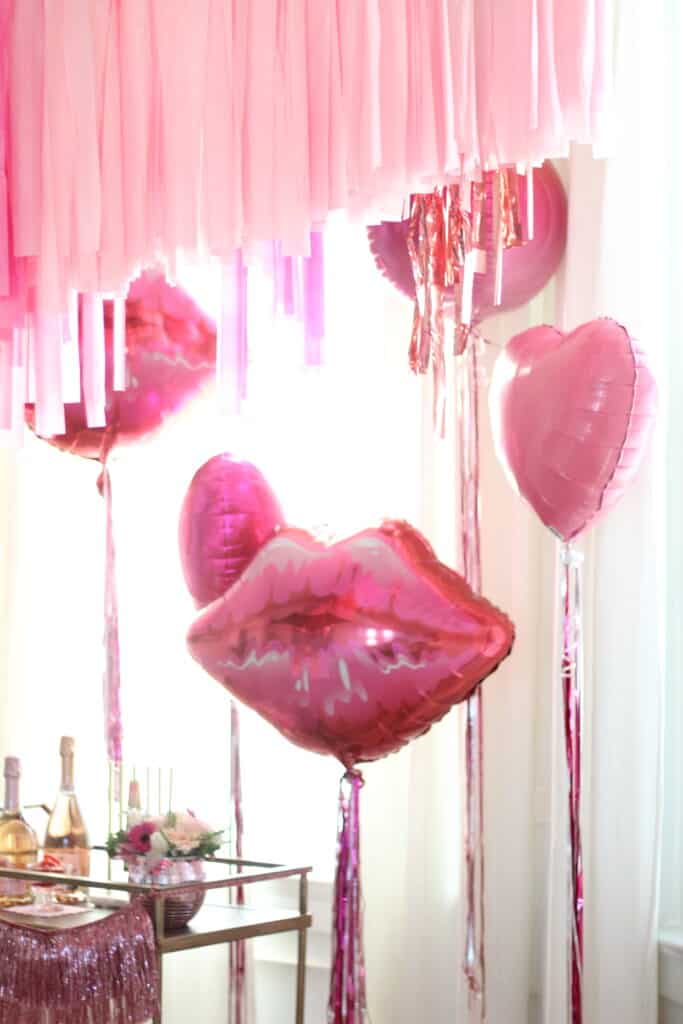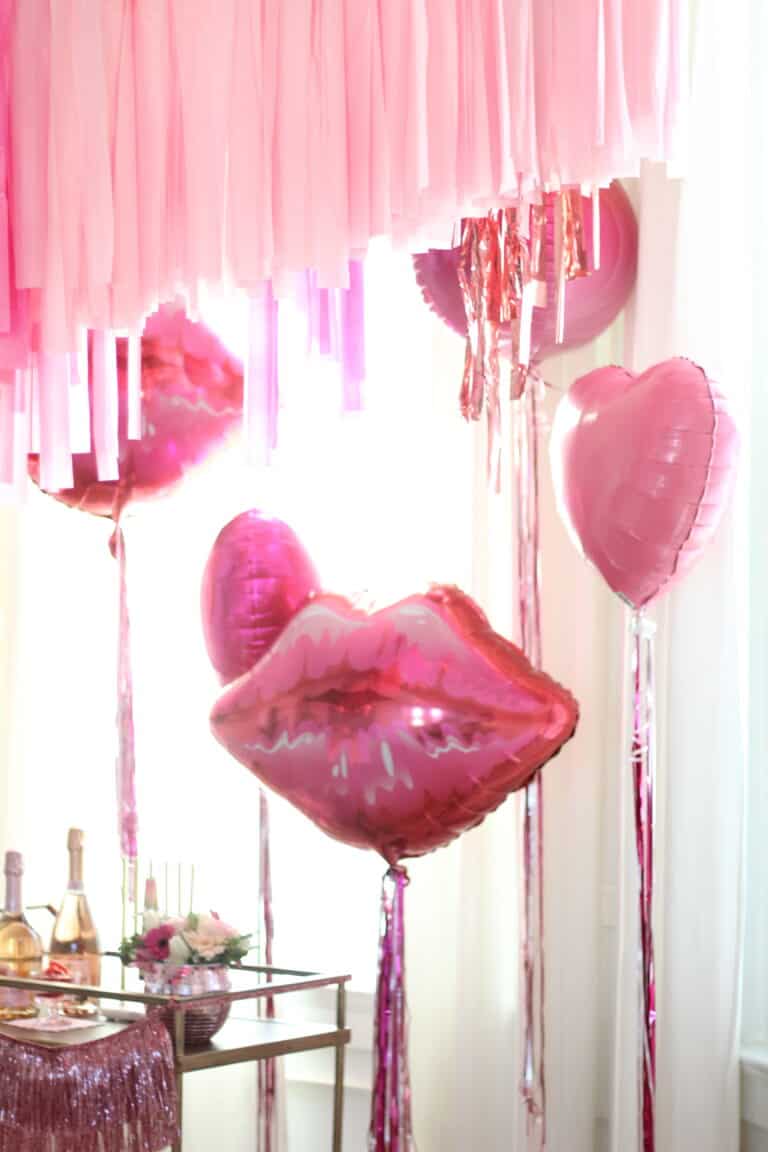 For a fun party favor, each of my girls got to take home their own bouquet of flowers. For the bouquets, I followed my DIY tablescape to make the wrapping paper for each bouquet. A series of black or pink "XOXO" designs with a delicate ribbon wrapped the flowers.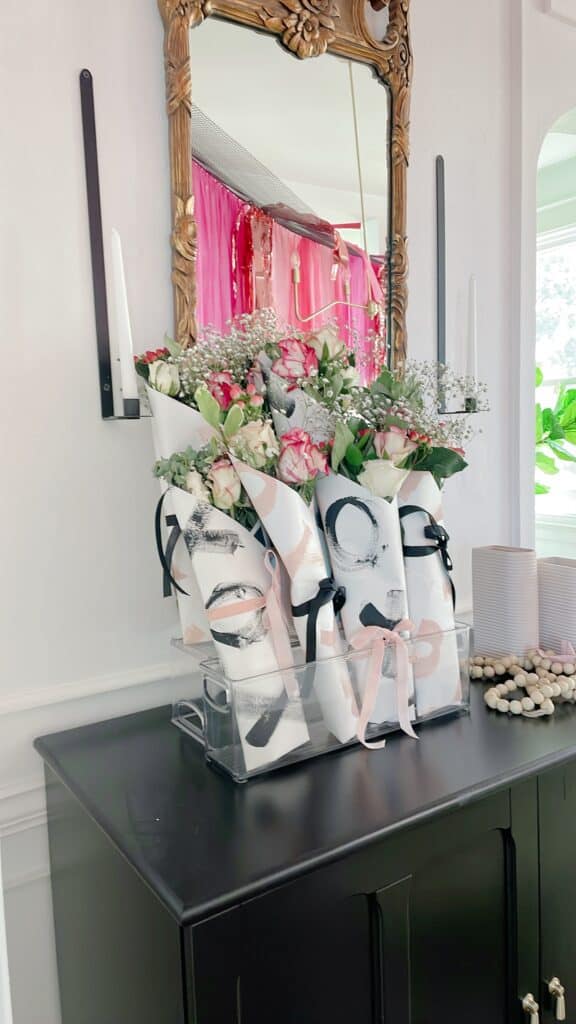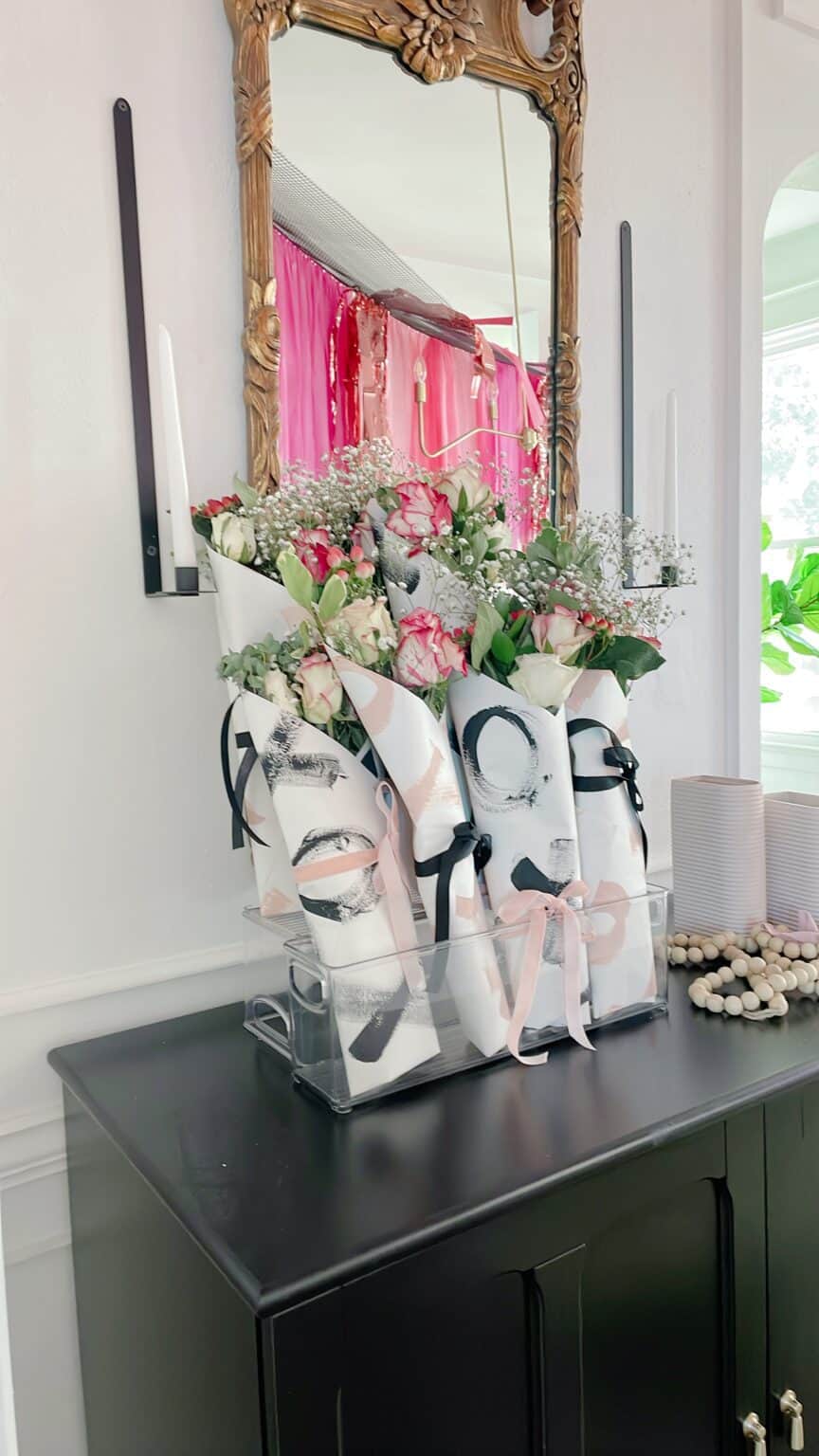 Galentine's Day Party Drinks & Food Ideas
We opted to have a night filled with signature cocktails, appetizers, and desserts. Charcu In The Lou created a delicious charcuterie board filled with cheese, meat, fresh fruit, and sweet treats. My girlfriends all brought an appetizer to share.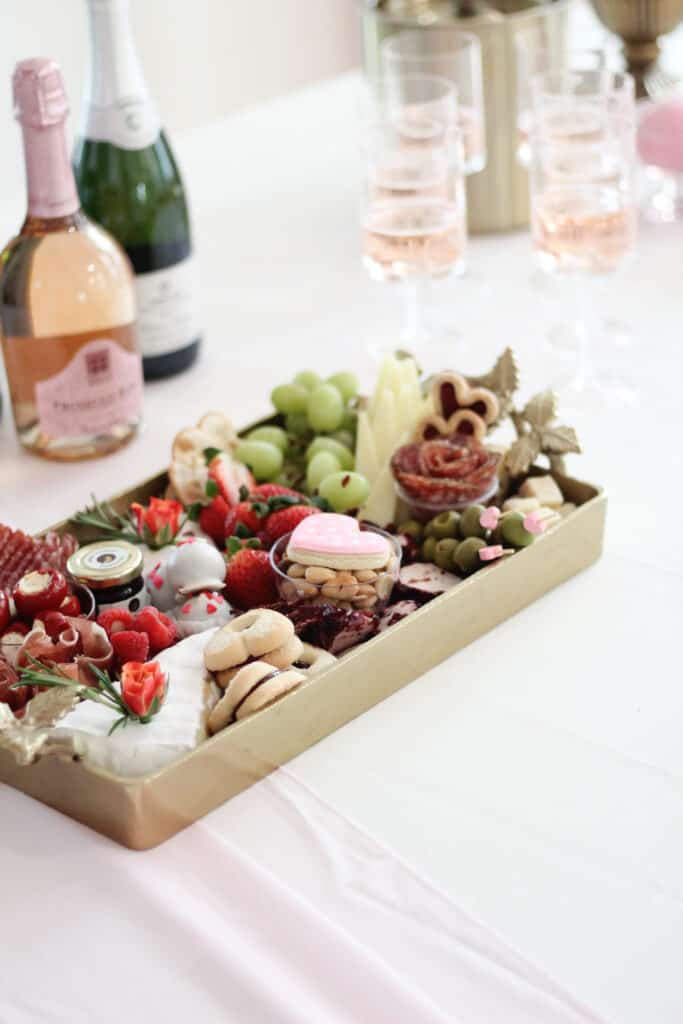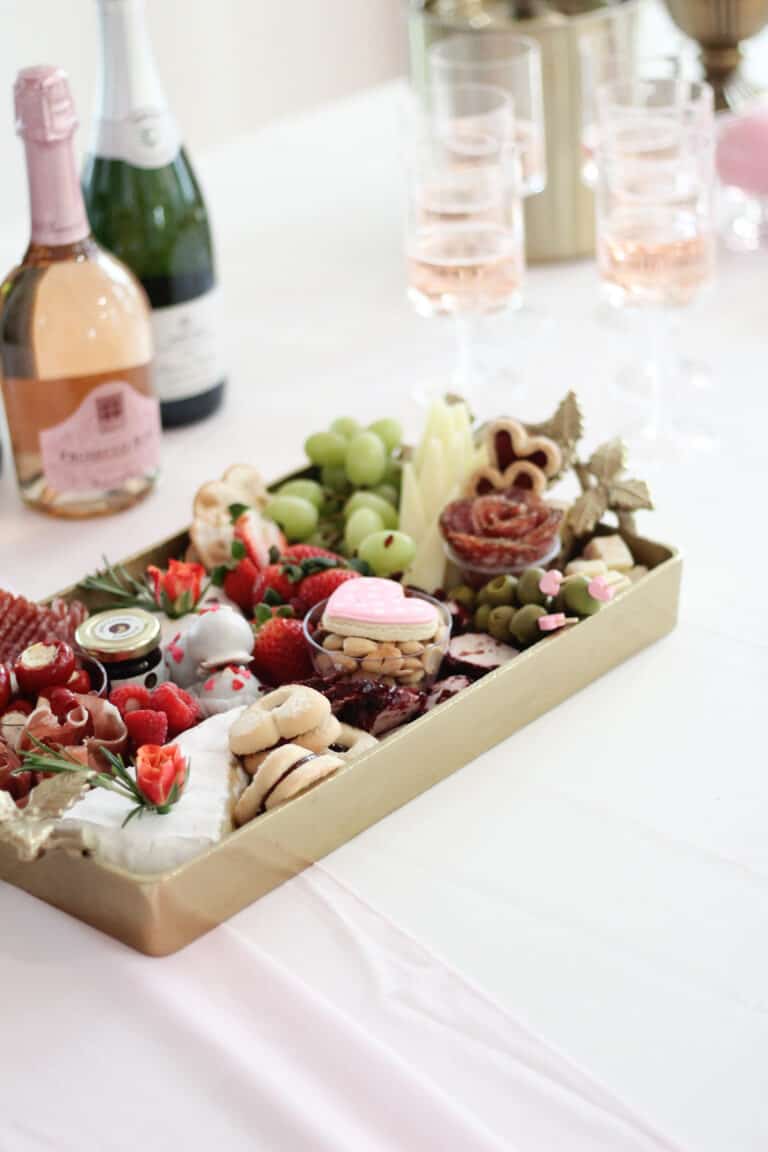 The showstopper was the incredibly delicious and sinfully delightful cake made by The Conscious Kitchen. Who doesn't love cake? For those of you who suffer from any food allergies or sensitivities, The Conscious Kitchen creates the most mouth-watering treats with food allergies in mind.
Our Galentine's Day cake was a gluten free, dairy free, coconut cake with dairy-free buttercream frosting. I could have eaten the entire cake in one sitting.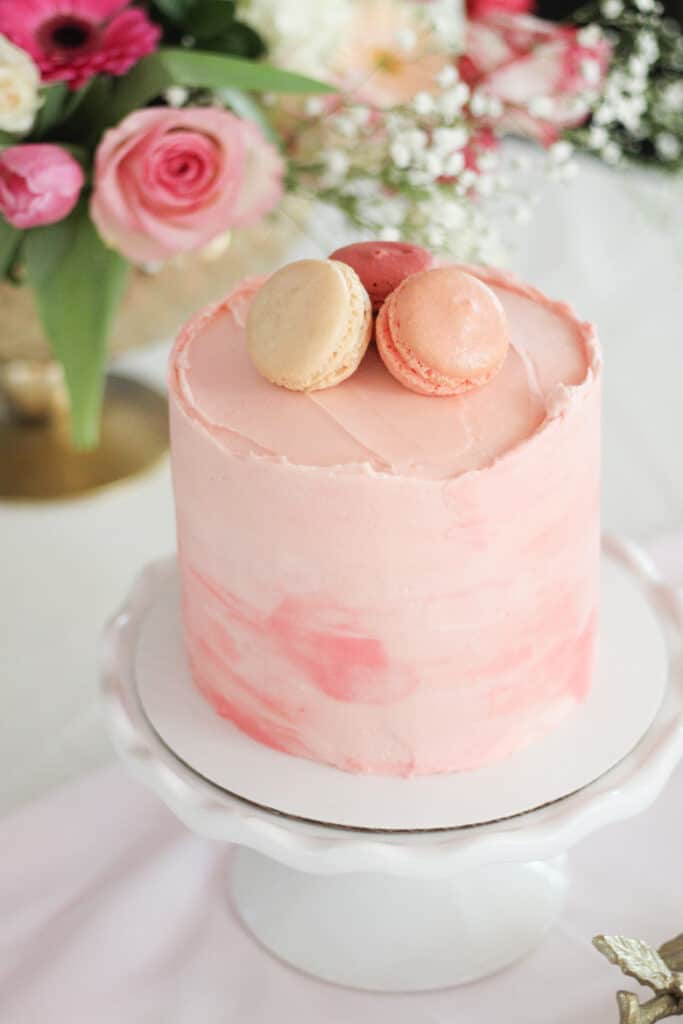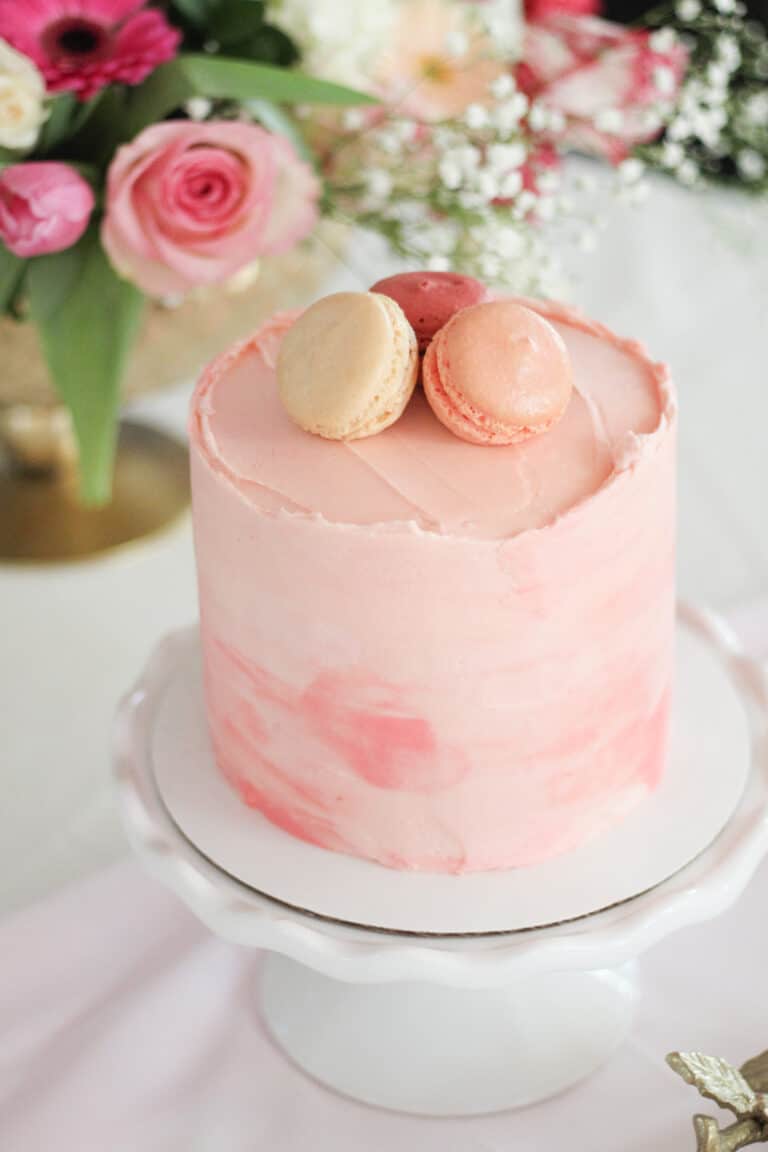 Now what is cake without drinks? Of course we had champagne, but what party is complete without a signature cocktail? Using Clementine's Naughty & Nice Ice Cream's pink champagne sorbet, our Galentine's drink was one scoop of champagne sorbet topped with champagne and a strawberry garnish. What a great combination to accompany that slice of heavenly cake!
I love drinking champagne, but I should not be allowed to be near any glass containers while enjoying the beverage. When I found these acrylic plastic tumblers, I knew they would be perfect for me and my friends.
They look like the real thing and are dishwasher safe. For those of my friends who were enjoying a non-alcoholic beverage, I had these fun heart-shaped straws for their drinks.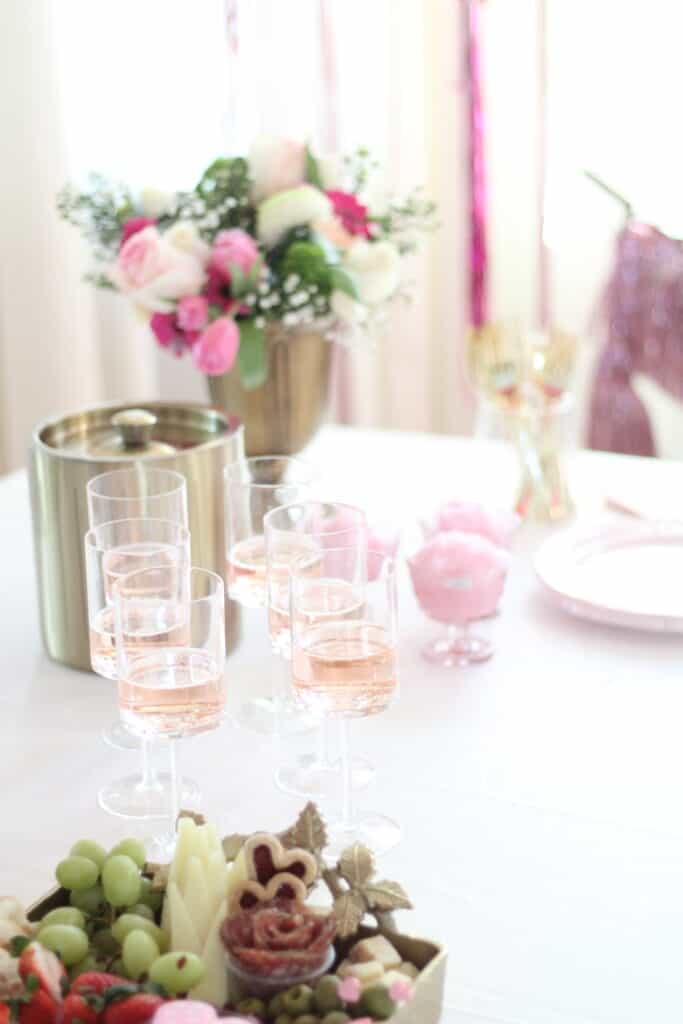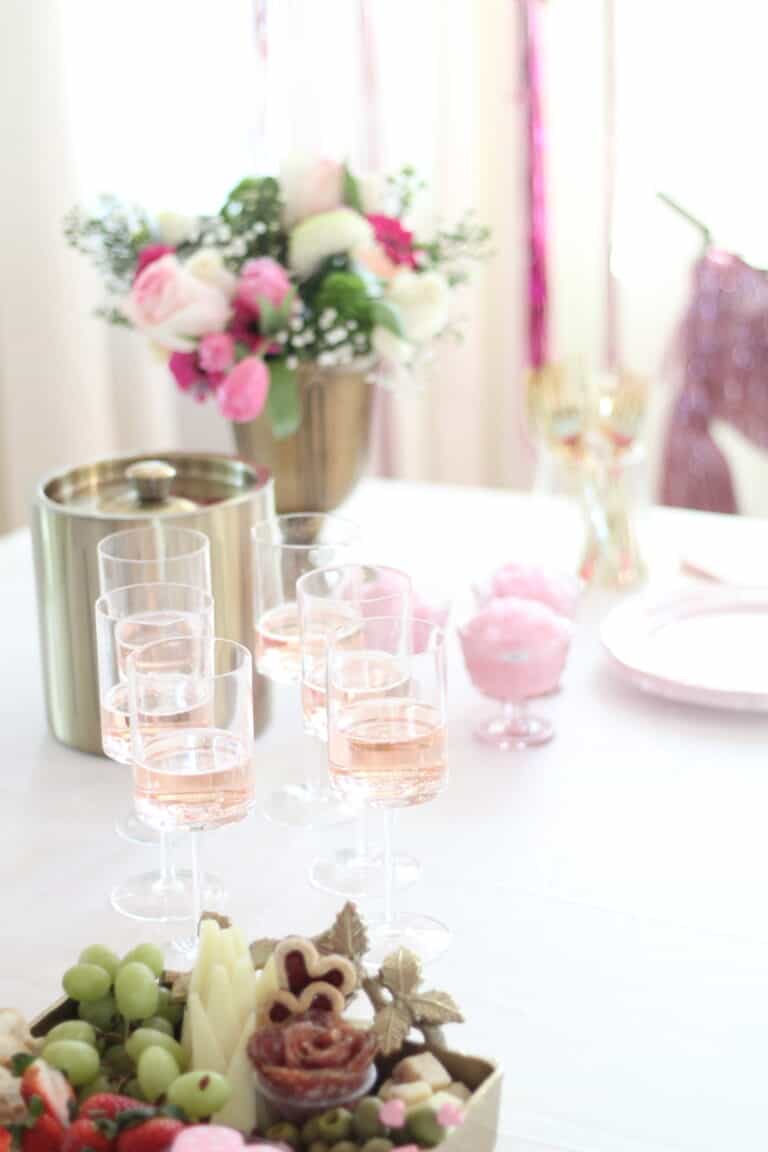 For our delicious cake and appetizers, we used a simple dainty scalloped edged pink plate design. These are perfect for a Galentine's Day party and could easily be used for a baby shower, bridal shower, or little girl's birthday party. We completed the table setting with gold plastic silverware. I love the ease of using plastic, especially during a party. This gold silverware set looks like the real deal and perfectly complement our gold accents.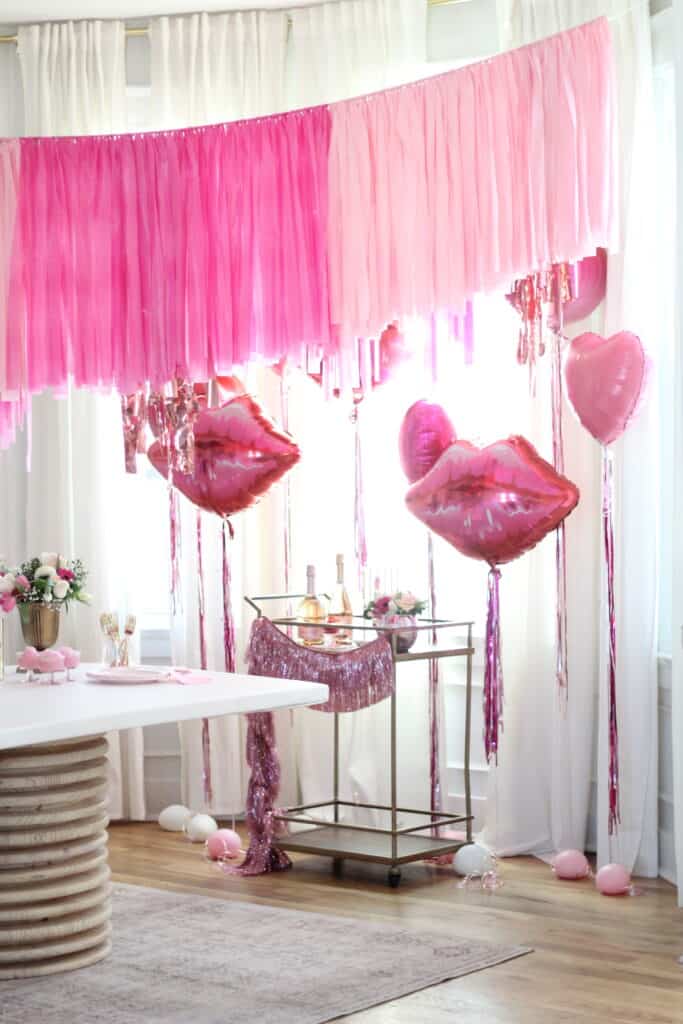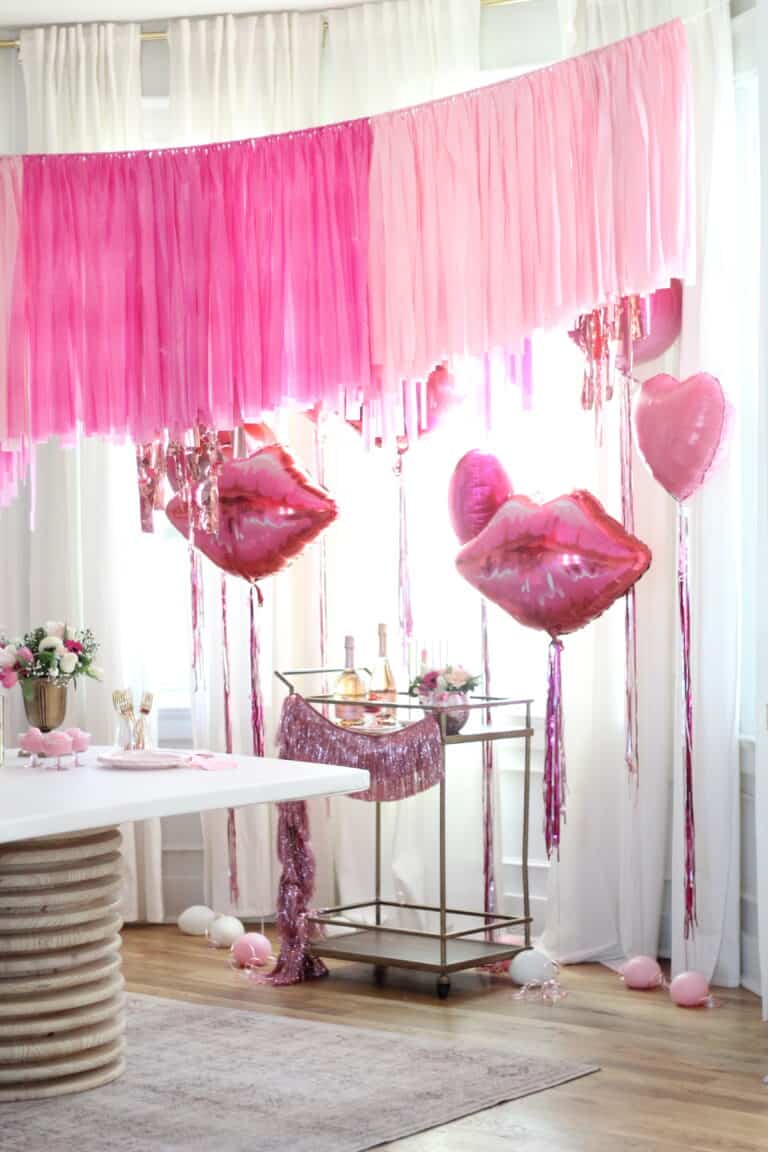 Other Posts You'll Love
Valentine's Day Party | Free Valentine's Printables | Valentine's Day Books For Kids & Toddlers
Pin The Photo Below For Later
I hope this post gave you some inspiration and determination to hold your own Galentine's Day party next year. It is such an easy way to show your friends how much you appreciate their friendship in your life. If you have any questions, feel free to leave them in the comments section, and follow me on Instagram @arinsolange for more home, decor, and DIY.