Are you expecting a baby and ready to start planning the perfect nursery? I am sharing all my favorite IKEA nursery hacks today – which is basically my favorite thing ever. Nurseries + IKEA are a match made in heaven – so hopefully you find just what you love.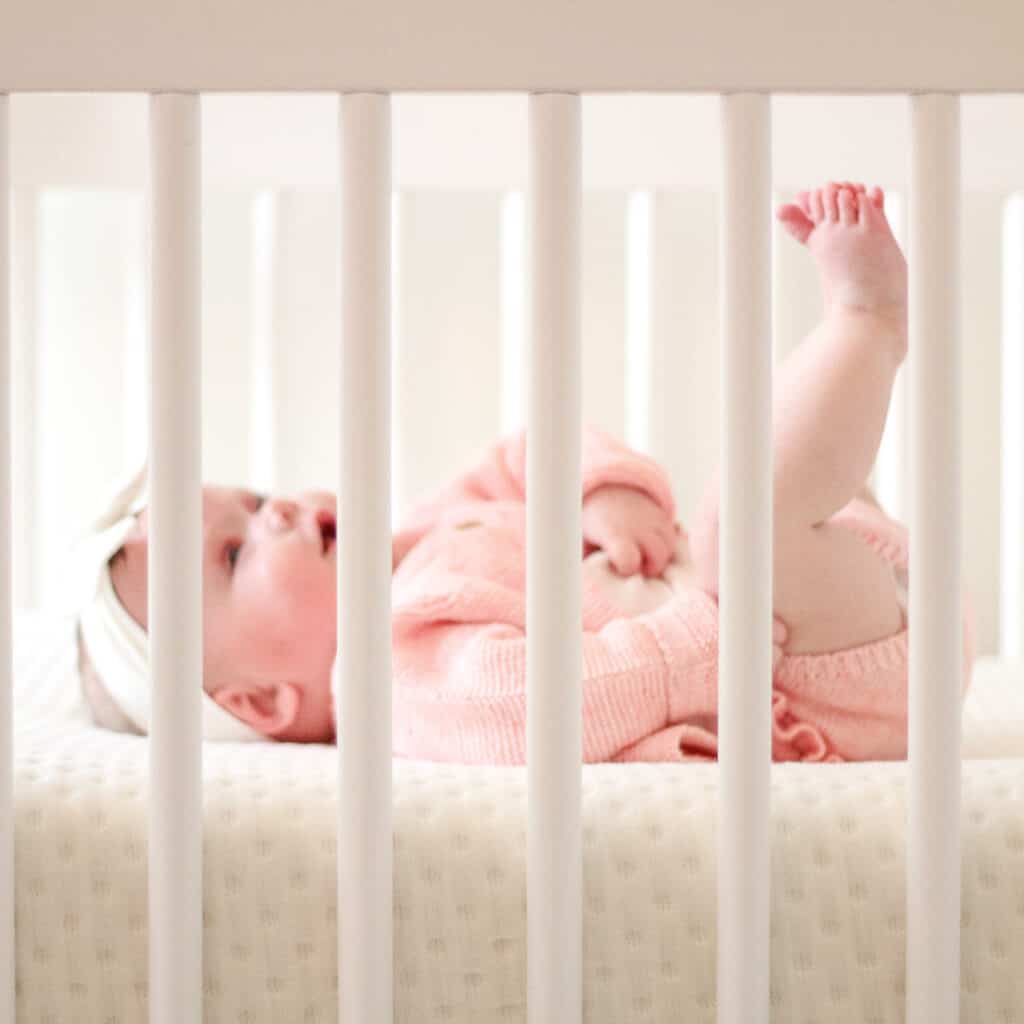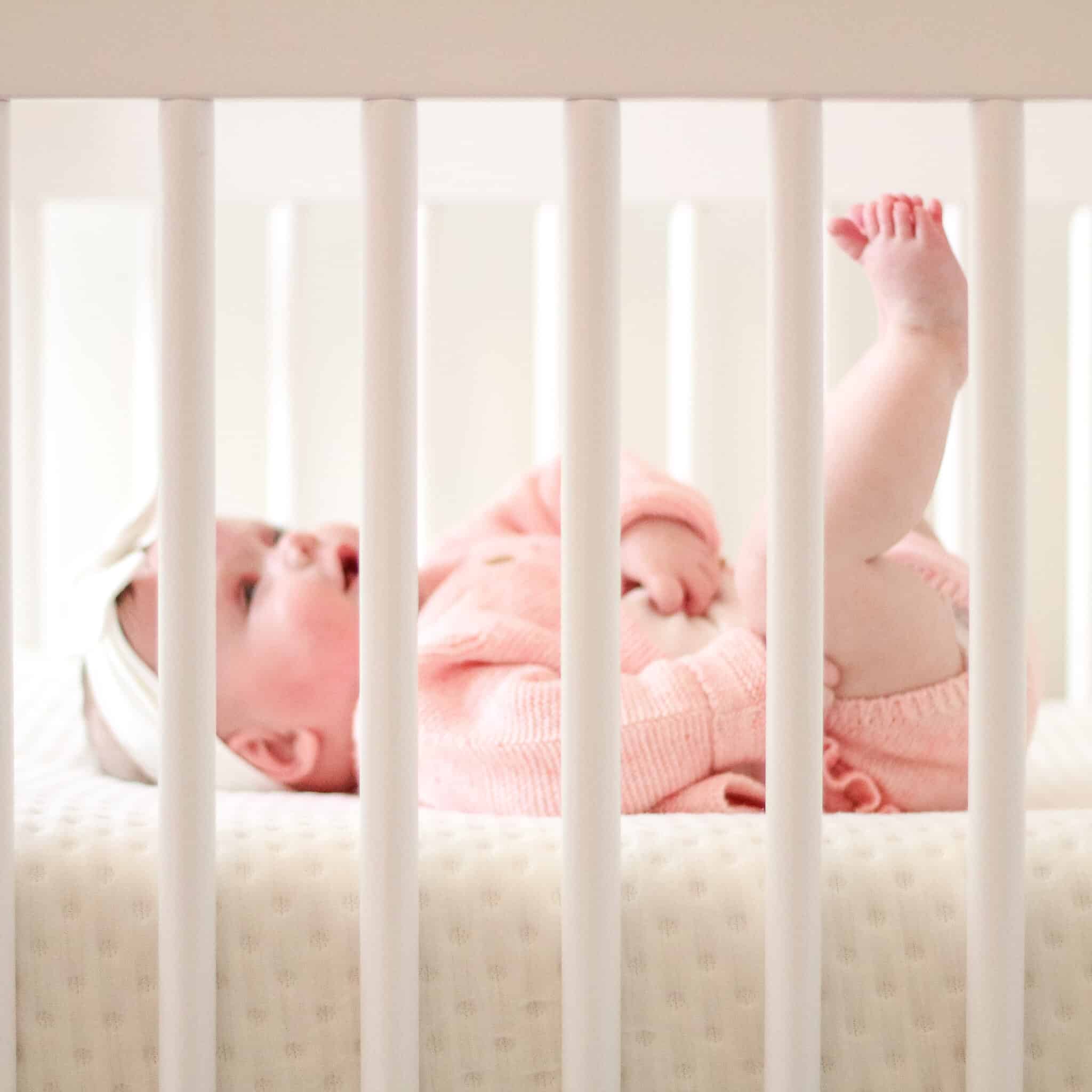 This post may contain affiliate links.
IKEA Nursery Hacks I Love
It is easy to get overwhelmed when you begin researching all the different items you need for your baby's room. I have a high standard when it comes to decorating my kids' rooms. I love my space to be both stylish and functional.
I'm a huge IKEA fan and love to incorporate IKEA products into my children's bedrooms. I love how you can take basic IKEA items and make it into anything you can imagine to fit your space's needs. If you are interested in finding out the best IKEA nursery hacks, you're in luck!
Follow along and see my top picks for clever IKEA hacks from furniture to decor, and even closet organization .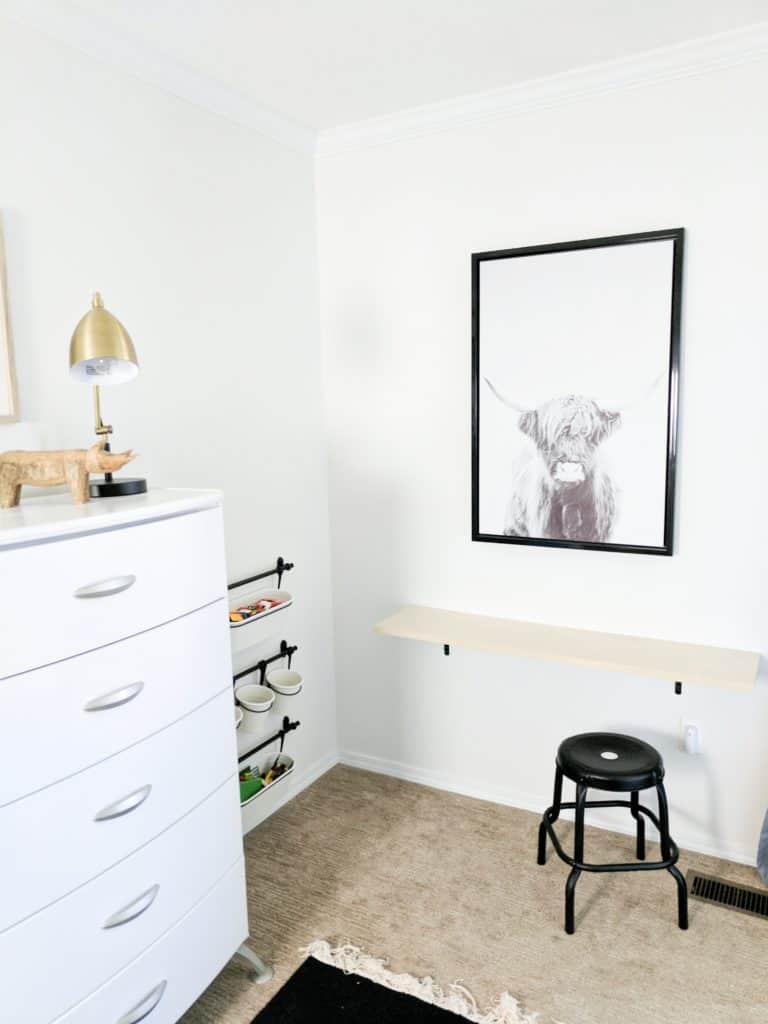 DIY Lego Storage in this modern boy's room is one of my favorite IKEA hacks!
Why IKEA?
IKEA pieces are a great way to furnish your baby's nursery. IKEA's signature style is widely recognized for its modern look and scandi style. Decor pieces and IKEA furniture are simple but not underwhelming.
IKEA is known to have functional items at reasonable prices. This all lends itself well to decorating kids' rooms. Since IKEA has such great prices their items are the perfect candidate for IKEA hackers to take a product and make it their own.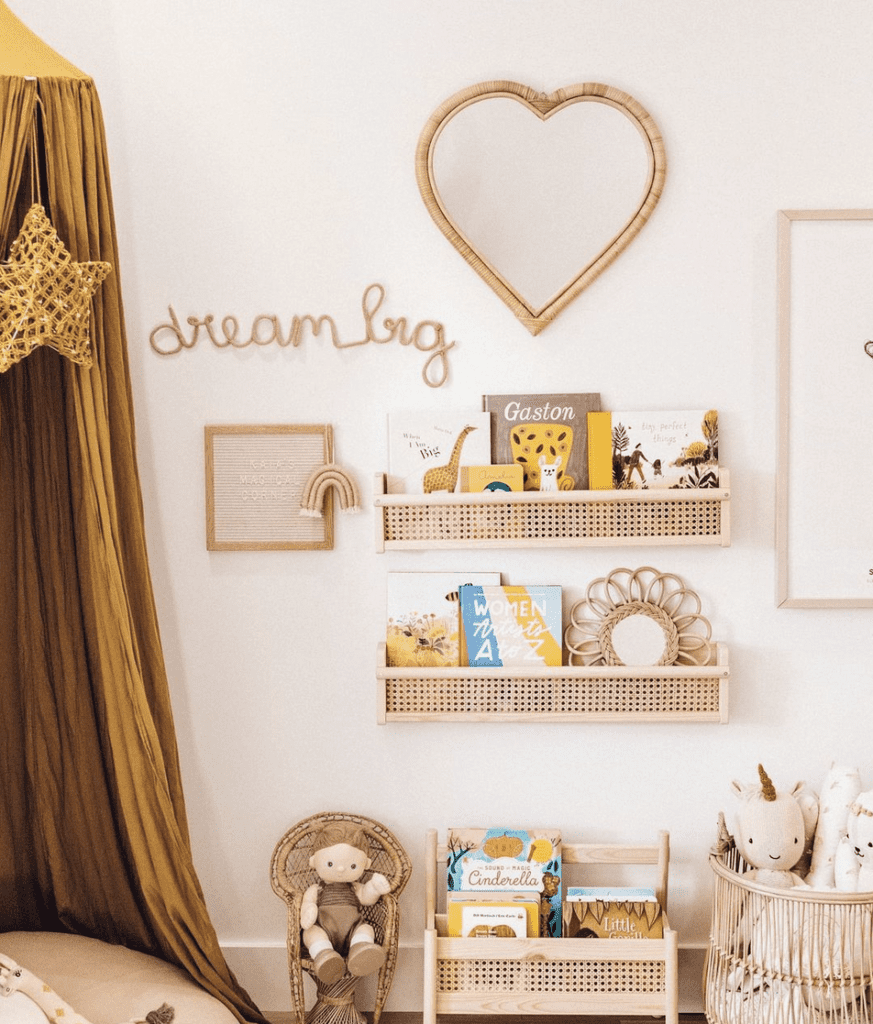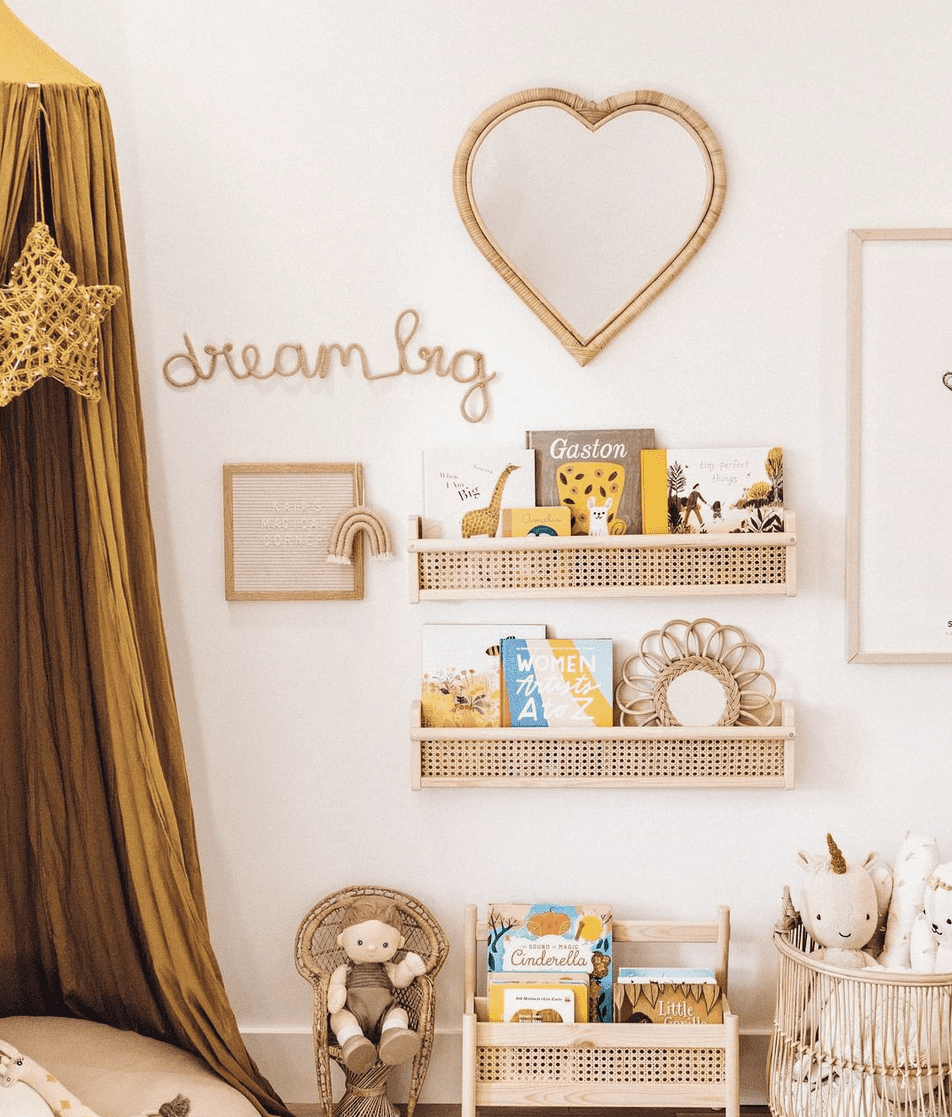 This amazing nursery reading nook was created using the IKEA Bekvam spice racks.
As an added bonus, with items being in the right price range, this makes it the perfect place to shop for your baby's nursery. Sure we all want the best things for our kids. But, in reality, kids can be hard on furniture.
They like to jump on their bed, color on their walls, and play soccer using their dresser drawers. Ideally, the furniture you buy for your baby's room will be with them well into their childhood.
It may not be practical to spend so much money on materials that will be abused over the years. Rather, wait until they are more mature and able to take care of their nice things without wanting to show off their new interior design skills.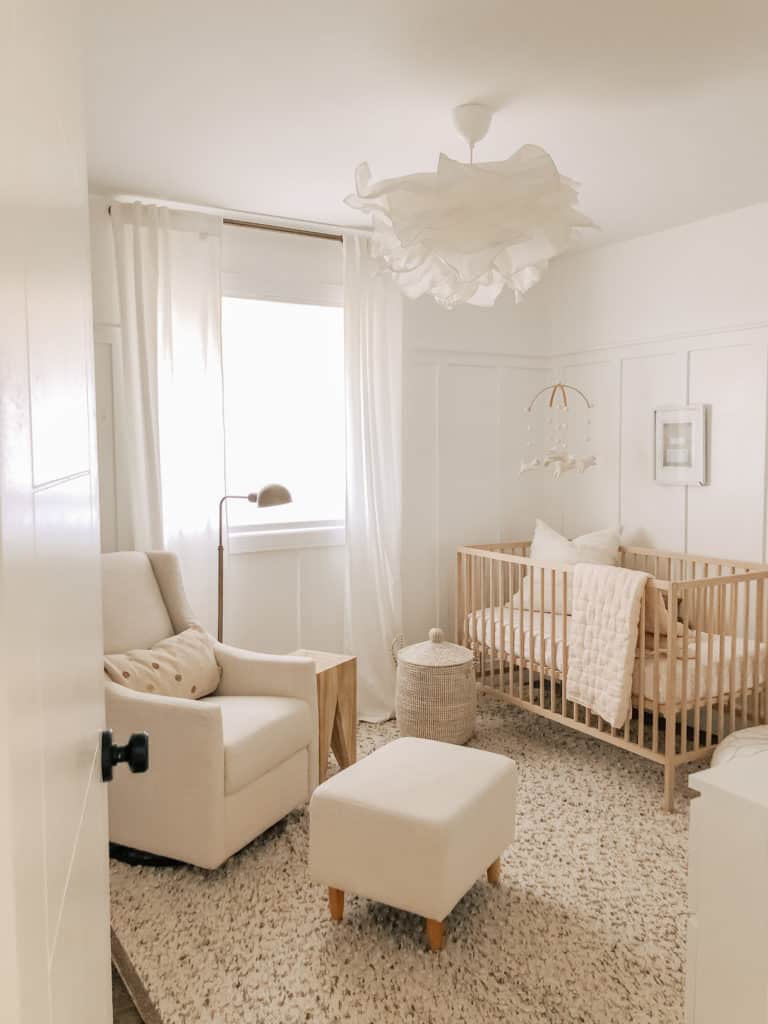 What a beautiful neutral nursery that is completed with an IKEA crib and dresser.
Planning Your Nursery with IKEA Nursery Hacks
If you haven't noticed, babies take up a lot of space. They may be small but they come with a lot of products. When you are planning your nursery, you need to consider the amount of functional space you have in the room you plan to use as a nursery.
Additionally, don't forget to include the closet space. The size of your closet space may impact what items you buy for storage spaces in their bedroom. For example, a smaller closet may benefit from a larger dresser to make up for the storage.
Or, you may have a smaller room and smaller closet. In that case, you may need to get creative with your storage ideas.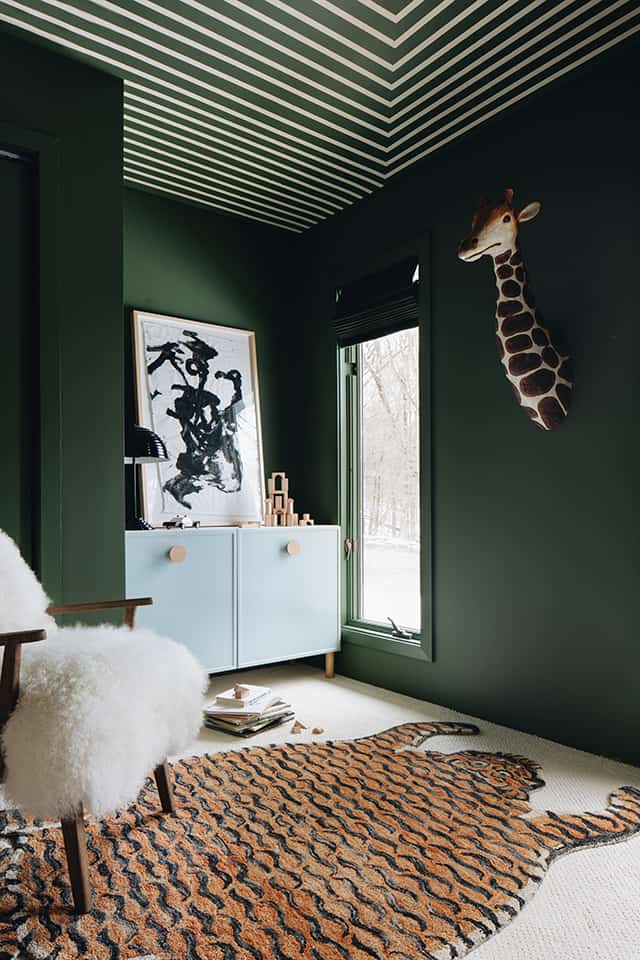 Sarah Sherman Samuel in collaboration with Semihandmade has created doors and drawers that can be fitted to IKEA pieces. Seen here is her son Archie's IKEA Besta frame with her new line of door fronts.
Consider the items you need versus the items you want in a nursery. At the same time, consider all the items you currently have for your little guy. You'll need a crib and a place to change your baby.
But, do you really need a separate changing table? Rather, I love using a dresser with a changing mat on top to help save space. When your child is young, it is a great idea to have a rocker. If you are limited on space, when your child outgrows the rocker, that space would be the right size for a little reading corner.
You can also consider if you really need to incorporate side tables or if it would be more beneficial to have baskets in its place for toy storage? You can never have too much storage and finding ways to incorporate storage space is what IKEA products are known for.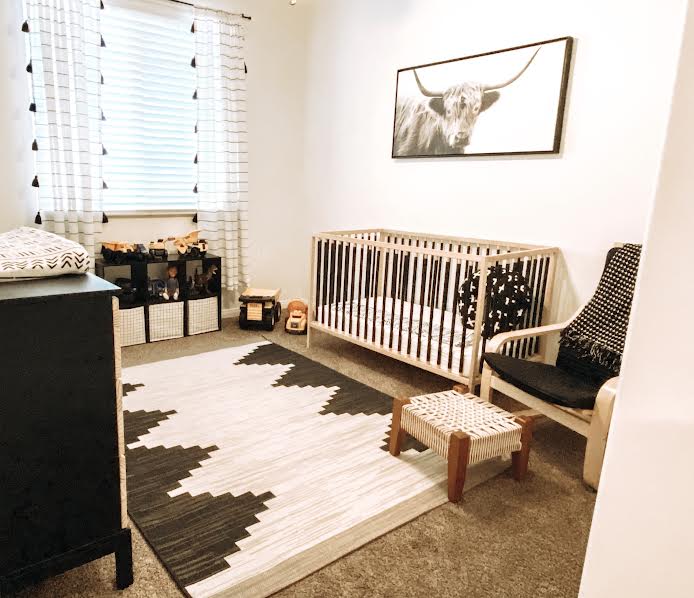 This black and white western themed nursery is complete with an IKEA crib and dresser hack.
If you're limited on closet space, make sure to check out IKEA for some great products to help organize all those baby clothes. A well organized closet is key to having a functional nursery. Also tap over to my post on how to organize your baby's closet.
Best IKEA Hacks for your Nursery
From furniture to decor and closet storage, we are going to look at some great examples of repurposing IKEA products to meet different individuals' needs. These examples are all easy IKEA hacks that the average DIYer can do and have a little fun doing it!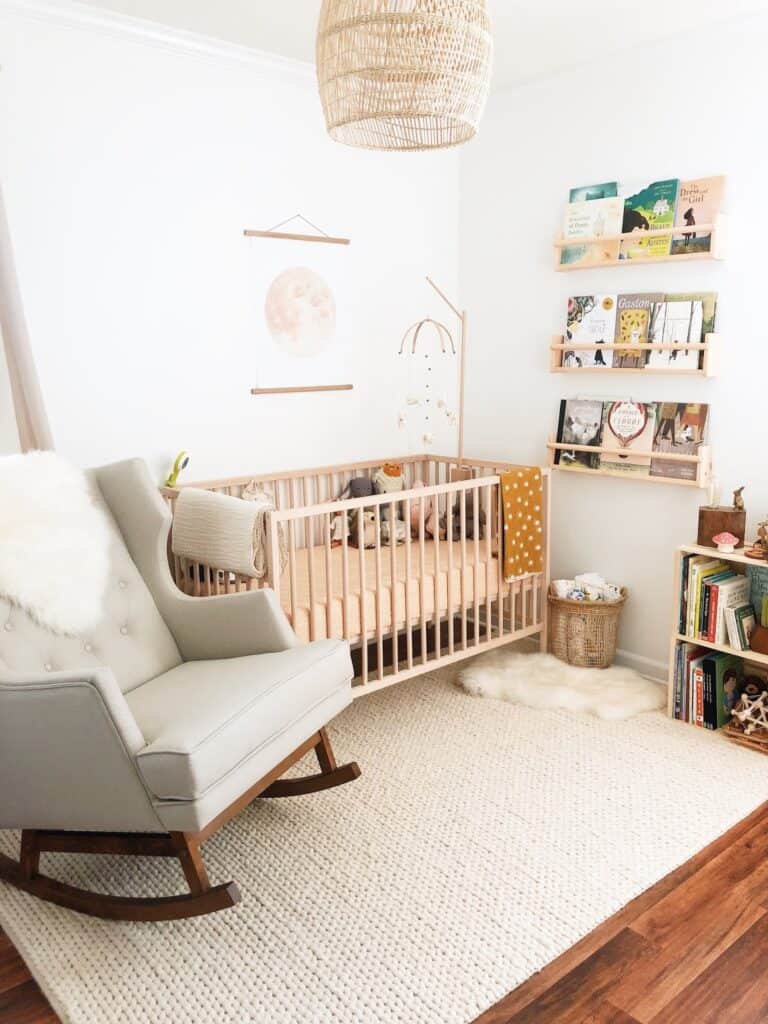 This nursery is full of IKEA hacks!
IKEA Furniture Hacks
Dressers
If you haven't checked out my blog post on the best IKEA Dressers for your nursery, then check it out. I had some great examples of how you can take an IKEA dresser and turn it into a completely new look. Here are some of my favorite hacks!
IKEA Bjorksnas Dresser Hack
I loved the look of the IKEA Bjorsknas dresser. It was simple, understated, and classic. I really didn't need to do much in terms of making it stand out. However, I did want to have a little bit of fun and add some texture to it for Avé's room.
With the help of some resin, I was able to create this stunning new look that fits perfectly in her room. For the full tutorial, check out my blog post here.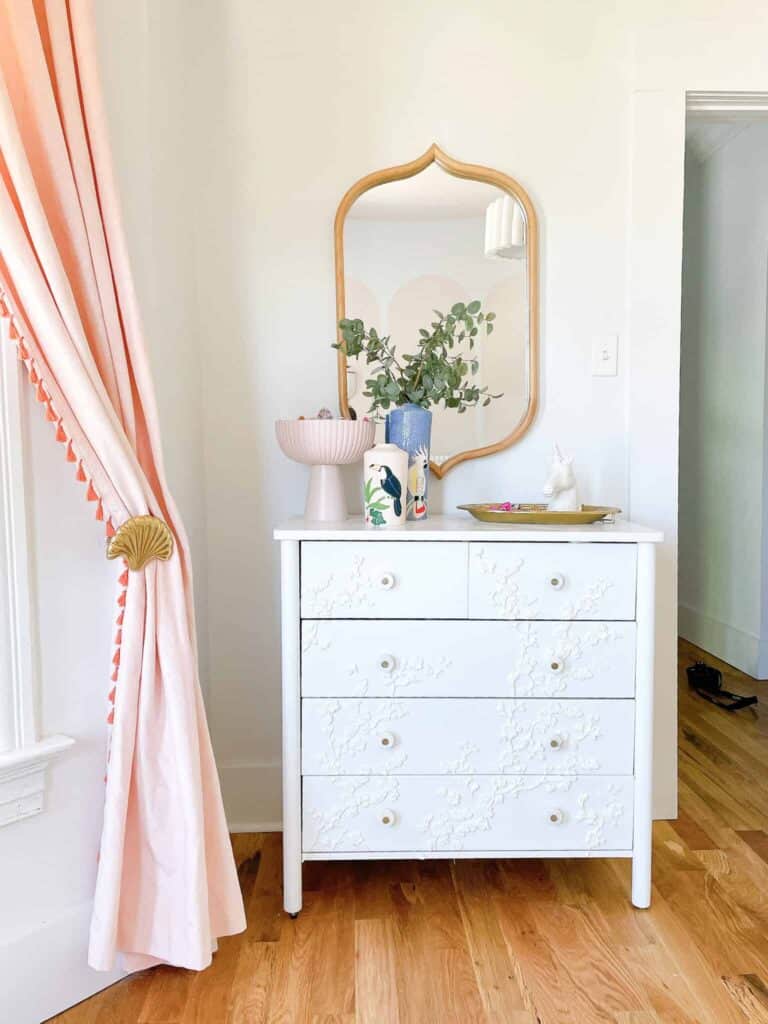 IKEA Tarva Dresser Hack
The Tarva dresser is a favorite for an ambitious DIYer. It comes in a natural, unfinished wood state, which is as easy as it comes when it comes to prep work. The dresser itself is also a great size and has several options in sizing that make it perfect for any wall space.
When I was pregnant with Goldie, I knew I wanted to create a nursery that would capture her playful and sweet spirit. With a little time and this gorgeous color, I created this beautiful dresser to complement her nursery decor.
Check out my Tarva dresser hack tutorial to see how I created this look with only a few materials.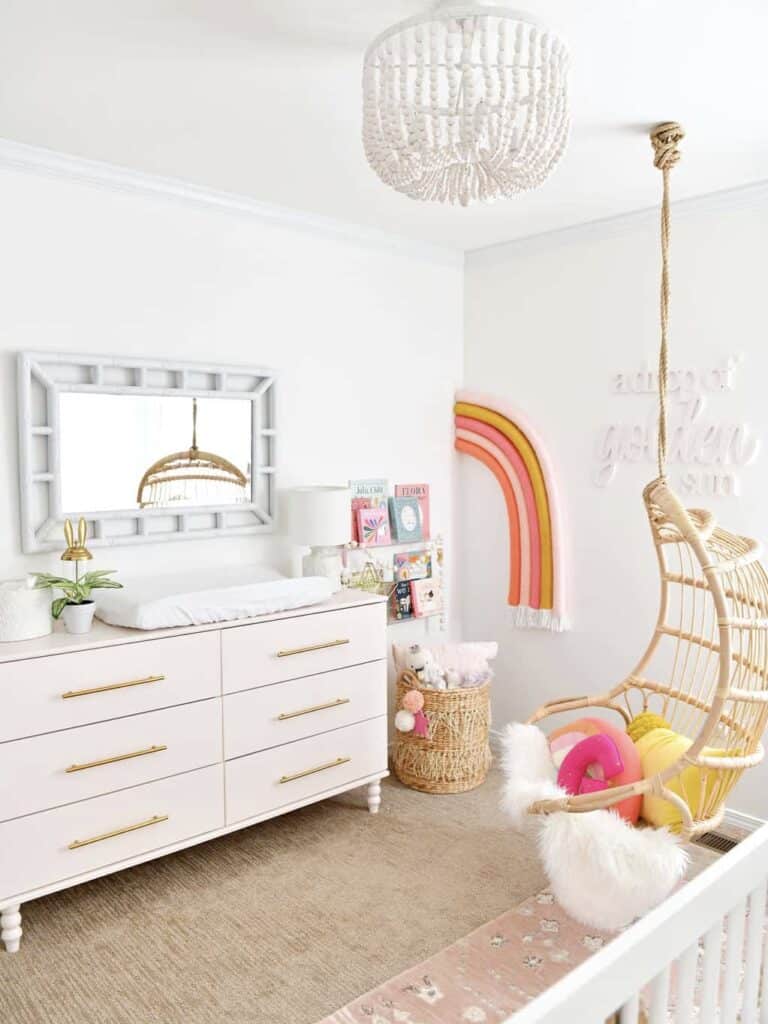 IKEA Hemnes Dresser Hack
I absolutely love this next genius IKEA nursery hack. Who else loves Pottery Barn but hates the price tag? I cringe when I think of spending that amount of money on furniture for my kids.
Ashley Alexis Creative took the Hemnes dresser and created a Pottery Barn look alike for the Ava Regency dresser using only 5 materials. It is such a beautiful and classic dresser that would be perfect for a little girl's nursery. Instead of paying $1299, she created this great hack for a total cost of $383.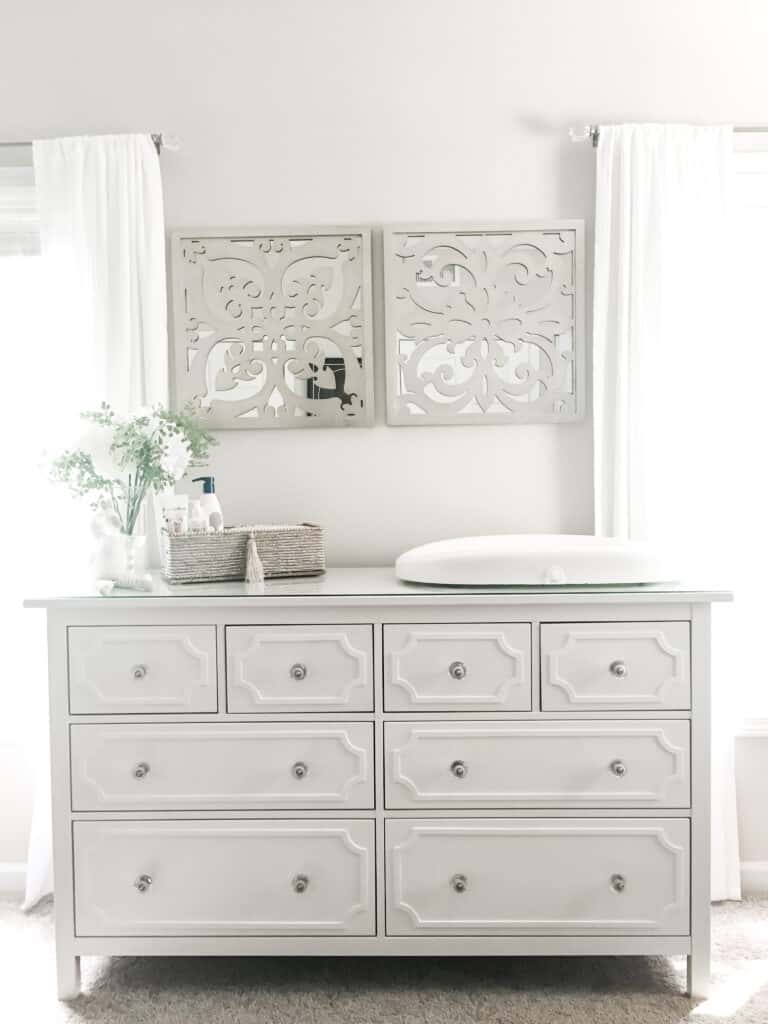 Check out her blog post here and you can create this Pottery Barn dupe!
Seating
You'll always need a place to sit in your little's room. Whether you are feeding in the early days or reading stories as they grow, these IKEA seating hacks are great ideas to incorporate into your own little one's room.
Window Seat
I love the ideas of a window seat. A sunny day fills your child's room and you catch a glimpse of your little one curled up on their window seat reading a book. It sounds so ideal.
Rooms with bay windows or a large empty wall space can accommodate an amazing window seat. Having a professional install a window seat can be so pricey. With IKEA's Nordli 2 drawer chest, you can create your very own picturesque window seat with some incredible storage.
Think of how many toys you could store in that drawer unit. This is a great use of space and the best part is that it costs under $400 to create this look.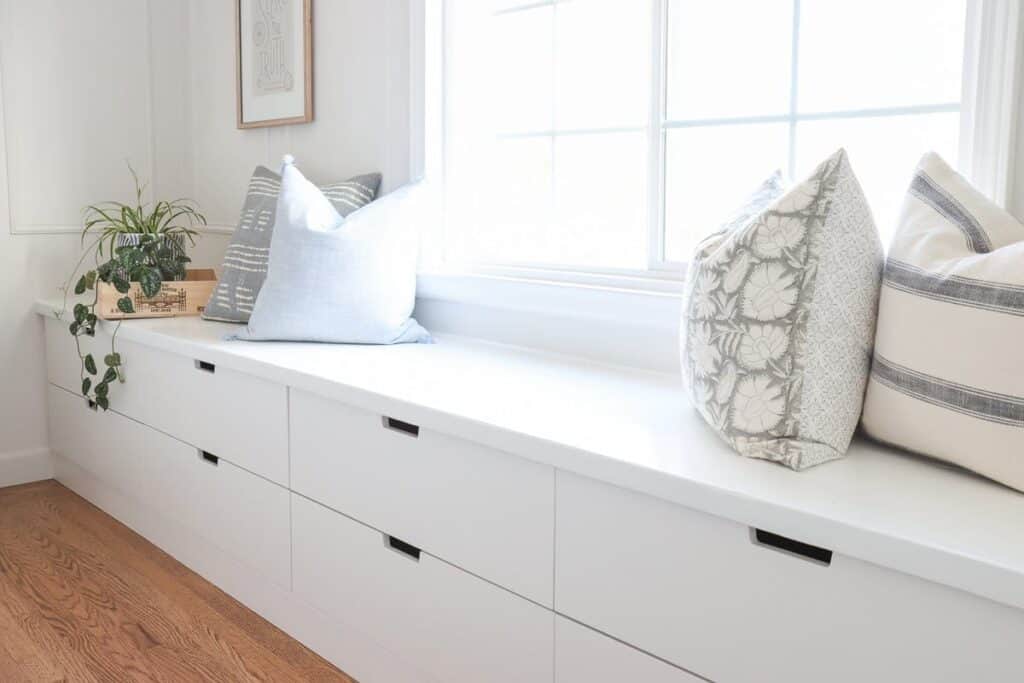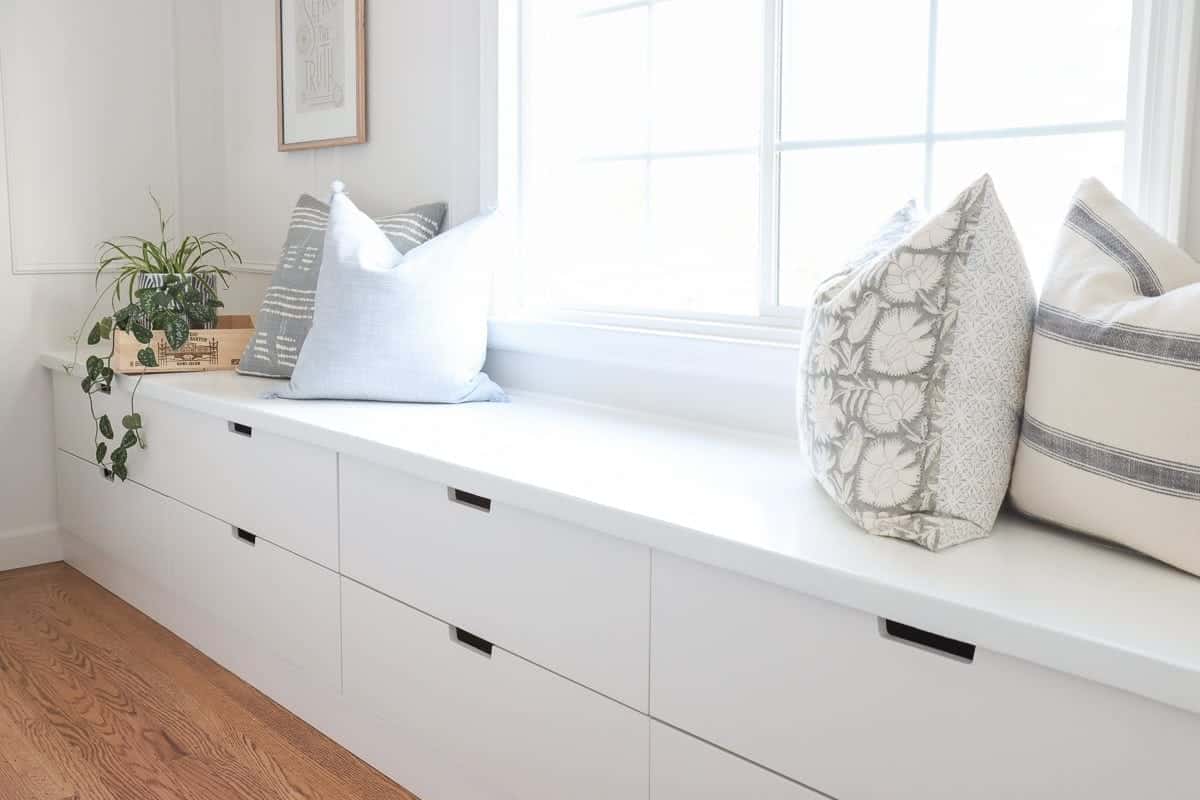 Check out full details on how to create an IKEA hack window seat .
Strandmon Chair to Rocking Chair
Finding a comfortable rocking chair is crucial for those early days when you are home with your baby. You'll be spending a lot of time in that rocker and you want it to be comfortable enough that you could sleep in it because chances are you will at some point.
Finding a wingback rocking chair can be pricey. Try to create your own wingback rocker by using the Strandmon chair and attaching rockers to the base. This will offer lots of support during those long night rocking sessions.
DIY IKEA hack rockers are affordable and stylish!
Painted Stools
I love adding smaller stools to a space. Not because they add a ton of options for seating but because they are a great movable piece that can be used for seating or as a small side table. They are the perfect height to set next to your rocking chair.
These side tables and stools are so much fun and can be made in all different coulours to satisfy any nursery theme. When you're ready for the stools to move on, you can always use them in your living room for additional seating and table space.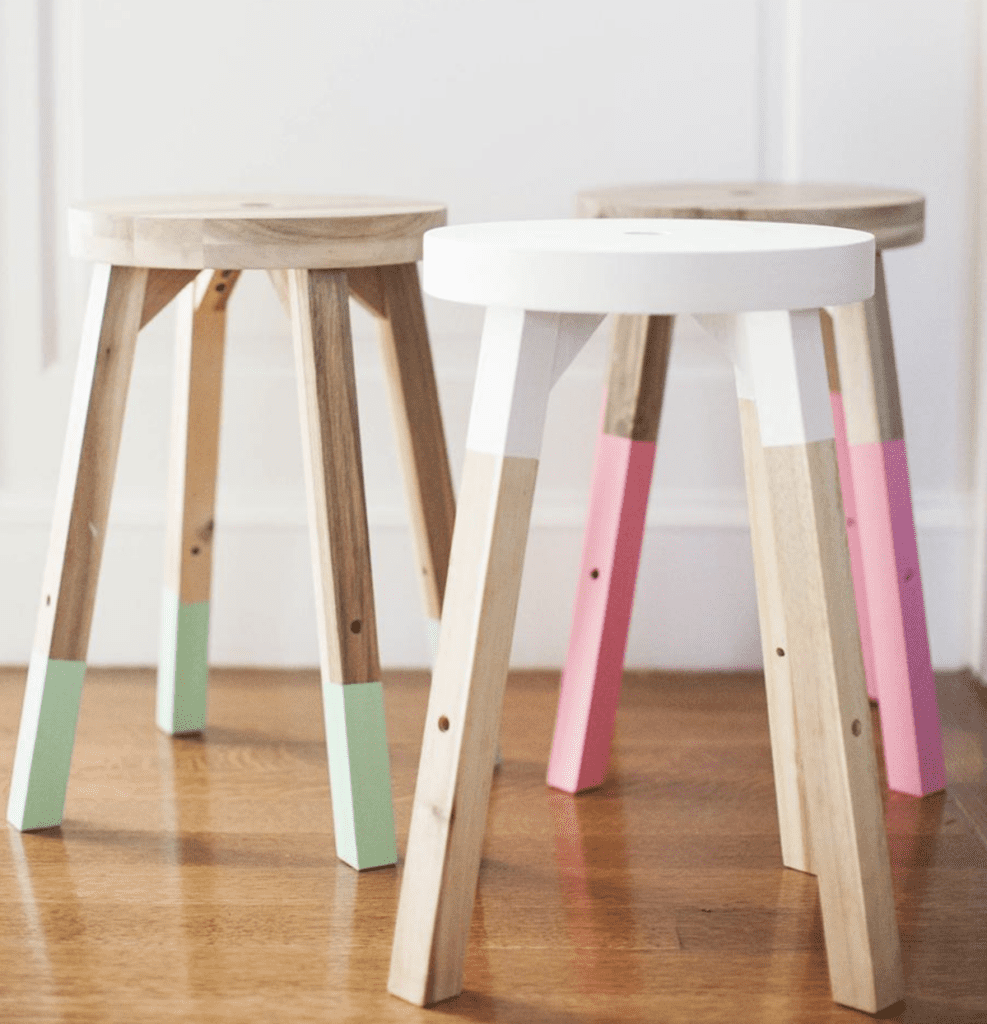 Check out how you can make your own dip dyed stool.
This next table hack is the perfect addition to a rainbow themed nursery. I love how this rainbow creates back support to the Filstat stool. This would be a great addition to a little girl's vanity.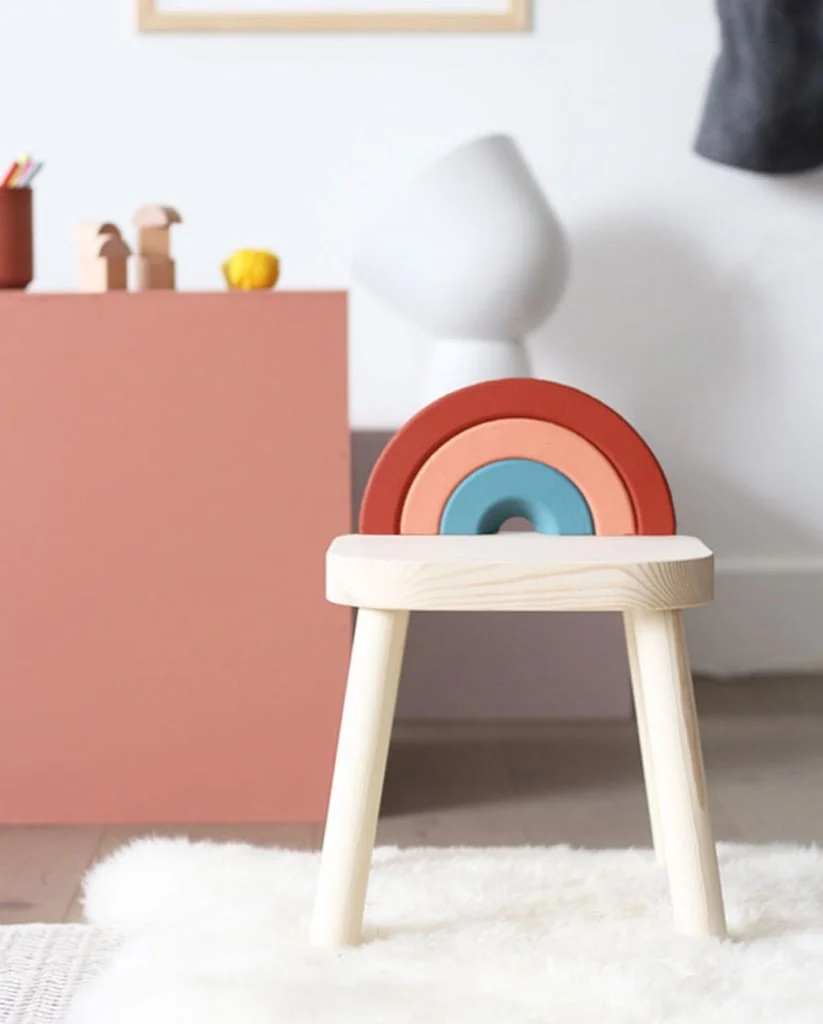 Check out how you can create your own rainbow stool.
IKEA Decor Hacks
Ikea has some amazing decorative items that you can get for a fraction of the cost. Here are some of my favorite hacks that add personality to your space.
Ikea Bekvam Spice Rack
Who knew spice racks could make such great bookshelves? I love the idea of using your books as decor and showcasing them in your child's room.
Not only does this provide easy access for your little boy or girl, but you can also change out the books with each holiday and season. This is a great way to encourage reading.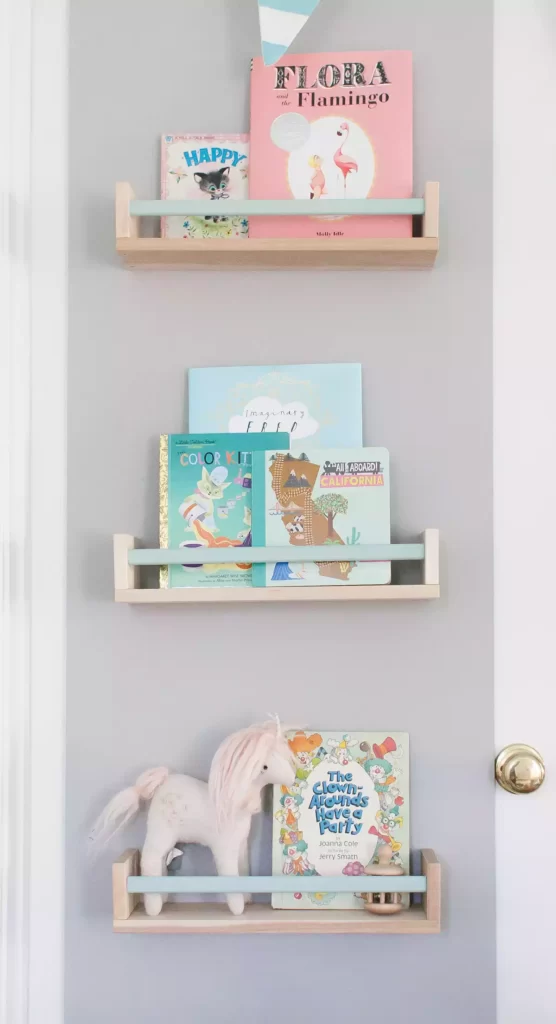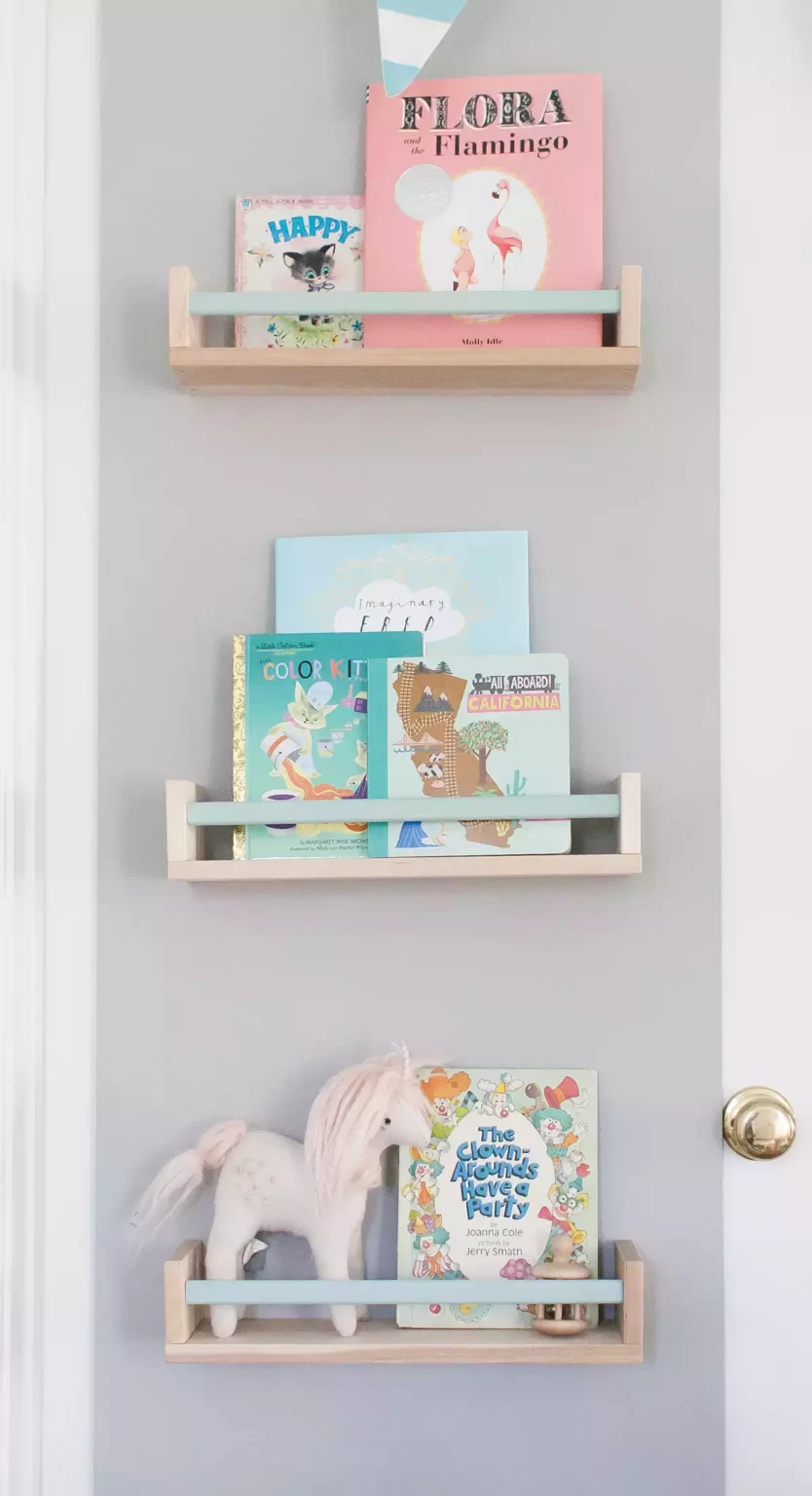 These spice rack book shelves make a perfect addition to any child's room.
IKEA Picture Ledges
Ikea's picture ledges are another great way to showcase your child's books. You can create a little reading nook and have all of their favorites in one place. I love the sleek design.
Another good thing about the picture ledges is that they are ready to install, unlike the spice racks, which may require some painting and sanding for your desired look.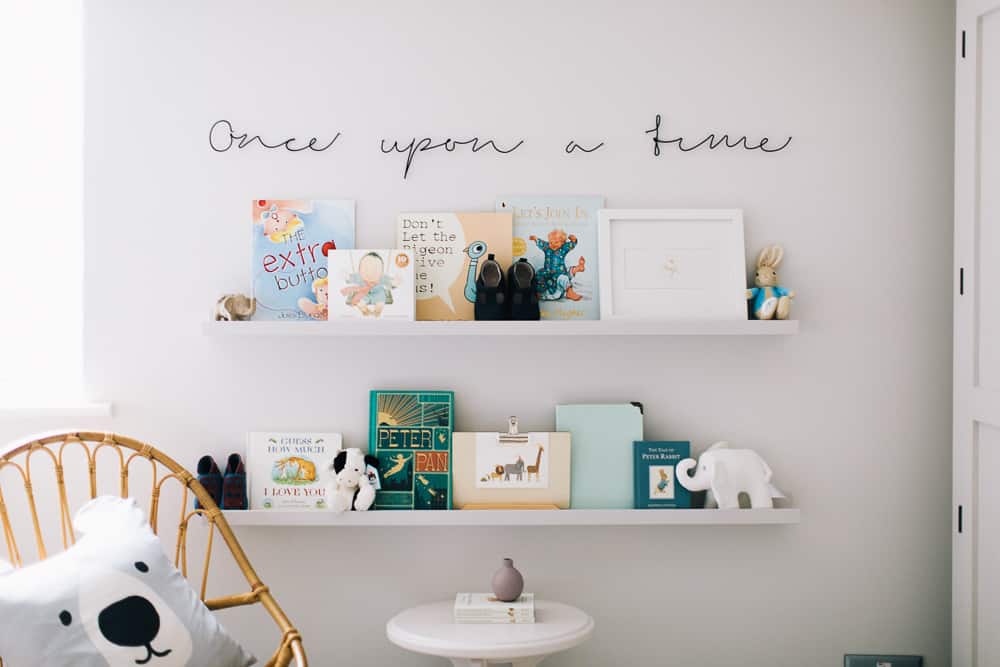 Check out this amazing nursery here.
Fintorp Baskets
I love the Fintorp range of products. For those of you who have seen my DIY art wall, you'll recognize these baskets. They do a good job at both storing items and looking good on the wall.
This would be great above a diaper changing area and as a bonus, when your baby has outgrown diapers, you use it to create your own art wall!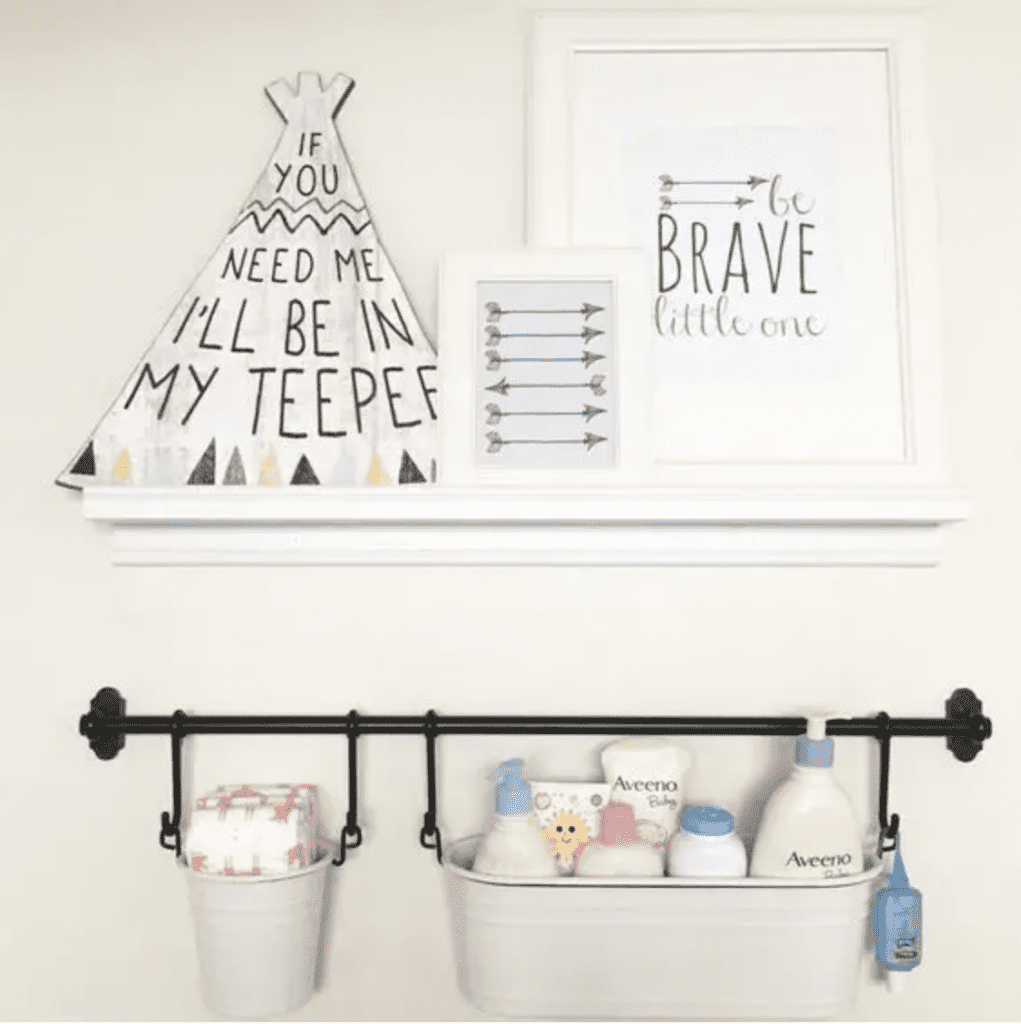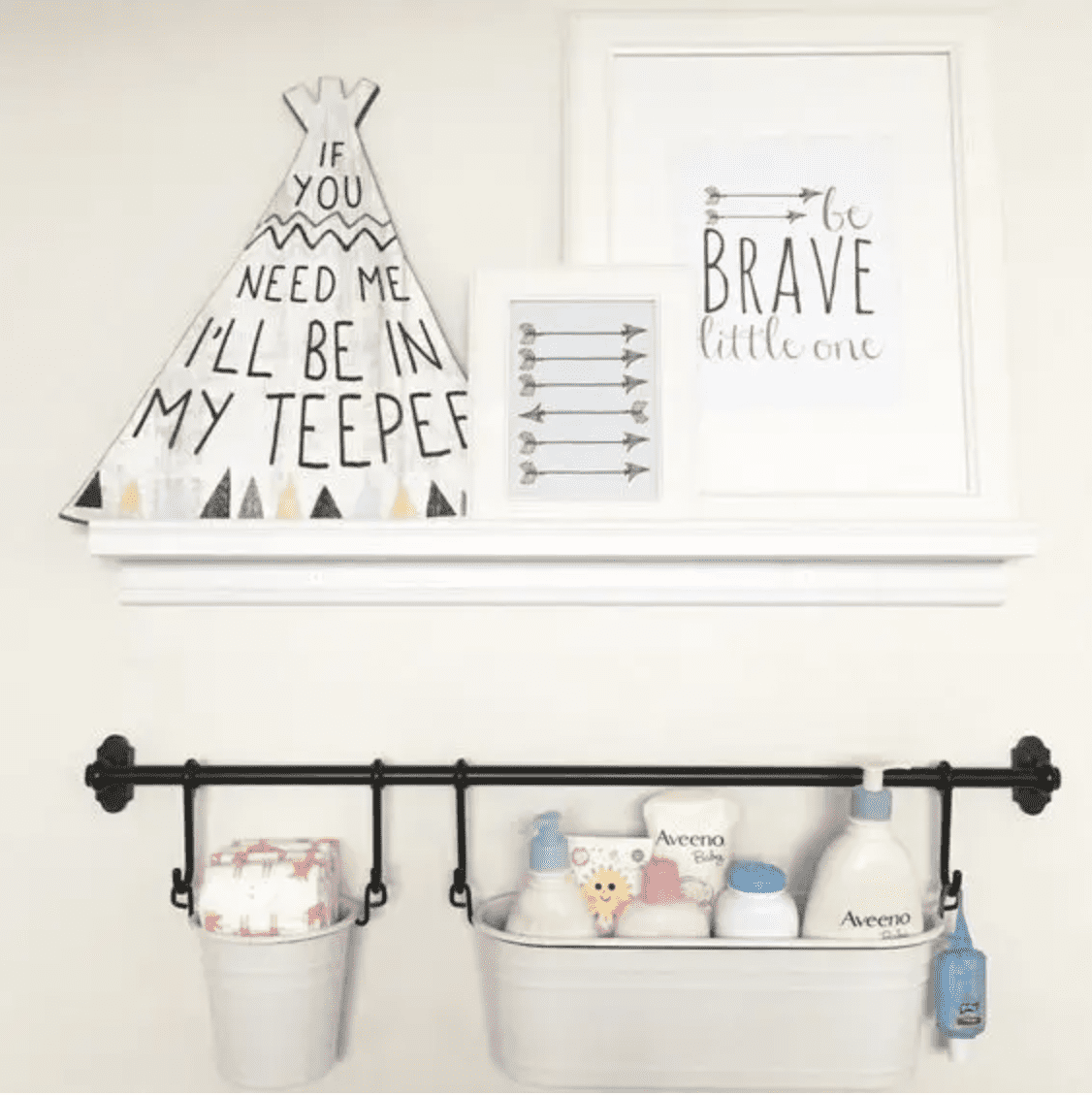 You can check out this great IKEA hack.
IKEA Ekorre Hack
A nursery isn't complete without a rocking horse. IKEA's Ekorre rocking moose is adorable, but the red color is harsh and may not go well with many nurseries. This IKEA hack turns that red moose into an all white rocking sheep. I love the additional texture that is added for sensory exploration for your little one.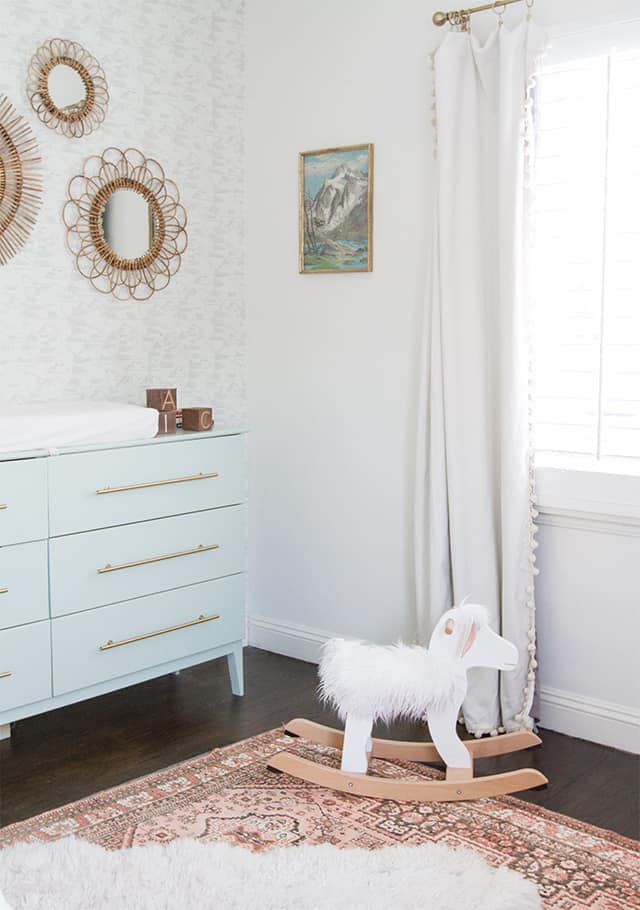 This DIY rocking sheep is the perfect addition to any nursery.
IKEA Closet Organization Hacks
A well organized closet is essential for a functional nursery. These nursery closet hacks will help you achieve closet organization goals.
Storage Cart
This IKEA storage cart is perfect for small spaces. You can use it as a postpartum supply cart with all your needs in those early days. Switch it up to a diaper cart or use it as a side table in your nursery.
When you're not using it, feel free to slide it into your closet and out of the way. When your child gets a bit bigger, use it as an art supply station. This is a multi-use item that will be used for many years.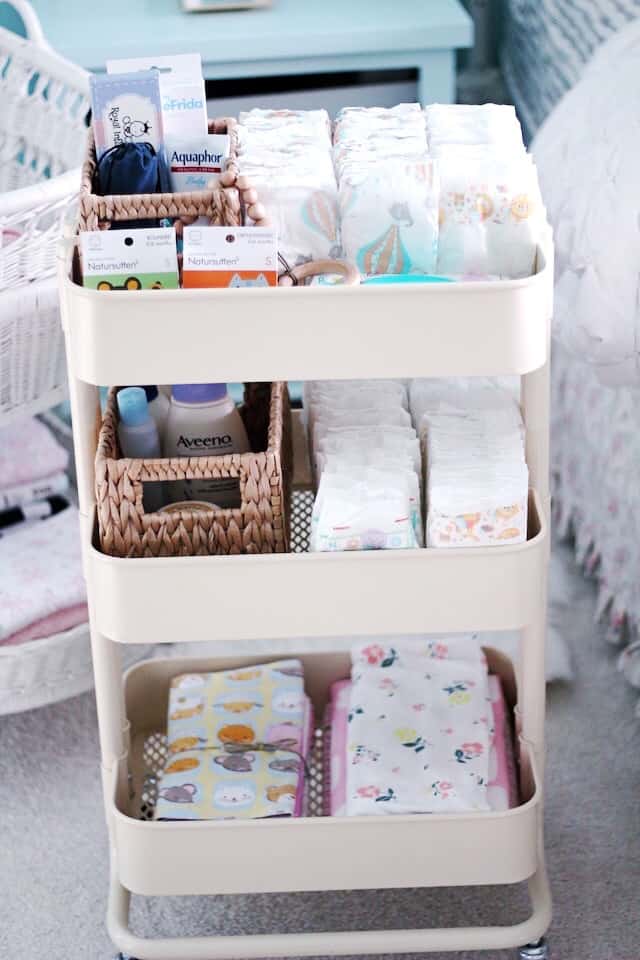 Check out this IKEA diaper station cart by Wendy Correen.
IKEA Kallax Hack
The IKEA Kallax system is a great solution for organizing your closet space. You can add additional storage with the cube system providing plenty of space for storing smaller items.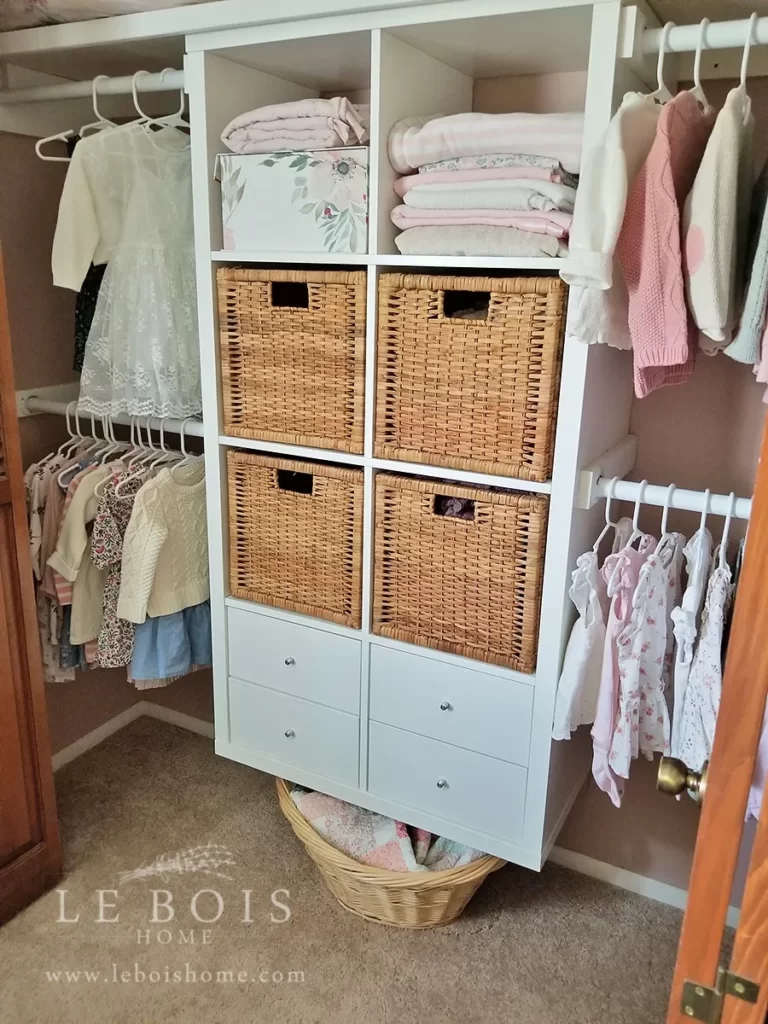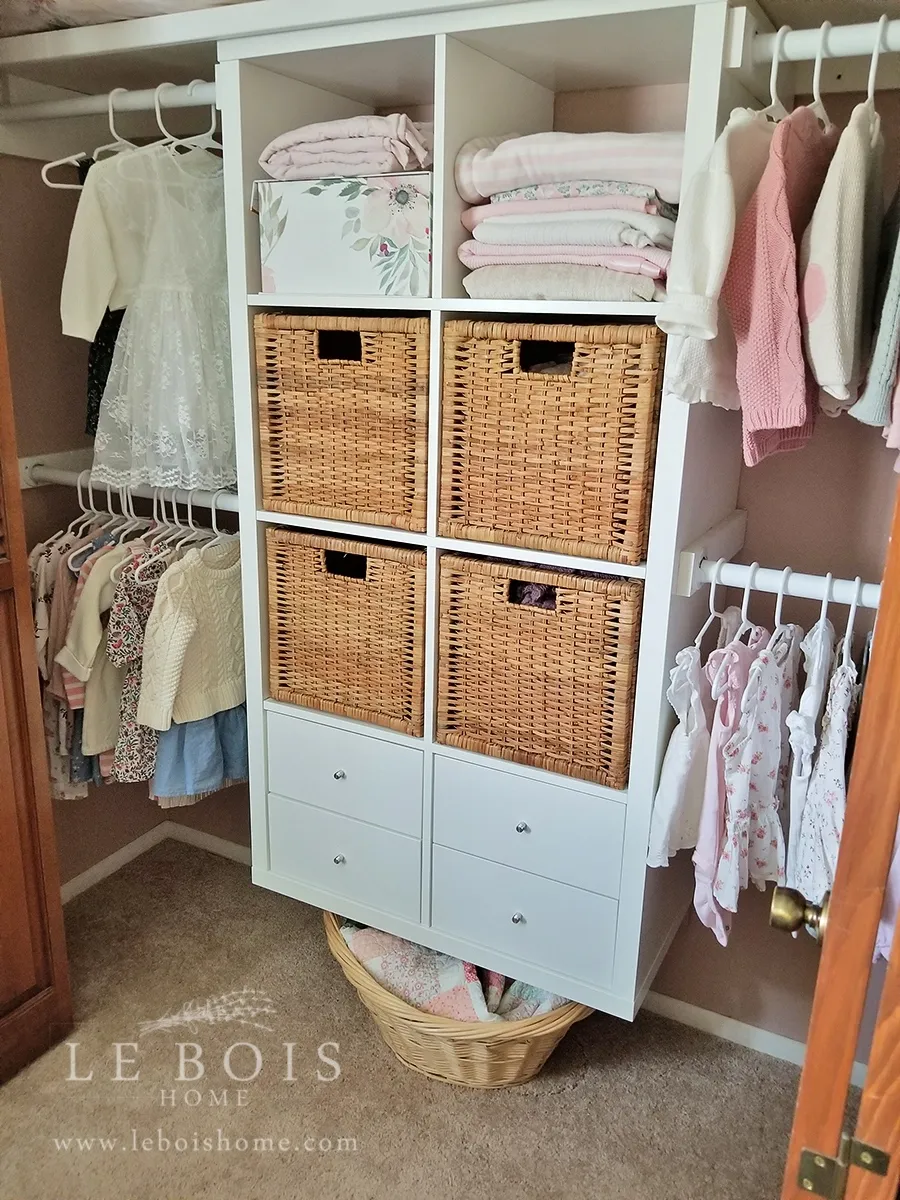 Check out this closest using the Kallax system.
IKEA Drona Boxes Hack
I love keeping baskets and bins available in my closet. I'll store toys, smaller items, and items that no longer fit and need to be donated. The IKEA Drona boxes are a great storage solution. To add some color and texture to these boxes, add these tassels for a fun twist.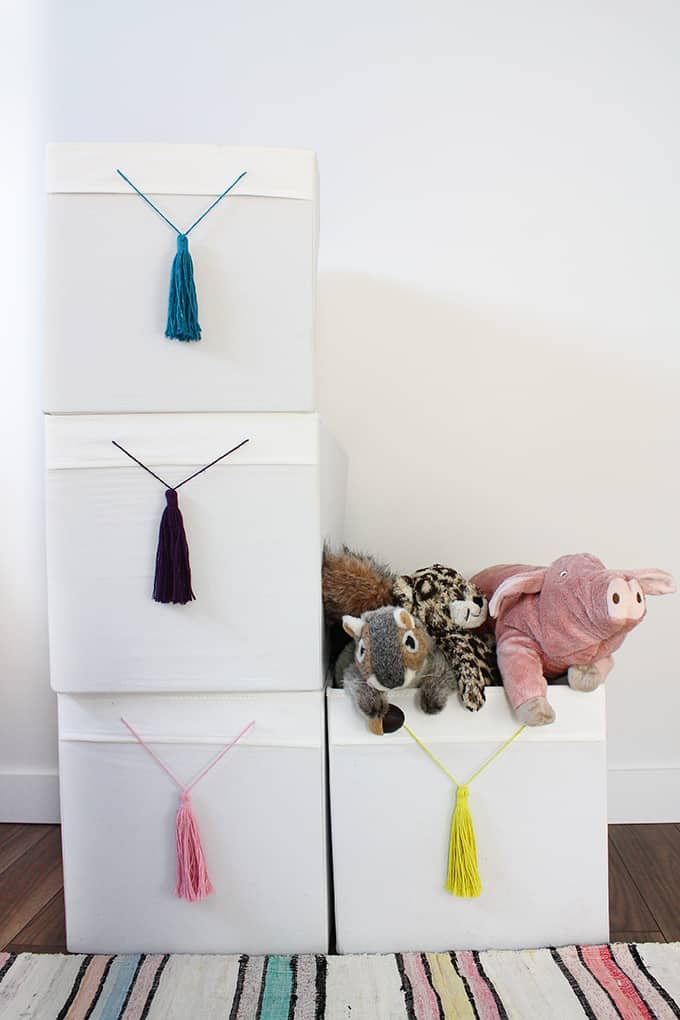 Check out how to make your own colorful Drona boxes .
Other Posts You'll Love
Nursery Shelf Decor Ideas | Nursery Decor Ideas |  Best IKEA Dresser For Nursery      IKEA Bjorksnas Dresser Hack      IKEA Tarva Dresser Hack     Nursery Closet Organization  |  IKEA Coffee Table Hack 
Pin The Photo Below For Later
I hope this post was helpful and gave you some great IKEA nursery Hacks to think about for the nursery of your dreams. IKEA's signature style, affordability, and versatility makes their products perfect pieces to add to your nursery. Whether you decide to keep the items as is or personalize it and make it your own, it will look amazing in your baby's nursery. If you have any questions, feel free to leave them in the comments section, and follow me on Instagram @arinsolange for more home, decor, and DIY.