Are you decorating a baby's nursery and trying to find the best dresser for your space? As a mom of four, I strive for both a functional and beautiful nursery for your baby.  One of my favorite places for good quality furniture at an affordable price is the IKEA store.  Today, I'll share with you the best IKEA dresser for nursery options.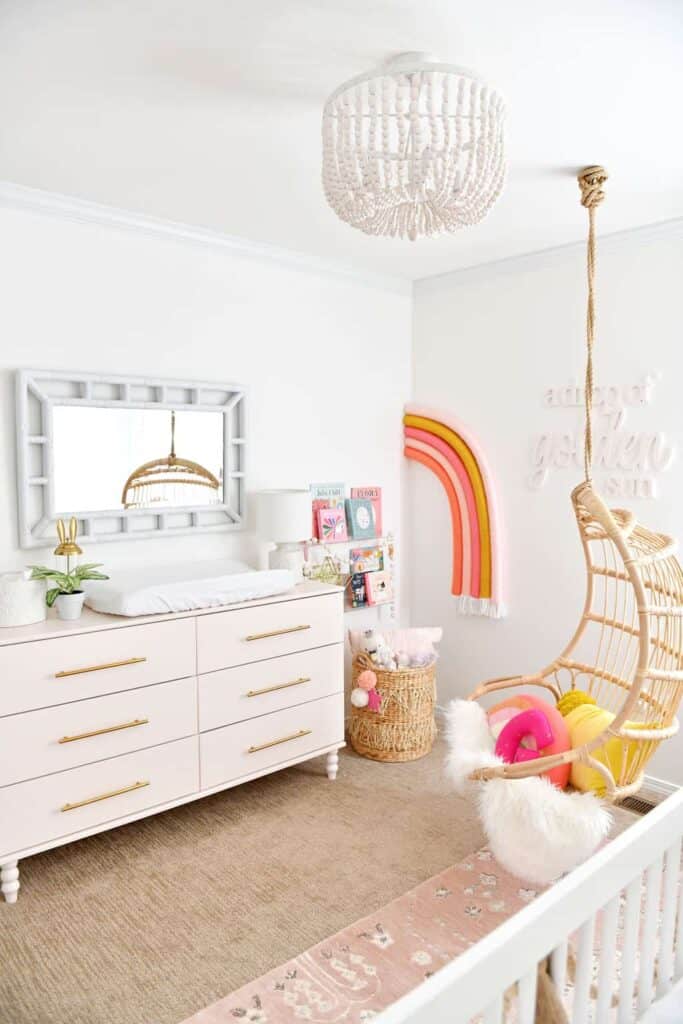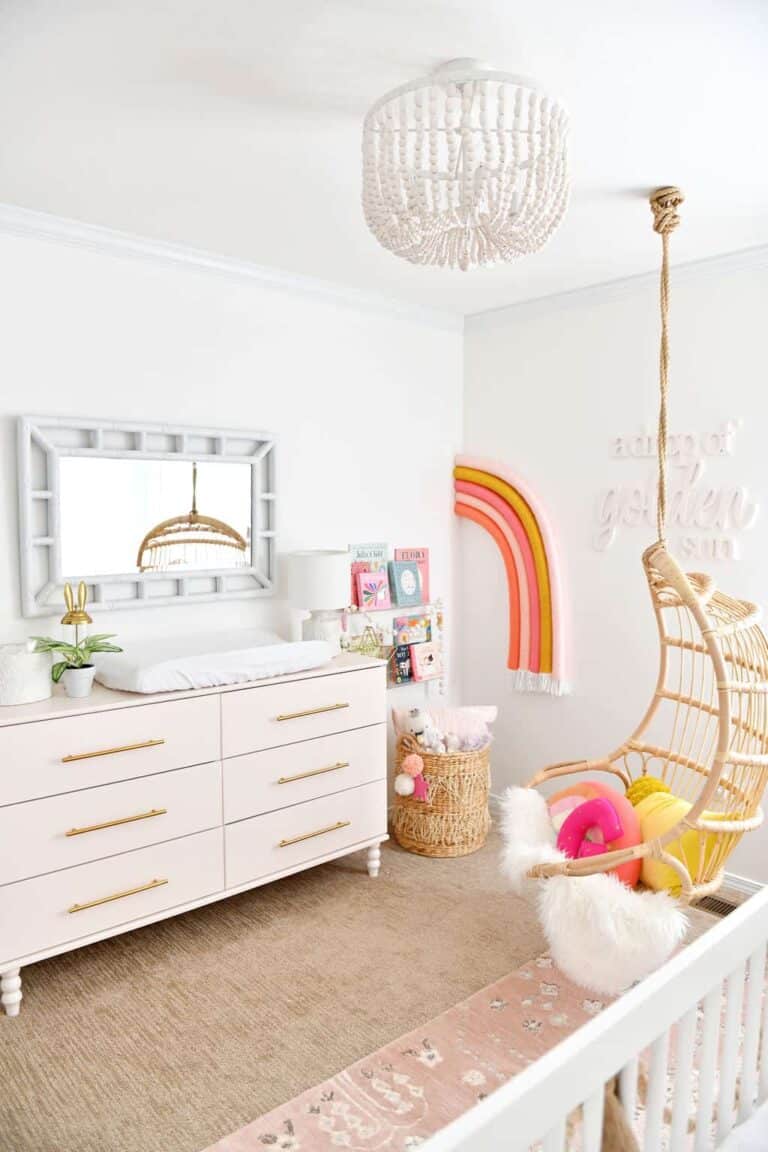 This post may contain affiliate links.
Your Dream Baby Nursery: The Best IKEA Dresser For Nursery
Currently, in the world we are living in, finding furniture that is in stock can be a big struggle. If you search sites like Pottery Barn, Wayfair, and Target, you'll notice most baby furniture is either out of stock or backordered for months. You shouldn't have to order your furniture before you are even preparing for a pregnancy.
As a mom of four, I know how important it is to get your baby's room set up perfectly before baby arrives. Something about that first nursery also adds extra pressure to make it the perfect nursery when you are a first time mom.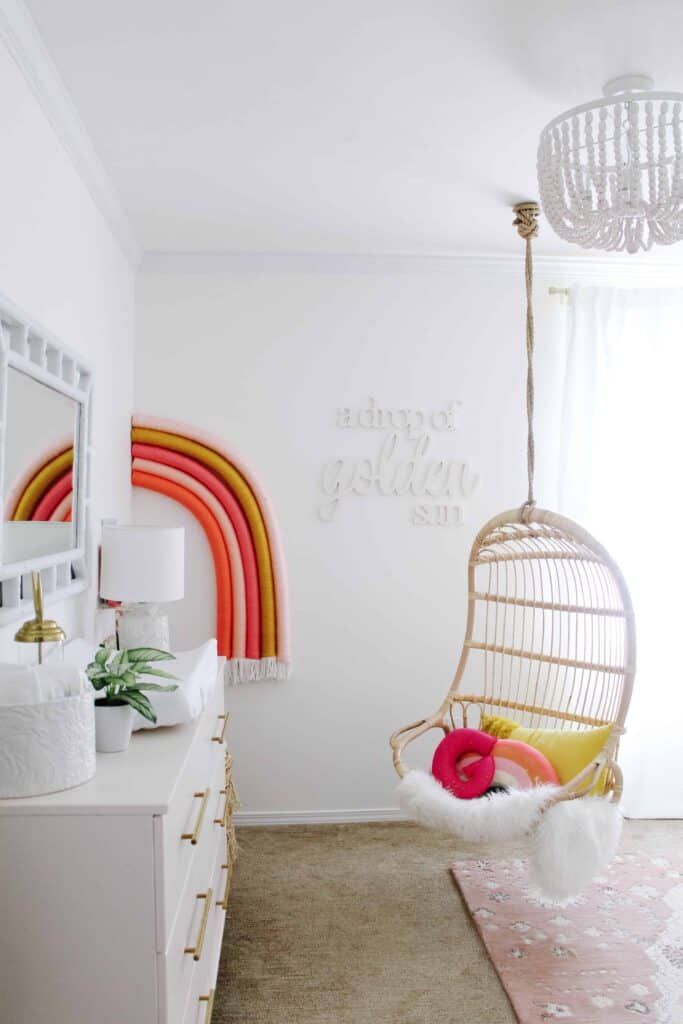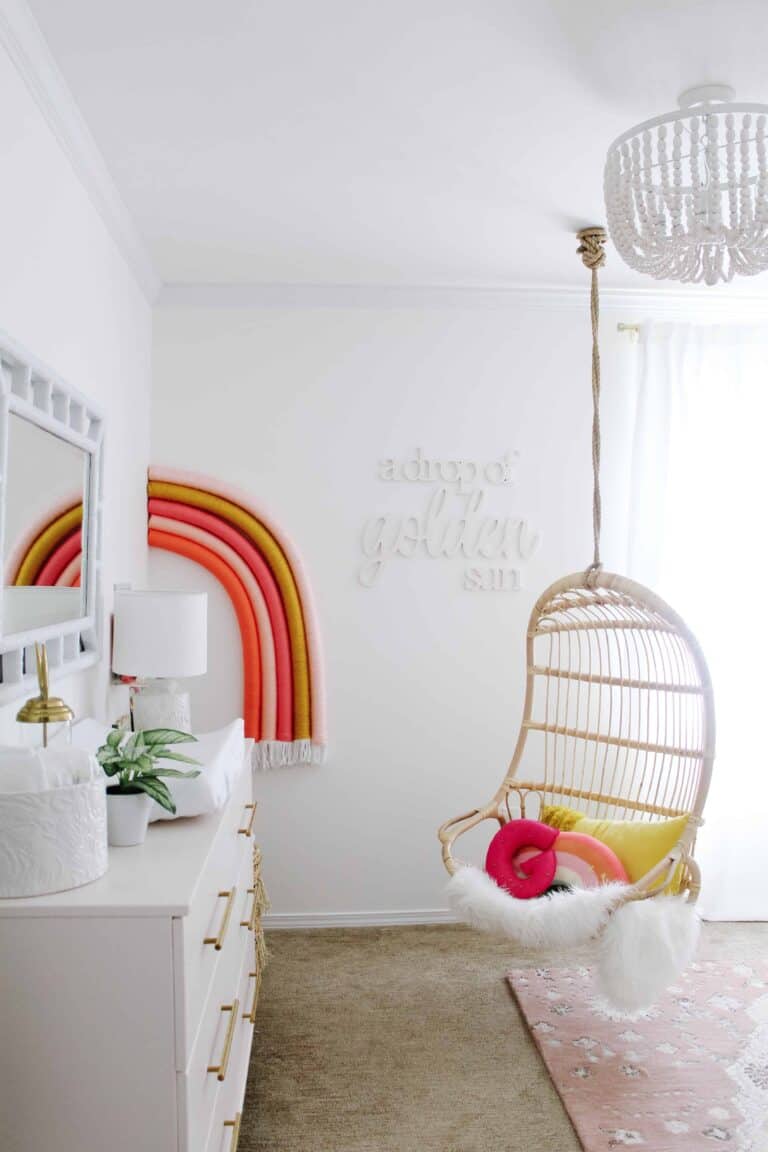 When I'm looking for nursery furniture and a new piece for my kids' rooms, I love to look at IKEA.  Gone are the days where you have to have an IKEA store in your town to purchase their furniture.  Now, you are able to look online and order your IKEA items just like you would any other store.  
All Of The Many Reasons To Love IKEA
One of the reasons I love IKEA is that they have such functional and good quality furniture for reasonable prices.  I also love the simplicity of IKEA furniture.
Reasonably Priced  
Since you are starting out with a great price point, you can take your item and give it a fun facelift for a personalized look to match your beautiful space. Or, you can keep the item as is and let the simple design complement your baby's room.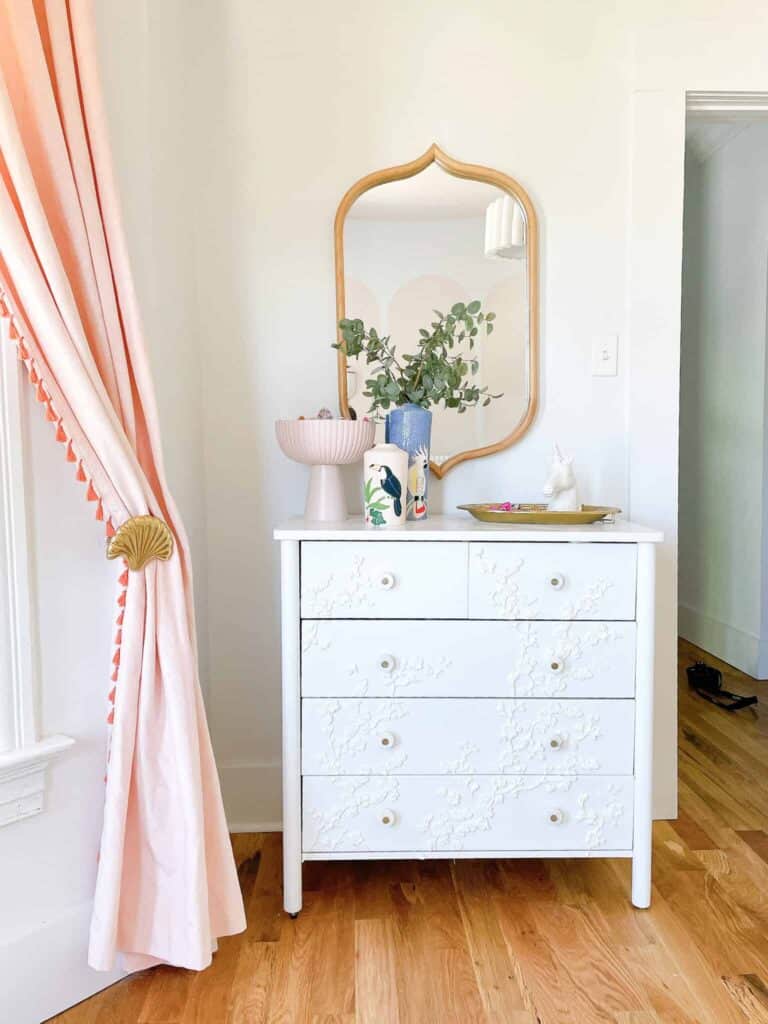 Unlimited Ideas
Now, if you are fortunate enough to live in a city where you have an IKEA store you can do one of my favorite pastimes.  I could spend a whole day wandering around IKEA looking at all of the different setups they have on display.  This is also a great way to view the products you are interested in in person.  Sometimes, I get my best IKEA hacks while wandering around IKEA.  I guess you could call IKEA my muse. 
If you need some great nursery design tips, check out an IKEA store near you. You can see some of the way their products are utilized to make for functional, yet stylish baby nurseries.
Storage Friendly
If you have been into an IKEA you know one of the main features of IKEA's furniture is that it is compact and extremely storage friendly. IKEA often has showcases where they will show you an entire living room set up in 150 square feet or less.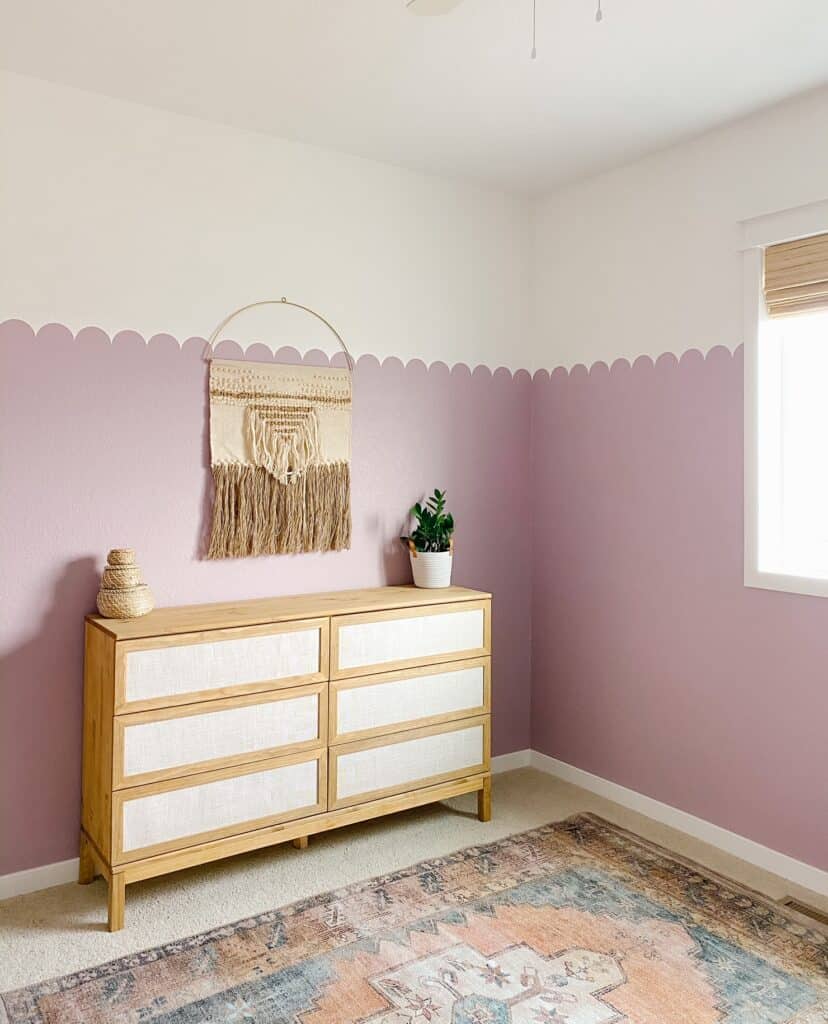 This IKEA dresser hack was inspired by an Urban Outfitters piece.
One of the best things about IKEA's displays is that it can give you great ideas to maximize your own storage space.  You can never have too much storage and finding furniture that provides extra storage is a bonus.  If you've had several baby showers, you'll know that baby items may be small, but they are mighty! 
You have to put all of those small baby items somewhere.  Having a well organized nursery is so important to keep everything straight.  The best way to fight the chaos is to make sure you have a well organized nursery closet and functional dresser.  Every baby item needs to have a place. Fortunately, an IKEA storage unit is easily created with several of their pieces.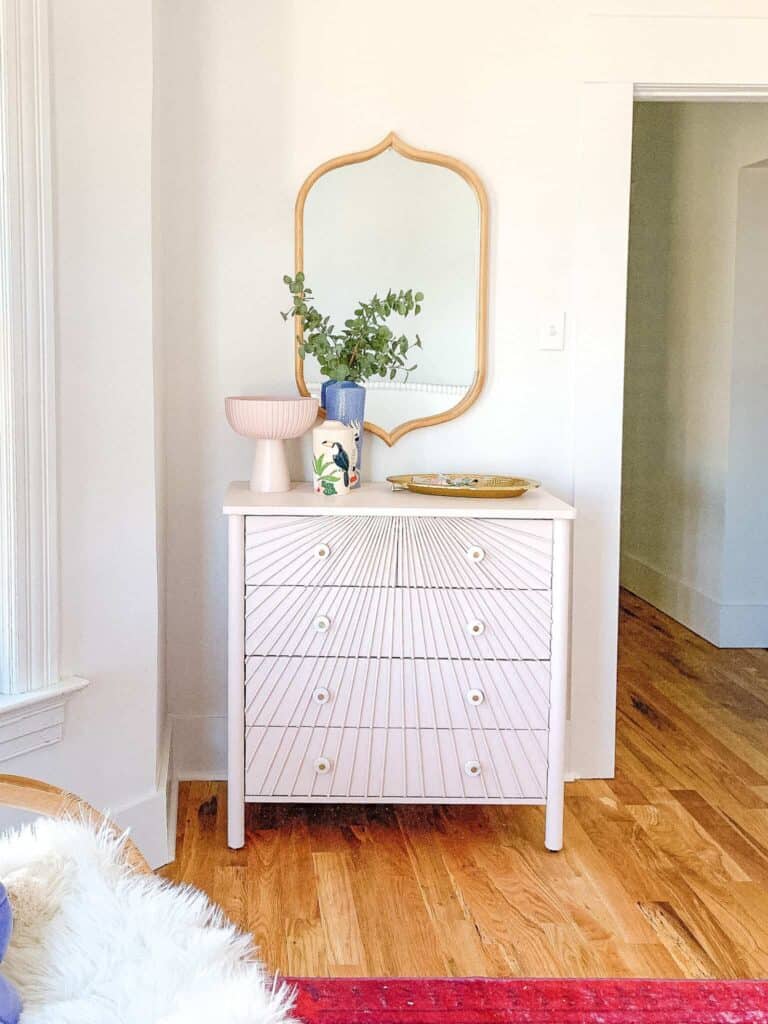 How to Choose The Best IKEA Nursery Dresser
How exactly do I decide what dresser is right for my space? I know I need to put the baby clothes somewhere, but won't any dresser work?
Look To The Size Of Your Space
Don't focus all your energy on paint colors and crib sheets. You need to spend time thinking about the layout and space of your nursery. If you don't have the correct sized furniture for your space, you can run into multiple problems.
Of course, you'll want the furniture to actually fit in your room. Overly large furniture can make the room look cramped and small. If you have too much furniture, that can also have the same effect.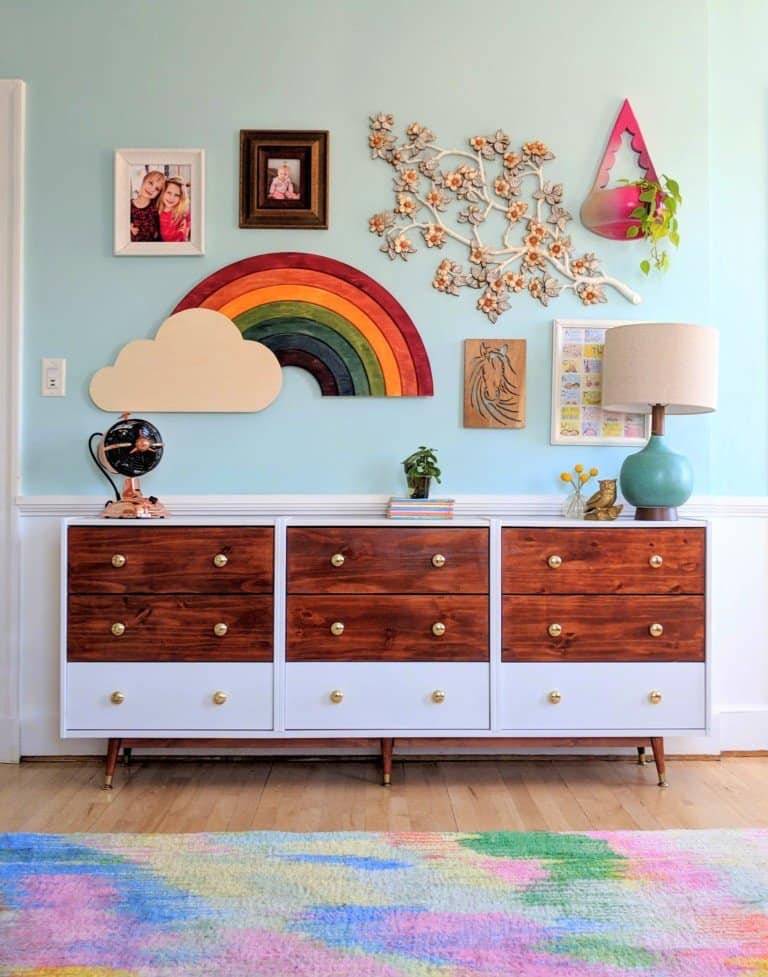 This playroom IKEA hack would look perfect in a nursery too!
Is it necessary to have a changing table, dresser, crib, comfy rocker, and a little side table all in the same space? If you have limited space, you'll need to decide what is important to you and the functionality of your nursery.
Take Inventory of Storage
Look at your closet space for additional storage as well. If you are limited on closet space, a larger dresser will provide plenty of storage. On the flip side, if you have a larger room then buying furniture that is too small for the space can make it look empty.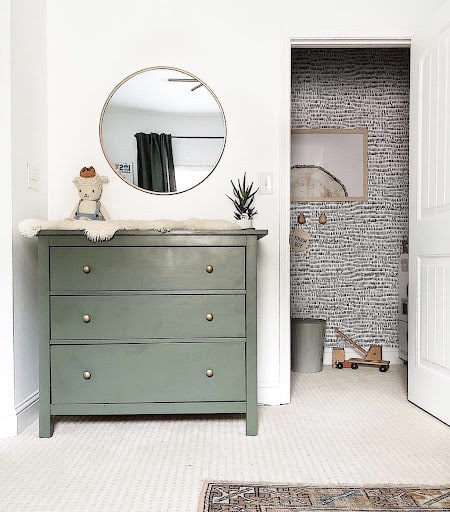 This Hemnes IKEA dresser fits perfectly in this space.
Consider Functionality & Durability
Consider the functionality of the dresser you are going to buy beyond those first few years. While you are buying your furniture for your baby, that baby of yours will grow into a big kid one day.
If you box yourself in with a changing station dresser, then you'll have to buy an entirely new dresser in just a few short years.  Instead, a great idea is to buy a dresser that is long and wide enough to fit a changing pad on the top of the dresser to create your changing table. 
Pay attention to how durable the dresser is as well.  Again, you don't want to buy something that will fall apart quickly.  Consider how easy it is to open and close the dresser drawers.  Look at how wide and deep the drawers are to maximize storage.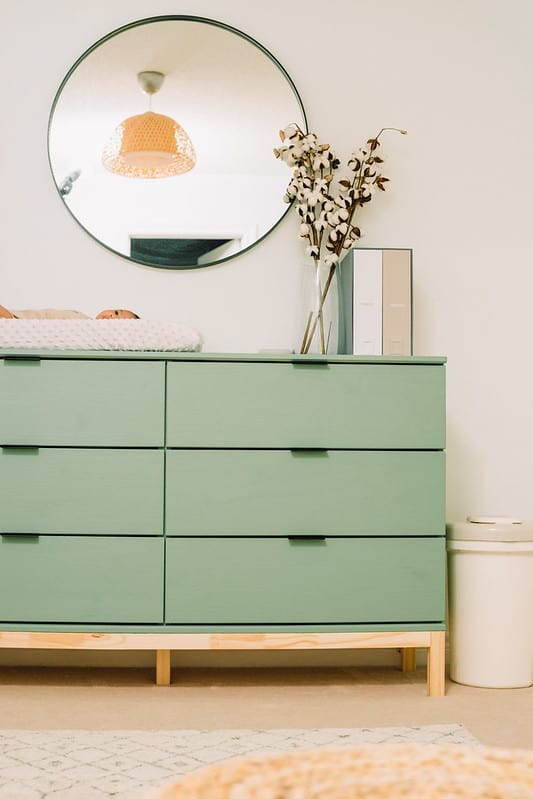 Such a fun retro and modern look with this DIY IKEA Tarva Dresser!
Stay On Theme
Lastly, you'll want to consider the theme of your nursery and the overall aesthetics of the piece of furniture.  IKEA pieces are sleek and modern. 
 If you want something that doesn't fit the sleek and modern bill, you can try your hand at an IKEA dresser to create a look that fits with your design. Painting the dresser a gorgeous color and adding new hardware can transform an IKEA dresser into a custom made piece.
Types of IKEA Dressers for your Nursery
IKEA has several storage spaces that can fit any need. I love that they even have separate dresser solutions for nursery closet organization for those rooms that are limited on space. Here are some of the best IKEA dressers that can be used for your nursery.
Hauga Dresser
The Hauga line of storage spaces includes many options. I actually love this dresser because of the versatility of it. The trademark of the Hauga line is an upper ledge that goes around the top of the dresser. This ledge gives the appearance of an additional shelf on top of the dresser.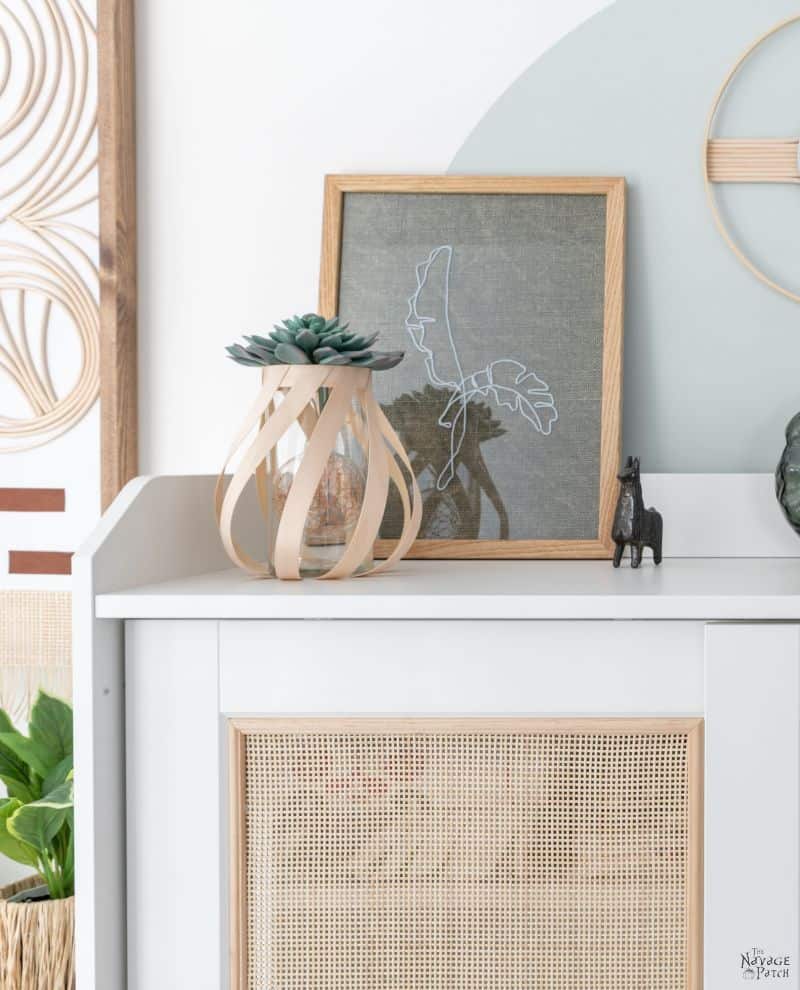 This IKEA Hauga hack uses cane much like by DIY Cane Cabinet, which is also an IKEA hack!
I know that may sound odd in writing, but in reality, this is a really cool feature for a nursery.  You have a built in safety ledge to be used as a changing table for your baby.  I don't know how many times I wish I could have a little backing to my dresser while I change Goldie.  When they get to be toddlers, they like to fling themselves from the top and that little ledge that the Hauga line offers would be such a good perimeter piece.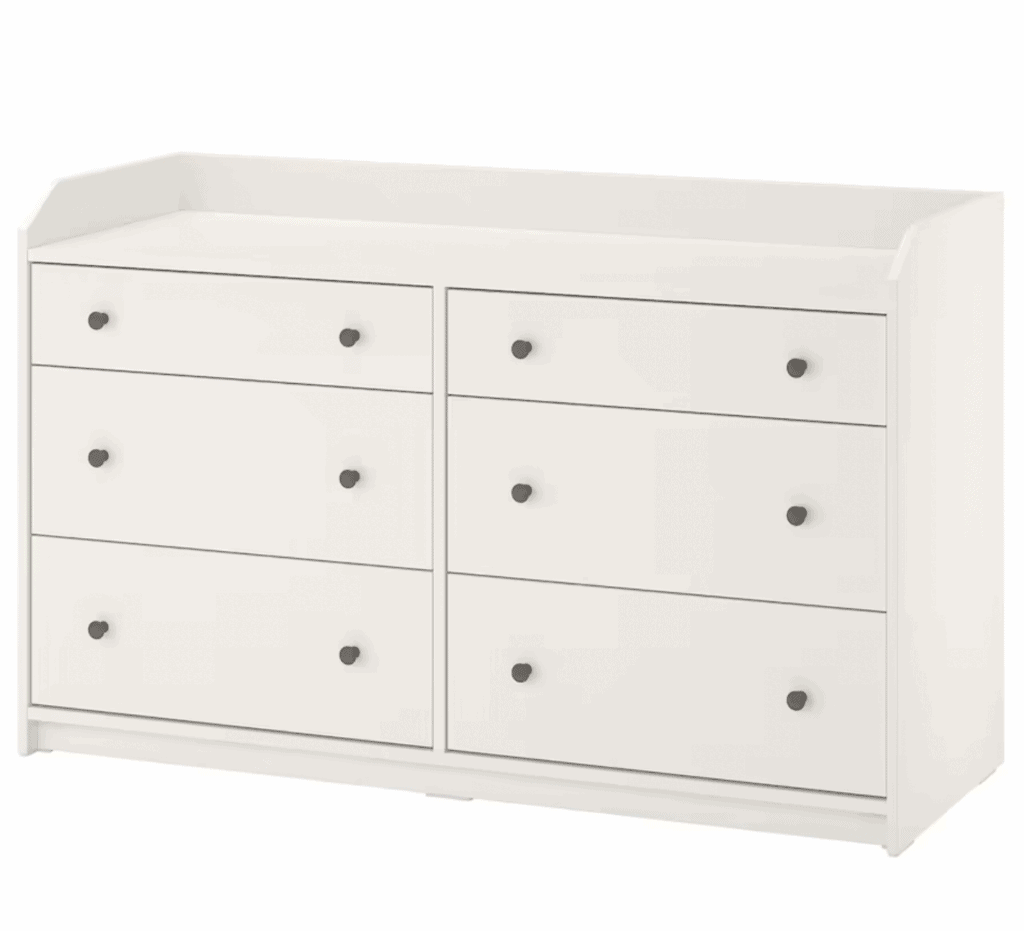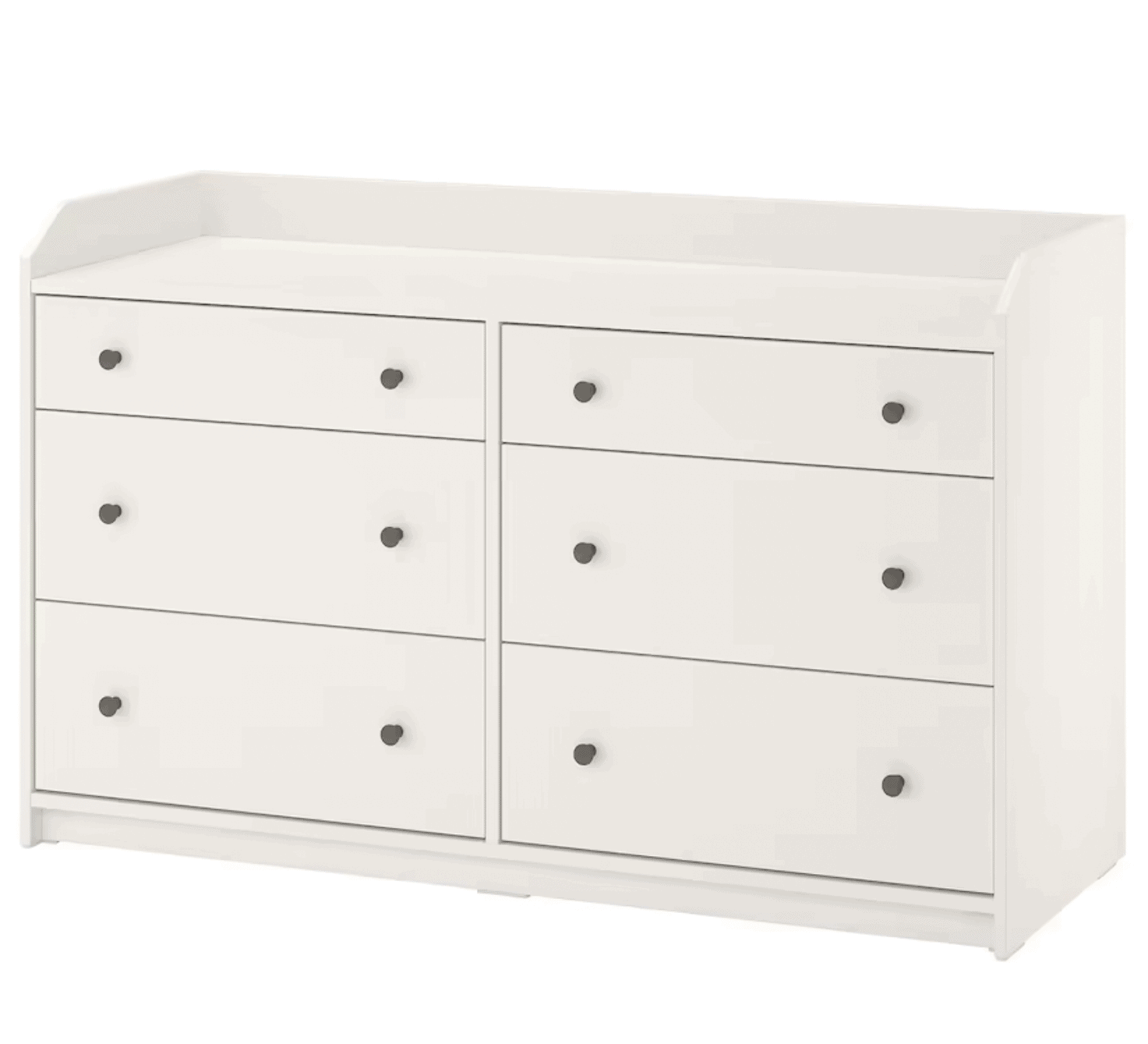 The 6 drawer Hauga dresser can be found at IKEA here.
One of the other benefits of this line is that it comes in so many different configurations. You can choose between a 3 or 6 drawer dresser, a 3 drawer chest, or a storage combination of chests and glass cabinets. This line has endless possibilities for all of your storage needs. If you are limited on space, the chest with 3 drawers is compact yet powerful.
If you have plenty of space, a storage combination would be a great option. I also just love the general appearance of the Hauga dresser. There are bar pulls on every drawer and the dresser comes in a white stain or gray.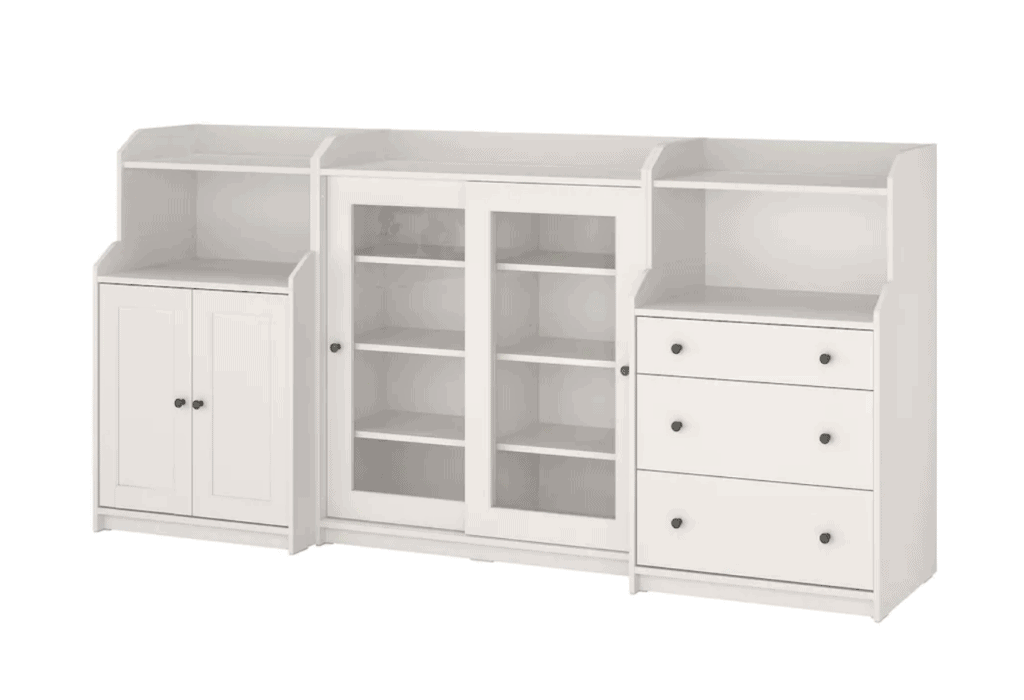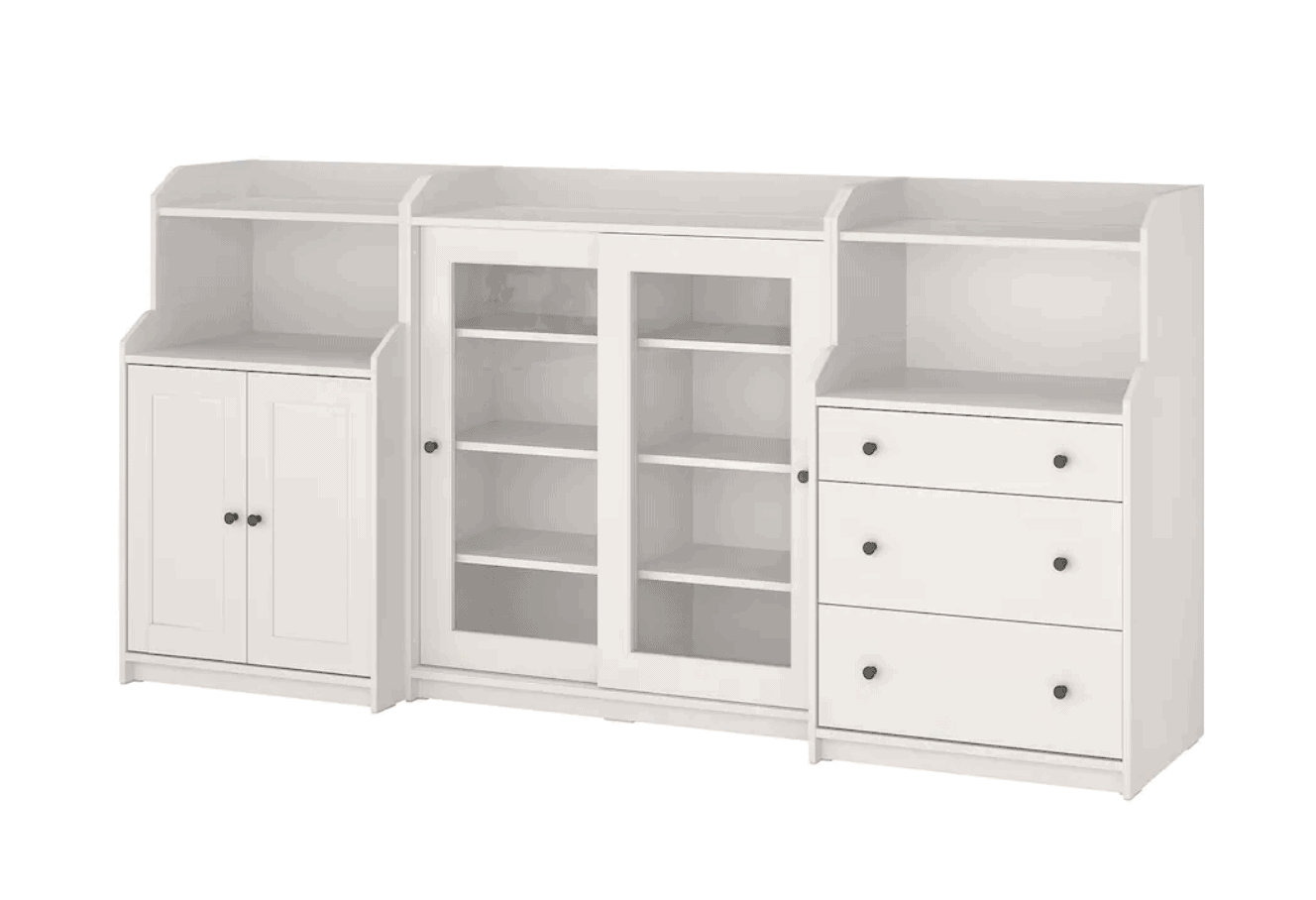 The Hauga storage combination dresser would provide plenty of storage space.
Hemnes Dresser
The Hemnes 8-drawer dresser is a top seller at IKEA, and it is very clear why. This line is extremely versatile and gives you plenty of options for any storage space needs. You can pick between 2 or 3 drawer chests that resemble a nightstand for a storage solution next to your rocker.
Or, you can opt to have a 6 drawer chests or 8 door dresser. The top drawer space is broken into 4 mini drawers while the second drawer is larger and the bottom drawer is deeper. This provides plenty of options for your storage needs. It comes in a variety of colors (white, gray, and black/brown) and has great reviews.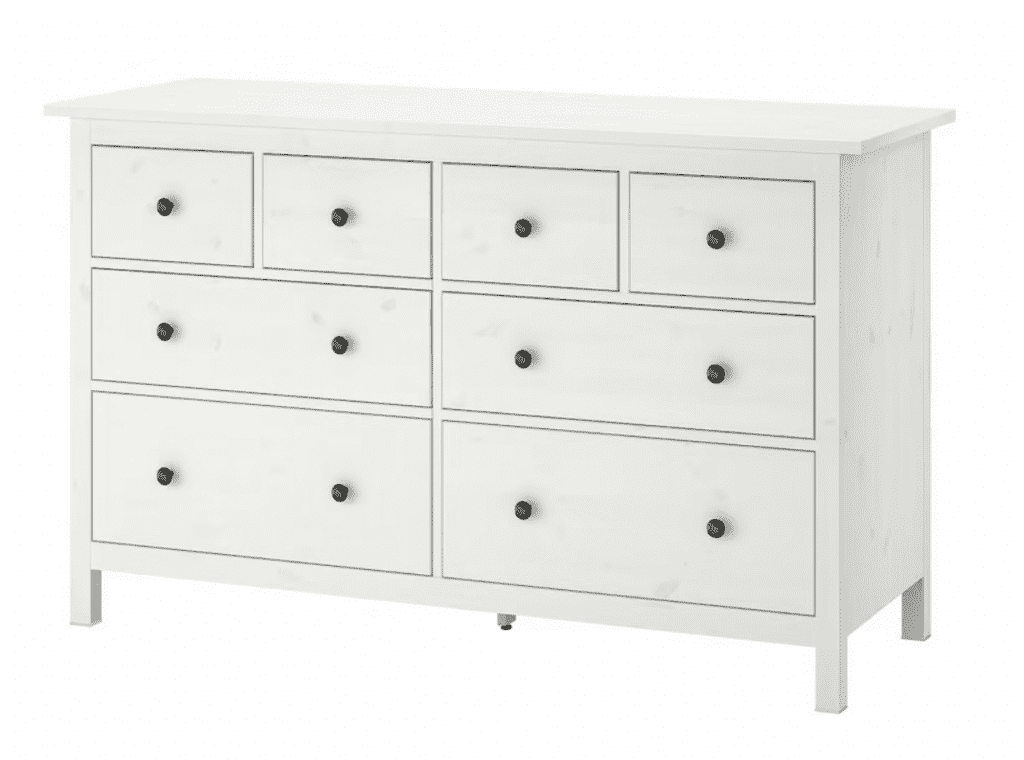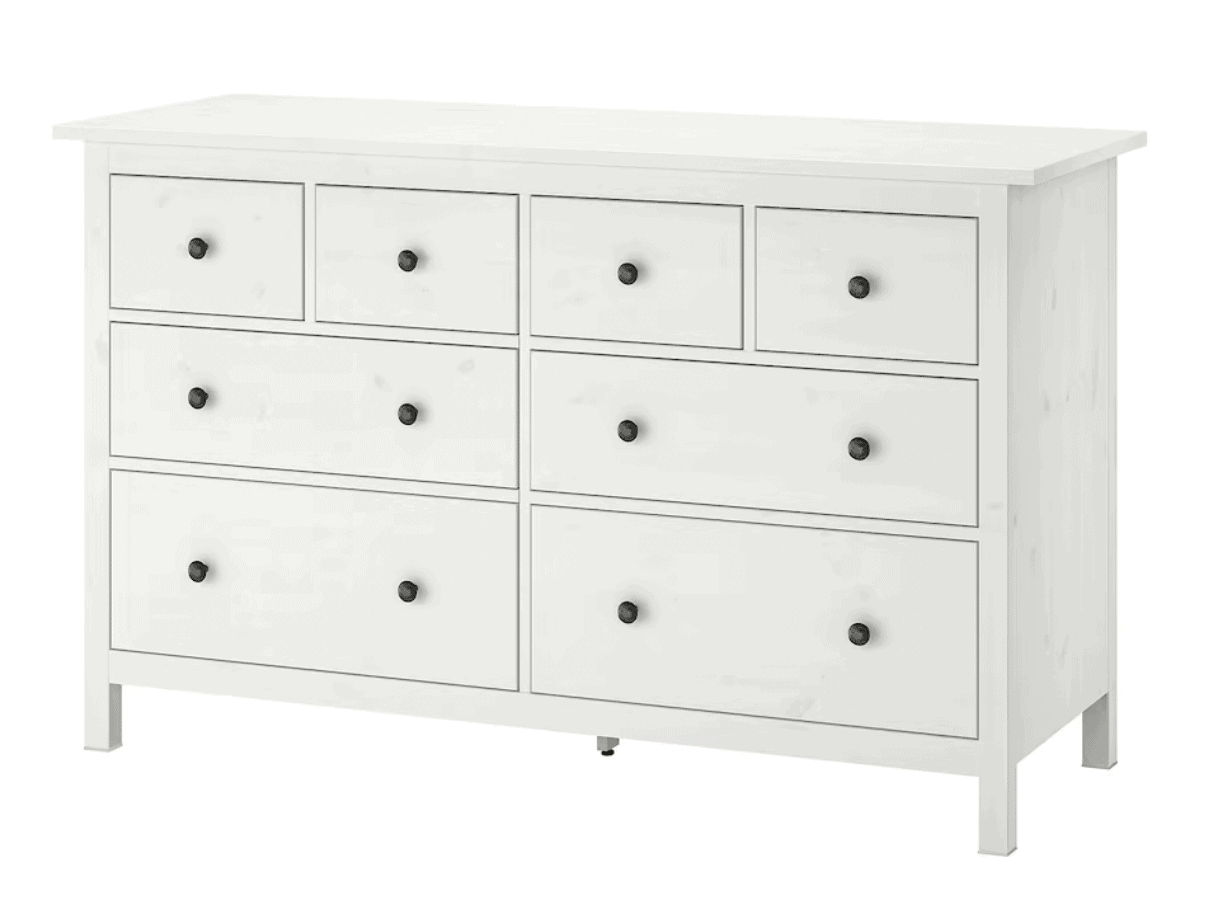 The Hemnes 8 drawer dresser is an IKEA top seller and DIY favorite!
Koppang Dresser
The Koppang line is another great option with great reviews. This line comes in two colors (white or black/brown). I will say that these dressers have more equal sized drawers and are more conducive to a larger space.
You can pick between 3, 5, and 6 drawer dressers and chests. The 6 drawer dresser looks similar large and in charge. At only $169, this is a good value!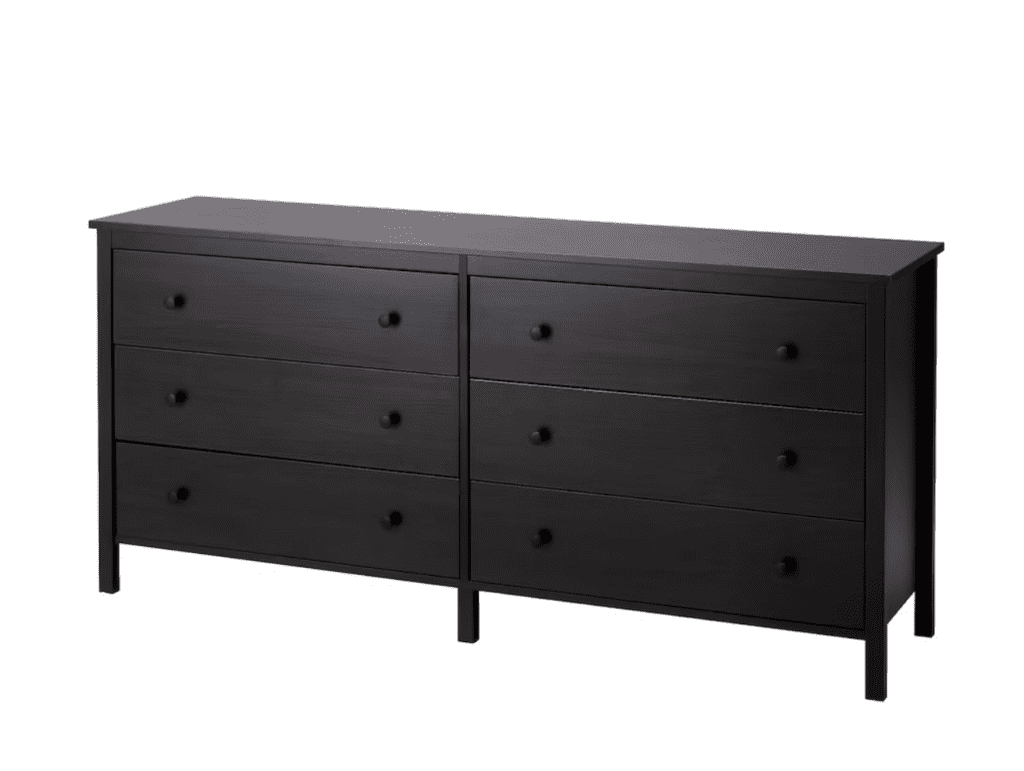 The Koppang dresser would hold lots of diapers!
Malm Dresser
The Malm dresser has a more modern look. There is no hardware to pull the drawers open. Instead, it is a seamless drawer front that gives a much more contemporary appearance. One of the good things about Malm dressers is that there are many options to choose from.
You can choose to have a 2, 3, 4, or 6 drawer chest, or have a 6 drawer dresser. So if your space is limited then opting for a chest of drawers is a great solution as it uses vertical space. This is a favorite dresser to use for DIYs because it comes unfinished and you can add your own hardware to create those drawer pulls.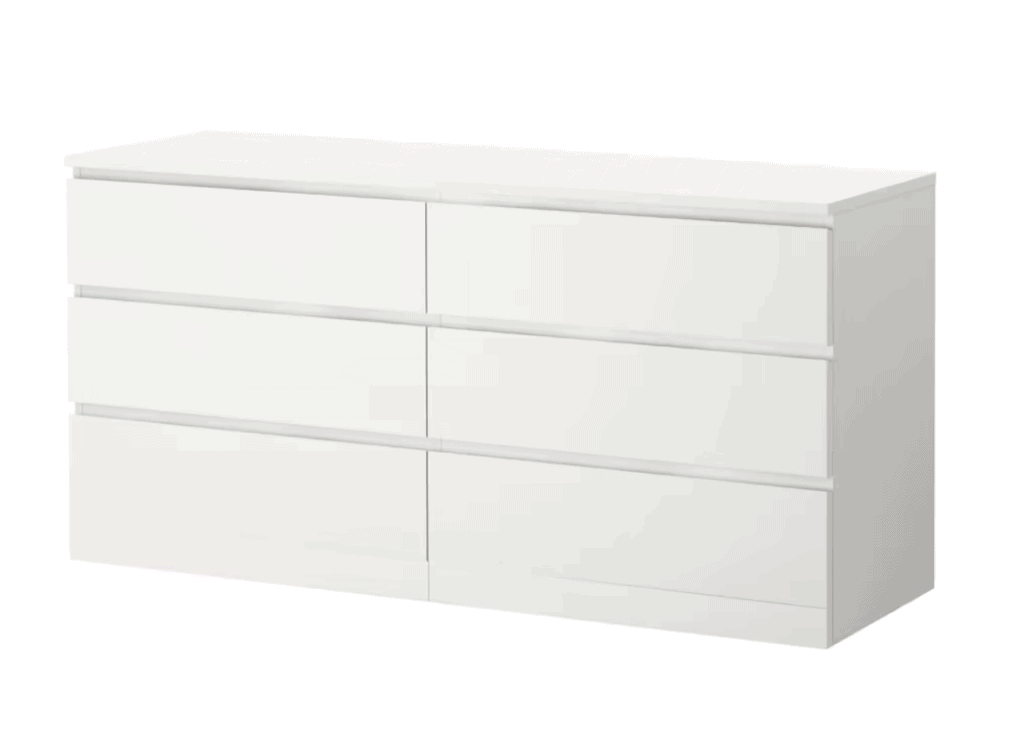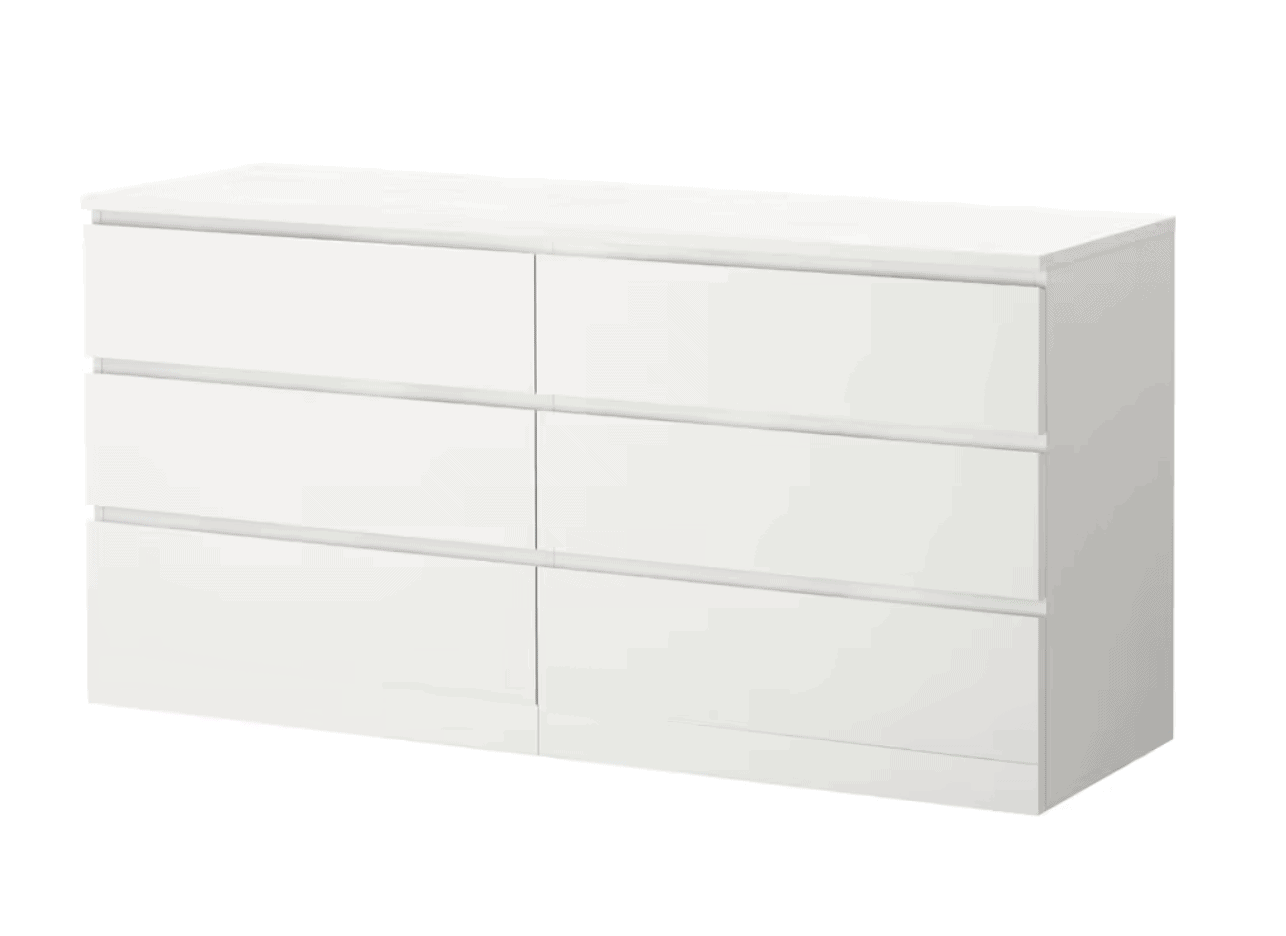 The IKEA Malm dresser is a blank canvas and can be transformed into anything.
Tarva Dresser
Another favorite dresser from IKEA for DIY projects is the Tarva line.  This is an unfinished solid wood dresser with 3 storage options.  You can pick between a 3, 5, or 6 drawer chest.  I personally chose this as our 4th child's nursery dresser, and I've shown how I made it my own here.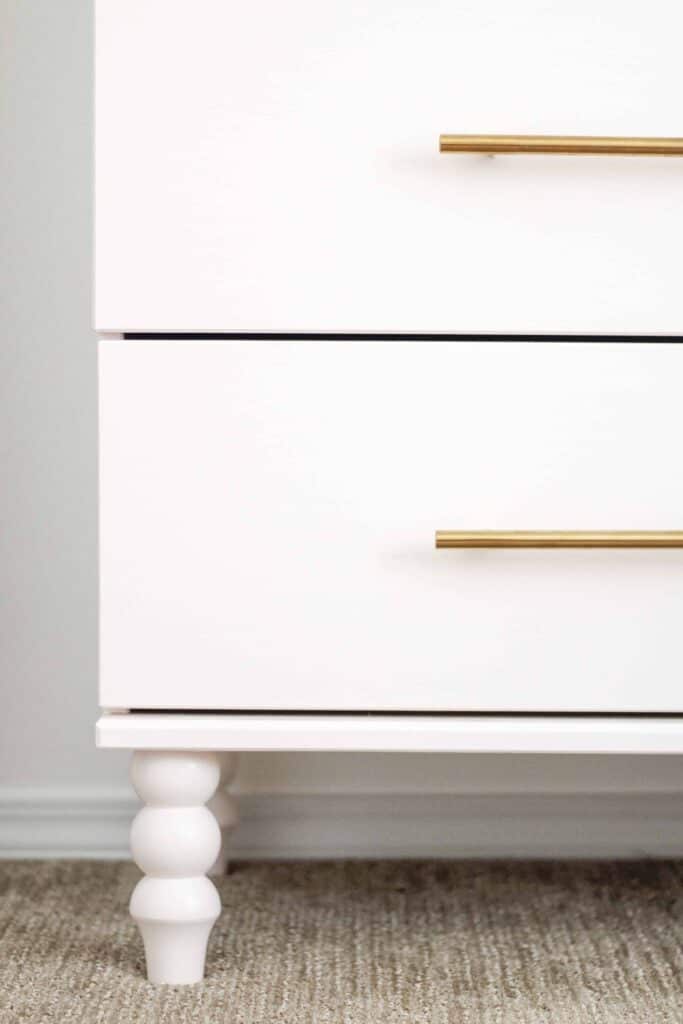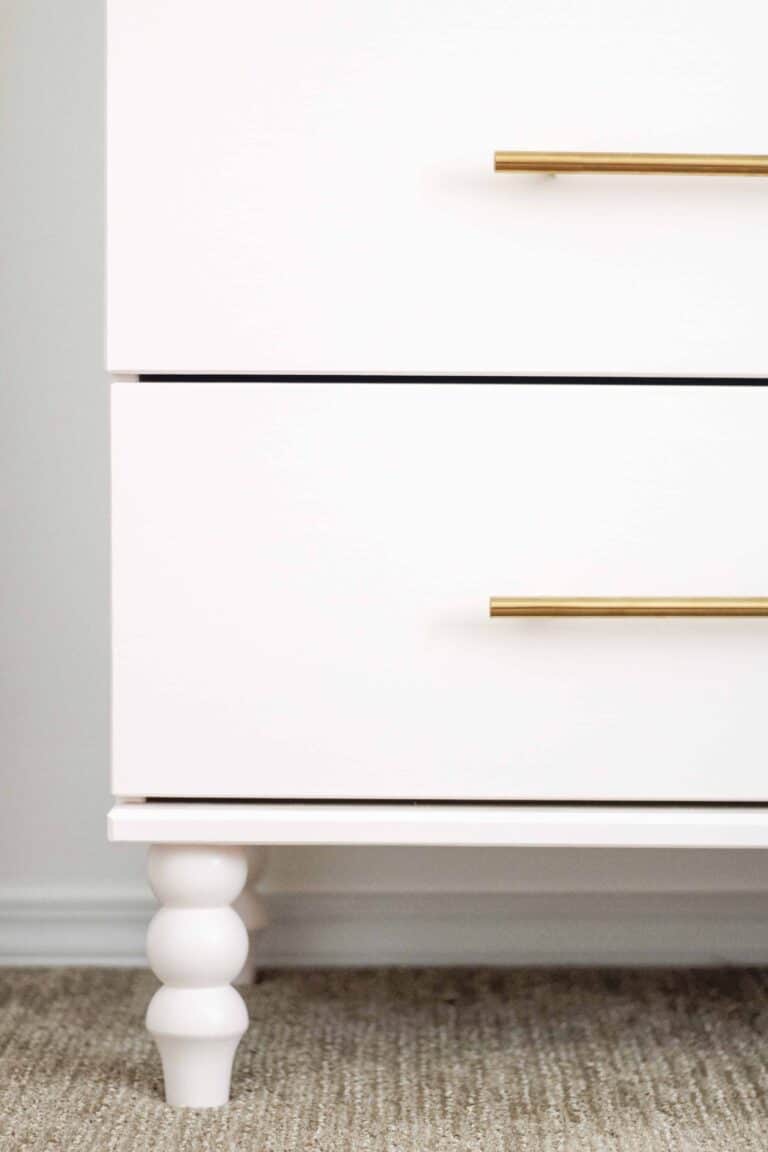 The hardware is simplistic and most DIYs I've seen have replaced that hardware for something more suitable to their design. The only thing about this dresser is that it sells out quickly and can be difficult to find because of its popularity with DIY projects.
The good thing is IKEA will update their website and can give you estimates on when they expect the item to be back in stock. At the time of this post, all Tarva dressers were out of stock but the 6 drawer chest was expected to be in stock within 2 weeks in their St. Louis store. So if you are on a deadline, this may not be a great option as it can be difficult to get quickly.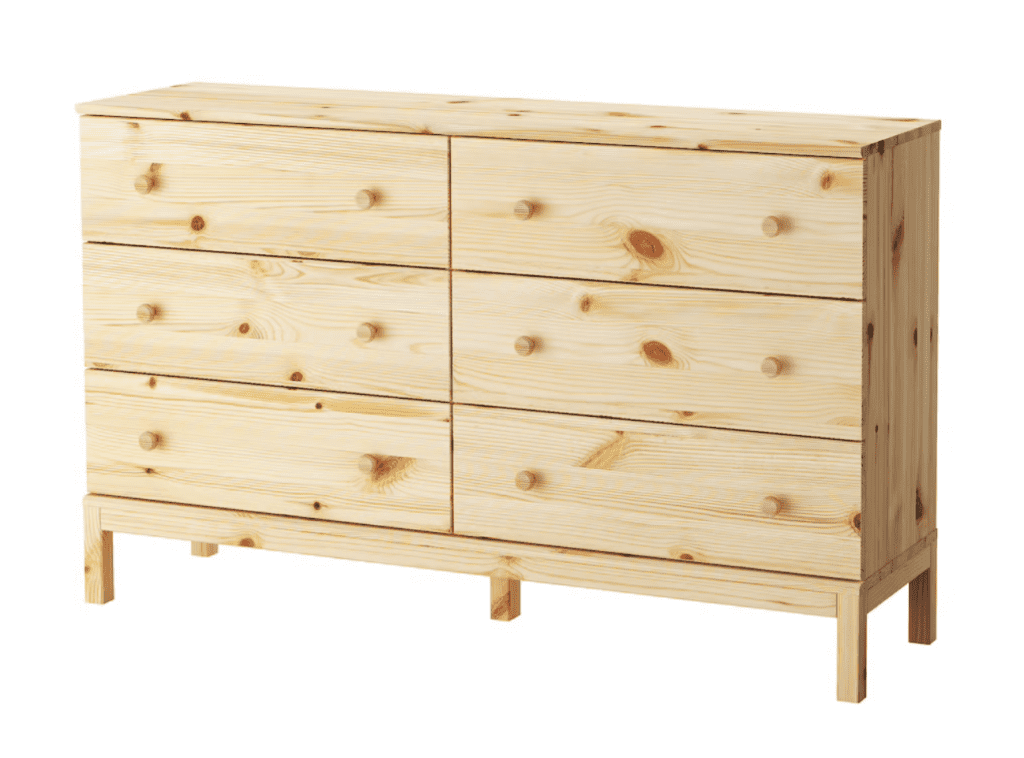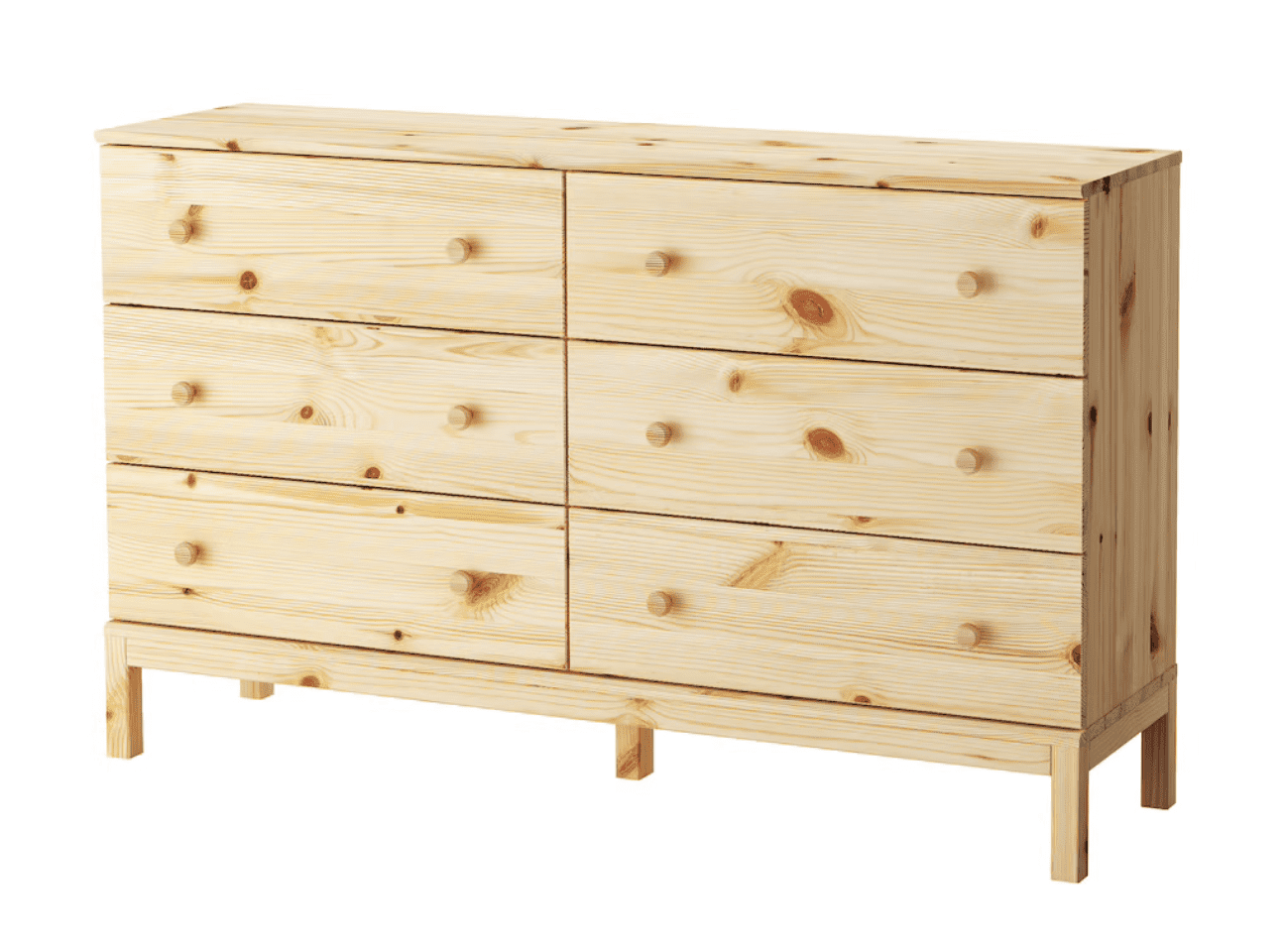 The IKEA Tarva dresser is a DIY favorite.
There are several other dresser options at IKEA and all at reasonable prices. The dressers I covered today are dressers that I believe are great quality, affordable, versatile, and have outstanding reviews.
Best IKEA Dresser for Nursery – IKEA Dresser Hacks
If you prefer that your IKEA dresser packs more punch, then you're in luck. I'll be sharing with you some of my favorite DIY IKEA dresser hacks.
IKEA Bjroksnas Dresser Hack
While I love IKEA's timeless look, sometimes I like to have a pop of color or texture in my kid's rooms. The Bjorksnas dresser is used in both Avé and Jack's rooms. It fits perfectly and offers plenty of storage space.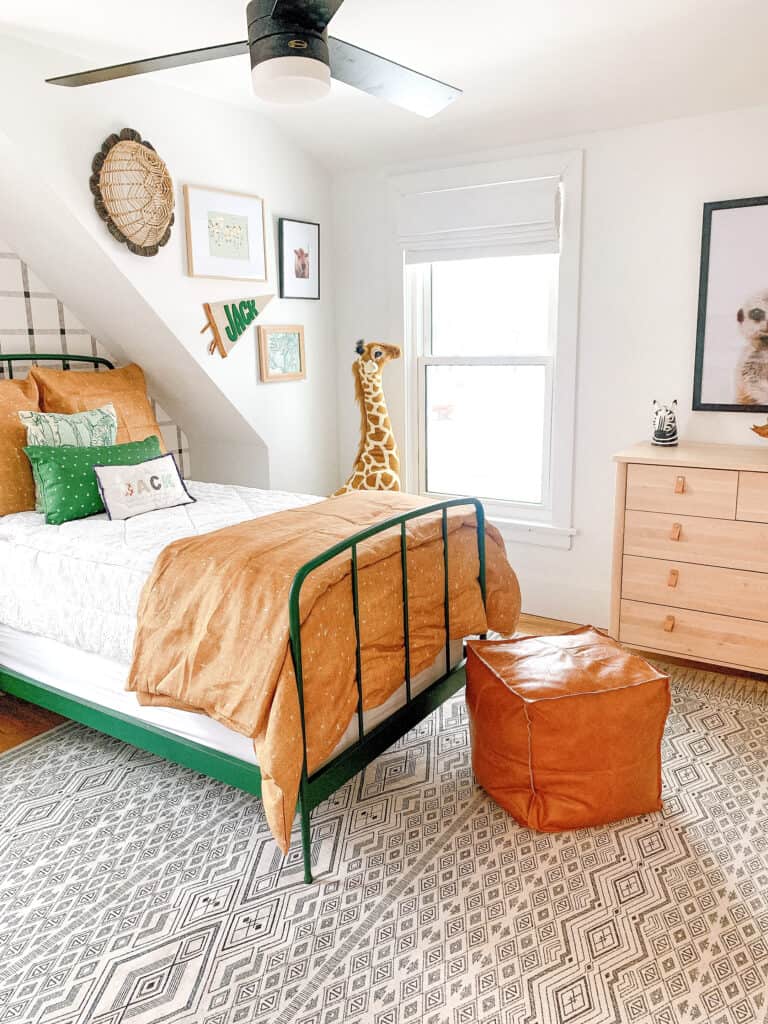 In Jack's room, I left the dresser as is. Honestly, it is a classic dresser that doesn't need much in terms of elevating it's aesthetic. If you have followed along with my blog for a while, you'll remember I've gone through many DIY versions for Avé's Bjorksnas dresser. From dowel rods to painted pink, I transformed this piece into a sunburst dresser.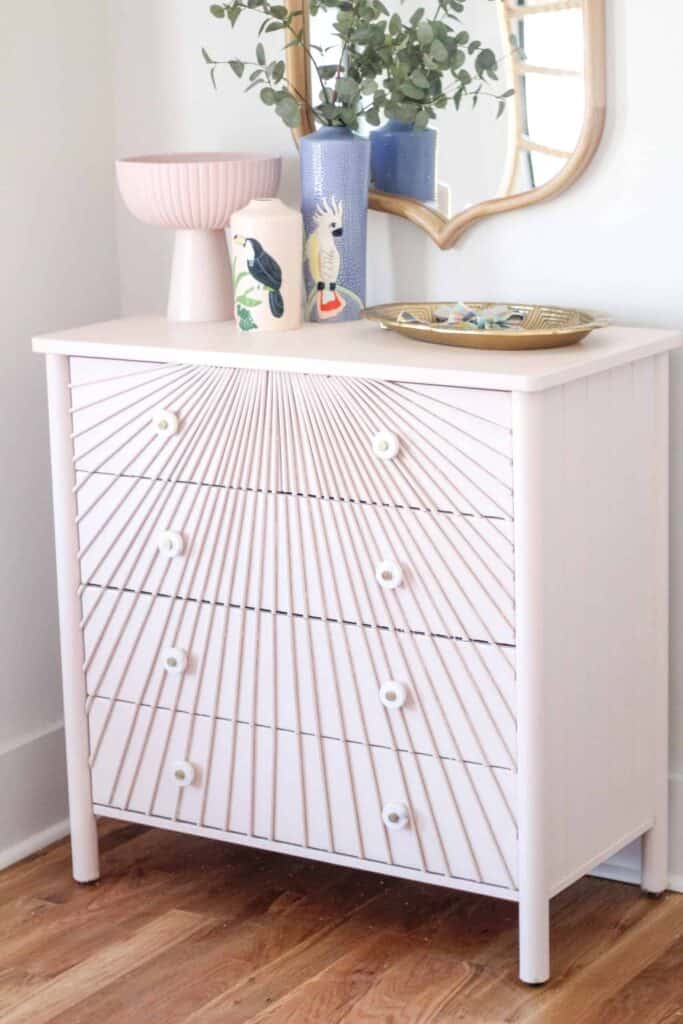 Check out my DIY post on transforming this IKEA dresser.
My final result for the Bjorksnas dresser was simple, elegant, and breathtaking. I opted to use Resin and molds to elevate the IKEA dresser.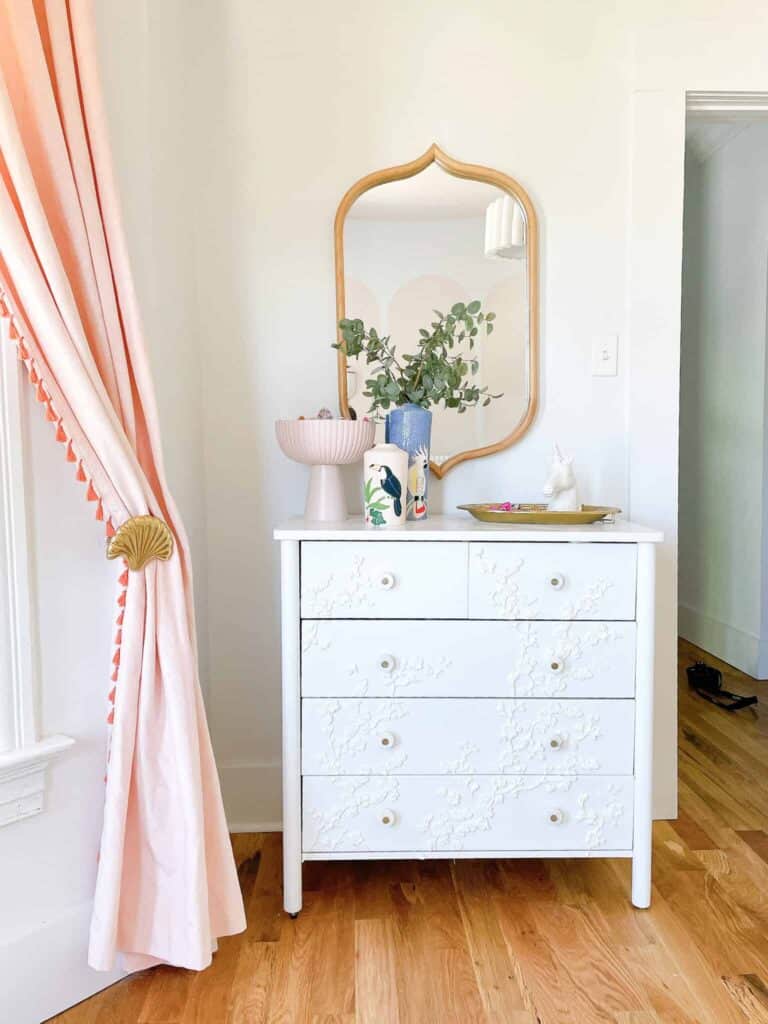 IKEA Tarva Dresser Hack
When I first found out I was pregnant with my baby girl, Goldie, I had a vision for her nursery. I knew I wanted to have a white nursery with a pink dresser and golden accents. As a DIYer myself, I knew the Tarva dresser would be the perfect backdrop to create the perfect dresser for our little girl.
We achieved our dream pink and gold dresser with very little materials and a little bit of elbow grease. Although I can't technically say it is the best IKEA dresser for nursery option – I have to say it ranks up there pretty high.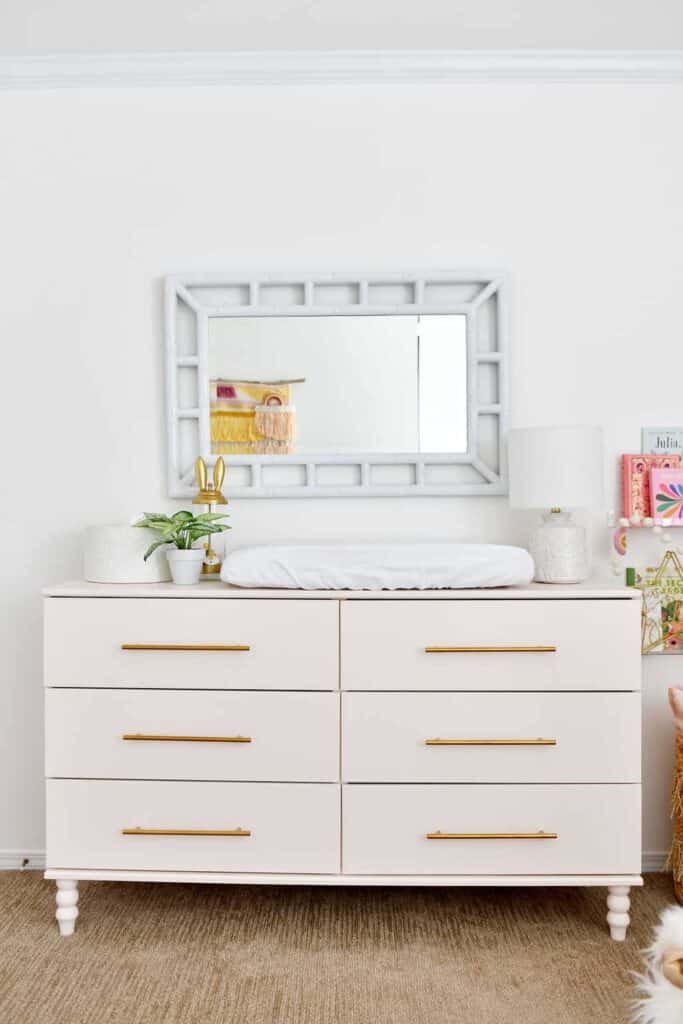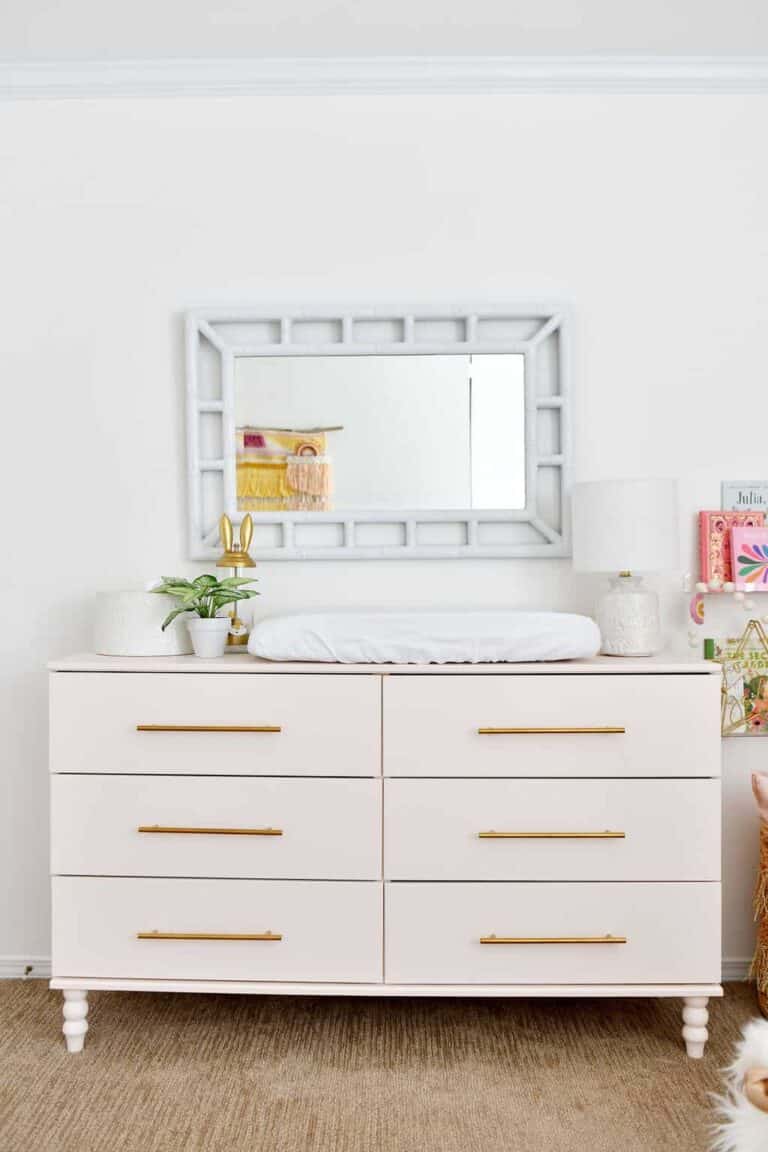 IKEA Hemnes Dresser Hack
There is a reason the 8 drawer Hemnes dresser is a top seller for IKEA. It is versatile, affordable, and durable. When you are shopping around for furniture for your kids, IKEA is a great option because of the price.
While I love the look of Pottery Barn furniture, the price tag leaves something to be desired. Ashley Alexis Creative created this Pottery Barn Ava Regency dresser dupe from an IKEA Hemnes dresser! I must say, the end result is incredible!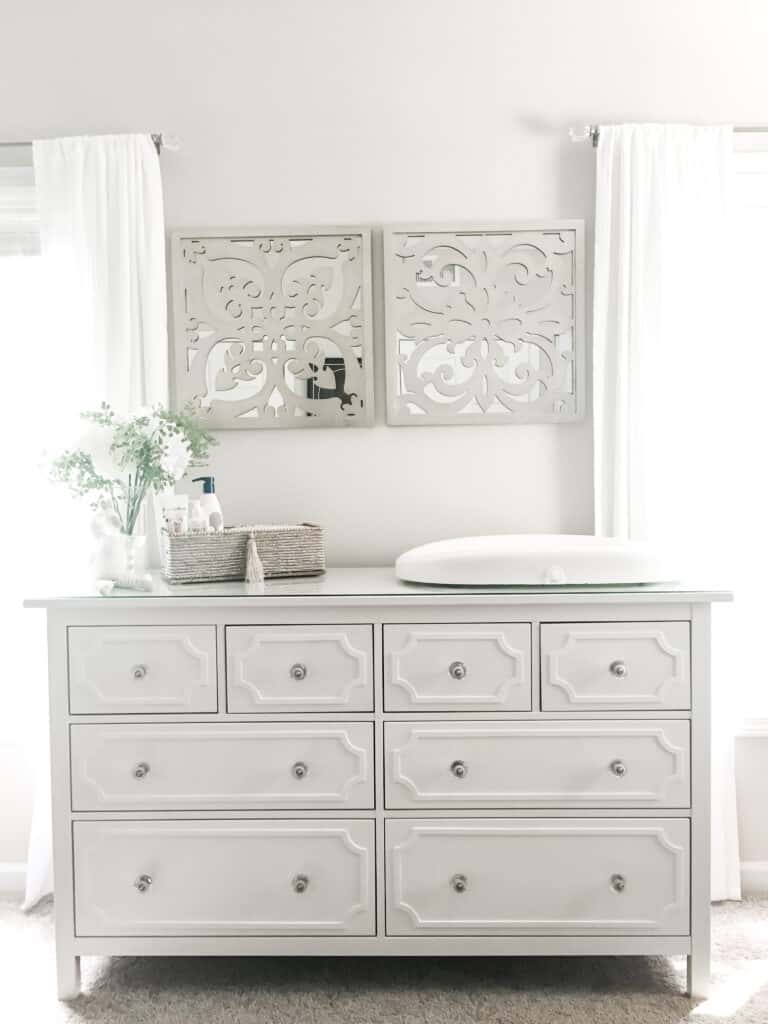 Check out this blog post on how this IKEA dresser became a Pottery Barn look-alike.
This next dresser shows you how the IKEA Hemnes dresser can transform from classic and timeless to mid-century modern by updating hardware and adding table legs with a touch of gift wrap! That's right, that drawer detail is actual gift wrapping paper.  I love this whimsical look of this dresser and it fits perfectly in this sweet little baby girl's nursery.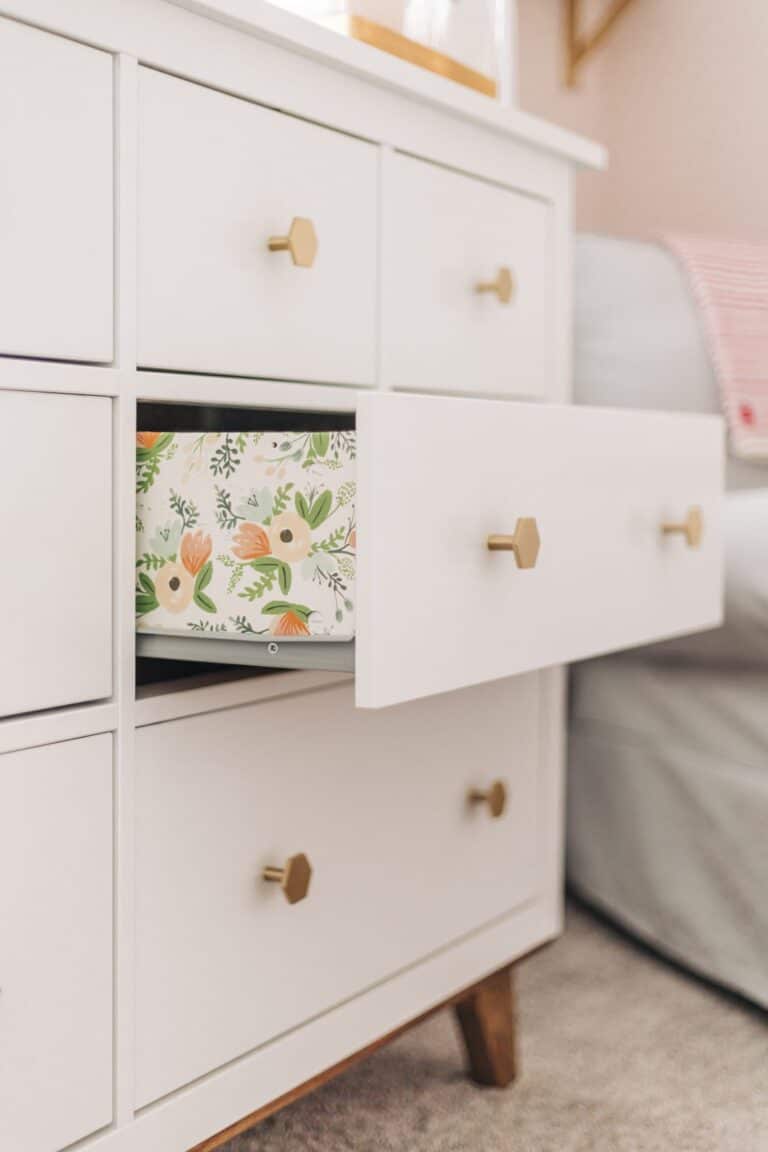 Check out this creative use of wrapping paper in this sweet nursery here.
IKEA Malm Dresser Hack
The Malm dresser certainly has a more modern look with seamless drawers, no hardware, and no dresser legs. With a few materials, you can transform this dresser into any look you can imagine.
With only hardware and braces, this Malm dresser was elevated to a classic look in only 2 steps! You can order the hardware you desire and then spray paint the braces to match your hardware.
What you can't see in this picture is the fun wallpaper that lines the dresser drawers. These dressers are wide and deep enough to contain functional drawer organizers to contain all of those diapers and baby wipes.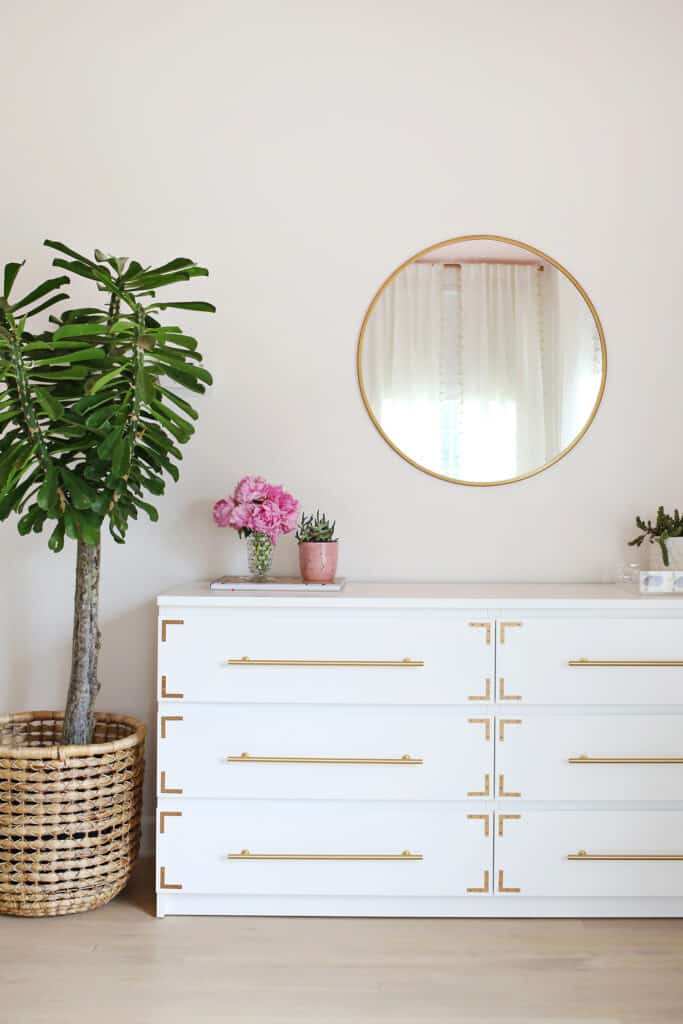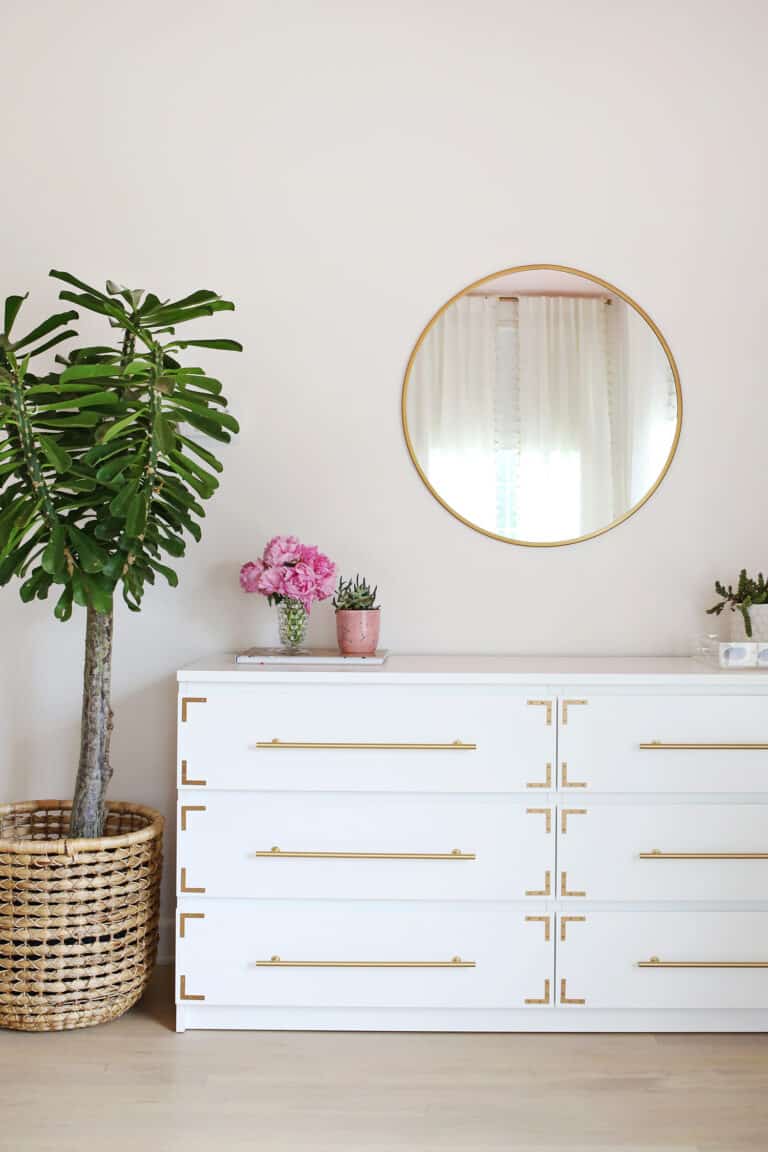 A Beautiful Mess created this gorgeous and simple IKEA Hack.
The Malm dresser's simplicity has certain advantages. You don't have to go overboard to transform this dresser. The previous dresser showed what hardware can do for the piece. What about if you added dresser legs to add some height?
This Malm dresser was transformed by simply creating a frame to add the dresser legs. As a result, this dresser went from modern and monochromatic to transitional and two-toned. I love the look and how organic it feels paired with the greenery.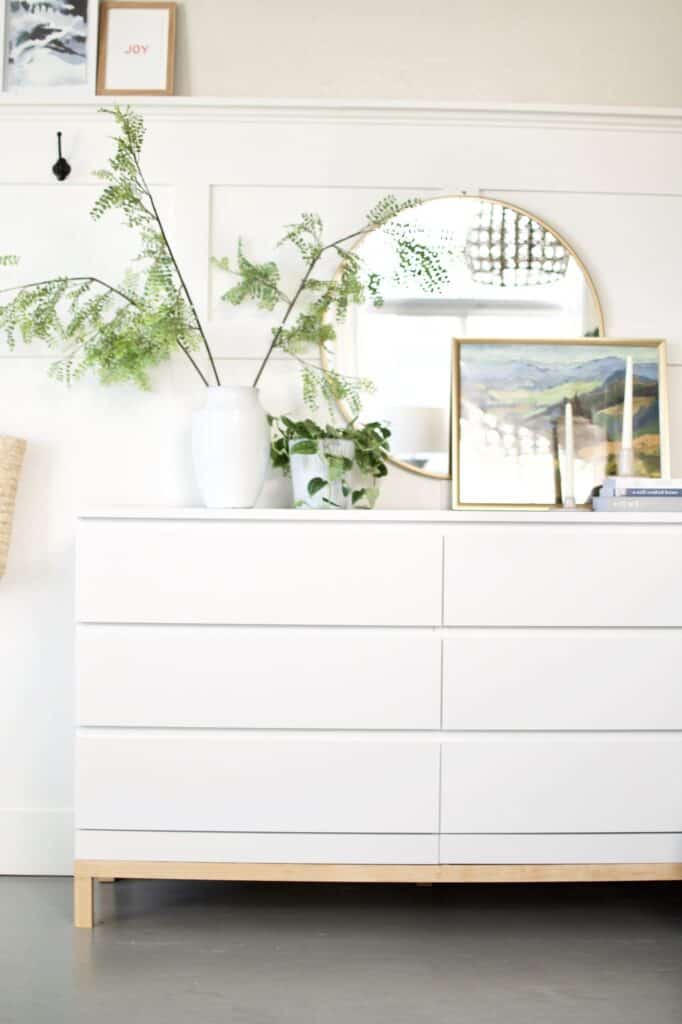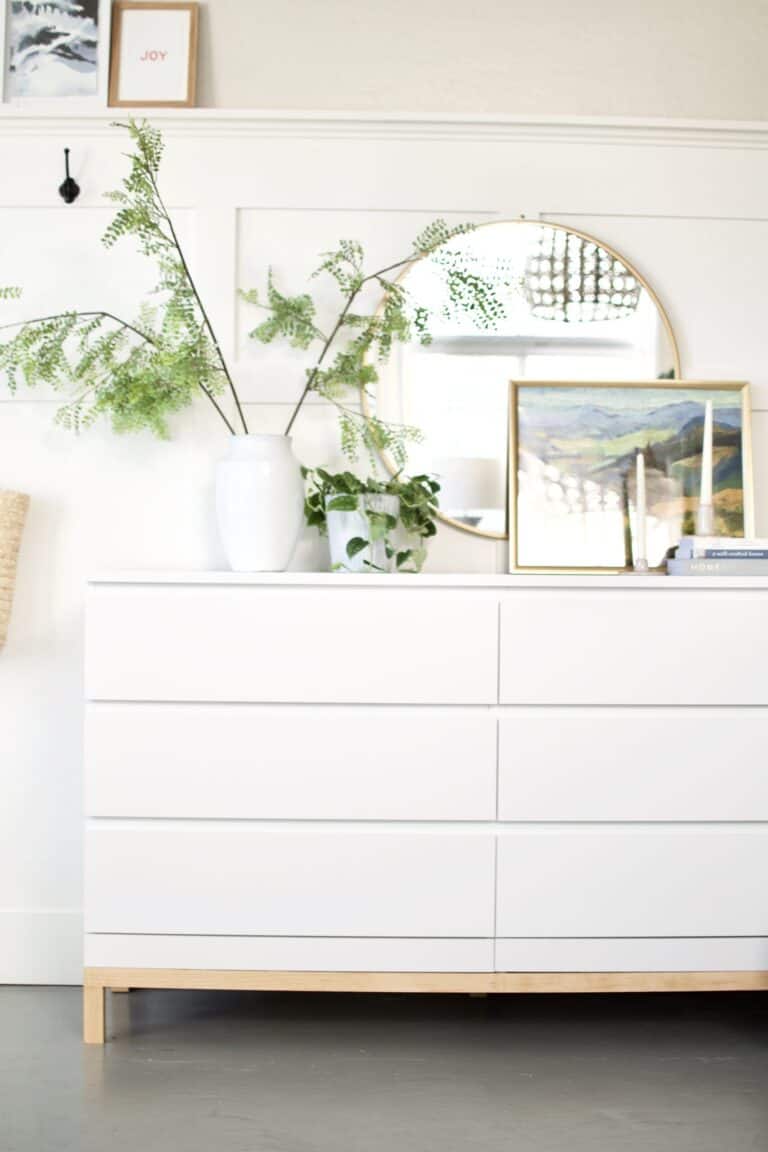 Check out this mid century DIY Malm dresser.
Other Posts You'll Love
Nursery Shelf Decor Ideas | Nursery Decor Ideas | IKEA Bjorksnas Dresser Hack | IKEA Tarva Dresser Hack | Amazon Girls Nursery Decor |Nursery Closet Organization
Pin The Photo Below For Later
I hope this post gave you tons of inspiration and ideas on the best IKEA dresser for nursery. If you are interested in learning more about the best IKEA nursery hacks, follow along as I'll be sharing more IKEA nursery ideas. IKEA's affordability and versatility can't be beat! There is something for everyone and you can create the nursery of your dreams with a few DIY projects at a time. If you have any questions, feel free to leave them in the comments section, and follow me on Instagram @arinsolange for more home, decor, and DIY.