Amazon girls nursery decor coming at you. I have been loving doing Amazon round up blog posts for you all because what is better than finding unique items without leaving your house? Over the past couple of years I have loved doing these Amazon round ups for you all, and this post is no exception.
This Amazon Girl's Nursery Decor post contains affiliate links
this post was originally published in April of 2019 and was updated in June of 2020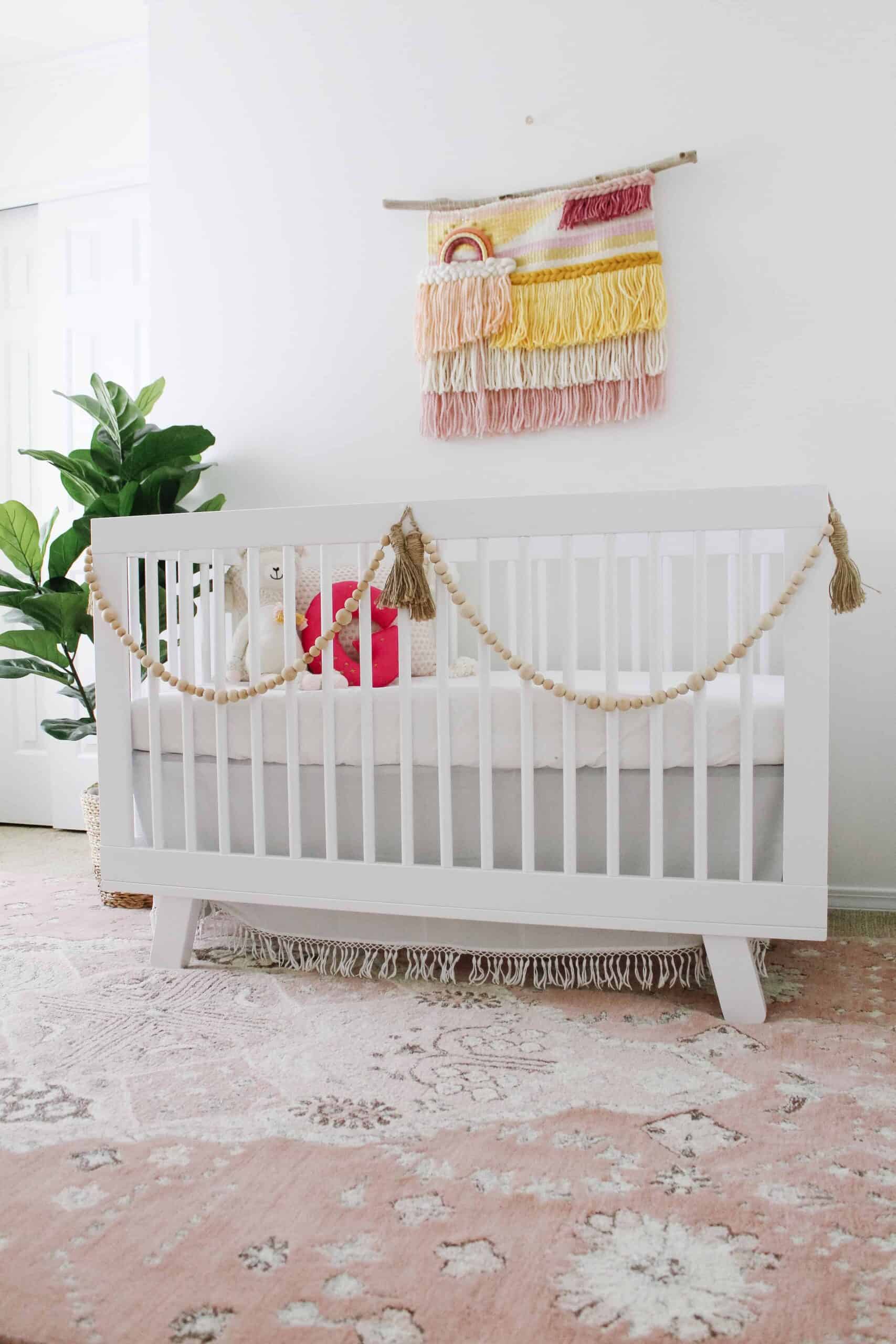 Amazon Girls Nursery Decor
Before I get to the exact items, I want to talk about why I love Amazon decor, and some of the items I personally have below. Shortly after this post was originally written I started working on baby #4's nuersey, who was my second girl. I was so inspired by this post and the amazing finds that I included many of them into her room.
Overall, my goal with the image below was that you could literally grab all of this, and in my opinion it would make a well designed nursery. That is not always the case with posts like this, but in the case of this post I was really planning for our baby so was putting things together in that manner.
We personally have both the crib and mattress in Goldie's Nursery (see full nursery here), and LOVE both. I wanted a modern, simple crib, and really wanted a good mattress. Both are working so well for us, and she seems to love the mattress.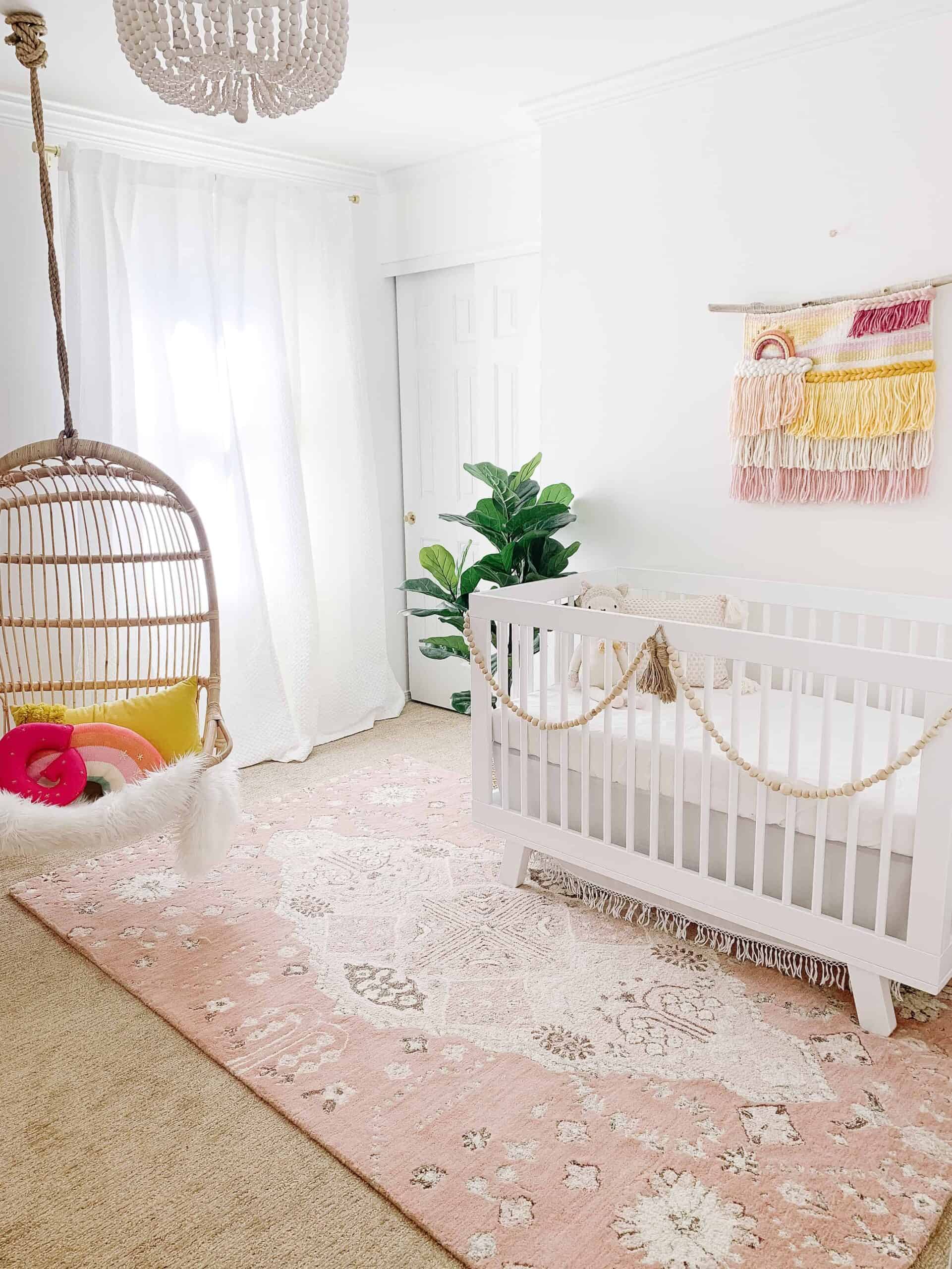 I also went with the acrylic book ledges in this post for her room. I had them already for my older daughter and knew I loved them (they are honestly the best book ledges we own), so that was an easy purchase. They are easy to hang and look great!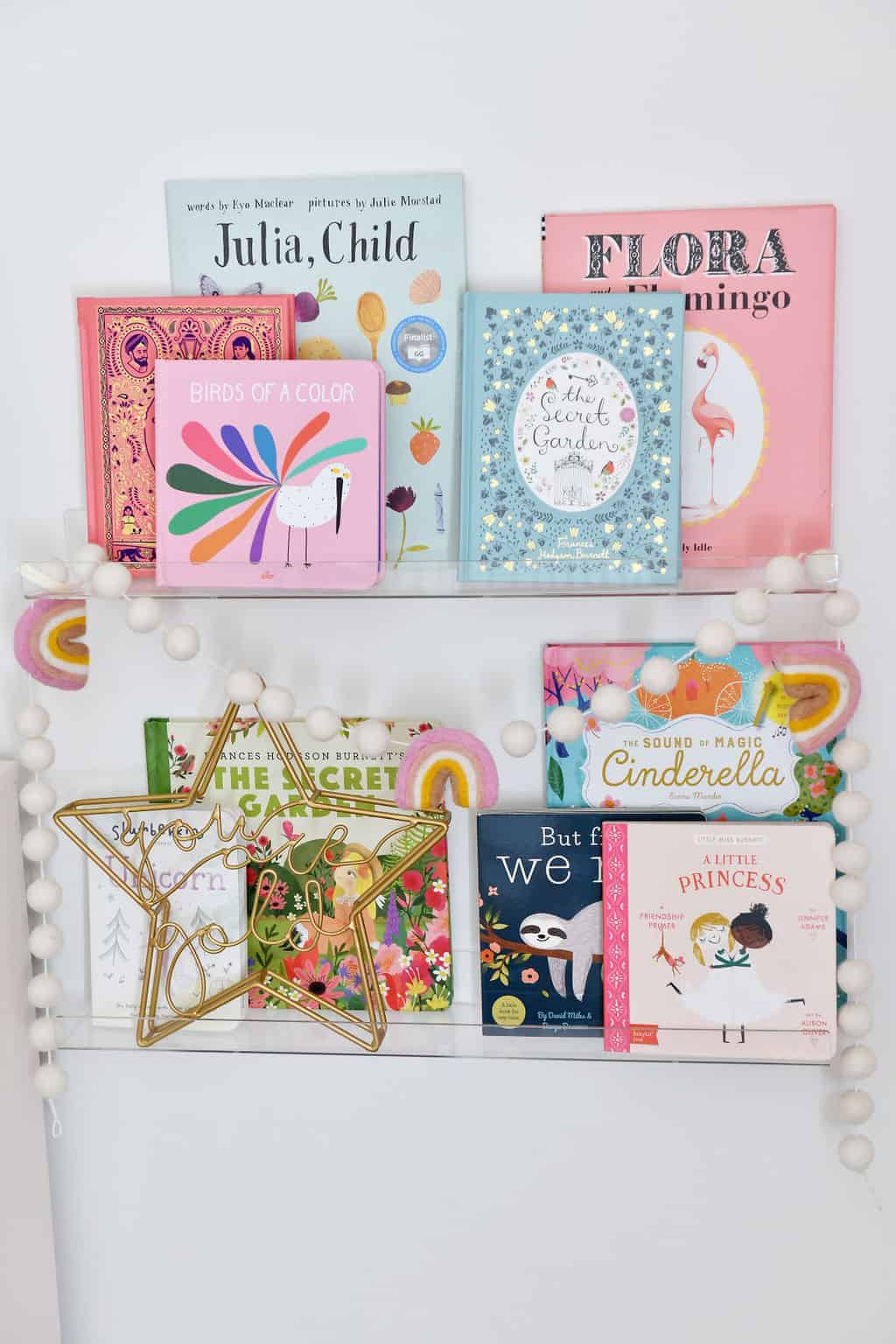 Lastly – we did the moon and star hooks and they are SO SO CUTE!! See the image below to see how cute it looks hung in person. I will also link to my older daughters room where the pink rug is, so you can see that in a room, as well as some other great Amazon finds!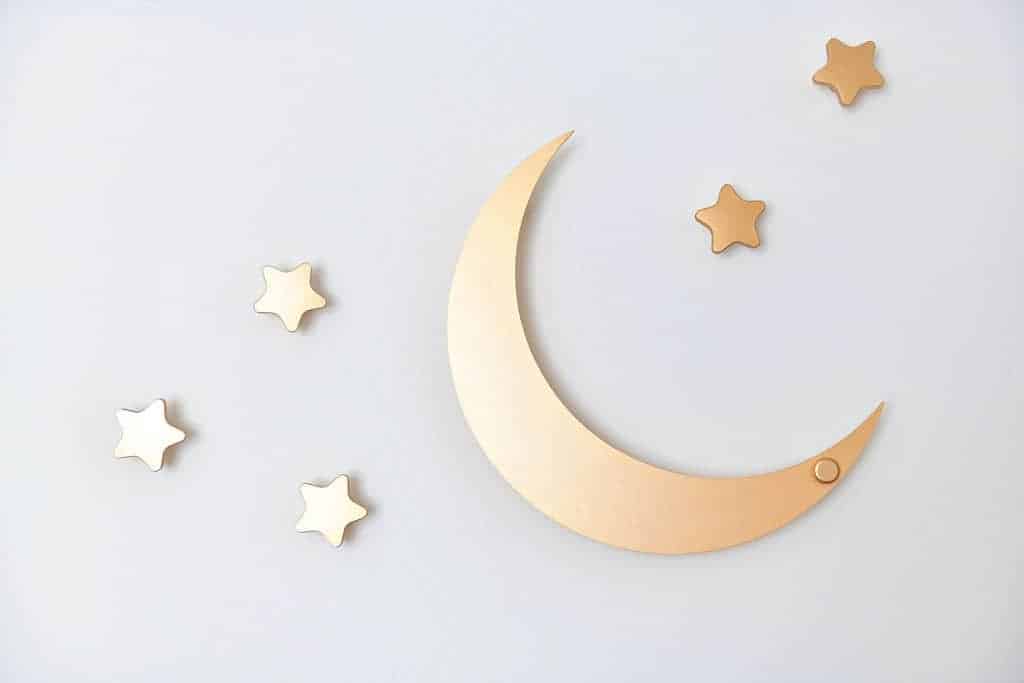 After this first round up, be sure to keep scrolling for a second round up of nursery items for your baby girl from Amazon. Now onto the Amazon girls nursery finds. If you find anything you love, be sure to check out the rest of my Amazon finds here!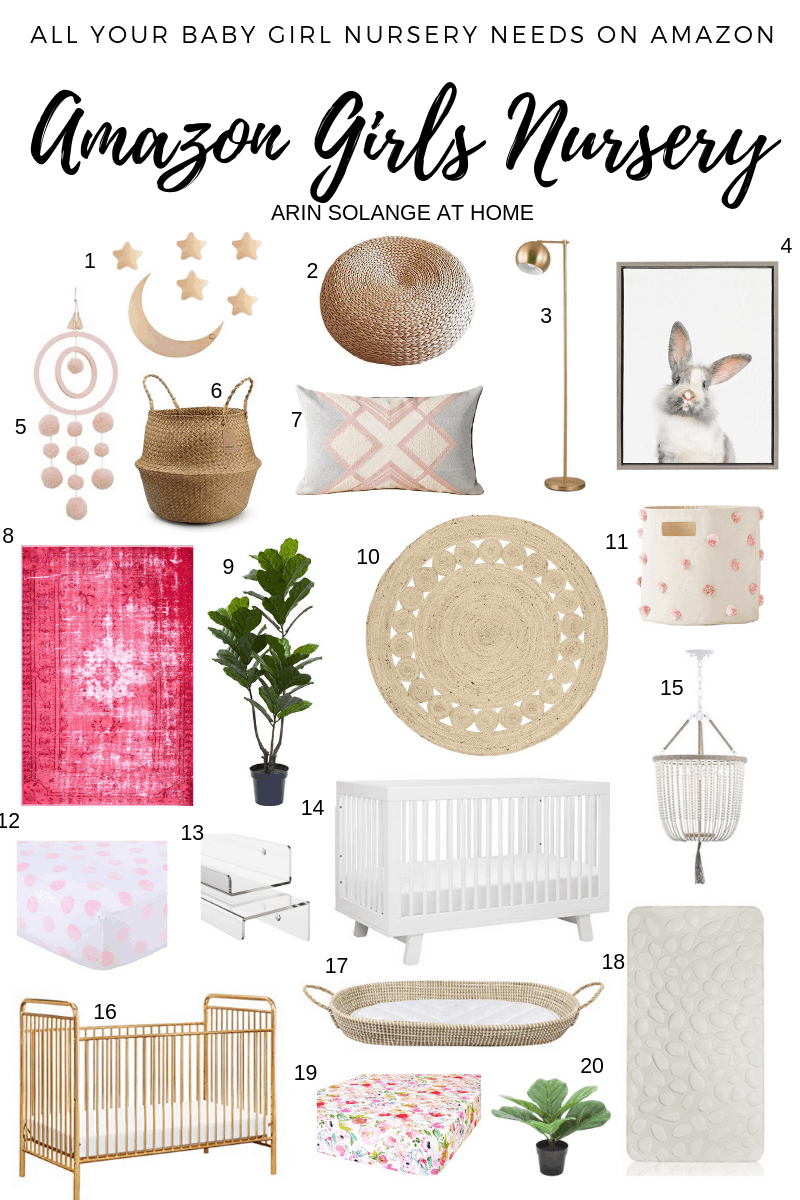 Shop This Round Up
1 | 2 | 3 | 4 | 5 | 6 | 7 | 8 | 9 | 10 | 11 | 12 | 13 | 14 | 15 | 16 | 17 | 18 | 19 | 20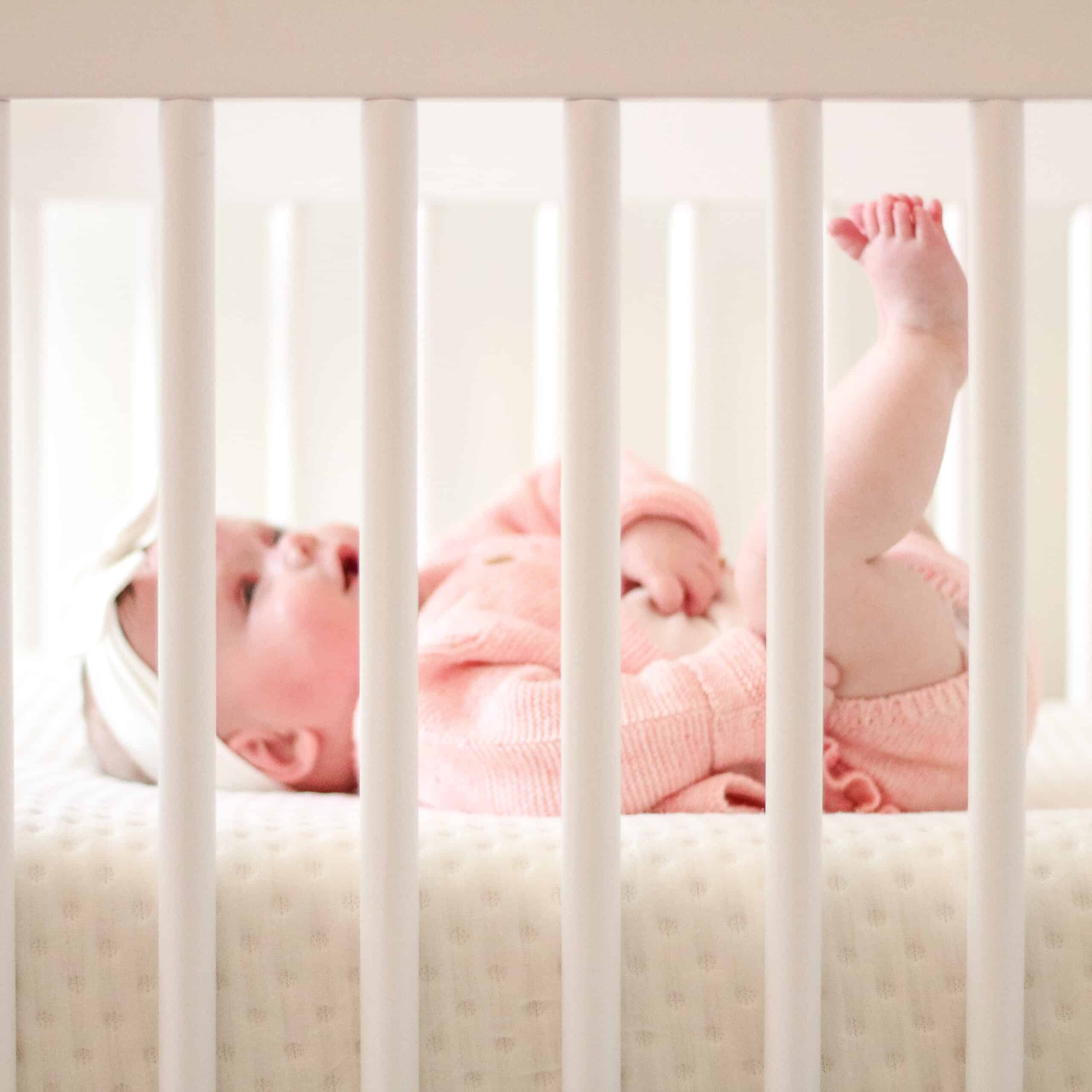 Amazon Girls Nursery Decor – Round up 2
The above round up has been so popular with you all that I wanted to give you more options to choose from. This time around I really tried to make sure the entire round up was kind of like a one stop shop nursery.
If you buy everything in this post it will all coordinate perfectly to make a gorgeous slightly boho nursery for your daughter with true nods to it being a baby room. I tried to find whimsical elements that make the room remain perfect for an infant, and I hope you love the end result!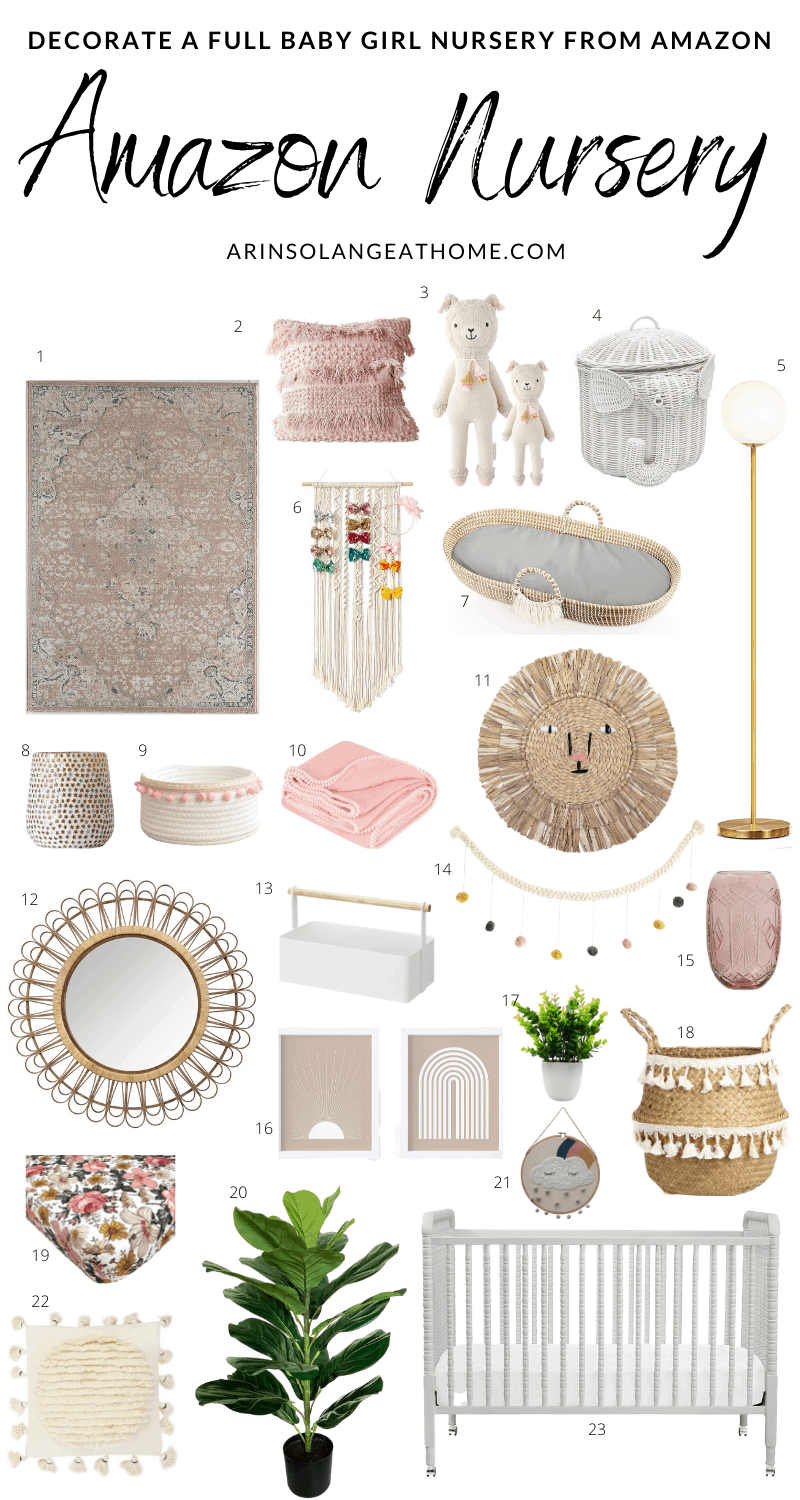 Shop This Round up of Girls Nursery Decor from Amazon
1 | 2 | 3 | 4 | 5 | 6 | 7 | 8 | 9 | 10 | 11 | 12 | 13 | 14 | 15 | 16 | 17 | 18 | 19 | 20 | 21 | 22 | 23
Rug – for me a rug is always one of that hardest things to find for a room. I love that this one is pink and girly but not overly feminine where it will make the room look like its filled with spilled bubble gum.
Pillow – this pink pillow reminds me SO much of some really popular Target pillows a couple years ago.
Cuddle and Kind – I actually incorporated this exact one into my daughters nursery. I love that they are a doll/stuffed animal that for those first months works as decor.
Rattan Elephant basket – seriously love this cute little guy for laundry or stuffed animals
Floor lamp – this gold floor lamp would be perfect next to a chair for reading books.
Bow holder – this is gorgeous and will just make for great wall decor for the first while, then as you start getting clip in bows you can add them to it.
Changing basket – I have one on the above round up too, but wanted to include another fun, unique version.
Star Vase – this is so cute – such a fun piece of decor
Short pom pom basket – this would be perfect on a dresser to hold pacifiers, headbands, or all the other little odds and ends you use every day
Pom border swaddle – this comes in several colors and is so stinking cute.
Wicker animal face – this is so freaking cute I can't even stand it!
Rattan mirror – this over a dresser would be darling
This little caddy is so cute for diapers and wipes – then you can use it later for crayons and such.
Pom-pom garland – such a fun little piece to hang over a crib.
Vase – this vase is stunning!
Prints – love these simple yet fun prints
Small plant – I am big fan of adding greenery to any room, and this little plant is perfect for a dresser or side table by a chair.
Basket – such a fun take on a basket
This sheet is SO CUTE
Faux fiddle – I love adding a fake plant to my nurseries. Once they get older if you think they are messing with it you can easily put it in another space in your house.
White pillow – I have this on my boys round up too. I love it so much!
Simple Jenny lind crib – I LOVE the Jenny lind look, and actually talk about my inexpensive Jenny lind beds in this post.
Be sure to stay tuned to see if I use any of these in our daughters nursery this summer, and before you leave be sure to check out all these Amazon decor round ups!!
Other Amazon Finds
AMAZON GIRLS ROOM | AMAZON BOYS ROOM | AMAZON HOME FINDS
If you have any questions on these Amazon girl's nursery decor finds , be sure to leave me a comment below, or DM me on Instagram!! Hopefully they are helpful in you creating a sweet space for your baby that is unique and affordable.