As promised last week when I shared my Girls nursery finds from Amazon, I have my Boy's Nursery Amazon finds post ready. You will see quite a bit of crossover between this post and the girls nursery finds room post because I love finding great gender neutral items you can use in all your kids rooms.
This post was done originally on 4/22/19 and has since been updated with a second round up on 6/7/20.
This Boy's Nursery Amazon Finds post contains affiliate links.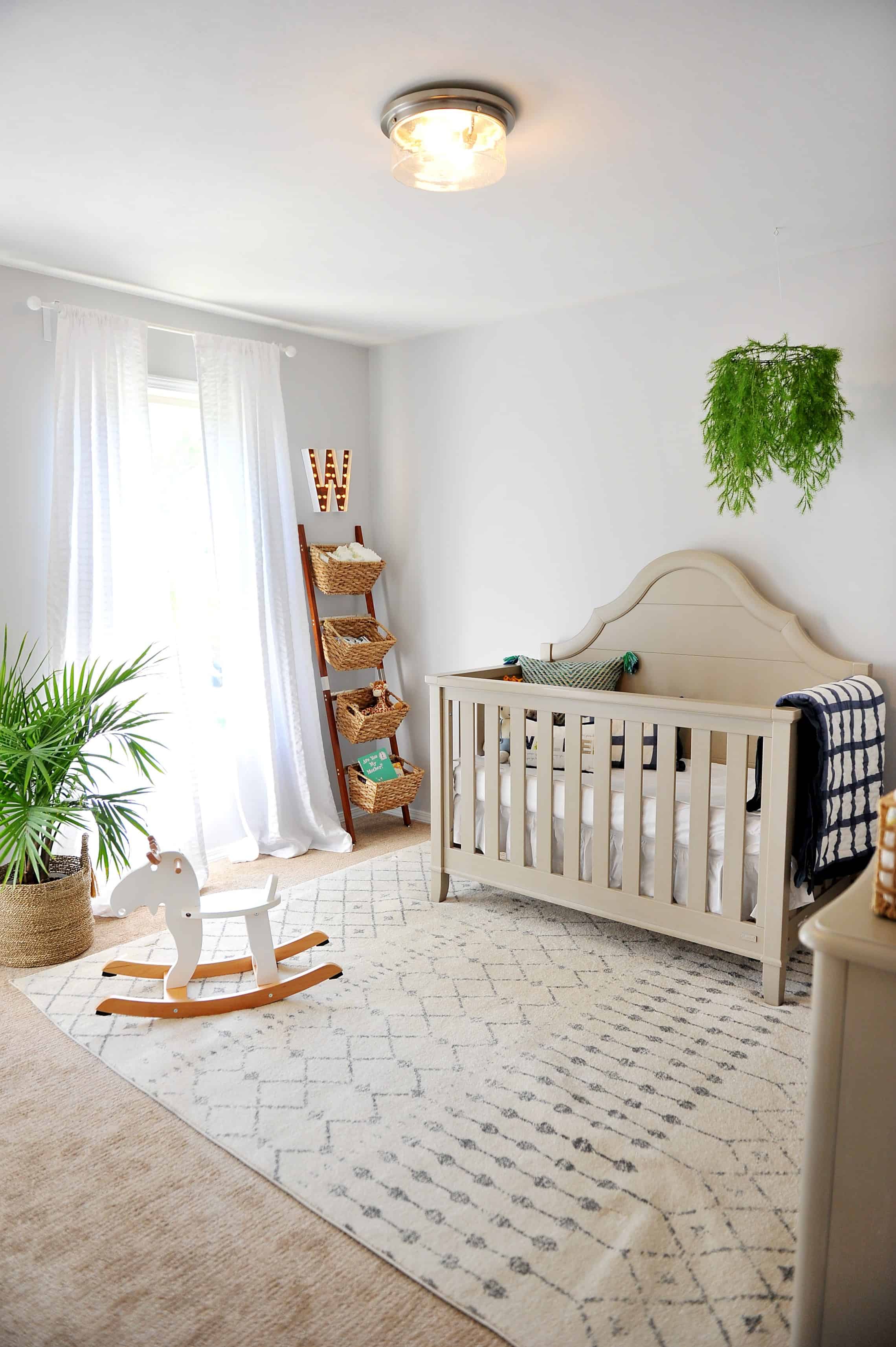 Boy's Amazon Nursery Finds
Finding decor from Amazon is one of my absolute favorite things. To me it's like going to Home Goods, finding those hidden gems, but without the hassle of wasted trips where you found nothing you wanted.
Personally, when I did my son Walker's Nursery (above) I went super neutral, and loved the idea of simple finds – which is exactly what Amazon is good for. The rug shown above if from Amazon and is now in a shared bedroom for both of my boys and has continued to be a great, neutral piece.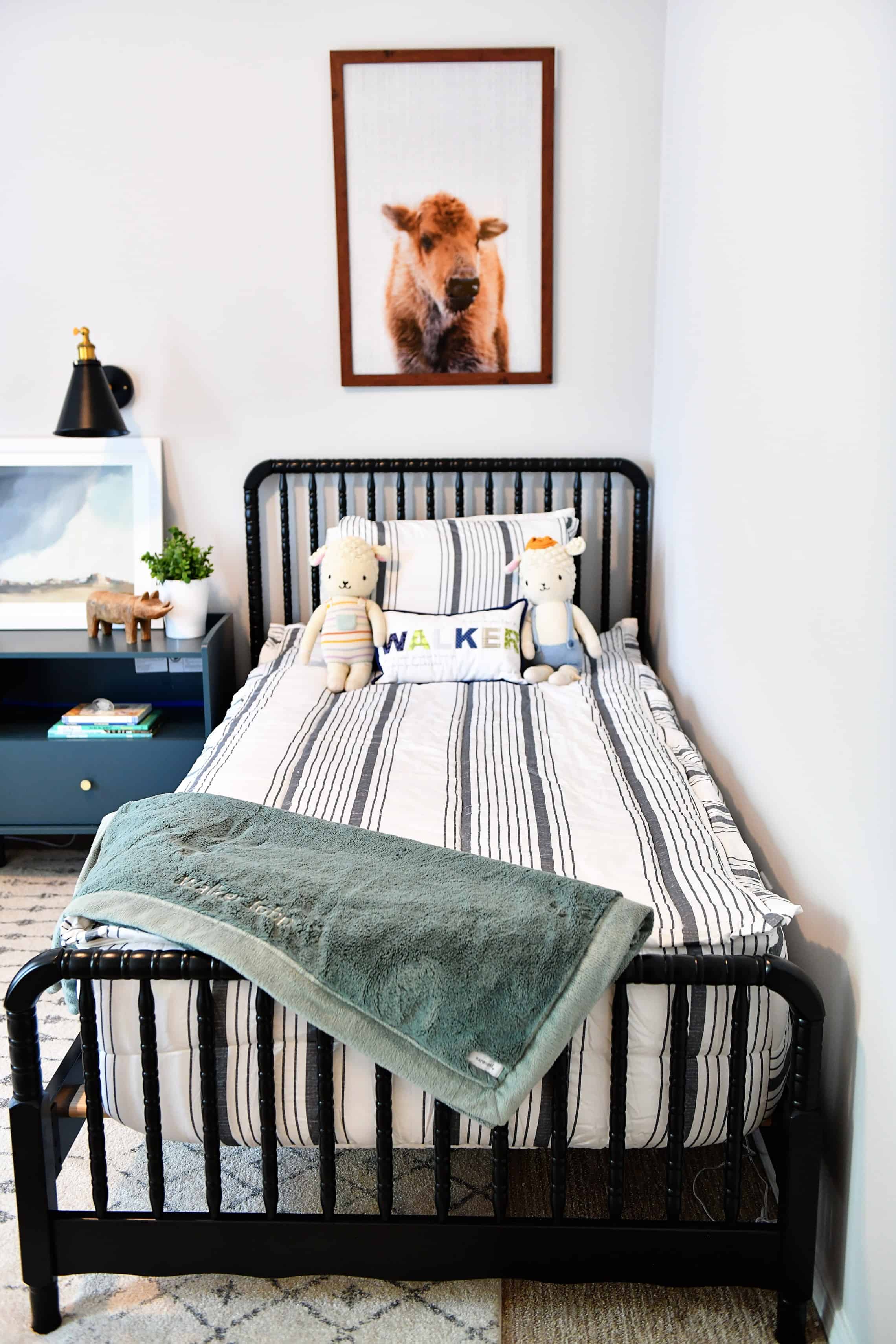 When it comes to finding pieces for your nursery, I always tend to think about what I will use the longest and the most and spend the most there, then trickle down. So if you don't think yo will use the changing pad and cover for long, don't go big on that expense.
If you are looking for other Amazon decor finds I have several linked here, along with so many Amazon fashion posts for kids. You have to really sift through things to find items from Amazon that are worth the purchase, but I have done the heavy lifting in these cases, and have dug up some really great finds.
Now onto these great finds!!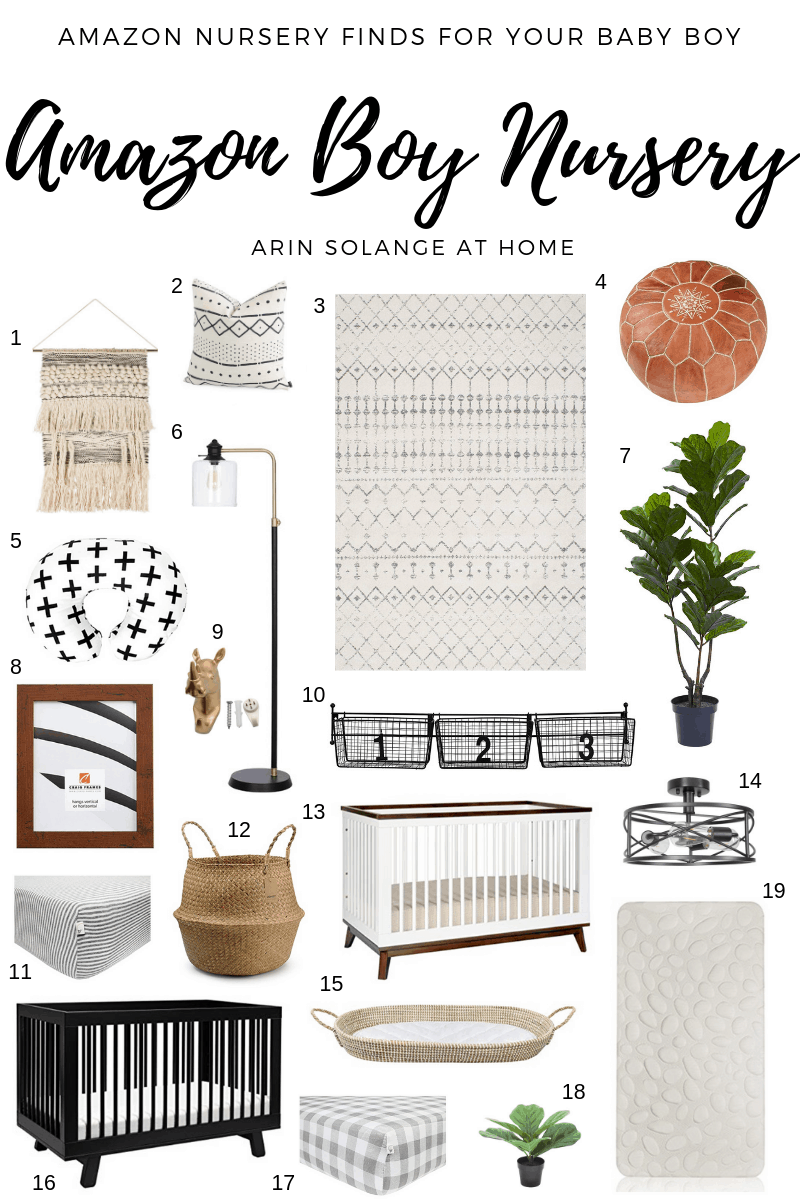 Boy's Nursery Amazon Finds – Round up 1
1 | 2 | 3 | 4 | 5 | 6 | 7 | 8 | 9 | 10 | 11 | 12 | 13 | 14 | 15 | 16 | 17 | 18 | 19
The picture frame below with the large buffalo print in it is from Amazon. I personally picked it due to the plexiglass based on where it was at, and am so glad I did, because we later moved it over my sons bed as a toddler, and since it was on Amazon it was really easy for me to grab another to go over my older sons bed.
For me that is one of the biggest perks of Amazon, that I can grab another years later and many time they are still available
More Finds
The above round up has been so well received and loved that I wanted to add another to this post to give you more ideas, and a bit of an updated round up. The round up below is meant to be able to be a one click nursery.
You will have to add a few things, but if you combine most items from the two round ups you could have your nursery fully completed!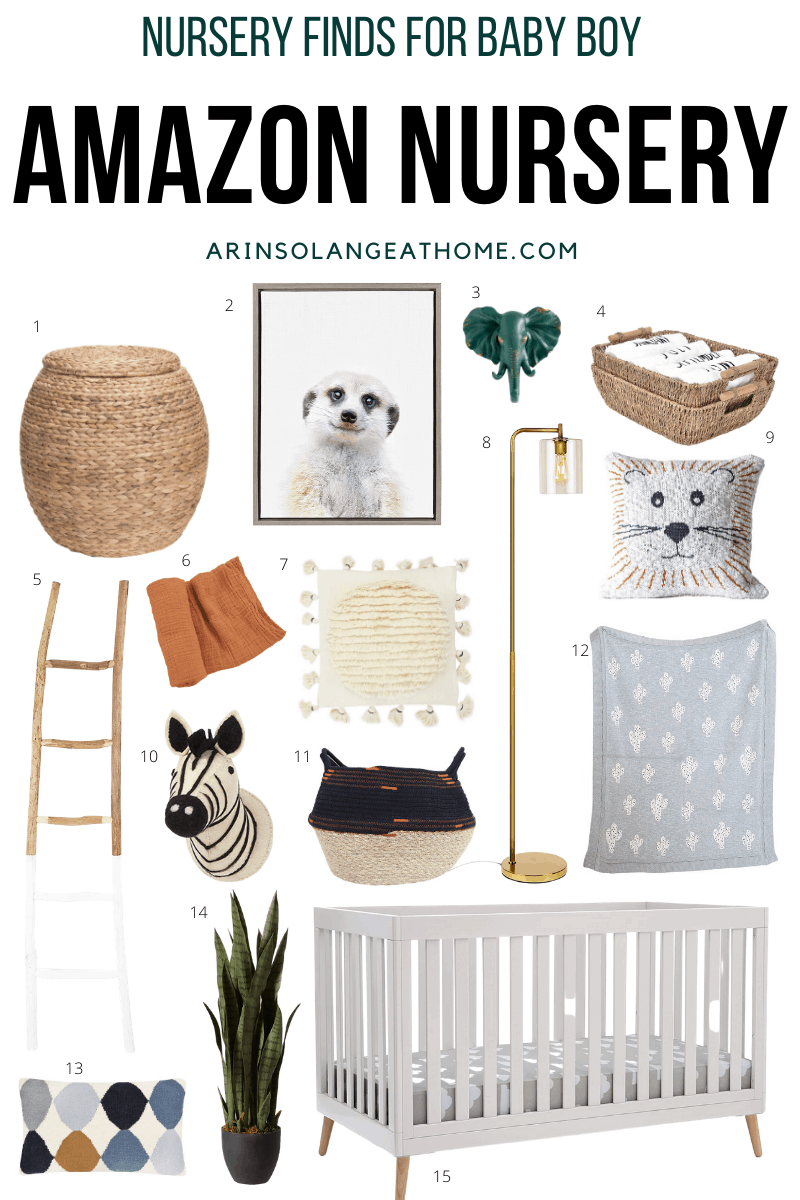 Shop Amazon Nursery for Boys Round up 2 Below
1 | 2 | 3 | 4 | 5 | 6 | 7 | 8 | 9 | 10 | 11 | 12 | 13 | 14 | 15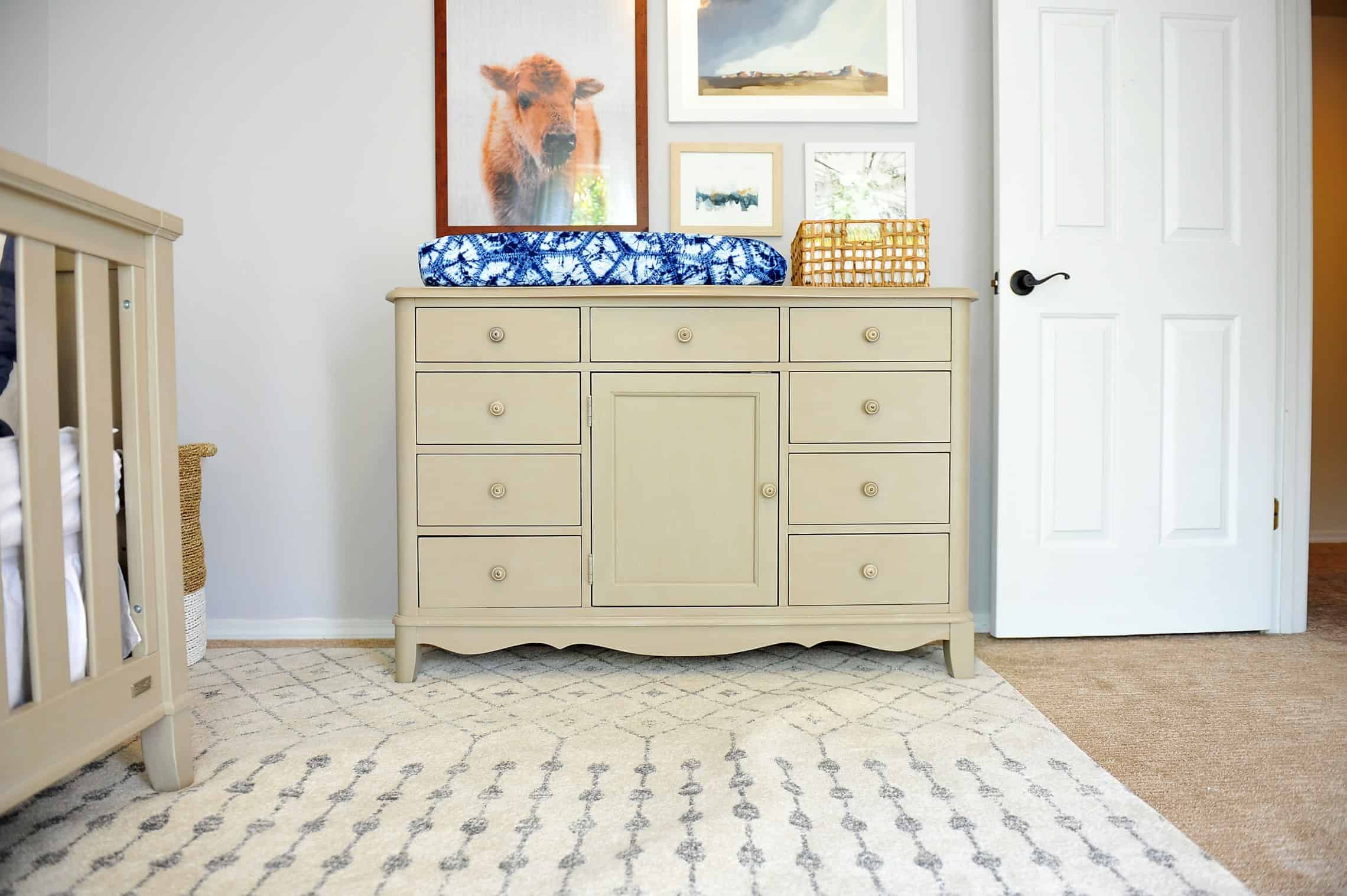 Hopefully you found some great finds for your baby's nursery in these round ups , and if you didn't, be sure to check out the posts below with more amazing items that can all be delivered in an instant thanks to that trusted site!
More Amazon Posts
Amazon Store Front | All Amazon Posts
Amazon Boy's Room Finds | Amazon Decor | Amazon Girls Room | Amazon Storage |
The twin beds in this post are also a FAVORITE Amazon find, and I did a full review of them here!
If you have any questions always feel free to leave me a comment below, or reach out to me via Instagram, I always love chatting with you guys (@arinsolange).