Sharing Our DIY Wall Mounted Art Easel that was the best DIY fix to a need we needed filled yet to date. I did this a few years ago, and it remains a favorite here on my blog as well as in my home, so I can't wait to help you all create one for your families as well!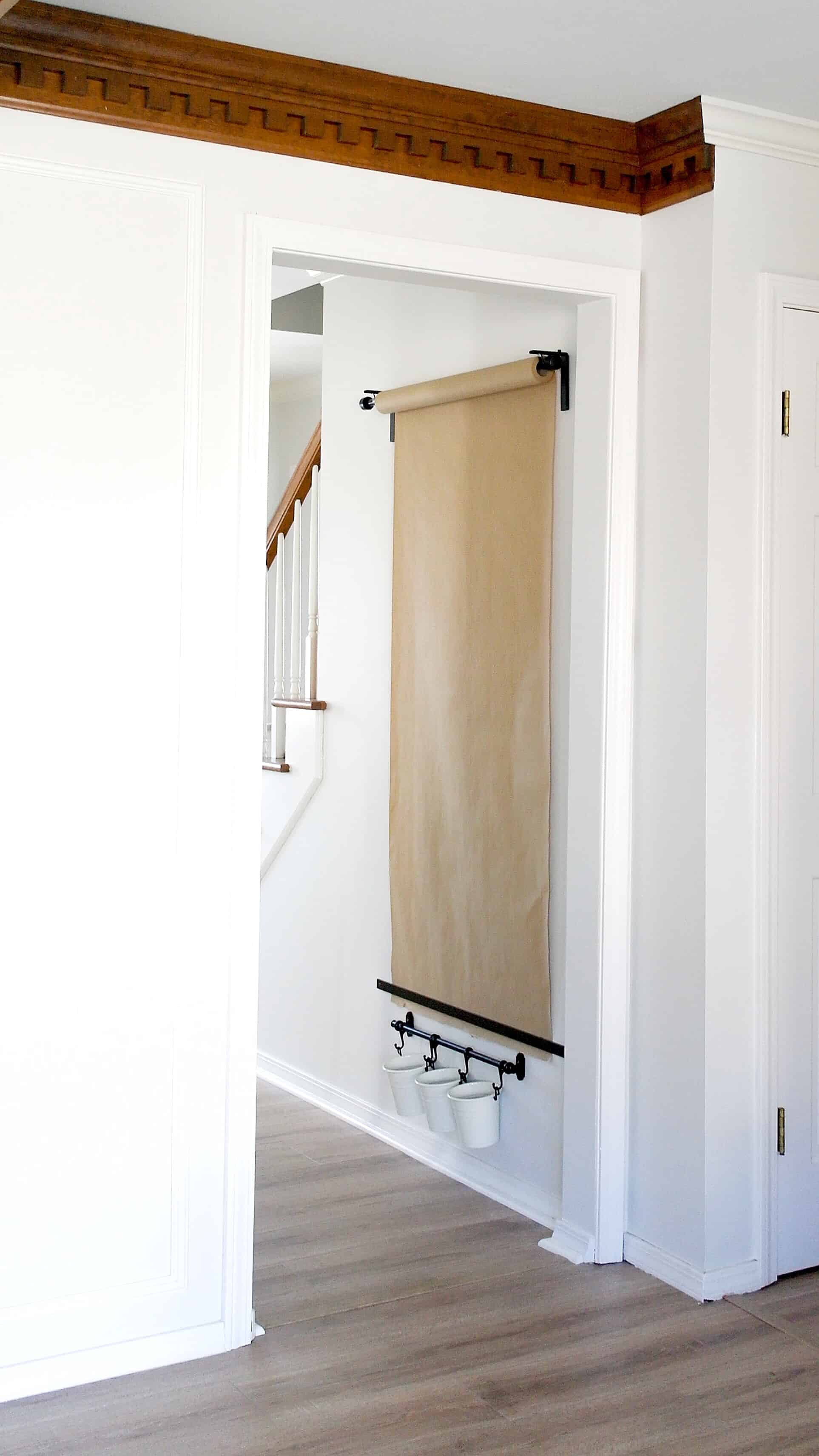 this post could contain affiliate links
DIY Wall Mounted Easel
I am going to go ahead and update this a bit – I created this DIY wall mounted easel over 3 years ago. 'Santa' set it up on Christmas Eve and it has been love ever since. Sometime the kids go weeks without touching it, and sometimes they go weeks fighting over who gets to draw on it.
This easel was created for my oldest who is now 7.5 but he has 3 younger siblings, so it has been so fun to watch each of them use it!  If you're on the fence about this DIY I say go for it and do it.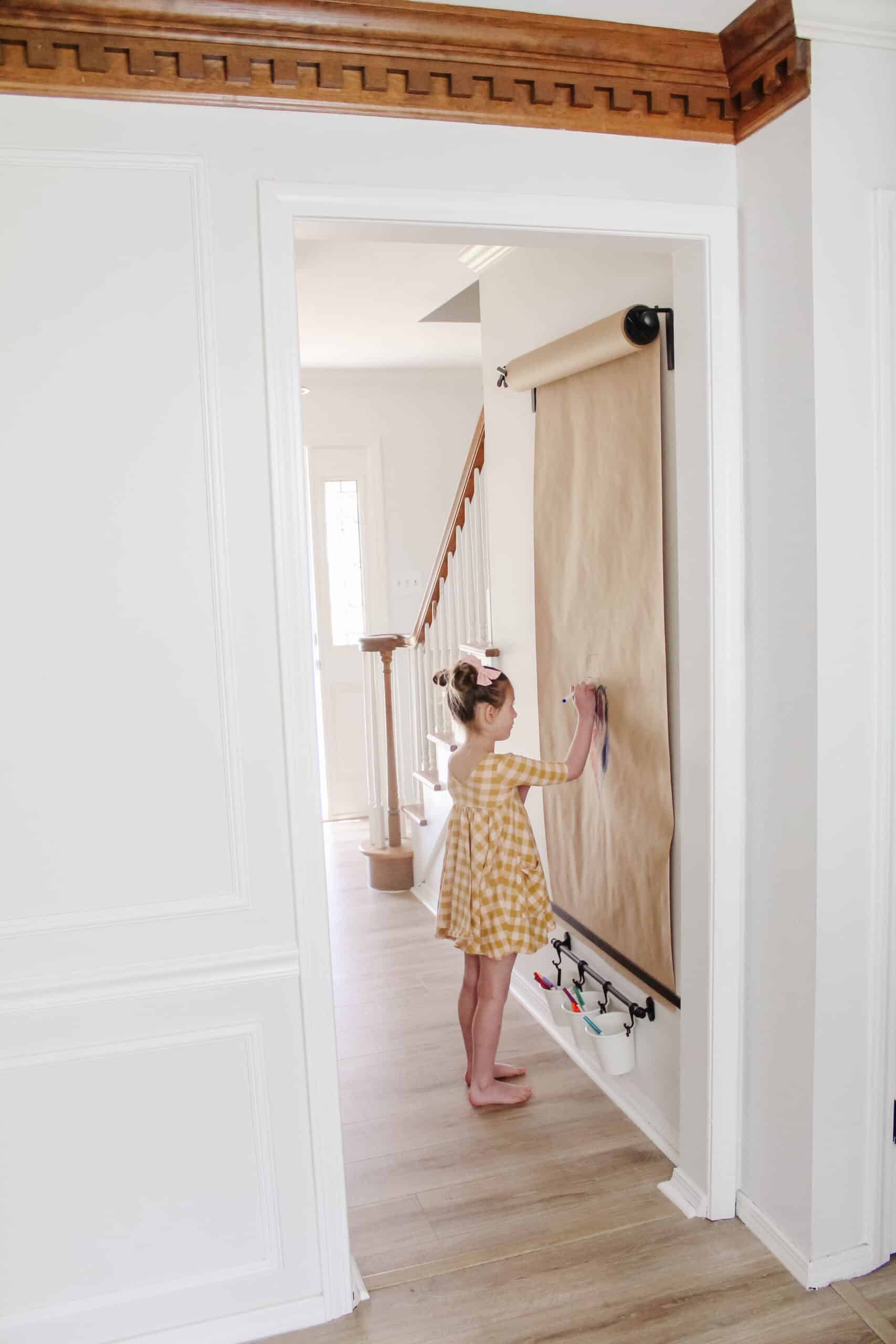 Our oldest son, Jack is crazy about the art easel at school, so much so that he hated to share it during free time because it was one of the few things he couldn't also do at home.  
I knew we wanted to get him an easel for Christmas, but I also knew that having one sitting out all the time would make me absolutely crazy.
I am super passionate about finding ways to make your house and your kids work together where you are both happy and in love with the design, and they are happy and able to grow and learn in the space. Both can happen cohesively if you work at it.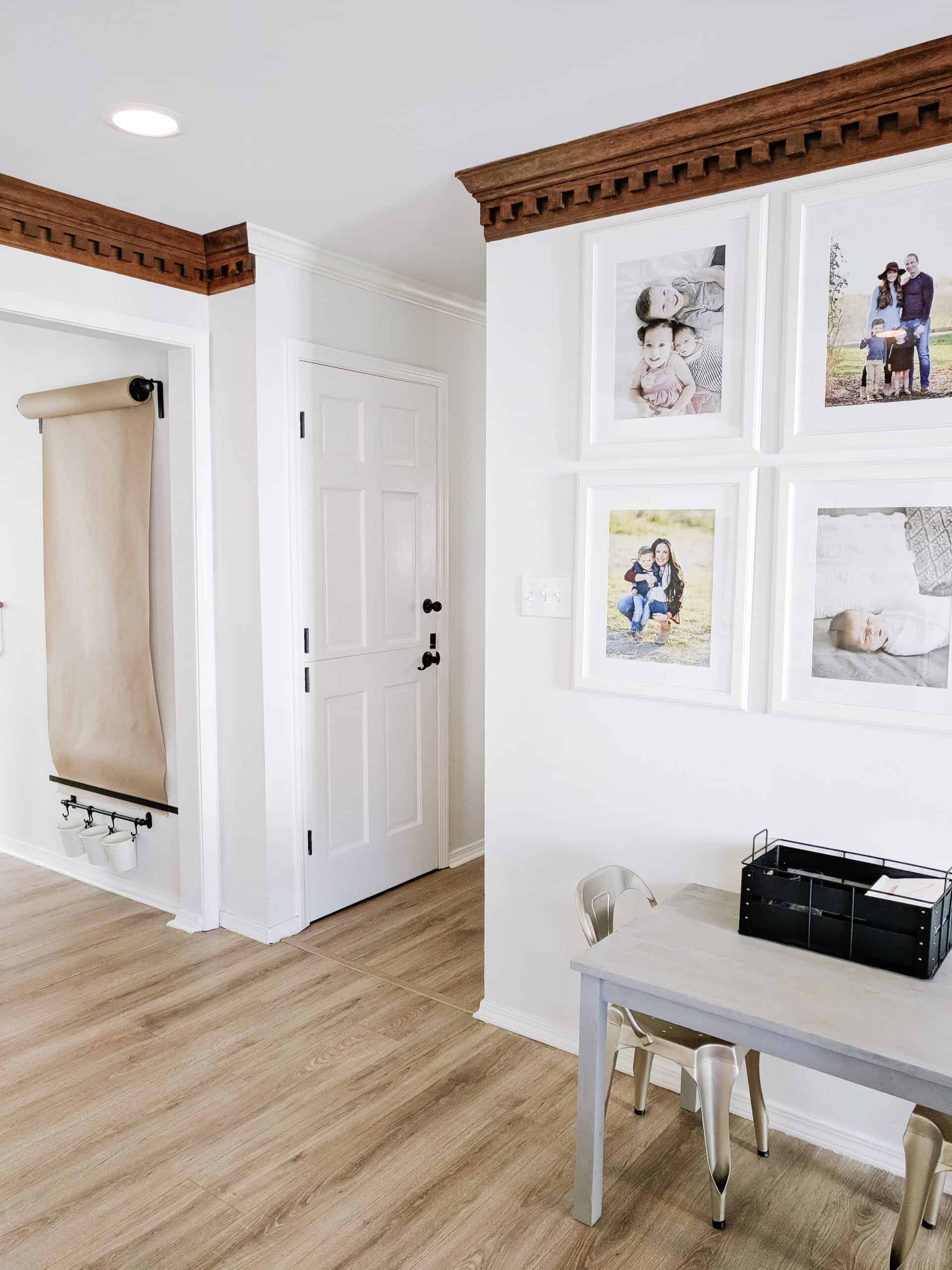 I wanted to come up with a DIY wall mounted Easel for him, but had to do some thinking on how to make that happen. There are some similar brands that sell Wall mounted paper scrolls, but they are crazy expensive, and I knew there had to be a way to make it happen on a tight budget.
For Jack art seems super therapeutic, and a way for him to really express himself, and we LOVE to support that.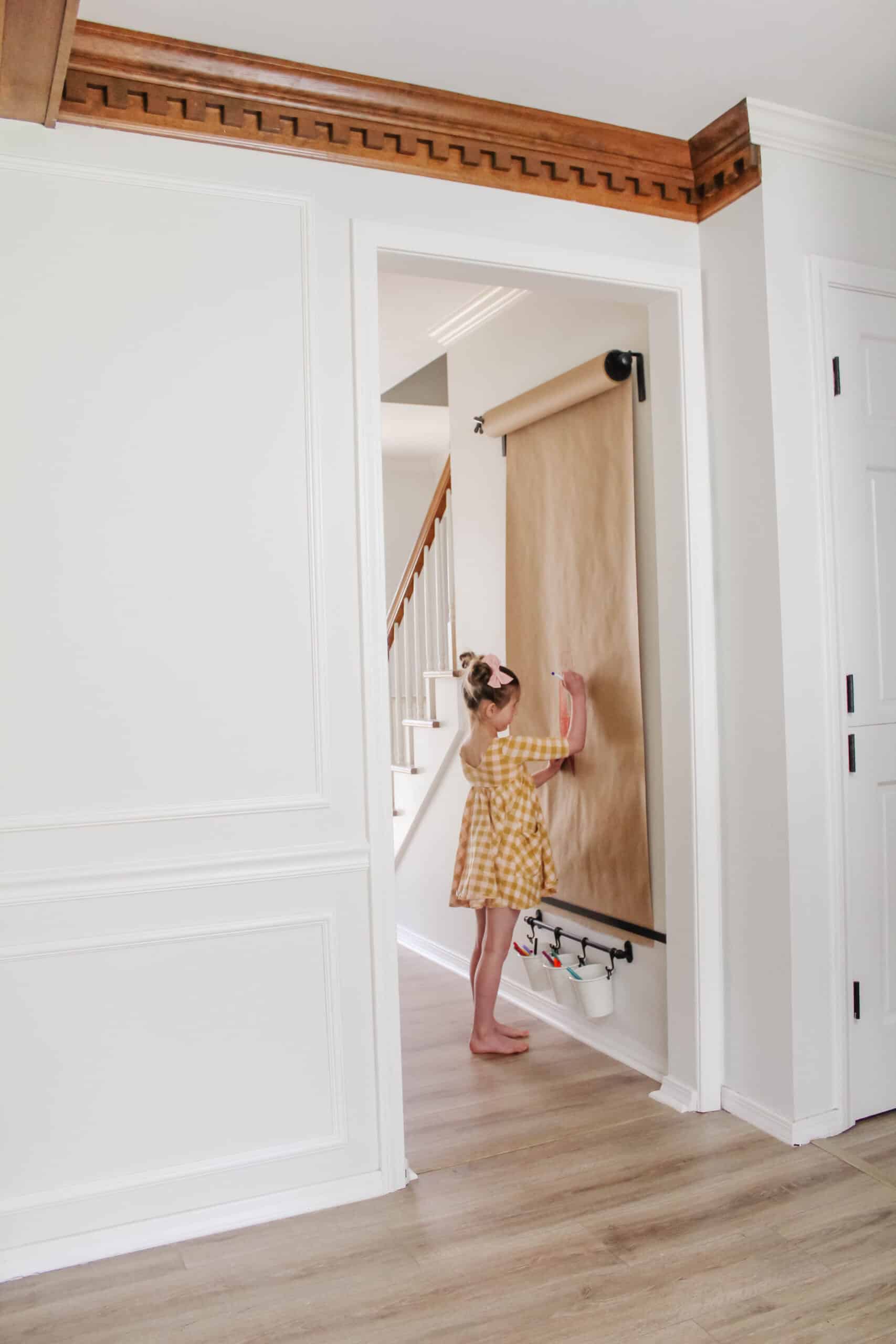 An IKEA Hack Art Easel
I think if you find ways to embrace your kids needs in your home you will find everyone will be so much happier! And when it comes to doing a DIY hack make your way to IKEA and you will also be so much happier…you know, after the trip is over haha!
This DIY IS an IKEA hack, however I have had so many friends and followers use similar items from other stores since that time, so I am editing the post to allow you to find the items at a non IKEA store incase you are not close to one.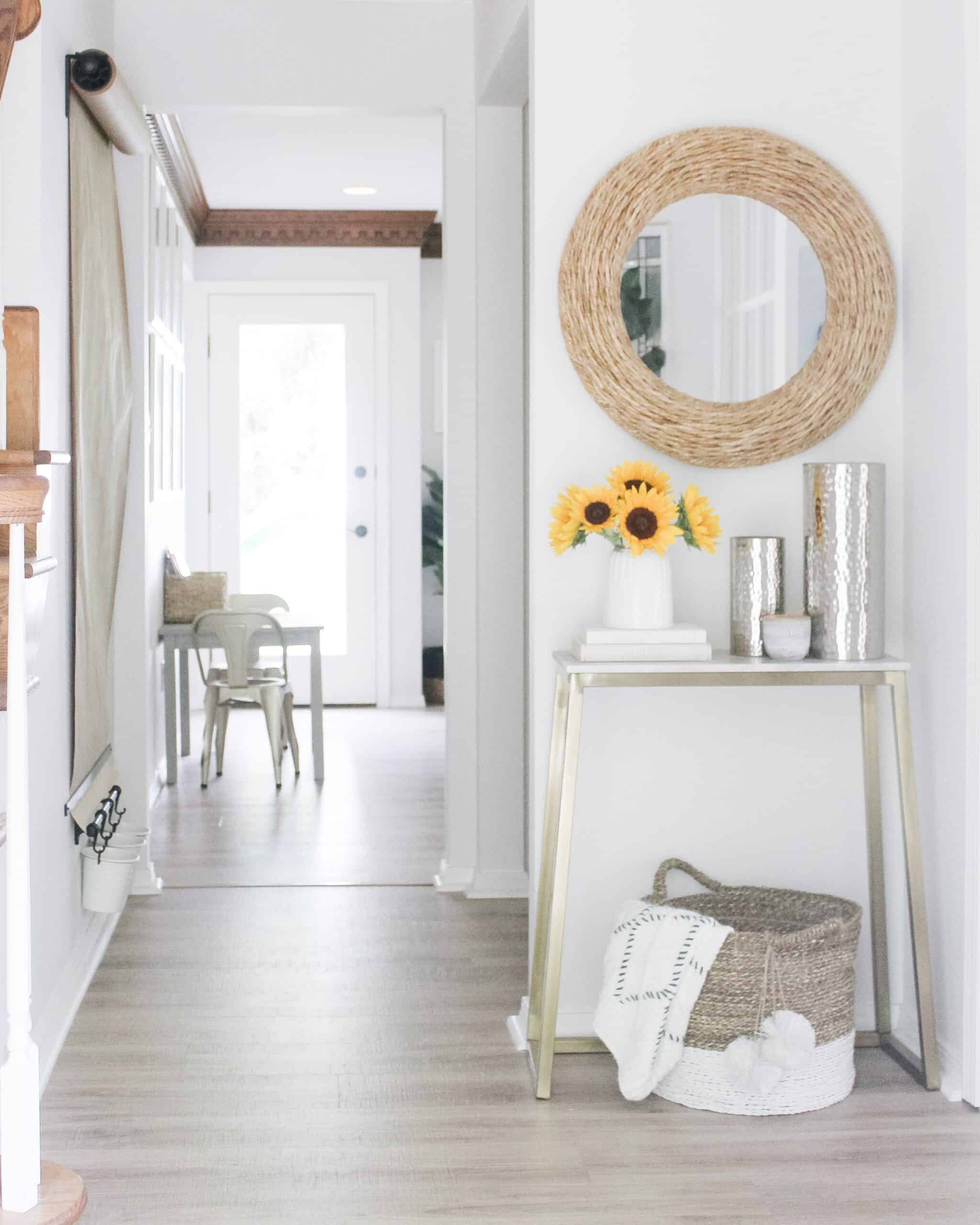 When I was researching DIY Wall Mounted Easel project I found a few inspiration posts and kind of just mashed them all together. My whole finished wall aside from the thin strip of black wood and the paper from IKEA
Before you head to IKEA for this project, because if you are like me, you like to knock it all out in one day, check out this post with all of my other IKEA hacks in one place, incase you want to tackle one of those too!
A VIDEO OF MY IKEA HACKS
What you need from IKEA:
1 RACKA Curtain rod in 28-47 inches – $1.99
1 Set Raffig Finials – $2
2 BETYDLIG brackets – $1.50 each
Optional for the marker baskets:
1 Black FINTORP Rail –$9.99
3 FINTORP Utensil Holders – $6.99 Each
1 Pack FINTORP hooks – $2.99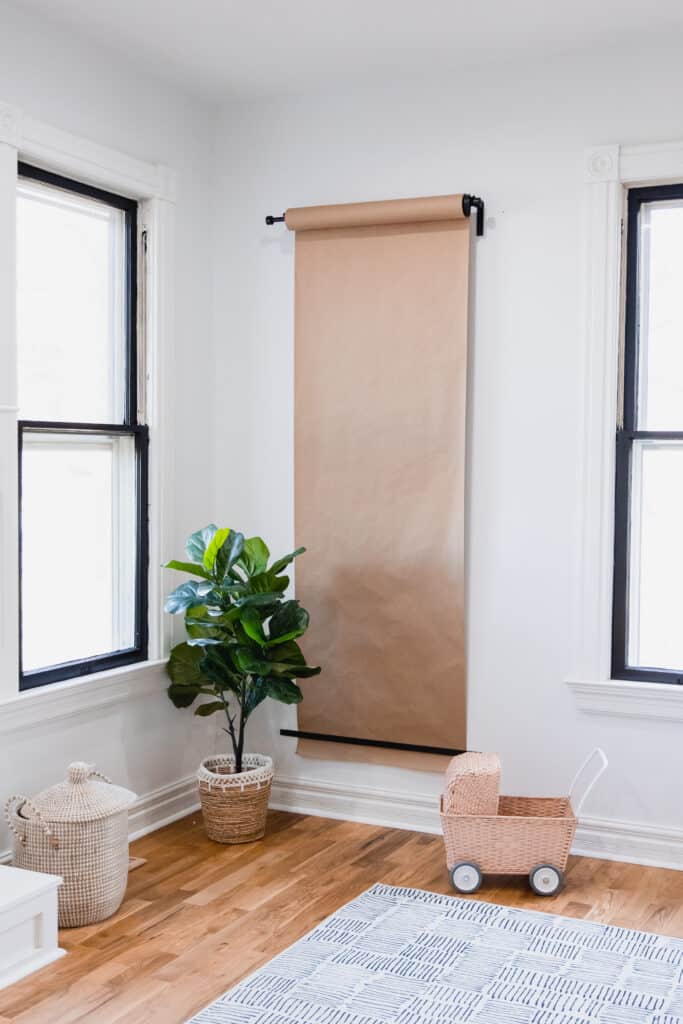 Other Supplies
Roll of Kraft paper – I chose to use the brown Kraft paper, but you could use white!
1 piece of wood 36 inches long (from craft store) -$2.99
Black Spray paint for wood if you would like
Non-IKEA Alternative for the Easel
This curtain rod bracket – important because of the adjustable nature allowing it to sit further from the wall!
Instructions
Now that you have your supplies, the actual assembly of this bad boy is so stinking easy. We actually like I said, did this for our oldest son for Christmas, and it was so easy that 'Santa' was able to install it all after the kids went to bed, and then sit down and have a glass of wine to enjoy Christmas Eve!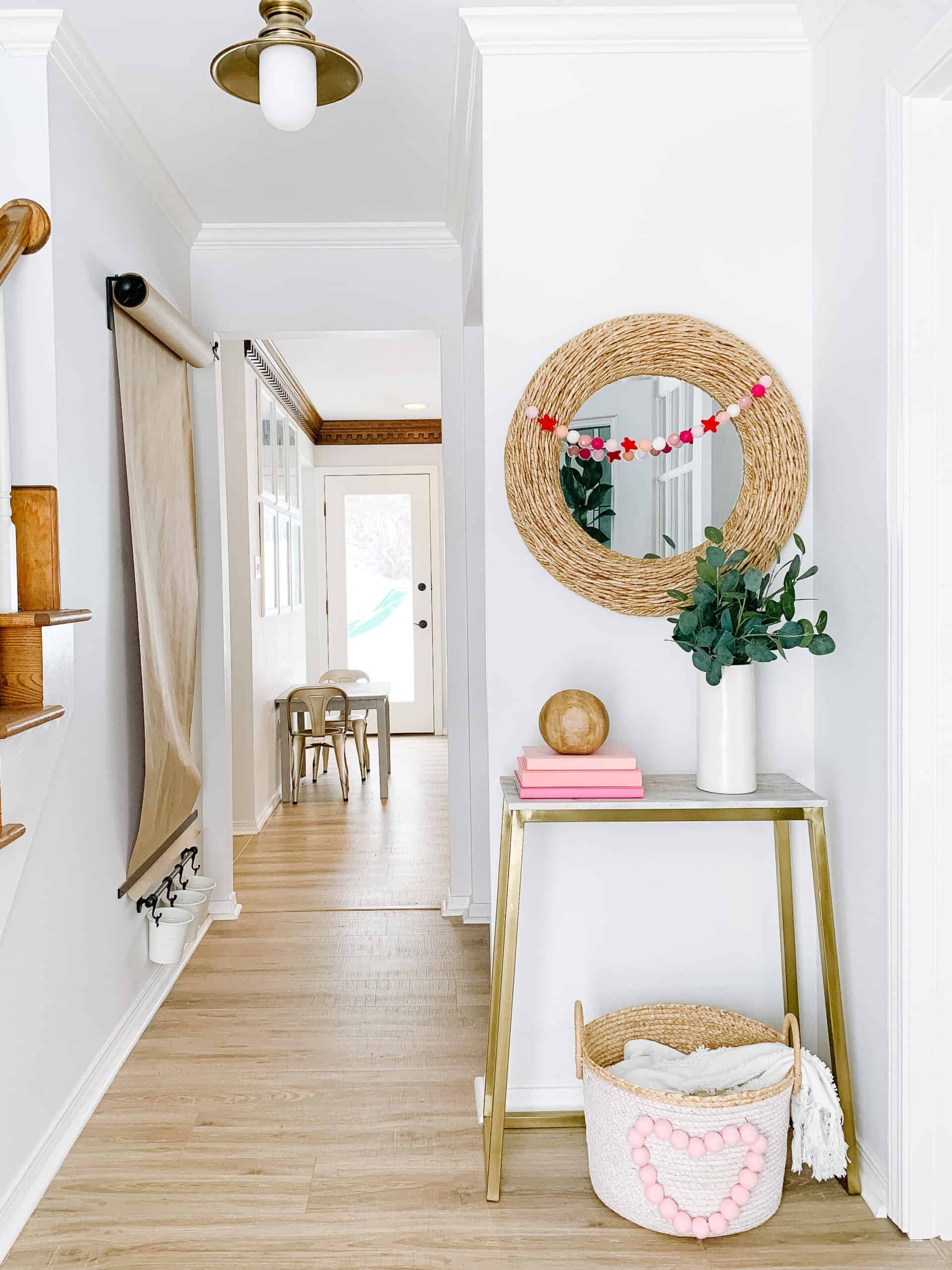 FIRST – if you are painting the wood piece black, paint that and allow it to dry. You will see that in the supplies, I simply used black spray paint.
Hang your curtain rod – hang at whatever height you would like and I hung mine roughly 32 inches across. The paper roll that I ordered (linked above) is 30 inches wide, which is where I came up with that width. One thing to note on the height is that it will stick out from the wall a decent amount, so I would recommend going high enough not to be hitting it with your head.
Put your paper roll on your curtain rod.
Now you just have to hang the wood piece. What I did was unroll the paper then laid the wood piece over it and we screwed into it on both ends NOT ON THE PAPER. So make sure your screws don't go into where the paper will feed through. You also need to leave some slack in their so that you can kind of pull it out to refeed paper through from time to time.
Hang the bar with buckets if you so choose.
Those instructions are really simple for this project, because it just truly is that simple. I am a sucker for finding super easy, simple ways to solve a decor problem, and for us this hit that right on the money!
I love that this DIY wall mounted easel is such a simple yet good looking aspect to our home, that allows the kids to have fun and not disrupt the flow of the house.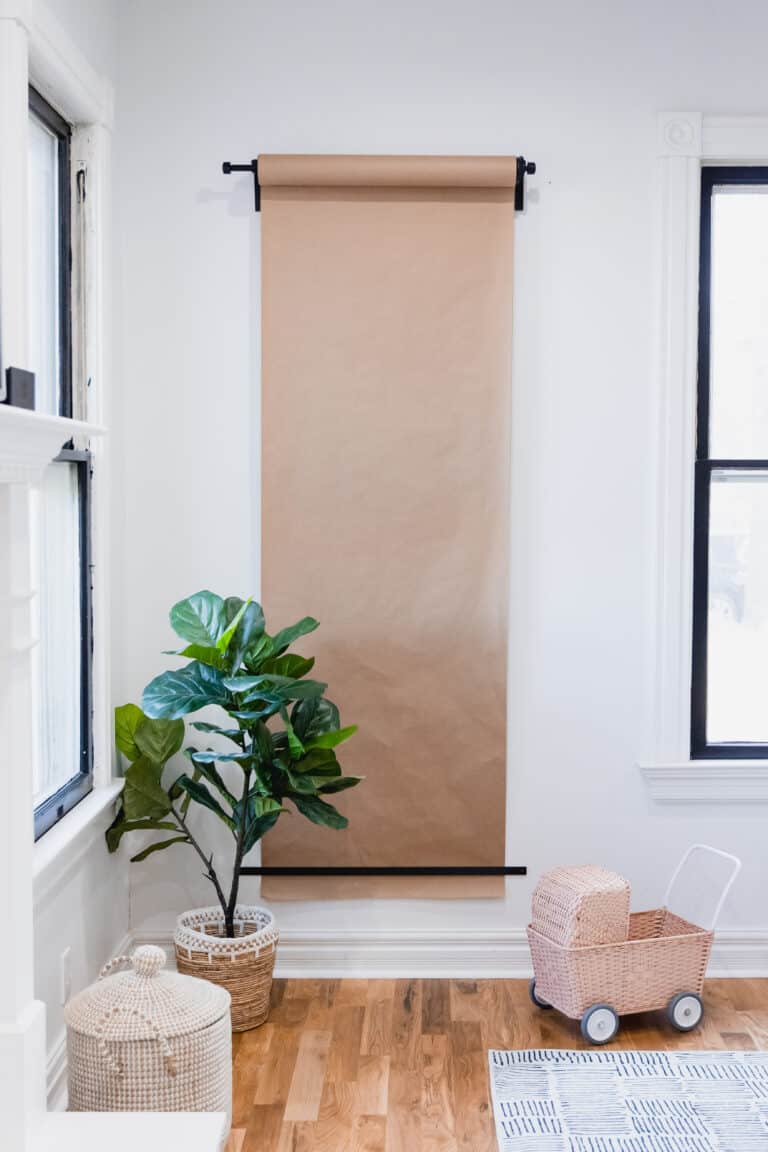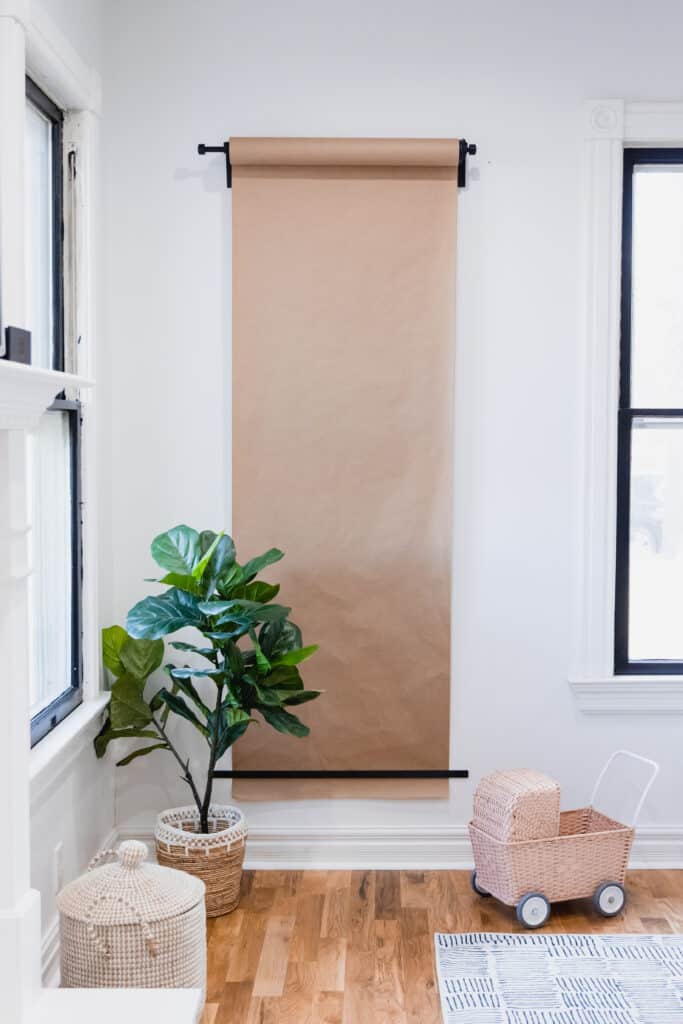 One thing I am asked frequently on social media is 'how do I keep my kids from coloring on the walls?' which the short answer is that they just don't.
My 2 year old who didn't even exist at the time this was created is a bit more of a wild child than my others, so I don't currently store markers in the baskets. The kids have to ask for them – so if you are worried about that, don't store them there.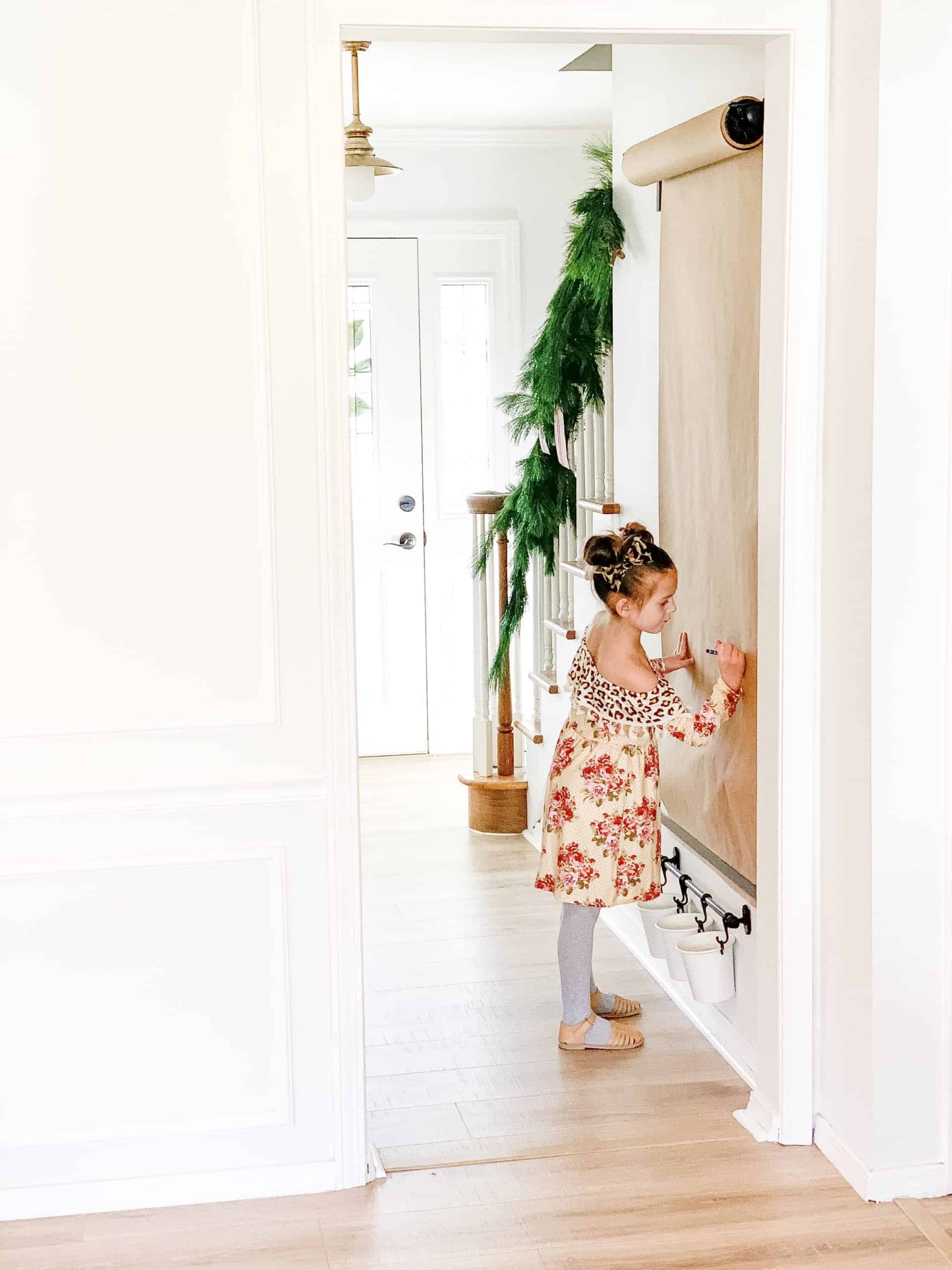 I have another great post on kids craft bins, and this is where we currently store all the kids crafts and supplies, and they simply grab their bin and if they want to use it at the easel they do!
If Marker or Crayon does get on the wall on accident, One wipe of a magic eraser, or honestly even a baby wipe for marker takes it right off, so I am not overly concerned about it. Make sure they are washable markers and crayons and you will be fine!
Again, make sure you check out the rest of my IKEA hacks here!!
Pin this Post for DIY Wall Mounted Easel for Later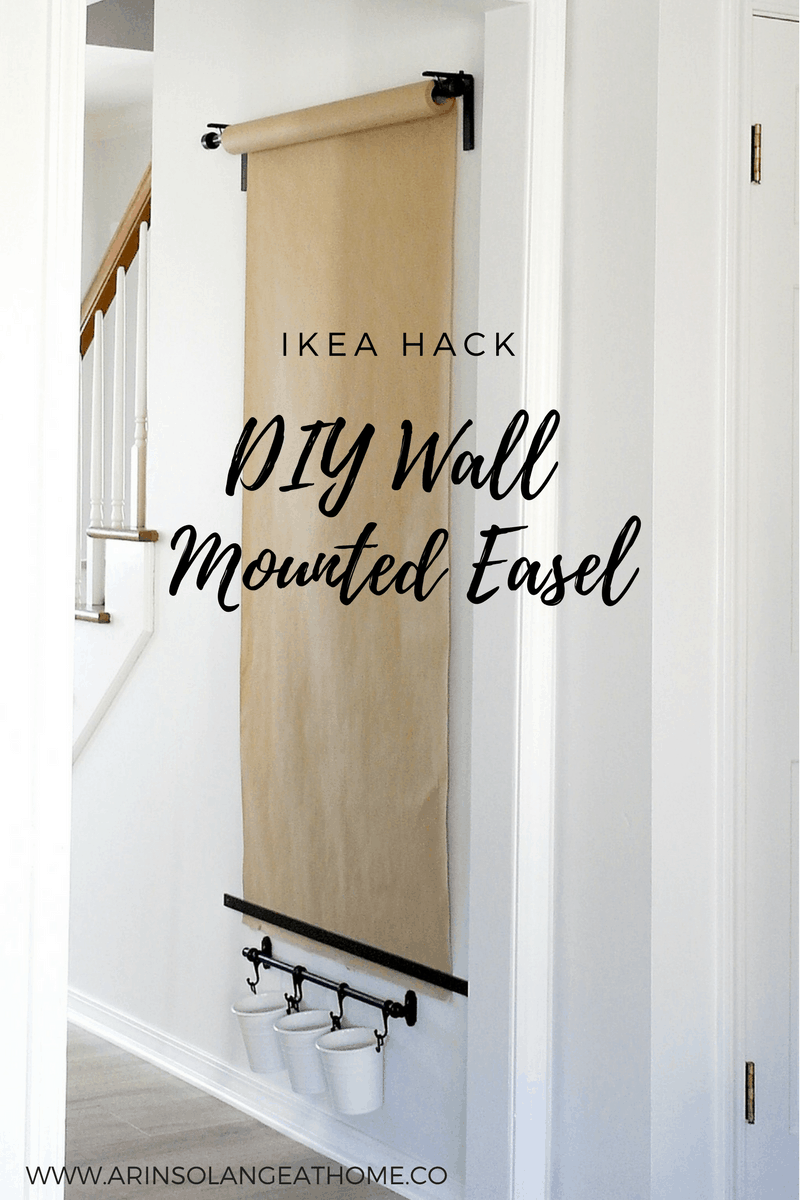 SaveSave
SaveSave
SaveSave