Our first major snow storm just hit our home in St. Louis.  With over a foot of snow, I'm dreaming of warmer weather.   This spring, we plan to show some TLC to our outdoor space.  One of the major benefits of our backyard is that it has plenty of outdoor living space.  With so much space, I have tons of plans to create the perfect backyard oasis.  Are you interested in finding out more about creating your own backyard oasis? I'll go over the best luxury outdoor furniture brands that will have you spending all your free time in your outdoor area too.
This post may contain affiliate links.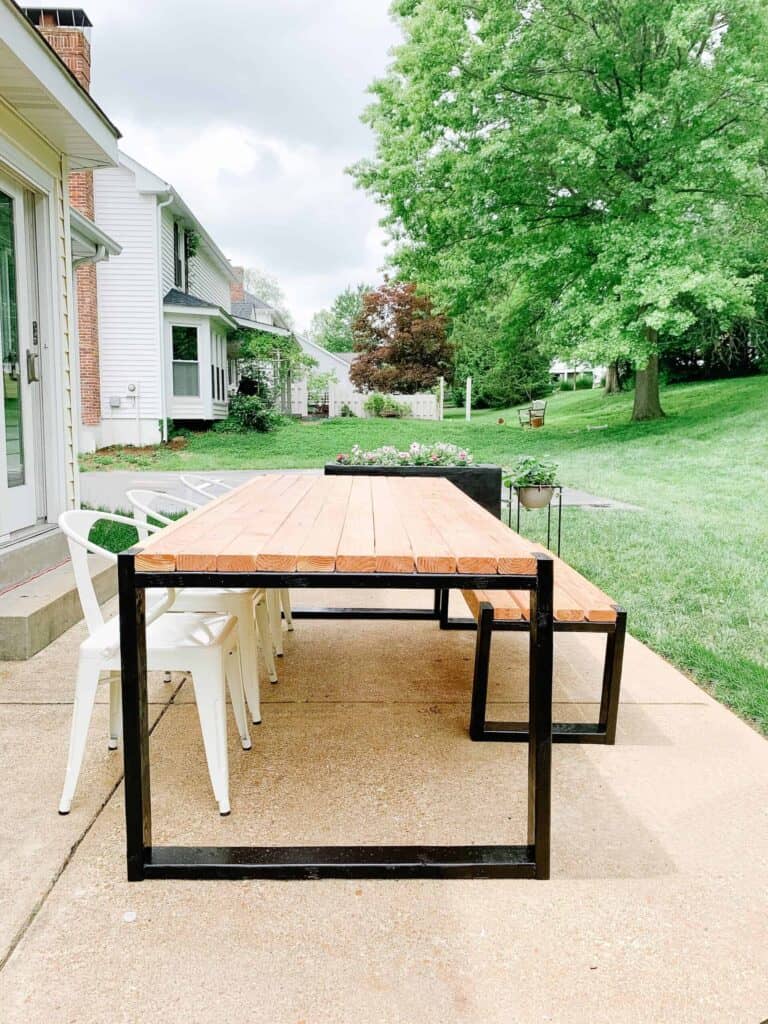 The Best Luxury Outdoor Furniture Brands
If you have followed along on my blog, and/or my Instagram or Tik Tok you know that I share a good amount of affordable furniture and decor, but I love to tie in the occasional high end item where it makes sense.
As we have been deciding on outdoor furniture for our back patio I am leaning towards luxury outdoor furniture brand so that it holds up through the seasons here in St. Louis.
As always – I will also share plenty of options for lower price points as well, but hope this post exposes you to brands and options in the outdoor furniture space that you haven't considered.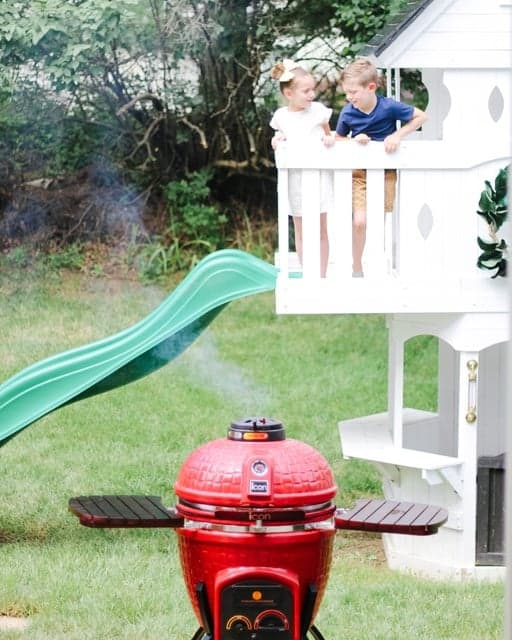 Is any outdoor space complete without a smoker? Check out my post all about electric and pellet smokers to learn which is best for your family.
Setting Up Your Outdoor Space for Outdoor Luxury Furniture Brands
What type of backyard do you have? More importantly, what type of backyard do you want? These are questions you may not ask yourself too often. However, you should be looking at your backyard as another part of your home.
The backyard shouldn't just be some outdoor space that has no purpose. If you play your cards right, your backyard can create additional living space that embraces your natural surroundings.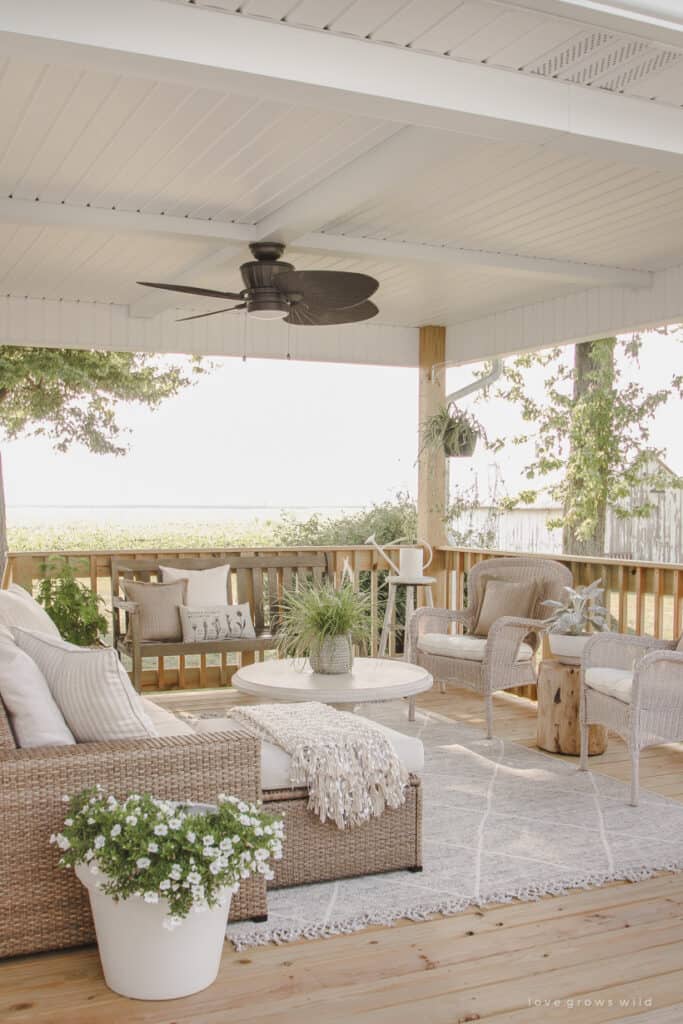 This relaxing outdoor patio is the perfect neutral space.
Physical Space & Purpose
Consider the space you currently have. How big is the area? Do you have a city apartment with a rooftop terrace or do you live in the suburbs and have an expansive backyard primed for lots of outdoor toy storage? The amount of physical space you have to work with can help you determine what outdoor patio furniture you can incorporate into your backyard.
Aside from the amount of physical space you have, you'll also want to determine what is your backyard's purpose. Do you intend to use your backyard for entertaining and dining? Or, do you have a pool and you'd prefer to keep the space dedicated to pool lounging. You may have a smaller space and prefer to create an outdoor living room.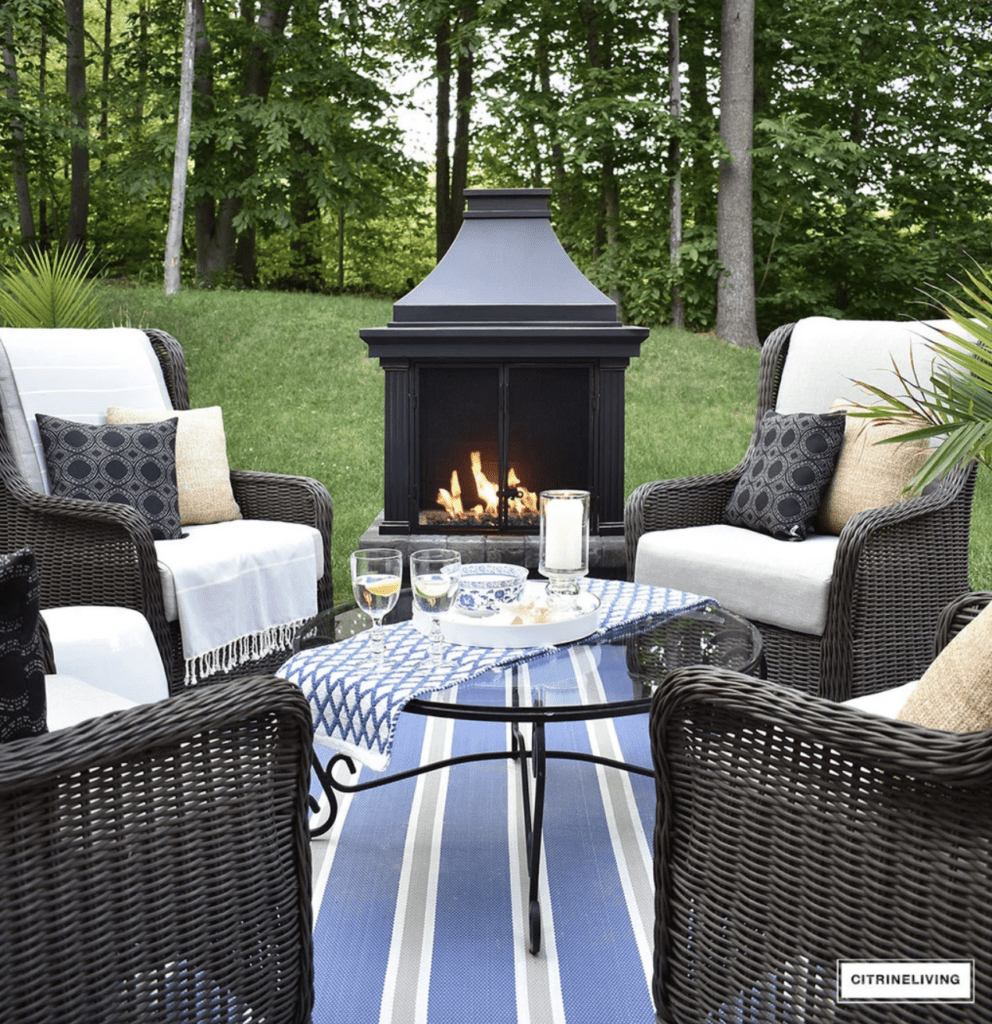 This traditional patio has two lounge areas plus a dining table!
Regardless of what you intend to use your outdoor space for, your backyard space should be reflective of your indoor space. If your home is predominantly influenced by a modern design with hues of natural wood and black and white colors continue that contemporary style into the outdoor decor for a cohesive look.
Weather
While you consider your backyard's purpose, you'll also need to be fully aware of the weather in your region. If you live in an area similar to the Midwest where it can be summer one day and winter the next, then keep in mind the space's purpose as well as your furniture's materials.
Weather conditions can impact your comfort level while trying to enjoy your outdoor space and can wreak havoc on your outdoor materials if you do not choose the best materials for your conditions.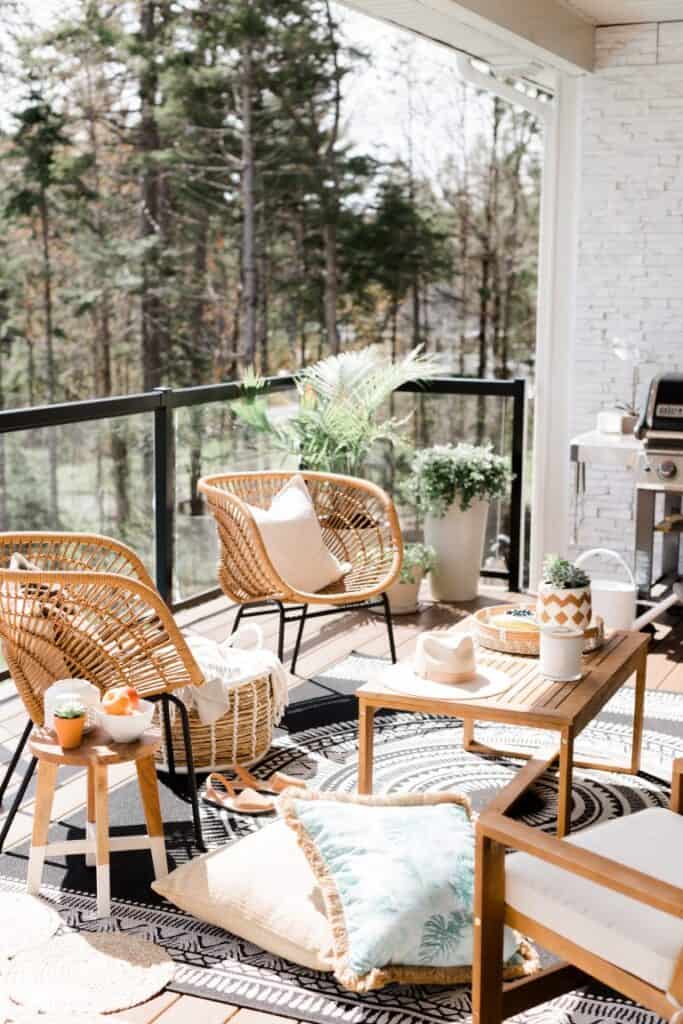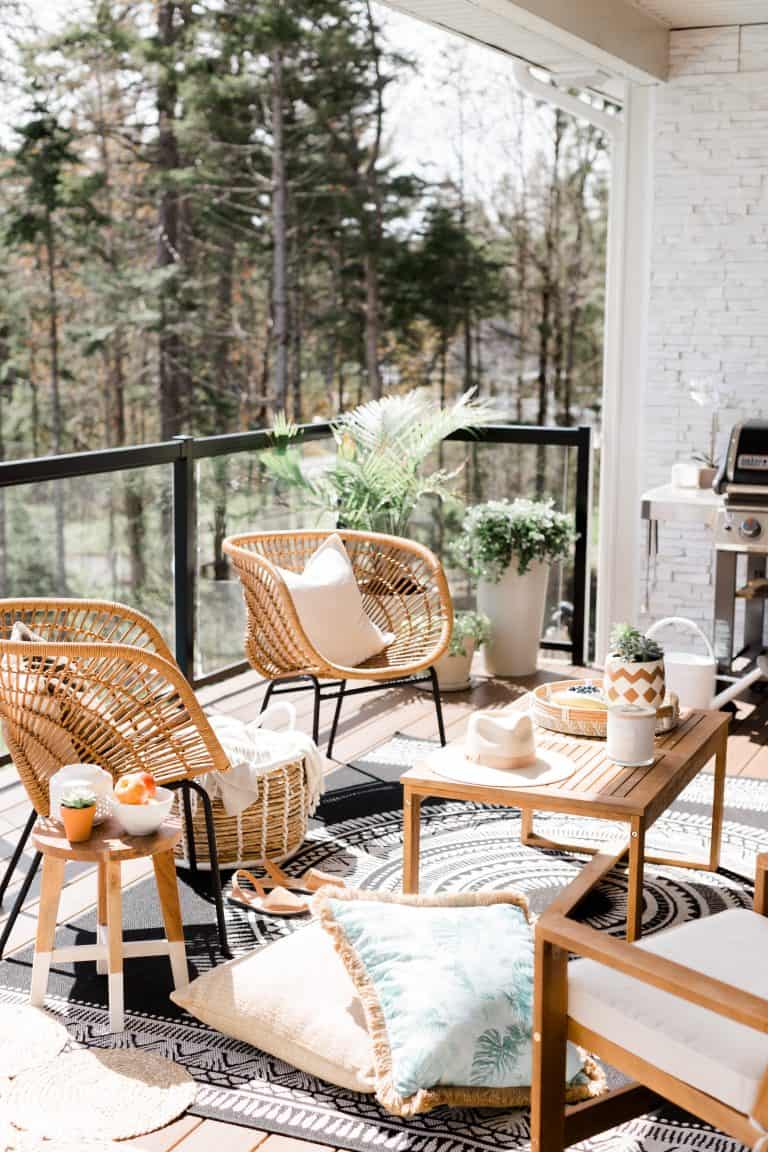 This is a great example of a stylish and functional small patio.
If you plan on using your space as an additional living area, then you'll want to ensure you set up your outdoor sofas in an area with plenty of air and shade. In the summer seasons, you won't want to sit outside and relax if your lounge sets are under the Texas sun in July.
Consider setting up patio umbrellas to offer shade or situate your outdoor lounge furniture under the shade of a tree. A great way to ensure you are maximizing your outdoor living space is to invest in landscape architects who can help you plan innovative ways to incorporate your backyard's natural surroundings with your backyard's purpose.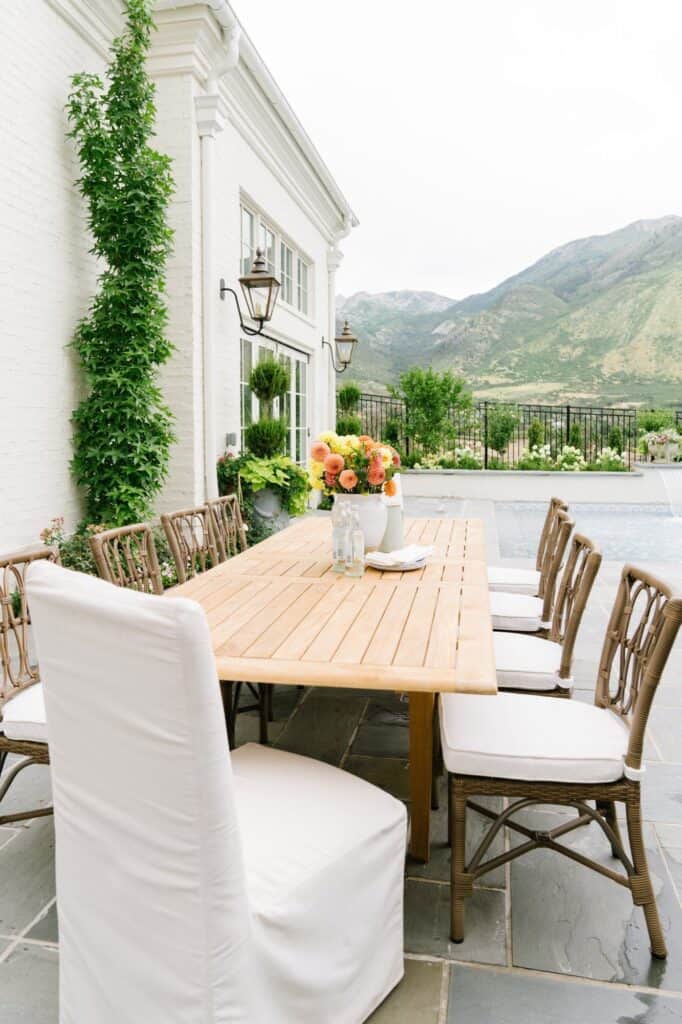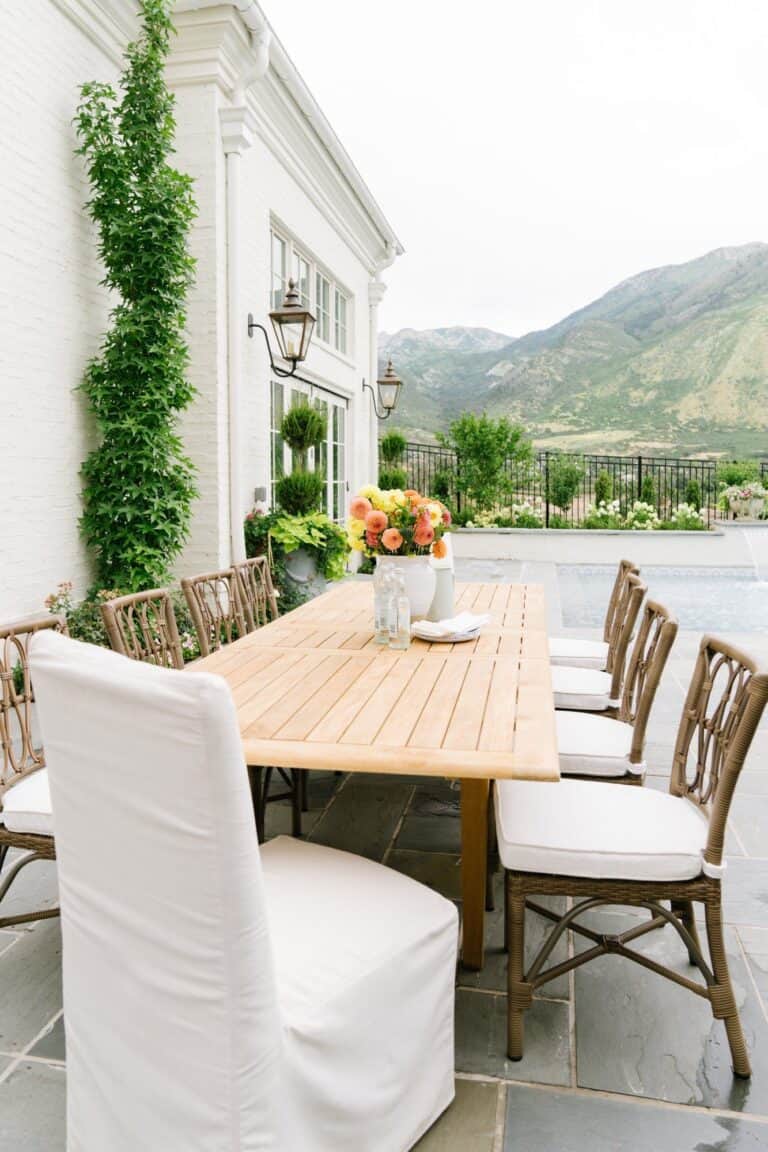 Talk about an amazing dining room with a breathtaking view! This patio is incredible!
What To Look For In Outdoor Collections and Luxury Outdoor Furniture Brands
Now that you have a general idea of what you'd like your backyard's purpose to be, you can begin to navigate the world of luxury outdoor furniture brands and collections. Your backyard's purpose will dictate which outdoor set would be suited well for your needs.
Before you go and purchase your high-end outdoor furniture, you'll want to take into consideration a few points to help you make great choices.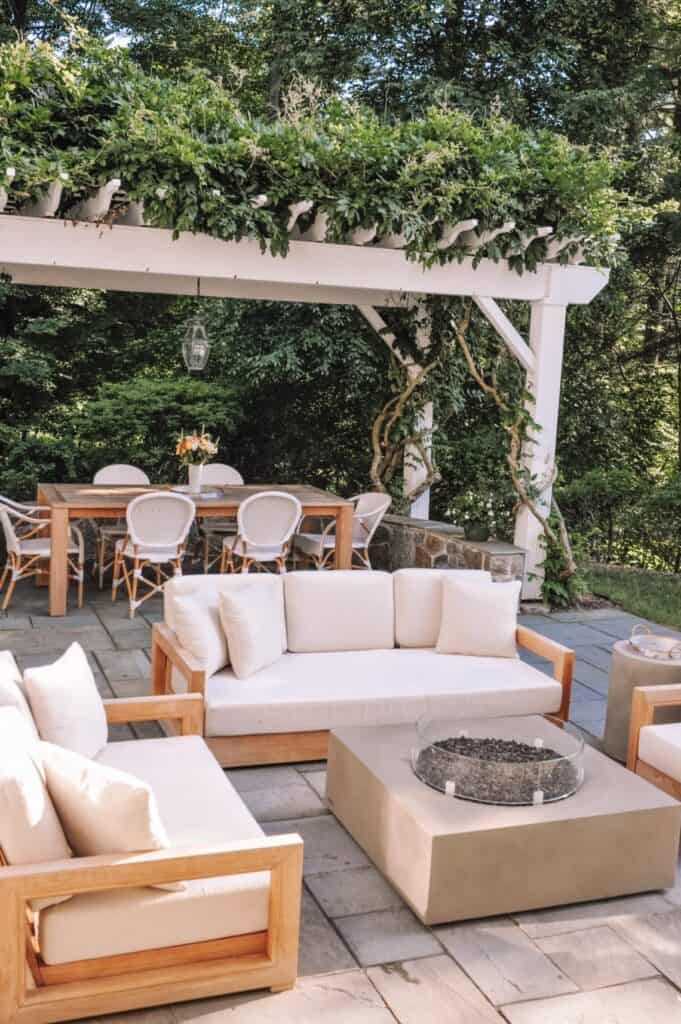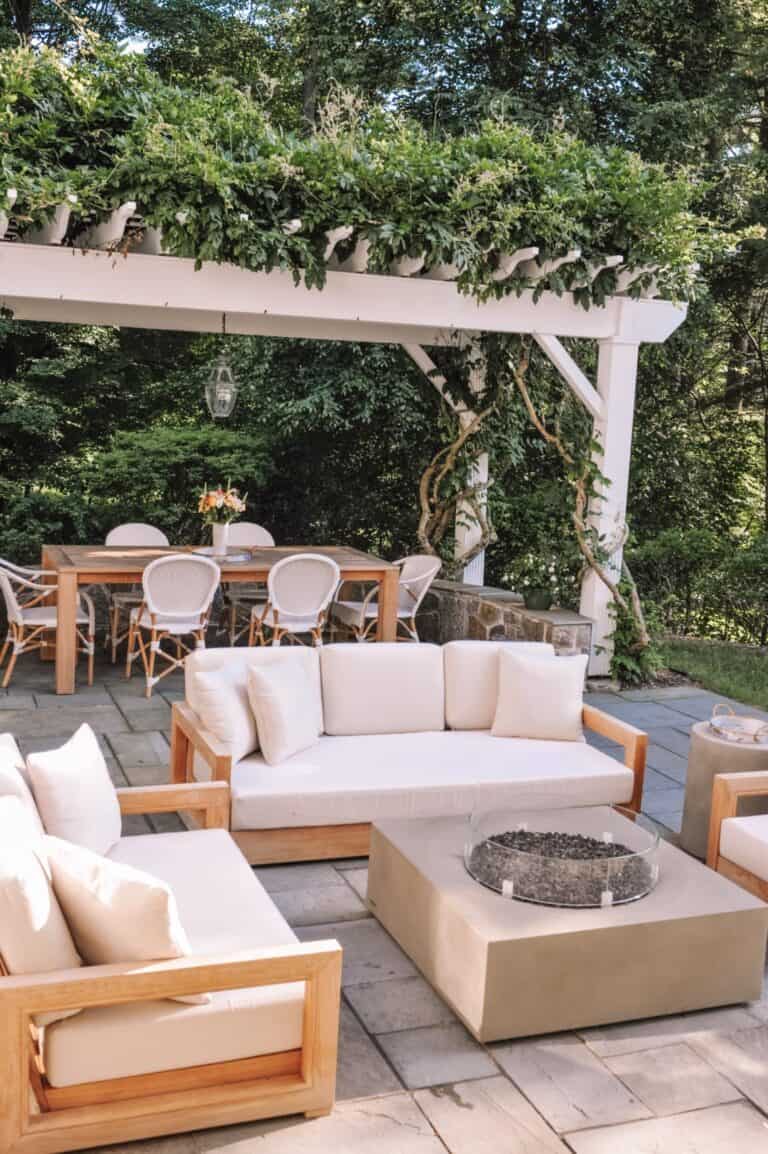 This is a great outdoor entertaining layout.
High-Quality Outdoor Furniture Considerations
Budget
This may go without saying, but your budget will have a significant impact on what you can and can't afford. You should have an idea of what your price range is for all of the outdoor pieces you plan on purchasing.
If you are wanting to get multiple pieces but are unable to afford to buy all of your pieces from high quality luxury brands, you can consider prioritizing what is most important first and save those items that can wait until another time.
Another option is to look at a wide range of prices and get those items that aren't highest or lowest priorities at a more affordable price as a middle ground.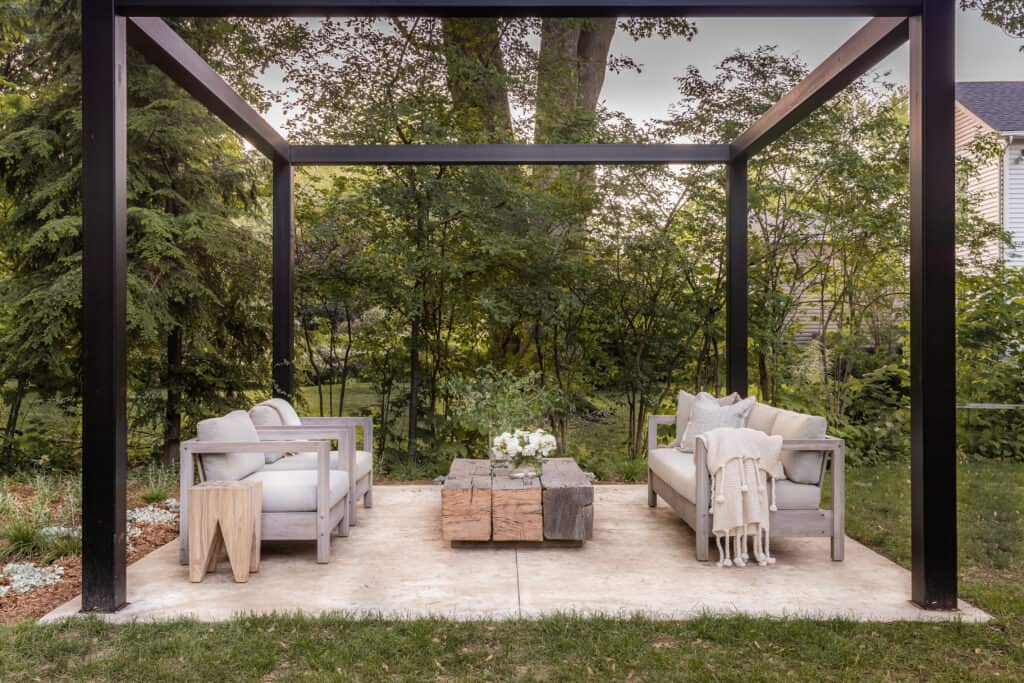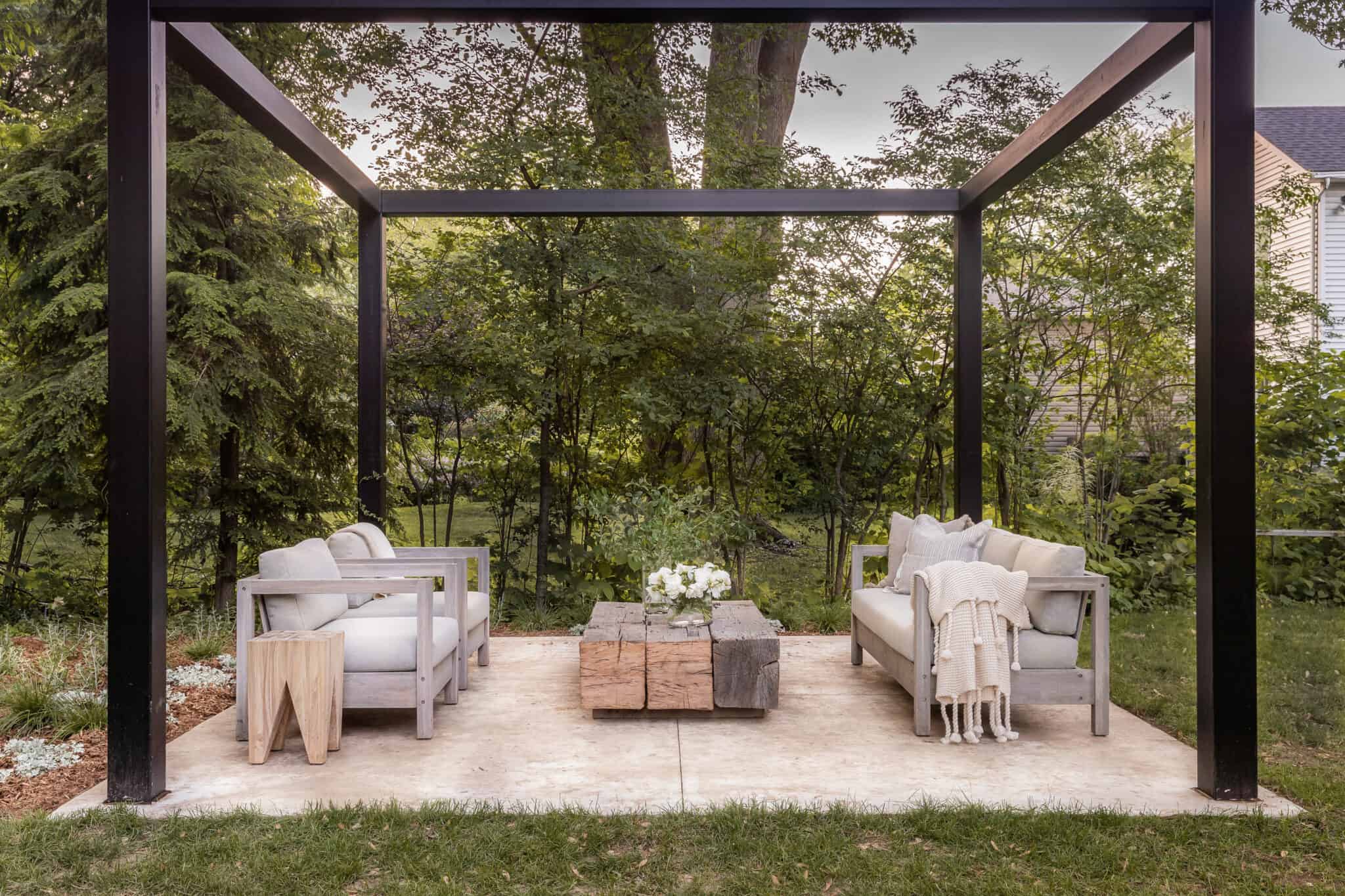 This is a great example of a patio that is limited on space.
Beautiful outdoor furniture can be expensive but you are paying for premium materials that will sustain the weather and climate for years to come (with proper maintenance, of course).
Of course there is still some high-end quality outdoor furniture that has reasonable prices. Another great option to help save money is to try purchasing your new furniture on sale during major holidays.
Materials
The outdoor furniture market is saturated with tons of innovative materials that can help your outdoor furniture last even longer. What your outdoor furniture is composed of, may not seem like a big deal, but this crucial.
The style and aesthetic of your outdoor furniture is important, but the type of material is even more important. This will give you an idea of how much maintenance you can expect; how your furniture will hold up to the different climates; if you should be concerned with mold, rot, fungi, or rust; and how heat resistant it is.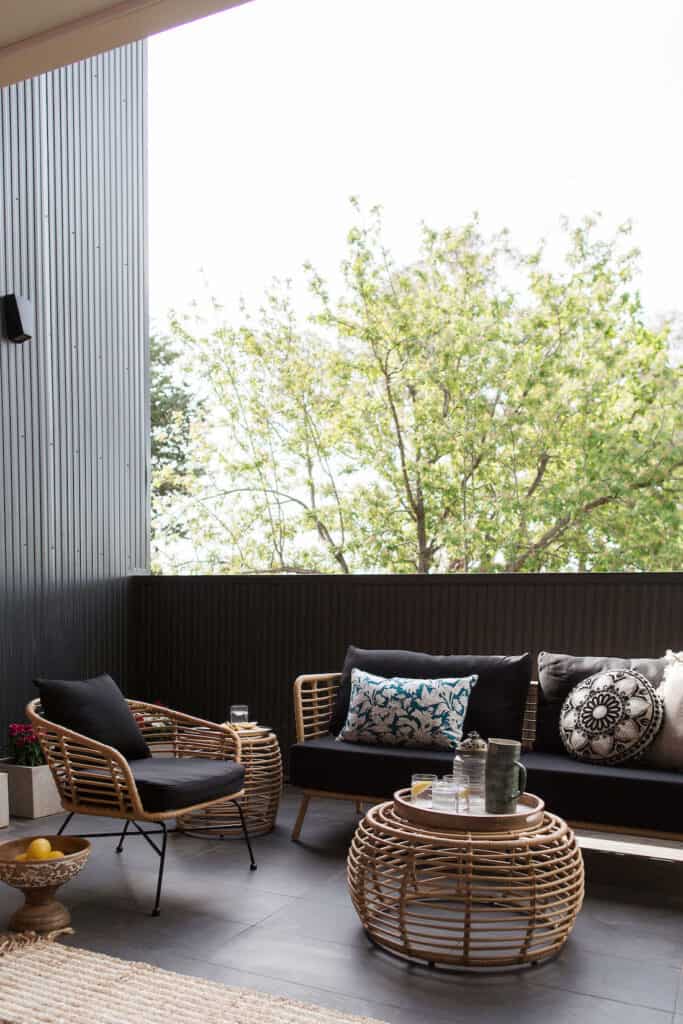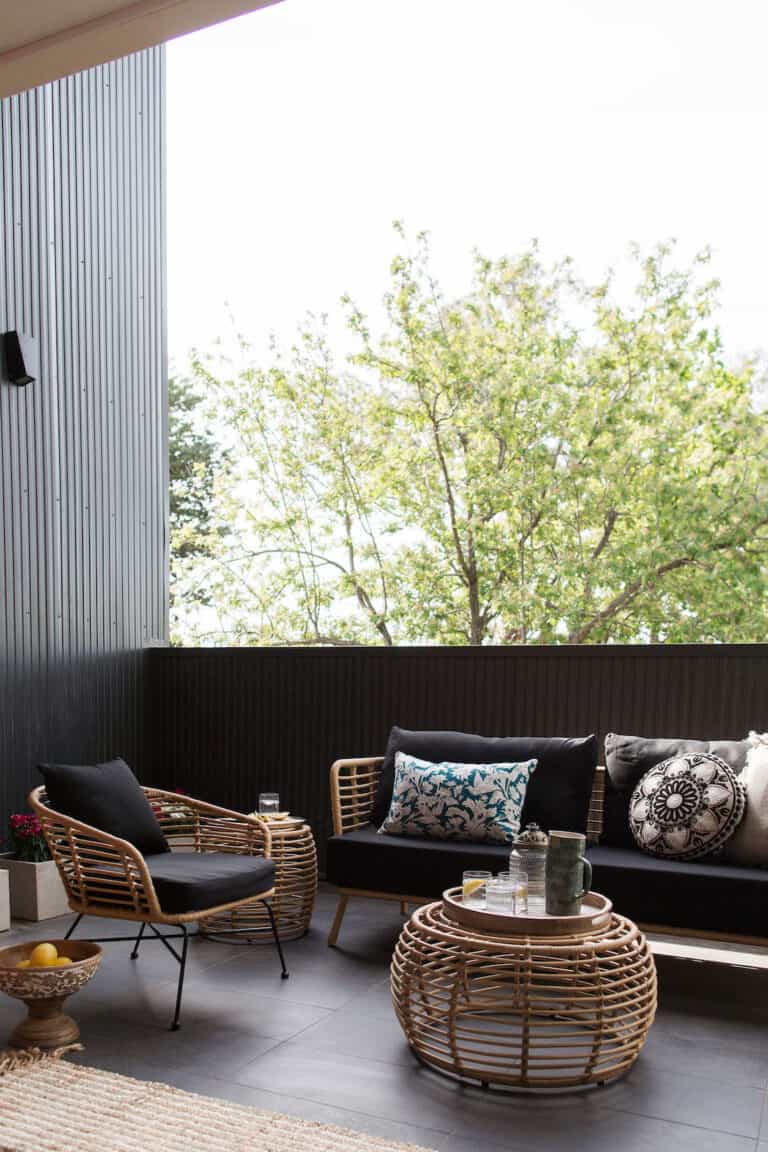 This terrace refresh included some new furniture and decor.
Just like all the things you should check in your home each year, even the finest materials will require some maintenance. You have to take care of your belongings and outdoor furniture is no exception. Different materials will require different maintenance and will have different pros and cons.
Here are a few examples of different materials used in outdoor furniture
Wood
Wood is a popular choice for outdoor sets and has many different options. Your best bet for outdoor usage is to look at a hardwood. Hardwoods are more sturdy and can withstand the elements much better than those woods. Some great examples of hardwoods include teak, mahogany, eucalyptus, white oak, and ironwood.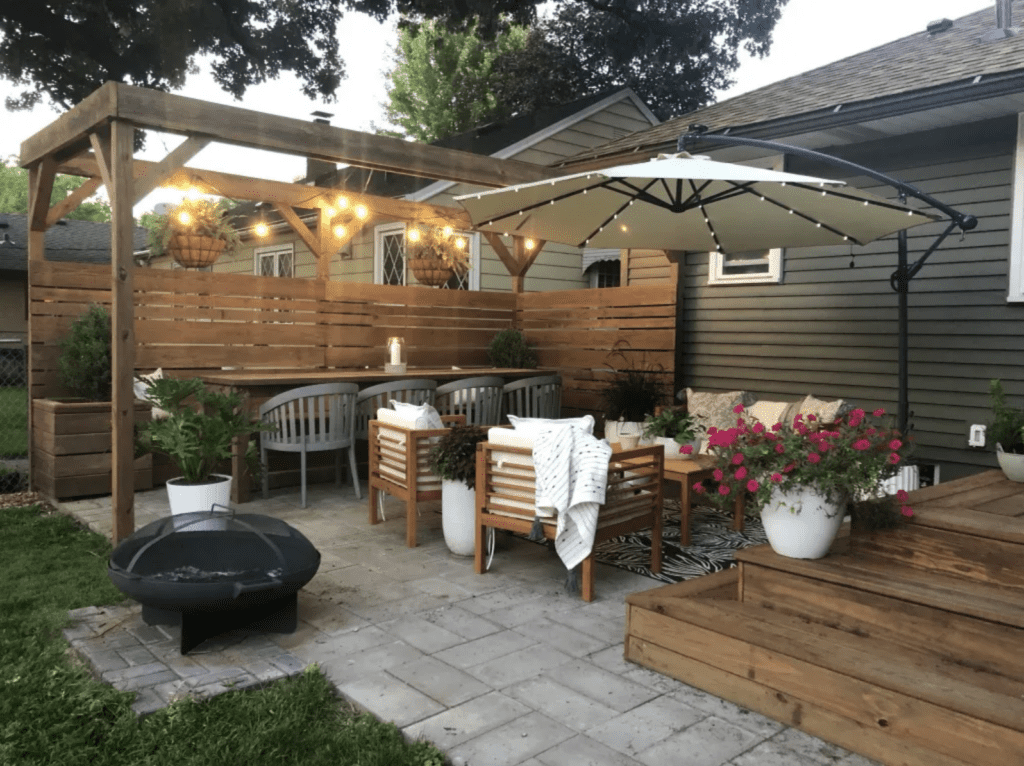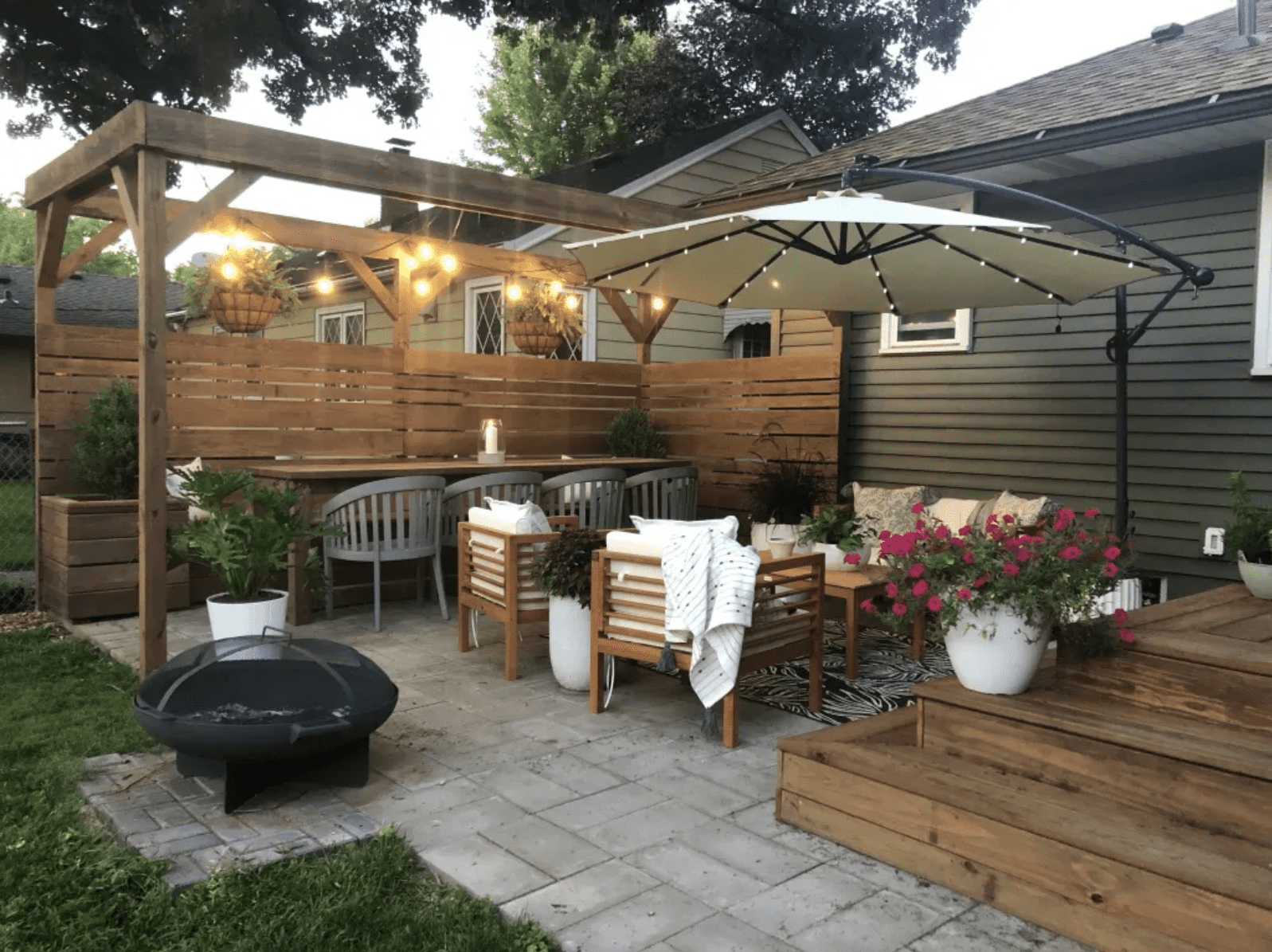 This DIY patio makeover included wooden built in seating and decking.
The most popular choice is teak wood for outdoor sets. Teak is a beautiful wood and is considered one of the highest quality materials. It is resistant to rot, fungi, and insects and is extremely weather resistant.
This strong wood is fairly easy to maintain and will provide you with a long lasting furniture set. With high-quality materials, you will pay high prices. This is by no means a cheap wood and it will be reflected in the price tag.
Wrought Iron
Wrought iron is as sturdy and durable as it comes. If you are looking for furniture in an area that is prone to wind storms this is a great option. You may be familiar with wrought iron furniture pieces and their ornate decor.
This is a great option for more traditional styles featuring a solid piece of furniture. You will have to keep in mind that because the furniture is made of metal, it will get extremely hot in the warmer months and extremely cold in the colder months.
This is a piece where you'll most definitely need cushions to help control the temperature and comfort levels.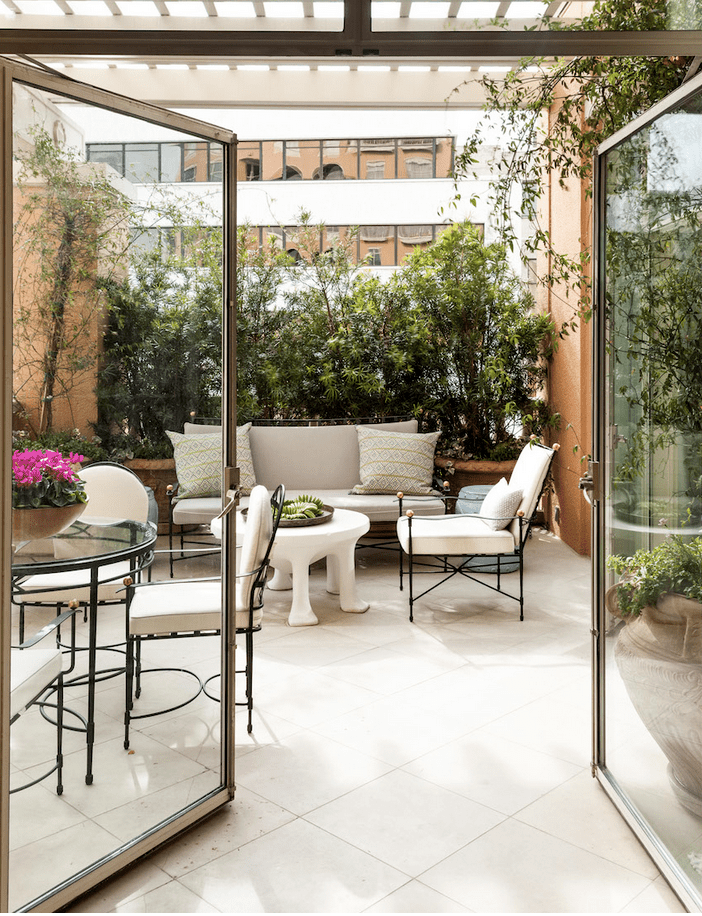 Gorgeous terrace designed by Collins Interiors
Stainless Steel
Stainless steel is another great option for sturdy furniture. Stainless steel has such a modern look to it.
You'll see some incredible dining sets and modular sofas made out of stainless steel simply for its aesthetics alone. As an added bonus, stainless steel doesn't rust or corrode and has minimal maintenance. You will, however, be paying for that convenience.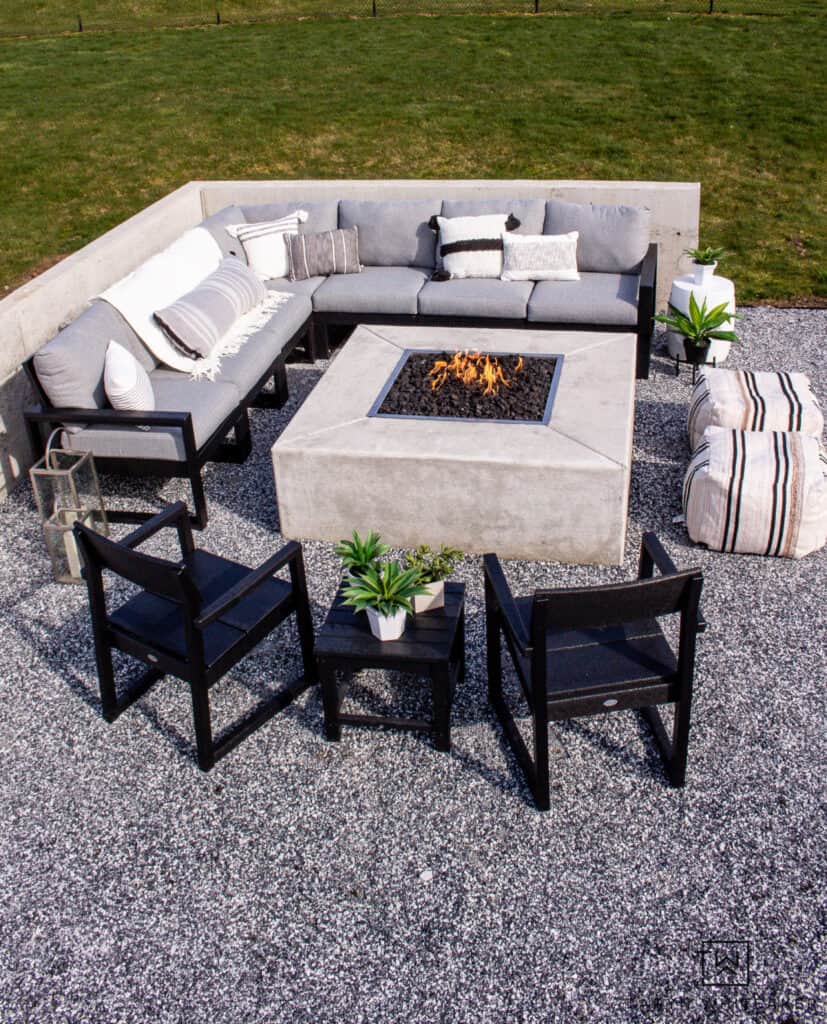 Stay cozy by the fire in this modern outdoor space.
Aluminum
Of all the metals, aluminum is by far the lightest. You most certainly do not want to have this type of furniture if you are prone to storms and wind. Otherwise, you can expect to go chasing your furniture into your neighbor's yard or worse, your own house.
If you are able to secure your furniture well, this may be a good option. It is still a durable metal and has easy care with minimal maintenance. You won't have to worry about it corroding or rusting, but you'll have to worry about it blowing away.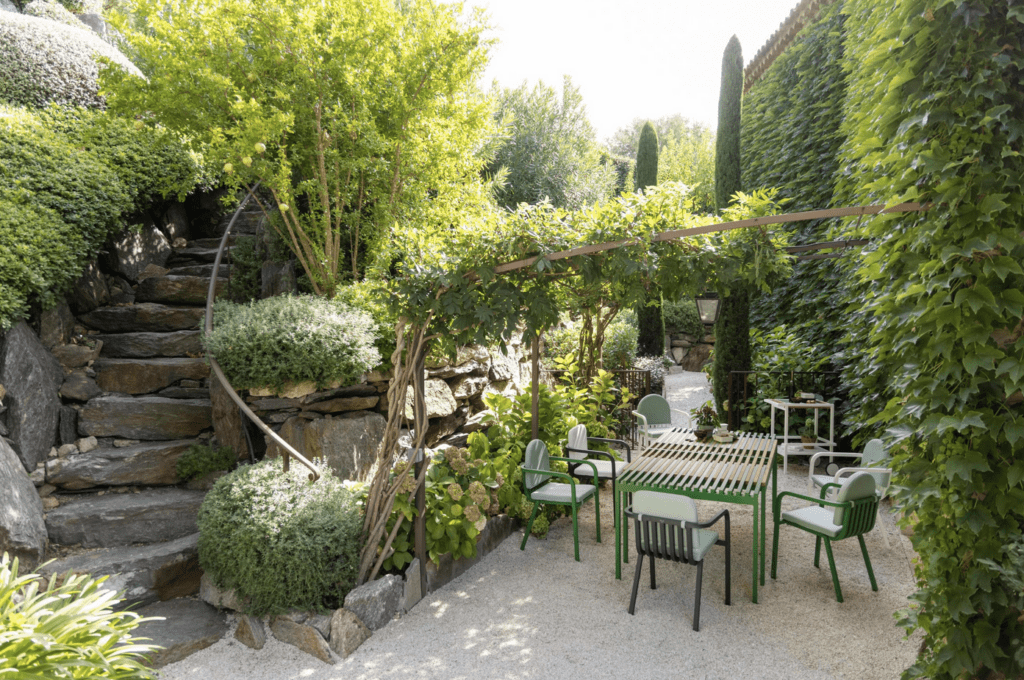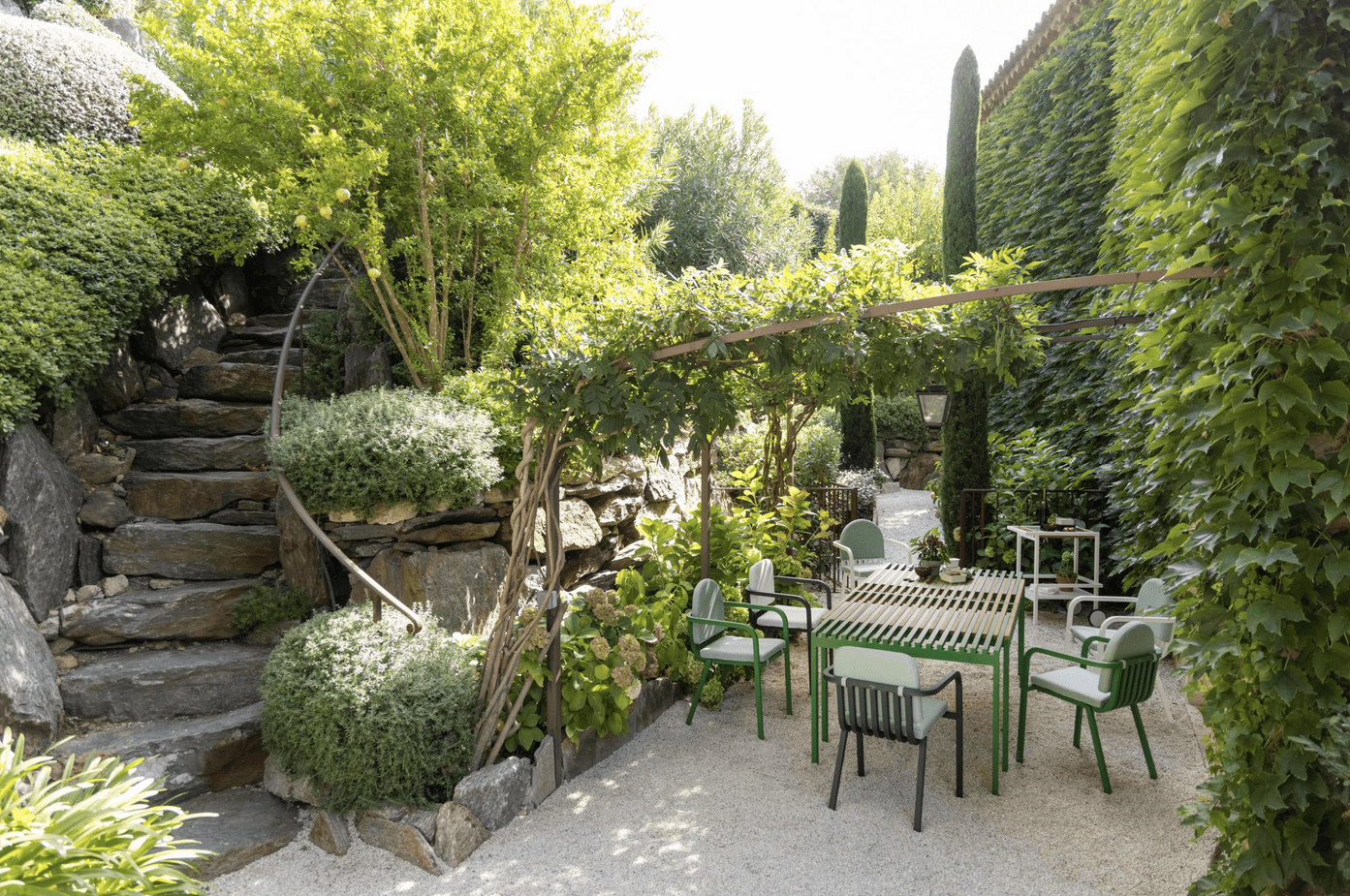 This vibrant dining set is by Ego Paris.
Resin Wicker
Unlike real wicker furniture, resin wicker won't deteriorate in the elements. Resin wicker is eco-friendly, easy to maintain, and holds up to different environments well. As an added plus, this material can be colored for a more modern feel or can look like traditional wicker for a classic design.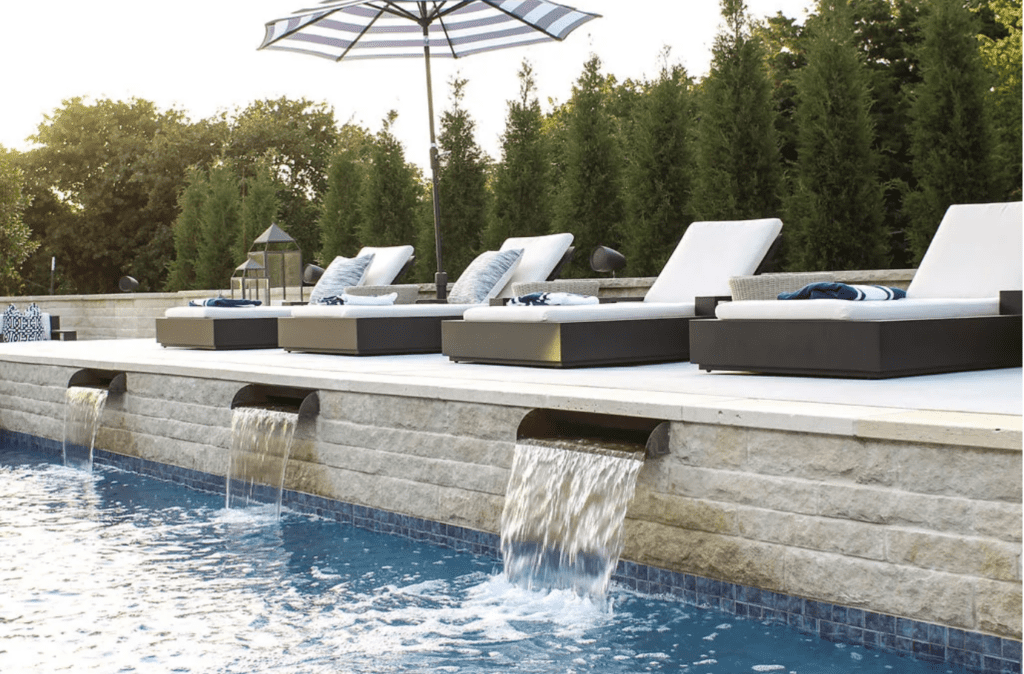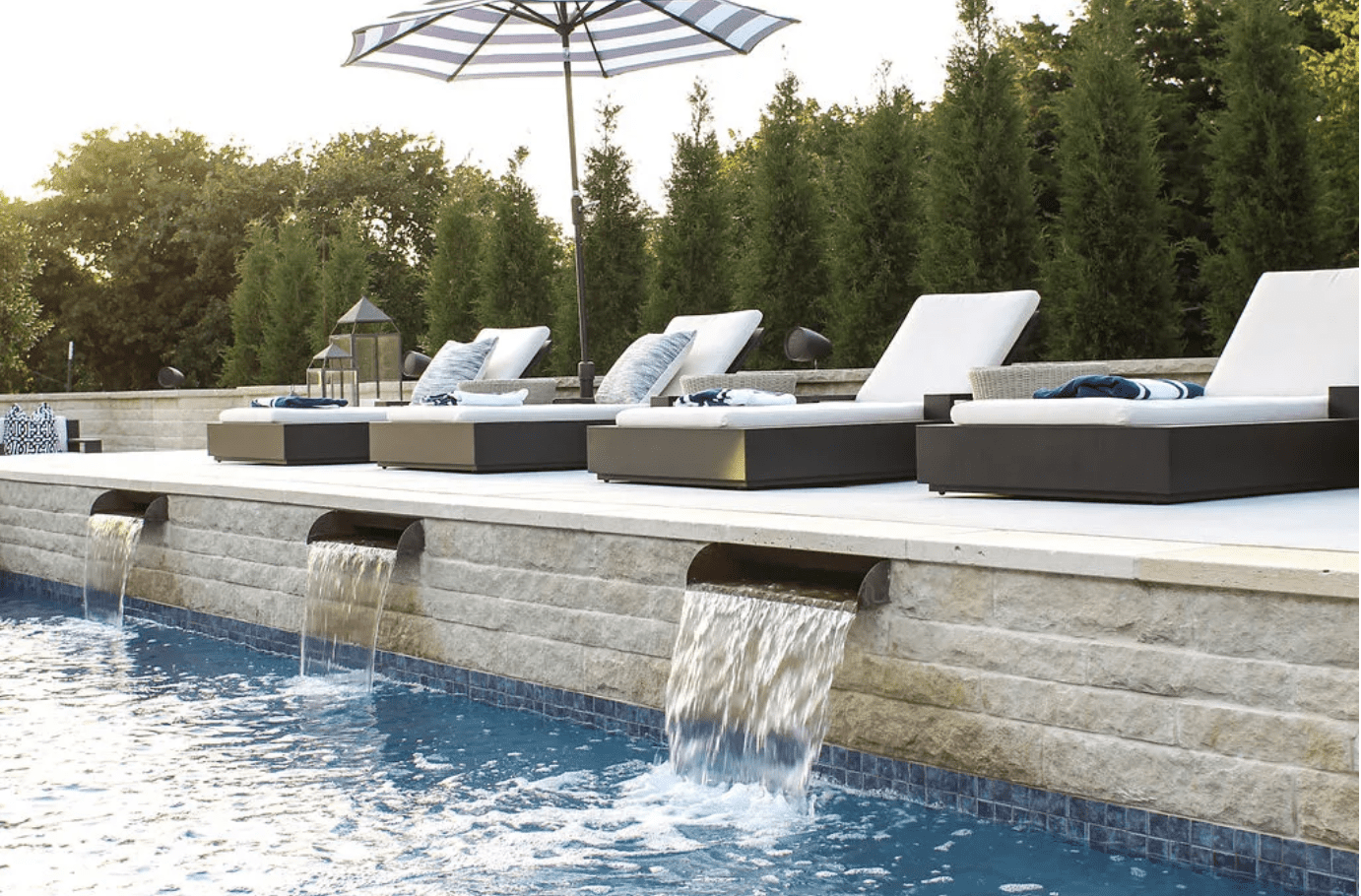 Sign me up to lounge on these lounge chairs by the pool.
Don't just focus on the material of the outdoor furniture frames. You'll also want to consider fabrics as well. If you choose to cover your seating areas with cushions, keep in mind that fabrics can fade with sun damage and are prone to mold and mildew with moisture.
One of the higher quality and well known fabrics is called Sunbrella. This is an acrylic fabric that is extremely weather resistant. You'll often see this fabric used in coastal homes due to its durability to withstand the salty sea air. This is a great choice for harsher climates and the price tag will reflect its durability.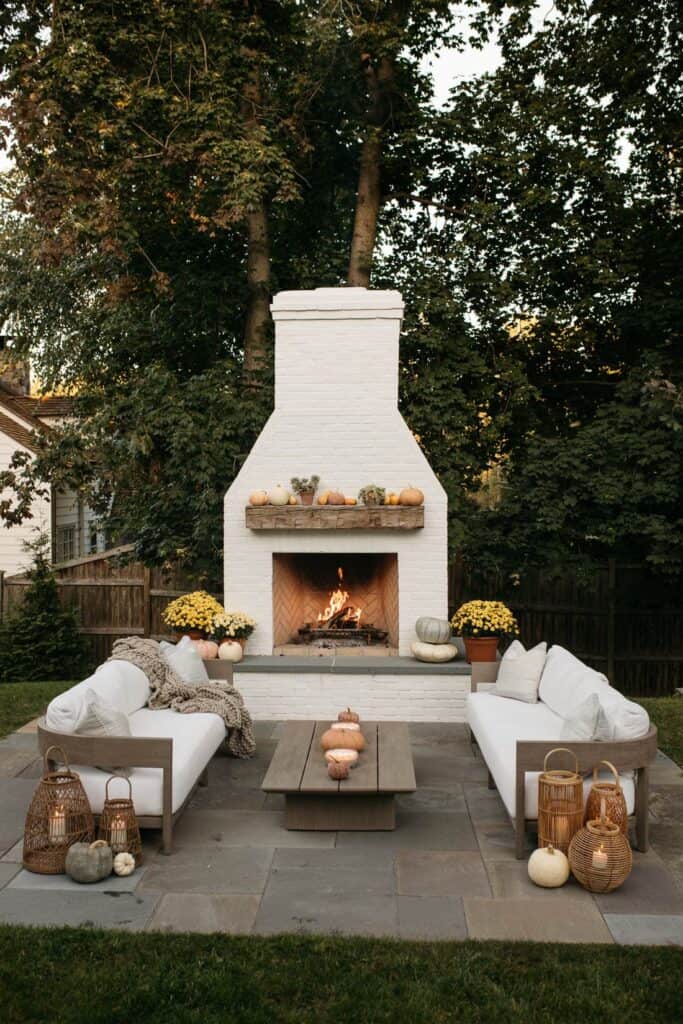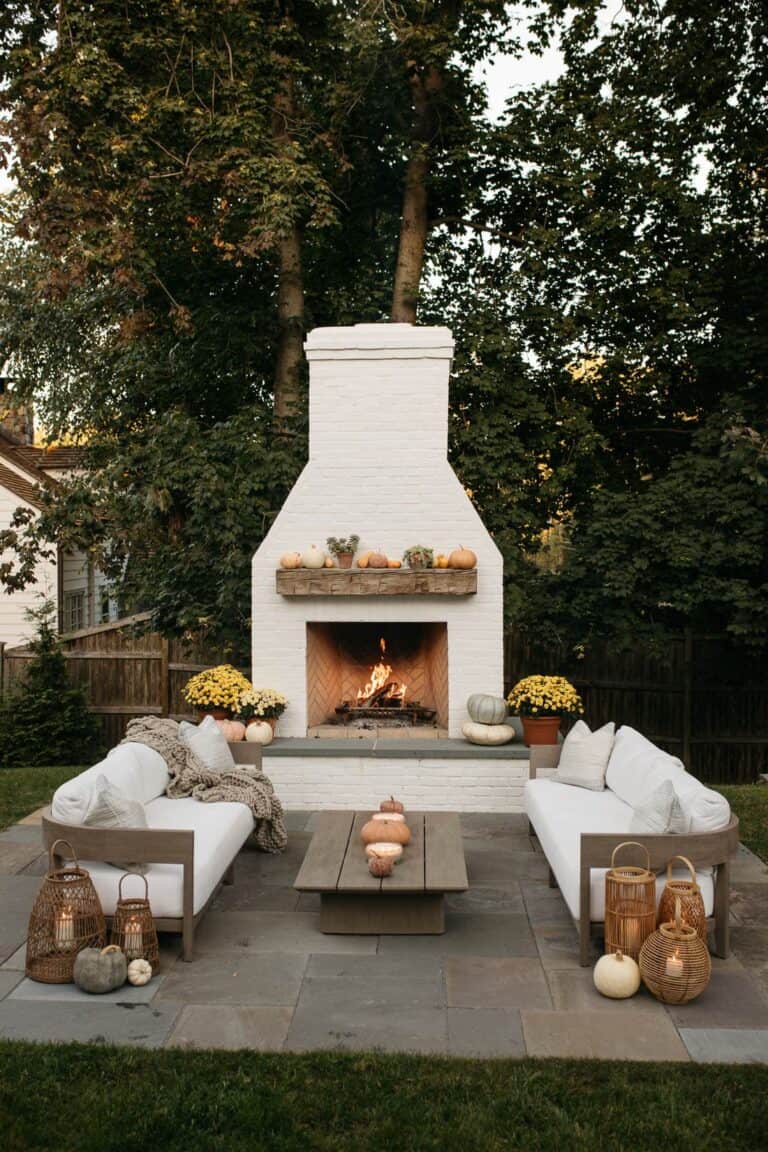 This cozy outdoor fireplace area is entertaining perfection.
Other Considerations when Considering Luxury Outdoor Furniture Brands
While your budget and material choice are the two most important considerations when purchasing your outdoor furniture. You'll also want to pay attention to availability. With supply chain problems and shipping delays, you'll want to ensure that you are picking a piece of furniture that is actually available.
Or, you'll never be able to use it. If you are expecting to buy furniture and have it delivered immediately under a time crunch, then your options have been decreased considerably. Give yourself enough time to find the best outdoor furniture and take into account delivery windows.
It may not be realistic to buy something to be used right away. That means if you'd like to enjoy it for Memorial Day weekend, you may want to start looking now.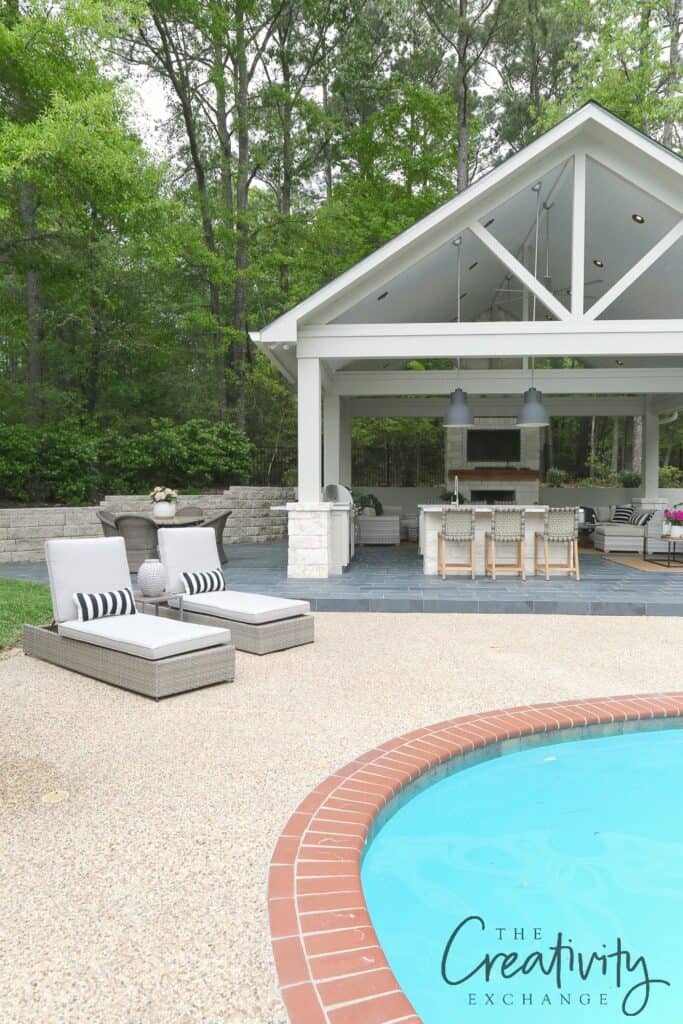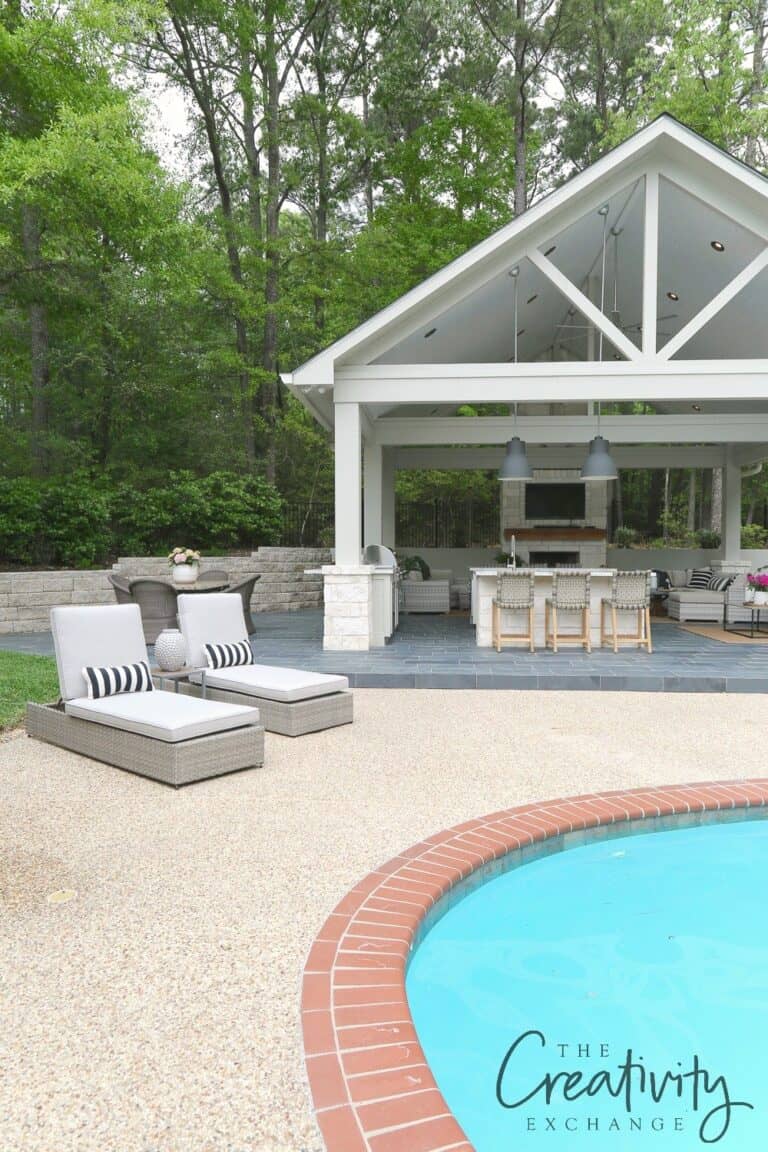 I could see myself entertaining in this outdoor kitchen.
The Best Luxury Outdoor Furniture Brands
You've taken into consideration your budget, space, and needed materials. Now, you're ready to have your backyard furnished to actually enjoy it! Here are my favorite luxury outdoor furniture brands for durable, functional, and stylish pieces.
Frontgate's interior designers value function, comfort, and small details. They are an industry leader in outdoor furniture. The company originally began with an emphasis on their outdoor line. With the popularity and success of their outdoor furniture, they have expanded to include indoor furniture and decor as well.
Their outdoor line ranges from seating, dining, patio heaters and fire pits, to umbrellas and other upholstery, decor, and pool items. One of their most popular items is their commercial umbrella, the Altura Cantilever umbrella. This umbrella creates a wide range of shade with the ability to swivel 360 degrees. This is the perfect addition to any outdoor dining table.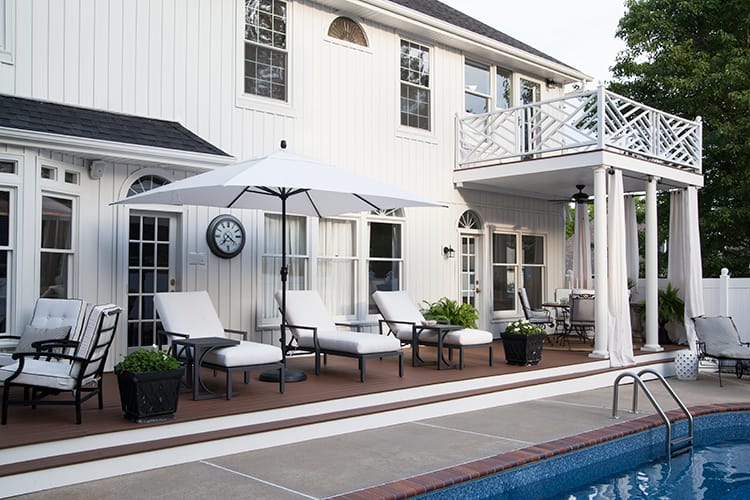 This poolside patio is complete with Frontgate furnishings.
Seating has several options that range from modular sofas, sun loungers, and lounge chairs, to daybeds, and loveseats. Dining sets range from 5 to 7 piece complete sets, to cafe and bistro tables, and even to full outdoor kitchens.
You can pick between teak, upholstery, aluminum, and wicker. As an added bonus, their outdoor furniture frames and hardwood frames have a 10 year structural frame warranty.
What I love about Frontgate is the versatility of its products. You can find something for any style and taste. Their furniture is both modern, traditional, and transitional. I also love that they have some great options in decor and outdoor rugs to accessorize your space. It is a one-stop shop for completing your backyard oasis.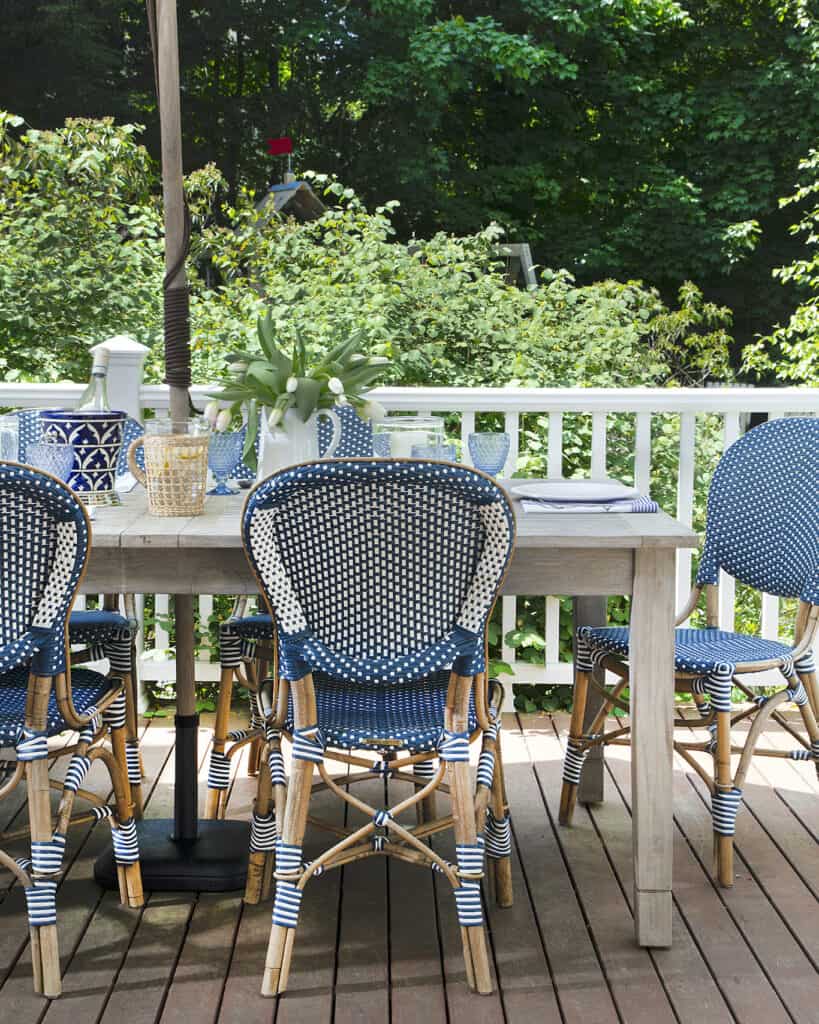 Frontgate's dining table is a perfect addition for any decktop dining area.
Their Emerson line truly looks like you moved your indoor space outside. This line only includes seating and has modern touches. The 2 seat sofa and matching chairs would look amazing under a covered lanai. My favorite item in this line is their barrel wood accent tables. These are made from all weather resin and crushed stone and have such a weathered modern look. The Emerson line ranges from $800 up to $8000.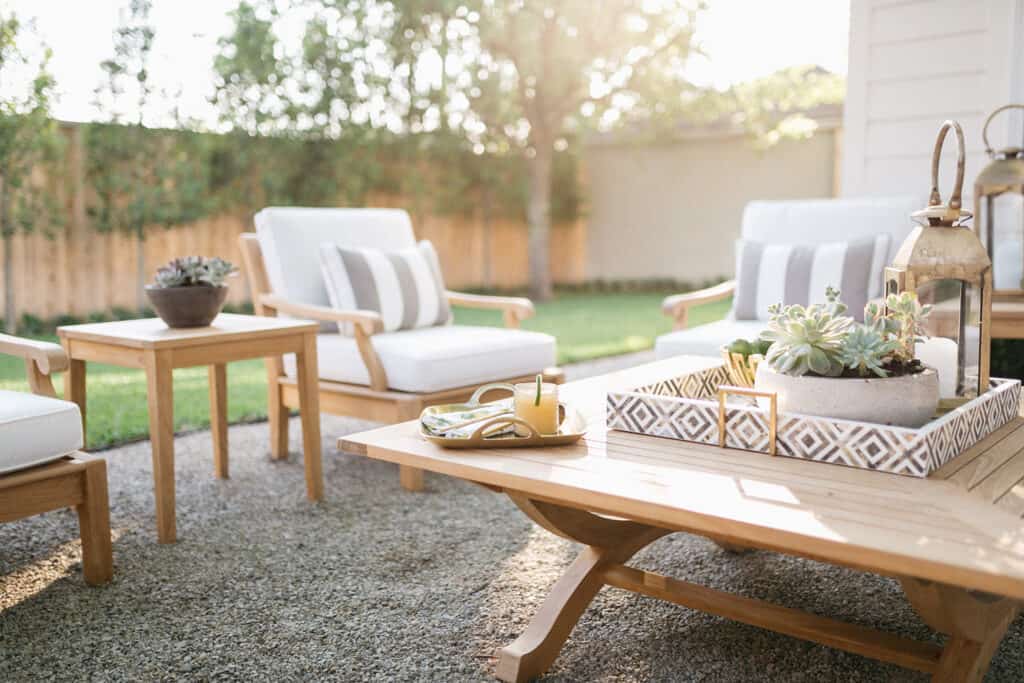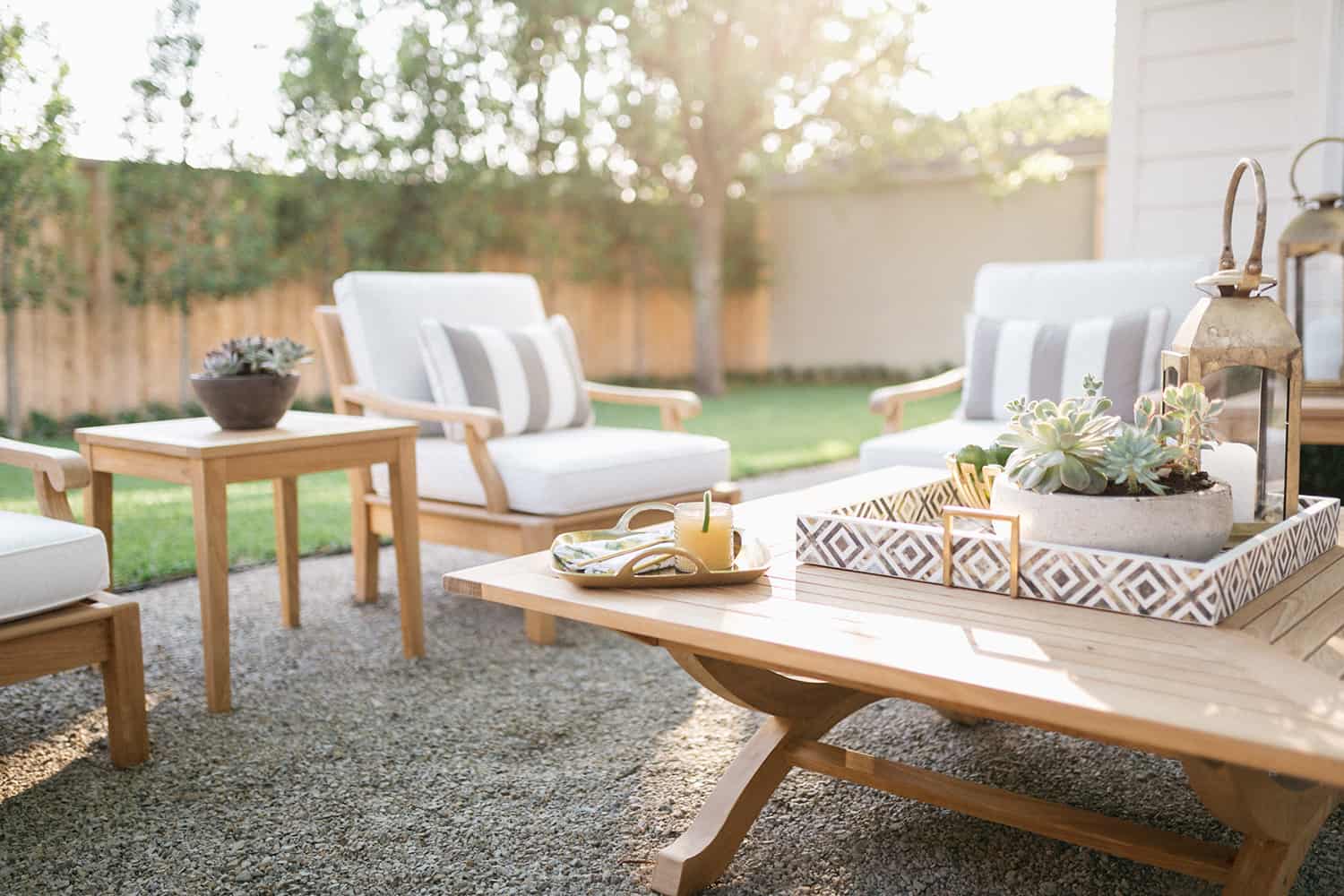 Frontgate's Cassara line has beautiful wood and neutral tones seen in this backyard patio.
If you are looking for a much more traditional style of furniture, the Palermo line is for you. This is a line of wicker patio furniture that comes in several different shades. From seating to dining, this line will cost you anywhere from $400 to $6000.
You can't go wrong with any individual pieces at Frontgate. This is a great place to consider purchasing your outdoor furniture.
In terms of design, Crate & Barrel is a great choice for a more modern feel. They have a signature design that is contemporary and modern with sleek clean lines. Often, when you think of modern designs, you may not necessarily associate it with comfort. Crate & Barrel's line of outdoor furniture is centered around comfort.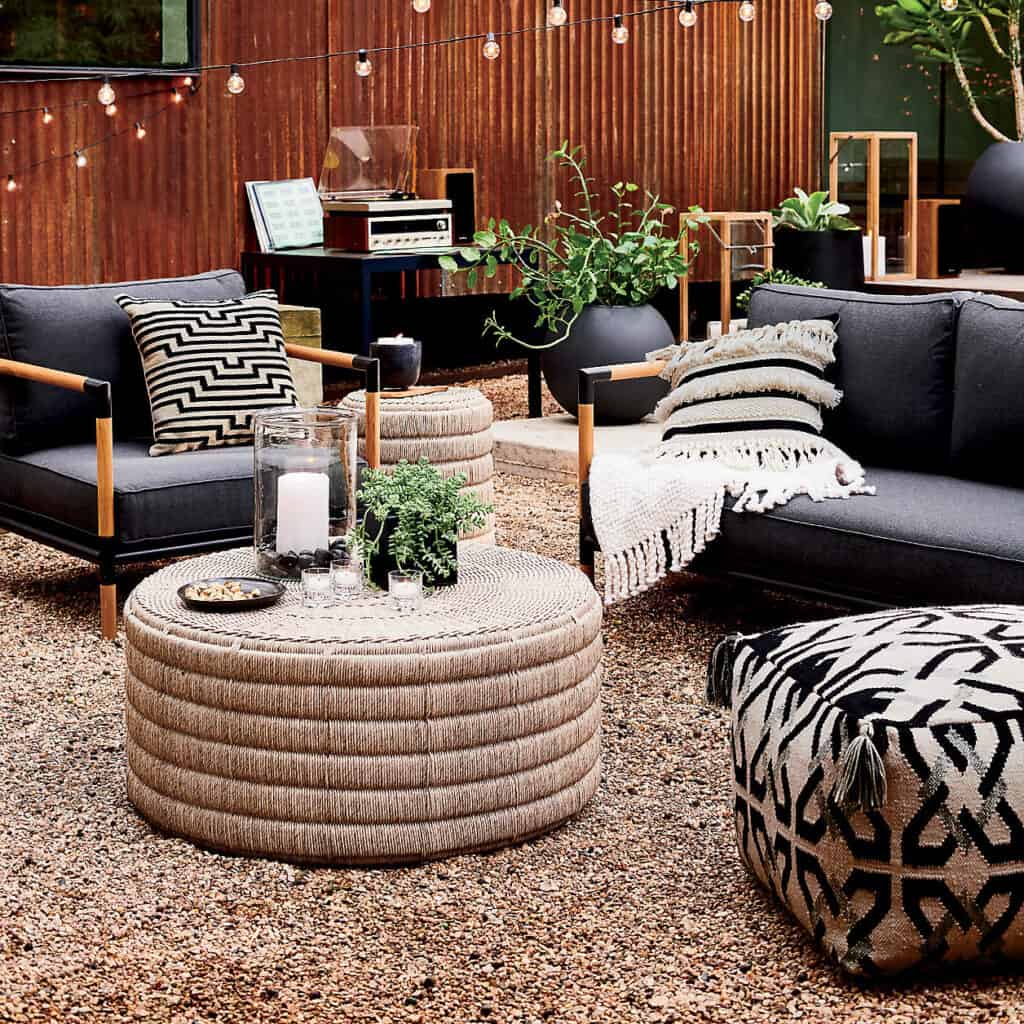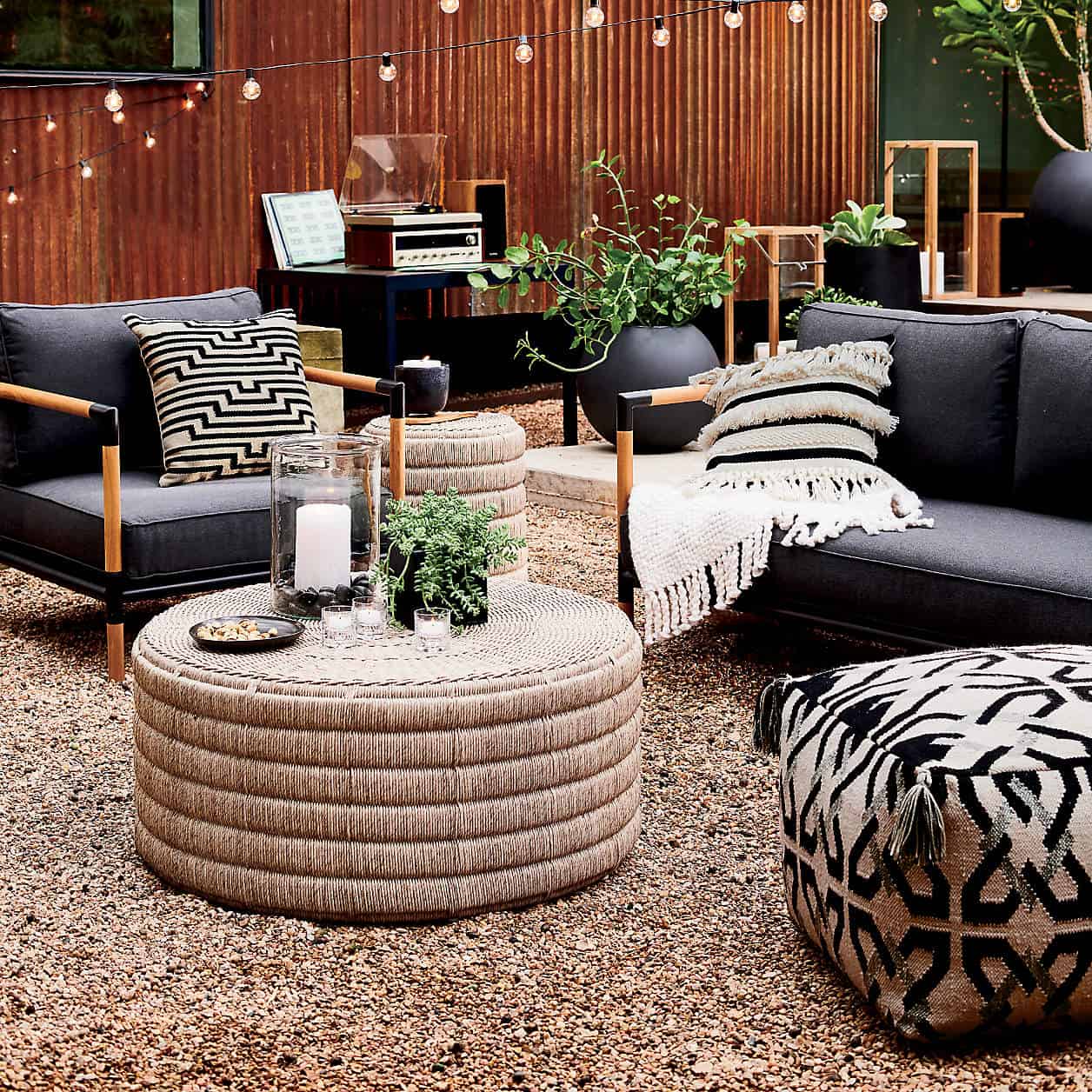 What a fun patio set up created by Crate & Barrel.
From seating to dining sets, Crate & Barrel has plenty of options to choose from to furnish your outdoor area. Materials range from aluminum, teak wood, and wicker resin to rattan, recycled plastics, and acacia wood.
Not only is Crate & Barrel great for outdoor furniture, but they are one of the best places to find incredible outdoor decor, accessories, and outdoor entertaining options. If you are wanting to have the ultimate outdoor space, Crate & Barrel offers a dining table turned pool table for summer game nights.
You can find bocce, cornhole, and Jenga to complete your outdoor game room. They also have an expansive selection of firepits, umbrellas, and outdoor rugs for added comfort to your home.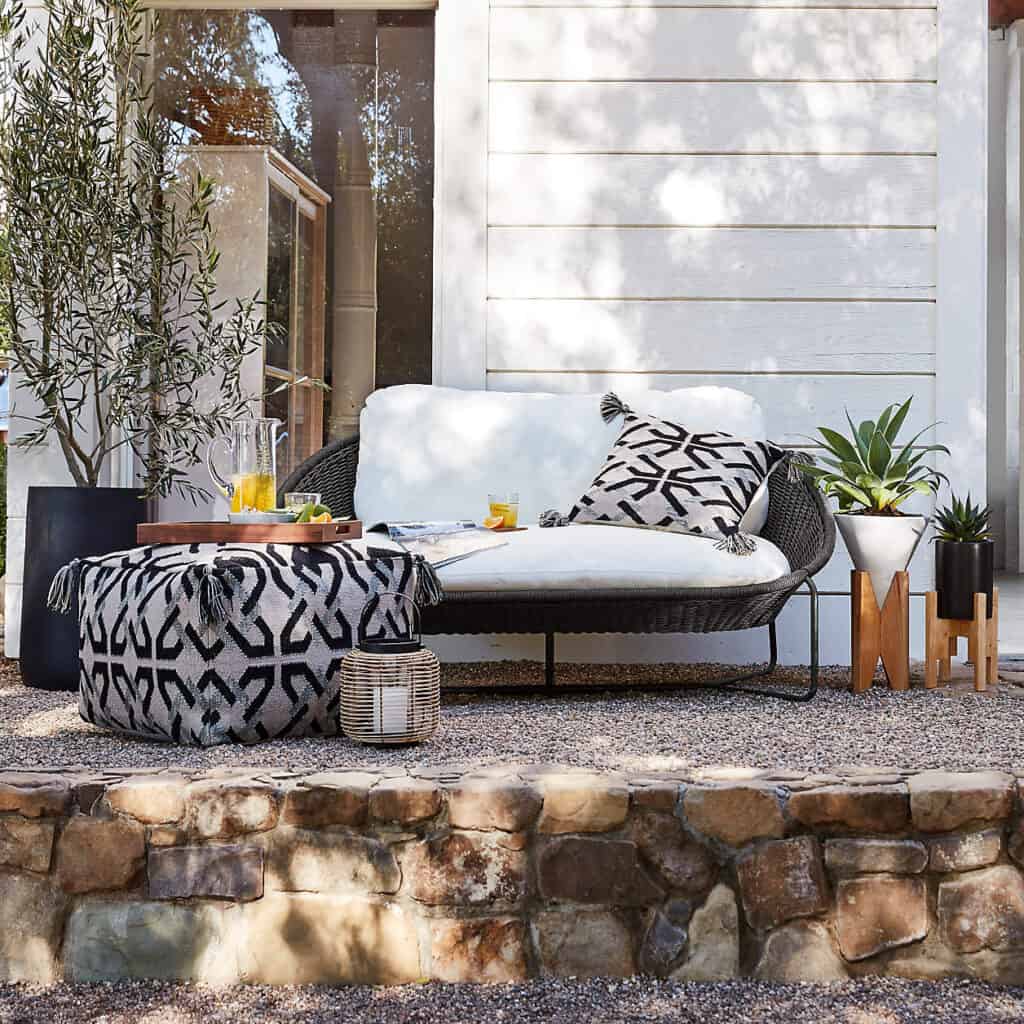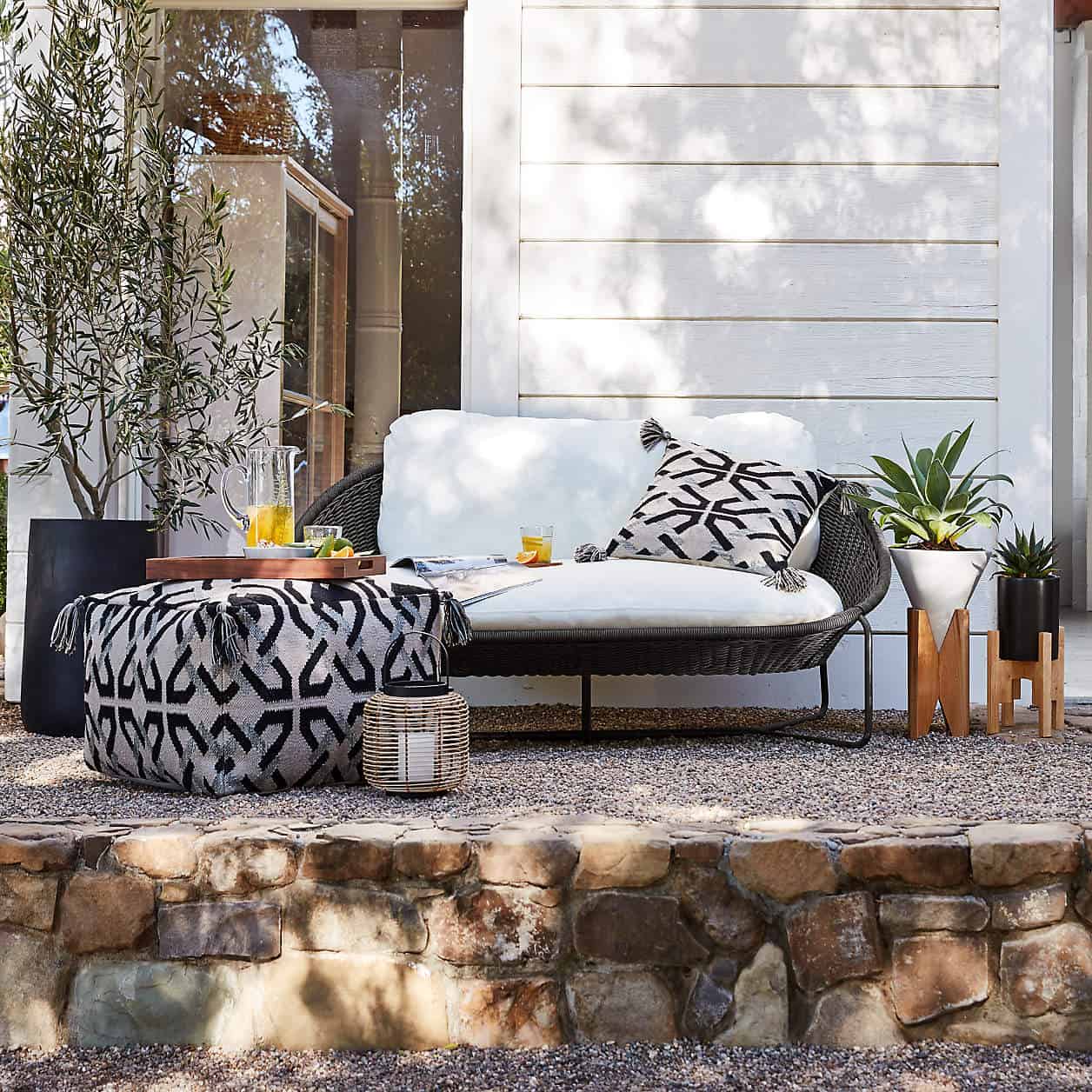 Crate & Barrel offers amazing decor to complete your outdoor space.
If you are looking for the ultimate living room, the Lounge II Comfort line is a great choice. Outfitted with Sunbrella fabric, this lounge set comes in several configurations. You are able to take your indoor living room into the outdoors with the durability of weather resistant fabric. Add the Ashore outdoor coffee table and you'll have your room complete.
Crate & Barrel products range from a few hundred dollars up to several thousands of dollars for their products. Their prices are reflective of the durability of the materials used and their timeless style.
Lulu & Georgia pairs modern lines with earthy undertones to create an outdoor furniture line that is reminiscent of your natural environment. They offer selections from lounge furniture to dining room sets with decor, rugs, pillow, and lighting to complete the look.
With unconventional materials like lava stone and hand chiseled desert stone, your furniture pieces will have plenty of texture and conversation. More traditional materials like aluminum, teak wood, and resin wicker are also available throughout their line of furniture.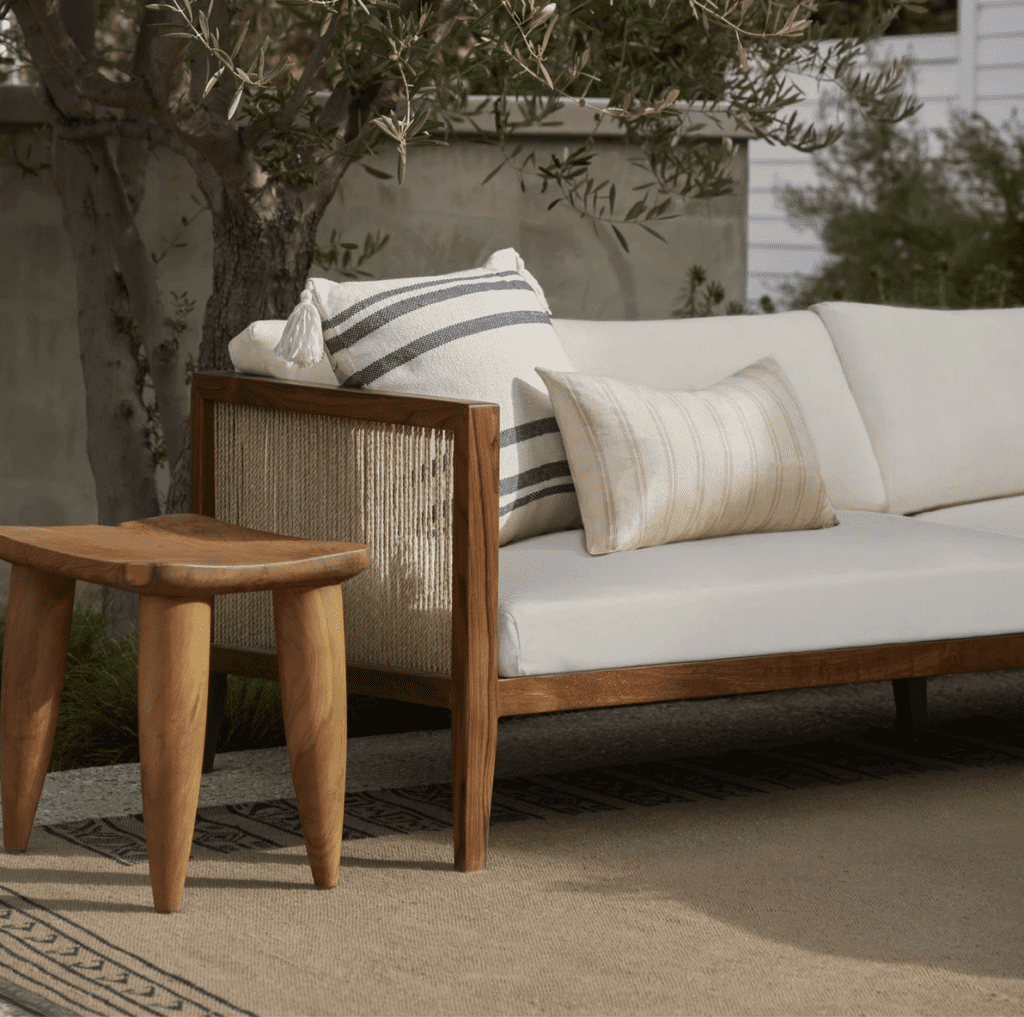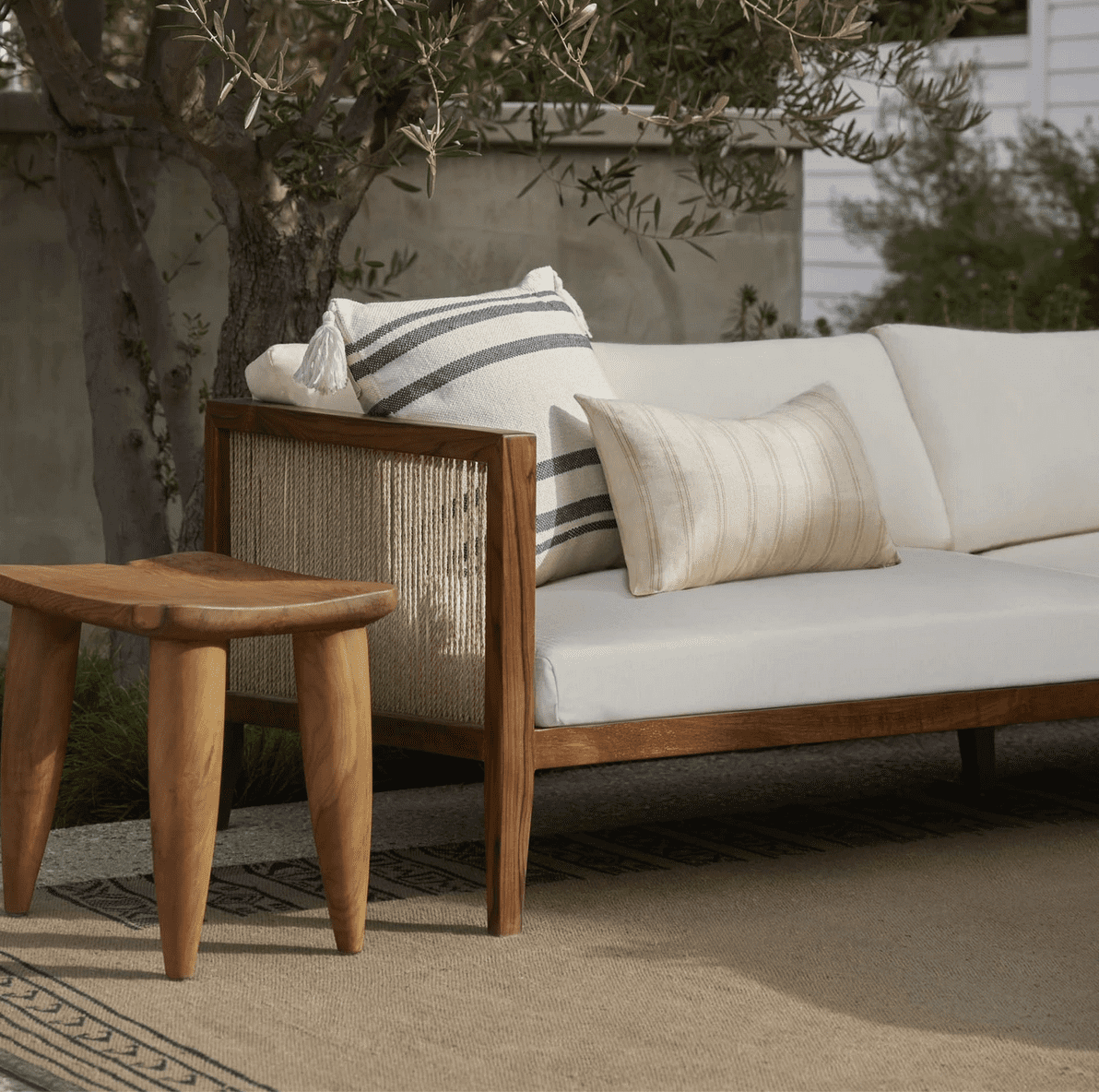 The Rosen line by LuLu & Georgia is something you would expect to find inside your home and not your back patio.
The Eugenie indoor/outdoor sectional has curved lines with plush seating for maximum comfort. Complete the look with the Dresdin round coffee table that features hand carved stonework.
Prices vary and can range from a few hundred dollars up to $10,000 for large sectionals.
Do you live in a coastal town? Or, do you wish you lived in a coastal town? Tommy Bahama is synonymous with beach living. Between restaurants, a clothing line, and home furniture and decor, this global powerhouse does it all.
Tommy Bahama has a very distinct style. Inspired by tropical weather and island life, you can generally identify these pieces aside from others.
Dining and lounge sets are available in various shades, sizes, and materials. A mixture of resin wicker, aluminum, and wood are used to create timeless classic pieces.
The St. Tropez line offers a more contemporary design with clean lines and natural finishes. While the material resembles wood, it is actually made from aluminum with a finish to resemble natural teak.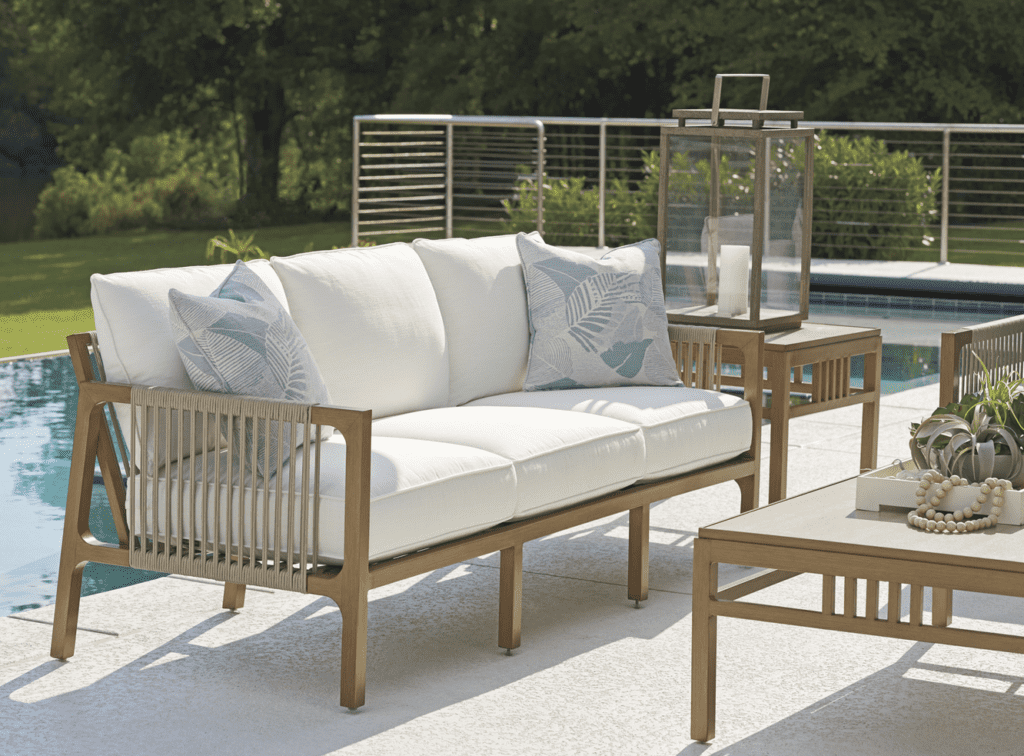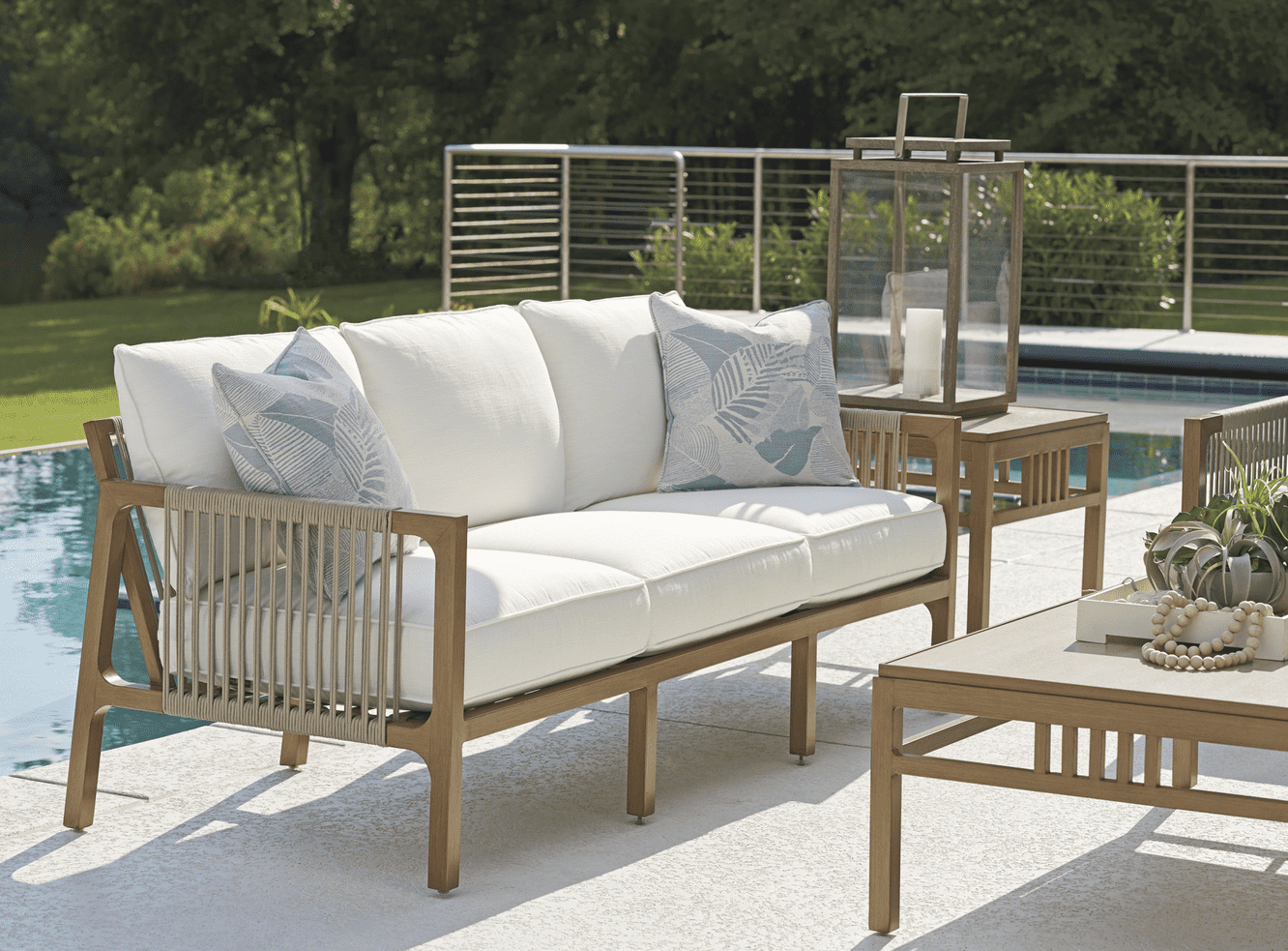 Tommy Bahama's St. Tropez line
For a more classic and sophisticated look, the Pavlova line is a great choice. Curved edges bring elegance to the aluminum frames. The contrasting black and white fabrics complement the timeless pieces.
Pricing wise, Tommy Bahama ranges from a few hundred dollars up to several thousands of dollars for larger items.
Outer is a company whose sole mission is to get people to spend more time outdoors. With that mindset, it is no wonder they have such innovative products. Think of some of the reasons why you avoid spending time in your backyard? It may be too hot, too wet, too buggy, or just unpleasant sitting on uncomfortable furniture.
Outer strives to change that by creating furniture and accessories that are so comfortable that you can't help but spend time outside.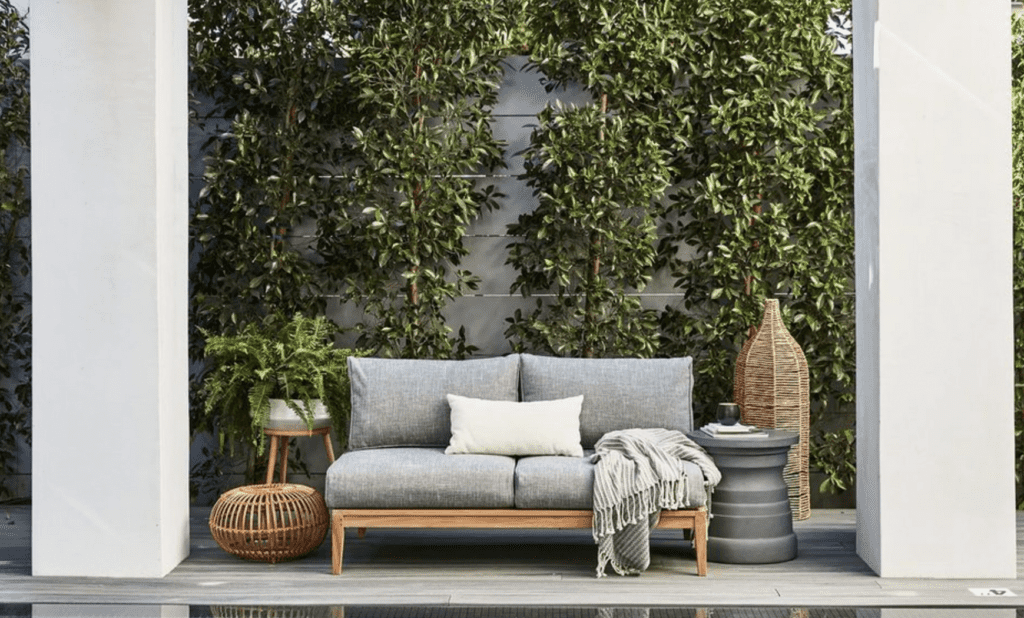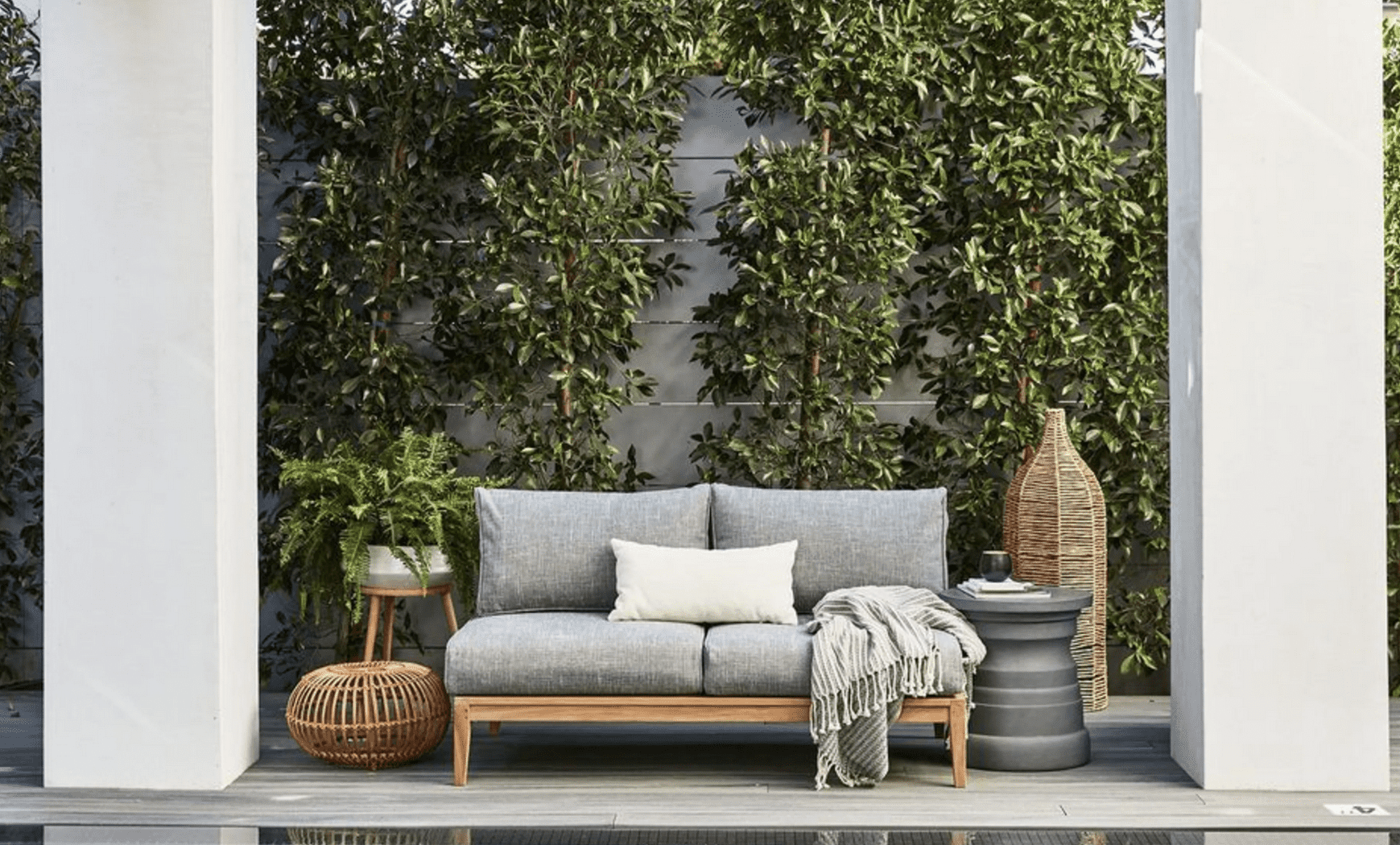 Outer offers a 365 day trial period for you to try out their furniture.
With materials that range from teak to resin wicker and to aluminum, you can find something that fits your lifestyle and design. Lounge sets are available in many different options and needs. Any sized space can find what they need at Outer with the many versatile lounger sets that are available.
If you are looking for a dining experience, Outer has something quite spectacular in store for you.  Rather than traditional dining tables, Outer offers fire pit tables.  These tables resemble coffee tables with a fire pit in the center. 
This is not a traditional fire pit in the sense that it only provides heat.  Rather, you can enjoy the experience of cooking on your fire pit table for a totally unique experience.  The table is wide enough for plenty of room to place tableware around the fire pit.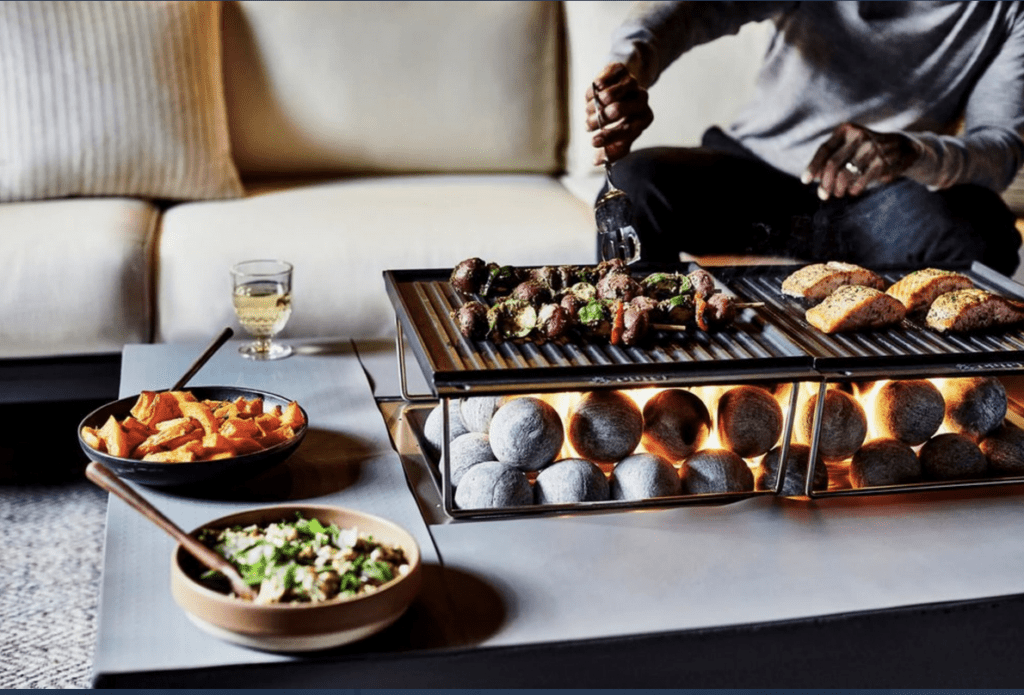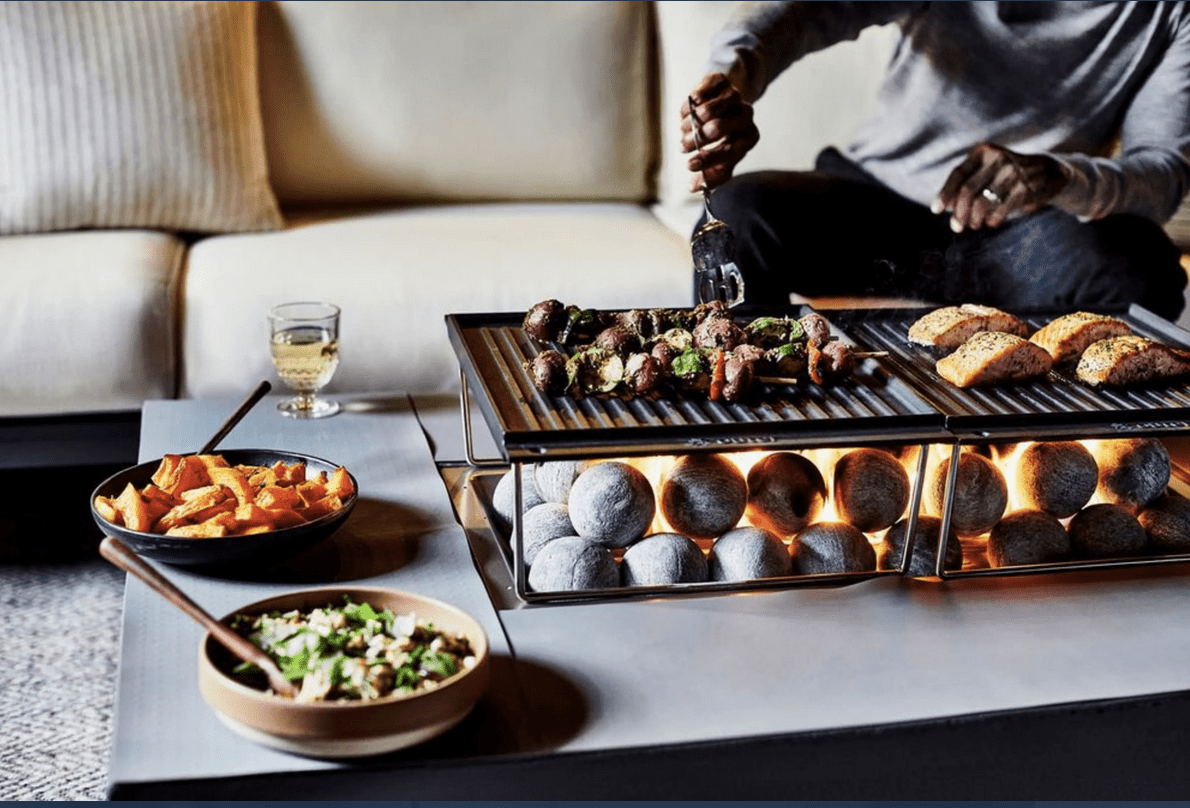 Outer's fire pit table is the ultimate dining experience for a fun night out.
Another great innovative product Outer offers are their bug shield blankets. I love spending time outdoors, but it always feels like that as soon as the sun sets, mosquitos find me. With the bug shield blanket, bugs are repelled off and its light weight material isn't too heavy for those summer months.
Pricing wise you can expect to spend up towards $1,000 per chair and up to $9,000 for lounge sets. That incredible fire pit table will cost you around $4500 for the set.
A Word On Amazon
By now, you will have noticed that most of the furniture brands that I wrote about are on the higher end cost-wise. If you are wanting to furnish your backyard, that doesn't mean you need to spend all your money on patio furniture sets from one of these luxury brands. You need to do what is right for your family and your budget.
That being said, Amazon has some great options for lounge and dining sets for your backyard. Check out my post on outdoor furniture from Amazon. Other stores like Home Depot and Target are also a great place to look for more budget conscious picks. Or, if you want to try your hand at a DIY, check out my post on how to make your own DIY outdoor table.
Other Posts You'll Love
Patio Hacks | Outdoor Furniture & Decor From Amazon | Easy DIY Outdoor Table
Pin The Photo Below For Later
I hope this post gave you some great inspiration to find the backyard furniture of your dreams and the best luxury outdoor furniture brands to help you do so! If you have any questions, feel free to leave them in the comments section, and follow me on Instagram @arinsolange for more home, decor, and DIY.