I have had the request for more Amazon round ups recently, so I am going to try to crank a few out over the next few weeks! Today is all about outdoor furniture and decor from Amazon. I am focusing on my outdoor space right now, so I figure many of you are too, and this might be a helpful post for finding fun decor in your home!
this post may contain affiliate links read more in my disclosure policy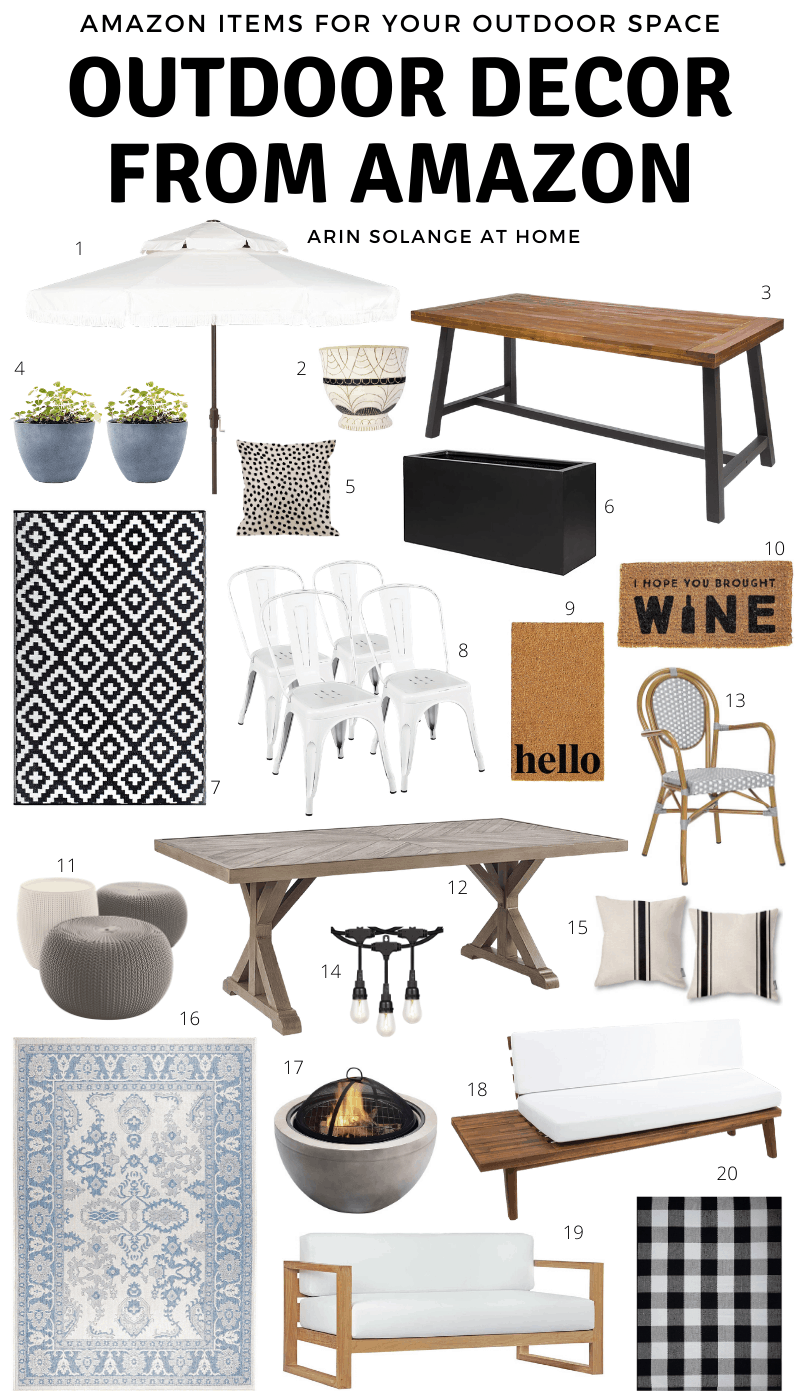 Outdoor Furniture and Decor from Amazon
If you are new around here – I round up Amazon decor or fashion pretty often. I am fairly passionate about finding hidden gems on Amazon that take some digging, but the best part about it is that many times they are super affordable.
Not always is it a budget find – I try to read reviews and make sure I am only sharing high quality items, but for some items you just can't beat the prices on Amazon.
If you are looking for other Amazon finds they are all HERE!
Decorating an Outdoor Space
Decorating an outdoor space is really fun – and tends to be a bit more simple without having to think much about wall decor and such (in most cases). A couple of years ago I decorated ours with a couple of modern couches (similar ones in the round up below) and the nesting ottomans in this post and have LOVED IT.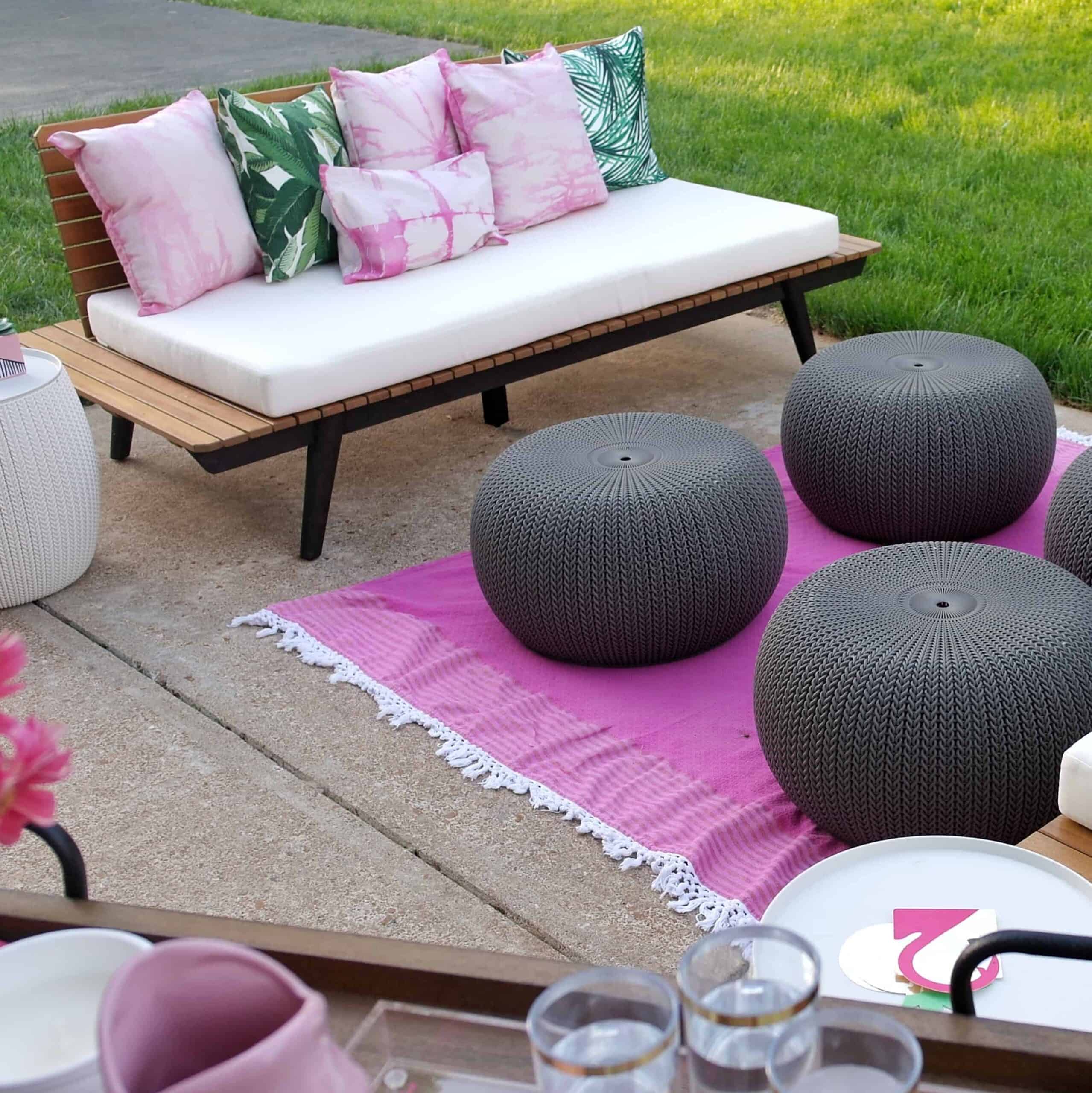 Now that my kids are a bit older, we are going to redecorate with a table and chairs so we can do school work or have family meals outside, which had me going down the rabbit hole of new decor.
My recommendation when it comes to outdoor space decor is to think about how you most want to use the space first. Do you want to lounge? Eat? Entertain? Will you use a fire pit to deter bugs?
All of those questions are really important when it comes to figuring out your direction you want to go. Once you've decided all of that, you can start finding items that fit your space well. One other thing to keep in mind is climate – can you leave things out year round? Do you need covers?
For us we are going with chairs that stack so we can put them away in the winter and simply cover the table. We also are going to skip the rug (which makes me so sad). We have tried rugs on our patio several times but due to the constant wet nature of our patio they are never dry and just make the space less livable, so although I will miss the look, I am going to skip this time.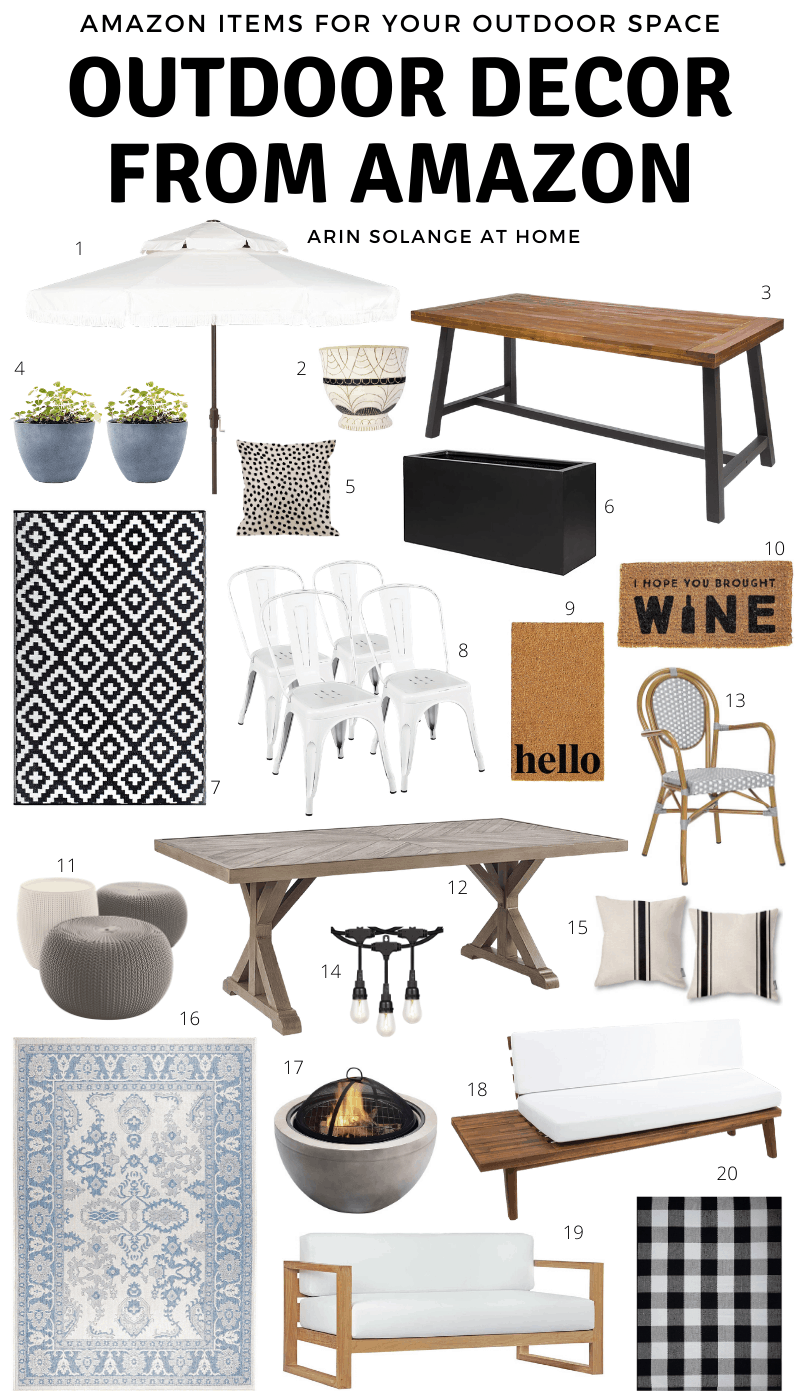 Shop These Items
1 | 2 | 3 | 4 | 5 | 6 | 7 | 8 | 9 | 10 | 11 | 12 | 13 | 14 | 15 | 16 | 17 | 18 | 19 | 20
Fringe Umbrella – I have been looking for a fringe umbrella and I think ill personally get this one. I love that it is clean and classic with a fun flair.
Painted Planter – this is gorgeous
Table – this is a great price and you can get a bench too. I love the simple look to it
Pillows – I actually just grabbed these for inside not knowing they were outdoor, so I will share on Instagram how I like them when they come this week.
Large Black Planter – I have been obsessed with these for years and am actually setting out to do a DIY hack to make something similar. But in the mean time I can't get enough of these.
STACKABLE white chairs – I have similar ones in our kitchen and the fact that they stack is my favorite. I love that I have extra chairs in the storage room that are nicer looking
Wine doormat – pretty sure I need to be the proud owner of this one.
Nesting ottomans – these are the ones from the photos above. I love that they can be stored nesting together.
Farmhouse outdoor table. This table is seriously GORGEOUS.
Chairs – I actually got these for our dining room and decided they are a bit more 'outdoor' so they will be what I am doing outside. – you can see them HERE in our dining room.
Blue outdoor rug – I love that this rug could be decorated in so many ways but its so gorgeous. And REALLY affordable.
Concrete fire pit – gorgeous!
Modern Outdoor couches – these remind me so much of the ones we have and I have loved them.
Couch – you can get several different pieces that look like this, but I am seriously obsessed with it!
Buffalo check rug – I will show you how I have mine in the photo below. This has gotten really popular, and for good reason – it' s gorgeous.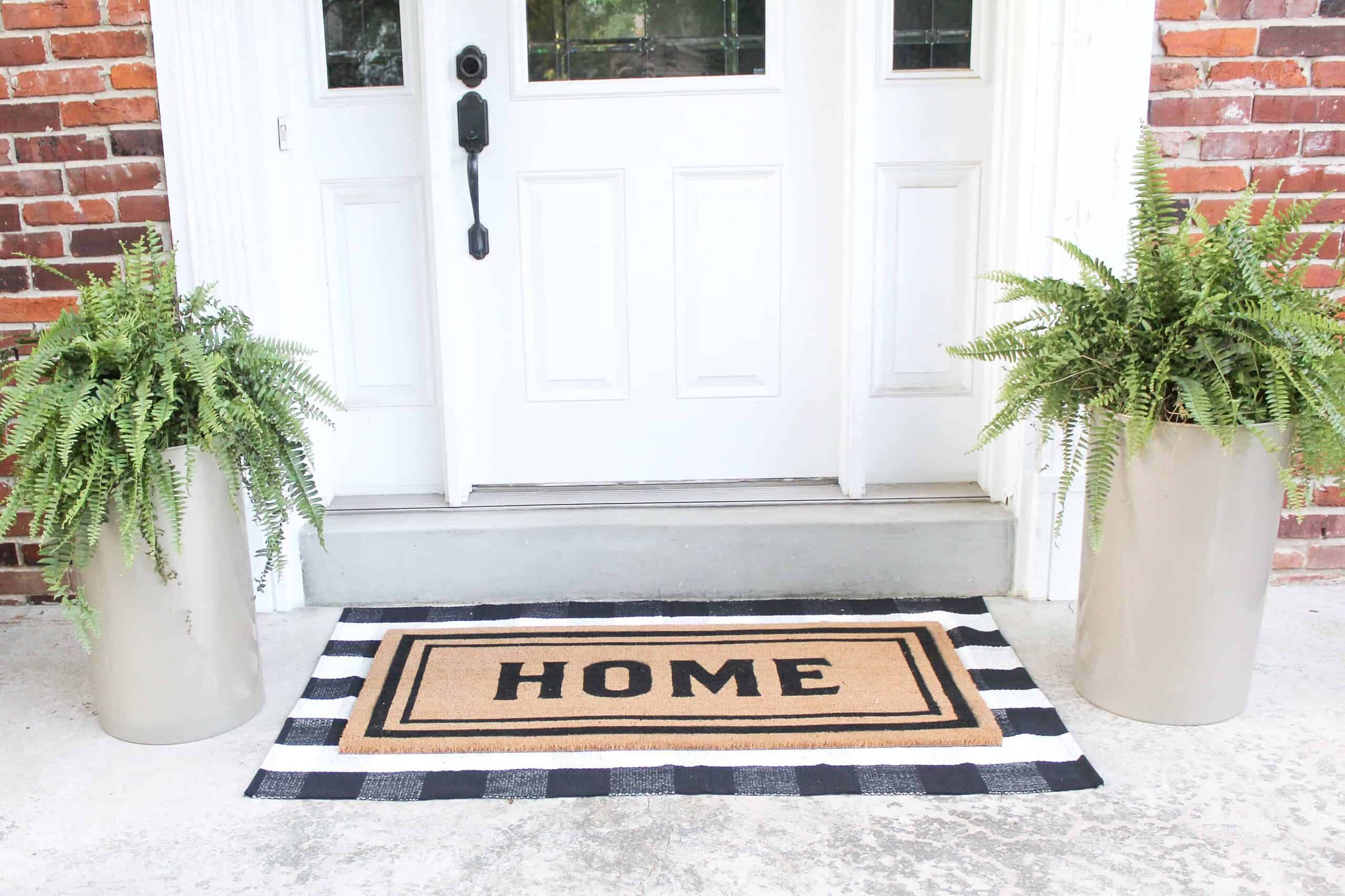 Here is the layered rug from #20 – and this post shares some trash cans from Amazon that I used as an affordable way to get huge planters, so check that out here.
Hopefully this helps you make your outdoor oasis dreams come true with some great outdoor decor and furniture from Amazon. If you have any questions on any of the items above, leave me a comment below or shoot me a DM on Instagram (@arinsolange)! I love connecting with you all there.