If there is one mode of cooking that I am constantly dying to try after about 10 minutes on social media it is smoking. Whether it be meat, or cheese, or basically anything you can think of people are smoking it these days – and we had to jump on that bandwagon. When we were picking our smoker we did a lot of research on electric smoker vs pellet smoker and I wanted to share that insight with you in case you are selecting a smoker for your family.
Check out my post on patio hacks for a more enjoyable summer.
This post may contain affiliate links.
We just had our first big snow in St. Louis and the cold weather has me dreaming of summer already. One of my favorite warm weather activities is being able to sit outside and enjoy family time. We love walks around our quaint neighborhood and eating out on patios with friends.
Two summers ago, we purchased a smoker and it has been such a great addition to throw the best summer BBQs. If you have ever wondered what the key differences are between the different types of smokers then the good news is this post is for you. I'll go over the best electric smokers and best pellet smokers for you to elevate your summer BBQs.
What Is a Smoker?
Before we get to Electric Smokers vs Pellet SmokersI have to admit, Sam is the one in our family who is the barbecue master. I tend to stay clear from outdoor cooking. If you are a long time reader, you'll know that cooking is not my forte. I prefer home decor and DIY to cooking and creating recipes. Nonetheless, I love a good BBQ.
A couple of years ago when on the smoker hunt we landed on an ICON Kamado Grill. (no follow other tab) When we first got the smoker, I was a total novice and didn't know much about what made the perfect smoker. Honestly, I didn't really know the major difference between the various types of smokers.
In my research, I've learned that the type of smoker you have makes a big difference in the overall unique flavor.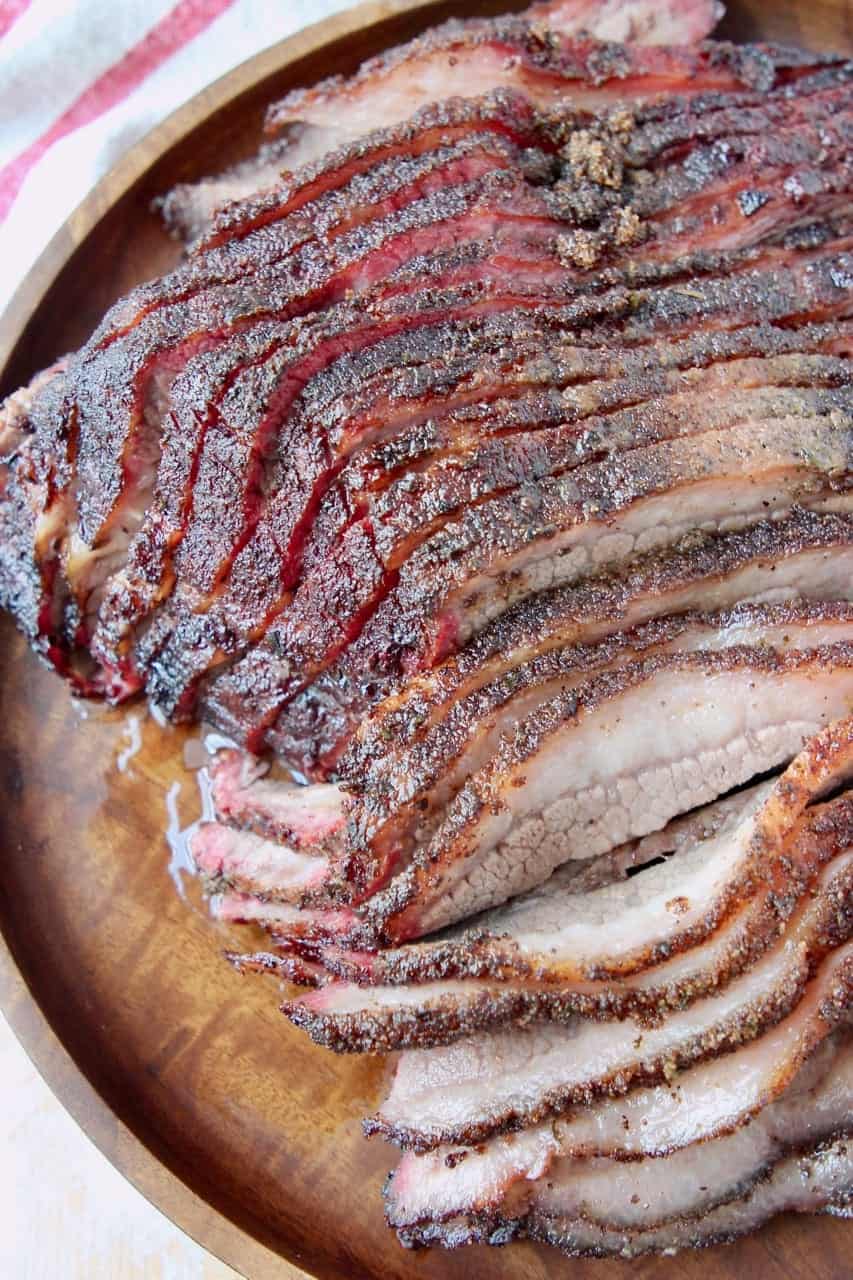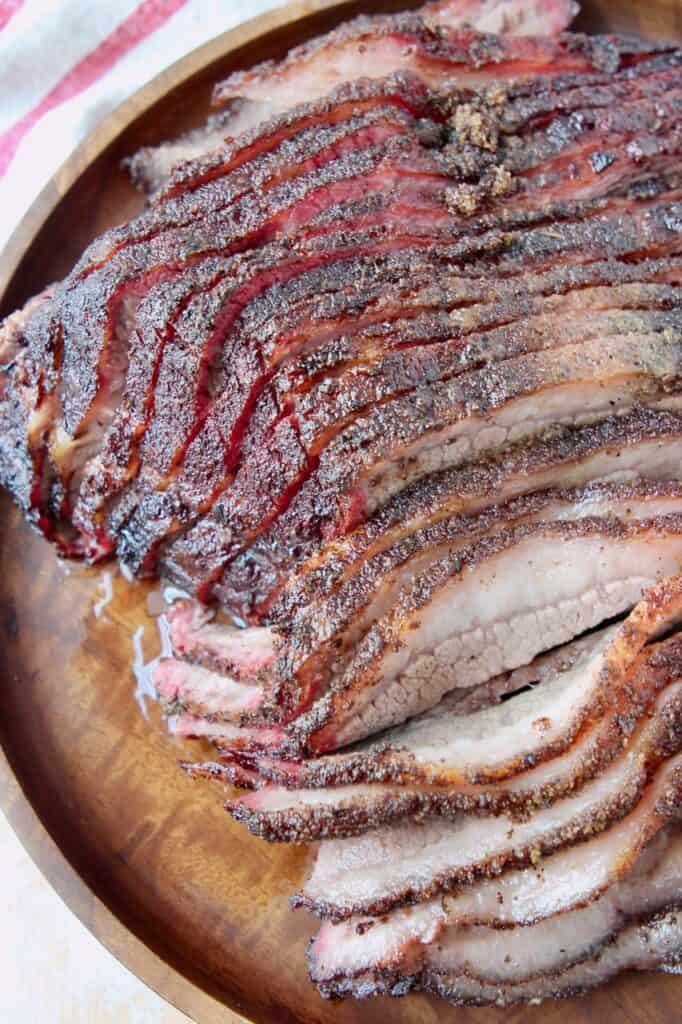 This smoked brisket is calling my name for summer.
First things first, what exactly is a smoker? If you've ever had great barbeque, you'll know that one of the things that makes it so good is the smoky flavor and tender meat. How exactly does that happen though?
A smoker is used outdoors and maintains low temperatures to cook your meat low and slow. The smoker creates smoke around the meat to be absorbed for that smoky meat flavor.
There are many different types of smokers that can create that smoky flavor utilizing a variety of heat sources. When you are looking at smokers, it is key to look at the heat and power source, versatility, flavor profile, budget, and size.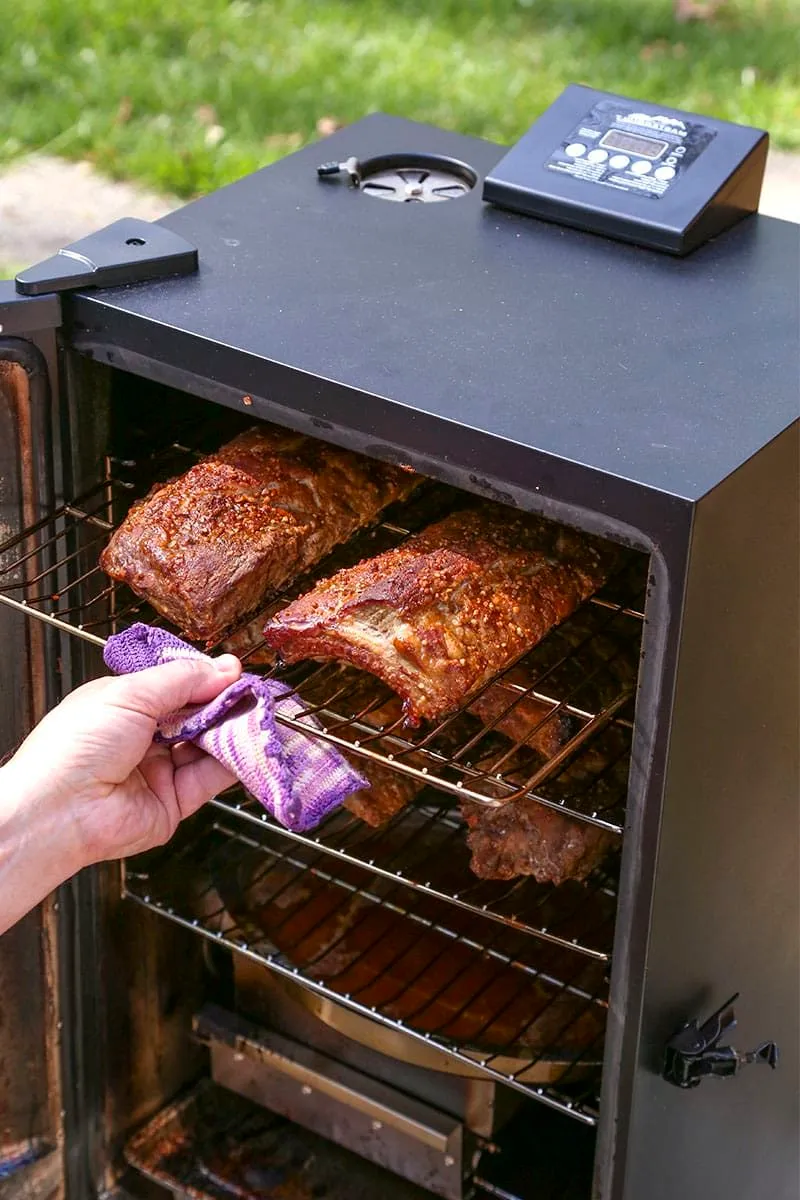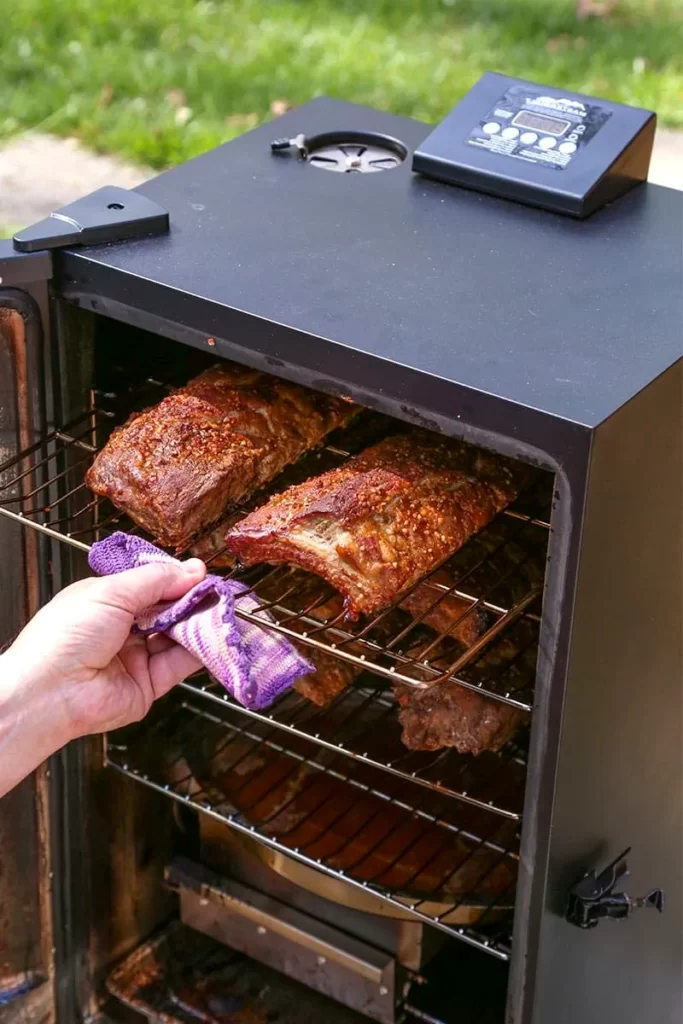 This is a great guide on using the Masterbuilt electric smoker.
Electric Smoker vs Pellet Smoker – Types of Smokers
Smokers vary by cooking process, as well as by shapes and sizes. The type of smoker you choose to buy can be dependent on your lifestyle (are you a novice or pro smoker?), type of fuel you prefer to cook with, type of flavor preferred, and versatility. Consider the amount of people you generally cook for and your outdoor space where your smoker will reside.
Some smokers can be bulky and extremely heavy, which may not be ideal. On the other hand, some smokers can be a large investment, which may not be feasible for all. The kind of smoker you ultimately decide on should be perfect for your budget, time, and type of barbeque you wish to smoke.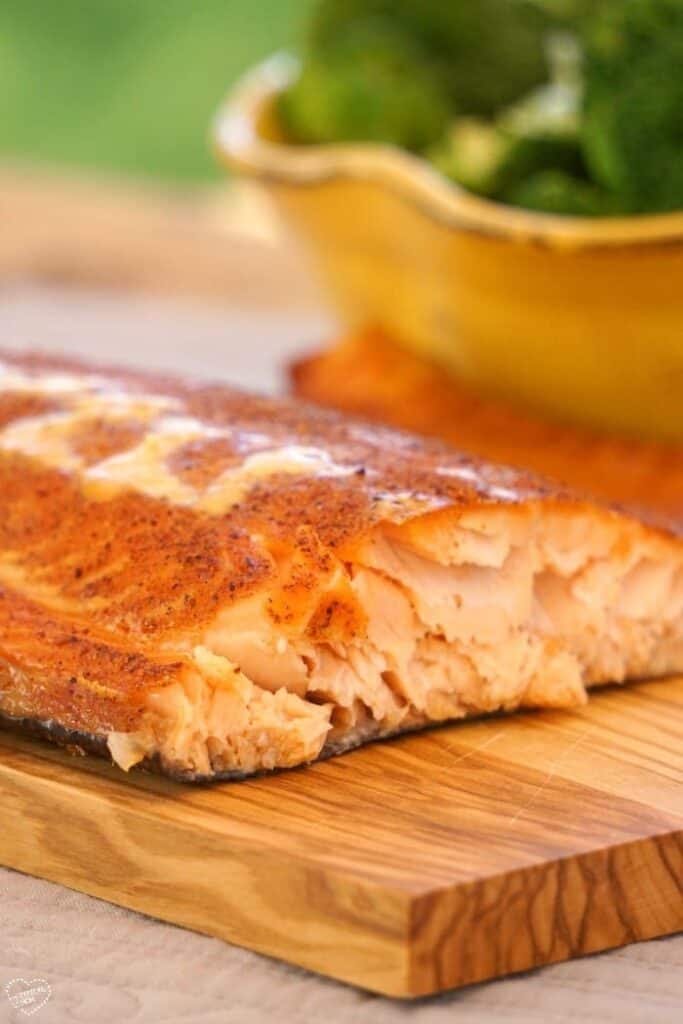 Smoked salmon and other amazing recipes to use with your smoker can be found here.
Horizontal and Vertical Offset Smokers
An offset smoker comes in both a horizontal and vertical design. An offset smoke is a two part smoker with a cooking chamber and firebox. The cooking chamber has long grates with a door and smokestack.
The firebox is attached to the cooking chamber and is where your heat source and smoke are created. That smoke then travels to the cooking chamber and out of the smokestack. One of the pros about offset smokers is that you can cook a large amount of meat.
These pit boss grills are commonly used by BBQ pitmasters. They can also be used as a dual smoker and grill option and allows for cold smoking for greater versatility. Fuel cost is typically low and these units can last for the long run. One of the cons is that these types of smokers are a big investment. Additionally, units can be bulky and difficult to move.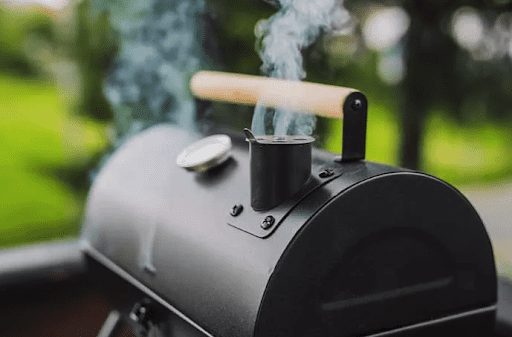 A guide to Offset Smokers can be found here.
Ceramic (Kamado) Smokers
Like I said above – this is what we have. If you have ever seen the Green Egg, then you've seen a Kamado smoker. The Kamado grill is extremely versatile and serves as a smoker, grill, and wood oven. If you are wanting lots of versatility and a piece of cooking equipment that can do it all outside, then this is a great investment.
And an investment it certainly will be as these types of grills cost in the thousands range. One of the advantages of this grill is that between the ceramic material and egg design, a large temperature range can be achieved allowing for different cooking methods to be used as well as the ability to cook lower temperatures for long periods of time. The ability to cook low and slow is perfect for smoking and creating an incredible flavor.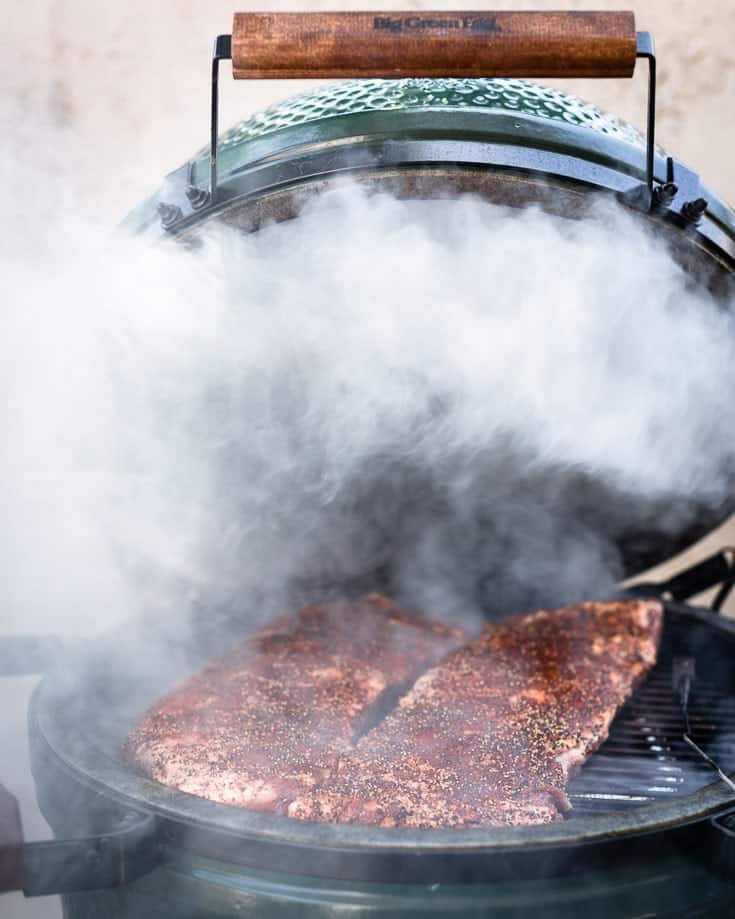 Tips & Tricks for The Big Green Egg can be found here.
Drum Smokers
Drum smokers are exactly as you'd imagine. A giant drum where you have layers consisting of your heat source (charcoal or wood), grates for where your meat cooks, and vents to control the temperature.
These are simple and fairly cheap for those with a tight budget. You can still get a great barbecue as they can maintain lower temperatures overtime. The use of wood in the drum also creates a nice wood smoke flavor. On the downside, these aren't that impressive to look at and can be difficult to maintain a consistent temperature.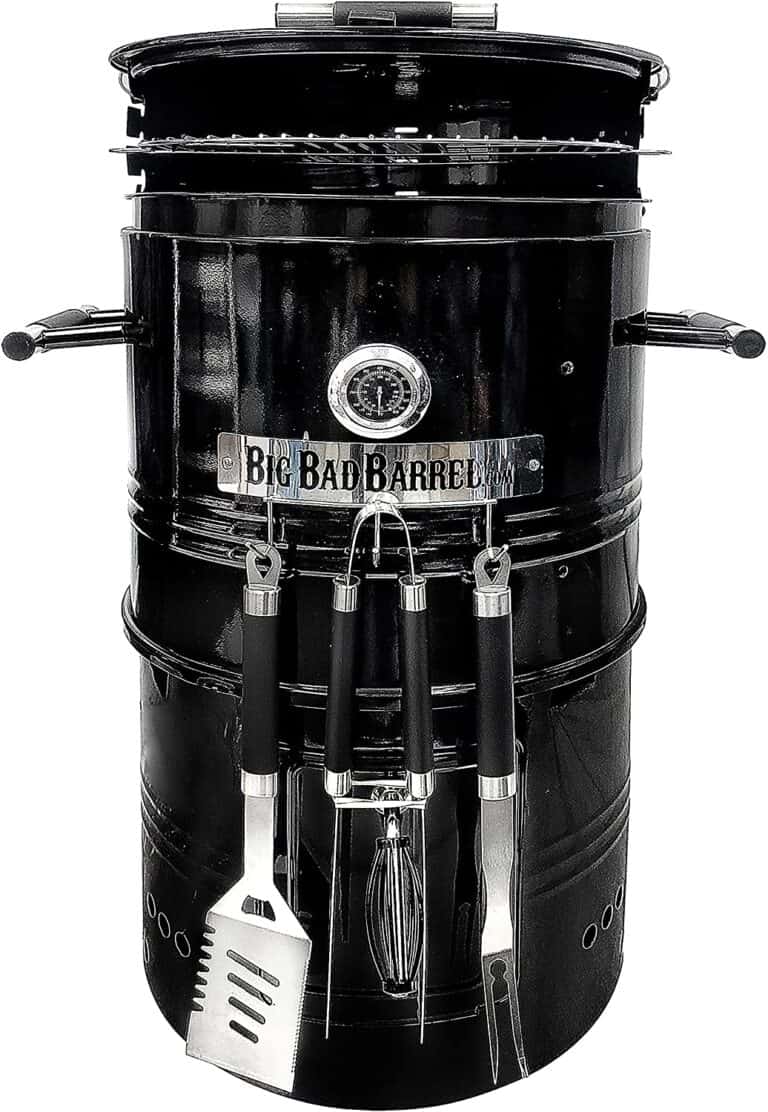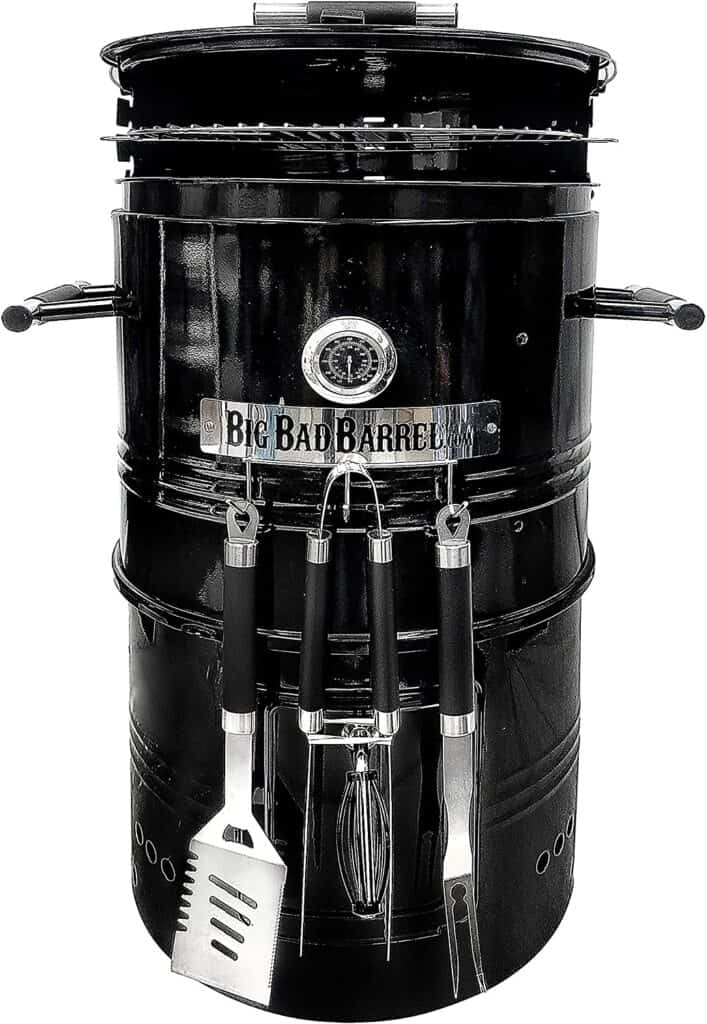 You can find this Drum Smoker on Amazon or try your hand at a DIY Drum Smoker.
Water Smokers
Water smokers are extremely popular and known to be a perfect choice for those who want to have quality smoked meats without the hefty price tag. These are much more appealing to look at in comparison to a drum smoker, and are great for smaller patios as they are fairly compact.
The smoker has a bottom level for where your heating element is located. Some consist of charcoal or wood while other smokers use gas or an electric element. Above the small fire is a water pan that distributes heat and regulates the cooking temperature and smoke.
Above your water pan can consist of grates or hooks where you place your meat. This a great option if you are just starting out to smoke your barbecue and have a smaller budget. It also takes up less space and can be used in small spaces.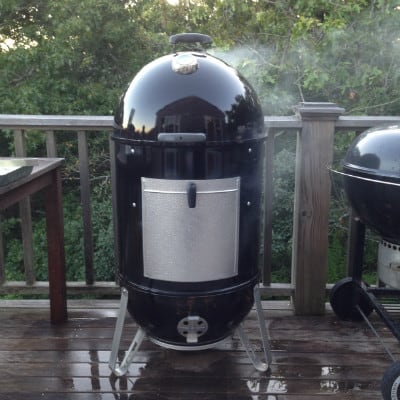 Check out this guide for Water Smokers.
Propane Smokers
A propane smoker is extremely similar to an electric smoker. The biggest difference is that propane is used as the heat source. When it comes to making this choice – the biggest thing you may want to consider is your access to an electrical outlet. Sometimes having less cords can make propane a great choice.
What's The Difference: Electric Smokers vs Pellet Smokers
While we've gone over several common types of smokers, electric smokers and pellet smokers are two of my personal favorites. Both are known for being able to cook at low temperatures consistently for long periods of time with accuracy.
Unlike the previously mentioned smokers, these smokers are known as hassle free smokers. While they are very alike, there are some key differences to note that may make one the better choice for you and your lifestyle.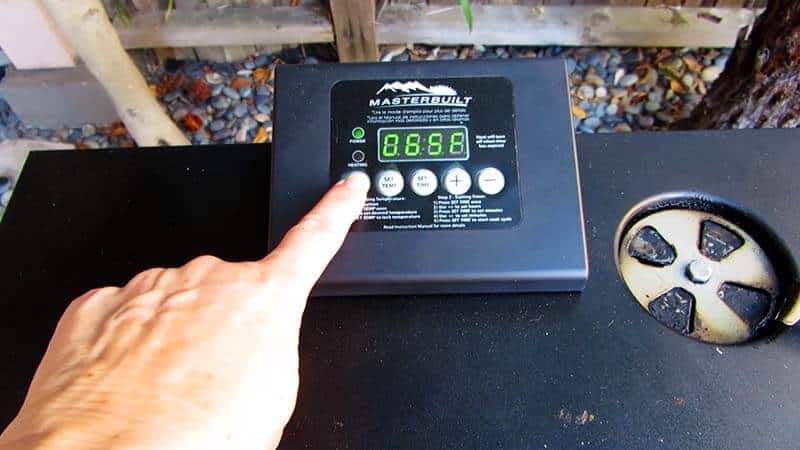 Check out this guide on using electric smokers.
Electric Smokers
Electrical smokers are most known for their convenience. You can set your electric smoker, walk away, attend a pool party, and come back and have a smoked meal.
Power & Heat Sources
They work similarly to ovens by using electricity as the power source. You simply plug in your smoker. Rather than using hardwood pellets to smoke the heat, the heat source is electricity via a metal heating rod.
Since you aren't using a real fire as a heat source, you won't have the same amount of flavoring as you would in other wood smokers or charcoal smokers. These electric models do have a wood chip tray where you place wood chips to help achieve a woody flavor.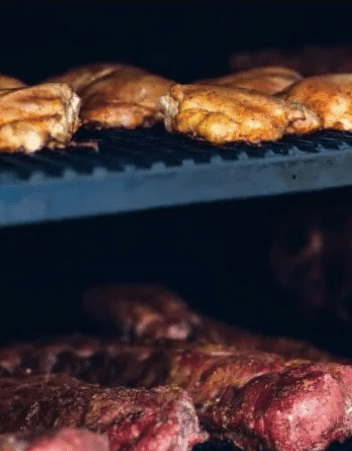 Beginners can learn a step by step guide on electric smokers here.
Versatility
The benefit of electric smokers is the ease of use. Electric smokers have a precise temperature control which allows you the benefit of walking away. Wood and charcoal smokers require constant watch to ensure the right temperature is kept.
Digital controls control the internal temperature and are often available on your smartphone. With the use of a smart meat probe, you can be sure that the right temperature is being met.
These smokers also aren't like traditional grills and only have the smoking option which lacks versatility. Higher temperatures are unable to be reached in electric smokers and can generally only reach up to 275 degrees Fahrenheit.
As a result, this can cause issues with certain meats, like chicken and turkey, that require a temperature of 300 degrees for crispy skin. On the other hand, electric smokers can reach lower temperatures at 100 degrees that can't be reached by pellet smokers.
As a result, electric smokers are ideal for cold smoking. To be honest, I didn't know cold smoking was a thing but apparently, you can use it to smoke things like cheese without causing it to melt.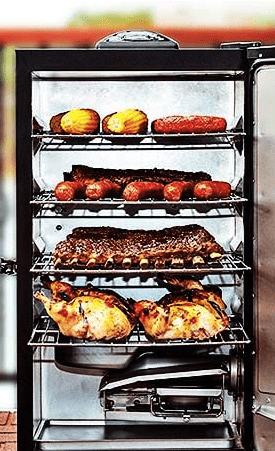 Another guide to using your electric smoker can be found here.
Flavor & Food
Electric smokers aren't the best choice for having a natural woody smoky flavor. They also produce less smoke overall. Since a fire is not used as the power source, this results in the less intense flavor and does not create a smoke ring.
A smoke ring is seen in the meat when a reaction takes place due to the low temperature and gasses from the oxygen flowing from the fire. Since electric smokers don't use fire as a source of heat, this smoke ring can't be achieved. If you aren't a professional BBQ pit master this lack of smoke ring may not be a huge deal breaker for you.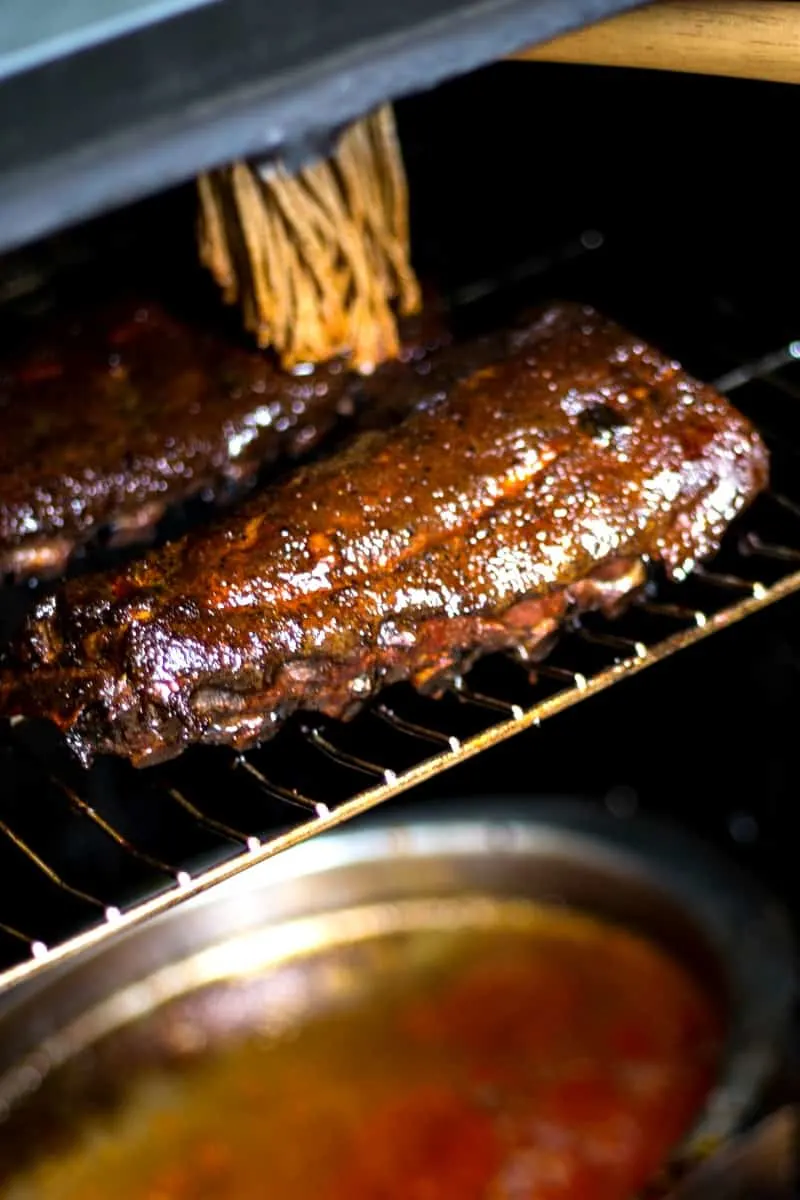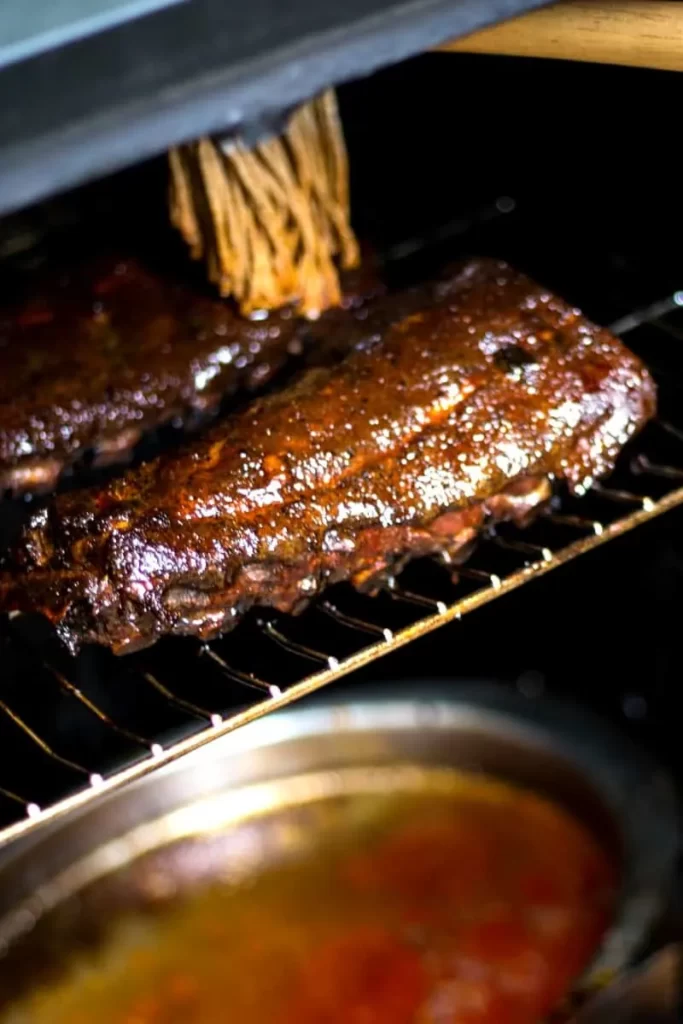 Electric Smoker ribs can be found here.
Size & Budget
Electric smokers are generally pretty compact but have plenty of cooking space for large quantities of meat. You do have to be mindful about quality products. You generally get what you pay for and if you opt to buy a less expensive option you may have a cheaply made unit. Overall, these are less expensive than pellet smokers.
Pellet Smokers
Pellet smokers are the best option if you want the convenience of being able to walk away from your smoker, but still having that fire source used in the smoking to create that authentic smoky flavor.
Power & Heat Source
Similarly to an electric smoker, pellet smokers also use electricity to maintain cooking temperatures with the use of a digital controller. Pellet smokers do, however, use pellets as a source of power and cook the meat over a natural wood fire.
In a pellet smoker, you have a storage container that you fill with your wood pellets. An auger motor takes those pellets to be burned in the cooking chamber where smoke is created. The motor also helps control the temperature by adjusting how much air is allowed in to control how fast or slow the pellets burn.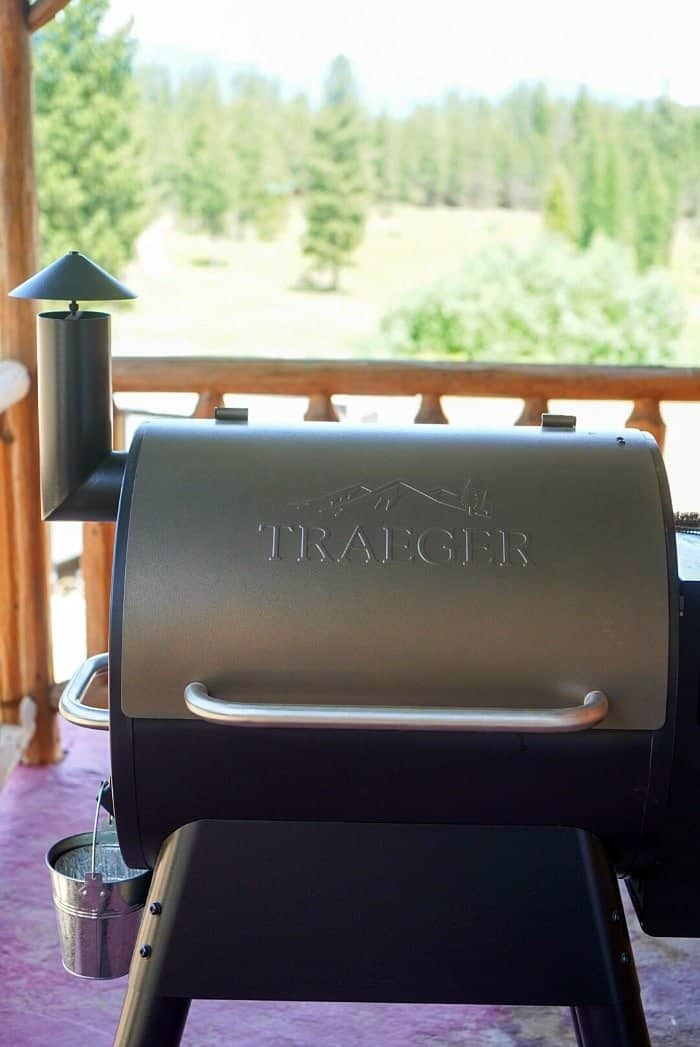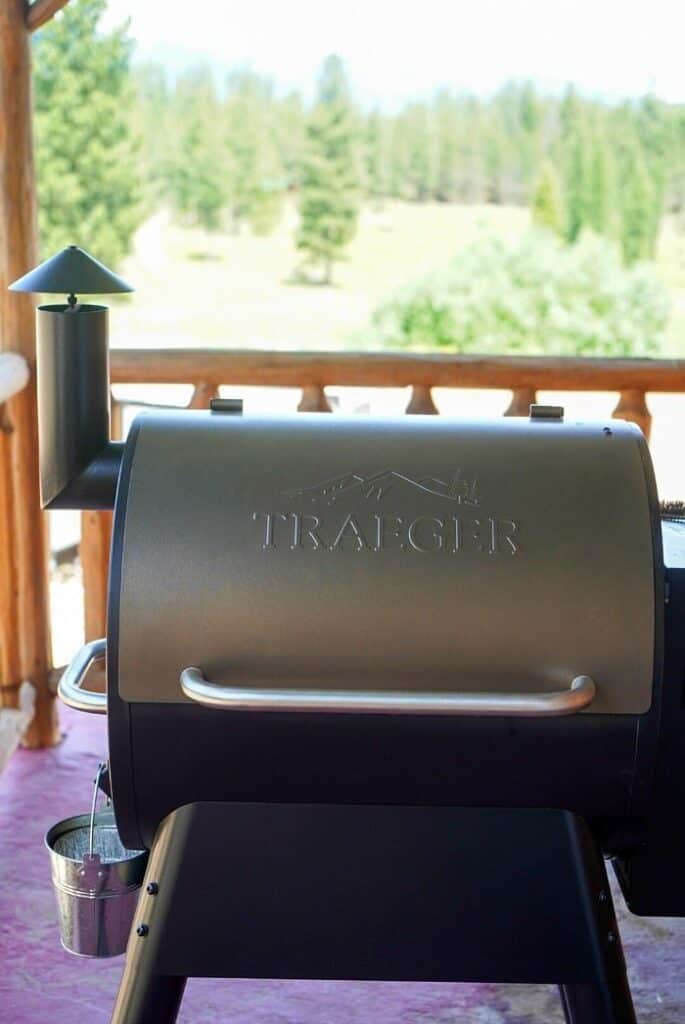 Find Pellet Smoker recipes here.
Flavor & Food
Back in science class, do you remember a combustion process? Sound familiar? Pellets that are burning at the bottom of the cooking chamber are ignited by air from intake fans which help this combustion process take place.
Smoke and heat are distributed over the meat cooking, resulting in that delicious flavor. Because you are cooking your meat over the fire from burned pellets, you have an incredible flavor.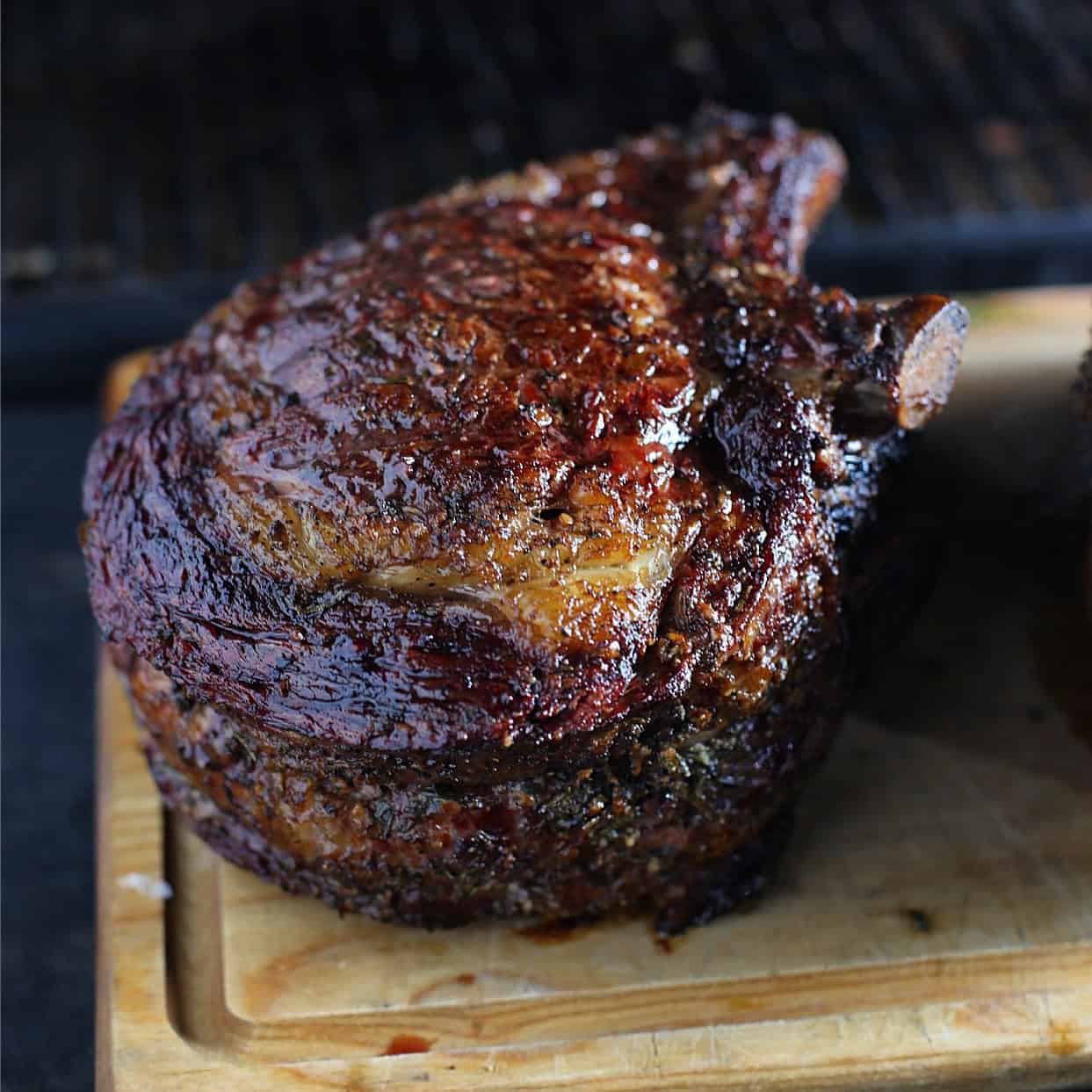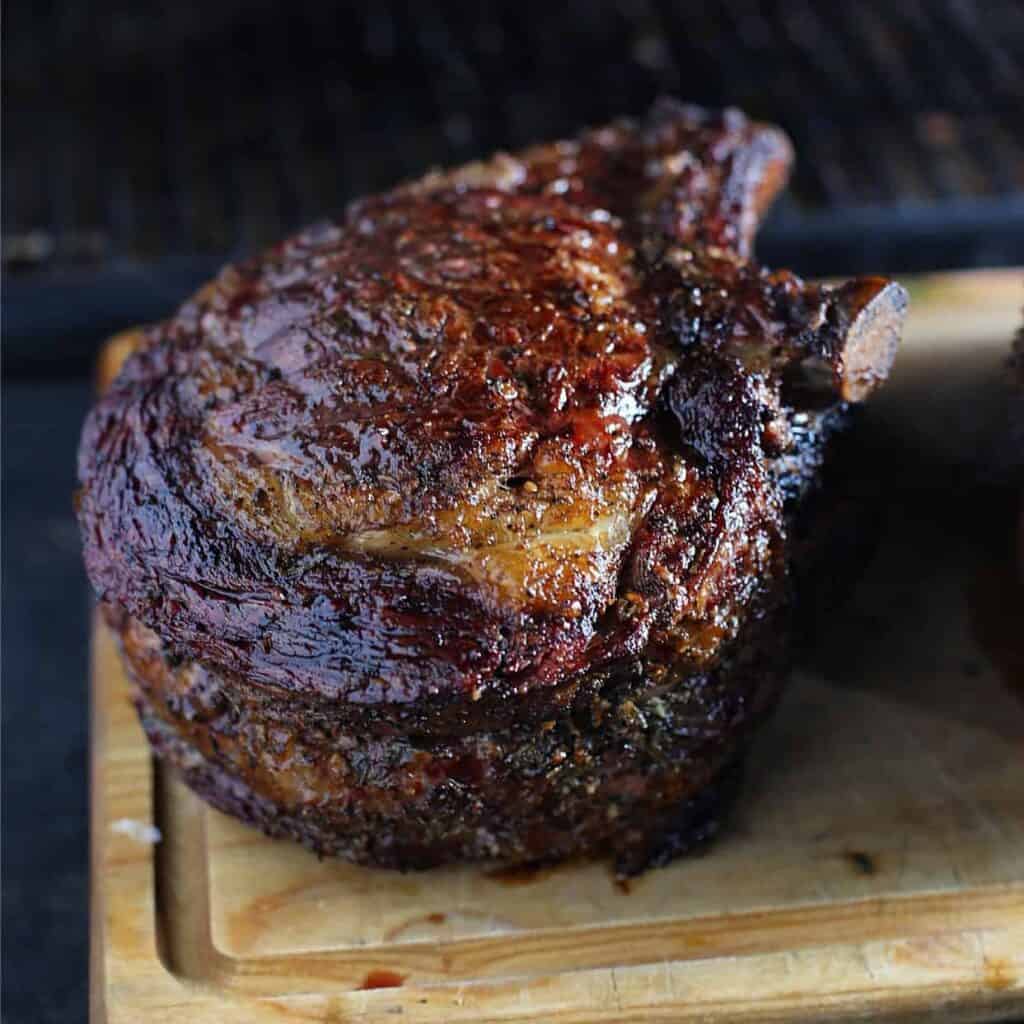 This smoked prime rib was made on a Traeger pellet smoker and the recipe is available here.
Versatility
Different models allow some pellet smokers to be used as pellet grills. Temperature ranges from 170 degrees up to 500 degrees Fahrenheit. If you want the option to have more versatility with using it as a grill, ensure you get a model that can handle those high temperatures.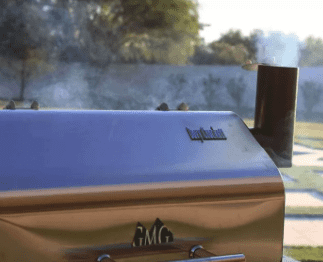 The Green Mountain Davy Crockett is a portable pellet smoker.
Size & Budget
Pellet grills are much heavier and larger in comparison to electric smokers. You are not able to move these smokers around and once you have it anchored in your backyard, it would take quite some heavy weight lifting to move.
Pellet smokers are an investment. Keep in mind that you have the benefit of setting this smoker up and walking away while still having an authentic smoky flavor. You have the best of all the worlds in this option.
In my option, you get the best results with the use of the fire and benefit of using the digital controller to help set the temperature. You will certainly pay more for models that are more versatile and can handle more than just smoking.
In total, pellet smokers can cost anywhere from a couple hundred dollars upwards to thousands of dollars. You'll also have the added cost of your bag of pellets. On average expect to use 2 pounds of pellets per hour with most meat smoking to take several hours. In the end, the best results take time and patience.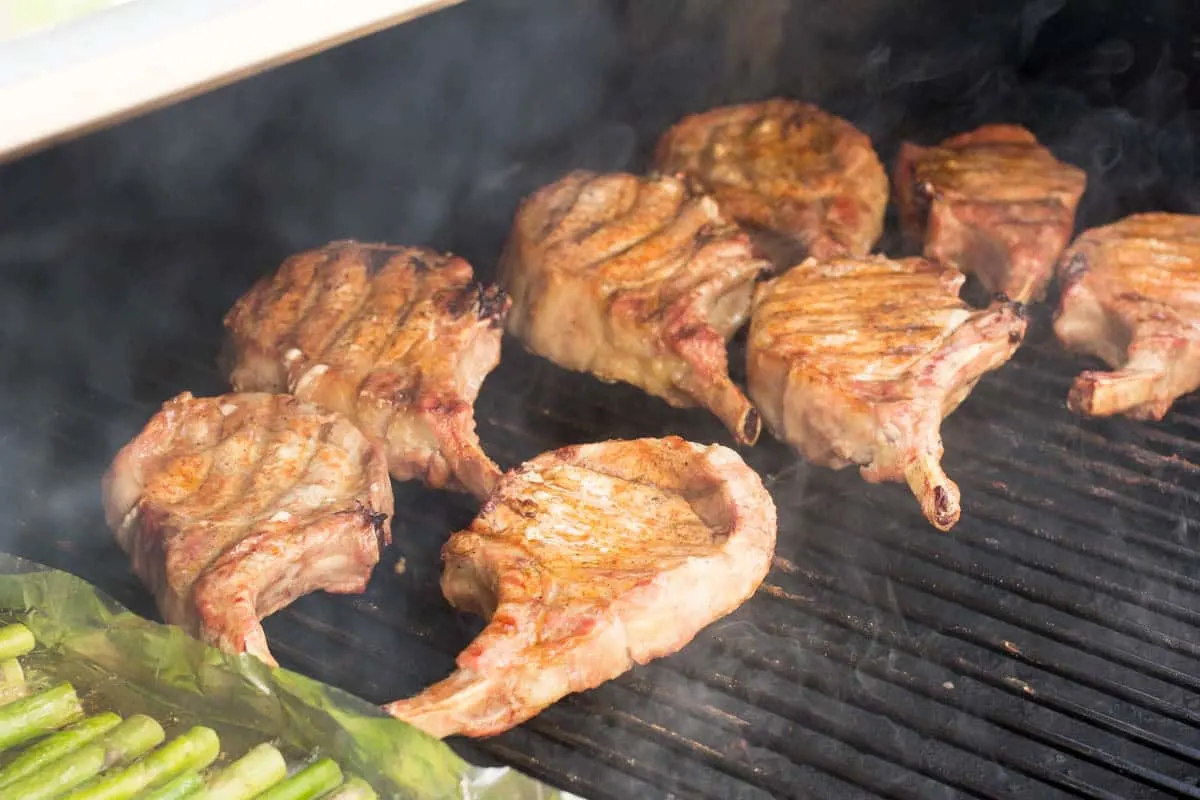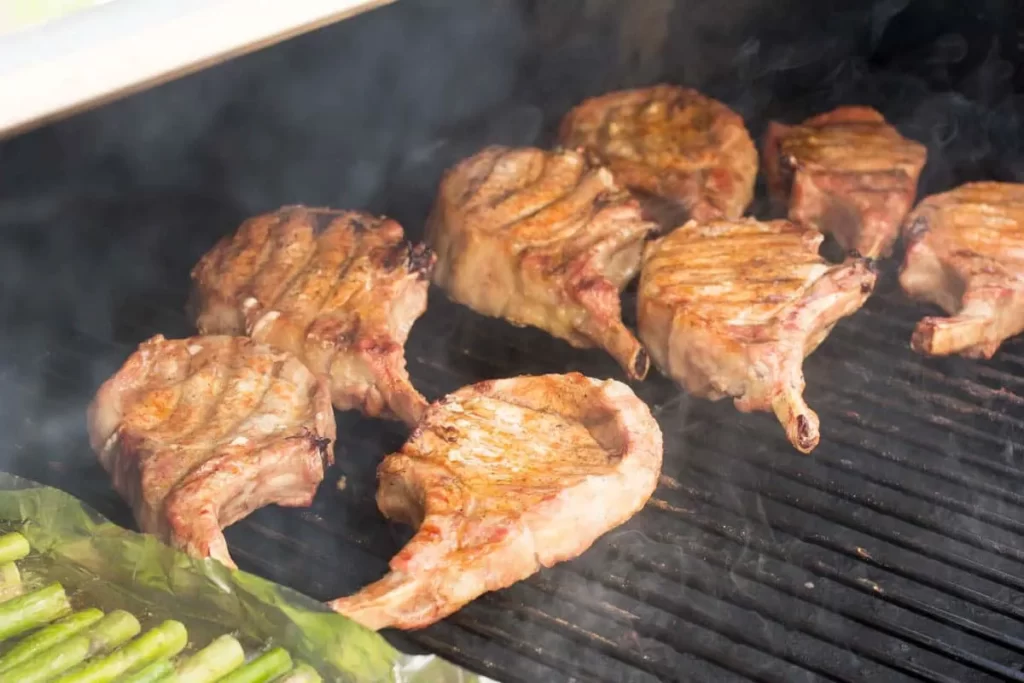 These Traeger made pork chops look incredible.
Popular Electric Smokers & Best Pellet Smokers
To help you find the smoker of your dreams I did a round up of some of the highest rated electric and pellet smokers.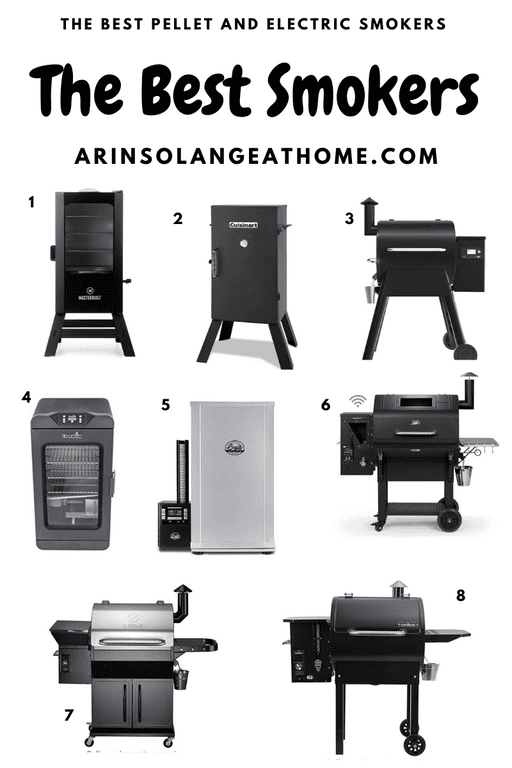 Shop Popular Electric Smokers vs Pellet Smokers
2. The Cuisinart 30 in. Electric Smoker
3. Traeger Pro 575 Series Pellet Grill & Smoker
4. Char Broil Deluxe Digital Electric Smoker
5. Bradley Digital 4 Rack Electric Smoker
6. Green Mountain Daniel Boone Prime Pellet Smoker
7. Z Grills 1000E Wood Pellet Grill Smoker
8. Camp Chef Smoke Pro Pellet Grill
Other Posts You'll Love
Pink Stock Tank Pool Tutorial | Backyard toy organization  | DIY Outdoor Table for $40 |  Trashcan Planter Hack  |  Outdoor Furniture and Decor from Amazon
Pin The Photo Below For Later
I hope this post gave you some insight into the best smoker for your family, and you are confident in the differences in electric smoker vs pellet smoker. Make sure to keep in mind the versatility, flavor profile, budget, and size that is best for your lifestyle and you'll walk away with your dream smoker. If you have any questions, feel free to leave them in the comments section, and follow me on Instagram @arinsolange for more home, decor, and DIY.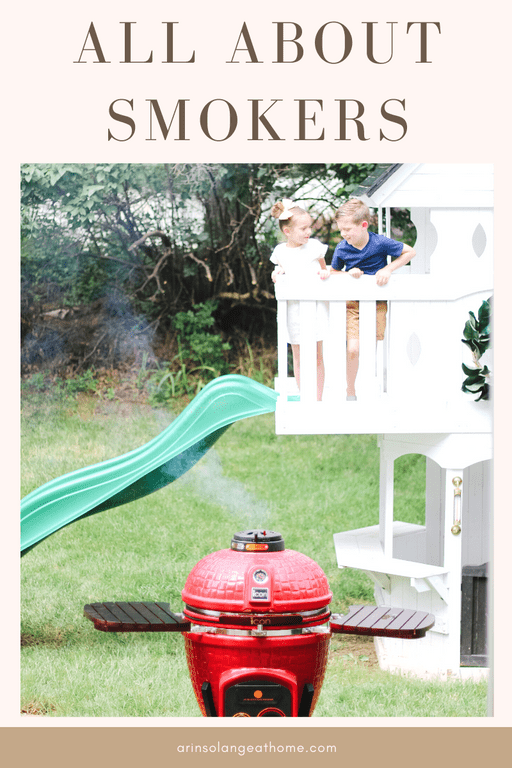 Insert Pinable Image