After months of working on our playroom it is done – for now. It was a room of countless DIYs and LOTS of thoughts and changes as I made it perfect for our family. I am sure there are more changes that will come with time to the space – but FOR NOW this is the reveal of our Sherwin Williams Romance playroom.
This post may contain affiliate links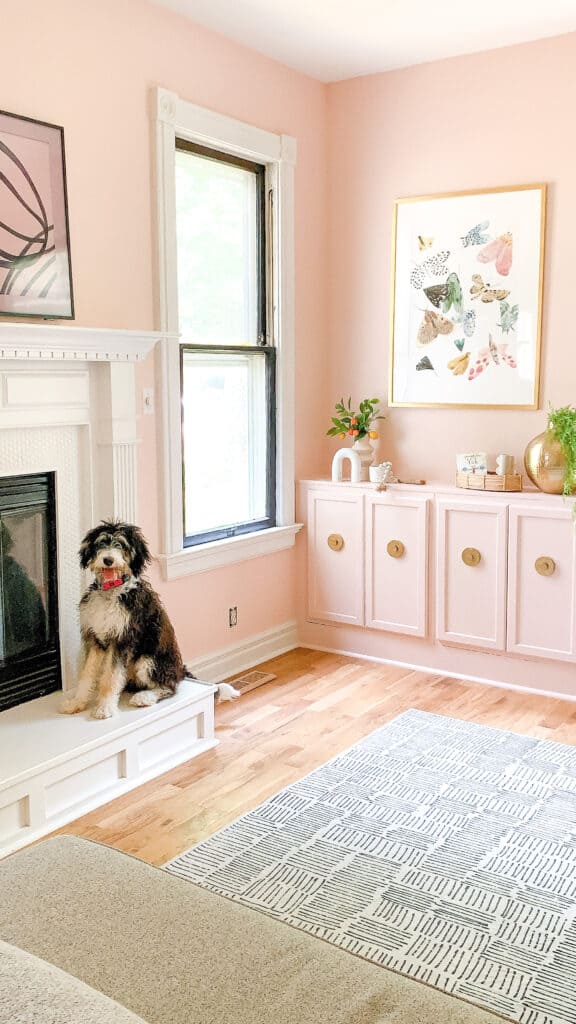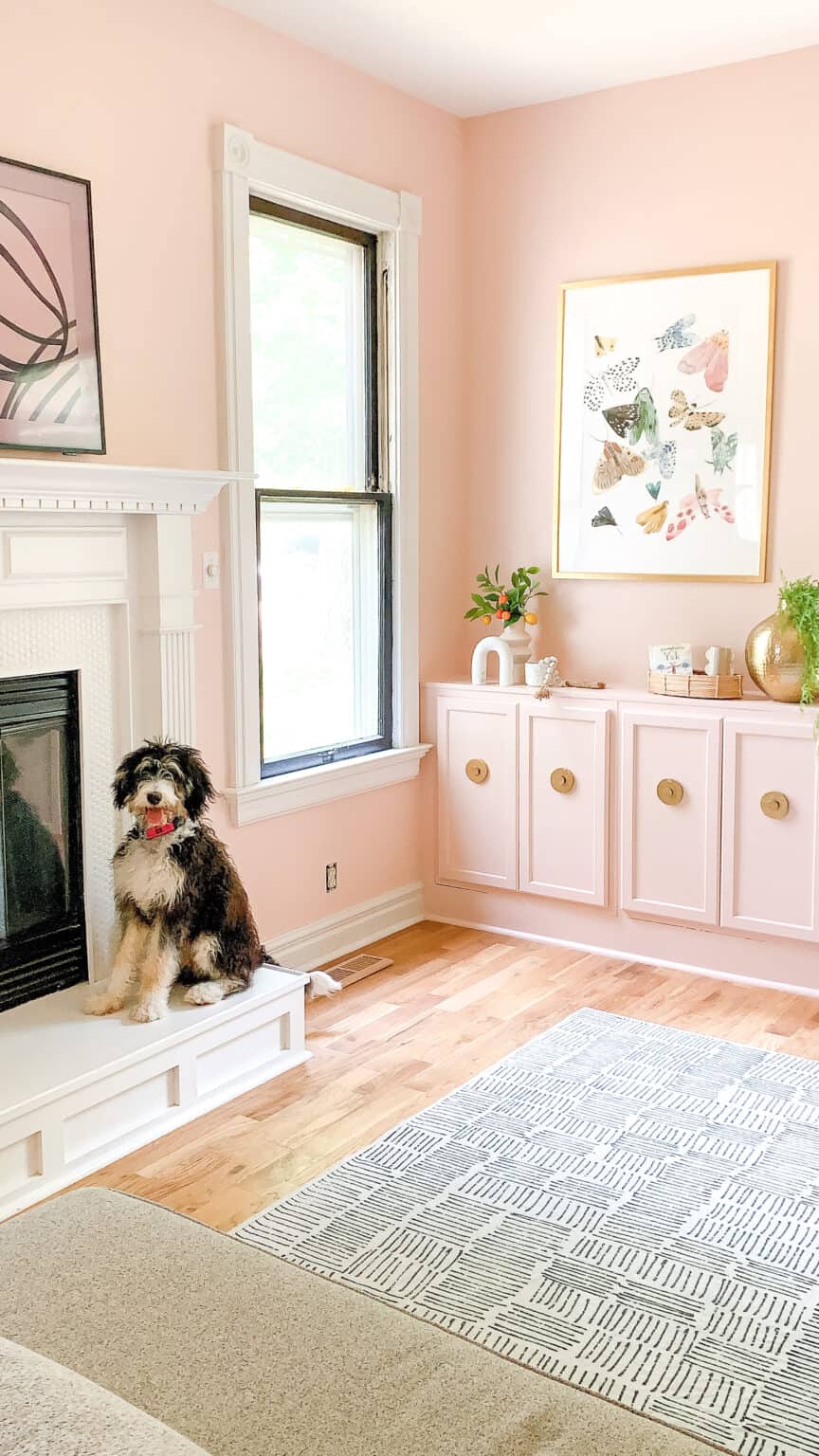 Sherwin Williams Romance Playroom Reveal
When we moved into our new house and started renovating I thought for sure I would stick to all white walls in main living spaces….but here we are with a full blush pink room on the main floor.
Our kids playroom is on the main floor and full of charm that was dying to have a bold face lift. When we were adding built ins I went back and forth on the color for those, and somehow things escalated and we ended up with a full on paint change in the room.
We went with Sherwin Williams Romance for both the built ins and the walls both. It was named HGTV Home's 2020 Color of the Year because of its "calming yet posh" appearance, and it is just that in our playroom.
Toy Storage
Clearly because this is a playroom – there are toys that needed to be stored in the space. We built DIY built-ins for the majority of the storage (full tutorial is here) but also needed another basket for some larger items, as well as book storage.
These large lidded baskets are my go to for stuffed animals and dolls. They keep everything in one place – but are also easy on the clean up for the kids. We also used the acrylic book ledges that we LOVE and use in most of our kids spaces.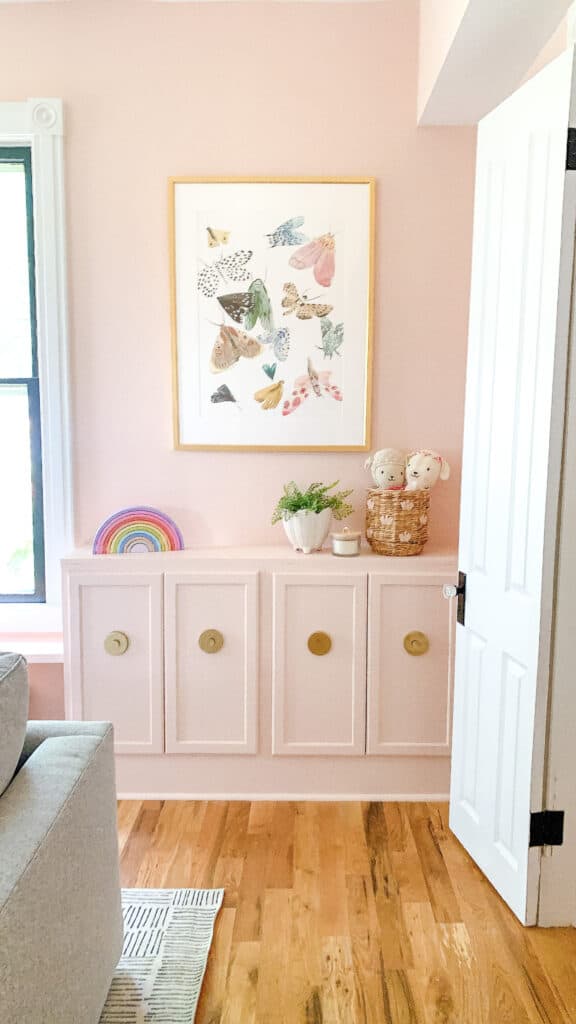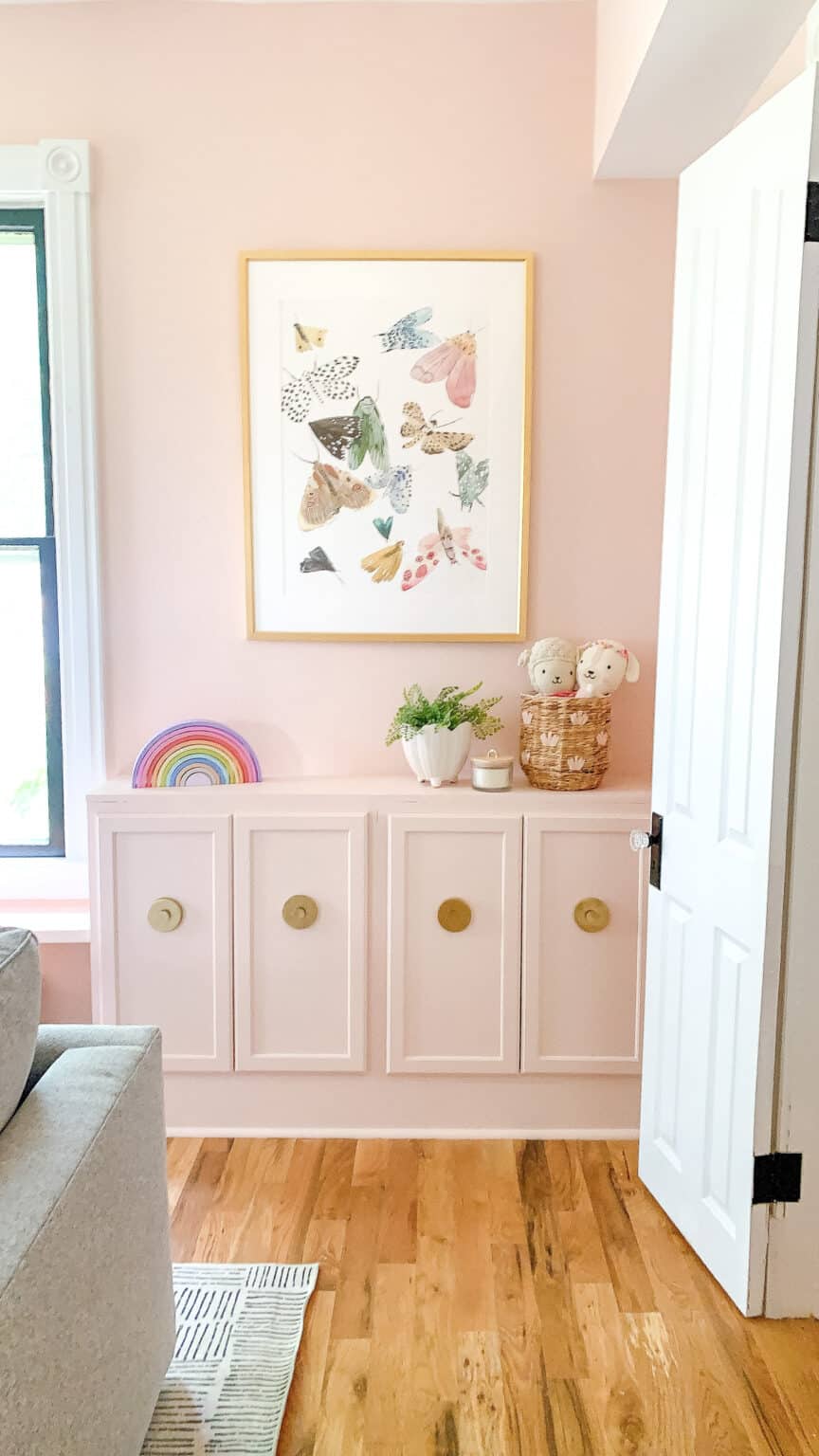 The book ledges keep books easy accessibly for kids but also clean and pretty. In this case I opted for 3 shelves for more storage and to make more of a visual impact. If you are looking for books that when put on display are both beautiful and good reads I have a full blog post here with great options.
I have some other great posts on kids toy storages here – so be sure to check those out before you go.
Living Room (creative) Toy Storage | Tips on Toy Storage
Decorating the Playroom
Alright – so the space is functional, but we had to make it pretty too. This space is right off our entryway so I didn't want to go too juvenile but I also wanted to make sure it still felt different than the rest of the house – and playful.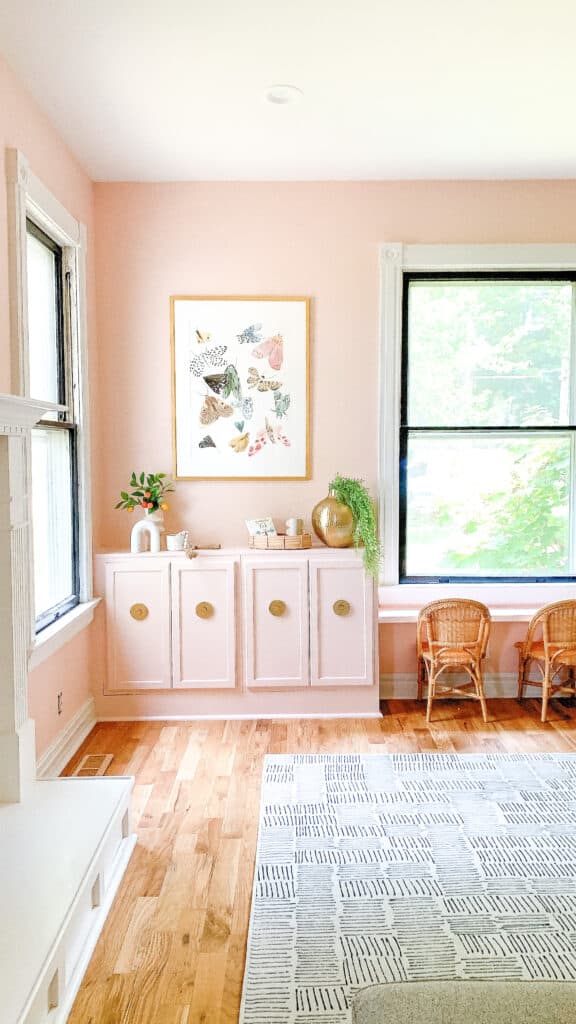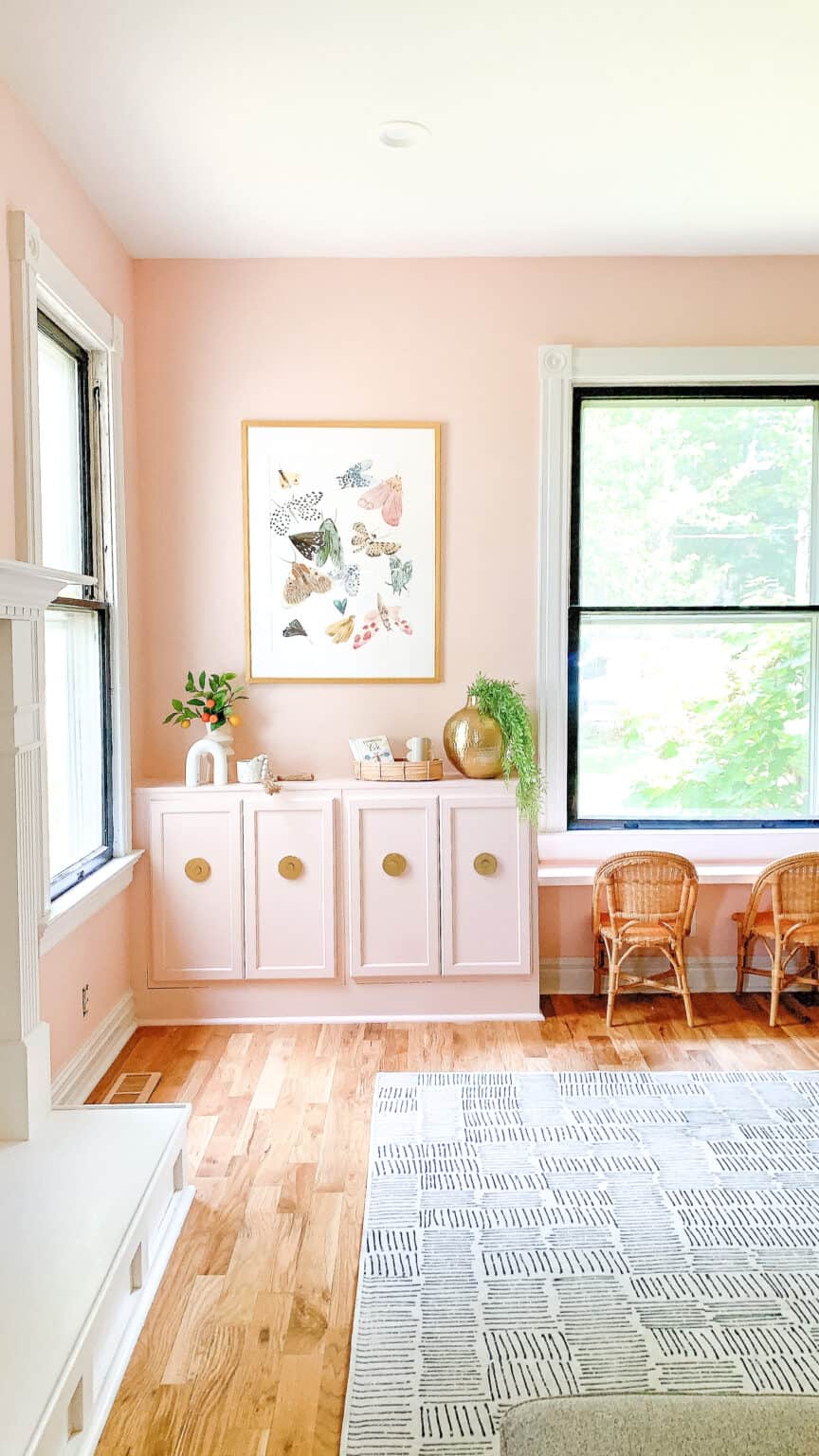 Moth Prints
I knew I wanted large pieces of art work over the built ins and ended up with these gorgeous framed pieces from Minted. I loved that the frames were high end, but also not glass because – well KIDS.
You can find my exact prints here AND as a bonus – they were kind enough to give you guys a discount on frames if you purchase a print. Use the code ARINFRAMES.
(mine are 30×40 in the gold gilded frame)
Furniture to Accent Sherwin Williams Romance
I went back and forth on furniture in this room as we figured out how to make it best serve our family. My kids are almost 9, almost 7, 4, and almost 2. That means the older 2 don't 'play' as much anymore, and our second youngest does go to school all day starting this year.
We originally just used our nugget – which I LOVE, but I found that the kids were always camped on our living room couches to watch tv. (and I couldn't take another episode of Liv and Maddie). I ended up ordering a sleeper sectional for the room that I am obsessed with.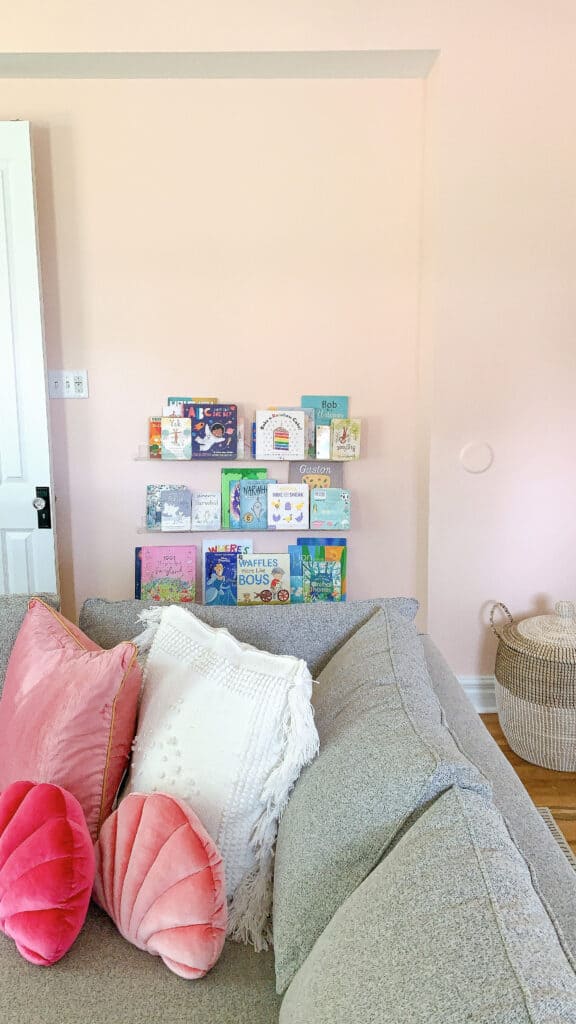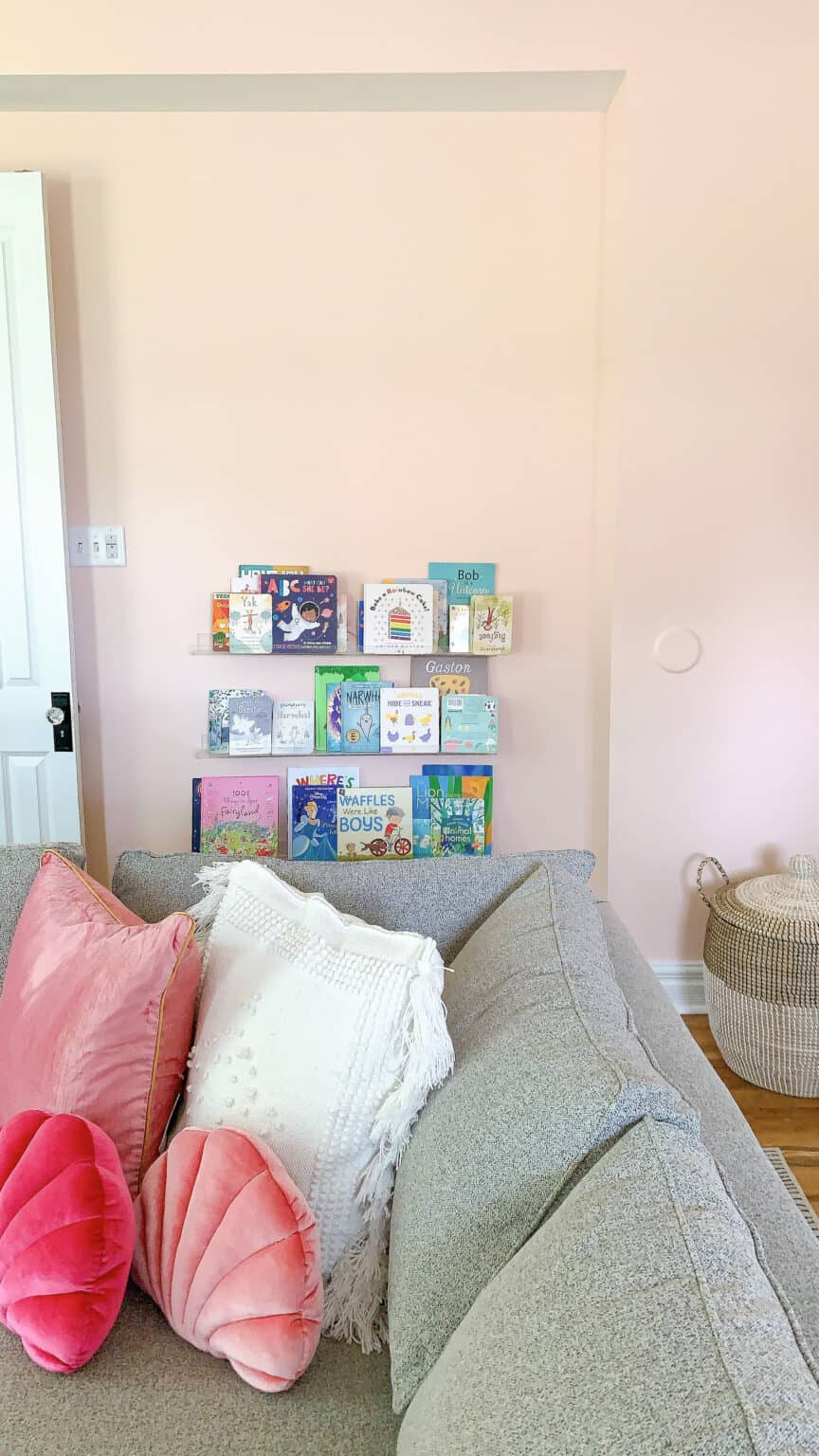 This is the exact one we got – but I will also be doing a full review on the sofa for those of you wanting more info on it!. I went with a darker gray to keep things more masculine with the Sherwin Williams Romance. I think the end result ended up being gorgeous.
Aside from that we were able to keep things pretty simple. I kept these little chairs from the DIY table I made Goldie and they are perfect at the window table for her to have snacks or sit and color.
Frame TV
One of the bigger splurge items in this playroom was the Frame TV. We have a Frame TV in our living room and LOVE it, so we decided to splurge and really complete the room in this room.
We had recently updated the fireplace with penny tile and paint so I knew that the fireplace was going to be a focal point. It wasn't super easy to do (had to get a bit creative with the box) but it was SO worth having a really clean look above the fireplace.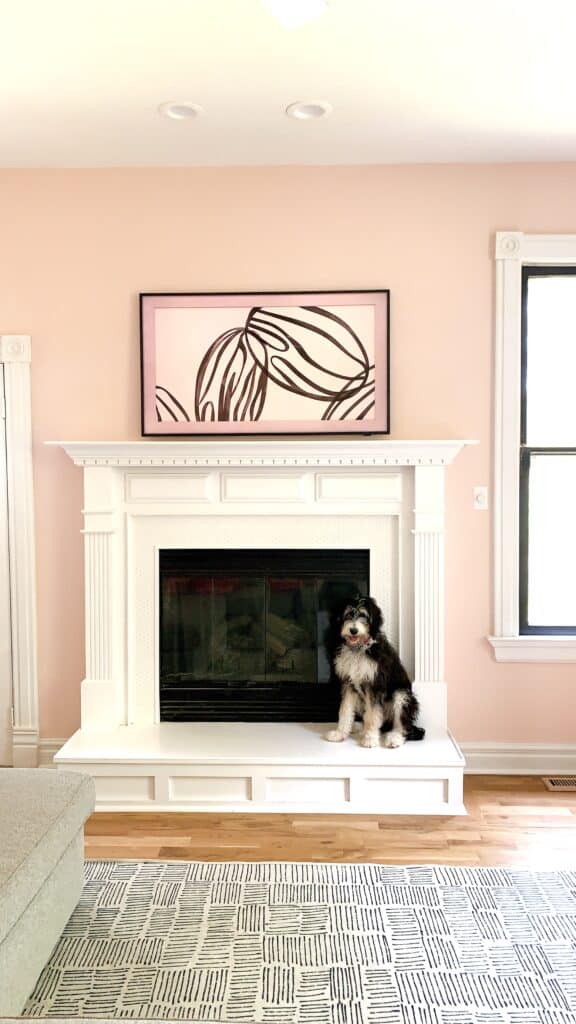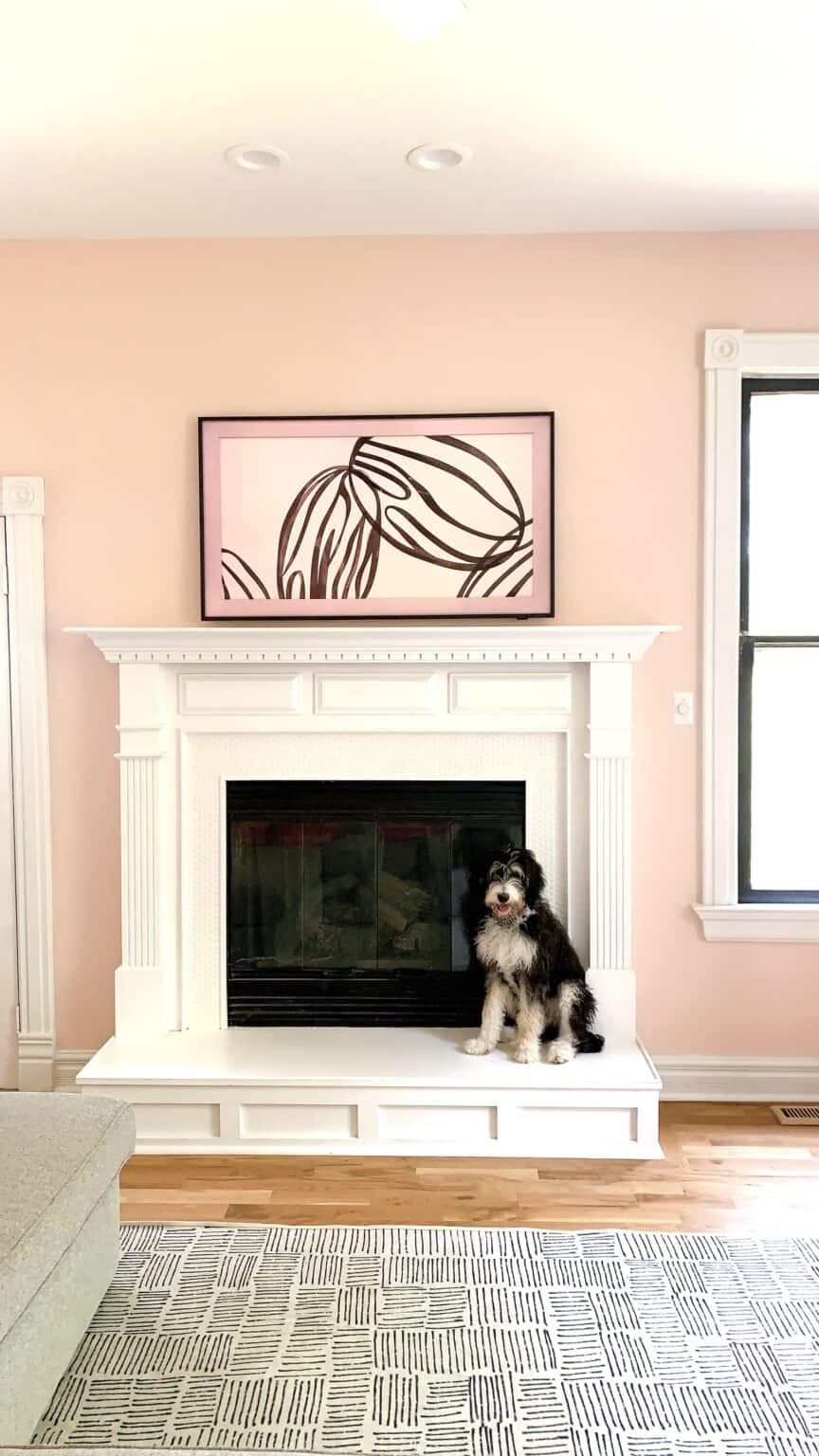 If you are on the fence about the Frame TV I have nothing but great things to say about it. It has been one (two) of our favorite purchases, and really makes having a tv in a space less of an eye sore.
Accessorizing around Sherwin Williams Romance
When you go pink on the walls – things are pretty bold. That meant keeping the accessories to a minimum. I wanted to accessorize in a way that was playful and fun for a playroom, yet pretty and not cluttered.
Shall we also include that I didn't want anything breakable because…kids? I kept everything super simple and am linking all the cute accessories below. If you have any questions leave them in the comments!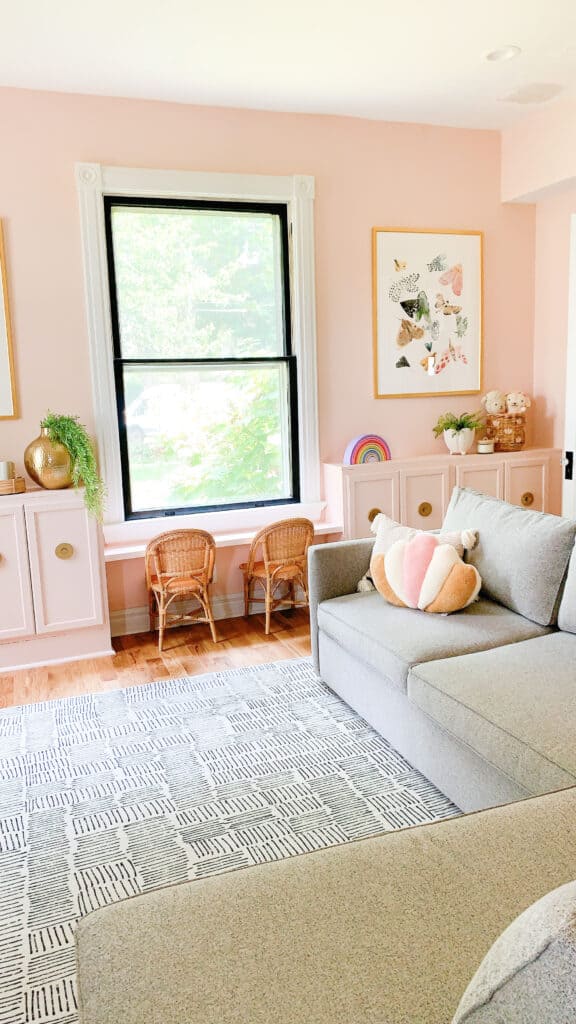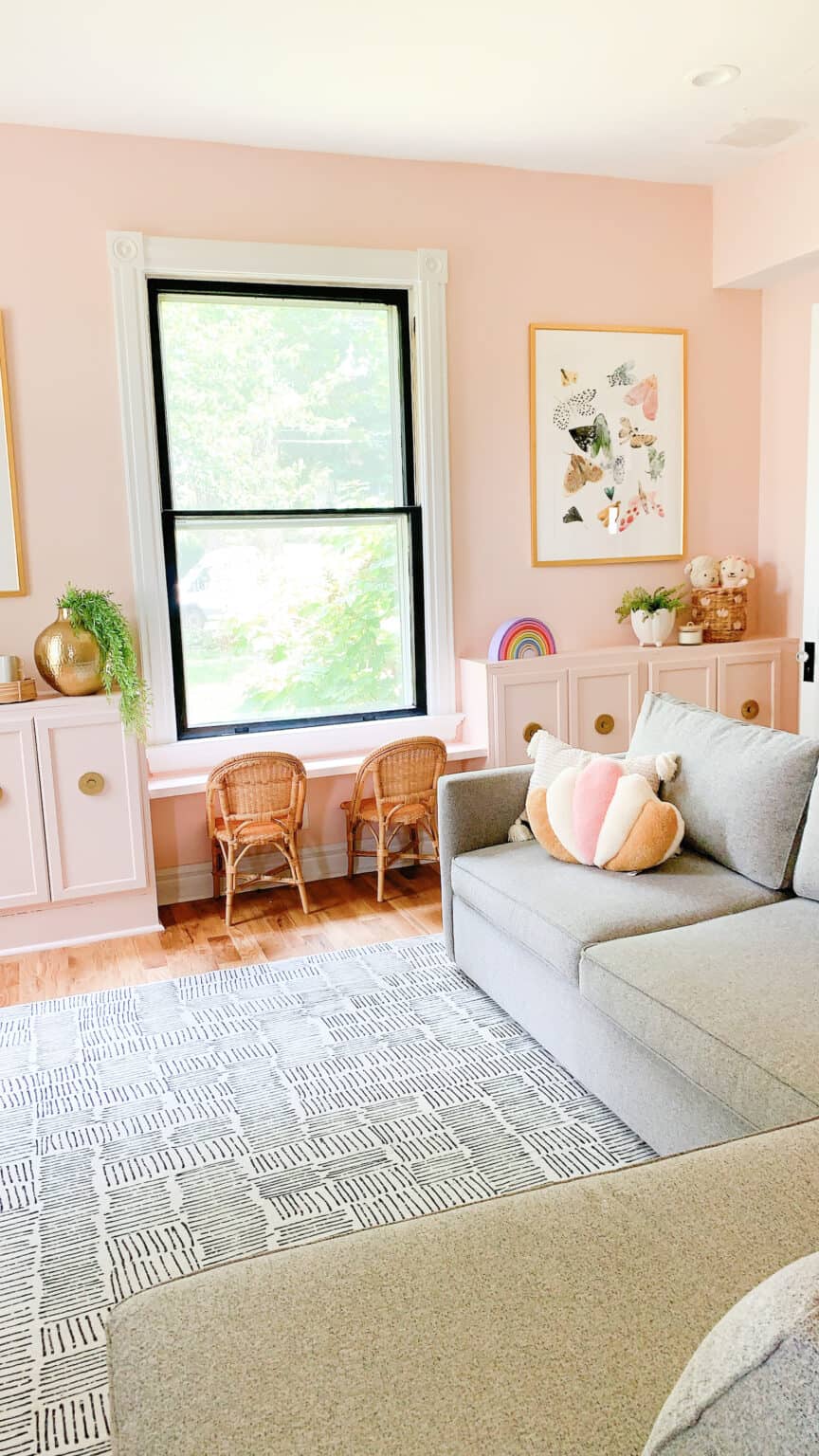 I think that covers all the accessories. Like I said – we kept things at a minimum because it is a playroom so the kids add LOTS of their own flare with toys covering every spot.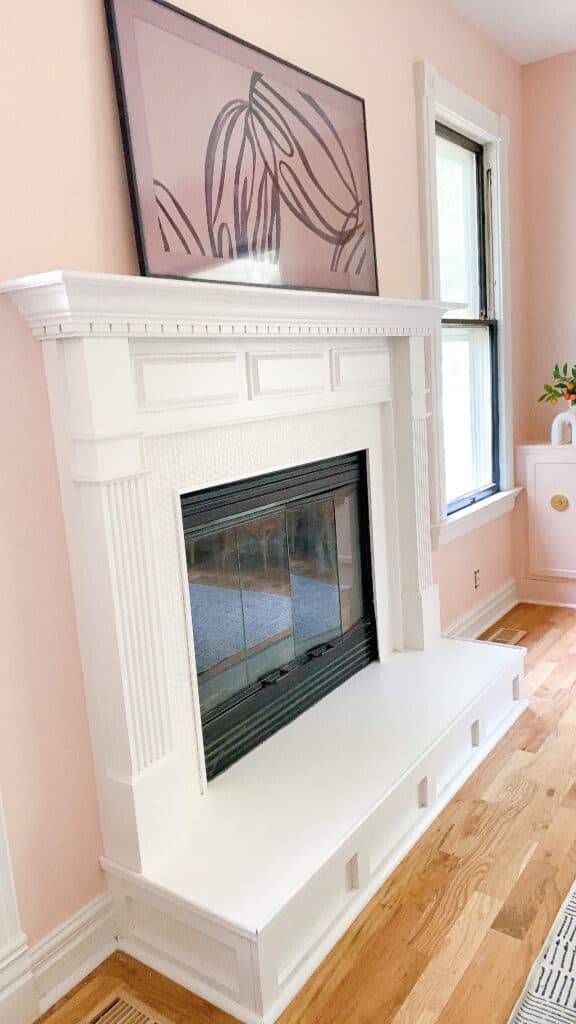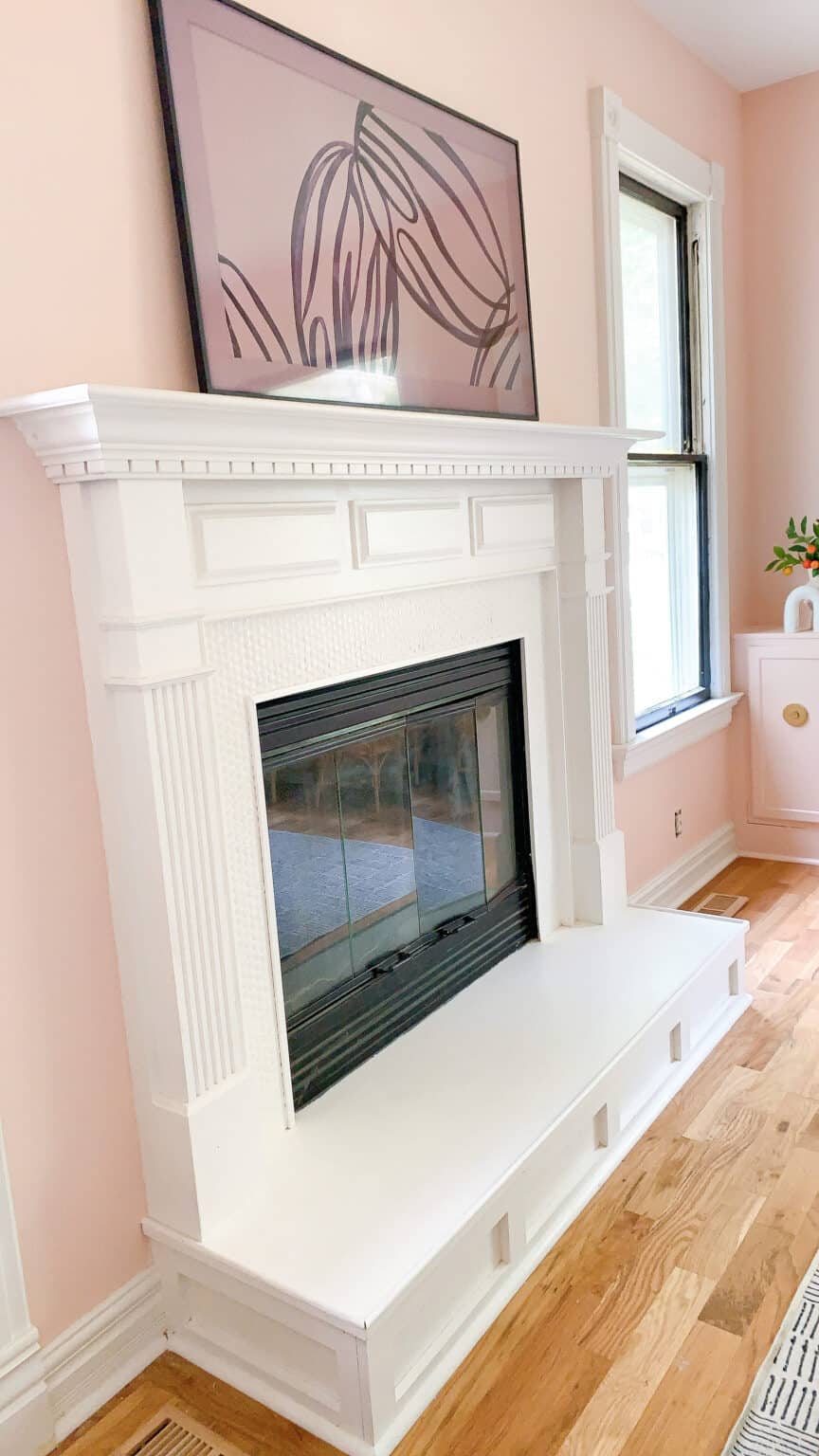 Other Posts You'll Love
If you loved this post – here are a few others you will love!
Jenny Lind Bed Review | Boys Wallpaper | Daisy Wallpaper Room | Black and White Boys Room
Pin the Photo Below for Later
Hopefully you found some great inspiration for your your own room using Sherwin Williams Romance and have a better feel for how it looks in a home. If you have any questions leave them in the comments below, and be sure to follow me on Instagram (@arinsolange) to see more of what we are doing in this house! Pin the photo below before you go.