We finished some DIY built ins about a week ago and oh my goodness is it LOVE! I had a vision for adding stylish and hidden storage to our playroom and they turned out exactly how I was envisioning them – including the DIY drawer pulls made from baked clay.
This post may contain affiliate links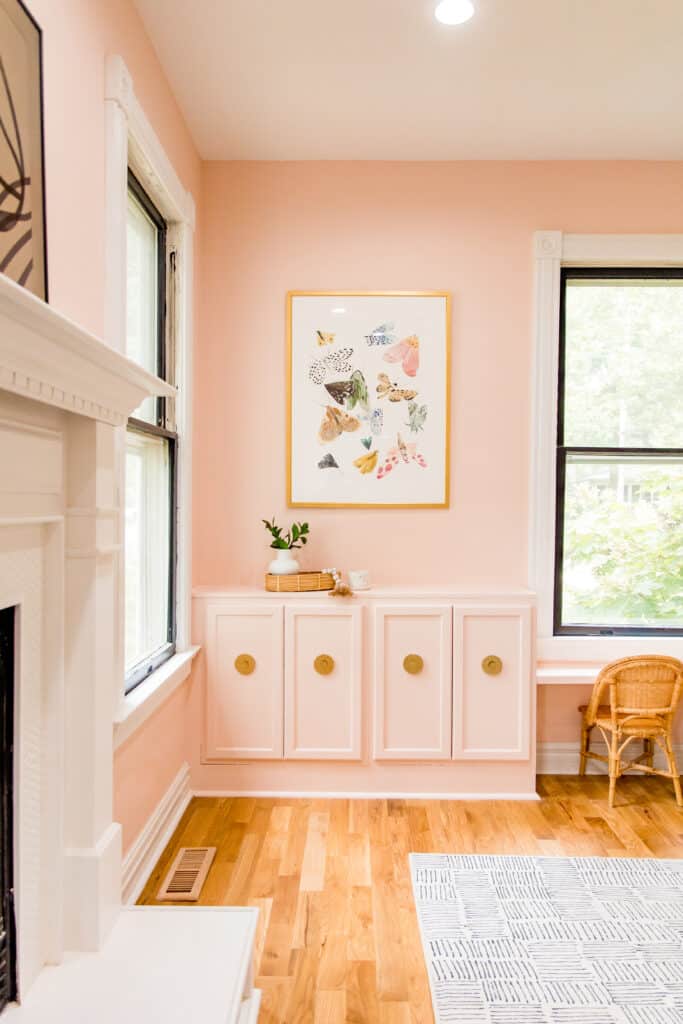 DIY Drawer Pulls
When I shared on Instagram that I was doing DIY drawer pulls I think I scared half of my followers. Honestly? That is fair – these little guys gave me more trouble than the full set of built ins.
Finding a way to DIY something small that needs to be SO FUNCTIONAL is hard. And when it comes to sharing a tutorial with you all I never want to share something that will waist your time or money – so it needs to work in real homes being used by real people.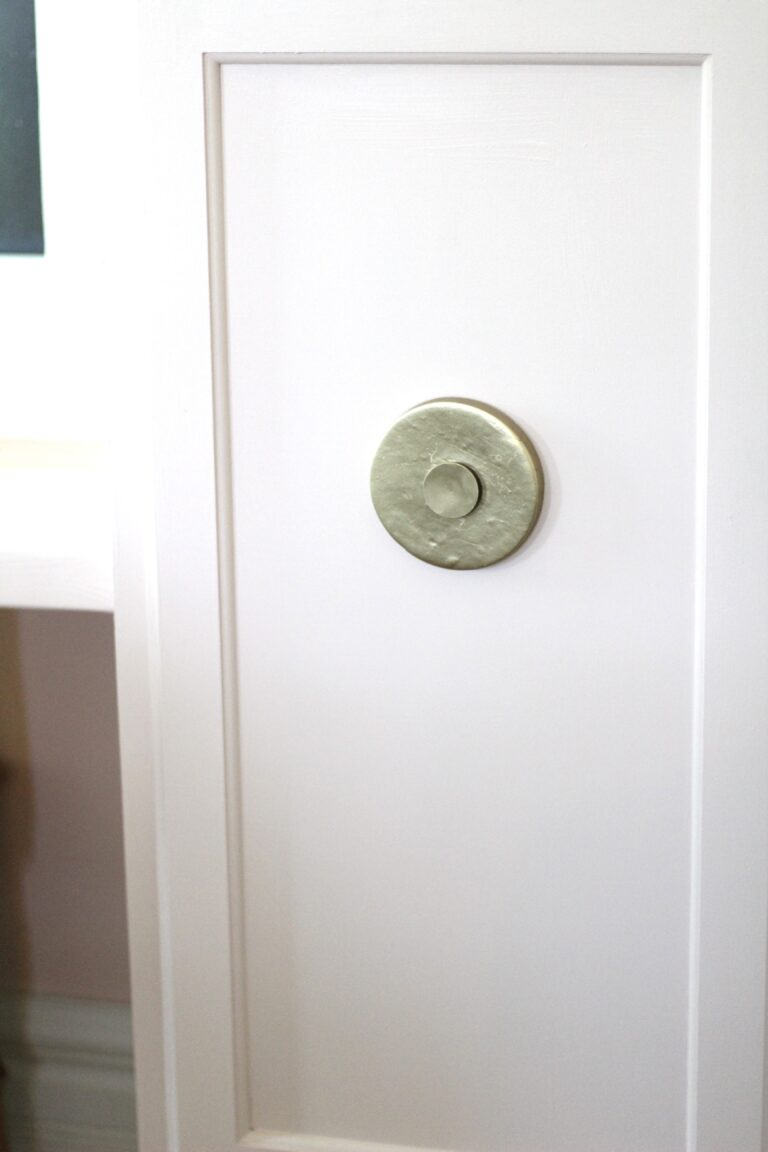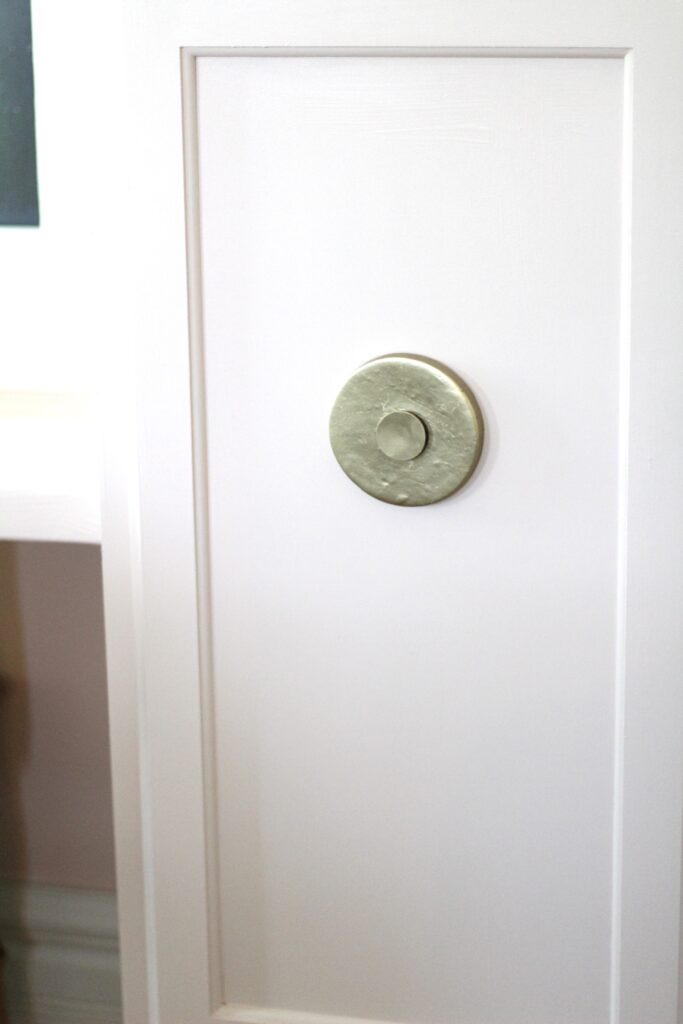 The first go around of these pulls didn't work for that – they were fine but with kids pulling on them (aka the ultimate test) they wouldn't stay perfectly level so I knew it was either try one last thing or admit my defeat and be done.
The thing on it is – I really had this vision of a HUGE drawer pull in my mind and didn't want to spend a fortune making that vision happen. Admitting defeat was going to mean spending a lot more money and I didn't want to have to do that.
Behind the Room and Our Home
So a little backstory of this house and these built ins that brought ups to the DIY drawer pulls. My husband and myself – along with our 4 kids (who are more of spectators than helpers) are renovating an 1860's home. Over the past year we have been renovating every corner in both big and small ways, and this room is finally getting its final touches.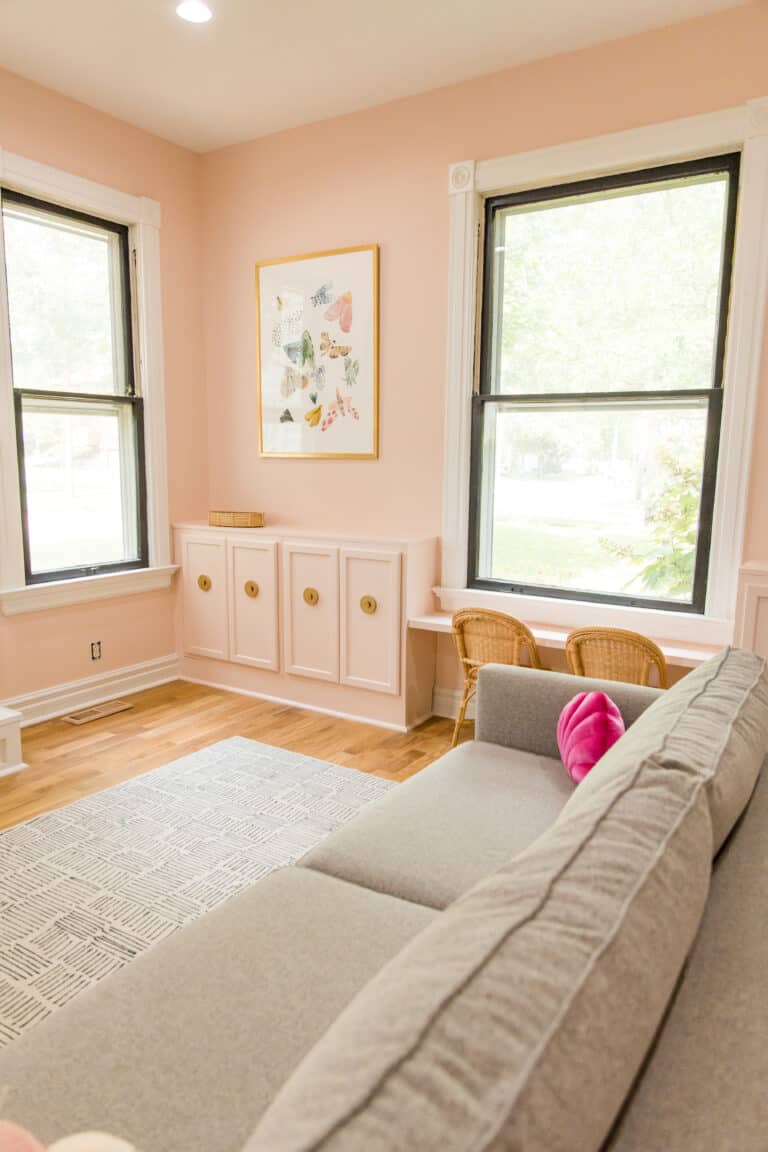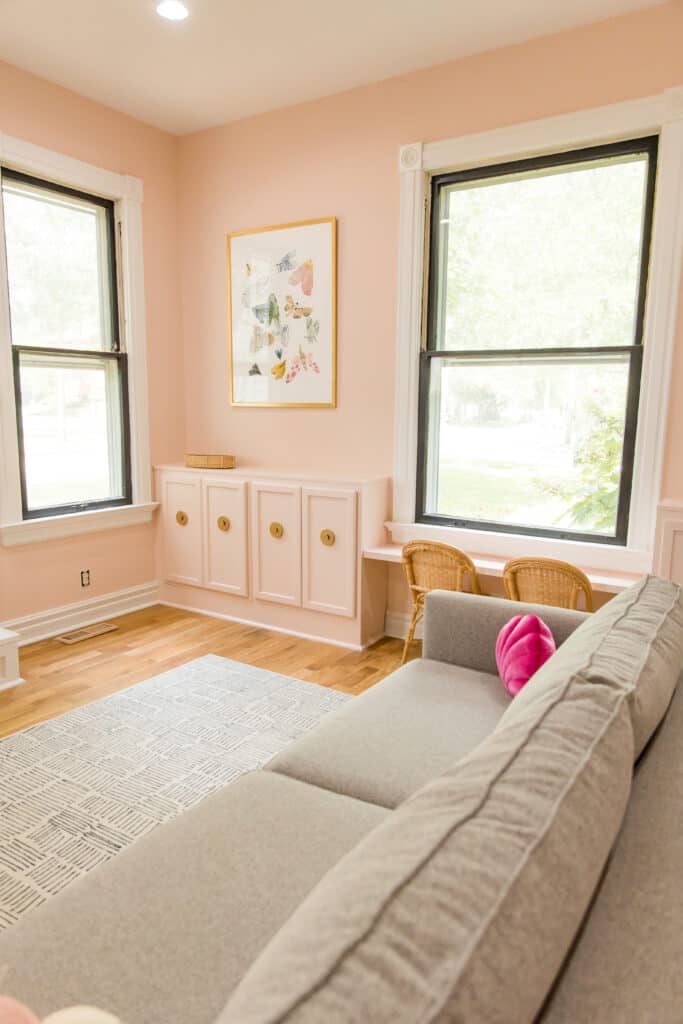 I feel like most of our rooms got the initial "move in and make it work" thing pretty quick. Now we are headed into the phase where we are making rooms exactly what we dreamed of. I am going through and making spaces work well for us in both an aesthetic and functional way.
These built ins and drawer pulls are in our playroom which is right off the front door. That is new for us, because we previously had a basement playroom – so I really had to find ways to make this space full of storage that was hidden.
The room also functions as our guest room – so that means the importance of hiding the toys was even more. It also meant that the drawer pulls would be used by lots of little hands and hands that don't live here often – and thus would need to be sturdy.
The Built Ins
Before I get to the actual drawer pulls – here is the blog post for the built in cabinets. These were made from stock cabinets and done fully in one weekend – so if you are wanting to try some built ins definitely check it out!
DIY Built in Cabinets from Stock Cabinets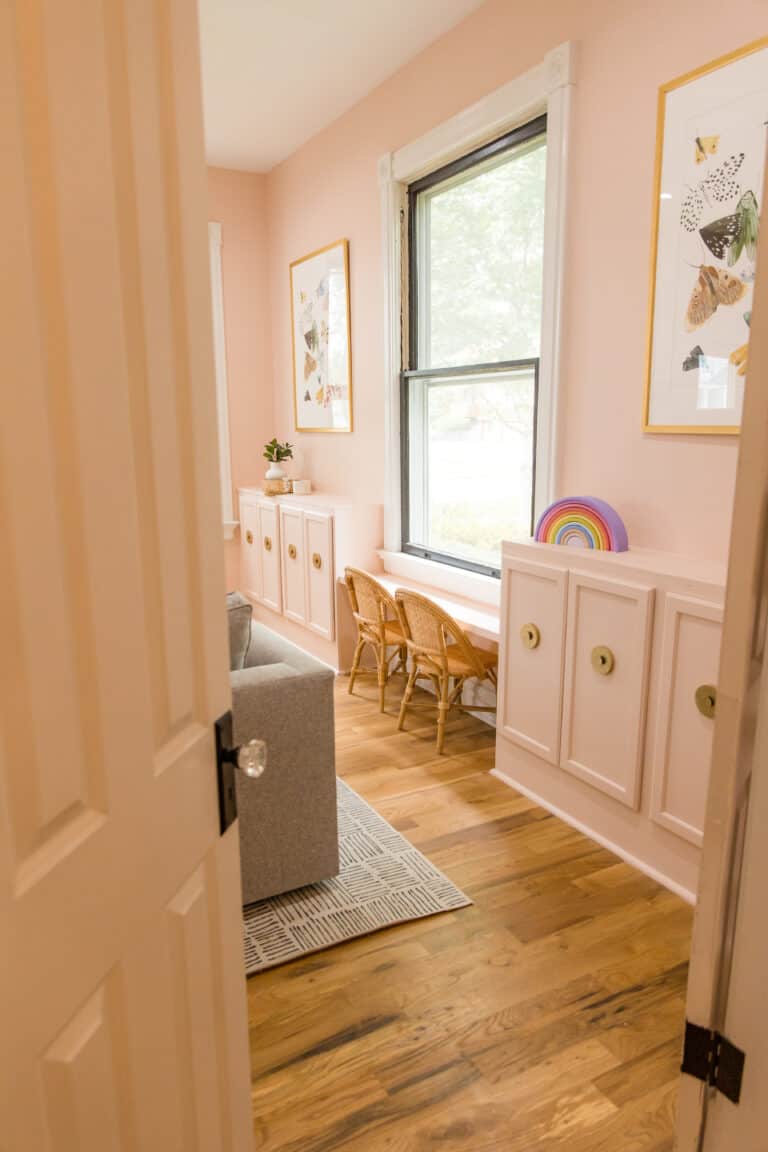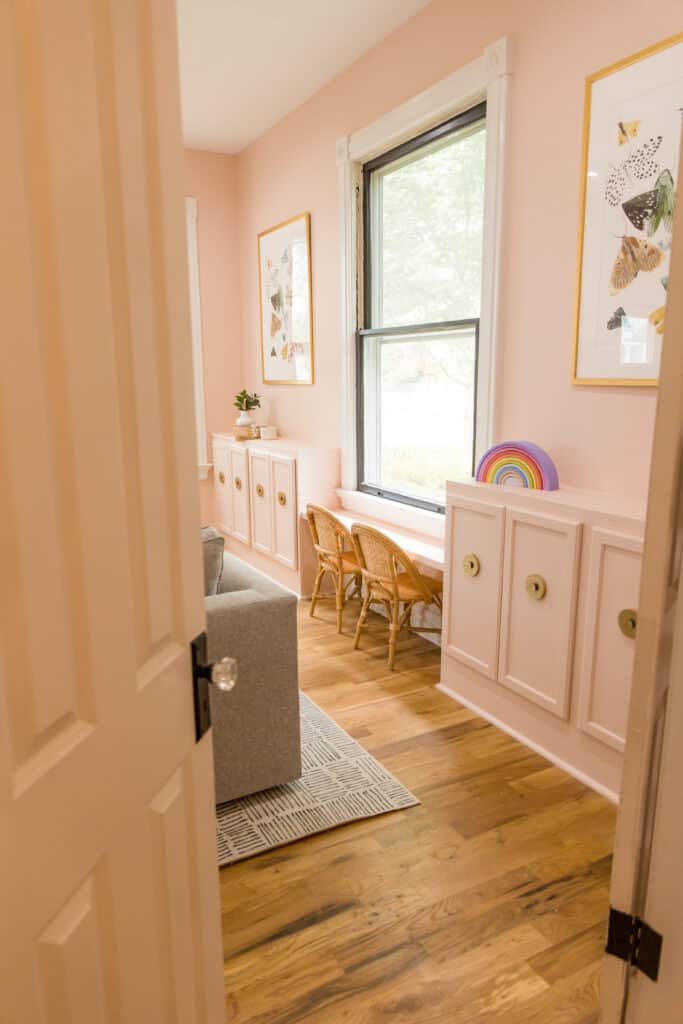 How to DIY Cabinet Pulls
Now let's get to why you are here, shall we? These are DIY cabinet pulls made from baking clay and some special bolts. Like I said above – I originally made these without the special bolts and that was a no go. No matter the adhesive, it wasn't strong enough.
So when you see some of the photos in this post keep in mind that you should follow my method via text not photos – I did a couple of unnecessary steps because of that.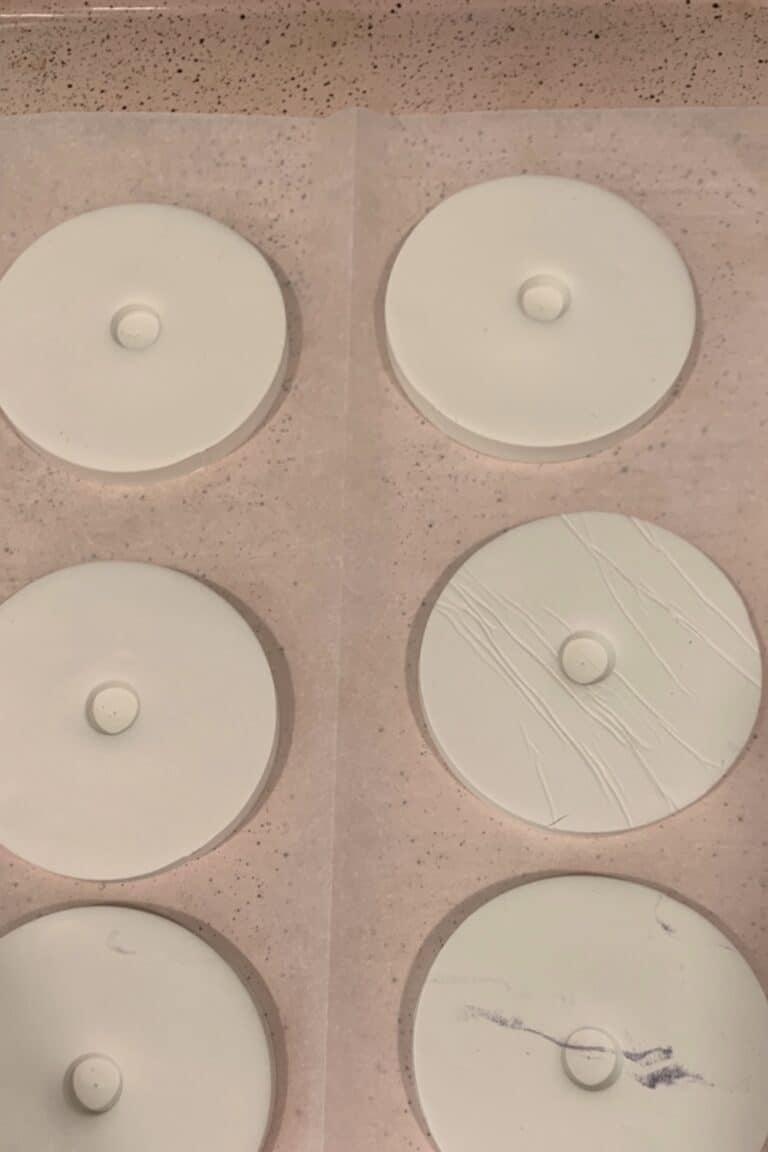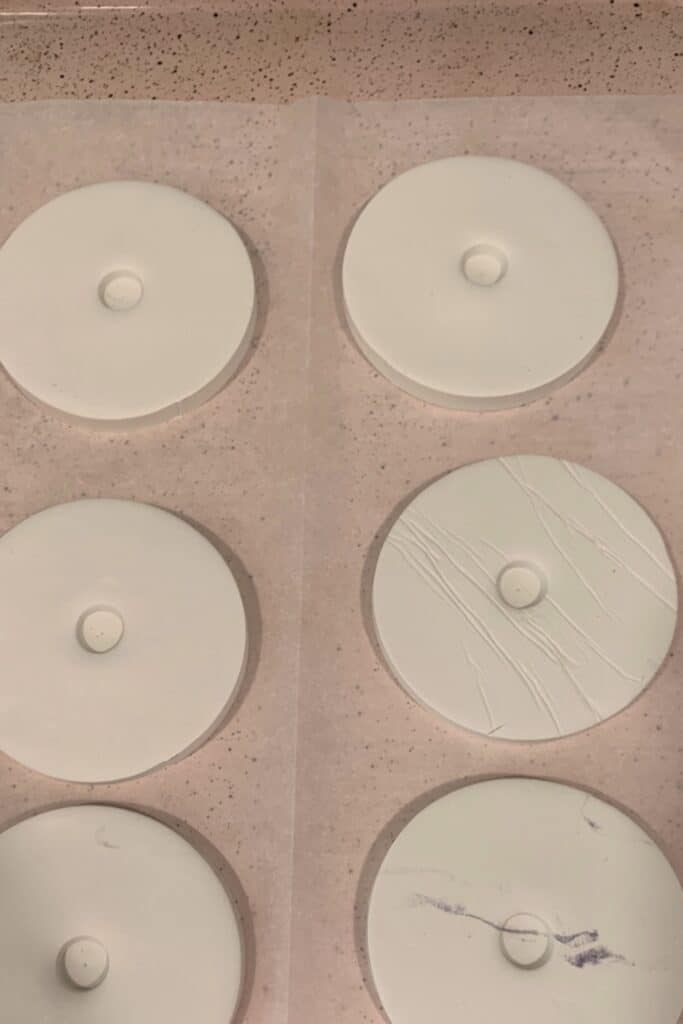 Supplies for DIY Drawer Pulls
Oven Baked Clay – you will get 2 or 3 out of each log – this is the least expensive price I have seen
Paint
Rolling pin
Cookie Cutter (or a lid or something – just needs to be smooth and deep enough)
Wax paper
Nuts
Oven
Drill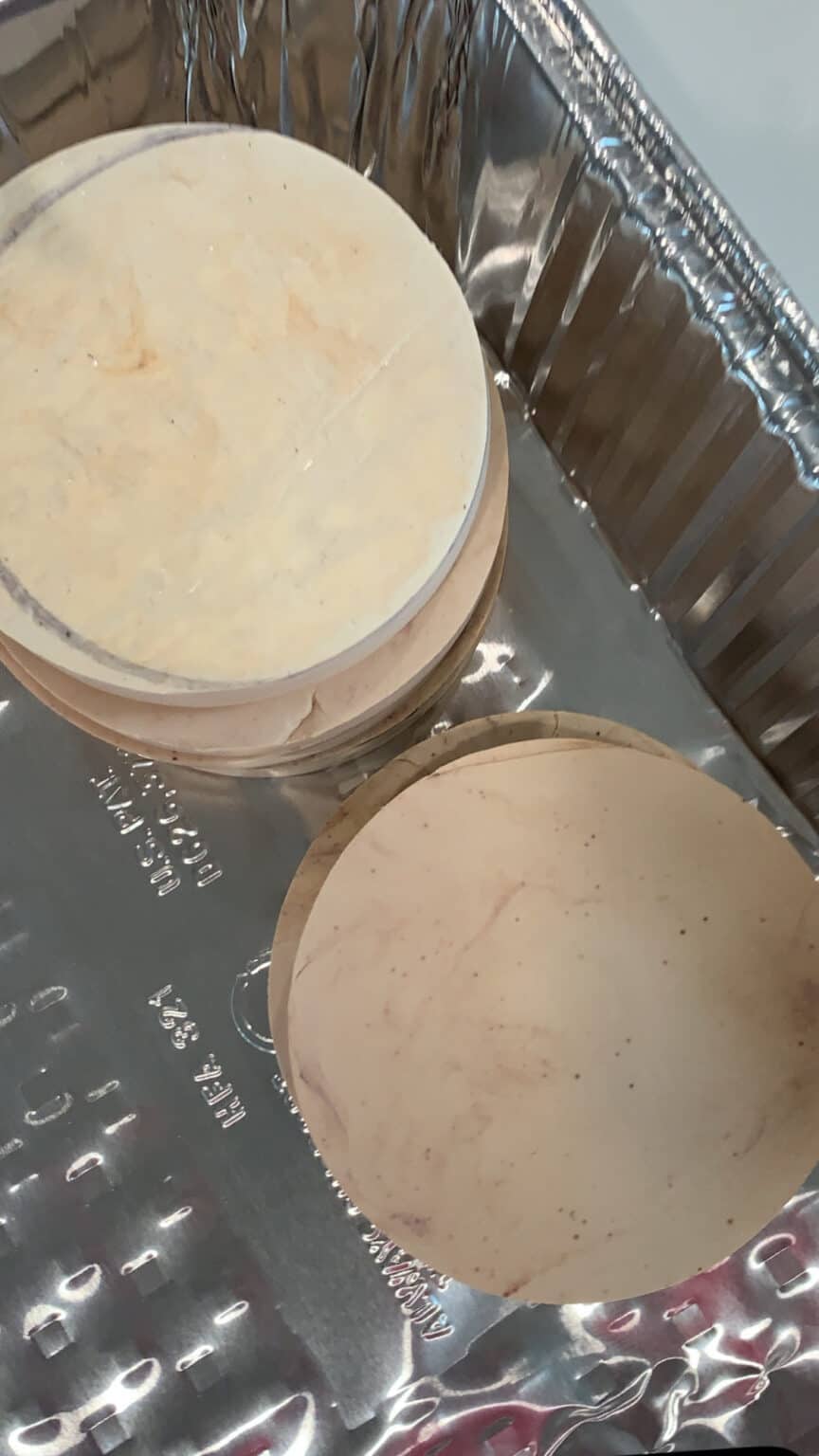 How to Make your DIY Drawer Pulls
Before you start anything you need to decide how thick you want your drawer pulls to be – you then need to find a couple of things both that thick to use as spacers. This might mean hot glue sticks, the handles to kitchen utensils, Thick straws, wood dowels and so on. I personally went with the thicker size hot glue stick as my thickness.
Starting with your clay – work it to soften it in your hands, then lay down a VERY SMOOTH piece of wax paper. No wrinkles is incredibly important.
Lay your clay down with your guide pieces off to each side, and lay another piece of flat wax paper over the top.
Use your rolling pin and carefully roll a circle larger than your cookie cutter until it is fully even.
Once it is rolled you need to cut your circle out CAREFULLY and place it on a baking sheet to cook. One side needs to be pretty smooth, however I do think these have a vintage charm to them so don't stress tiny imperfections.
Once you have done all of them bake them per the instructions on the clay.
Once Baked spray paint them in the color of your choice.
Then drill a hole through the center and add your screw.
Spray paint again to match the screw.
Add one or 2 washer(s) on the back of the drawer pull to help it stick out from the cabinet and add toy our cabinet.
Secure with a washer on the back.
And that is it – these are honestly super easy and can be easily done in one day. The biggest hold up for me was the trouble shooting which I have already done for you.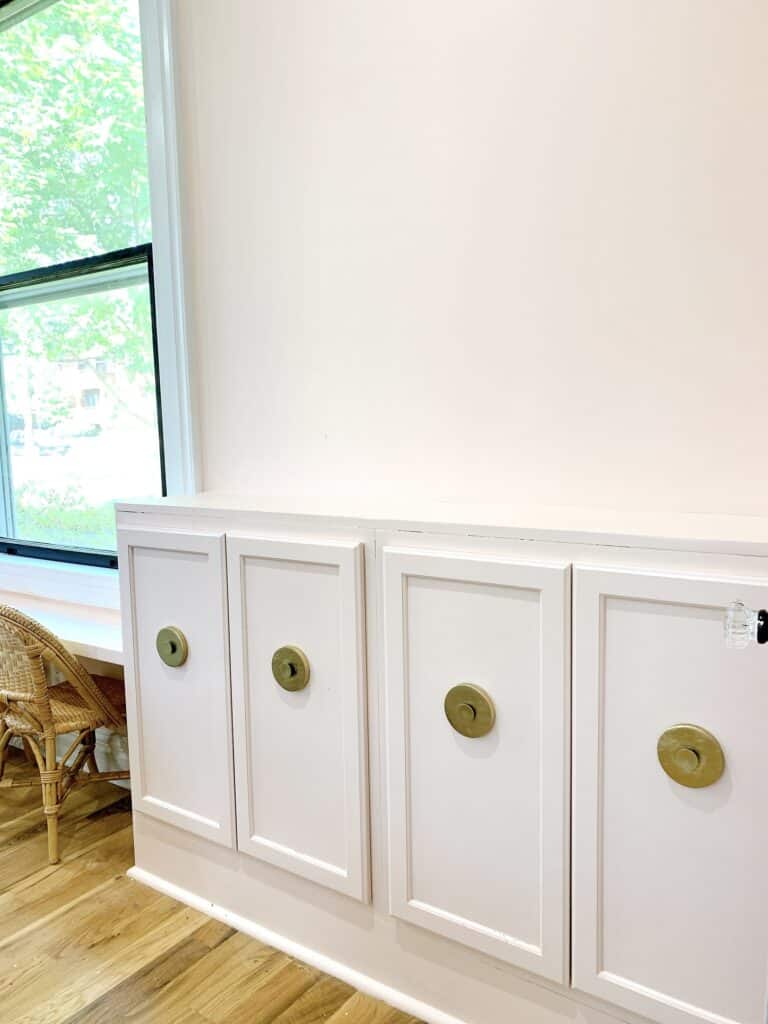 Other Posts You will Love
If you are on this post you probably love a good, easy DIY, so I have a few great other posts below that I think you will love!
DIY Outdoor Table | DIY Linen Shelves | DIY Fluted Wall tutorial | DIY Stools
Pin the Photo Below for Later
Hopefully with this helpful tutorial you feel ready to tackle some DIY drawer pulls from baked clay. Be sure to pin the photo below to find this post later, and if you have any questions, and to see more DIY's be sure you are following me on Instagram (@arinsolange) for all the day to day action.