It's that glorious time of the year yet again, where we all scramble to buy the hot items from the Nordstrom Anniversary sale.  I am no fashion blogger, but I do love to grab some of the staple items that I love at a great price.  I will be adding to my stories from time to time in the 'style picks' highlight, so make sure you check back there for more fun items.  This round up will be a pretty good representation of my Nordstrom Anniversary sale picks and what I'm loving, but I will be sure to report back when I leave there this morning.  I'll be getting a quick morning early access, so if you are reading this bright and early, be sure to follow along on my stories!
this post contains affiliate links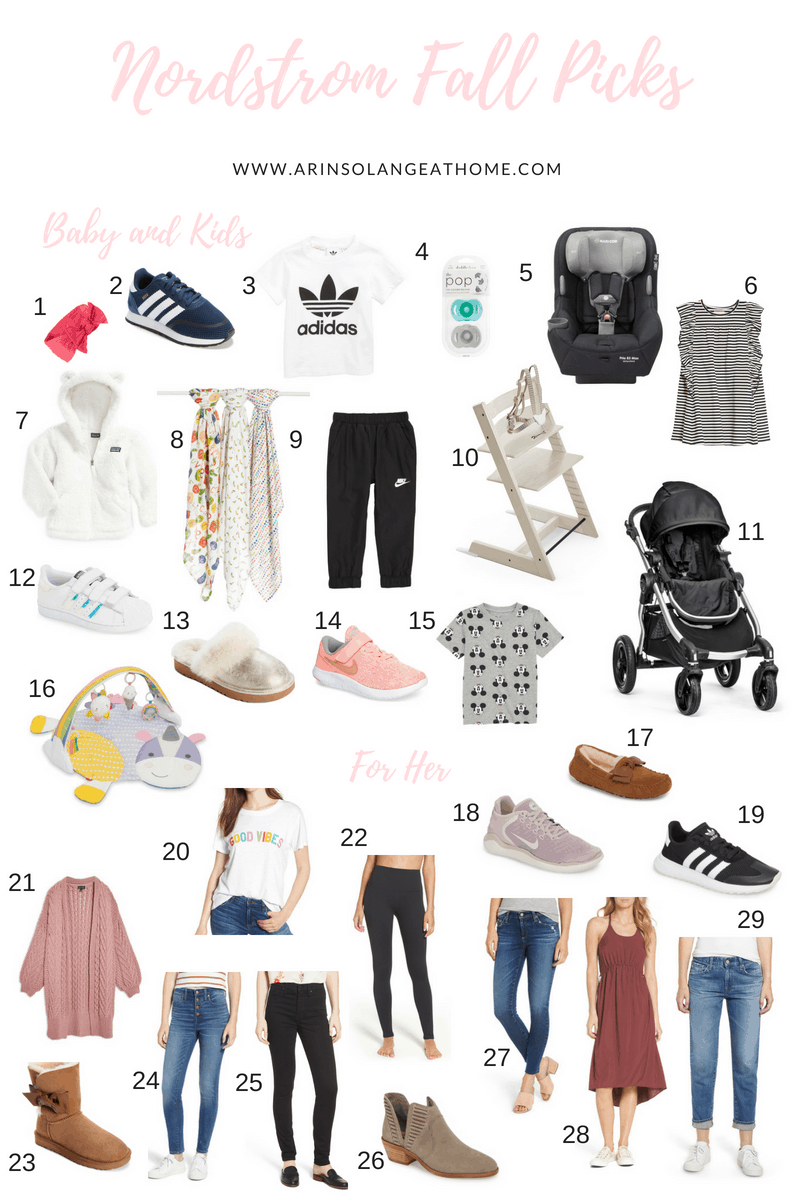 Nordstrom Anniversary Sale Picks
1 // 2 // 3 // 4 // 5 // 6 // 7 // 8 // 9 // 10 // 11 // 12 // 13 // 14 // 15 // 16 // 17 // 18 // 19 // 20 // 21 // 22 // 23 // 24 // 25 // 26 // 27 // 28 // 29
Loved these headbands with Avé and they still fit her now at 3.5!
Definitely loving these for Jack.  I think they will work well with his uniform or casual
I have wanted to try these pacis
Maxi cosi carseat on a GREAT DEAL
Everyday dress for toddler girl
I got this Patagonia for Walker and Avé.  It is SO soft and cute!
This pack of swaddles was in store and SO CUTE.
Simple Nike pants are my favorite for Jack in the cooler months.
We have a different Stokke highchair and I cant say enough good things!!
This Baby Jogger stroller is such a great deal!
Adidas for baby or toddler
I got these Pink and gold Nikes for Avé and I am OBSESSED.
This boys Mickey shirt is so cute and such a good deal for Disney.
Adidas – I got these and I am so in love with them for Disney or zoo days
Love this open sweater
Zella leggings – GET THEM ON SALE! these are so great and the sale price is better than getting leggings at Target.
Button Fly Madewell Jeans – these are such a good buy (I got them and am obsessed).
Black Madewell Jeans – literally the best black jeans you will own.
AG raw hem jeans – these are SO great on.  I got a pair and didn't want to take them off.
Zella Dress – another item I grabbed.  Its darling on and so comfortable
I would love to hear what you got or are eyeing from the sale! I will try to do at least one more round up before the sale is over, but in the mean time – check out my bestie Navy's picks from the sale.  I HAVE to have the jeans she picked!!
SaveSave