White cabinets are all the rage right now and quite honestly they are a trend I don't see changing any time soon. There is something simple and clean about white in the kitchen that has kept it as a trend for quite some time. Today I want to share with you some white kitchen cabinet backsplash ideas, as well as some things to think about when picking a backsplash.
This post may contain affiliate links.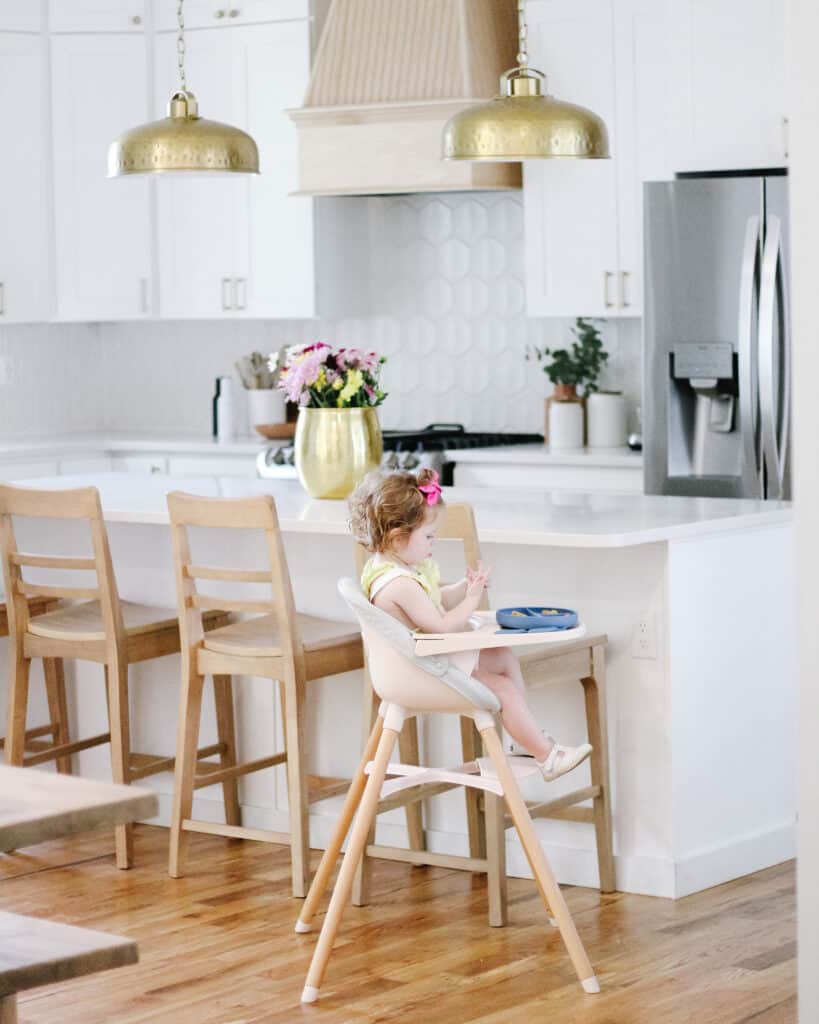 White Kitchen Cabinet Backsplash Ideas in My Own Homes
White cabinets in a kitchen create a neutral look that stands the test of time. Whether you are undergoing an entire kitchen renovation or updating your space with some DIY projects, implementing white kitchen cabinets is an easy way to make a dramatic impact.
With the addition of kitchen backsplashes you can create visual interest that will impress your family and friends.
DIY White Cabinets – House 1
In our last house, we knew we wanted to change things up in the kitchen. The dark cabinets weren't our style and it made the space seem even smaller. We opted for a white color scheme in our kitchen to create a clean look.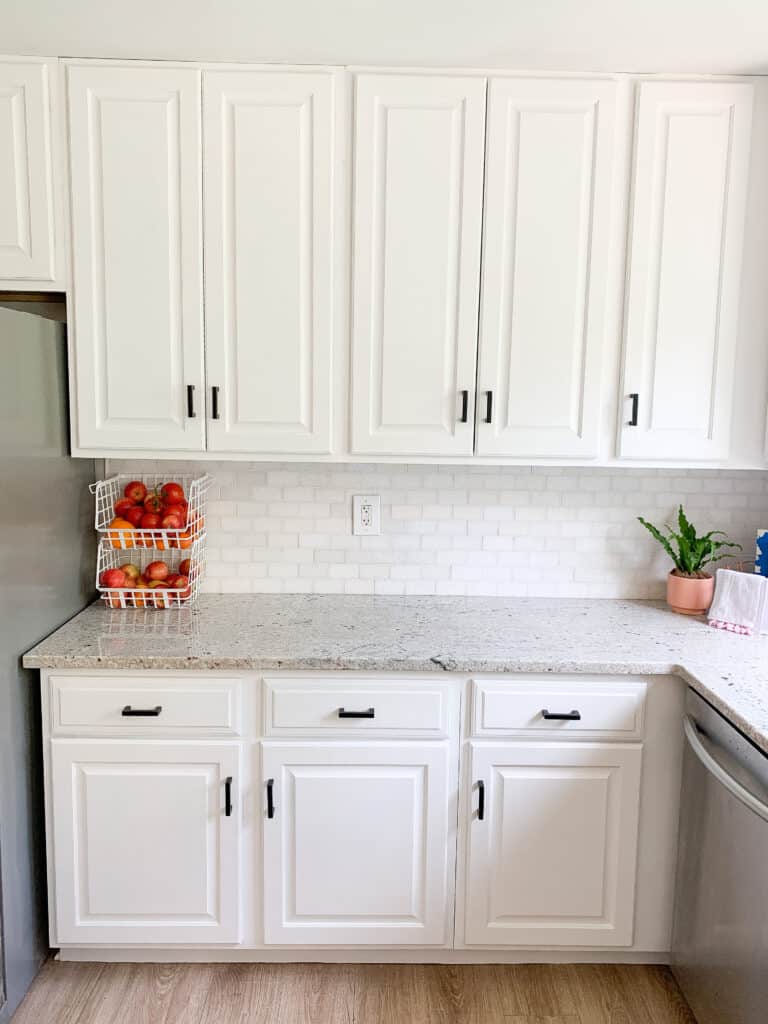 During the stay-at-home order, my husband (Sam) and I got to work and painted our dark cabinets white. See our DIY post on painting kitchen cabinets here.
The impact it made in our kitchen was incredible to say the least. The white cabinets paired with our already white kitchen backsplash complemented each other well for a cohesive look.
This DIY ended up being the best choice to pass our stay-at-home time. Of course, renovations with 6 people in the same house was not easy! That being said, it was a great example of how one small change can make such a big statement in a space.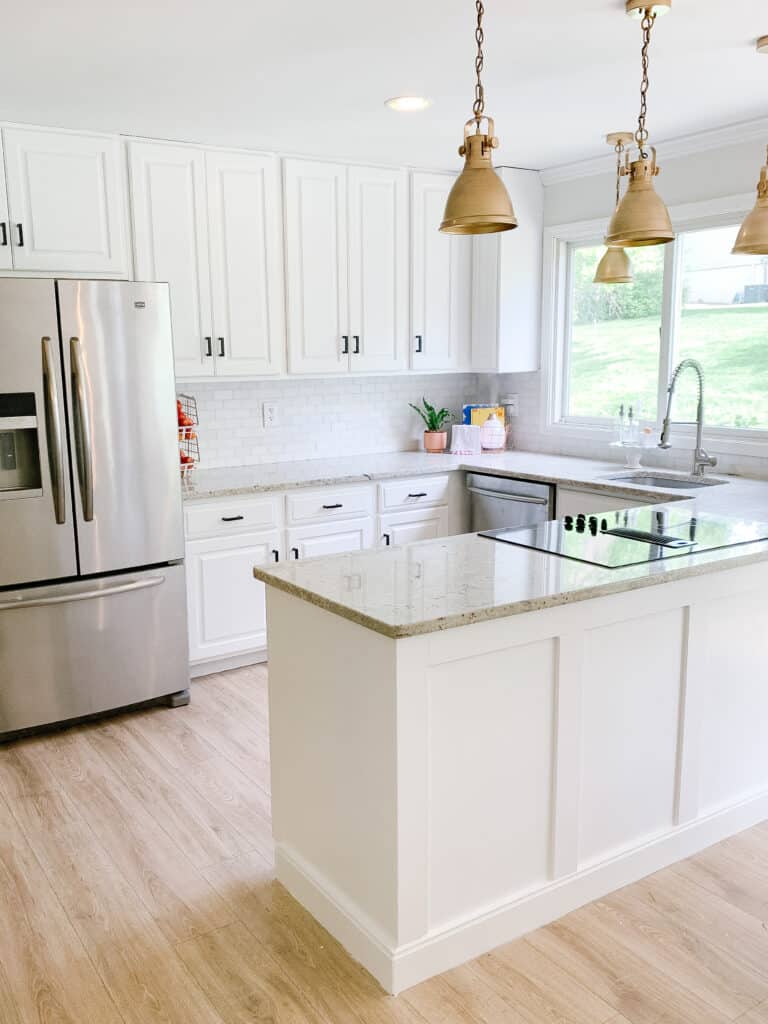 Full Reno – House 2
Fast forward to when my husband and I bought our 1860's historic home this past summer (wow, has it been a year already?) we knew we would be undertaking some major renovations. Like most (okay, all) rooms in the home, the kitchen was no exception to needing said renovations.
While some people may be put off with renovations, the best thing about renovating your space is it gives you the perfect chance to put your personal style into your home.
For our newly renovated kitchen space I chose to keep it simple, clean, and timeless. I opted for white cabinets, a white backsplash, and brass accents for a classic kitchen.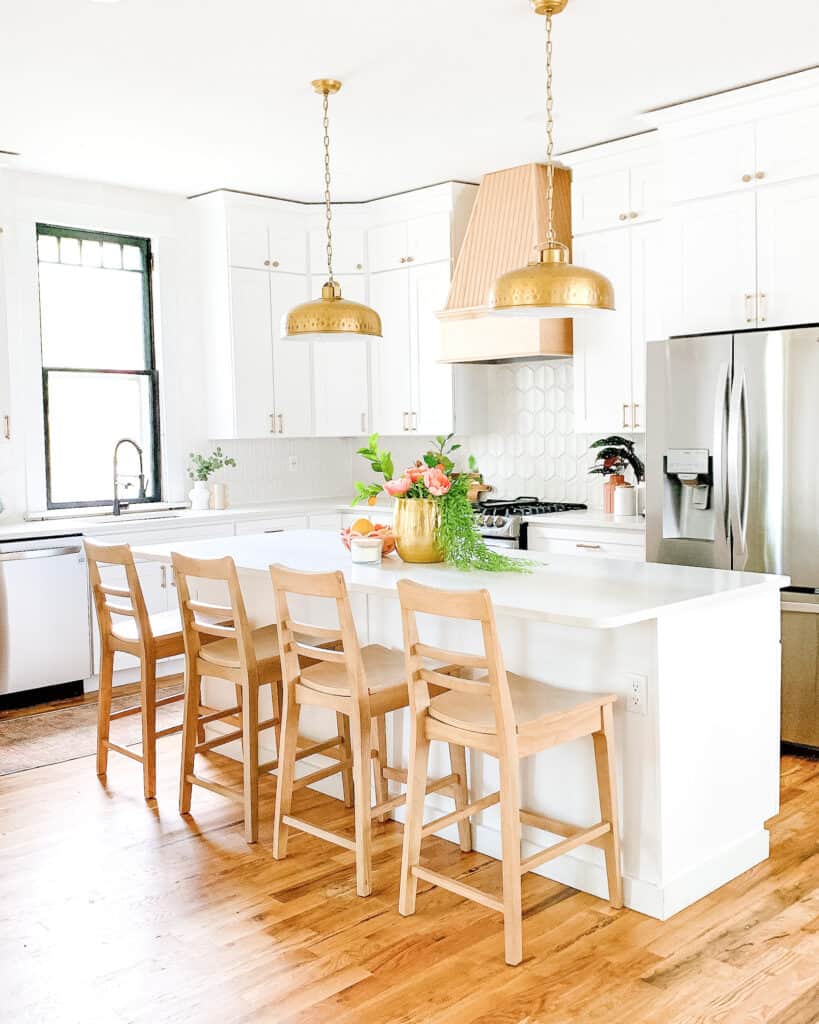 View more pictures of our newly updated kitchen here.
Whether you plan to DIY or fully renovate, decide what personal style you want to put into your space. I think that white kitchen cabinets are a timeless option that almost anyone can love – but picking your backsplash can be tricky to make it fit your needs.
Design Concepts – Where to Start on White Kitchen Cabinet Backsplash Ideas
If you plan on tackling a kitchen update, whether that being DIY or renovations, I'd recommend browsing kitchen pictures for inspiration. Before you begin your project, you'll want to decide on a design concept.
There are so many styles and designs that you can choose from and depending on that design concept you'll want to pick your hardware, backsplash, cooking space, paint colors, etc. to enhance your design for the perfect place.
Since we are talking white kitchen cabinets and backsplashes, I'll cover some of my favorite design concepts within those parameters to give you some great ideas.
Farmhouse Kitchen
The farmhouse look, made popular by Joanna Gaines, has been in for quite some time now. With reclaimed wood, white clean lines accentuated by dark wood features, shiplap, and "X" ended accents, it is easy to love this look.
Industrial Kitchen
Industrial kitchens are masculine, dramatic, and highlight the materials used in the building process. Think exposed brick, pipes, and the use of steel in this kitchen. I always imagine these kitchens in lofty apartments.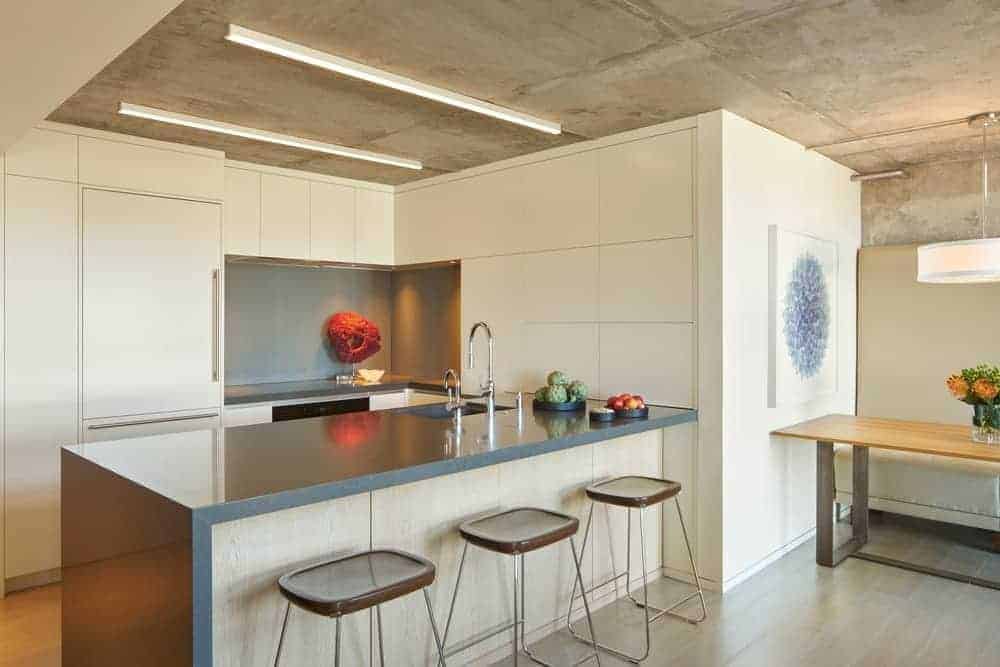 Check out this concrete ceiling in this industrial kitchen as seen here designed by Studio VARA.
Coastal Kitchen
Coastal kitchens take their design inspiration from the water- whether that be ocean, lake, bay, etc. Think rattan chairs, driftwood, and bright open spaces for these kitchens.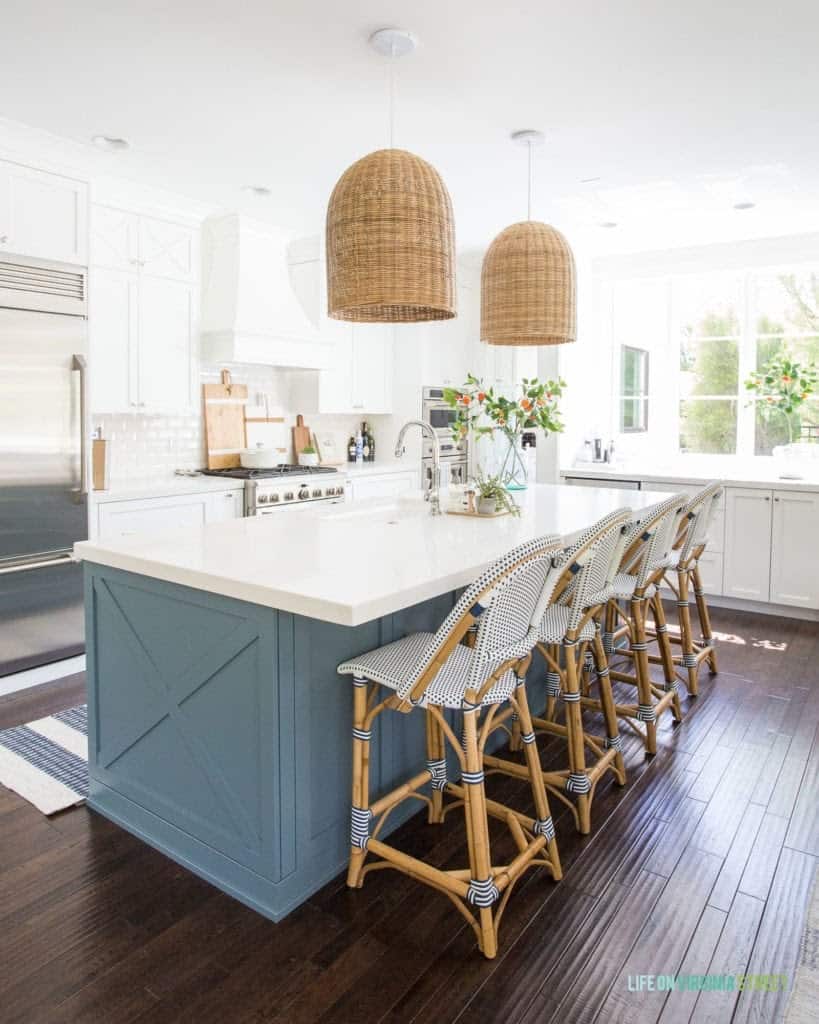 Life on Virginia Street's incredible coastal kitchen.
Contemporary Modern Kitchen
Modern kitchen designs incorporate clean lines with a pop of color. These kitchens are sleek yet bold and often have an element of surprise.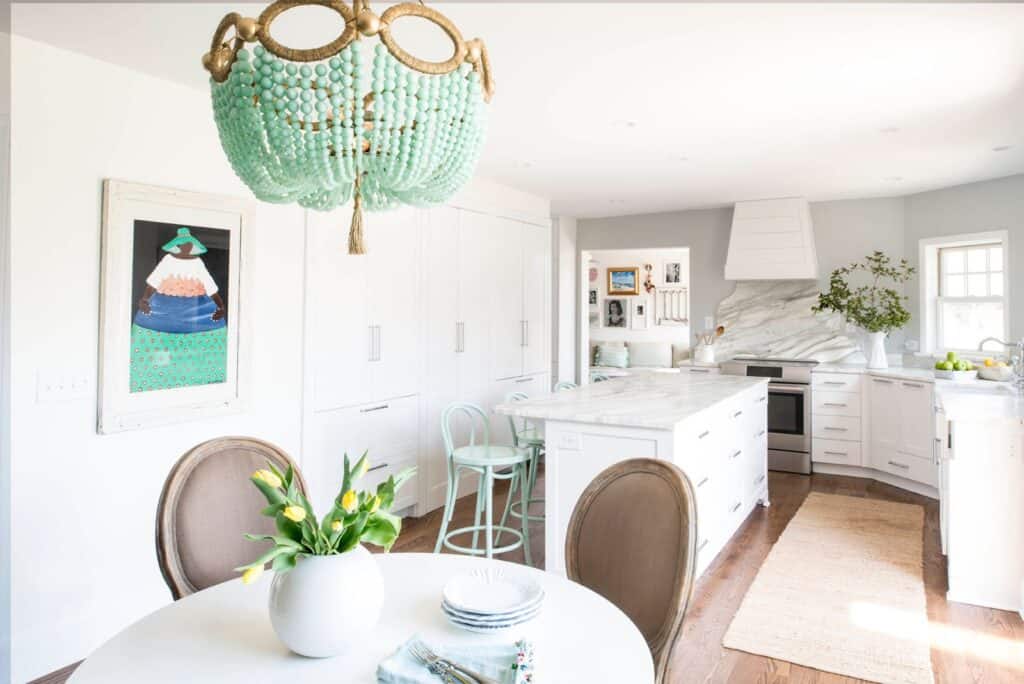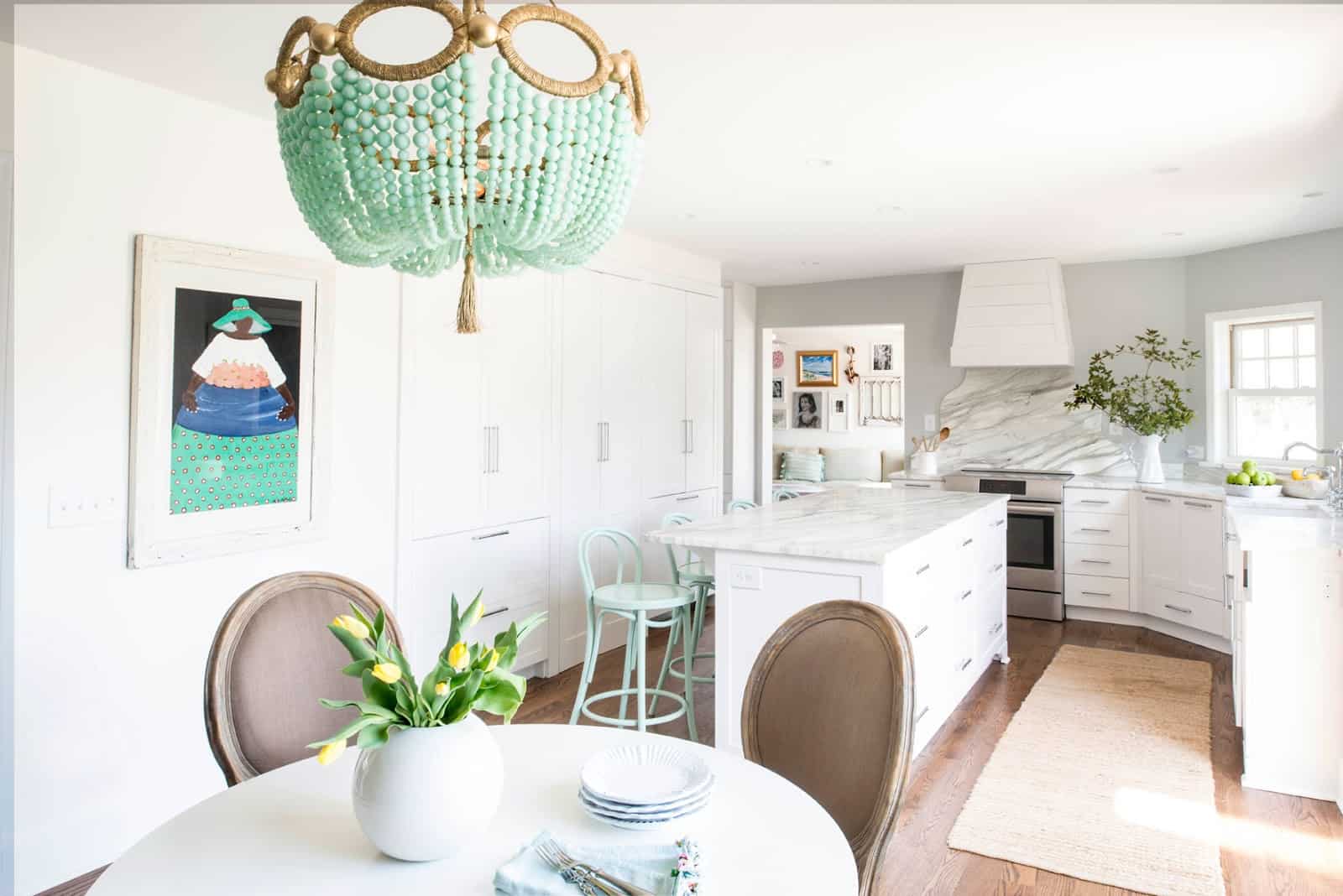 This modern kitchen can be found here at AlysDesign.
Transitional Kitchen
I love a good transitional kitchen. To me, it gives the best of both worlds. You have both classic and traditional elements mixed with a modern feel. Clean lines, an open concept, contrasting hues, and mixed finishes encompass transitional kitchens.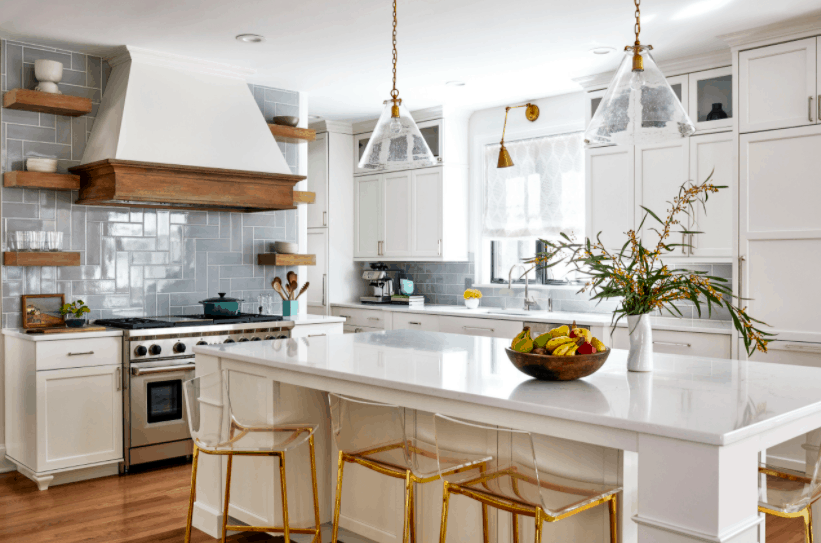 Photo by Stacy Zarin Goldberg via Houzz
Color Scheme
Now that you've perused kitchens all over Google and have narrowed down your scope, you can begin to make decisions about details in your kitchen. One of those decisions you'll need to make is the general color scheme of your kitchen and its accents.
For this post's purposes, we will assume white kitchen cabinets. However, consider different colors for some of the cabinets to give you pops of color. A navy kitchen island or reclaimed wooden shelves instead of upper cabinets are great ways to incorporate this concept.
If you have maple cabinet doors and prefer a DIY, you can easily paint or stain these cabinets white or your preferred color. A popular cabinet color that pairs well with a white kitchen is light blue.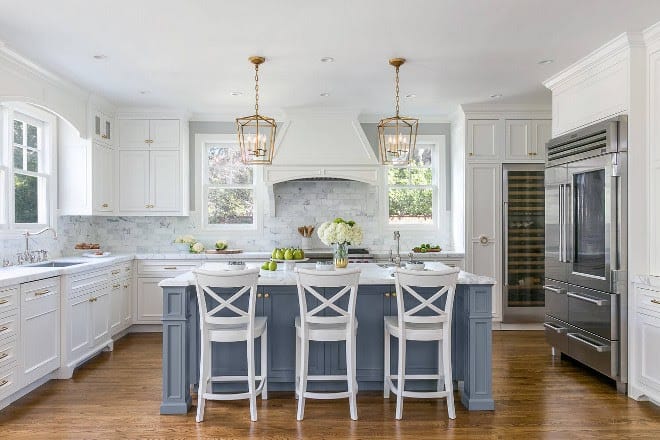 This gorgeous kitchen designed by Christine Sheldon Design and photographed by Kathryn MacDonald Photography and Web Marketing shows white shaker cabinets offset by a dreamy light blue kitchen island. For more pictures of this kitchen click here.
You'll also need to consider the color scheme of your countertop and its materials. The countertop space and backsplash ultimately come together. You don't want the two to be competing forces so you'll need to consider the design of both the countertop and backsplash.
As a rule of thumb, if you have marble or granite countertops with several colors or patterns, choosing a backsplash that is more neutral would be a better option. Whereas if you opt for a more neutral countertop space, a bolder color or pattern for a backsplash can be achieved.
Consider the wall color in the kitchen as well. Typically, cabinets cover the bulk of wallspace in the kitchen. You'll still need to pair a wall color with your white cabinets and preferred backsplash. Choosing neutral or white walls will further create a seamless look.
Be careful on choosing the correct white for a paint color. You'll need to view the color against the white cabinets at various times of the day for a perfect match. I have a blog post here with all of my favorite neutral paints if you want to check that out.
However, there is no rule that says you can't paint your kitchen a bright color to offset all the white if that is your preferred design. You can still achieve that bright white look with a pop of color.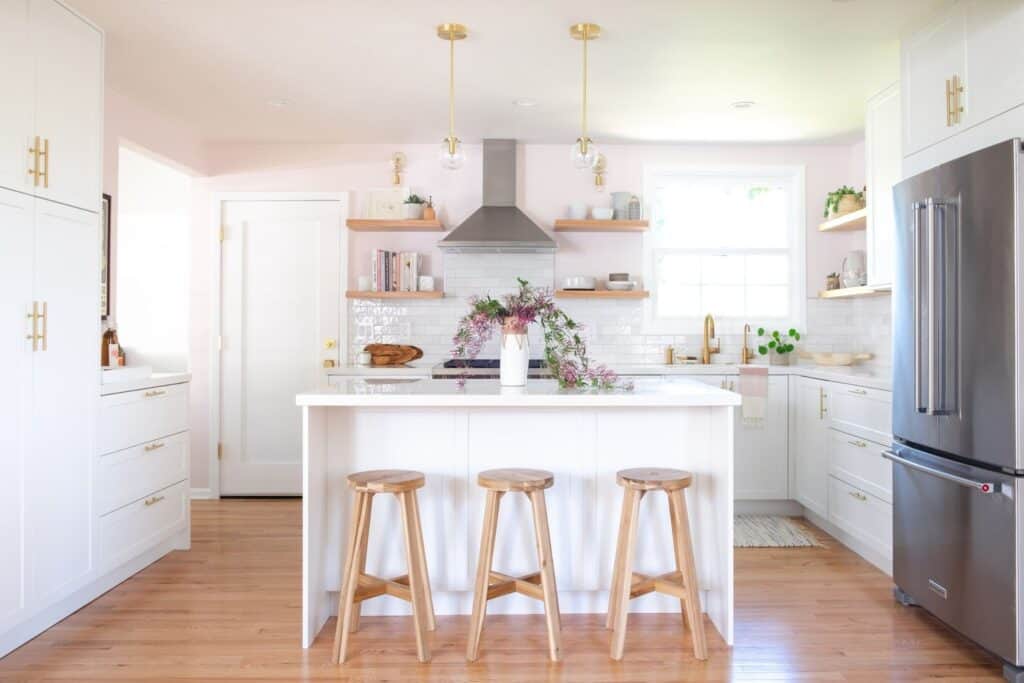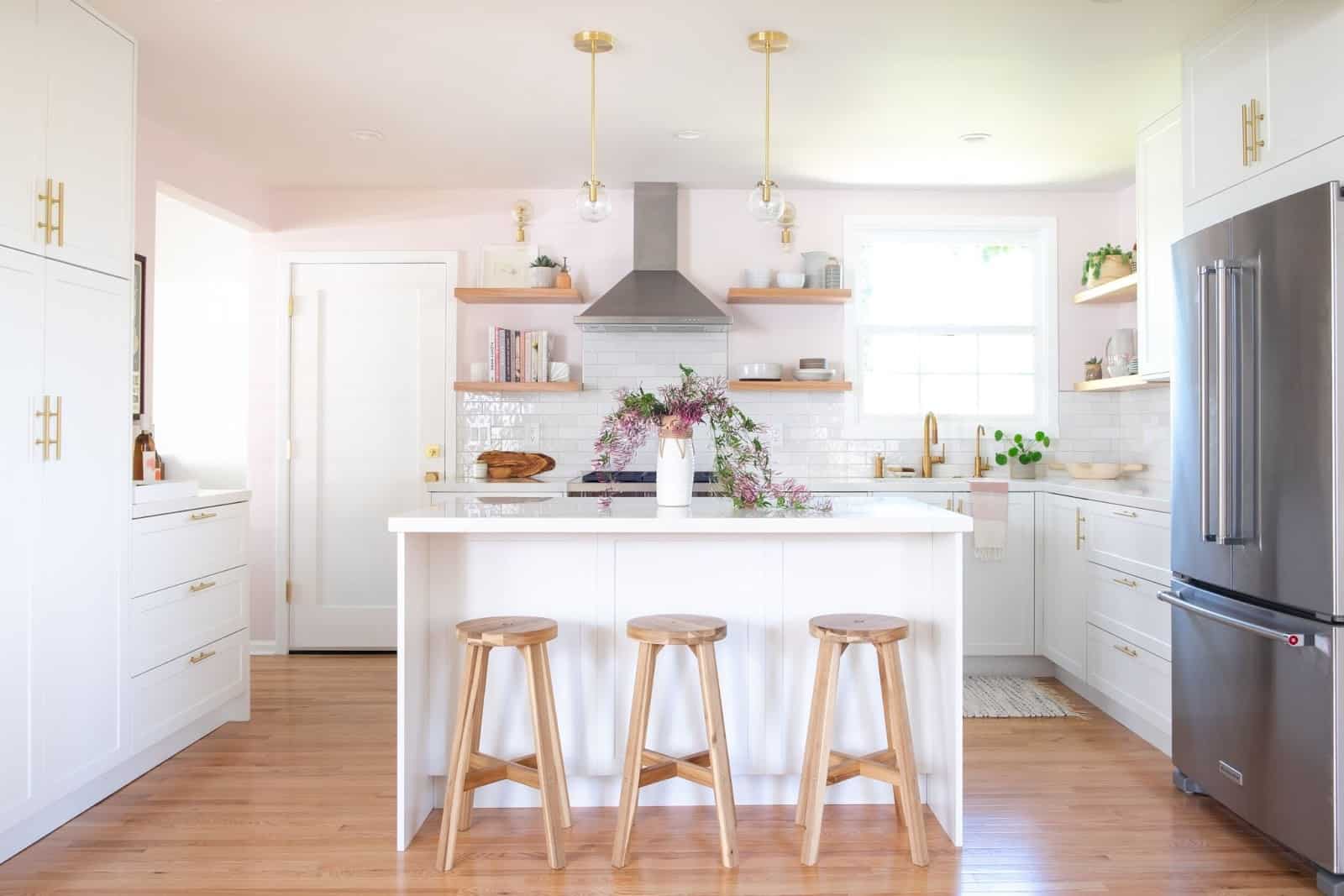 This pink and white kitchen is a dream! Created by Gina Racehlle Design check out the details of this kitchen here.
White Kitchen Cabinet Backsplash Ideas – Colors & Designs
And now finally, for the main event- kitchen backsplashes. We've talked kitchen design and kitchen colors, but we have yet to get into kitchen backsplashes. It's important that you consider your design and color scheme prior to picking a backsplash because the backsplash design can truly transform your space and make a big impact.
Afterall, your backsplash is ultimately the focal point in your kitchen. It can highlight your accent features, such as hardware and showcase countertop materials while still being a work of art in of itself.
Color – White Kitchen Backsplash Ideas
Backsplashes can come in a variety of colors when paired with your white cabinets. Of course, you can opt for a white kitchen backsplash to complement your fully white kitchen. The design is classic, timeless, cohesive, and seamless. Opt for brass, gold, or contrasting black hardware to offset and complement the white design.
Light gray is another popular choice to be paired with white cabinets. You can opt for light gray tiles or incorporate gray by introducing a white marble backsplash that has gray veining. Either option would create two completely different looks. That is part of the fun with white kitchen cabinet backsplash ideas – there are so many options.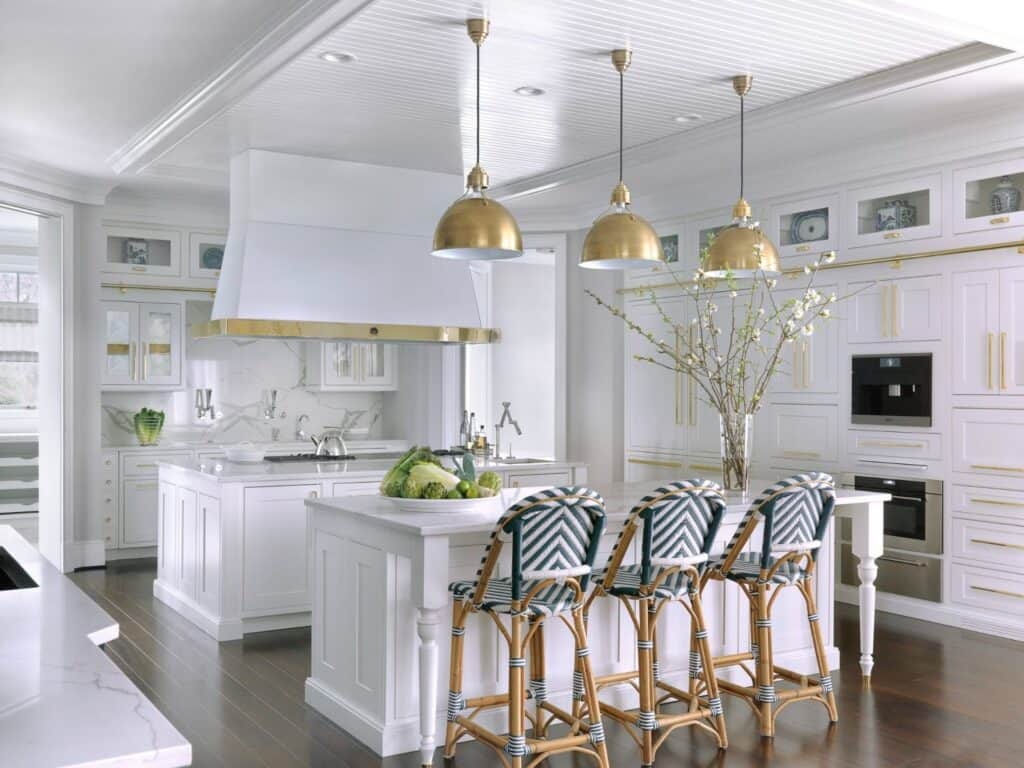 This luxurious kitchen is designed by Mitchell Wall Architecture & Design.
Another popular choice for a backsplash is a warm neutral color. Taupe is a great alternative to gray and can create a focal point among the white. A natural stone would also be an option that would add an earthy element to the space by creating more depth and texture (more on that later).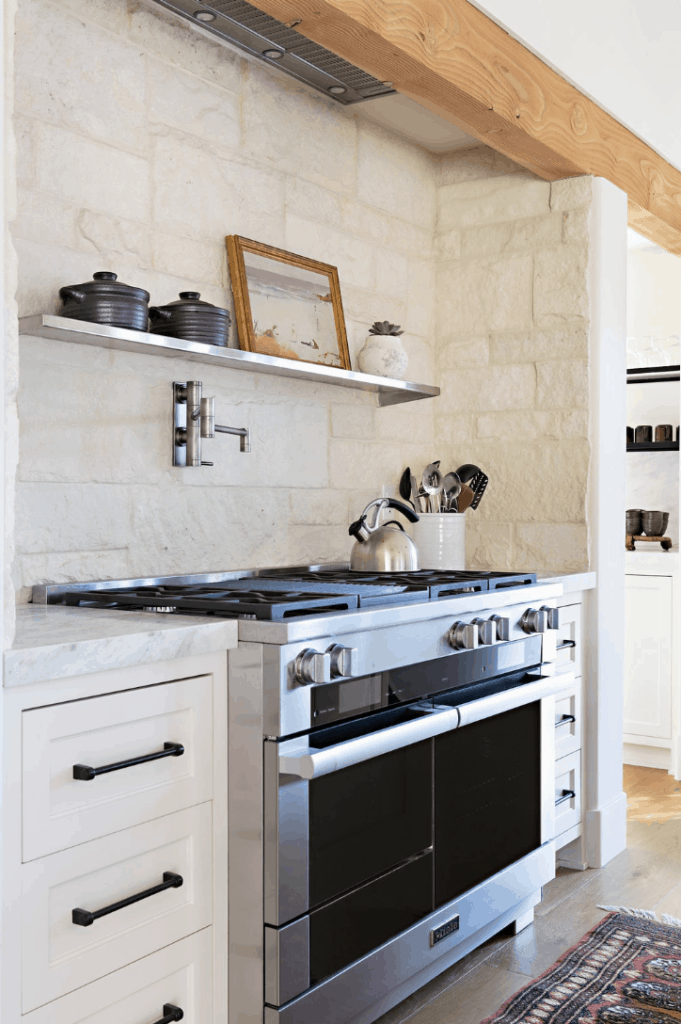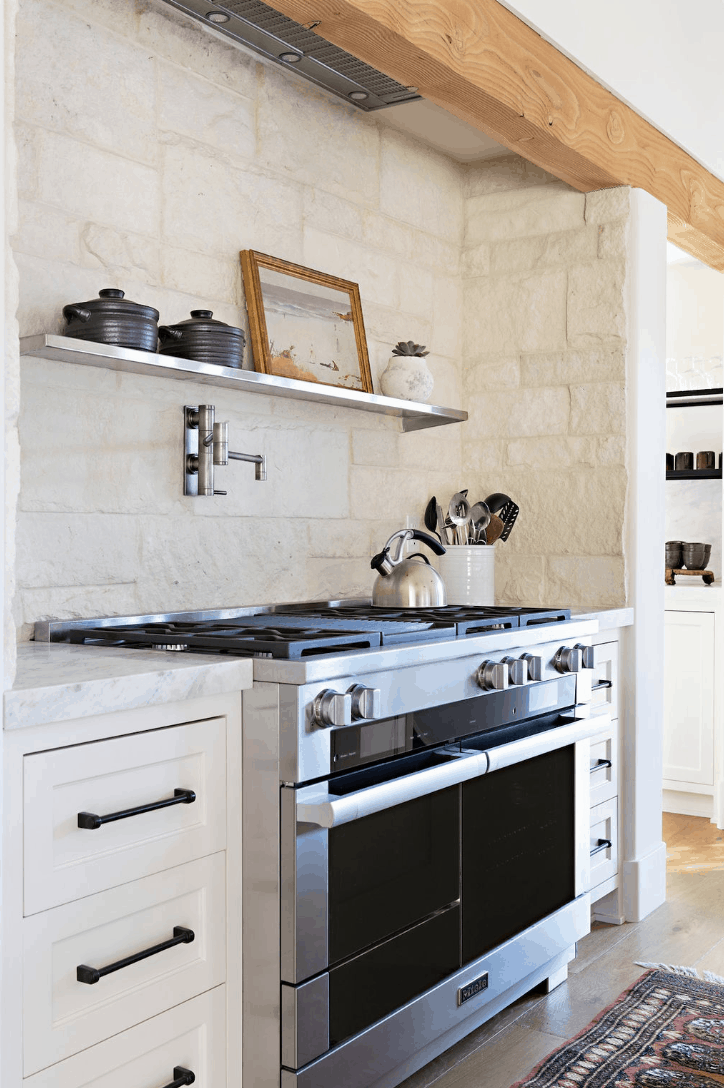 Intimate Living Interiors designed this natural stone backsplash in this transitional kitchen.
Colorful backsplashes are a great option to incorporate your design style into your space. Popular color options include light greens and blues which can further enhance a coastal kitchen. Whereas bold colors like black, pink, and bright emerald green are known to be used for more modern spaces.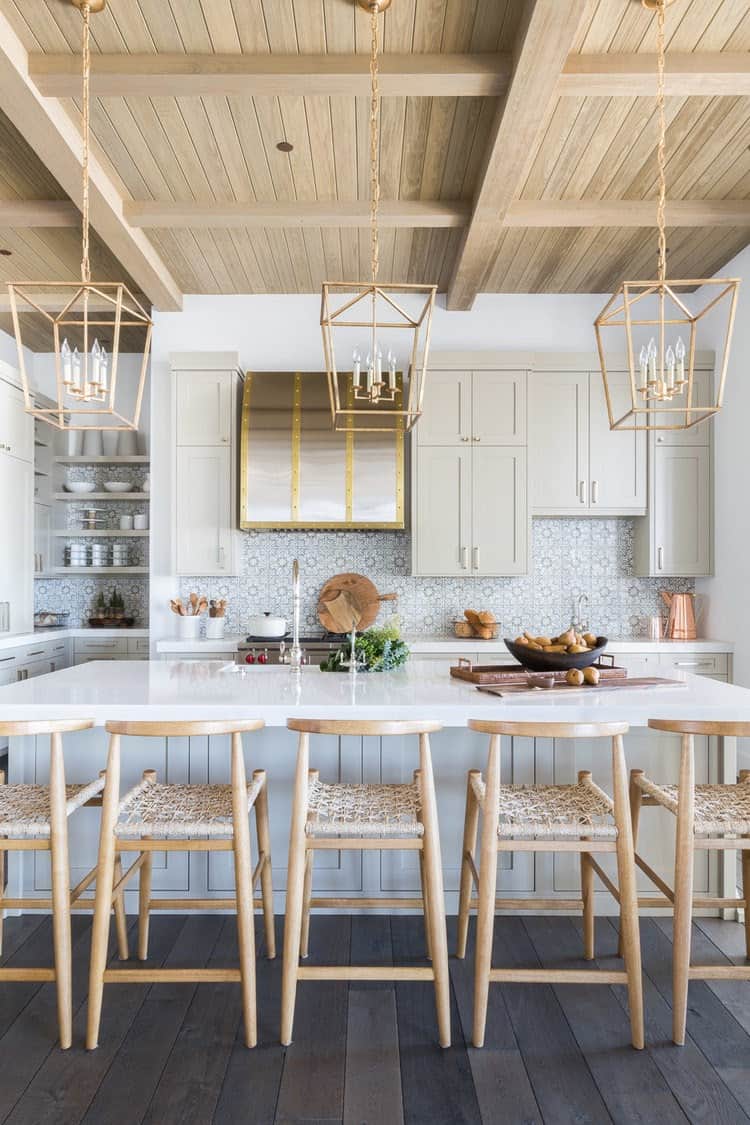 Beautiful kitchen design by Nicole Davis Interiors showcases the use of blue and white colors to create a unique backsplash.
Patterned backsplashes may use several colors and can further enhance a kitchen's design. Patterns can range from one color scheme to a combination of colors. Not only do patterns add a focal point in the kitchen, but they also add depth and texture. Texture is so important in white kitchens as it helps break up all that white (not that there's anything wrong with an all white kitchen- swoon!).
If you think about it, you have a smooth cooking space and shiny appliances and floors. This is of course assuming you don't have tiny humans who like to leave dirty fingerprints over said shiny surfaces. If you add another shiny backsplash to the space, your design may not pop and will blend in, leaving you without a focal point.
Why spend all that money on a backsplash and beautiful kitchen accents if they aren't going to pop. By incorporating different patterns and other techniques to add texture you are ensuring your backsplash will stand out. Granted, smudged handprints from your kids can also add a nice natural textured feel too!
There are a variety of different pattern backsplashes to choose from. Each backsplash pattern and shape are unique and can emphasize your kitchen's design concept. Horizontal and vertical pattern backsplashes are classic and seamless. Often, you'll see this style of pattern in a subway tile.
While the tile itself is not patterned, the position of the tile (vertical versus horizontal placement) creates a visual pattern. This pattern can add depth to the space (when placed horizontally) or it can add height to the space (when placed vertically).
We typically see placement in a horizontal fashion, but a vertical placement can draw the eye up towards the ceiling and make the space feel taller. Vertical shiplap backsplashes are a good example of the use of this vertical layout with an unconventional material for a farmhouse feel.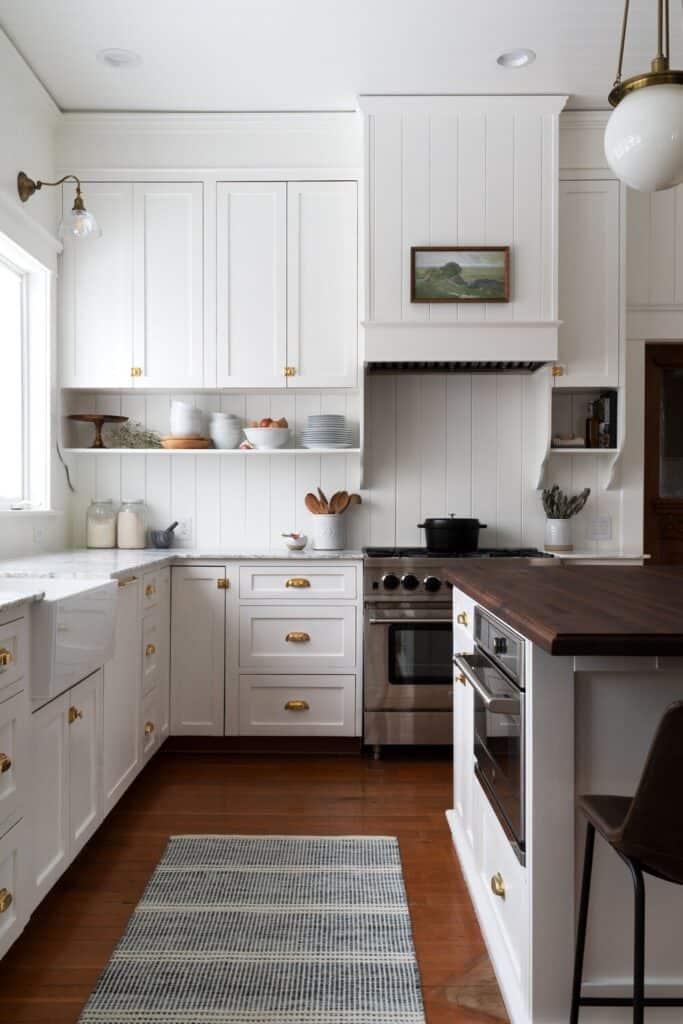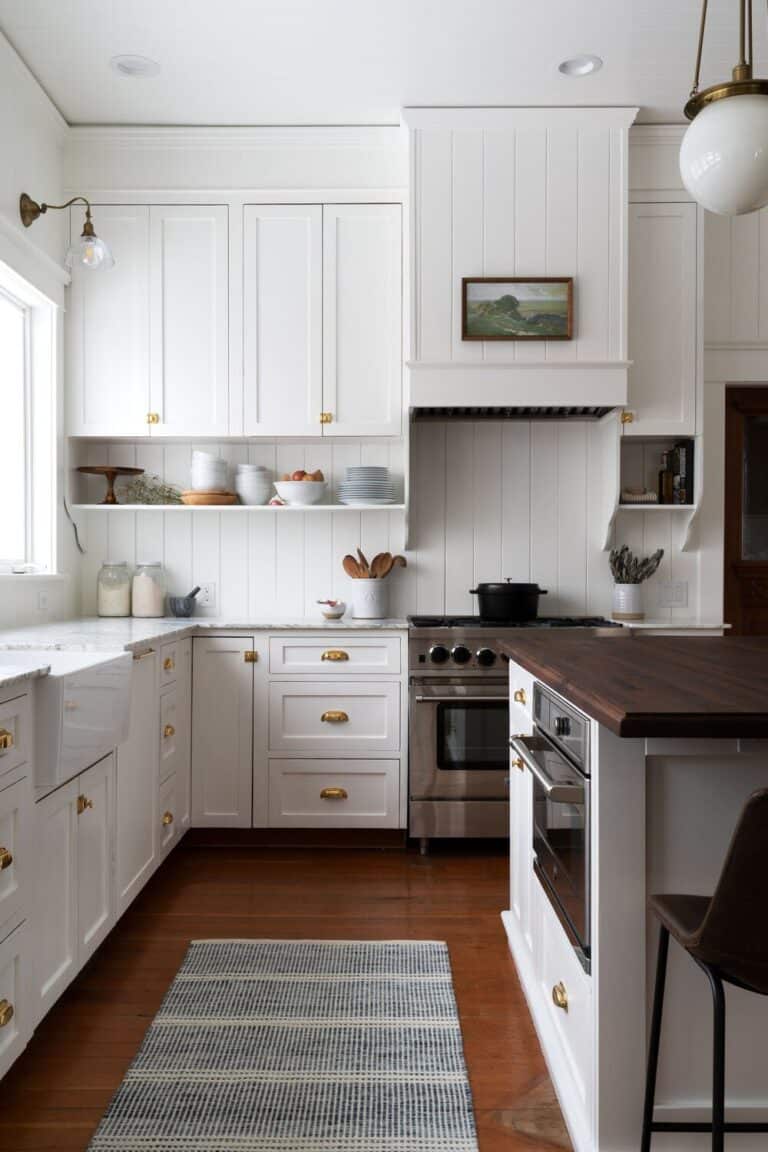 The Grit and Polish reveal their farmhouse kitchen makeover complete with a vertical shiplap backsplash.
Herringbone and chevron patterns are another example of a pattern created by a layout. While the two patterns may seem similar, they are quite different. The chevron pattern is more contemporary and resembles an inverted V. Herringbone, on the other hand, is more transitional, creating a zig-zag effect with rectangular pieces.
These patterns provide an illusion of added height and depth to the space. Both patterns have the ability to stand alone for a more subdued look, or could be blended with other patterns to create a bold statement.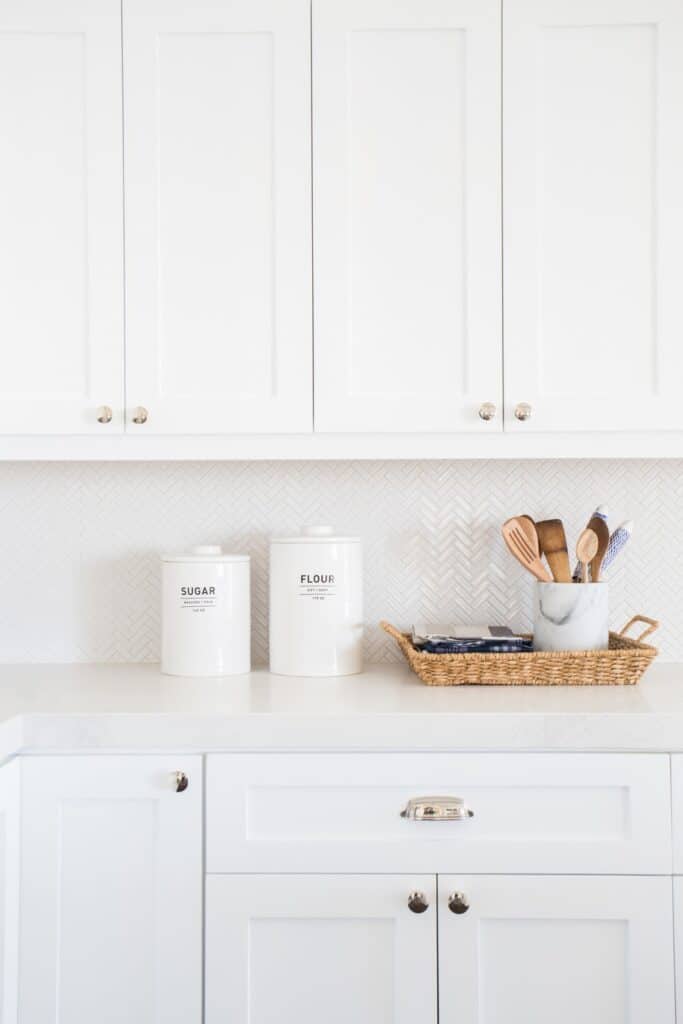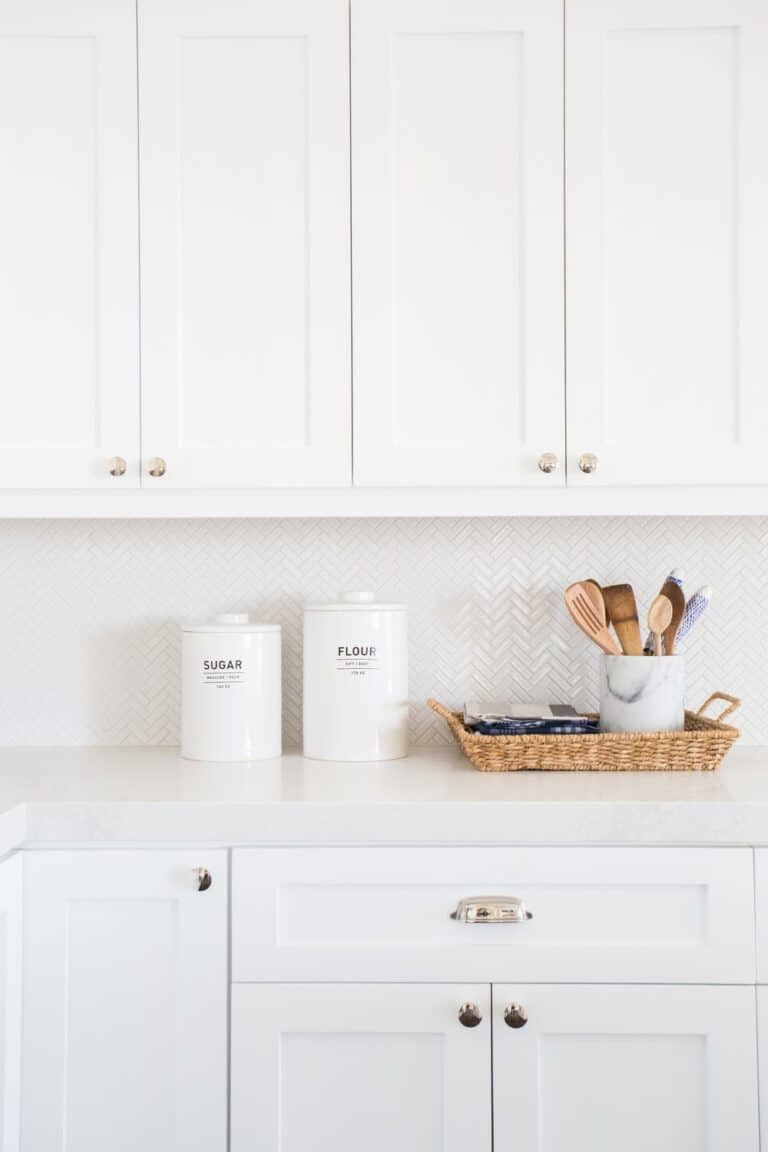 Studio McGee's stand alone herringbone backsplash adds added dimension and texture to this all white kitchen.
The scalloped, fish scale, mermaid, or morrocan fish scale pattern (yes all of those are the same thing), is a popular pattern that can add texture to your space. The unique shape provides a coastal or Mediterranean feel and often is seen in bold colors that pop among white cabinets.
For a more cohesive and understated look, you can use this pattern in a neutral or white color. The waved design of this pattern reflects light easily and when used in a white or neutral color, the kitchen can appear larger as a result. This would be a great option for a small kitchen as the unique shape creates an optic illusion.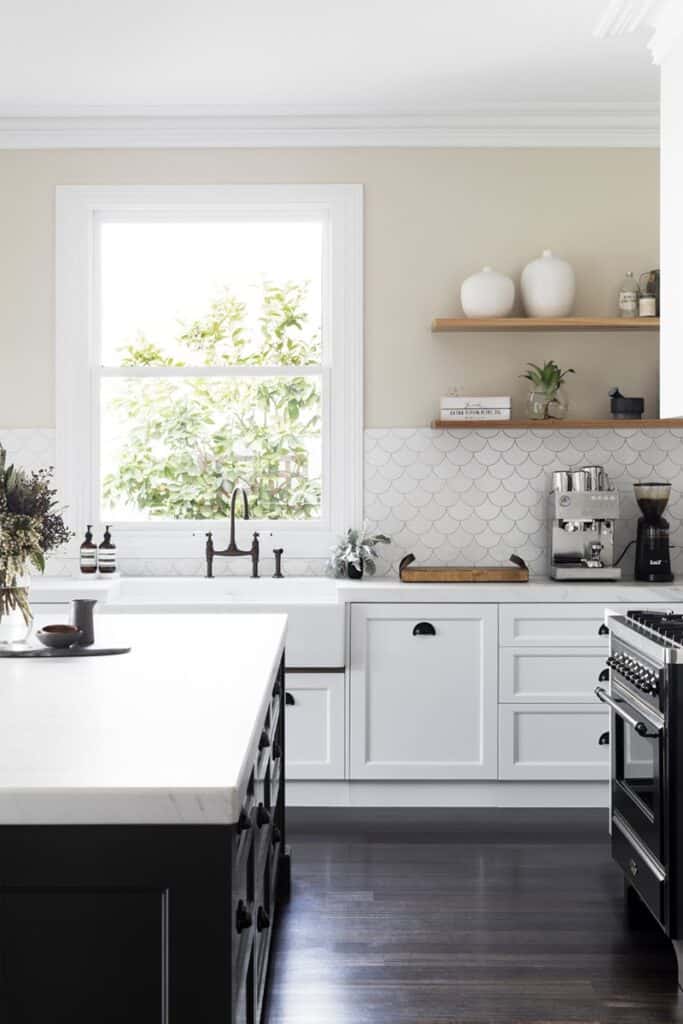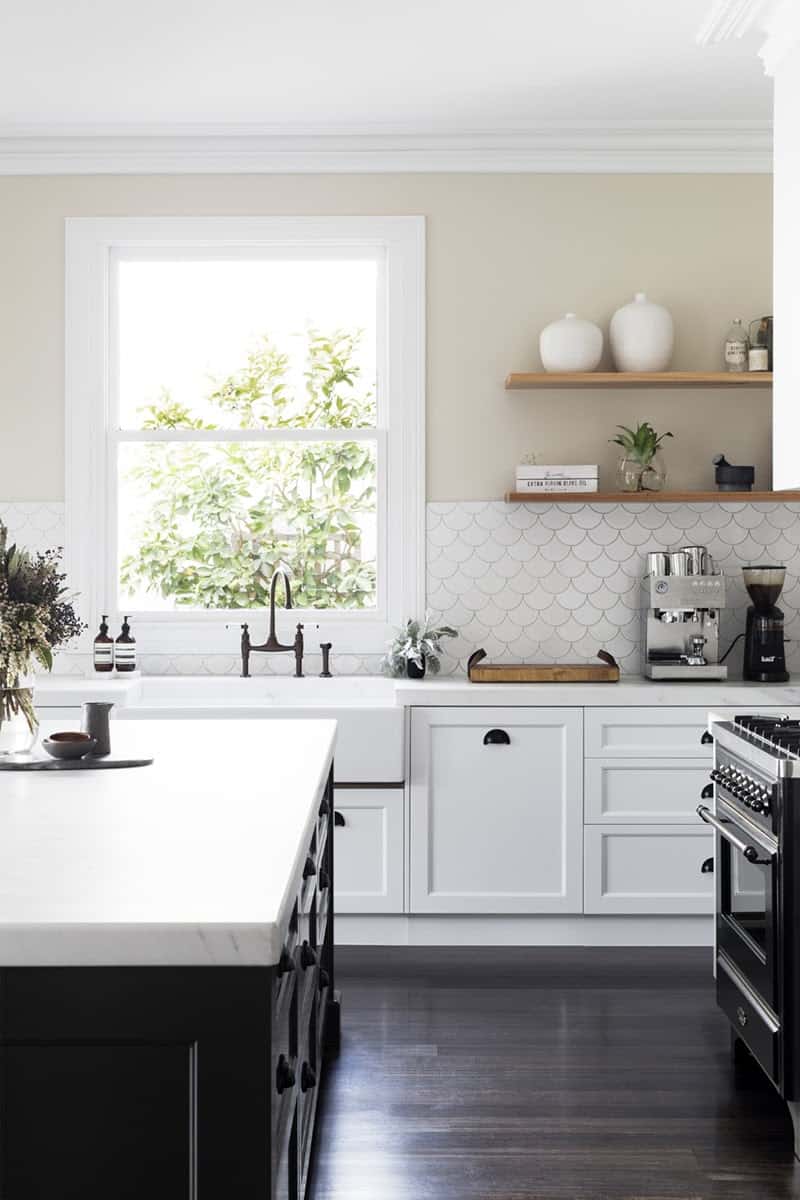 GIA Bathrooms & Kitchens designed this light and airy kitchen.
Hexagon, polygon, penny, and mosaic are examples of contemporary design patterns that add personality to any kitchen backsplash. These are great options if you have a more neutral and simple counter space.
When paired with white cabinets, walls, and counter space, a colorful bold backsplash using one of these patterns can not only break up the neutral white space, but will also make a statement in your kitchen.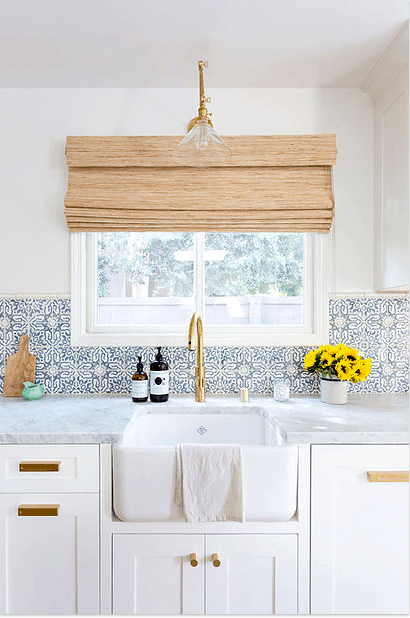 Jennifer Muirhead Interiors created this bright and bold kitchen with a patterned tile.
Overall, pattern backsplashes are a great way to incorporate color and texture into your kitchen. For those that like a monochromatic look or prefer a more classic design there are other ways to add texture and depth to your backsplash without utilizing patterns.
Subway tiles are a great example of a classic design that can be enhanced to add additional depth and texture to the space. A beveled edge subway tile makes the backsplash pop off the wall with added texture and depth. The use of a beveled edge results in the subway tile having a 3D appearance. This can be used in designs where you want a monochromatic look with a focal point.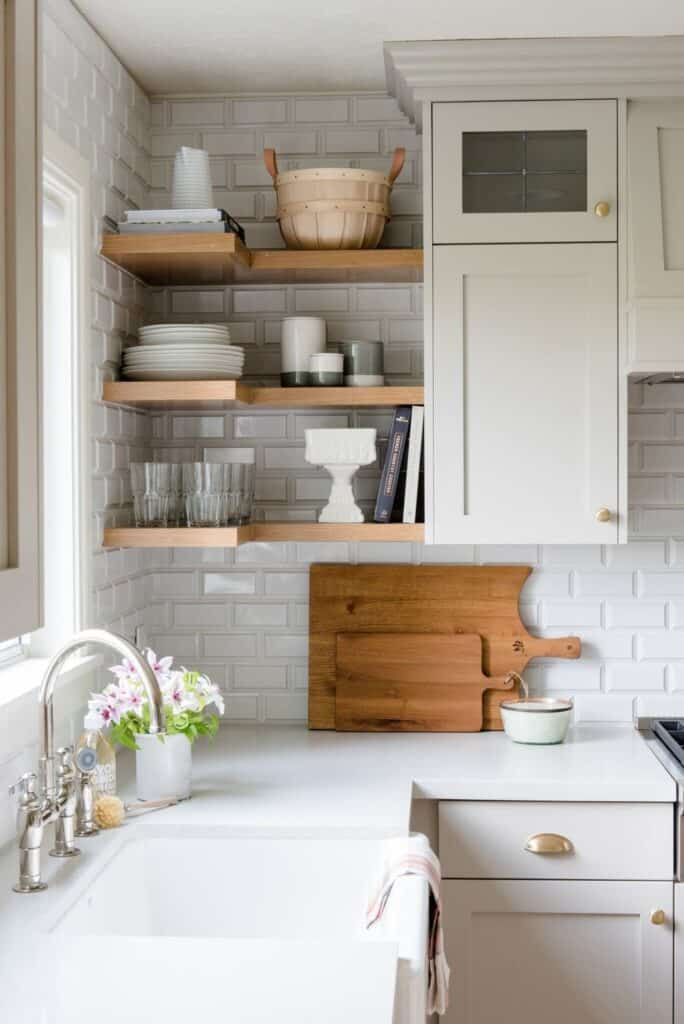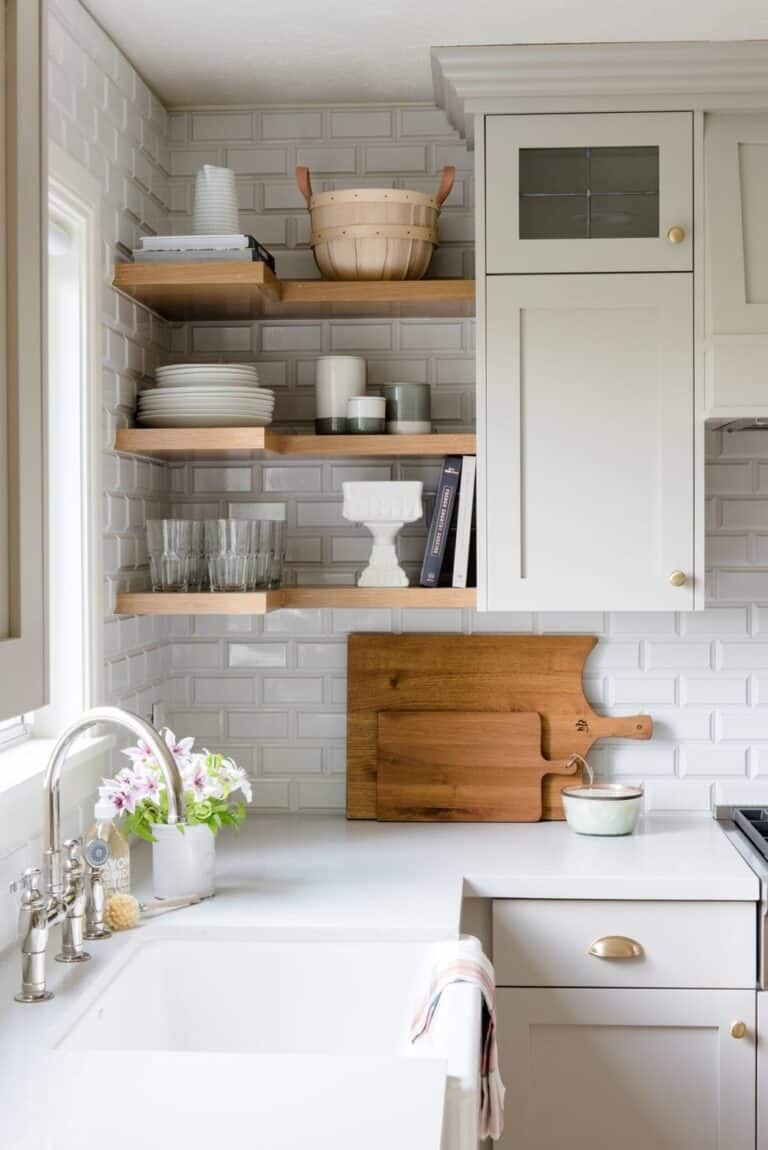 Studio McGee does it again with her Evergreen kitchen remodel.
A backsplash's finish can also add texture and depth to the kitchen. Consider the material of your backsplash and whether the finish it gives off is more matte or glossy. For natural stone and brick backsplashes, a matte finish is more likely.
However, tile can come in both glossy and matte finishes. Glossy finishes tend to be more contemporary and reflect light leading to a brighter space that can appear larger. Matte finishes are more traditional and while they can appear flat, they do add a nice contrast to a kitchen with other high shine finishes. As an added bonus, matte finishes hide stains!
Desiree Burns Interiors designed this all white kitchen complete with glossy white subway tile.
Iridescent tile is another popular choice that can add depth to a backsplash with its reflective finish. The light that is reflected in the iridescent tile creates a brightening and open and inviting space to any kitchen.
Grout color is another design decision that can affect the appearance of the backsplash. Depending on your design, you'll want to pick a grout color that complements your vision for your kitchen. If you want to have a kitchen with a cohesive look, you'll want to choose a grout color that is similar to your tile color.
For example, a white tile with white grout will blend seamlessly. This is a classic look with clean lines and blends effortlessly. This combination can also be beneficial if you have a focal point somewhere else in your kitchen. Keep in mind that white grout will need to be cleaned often as it shows stains easily. This may be a deal breaker for some.
On the flip side, contrasting tile and grout colors highlight the pattern and tile in the backsplash. White tile and black grout is a common pairing and gives a more modern feel. Adding a neutral color like gray or taupe is a good way to highlight the pattern and tile without the bold statement of a black grout.
As an added bonus, it does not have the stark white contrast that can stain easily. Gold grout is another bold and modern option that can add additional light and personality to your kitchen. Grout color may not seem that important but the color you choose when paired with your tile can change the entire aesthetic of your kitchen.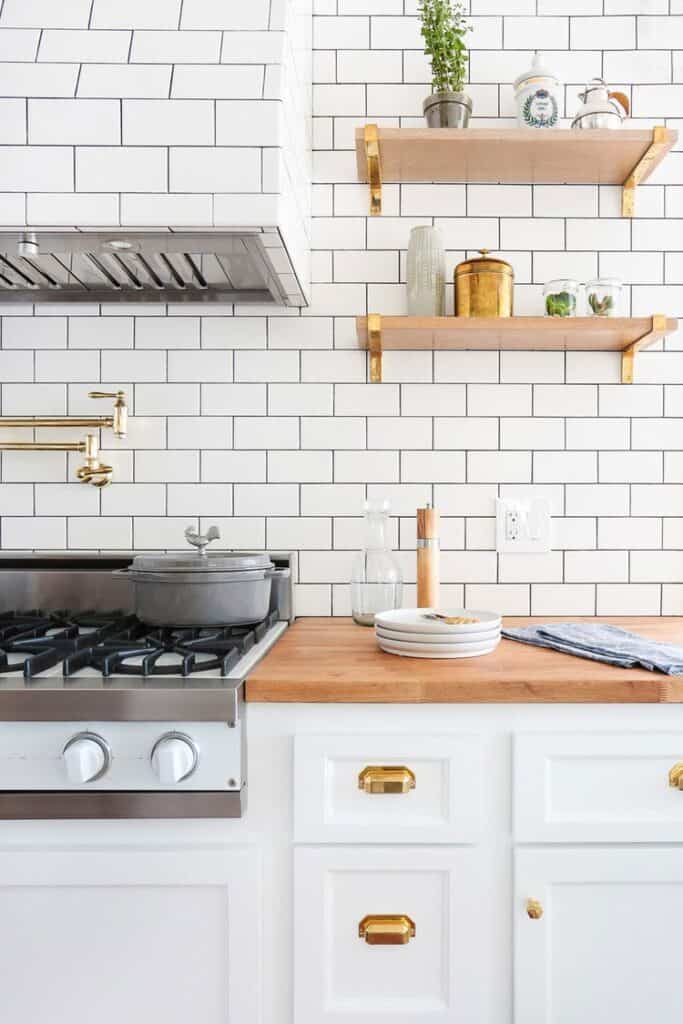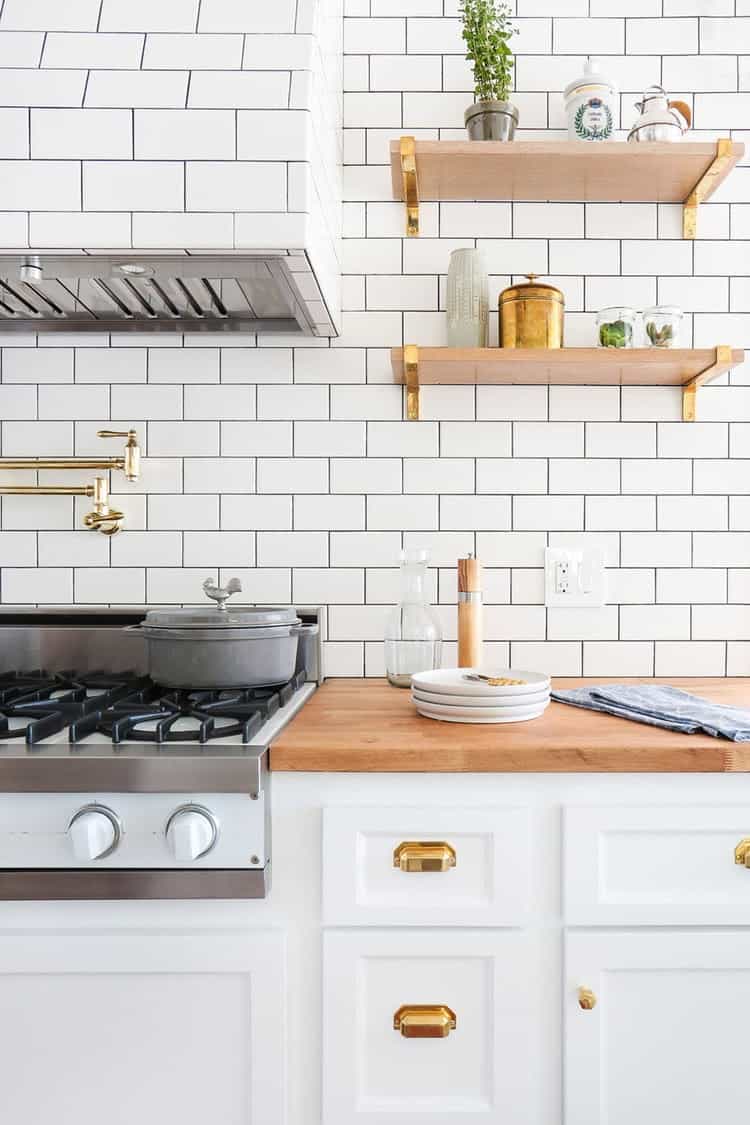 Kitchen designed by Stefani Stein.
Another design concept that impacts your kitchen's aesthetic is the height of your backsplash. Backsplashes come in all different heights depending on the look you want to achieve, as well as your budget. Originally, kitchen backsplashes were 4 inches from your countertops.
While this standard height will add some protection to your walls from kitchen messes, it does not allow the backsplash to fully embrace its purpose: to help protect your walls from said messes while serving as an aesthetically pleasing design. The look can feel outdated and frankly, cheap. While it is budget friendly, there are other ways to give your space a more luxurious feel while still being conscientious of cost.
Rather than installing the 4 inch standard backsplash, you can opt to install a full backsplash behind your range. Not only does the full backsplash protect your wall from those kitchen splatters, it also serves as a focal point for your kitchen. The limited space of the backsplash is much more budget friendly than installing a full backsplash throughout the entire kitchen.
A more common trend seen in backsplash heights is the installation of the backsplash to the kitchen cabinetry. While this is more costly due to labor and materials, the full backsplash makes a big impact on the kitchen. It offers plenty of protection and is a key feature in your kitchen's design.
One trend that is becoming more popular is taking the kitchen backsplash all the way to the ceiling. This is labor intensive and can be very costly due to the amount of materials used. This look can be achieved by focusing on one wall for the ceiling height backsplash.
Often, the backsplash is taken to the ceiling on the wall with the range and is applied to the range's hood extending to the ceiling. This is a great option for a simple backsplash to create a dramatic effect. Your eye is drawn upward to the ceiling creating a more open and brighter space.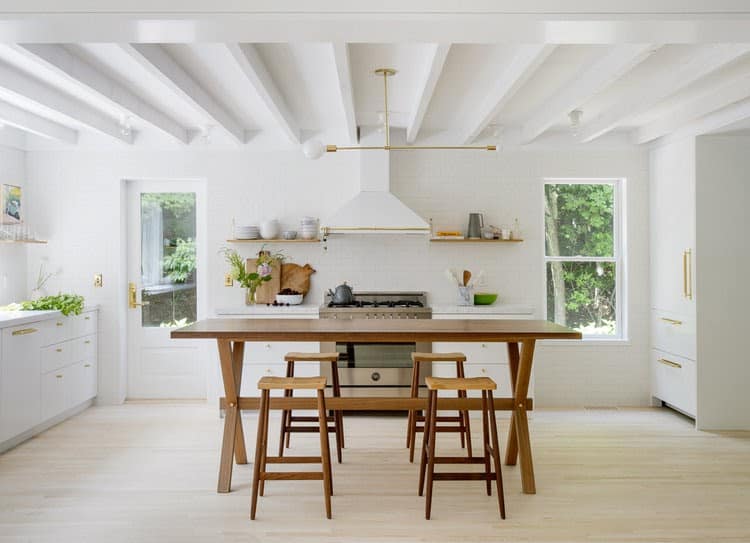 Jessica Helgerson Interior Design created this beautiful space.
Backsplash Material
For those of you that have been following my blog for a while you know that I love my home to have both fashion and function. Your kitchen backsplash is no different. The main purpose of your kitchen backsplash is not only to be visually pleasing and set the tone for your kitchen, but also it is there to protect your walls.
How many times have you been cooking and your walls got sprayed with spaghetti sauce or bacon grease? You'll need to keep in mind the pros and cons of backsplash materials when picking out your backsplash. Now, if you don't cook, you pretty much have your choice of any material! I'll be listing some common kitchen backsplash materials and their pros and cons.
White Kitchen Cabinet Backsplash Ideas – Tile Backsplashes
Perhaps the most widely used and most popular pick in a backsplash is a wall tile for your kitchen backsplash. Tile materials can range from ceramic/porcelain tile, glass tile, and stone tile.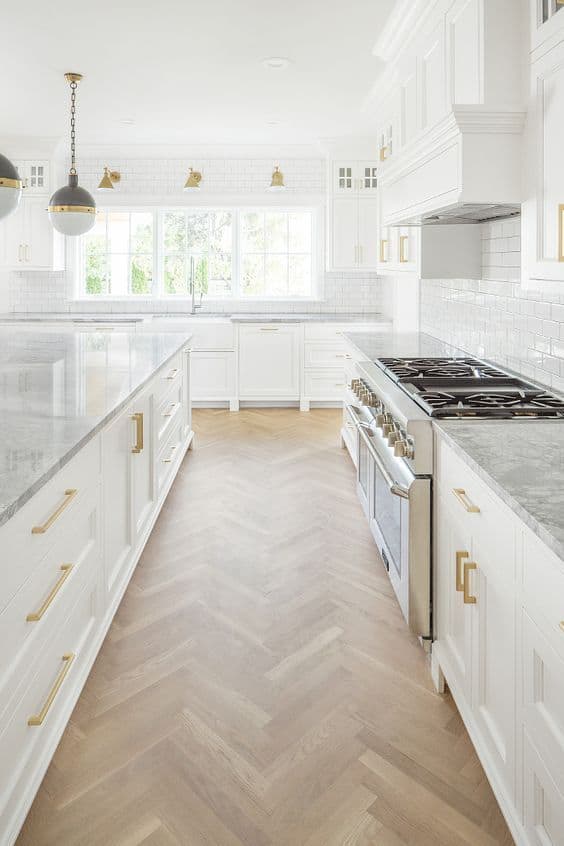 Ceramic or porcelain tile is the most popular choice for kitchen backsplashes. It is easy to maintain, easy to clean, and is favorable to budgets. Porcelain and glazed ceramic does well with water for easy cleaning and are heat resistant for those backsplashes near stoves and ovens. You can find these tiles in multiple tile designs, sizes, colors, and patterns. Ceramic subway tile is a popular choice in both classic and contemporary kitchens and is used for its timeless aesthetic.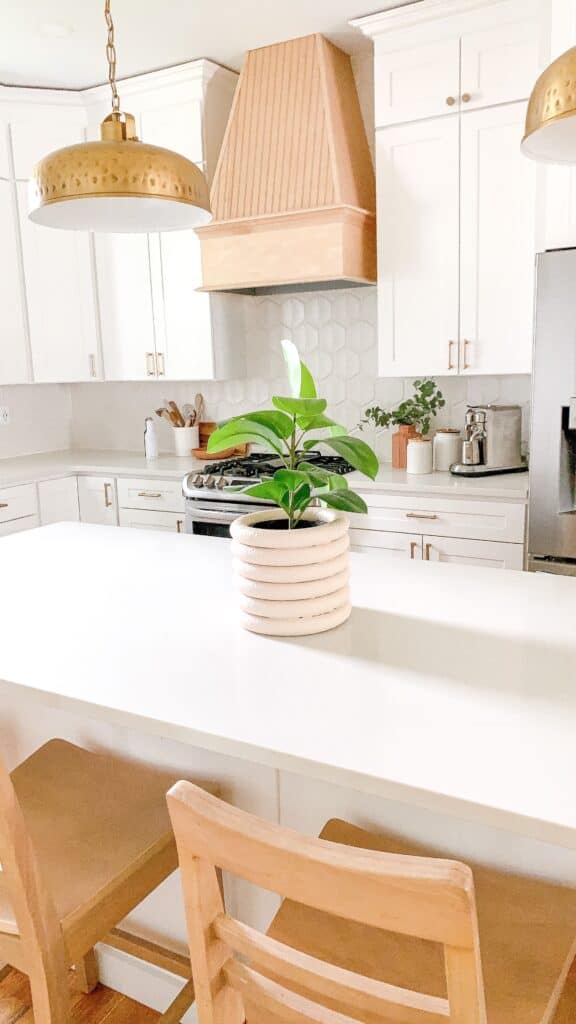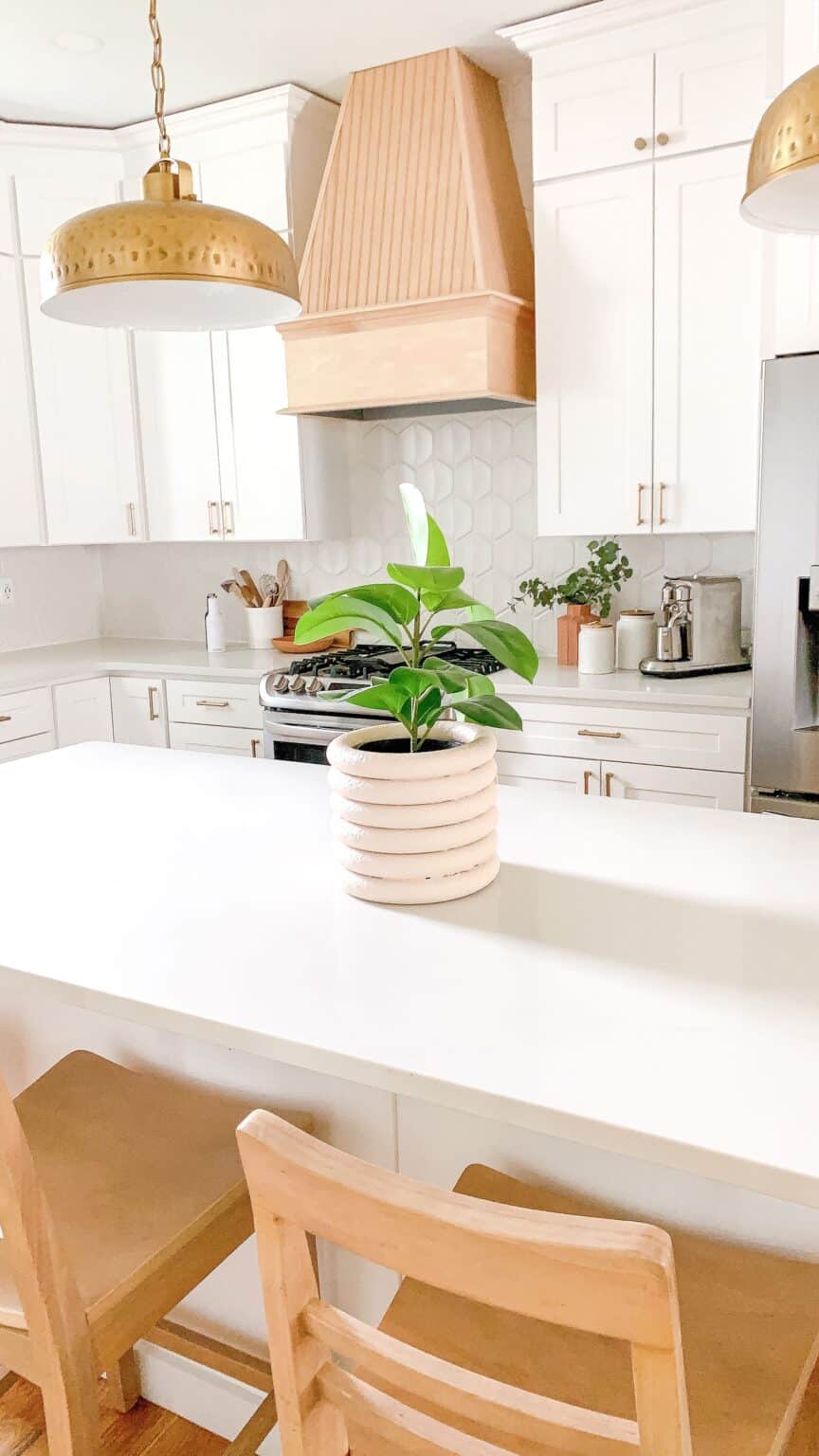 Glass tile (think standard subway tile) is another popular option and would be a great addition to a smaller kitchen. Because of the glass tile's reflective properties, it brightens kitchens and can make them appear larger.
A glass backsplash would be a great addition for smaller kitchens or kitchens with poor lighting. Additionally, glass tile never needs to be sealed and again is easily cleaned like its ceramic and porcelain counterparts.
Both ceramic and glass tile need to be grouted and require a skilled hand for placement. It is possible to DIY and lay your own ceramic or glass tile, however, the more elaborate the tile design and layout, the more skill will be required for placement. Cost wise, ceramic and glass tiles can be found from high end high dollar tiles to more budget friendly options.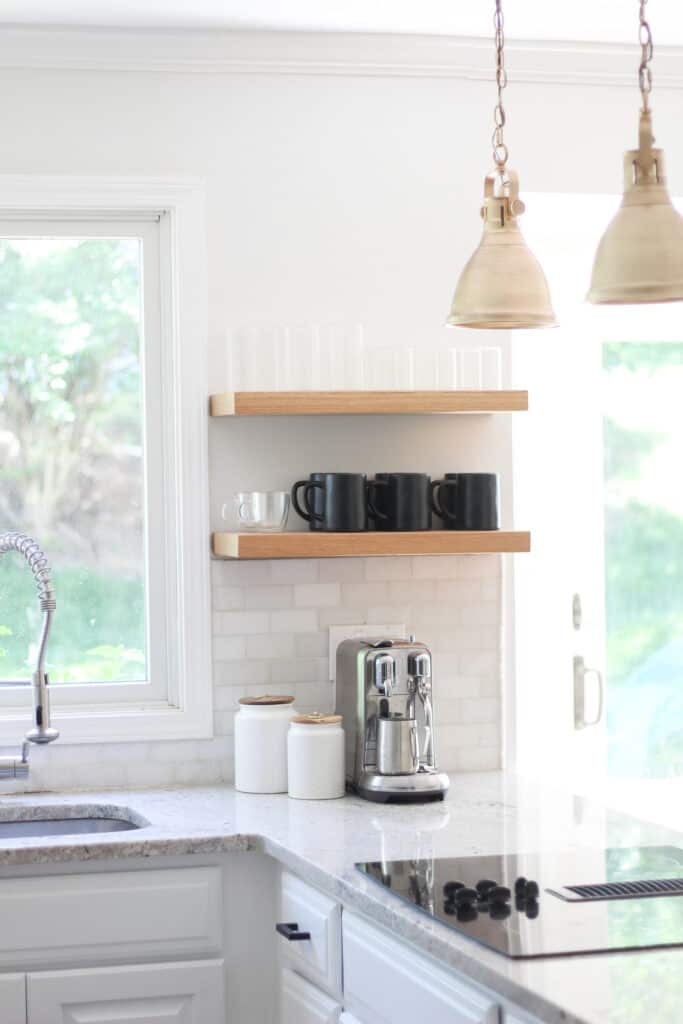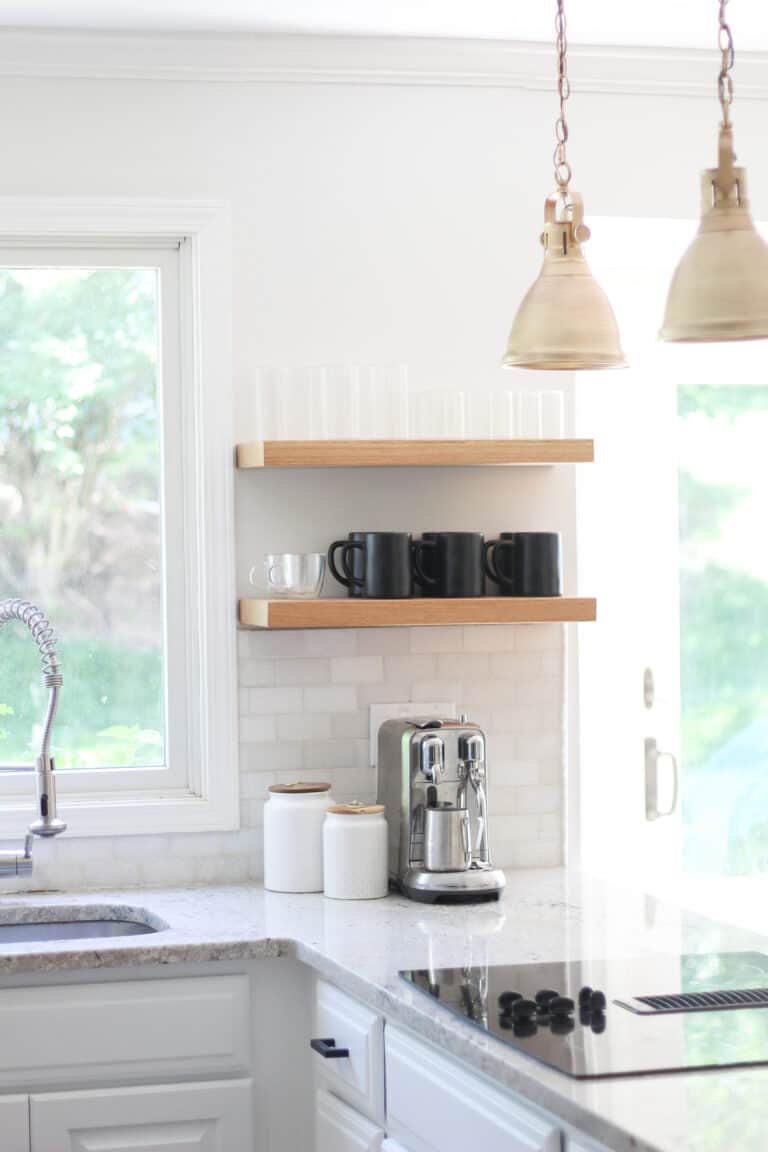 Stone tile (think marble, slate, and travertine) are natural and porous elements. Due to their makeup, stone tiles must be sealed to avoid staining. This would not be the best option if you are not a fan of upkeep and maintenance as they require periodic sealing to ensure stains are kept out.
Should a tile be stained, cleaning can be difficult and may require the tile to be replaced. Additionally, you'll pay a premium for stone tiles. With considerable upkeep and a higher price tag, it is easy to see why people turn to ceramic and glass tiles.
White Kitchen Cabinet Backsplash Ideas – Natural Stone Slabs
We've discussed natural stone tile, but a new trend has hit kitchen backsplashes and it includes natural stone slabs. Instead of individual tiles grouted together to form different patterns and layouts, a slab of continuous natural stone is placed as the backsplash.
Marble, quartzite, limestone, slate, granite are all options. And yes, if you are thinking what I'm thinking which is, "that sounds expensive" then you would be right! These are very costly but very impressive looking and will give your kitchen space that luxurious feel. Who doesn't want to feel like they are cooking (or eating) in a Michelin star kitchen?
You'll also have to keep in mind maintenance since these are natural stones. You'll want to ensure that you don't stain or splatter your beautiful white marble backsplash with proper cleaning, sealing, and polishing.
White Kitchen Cabinet Backsplash Ideas – Brick
Brick is another great option when it comes to white kitchen cabinet backslash ideas. The design is versatile and can be seen in rustic farmhouse, transitional, contemporary, and classic kitchens. You can have several different shades of brick or paint/wash the brick for a stained appearance. Brick is durable and will hold up to the heat in a kitchen.
However, it is costly and can be difficult to install. Brick veneer is a budget friendly option and is easier to install than traditional brick. Keep in mind, both brick and brick veneer will need to be sealed to ensure durability.
A downside of brick is that it is difficult to clean and can show stains that are left untreated. Maintenance aside it is a great option and provides not only depth and texture to your kitchen space but also warmth.
White Kitchen Cabinet Backsplash Ideas – Unconventional Options
While we've covered the more popular choices for white kitchen cabinet backsplash ideas, there are several unconventional options that I'd like to mention. A stainless steel sheet backsplash is a modern no fuss option. With reflective properties, stainless steel brightens kitchens and is an affordable option.
A chalkboard paint backsplash is another option for a contemporary kitchen. This easy DIY is easy to maintain, easy to clean, and low cost. You can add your own artwork and change it out seasonally.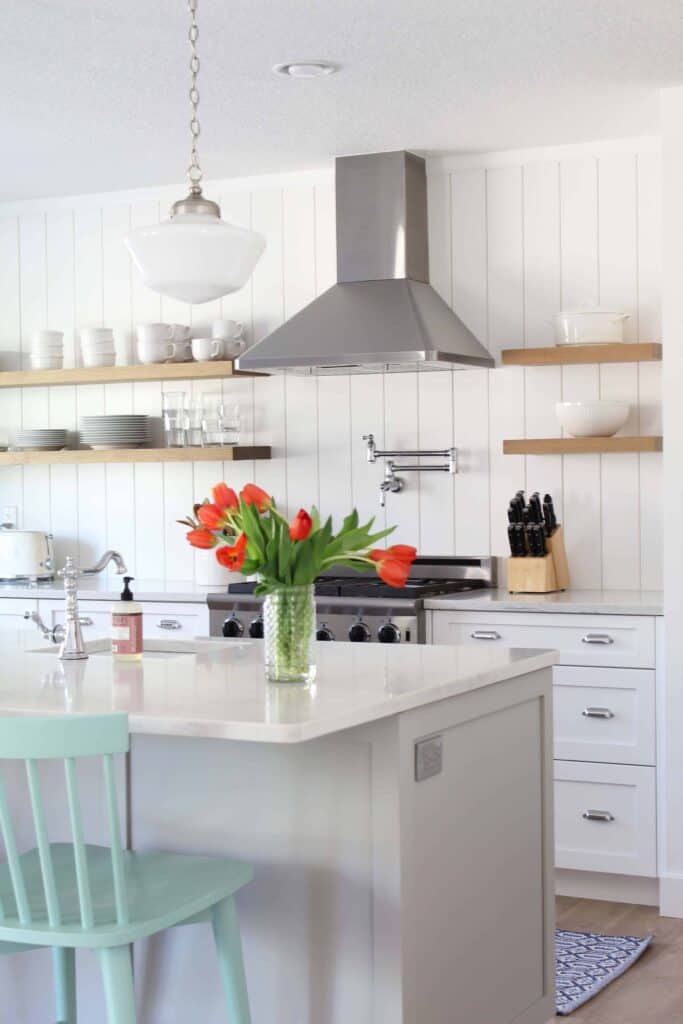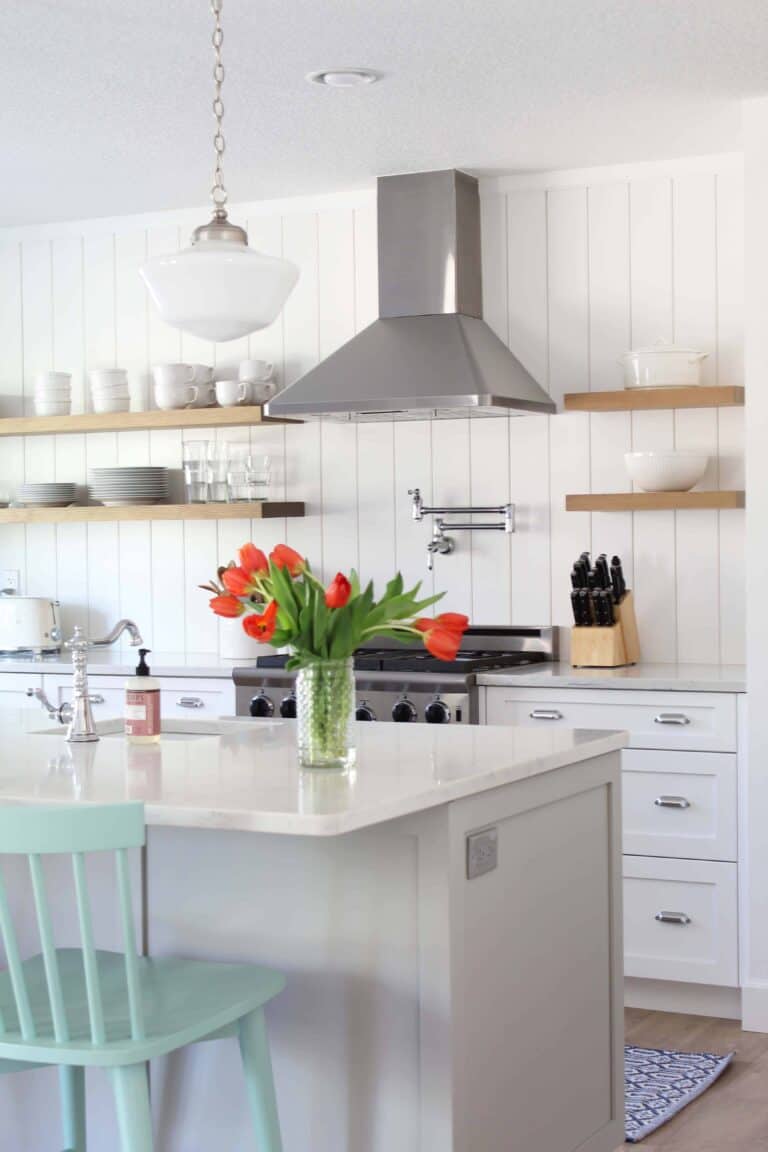 Beadboard and wood (think shiplap) are also options for backsplashes. Both are great DIY projects and can enhance your farmhouse kitchen decor. As an added bonus, it is easily cleaned and doesn't take any maintenance like it's stone and tile counterparts.
Peel and stick options are available for people who are looking for easy DIY projects. You can find these options in various materials at your local hardware store. Peel-and-stick wallpaper may not be what you think of when a kitchen backsplash comes to mind.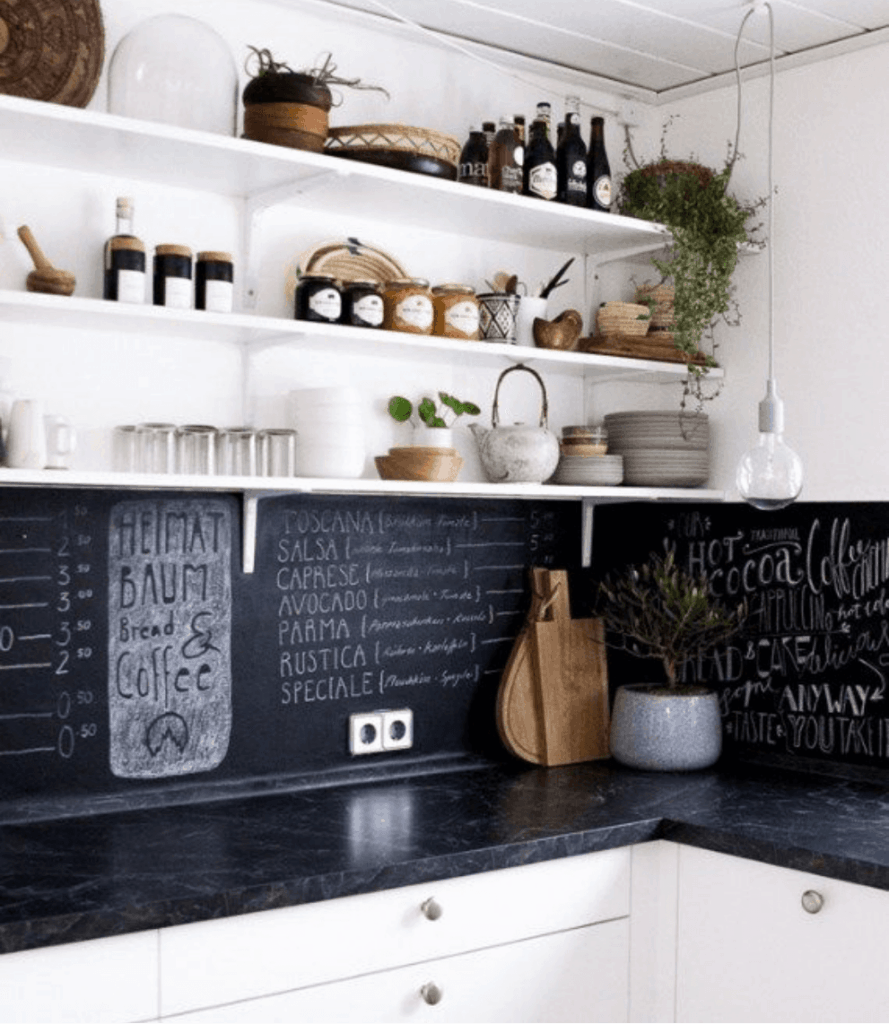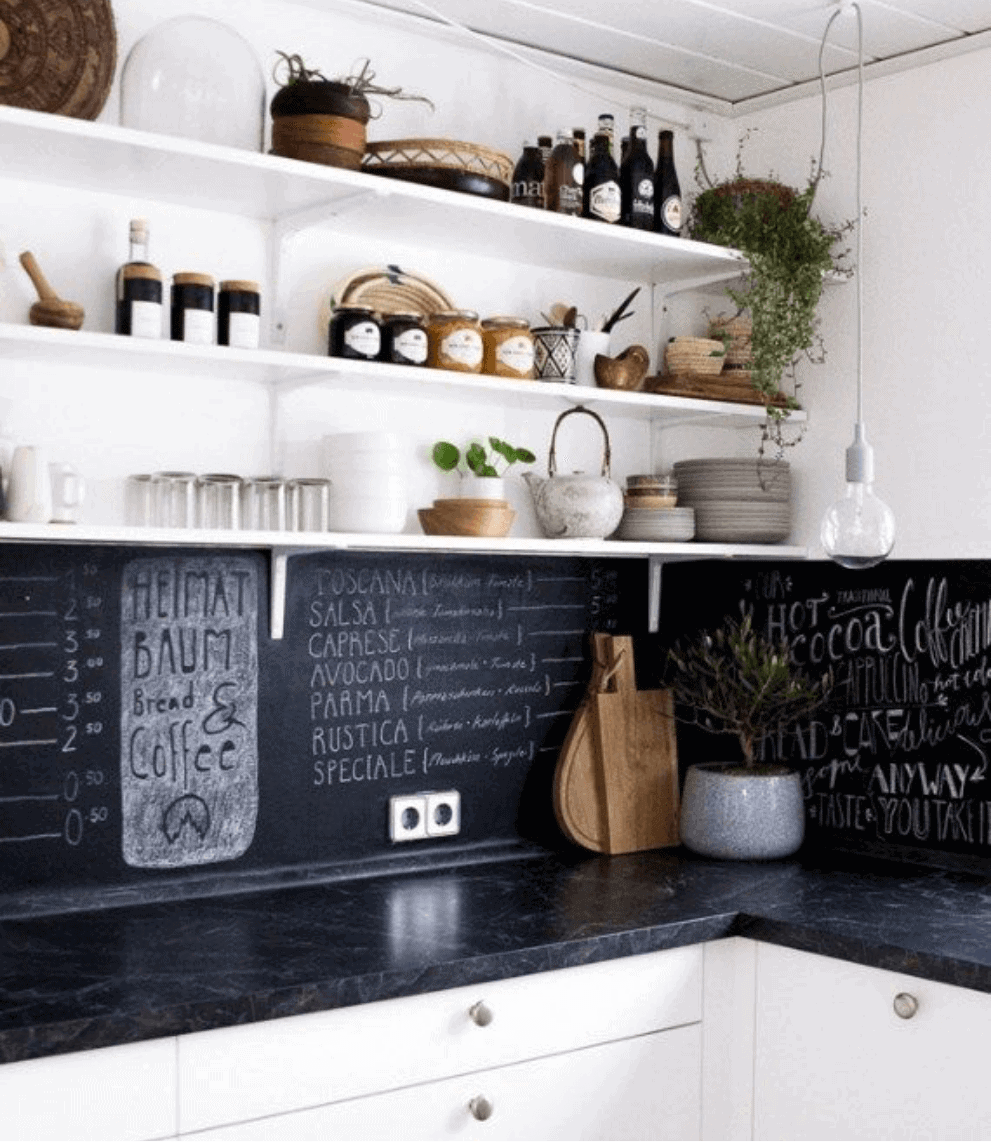 However, this may be a great option for renters who want to personalize their space but not fully commit to the financial and emotionally draining kitchen renovation. Before you laugh it off, you can find some beautiful options that give the appearance of expensive tiles and stone for a fraction of the price. And if you get bored or decide you don't like it, simply peel it off and pick something new!
Whew! We have covered a lot of material! Kitchen designing can be an overwhelming process. I hope you found this post helpful in navigating the world of kitchen backsplashes. There are so many options to choose from in all different price points that you can find something you'll love and live with for years to come.
Start with gathering inspiration so you know what your kitchen's aesthetic will be and go from there. Take each decision one step at a time and try your best to not make any rash decisions. Set out your options in the space and spend some timing living with your choices to get a feel for your new look. Before you know it you'll be living with your brand new backsplash!
Where to Shop for White Kitchen Cabinet Backsplash Ideas you Saw in This post!
Amazon – I find so many of my favorite tiles on Amazon. They are affordable and easy
Home Depot – This is a super affordable place to get your very simple and timeless tiles.
Alexander James Shop – Great options that are unique
Fireclay tile – LOVE everything they do for unique options.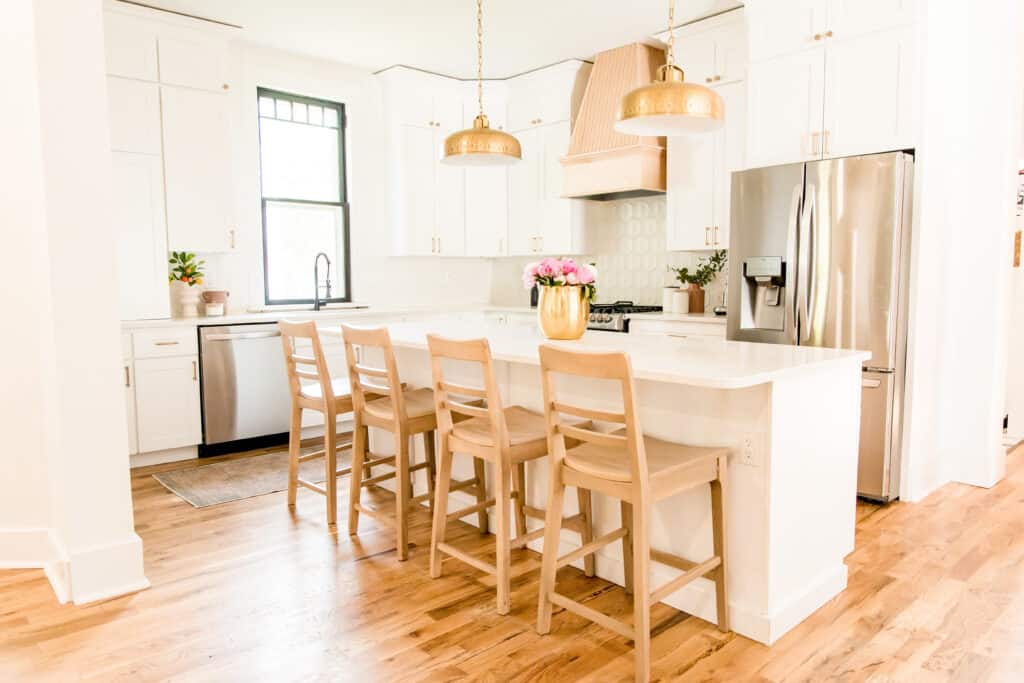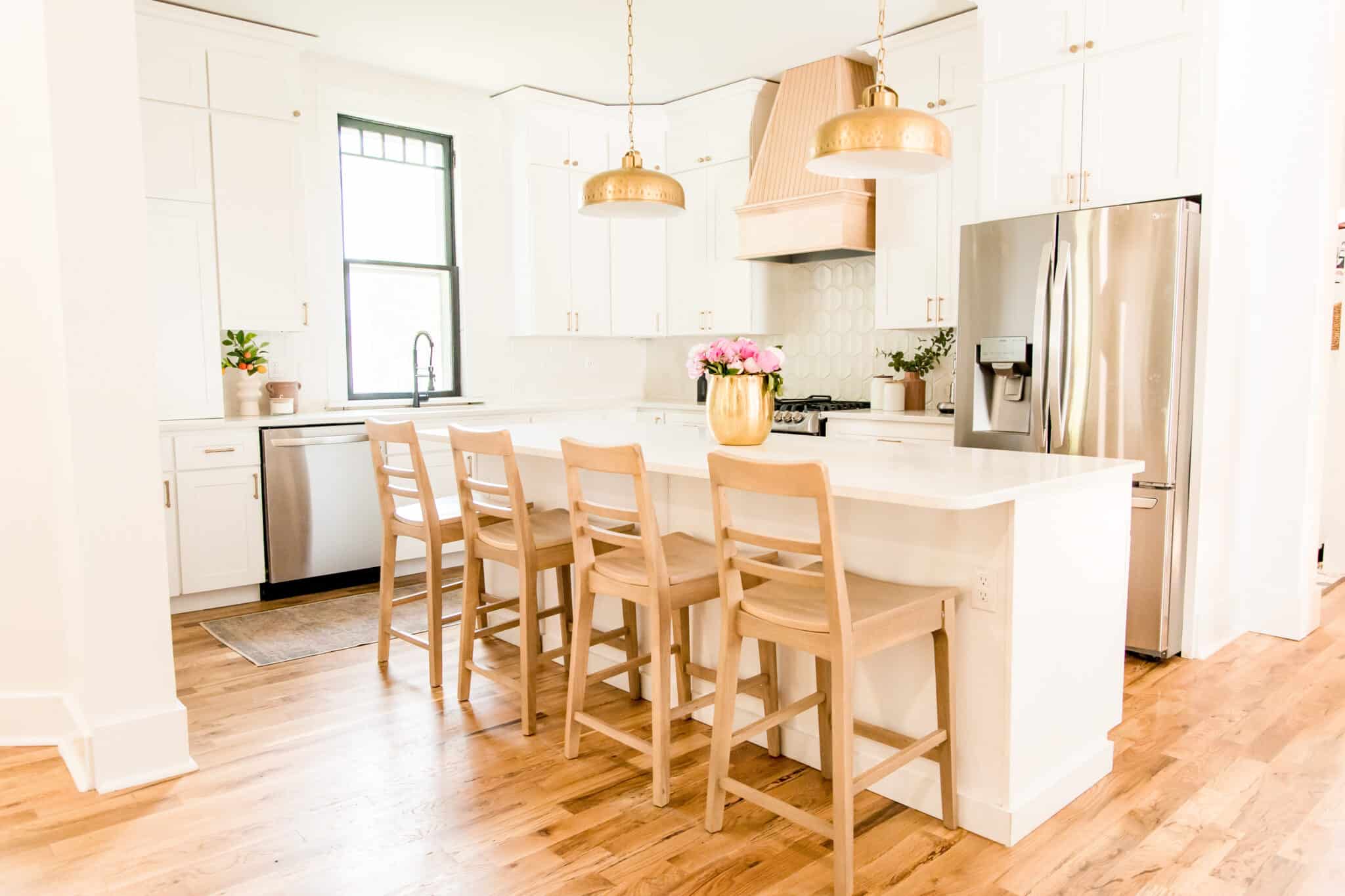 Other Posts You'll Love
If you loved this post, below are some other posts you'll love.
Brass Pendant Lights | Pergo Flooring Review | Kitchen Rug Runners | Gold Kitchen Lights | How to Paint Kitchen Cabinets
Pin the Photo for White Kitchen Cabinet Backsplash Ideas Later
Hopefully you found this post sharing all about white kitchen cabinet backsplash was helpful for you and you feel ready to tackle your own kitchen. If you have any questions leave them in the comments below, and be sure to follow me on Instagram (@arinsolange) for more fun and inspiration.