As cooler temperatures slowly (very slowly) creep into our forecasts, I have the sudden urge to prepare for all things winter. It may be 90 degrees out this week, but I'm already in holiday mode over here in my house. And while I love all things holidays, I really don't love the winter, and the mess it brings.  In the past year I have been trying to find the best steam mop for tile floors to tackle our mud room, and I think I have all the info you will need if you're in the same boat!
This post may contain affiliate links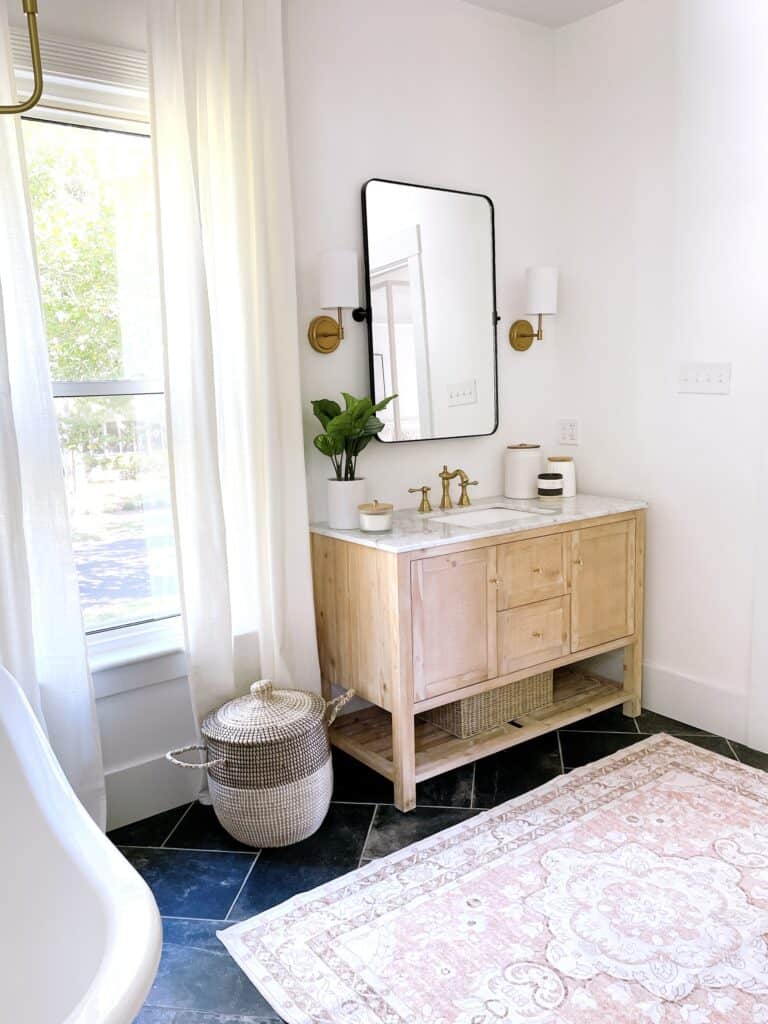 Best Steam Mop For Tile Floors: My Top 6 Picks From A Mom Of Four
As fall and winter are rolling in the days seem longer, the sun seems to fade, and the whole city seems to have a permanent grime to it from all of the salted ice trucks. What is even more annoying, is it seems like there is a never ending to-do list of cleaning. 
Cleaning up after sick kids (because of course everyone gets sick three times more in winter), cleaning up all of the cold winter gear (the hats, gloves, winter coats, snow boots), and cleaning my floors! I absolutely, positively, despise having snow tracked all over the house, and with four kids and a dog you better believe I constantly have tiny boot and paw prints all over the floors.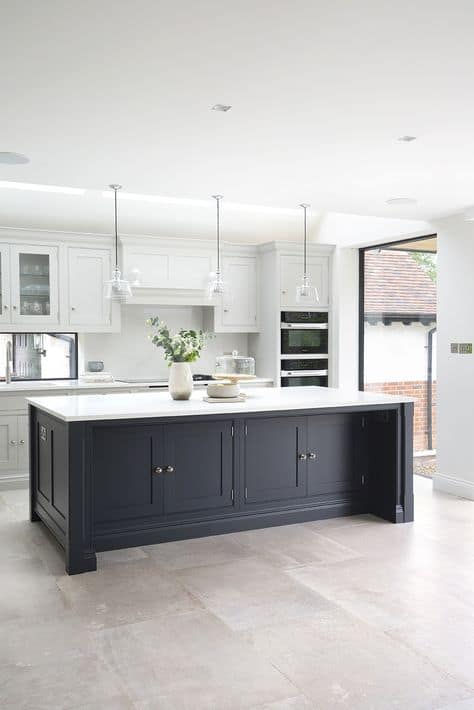 Fortunately, this year, we have a mudroom that can help control all of those pesky boot prints. While the majority of my home is all hardwood floors, our bathrooms and mudroom are tiled. One of the benefits of tile floors is that they are much easier to clean than traditional hardwood floors, and with snow-laden boot prints all over our tiled mudroom, I do plenty of cleaning!
If you are like me and preparing for your winter apocalypse, I've got all you need to pick out the best steam mops for your tile floors to help get you through this winter. Can you tell I'm just so excited for this season to start?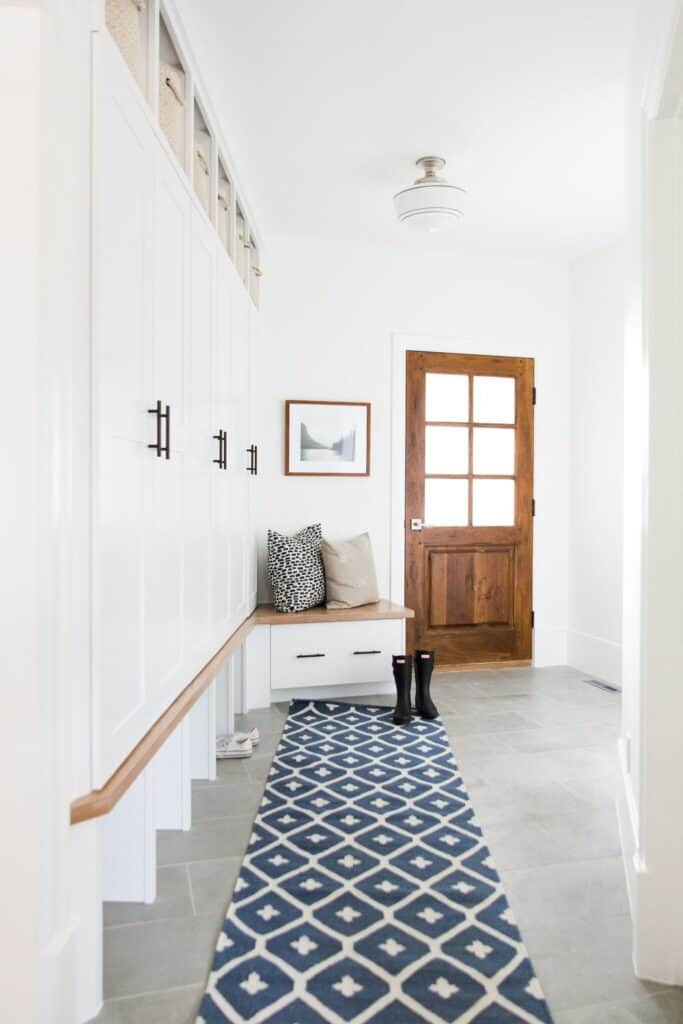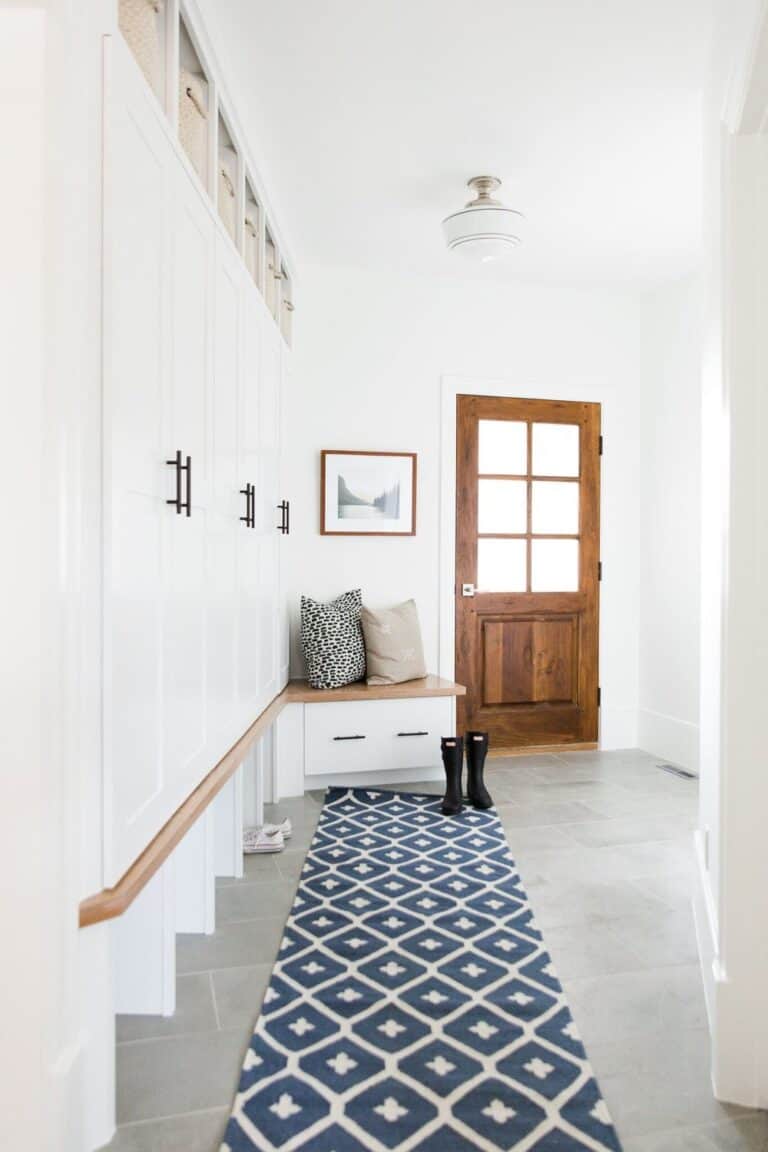 What Makes Steam Mops So Great?
What is so great about steam mops that I'm dedicating an entire post about them? Not all mops are created equal. Yes, a regular mop will clean your floors, but different types of surfaces require different methods of cleaning. 
Your Floors Matter
Depending on your types of floors, you'll need to decide what is the best option for cleaning. For example, laminate floors and hardwood don't do well with traditional mopping. Water can damage the hard surfaces and cause staining or bubbling. You'll also need to pay careful attention to the type of floor cleaner you use as the use of harsh chemicals can damage the hard floors. 
Additionally, harsh cleaners are not ideal to use around kids or pets. On the other hand, stone floors can't tolerate the use of more natural cleaners such as vinegar, lemon juice, and other acids as they can damage the surface. This is why it is a good idea to consider the type of flooring you have before cleaning floors.
Ceramic tile and porcelain tile are very durable and an excellent choice for high traffic foot areas. This is why we chose to install tile in both our mudroom and bathrooms. The tiles are not easily scratched or damaged and don't lose their shine (unlike laminate flooring and hardwood).
You can easily clean tile with soap, water, and mostly all cleaners. The problem with tile is you will have to take a little bit of elbow grease to clean the tile grout. Depending on your grout's color, you may need to spend more or less time cleaning it.
Those with white grout will note that they notice dirt far more easily than those with a black grout. Either way, you'll want to ensure you spend some time with a grout cleaner. The good news for you is that I have just the tool for that!
This super sonic electric scrubber is basically a giant electric toothbrush but it does the best job on cleaning grout and even works on baseboards! I love mixing baking soda, vinegar, and a little bit of Dawn dish soap. It works like magic!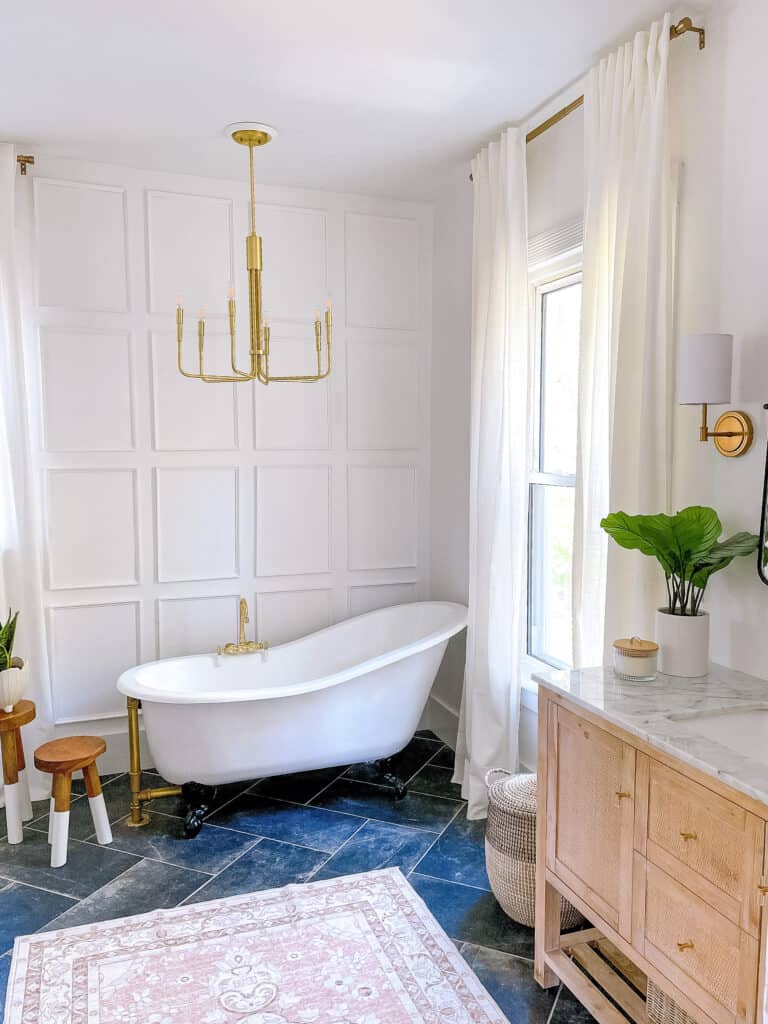 How Do Steam Mops Work
Alas, I've digressed some. Steam mops! Let's get down to the dirty work. Steam mops are great for everyday use. They don't require any fancy cleaners, just regular old tap water! The best part of a good steam mop is that the high temperatures and continuous steam not only reaches layers of dirt, grime and stubborn stains, but it also sanitizes while it cleans. 
Steam As A Sanitizer
So a steam mop for a bathroom is an absolute MUST! I'm not sure about you but whenever we have the stomach bug come through our house, I cringe at the amount of cleaning I'll have to do and all the bleach I'll go through. The hot steam sanitizes the floors without the use of those harsh chemicals. In fact, the power of steam can remove built up cleaning products that leave behind their tacky residue.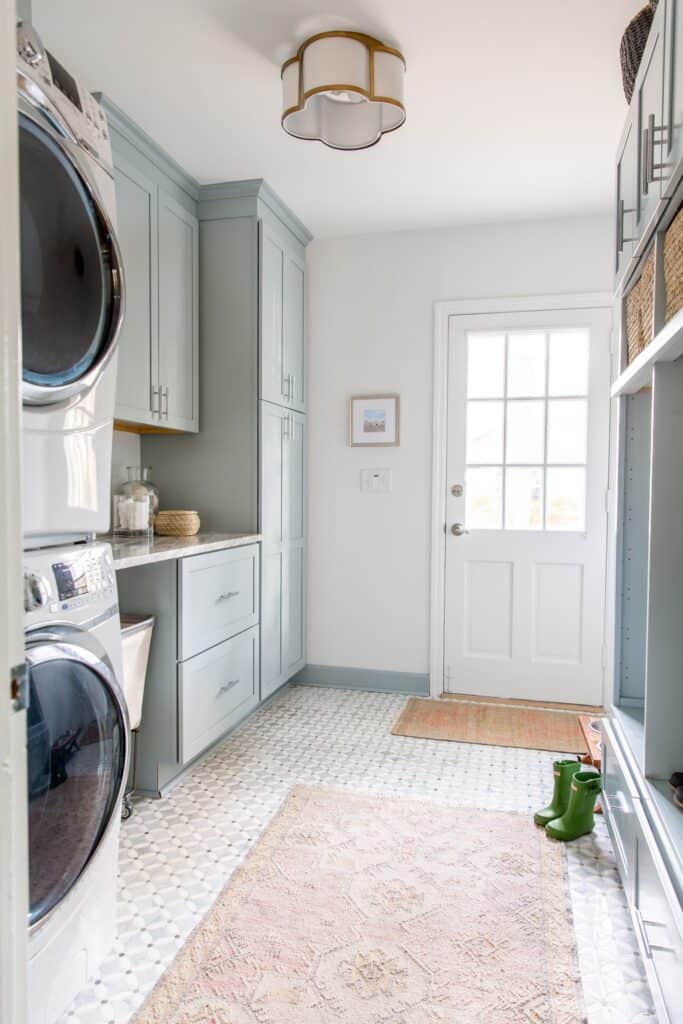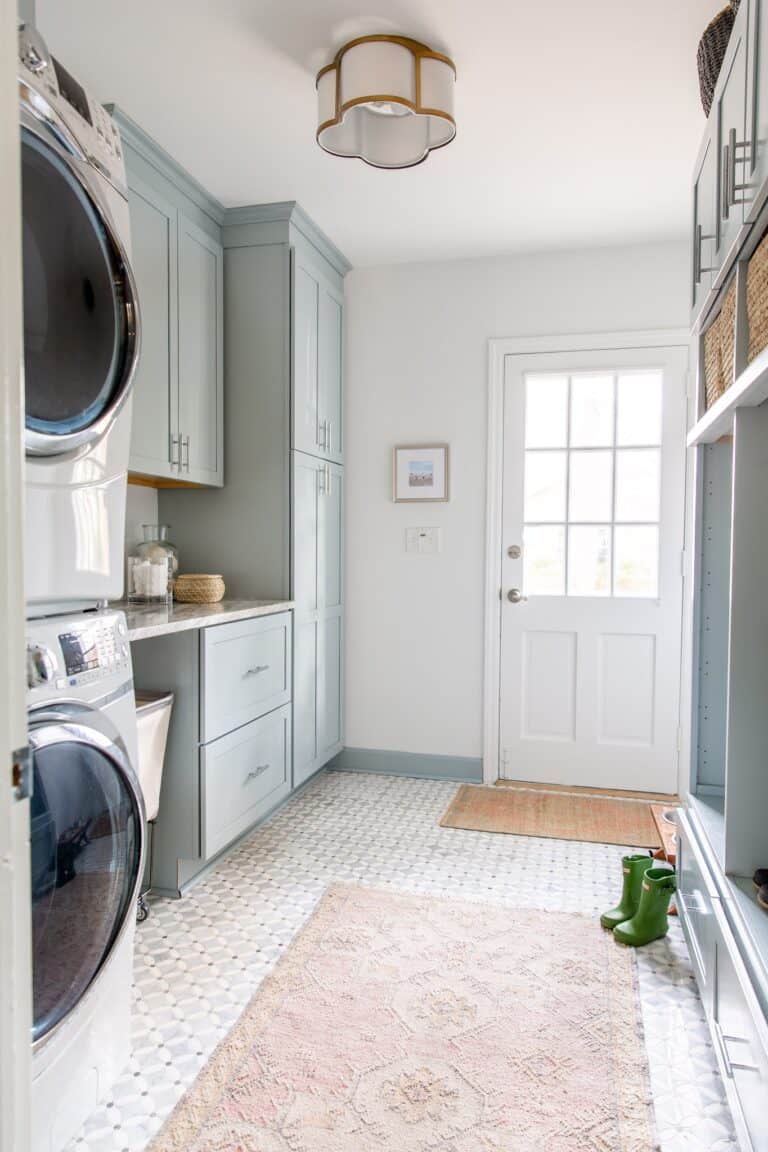 So how exactly does this magical steam cleaning work? Essentially, you have a large water tank full of distilled water (you can use tap water but distilled will make your steam mop last longer). The water is warmed up to approximately 250 degrees Fahrenheit.
From there, the steam is emitted out into the mop head covering the mop pad. Between the amount of steam, steam flow, and cleaning head, dirt is then loosened and bacteria is eliminated by 99.9% all without the use of a cleaner. One key distinction between the steam mop and sponge mops or spin mops, is that dirt and bacteria can simply be moved around the floor with these methods.
By using the steam mop, you have a constant flow of hot water and steam that eradicates the bacteria. You don't have to change out the dirty water you are using to clean the floor since the water itself is in a separate tank. The benefits of the steam mop don't stop there. I really believe that it takes a lot less time to steam mop my floors than if I used our regular mop.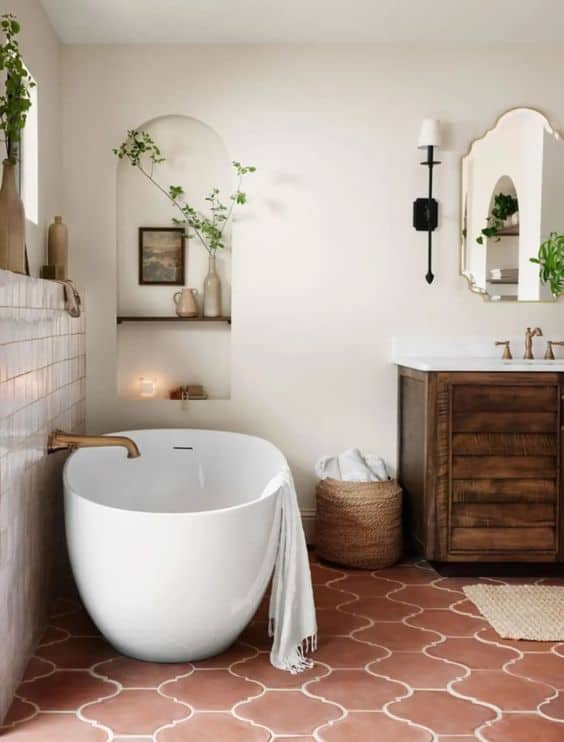 Ease Of Use
By the time I fill the bucket, get the cleaner out, change out the water in the bucket, rinse out the mop head, and finish my mopping, I would have saved so much more time using a good steam mop. You know I love a good time saver! The ease of use and ability to clean large areas and small areas of course, as well as the ability to sanitize while I clean is why my steam mop is my top pick.  
Top Features In A Steam Mop
So what steam mop is right for you? The best steam cleaner will have a few key components to keep in mind while you look for what is right for you. You'll want to pick a steam mop that has a nice swivel head to allow you to easily navigate corners and tight spaces. 
A long cord is also a must have. I hate having to stop and start when I'm in my cleaning groove. So having to stop to plug in my cord to a different part of the bathroom is not great. A longer cord that allows me good reach is an important feature for me. I also don't want to spend an arm and a leg for my steam mop so looking at both positive reviews and a reasonable price is key. 
Now, depending on how fancy you want to go, some steam mops have other features that may make your life easier but may not necessarily be a deal breaker. Having a removable water tank is certainly nice, but not necessary. Different attachments, different steam settings or a variable steam control are also all bonuses.
You'll also want to look at whether your steam pads are disposable pads or washable pads. I love the idea of being able to throw your pads directly into the washing machine when you are done. The best steam mop checks all of your boxes.
Best Steam Mop For Tile Floors
Let's take a look at some of the best steam cleaners! Keep in mind the type of flooring in your home and where you'll be using your steam mop. If you have a home that is primarily tiled, then spending more on a steam mop may be a good idea. If you only have say 2 bathrooms that could benefit from a steam mop, then you may want to look at something a bit less expensive and not top dollar. Here are my top picks for the best steam mop for tile floors.
Bissell PowerFresh Steam Mop 1940
The Bissell PowerFresh Steam Mop 1940 is a top pick among amazon reviewers. With over 35,000 reviews and almost a 5 star rating, you know you've got a winner. The Bissell steam mop notes to have variable steam settings from low, medium, and high, with a digital steam control that is easily set based on your cleaning needs to eliminate 99.9% of bacteria and ready to use within 30 seconds.
 A swivel head, a long (23 ft!!) power cord, and lightweight (9 lbs) design are all key components that I look for in my mops. This model includes microfiber pads, including an easy scrubber pad to help with tough stains and grout cleaning. It's sleek design also helps with easy storage. 
Bissell Powerfresh Deluxe
The Bissell PowerFresh Deluxe Steam Mop 1806 model is similar to the 1940 counterpart. With over 13,000 amazon reviews, this steam mop has variable steam settings from high to low. Ready to use within 30 seconds, a long 25 ft. power cord, and power scrubbers. The 1806 model does not contain a removable water tank, like the 1940, but still packs plenty of punch. At $99 this is a great option!
Bissell Power Steamer Heavy Duty 3:1
The Bissell Power Steamer Heavy Duty 3-in-1 Steam Mop and Handheld Steamer is a great option if you have multiple surfaces to clean both indoor and outdoor. This is a more expensive option, but gives you the option of the 3-in-1 cleaning from an upright steam cleaner to an extended reach steam mop for hard to reach places and a detachable handheld steam cleaner. 
There are adjustable modes and a trigger that helps you control the amount of steam released to help prevent damage to any flooring. It comes with plenty of accessories including a window squeegee for steaming inside and outside glass. The handheld cleaner would be a great option for cleaning cars. I also love that it comes with a wall mount option to help save on space!  This is a pro-option for those who love steam mops.
Shark S3501 Steam Pocket Mop
The Shark S3501 Steam Pocket Mop is a great pick that comes with 2 washable microfiber pads to help rid dirt and grime from your floors. The pads are actually dual sided so you don't need to change your pad in the middle of a cleaning session.
Instead you can just flip your mop head over and start on a new side. There is an 18 ft power cord and 30 second use time from plug in. This does not have a variable steam control but is still a great pick if you'd like a more basic model for those smaller jobs. At only 4 lbs it is easily maneuvered and stored.
Shark Genius Steam Mop System
The Shark S5003D Genius Hard Floor Cleaning System Pocket System Steam Mop boasts touch free technology that allows you to go hands free after cleaning by pressing the release button directly into your washing machine. The dual sided pads have specialized grip designs that help lift dirt and grime. This shark genius model also has a steam blaster that provides blasts of steam for areas that need extra help to loosen stuck on dirt.  
Dupray Neat Steam Cleaner
The Dupray Neat Steam Cleaner Multipurpose Heavy Duty Steamer is the Tesla of floor steam mops as an Amazon favorite with over 11, 799 ratings at 4.5 stars. This steam mop not only mops and steam cleans but it also says it degreases and deodorizes surfaces! There is an extremely large water tank at 1600 ml for over 50 minutes of cleaning time.
While the large water tank is useful to avoid having to stop mid clean, it does take up to 7 mins to heat up to the 275 degrees Fahrenheit temperature. The tank itself is lightweight and portable and is easily moved on wheels. In comparison to the other steam cleaners, this does take up a larger footprint spacewise.
The kit comes with 17 pieces and includes extension tubes, microfiber pads and cloths, a window squeegee tool, and multiple adjustable brushes. There is a specialized brush that is extremely useful for grout and kitchen appliances. 
The idea of using it to degrease my stove and oven has me very tempted! You can also use it to steam clean furniture and mattresses which would be extremely helpful if you have any lice or bed bug infestations!
There is even a tool to sanitize showers and toilets! I even saw you can use it to sanitize and clean your walls and ceilings. It would also work great to steam your car for a good detailing. Really, there is a tool for everything with this steamer!
There is a longer 2 year warranty on the cleaner and a lifetime warranty on the boiler, which is an added bonus. This may be the best steam mop for tile floors or one with the most bells and whistles. You get what your money pays for in this model.
Taking Care Of Your Mops
Now that you have a good idea of the best steam mop for tile floors, you'll want to know how to care for them properly. How does this whole system work? Make sure you read your owner's manual and instructions for key information. You'll want to prepare your space before you get down to your cleaning job. 
Make sure to use a vacuum cleaner on your floors to pick up any dust or pet hair. Otherwise, you'll be moving dust bunnies around- YUCK! Next, attach a clean pad and fill your water tank per your manual's instructions. If you have a steam mop with adjustable steam levels, it is never a bad idea to start on low settings to make sure your flooring can tolerate the heat and while you get the hang of it.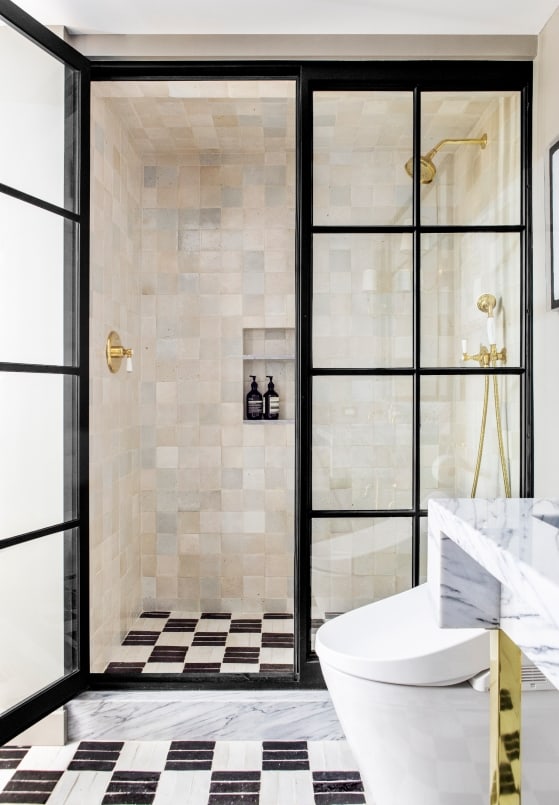 You don't want to spend too long in one place, as the excess heat can cause damage to the floors. Instead, think of long passes across the floor in an organized fashion. If you notice the mop pad has become overly dirty or soiled, make sure to change it out.
This is why I love the idea of washable pads. You can have several back ups and it is much more cost efficient. If you are doing larger areas, you'll need to keep an eye on your water level to ensure you have enough water to get out those tough stains. Once you complete your cleaning, throw that cleaning pad into your washing machine and admire your beautiful floors! Boot prints are no match for the steam cleaner!
Other Posts You'll Love
Pergo Flooring Review | All about our Bernedoodle | Best Kitchen Rugs | Home Decor from Amazon
Pin The Photo Below For Later
I hope this post was helpful at giving you insight into the best steam mop for tile floors. While I love my spin mop, our steam cleaner will always have my heart! Now you should be fully ready to tackle those pesky boot prints too! And if you live in an area that escapes the snow and ice- then lucky you! If you have questions on this post leave them in the comments below, and be sure to follow me on Instagram (@arinsolange) for more fun! Happy steaming!