Halloween is just around the corner, and as my kids have gotten older we have graduated from some of the 'Boo Breakfast' tablescapes, and have started doing a kids Halloween Party with them at some point in October. I wanted to share some fun inspiration on this years party so you can get to shopping and planning!
This post may contain affiliate links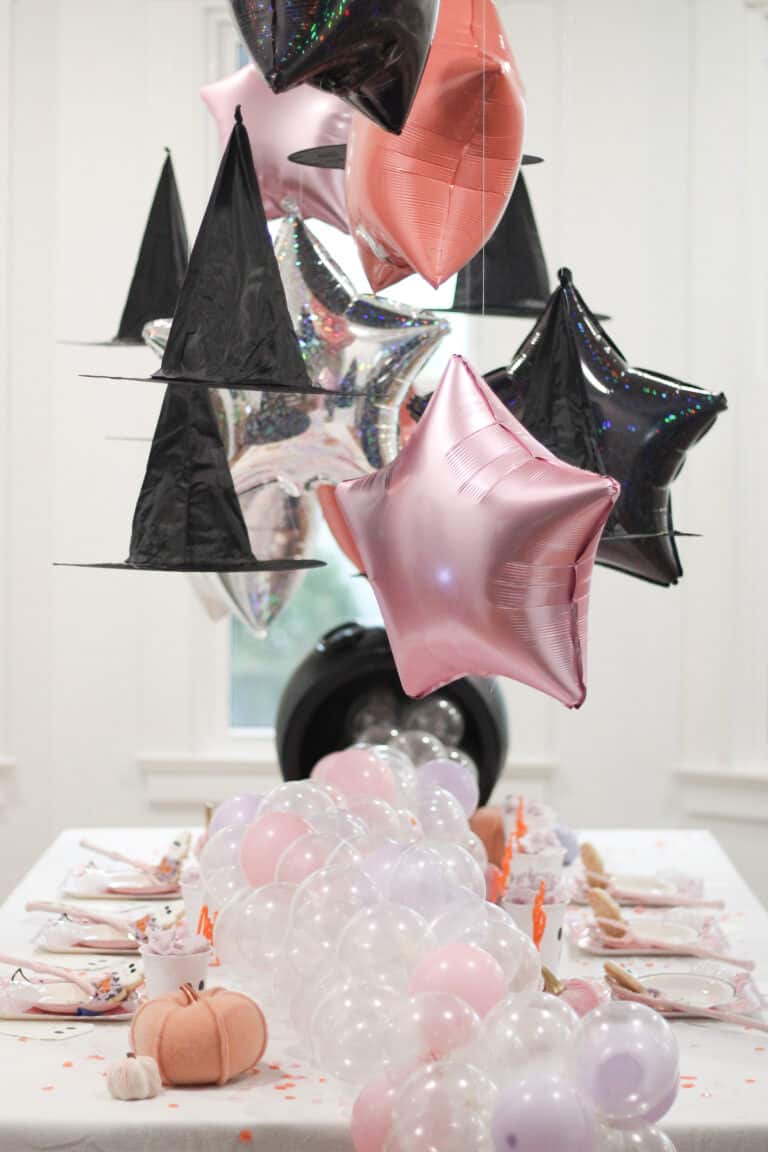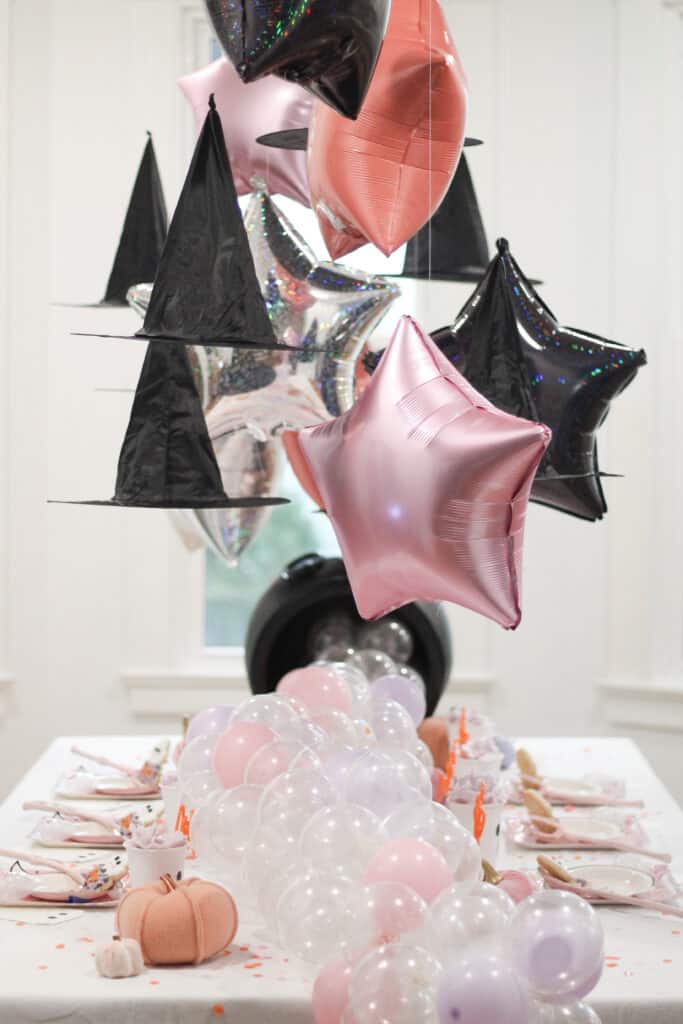 Kids Halloween Party
I have 2 October birthday kids, so Halloween themed parties are big in our household. This year we are doing a joint kids Halloween party birthday party, so this set up doubles over wonderfully for that.
My goal when I create kids parties is for it to be fairly easy to set up – yet magical for them to enjoy. I want there to be no worries if messes are made, and for it to be a space for fun and laughing, but for it to also leave a lasting impression on the kids.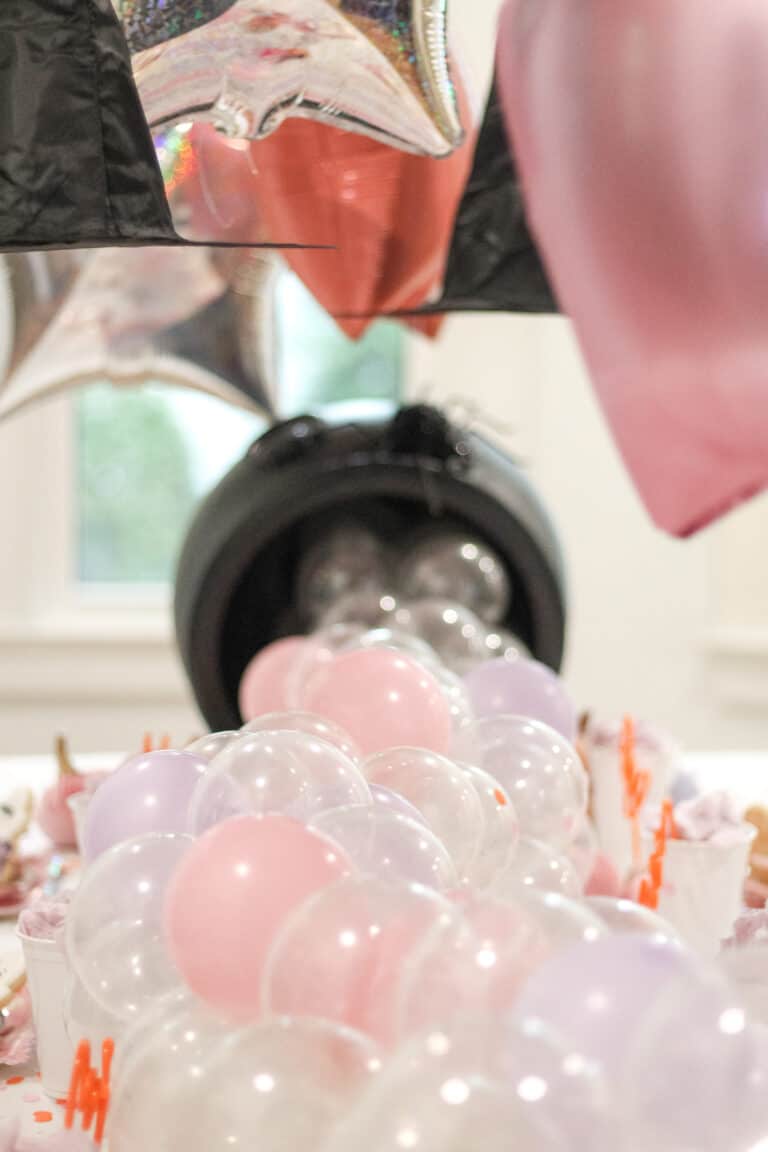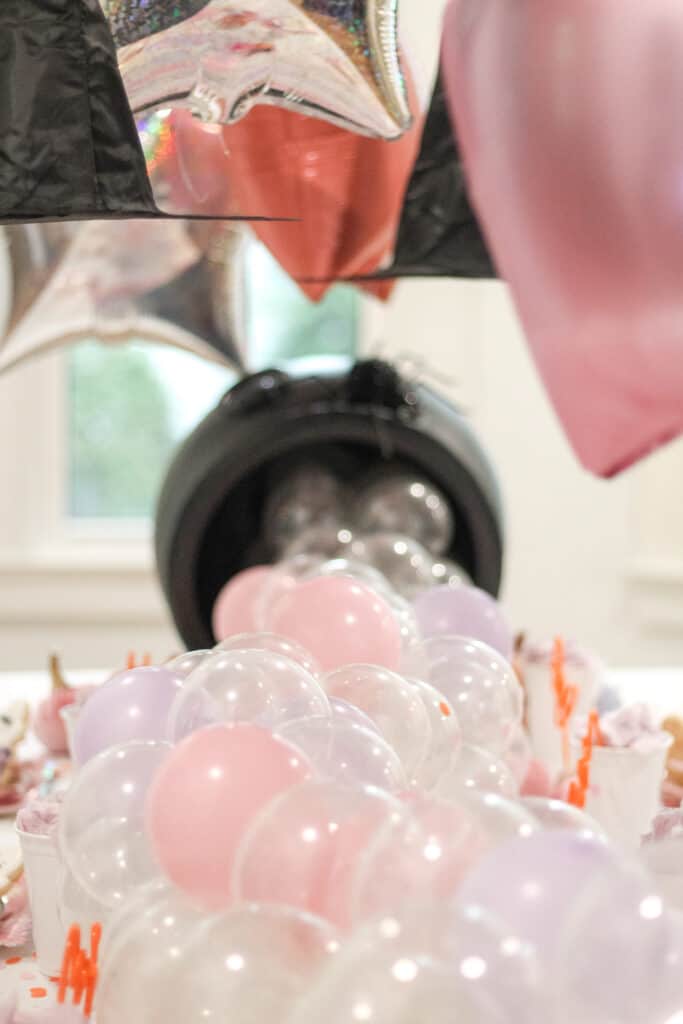 This year I had an opportunity to partner with two of my favorite party gurus in St. Louis – The Party Hop Shop ladies, and we were able to make 2 tables capes happen in one day, to give you guys all the inspiration for your parties.
The tablescape I am sharing today is the kids Halloween party and the end results are seriously my favorite thing ever.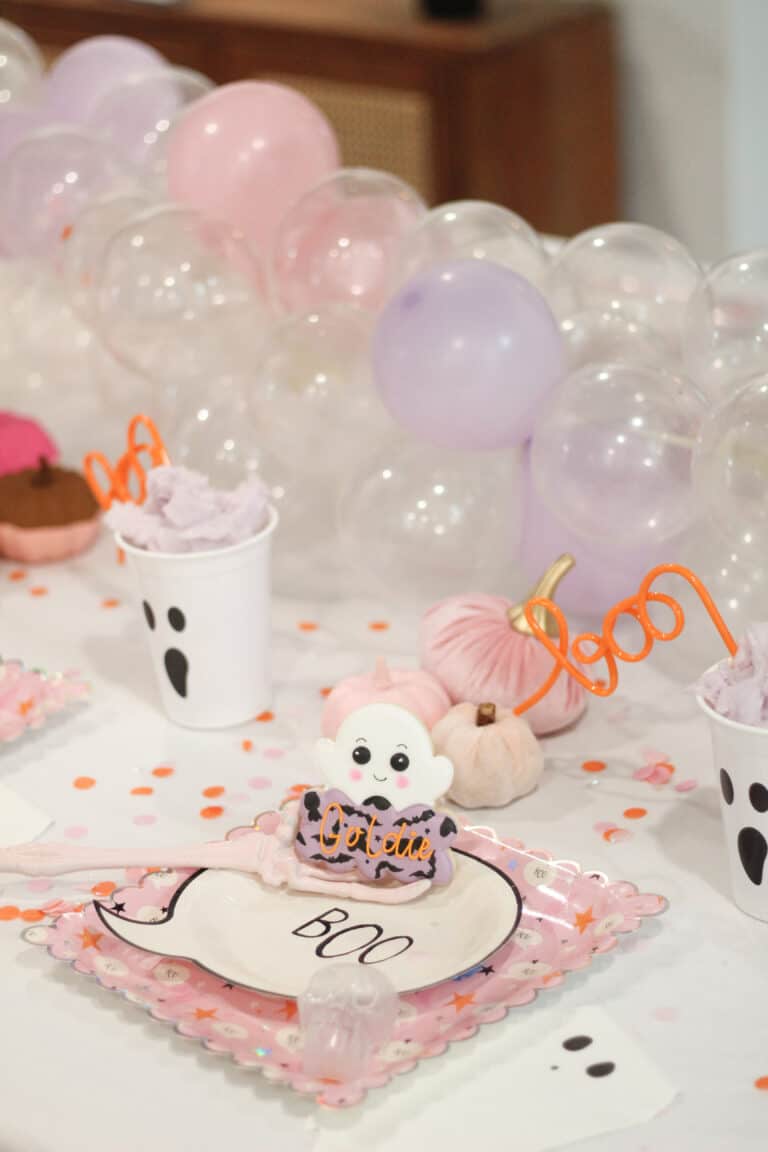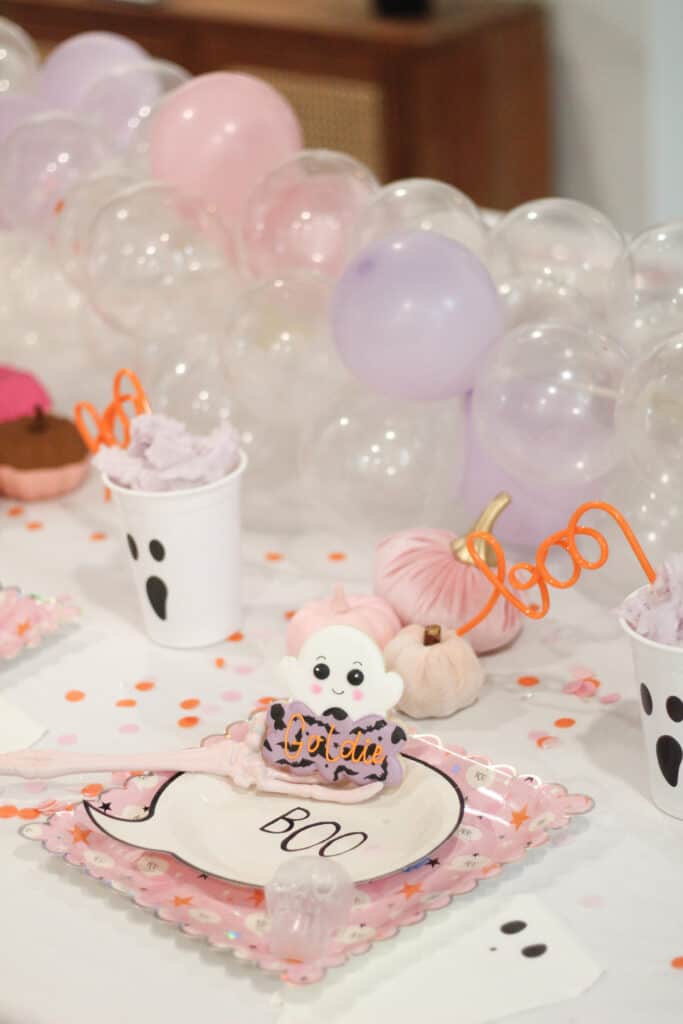 Making Halloween Magical for your Kids
We live in a social media era where at times it feels like we have to do a LOT to make holidays like Halloween magical for our kids. The truth is – that is not true! Sometimes it is the simple things that make it magical.
That said – I know for me, as a busy mom sometimes having 'showy' ways to add the magic is actually easier. I like having little traditions for making it feel like the holiday is coming and exciting for my kid.
This little kids Halloween party is one way to add that magic but another way is to give your kids a 'Boo Basket' or 'Spooky Basket'. I personally don't normally do a big basket, but sometimes do like to give them a pair of pajamas and a book so if that is more your thing those posts are linked!
Spooky Basket Fillers | Halloween Pajamas | Halloween Children's Books
Shopping for the Kids Halloween Party
This year putting together my kids Halloween party got a bit easier than normal because I got the fun honor of compiling a Boo Box with Party Hop Shop. My idea when it came to picking the items in this box was that we could create a full table scape and fun, magical scene for our kids with only what is in the box.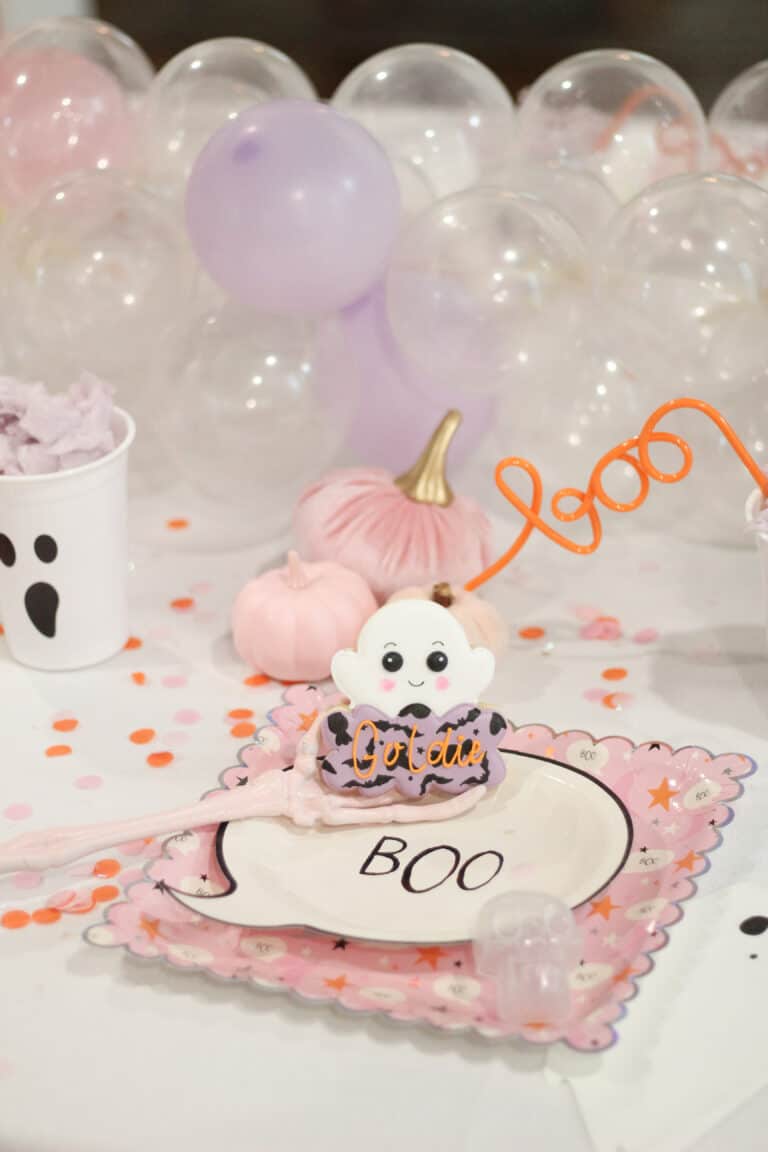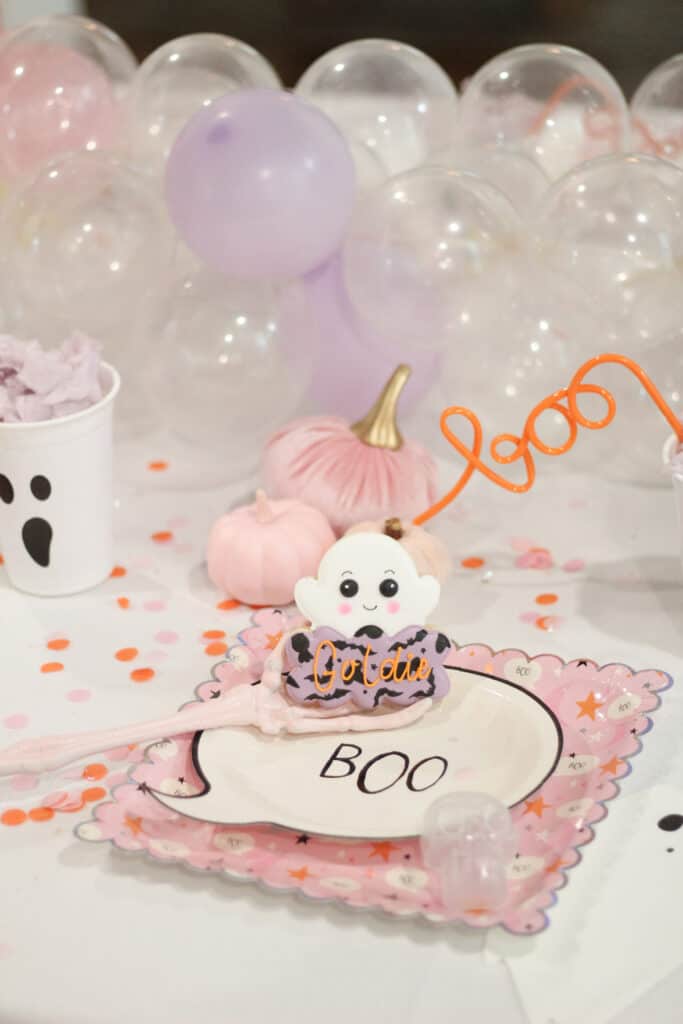 For the sake of our over the top party we added a few other things, and I kept some of those items behind for their actual Halloween party, but we did use most of it in the tablescape.
Anything that isn't in that box I head to Amazon prime for and I can whip up the parties SUPER FAST, or I head to the Dollar Store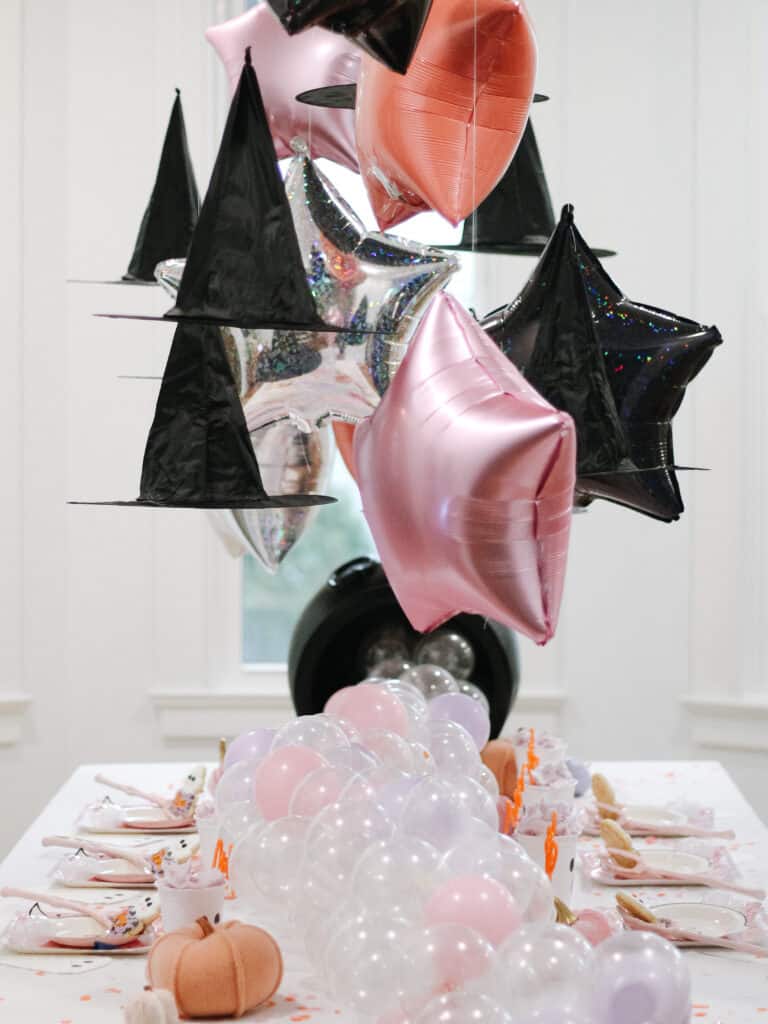 Secret Little Hidden Gem
Dollar Tree is seriously such a hidden gem for parties and holidays. I have found so many aspects to our holiday decor there this year, and with he addition of some paint was good to go.
One other thing you may not know about Dollar Tree is that they normally always have heart and star balloons blown up. So that is a really inexpensive way to add some serious excitement to your party set up for your kids on a budget.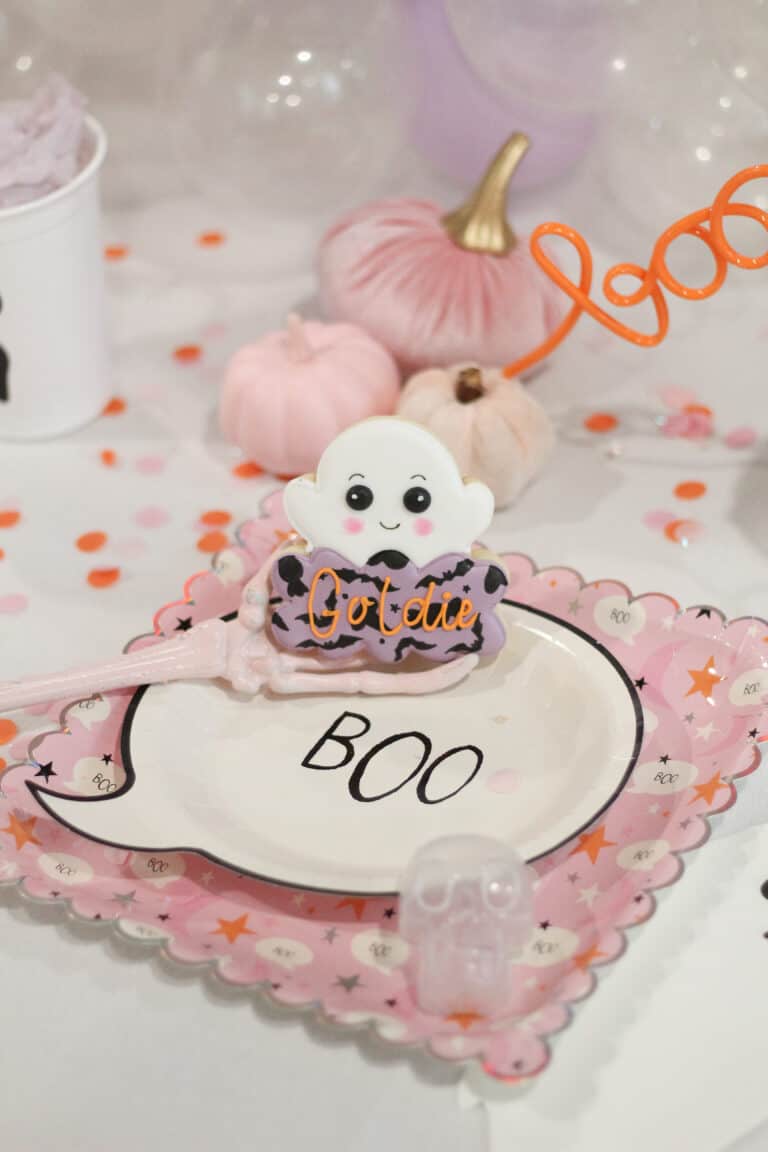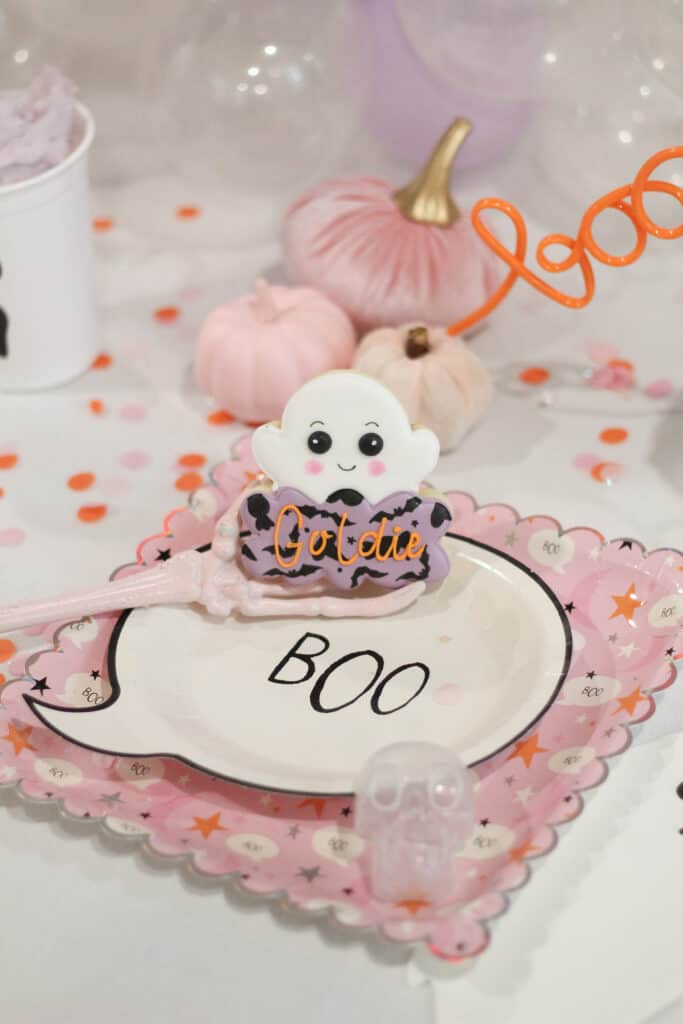 Kids Halloween Party – Boo Box
So I keep talking about the Boo Box, but what is in it? I wanted to share the link below incase you want to create this set up yourself.
Inside you will get – plates, napkins, straws, cups, tattoos, and other fun decor!
Free Printable Pennant
One thing we included in this years 'Boo Box' was a free printable Halloween Pennant. If you want to print them out – click the link below and it will direct download.
For mine I used hot glue to glue the pennant on a wooden skewer stick and tied some yarn around the stick for an added level of fun.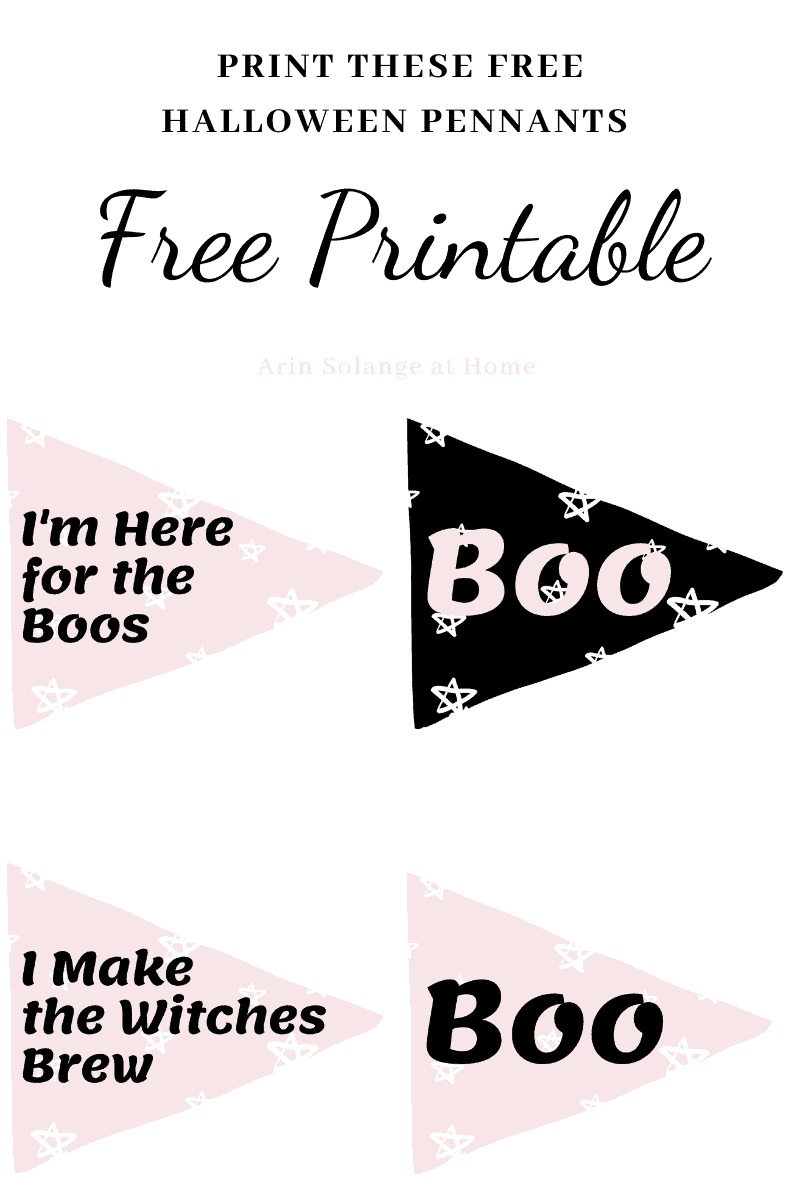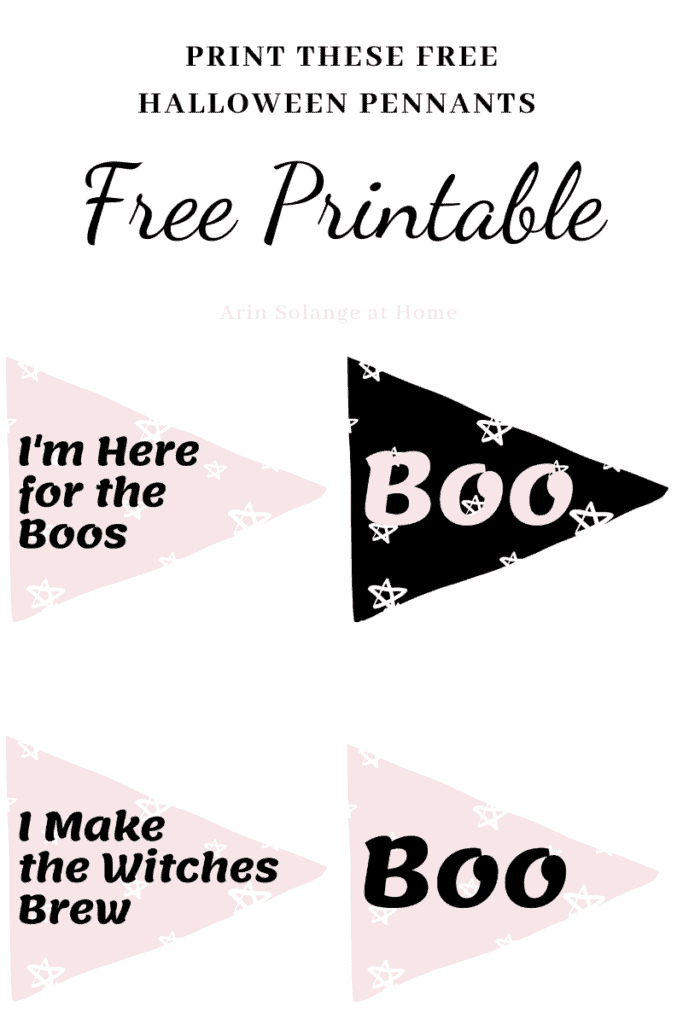 How to Create your Kids Halloween Party Set up
So now onto our exact set up and how we created the scene. I am going to share everything you need to create the look below!
What to Buy: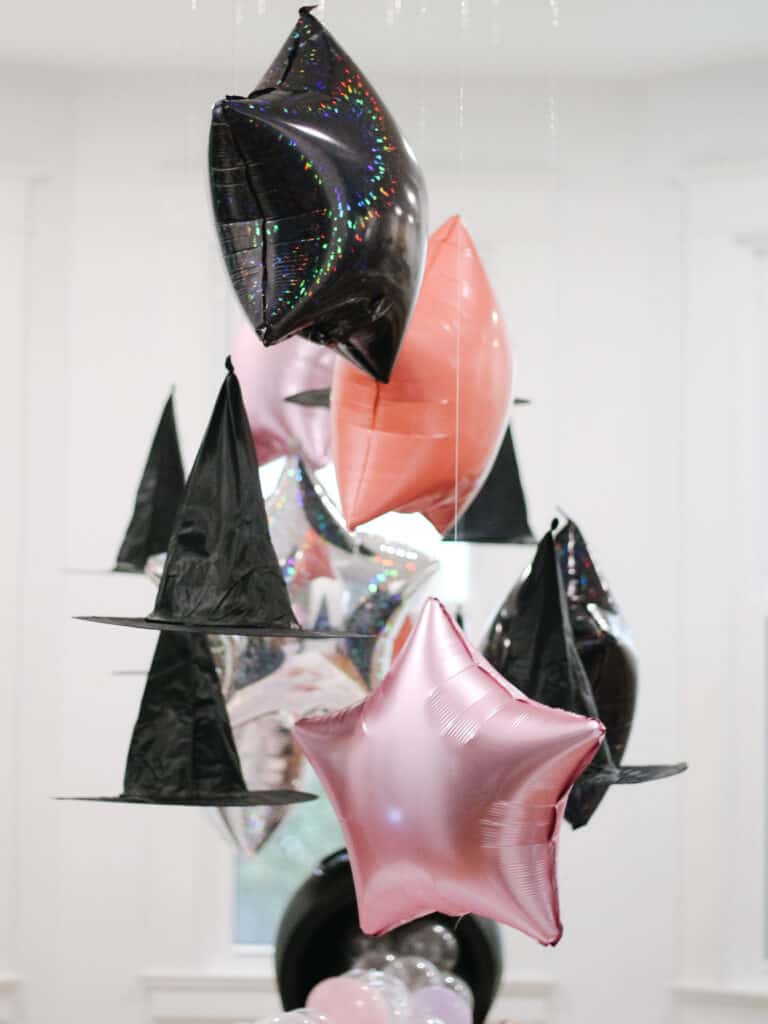 How to Execute this Kids Halloween Party Set Up:
Ceiling
The first thing you want to do is hang those hats and balloons. We opted to tape the fishing line to the stars so they could hang the right way, and we tied fishing line to the very top of the hats.
You can also use a needle to go through the hats – it is whatever your preference is!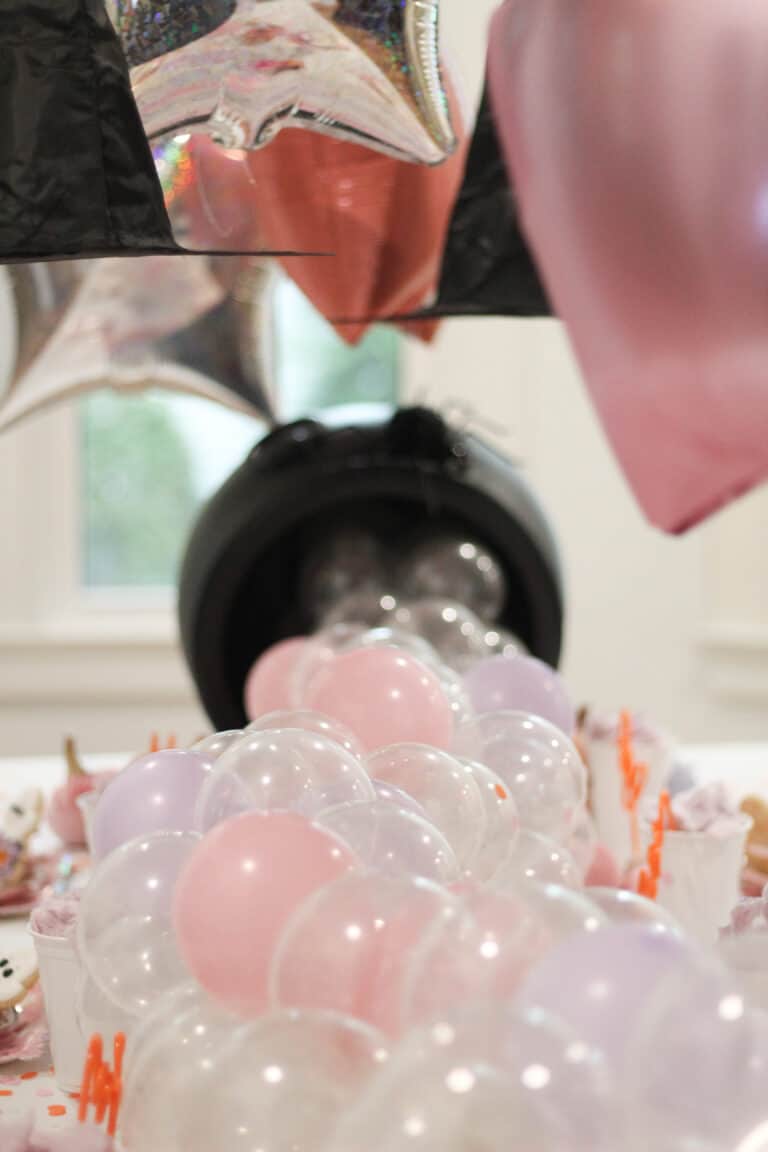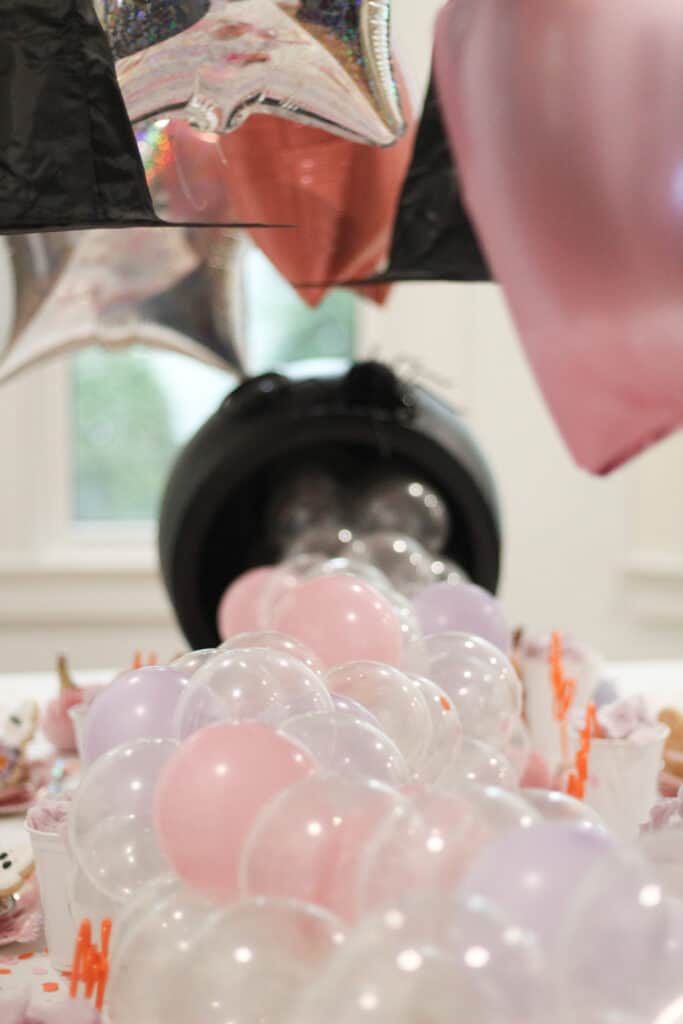 For hanging them from the ceiling you have a few options. Gaffers tape can be great, but I have had it take paint off before. These command hooks are also a great option and tend to lead the paint alone really well too. The last option is white painters tape. That is likely your most visible but safest option, so you kind of have to weigh the options for your event.
The Table
If you are opting for a table cloth that is your obvious first step in your tablescape is to lay down your table cloth. We wanted a solid white base so went this route.
Once the table cloth is down the centerpiece needed to be next. Lay your cauldron on its side and add a small balloon garland for the 'smoke'. For us, Party Hop Shop put together this balloon garland, but my friend Jen has a great tutorial if you want to make your own.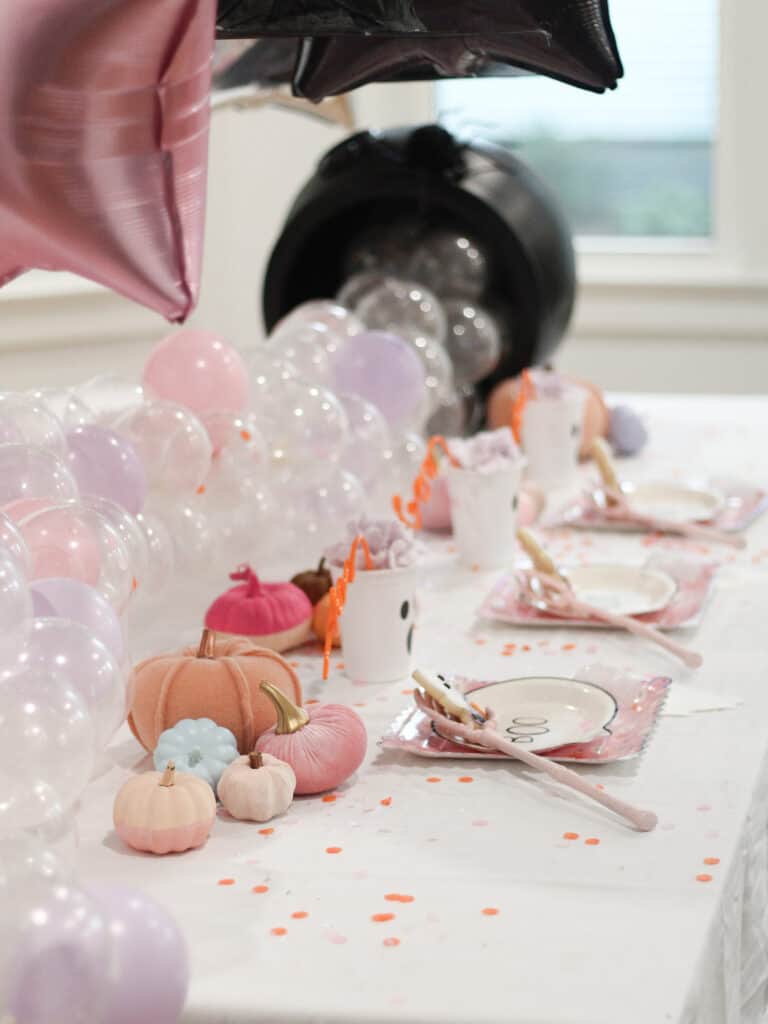 Have the simple balloon garland 'spilling' out of the cauldron and laying on its side.
We used the plates, napkins, cups and straws from the Boo Box. For an added spot of fun we painted the skeleton hands from the dollar spot and added them to each place setting.
That was it – when it comes to kids parties and set ups make them SIMPLE! Make it where you can enjoy the party with your kids and they can enjoy it without you running around stress.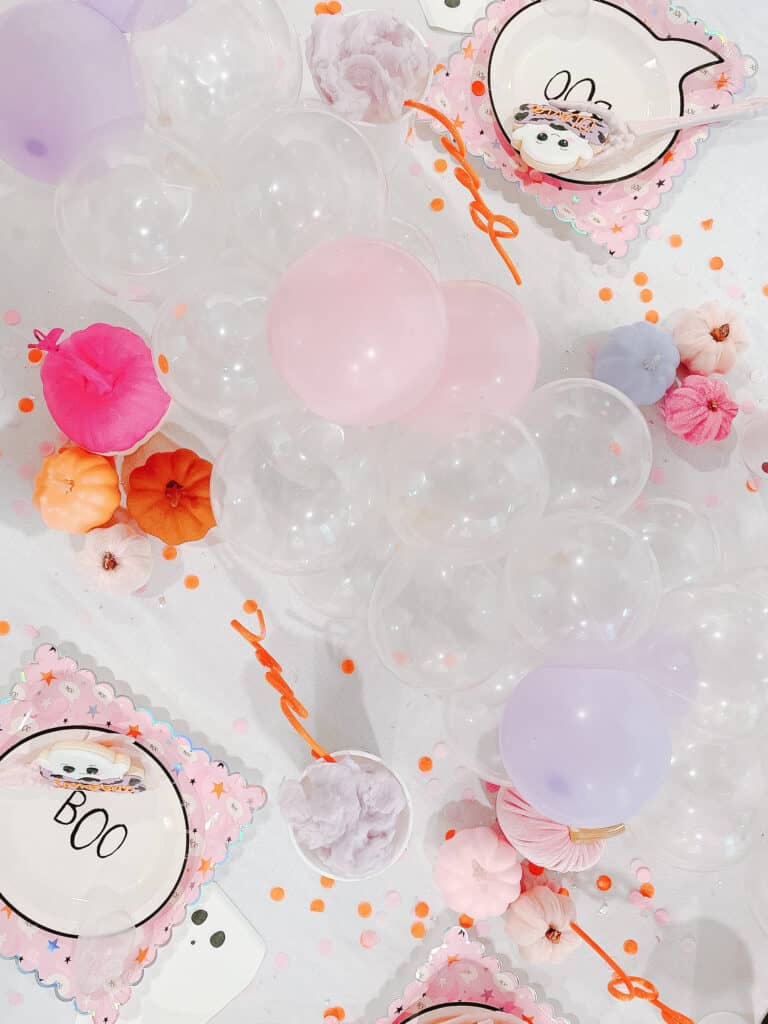 Other Posts You'll Love
If you loved this post check out these other posts you'll love.
Best Family Halloween Costumes | Care Bear Party | Burger Bash | Puppy Party
Pin the Photo Below for Later
Hopefully you feel ready to throw a great kids Halloween Party after this post and feel confident in how simple it can be! If you have any questions leave them in the comments below, and remember to follow me on Instagram (@arinsolange) so you don't miss out on any other fun.