If you are home shopping – I bet you have looked at master bedroom size (or main bedroom). This is the one bedroom that is basically 100% of the time going to be used, and pending your wants and needs in terms of furniture and use, the size really can matter. I am going to walk you through everything you need to know about master bedroom size in this blog post.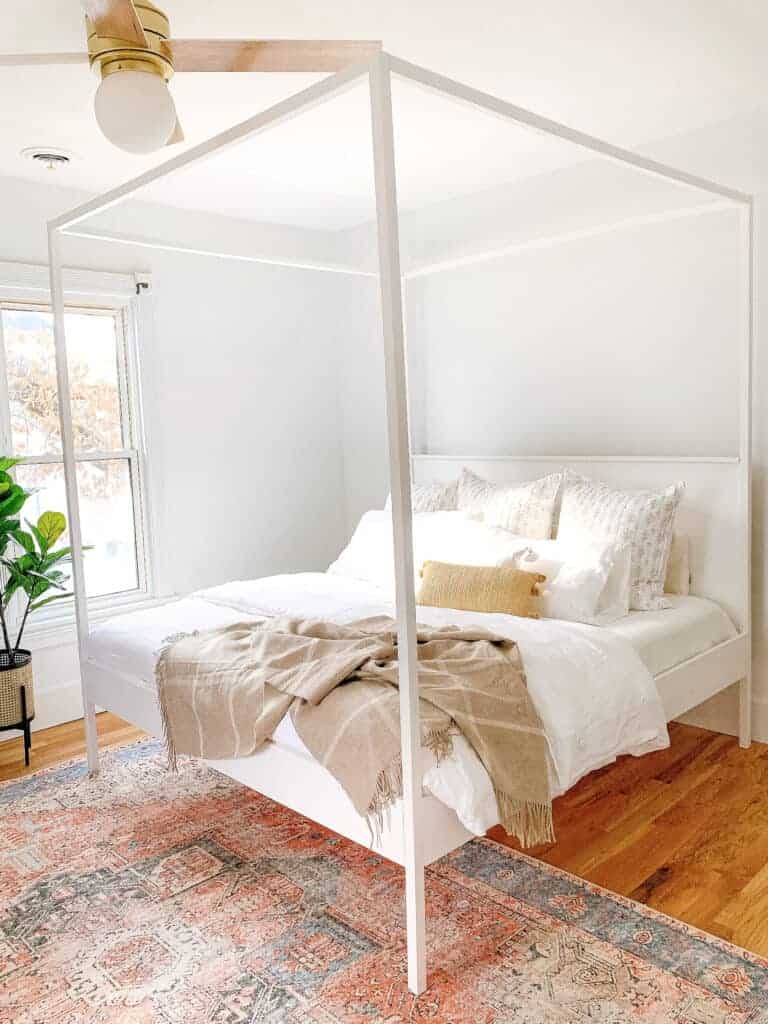 Check out my DIY on this king canopy bed here.
This post may contain affiliate links
Master Bedroom Size
How many times do you get on Realtor or Zillow and look at homes for sale in your neighborhood or surrounding area? Do you compare your home against these homes? Or perhaps, you are simply gathering research and storing all that information away for the distant future.
I love looking at homes, not because I want to buy, but just because I absolutely love real estate. It is so fascinating to me to see how a builder designed a house and I'm often left asking lots of questions. What are the ceiling heights? How many stories? Is the laundry room on the second floor or in the basement? How much space is built into the home?
Of course if you are looking for a new home, you'll want to pay attention to important features like square feet of space, new construction vs. older home, number of bedrooms and bathrooms, and floor plan. One important thing I always like to look at with homes is if there is enough space for my current and future needs.
The amount of space you need is a personal preference, but you'll want to ensure that whatever home you decide to buy is one that you can grow with and provides enough room for your entire family.
You'll need to decide where in the home you'll want that square footage concentrated. For example, is it more important for you to have a large living room or dining room? Or, would you prefer to have several bedrooms? Some homes are designed to have a floor area that is large but with smaller bedrooms.
Other homes divide the floor space more into the bedrooms, and for example, provide larger bedrooms with a spacious master bedroom complete with a sitting area and master suite. The preference is entirely your own.
For this post, I'll focus on common master bedroom sizes as I was so sure that our historic home master bedroom would be a small cramped space. Fortunately, I've put my spin on it and it is perfect for our needs.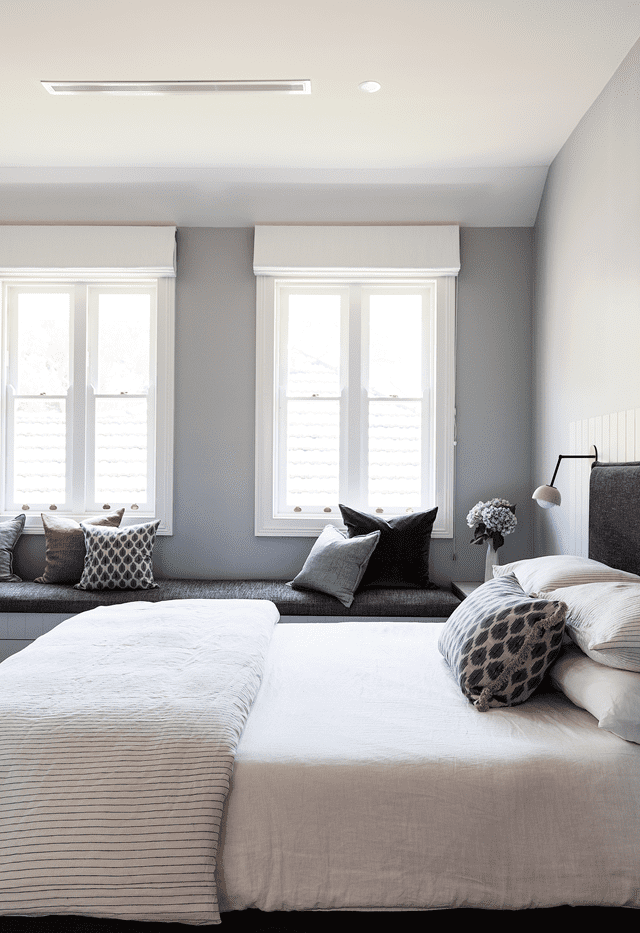 This incredible window seat and bedroom is found here.
The Average Master Bedroom Size
When Sam and I were looking at our current home I was terrified of giving up my large master bedroom. Historic homes aren't known for their walk in closets, master bathroom, or seating area. Quite contrary, historic homes are known for quirky angles, smaller spaces, and little to no storage spaces.
So while walking through our historic home the first time, I was pleasantly surprised to see a larger room with a master bathroom attached. Perhaps this could work out in my favor!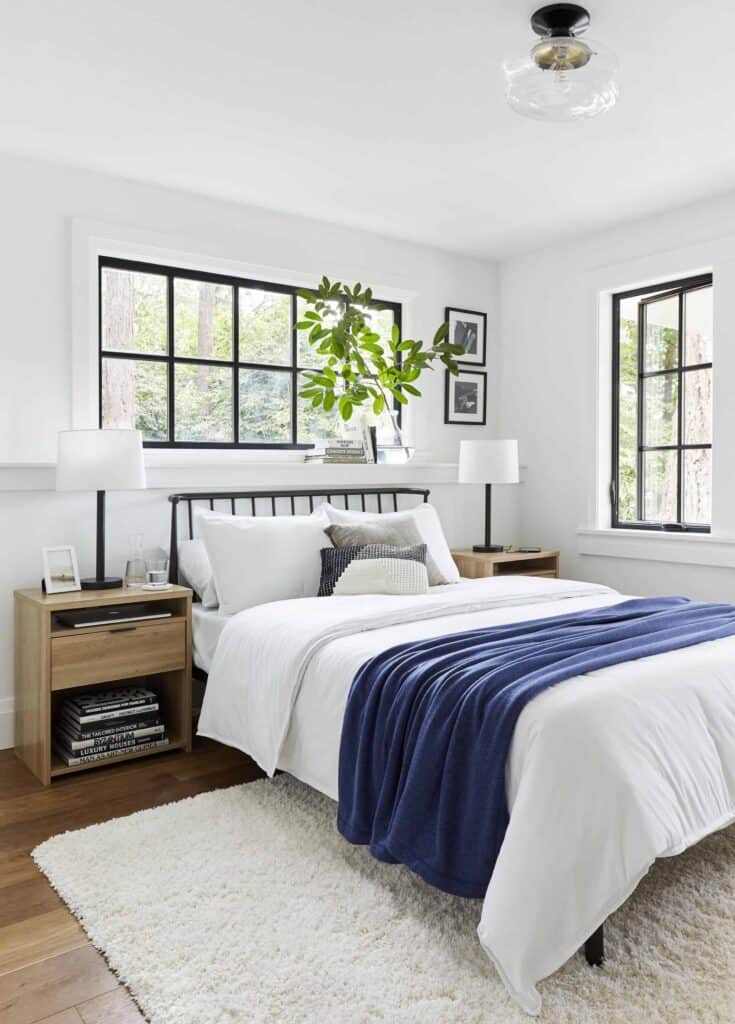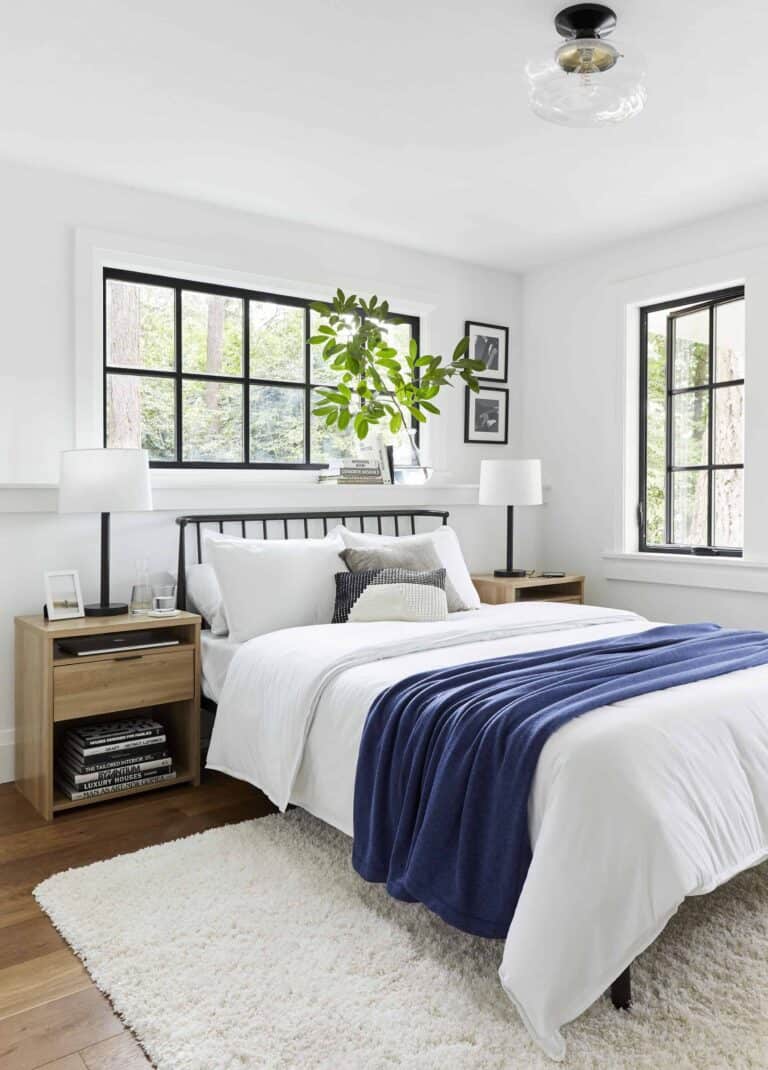 Beautiful bedroom space here.
While looking at any home, you'll want to ensure that your master bedroom is the right size and has a good bedroom layout for you and your partner's needs. Keep in mind what you intend to use your master bedroom for- is it a room where you will go to unwind and rest, or do you intend to use it as an office or reading nook?
The size of your home, budget, and intended use all impact the size of your master bedroom. As a general rule of thumb, large homes have a large master bedroom, and vice versa, small homes tend to have a smaller room. Bedrooms range in sizes with the standard bedroom size being around 132 square feet.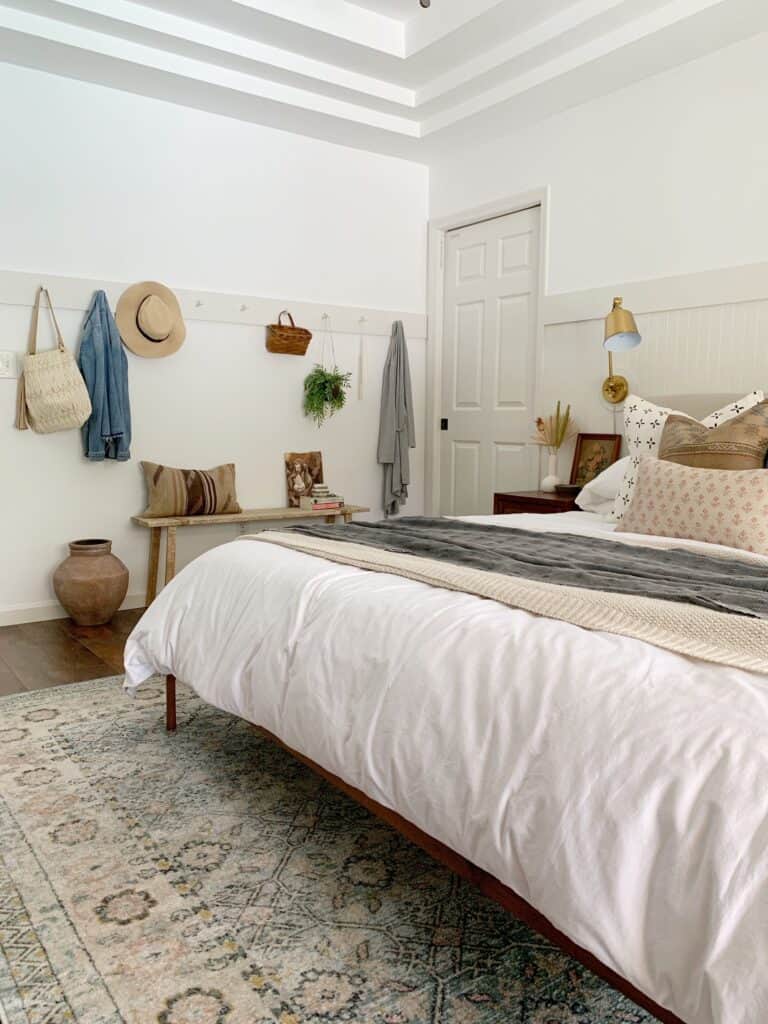 Cozy neutral primary bedroom here
In order to qualify as a bedroom, a room must have a minimum amount of space of 70 square feet, which is one small room! The average master bedroom size is 224 -309 square feet, which leaves plenty of room to fit a king size bed or queen size bed and space to move throughout the room.
On average, homes with 2000-3000 sq ft of living space tend to have master bedrooms approximately 14% larger than the other bedrooms. Larger homes (homes greater than 3000 square feet) have the master bedroom about 43% larger than the other bedrooms.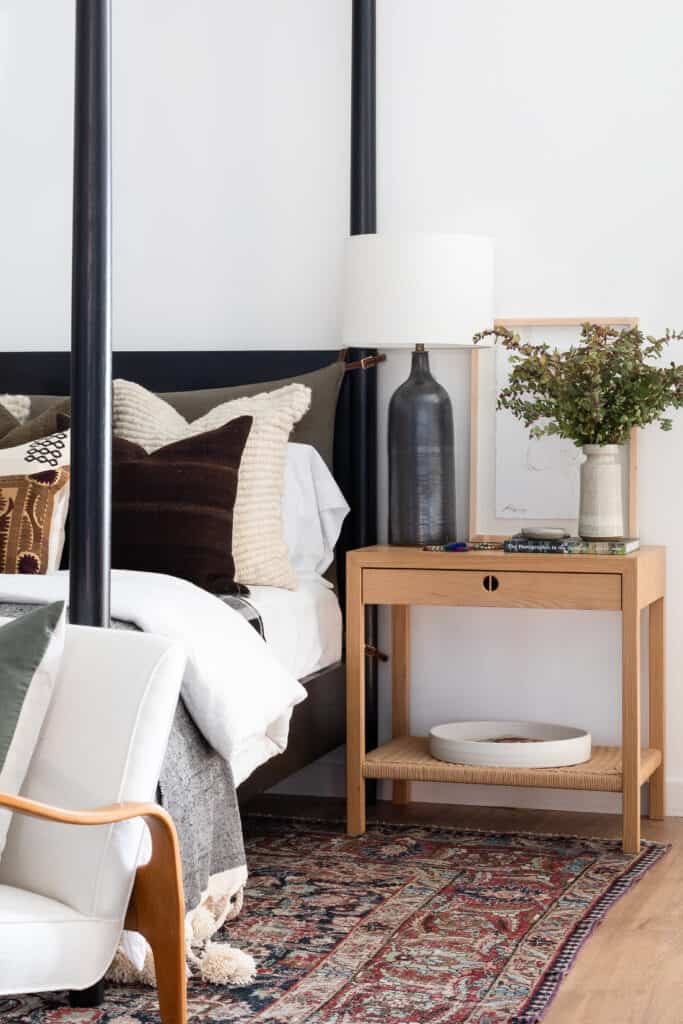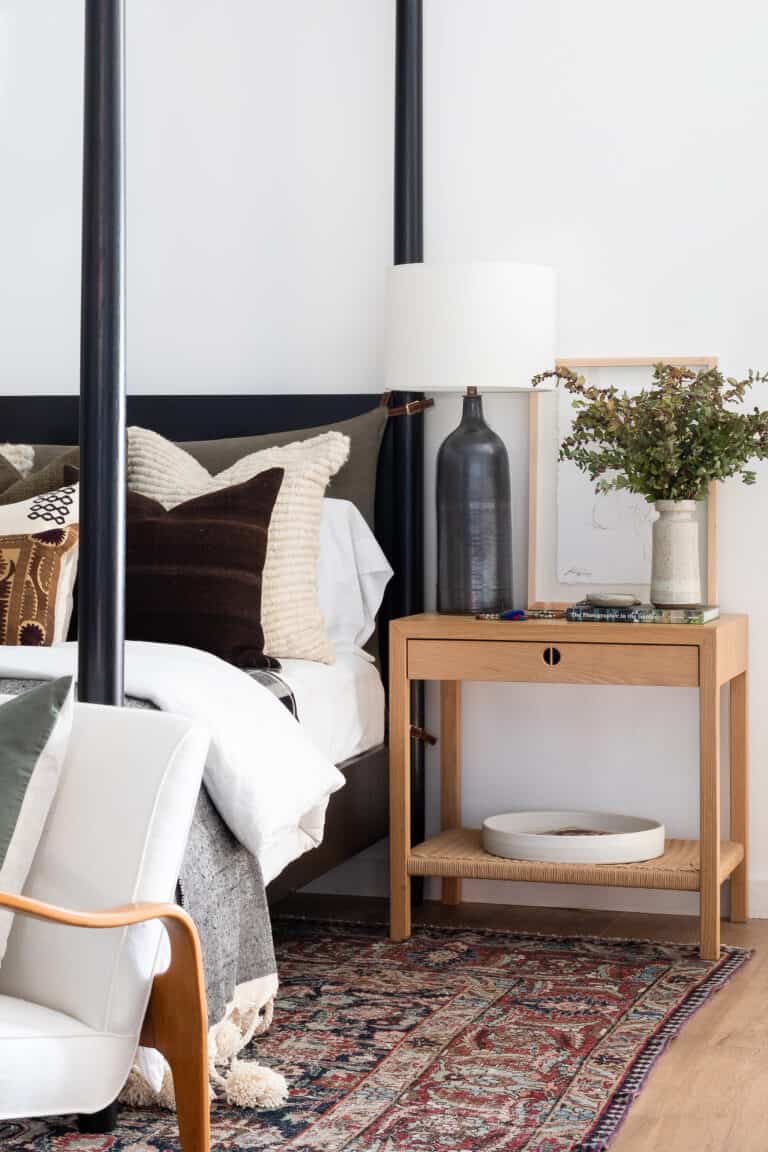 This bedroom is available here
Considering the size of Furniture
Of course bedroom dimensions vary, but you'll want to ensure you have plenty of space for the size of the bed you have and room to walk for easy access. You don't want to have a king-size bed pushed up against both walls and no way to move around the small bedroom.
Additionally, you need to consider other pieces of furniture such as side tables, dressers, and any extra space for seating. If you intend to use your bedroom as an office or if your bedroom is equipped with a seating area, you'll also need to consider additional furniture. How you decide to incorporate that furniture is entirely your choice.
As you may be limited on space, you may have to prioritize what is important. For example, is it more important to have an office space in your room with a queen bed or, would you prefer a california king bed and no office space? All of this is to say that your personal preference and needs dictate how you choose to set up your bedroom space.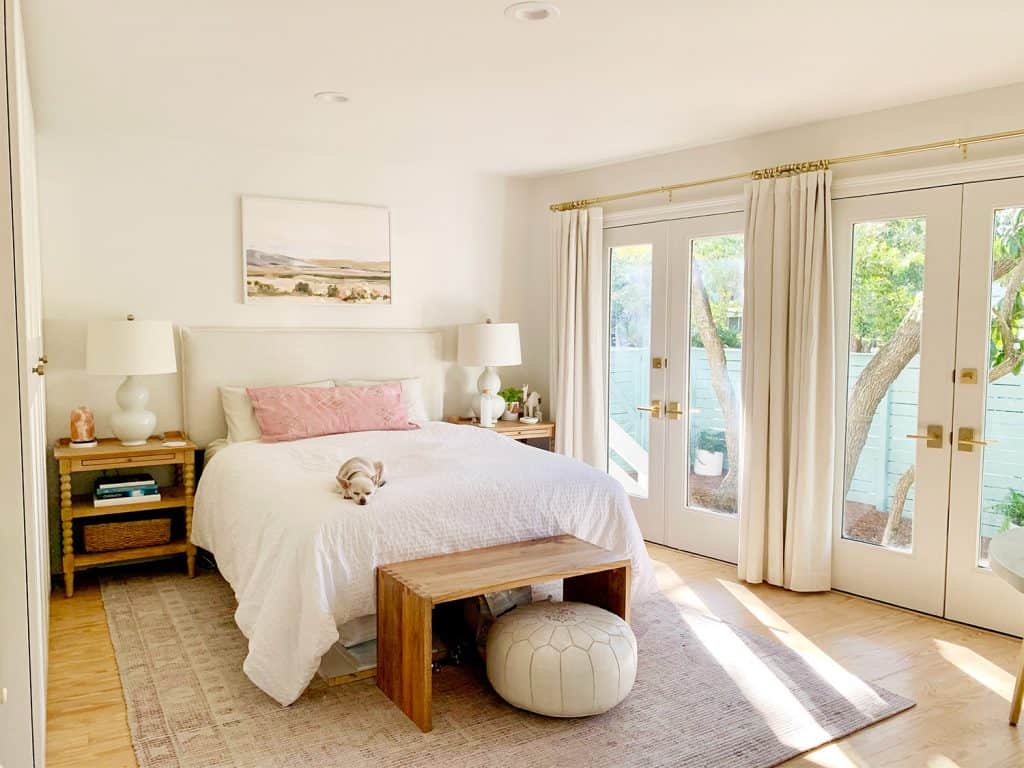 Beautiful and light master bedroom found here.
If you've been around my blog long enough, you'll know that Sam and I built our king size bed directly in our master bedroom, see our post here. Due to our charming angled stairs, the only option we had to get that bed size in our master bedroom was to build our bed in our room. In total, our master bedroom is 228 sq ft. We have plenty of room to move around our king size canopy bed and side tables.
We knew we could accommodate the size of the bed as we made sure to prioritize what we wanted in our room and opted to not go overboard with too much furniture. The one thing our bedroom was missing was a good walk in closet. Fortunately, we were able to take a half bath and renovate it into a great walk-in closet.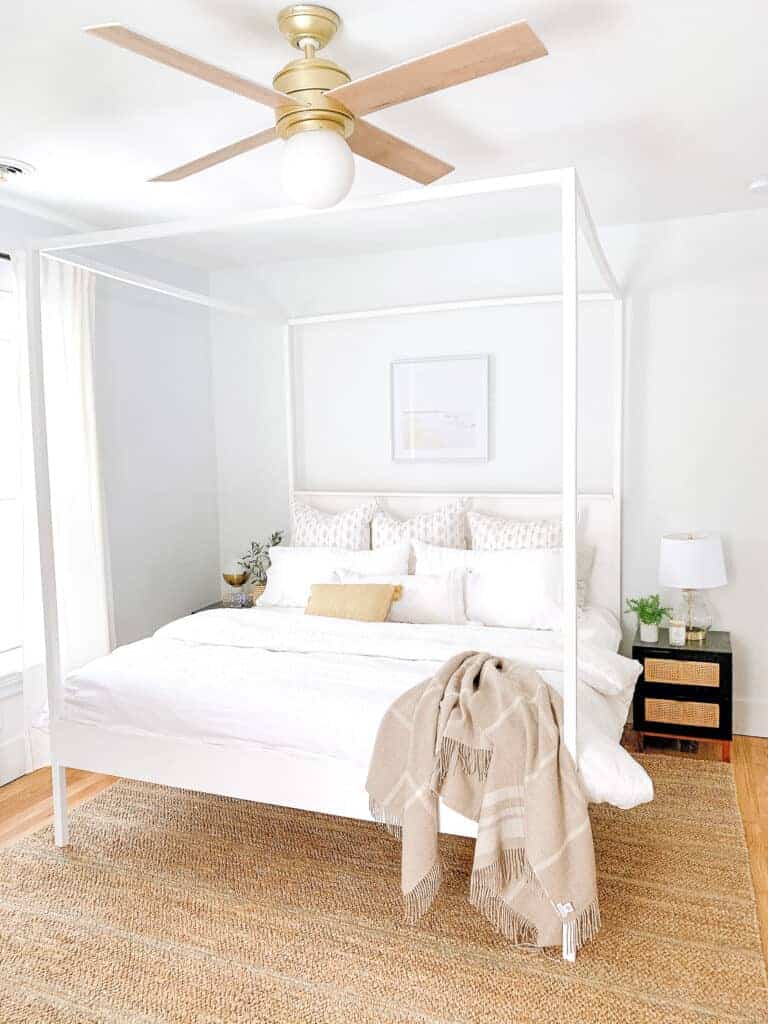 Check out the perfect master bedroom here.
While planning our master bedroom, I knew I wanted the space to feel cozy and comfortable as it is my happy place where I finally unwind after a long day of DIY and juggling kids. I also wanted the space to feel open and bright. By sticking to more neutral colors and keeping my decor simple, the room is not overshadowed by busy and bold patterns. Rather, a seamless cohesive look is achieved.
It is also important to ensure you are picking the right size furniture for your space. We've already touched on the fact that you don't want to have a king size bed where a full-size bed would normally fit comfortably. Instead, choose the furniture that is right for your room. A large room can accommodate larger and heavier pieces of furniture. You may even need to add seating and additional decor to ensure the room does not feel sparse. On the flip side, a smaller room will require bedroom furniture that isn't too heavy.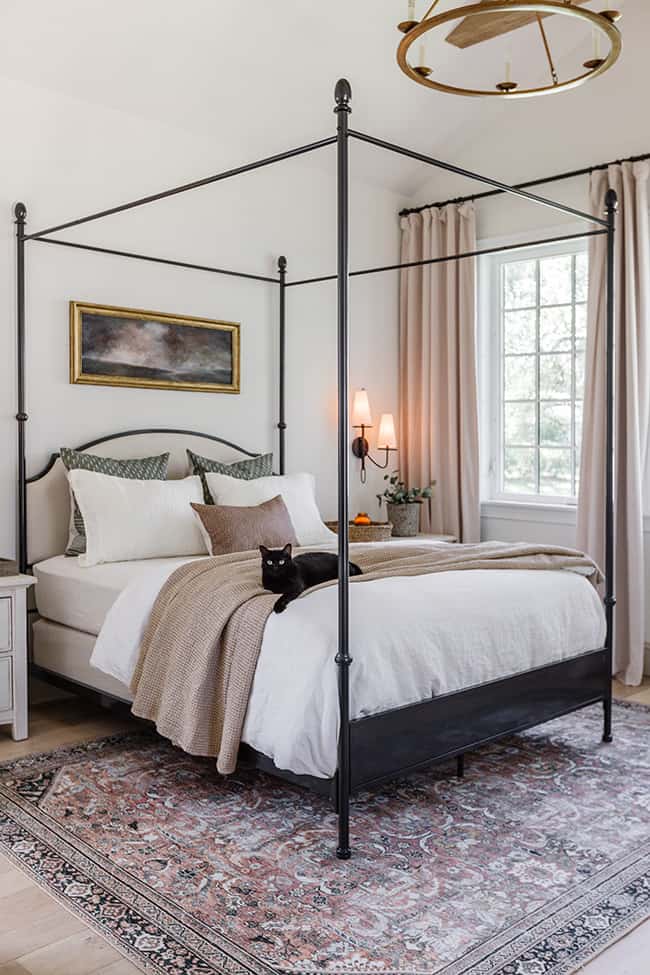 Moody neutral bedroom here
You'll also want to consider adding storage pieces where you can to keep your space more organized and less cluttered. Consider side tables that have multiple drawers or cabinets where you can store clothing. These storage ottomans are some of my favorite items for our bedrooms and bonus, they can be used as additional seating. Lastly, don't overlook your room's lighting.
Lighting can make a big impact on your bedroom space and can make smaller rooms feel much bigger. Hanging overhead lights or installing sconce lights are a great way to incorporate additional lighting, without adding clutter or taking up space. Plus, pendant lights make a great statement and can frame your bed when they are hung above your nightstands.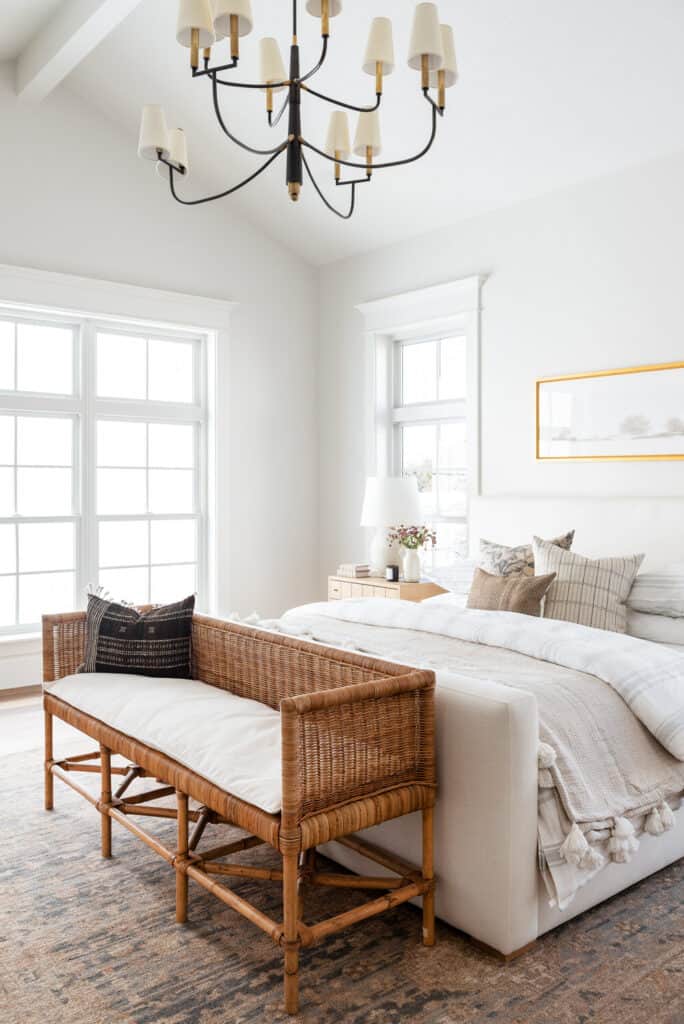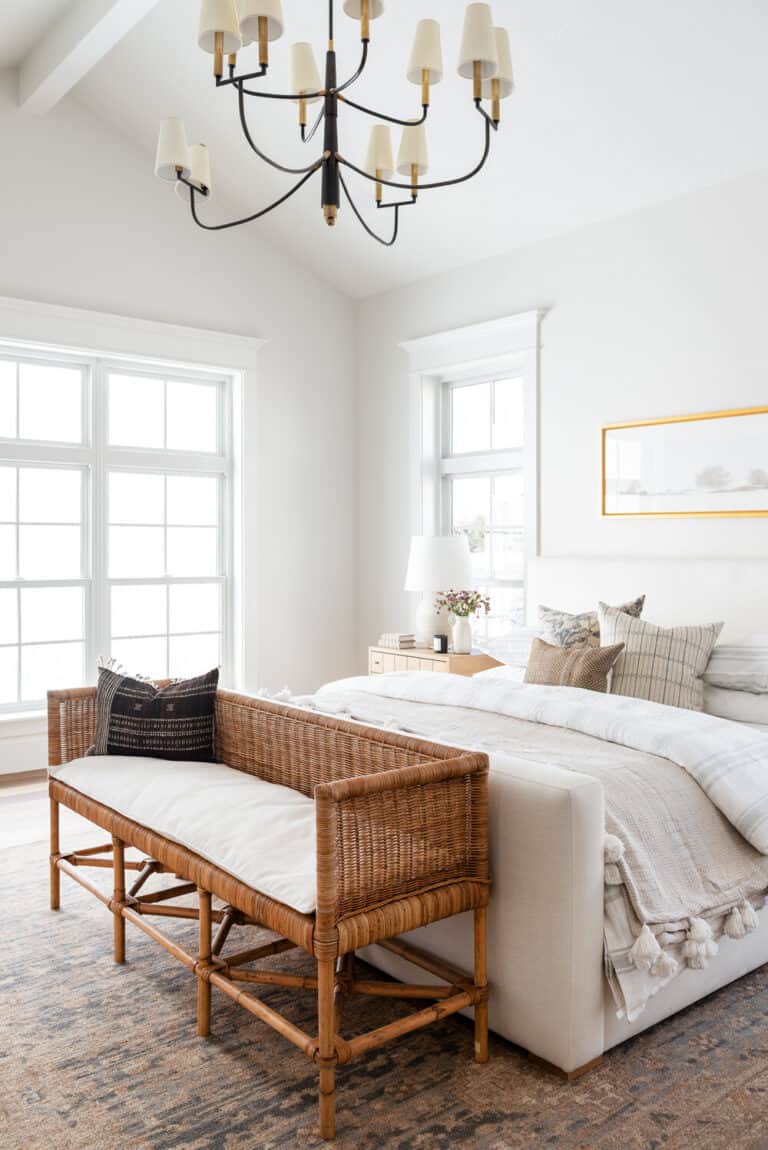 Beautiful master bedroom here.
Hopefully that helps you understand what to think about in terms of what master bedroom size bedroom will work best for you, and you feel ready to tackle and decorate whatever room you have!
Other Posts you'll Love
Here are some other posts you will love if you are looking at Homes
20 Curtain Ideas for Living Areas | Best Ceiling Fans for Bedrooms  |  Master Bedroom Decor and Items from Amazon   |  White Kitchen Backsplash Ideas  |  The best Kitchen Rugs 
Pin the Photo Below for Later
I hope this gave you all some insight on master bedroom size and strategies to implement when designing your room to maximize space. If you have any questions, feel free to leave them in the comments and follow me on Instagram @arinsolange for more home, decor, and DIY!