We are already on week 2 of the One Room Challenge, and I am taking on our dining room. I knew one of the things I for sure wanted to do in this space was update our dining table with a more modern dining table – so I wanted to share this super easy DIY that can be done with basically no tools!
This post may contain affiliate links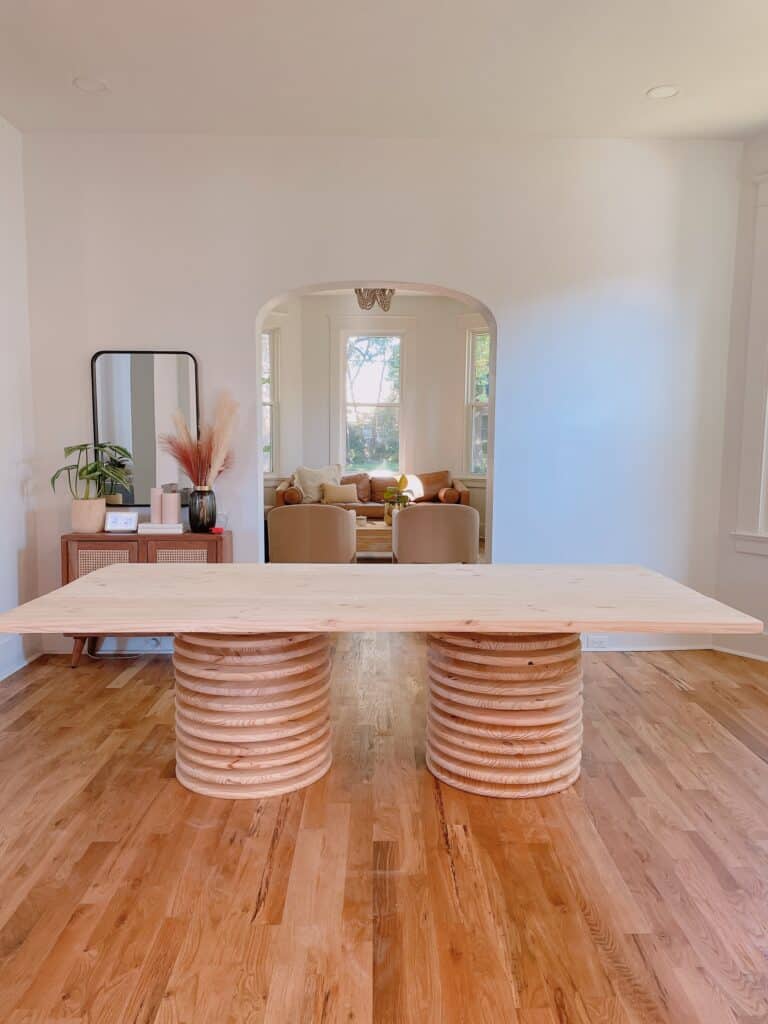 One Room Challenge – Week 2
Incase you missed last weeks post, you can check out this post for my inspiration on our dining room update that I have planned for the One Room Challenge.
Essentially in this challenge participants will take on one room in their home over the course of 8 weeks and give it a full face lift. Some will be big some small, but it is a great way to cheer others on.
Our dining room was a blank slate and I have been wanting to give it the love it deserves, so for this challenge that is exactly what is happening.
DIY Modern Dining Table
We are trucking along with the biggest DIY in the room today, which was a new dining room table. After we built my friend Val a table this summer, I knew I wanted to update our own table. Her design was GORGEOUS, but the legs were A LOT of work, and that was daunting for many of you in terms of a DIY.
Because of that I wanted to see if I could come up with a DIY dining table that would require very little in terms of tools, and be 'easy' for anyone to recreate.
I love modern design, and to mix that into our very old and vintage home, so I knew that having a modern table in the space, with more vintage bones would end up being the perfect look for us. This blog post will walk you through how to make this dining table, and you will have to follow along on Instagram and my blog to see how the room comes together around it.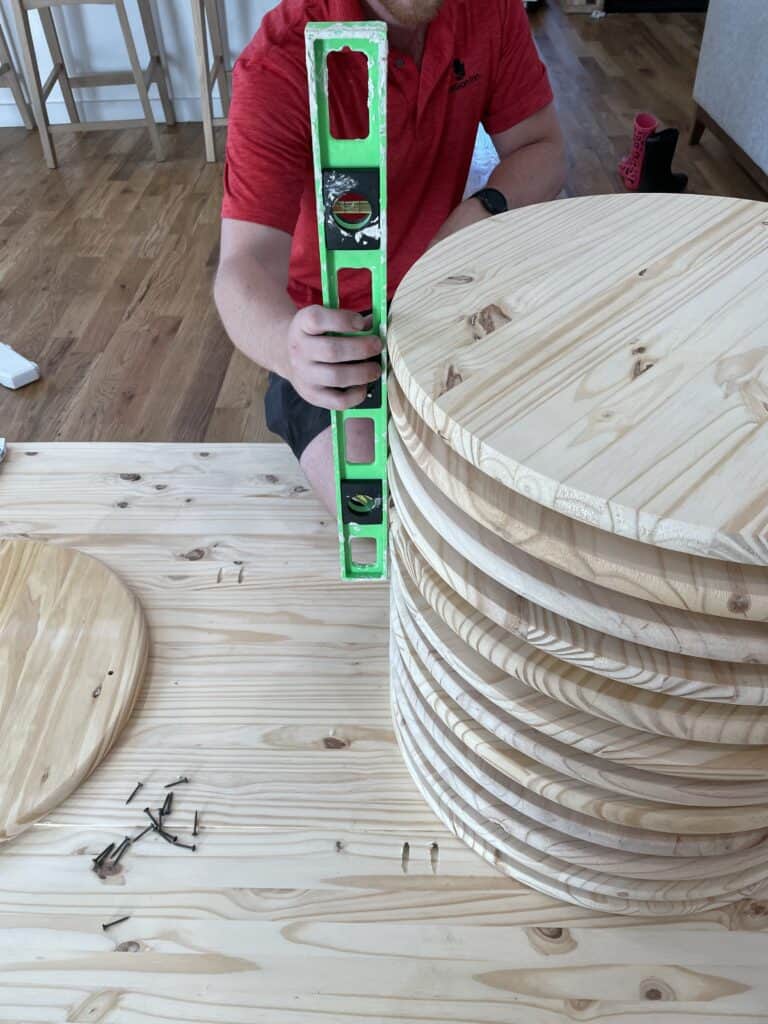 Building a DIY Table
Like I said before – this is not my first table DIY – I did a DIY dining table this summer, and also built a DIY outdoor table a few years ago that has gone bananas on Pinterest.
Building a DIY table doesnt have to be hard, but there are things to keep in mind when you are doing one, no matter what design you go with.
You want to stick to one kind of wood. Different Wood will take stain differently, so sticking with one kind of wood will give you a better end result.
Getting straight lumber that is in good shape is important. Take each board out and inspect them before you buy them. The extra few minutes at the store will make you thankful!
Factor tools into the cost and design you go with. For instance – this DIY Modern dining table costs a little more in supplies than others, but there are very few tools needed, so if you don't have many tools, you won't need to add that to your cost.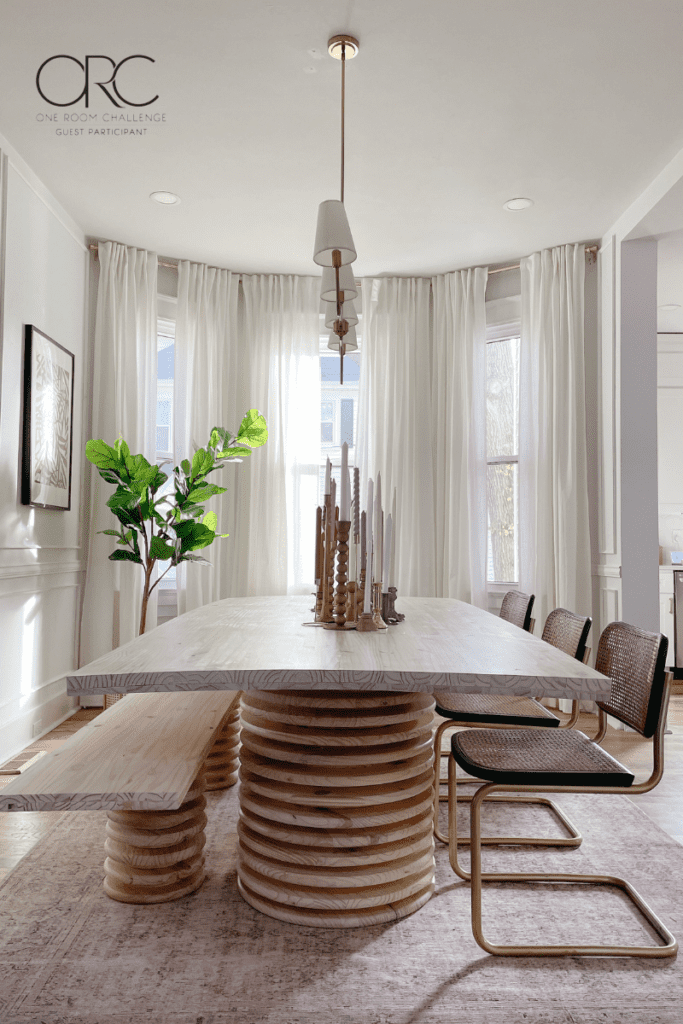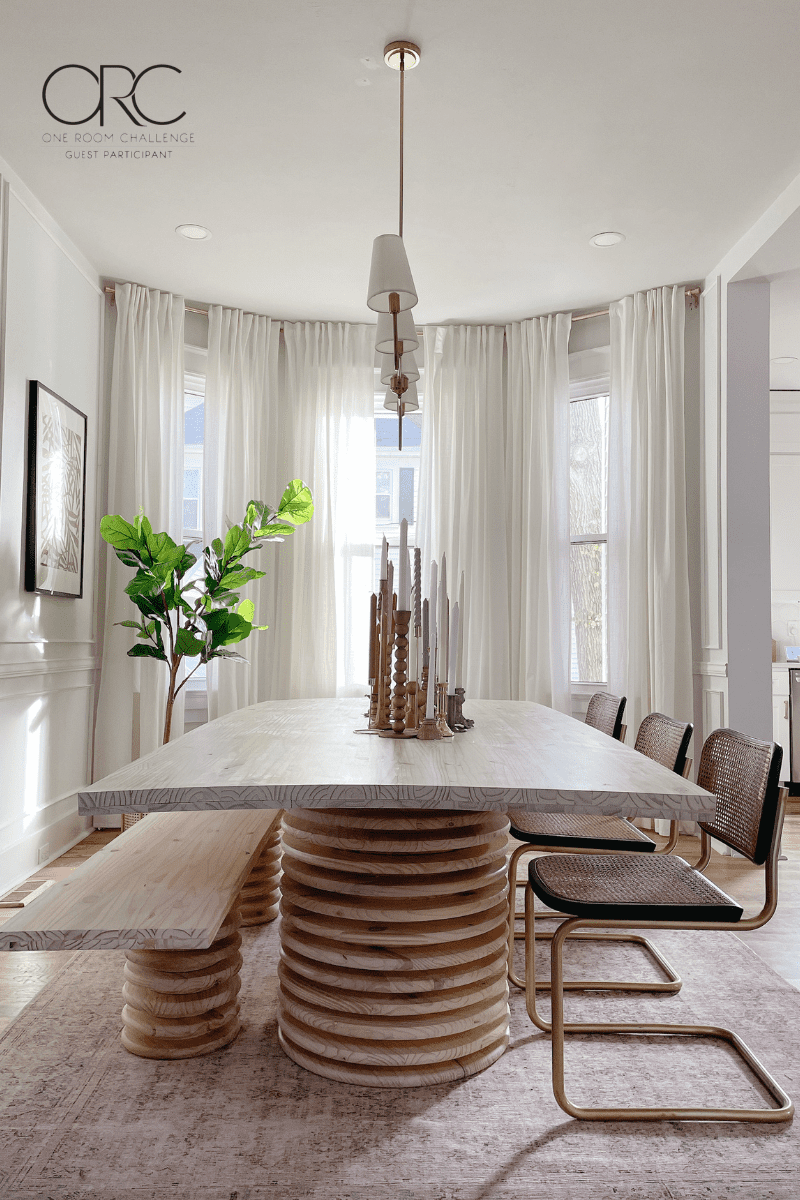 Supplies for Modern Dining Table DIY
Below is what you need in terms of supplies. For us we tend to find the best lumber close to us at Menards, but Lowes, Home Depot, or other local places are great too!
This is also based on an 8 foot long, 4 foot wide table. The width is much wider than average, but we like having a wide dining table. You can adjust the lumber choices if you don't want those measurements.
[6] – 16x1x8 foot pine boards
[26] 24 inch wood Rounds
[24] 18 inch wood rounds
Wood glue – lots of it
Kreg Jig and Scews – you could skip this step if you don't own one.
Sander – electric would be good
Wood filler
Stain of choice – I went with
Wood Conditioner
Polyurethane – water based
Screws for connecting wood rounds – we used 2 inch
Screws for connecting the base to the table top – 1.5 inch
Drill
Larger Clamps – we used these large ones but you could do smaller clamps at the seems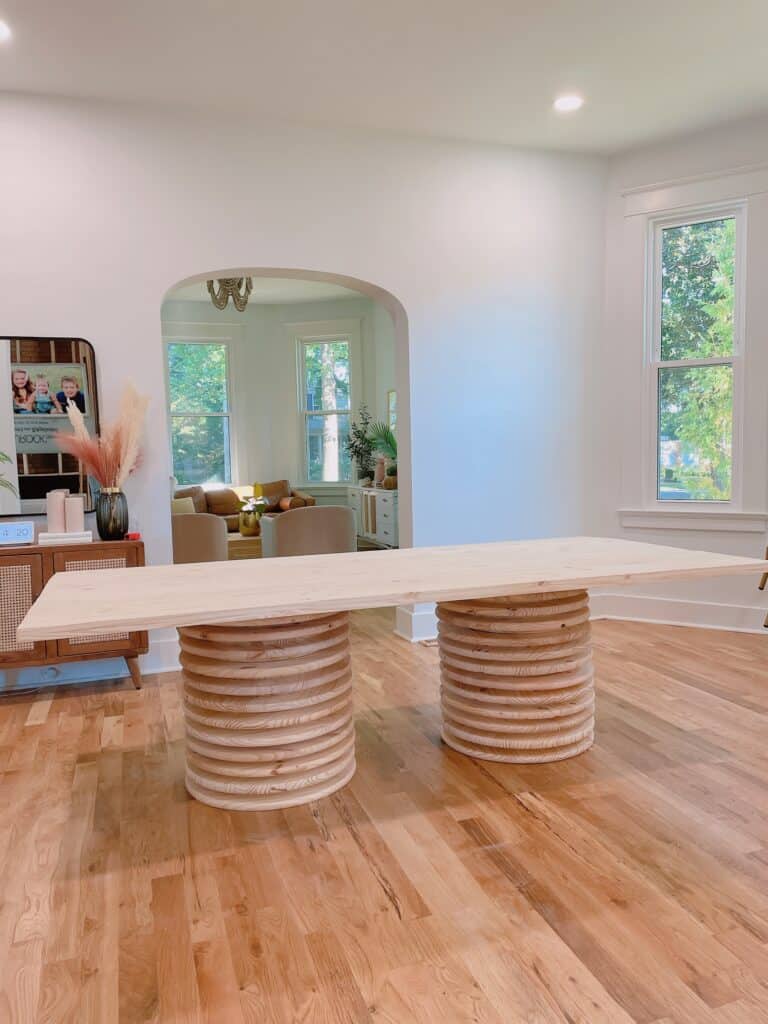 Supplies for Matching Bench
If you want to do a bench with the table top the following supplies are needed. I am not listing things like tools and screws because you should have those for creating the table. This is simply ADDITIONAL items.
12 inch wood rounds
Jigsaw
[2] 1x16x 8 foot pine boards
How to Make your DIY Modern Dining Table
Alright now to how to make this! This is easily a one weekend project and takes very few tools.
Assembling the Tabletop
Your first step is to Sandwich all of wood pieces into stacks of 2. Take each of your 1×16 boards and using wood glue and clamps stack them together. Essentially you are creating 4 2×16 boards.
Once those are dry, put pocket holes into the bottom of 2 of your 2×16's. You are going to use a combination of pocket screws and wood glue to join together all 3 2×16's to create your table top. This is when your larger clamps can come in handy if you have them!
That is by far the hardest part of this. Once your table top is done you will want to use wood filler to fill any cracks and sand the whole table down on the sides and top. It can be really tedious doing that much sanding but it is worth it.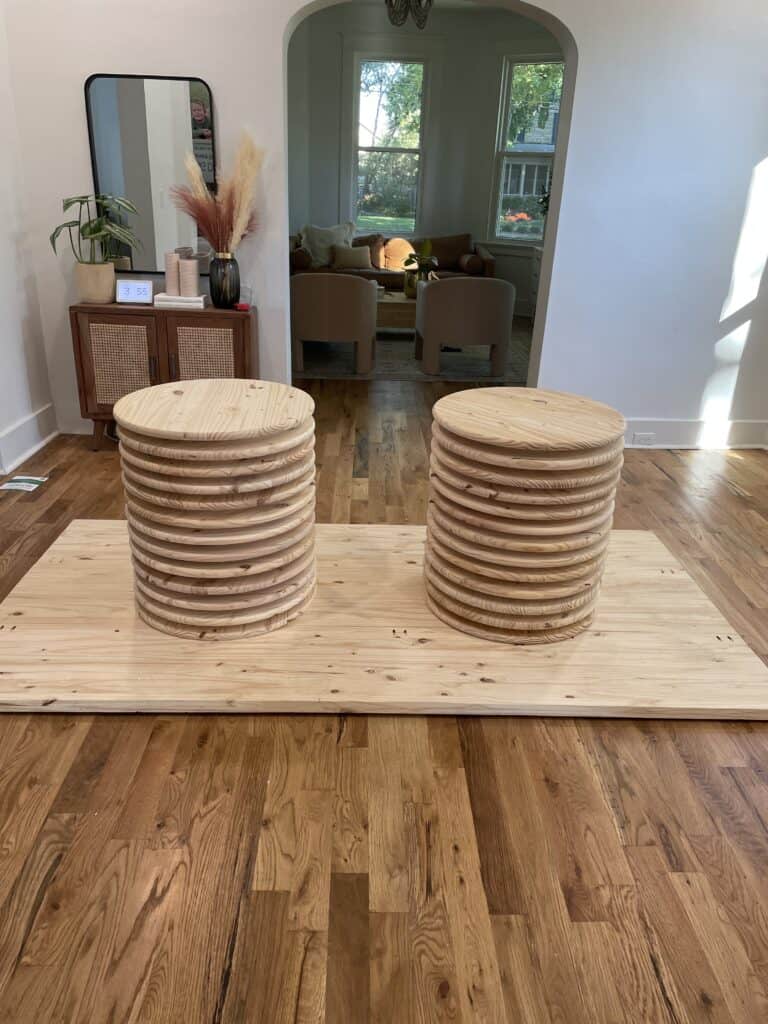 Attaching the Legs
Once your table top is up to your standards flip it upside down and it is time to assemble. Before you start to attach anything you need to find your placement of your 'legs'.
We centered the legs in the middle width wise, then had them 16.5 inches in from the ends for the placement width. I felt that gave it good stability and clearance.
To assemble the legs you are going to go one by one. Place a 24 inch wood round down, and using wood glue and screws attach it to the table top. Next add an 18 inch round in the same way. Keep going until you have done 14 24 inch rounds on each side.
Let this dry for 24 hours before you flip the table!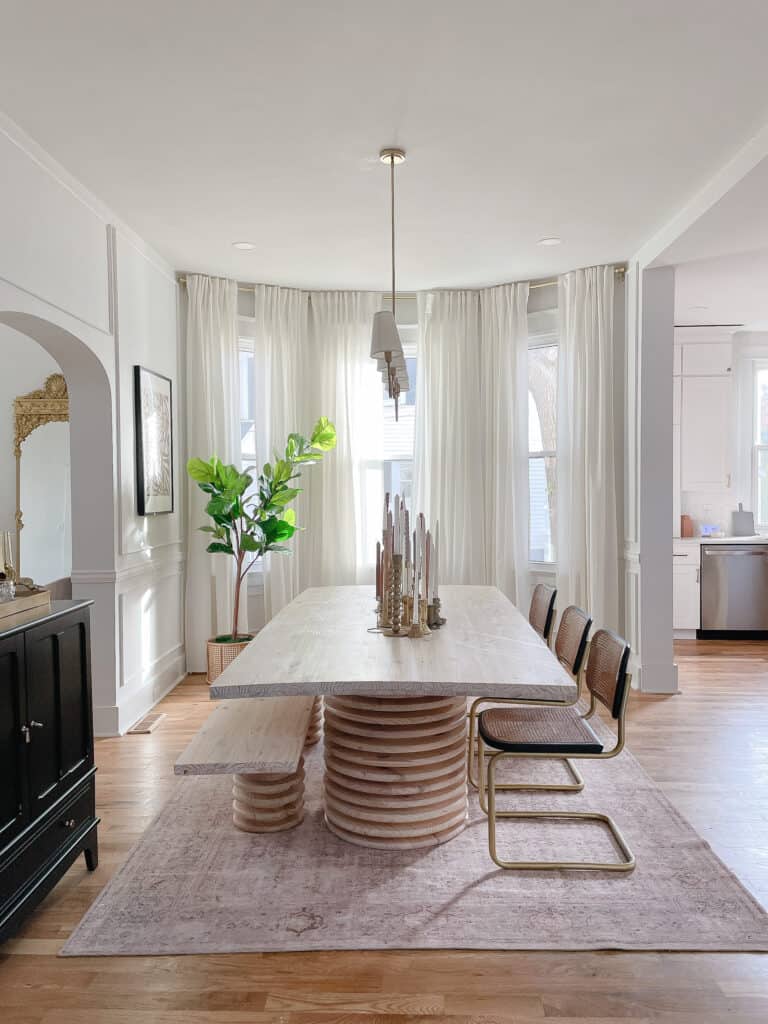 Staining and Finishing
Once your Table is done – it is time stain and finish it. Before you stain, you need to wood condition the entire table. This will allow it to dry in a more uniform manner.
Next apply your stain, and finally finish it with 2 coats of a water based polyurethane sealer.
And then you are done!! Follow the the same steps above for the bench if you are gong to go that route!
Other Posts You'll Love
DIY Dining Table | DIY Outdoor Table | DIY Stools | DIY Built in Cabinets
Pin the Photo Below for Later
Hopefully you enjoyed this tutorial on how to build a DIY modern dining table and you are ready to tackle the project yourself. If you have any questions be sure to leave them in the comments below, and be sure to follow me on Instagram (@arinsolange) for more fun and DIY.