I am SUPER excited to finally share this post with you all. I have been talking this IKEA Billy Bookcase built-in hack using the IKEA Billy Bookcases on my Instagram stories for the past few weeks, and from the response on there, you guys are excited too!
Sam and I are in the middle of converting his old office to be my home office which will hopefully be revealed in the next couple of weeks, but until then I wanted to share hands down my favorite DIY to date for this IKEA built-in hack.
I will break down the steps and price in this post, but be sure to leave me any questions in the comments or send me an email! Once you're done with this be sure to check out the rest of my IKEA hacks in one post here!
These were done in my home office – see that here!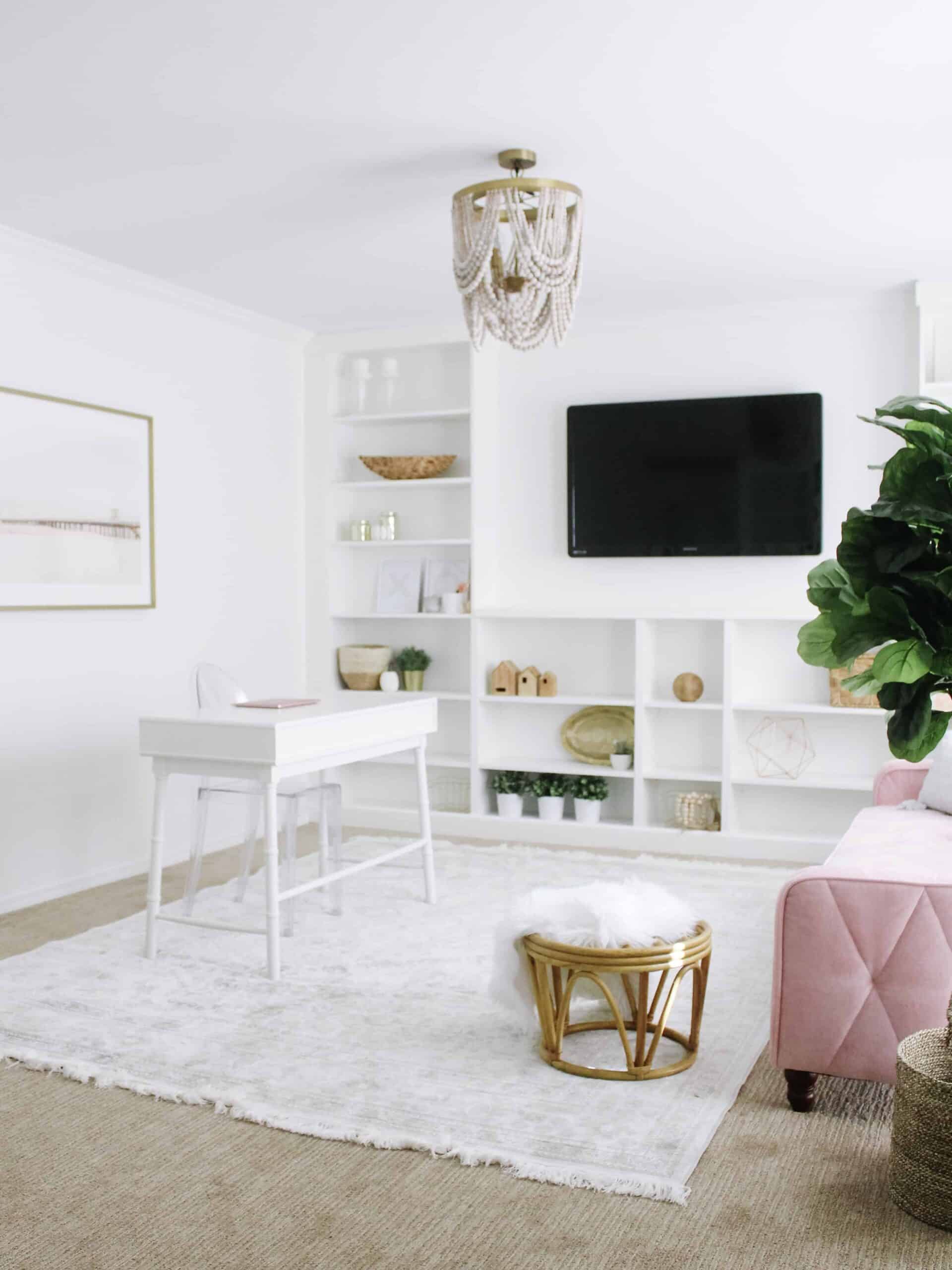 This post contains affiliate links
IKEA Billy Bookcase Built-in Hack
Before you get started I want to be very clear to state that this will likely not look the exact same for any two houses. You want to measure your space first to see how many IKEA Billy Bookcase units will fit with some wiggle room and then start your math. My exact breakdown is for my space.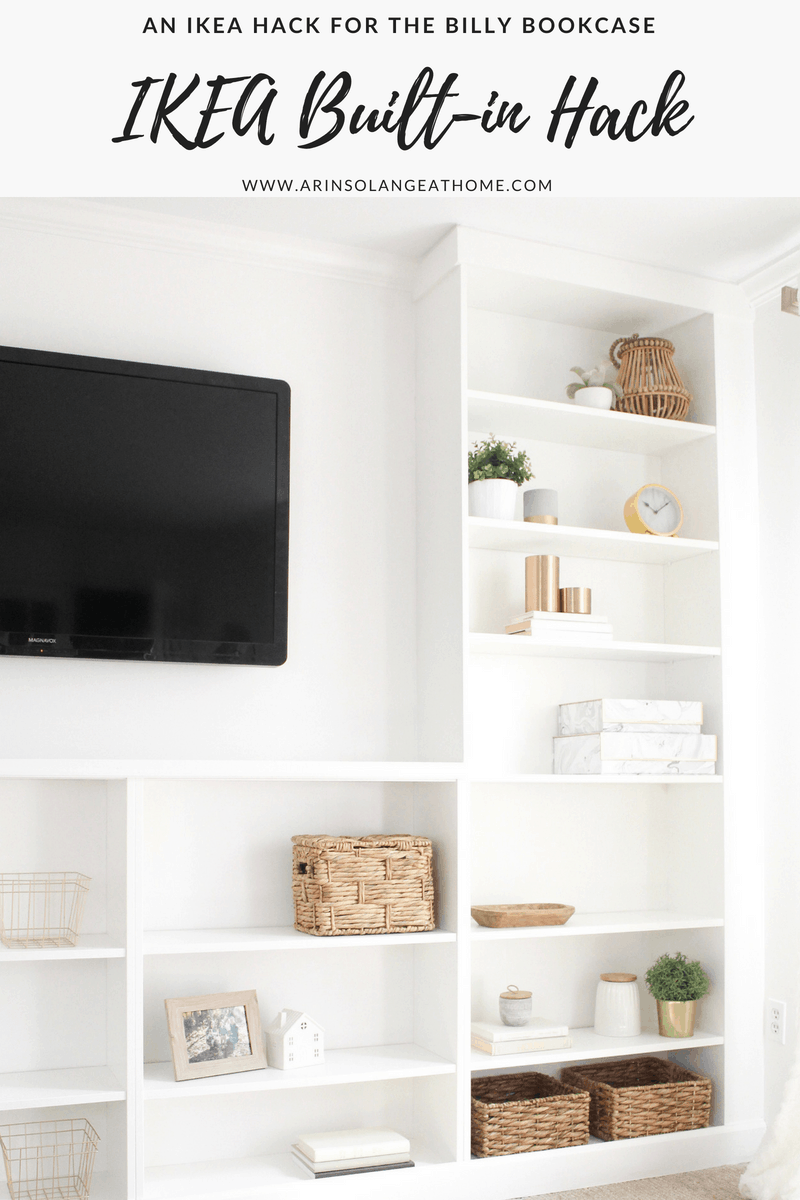 We knew based on where my office is (right off the front door) that we wanted it to really mesh with the rest of our house, and for us that means bright and clean. I had a vision for the office, but contracting out built ins is crazy expensive.
(incase any of you have similar 1980's/90's homes, our home office was once the formal living room. When we moved in we had French doors added to make it more of an official office, and it has gone on from there.)
I knew there had to be a way to do built-ins ourselves with our limited knowledge on DIY if we took our time. The end outcome was more than we could have asked for, and is something we will probably recreate slightly differently in another area of the house down the road.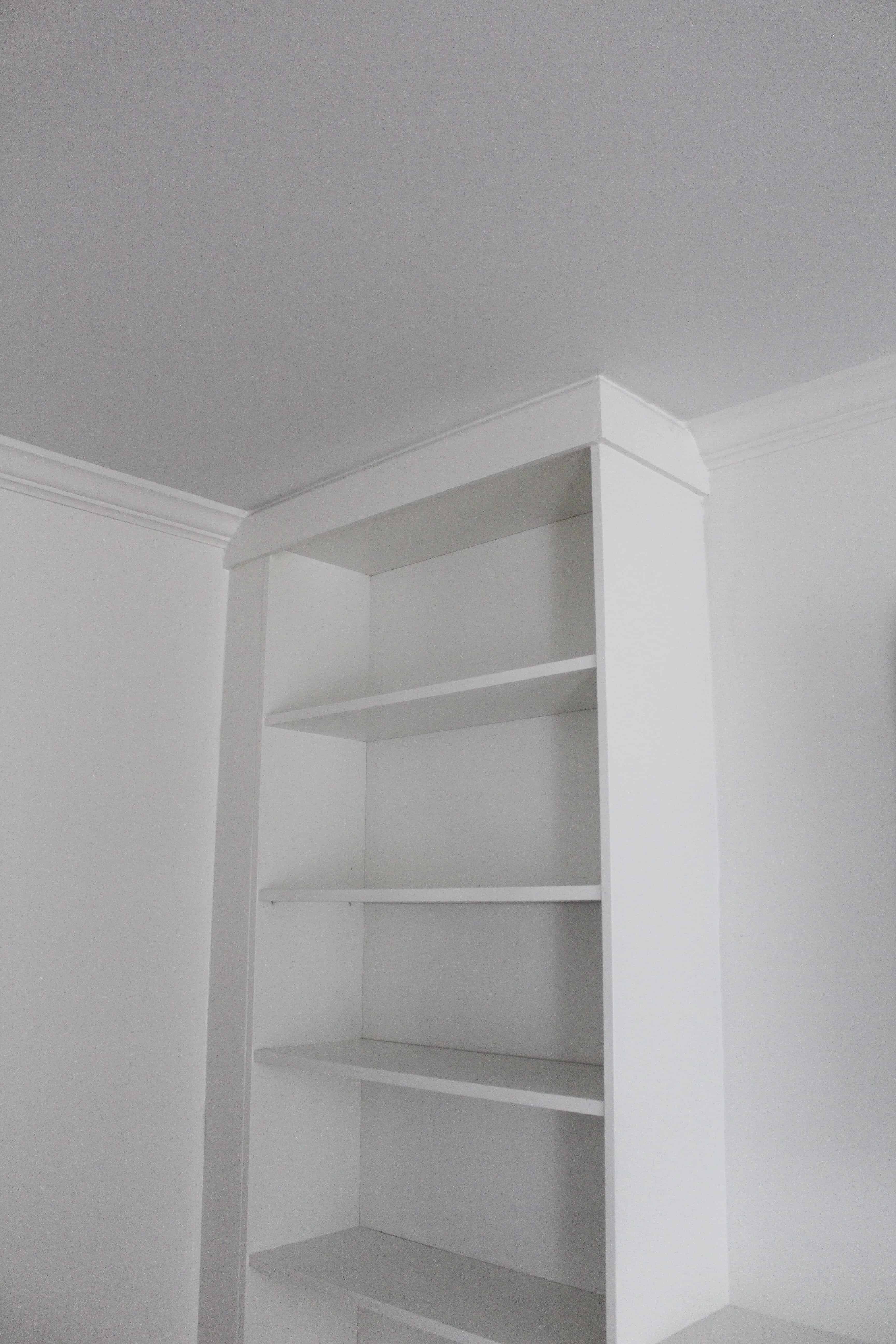 Ikea Billy Bookcase Built-in Hack Materials
Again I will do my disclaimer here. Do your math on your wall. For us the best fit with some extra room was to do 4 full width billy bookcases and 1 skinny billy bookcase. That may not be the case for your space.
You also could definitely do this floor to ceiling all the wall through, but we chose to hang a tv!
(2) IKEA Billy Bookcase 31.5 x 79.5
(1) IKEA Billy Bookcase 15.75 x 41.75
(2) IKEA Bookcase 31.5 x 41.75
(2) IKEA Billy Height extension kit
1 board – 11.5 in x 78.5 in x 1 inch tall
1 inch trim – 78.5 in long
1 board – 9×2 (90 inches long)
Molding for the length of your wall and to wrap the top of your bookcases
Paint Sprayer ( i post about this so much because it is probably my favorite Amazon purchase yet!)
Paint
Spackel/Nails/Caulk
IKEA Billy Bookcase Built-in Hack
Bookcase Assembly
First things first – you need to assemble each of your Billy bookcase's and add any height extenders. As you can see we purchased height extenders for both the taller ones to get them closer to the ceiling. (essentially, these are additional height you can order for the Billy Bookcase that adds 1 shelf).
Leave the backs off during assembly until the next step!
I would guess that for most homes if you are doing the taller sides or tall Billys through the full thing you will need the height extenders!
In the image below – the original billy goes to the top shelf. The Extender makes the original top a shelf and adds that top area!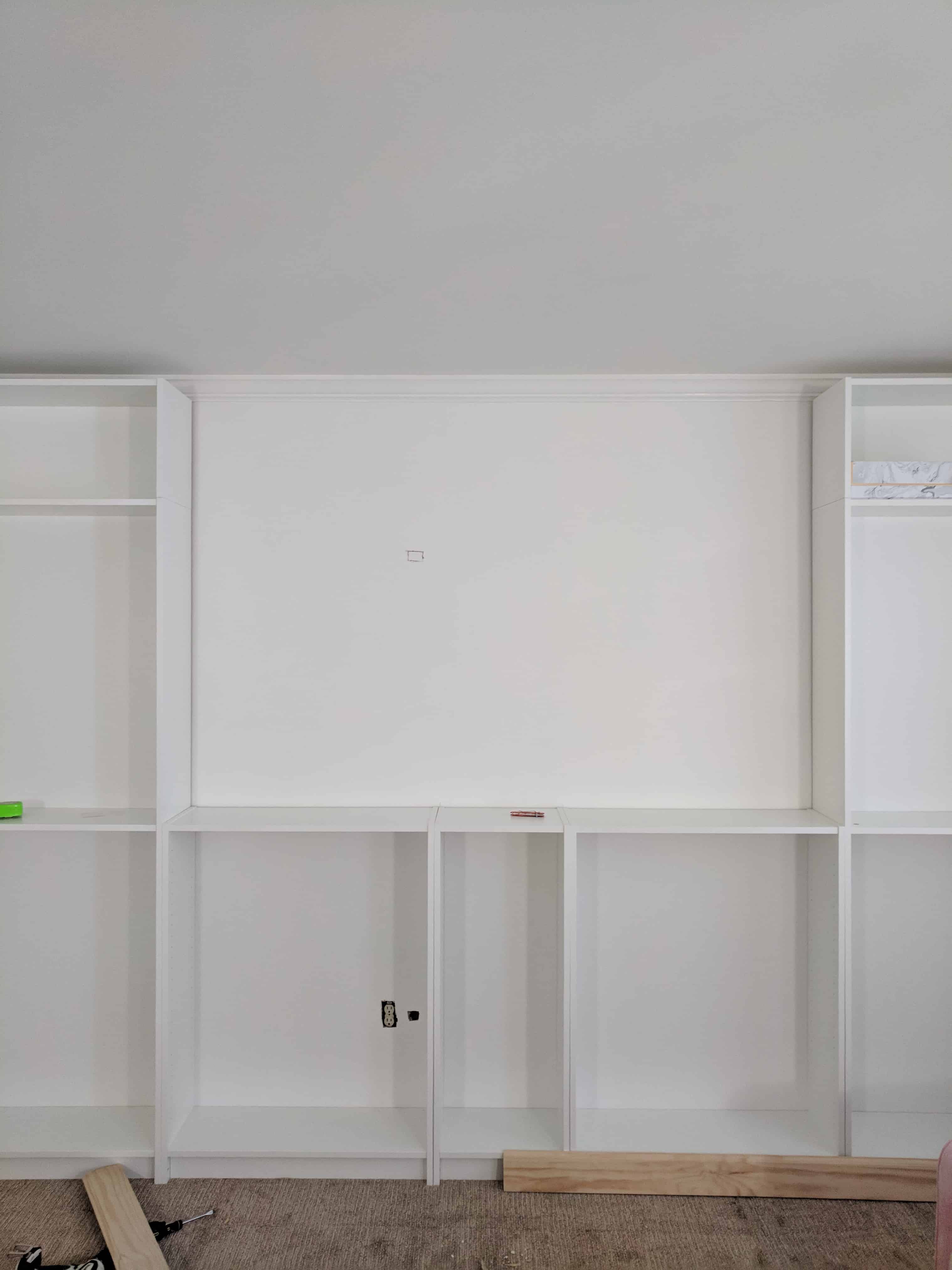 Next – Before you slide on your back pieces you need to measure where your outlets are going to be so you can cut holes for those. We had one outlet against that wall and knew it would be needed, so it could not be hidden!
THIS IS YOUR ONLY CHANCE TO DO THIS.
We didn't have proper tools, so our final look was not perfect on these holes, but we we able to sort of fix the issue with a piece when the built ins were done.
The reason for the 2 holes was that we knew we were mounting a TV over our middle section, so we put an access hole to be able to cut a hole for the TV plug in to go through the wall, then pop out by the outlet. We actually do this when we mount any of our TV's over a dresser, but again – if that is your plan, plan ahead so you can have your hole in the wall and the back of the built in before it is secured in place!
Securing The Bookcases
Now starts the assembly. Measure the center of your wall, and place your center built in against the wall exactly centered. You will then start adding built ins to the sides of that one.
Once they are all slid into place and butted up against one another its time to attach them to each other.
You can see in the photo below – if you screw the built ins together via the bottom portion of the bookcases that will end up being hidden! Use substantial screws here, because as they will be hidden you want them well connected!
At the end of that step all of your built ins should be connected in one big long piece. They are at this point all connected length wise, but in no way connected to the wall, so we need to now make the happen.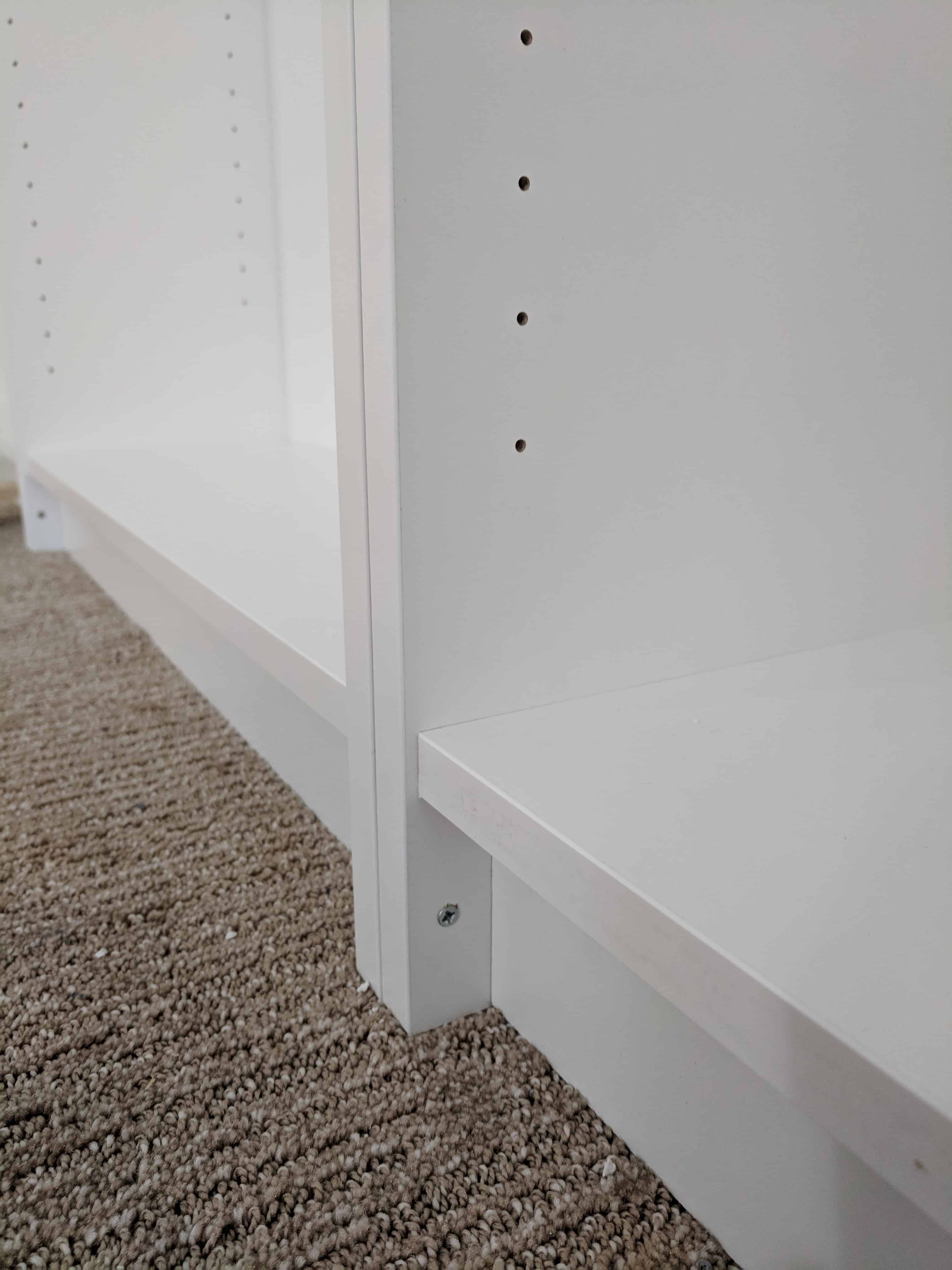 Next it is time to attach them to the walls! You are going to use L brackets (like these) and attach your built ins to back walls. If you have a gap on each side of the built ins thats a perfect place to attach these L brackets, because again they will be covered when finishings start being added!
We added a total of 6 L brackets between the walls and the built ins to fully secure them to the back wall. One on top, one in the middle, and one at the bottom.
You bracket will get screwed into the side of the built in and the back wall.
We also added L brackets on the top of the built-ins going into the back wall. This was trickier for us due to the crown moulding, but if you don't have that it will be just as easy as the sides, and again those brackets will be hidden with finish work.
So now your built ins are one long piece and bracketed to the wall. It's time to start finishing them out to make them look built in.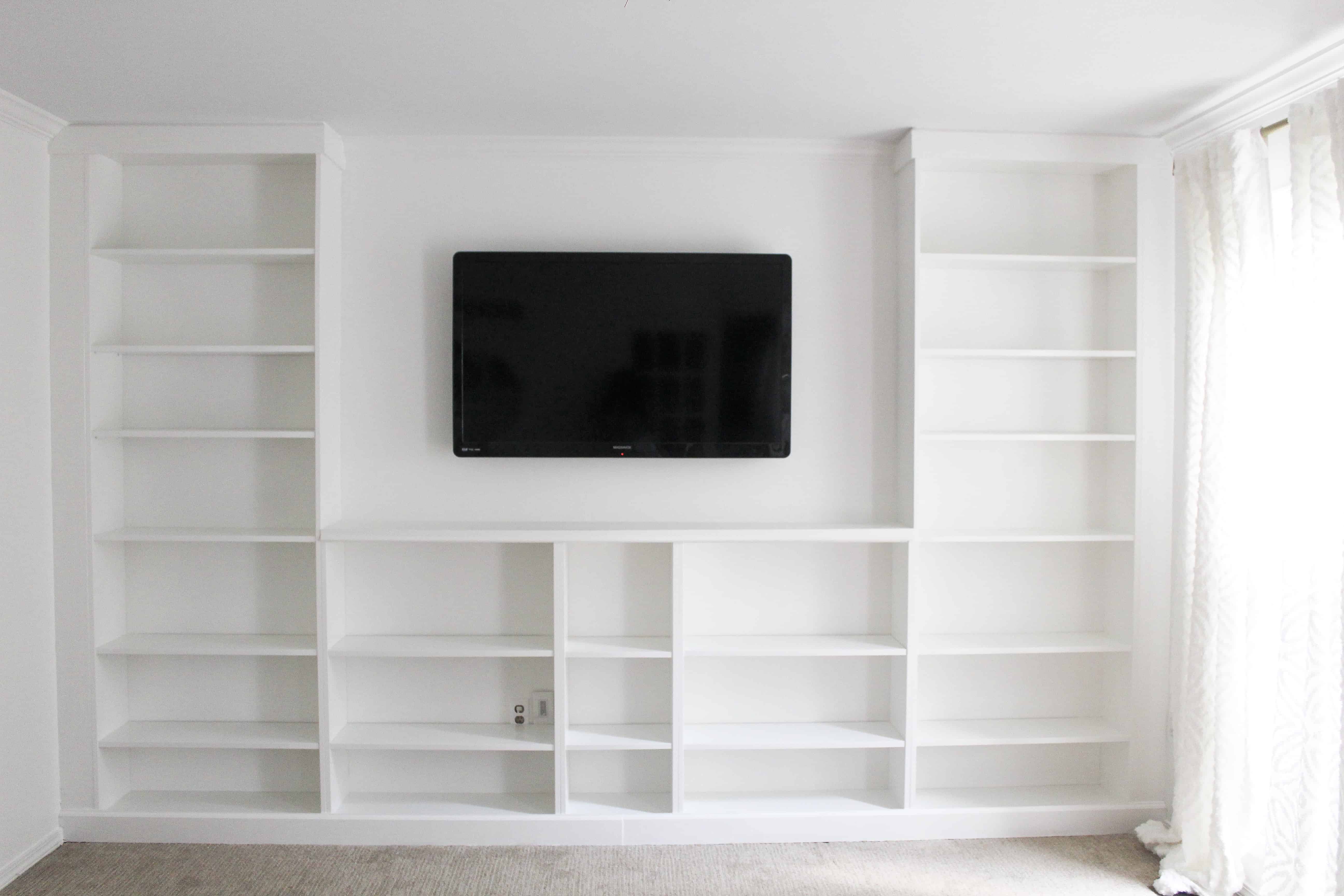 The finishings – making them look built in
So now that you need to start making these Billy Bookcases look built in. One thing to note is our measurements will almost certainly not be yours in this step, and that this will likely work slightly differently in each space. Be patient and flexible!!
This step is all about finding where you have gaps, and things showing that wouldn't be on a typical built in, and hiding them with trim and lumber.
First you need to add your side boards. AKA – the boards that will go alongside your built in and fill the gap between them and the other walls. (ours were the 9×2 boards that were 90 inches long).
We had them halved at the store so each side was fit with a board that was 4.5 inches wide and 90 inches tall.
We basically wedged them in to fit along the sides of the bookcases and the wall. (notice your L brackets are now hidden!) They fit SNUG and we screwed them into the built ins (coming in from the side of the bookcase into the board)
A few extra screws wont matter due to all the filling you will do later.
Next you will attach your bottom trim.
You need to cut it to fit around your baseboards like you see in our photo, but you will use caulk to perfect it when you're done. Don't worry that it isn't a perfect fit – we are not professionals so ours was not great, but paintable caulk made it look like we have been doing this our whole lives.
Now you can attach your table top board to the shorter, center Billy bookcases.
Simply lay your board on top (this was our 11.5 inch deep board). Screw in from the top of the Billy's, going into the bottom of the new board. This now makes for 1 flat table top instead of the divided look with the multiple Billy Bookcases.
Attach the 1 inch trim to the front of that board, as seen in the photo using nails to hide the breaks between each bookcase. (if you have a nail gun this would be a perfect step for a nail gun to make things much more seamless.
We have since gotten THIS nailgun from Amazon and it makes things work so much smoother)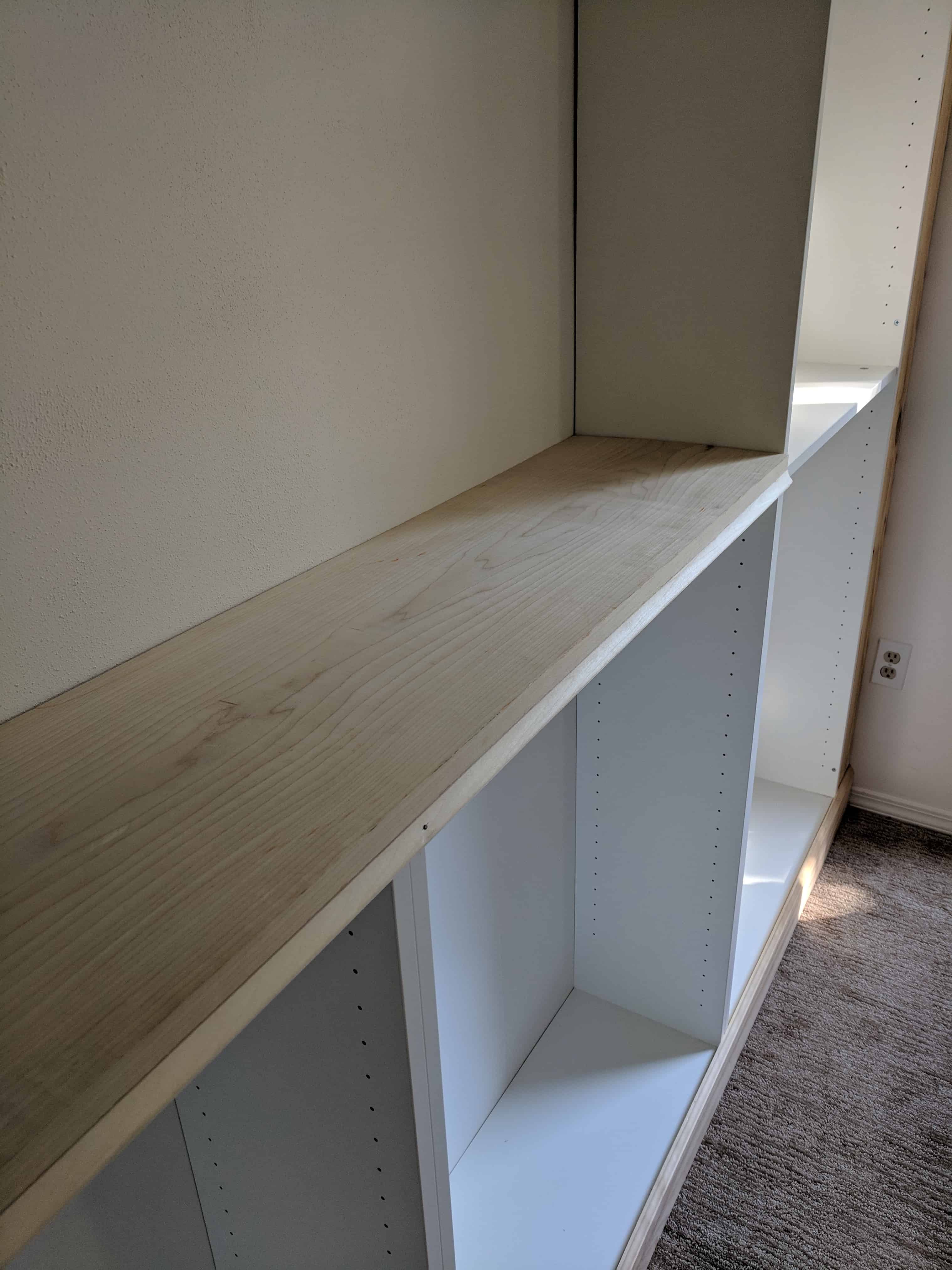 The last big piece is to attach trim to the top of the Billy in a similar fashion as you did on the bottom.
This will be more straight forward if you don't have crown molding. We personally do in this room so we cut the edges in a similar way to how we cut the bottom trim for the baseboards.
Congratulations – the structural portion of this is done!
NOW onto the finish work
Place your shelves if you haven't already. Due to the finish work, you need to make a placement decision and stick with it. – I say this because your built ins will look so much more finished if you don't have small holes left to move the shelves around.
Once your shelves are in place, spackle all the other holes as well as over any nails or screws and nails you added. Take your time and get all of them so the finished product looks nice!
Caulk between wall and boards and at any seams between boards you added and billy bookcases. Use your best judgement on which spaces need to need Caulk. It is very important you are using paintable caulk for this step!
SAND all that spackle off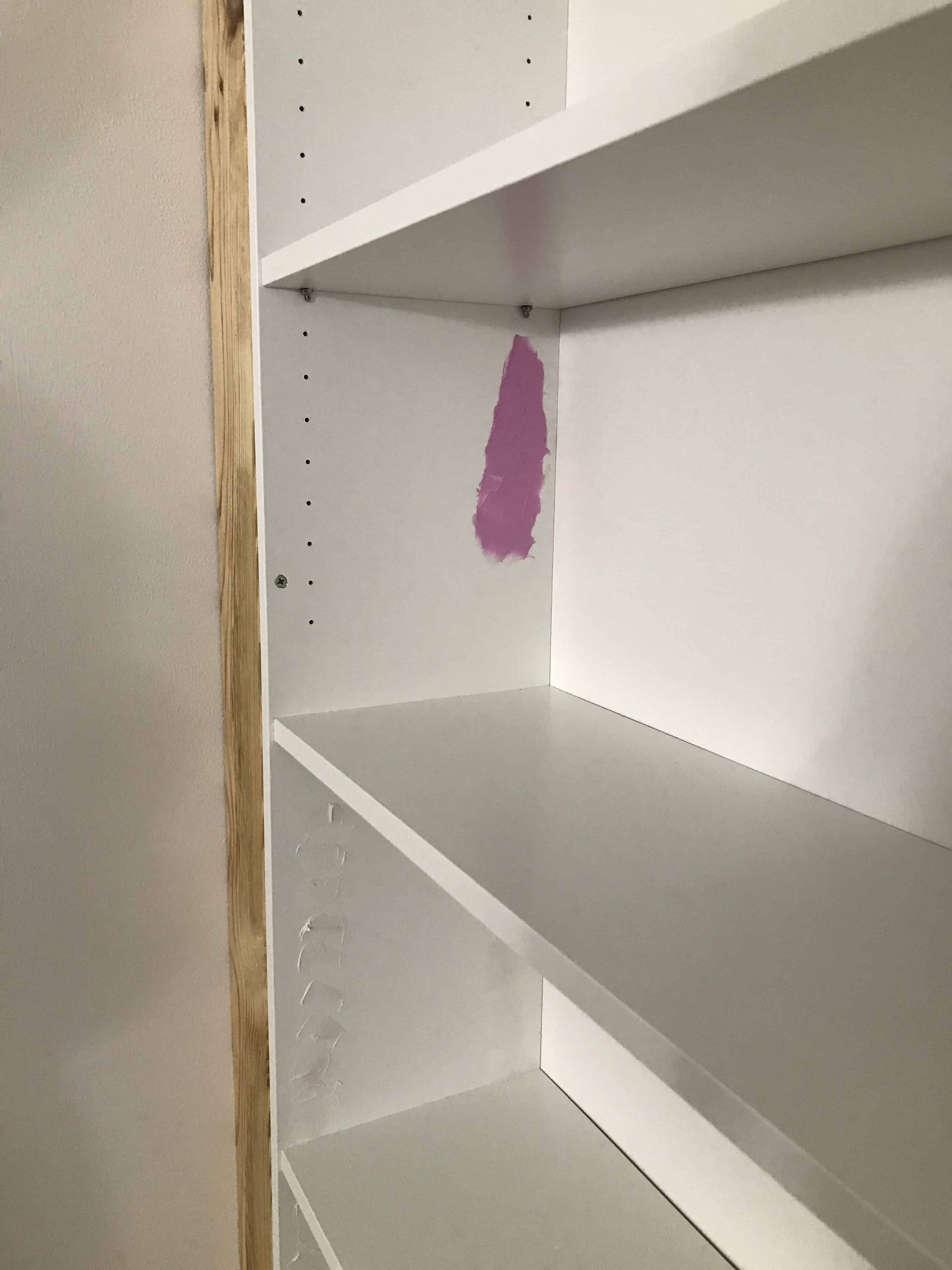 Clean the shelves very well
Now it's time to paint! Use a paint Sprayer to paint (or hand paint if you choose) the whole built in set. This is one project where the end outcome might not be much different if you roll, but it will take A LOT LONGER. I would personally invest in the sprayer or rent one.
If you follow along on my projects then I will give you lots more reasons to own the paint sprayer we have.
Below is one quick coat with the paint sprayer. We painted ours in Valspar Du Jour because that is what our doors and trim are throughout our home, so it made the most sense to just stick with one color.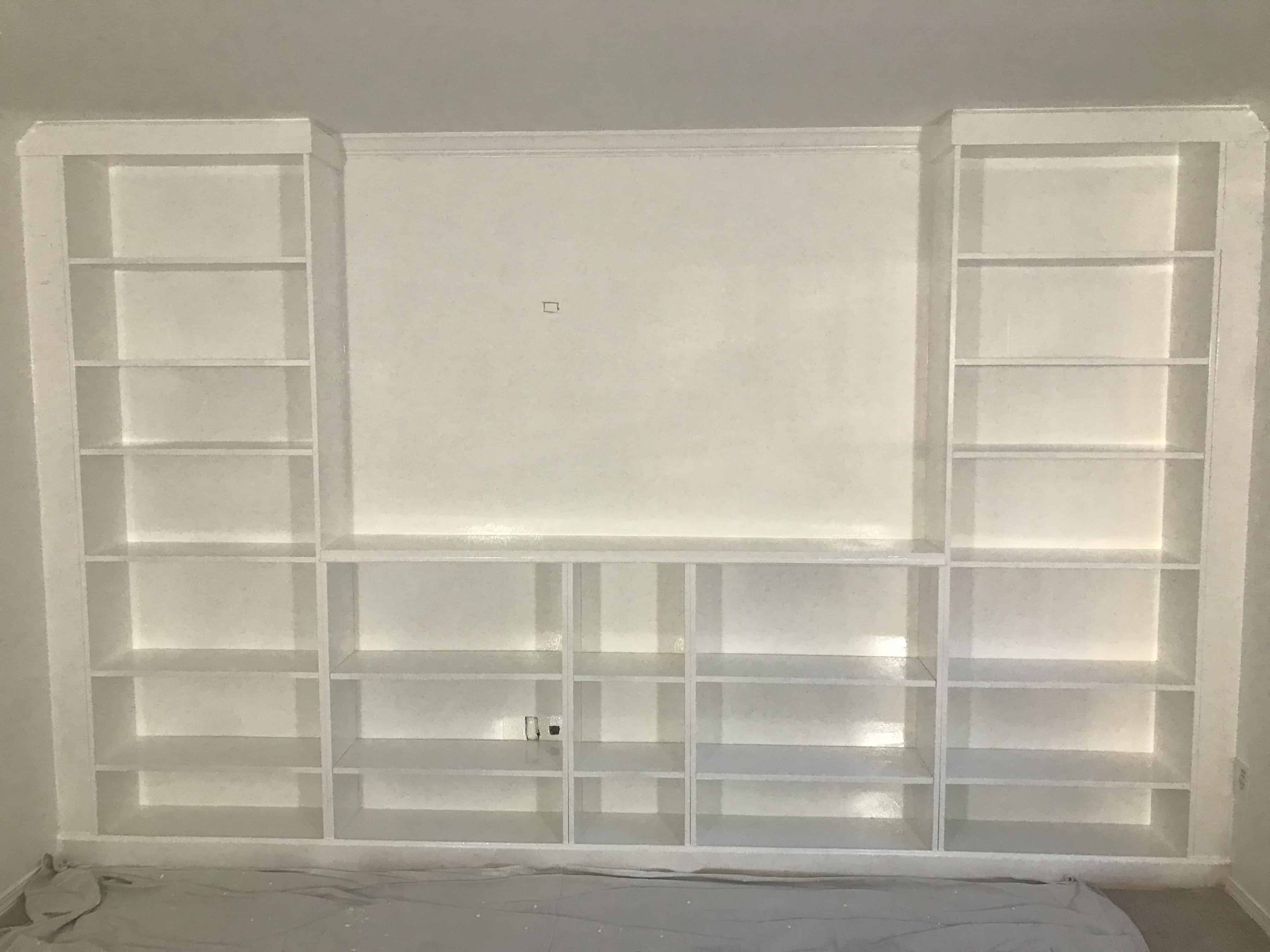 IKEA Billy Bookcase Built-in Hack Finished Photos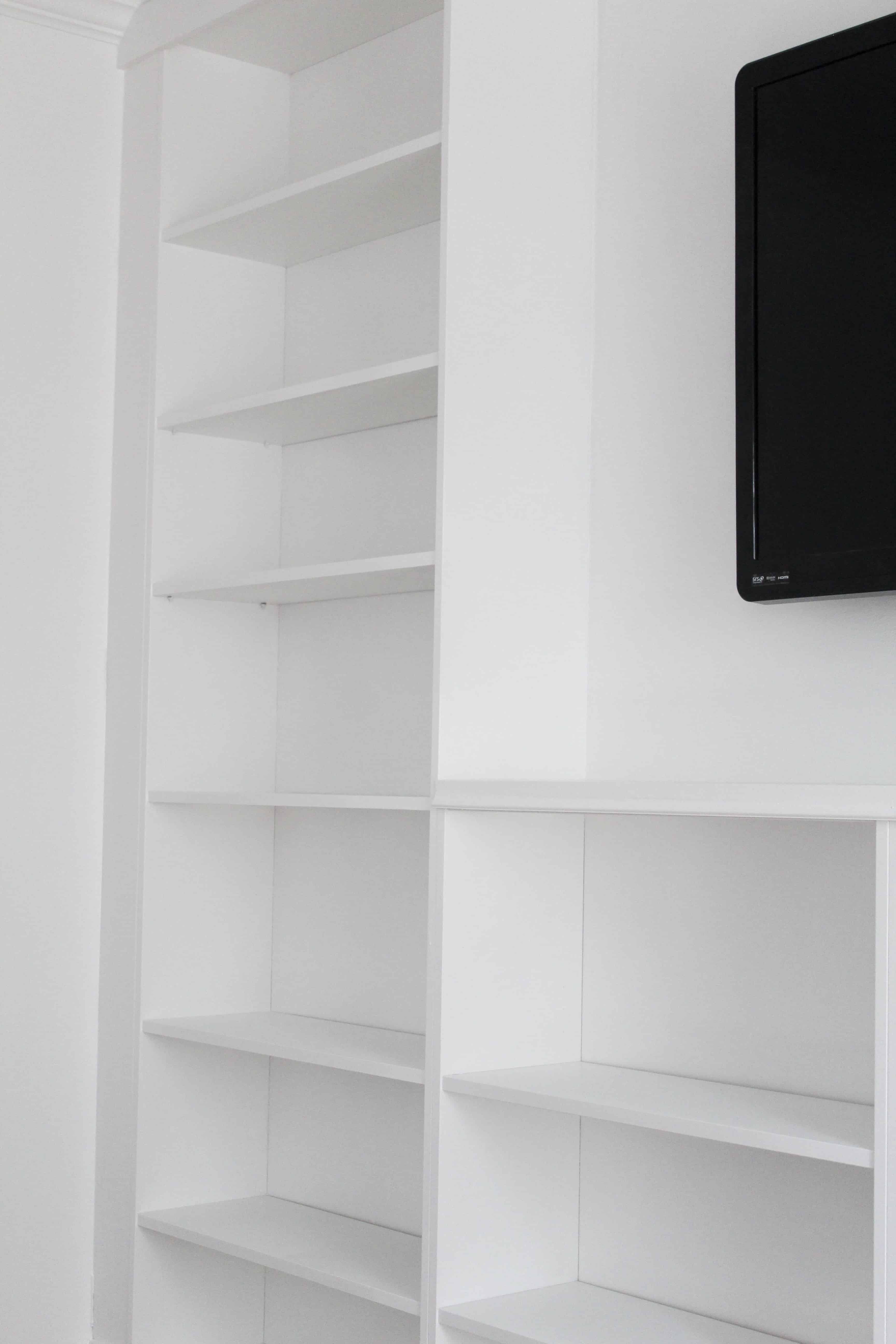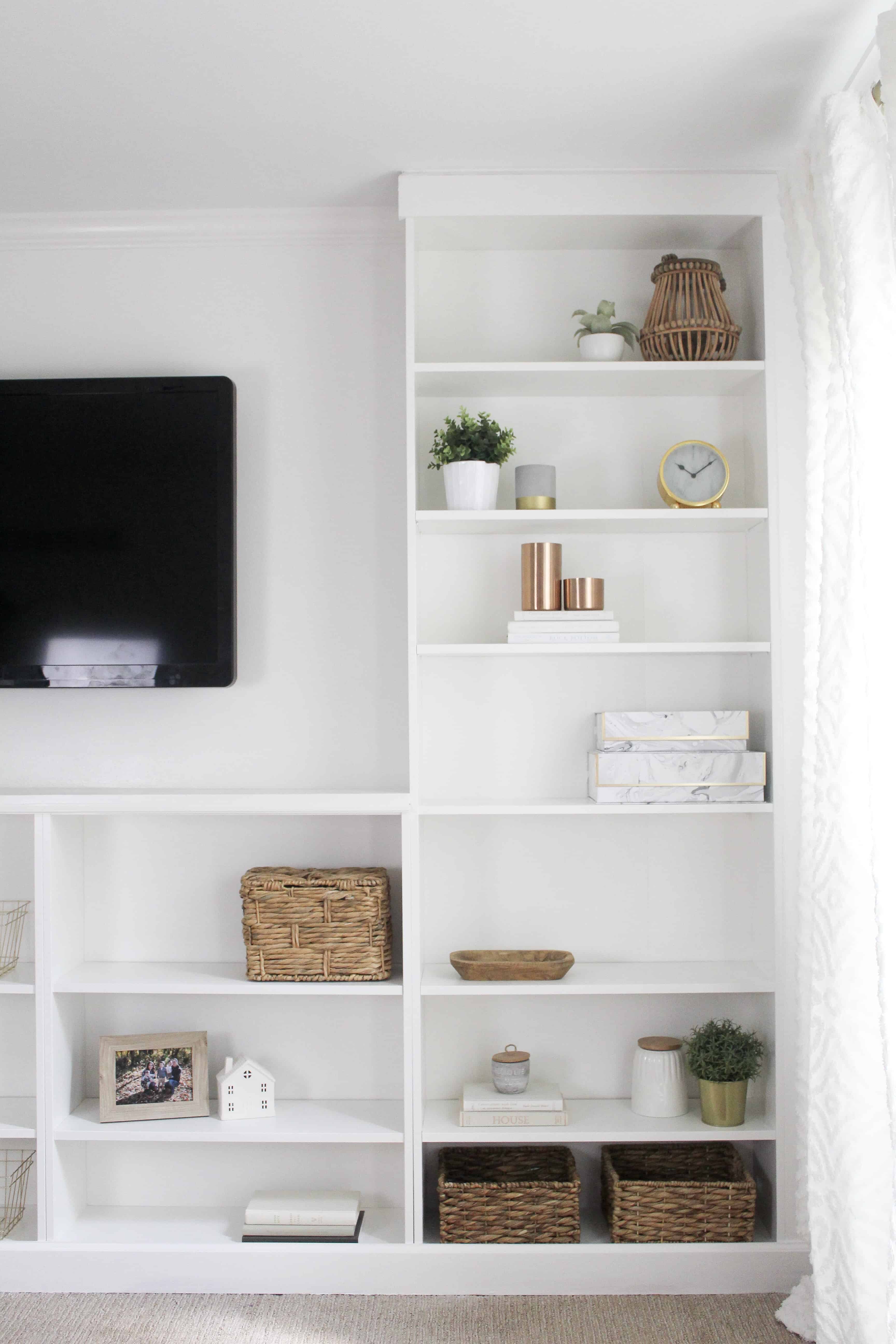 This remains a favorite project for us in our house. It was such a game changer in terms of esthetic and storage, and truly turns heads when people come in. No one would be any the wiser that it started out in IKEA boxes.
It has held up beautifully and the only thing we have had to do over time was add a bit of additional caulk between the end walls and the boards after the first winter, which is not uncommon for a home as old as ours!
I would love to see finished product if you try this IKEA Billy Bookcase built-in hack yourself, and again please feel free to leave me any questions or comments below!
Don't forget tot see my full home office post here!!
Again be sure to check out the rest of my IKEA hacks on this post!
The Rest of My IKEA Hacks
Pin the Photo Below for this IKEA Billy Bookcase Built-in Hack later