I have been meaning to do this post for a while now.   We have been traveling more and more with the kids as the years have gone on.  Walker was coast to coast in his first 6 months and we have really enjoyed those memories with our kids.  I wanted to compile a post of my mom travel favorites that I travel with for both myself and the kids,  so here are my travel favorites for moms and kids. Make sure when you're done reading it, you check out some similar posts linked at the end.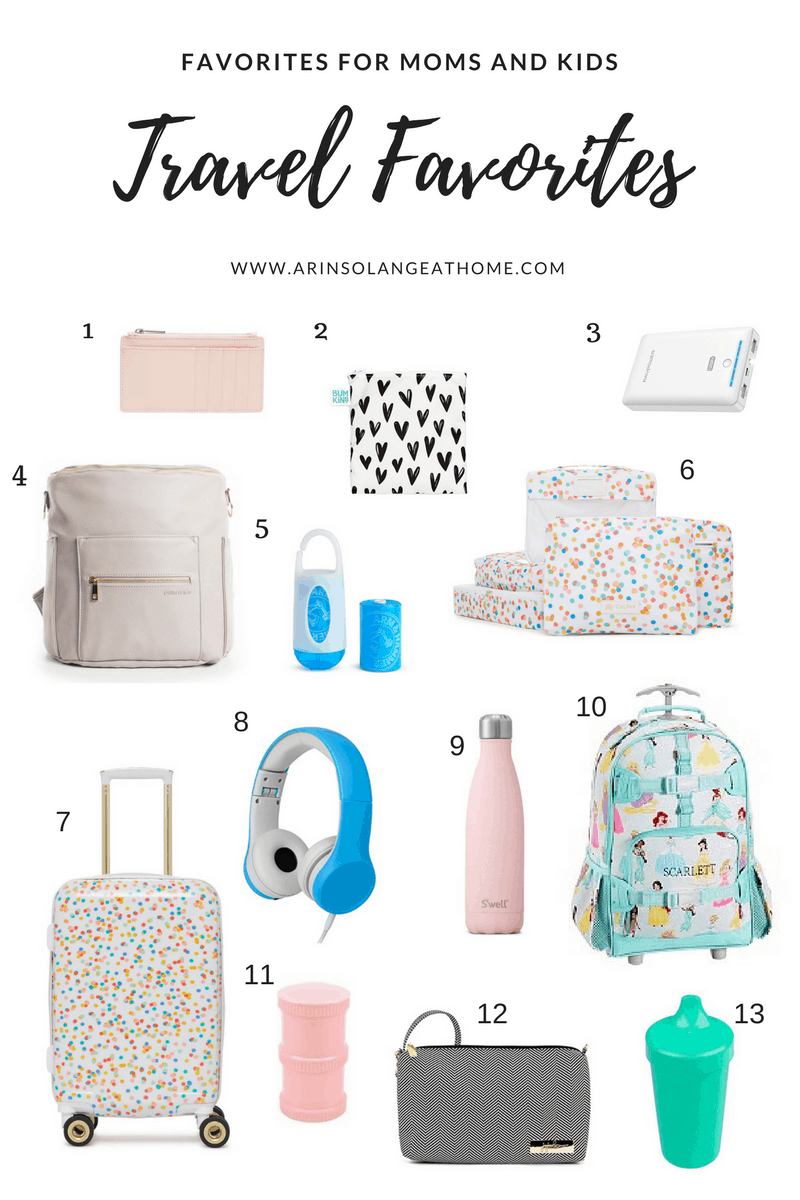 Mom Travel Favorites
1 // 2 // 3 // 4 // 5 // 6 // 7 // 8 // 9 // 10 // 11 // 12 // 13
1 // A small wallet is so helpful.  You don't need to bring every gift card you own, and it helps because you can keep this handy for security, or if you're traveling via car, it doesn't take up as much room in your purse or diaper bag
2 // Reusable baggies are great for a snack that wasnt finished, or anything else you might need on the trip!
3 // Having a reusable charger has saved our butts a few times – LIKE DISNEY
4 // A CUTE backpack diaper bag or purse.  I use this Fawn Design bag, and get stopped by moms, college girls, and everyone in between wanting one for travel!
5 // These disposible diaper bags are my safety net.  Ever had a kid throw up in the car or plane? If you haven't…I have. Both. So BUY THEM. haha
6 // Packing cubes keep things separated and I especially like them for keeping the baby and I in one bag without mixing our things.
7 // This suitcase is as amazing as it looks.  I LOVE it.
8 // Always take headphones for the kids.  It will save you so much sanity
9 // I always travel with an empty swell bottle.  If I fly I fill it in the water fountain after security. For road trips its just great to have when we arrive to make sure I stay hydrated.
10 // These Rolling backpacks work so much better than kids suitcases for us.  They fit at the foot of the kids carseat or under the seat in front of them on a plane.  bonus is that because they are backpacks we can wear them if the kids tap out on carrying their own luggage.
11 // These are amazing for refilling with snacks and keeping the trash at a minimum.  I start every trip with 3 high full for each kid.
12 // I always keep this in my diaper bag, but if you have to change a diaper on a plane or in a gas station bathroom its nice to only take this little diaper clutch in.  If you don't keep this in a diaper bag daily, you should!
13 // We are huge Camelbak fans, but for trips I stick to our favorite cups that work best for juice, milk, or water.  If we fly I pour the kids drinks on the plane right into these so I don't worry they will spill.
 Be sure to check out these other Travel posts (here and here), and I would love to hear if you have any other mom travel favorites that I should try!!
SaveSaveSaveSaveSaveSaveSaveSave
SaveSave
SaveSave