When it comes to choosing between a shower pan or tile shower floors, there are pros and cons to both options. The shower floor is a decision that may be based on price, the aesthetic you are going for throughout your bathroom, or both. While a shower pan is easier to install than tile flooring, it is less expensive, but it can be difficult to customize. Tile flooring is more customizable than a shower pan. However, it is more expensive and requires more time and effort in installation, as well as regular maintenance. So whatever your budget or dream design, we will explore the differences between a shower pan vs. tile floor, so that you can make an informed decision when deciding which option is best for your bathroom.
This post may contain affiliate links.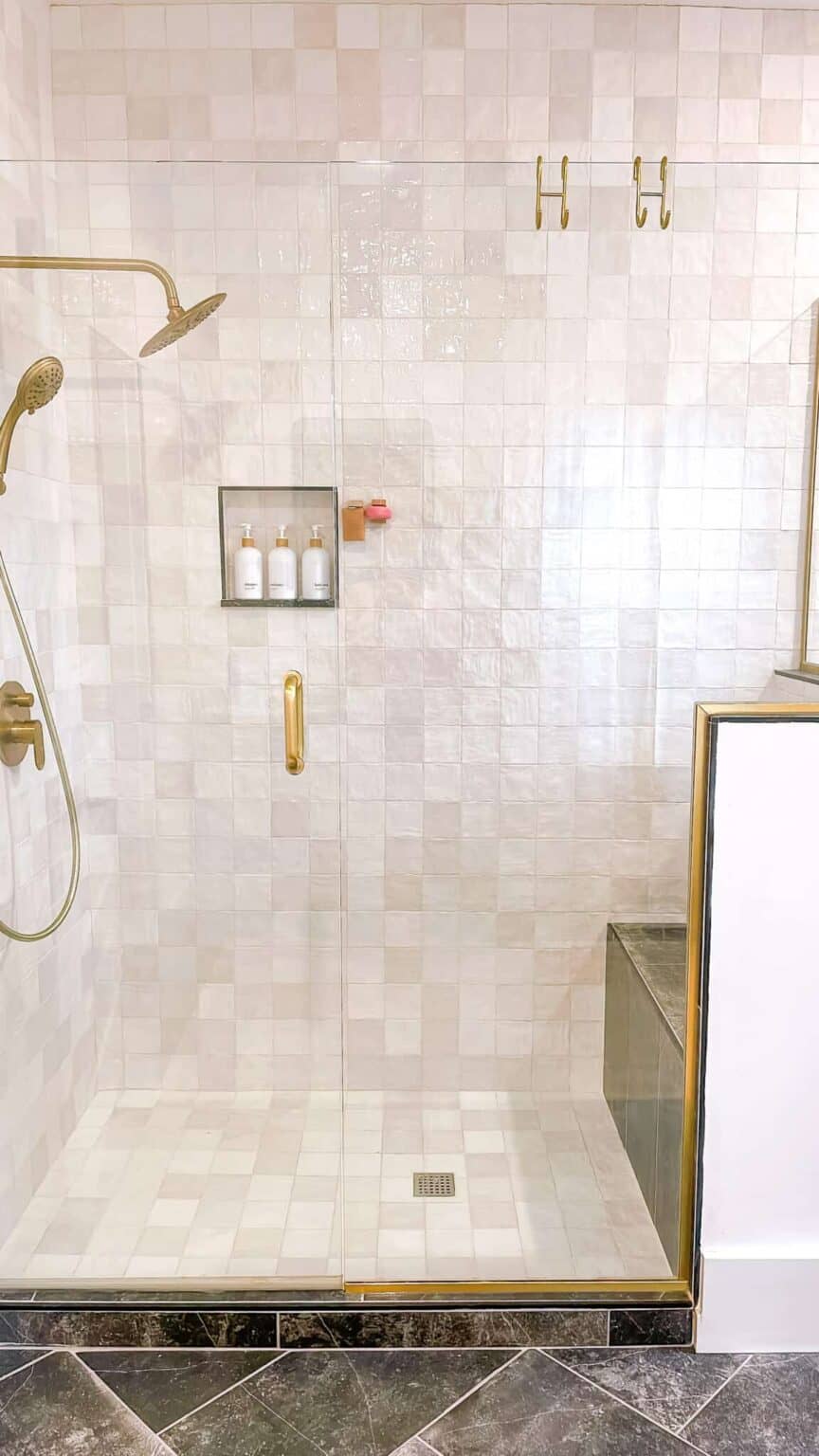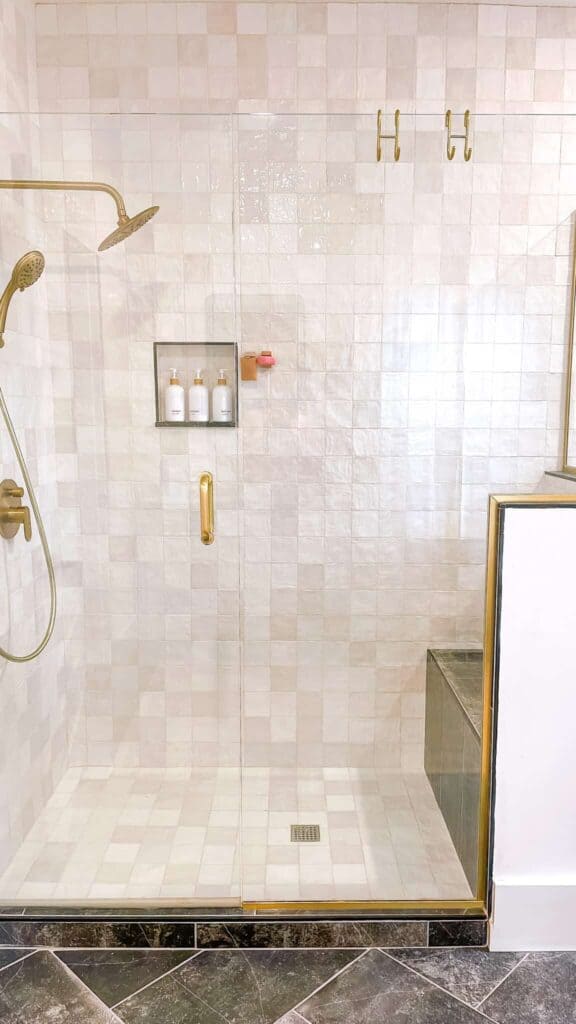 Shower Pan vs. Tile Floor: Which One Is Right For You?
When it comes to choosing between a shower pan vs. tile floor, there is no one-size-fits-all answer. The shape, design, style, and size of your shower will determine which option is best for you.
Shower pans are preformed plastic or fiberglass structures that can be installed in the shower area. They come in various shapes and sizes and can be customized to fit the exact dimensions of your shower space. On the other hand, tile floors are made up of individual tiles laid in a pattern on the floor of the shower area.
Each option has its own advantages and disadvantages that should be considered when making a decision about which type of flooring to use for your shower area. By considering factors such as shape, design, style, size, cost, installation time, maintenance requirements and durability you can make an informed decision about which option is best for you. 
What Is A Shower Pan?
Shower pans are an essential component of any bathroom and can be found in a variety of styles, shapes, and sizes. A shower pan is a waterproof membrane used over the floor of your shower. They provide a waterproof base for your shower, helping to protect the floor from water damage.
Shower pans are made out of a variety of materials such as acrylic, fiberglass, plastic, natural stone and cast iron and can be installed over an existing wood or concrete floor. In addition, they come in a range of colors to match any bathroom decor. 
Furthermore, they come in several shapes and standard or custom sizes to fit all types of showers. While they can be cheaper to install than tile, the price is dependent on the thickness, material,  and size of the pan.  With this in mind, it's important to consider the pros and cons before choosing the right shower pan for your needs.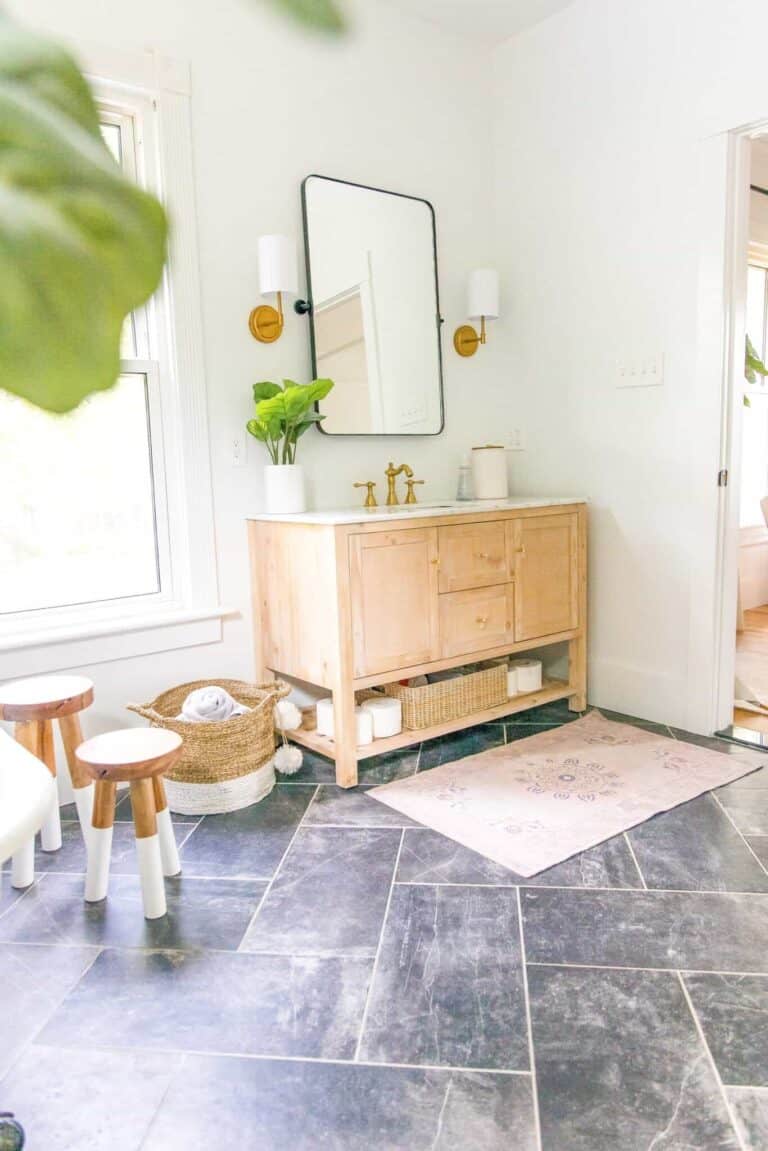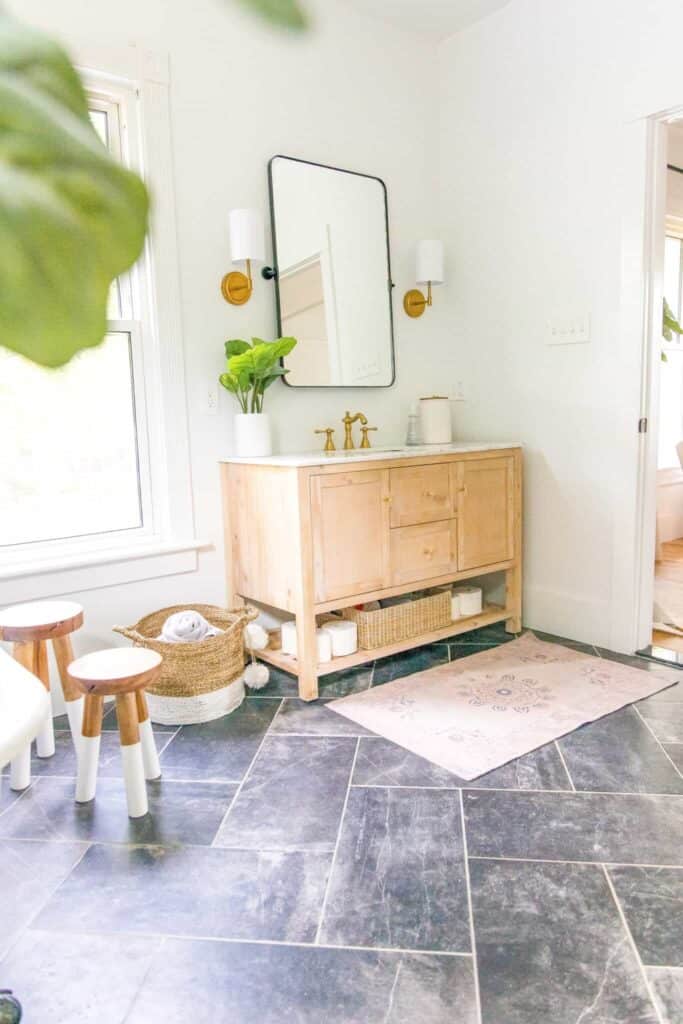 Shower Pan Materials
Your shower pan is the foundation of your shower and should be carefully chosen to meet your needs. With a wide range of materials available to choose from you'll want to carefully weigh the pros and cons of each. Let's look at a few different options available to determine advantages and disadvantages of each material:
Acrylic: Acrylic shower pans tend to be reinforced with other materials. They are made of large sheets of acrylic that have been heated and stretched to fit a mold. They are durable and easier to maintain than tile or natural stone.
Fiberglass: Fiberglass shower pans are made with polyester resin mixed with woven glass fibers that are then poured into a mold. They are known as a cheap type of shower pan and tend to be more likely to damage or show stains.
Composite: Composite shower pans are engineered and made of two or more different materials. This makes them more durable than the two or more materials would be alone.
Porcelain: Porcelain shower pans are a sturdy mixture of natural clay, water, and other organic materials. It is hardened with heat and very durable.
Cast Iron: Cast iron shower pans are a sturdy and stable pan material. It is incredibly heavy, but once installed, involves an easy cleaning process. It may be slippery when wet, so it is important to add anti-slip stickers as an added precaution.
Stainless: Stainless shower pans are one of the most durable options on the market. It only comes in one color, but it is stain and rust proof, making it easy to clean and maintain. The drawback is they only come in one color, but stainless tends to look sleek.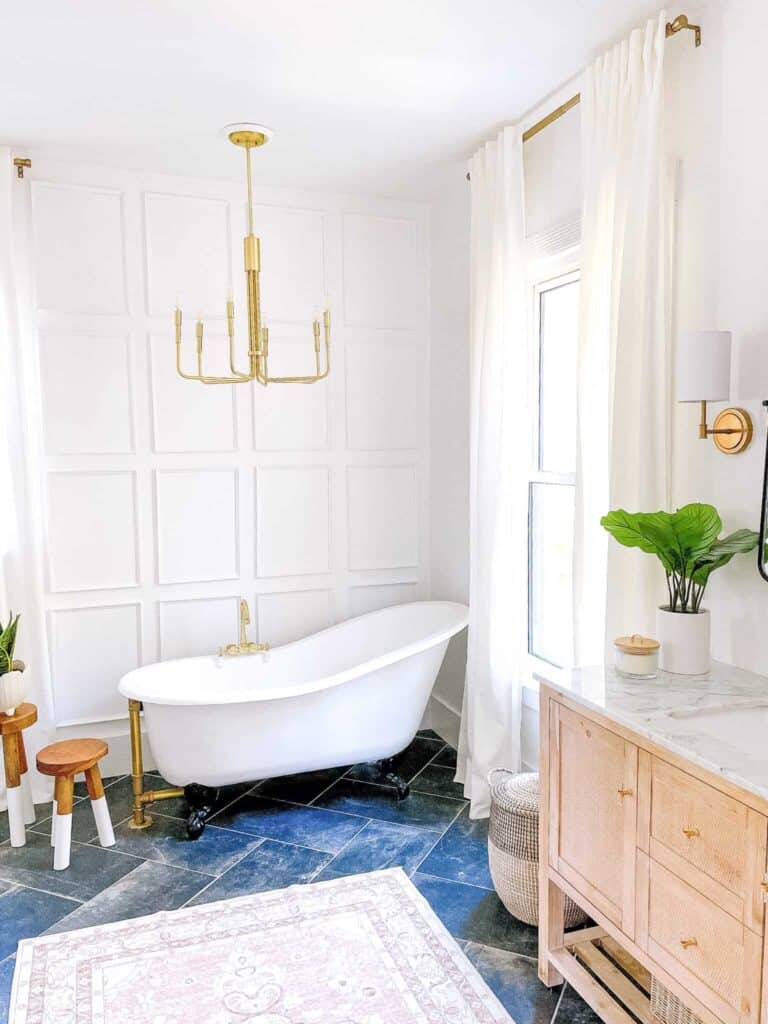 Pros & Cons Of A Shower Pan
Pros:
Wide range of price points ranging from $150 to over $1,000 to fit any budget.
More affordable option in comparison to custom shower tiles
Different colors and shapes available
Different sizes available
Variety of materials
Cons:
May become warped or cracked due to heat and humidity
Improperly installed shower pans can lead to leaks, which can be costly to fix
Improperly installed shower pans can feel like you are bouncing while using the shower
Not as unique as tile flooring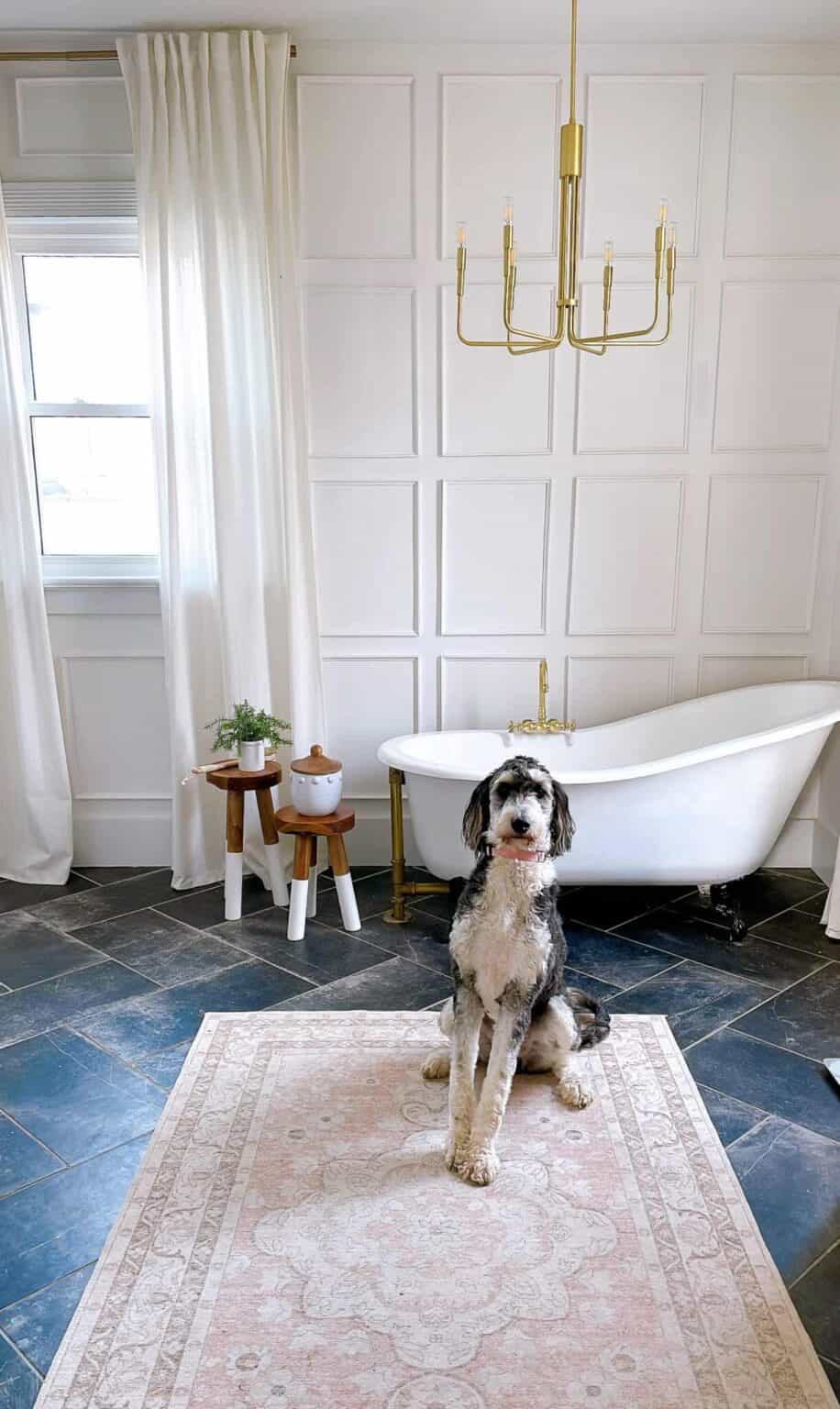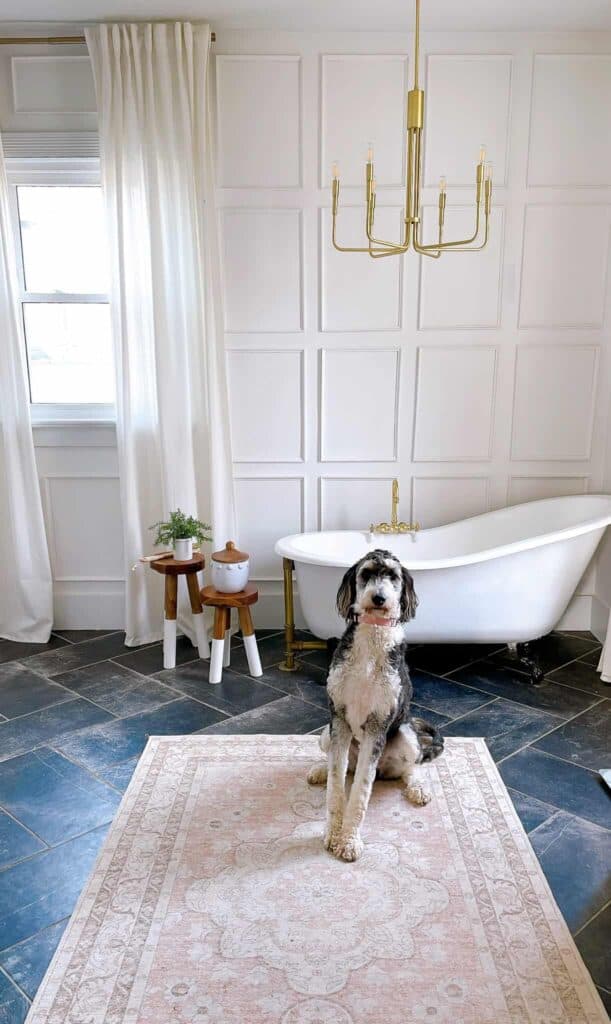 Tile Floor: A Luxurious Option
Tile flooring in the shower is a popular choice for many homeowners. It adds a unique look and feel to the space, while also providing durability. It consists of a grout-less mortar, which is porous and able to hold water. It is a good choice if you are looking for high quality materials with a custom look.
Typically, tile floors are made of ceramic or porcelain tile. However, it can include stone, like granite tiles or marble tiles, and glass as well. With an array of colors, shapes, and sizes to choose from, you can create a custom look for a truly memorable bathroom.
While tile flooring is more durable than shower pans, installation can be much more difficult and require more maintenance. As a result, tile flooring is more expensive. You'll need to have a skilled hand or hire a professional to lay your tile flooring. In the end, both the materials and the labor costs of tile floors will be more than a shower pan alone.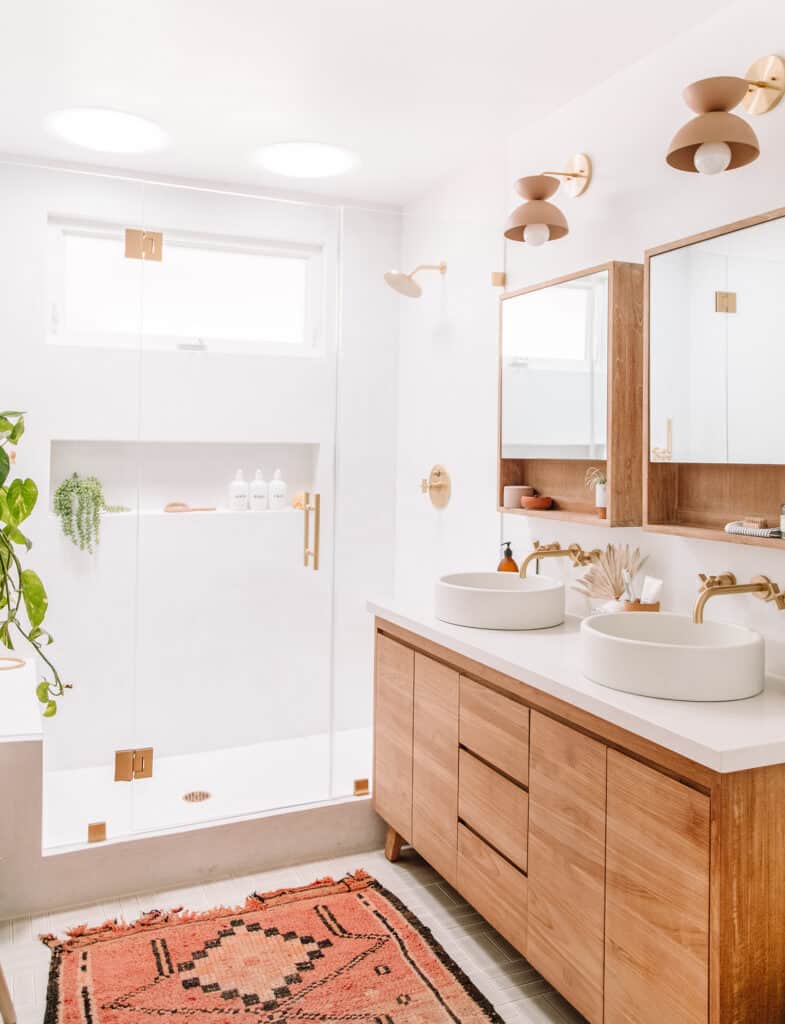 Considerations With Tile Flooring
Renovating a bathroom can be a daunting task, but one of the most important elements to consider is the shower tile floor. From selecting the right type of tiles that will last for years to installing them properly, there are many factors to consider when choosing a new shower tile floor.
Types Of Tiles
Whether you're looking for an elegant walk-in shower or just want to spruce up your existing bathroom, there are several options available when it comes to tiled shower floors. From traditional ceramic tiles and natural stone tiles to custom tile showers, there is something for every budget and style.
With a few simple steps, you can transform your bathroom into a stylish oasis with a beautiful tiled shower floor. When it comes to shower tile flooring, there are many options available. From marble and glass tiles to penny or larger tiles, the choices are endless.
Glass tile can be used to create a unique design while grout lines can provide texture and depth. Additionally, glass doors can be used to add elegance and sophistication to the shower wall. With so many options available, it is important to choose the best tiles for your shower floor that will not only look great but also last for years to come.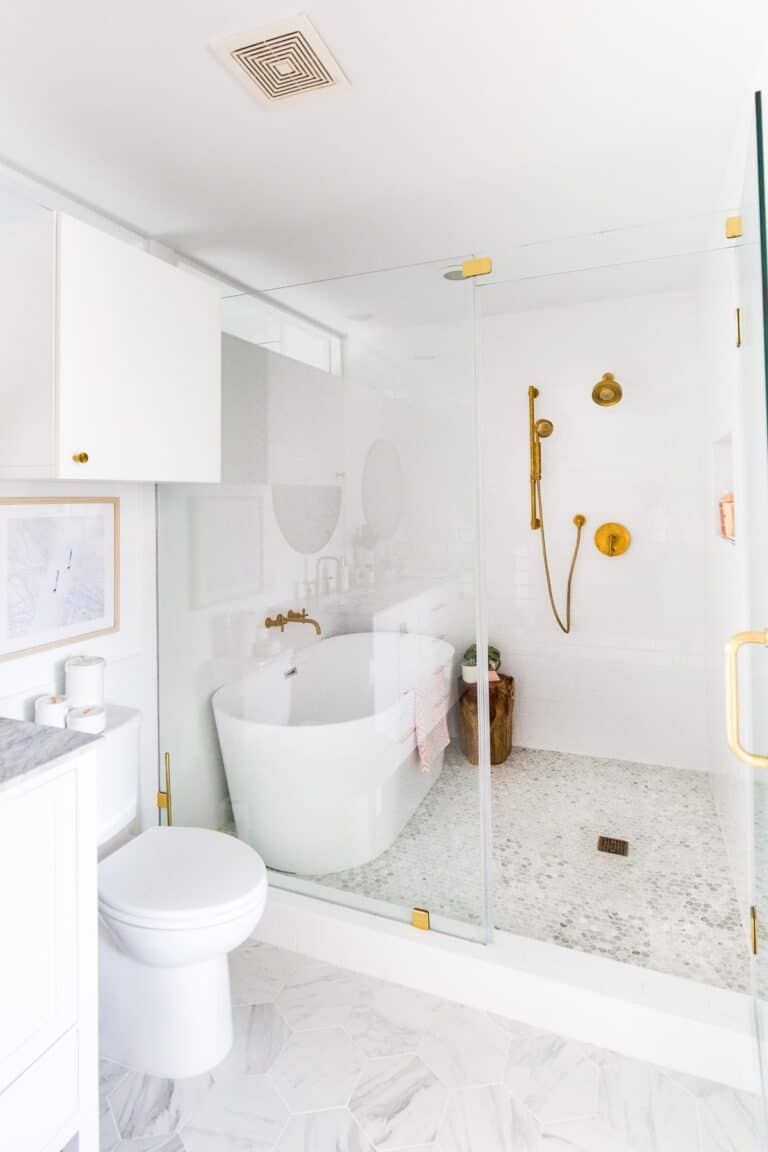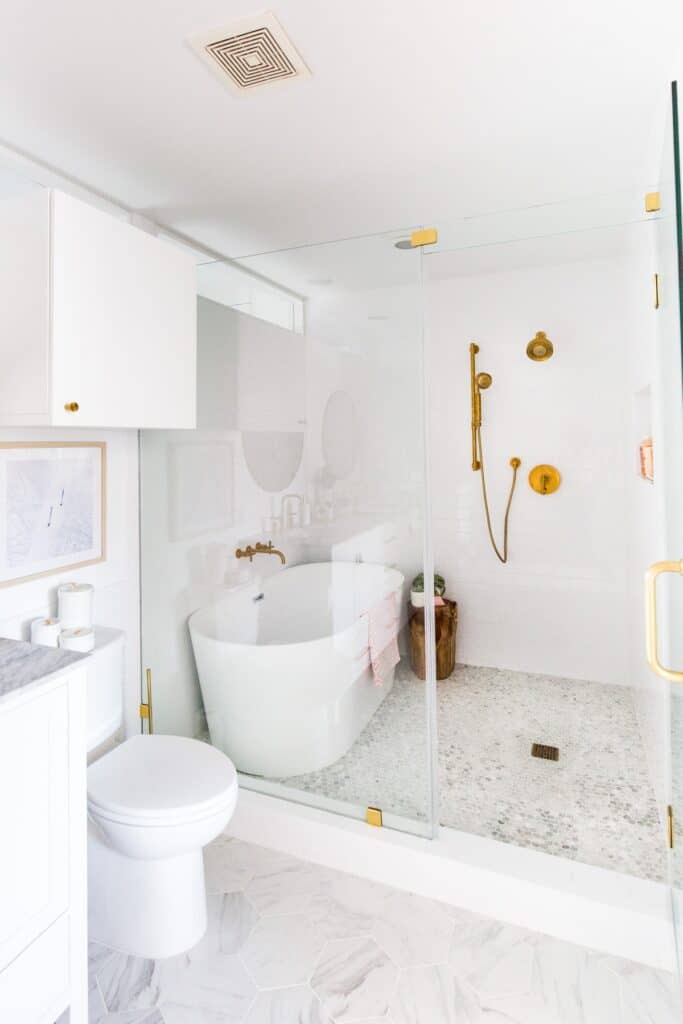 Shapes Of Tiles
The shape of your shower tile floor can dramatically change the look and feel of your bathroom. From classic square tiles to intricate mosaic designs, there is a wide range of shapes available to suit any style. Whether you are looking for a modern or traditional look, the right combination of shapes can create a unique and eye-catching design. With careful consideration, you can find the perfect shape for your shower tile floor that will bring beauty and functionality to your bathroom.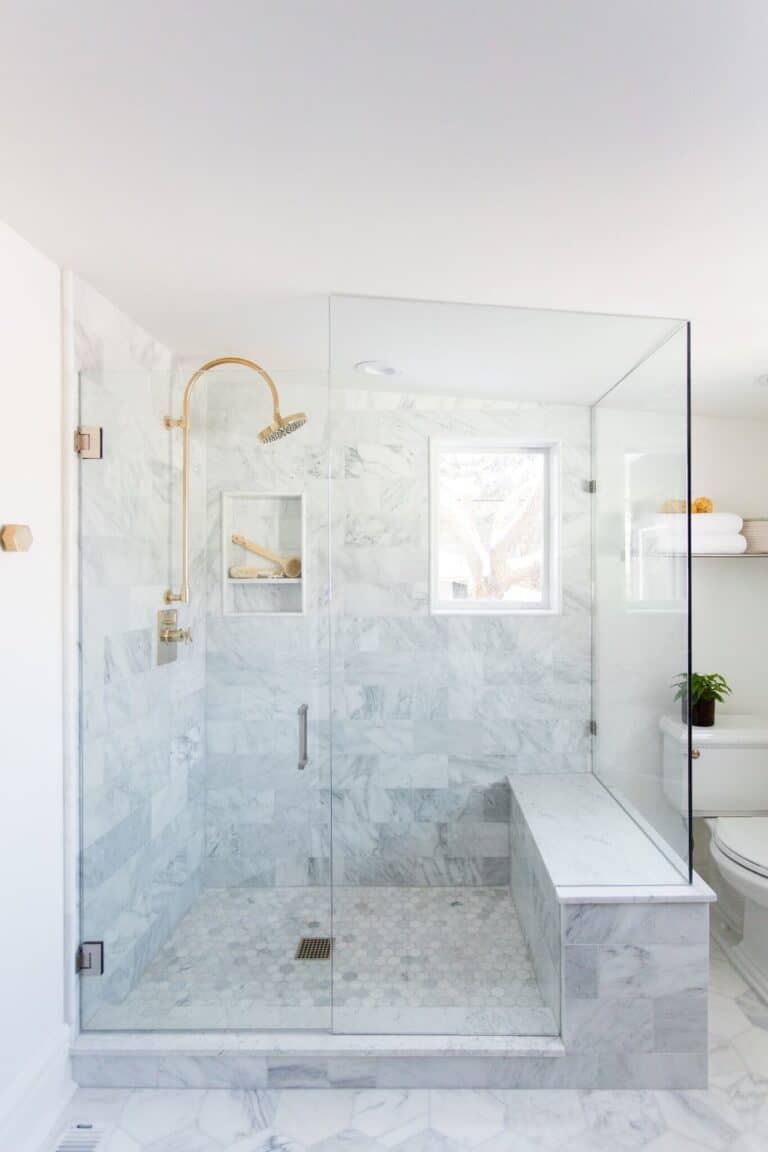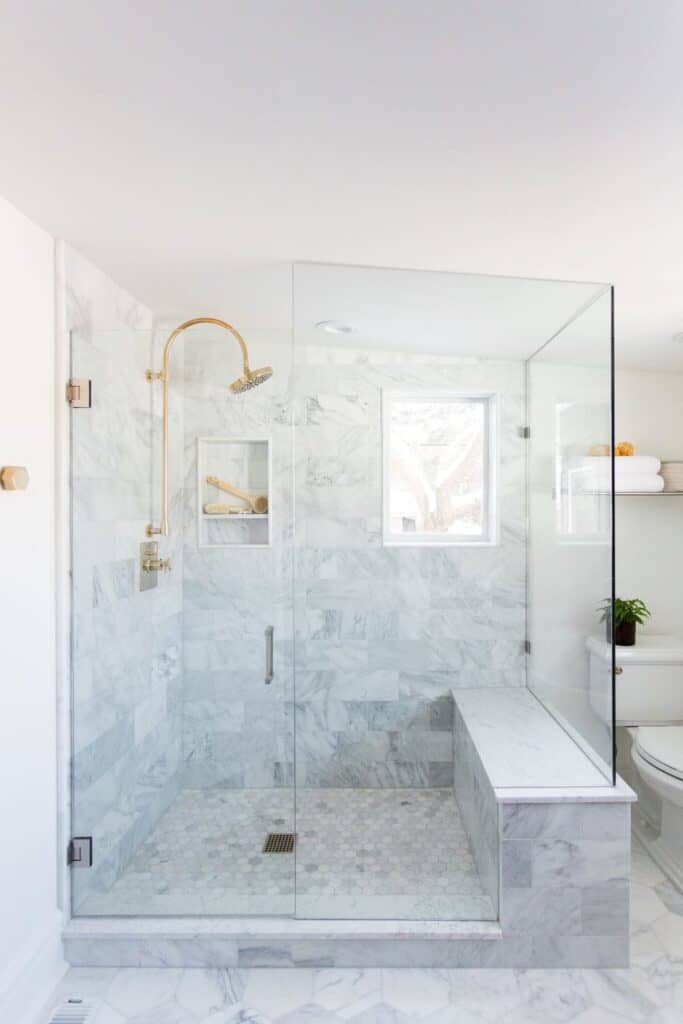 Pros & Cons Of Tile Flooring
Pros:
Variety of colors, shapes, sizes
Enhances aesthetic appeal of a shower with fun patterns
Great idea for oddly-shaped showers or uncommon sizes
Surface easy to clean and maintain
More durable than shower pan
Cons:
Expensive
Difficult to maintain with grout lines
Will require regular cleaning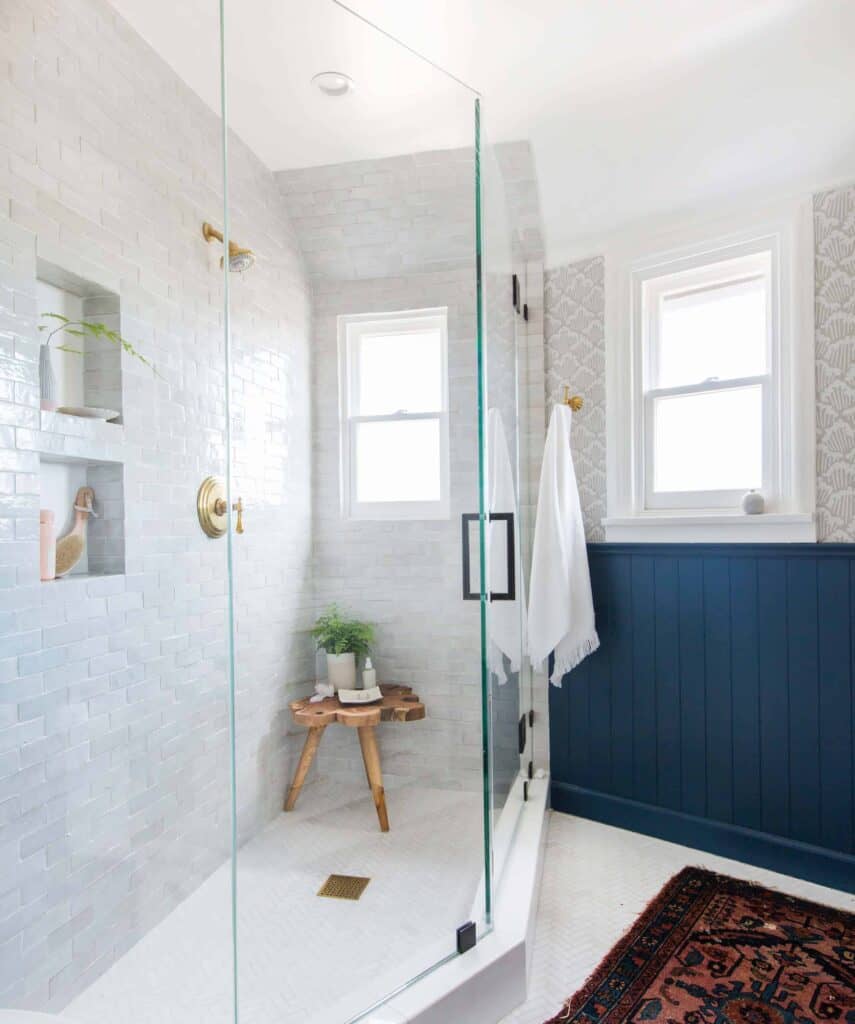 Other Posts You May Like
Shower Tile Trim Ideas | The Best Shower Wall Materials | How To Decorate Bathroom Shelving | Bathroom Vanity Ideas On A Budget
Follow On Social For The Latest & Greatest
Pin This Photo For Later
I hope this post has given you some new ideas so you can make the most informed choice for your new shower floor. Whether you decide to go shower pan vs tile floor, the result can be both beautiful and unique. You know what's best suited to your taste and bathroom's style and I can't wait to hear what you choose. Let me know in the comments below! Be sure to pin the photo below for later, and if you don't already – follow me on Instagram (@arinsolange) and Tik Tok (@arinsolange) for more fun!