Warm weather has me thinking of all the fun you can have outdoors and the quality time I'll have with my family this summer. Trampolines are a fun and exciting way to get active and enjoy the outdoors. They provide endless hours of entertainment for kids and adults alike, and can be a great addition to any backyard. However, simply having a trampoline in your backyard is not enough to maximize its potential. With a few creative ideas, you can turn your trampoline into a hub of activity and excitement. If you are looking for trampoline backyard ideas to create a space of outdoor fun, I'll go over a few key concepts and some great inspiration.
This post may contain affiliate links.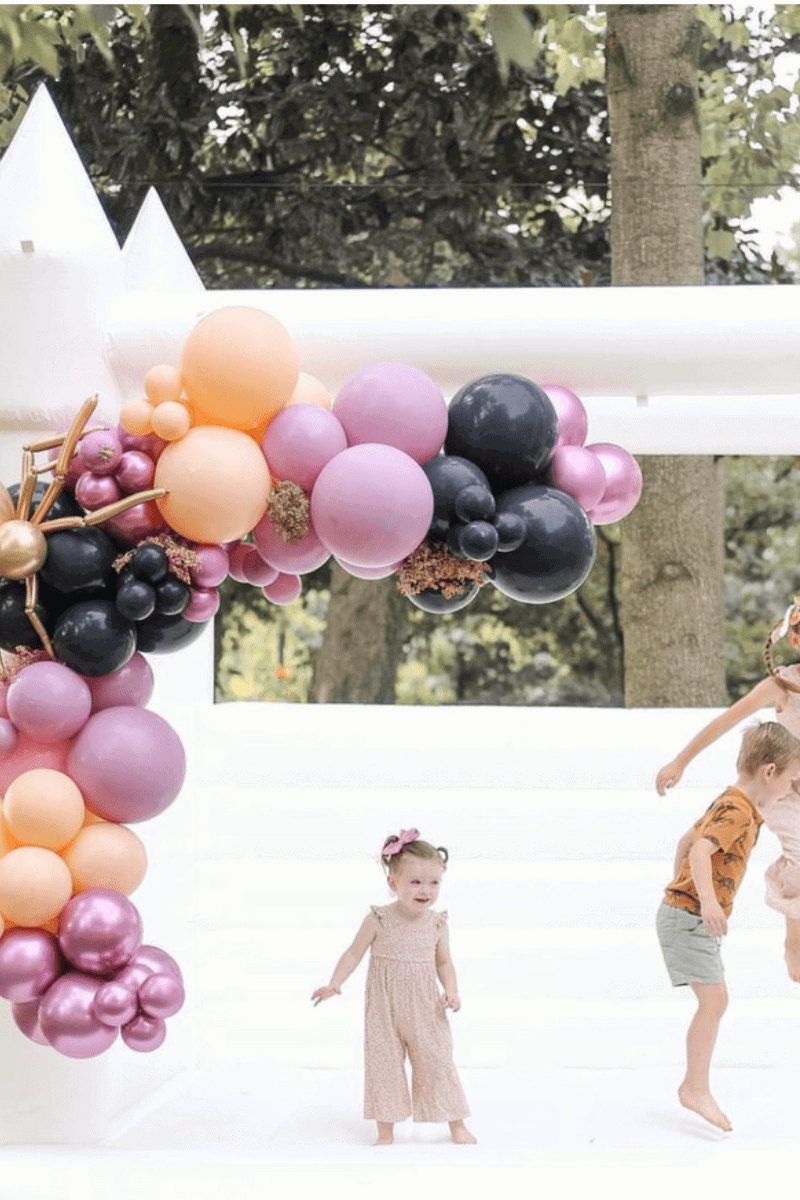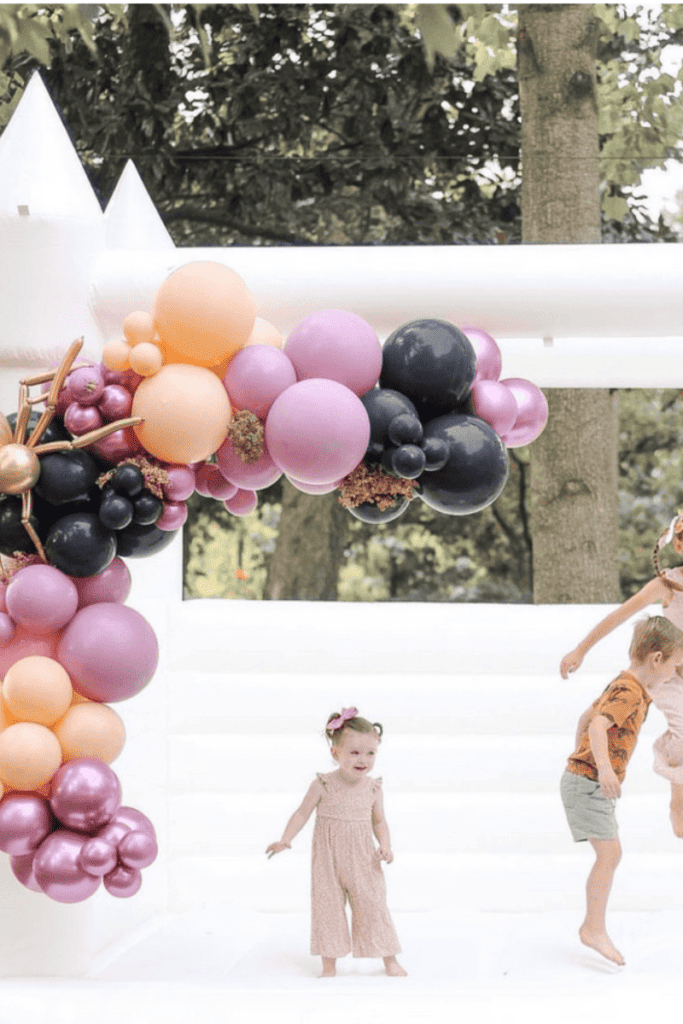 Trampoline Backyard Ideas For Tons Of Outdoor Fun
With summer right around the corner, it's a good time to start preparing my backyard space for the upcoming warm weather. We are going to be installing an in-ground pool in our yard this year and I could not be more excited. If that isn't in the cards for you, don't worry! There are plenty of other ways to have fun in the sun this year.
If you have kids and want to encourage them to play outside, I have a whole post dedicated to outdoor toys to keep kids playing! I love being able to watch their creativity and imagination come alive outside.
Even without outdoor toys, I always try to encourage my kids to be active. One of their favorite ways to burn off energy is by jumping on our friend's trampoline. While we don't have a trampoline in our own yard, we are lucky to have lots of friends that let us join in on the jumps.
My friend Val, of Lovely Lucky Life, has an in-ground trampoline and her kids absolutely love it. It's a great way to keep them entertained while providing them with some physical activity. I'm looking forward to getting my pool this summer for the same reasons and spending a lot of time in it with my own kids.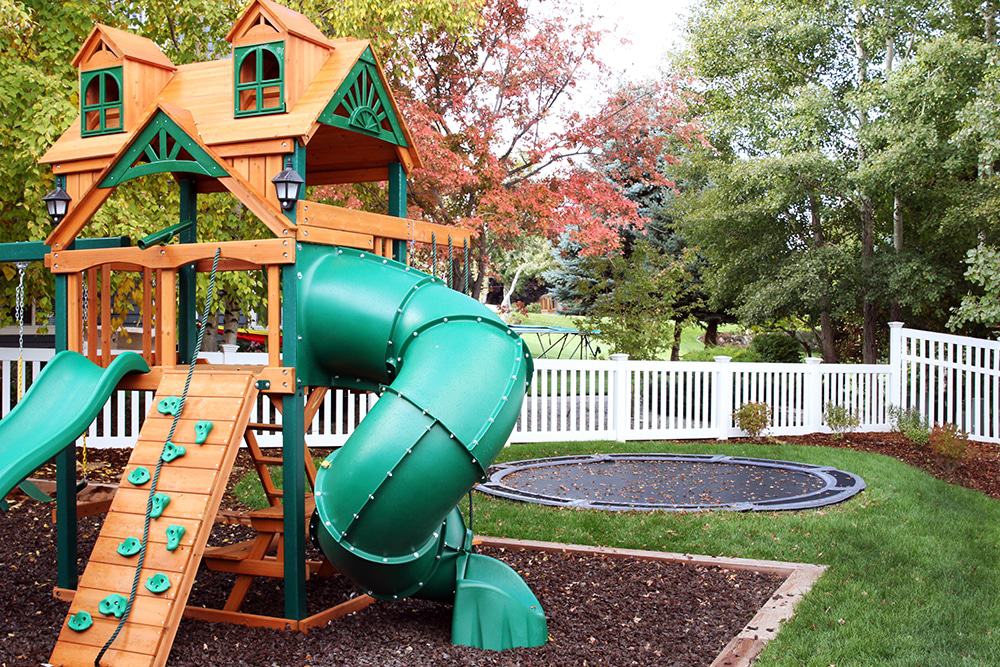 All About Trampolines
Trampolines have been around for a long time, but they have only recently become a popular backyard accessory. They were originally used by circus performers and gymnasts to practice their skills, but today they are enjoyed by people of all ages and skill levels.
Trampolines come in a variety of shapes and sizes, but the most common type is the round trampoline. Round trampolines are typically the most affordable and are great for beginners. They are also the safest type of trampoline because of their design. The springs are evenly distributed around the perimeter of the trampoline, which helps prevent users from bouncing off the sides.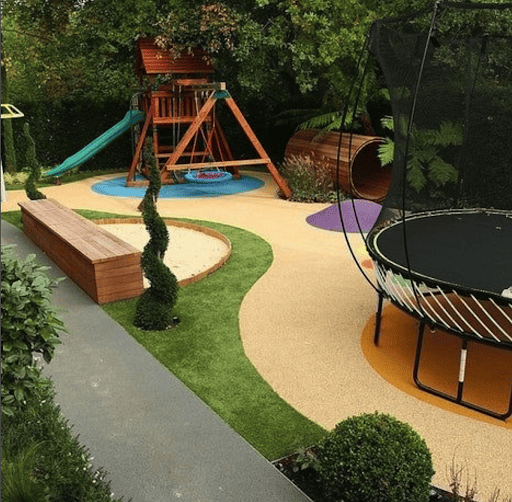 Rectangular trampolines are another popular option. They are typically more expensive than round trampolines, but they provide a better bounce and are better suited for advanced users. They are also popular among athletes, as they can be used for training and practicing skills.
In addition to the shape, trampolines also come in a variety of sizes. The most common sizes are 8 ft, 10 ft, 12 ft, and 14 ft trampolines. The size you choose will depend on the size of your backyard and the number of people who will be using the trampoline because the jumping surfaces each have a weight limit.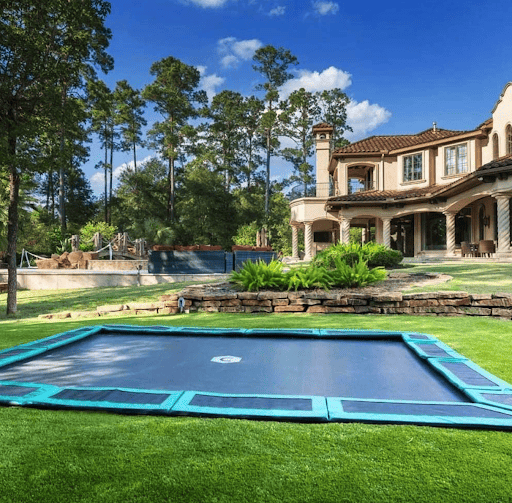 What Should You Know Before Buying?
Installing a new trampoline in your backyard will provide hours of entertainment and great exercise throughout the summer months. Before you get started, you'll want to keep a few key considerations in mind.
#1 Spacing Is Key
Make sure to properly prepare the space for your trampoline by clearing away any debris and making sure that there is extra space and no obstacles near the area where you plan to place it.
Trampolines can take up a lot of room, so you'll want to measure your yard and make sure you have enough space for the size of trampoline you want. Then you'll want to find the ideal place to set it in your large or small yard. Even if you have a small yard, you'll still find plenty of backyard trampoline ideas to maximize the space you have.
#2 Know Safety Features
Another important consideration is safety features. Trampolines can be dangerous if they are not used properly, so it's important to take the proper safety precautions. You should always supervise children when they are using the trampoline, and make sure they are using it safely.
You should also invest in a safety enclosure net and padding to help prevent injuries. Additionally, establish some ground rules for trampoline use, such as only allowing one person on the trampoline at a time, no somersaults, and no jumping off the trampoline onto other surfaces. With these safety measures in place, you can feel confident that your trampoline is a safe and enjoyable addition to your backyard.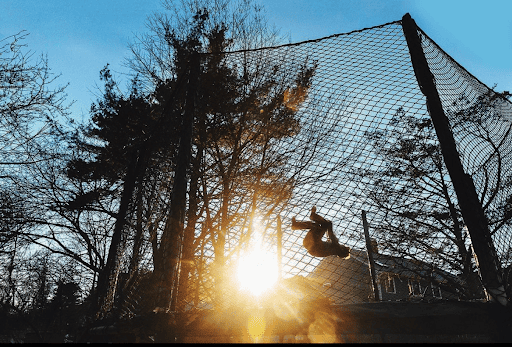 #3 Understand Warranties
The most important thing you should know about backyard trampolines before you buy one is that they don't come with any sort of warranty on them. This means that the manufacturer doesn't cover any accidents or injuries that could happen from using the product. You must be careful when buying and using your new backyard trampoline to ensure maximum safety.
When it comes to buying a trampoline, you should consider investing in the best quality trampoline. Cheaper trampolines may seem like a good deal, but they are often made with lower quality materials and may not last as long. You should look for a trampoline that is made with high-quality materials and has a sturdy frame.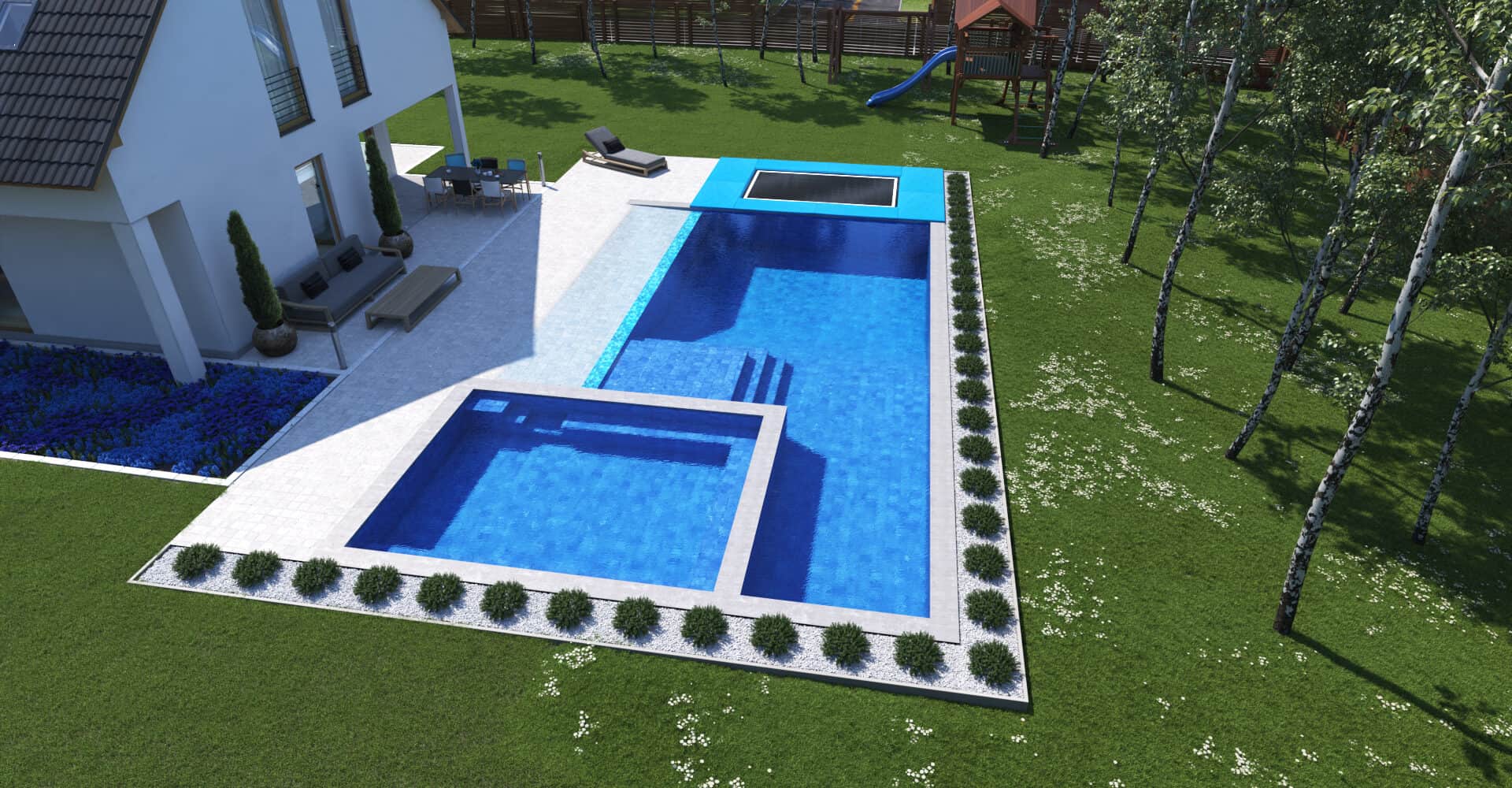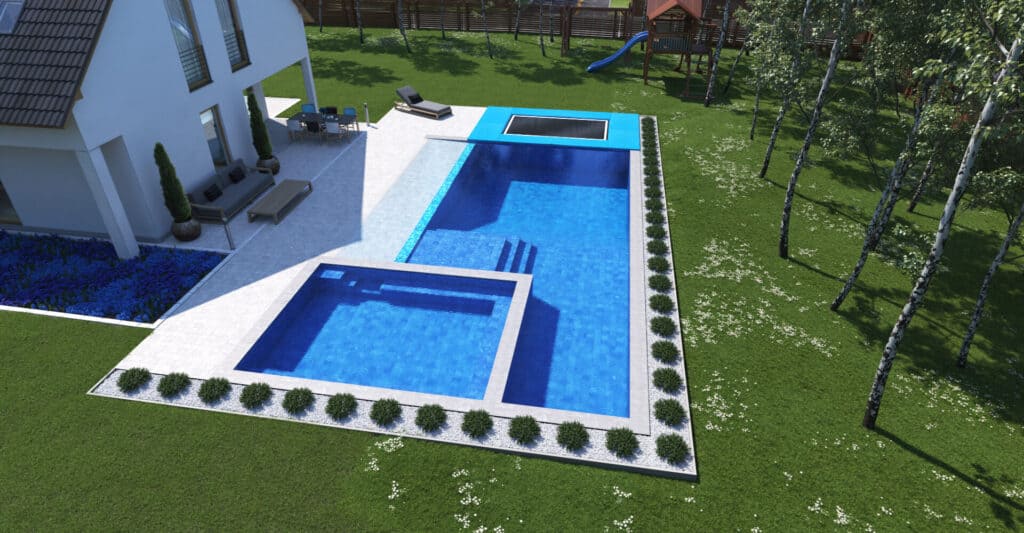 Incorporating Your Trampoline Into Your Backyard Space
Once you've purchased your trampoline, it's time to start thinking about how you can beautify it. While trampolines are fun on their own, they can also be a great way to add some personality to your large or small backyard. I'll go over some of my favorite backyard trampoline ideas to incorporate your trampoline into your backyard seamlessly.
#1 Add a Cover
One popular way to beautify your trampoline is to add a cover. Trampoline covers come in a variety of colors and patterns, and can be a great way to add some personality to your trampoline. They can also help to protect your trampoline from the elements and prolong its lifespan.
#2 Light It Up
Another fun way to beautify your above-ground trampoline is to add some lights. String lights or fairy lights can be wrapped around the perimeter of the trampoline to create a magical atmosphere. This is especially fun for nighttime use, as it adds an extra layer of excitement to bouncing.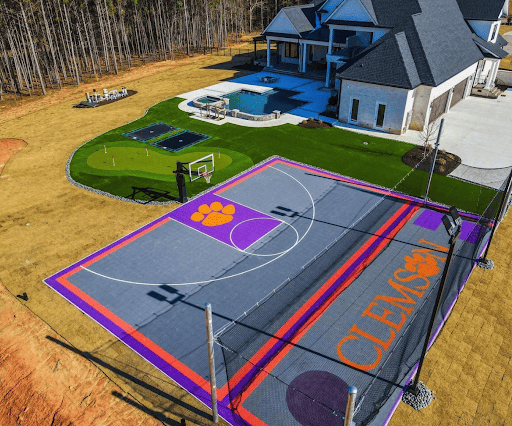 #3 Custom Creations
If you want to take things to the next level, you can even add a custom paint job to your trampoline. You can paint the metal frame, springs, and padding in bright colors or even create a custom design. This is a great way to make your trampoline stand out and add some personality to your backyard.
#4 Accessorize
Another fun way to beautify your trampoline is to add some accessories. There are a variety of accessories available on the market, from basketball hoops to water sprays. These accessories can add a new dimension to your trampoline and provide even more fun for your entire family and friends. You'll want to check out my round up below for some of my favorite trampoline accessories for hours of fun.
#5 Safety First
One of the most important things when it comes to beautifying your trampoline is to make sure it is safe. Any modifications you make should not compromise the safety of the trampoline. You should also make sure that any accessories you add are designed specifically for trampolines and are installed correctly.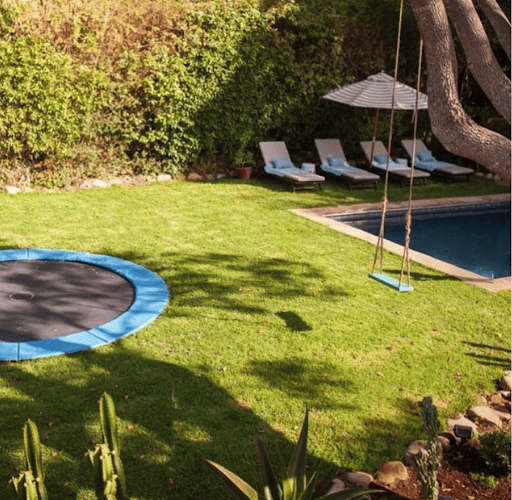 #6 General Rules
Some other creative ideas to make your traditional trampoline look nice in your backyard are to avoid grass. Use organic materials like wood chips or sand, rubber mats or mulch because they make for a soft landing rather than hard ground. Above all else, you want your trampoline to be a safe place for fun memories.
#7 Include It In Your Landscape
You can also hide it strategically if your yard allows – think trampoline landscaping ideas. For example, shrubs and bushes can be placed around it and a thick layer of mulch can make a secret path to get to it. This would be more ideal for older kids for safety reasons unless you are always around to supervise small children.
Another option is a unique in-ground trampoline system if the budget allows and you are prepared to commit to an option that is more permanent. An artificial turf would be a beautiful landscaping option to conceal a sunken trampoline because the trampoline is at ground level. Besides being more aesthetically pleasing than your average trampoline, an in-ground trampoline is safer for everyone as well so you can have more peace of mind sending your kids outside to play.
Finally, a designated play space would be a great place to include a trampoline. With a swing set and sandbox, this fun place would become a mini park!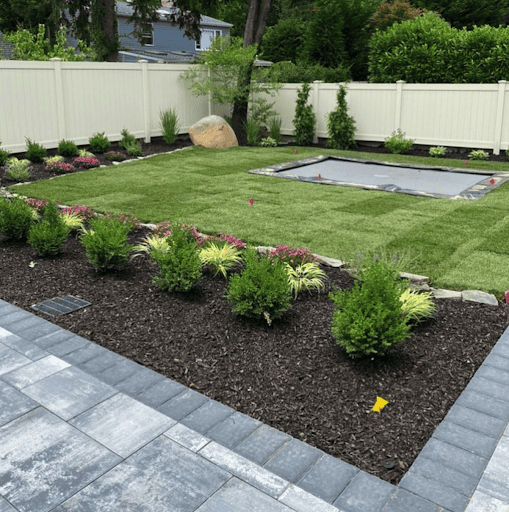 Best Ways To Include Play Utilizing Your New Trampoline
Trampolines provide endless amounts of fun for the whole family. Whether you want to bounce around, play a game of "popcorn", or use it as a pirate ship, your imagination can run wild. Some of my favorite memories as a child were spent playing with other neighbor kids. My backyard trampoline ideas are inspired by my childhood and some of my favorite ways to play:
#1 Trampoline Waterpark
One great trampoline backyard idea is to turn your trampoline into a makeshift water park. You can do this by placing a sprinkler underneath the trampoline or attaching a hose to a sprinkler and holding it over the trampoline. This will create a fun and refreshing way to beat the summer heat while still enjoying the thrill of bouncing on a trampoline.
#2 Obstacle Course
Another fun idea is to create a trampoline obstacle course. This can include different challenges such as jumping over obstacles, doing specific jumps in a certain order, and even crawling under the trampoline. This will not only provide a fun and challenging activity for children, but it can also help improve their coordination and balance.
My kids love to watch The Floor is Lava. I can only imagine the types of obstacle courses they would set up utilizing a trampoline!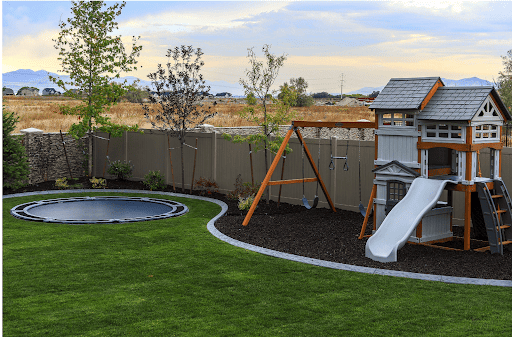 #3 Trampoline Games
If you have a group of friends over, you can turn your trampoline into a fun game of bounce tag. The rules are simple: one person is "it," and they have to tag the other players by touching them while they are bouncing on the trampoline. Once a player is tagged, they become "it" and continue the game. This game can provide hours of entertainment for children and adults alike.
We also love playing popcorn. I'm going to warn you by saying it may not be the safest game. So please keep in mind, you'll want to encourage safe play. With that being said, you have a person who sits criss-cross applesauce with their hands on their feet. Each player takes a turn to bounce the popcorn player. If the popcorn player can't hold their position, the player who "popped" them wins.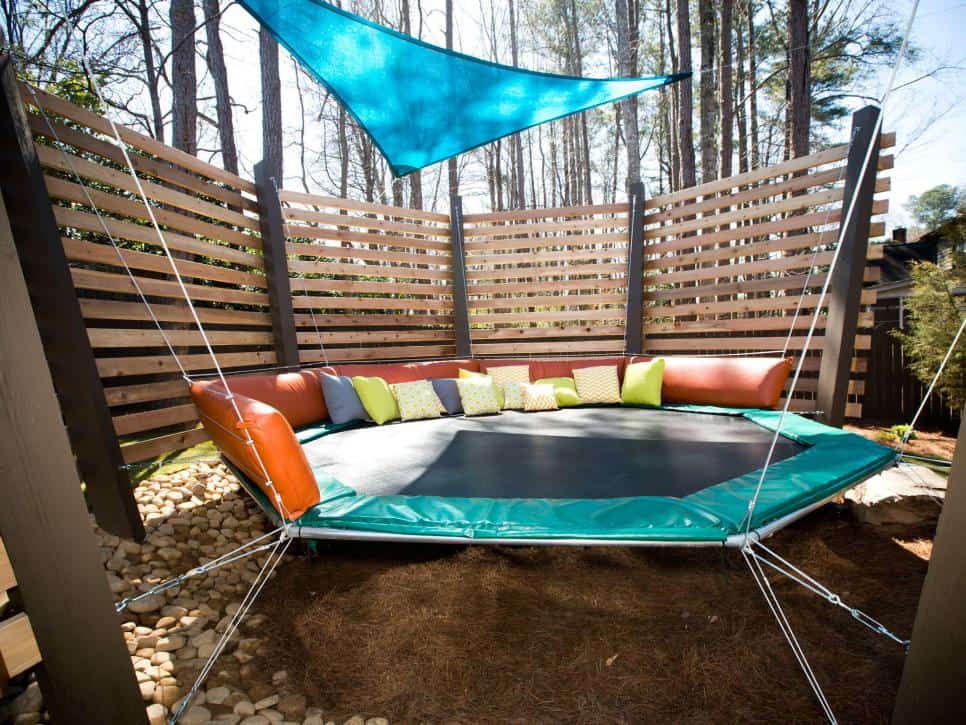 #4 Stargazing Nights
You can also use your trampoline for stargazing. On clear nights, lay a blanket on the trampoline and lie down to watch the sky. This is not only a relaxing way to enjoy the outdoors, but it can also be a great educational opportunity to teach children about constellations and the night sky. If you want to take it up a notch, you could always use it as an opportunity to have your backyard trampoline ideas to include a night of camping and stargazing.
#5 Build a Fort
If you have an above ground trampoline with a safety net, you can always make your own fort. Take some old sheets and place them over the net. You can cover the whole trampoline or leave it partially open. This would be great for any young kids who may want to play capture the flag and use their trampoline as home base.
Backyard Trampoline Ideas & Accessories For Outdoor Fun
Take a look at some of my favorite finds that can help you take your trampoline up a notch!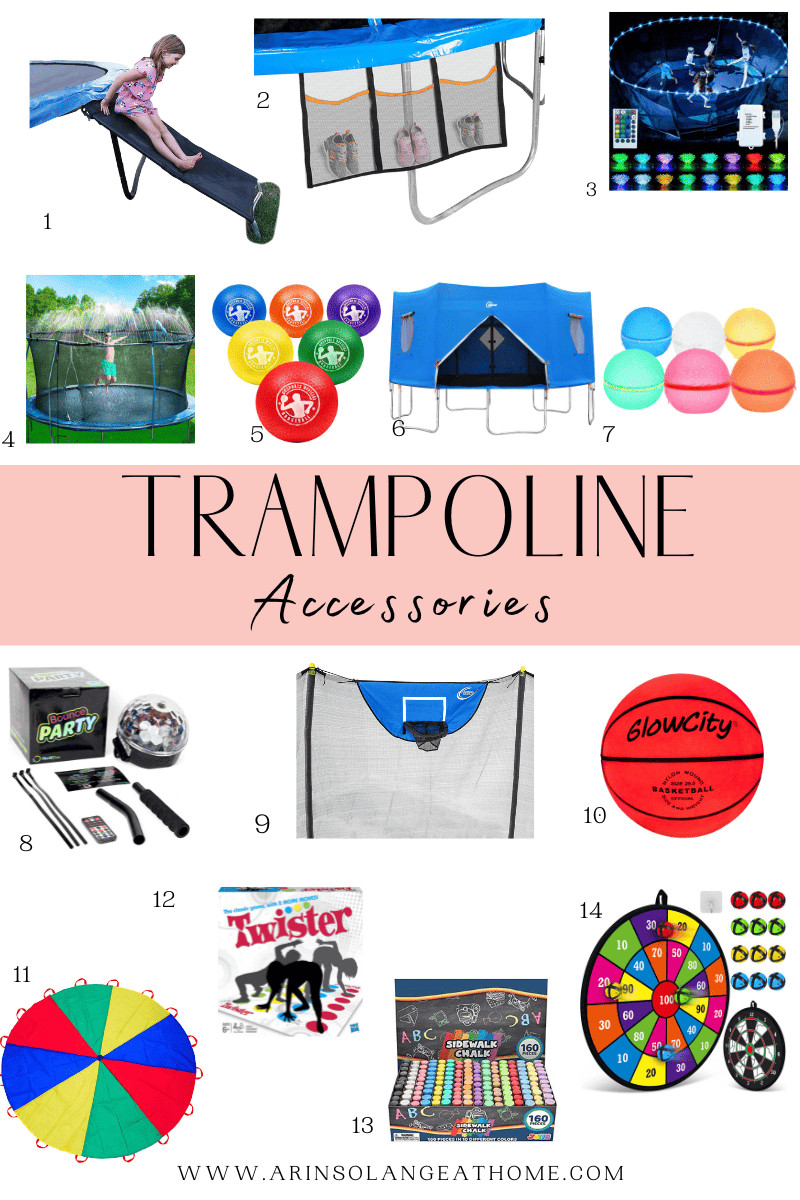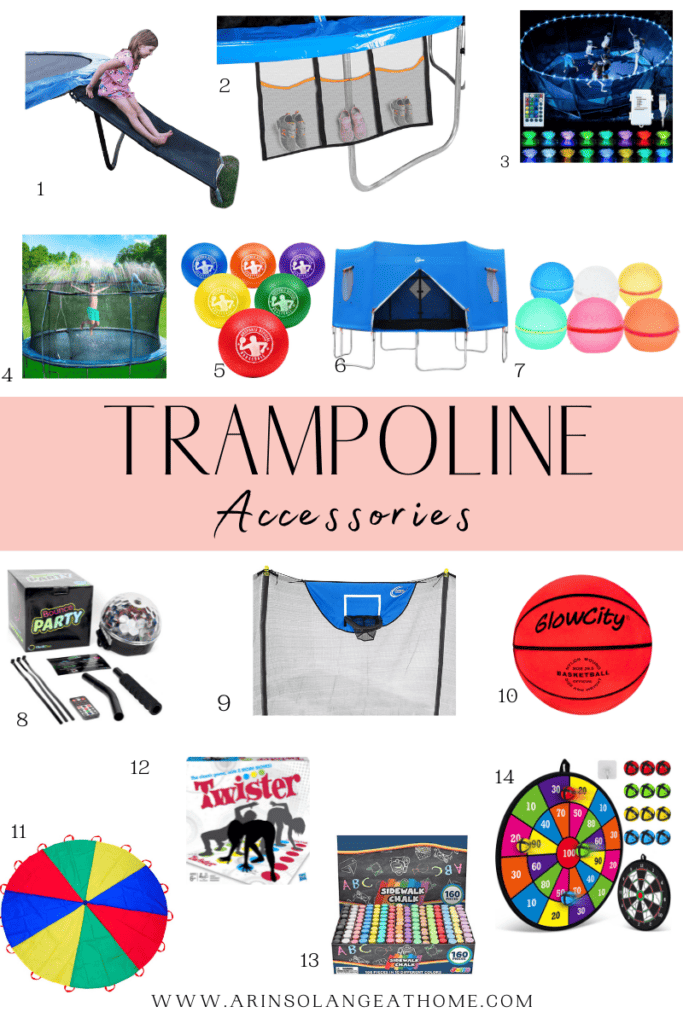 1 | 2 | 3 | 4 | 5 | 6 | 7 | 8 | 9 | 10 | 11 | 12 | 13 | 14
Other Posts You'll Love
Toys To Keep Them Playing Outdoors | Best Luxury Outdoor Furniture Brands | Easy Outdoor Table DIY
Follow Social For The Latest & Greatest
Pin This Photo Below For Later
Trampolines are a great way to get active and enjoy the outdoors. They provide endless hours of fun for kids and adults alike and are a great addition to any backyard. However, before you rush out to buy a trampoline, it's important to consider your options and make sure you are making a safe and informed decision. With the right safety precautions and some creative design elements, your trampoline can be a source of endless fun for years to come. So go ahead, bounce your heart out and enjoy the great outdoors! Hopefully, you've picked up some great backyard trampoline ideas to make your backyard a blast.