Decorating a toddler girl's bedroom can be both exciting and daunting. You want to create a space that is not only comfortable and functional but also reflects your child's personality and interests. As much as you want to give your little girl the bedroom of her dreams, you also need to stick to a budget. Fear not! There are plenty of ways to decorate your toddler girl's bedroom on a budget without sacrificing style. In this blog post, I'll share my top 10 favorite toddler girl bedroom ideas on a budget that I know you'll love!
This post may contain affiliate links.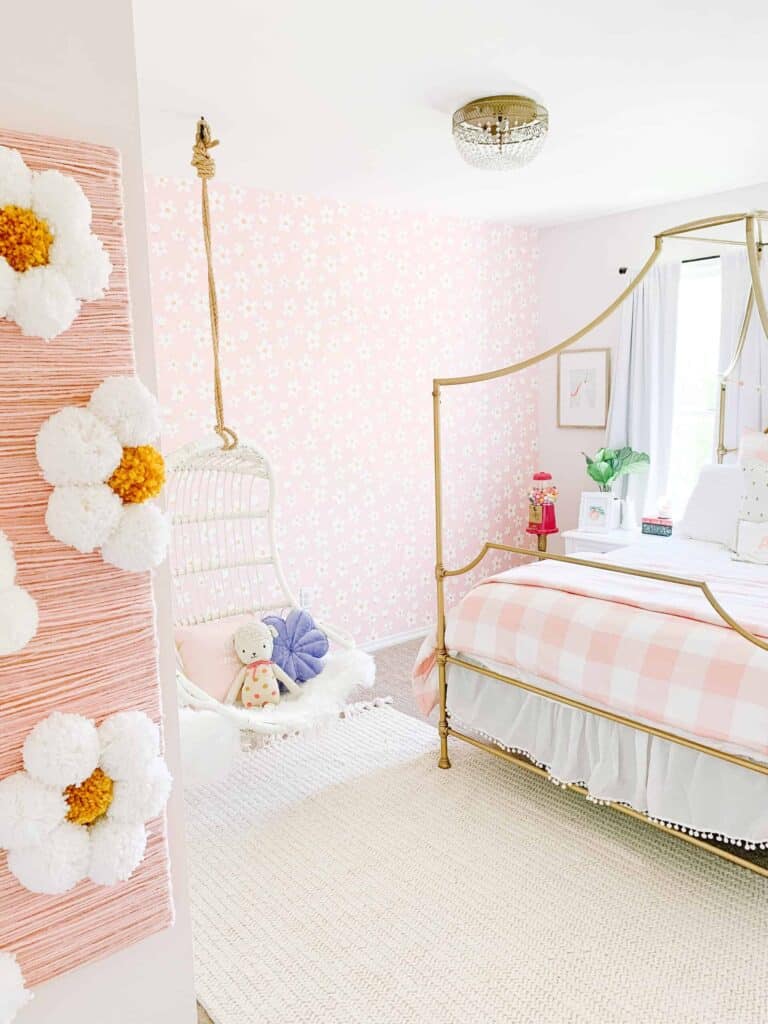 10 Toddler Girl Bedroom Ideas On A Budget To Love
With all the renovations happening at our house, I'm embarrassed to say that Goldie has taken the back seat. Her room still needs some TLC and I've got it on my list to update before she turns four! While she's growing up way too fast and will soon be a big kid, I have plenty of experience working on toddler rooms between my four kids' bedrooms.
Over the years, some of my favorite rooms were ones that housed my toddlers. You may remember Ave's room when I updated it from a nursery to her toddler bedroom using Spoonflower wallpaper. If that wasn't darling enough, I then went ahead and switched out her wallpaper as her style changed and in doing so, created one of my favorite toddler girl bedroom DIYs. Her daisy toddler bedroom tops the list of favorite rooms and I was so sad to see that room go once we moved.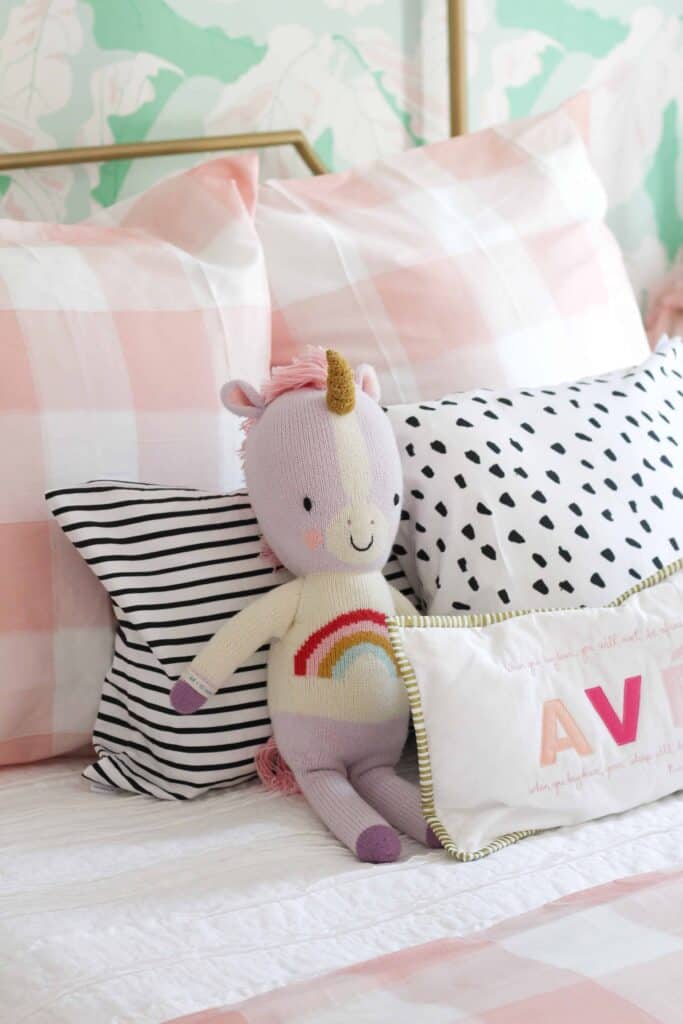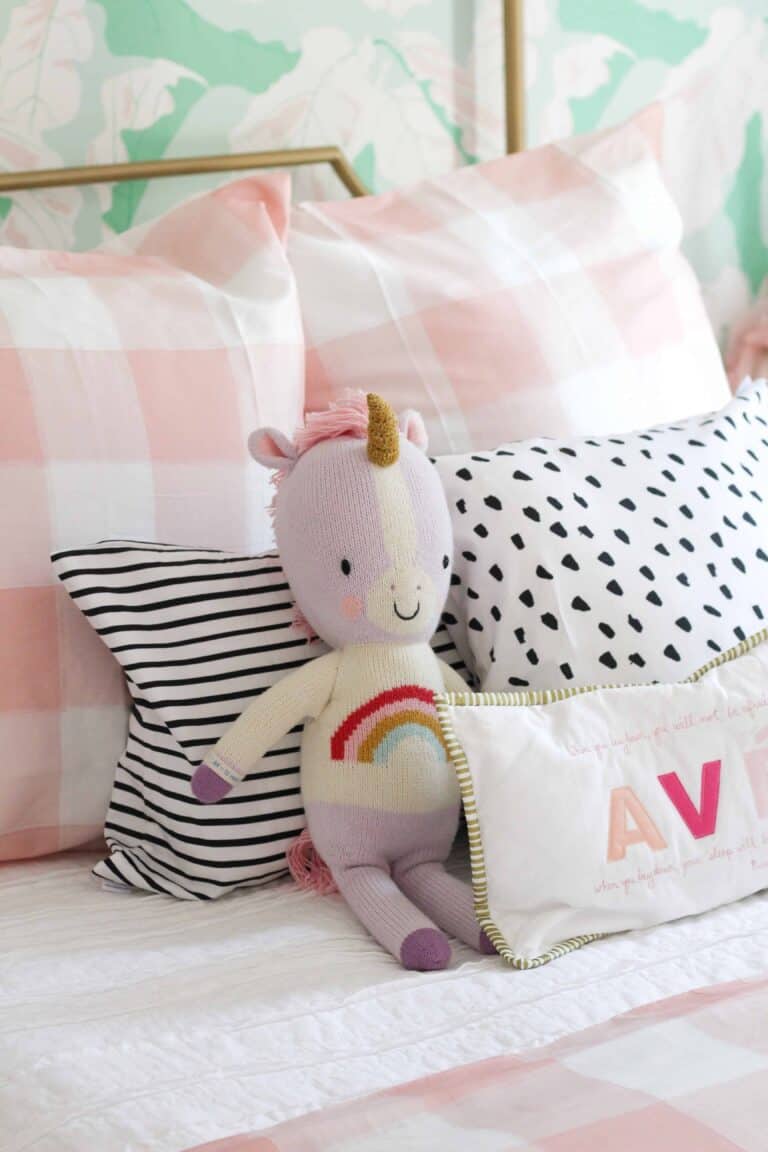 Of course, not to be outdone, is Goldie's nursery turned toddler bedroom. Goldie had a darling room that was filled with subtle sweet touches. I was very intentional in designing her room to grow with her as she reached toddlerhood. She is our drop of Golden sun and her nursery reflects her personality and style. Once we moved, we kept that similar theme, but it is by no means where I want her room to be.
So if you are also looking for inspiration on toddler girl bedroom ideas on a budget, I hope some of my past rooms and DIYs can help.! Hopefully, I too can find some new inspiration for Goldie's new big girl room (coming soon).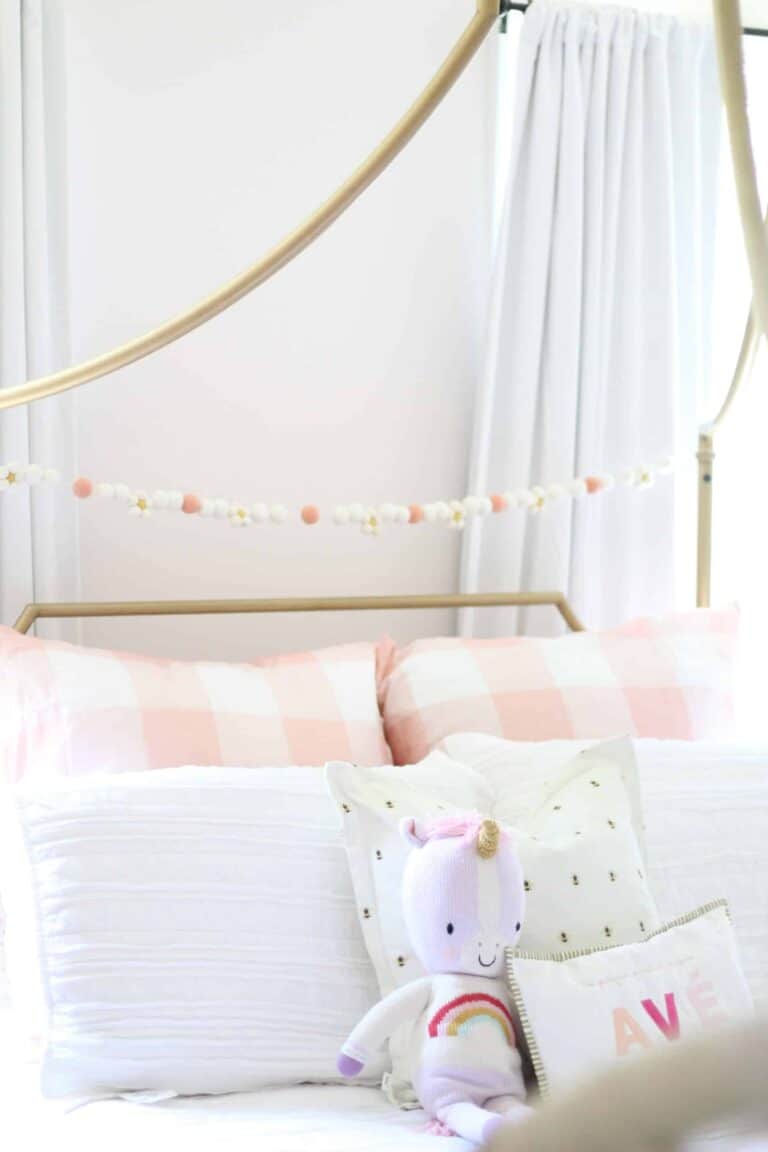 Considerations To Take In Mind For Your Toddler Girl Bedroom
Toddlers can be finicky. They are hot and they're cold. They're yes and they're no. I'll spare you from completing the song lyrics, but you get my drift. Overall, when I design a child's room, whether it is a baby's nursery, toddler bedroom, or pre-teen room, I keep a few key considerations in mind.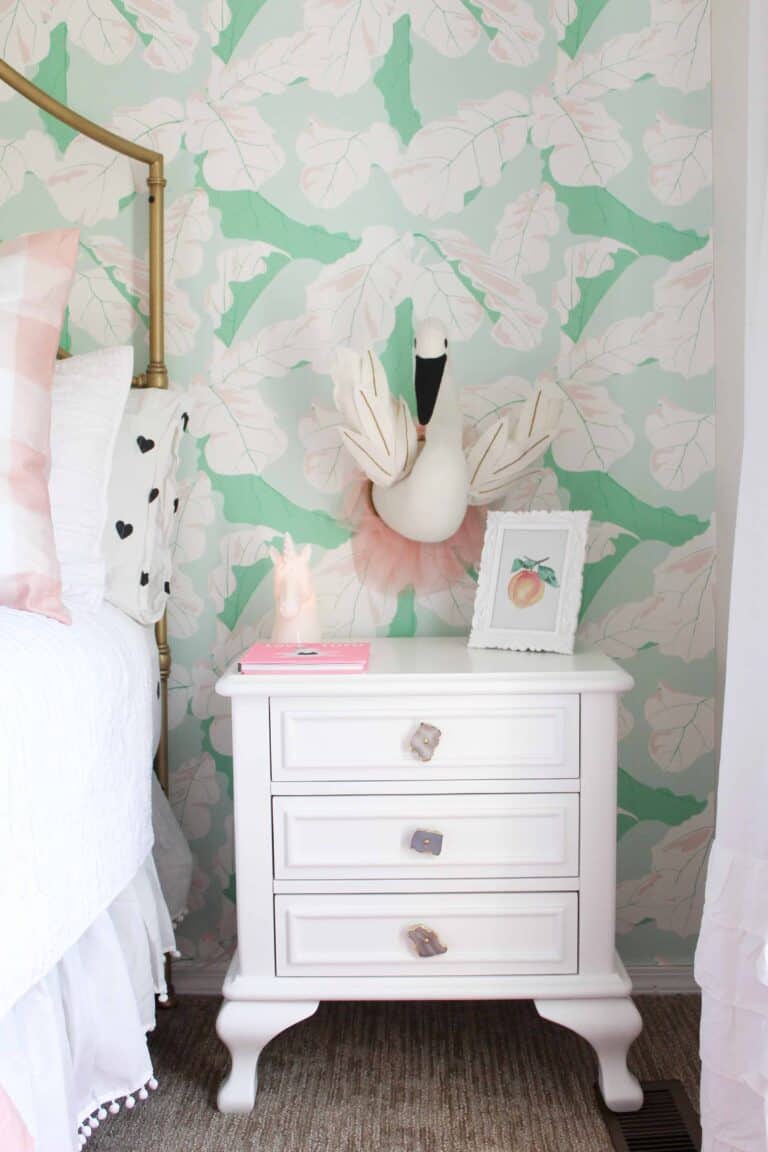 Children's Tastes Change Quickly
Designing a toddler girl bedroom on a budget can be a fun and challenging task. With a little creativity and some DIY inspiration, you can create a magical space that your little princess will love and grow with your child into her teenage years. When designing your daughter's room, it's important to keep in mind that young children's tastes change quickly, so it's important to design a room that can be easily updated with the latest trends.
You may not necessarily have the budget to buy all new furniture, paint, wallpaper, and decor every time you decide to upgrade your child's room. Being intentional in what you do buy will help you determine what you can and can't upgrade. It may be more beneficial to buy used furniture or IKEA pieces that you can customize for your own style. Or, you may opt to splurge on furniture and have your little girl grow into her style.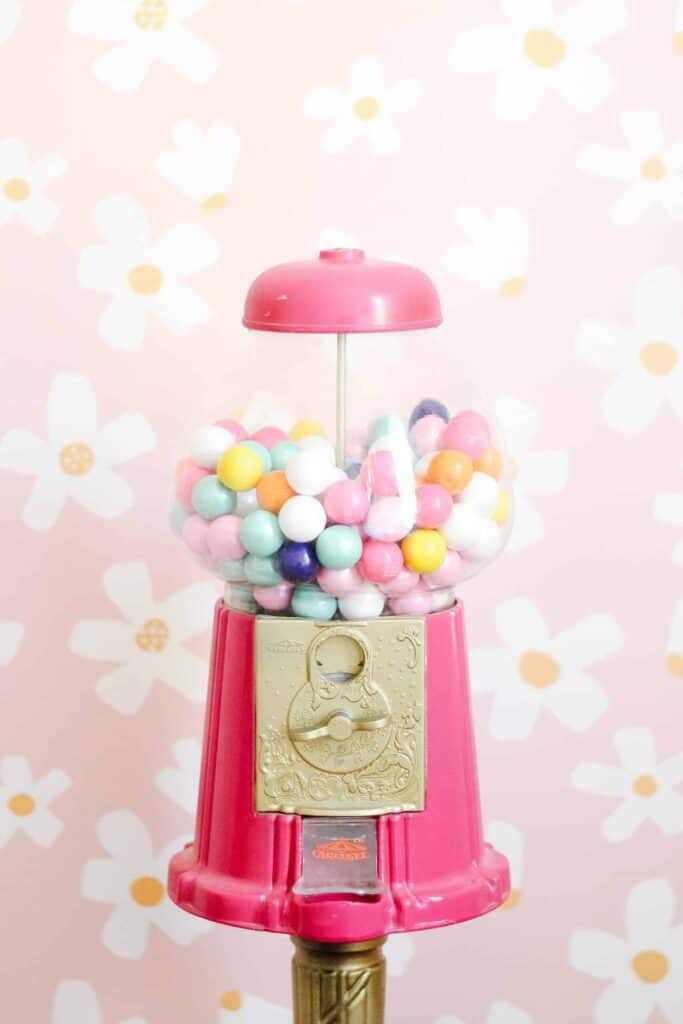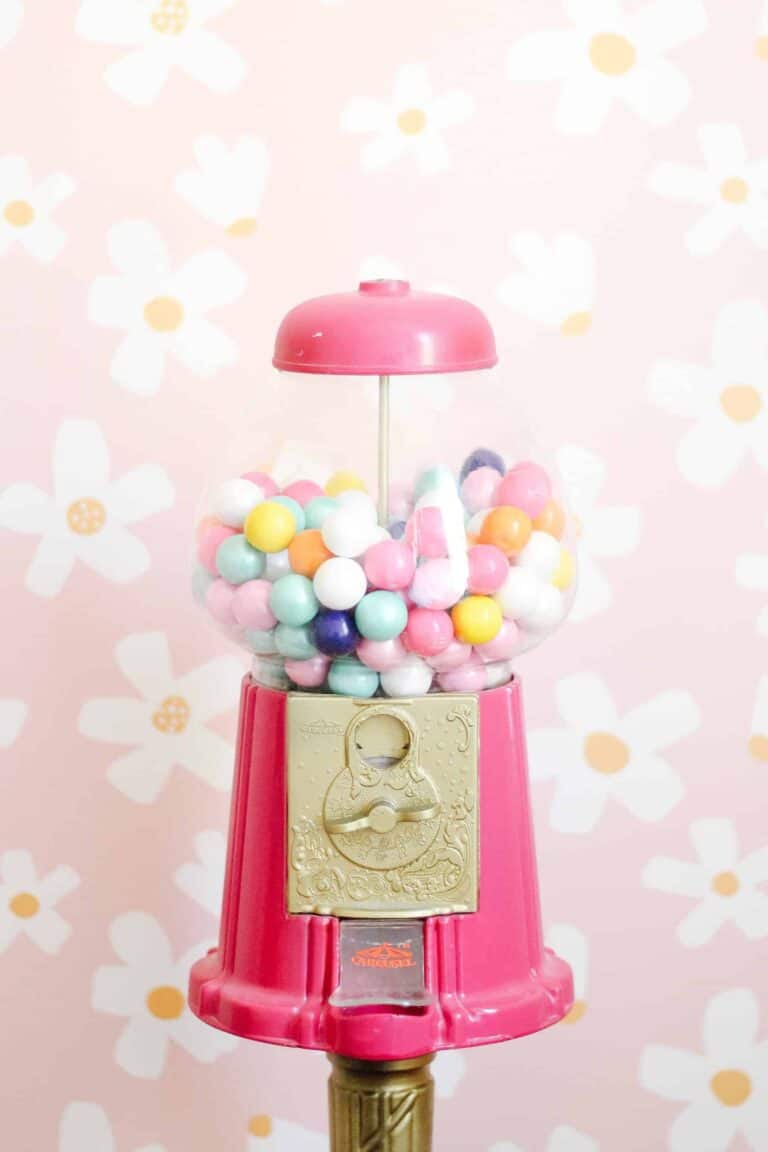 Easily Swap Decor & Textiles To Change Up A Room
One easy way to update a space is by swapping out textiles and decor. You can get an entirely different style by switching out your rugs, curtains, pillows, and bedding.
A vibrant and colorful area rug can be a perfect solution for adding a pop of color and comfort to the room. Different patterns and textures can also add interest to the rest of the room. You can find affordable throw pillows and wall art at craft stores, flea markets, and discount stores like Hobby Lobby and the dollar store.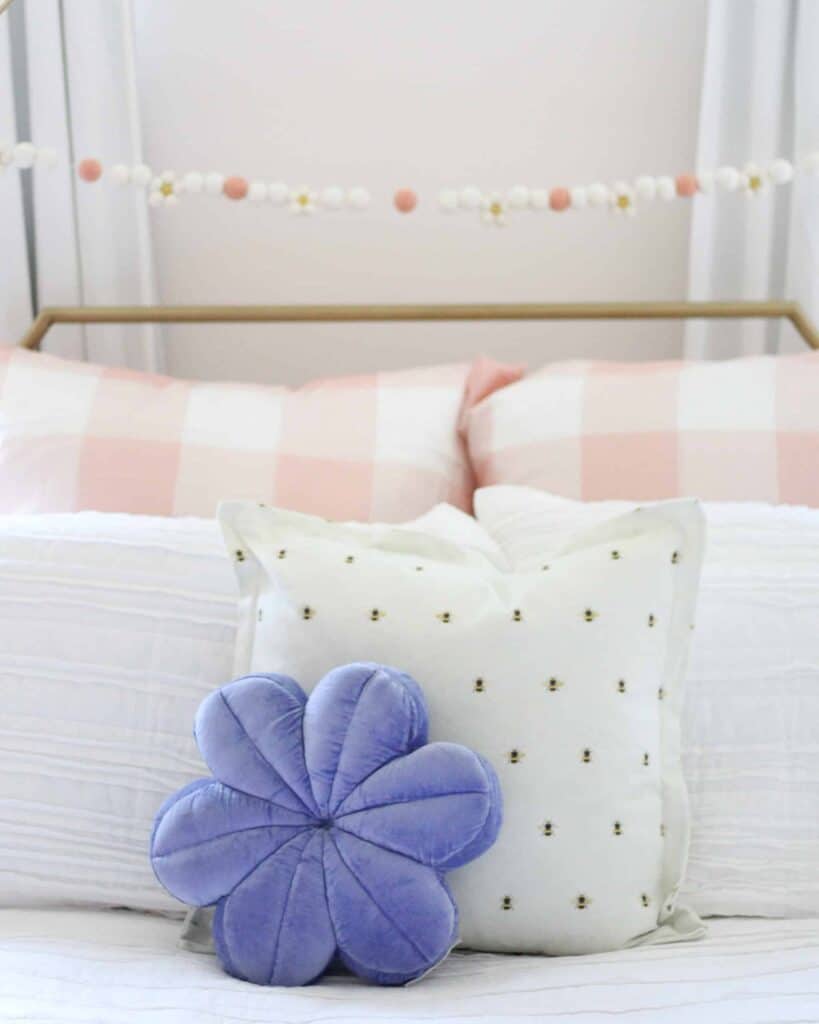 Accent Walls Are A Blank Canvas
Consider using an accent wall to add character to the room. One way to create a feature wall in your daughter's room is to paint one wall a bright color. In terms of paint colors, bright colors like pink, purple, and yellow can be a fantastic way to add a fun and playful feel to the room. You can also use pastel colors to create a more calming and peaceful atmosphere. Chalkboard paint is another option to create a fun and interactive space. This allows her to express her creativity and can be easily updated as her tastes change.
Color will certainly stand out, but I generally prefer more subtle white walls as they provide a blank canvas for other elements in the room to shine. I tend to pair my muted paint colors with more bold features like wallpaper or wall decals. This in turn creates a focal point in the room.
Another fun thing I do is utilize bookshelves as accent walls. This is dual purpose. First, you have a great feature wall that looks amazing. Second, you have storage for all those books you'll end up reading.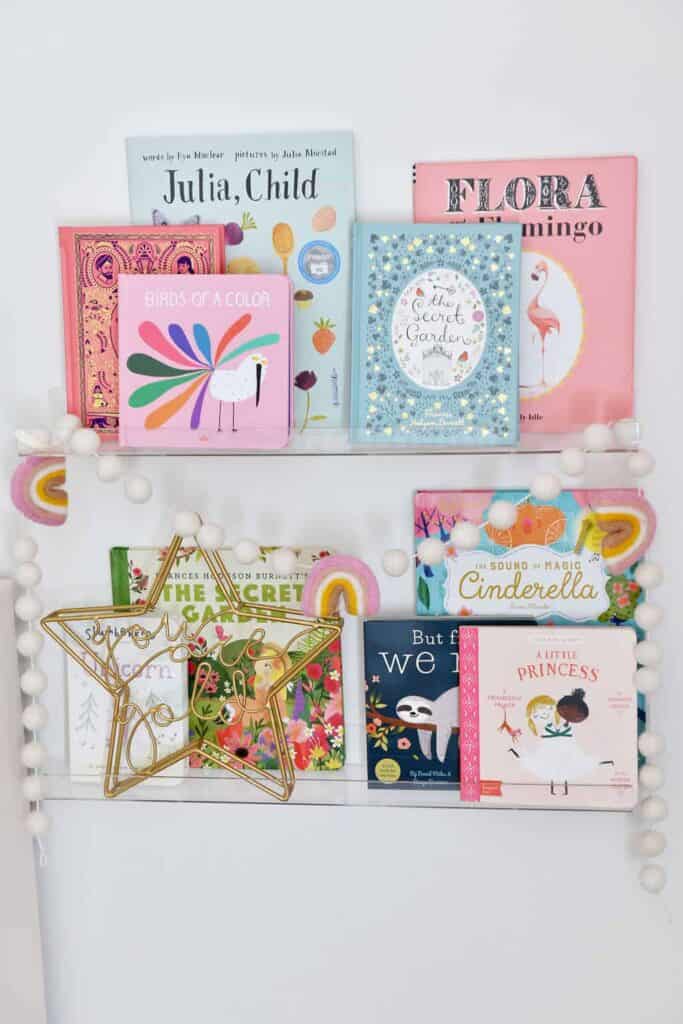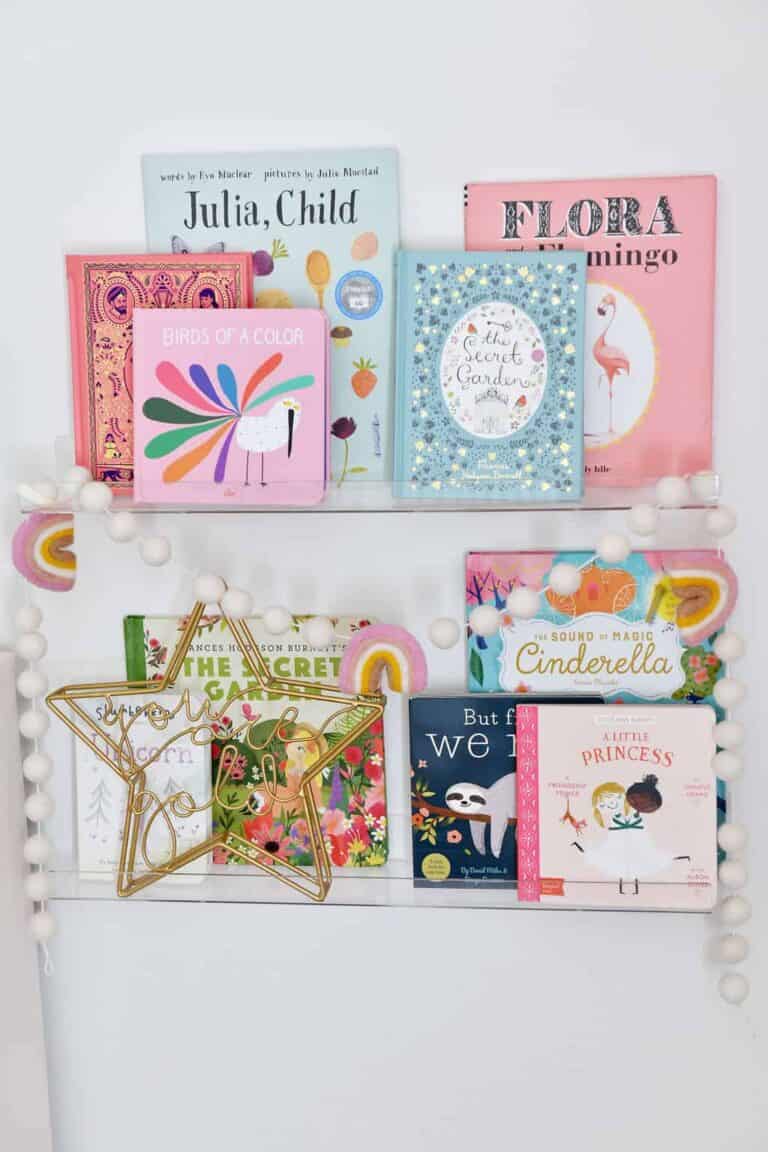 Don't Forget Play Areas
It's important to create a play area in your child's room, where she can engage in her favorite activities. This can be as simple as adding a small table and chairs or a tent for imaginative play. A chest of drawers can provide much-needed storage space in a small room. You can also create a reading nook by placing a comfortable chair or bean bag in a corner of the room.
Storage Is Always Key
Finally, don't forget to incorporate storage ideas throughout the room. This can be as simple as using baskets or bins to store toys and books or installing shelves to display your child's favorite items.
You'll want to be sure that you have designated areas where your little one can practice their independence and help pick up their belongings. Using storage not only keeps the room looking tidy, but also helps your growing toddler learn responsibility.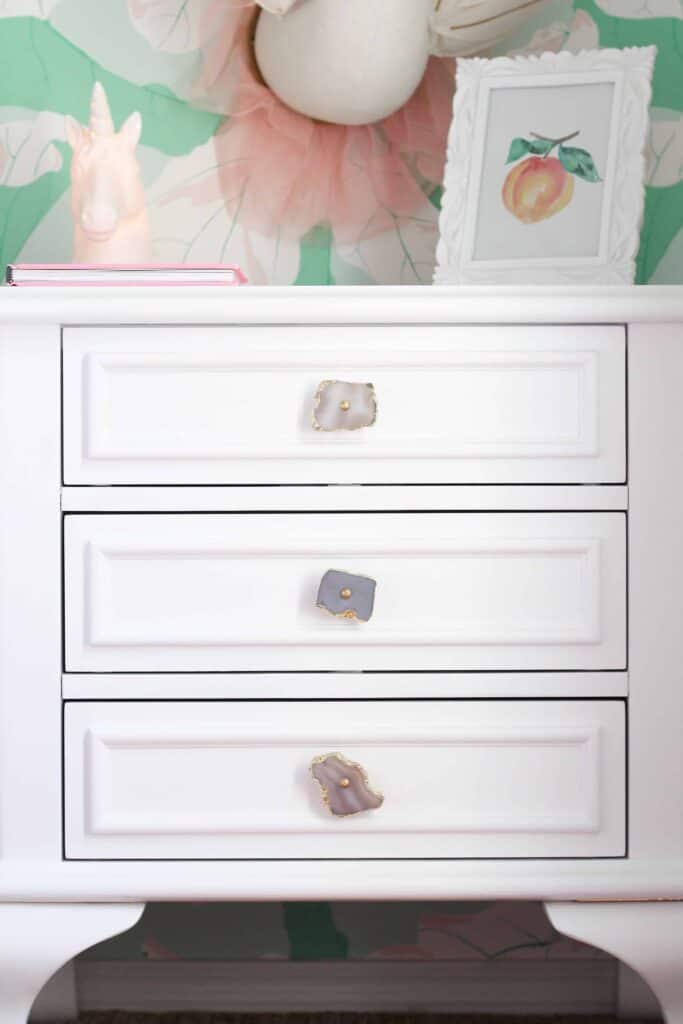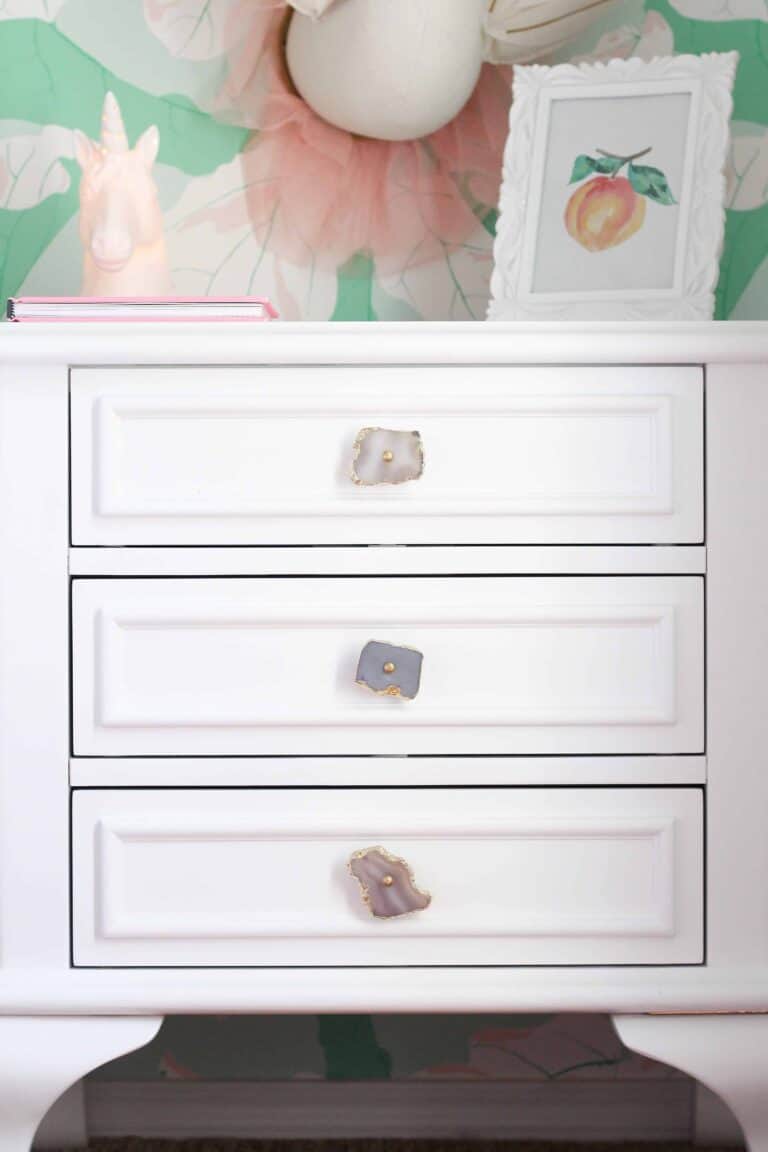 Easy Ways To Stick To A Budget
When it comes to toddler girl room ideas on a budget, a bedroom makeover doesn't have to break the bank. One of the best ways to stick to a budget is to buy items on sale, DIY, or repurpose items you already have.
Keep an eye out for sales and discounts on furniture and decor items. I love looking at my local antique stores for decor. Not only can you get some really interesting pieces, you can also find items that you may be able to repurpose.
If you are more creative, you can always try your hand at DIY projects to create unique and personalized items for your toddler's bedroom. Repurposing items you already have, such as old furniture or decor, can also save you money while giving your toddler's bedroom a fresh new look. I love using IKEA furniture to customize exactly what I want. The furniture prices are reasonable and with a little extra work, you can create a custom looking piece.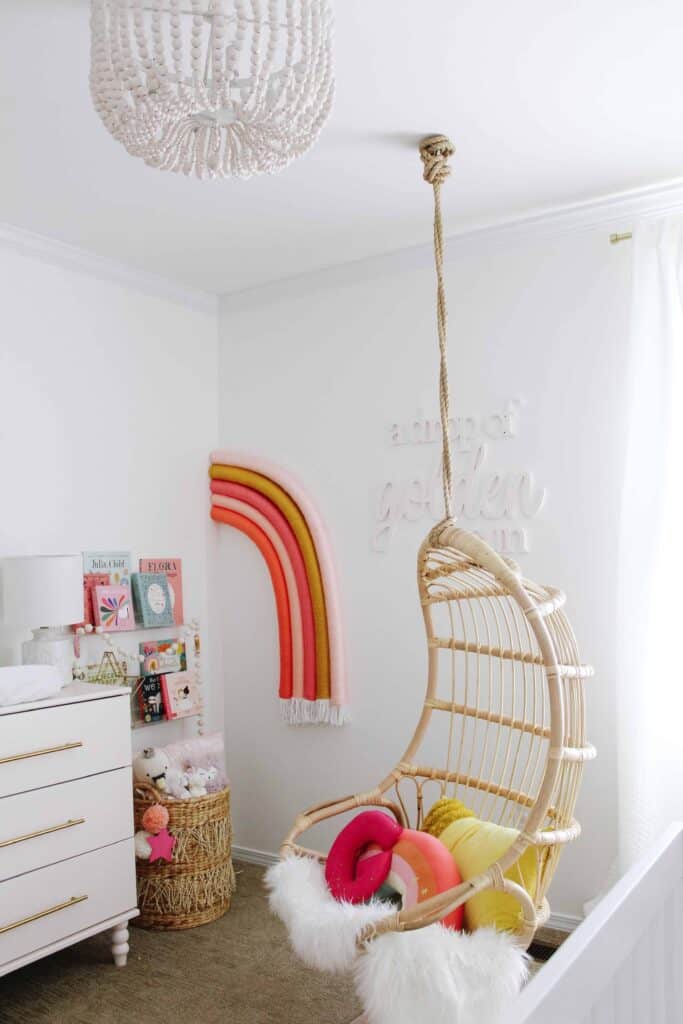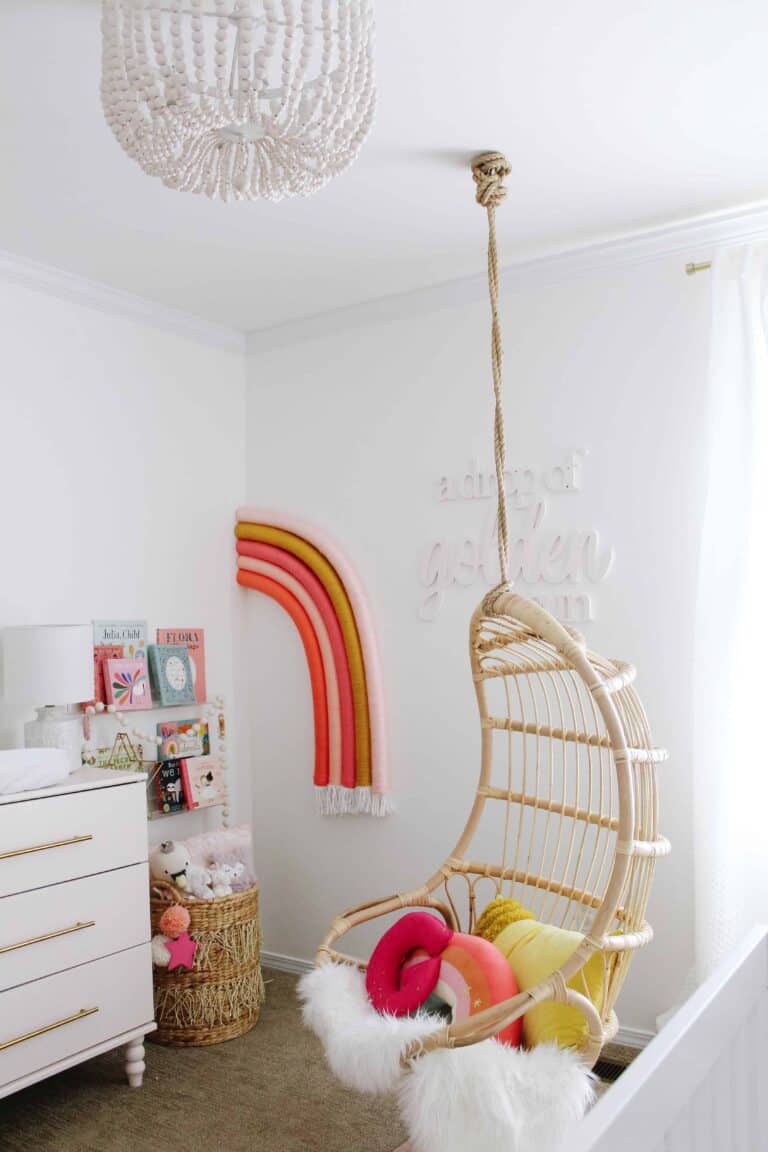 Pottery Barn Kids is a great resource for interior design inspiration, but it can be expensive. Instead, try finding similar items at more affordable prices at discount stores or online retailers. When updating the room, consider repurposing old items or finding new uses for them. For example, an old dresser can easily be updated with a fresh coat of paint and new hardware. With a little bit of creativity and some budget-friendly ideas, you can create the perfect room design for your toddler girl that will grow with her into her teenage years.
Favorite Toddler Girl Bedroom Ideas On A Budget
​​Little girls' bedrooms can be transformed with some simple and inexpensive decor ideas that will create a space that feels special and personalized. If you're looking for inspiration for your baby girl's or toddler girl's bedroom, here are some of my favorite toddler girl bedroom ideas on a budget:
1. Use Bookshelves To Make A Statement
Bookshelves are not just for storing books. They can also make a great impact statement on a wall. You can use bookshelves to display your toddler's favorite toys, stuffed animals, and other decorative items. Personally, I love a clear acrylic bookshelf that is loaded with colorful books. This creates a focal point and adds additional storage. I've utilized this trick over the years and you can check out all the different creative ways to display children's books.
You can easily change out the books and decor with each season. Just make sure you place the shelves low enough for your little girl to reach!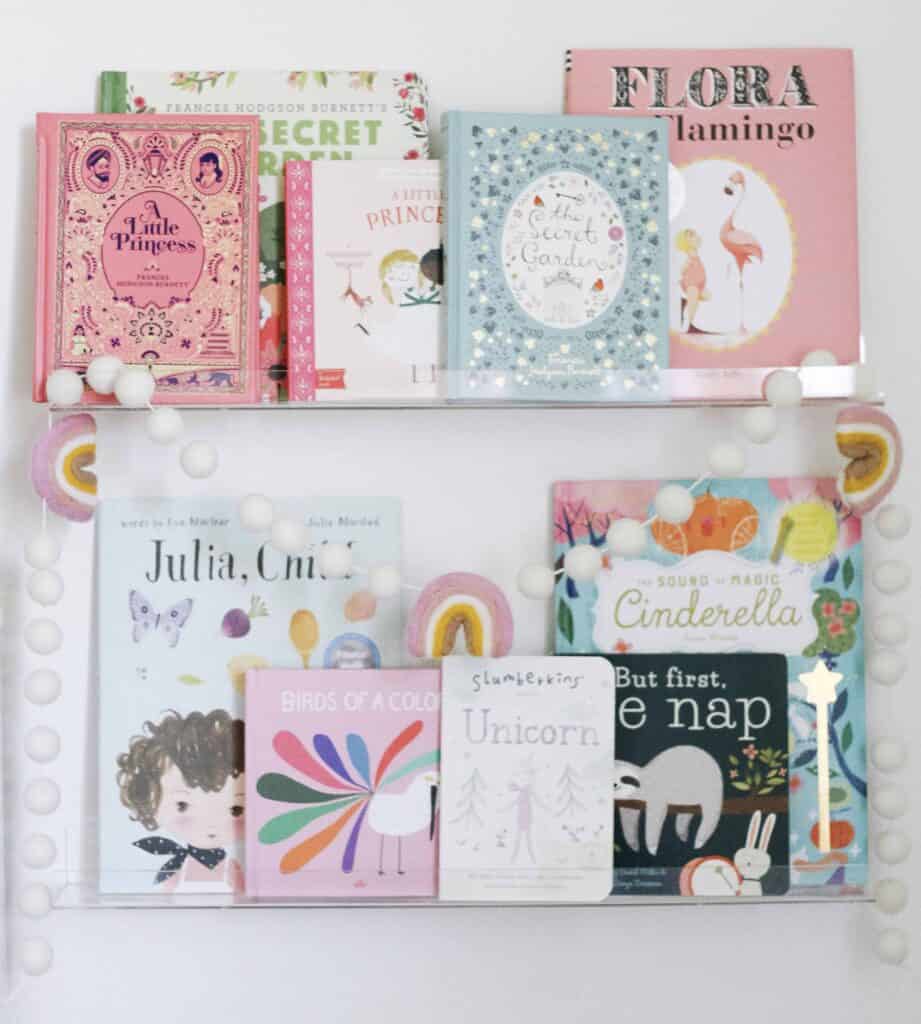 2. Decorate With Wall Decals
Wall decals are a great idea to add color and personality to your toddler's bedroom without spending a lot of money. They are easy to apply and remove, and they come in a variety of designs and sizes.
You can change out the wall stickers as your toddler grows and her interests change. I love the idea of using one blank wall as a canvas for wall decals or peel and stick wallpaper. You can use the peel and stick decals as your theme and easily switch them out and other textiles out for a cost-efficient and easy upgrade.
If you have a Cricut, you can make your own. Otherwise, you can find lots of great options on Etsy and Amazon.
3. Frame Your Own Artwork
Your toddler is bound to create a lot of artwork, so why not display it in her bedroom? You can frame your toddler's artwork to create a gallery wall. This not only adds a personal touch to the room, but it also saves you money on buying expensive artwork.
Wall decor can be costly. So I love utilizing what I have on hand to make custom looking art. If you want something that is more upscale than your own toddler's drawings, consider framing a small piece of wallpaper. This is a great and inexpensive option. If you can't find something that's your style, you can always browse Etsy for printable art.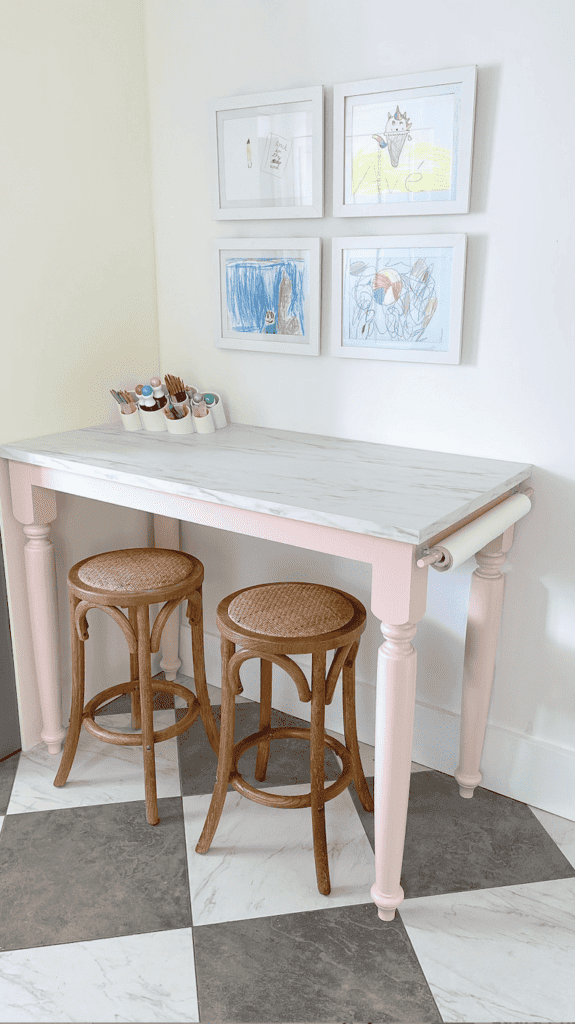 4. DIY Wall Statement
If you're feeling creative, you can make your own wall statement. You can create a mural, paint a design, or use stencils to create a pattern on the wall. This is a great way to add personality to your toddler's bedroom without spending a lot of money.
For Goldie's room, I created a DIY large wall rainbow from pool noodles and yarn. To create this look, I took one noodle and wrapped yarn the whole way down. I repeated this with different colors on five noodles. It was equal parts easy and tedious. After the noodles were wrapped, I took a thicker white yarn to add a decorative touch to the ends of the rainbow arches. When finished, it looks like a neutral macrame rainbow. I loved that I could pick the color scheme and it would match her room for years to come, while being a very inexpensive statement piece.
In Avé's room, I created a matching DIY flower wall that paired perfectly with her daisy wallpaper. This project required very little in terms of supplies and only cost around $30 total. It looked like something you would find in Pottery Barn but I was able to create it for way less!
If bright rainbows and colorful daisies aren't your thing, you can always customize these DIYs using colors that are more muted or your style. The last DIY I created for Goldie's room is a wall hanging sunshine that would be perfect for a boho room!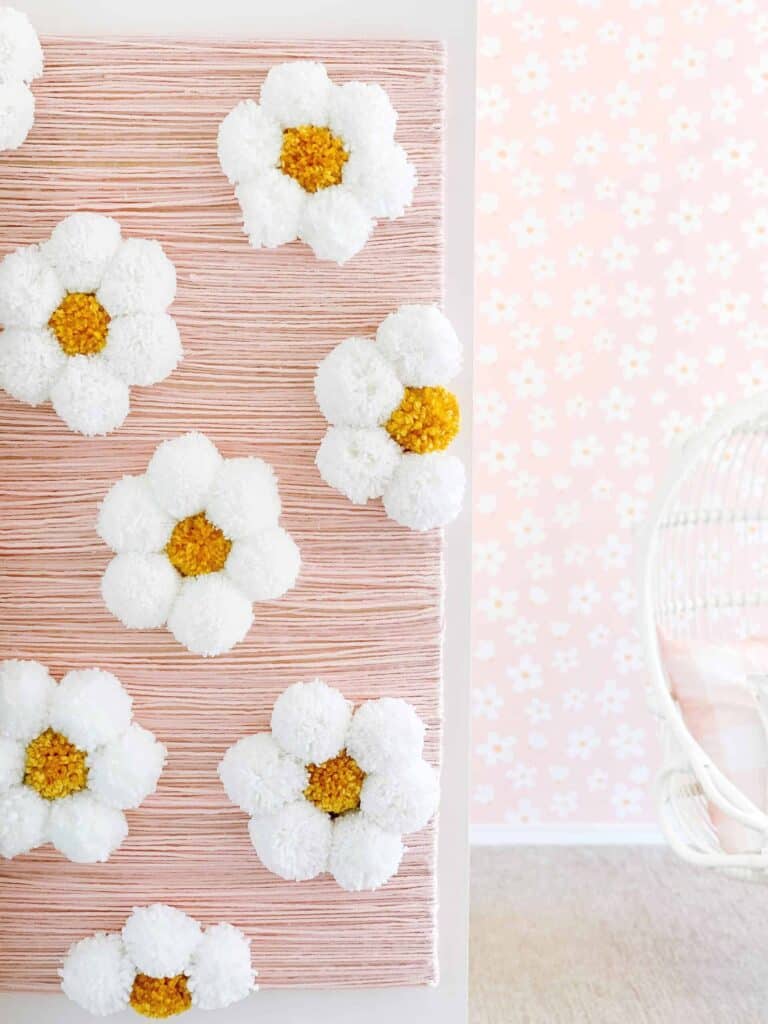 5. Upcycle Your Furniture
It is no secret that I love a good IKEA hack! IKEA furniture is affordable and functional, but it can also be a bit plain. You can up-cycle an IKEA dresser by adding new hardware, painting it a fun color, or adding decals or wallpaper. This is a great way to add personality to your toddler's bedroom without spending a lot of money on new furniture.
In Avé's room, I took an IKEA Bjorksnas dresser and elevated it with resin molds, paint, and new knobs. It wasn't very difficult and it definitely created a huge impact.
Goldie's IKEA dresser was upgraded using paint, new hardware, and dresser "feet" to create a modern look.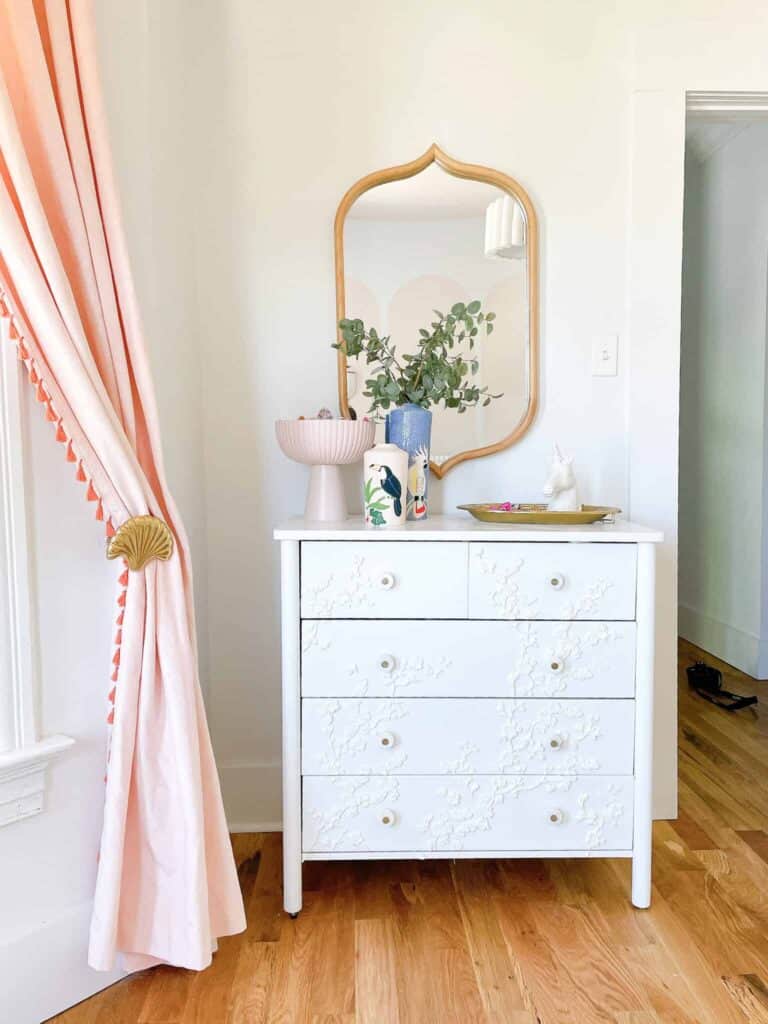 6. DIY Light Fixtures
A unique light fixture can add a lot of personality to your toddler's bedroom. You can make your own light fixture using materials such as paper lanterns, string lights, or even a pendant light kit.
This is a great way to add a personal touch to the room while staying within your budget. I made a DIY light fixture in my daughter Avé's room with a pendant light kit. It was done in four simple steps and one afternoon. I would highly recommend it. Light fixtures can be pricey, but this one is unique and budget-friendly.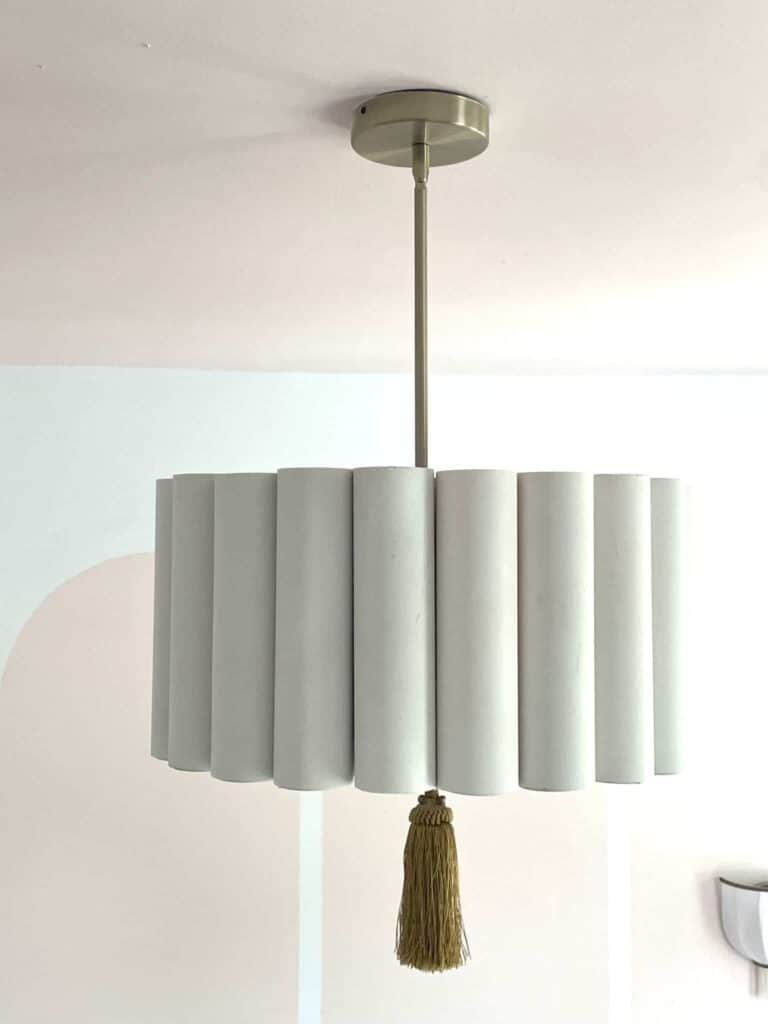 7. Use Multipurpose Items
When decorating your toddler's bedroom on a budget, it's important to think about items that can serve multiple purposes. For example, you can use a storage ottoman as a seat and storage for toys or books. You can also use decorative baskets or bins to store toys or clothing. This not only saves you money but also helps keep the room organized and clutter-free.
Here's a nightstand with storage that I love. We have one in Jack's room. This storage pouf is also in his room. It can be used to hold stuffed animals, extra blankets, or other odds and ends to keep the room looking tidy.
If pink is more your color, here's the perfect storage ottoman for you. We also love the wicker baskets that hang in our mudroom. They look cute alone but also store items we may need to grab and go. They would work well in a boho style room as both decor and storage.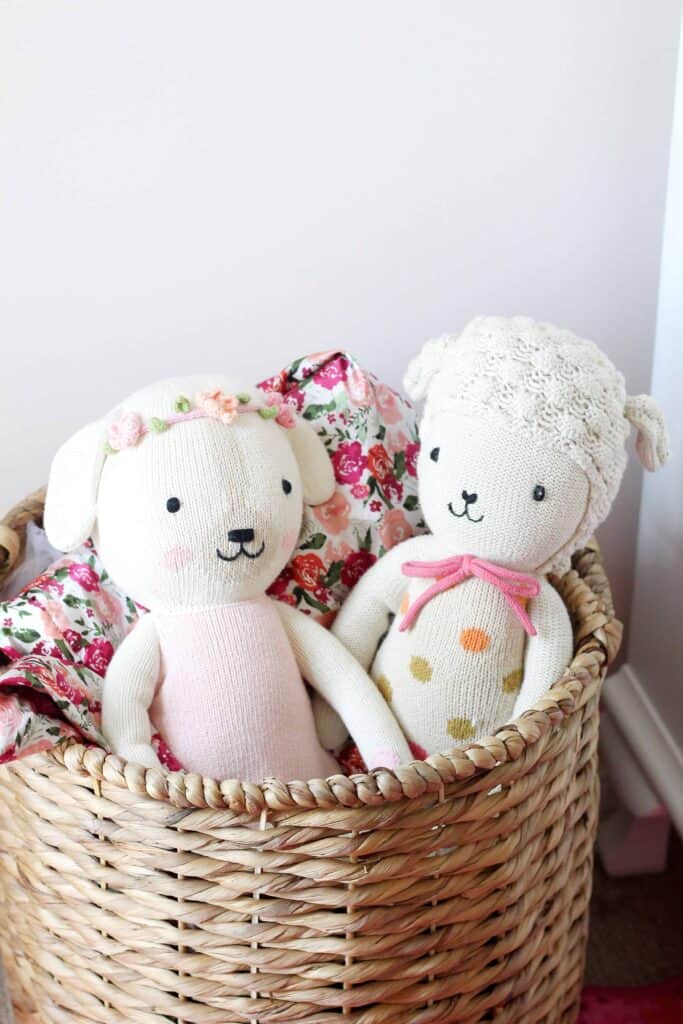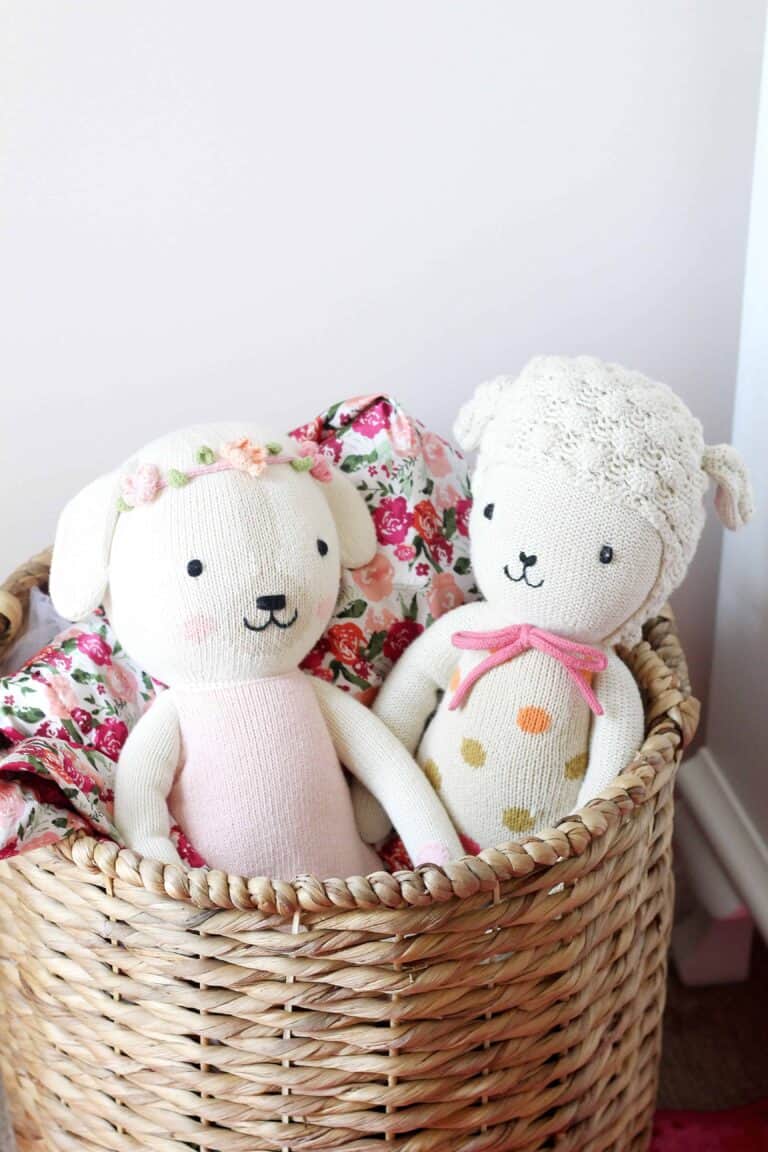 8. Create Storage & Seating With IKEA Hack
IKEA hacks are a popular way to customize IKEA furniture to fit your specific needs and style. You can use an IKEA Kallax shelf unit to create both storage and seating in your toddler's bedroom. Simply add a cushion to the top of the shelf unit and use the cubbies to store toys or books.
Another great IKEA hack is using the Nordli line to create a window seat with storage, like Kelin from Hydrangea Tree House did here.
9. Create Custom Looking Built Ins With IKEA Hack
I love the look of custom built in cabinets. Whether you have builtins in your living room or bedroom, the style is timeless and is functional for storage purposes. If you want to create a built-in look in your toddler's bedroom without spending a lot of money, consider my IKEA Billy bookcase hack.

You can line the bookcases up against the wall and add trim and molding to create a built-in look. This is a great way to add both storage and style to the room without breaking the bank and it's exactly what I did in my home office in my previous house. This would work perfectly for a toddler's room that may also serve as a playroom too.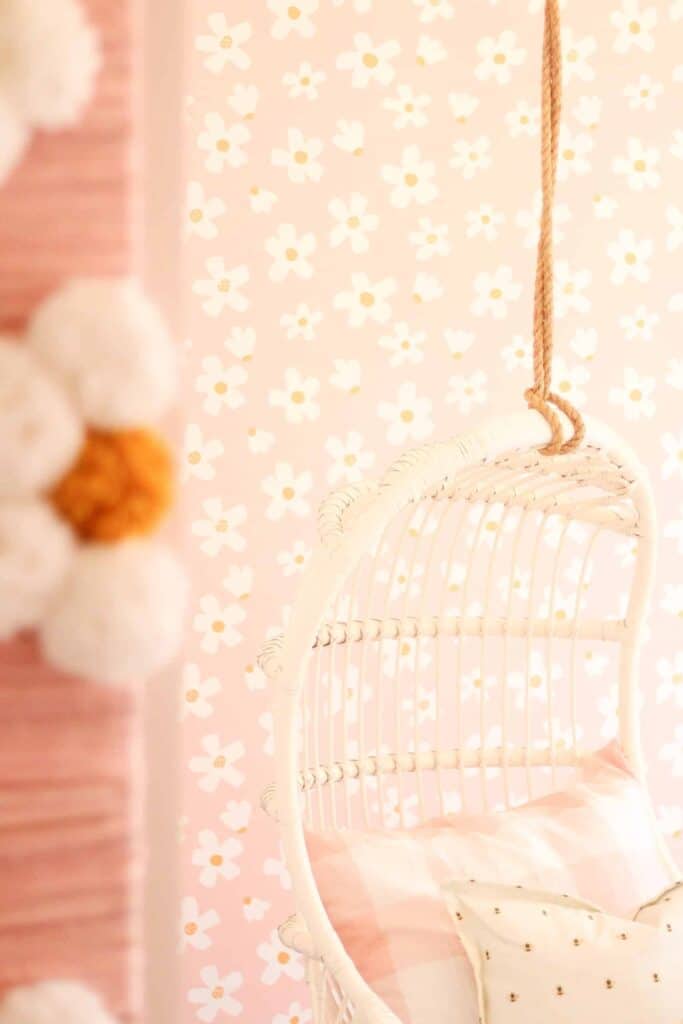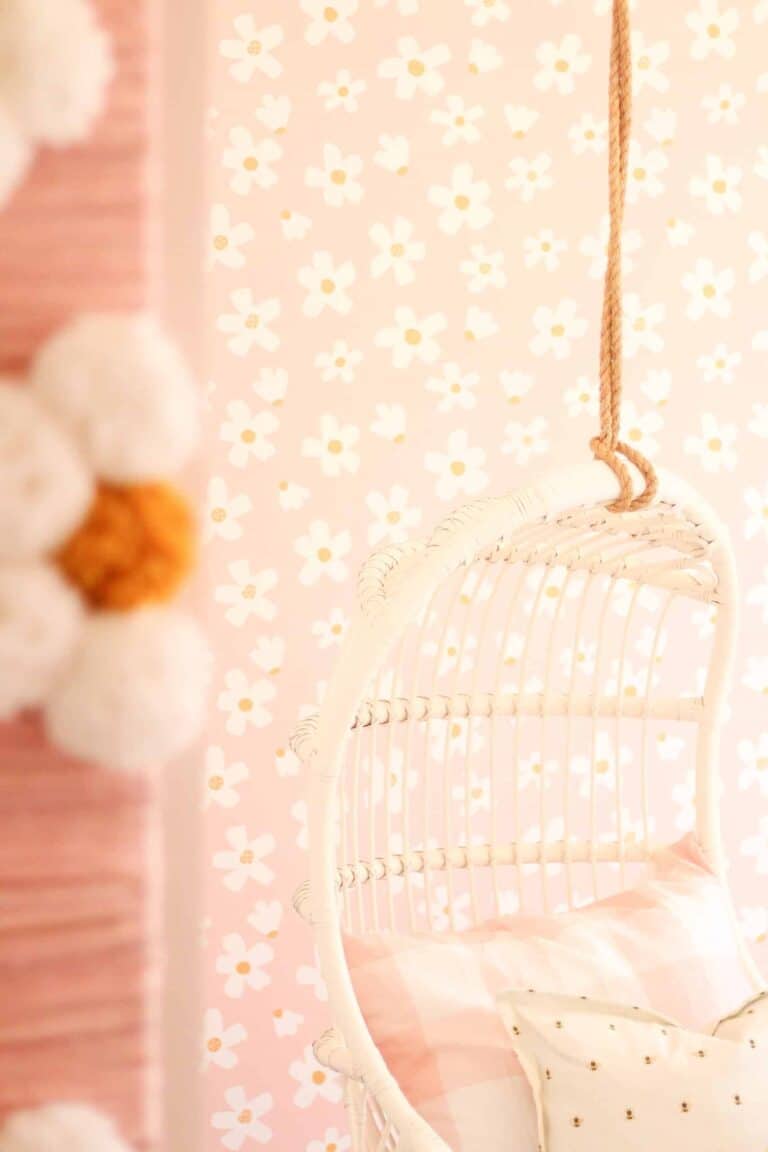 10. Shop Favorite Affordable Toddler Girl Bedroom Ideas
Naturally, I had to add in some of my favorite finds! Whether you are looking for decor, furniture, or textiles, you can still buy your items new and stick to a budget.
Here are some of my recent favorites: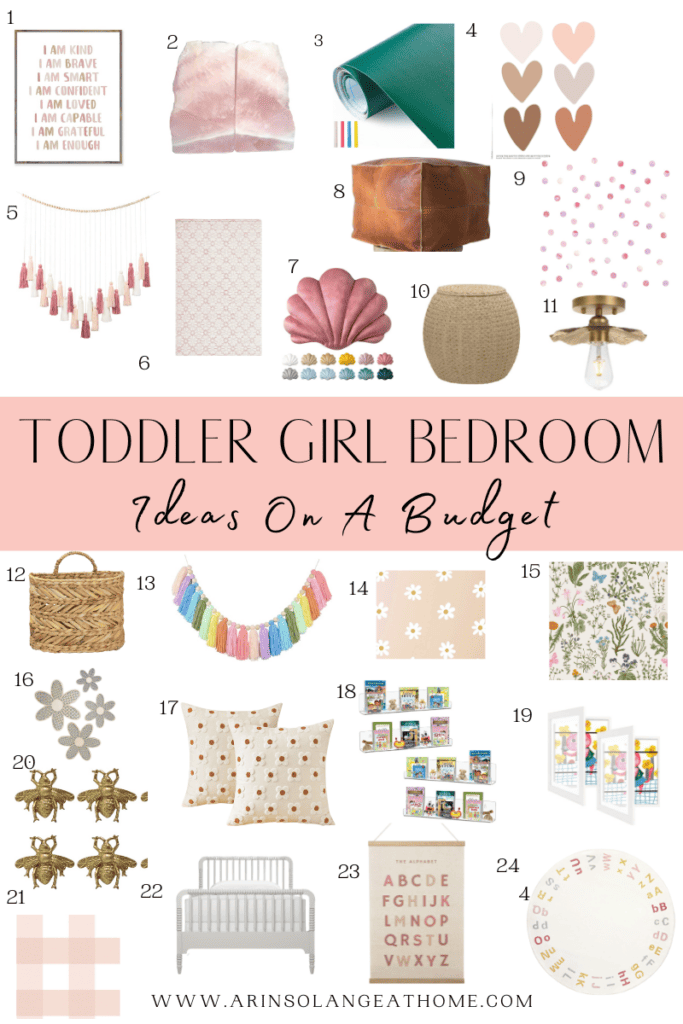 1 | 2 | 3 | 4 | 5 | 6 | 7 | 8 | 9 | 10 | 11 | 12 | 13 | 14 | 15 | 16 | 17 | 18 | 19 | 20 | 21 | 22 | 23 | 24
Other Posts You'll Love
Daisy Wallpaper For A Girl's Room | DIY Daisy Wall Art | Goldie's Rainbow Nursery | DIY Large Wall Rainbow
Follow Social For The Latest & Greatest
Pin This Photo Below For Later
Decorating a toddler girl's bedroom on a budget is possible with a little creativity and resourcefulness. By using these tips and ideas, you can create a beautiful and functional space that reflects your child's personality and interests while staying within your budget . I hope you enjoy all of my favorite picks and it gives you toddler girl bedroom ideas on a budget to make your own space look fabulous! Be sure to pin the photo below for later, and if you don't already – follow me on Instagram (@arinsolange) and Tik Tok (@arinsolange) for more fun!