It honestly feels so weird writing this blog post.  The fact that I will be 30 this week just feels…odd.  I have been married for nearly 8 years, and have 3.5 kids, but for some reason I still feel about 22.  Regardless I have been reflecting a lot the last couple of weeks on life, and where I am at turning 30.  I don't know that life looks exactly how I pictured it, but sometimes I forget that I am basically living my own fairytale.  Not perfect, but truly just living my own dream.  I get nosy when I follow other bloggers, SO I thought it would be fun for me to tell you my thirty favorites at thirty.  Not to mention the fact that this will be fun for me to look back at and see how much I cringe when I turn 40. (because trust me if I did this post at 20 HELLO KITTY would have made the cut…)
Being a wife and a mom was SO important to me in life.  I think I alway knew that those were my only two real 'dreams'.  I know some people won't like that, but thats why we all get our own dreams haha.  I will also say that since college I have wanted to start a blog, and the fact that over the last couple of years I have turned this into both a dream hobby and career is kind of mind blowing to me.  So although my 20's were pretty amazing, and I am a bit sad to leave them behind, I am cautiously excited to see what the next decade of my life brings (even if that means that it will include 1 kid driving a moving vehicle).
This post contains affiliate links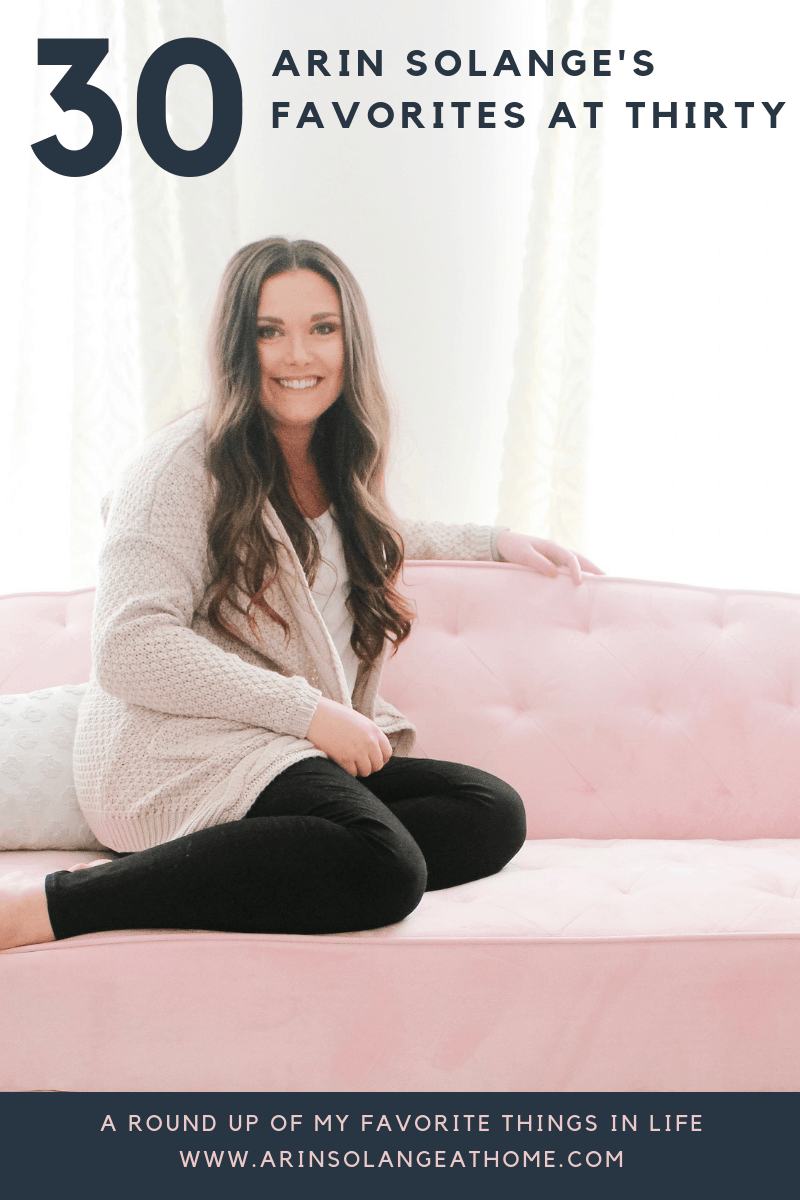 Finding Your People
One of the best parts of my 20's has been the relationships and friendships I have made, and one of the best ones has been with my girl NAVY.  Coincidently she and I have the same birthday, so while we get to do all the blogging fun (and bitching) together, we get to add in another fun element and team up for our birthdays each year. ( It's noteworthy that she is still in her 20's for a few more years, the lucky girl).  We thought it might be fun to each write a post about all our favorite things at this age…and of course to make it a bit more fun for all of you, incorporate week long giveaways.
I will explain more about the giveaways at the end of this post, but in the mean time… check out my 30 favorite things at 30!
30 Favorites at 30
My family.  ENOUGH SAID.
My Yeti Coffee Mug – As a mama It is so hard for me to finish a cup of coffee in a timely fashion, so I love this mug.  And I love that it has a lid so I can finish my coffee on my way to take the kids to school.
Dyson Hair dryer – probably one of the bigger splurges on myself, but this thing has been a game changer for me.  I have a lot of hair, so anything that makes that easier to do is a win for me!
Friday night Date nights – I talked about this here, but Sam and I do date night almost every Friday night and its the best thing ever for our marraige.  I live for that time and it completely recharges me for the weekend full of family time.
Fresh flowers on my kitchen table.  I am super low maintenance when it comes to things like flowers, but I do LOVE having fresh flowers on my table.
This mascara – I love drug store makeup in general but I have been using this one since high school.
Starbucks.  I go most days.  I have zero apologies about it.  Okay I kind of do to my bank account but otherwise I don't haha.
Large Yeti tumbler – I've used this daily for 3 years or so.  It makes me drink so much more water. I Love my water ICE COLD, so this is huge for me.
My Saranoni Blanket – I LOVE LOVE LOVE blankets.  I asked for a Saranoni for myself a couple of years ago and I am obsessed. So obsessed that I make sure all the kids have them, including the sweet baby in my belly!
Batiste Dry Shampoo – I change up the smells and sometimes I use the one for dark hair and sometimes I don't.
Long baths – this is by far the biggest self care thing for me.  A bath is the best way for me to recharge. If you know me you know that I sometimes take a bath mid day.  Always at night, and basically I just LOVE bath time.
Cantina Laredo – I have an unhealthy love for Mexican food, and Cantina is my fav! Sam doesn't have to ask where I want to go to dinner. Its always Cantina!
Spring time – the best time of the year! Winter is hard in the midwest, and Spring time for me is such a reminder of the calm after the storm.
A pretty big fan of wine, but my current (or most recent seeing wine isn't currently on my menu) favorite is Kim Crawford Sauvignon Blanc!
Throw Pillows – I'm sure you know I love decor, and I am obsessed with throw pillows.  I change them out way too often.
All things Rattan – current trend that I can't get enough of.
Urban Decay skin pallet – pretty sure this can make me look about a million times better.
Freshly Picked Diaper bag – with 3 (almost 4) kids I love a good diaper bag.  I love my Fawn Design bags too, but the Freshly picked has really worked well for me for the past 2 years.
Fake Plants – I kill all live ones, so I just fill my house with the fake version haha.
Champagne – man I miss champagne!!!!
Target…enough said.
Apple Watch – I love my Apple Watch, and even more I love getting fun bands for it.
Neverfull bag – this was my 'push present' when we had Walker and I LOVE it.
A clean house.  I actually don't mind cleaning, and as long as I have time am happy to do it, but a great clean house is huge for me.
Baskets – I have a true obsession with baskets.
A clean car INSIDE – this is a huge part of keeping me calm.  When I start feeling anxious I take my car to get it cleaned out, and it typically helps a LOT.
My MacBook – thanks to blogging I basically live on it.
PINK. anything pink. This includes any and all shades.
Madewell Jeans – Please God don't let low rise jeans ever come back into style.  Great mom jeans are basically life changing.
Grubhub, DoorDash and basically anything else that delivers.  Sam and I love a good date night on the couch. LOVE.
Giveaway Fun
Now for the fun!!! Navy and I have teamed up – she did her own 26 favorites post, and each day in our stories on Instagram we will each be sharing a few of those favorites, and giving ONE prize to someone who comments on our post.  The daily prizes will be stand alone, but the real fun comes on Friday, April 12th.  One person will win a gift basket with all 10 prizes from us combined.
In order to win the big gift basket you will have to have commented on both of our blog posts at least once.  But you will get extra entries for answering the question each day.  So each person could get up to 10 entries!!  We are so excited to share some of our favorite items with some of you, and help you all celebrate our birthdays with us!