It's that time of year again…all our elves are coming back out, and ours always gets its one big moment out of the way right out of the gate. I throw an Elf on the Shelf breakfast every year when Caesar comes back from the North Pole, and the kids ALWAYS freak out.
This post contains affiliate links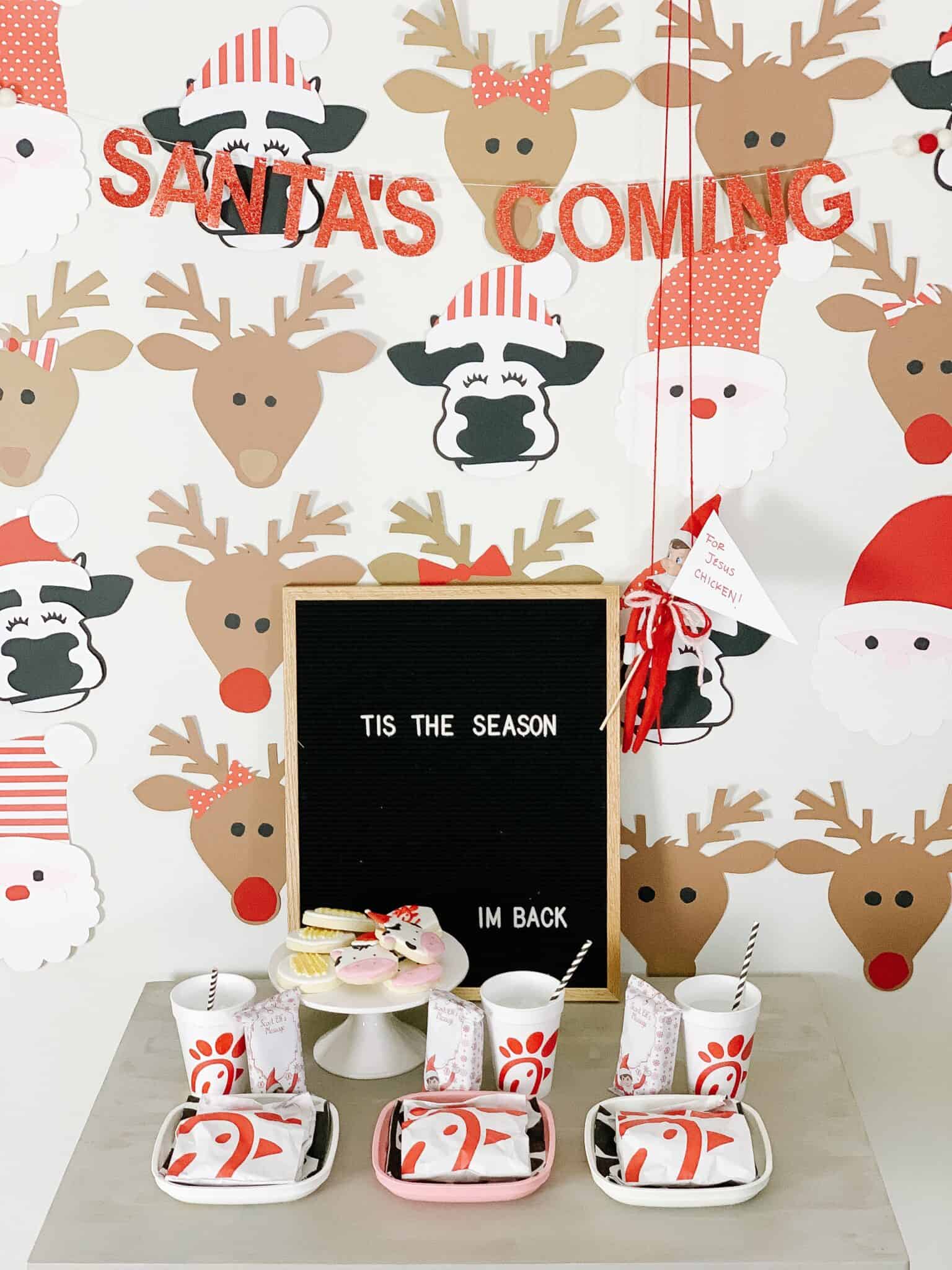 I have never kept the actual day consistent ( I know they are supposed to come back the day after Thanksgiving but we are out of town a lot on that day, so I pick a day that works well for us). This year I chose the Sunday before Thanksgiving. We will have company all next week, and school the first half of the week, plus this gives us a full month of magic.
I will give you tips and tricks on throwing an Elf on the Shelf Breakfast in this post, as well as show you some previous years breakfasts. It never has to be a big ordeal!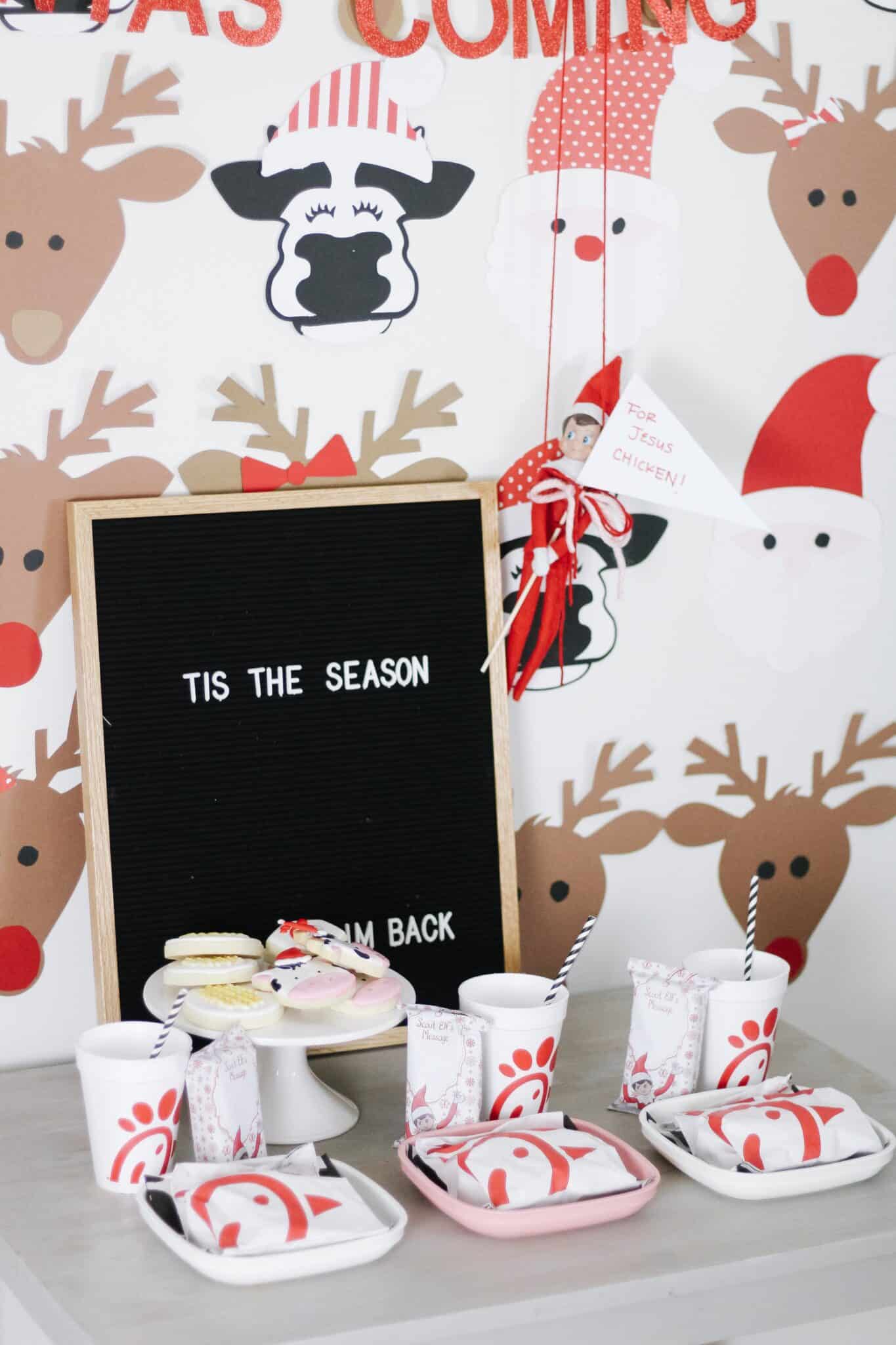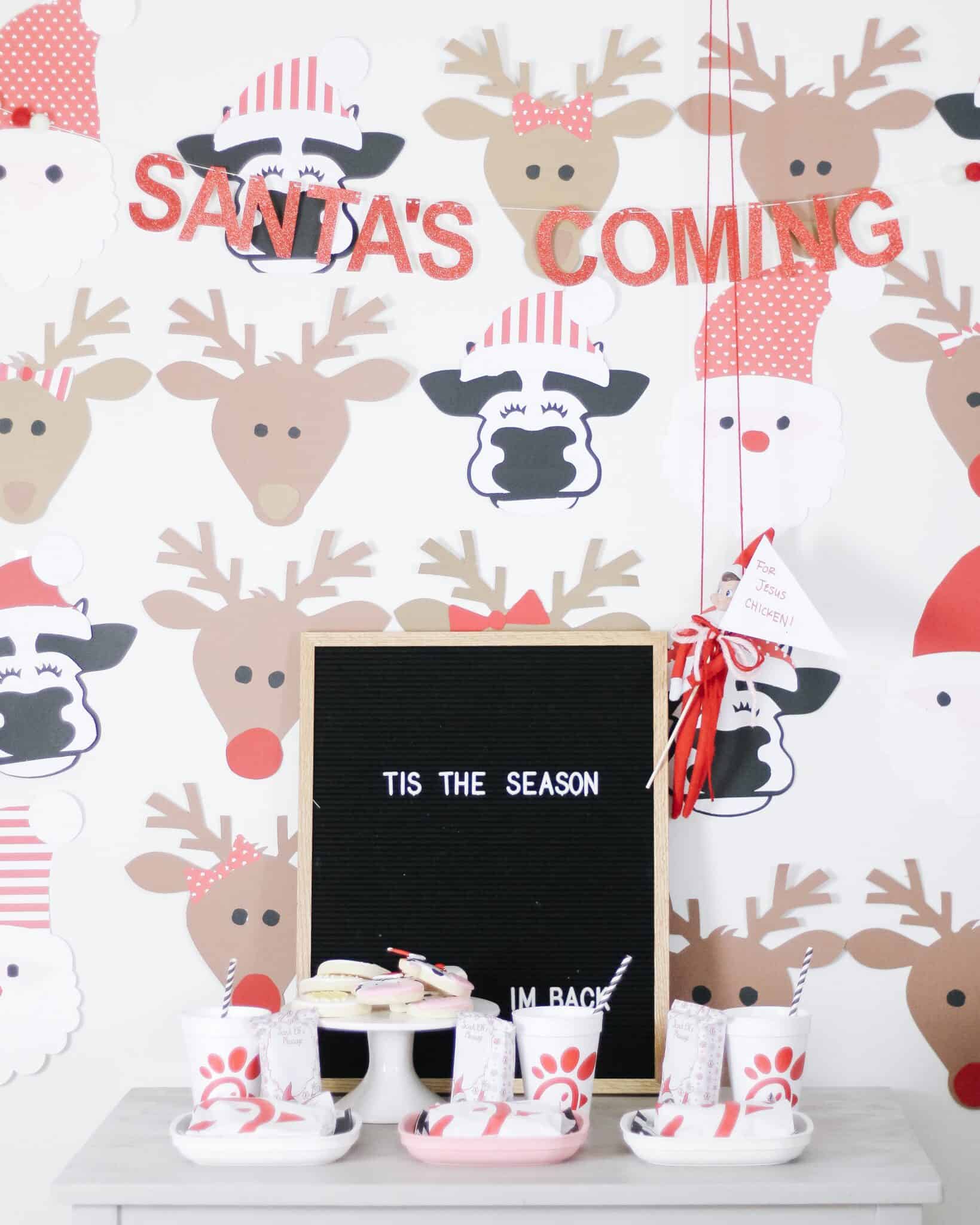 Throwing an Elf on the Shelf Breakfast
I always pick a bit of a theme for my breakfast – last year I based the whole thing on this set of cupcake toppers that were The Nutcracker themed, and incorporated them in a few places. It worked really well and cost nearly anything.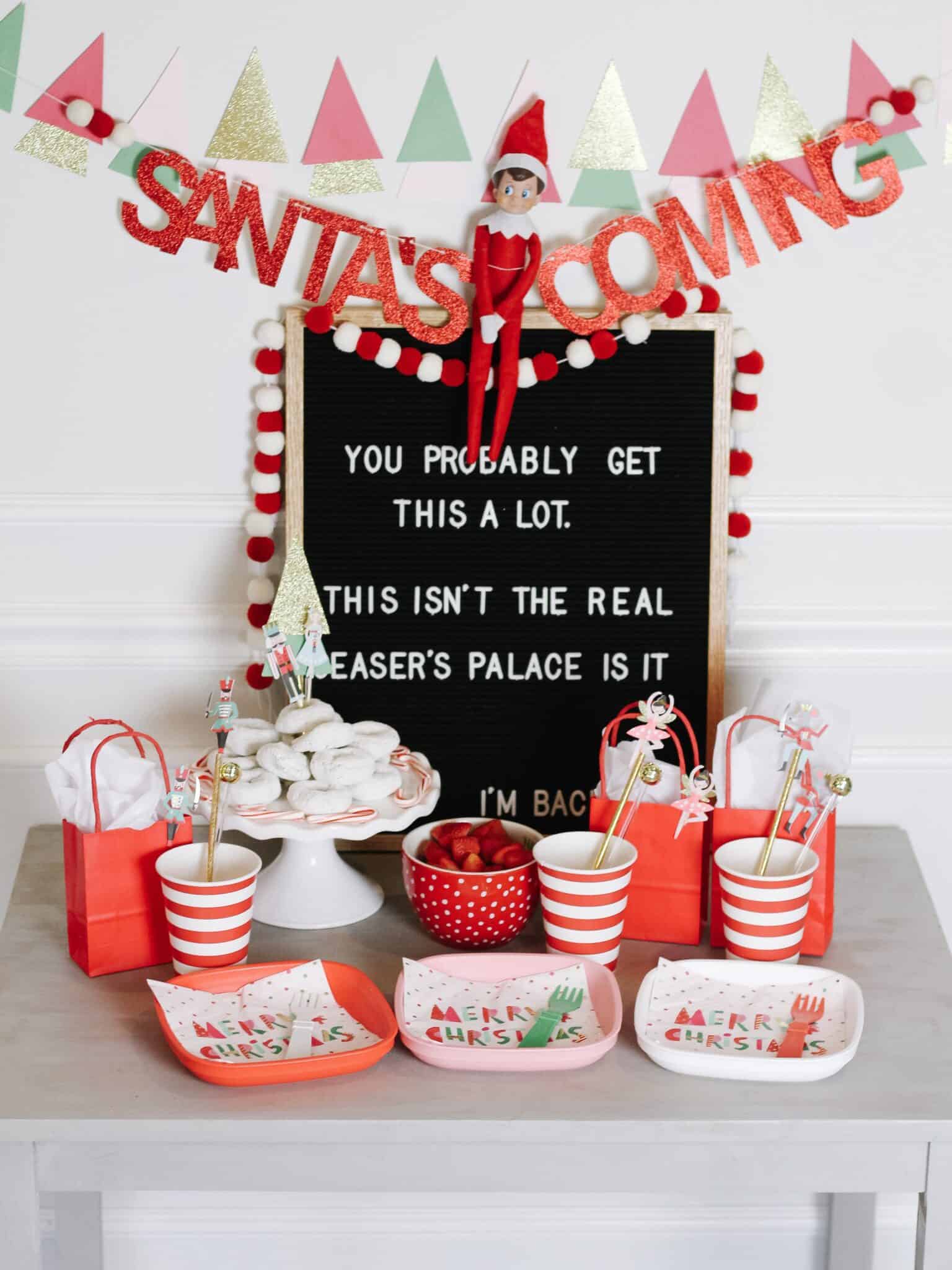 This year I decided since the kids are really into Chick-fil-a that I would try to tie that in and they thought it was hilarious. The idea that Caesar had gone to Chick-fil-a was mind blowing to them haha!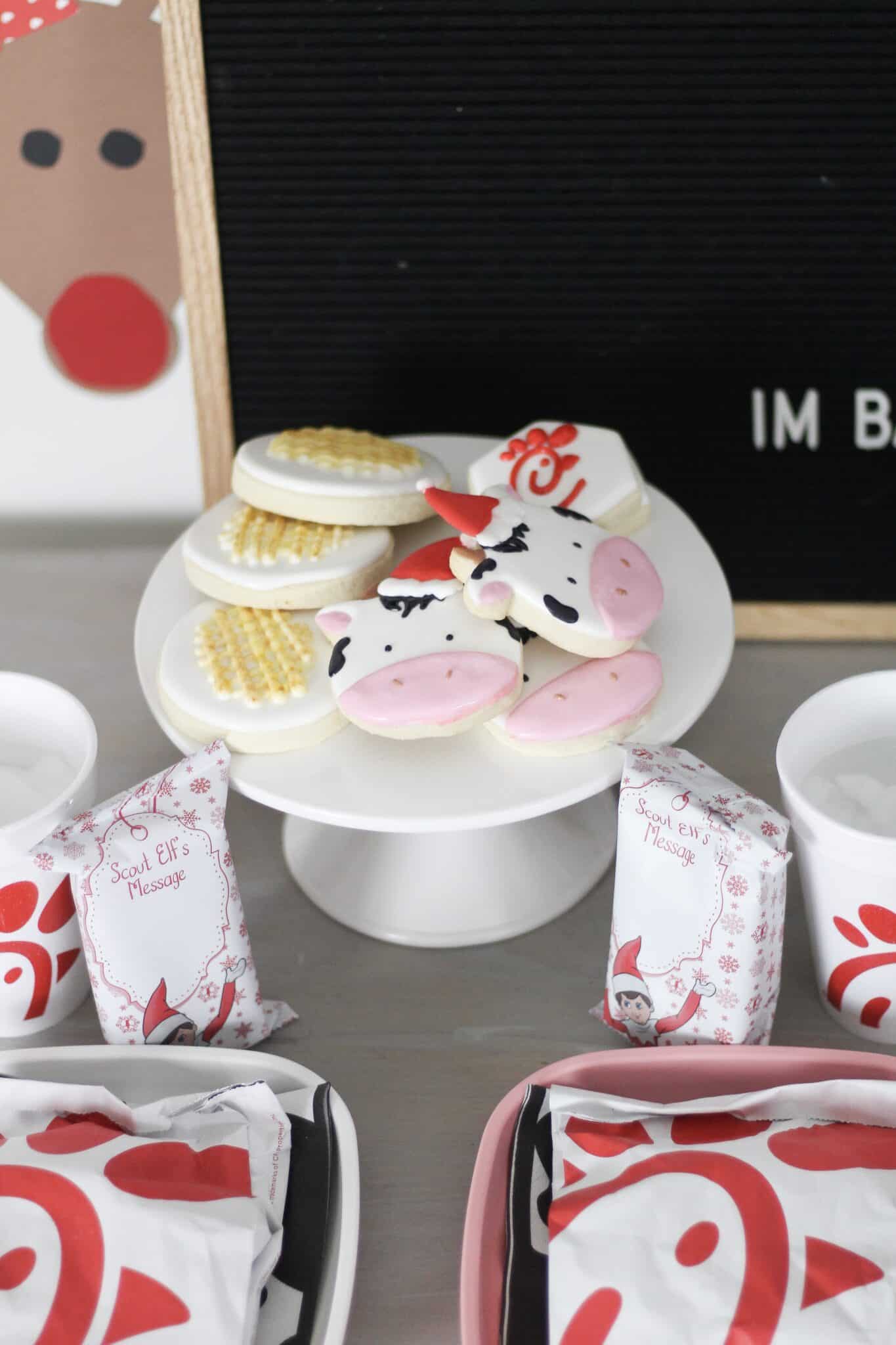 Supplies
One thing that I almost always have on hand is replay recycled plates – it is all we use, so I typically incorporate them into my breakfasts for the kids. I have switched to only having white and pink In my cupboards, but I kept holiday themed plate colors in my holiday bins for these breakfasts. Sometimes I also use the cups, but not always.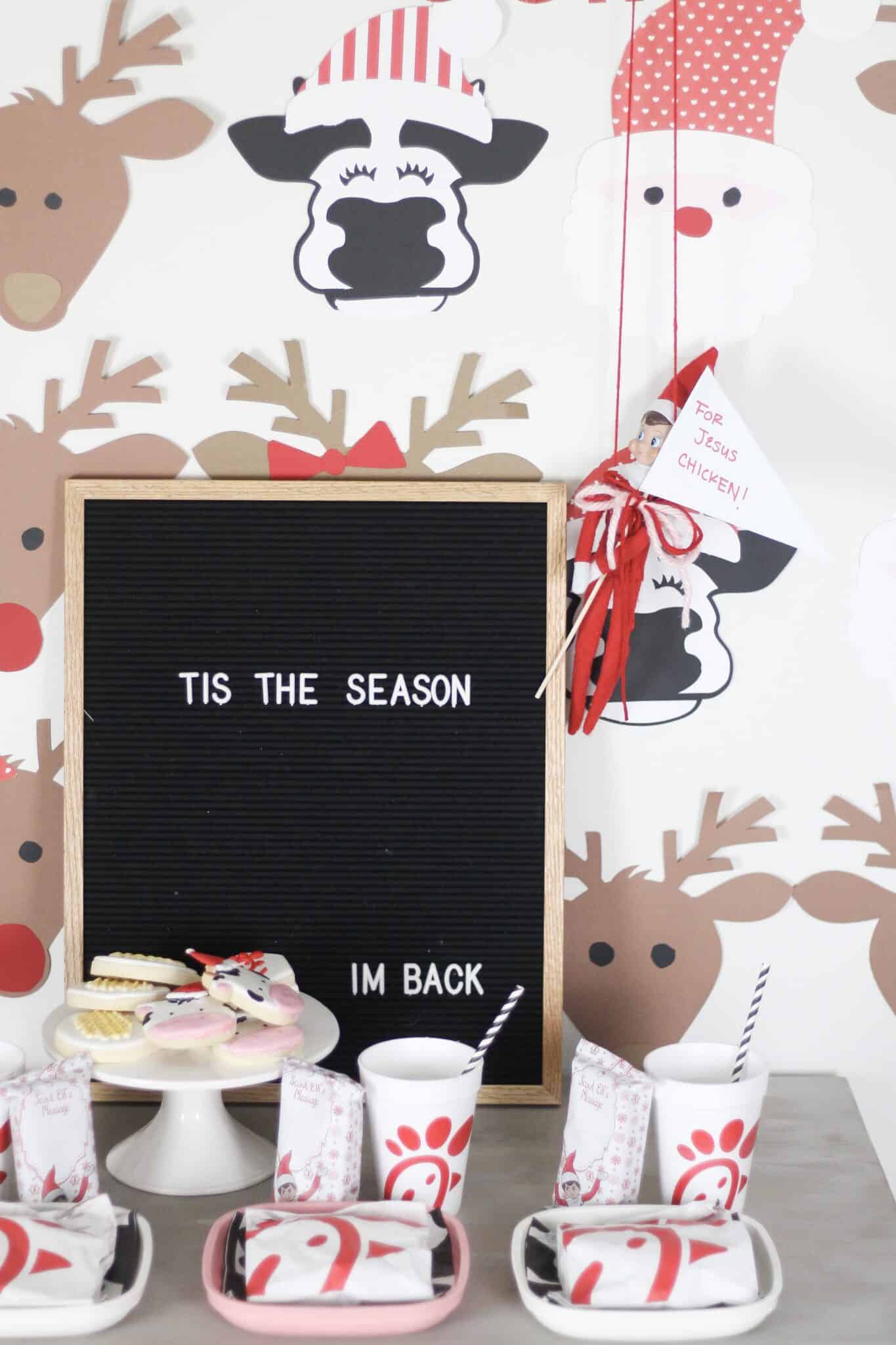 The fun accessories
I incorporate our letter board many times into our breakfasts ( I used to love to put funny sayings that the kids couldn't read, but those days are over for me lol). I then almost always use a banner from my favorite shop. The "Santa's coming" banner from this year and last has been perfect.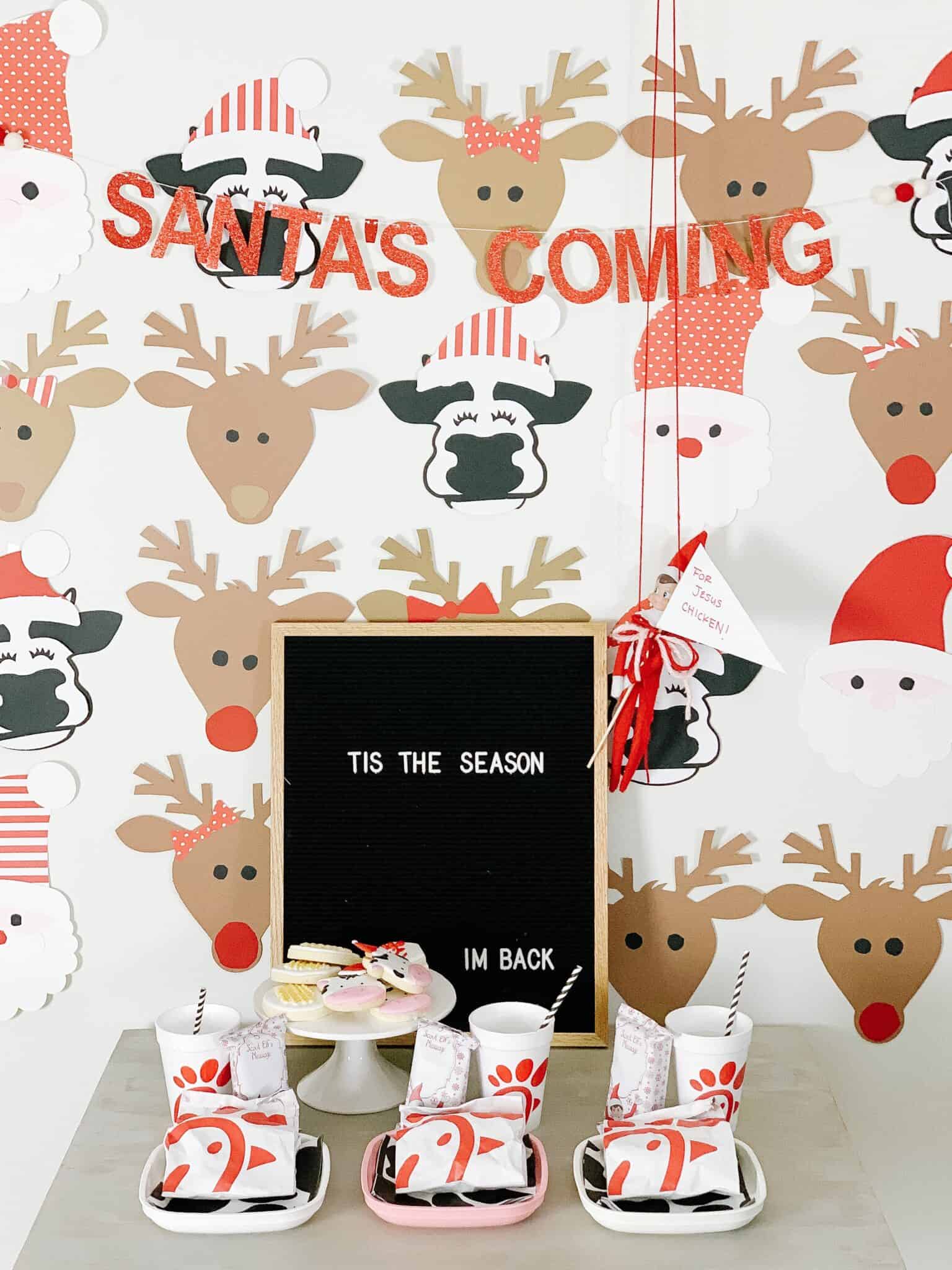 A fun cake stand, some paper straws, some balloons, or simple other items will seal the deal. I think people assume this has to cost a lot of money and it definitely doesn't.
This year I made the cows for the wall and combined them with the Santas and Reindeer from last year (see here). The napkins were from Jack's first birthday, and that was about all I did.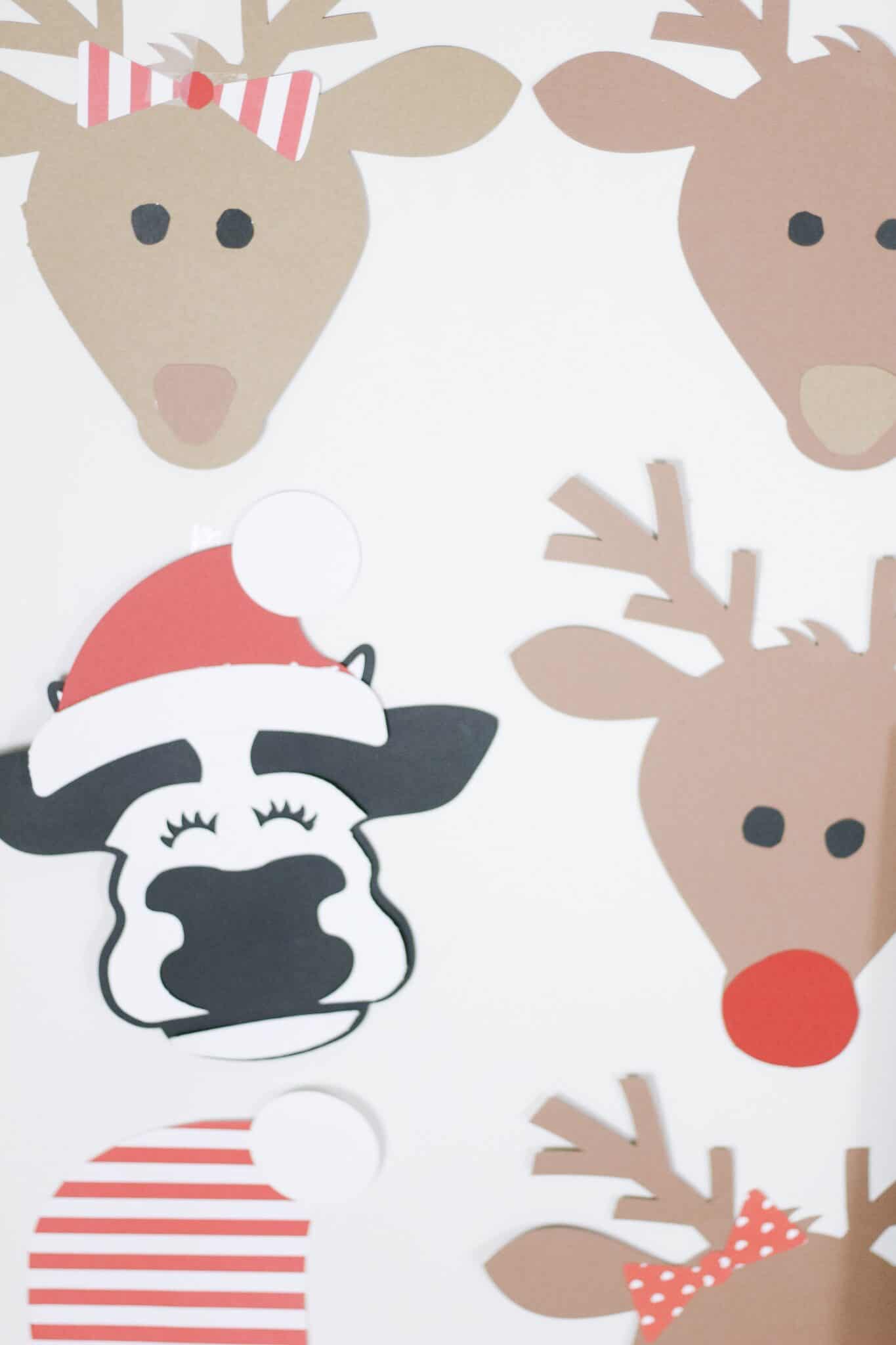 The food
Normally I go with donuts and fruit. Easy as can be. But this year I clearly needed to go with Chick-fil-a, so got a cookie mastermind to whip up the cutest cookies to go with it. I mean you guys, they are the cutest things I had ever seen. If you are in STL, check her out on Instagram and use her for your next event or party!
Does Your Elf Bright Presents?
I have been asked if our elf brings presents a lot, and the answer is that it depends. Last year we were traveling so the elf brought a couple of dollar spot items to keep the kids entertained on the 4 hour car ride. This year we were only going to be home, so we stuck with fun food.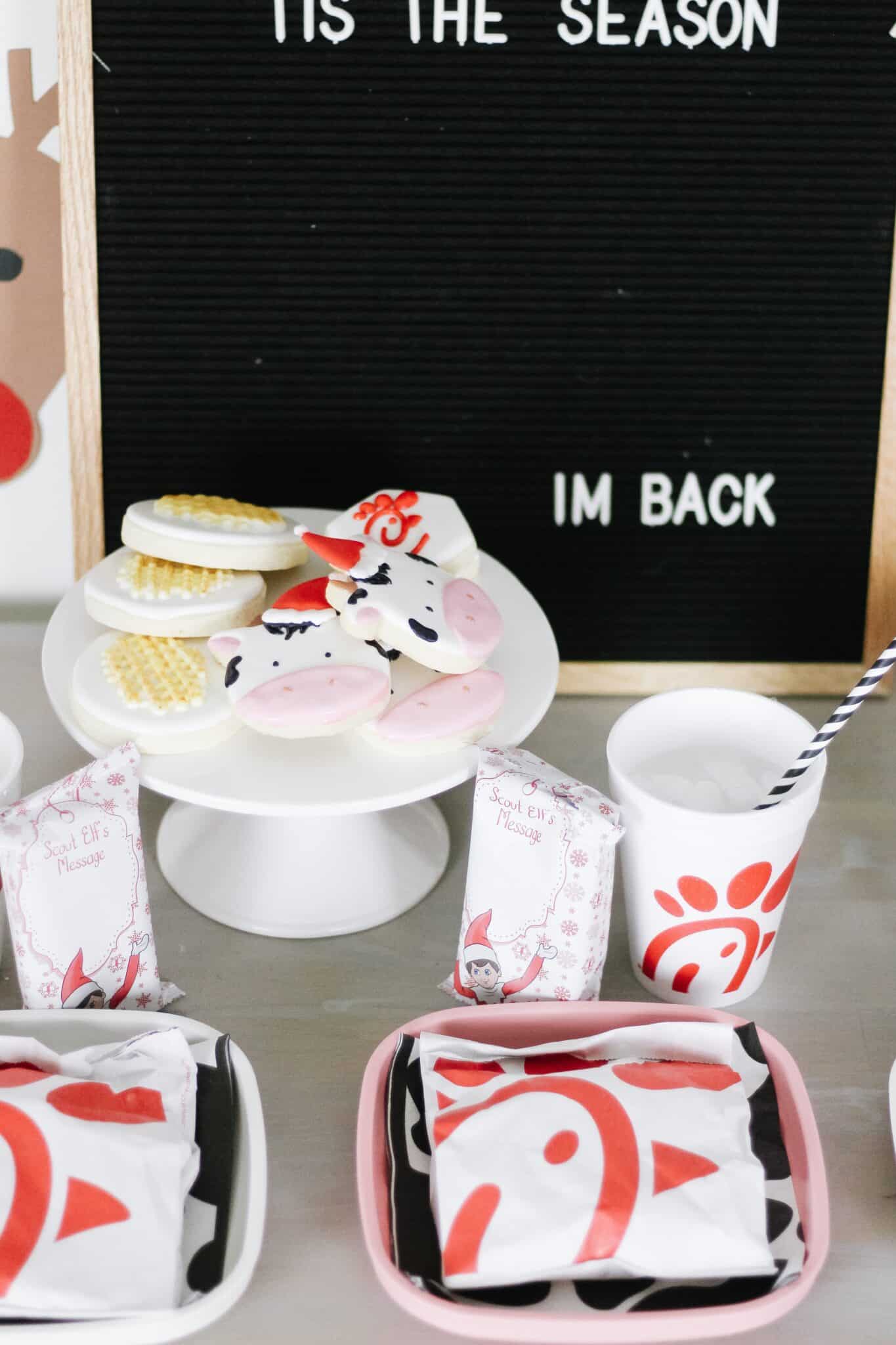 Overall, your elf on the shelf party doesn't have to be a big deal. Let it be fun for your kids, and don't stress. The magic of them seeing that their elf did such a fun gesture will blow their minds, so they don't care if it is picture perfect! This year I had been so sick, so it wasn't what I imagined, but I called it a day!
Do you throw an Elf on the Shelf Breakfast? I would love to hear in the comments below!
And for some added fun… what kind of elf mom are you?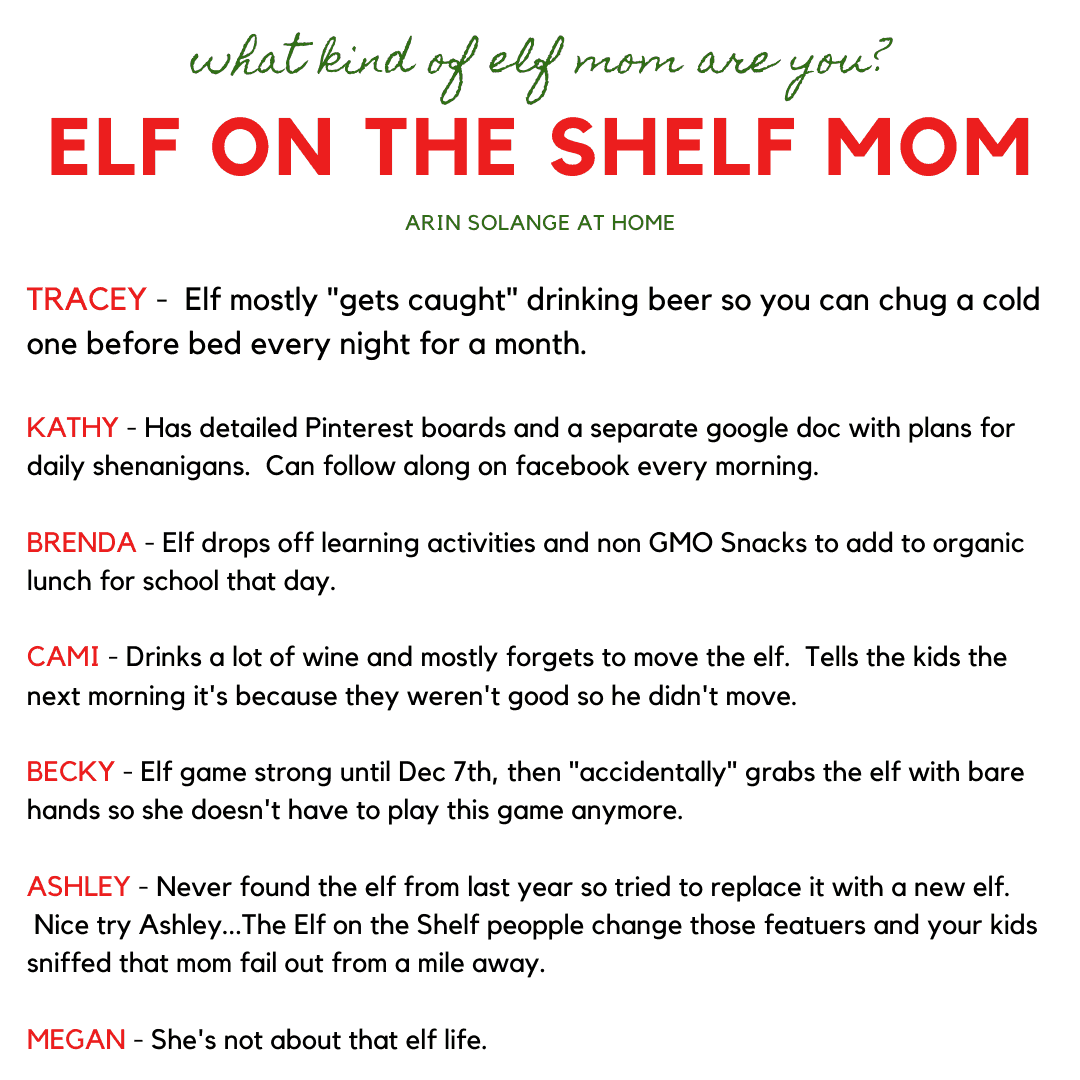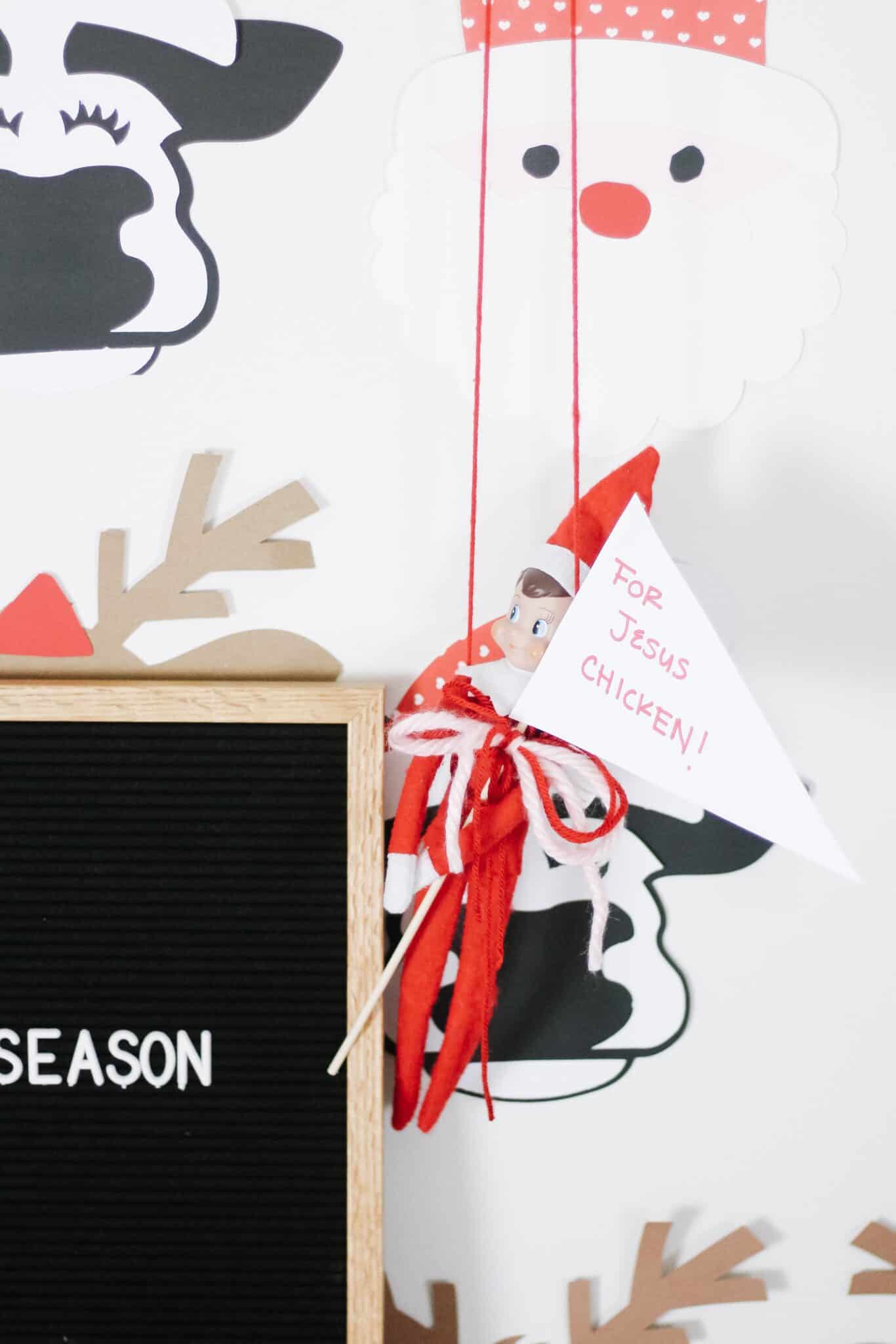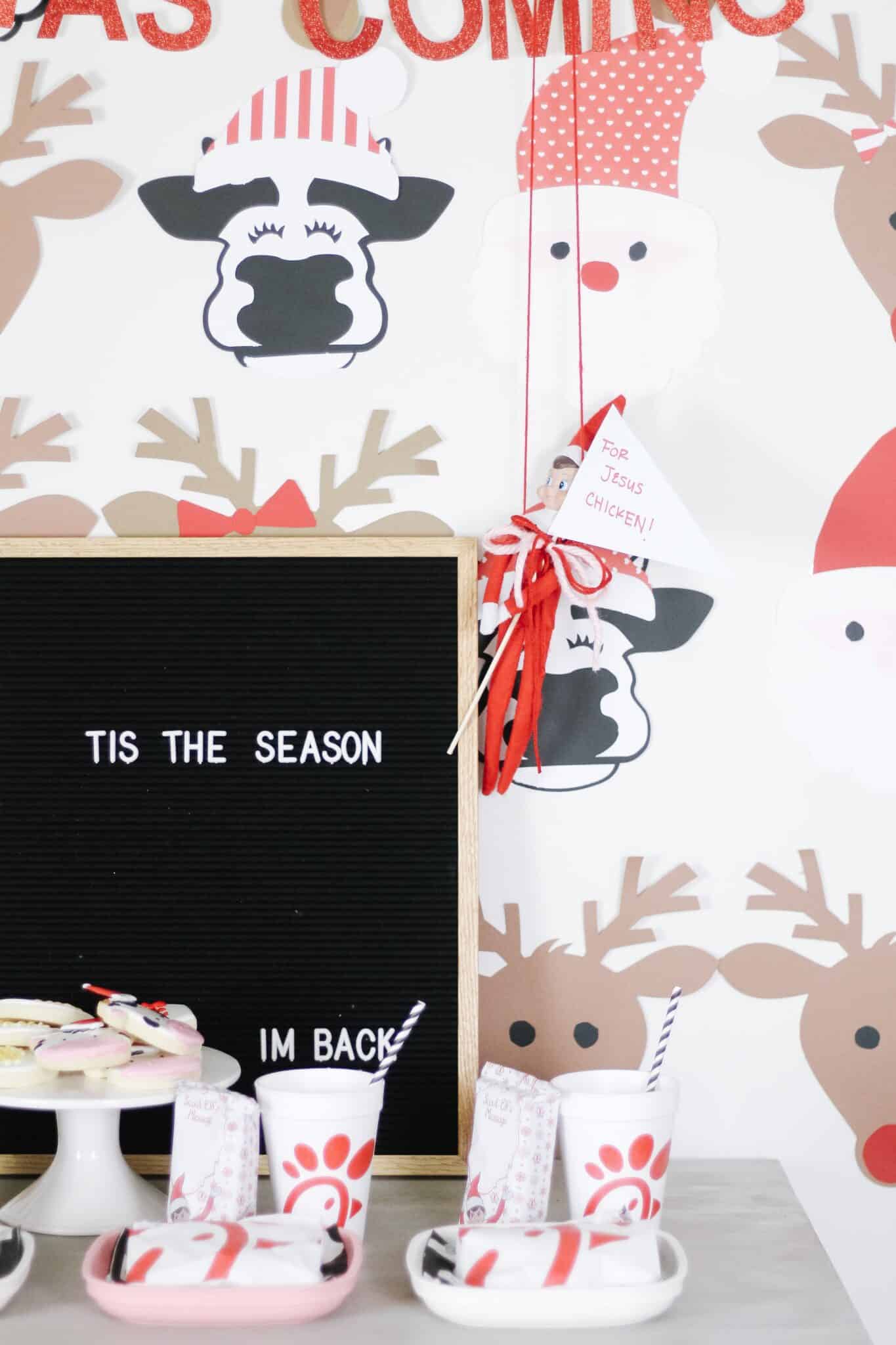 Pin the Post Below to find how to throw an Elf on the Shelf Breakfast Later