Easter is right around the corner, and if you are trying to figure out some cute ideas for filling your daughters basket, look no further.  This post has all of my favorite toddler girl Easter basket fillers, and be sure to read my baby ,and toddler/little boy picks when you're done with this one!
This Toddler Girl Easter Basket post is from last year, but I have an updated post this year here, that has amazing fun ideas!! (these links have also been updated, so happy shopping on either post)
this post contains affiliate links. read more here.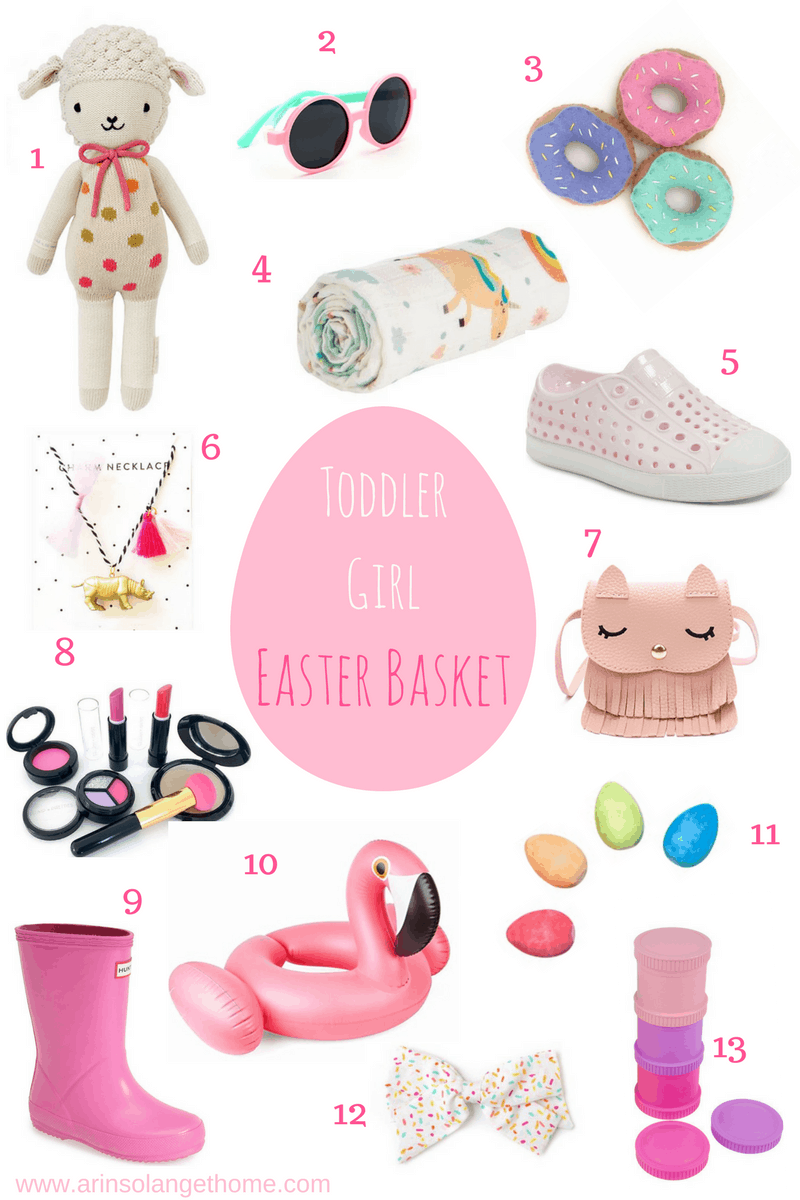 Toddler Girl Easter Basket Picks
1 // 2 // 3 // 4 // 5 // 6 // 7 // 8 // 9 // 10 // 11 // 12 // 13
Cuddle and Kind Dolls are my favorite stuffed animals.
Love sunglasses for my littles, and these are SO cute.
My kids LOVE felt food, and MuffinBubDolls has my favorite – even pretend Starbucks Drinks.
These blankets are BUTTER soft.
If your kids don't own Natives, these are my favorite summer shoes for all of my kids!
The original linked necklace is no loner for sale.  This new bunny one is so cute tho!!
Dying over this purse, and its perfect for Easter service at church.
Play make-up is always a hit in our house.
Hunter Boots! Enough said.
We live in the pool in the summer, so all the kids will be getting a pool float this summer.
We go through chalk like crazy, so might as well get more.
Bows are always a great stocking stuffer for little girls.
We are Replay- Recycled obsessed over here, so these are perfect for stuffers.
I hope you love these picks, and be sure to check out the Baby and Boy stuffers!!
SaveSaveSaveSave
SaveSave
SaveSave
SaveSave
SaveSave