The start of the new school year snuck up on our family fast. Whether you have older kids or a young kid, the first day of school can be a big transition. To start your school season off right, I'll go over the top 10 back to school hacks for busy families that will make getting back into the swing of things so much easier and start your family off to a great new school year!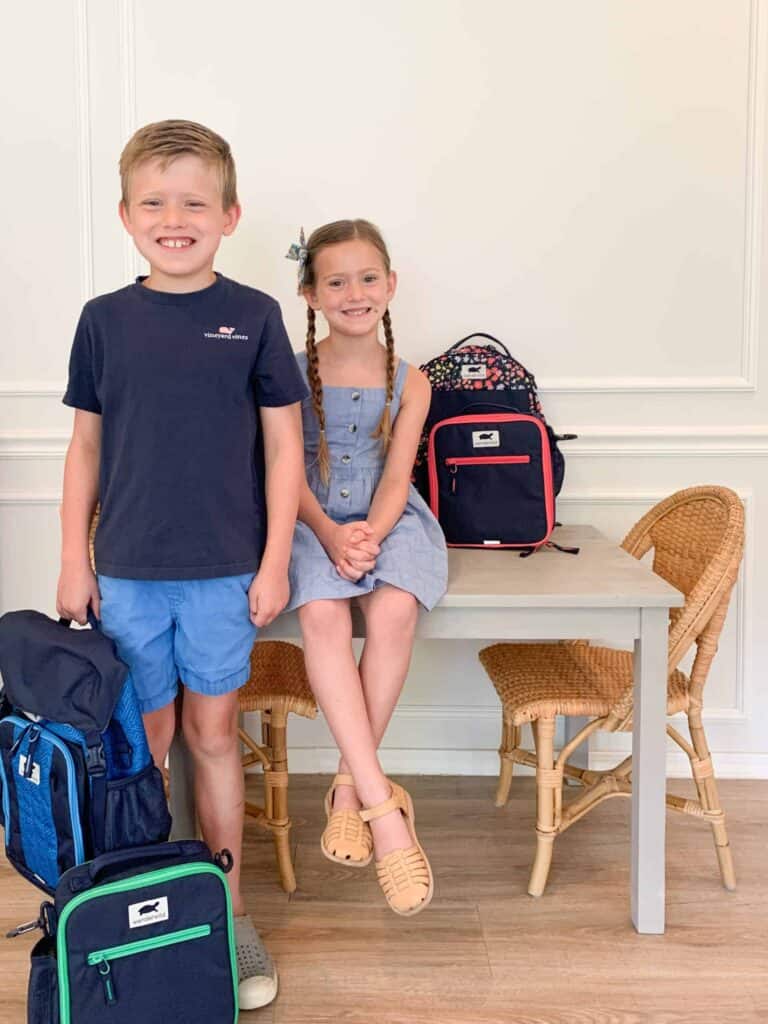 This post may contain affiliate links
10 Back To School Hacks To Stay Organized For Busy Families This School Year
The start of the school year is an exciting time. Perhaps, you've been counting down the days to the beginning of school since the end of the year. Or, if this is your child's first time heading off to school, you and your child may have some nervousness.
Either way, getting the school calendar off to a good start is key for having a smooth year. You don't need to be overwhelmed with last minute preparations for a successful school transition. Instead, take a little bit of time now to prepare to make your new schedule work for you.
With these 10 back to school hacks, you'll notice a huge difference in the amount of time you end up saving with these simple organizational easy hacks.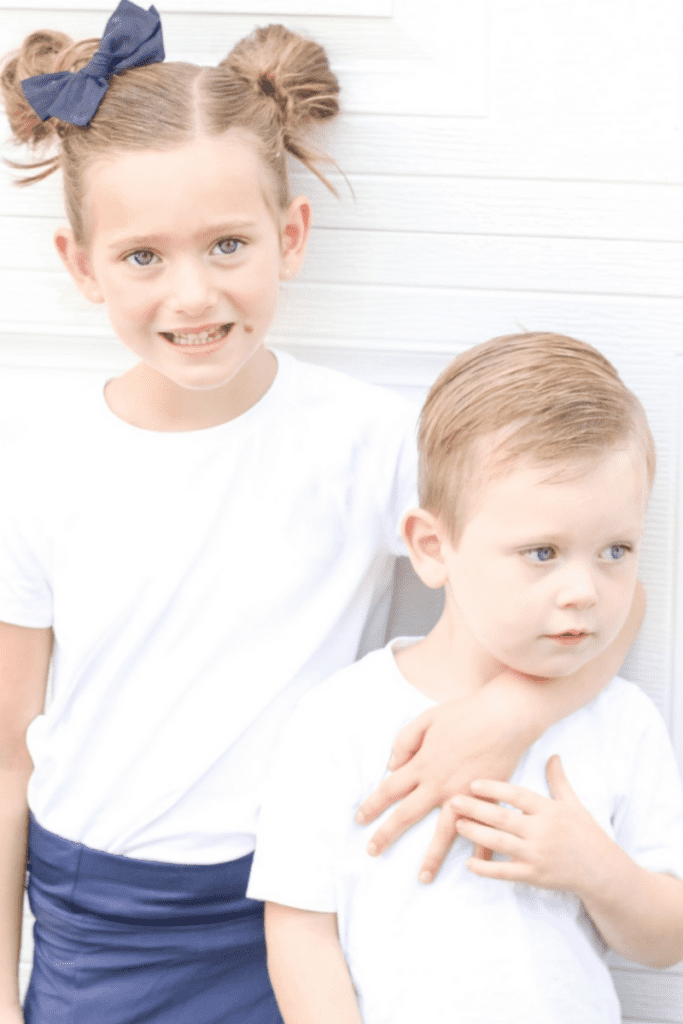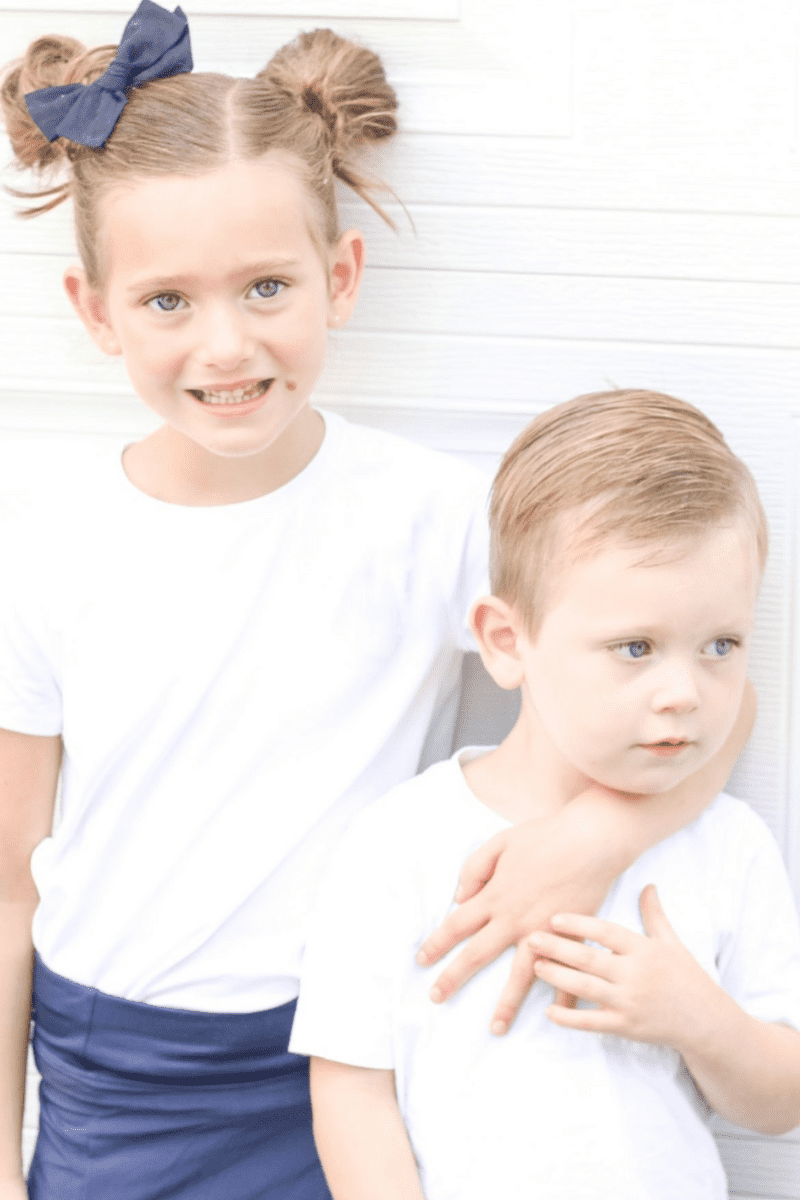 1. Hang A Week's Worth Of School Clothes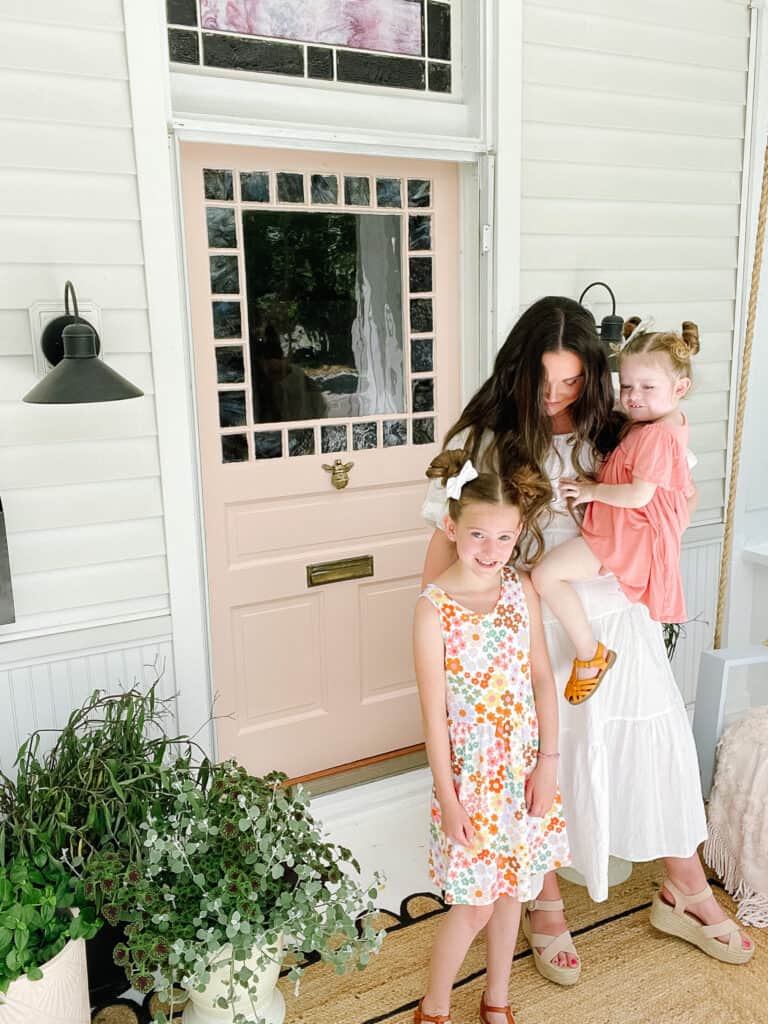 Each Sunday I gather up towels, sheets, and our kids' clothes, and set about my day to make sure everyone has clean clothes for the entire week.
Once the clothes have been dried, each of my kids sets aside a week's worth of their school uniforms in this hanging clothes organizer. Because each space corresponds to a single day this makes getting dressed in the morning a cinch. Granted, my kids have a school uniform, but we've continued this routine during the summer and it has been a life saver!
2. Install A Doorbell In Each Room Of Your Home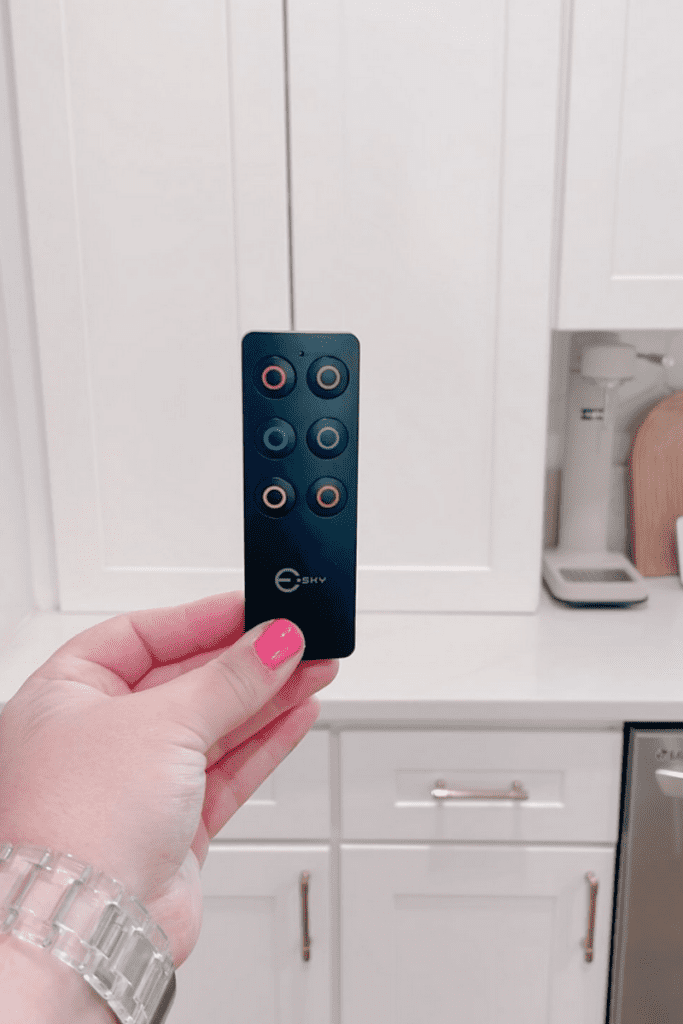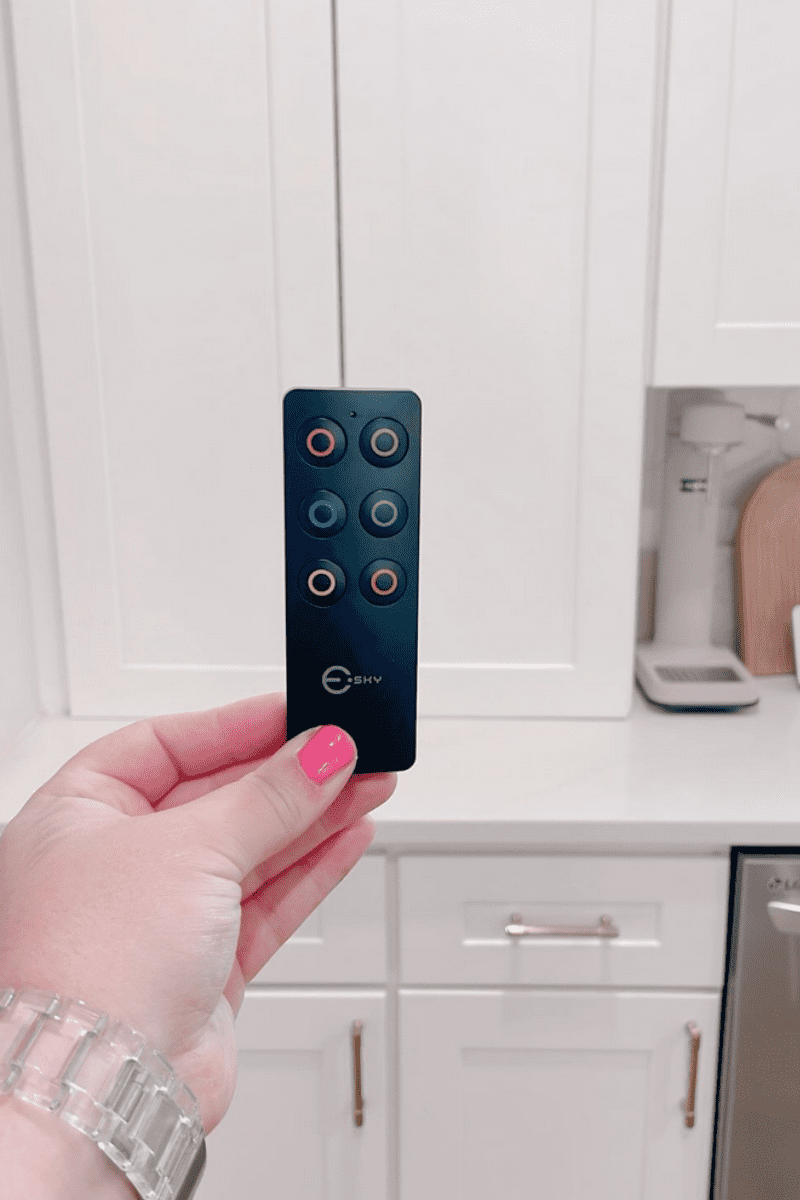 If you follow me on TikTok, chances are you've seen my doorbell video that I've put in my kids' rooms. This is a great tool for the whole family. We've installed these easy to use doorbells in each of our kids' rooms. All you have to do is place the adhesive backing of the doorbell in your kid's room near their bed.
If you have a nightstand, this would be a great location. If you have high school aged kids who have difficulty waking up, simply ring their doorbell to ensure they keep getting the message. Subsequently, I also use this tool to make sure my big kids know when they are needed to come downstairs, rather than constantly yelling their name.
If the doorbell rings, they need to be down in the kitchen for breakfast to make sure we are out of the door on time for school. This is a great idea if your kids have difficulty in the morning keeping track of time.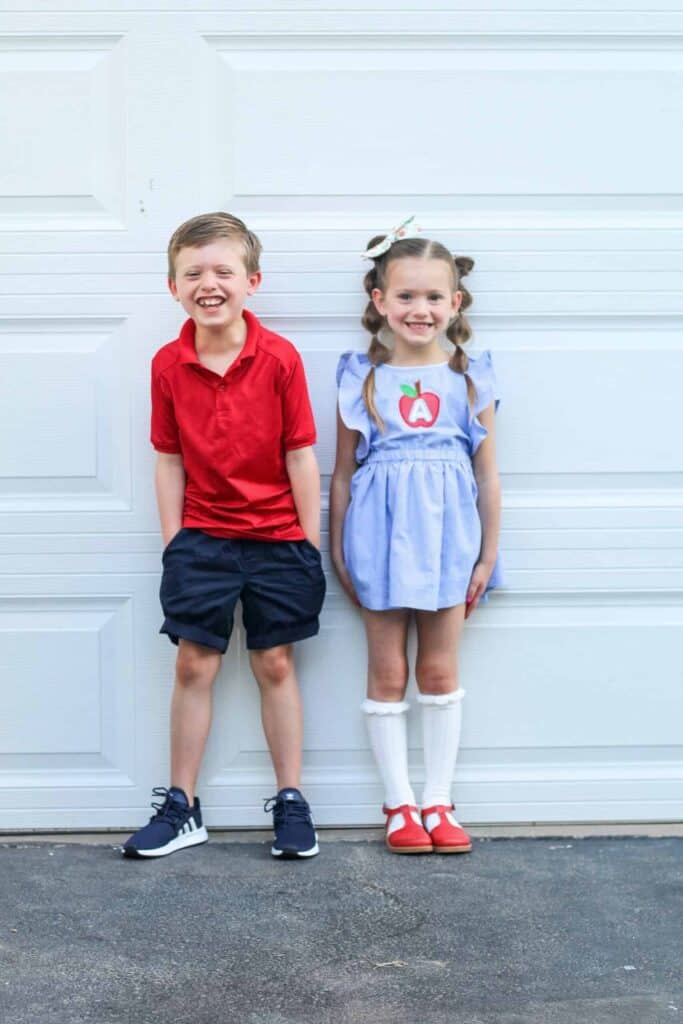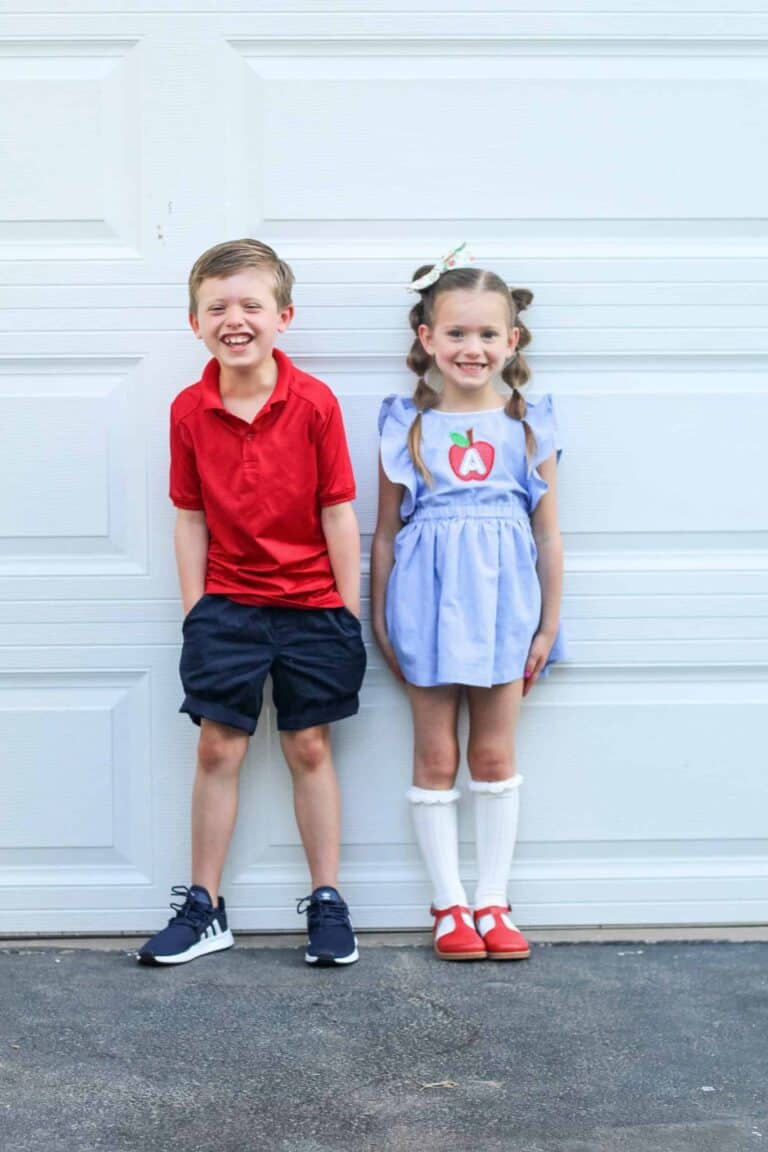 I've been asked, "Why don't we just use Alexa as an intercom?" For our family, Alexa had easy access to other solutions. In order to keep Jack from cleverly using Alexa to do his homework, these doorbells are our solution.
If you have a teen kids, you may need to make it into a game titled "Hide The Doorbell." Each day your doorbell has a new spot to hide to wake them up to ensure that they get out of bed and out the front door on time. Plus, this way they can't unplug it like they can with an Alexa alarm. Surprisingly, you may even start funny pranks with your big kids all over an alarm clock hack.
3. DIY Morning Bins Filled With Get Ready Essentials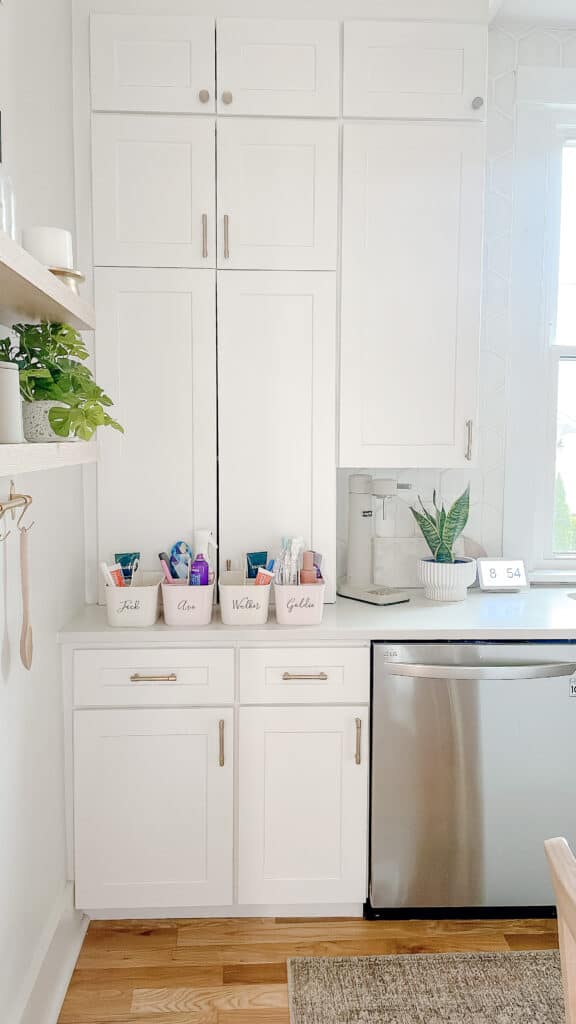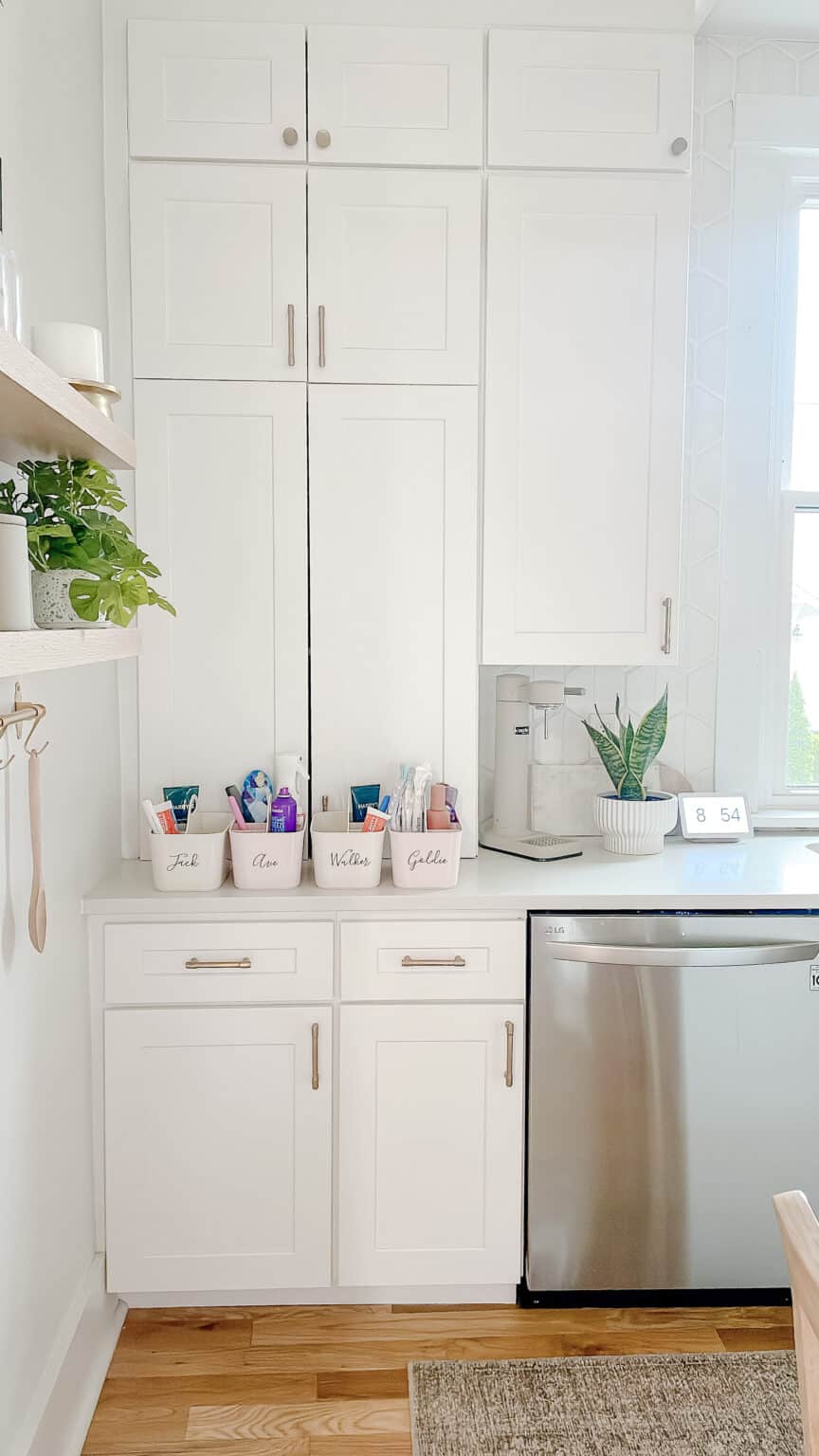 Do you spend too much time running up and downstairs looking for miscellaneous essential items to get you and your kids ready in the morning? I can't find the hairbrush. The toothpaste is in the upstairs bathroom but the toothbrush is downstairs. Hair ties are in Goldie's room and Jack is missing his deodorant. Generally, I'm running all over the house before 7:00 am.
An easy way to save your sanity is by creating these DIY morning bins. You can grab a bin at Dollar Tree or any local Target. Get out your Cricut Joy, Maker, or Air and create a name label for each bin. From there, keep a set of personal essential items in the bin for easy access to help you save time before your school day.
If you have little kids who thrive on schedules, you can also keep a copy of the morning routine near these bins. This way, each child can independently get themselves ready in the morning and know what step comes next. Back to school hacks that save time, help foster independence, and start the entire day on a good note are my favorite!
4. Create A Family Command Center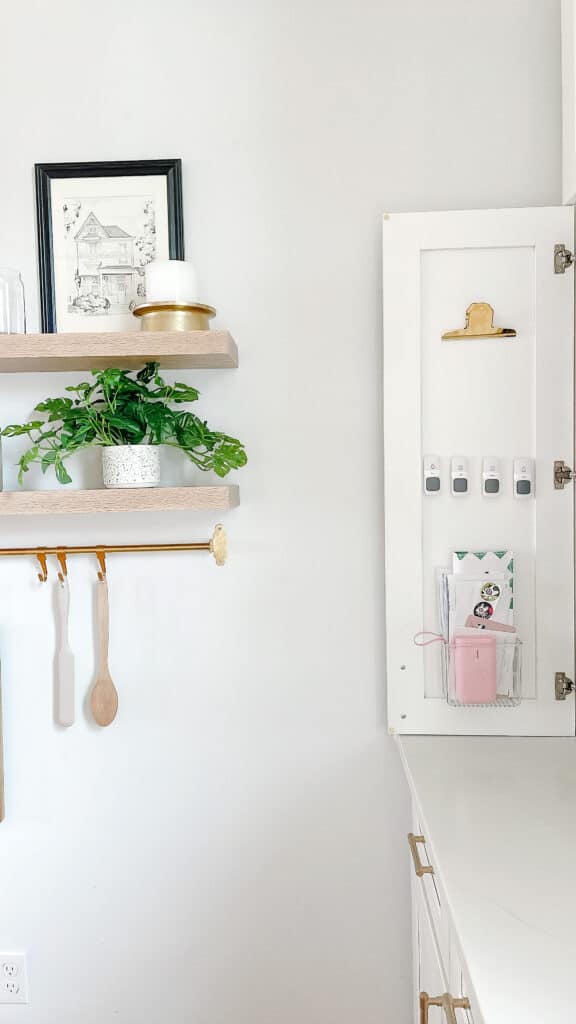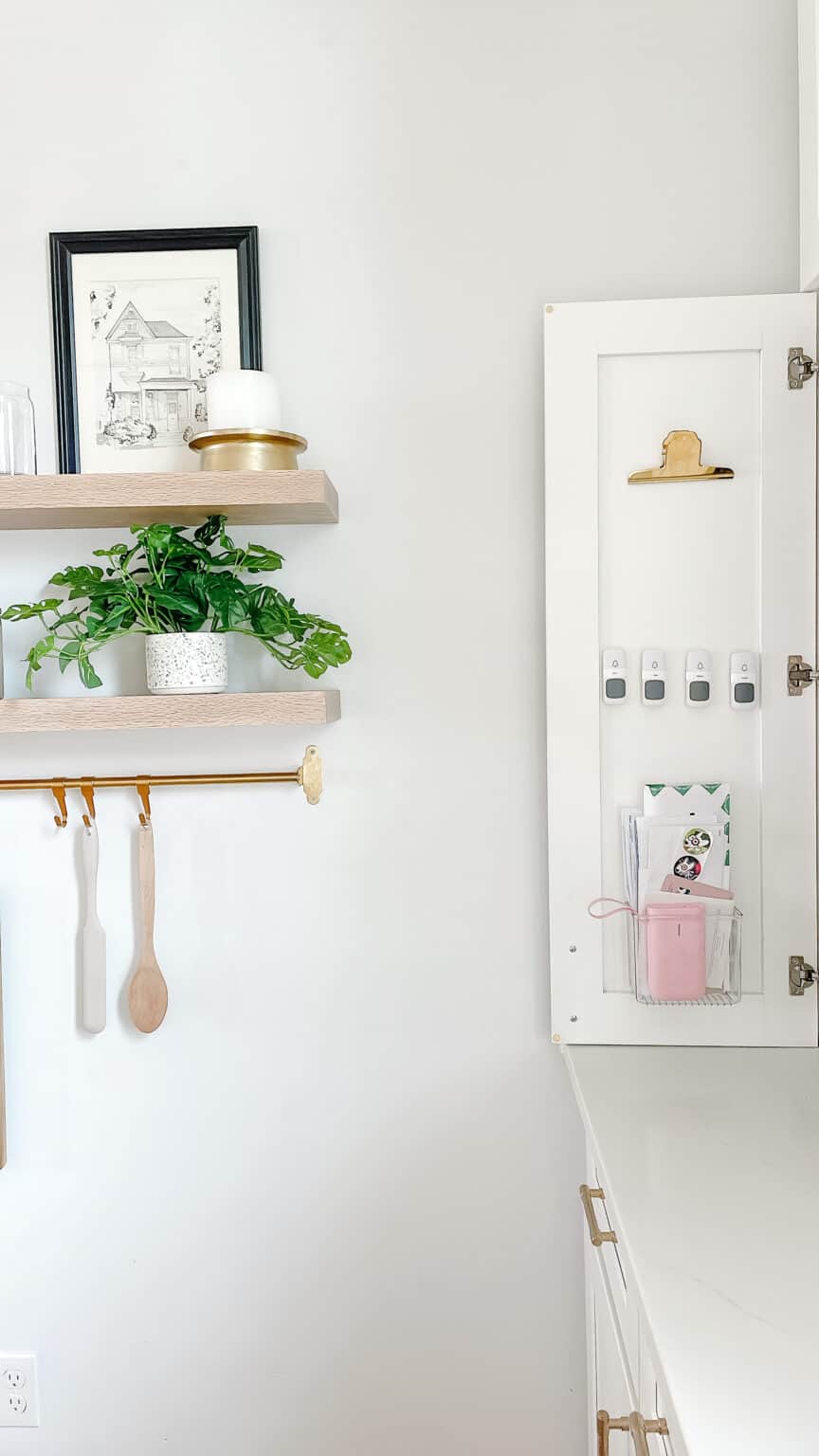 When school time begins we see an uptick in our calendar. Suddenly, we have tons of school activities and extracurriculars that are taking over our entire week. Jack, Ave, Walker, and Goldie all have activities almost every single night.
With so many activities it can get overwhelming in a hurry for us as parents. The best way for our family to manage that chaos and to see when we actually have free time is by implementing our family command center.
The family command center is a calendar for the month that has all of our plans on each day of the week listed out. We can check at the beginning of the week and plan accordingly. I try to put on the calendar when I know if someone has a big project due or a spelling test, that way I can spend some extra one-on-one time with them during the week for study time.
You can also have a spot for notes, grocery lists, mail, permission slips, and keys. If you prefer an electronic calendar, I'd recommend setting it up so that both you and your partner have access as parents. This will ensure both parents have an idea of what is up next.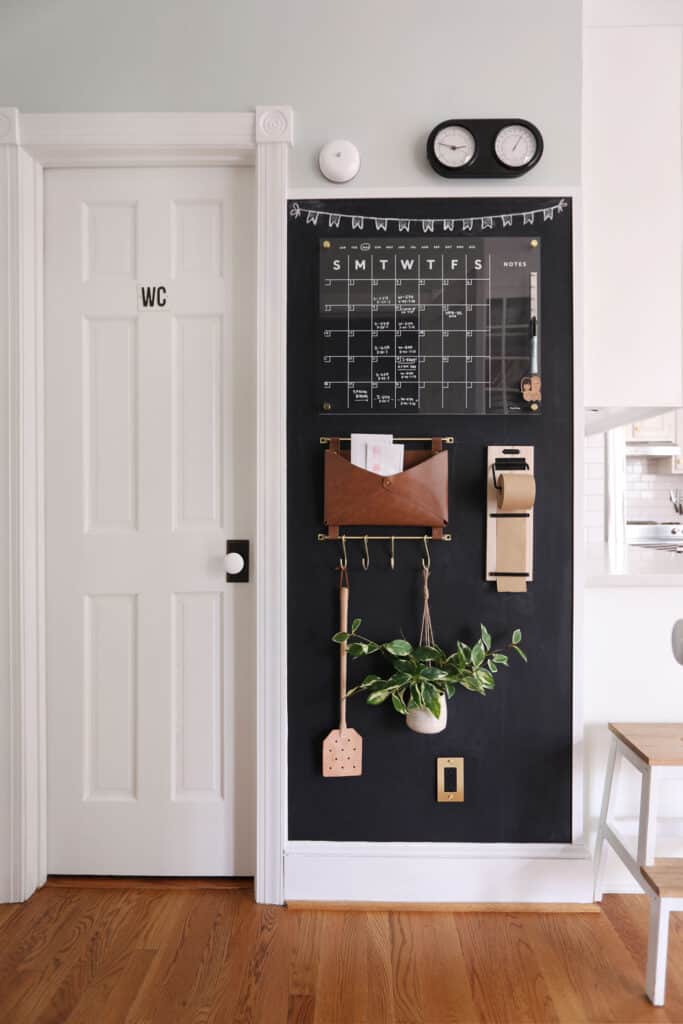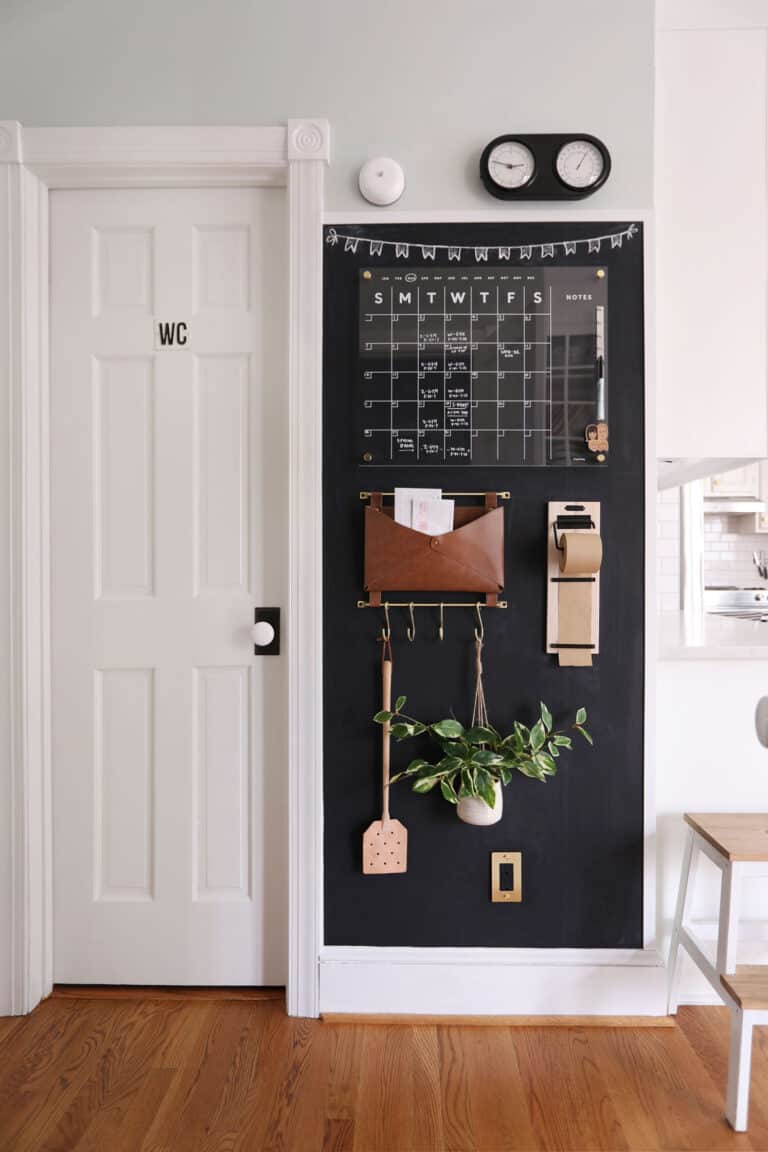 A modern and organized family command center
5. Make Packing Lunches A Breeze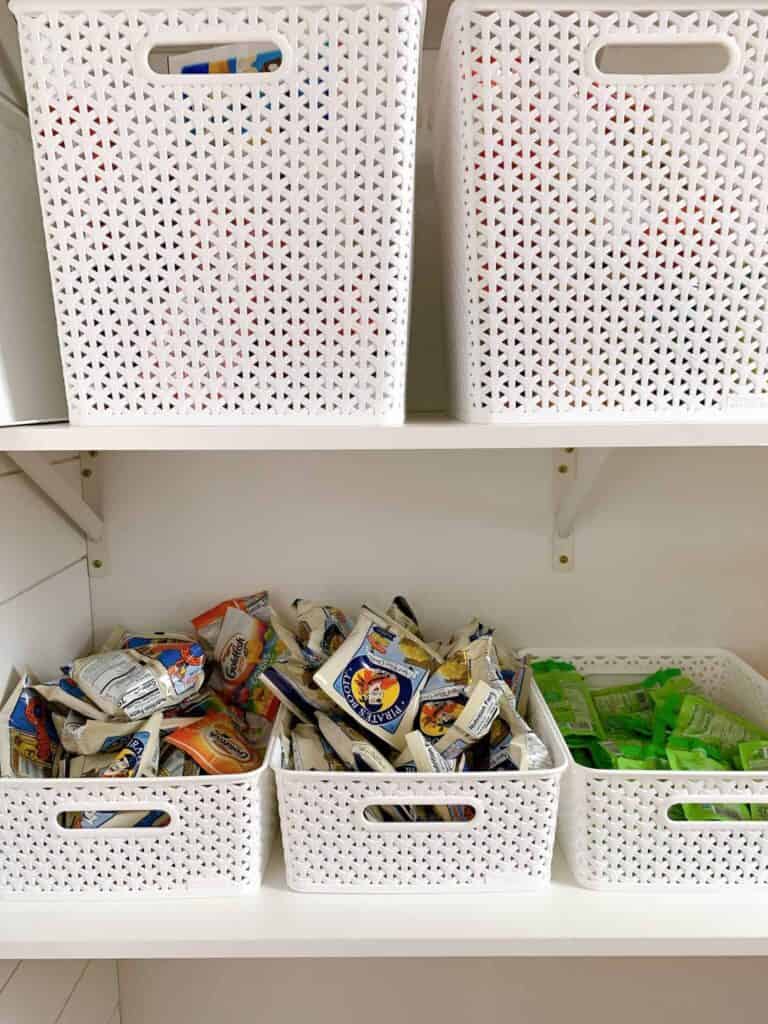 Remember how I said I loved back to school hacks that are time savers, help with independence, and start the day off right? Well, here is a secret to help continue those positive vibes.
Invest in refrigerator and pantry organizers. For your refrigerator organizers, store cold items that are great for school lunches. You can meal prep ahead of time and make several different sandwiches for the next few days. Place the sandwiches in ziploc bags and label each sandwich. Soon your child will be able to grab what they feel like that morning without even asking.
You can also have a separate bin for dairy, protein, veggies, and fruit. The same can be said for your pantry bins. You can label each bin with school snacks, grains, and juice boxes. Instruct your child to help pack their own lunch. If you have a younger child, you can easily create a visual checklist to help them make healthy choices.
6. On The Go Snack Plastic Container For Your Child's Backpack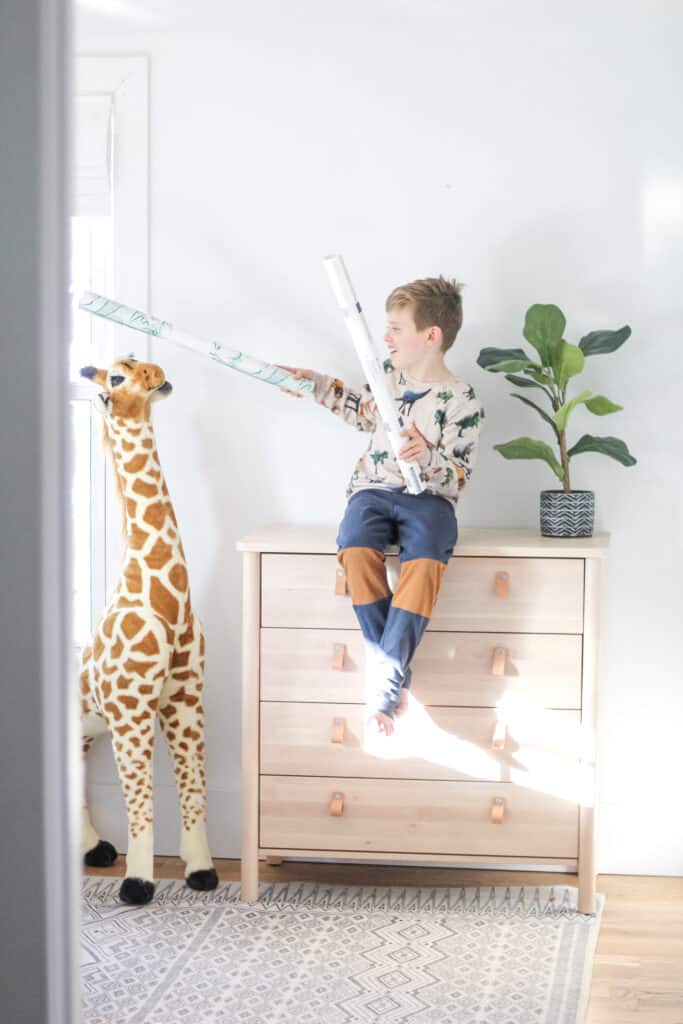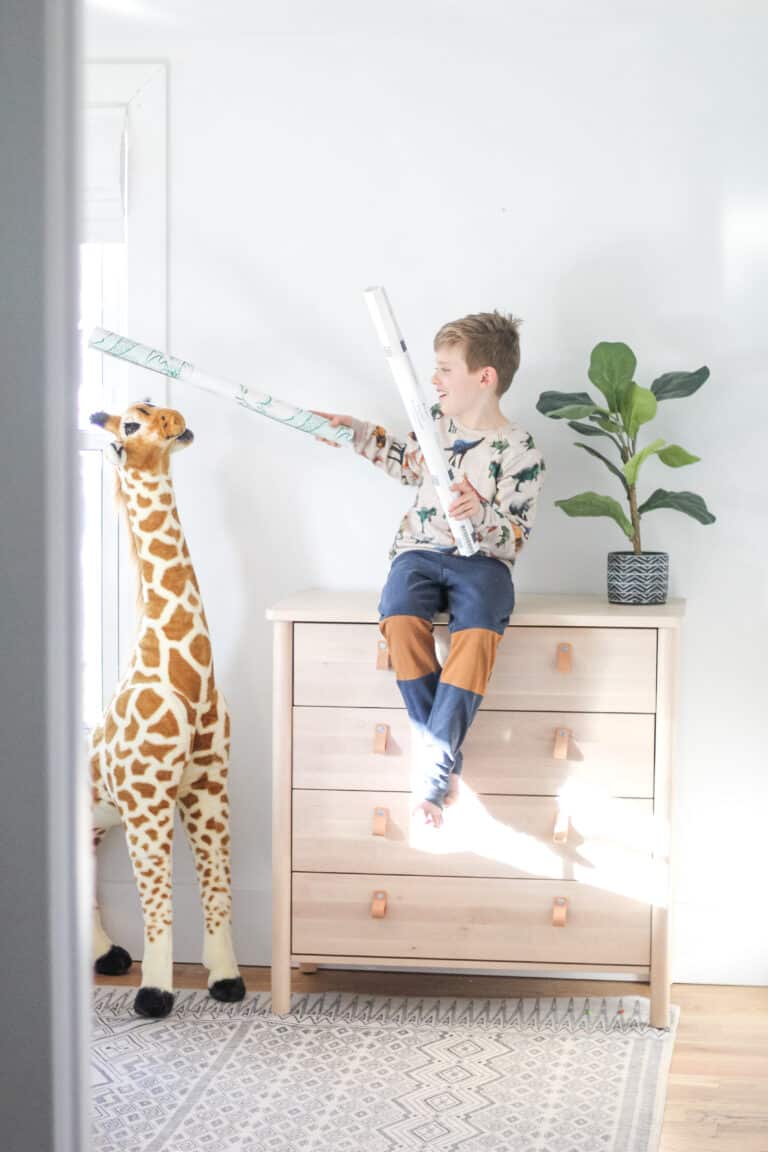 One of my fondest school experiences is coming home from a long day and scarfing down Ramen noodles. What is it about school that makes you ravenous afterwards? If you know this hunger all too well, then you'll know that waiting to get home to enjoy a tasty treat is ten minutes too long.
Instead, pack this snack plastic container ahead of time and enjoy your treat before you even walk in the door. As an added bonus, these snack containers prevent your snacks from being crushed. You can get these in coordinating colors to match your water bottle or lunch box. We all know that what matters to this school essential item is the snack that is inside.
7. Turn Your Car Into A Mobile Study Hall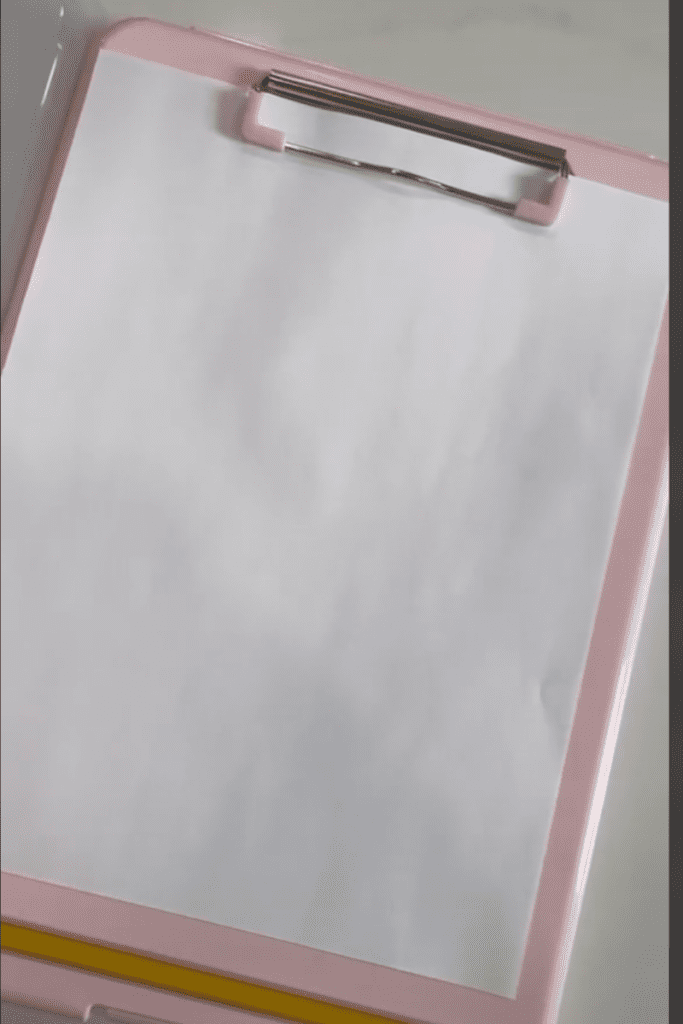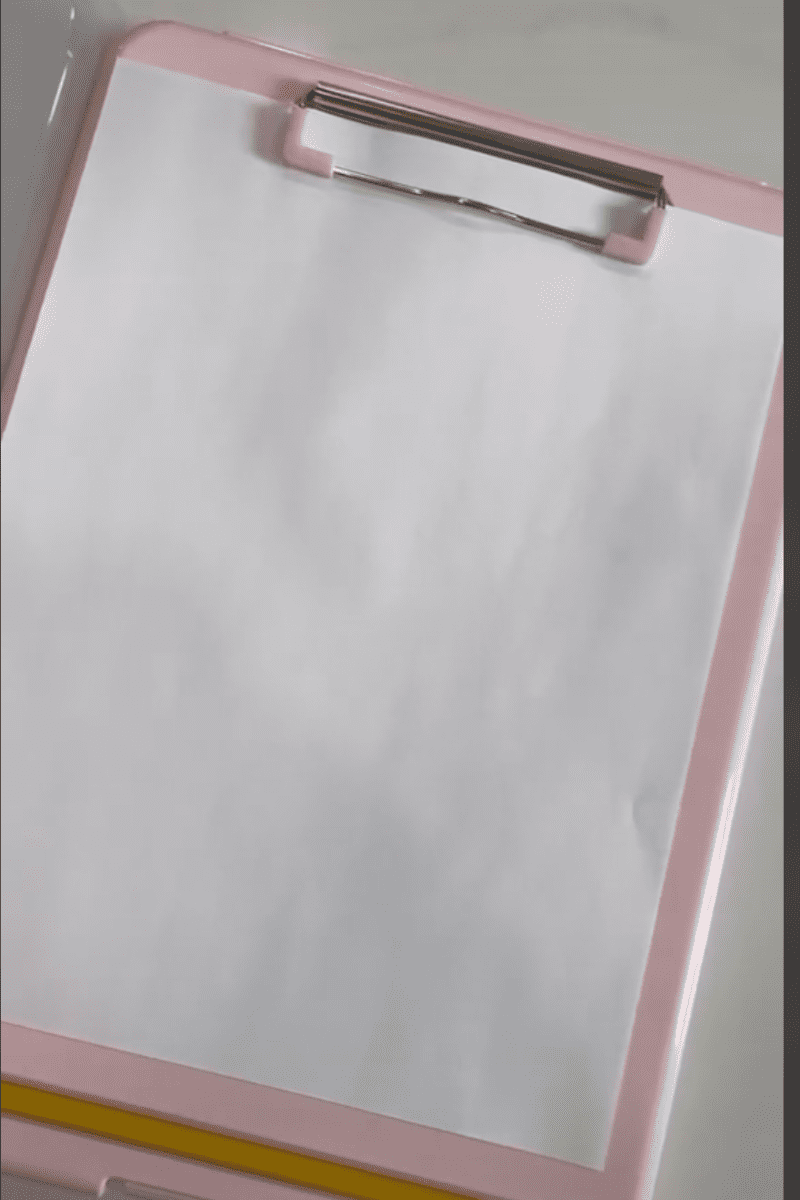 As your children get older chances are they will have more after school activities. With all of the extracurriculars, we have to make use of our time very wisely. One way I found to help stay on top of school projects while still being able to have an evening activity is to do homework in the car while waiting and traveling to extracurriculars.
This portable lap desk is the perfect solution. You have a writing station and place to store important papers and school supplies. Once you get used to using this lap desk you'll be hooked.
I also swear by these car hooks to help free up space in your car. Because backpacks can be bulky and take up a lot of room, I need something to help alleviate that space. These car hooks fit over the headrest and use unused vertical space. As an added bonus, they are within arms reach still for easy access.
Both of these back to school hacks are easy to implement and relatively inexpensive.
8. Create Your Own Homework Station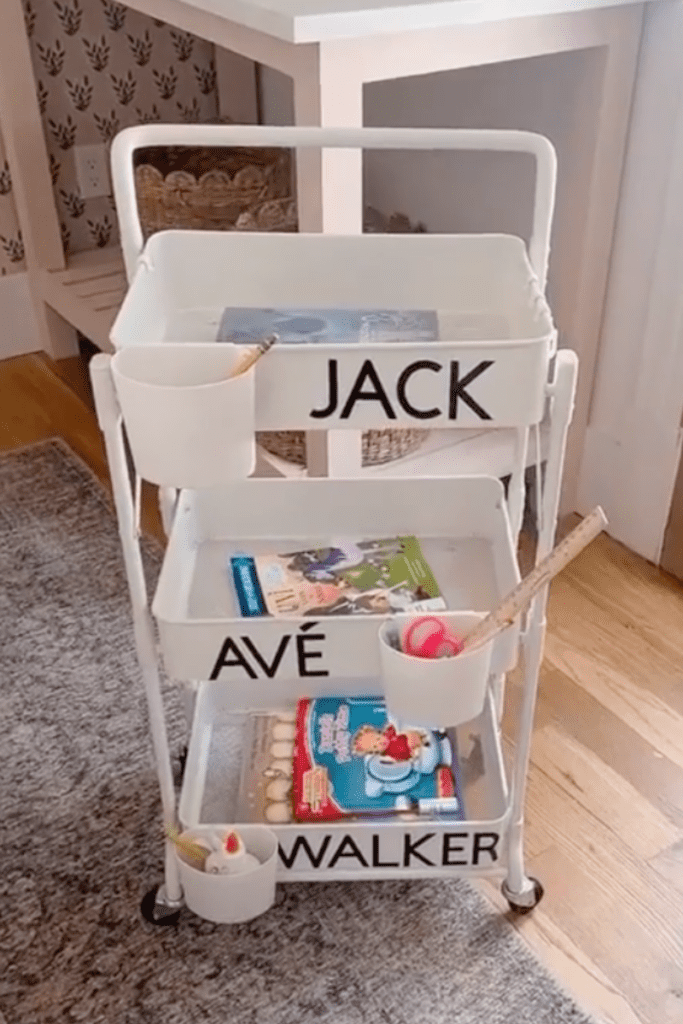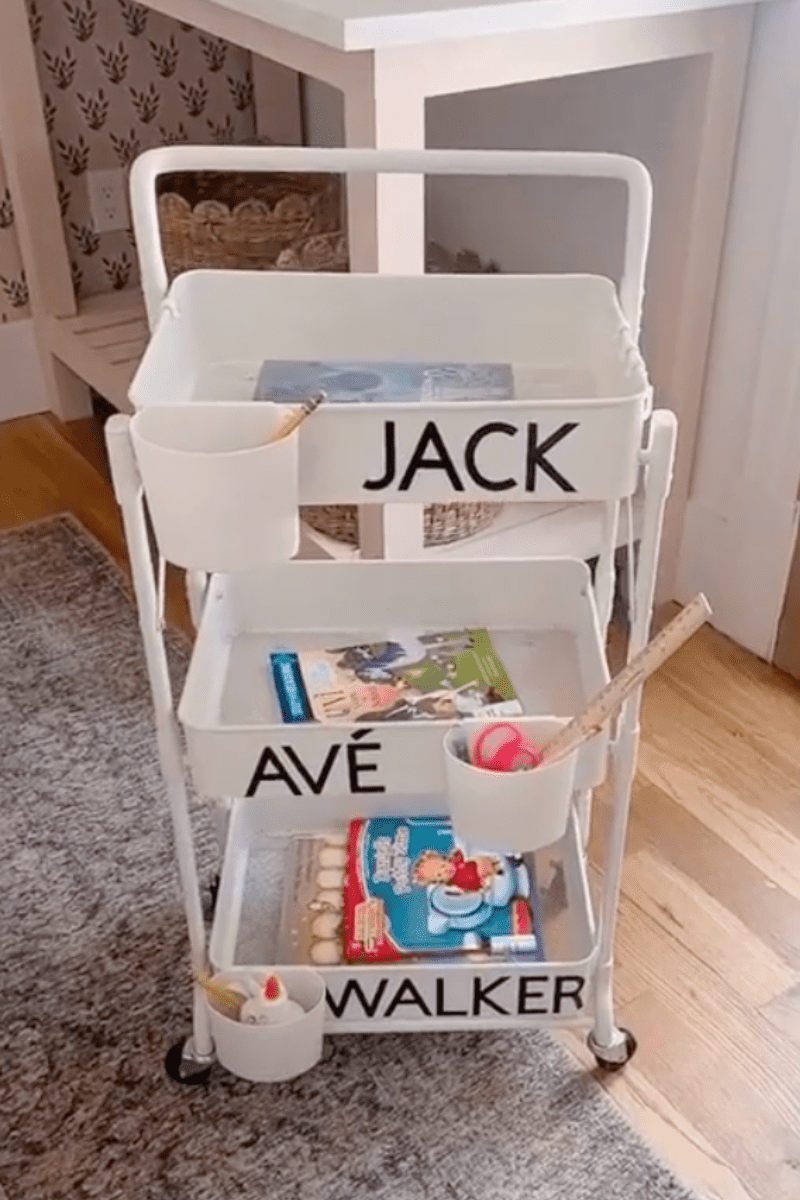 DIY projects don't have to be intimidating. Sometimes simple is best. This DIY homework station is one DIY that will make a huge impact with little effort.
If you used this cart in your nursery and still happen to have it laying around, it can have a second life as a homework station.  If you don't have this cart, you should just add it to your school shopping list now. 
Each row can correspond to a name. Store essential school supplies like crayons, markers, scissors, glue, pens, and pencils in a readily available place. When I'm shopping our school supply lists, I like to get an extra set of supplies to have on hand for this homework station.
You can also use this cart to help corral library books and other important items like permission slips. While I love all the organization it offers, to me, the best part about this cart is that it is moveable.
You can pull it right up to your kitchen table and each of your kids can easily access any supplies needed and store completed materials. We still check everyone's progress in our house, so having a designated spot where we can quickly grab and review is crucial for our family.
9. Stay Organized With A Drop Off Zone
One of my biggest pet peeves is when you walk into my home and trip over shoes, backpacks, and coats that are just thrown on the floor.
I pride myself on being a very organized person, but my kids must take after Sam because they love to challenge their mother. To help keep your entryway clear of clutter make sure you have a place to hang backpacks, coats, and store shoes.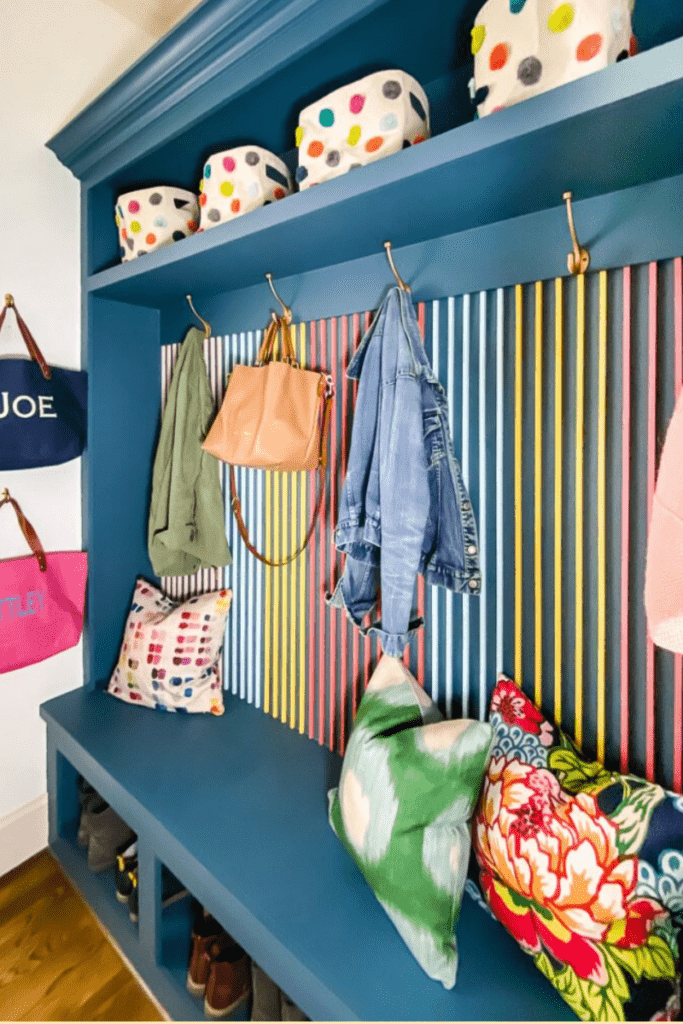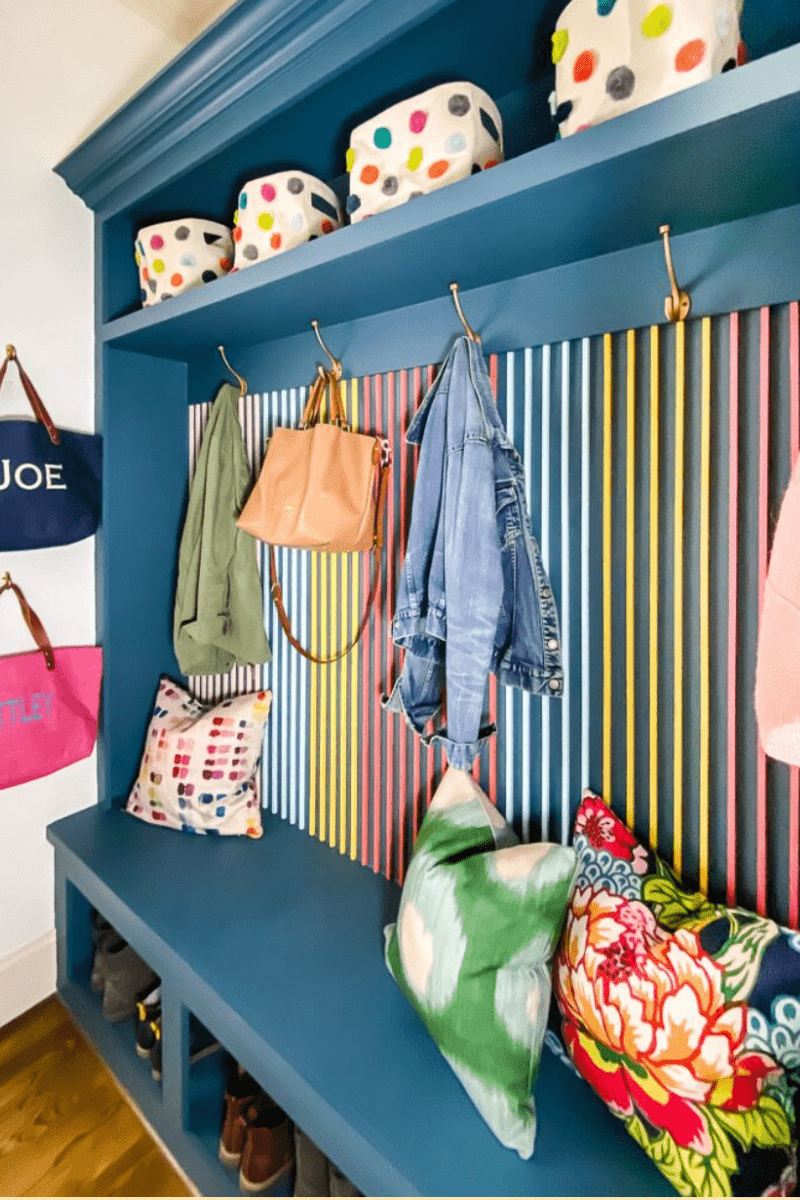 This colorful mudroom has plenty of storage space for all your essentials.
You'll want to put this spot close to the door that you primarily use. Regardless, if you come in through the garage door and your drop off zone is near the front door, I can guarantee you that it won't be used.
If you have the square footage I'd invest in a locker system. If you have a small entryway or need to adhere to a budget, invest in some wall bins, hooks, and a shoe organizer to help keep your walking paths free from clutter.
These are simple back to school hacks that will not only make your life easier but will also keep you from tripping ten times a night over a rogue sneaker.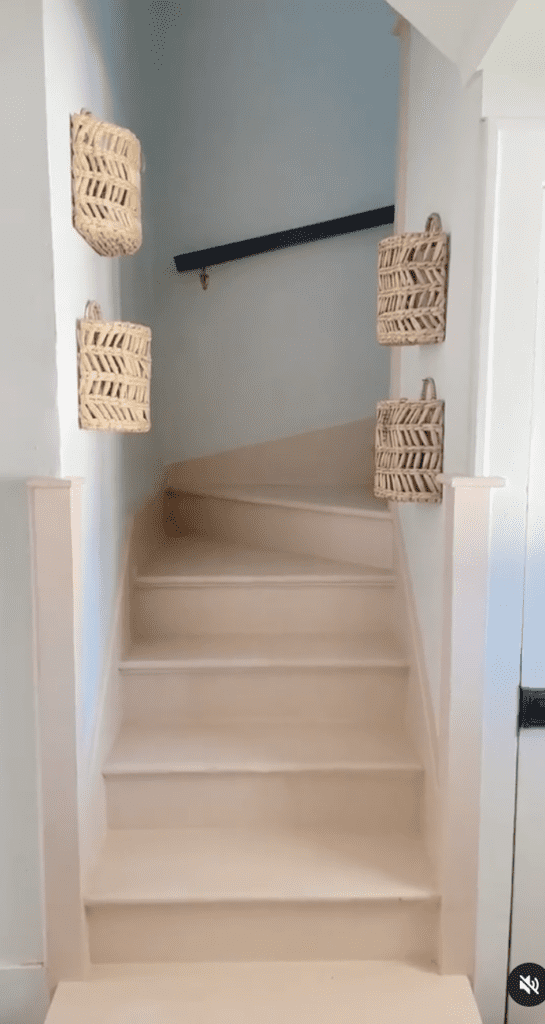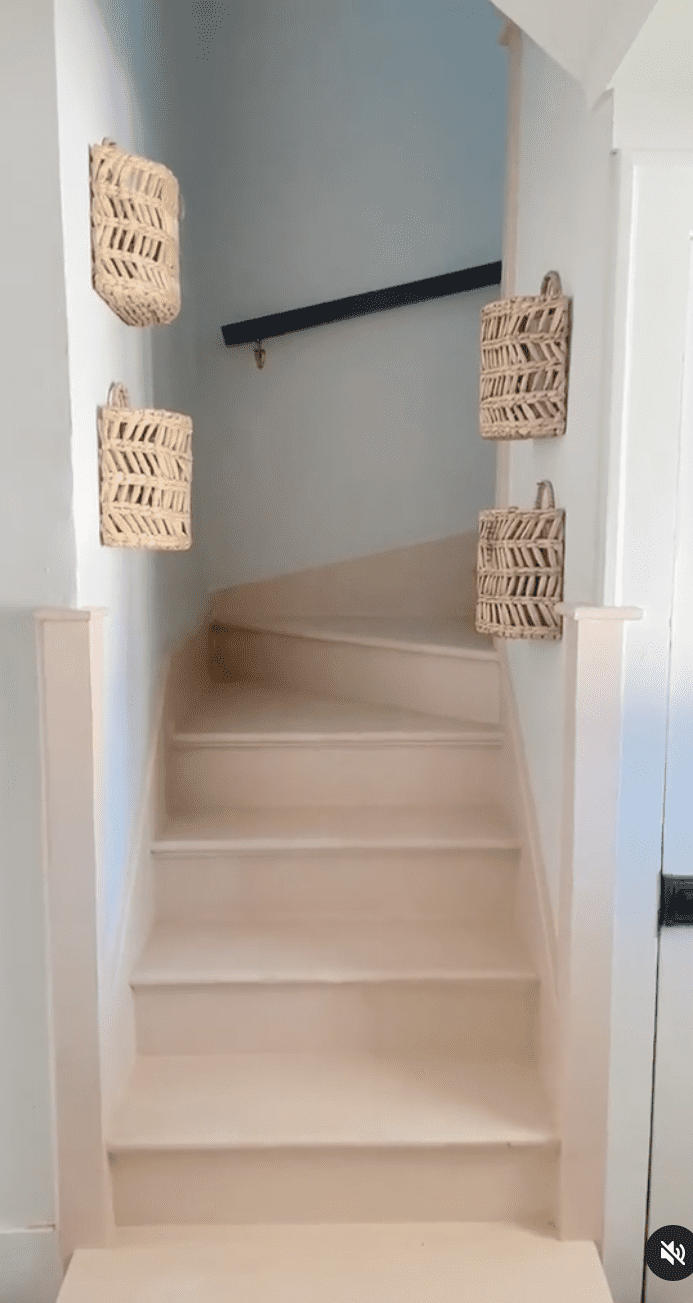 10. Store Artwork & Memories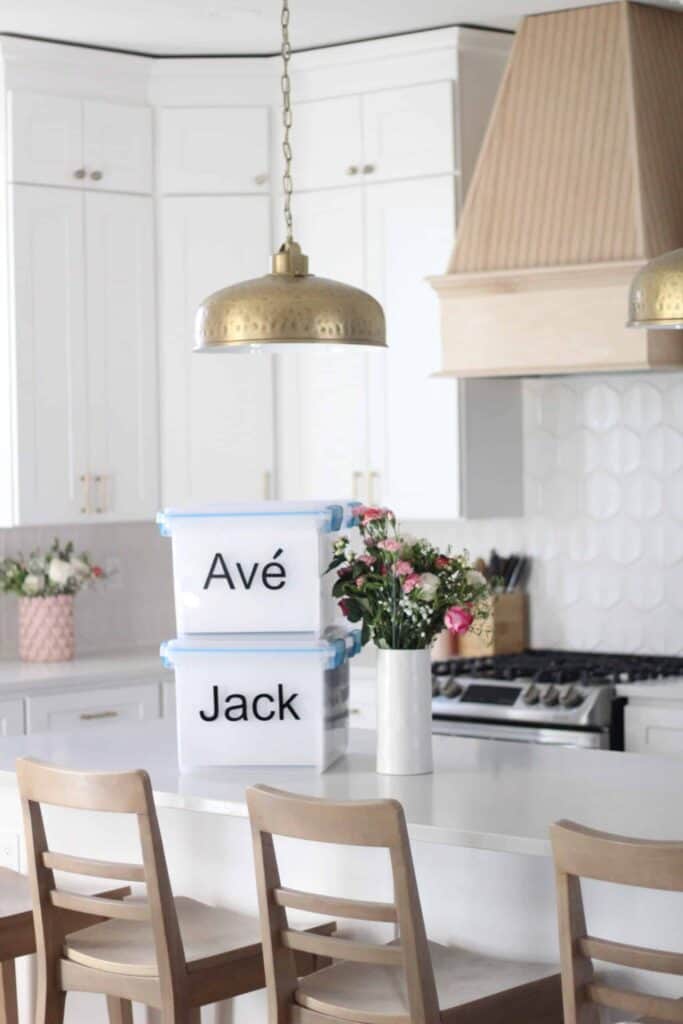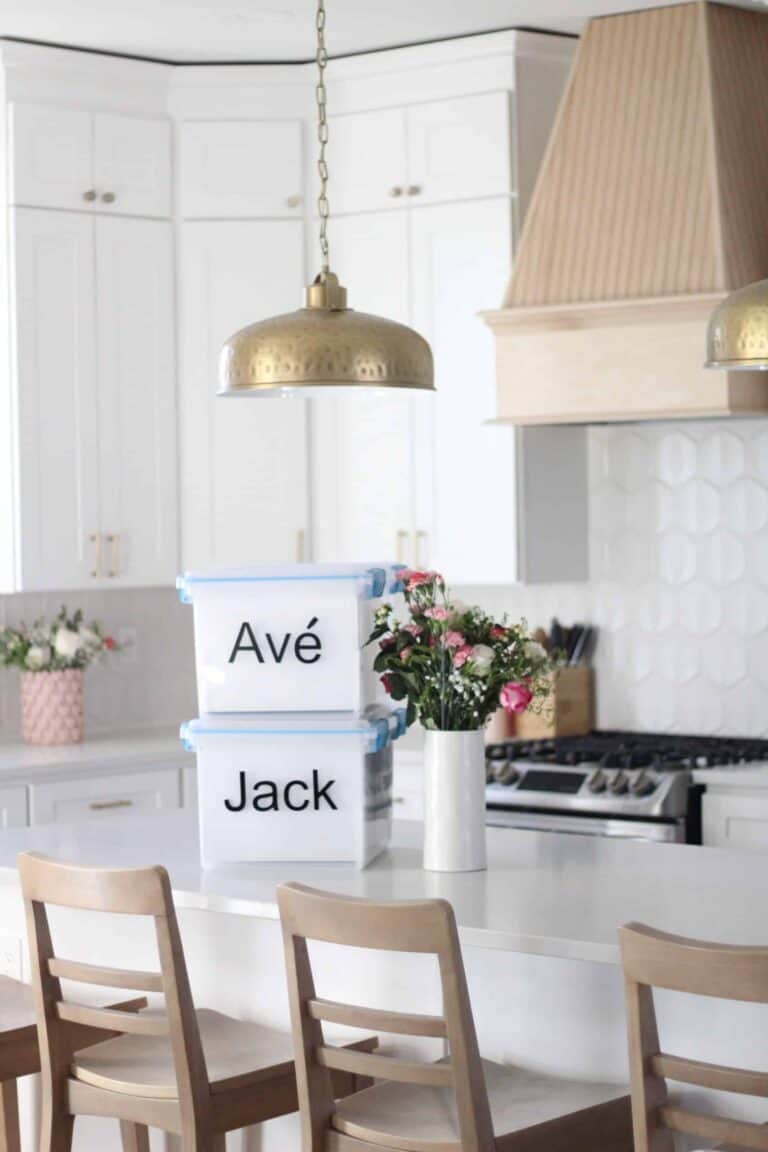 Each time Jack comes home from school he brings with him a new poster board with fun facts. Ave worked hard to bring home an A+ on her spelling test and Walker's masterpieces are hilarious.
I can't bear to throw any of these keepsakes away. As a result, I end up keeping them all on a table. The artwork started to collect gradually until suddenly, I realized my table was overflowing.
Do yourself a favor and grab yourself these keepsake bins.  You can get one for each of your kids and store all of their school memories.  I have file folders to organize the school year.  For larger artwork, you can grab these large art bags to help store those over the top creations. 
If you have a Cricut, you can label each bin with different designs to help tell them apart quickly.
My Favorite Products To Help Keep You Organized This School Year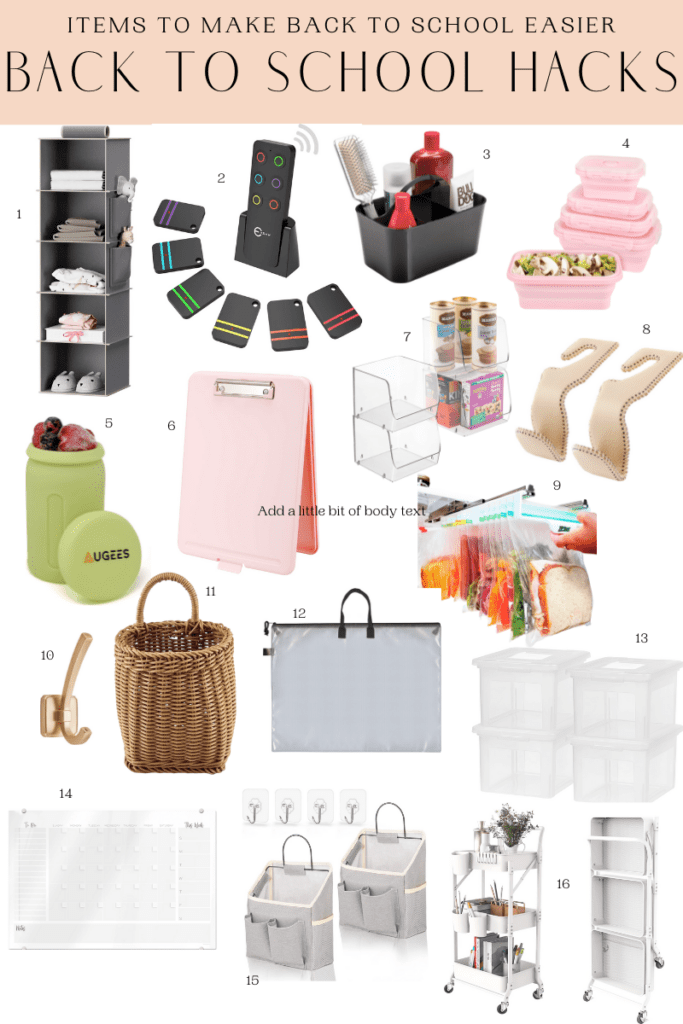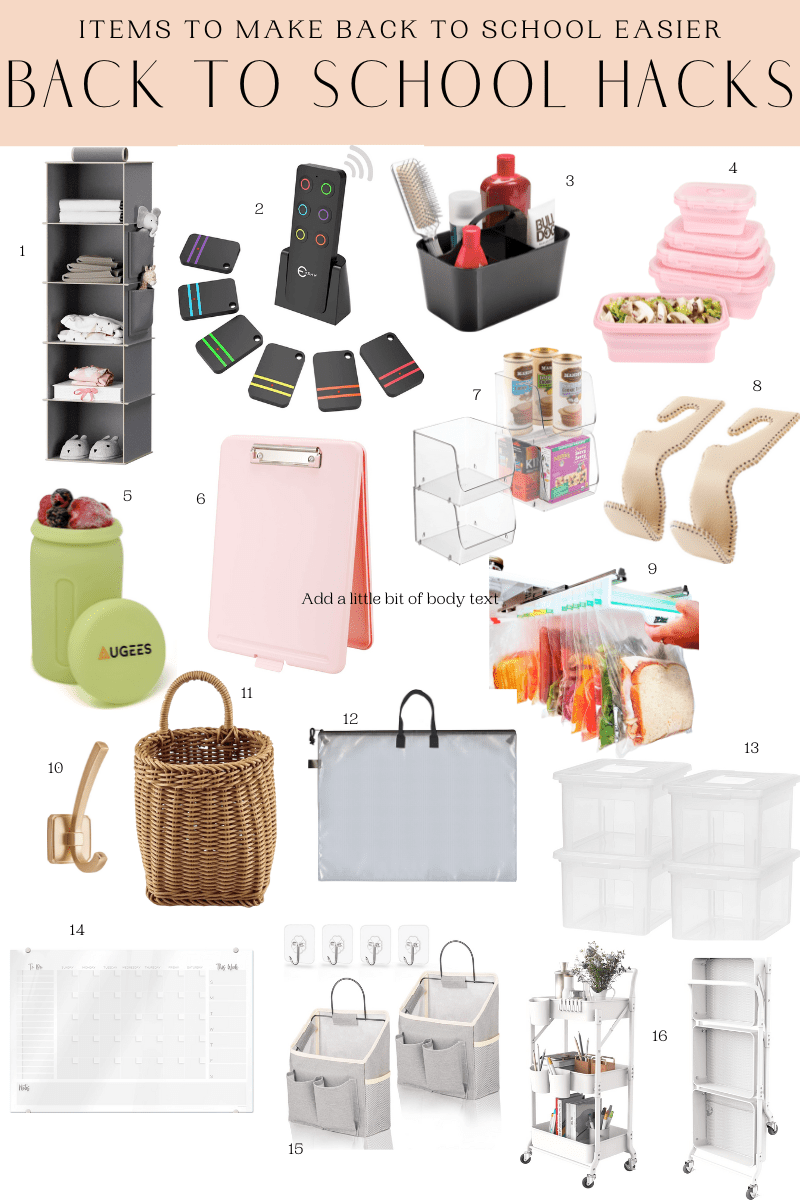 1 | 2 | 3 | 4 | 5 | 6 | 7 | 8 | 9 | 10 | 11 | 12 | 13 | 14 | 15 | 16
Other Posts You'll Love
Back to School Clothes | Soccer Mom Must Haves | The Best LEGO Storage Ideas | Nursery Closet Organization
Pin The Photo Below For Later
I hope this post gave you some helpful ideas on back to school hacks to help you stay organized this school year. The school year doesn't need to be overwhelming. Implement a few of these life hacks to help your mornings and evenings run smoothly. Be sure to pin the photo below for later, and if you don't already – follow me on Instagram (@arinsolange) and Tik Tok (@arinsolange) for more helpful hints. If you have any questions leave them in the comments below and I will get back to you!