This week, we are painting a few rooms in our home. It got me thinking about how big of an impact paint can make on an entire room. Updating your own home can be as easy as picking out some complementary colors to get a fresh take on your home style.  With coastal decor being a hot trend I wanted to share paint colors for your coastal living room.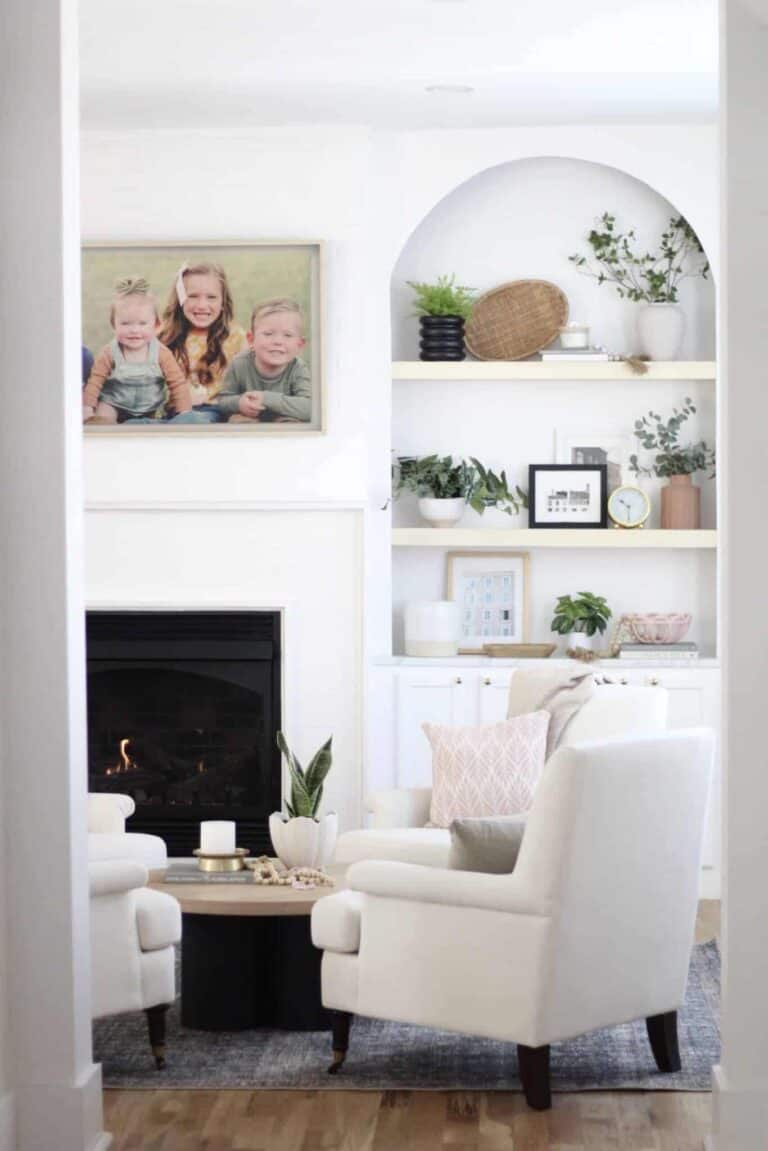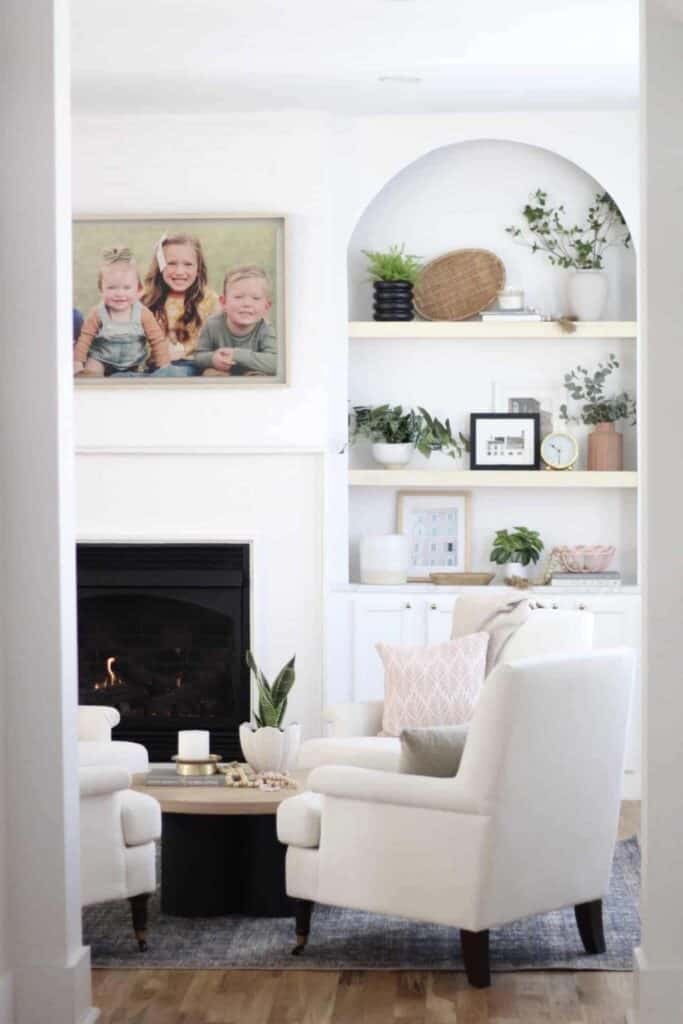 This post may contain affiliate links.
12 Best Coastal Living Room Paint Colors For Decorating Your Home
An upcoming paint trend for 2023 gives a nod to a coastal design with its calming vibes and colors. Beach homes will have an edge, as paint color trends towards taking their inspiration from the sea, sky, sun, and earth.
If you're interested in updating your family room or other areas of your home to have a coastal color palette, I'll go over my favorite paint colors that will help you have the perfect coastal living room.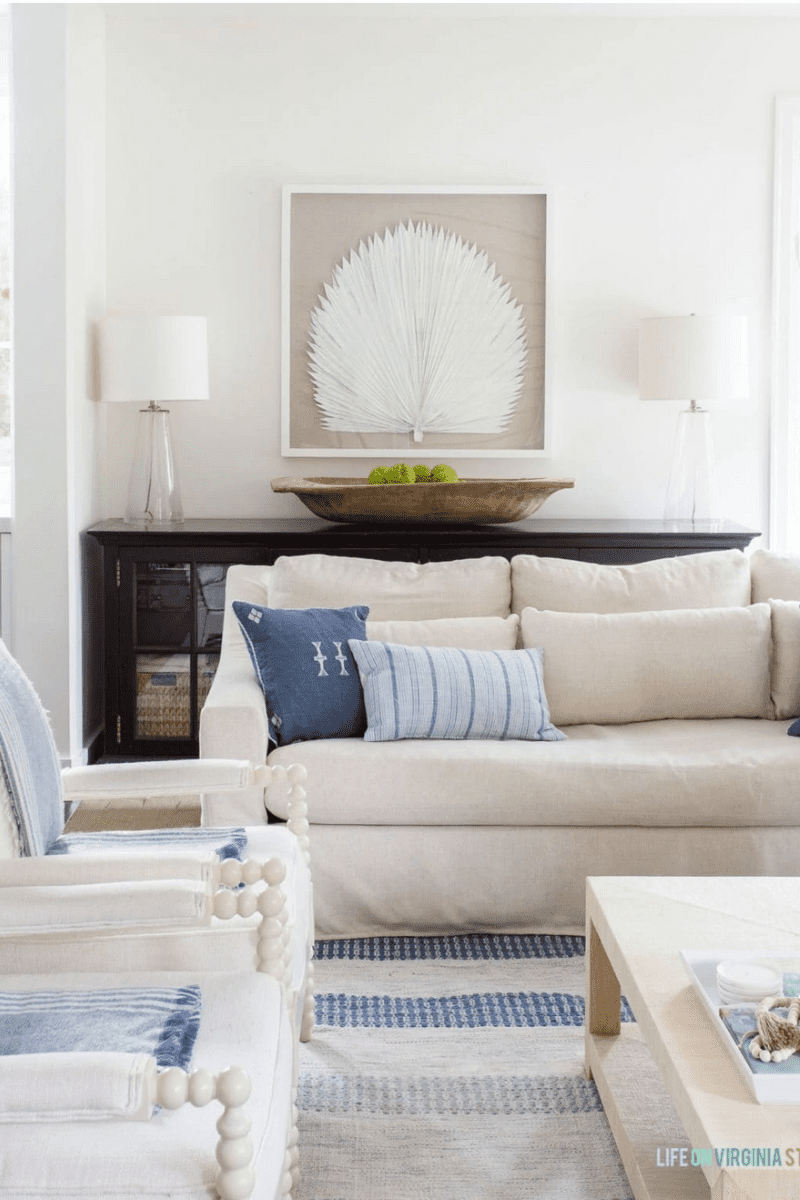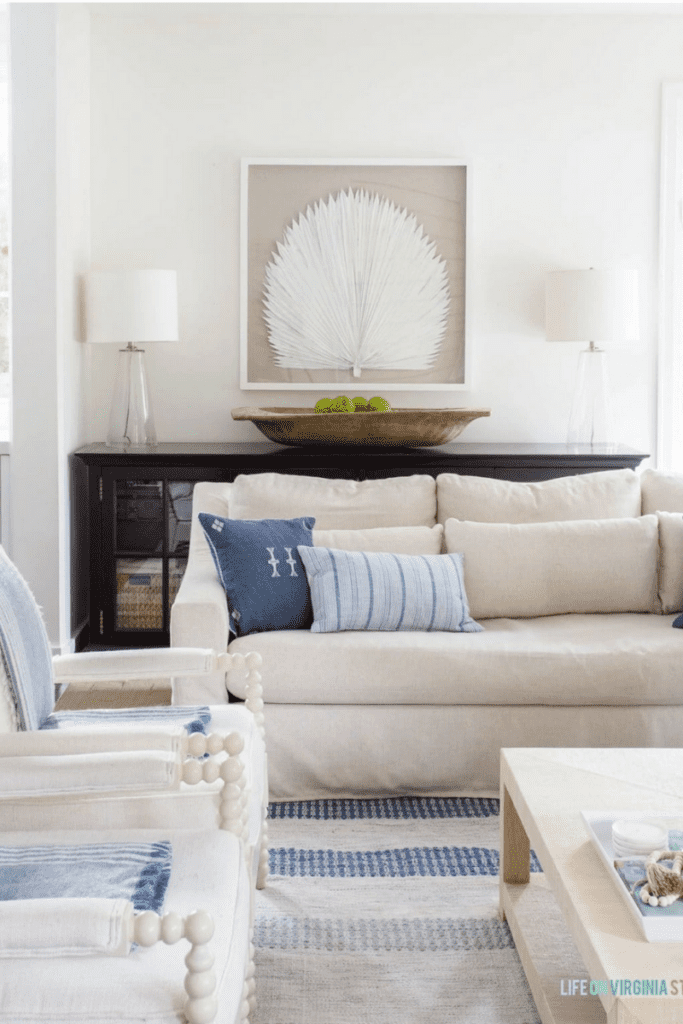 Life on Virginia Street nails beach house vibes in her entire home!
Coastal Design Explained
The top paint colors for 2023 contain color combinations that are perfect for coastal decor. You may be asking yourself, what exactly does it mean to have this type of style? This style is described as taking inspiration from natural elements outside near the water and having those elements reflected in your home.  
In other words, when looking at a coastal lifestyle, you'll take inspiration from the ocean waves, sea, sand, sky, marine life, etc.  You're not only displaying those elements via your color choices, but they can also be inspired through pattern and textures via your decor.  
The end result is a soothing backdrop where you can relax, close your eyes, and envision yourself on the beach without stepping outside your home.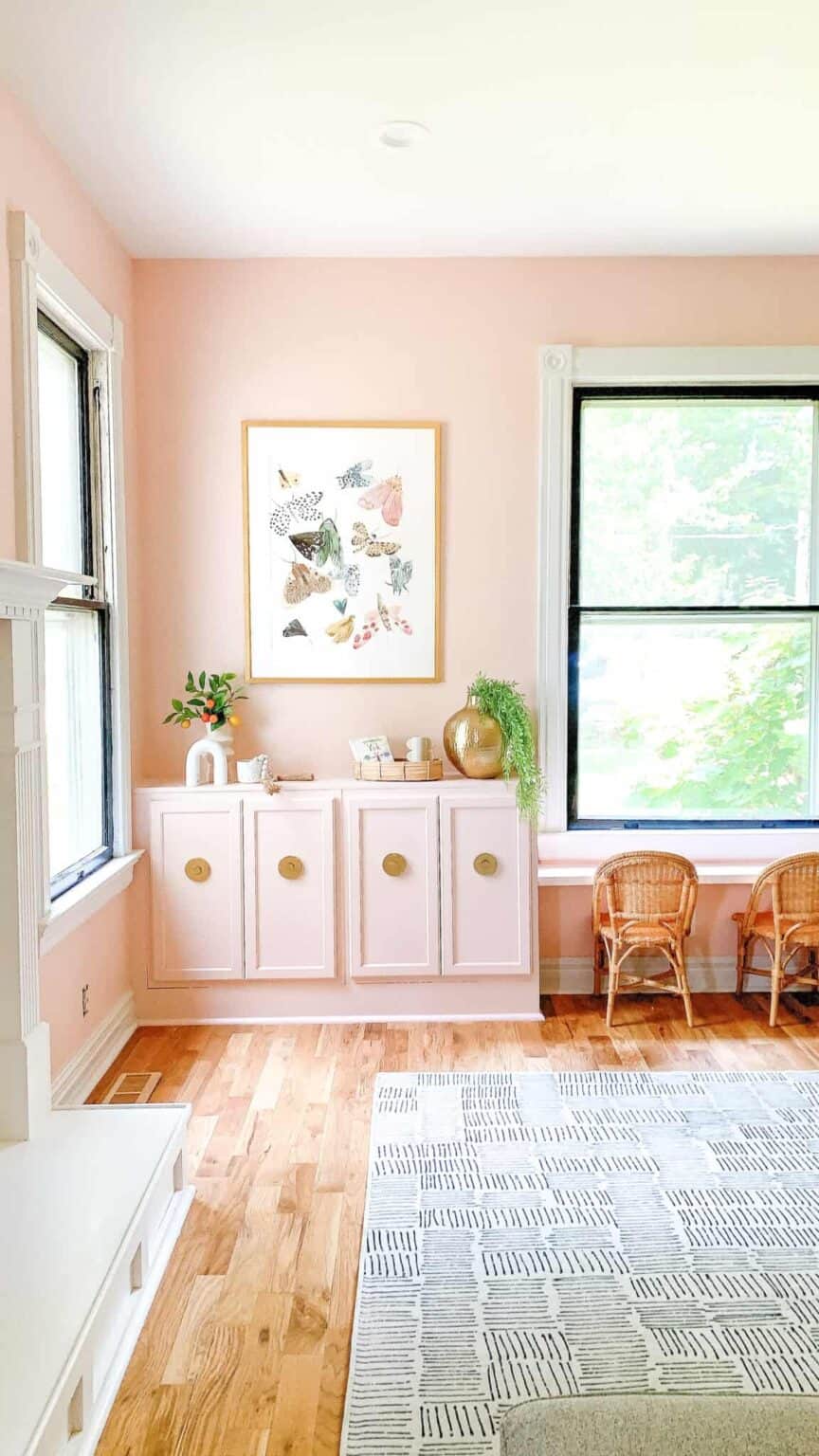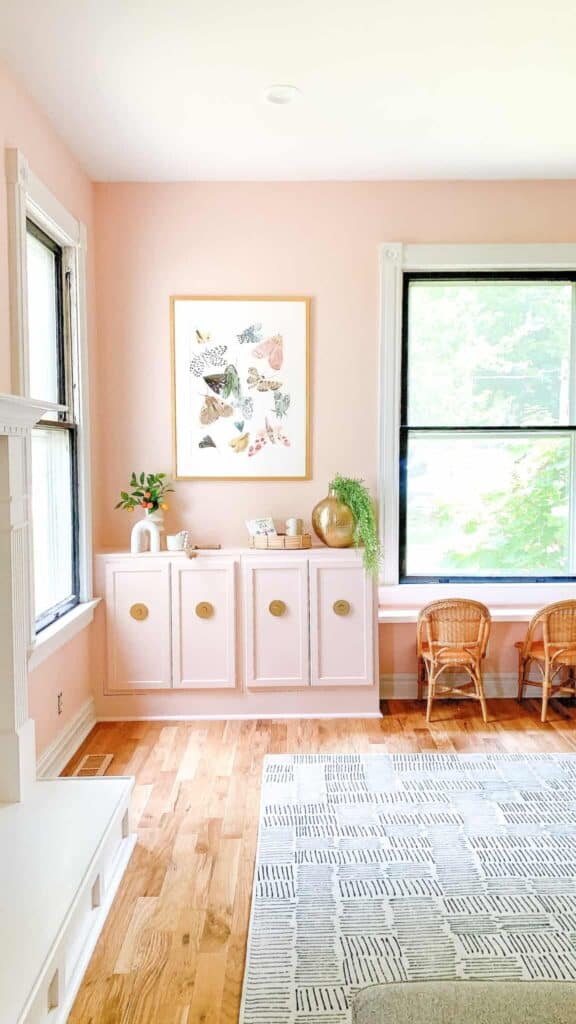 While I love the design, I think this is a style that needs to be done carefully.  It can be easy to go over the top and move from a breezy feeling to a tacky beachy feeling. Not to say you can't use seashells in your decor, but I do believe you need to be cognizant of what you are using to decorate.  If you want that elegant design, consider how you can tell that story without having it slap you in the face with over the top beach trinkets.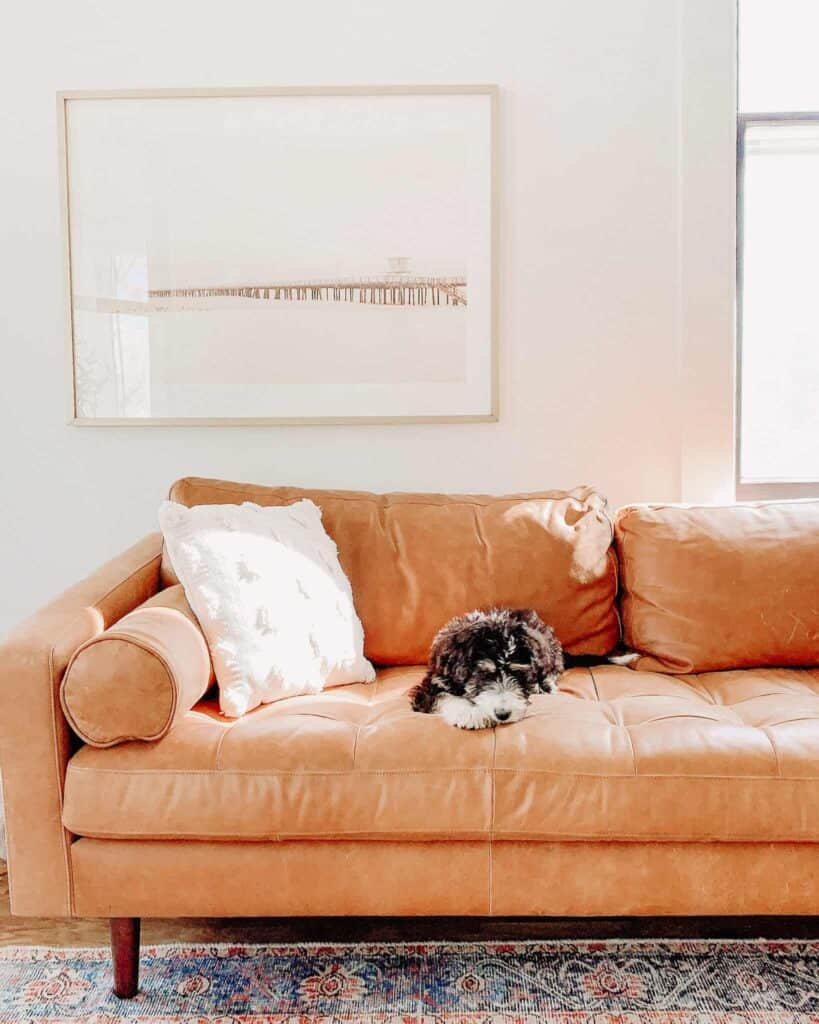 Coastal Grandmother – The Hot New Decor Style
One design style that is beginning to trend is known as "coastal grandmother". You may be scratching your head and wondering what in the world does this entail?
 The easiest way to describe this trend is to envision how your grandmother from Rhode Island would decorate her home.  I personally choose to envision how Jackie Kennedy Onasis would decorate her Nantucket compound should she be alive today.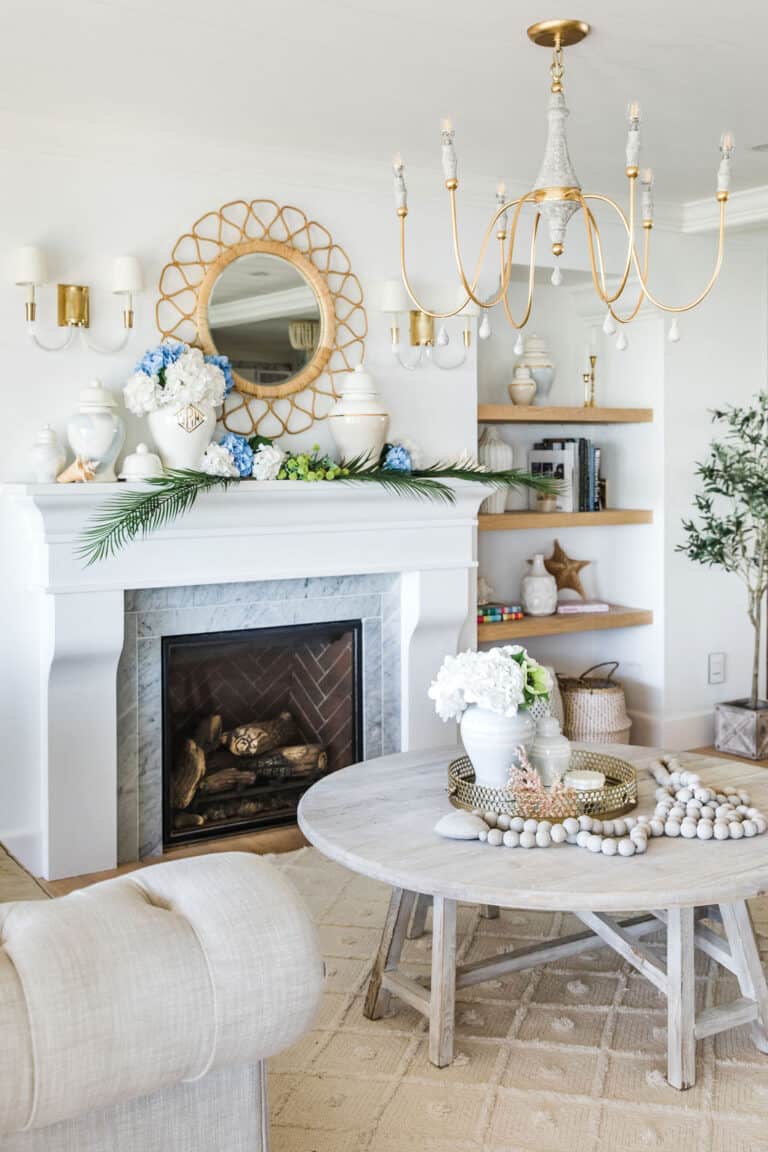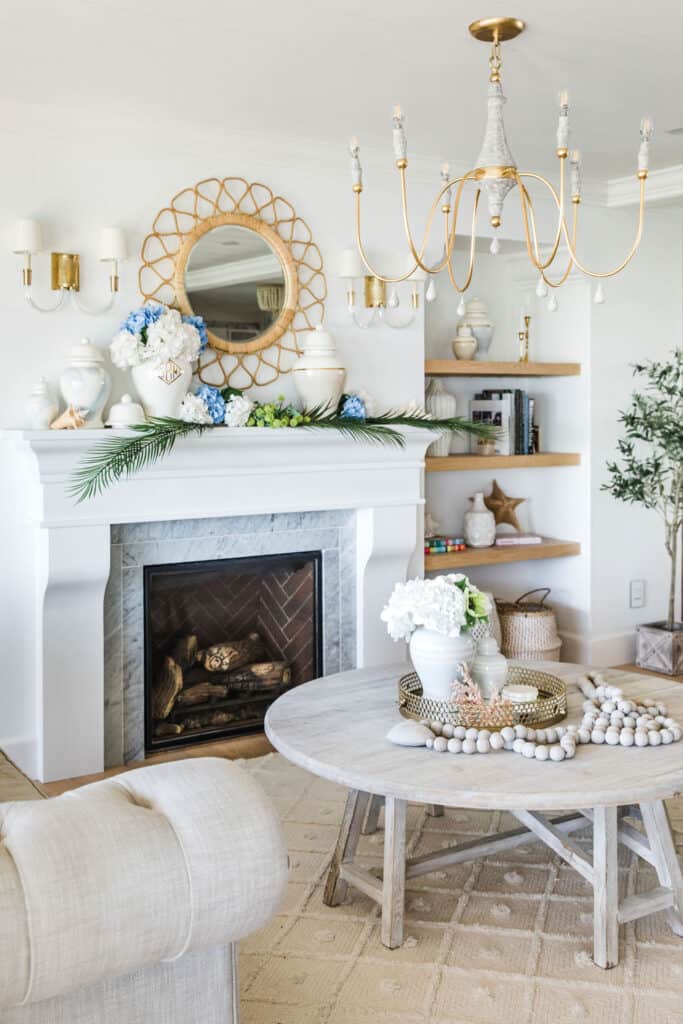 Hydrangeas are a must for a grandmother's touch
Coastal grandmother marries the design of taking elements from nature and incorporating vintage pieces to make your home feel warm and cozy.  
Your decor should feel light and breezy, but at the same time, you should have items that make you feel that warmth you feel when you walk into your grandmother's home and smell her making her famous chocolate chip cookies.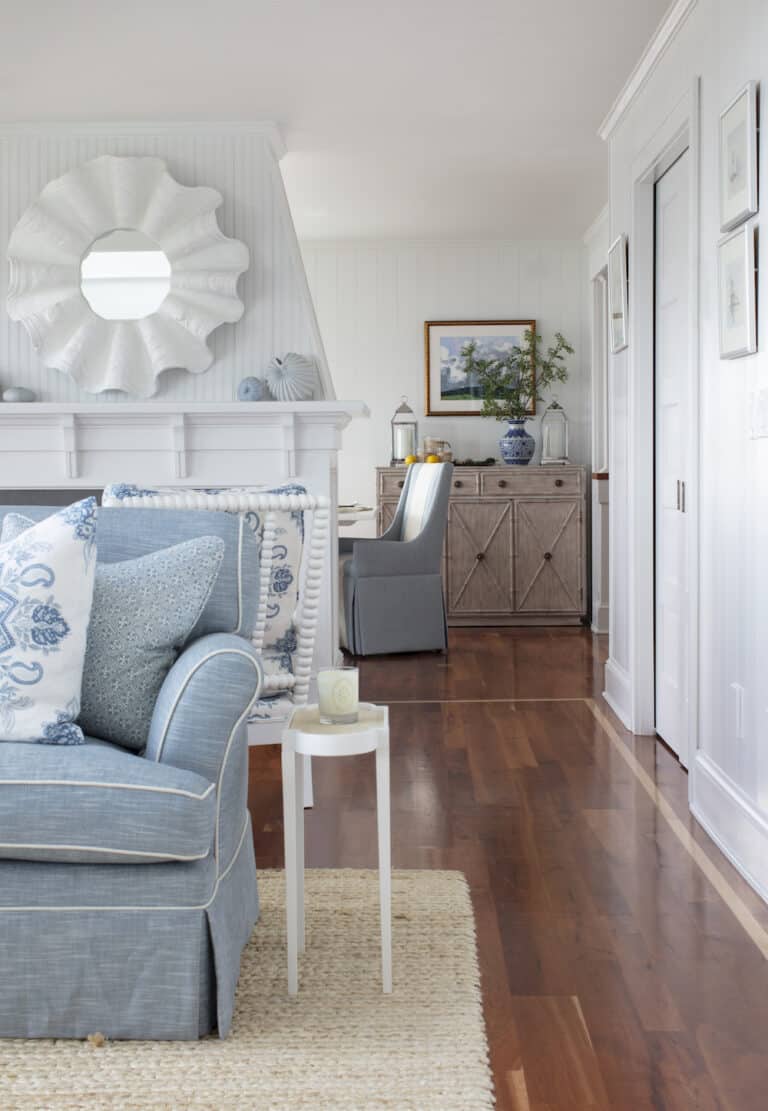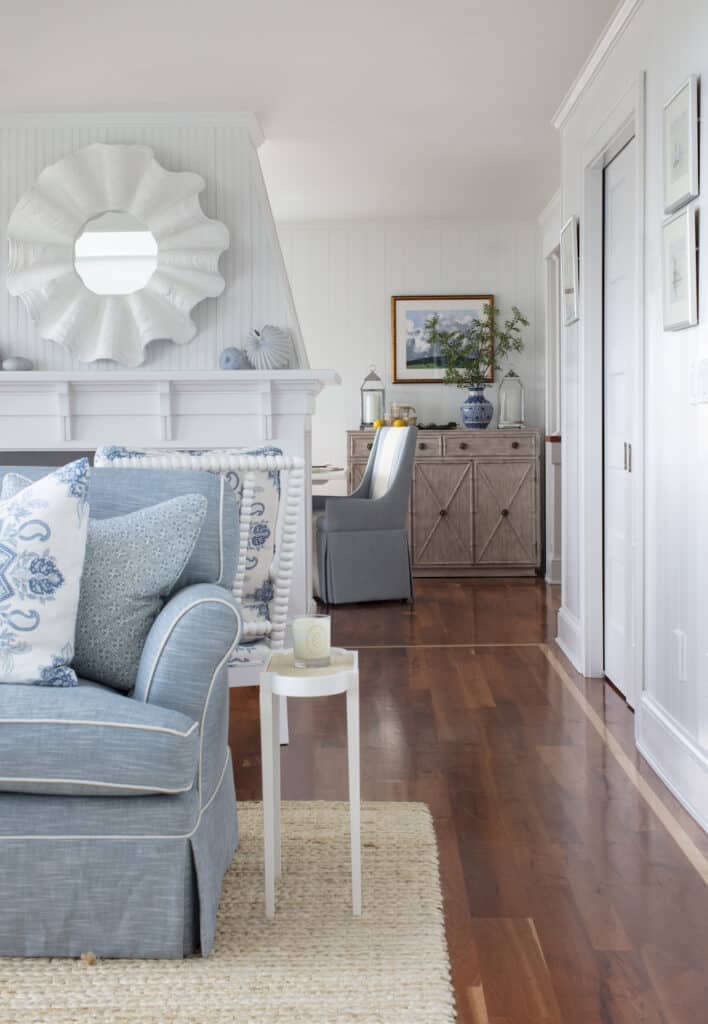 This entire house is a great example of the coastal grandmother style.
How To Achieve Your Grandmother's Beach House Style?
How do you even begin to get this new look? A great starting point is to have a solid foundation with your design elements.  You don't need to go overboard for this.  This can be as simple as picking coastal paint colors.  You may want a family room with seaglass green or bright whites. 
From there, add in natural materials such as wicker baskets. Throw pillows are a great way to help emphasize this decor style.  Blue and white striped pillows or a woven throw blanket with complementary colors can give a nautical feel and can bring warmth to your living space.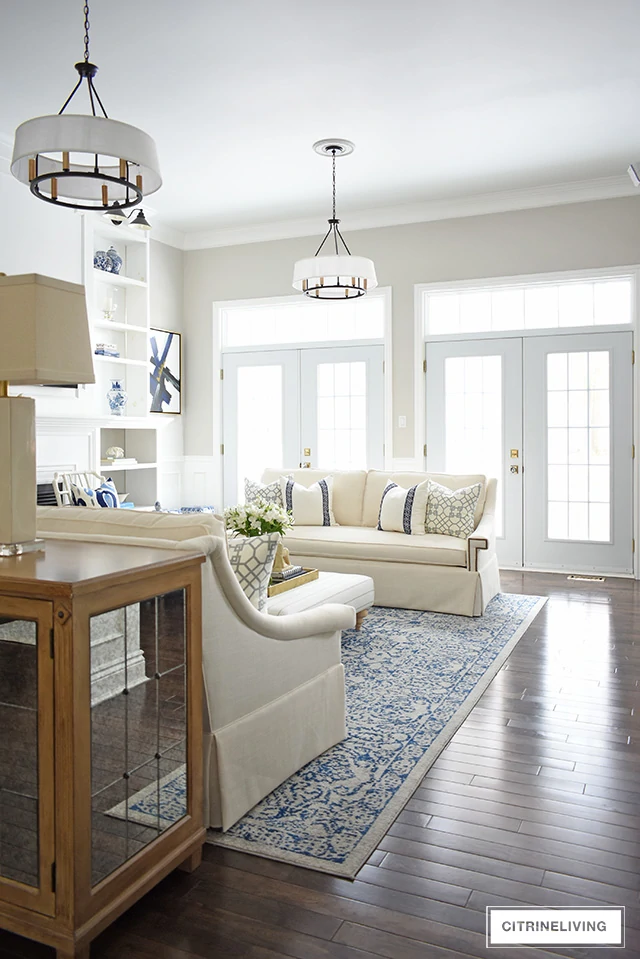 Citrine Living switched up their sofas to create the perfect beach decor .
Vintage Finds Are Key
Next, you'll want to add in decor with vintage finds.  Whether you have big or small decor items, make them vintage to help nail this style. A great way to find these items is to search through antique malls or estate sales.   For example,  a light toned antique wood coffee table would be a great pick to incorporate into this design. 
The tones from the wood can be reminiscent of driftwood, while the actual style of the table should reflect a vintage feel. You can also look for items with natural fabrics. Linen curtains or linen slipcovers are perfect examples. Vintage rugs are another great way to create the perfect scene for your own coastal grandmother style. 
 Don't forget about smaller decor items.  You can look to antique malls for those great vintage finds like blue and white vases, lamps, vintage books, wicker vases, or wall art as ways to help bring the room together. Whatever you do, don't forget to set out a bouquet of fresh hydrangeas.  These are key in order for you to nail the coastal grandmother style!
And if you're like me and have a black thumb, grab some faux hydrangea and add some water to the vase. It's one of my favorite hacks!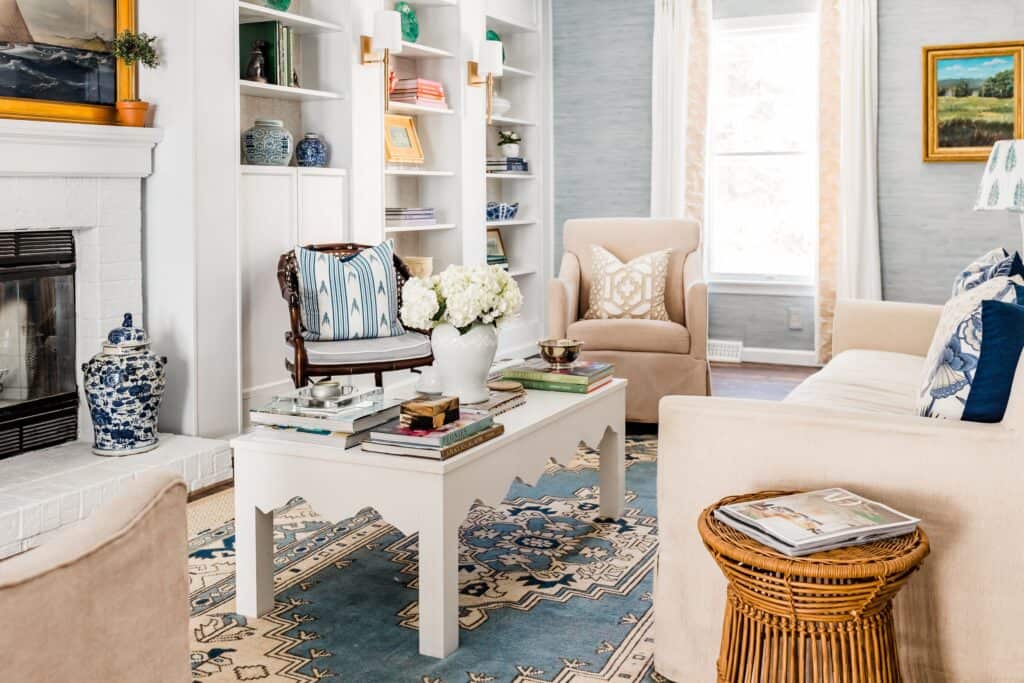 Laura Solenksy Design nails this coastal grandmother living room.
Modern Beach House Living
If the coastal grandmother style sounds like it may be too much for your taste, then you're in luck. Another popular trend is the modern coastal style. Rather than taking vintage finds to create warmth, this design style is much more minimalistic.
You'll still utilize the key concept of using elements of nature and incorporating those elements into your living space.  However, modern coastal design is about creating your living space with the notion that less is more.  You're looking at simple, clean lines with your decor that says coastal without screaming it.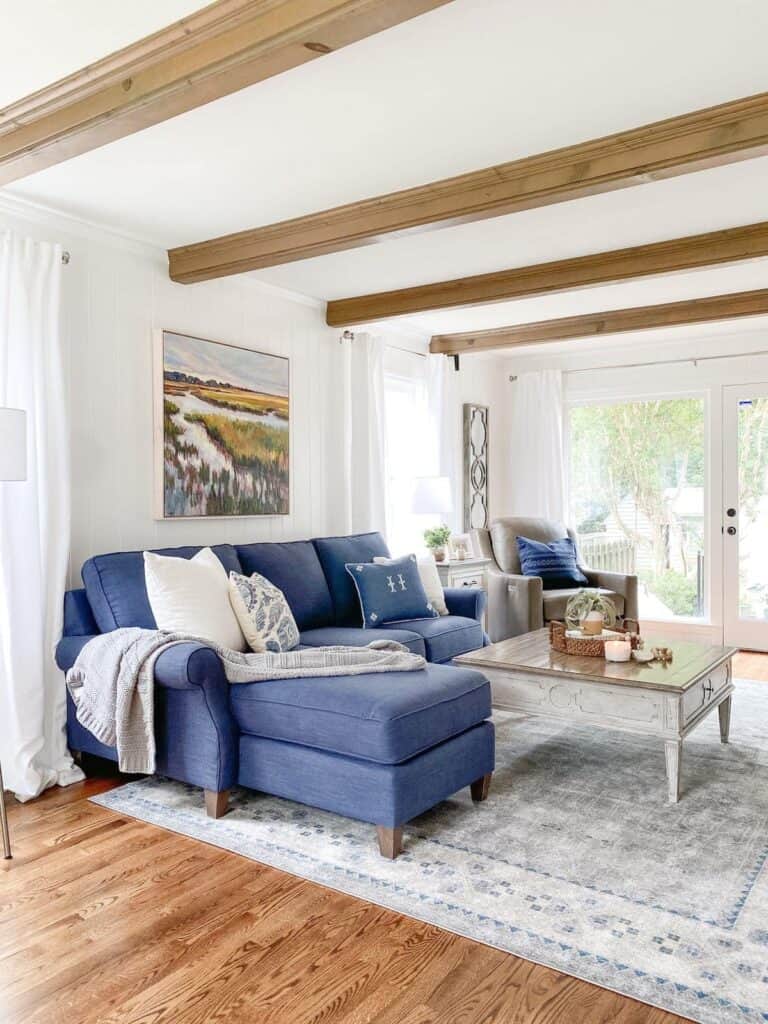 Check out this subtle living room reveal here filled with white and blue accents.
In other words, hide your nautical ropes, seashells, and anchors.  Instead, look to natural materials, textures, colors, and patterns that have inspiration from the sea.
Finding Inspiration In Nature
Woven jute rugs are a great example of taking inspiration from the sea. The texture of the jute adds warmth to your space and is reminiscent of a sandy beach with its neutral color. You can look at wicker baskets to help organize clutter and also capture the same feeling as your jute rug.
For furniture, look to woods that are light or painted white, but keep your lines straight. You'll want to have a light and airy feeling without being too dark or heavy for the space. If you prefer a darker toned wood, a driftwood gray would be a good compromise as it can be reminiscent of ocean waves.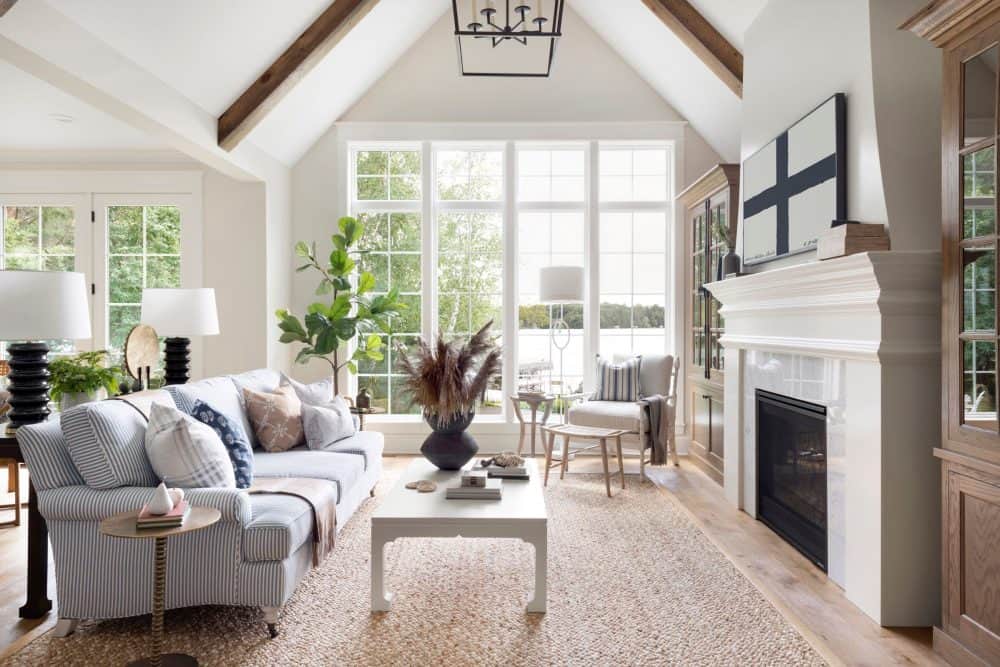 Such a serene lake house with a modern design.
Linen textiles are another great way to complement your great room.  It not only brings in natural fabrics, but this fabric adds a light and breezy feeling when used in this space.  Plants are another easy way to create texture and to capture your decor. 
You don't necessarily have to have your typical dark green plants. Instead, opt for pampas grass. Pampas have a texture that is reminiscent of ocean waves with soft colors that range from sandy dunes to vibrant sunsets. You can put them in a large vase and place them on a coffee table or your built in cabinets.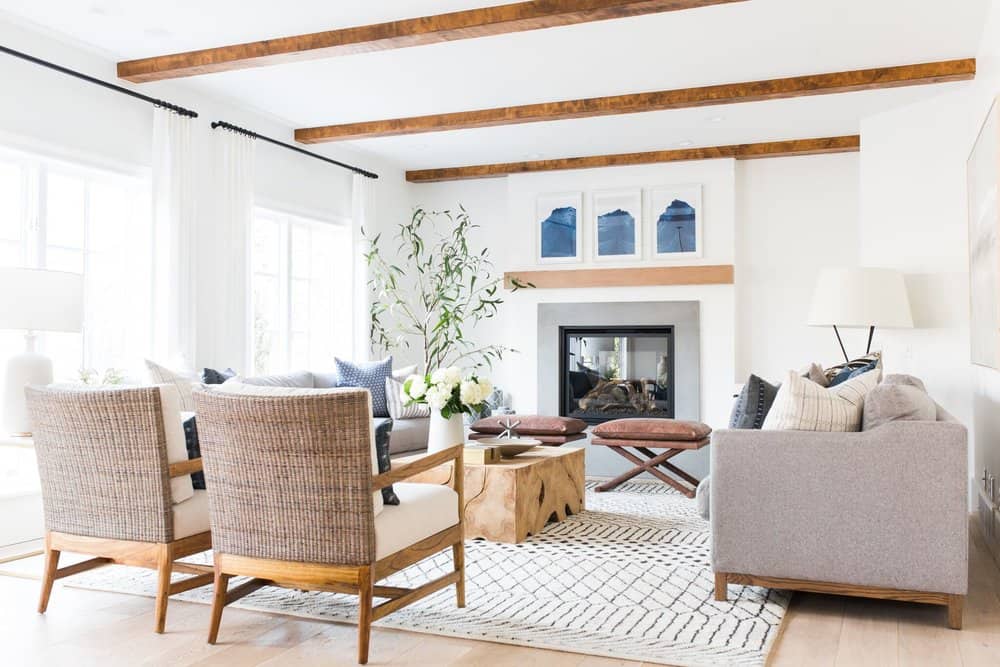 Studio McGee always knocks it out of the park.
Achieving More With Less
Keep in mind that with this style that less is more.  You don't want to go overboard on any design piece.  Rather, each item should have a purpose.  You're not looking at collecting items that tell a story. 
 Instead, you want every item to be in their proper place and nothing more.  At the same time, you don't want to use any decor that throws it in your face that you are trying to achieve a design reminiscent of the sea. Look for ways to incorporate your theme without using items that scream it.  
For example, instead of hanging up a picture of a beach, look at abstract art that uses colors and lines that are reminiscent of the ocean water. Avoid loud starfish and seashell patterns and opt for a simple nautical stripe pattern.
You can keep your seashells for the beach and incorporate sea glass via vases or decorative bowls. A capiz shell mirror or light fixture are another way to help incorporate those natural elements without being too obvious.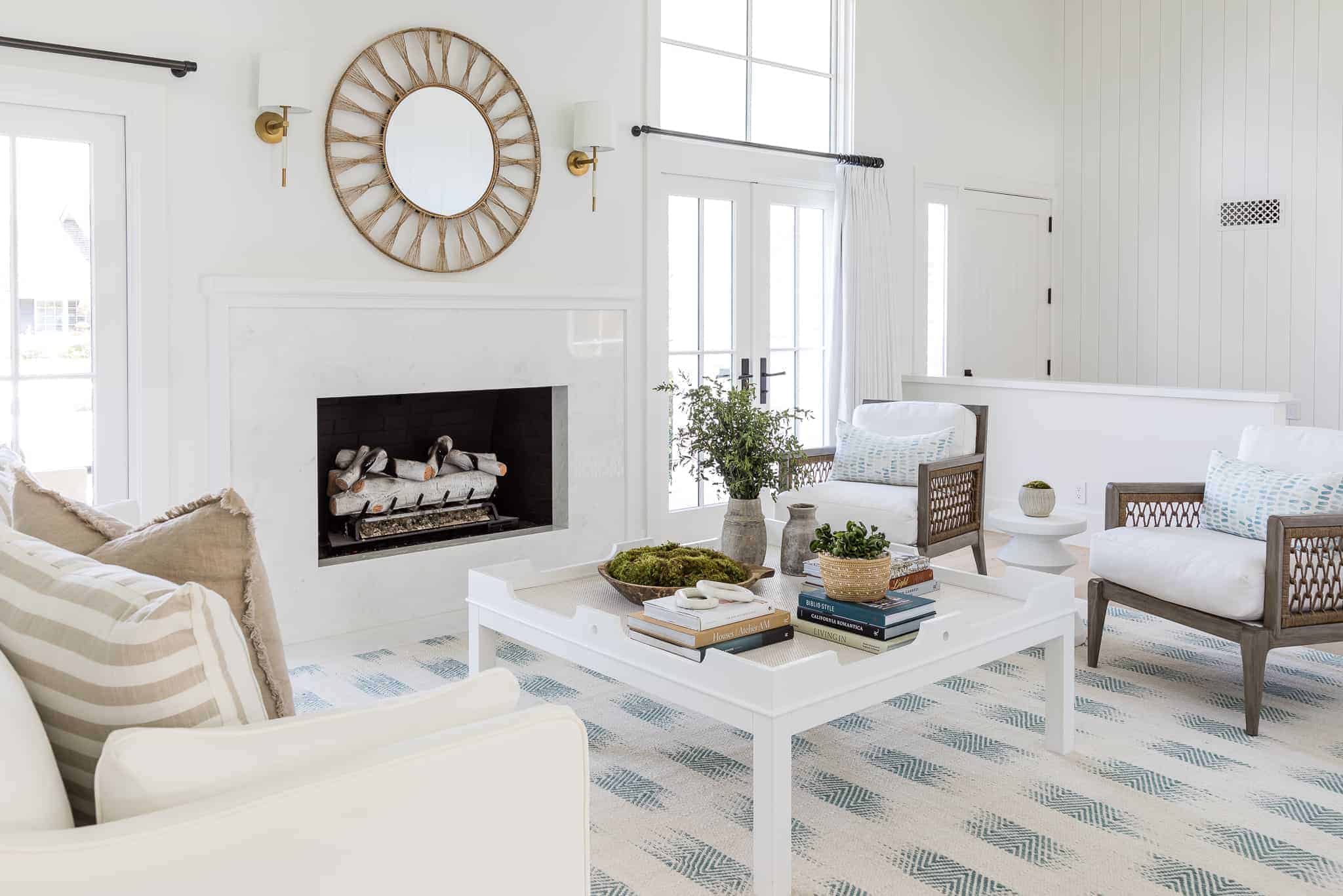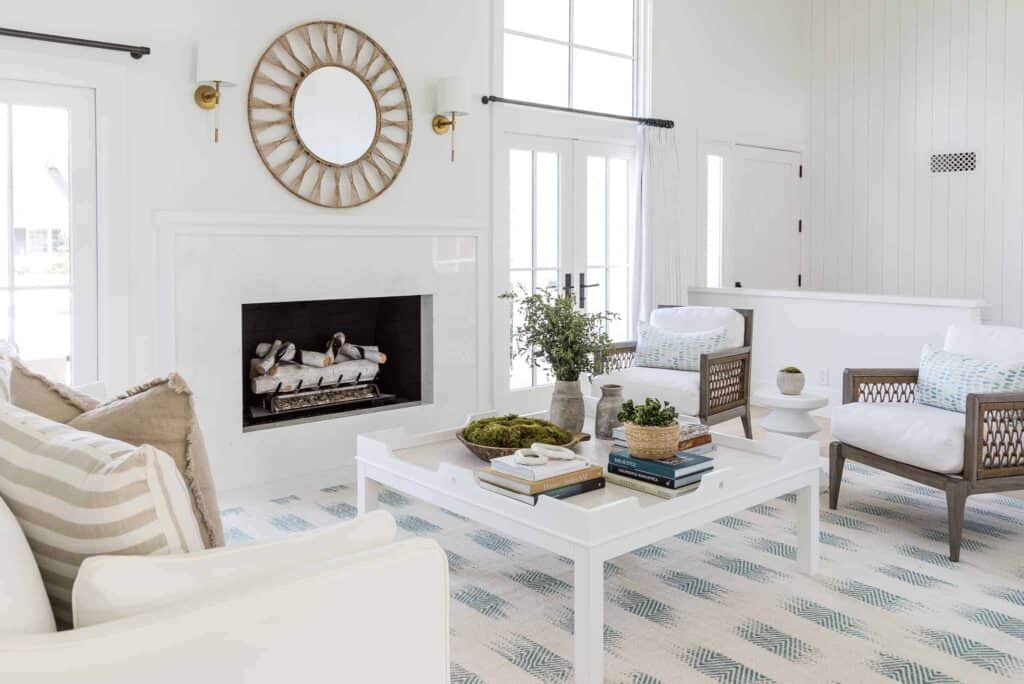 A great example of clean lines in this modern design.
Keep It Simple With A Coastal Color Palette: Breaking Down Your Paint Color
No matter what style you choose, the first thing you need to do is make sure you have colors that are inspired by nature.  Instead of one singular color, a coastal color palette consists of several complementary colors that can be used throughout your entire home and in your decor. 
Coastal palettes consist of colors that take their inspiration from the sea, sky, sand, and sun. Several of these colors are predicted to be a top interior wall color for 2023.
Blue
Blue hues are a favorite color for many reasons, but one of those reasons is simply due to science. Blue is not only soothing and proven to help lower stress and anxiety, but it also is the easiest color to see. Because of this, blue can help a space with lots of light feel larger by reflecting light or help a darker room feel brighter by drawing color and light from the room.
Blue walls can range from different vibrant hues to more subtle gray blues. Navy, turquoise, sea foam green, and beach glass are all examples of beachy blues inspired by the ocean.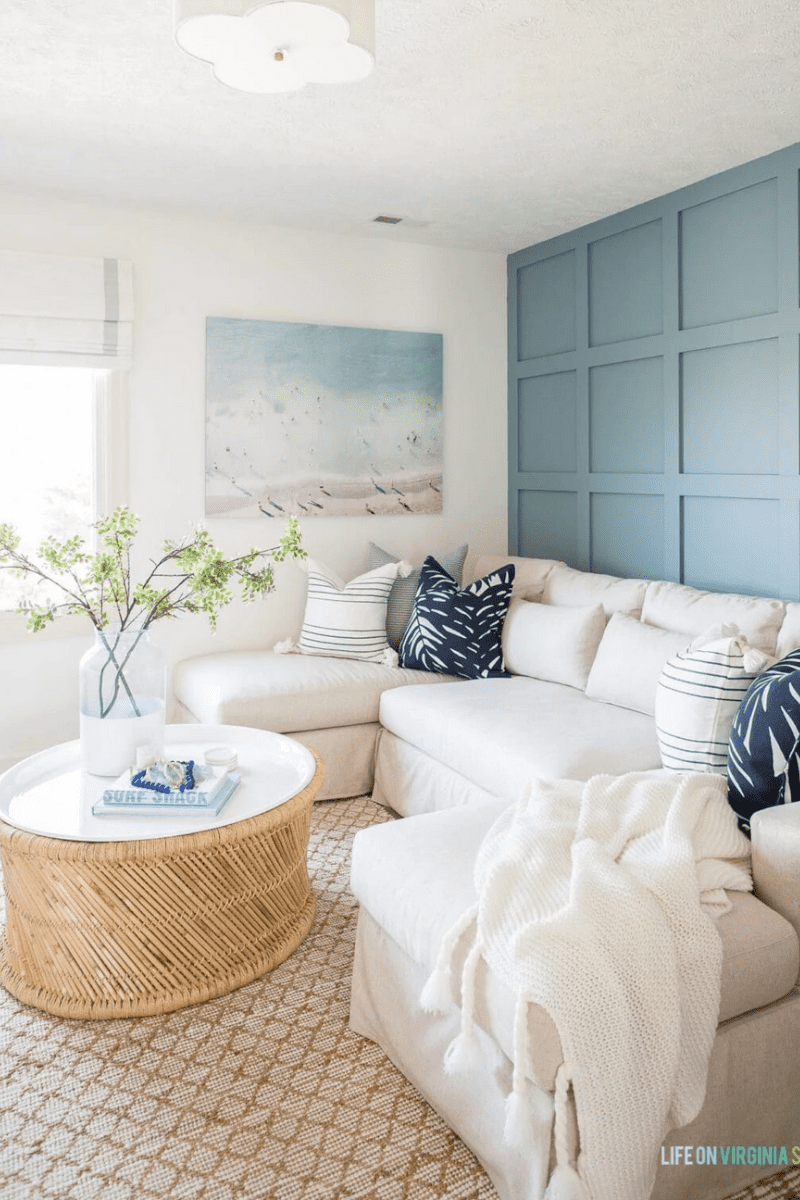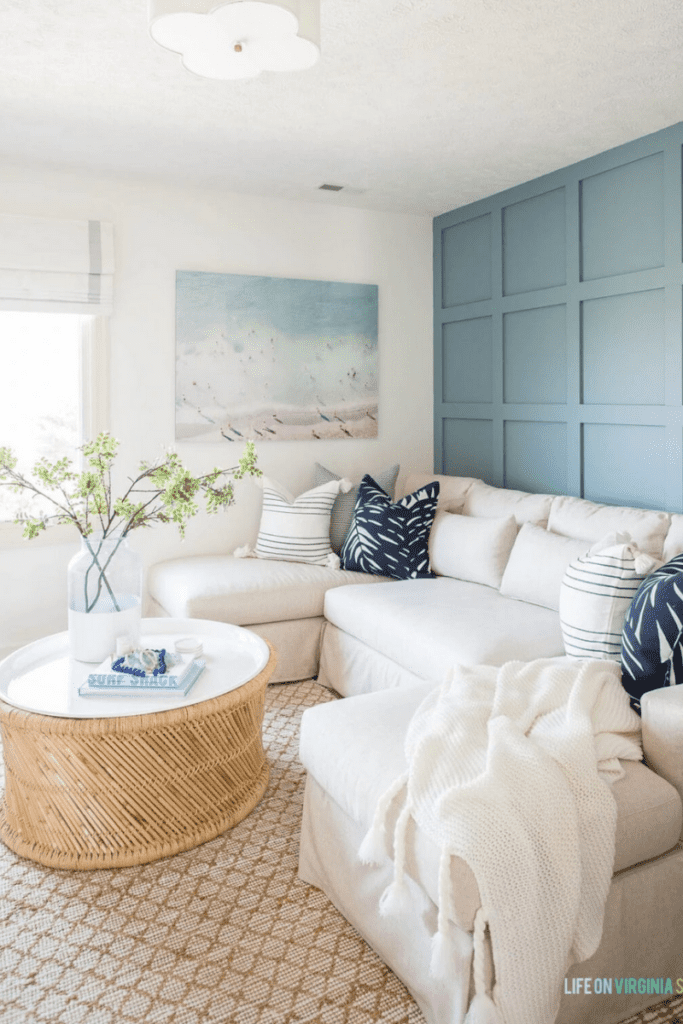 A modern statement wall in the perfect turquoise blue.
Ranging from a darker solid color with navy to a bright accent color in turquoise, these are great options to help elevate your theme.  Sea glass and seafoam green have more green-blue tints with a lighter color in comparison to a typical navy or turquoise blue.  
While you can use these beach colors on your interior walls, you don't necessarily have to go quite as bold. You can still opt to have one or two as a room color but use it within your textiles and decor rather than your paint color.
The light blue walls add a calming background while the white accents reflect lots of light in this living room.
White & Other Neutrals
If you prefer a more neutral wall color, white walls or a warm gray are great options that still help communicate your design without going quite as bold.  Again, you can incorporate that beach color scheme into your decor while still having a white or neutral backdrop.  Whites, grays, and beiges are colors that range from the ocean white caps to the shelly beaches.
 You can incorporate those beige and white tones not only on your interior walls but also within your furniture.  Neutral paint colors paired with natural elements bring your theme to life.  Think of bright white paint on your interior walls paired with light wooden floors and light or white toned wood furniture. 
 To offset all of the neutrals and white, incorporate a contrasting piece of color.  A great example of this is black painted window frames or black framed decor. The black pops against the stark white color.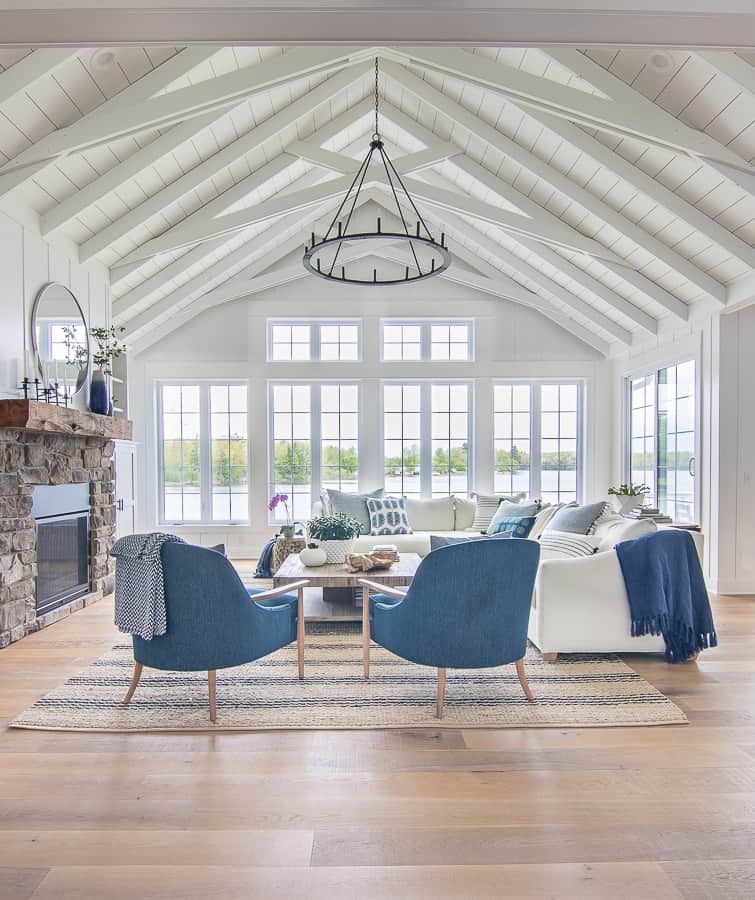 Check out this lake house with lots of white decor and paint.
Sunrise Sunset
If you've ever spent an early morning or late evening at the beach, then chances are you've seen a spectacular sunrise or sunset. When Sam and I graduated from college, we moved to Destin and got to see some amazing sunsets.
Terracotas, light pinks, and mustard yellows are just some of the colors we'd see. These colors happen to be predicted top trends for 2023 interior paint colors. No matter the time of day, you can bring those colors alive by incorporating them into your home.
 Whether you want to include them in your family room via an interior wall or save it for a small space such as a laundry room, these vibrant colors are surely going to bring your home to life.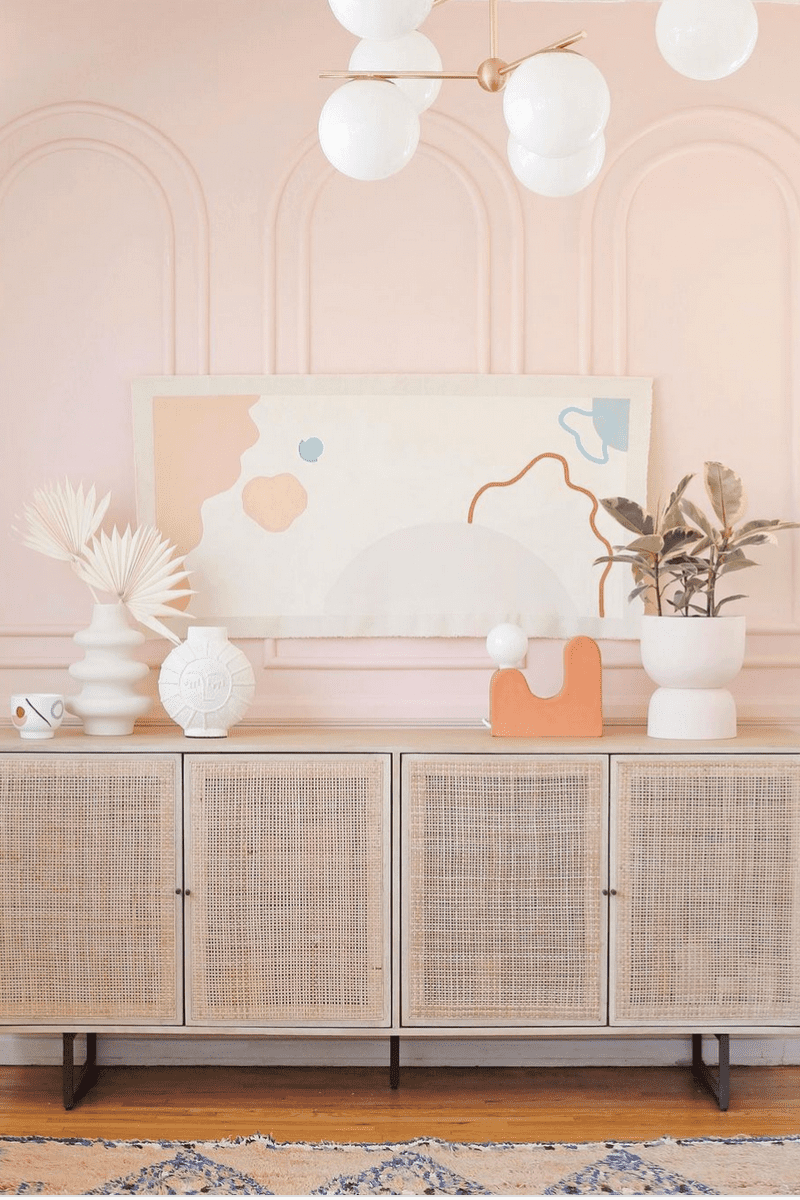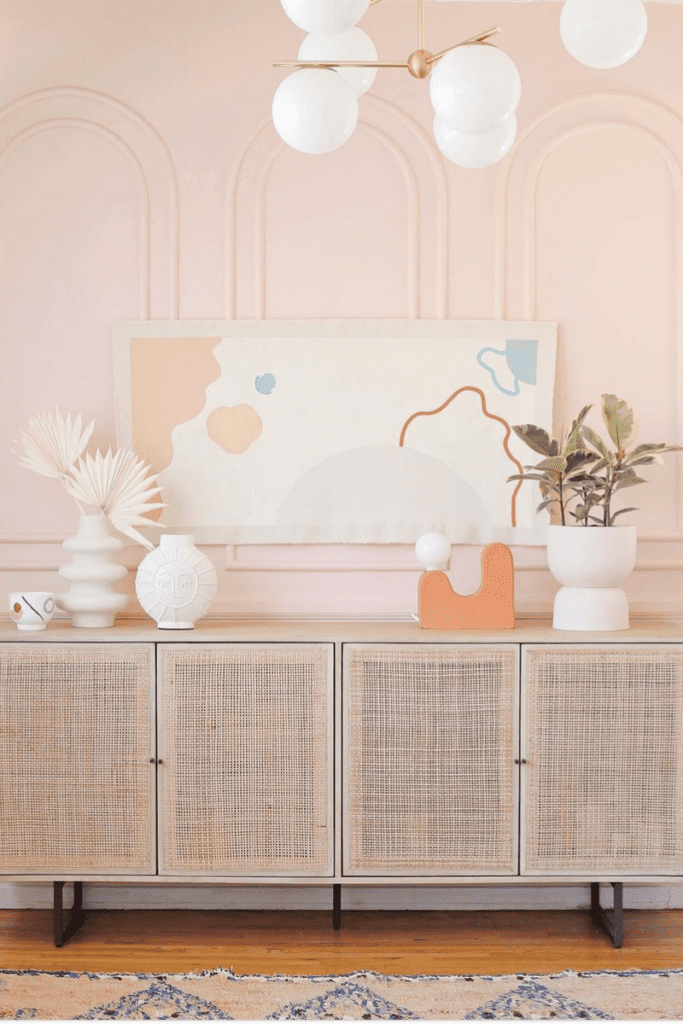 A perfect pink colored coastal living room that reminds me of a sunset.
Best Coastal Paint Colors For Living Room
Without further ado, here are some of my favorite colors to help you achieve the perfect coastal living room.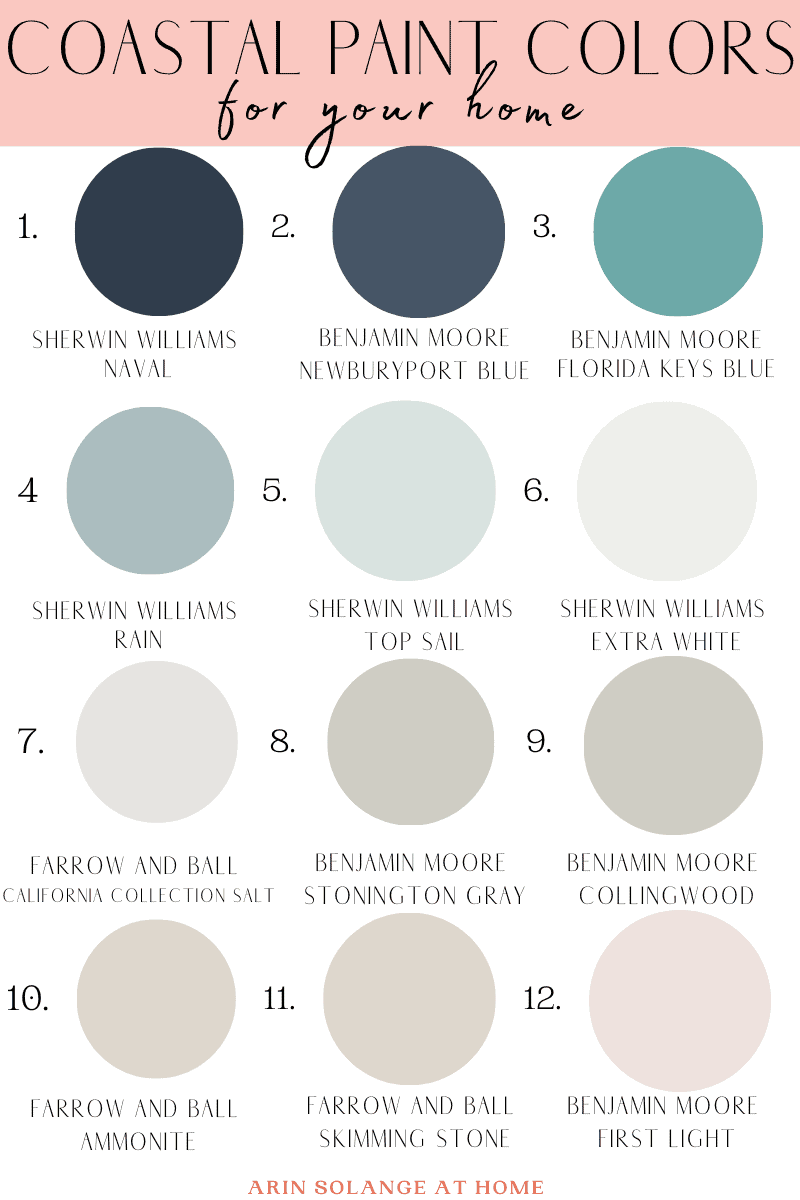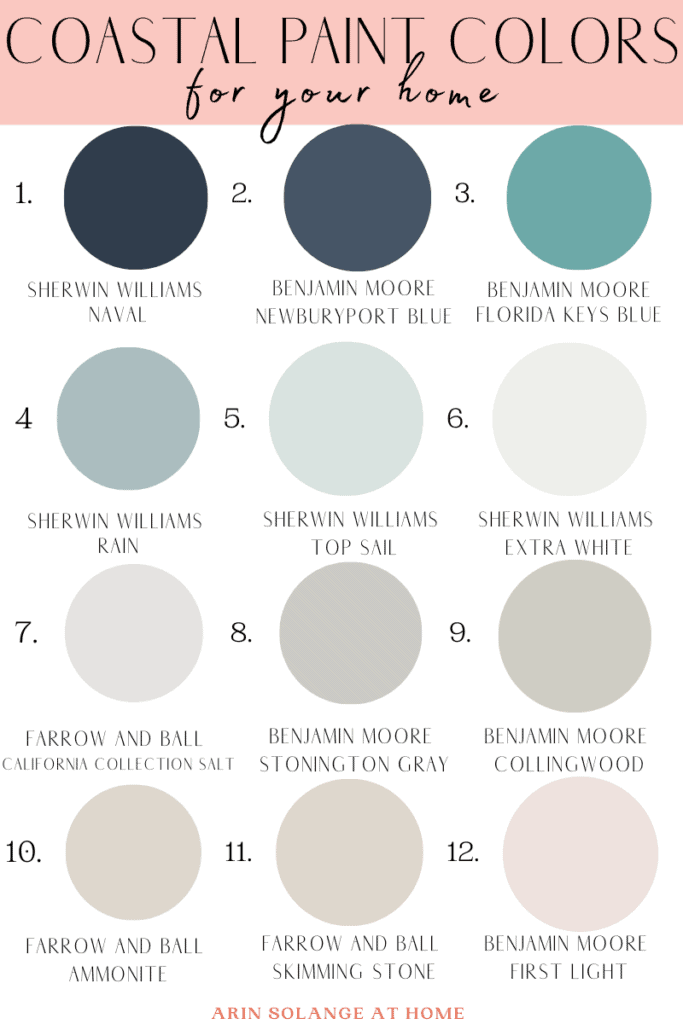 I think that round up gives a great range of what could be mixed and matched within a home. Or, simply pick out a color or two and then choose neutral for the remaining walls. Whatever color you buy, will look perfect in your own home.
Other Posts You'll Love
Modern Rugs For Living Room | Best Paint Finish Dining Room | Best Paint Sprayer For Walls
Pin This Photo Below For Later
Hopefully you found some paint colors for your coastal living room that have you inspired and ready to decorate. I would love to hear in the comments below if you have tried any of these colors and loved them, or have another suggestion. Make sure to follow me on Tiktok (@arinsolange) and Instagram (@arinsolange) for more decor, DIY, and Amazon finds.