With summer coming to an end and the nights getting cooler, I'm starting to think about cozy nights my family will have around the fire pit. We love to roast marshmallows together in the fall or just sit and chat around the fire. With this in mind, I want to discuss where to put a fire pit in your backyard and a few tips to consider before you choose a spot.
This post may contain affiliate links.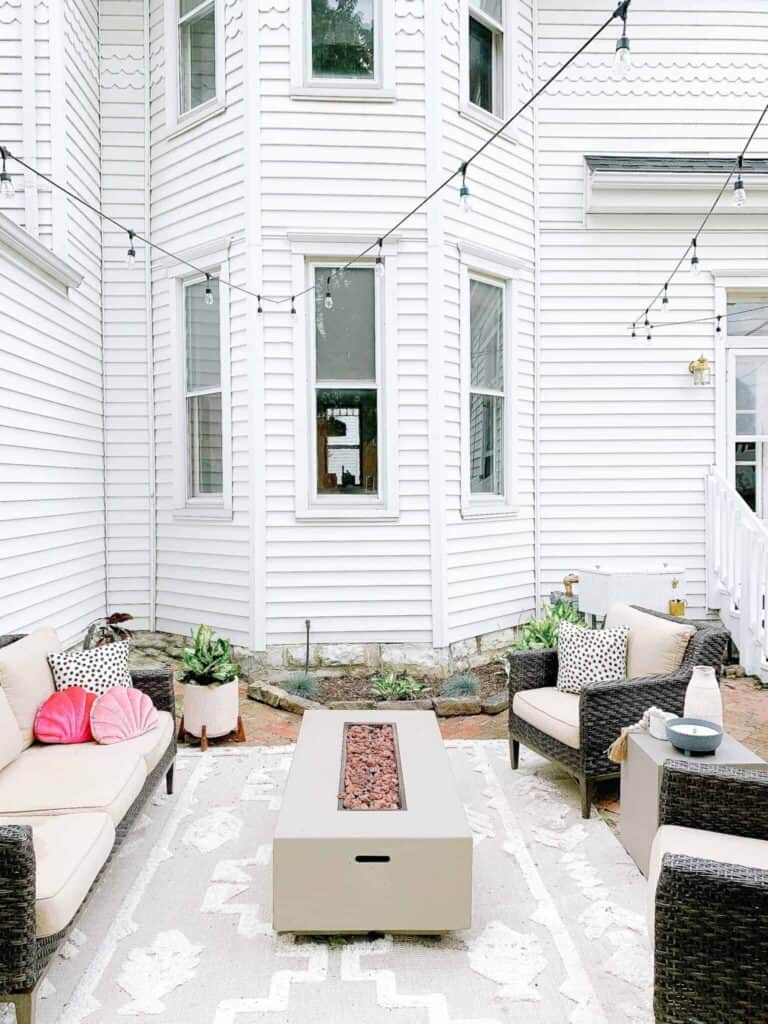 12 Tips On Where To Put A Fire Pit In Your Backyard
With Fall approaching, I'm dreaming of cool evenings. One of our favorite activities as a family is to sit around our fire pit at night. The warmth, smell, and crackling sounds of the fire are core memories from my childhood that I hope to pass along to my own kids.
Whether you chose to build your own fire pit or buy a fire pit, you'll want to ensure you keep your family safe this fall with these 12 tips on where to put a fire pit in your backyard.
Why Have A Fire Pit In Your Backyard
The addition of a backyard fire pit can drastically enhance your outdoor space. It provides warmth on chilly nights, offers a focal point for gatherings, and can be a great option for roasting marshmallows or even barbecuing. Overall, a backyard fire pit is a great addition to any home. It can boosting the appeal and value of your property and create fun memories in the process.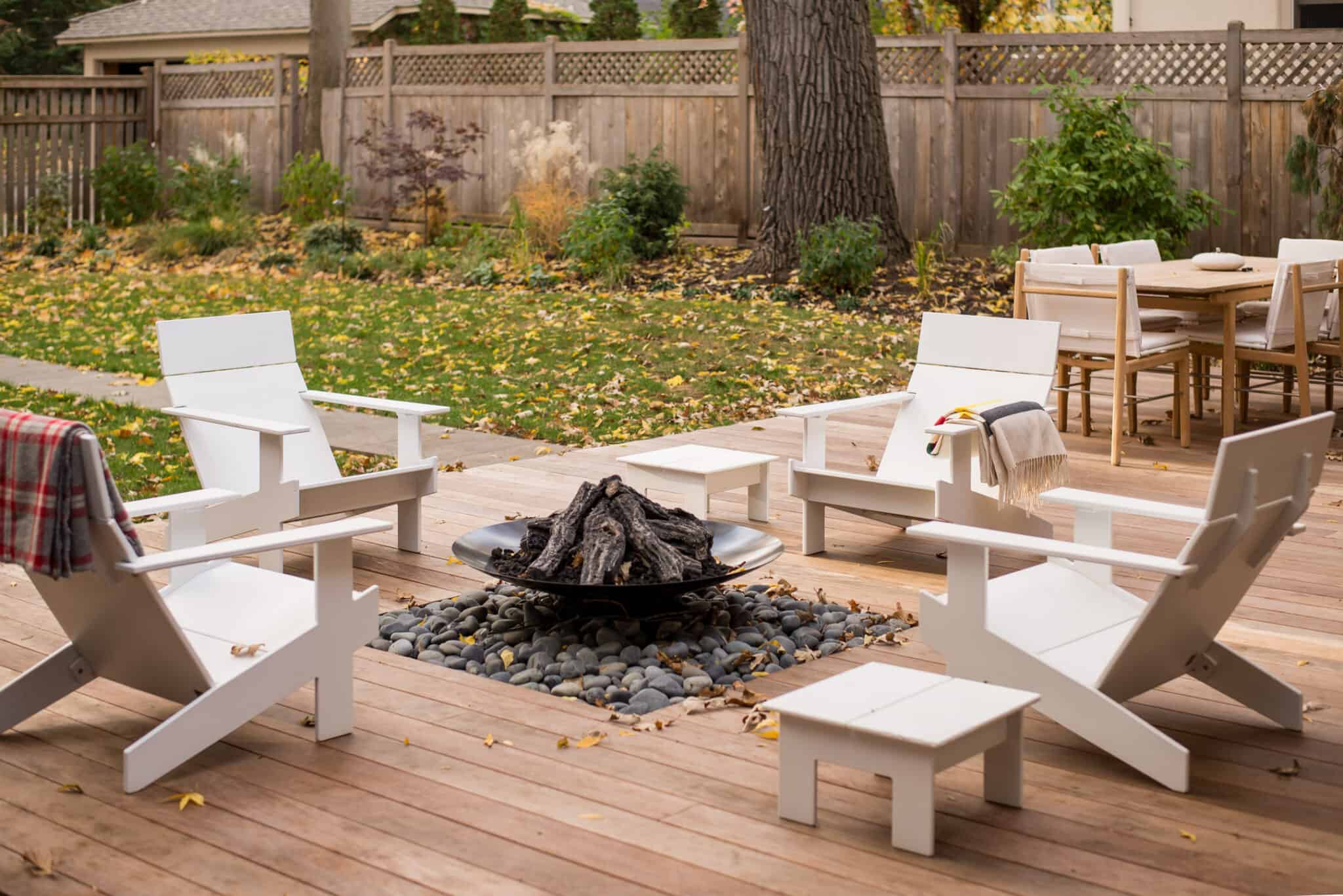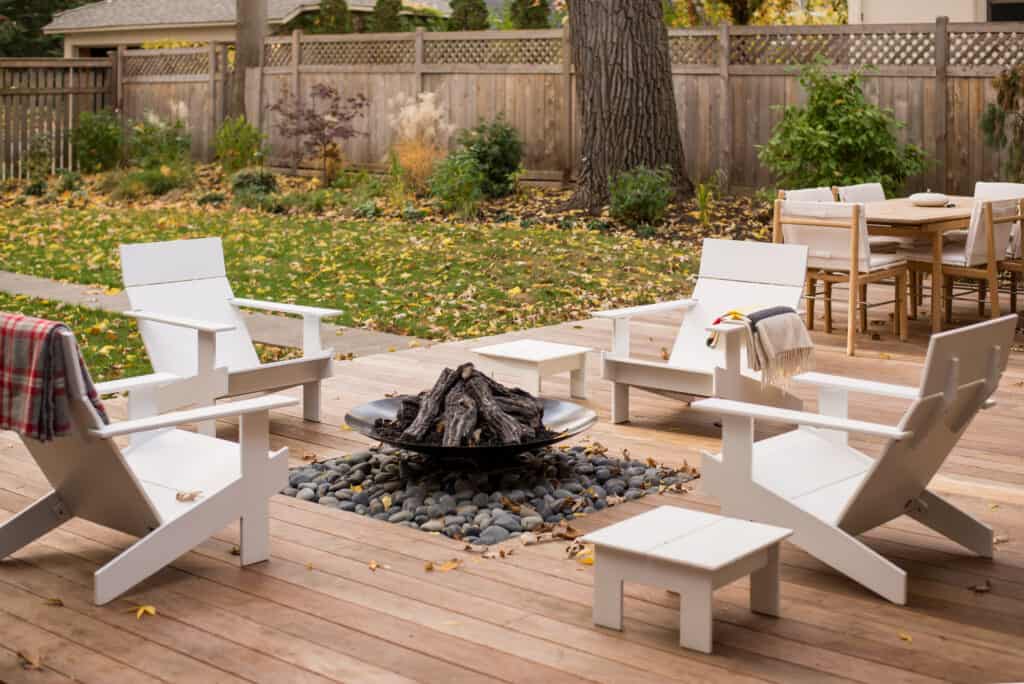 What To Look For In A Fire Pit
When choosing a fire pit, there are several factors to consider to ensure you select the right one for your needs. Here are some key things to look for:
Size and Space
First, consider the available space in your outdoor area and choose a fire pit that fits appropriately. Ensure that there is sufficient clearance around the fire pit to prevent any safety hazards. Remember to check local regulations or homeowner association rules regarding fire pit size and placement.
Fuel Type
Next, decide whether you prefer a wood-burning or gas-powered fire pit. Wood-burning fire pits provide a traditional experience with the crackling flames and aroma of burning wood. Gas fire pits, on the other hand, offer convenience and ease of use. Additionally, gas fire pits offer adjustable flames and no smoke or ashes. Choose the fuel type that suits your preferences and lifestyle.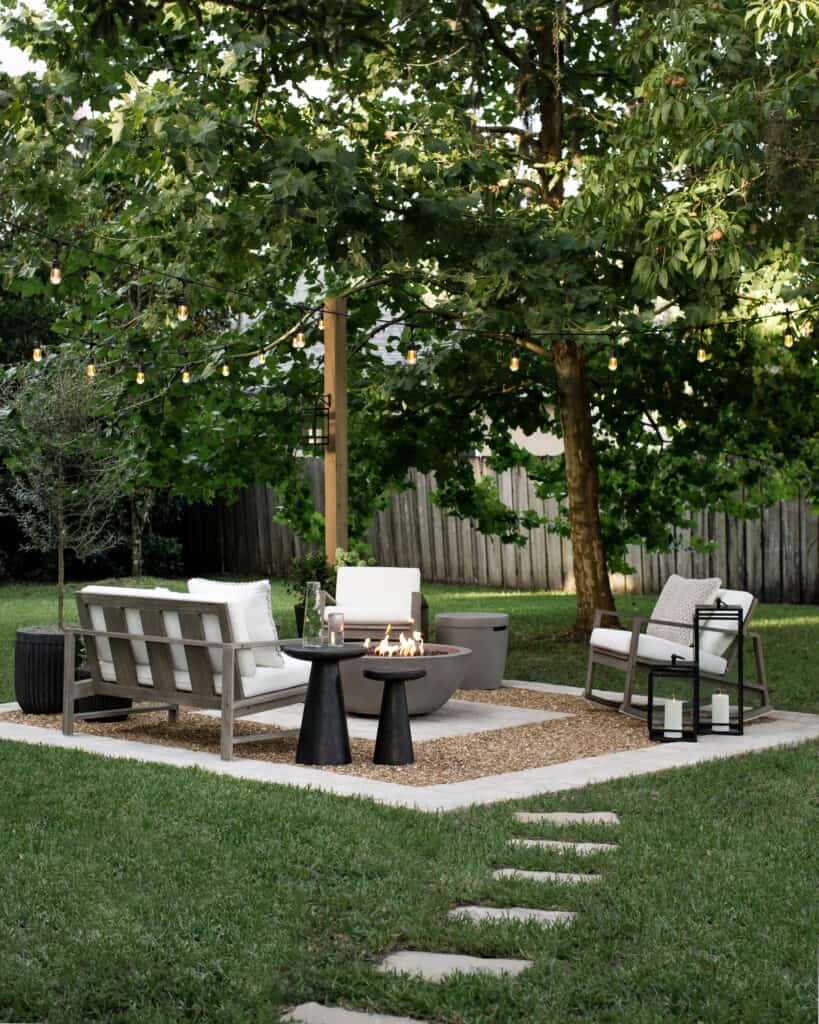 Construction and Materials
Look for a fire pit made from durable and heat-resistant materials to ensure longevity and safety. Common materials include steel, cast iron, copper, and stone. In addition, consider the quality of craftsmanship and the reputation of the manufacturer or brand.
Stone fire pits and those made with natural stone can withstand high temperatures and are durable. Metal ring fire pits are also a popular choice and often come in portable options.
Safety Features
Above all, safety should be a top priority when selecting a fire pit. Look for features such as a sturdy base or legs for stability. A spark screen or mesh guard is key to prevent embers from escaping. Lastly, a safety shut-off valve for gas fire pits is crucial. These features help minimize the risk of accidents and ensure safe operation.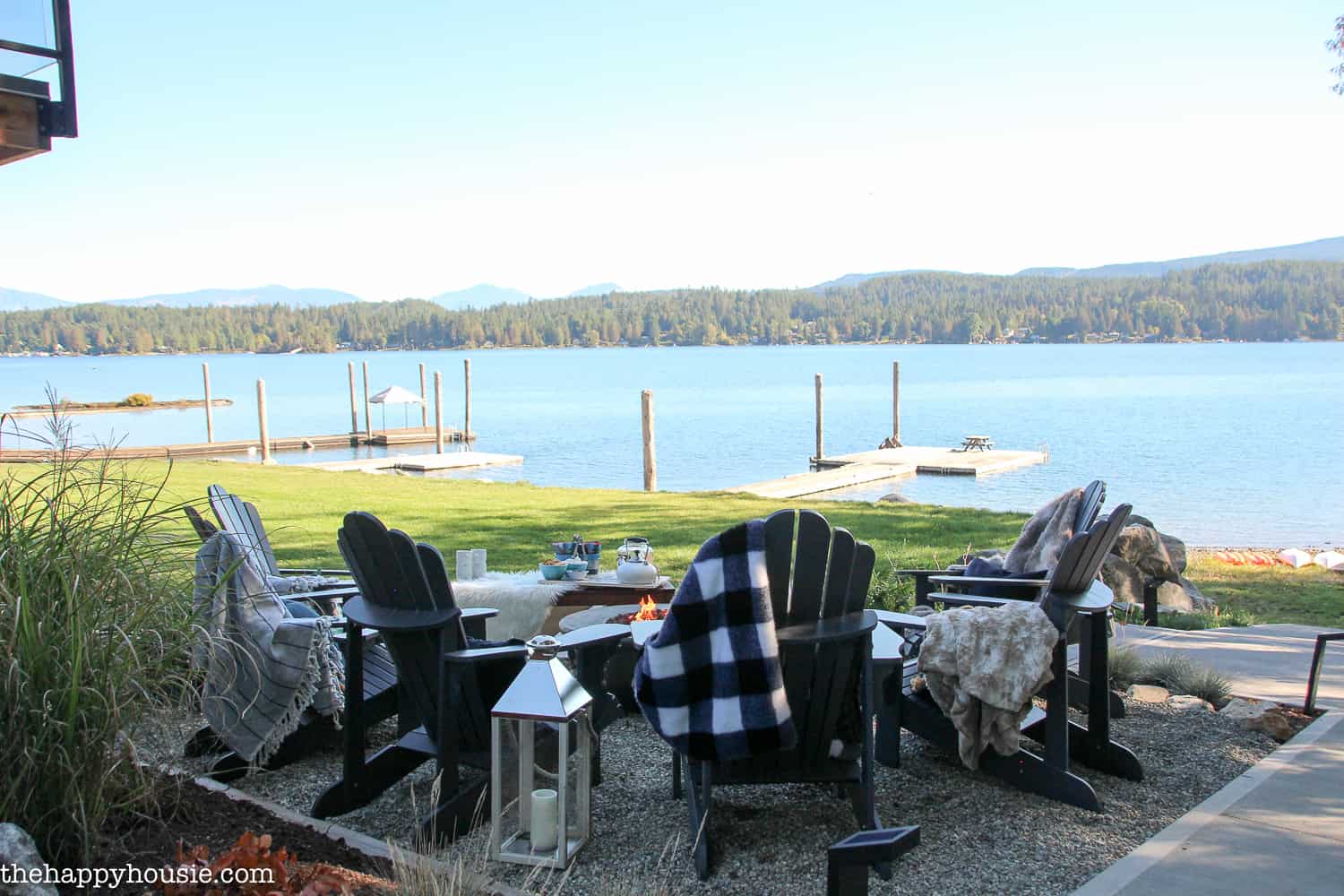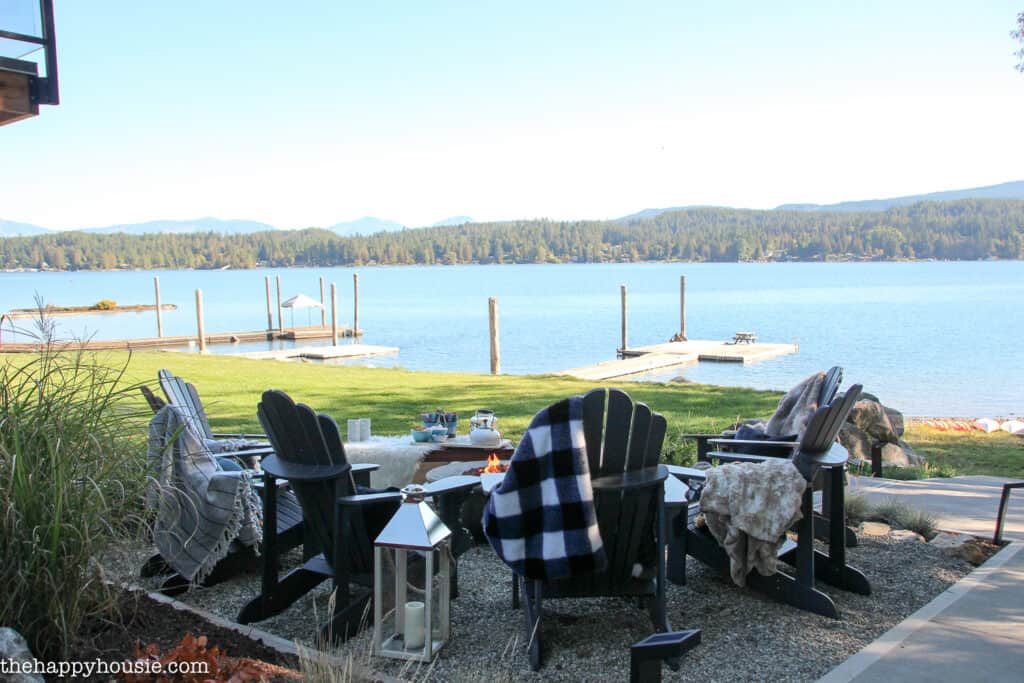 Heat Output
Consider the heat output of the fire pit. This is especially important if you live in a colder climate or if you intend to use the fire pit for warmth during chilly evenings. Check the BTU (British Thermal Unit) rating for gas fire pits For wood-burning fire pits you'll want to check the design and air circulation determine their heat output.
Ease of Use and Maintenance
Evaluate the ease of use and maintenance requirements of the fire pit. Gas fire pits typically offer greater convenience with features like electronic ignition and adjustable flame controls. However, wood-burning fire pits require more effort and maintenance.
Keep in mind you'll need to light and maintain the fire. At the end, you'll need to clean out the ash embers. Overall, you'll want to consider your preference for simplicity or the desire for a more traditional experience.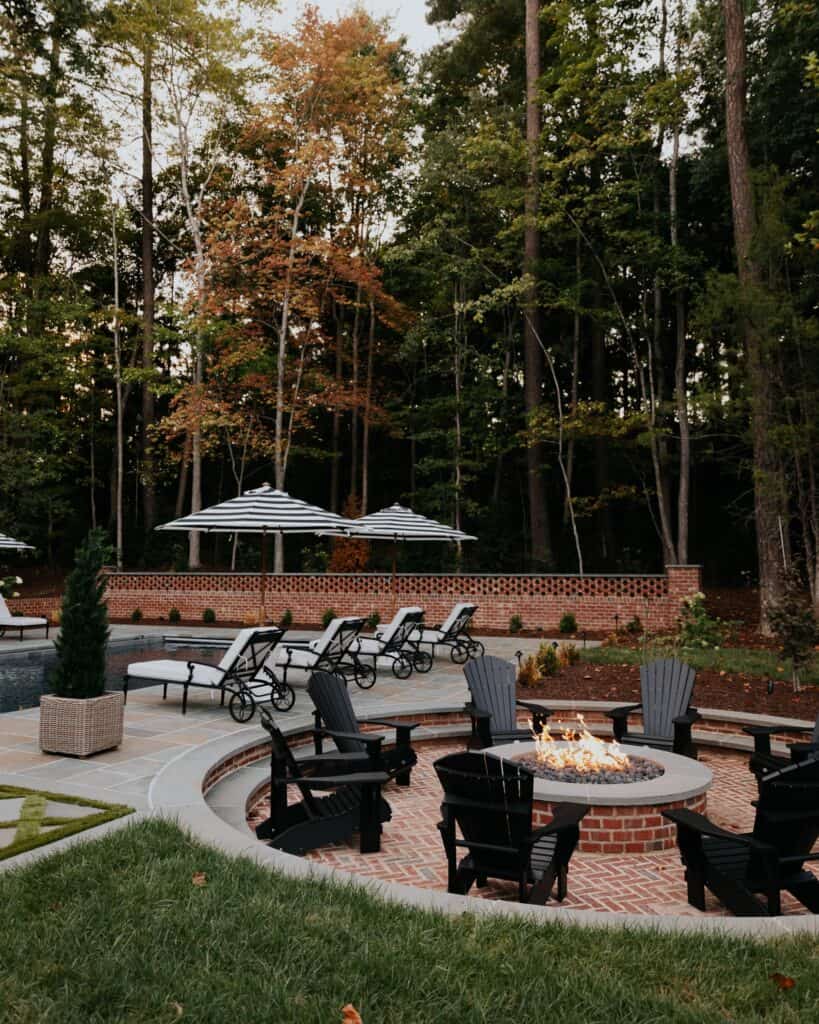 Aesthetics and Design
Choose a fire pit that complements your outdoor decor and personal style. Fire pits come in various designs, shapes, and finishes. Whether you prefer a modern, sleek look or a more rustic and natural appearance, there are options available to match your aesthetic preferences. Additionally, you'll need to determine if you prefer a portable fire pit versus a built-in fire pit.
Additional Features
Some fire pits come with additional features such as cooking grates or grill attachments. These attachments are handy for outdoor cooking. Others may have integrated seating or storage compartments for firewood or accessories. Consider these extra features if they align with your intended use of the fire pit.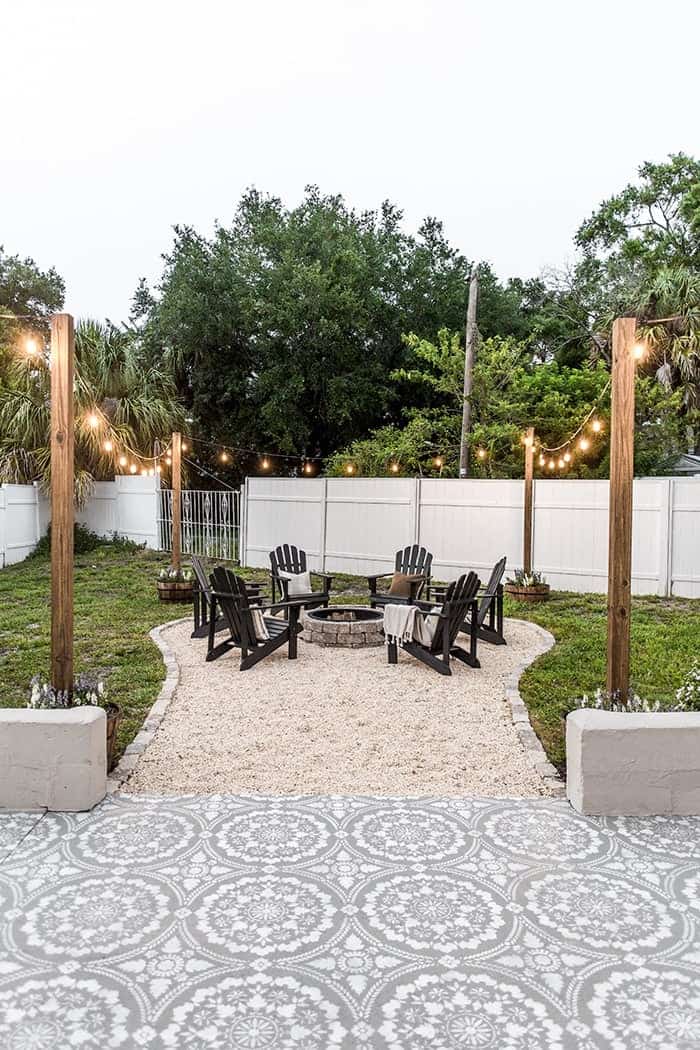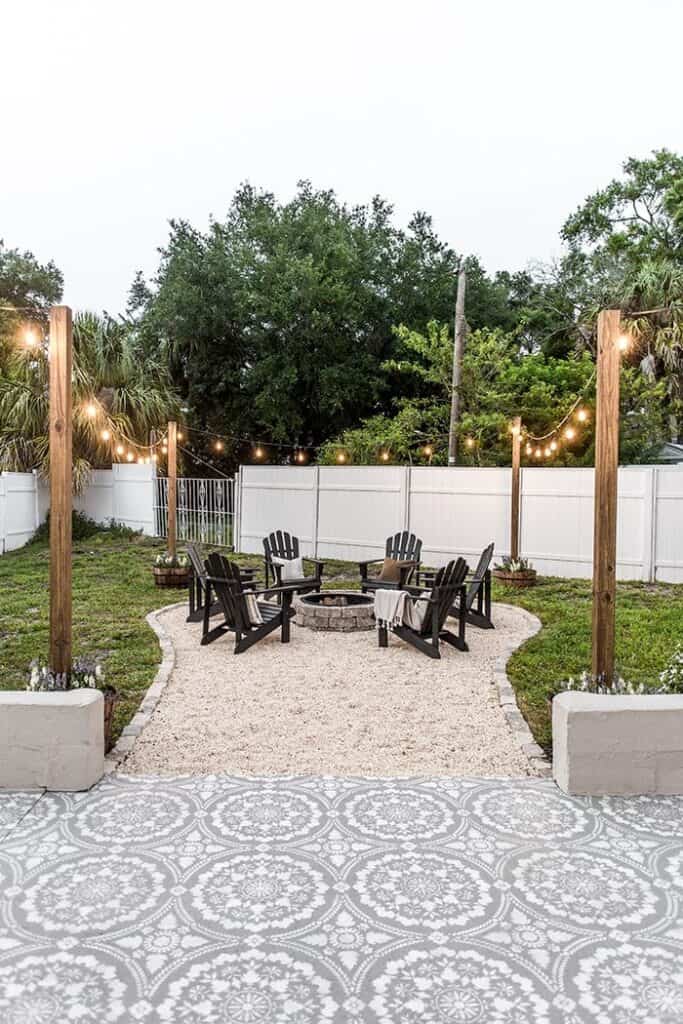 Types Of Fire Pits To Choose From
Choosing a new fire pit can be overwhelming due to the varieties available, but here are some types of fire pits to consider:
Wood-Burning Fire Pit
This type of fire pit provides a traditional, rustic experience. You can use various outdoor woods or wood logs for fuel. Wood-burning fire pits come in both portable and stationary or built-in fire pits.
Gas Fire Pits
These are a cleaner alternative to wood-burning fire pits. They are powered by propane or natural gas and produce less smoke. While maintenance is a breeze, you will have to keep inventory of gas.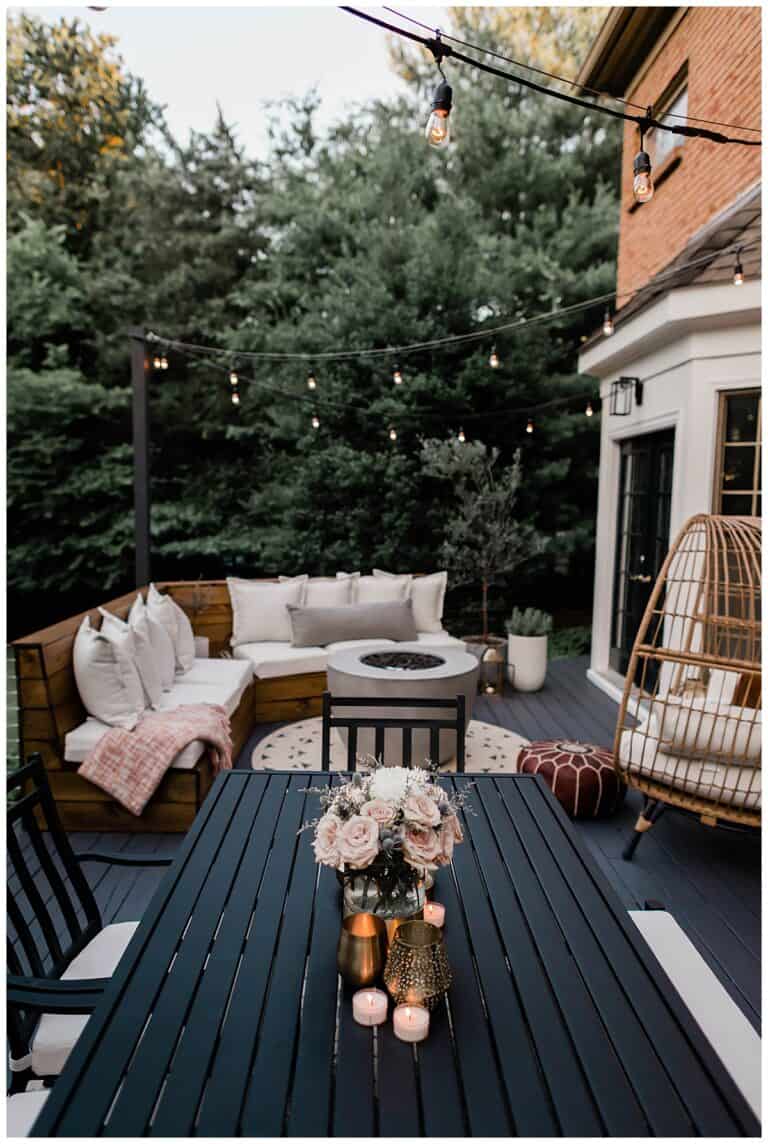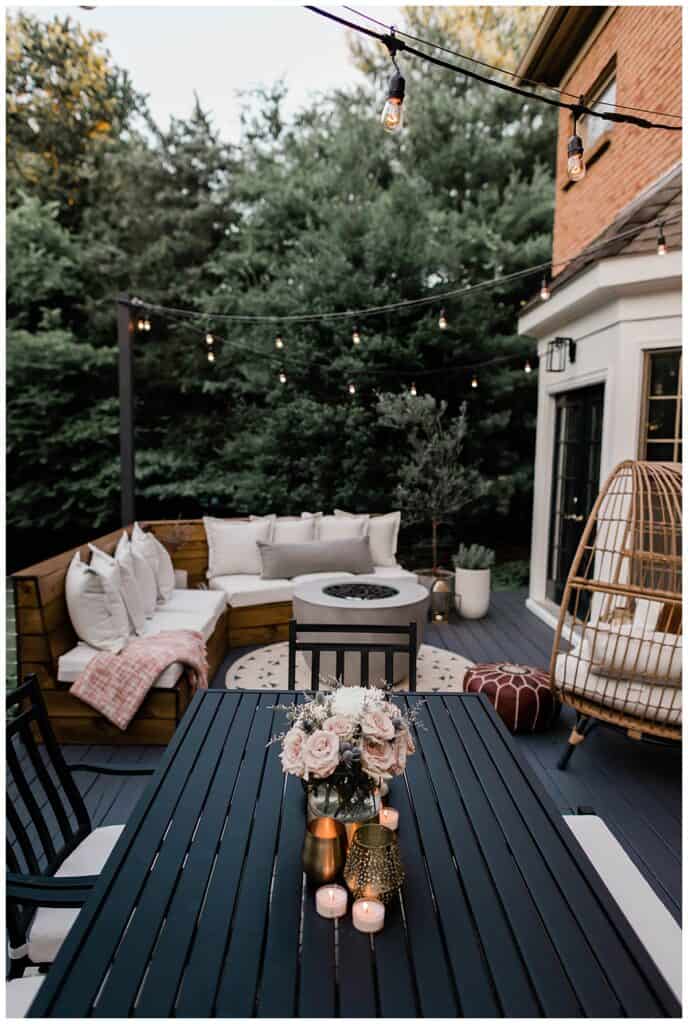 Portable Fire Pit
This is a great option if you want flexibility in your fire pit location. They're typically smaller and easy to move. If you enjoy camping, portable fire pits can not only provide warmth at a campsite but also provide an easy way to cook meals over a campfire.
With several different shapes and sizes, a portable fire pit can be used for any location. Most importantly, if you live in an apartment, smaller portable table fire pits are a great option to enjoy the benefits of a crackling fire without the major hassle.
Fire Table
A fire table is a hybrid between a fire pit and an outdoor dining area, providing warmth and a surface for placing items. These are a great option if you don't have a location for a large outdoor fire pit. Additionally, these can be used if you prefer something more aesthetically appealing.
DIY Fire Pit Kits
Home Depot offers various DIY fire pit ideas and kits. If you have a section of yard that would easily accommodate a fire pit consider this a weekend project.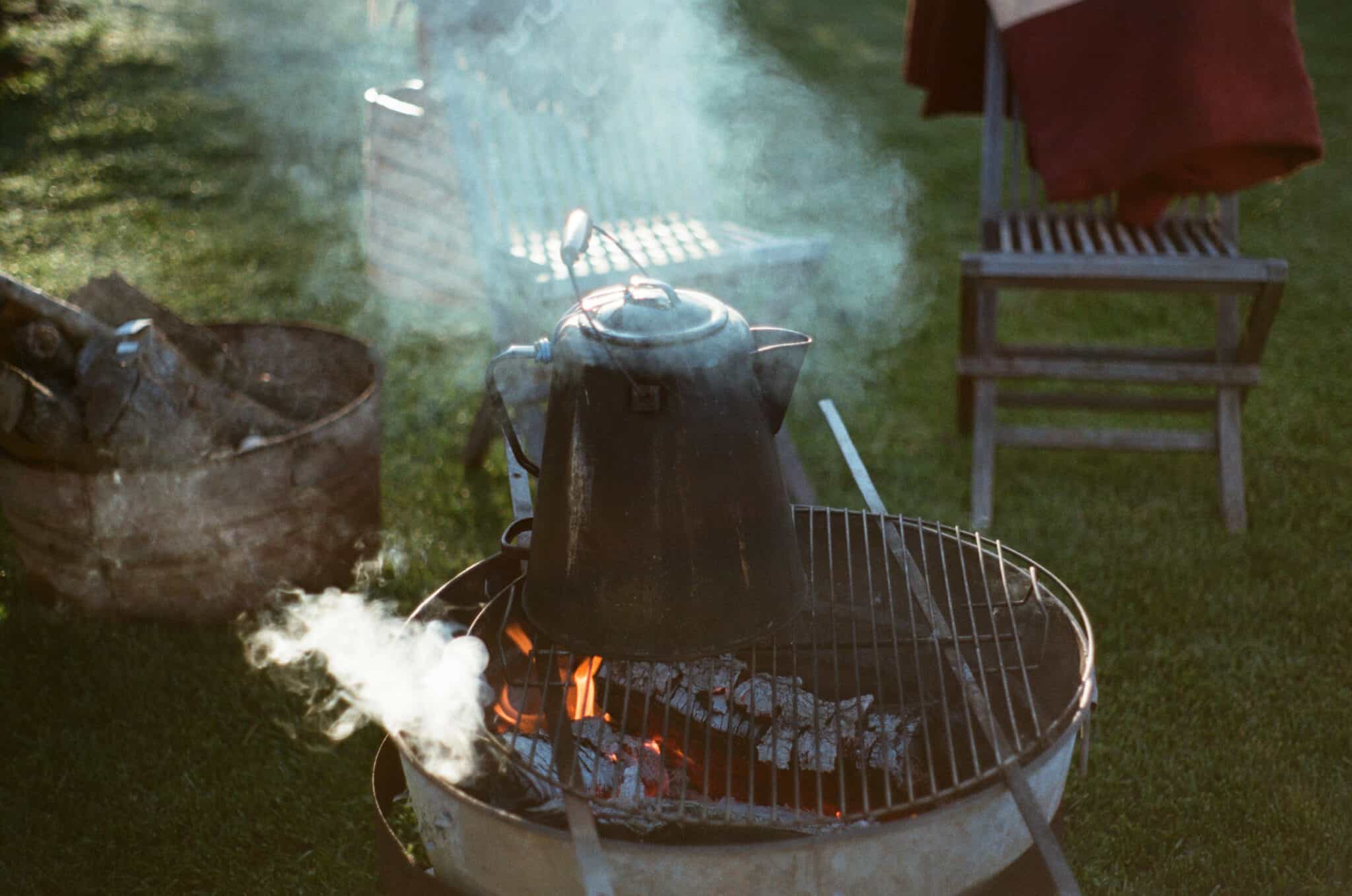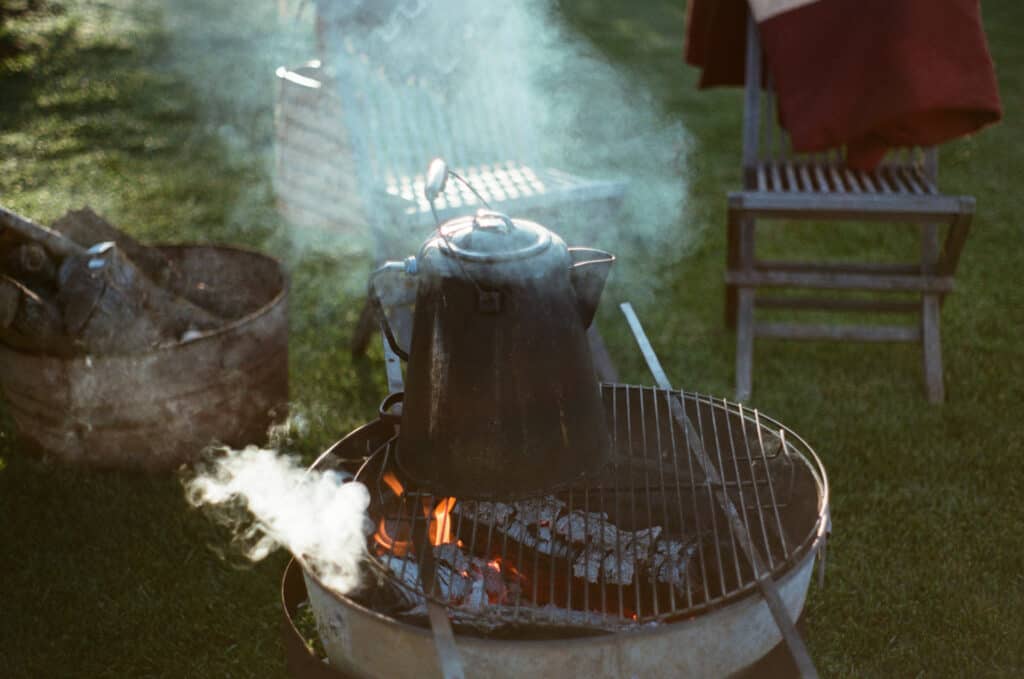 Where To Put A Fire Pit
Most importantly, safety is the first thing to consider when deciding where to put your fire pit. Choose a fire pit area that is a safe distance (at least ten feet) from your home, shed, fence, or any flammable materials. Avoid areas under large trees, light posts, and other permanent structures to prevent the open fire from reaching them.
The middle of the yard is often the best place for a fire pit to serve as a gathering place. If you have enough space, consider adding a seating area with Adirondack chairs or seat walls around the pit.
In addition, ensure that the location you choose adheres to local laws and regulations. Contact your local fire department or local authorities to inquire about any restrictions or permits needed for your fire pit project.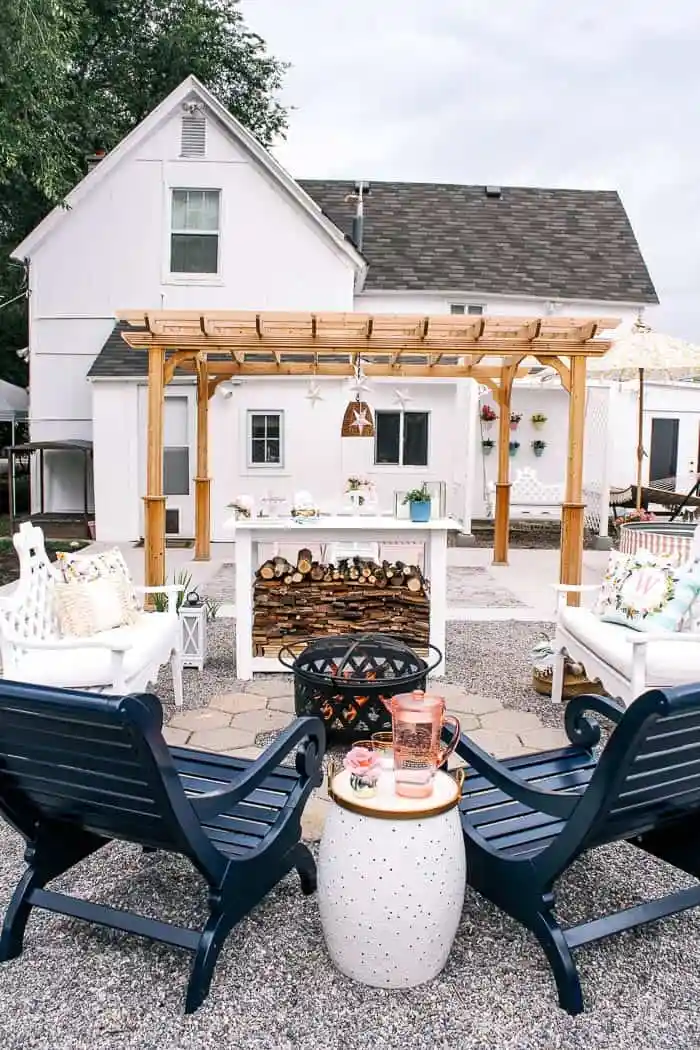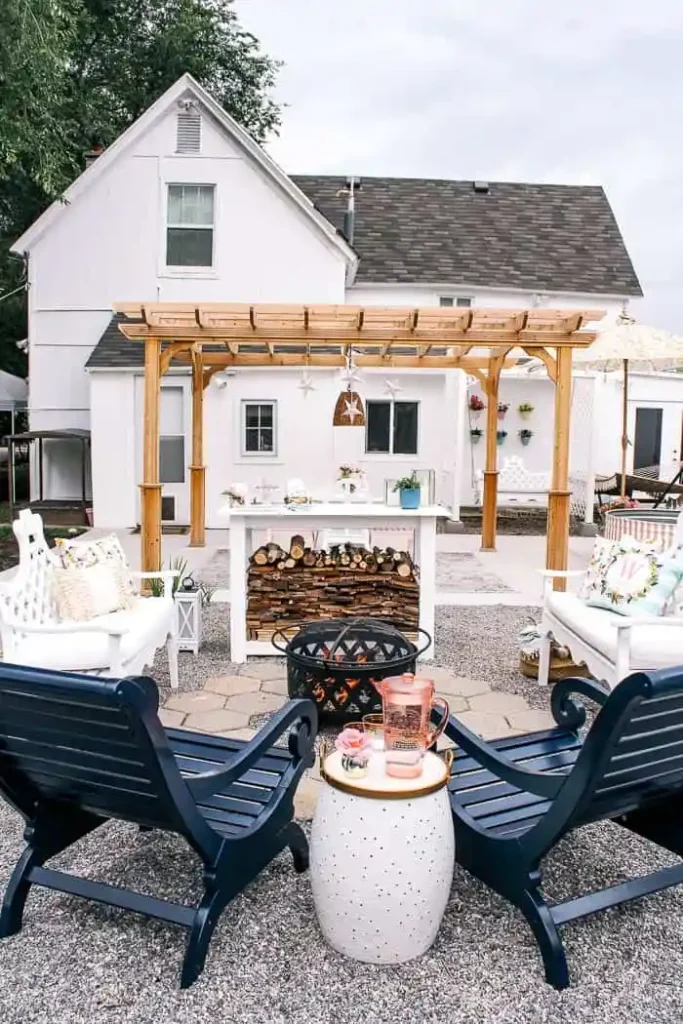 Here is a checklist of tips to consider:
1. Safe Distance
The fire pit should be placed at least 10 feet away from any structures, including your home, shed, or fence, and any flammable materials to prevent potential fire hazards. In addition, be sure to keep it away from overhanging branches or shrubs.
2. Flat Surface
Choose a level surface to ensure the fire pit is stable and the fire spreads evenly. This is particularly important for portable fire pits.
3. Wind Direction
Pay attention to the prevailing wind direction in your backyard. Position your fire pit in a location where the smoke will not blow directly into your home or seating area.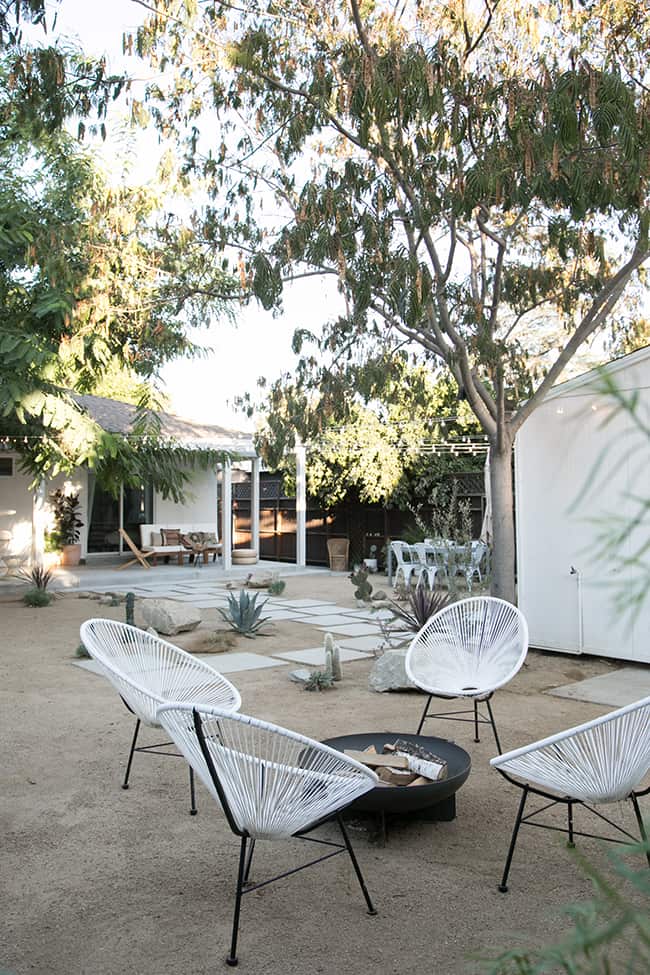 4. Accessibility
Place your fire pit in an area that is easily accessible but not in a high-traffic area where people are likely to trip over it.
5. Outdoor Space
Consider the overall layout of your backyard. The fire pit should complement other elements of your outdoor space, such as the patio, garden, pool, or seating area.
6. Local Regulations
Above all, check with your local fire department or local authorities for any regulations or restrictions on fire pit placement. Some urban areas or communities may have specific rules regarding how far a fire pit must be from a structure.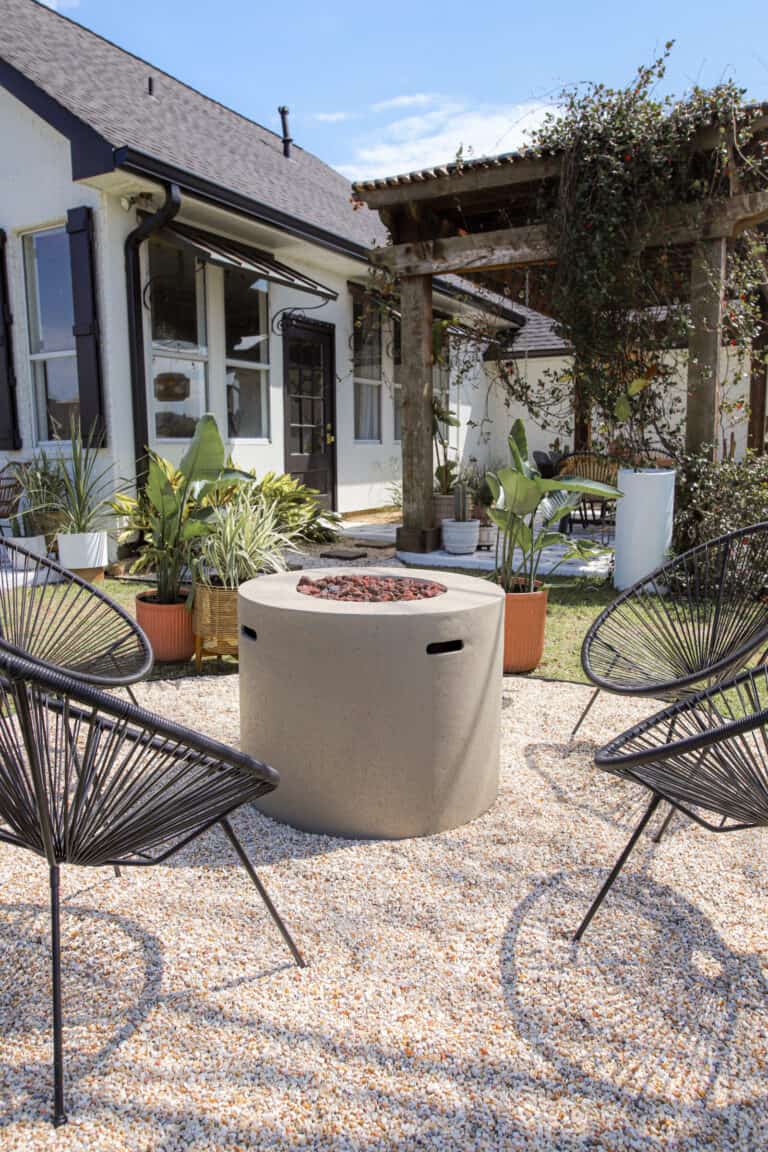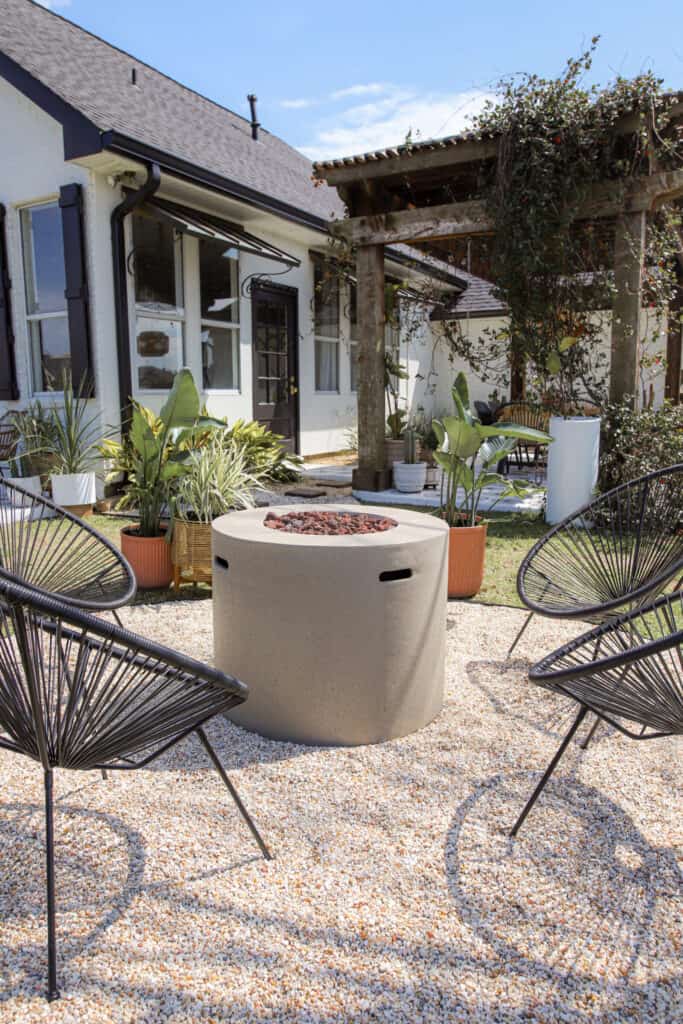 7. Utility Lines
If you are building your own fire pit, make sure to call your local utility companies. You'll want to ensure you won't hit any underground lines.
8. Seating Area
Consider the space needed for seating around the fire pit. There should be enough room for people to comfortably move around and away from the fire.
A space of at least seven feet from the fire pit to the seating area gives you plenty of room to move around safely.
9. Fire Pit Size
The size of the fire pit should be proportional to the size of your backyard. A fire pit that is too large can dominate the space and pose a bigger fire risk.
A good rule of thumb is to have a fire pit that is no larger than one-third of your yard or patio. For smaller spaces, consider tabletop fire pits or gas fire pits which are compact and easy to manage.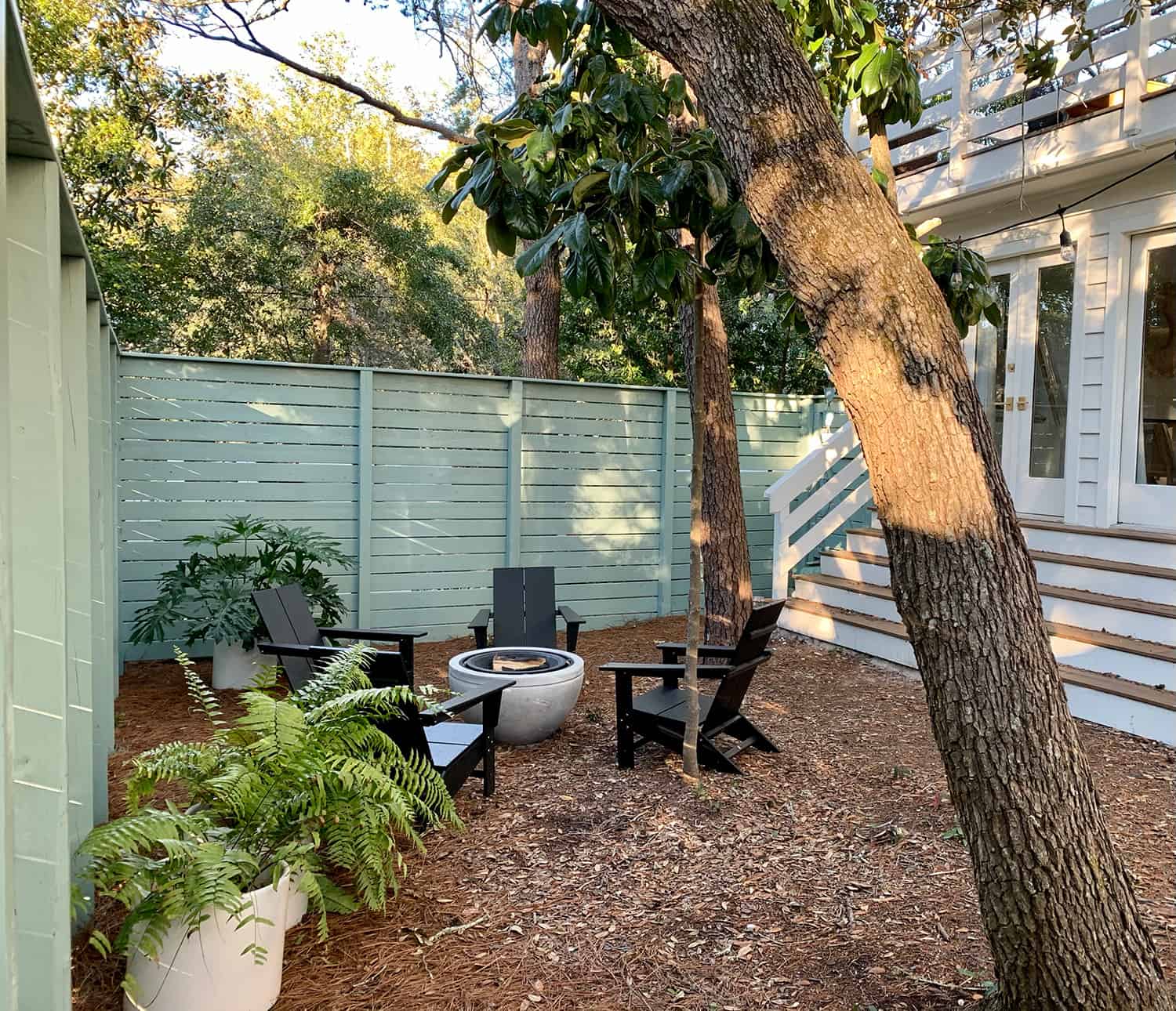 10. Fire Pit Safety
Most importantly, always have a fire extinguisher, bucket of water, or garden hose nearby when you're using your fire pit. Avoid using flammable liquids to start the fire, and never leave the fire unattended.
In addition, start your fire small and let it grow gradually. A roaring fire might seem appealing but can be dangerous if not managed properly.
11. Fire Pit Material
The material of your fire pit should be sturdy and able to withstand high temperatures. Fire brick, natural stone, and concrete blocks are good choices.
Additionally, you can enhance your fire pit with accessories like a fire ring or lava rocks. Not only do these add aesthetic appeal, but they also improve the functionality of your fire pit. A fire ring, for instance, improves safety by containing the fire, while lava rocks help distribute heat evenly.
12. DIY or Professional
If you plan to build a fire pit, consider whether you want to build it yourself or hire professionals. DIY can be a fun project, but professionals may be needed for more complex designs or to ensure safety regulations are met.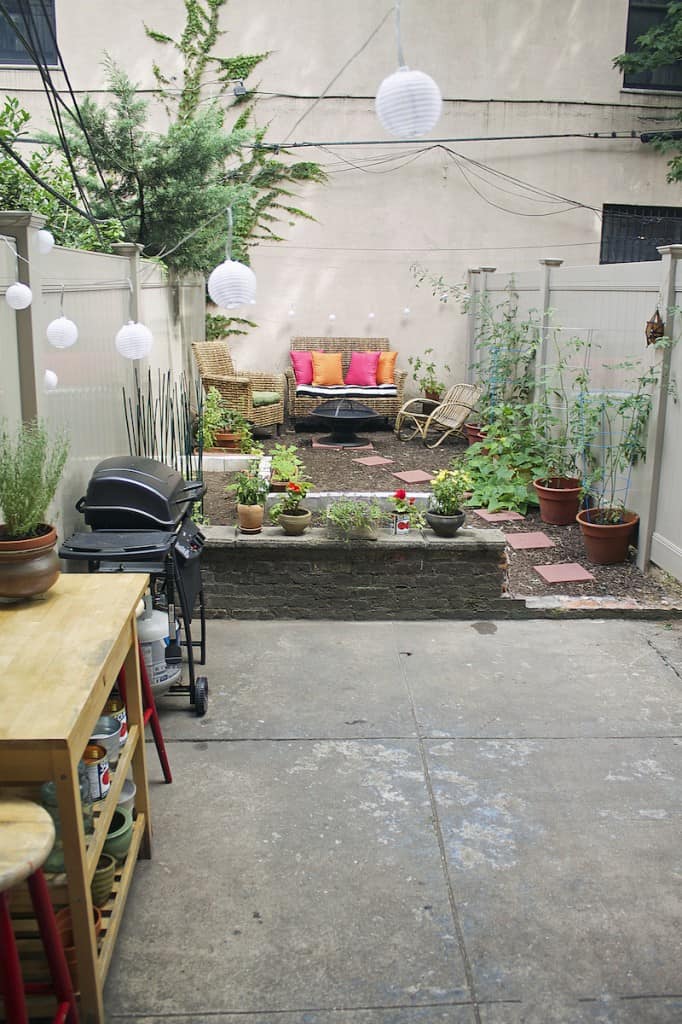 How To Start A Fire In A Fire Pit
Starting a fire in a fire pit is relatively straightforward. However, there are best practices to follow for safety.
Starting A Fire In A Wood Burning Fire Pit
Follow these key steps to start a fire in your wood burning fire pit:
First, Lay a few inches of gravel at the bottom.
Next, arrange your fire brick or concrete blocks to form a circle.
Place kindling in the center of the fire pit, then add larger wood logs.
Lastly, avoid using flammable liquids like lighter fluid, as they can be dangerous. Use a fire starter or match-lit system for a safer start.
Starting A Fire In A Gas-Burning Fire Pit
For gas-burning fire pits, including propane and natural gas options, the process is even simpler. These typically come with electronic ignition systems for easy lighting.
First, simply turn on the gas and ignite.
Lastly, enjoy the warmth.
Shop My Favorite Fire Pits & Accessories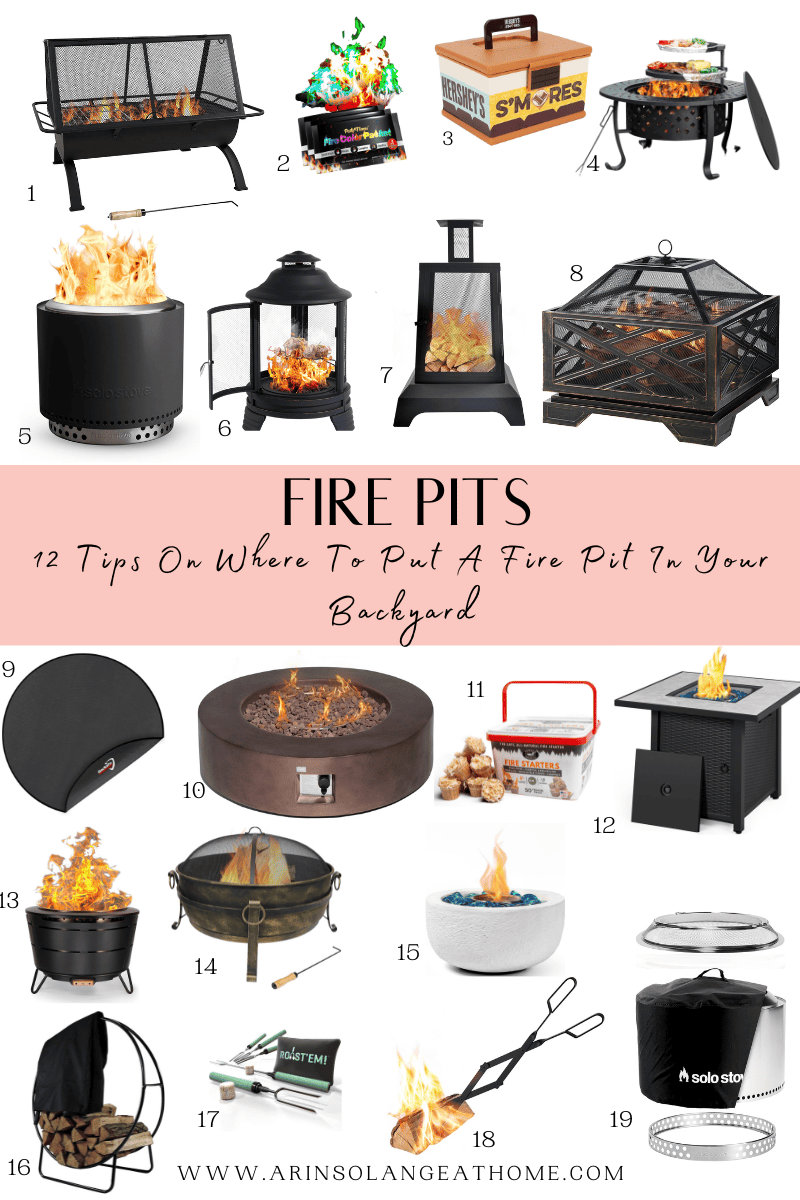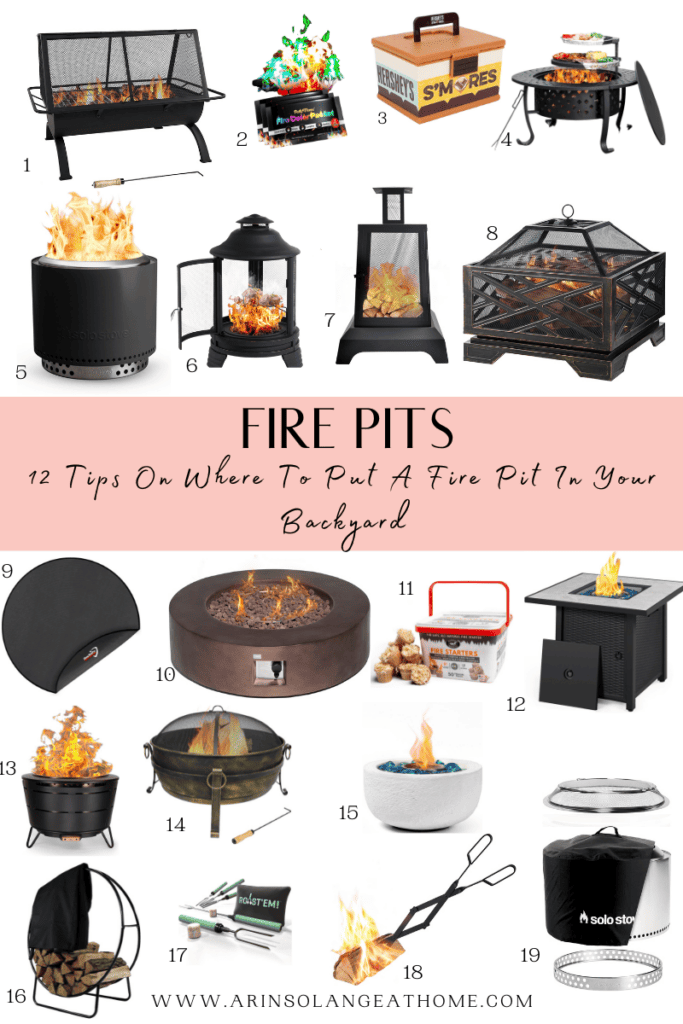 1 | 2 | 3 | 4 | 5 | 6 | 7 | 8 | 9 | 10 | 11 | 12 | 13 | 14 | 15 | 16 | 17 | 18 | 19
Other Posts You'll Love
Easy DIY Outdoor Table | 12 Modern Concrete Patio Ideas On A Budget | The Best Luxury Outdoor Furniture Brands
Follow Social For Latest & Greatest
Pin The Photo Below For Later
Choosing the right fire pit and deciding on the best location requires careful consideration of several important factors. With correct planning and adherence to safety protocols, a fire pit can be a great addition to your backyard. Above all, remember to consult local codes and regulations before embarking on your fire pit project. As always, safety is the number one priority.
Whether you choose a modern fire pit, a DIY fire pit or a portable one, the warmth and ambience provided by your new fire pit will turn your backyard into the perfect oasis for relaxation and entertainment. Enjoy the glow!