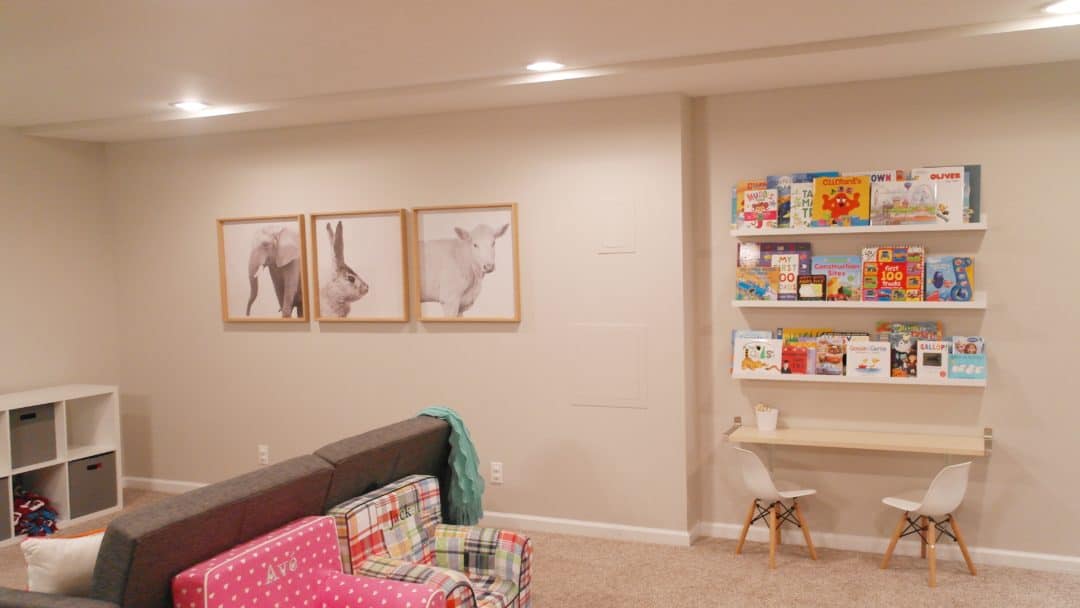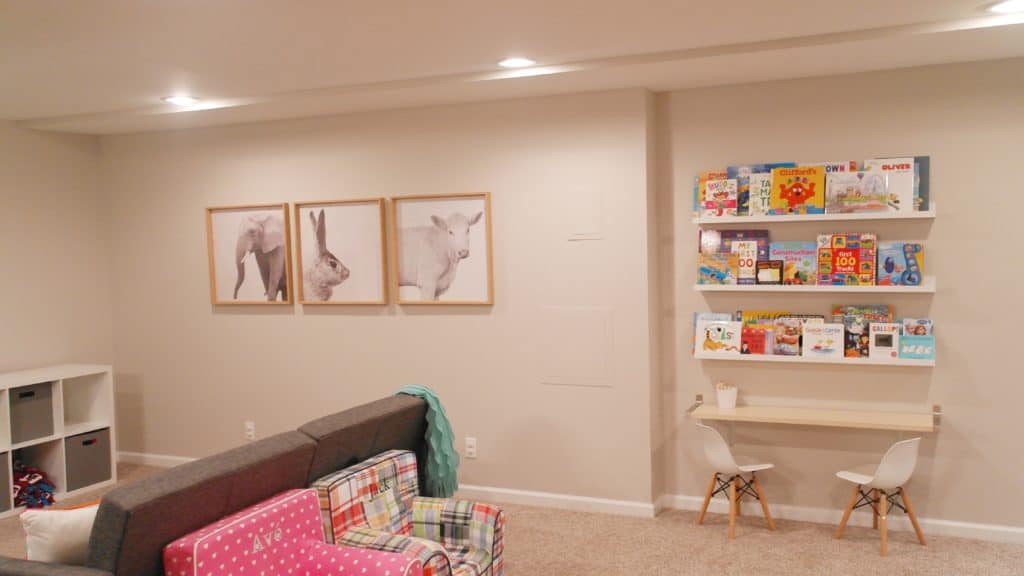 Nearly six months later – the basement TV is off the floor, and our babysitter no longer has to sit on a Pottery Barn anywhere chair for hours on end (sorry Hannah!). The basement playroom is finally ready to show off.
Basement Playroom Decor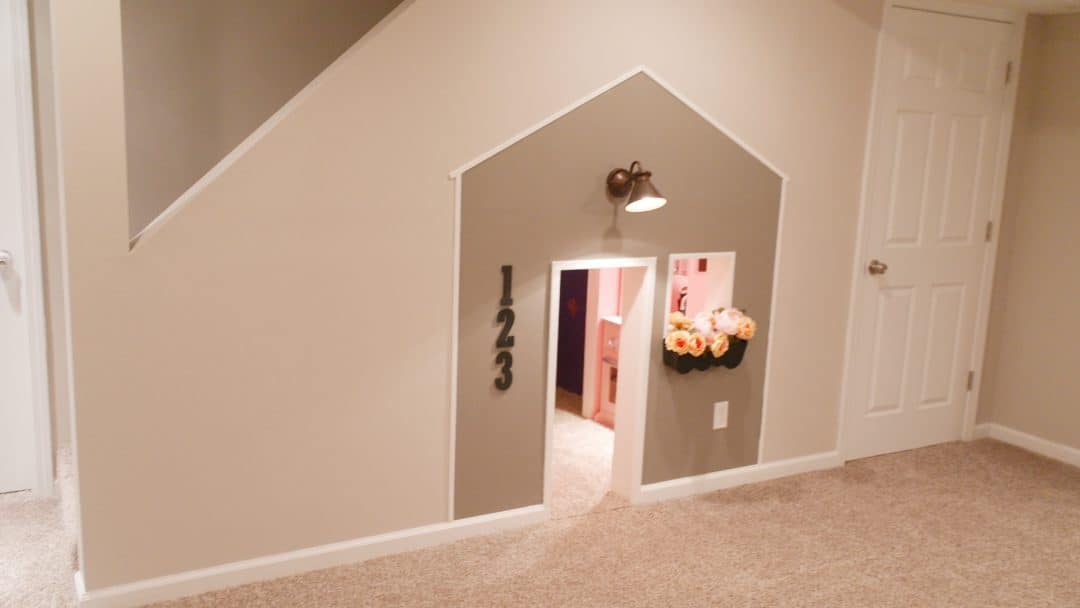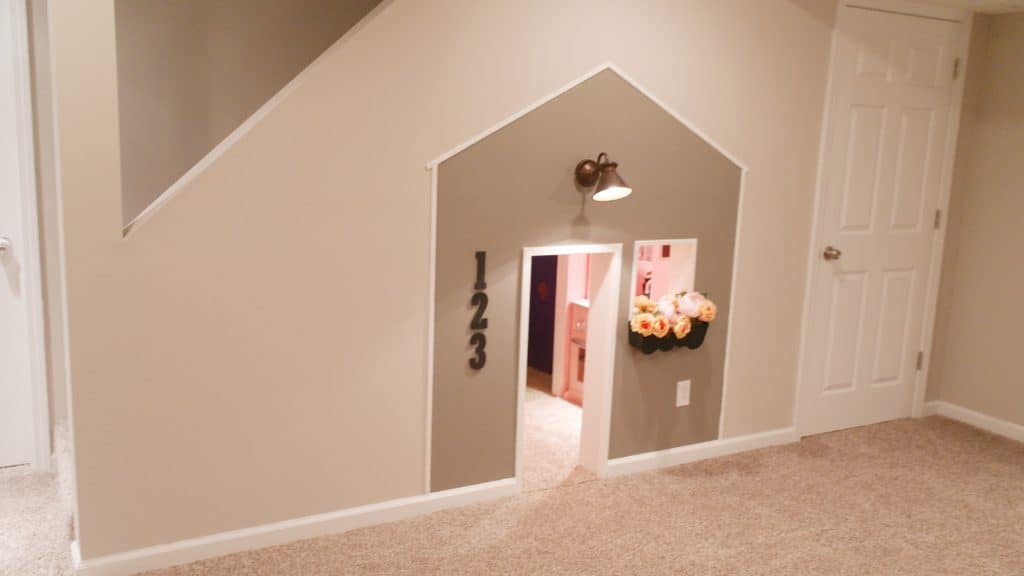 The basement playroom was a bit hard for me wrap my head around decorating in this house. I had some ideas, but needed to figure out how to make it functional, multi – use, and stylish, all while leaving as much floor space open for the kids to play!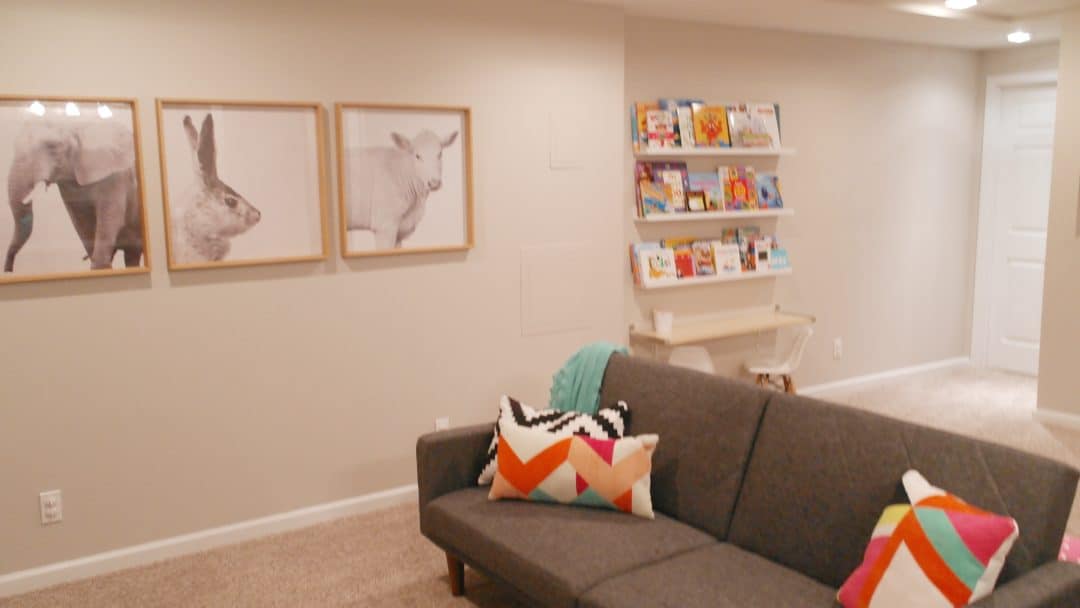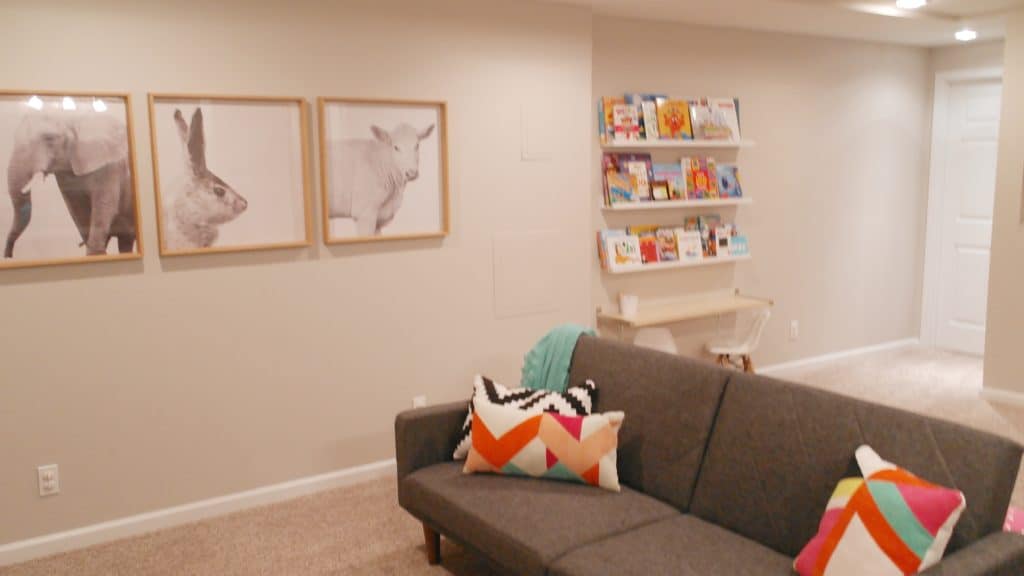 When we moved in I actually had planned to extend the playroom and finish more of the storage room, but after further planning – and seeing it without all of their stuff I figured I could make the space we had work well.
My first step was painting. The whole basement was a royal blue. That is A LOT of blue people!! I went with a warmer grey than I tend to use to add some variety from the rest of the house, as well as make the basement feel a bit more warm and homey. Overall the color was a great match to the new carpets we had installed when we first moved in, and was light enough to keep things bright in the dark basement.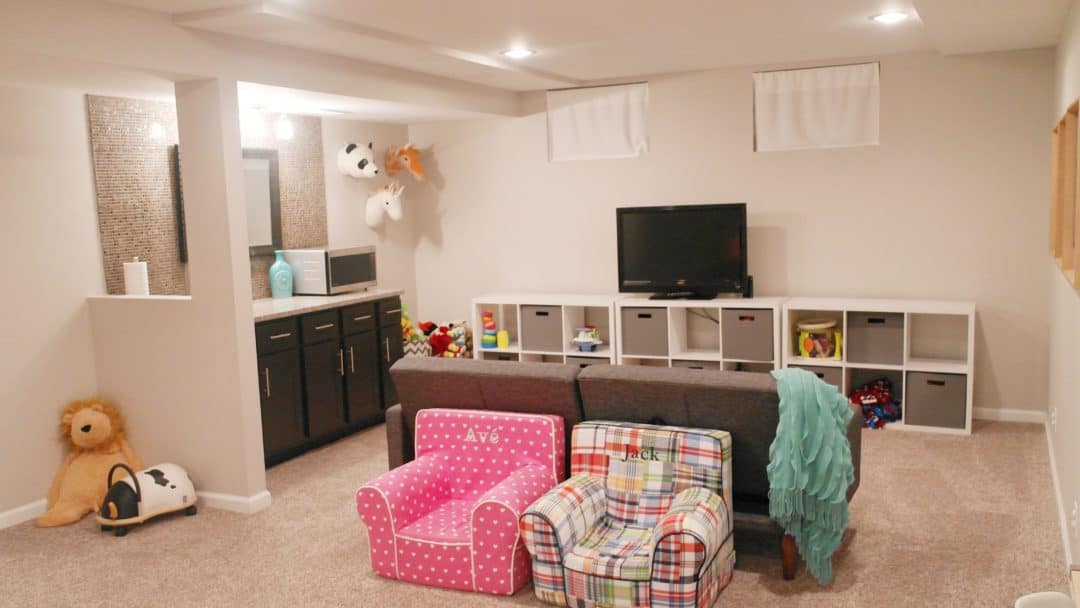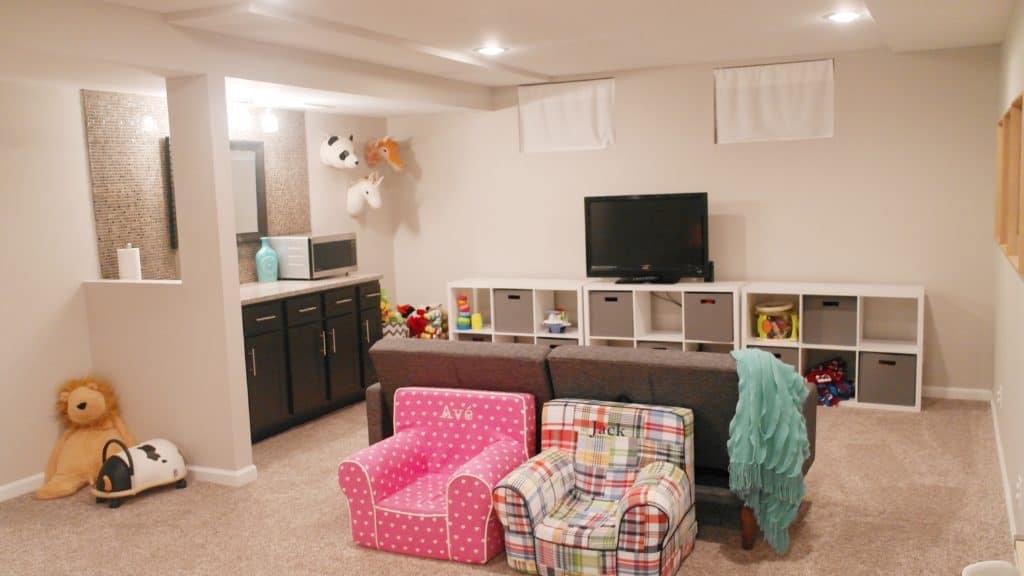 I knew we needed toy storage, so went with 9 cube organizers from Target, with solid grey bins to keep things from looking too busy. Originally these were under the animal pictures along the side wall, but in an effort to make sure the kids had plenty of play space, we decided to move them to the front of the room and have them second as a TV stand, and we are thrilled with the functionality and space that opened up!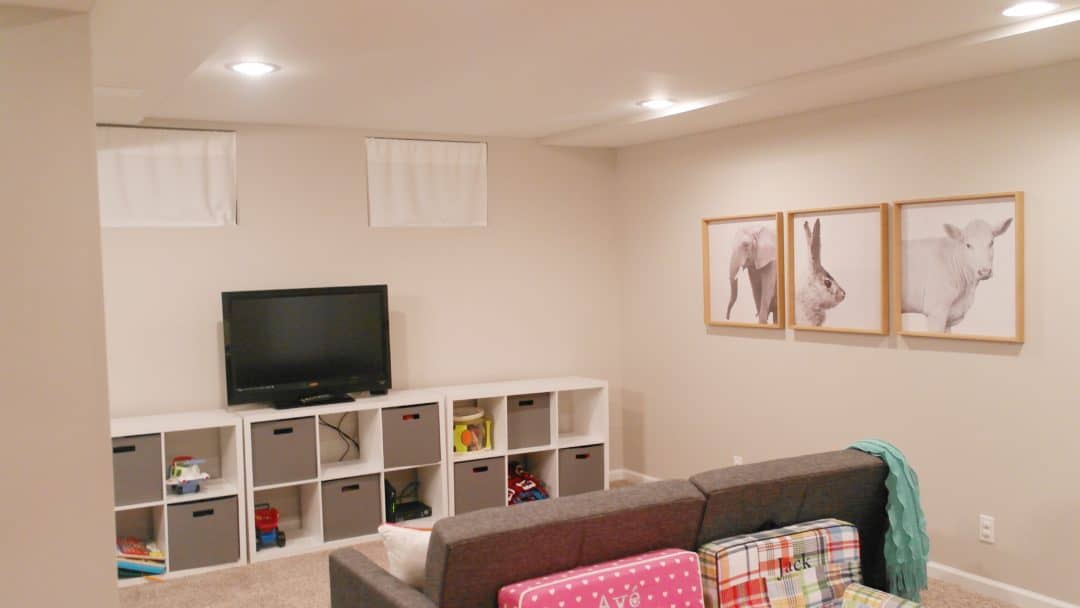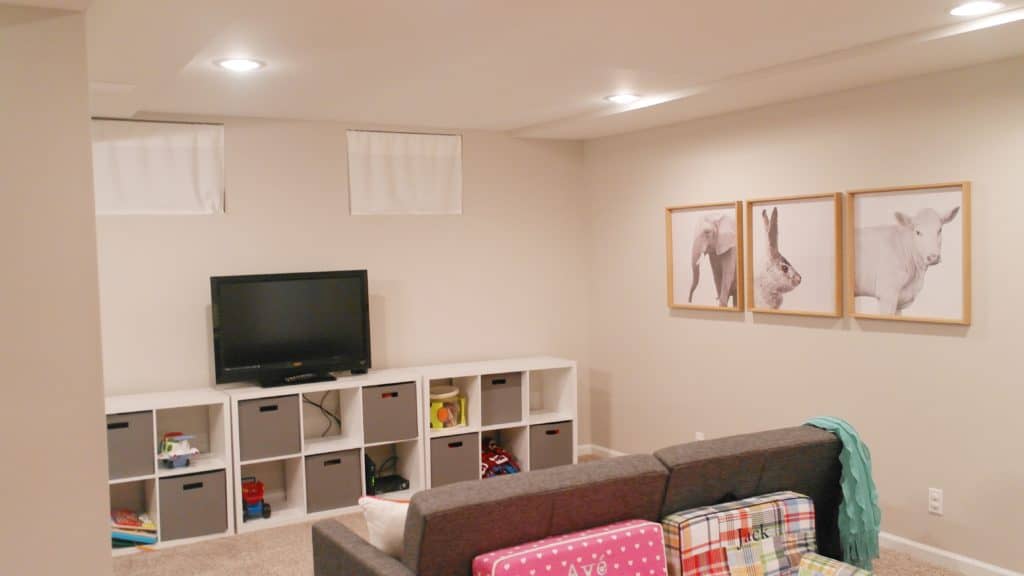 I should also add that those only have to hold a fraction of our toys because when we were looking to buy a house this time around one of the "must haves" was a closet for toy storage (or the space to add one). I knew from our last house that I wanted to be able to have some toys out of reach and sight for the kids at times, as well as for myself. No one wants to look at all 5,000 toys their kid owns all the time!!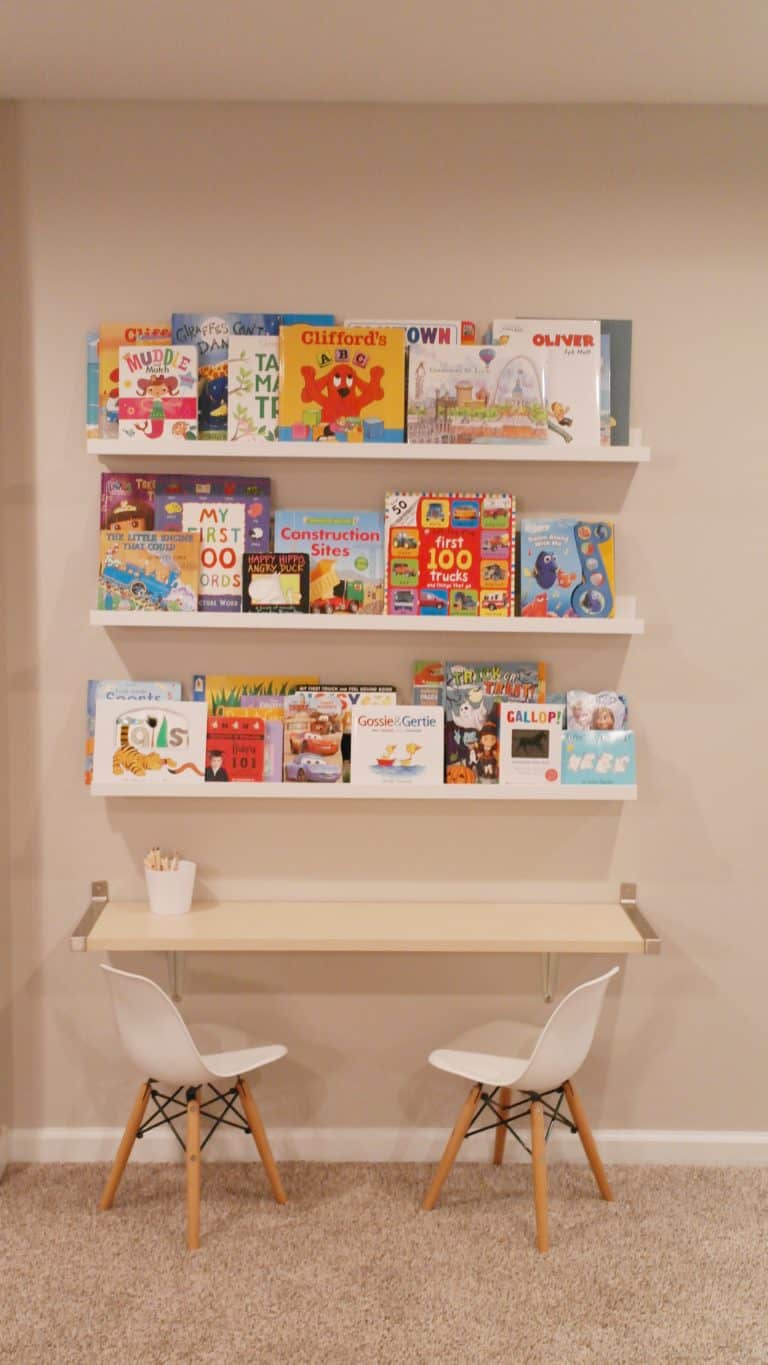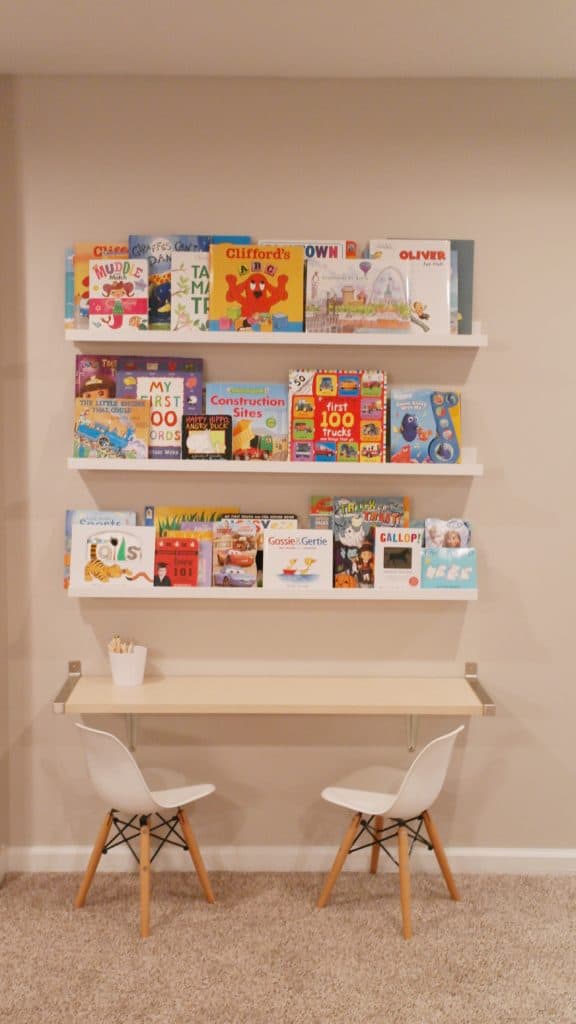 The next hurdle was book storage and where to put a kids table (if we could). I originally was going to use the Ikea spice rack hack for books like I did in Jacks room, but decided to change that up a bit, and used Ikea book ledges instead. These book ledges are only $15 dollars a piece and hold SO MANY books, so are a great bang for your buck. My disclaimer (after more spackle than I care to admit): It is VERY important to hang these in a stud if you want to load them up with books. And with little hands grabbing books off of them I recommend it 100%.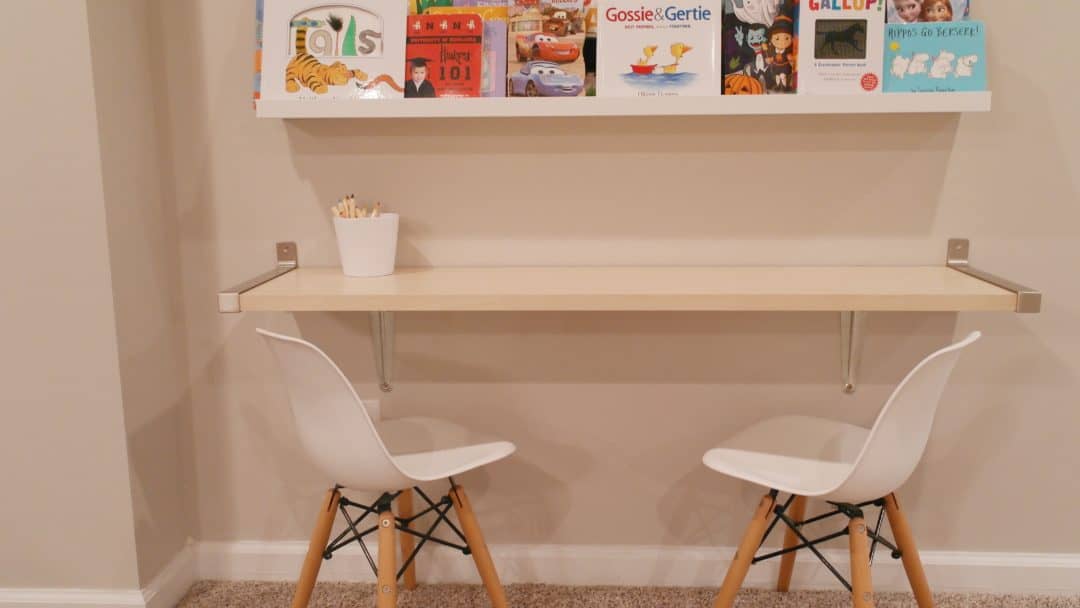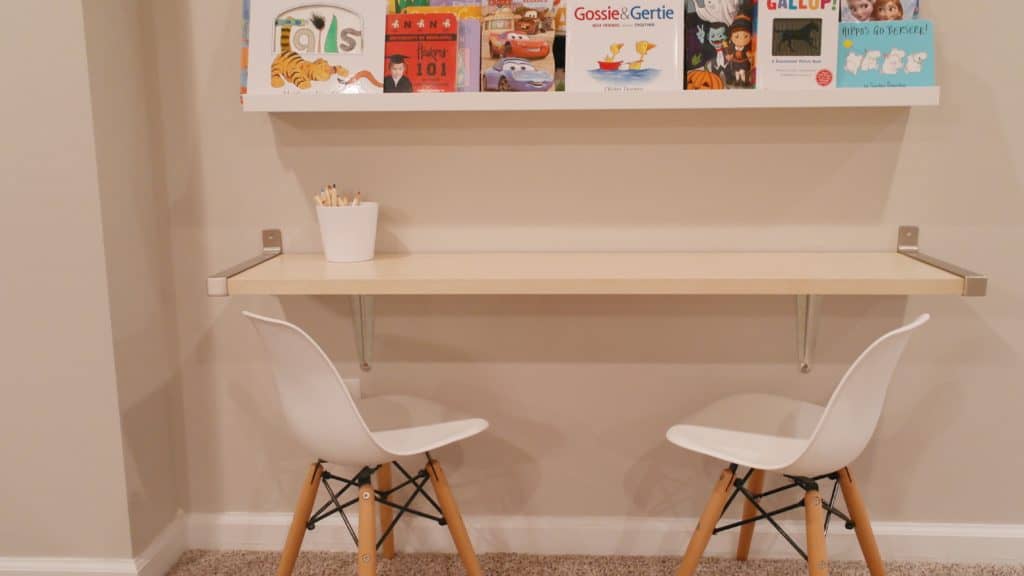 I had originally thought that below those books would be the perfect spot for a kids table, but because of the walk way from the stairs, I wasn't thrilled with how far it would jet out. My solution was an Ikea shelf and brackets hung around 20 inches from the ground, to serve as a bar width kids table. Make sure the shelf you pick and the shelves are the same length if you want this same result. (My kids already have a table in our family room upstairs, but I wanted an area they could color in the basement if they wanted). Another disclaimer: This too HAS to be in studs. For us in order to line up the book shelves and the shelf as well as for added security we added 2 utility shelf brackets below our shelf that are secured in the studs. those brackets are lined up with the two outside screws into the book shelves which allowed for a very secure hold.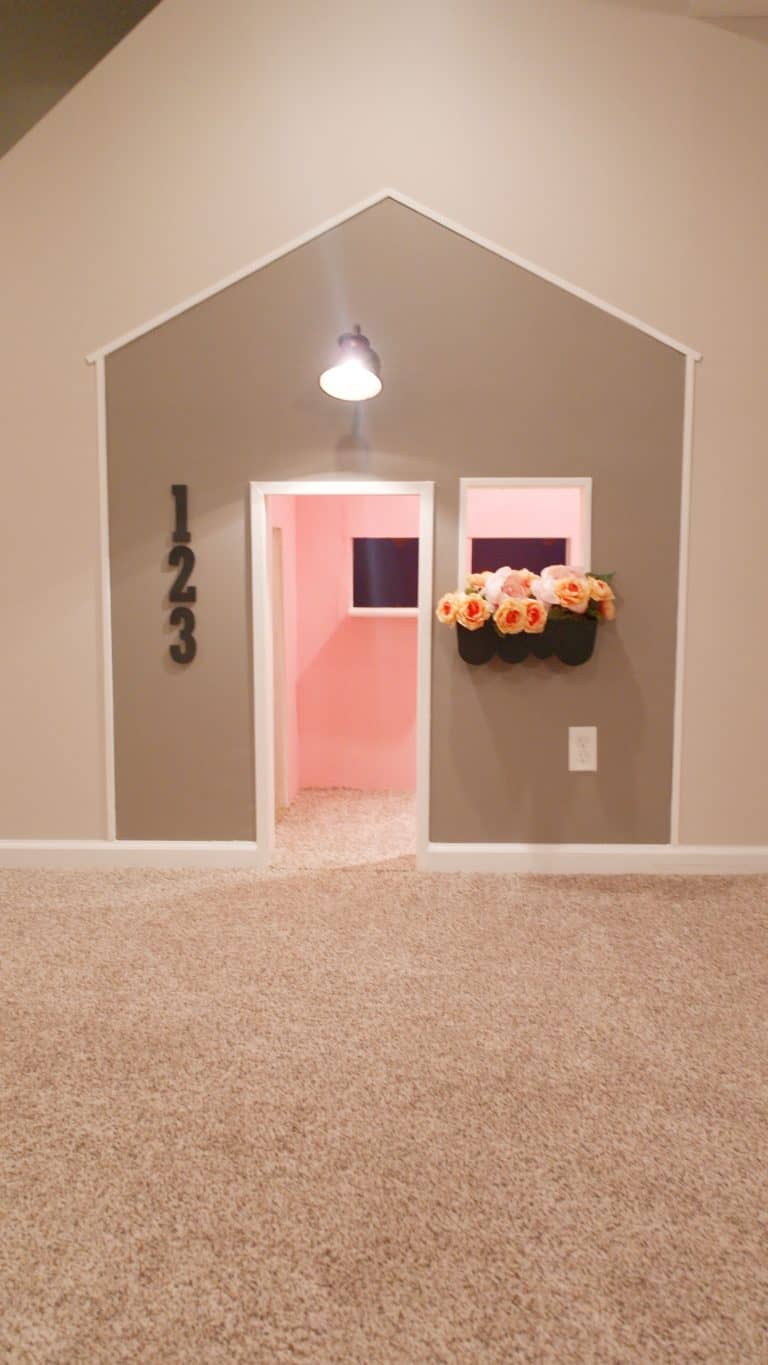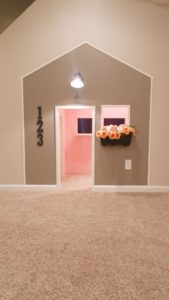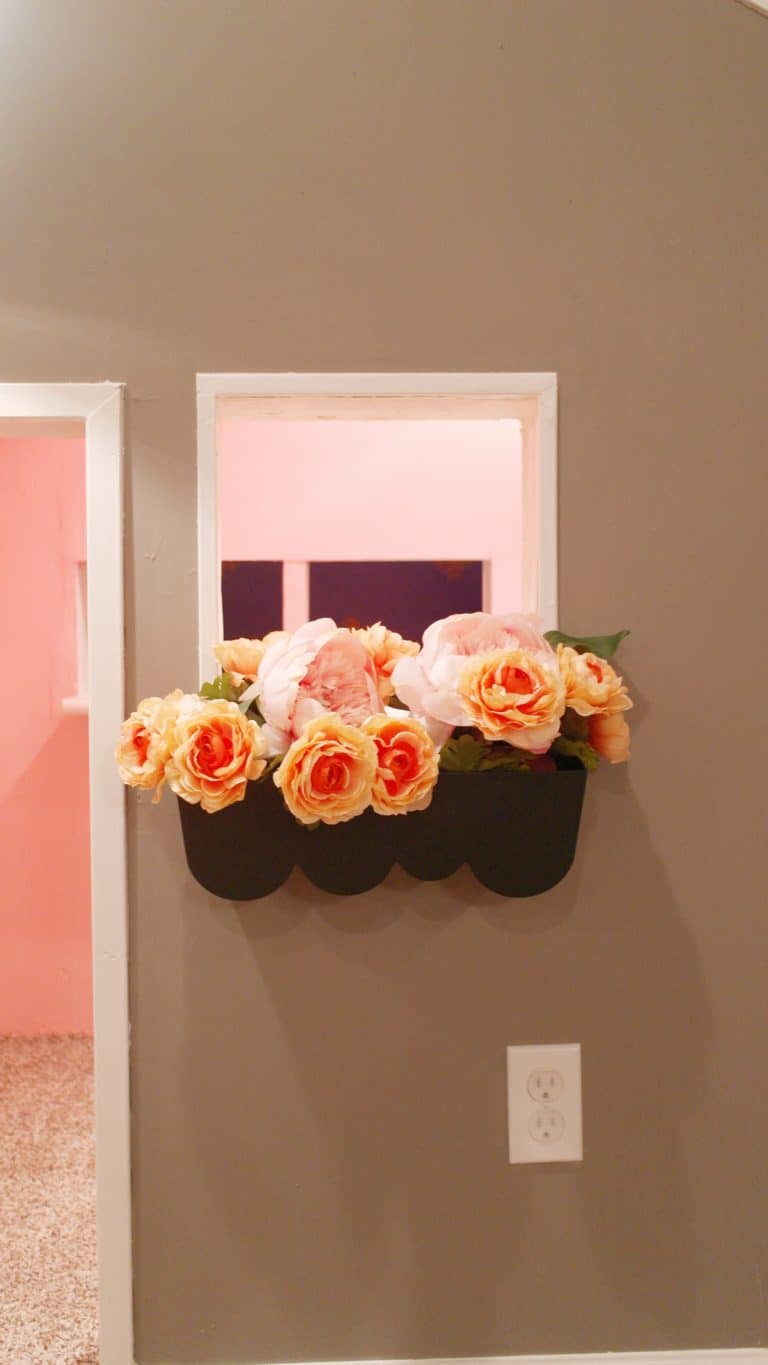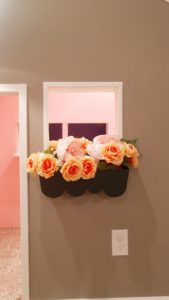 My favorite part of our playroom was actually already a part of the house when we moved in. There is a 3 bedroom house built in under our stairwell (and past it into the storage room) complete with electricity. We have simply updated inside and outside paint, added new carpet, added a window box and house numbers, and generally cleaned it up. I moved our kids play kitchen into the main room of the house, and they LOVE it. The side room also has Avés doll bed and the back room typically is piled with blankets from Jack "going to bed." The planter box was a difficult find due to the size of the window, so i ended up painting an ikea planter black, then securing it to the wall. To hold the flowers in place I spray painted pieces of a water noodle we used as a bed rail in jacks room brown, and put the flowers in that.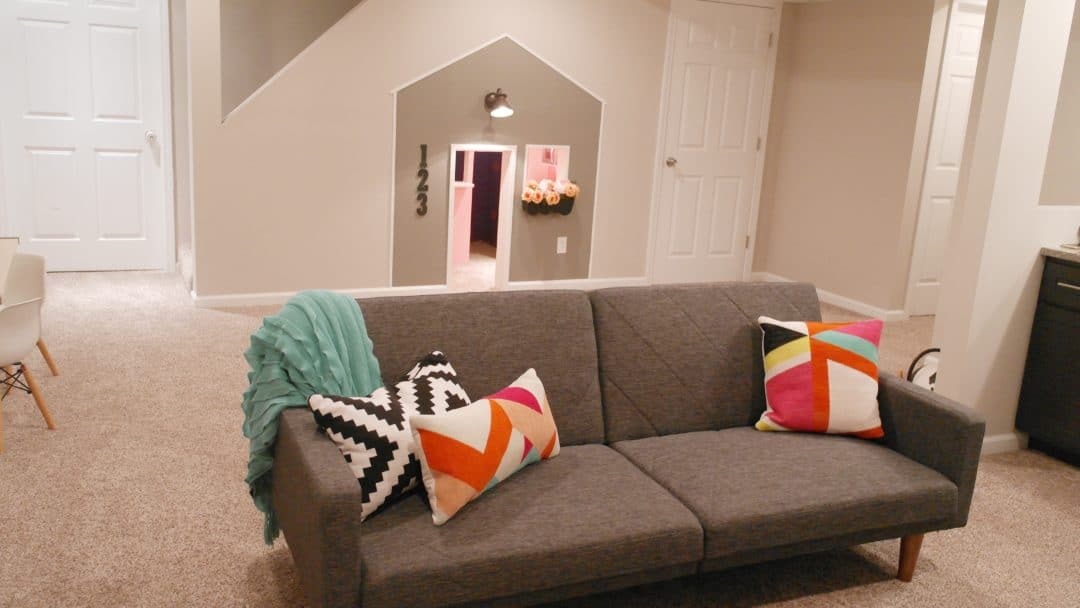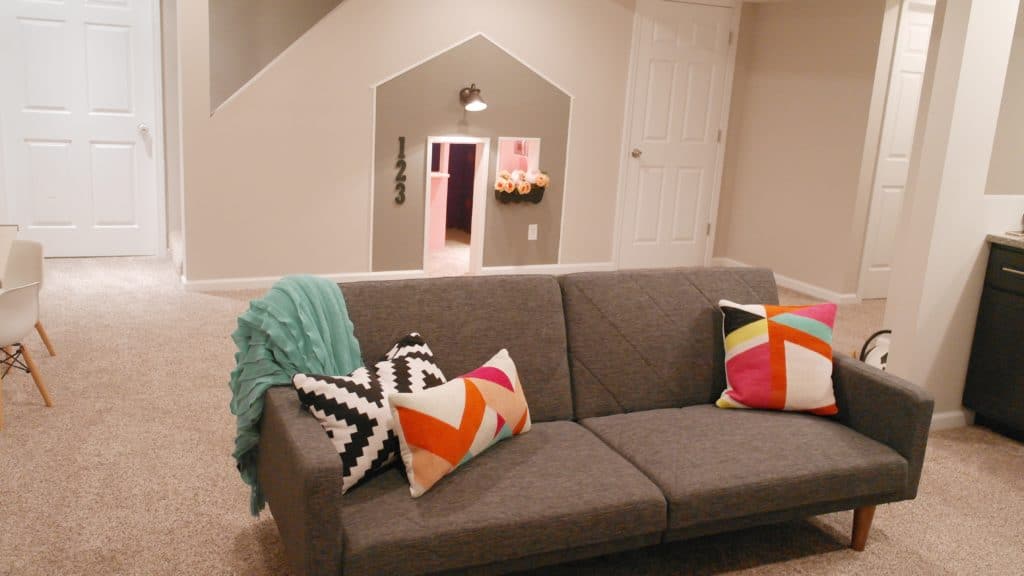 I went back and forth on a daybed or a futon for the basement seating. My original plan was a white daybed, but because it wasn't going against the wall I wasn't thrilled with how the back was finished on most of them I had seen, so ended up with a futon from Walmart that we LOVE. I ordered it and received it two days later and have been nothing but happy with it. The pillows are from Ikea and Target.
The art work hanging is from HomeGoods and Hobby Lobby and fit the modern design I was looking for, while also tying in my kids total admiration for animals. I also added some Pillowfort faux taxidermy pieces to one wall that the kids love.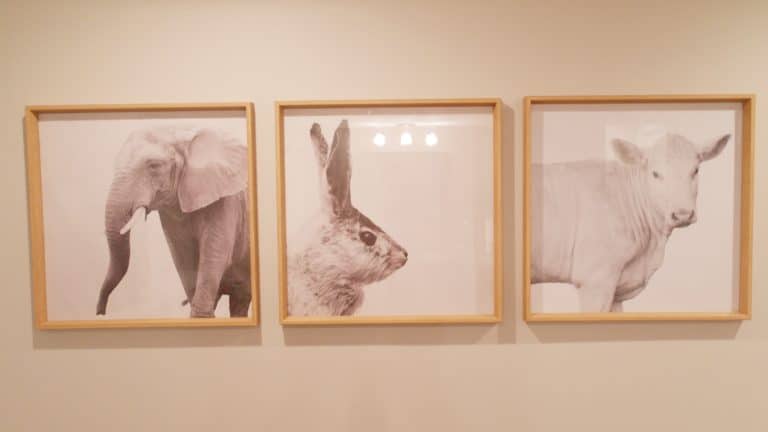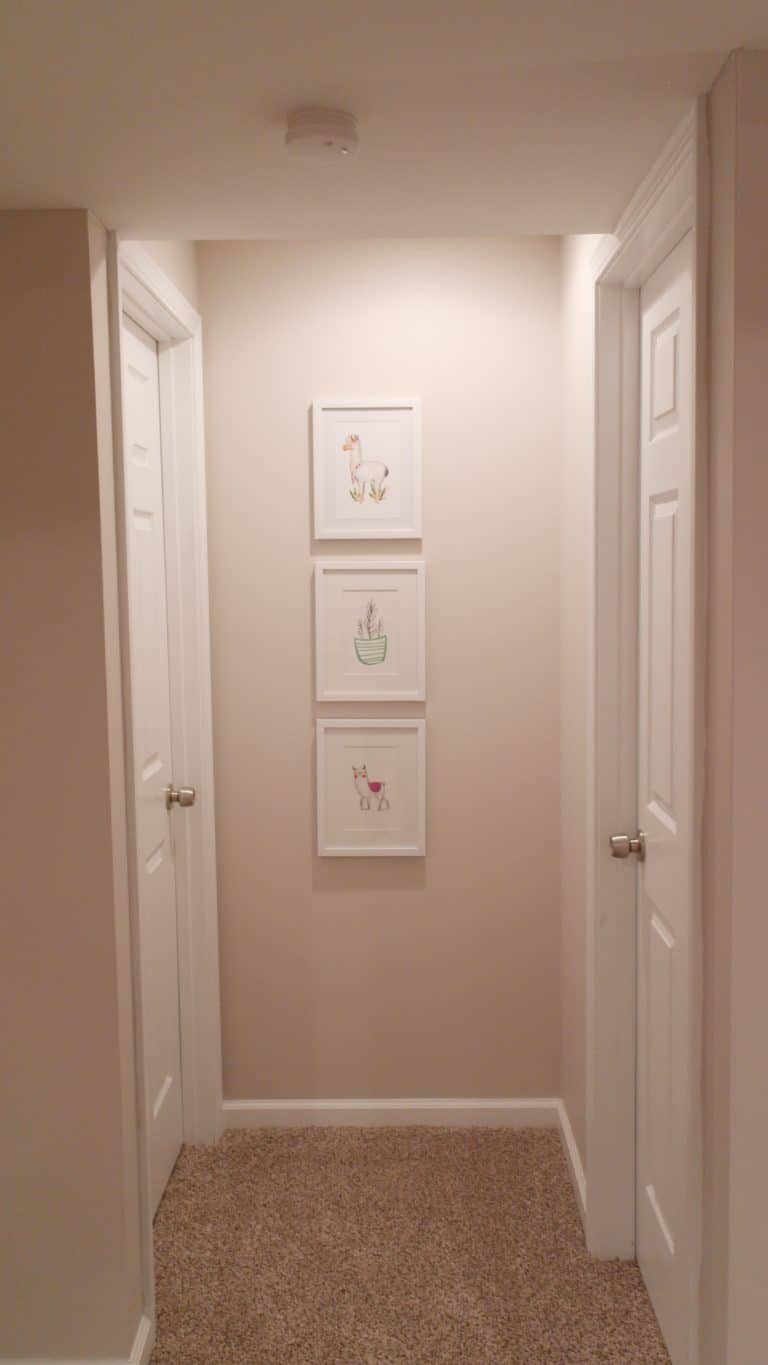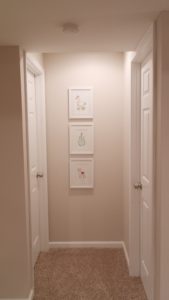 Overall the whole family loves the functionality and versatility of the basement. I love that with the basement also housing our guest room it doesn't feel overly childish, but still is clearly an area of fun and learning. The futon allows for extra sleeping space for guests which was important, but has been a comfortable place for our family to watch TV or hang out while the kids play.
I would love to answer any questions regarding the book/desk wall or the kids playhouse that you might have, so please feel free to leave any questions in the comments! Sources are tagged below
Kids Chairs//Book Shelves//Shelf Desk//Shelf Brackets//Couch//Storage Cubbies and Bins//Black and white pillow//Window box//Small wall art//Faux taxidermy heads//Crayon container
XO ARIN
SaveSave
SaveSave