For the past few years bottle brush trees have been my favorite thing at Christmas time. I LOVE finding ways to make my decor for the holidays my own. Sometimes that means the perfect DIY, and these pink bottle brush trees are no exception.
this post may contain affiliate links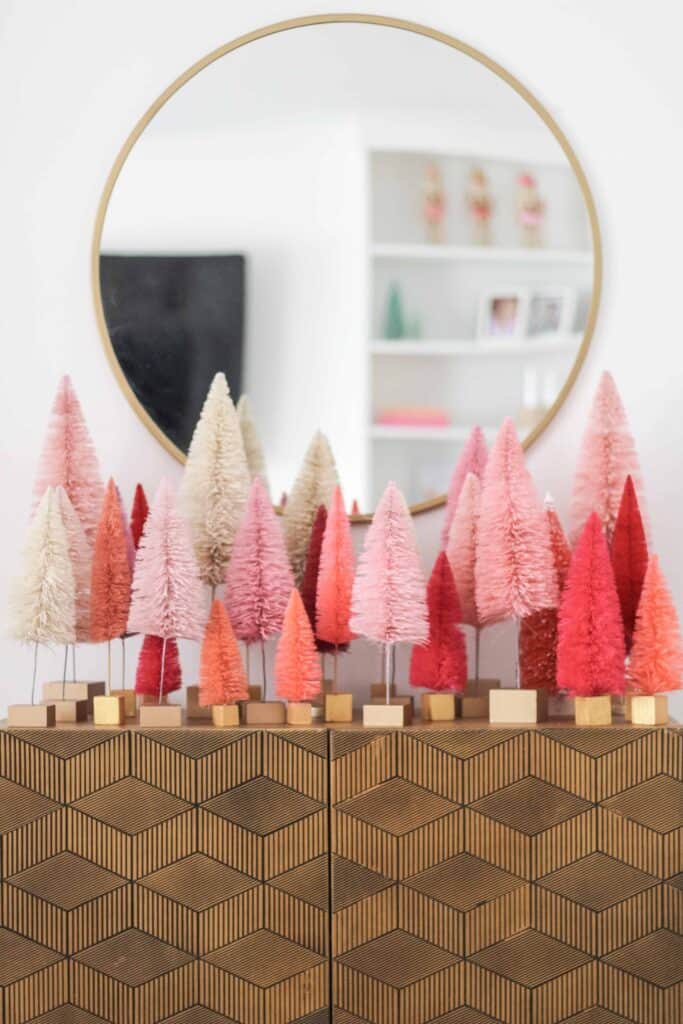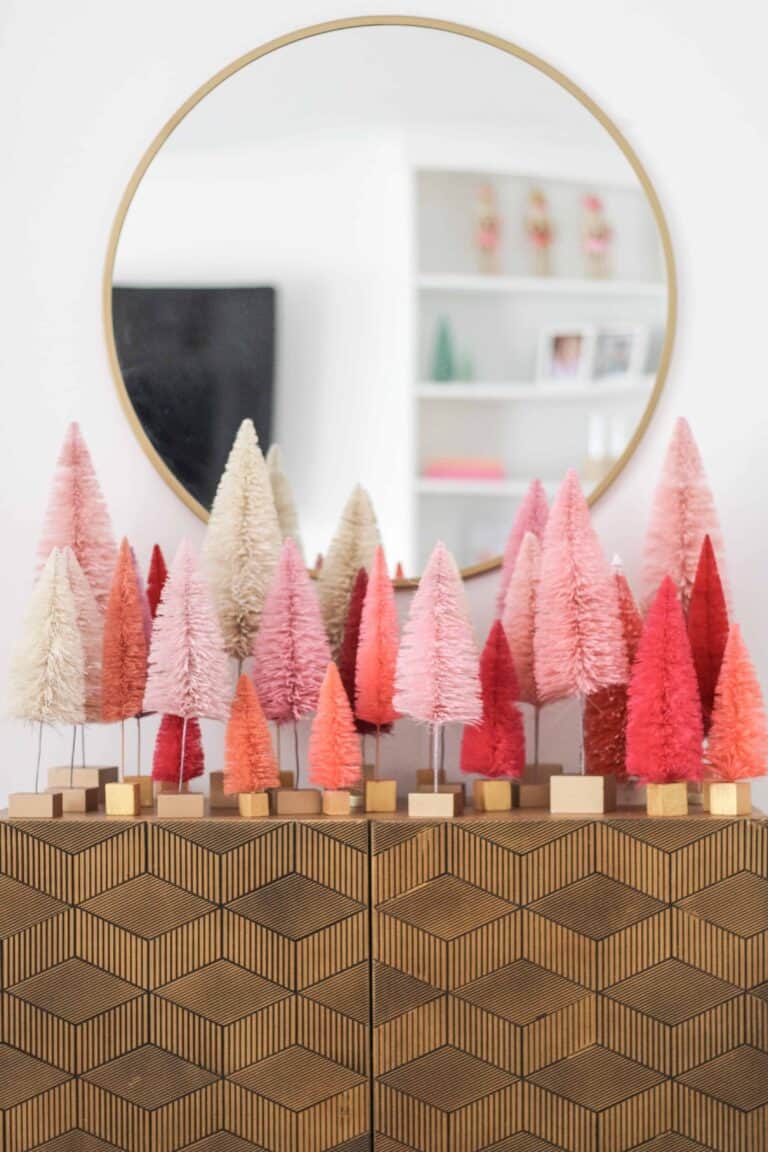 Bottle Brush Trees
Bottle brush trees have been all the rage the past few years – after all they are super easy, and typically kind of affordable decor.
I also think they tend to a go to because they are not necessarily holiday specific and can last all winter long if you so wish! They are not super hard to find – but I will link to some of my favorites in this post for diy or ready to go either one.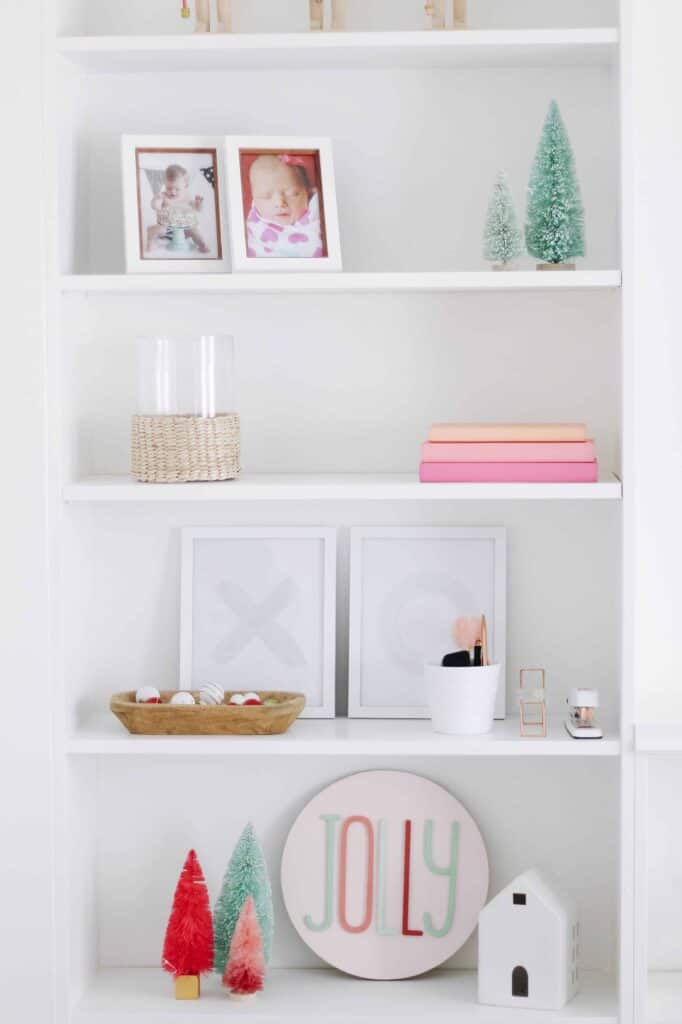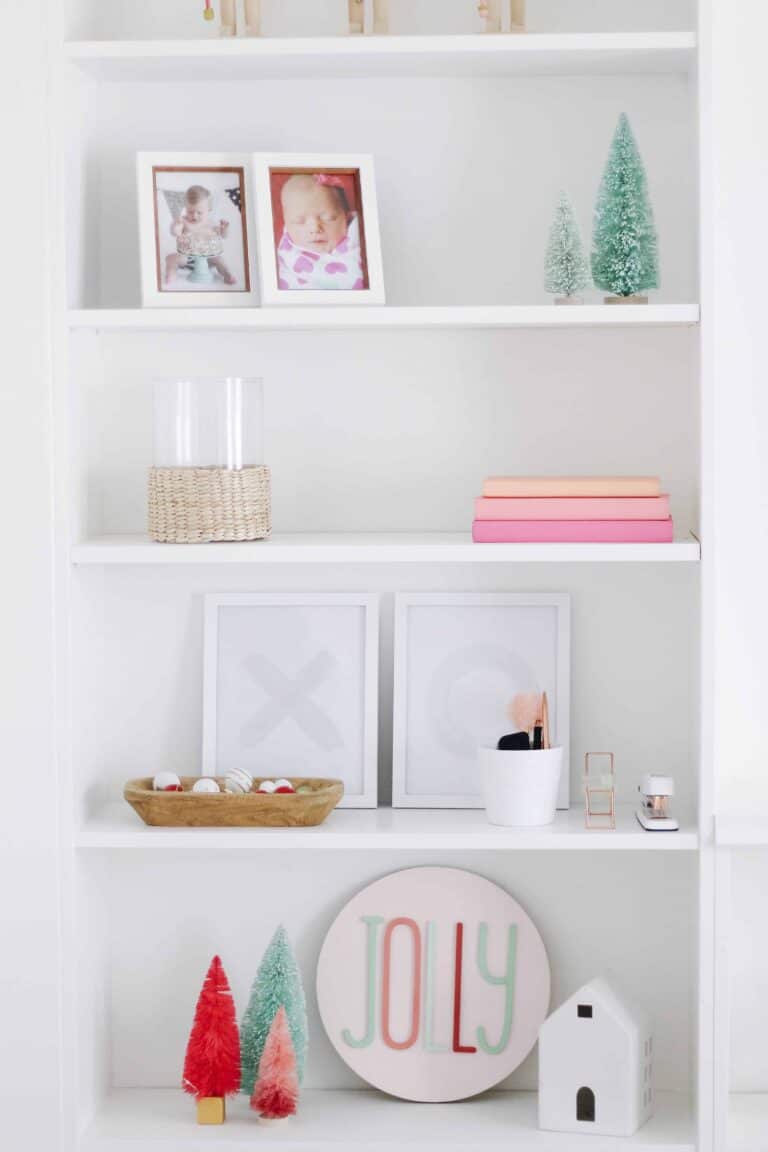 Another fun thing about bottle brush trees is that they tend to all go together really well even if they are not from one place. They sort of remind me of pumpkins in the fall – a mix of sizes, shapes, and colors is better than one alone!
DIY Custom Bottle Brush Trees
Last year I shared dying bottle brush trees on my Instagram stories. It was such a fun process for the second year in a row – but with a newborn in tow I didn't have it in me to blog the whole process.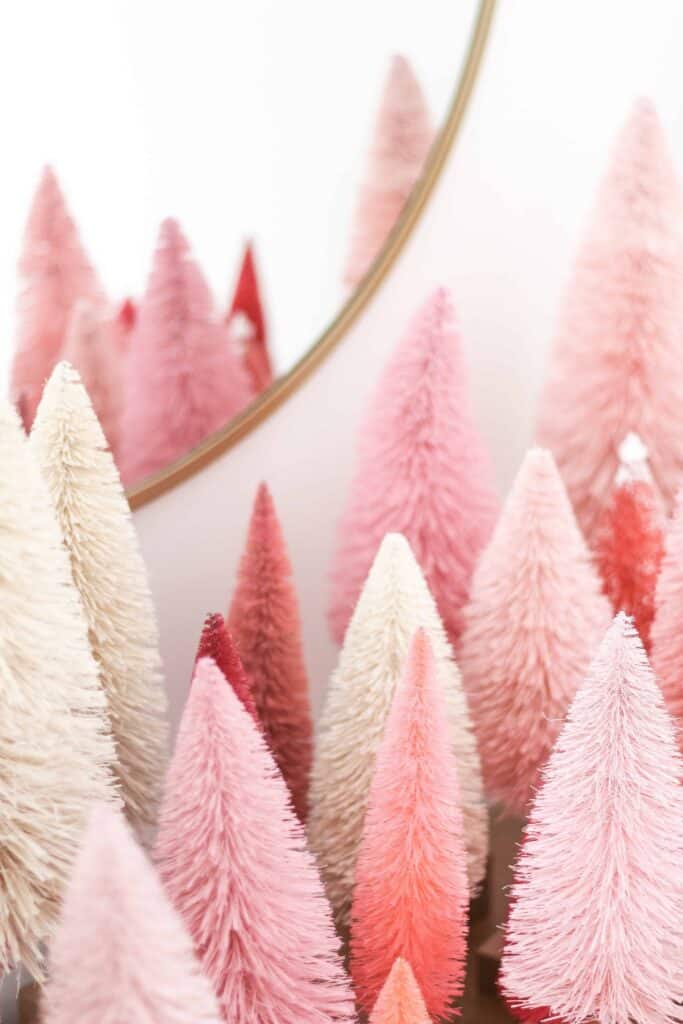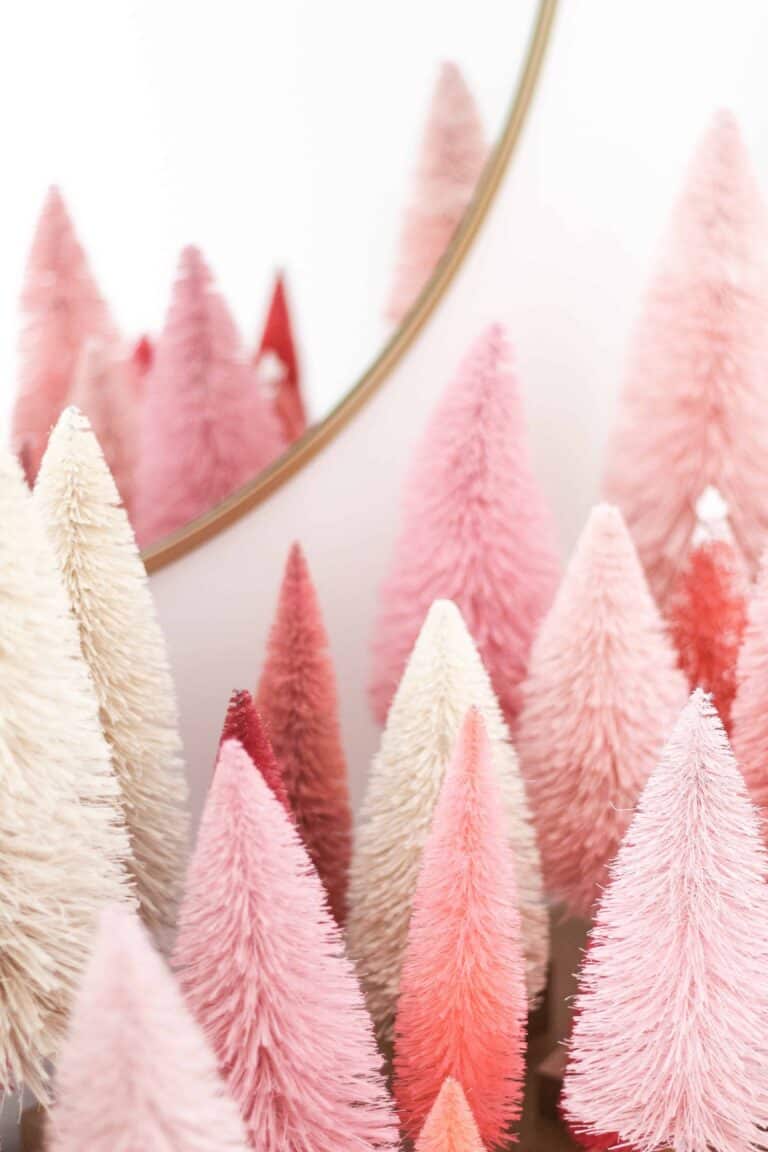 I tend to decorate with a lot of color during the holidays but still lean towards more pink than anything else, so this process allowed me to use affordable trees to make an affordable punch!
I will tell you – in this post I will teach you how to accomplished your perfect color with two different techniques, but am only going to show you 1 way via photos.
Gather your Supplies
Below is everything you need for your custom bottle brush trees – if you don't have any bottle brush trees I will link LOTS at the end of this post that you can use in the DIY.
I will also talk about some great places to grab them in store and my go to for getting them at a discount.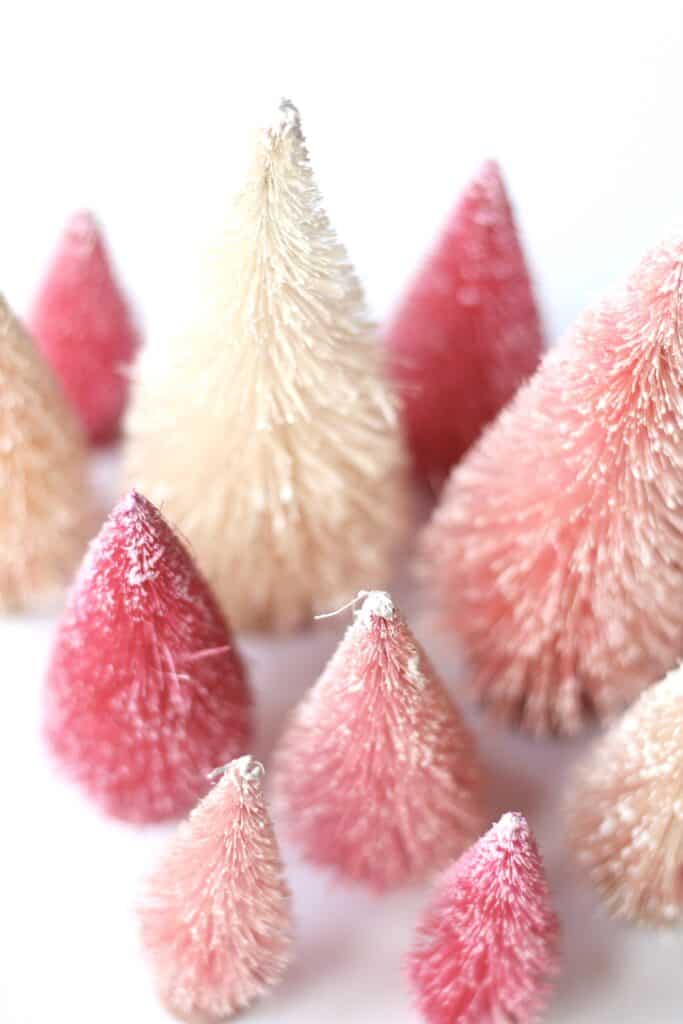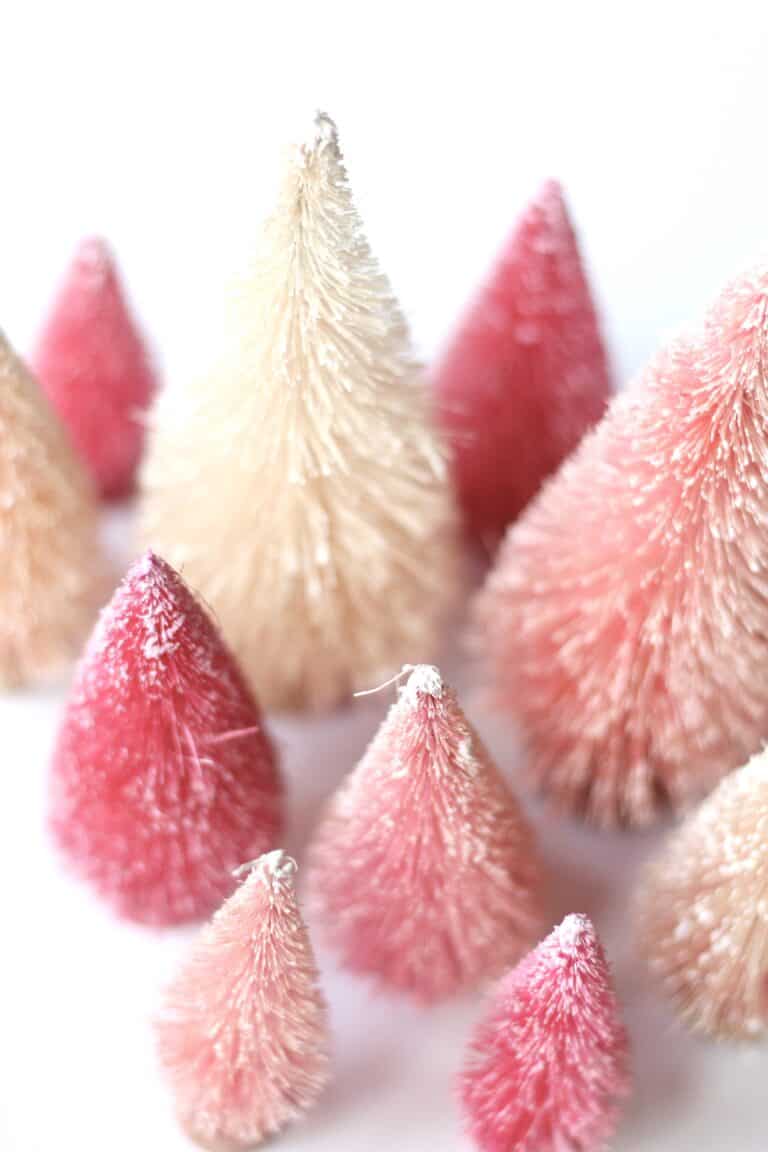 Supplies:
Bottle Brush Trees
Large Stock pot (something deep is best – I actually used a beverage dispenser container last year.
Rubber Gloves
Paint Stirrer or spoon you don't mind ruining
Craft paint and or food coloring – This is my go to for food coloring
A towel to let them dry on that you don't mind ruining
Bleach if you plan to strip any trees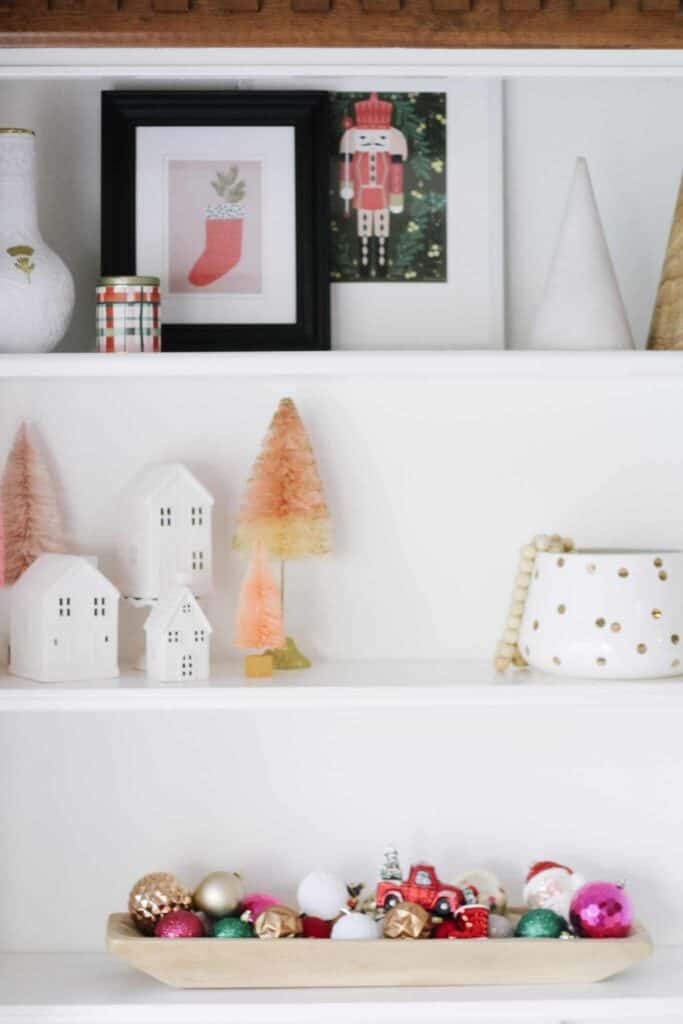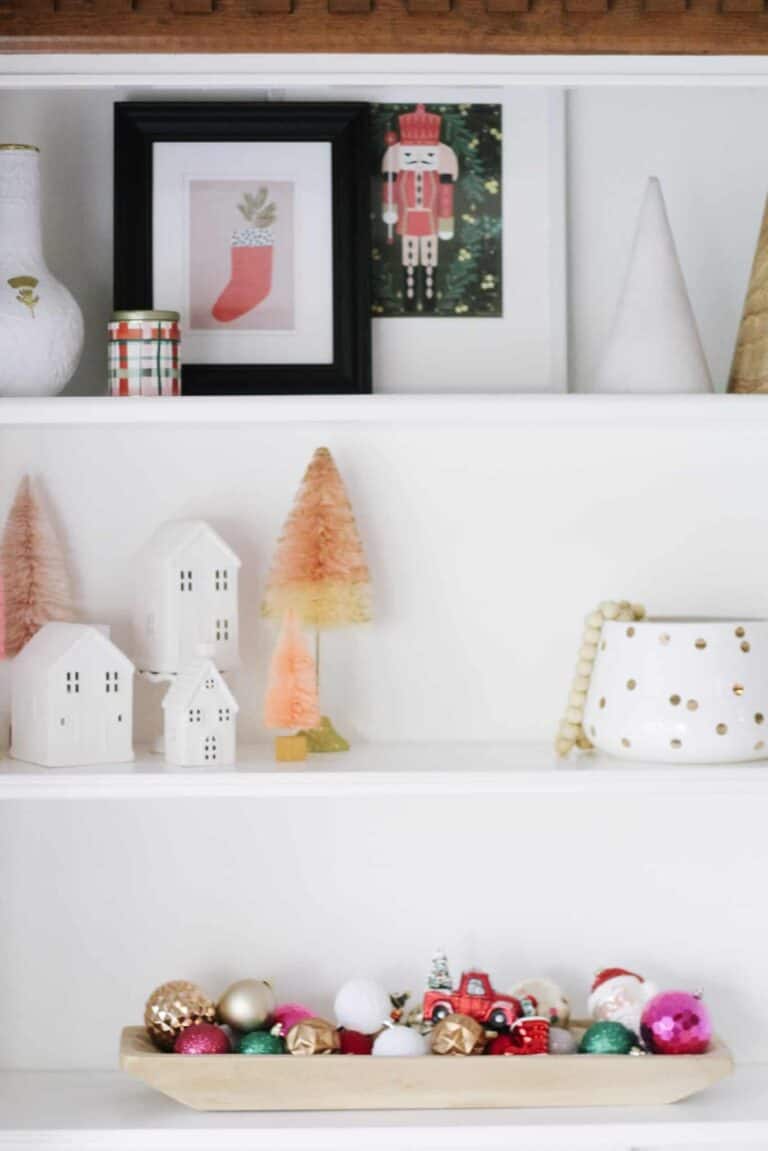 Bleaching Trees Before you Start
In order for this process to work well it is most easily done with white trees or very light trees. One thing I did last year was take some colored trees that I already owned and bleached them in order to do the process below.
They will not all bleach to white, but it will remove a lot of the color, and allow for them to take to the process below for a cool outcome. I actually loved some of the trees that had some color on them more than the white.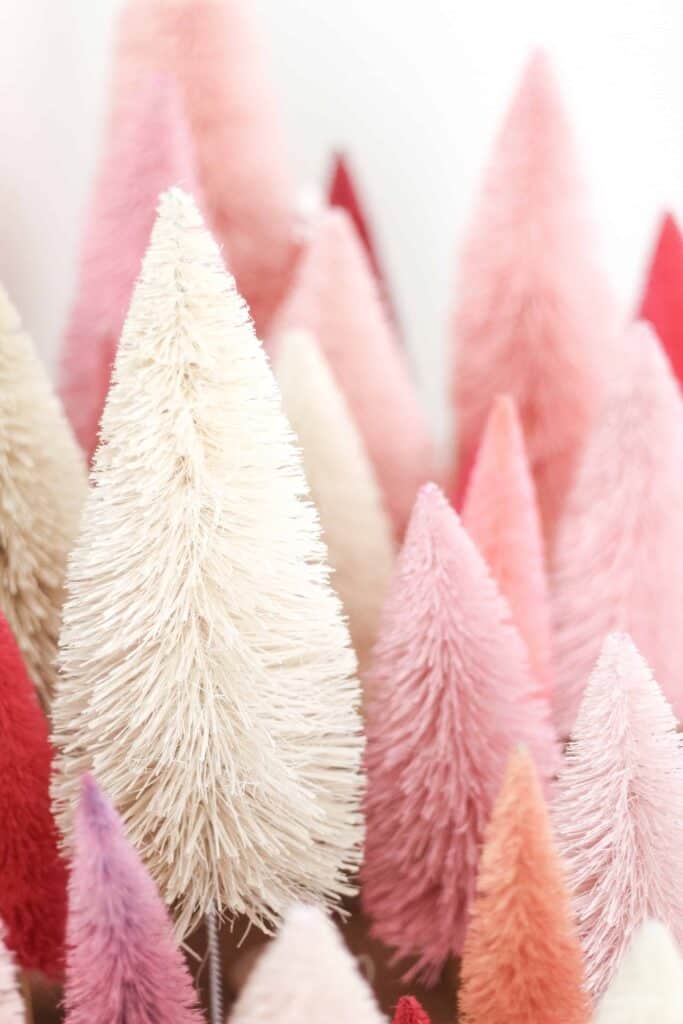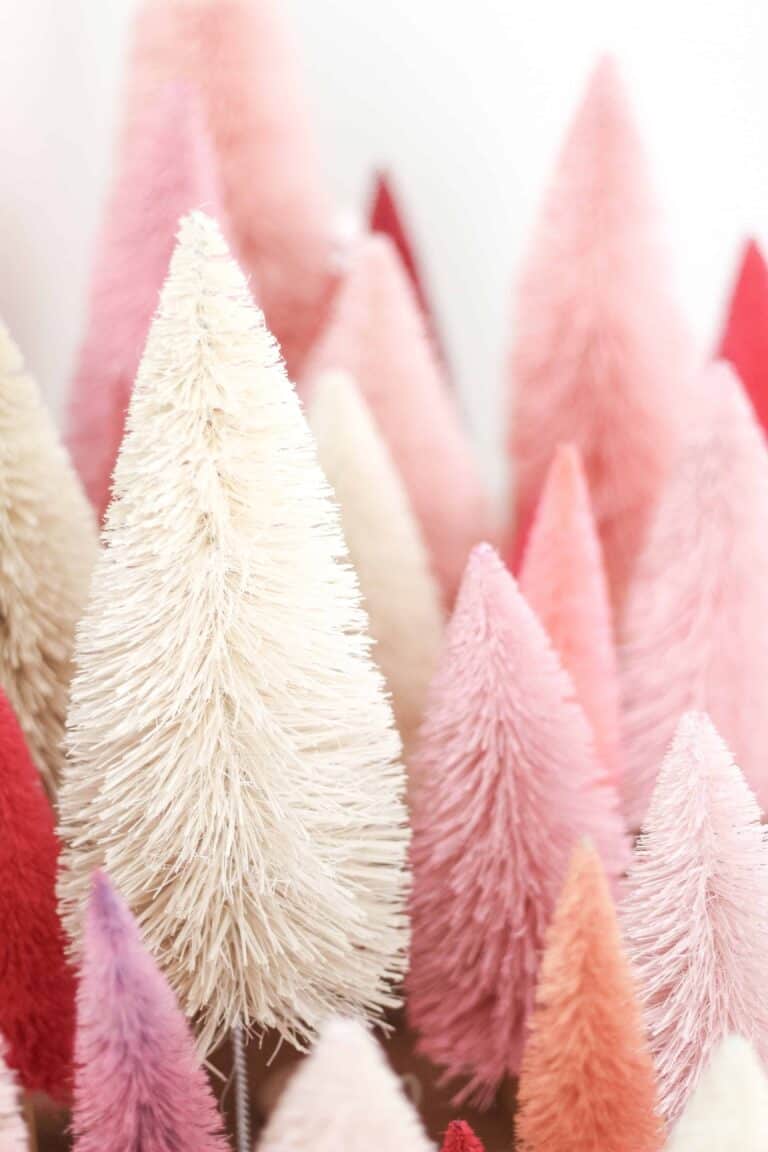 The yellow trees ended up coral, and the teal/blue trees ended up kind of purple/pink.
To do this you just need to fill HOT water and bleach (go with a good amount of bleach) in your pot you will use for dying the trees and dip them and rinse. Dip them and rinse. Keep doing that until they no longer rinse any color off.
Now they are ready to dyed once they are fully dry.
Process #1 – Paint Dyed Bottle Brush Trees
Like I said above – there are two processes for these bottle brush trees. 1 is with paint, and the other is with food coloring. I will talk about how to do both and the benefits of both.
For me personally I used a combination of methods, and even mixed the two methods into one for some of my trees last year.
Benefit – Coloring the trees with paint allows for the most custom color. You can get colors that I think are really hard to achieve with food coloring, and in my opinion it allows for more of that modern muted color look.
Con – This method costs more money. It takes more paint to make this work than it does food coloring.
Con – This method takes much more patience. It takes wayyyy longer to achieve the color you are looking for. It is still worth it, but worth noting.
How to Paint Dye your Trees
Fill your container with just enough warm water to cover your largest tree. The less water you do the less paint it will take.
Now you need to decide what color to do first. In my opinion you should do several shades of similar colors when doing this method. So what I did is started with light light pink. I poured a very good amount of paint into my water and stirred it well.
Now drop your tree in and LEAVE. Let it do its thing. Remember I said this method is not fast.
Come check on your tree in 30 min or so, and keep checking until it has achieved the color you were looking for.
Now I would leave that water there and add more color. Maybe a different shade, maybe more of the same for a darker finish, but add more paint. You can of course start fresh with a totally different color but for the best results when doing paint I would do the above method.
Once your trees are the color you wanted let them dry sitting up right for a good 24 hours. Especially with the paint method you want the paint water to dry on the tree.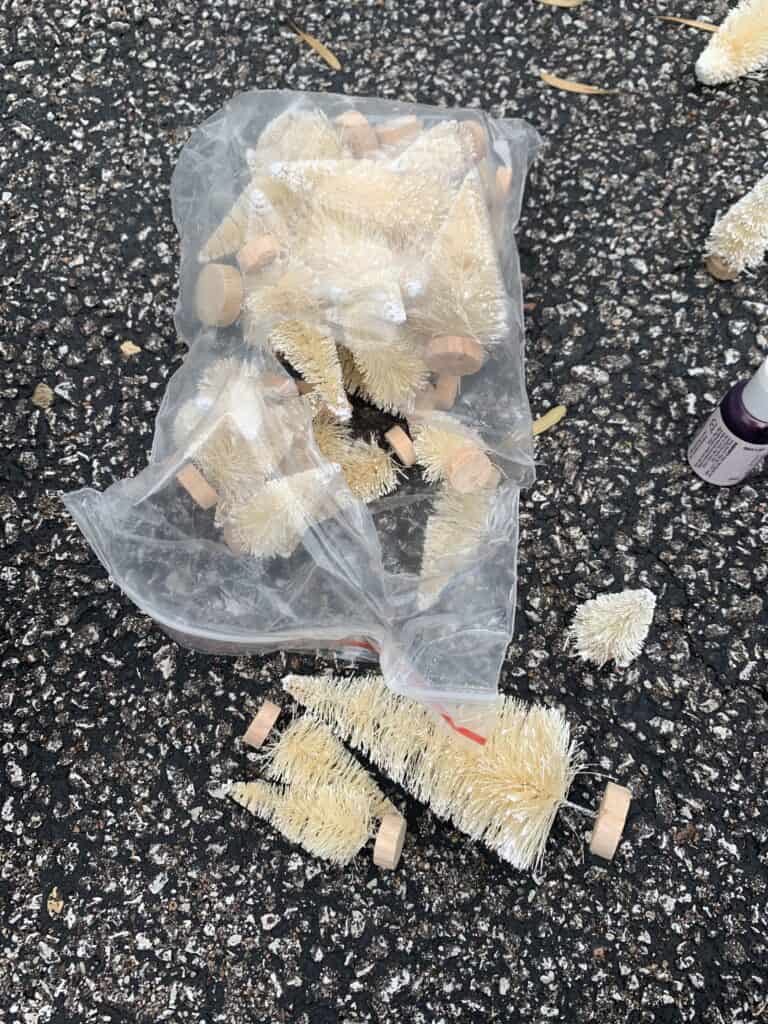 Process #2 – Dying Bottle Brush Trees with Food Coloring
Option #2 is to use food coloring – this method is easier, and still pretty customizable, but not AS custom. I personally think if you are doing a good mix of trees it is worth it to do some in this method and some in the method with paint.
Pro – You will achieve a darker more vibrant color with this method – so for instance if you are going for hot pink I would do this method for those trees.
Pro – This method seemed to work better for trees with some color still left on them from the bleach method.
Pro – Food coloring dyes the trees MUCH faster.
Con – Getting different shades is harder. Food coloring is more limited!
Con – You need to be more careful and wear gloves or you will have fully dyed hands.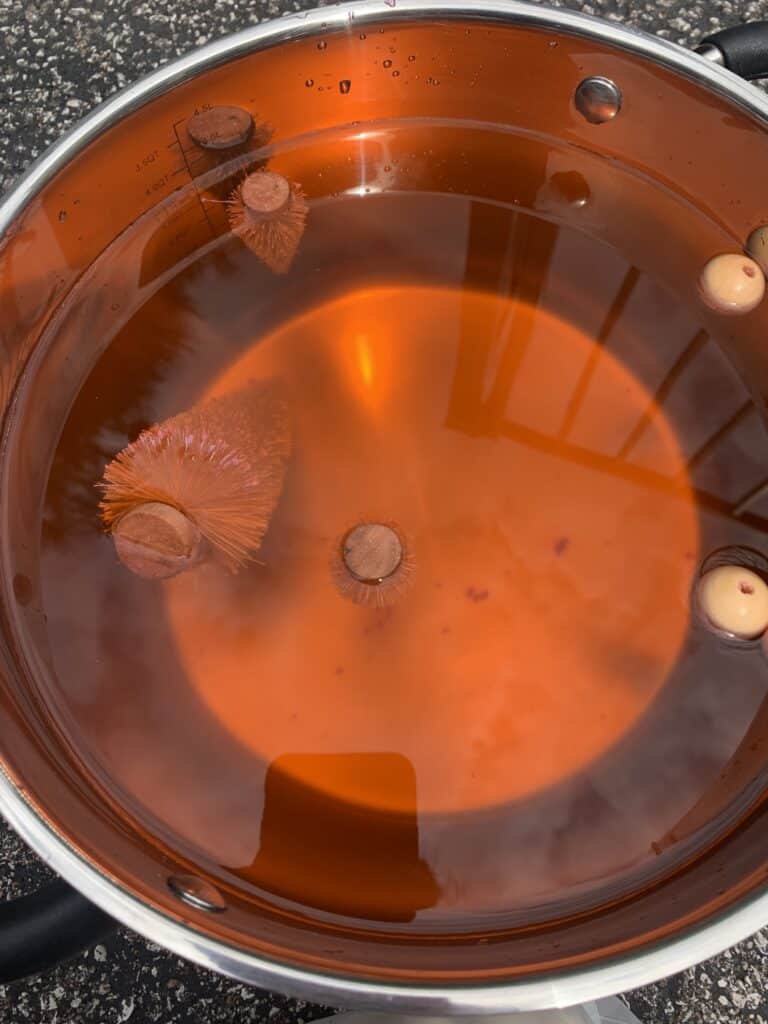 How to Color your Trees with Food Coloring
Fill your same pot with warm water just high enough to cover your largest tree.
Add in a small amount of food coloring in your lightest color. Think through your end idea on colors – you can easily start with say pink, then add some blue to get some purples.
Add your trees and check on them in a few min – the food coloring will dye them quickly.
One thing to note – I personally found with food coloring you can play around with time more. Leave some in for 3 min and some in for 30 min with the same batch and you will get a different outcome.
Again you can add new colors and more dye an continue to get new shades and colors.
Once they are done set them on a towel to dry for 24 hours.
That is it – making them custom is easy as can be. It isn't the cleanest, fastest process, but it is easy and truly a DIY anyone can do.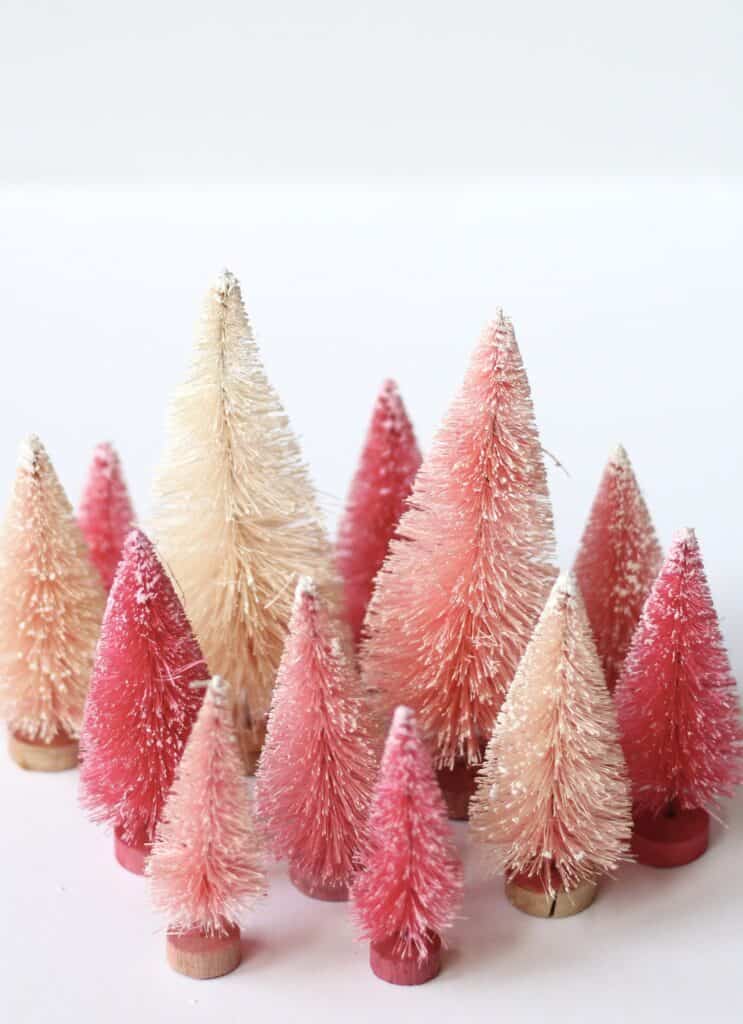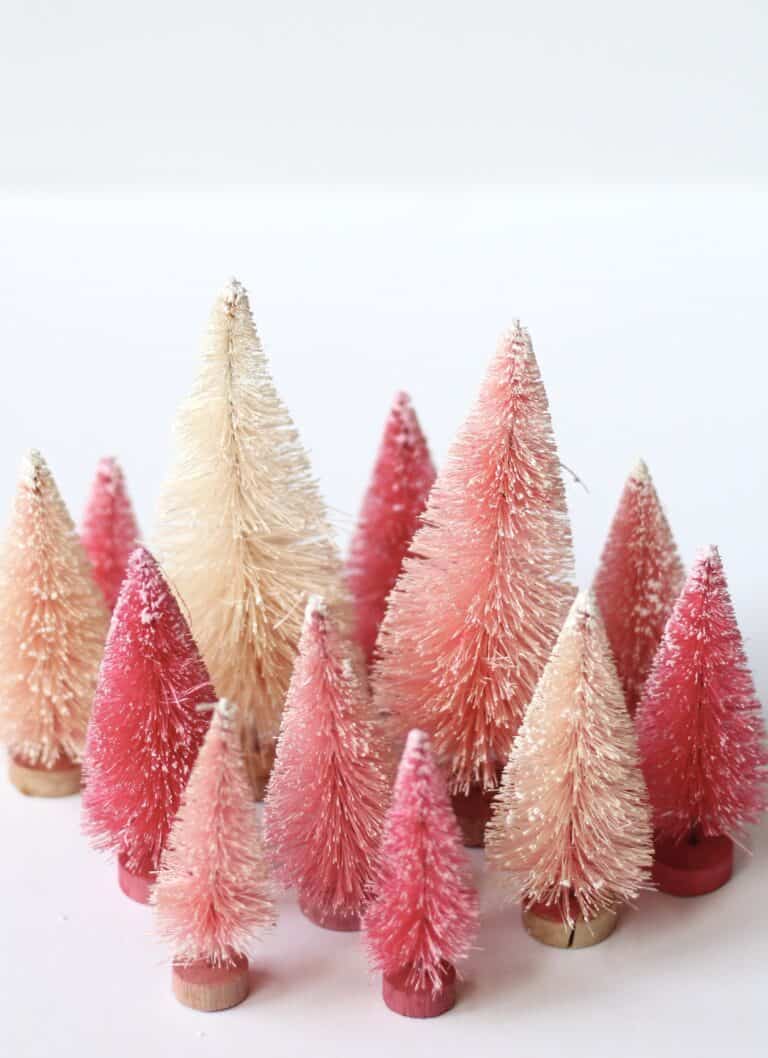 Where to Buy Bottle Brush Trees
Alright as fun as making these are – you need to find the bottle brush trees first! Plus I know sometimes you just aren't a DIYer and want to just buy them. I have you covered on both fronts.
Affordable Places to Get Bottle Brush Tree's For Dying
First – Hobby Lobby. Hands down my first rec. They have great sizes, and come in plain white, but also have lots of fun colors you can use as is, or bleach first. I did a mix.
Target dollar spot also has them yearly, and so does Walmart – Most of the time I bleach these to dye. Keep in mind the more plasticy feeling ones are much harder to dye and won't bleach.
Amazon – Amazon has some great packs of plain white bottle brush trees – I will link to them below.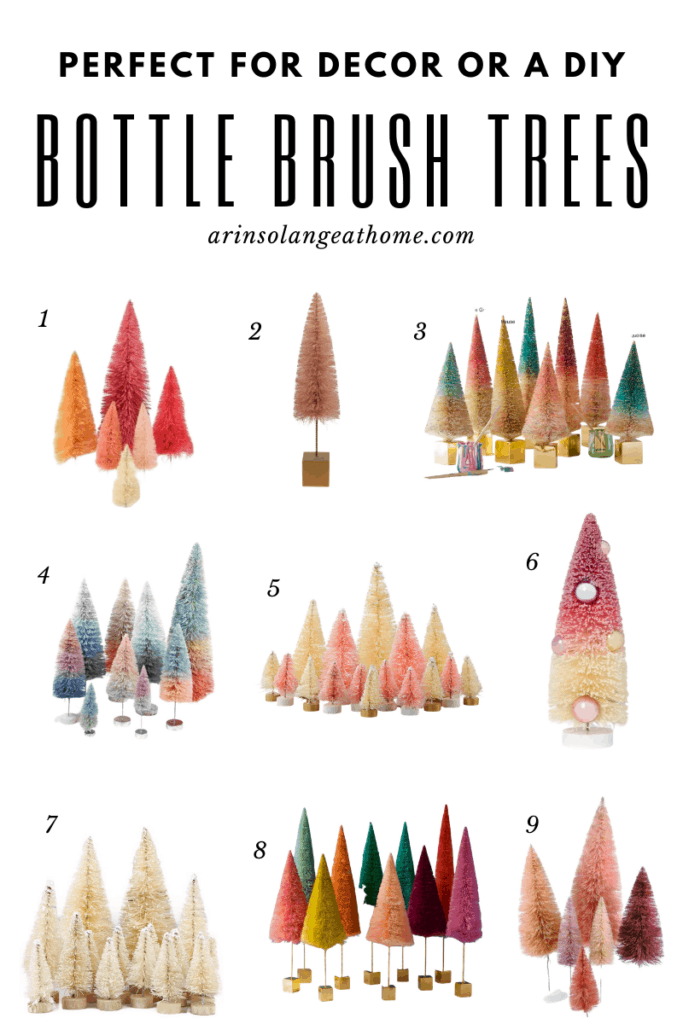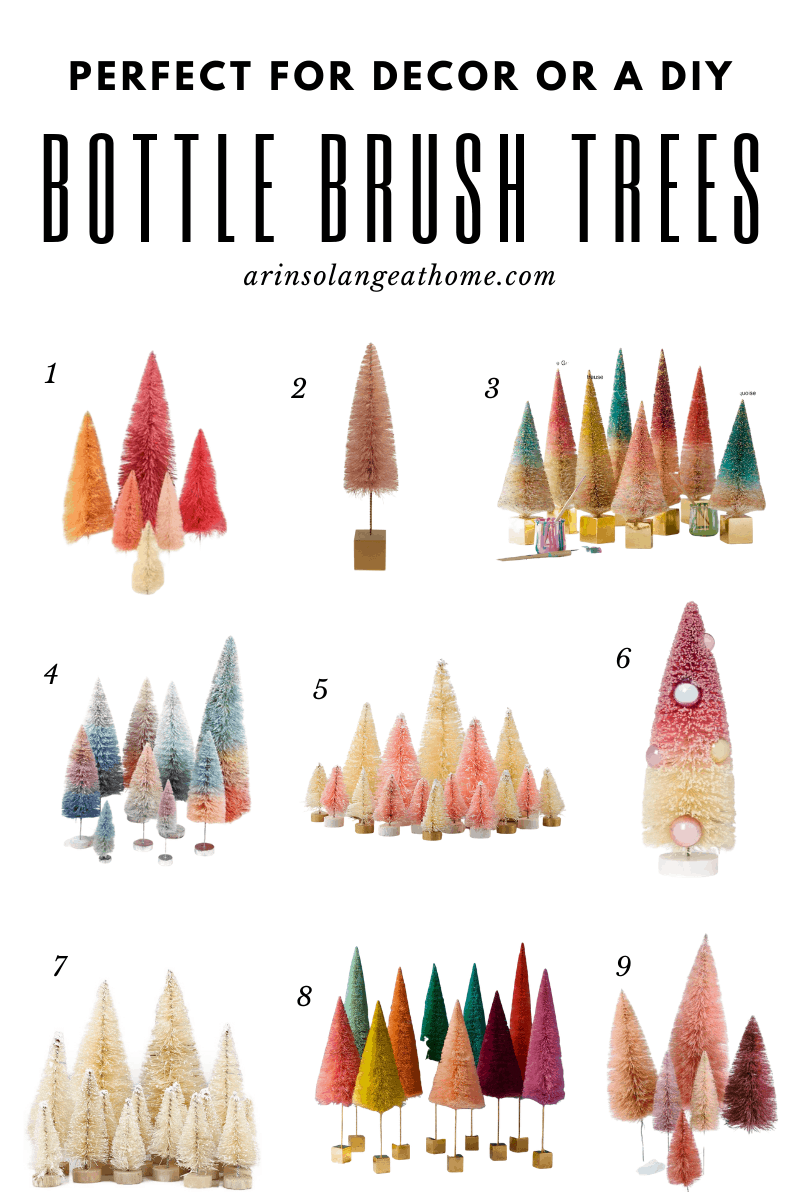 Shop These Trees
1 | 2 | 3 | 4 | 5 | 6 | 7 | 8 | 9
Other Posts You'll Love
Pink Santa Mugs | Merry and Bright Decor | Christmas decor
Pin the Photo Below for Later
Hopefully this post was super helpful in finding the perfect bottle brush trees for your house this holiday season, whether that means making them or buying them. Be sure to pin the photo below for later, and follow me on Instagram for even more holiday inspiration!