I was SHOCKED at how excited you all were for this blog post when I shared a couple of weeks ago that it would be coming. I wanted to perfect these resin glitter letters before I shared the tutorial with you all, and I think I have it mastered.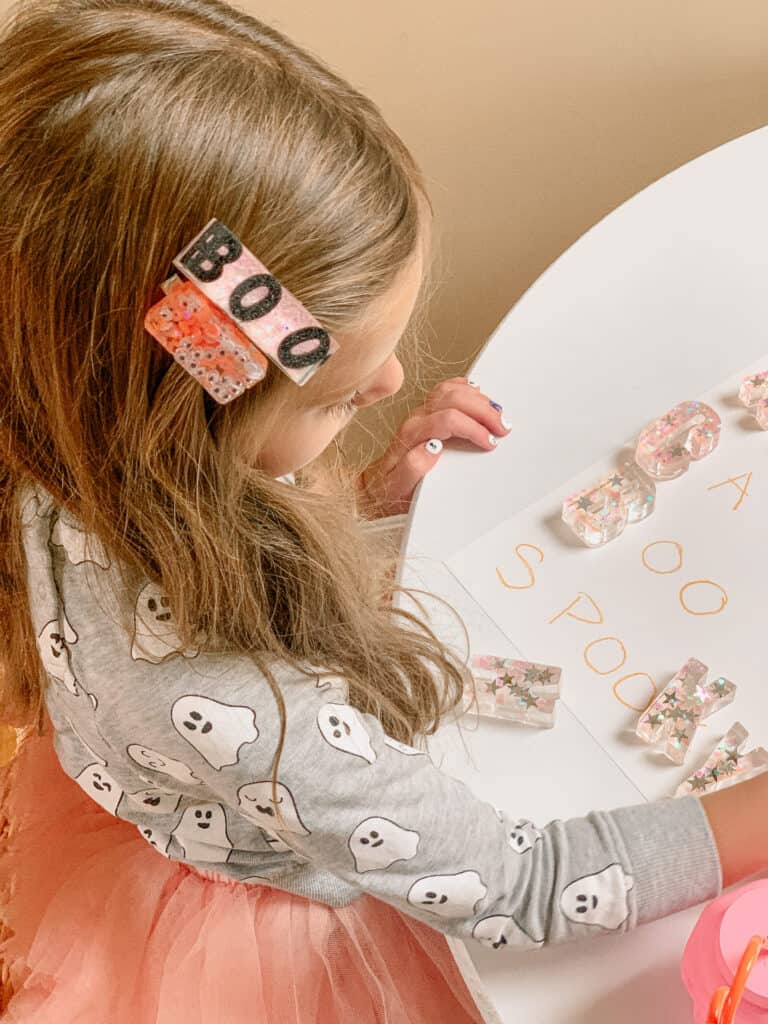 This post may contain affiliate links
Resin Glitter Letters
I am NOT the first to do these letters – in fact I was seeing them all over my feed this fall and thought about buying a set. But I have 4 kids – soooo sometimes making for me can be cheeper than buying.
I did some research and came up with a good method after some trial and error. This post will give you what you need to buy – and all the instructions.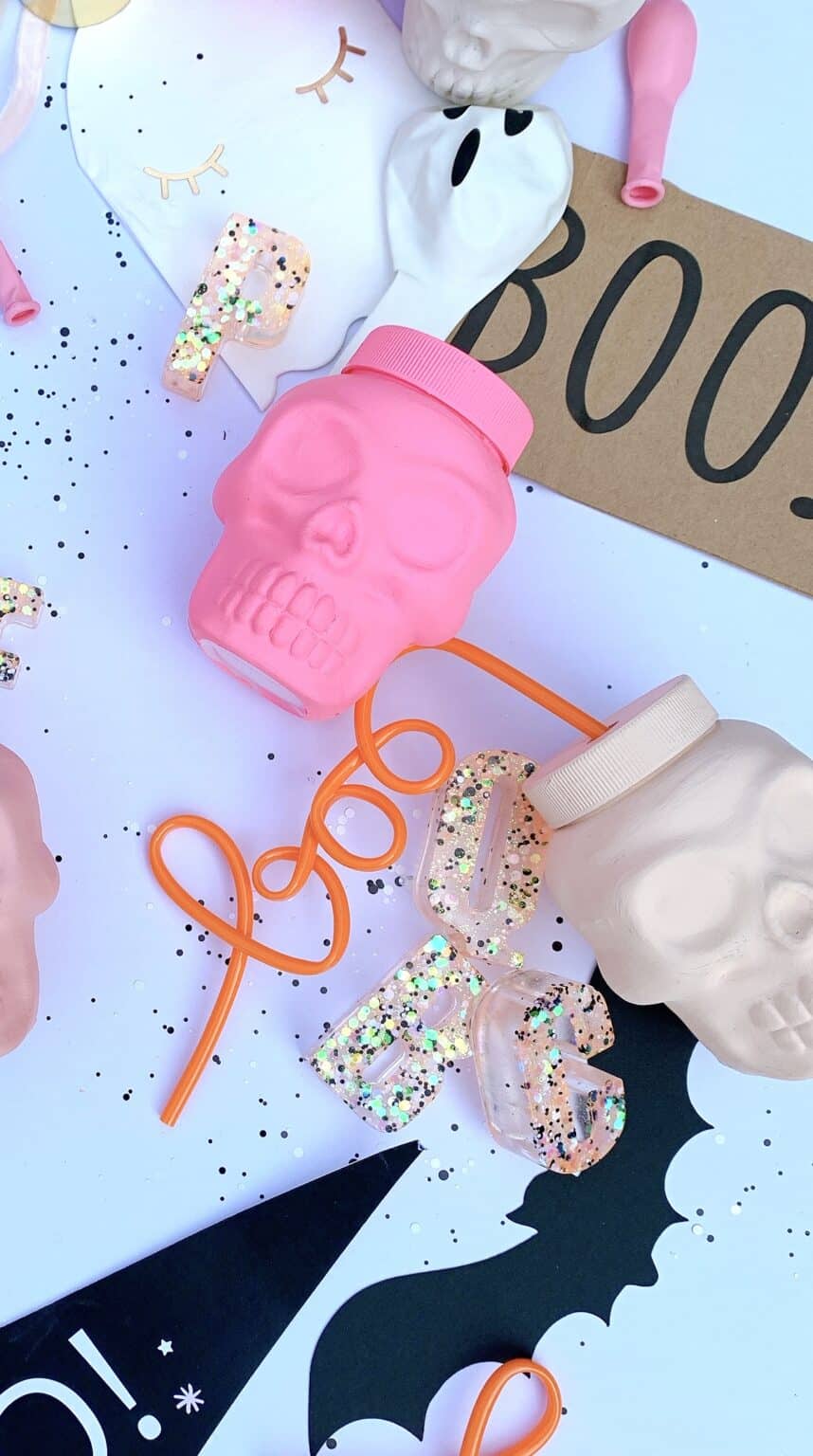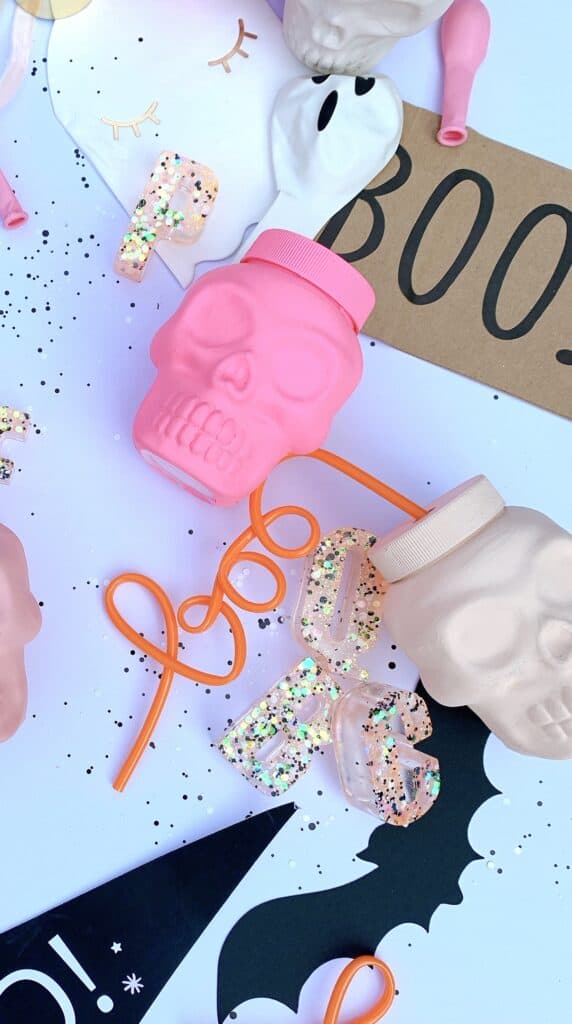 It is worth noting – Resin is easy to work with but it isn't washable. This is a project to do alone without your kids, and to be very careful with!
What You Need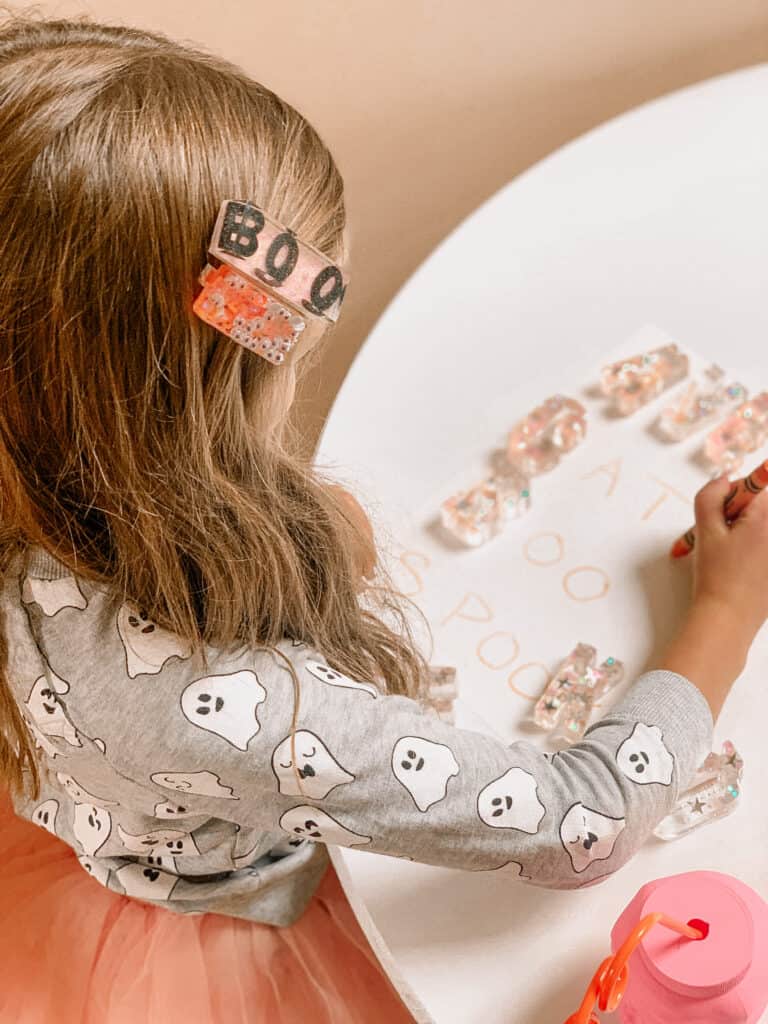 Resin – These letters take a good amount of resin – so if you are planning to make more than one set, or make something else with the resin, I would get a good size bottle. (I recommend planning to do more than one set to make it worth your money in supplies! – Buy from Amazon. – you will spend WAY more getting it at the craft store!
Letter Mold – I went with this mold. I wanted the letters big enough to be cute and non choking hazards.
Glitter – This is where you get to have fun. Pick anything you want. Lots of clolors, make them themed – you name it. You will use more glitter than you think.
Disposable Cups – you need 3 or more.
Something to stir with that you can throw away – I used a small wood skewer
Tin Foil – This is to cover your surface. I found that tin foil worked great!
Rubber gloves are helpful
Toothpick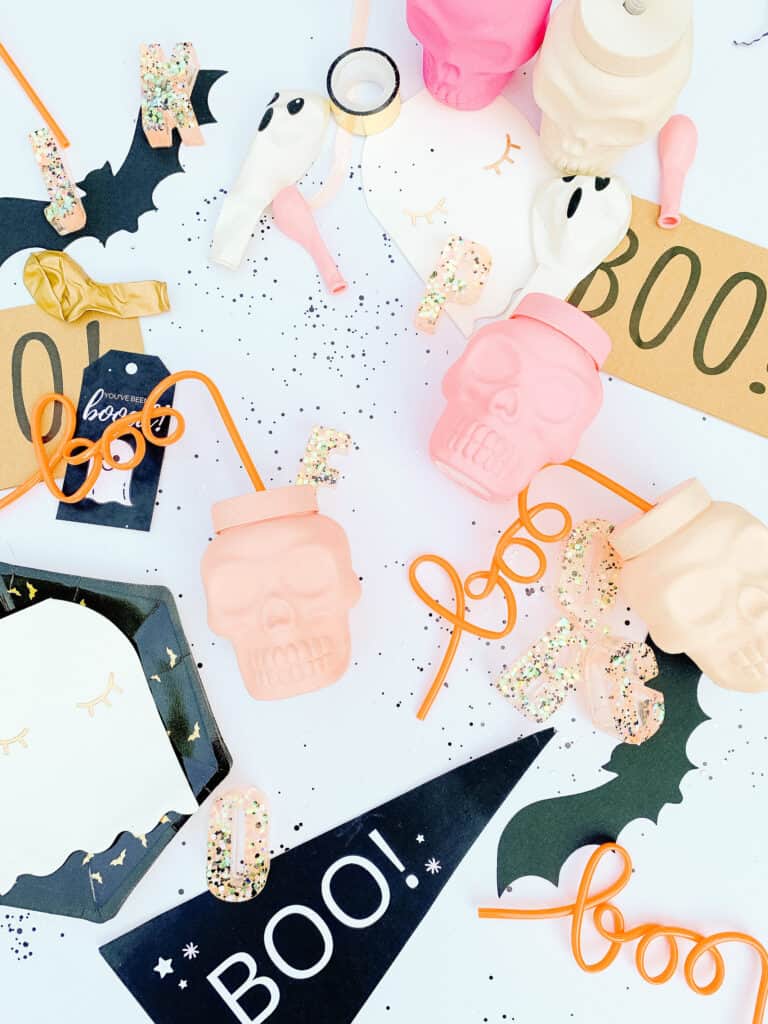 Prepping for This Project
This is quite possibly just as big of a part of this as making the resin letters. Resin will ruin what it touches. So you need to find a space to do this project with a large flat surface and cover it.
I used tin foil for my work space Because I knew it wouldn't go through. A silicone mat like this is great too.
Another thing to note – they need to dry for 24 hours – so do this where they can be left alone for a full day.
Making the Resin Glitter Letters
Alright now for the fun!! Before you start – I have a video on this post showing how I made the letters! Watch that before you dive in.
Grab your mold – lay it on your prepped work surface and start adding your glitter. I would add one at a time – so for the star ones I did the large glitter stars, then went back through with the pink.
Again keep in mind how many letters you have to do because you need enough of each glitter for all the letters. Once that is done close up your glitter and it is time for the resin.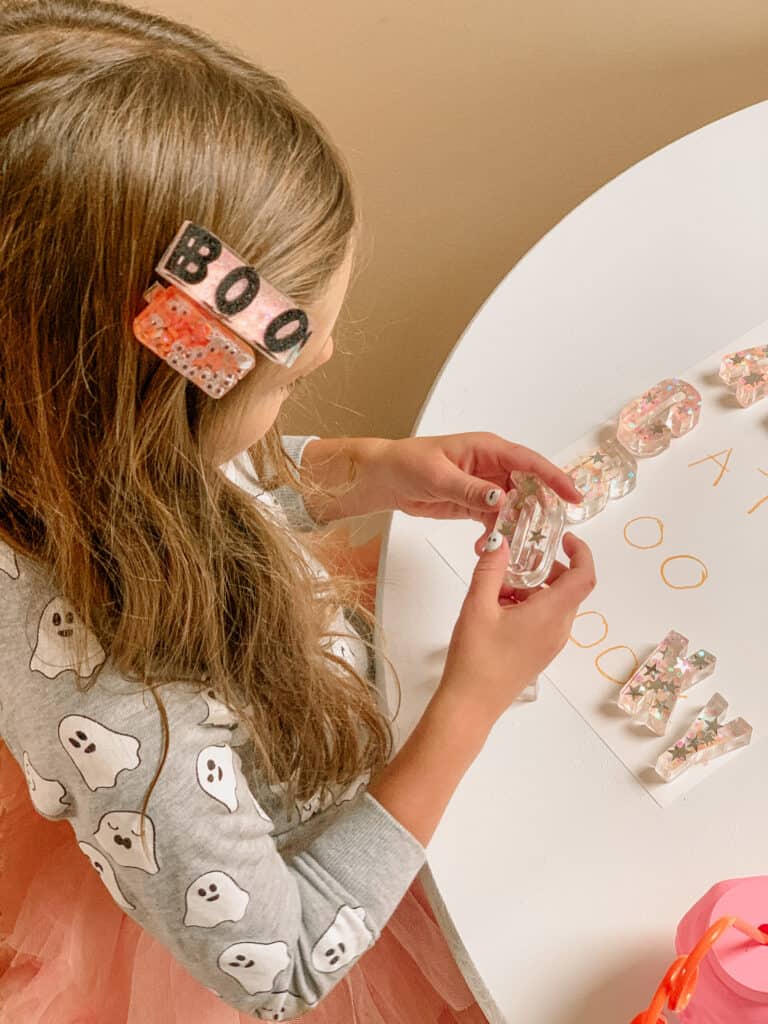 Prepping the Resin
Your bottles of resin will tell you this – but you need equal parts of each solution. Pour those into individual cups, then you will combine in a third cup.
Once combined stir – and stir – and stir. You will stir for about 5 min. Scrape the sides, and make sure that there is NO STREAKING (like a white looking streak) when stirring. The streaks will cause soft spots.
Once you are done stirring it is time to pour – and you need to move quickly ISH.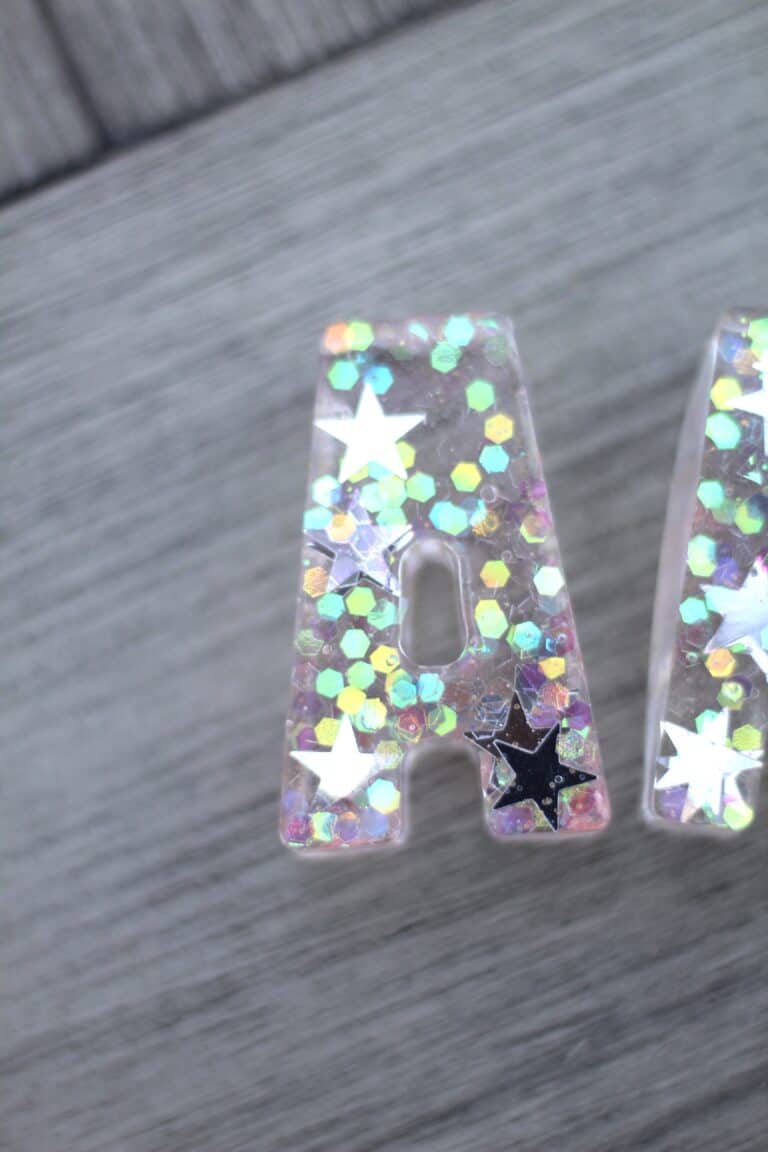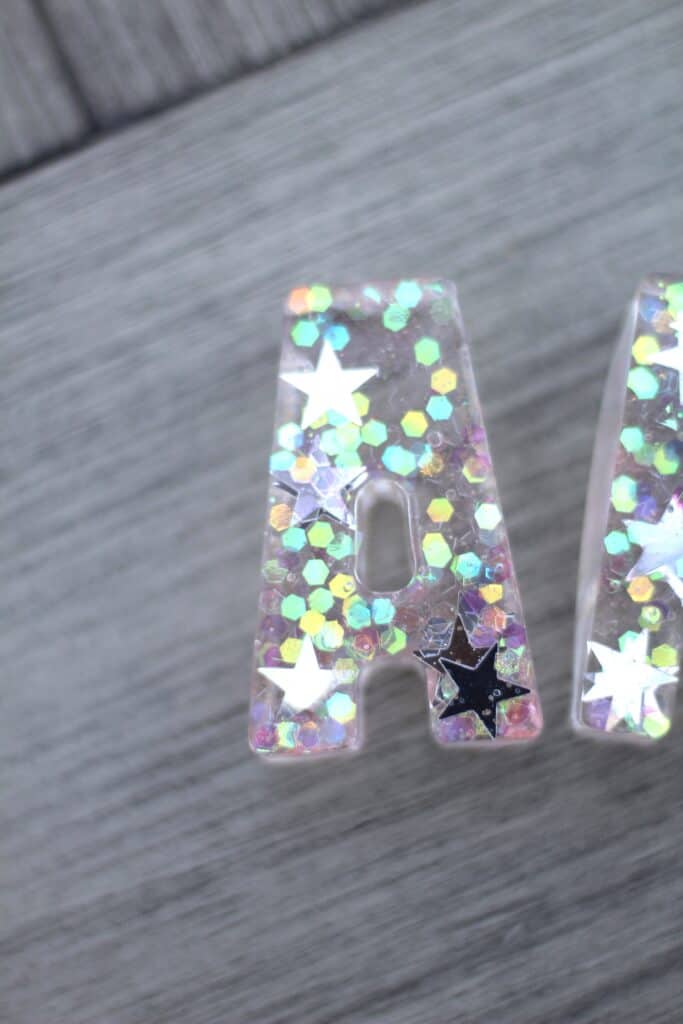 Adding the Resin
This is as simple as it seems – simply add your resin to the letter molds one at a time. If you drip on the mold it is no big deal.
One thing I realized was I prefer the letters more HALF FULL than full – you use much less resin and I think they look better. That is up to you, but it is a way to not go through so much resin.
Once the resin is in you need to stay by for a bit because you are going to be on bubble popping duty. Small bubbles will rise to the top of the letters and you will use your toothpick to pop those bubbles.
I would stay near by for at least 10 min to keep checking for bubbles to pop!
Once the bubbles are popped your letters are done – well or your part is done. Now it is all about time. LEAVE THEM ALONE.
If you know me – you know I tested that theory haha. They truly need the FULL 24 HOURS. So for best results just leave the alone. I am saying that 18 hours because you slept isn't enough…trust me haha.
Using the Letters
I just ordered some magnets so will be trying to make these magnetic while making them on the next go around (stay tuned – Ill let you know on Instagram how that goes).
But in the mean time I have been using them for learning activities with Walker and Avé. You can write words on a piece of paper and have them add the letters for letter recognition.
One thing to remember – if you only make one set – be careful to make words with only 1 of each letter. That is part of the reason I think it is fun to make your own so you can have more than one of each letter.
Overall Takeaways and Thoughts on the DIY Glitter Resin Letters
I give these an A+ – Again – if you are going to make one set of these it is less expensive to buy. BUT I found this to be a fun DIY and can't wait to make more sets for gifts for friends.
I also have another fun Resin project for all you girl moms next week (might as well now that I own it.)
They are super easy and really cute – so moms if you want a fun Christmas present for your kids def make these and stash them away.
Other Posts You'll Love
DIY wall mounted Easel | Easy DIY Kids Table | DIY Abacus push toy for baby
Pin the Photo Below for Later
Hopefully this was an easy to follow, easy to recreate DIY glitter resin letters tutorial and you feel ready to tackle them for your kids. If you have any questions be sure to leave a comment below or DM me on Instagram (@arinsolange), and be following my stories to see if I can master the magnets.