This is a sponsored conversation written by me on behalf of Chuck E. Cheese's . The opinions and text are all mine.
When was the last time you were at Chuck E. Cheese? I had only been one other time before this week, because growing up there wasn't one in our town. But I was told that they had teamed up with CAULIPOWER and added a new cauliflower-based pizza to their menu, so we decided to head there and try it out. If you don't follow me on Instagram then you maybe haven't seen the many attempts and purchases my husband and I have made with cauliflower crust pizza….we are very committed to trying every version and recipe haha. You guys the night DID NOT DISAPPOINT. Seriously it was so much fun for everyone. Read the rest of this to see what we thought of Chuck E. Cheese new cauliflower-based pizza and how the night was with 3 kids running around!
Week Night Fun
One of our biggest struggles this summer has been finding fun, indoor activities that are fun for just a couple of hours or less. Walker still goes to bed at 7pm so to fit in dinner, and fun after work isn't alway super easy. And this pregnant mama can't handle him staying up late on the daily. So when this opportunity came up from Chuck E. Cheese we were so excited. It actually was amazing because when we first arrived we ordered our pizzas and game cards, and set up at a table in the younger kid section. The kids played while we waited on our pizza, then we ate and they played some more. Never did I have to move my stuff, and it was so nice having a booth RIGHT THERE. All in all I think we were probably there for 1.5 hours or so (maybe an hour and 15) and when we left the kids were grinning ear to ear, dinner had been handled and everyone was exhausted. MOM WIN.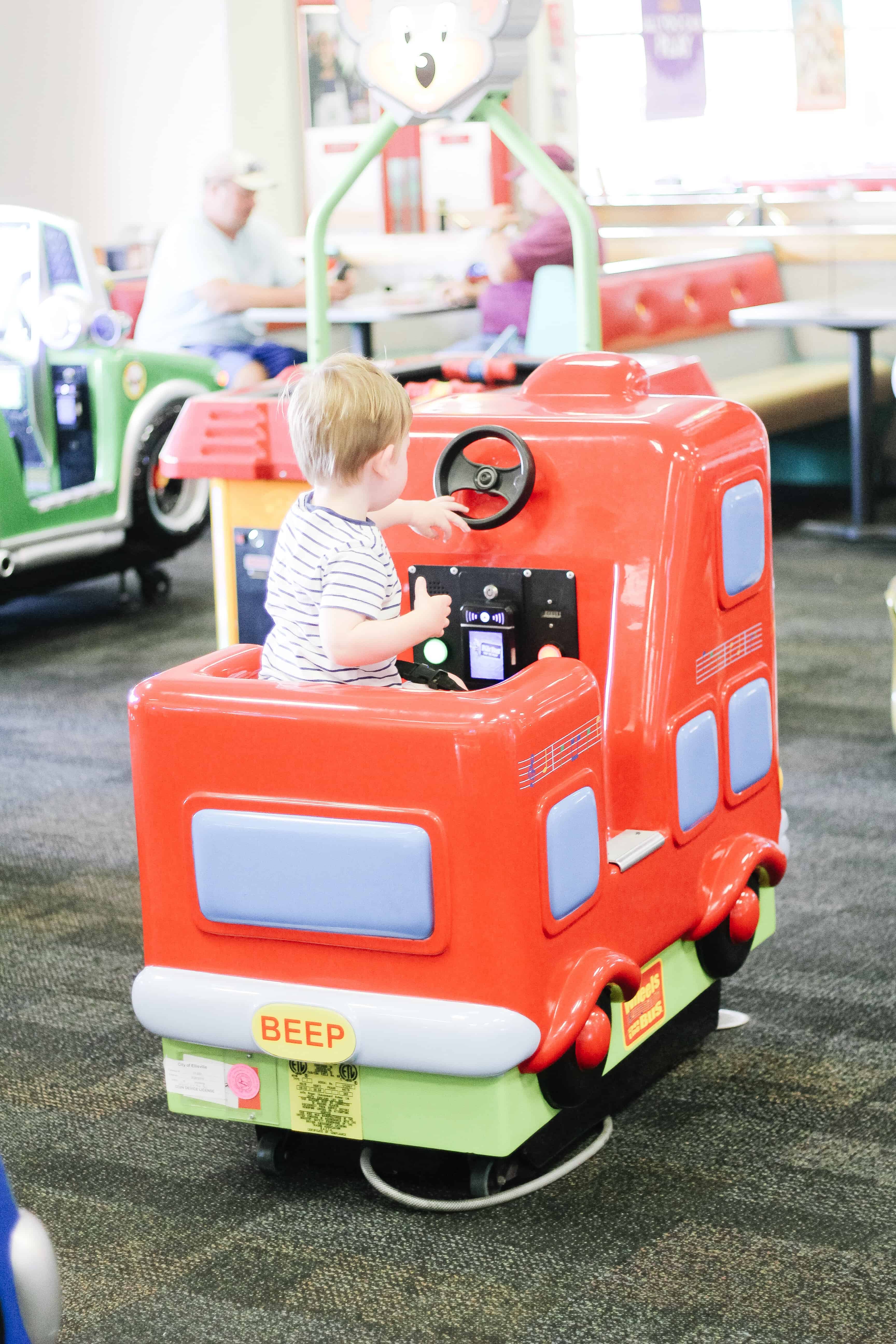 Chuck E. Cheese cauliflower-based pizza and the rest of the menu
Like I said, we went ahead and ordered pizza as soon as we arrived. I ordered both a cauliflower-based crust pizza, as well as a regular pizza. Both pepperoni, for a couple of reasons. A – hungry kids and I wasn't chancing them turning their nose up. and B – I wanted to be able to report back to you guys if my VERY picky eaters even noticed which was which. The answer is no. They just dove into whichever pizza they could reach fastest.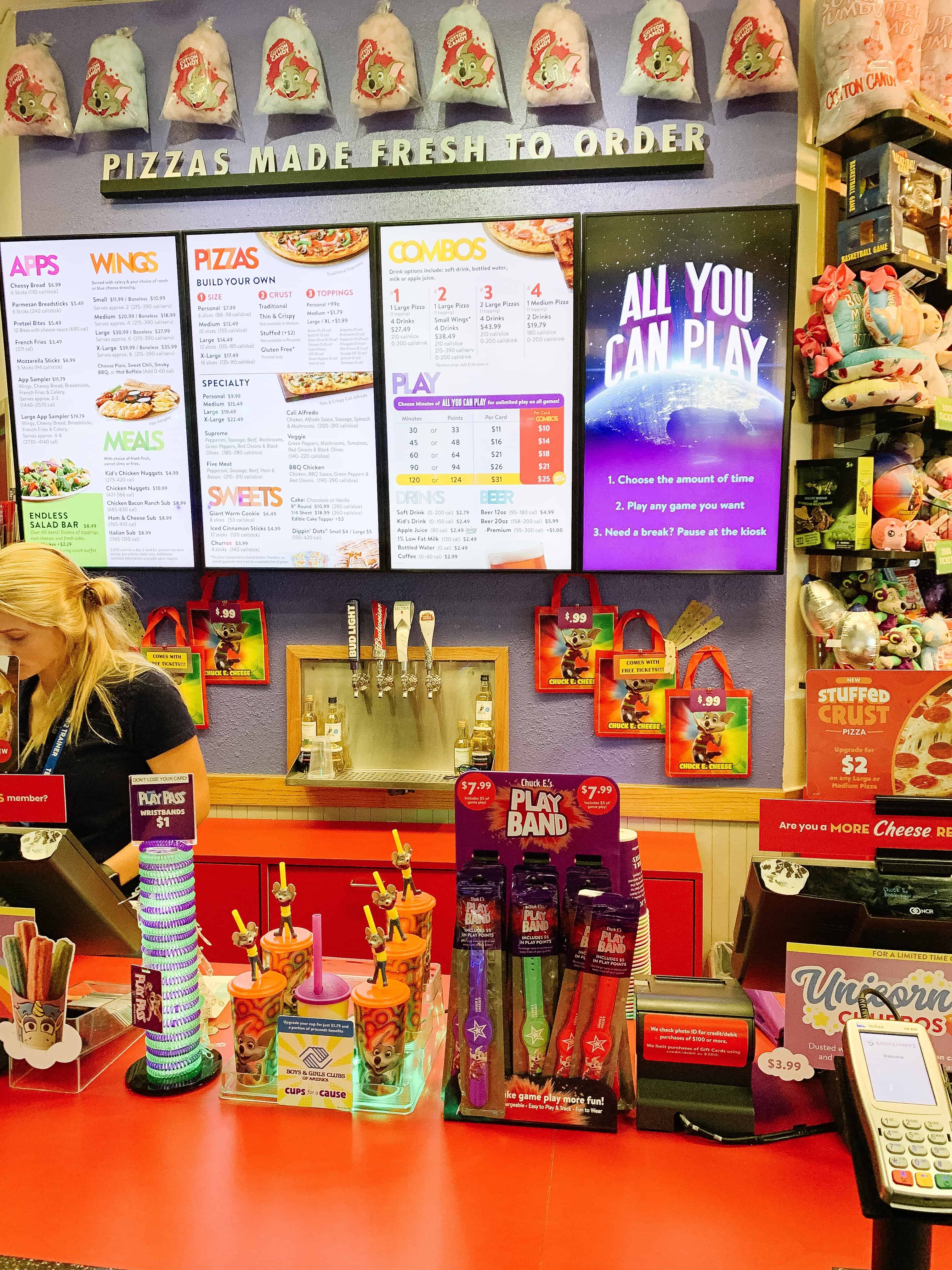 Honestly the only real indicator to me as an adult is that if you haven't ever had a cauliflower crust pizza, there is a slight smell of cauliflower. So my nose told me which one I was eating, but I couldn't taste a difference, which was amazing. In the Chuck E. Cheese cauliflower based crust, cauliflower is the #1 ingredient, making it packed with vitamins, and honestly a miracle that my super picky kids ate it. But it made me feel so much better about a fun night out with dinner on the go!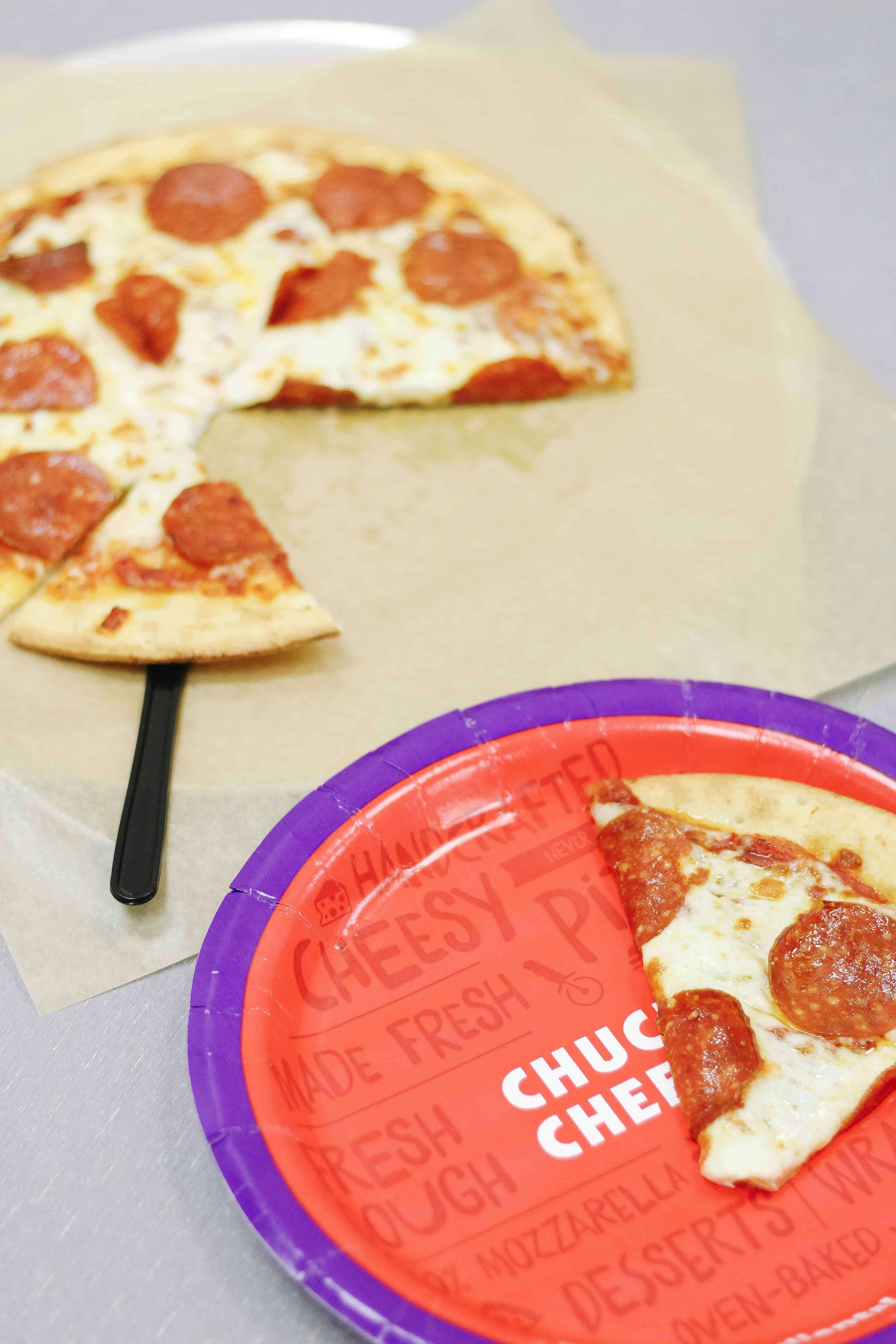 The Chuck E. Cheese 10 inch Super Cauli Crust Pizza, powered by CAULIPOWER, starts at just $8.99 with toppings for $1.49 each. I loved that it was still super affordable ( and still a place you can take anyone because they still offer their traditional crust and gluten free crusts if you prefer!).
The menu also boasts lots of drink options…including beer for you moms and dads! (only a month until I can join in on that action again…but who's counting haha). There is also a salad bar option which looked amazing with a super great selection, so its truly a good plan to grab a full meal.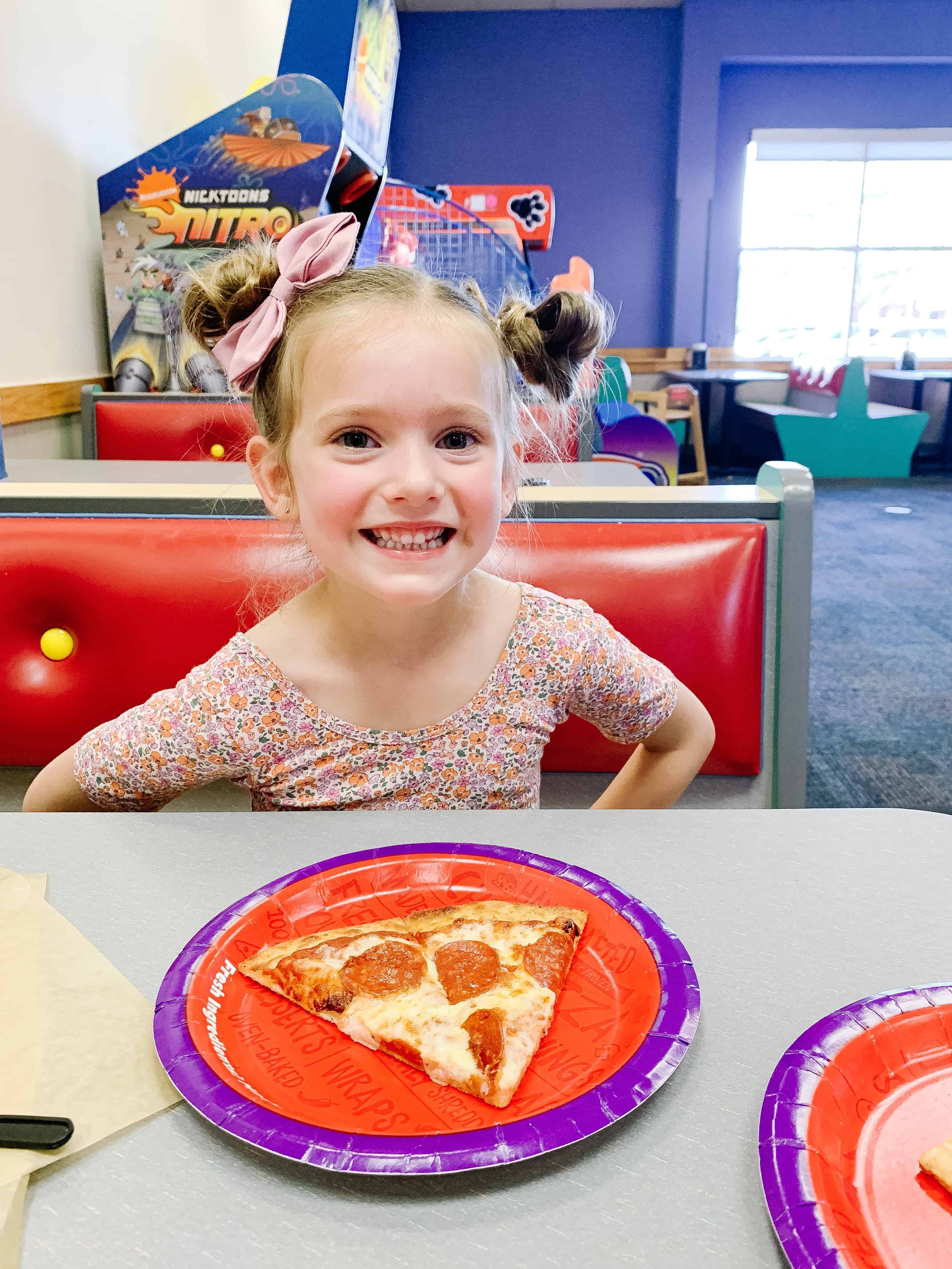 Overall we had so much fun. The games were set up sort of in an "older kid" and "younger kid" way, so we were able to mostly stay on the younger kid side and just enjoy our evening. If you are looking for a fun week night activity once school is back in, or a way to beat the heat this summer head in for games and a vitamin packed dinner. And if you are interested in trying the pizza and don't have time to make it into Chuck E. Cheese, try out their Super Cauli Crust Pizza for delivery thru DoorDash, UberEats, and Grubhub! (aka my fav way to eat).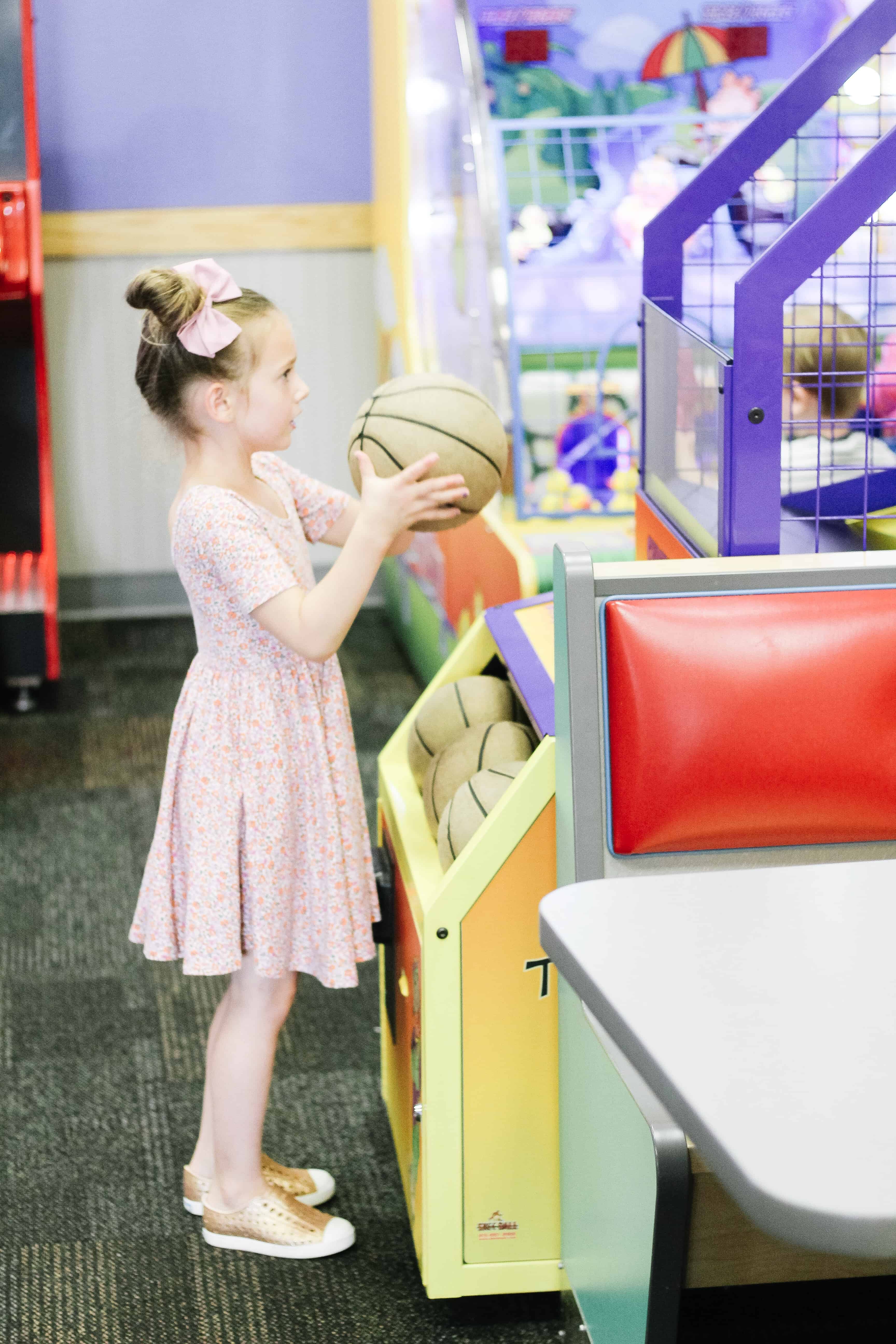 If you have any questions about our fun night there, leave me a comment below!!