Nothing says a holiday like some last minute scrambling, right? This post is full of Easy last minute Halloween costumes you can complete for your trick or treating, or party!
Easy Last Minute Halloween Costumes
This is a part two blog post, so if you haven't seen my first round up of Easy last minute Halloween Costumes, be sure to check that one out for even more Halloween fun.
I can't be the only mom on the planet that likes to do the fun unique costume…but also wait until about 1 week before Halloween to buy everything I need, so really this is just an ode to how I do holidays.
I have learned over the years that some of my favorite costumes are SO simple, so honestly can be done last minute – and thanks to Amazon prime we all can be just as last minute as we want to be.
All the costumes in this post are shown on my kids, but most if not all of them could be turned into an adult costume too! I will explain the details needed for the costume, but remember – it is all about improving and being creative.
Pocahontas
I created this costume with a group of my best girls for a fun giveaway with Plum tutus. Check out the rest of their Disney looks here!
For Avé's look it was literally just a plum tutu and some felt that was NOT glued to the tutu in any way…and for a fun side kick Walker stole the show as Meeko!
To create this look on your own you need:
Yellow/Ivory/Tan dress – I went with the Plum Tutu
Teal, Tan, Red and Brown Felt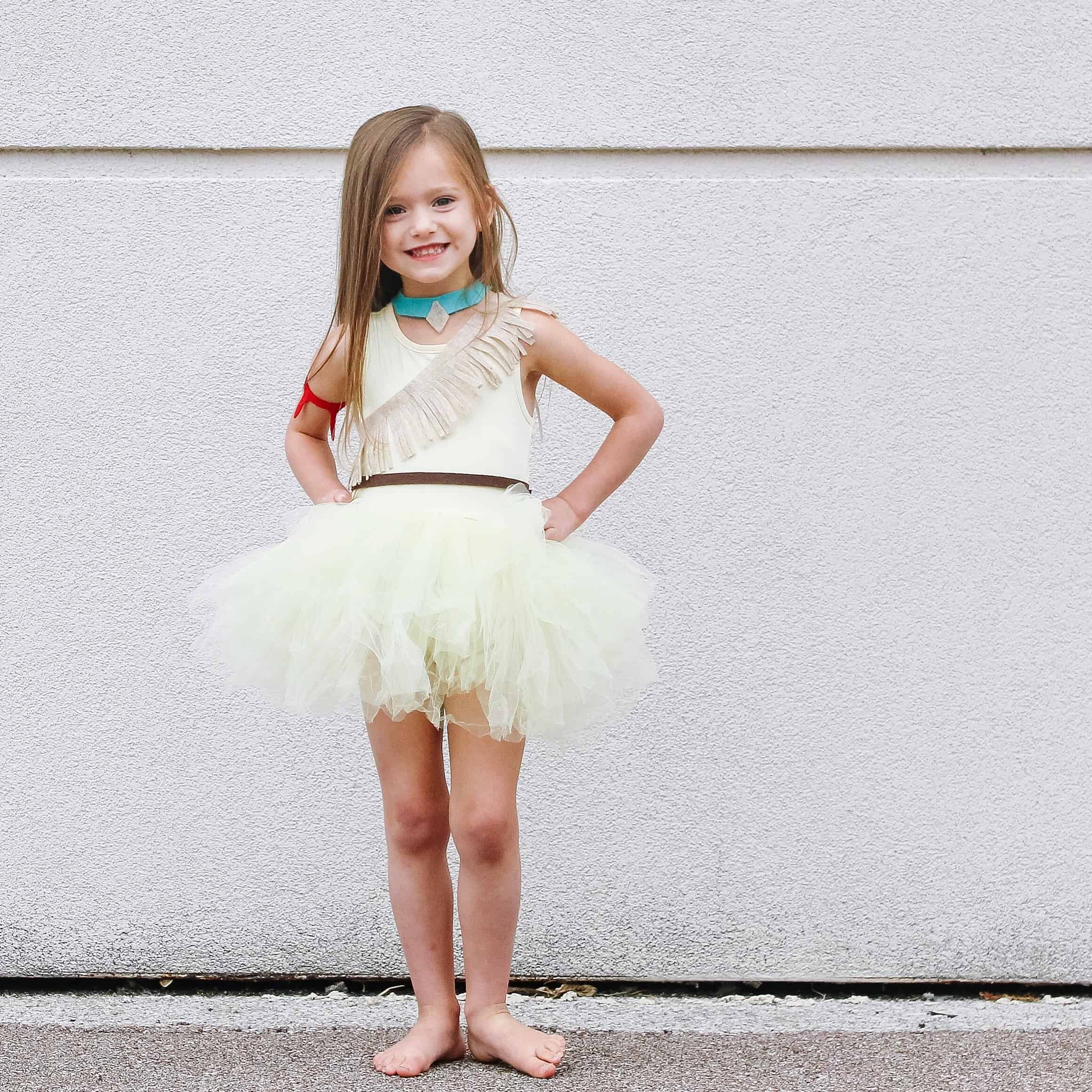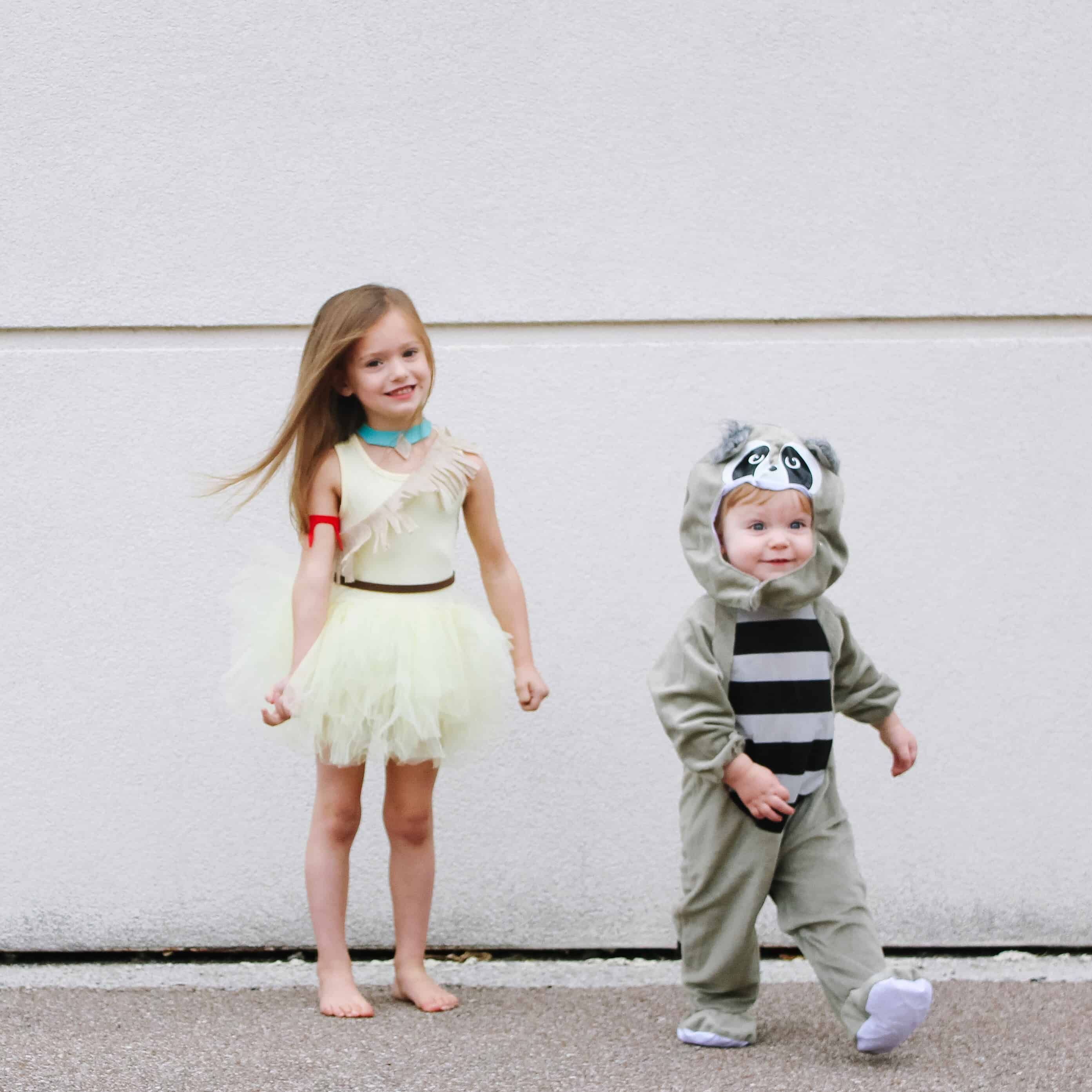 Robbers
This costume is pretty simple. Black and white stripes and masks and some little money bags will do the trick. We went with June and January for the stripes (and see how I used it for another costume idea here last year), and I made the masks – but that is normally something you can find at even the dollar store!
Walkers face was an added bonus – not needed for the look haha.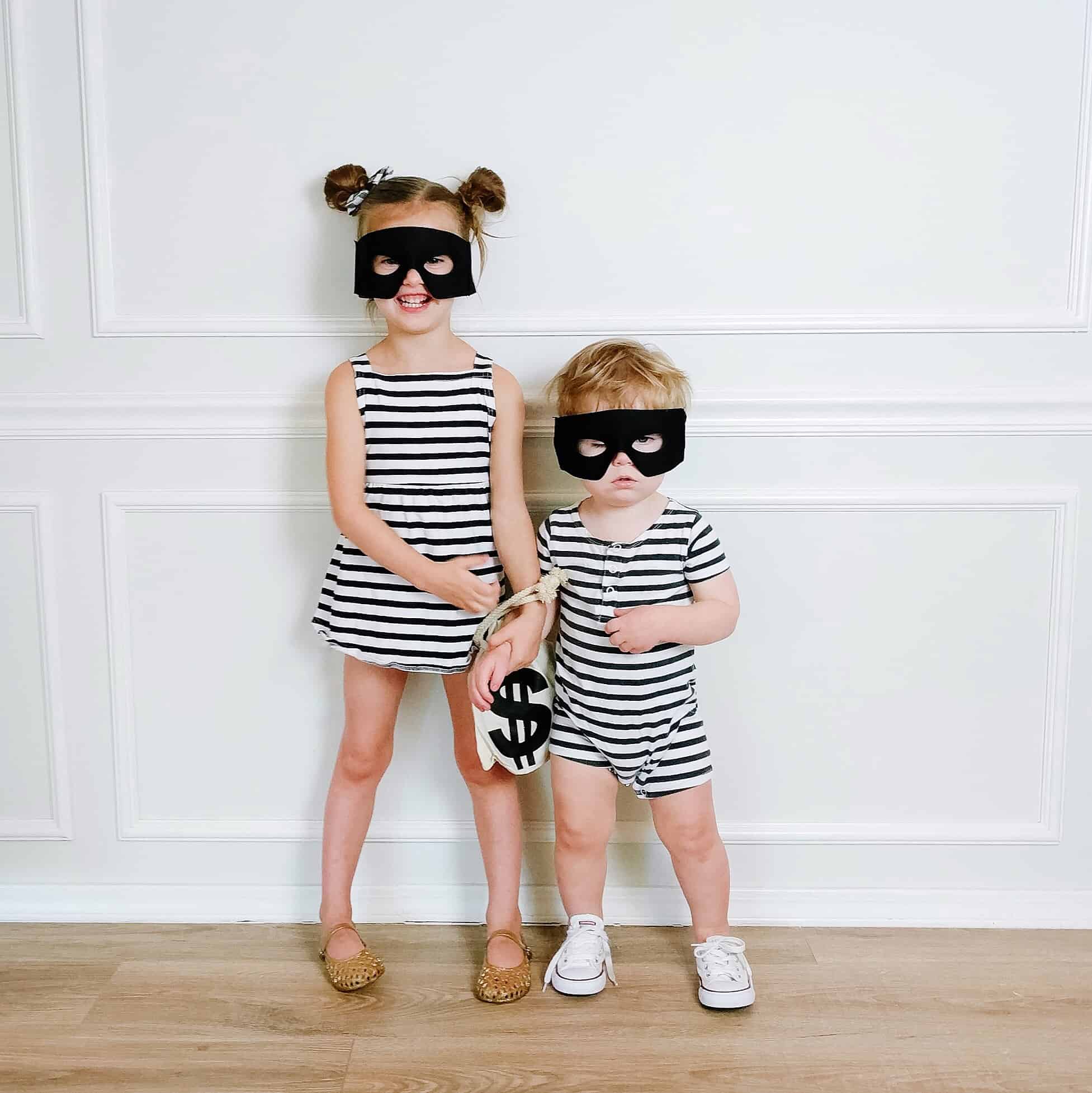 Tired New Parents
Talk about a costume that basically anyone can throw together, right? This one had me cracking up. For this costume we TRULY used what we had. I shoved the stroller full of blankets and diapers (and the kitchen sink). Jack is wearing Avé's Fawn Design mini, and I asked them to look tired…which I think Avé nailed.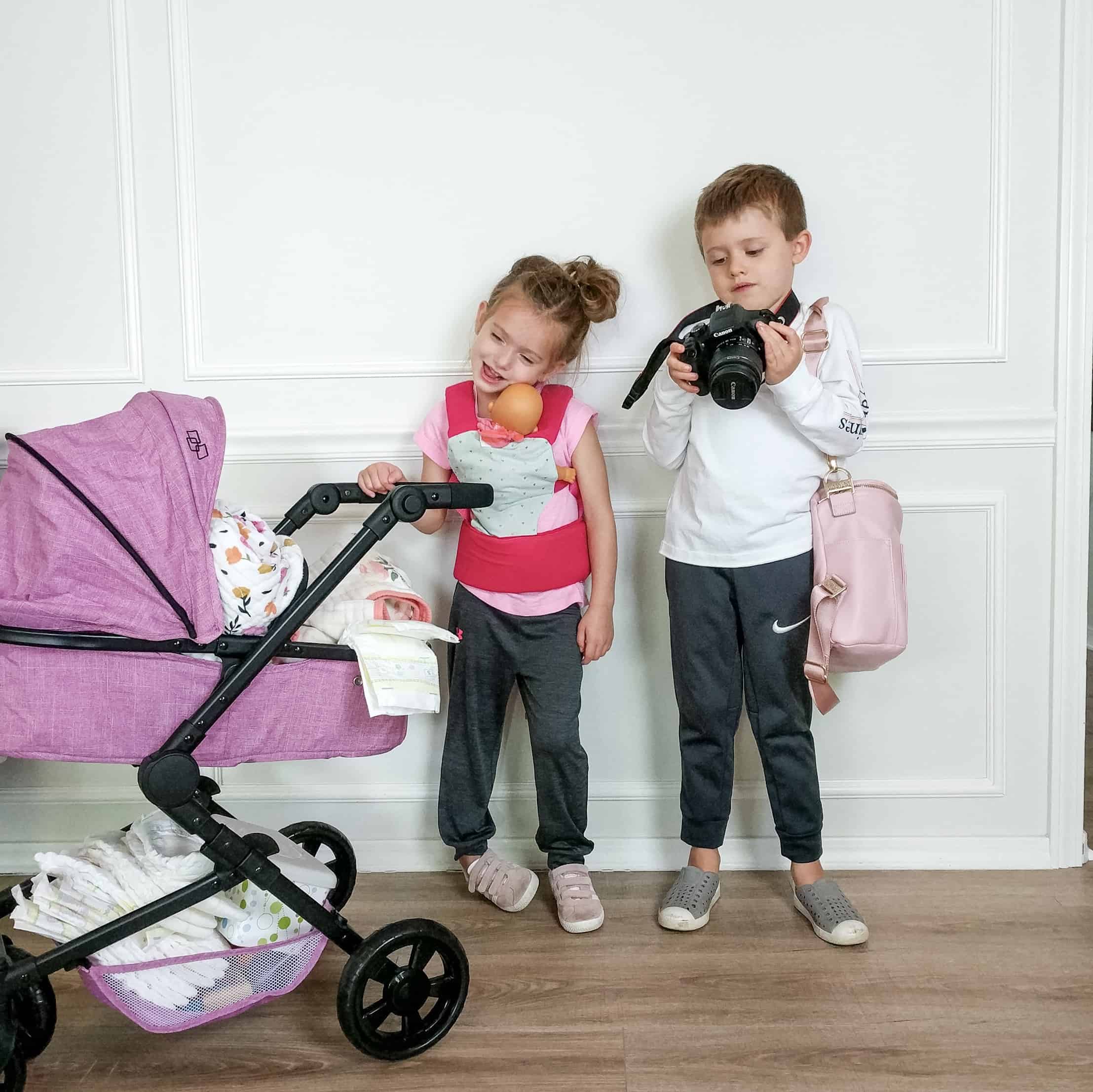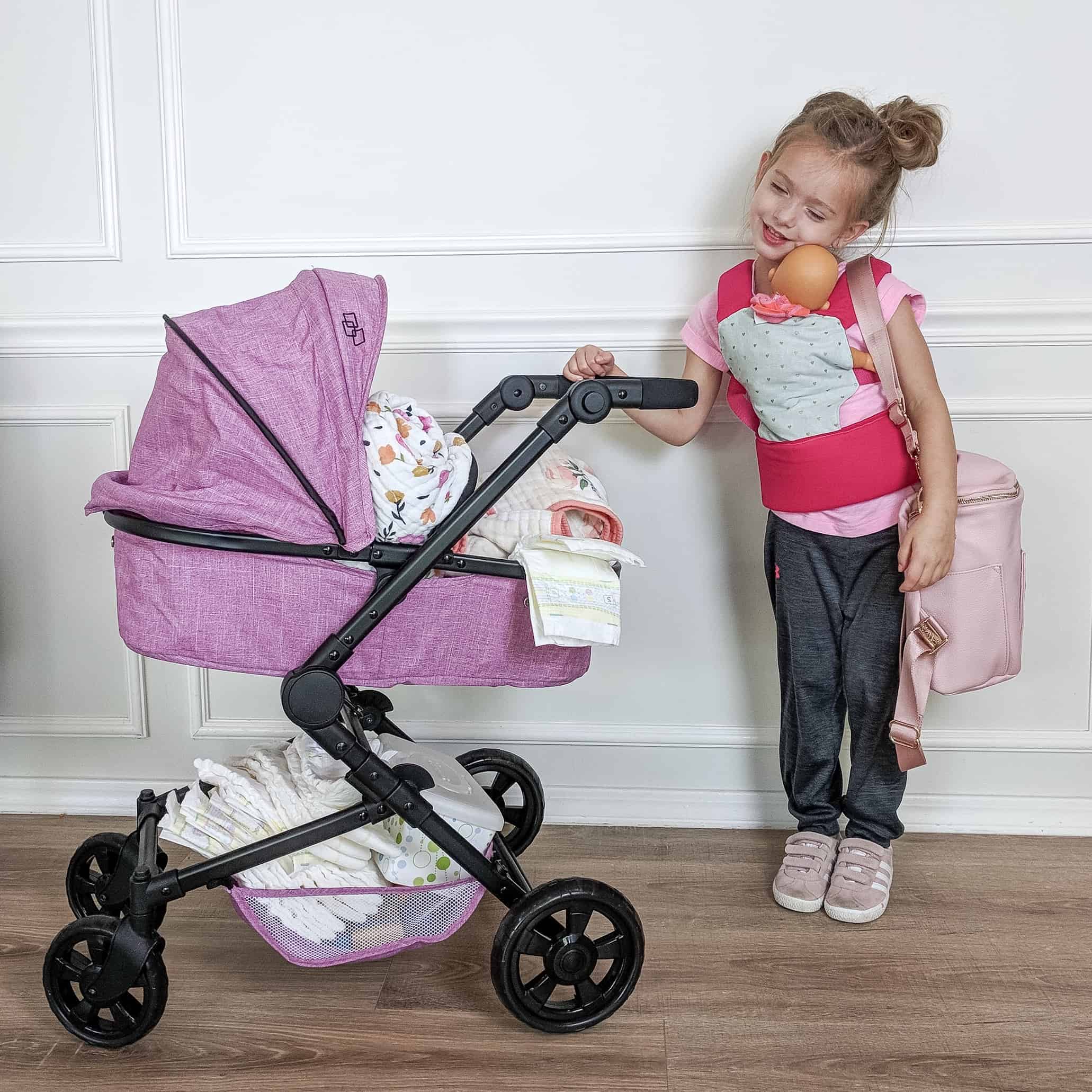 Chip and Joanna Gaines
Who doesn't love Chip and JoJo? A good fixer upper costume is always a good idea. This costume was really simple – we used clothes we already had but added an apron as a tool belt for Jack.
For this costume we needed:
An open Flannel shirt on Avé with cute pants and shoes – go stylish yet comfy
For jack we went with jeans, a t shirt, and a vest. Add some work boots for shoes
Last but not least was the tool belt (less than $5) and they were looking HGTV ready!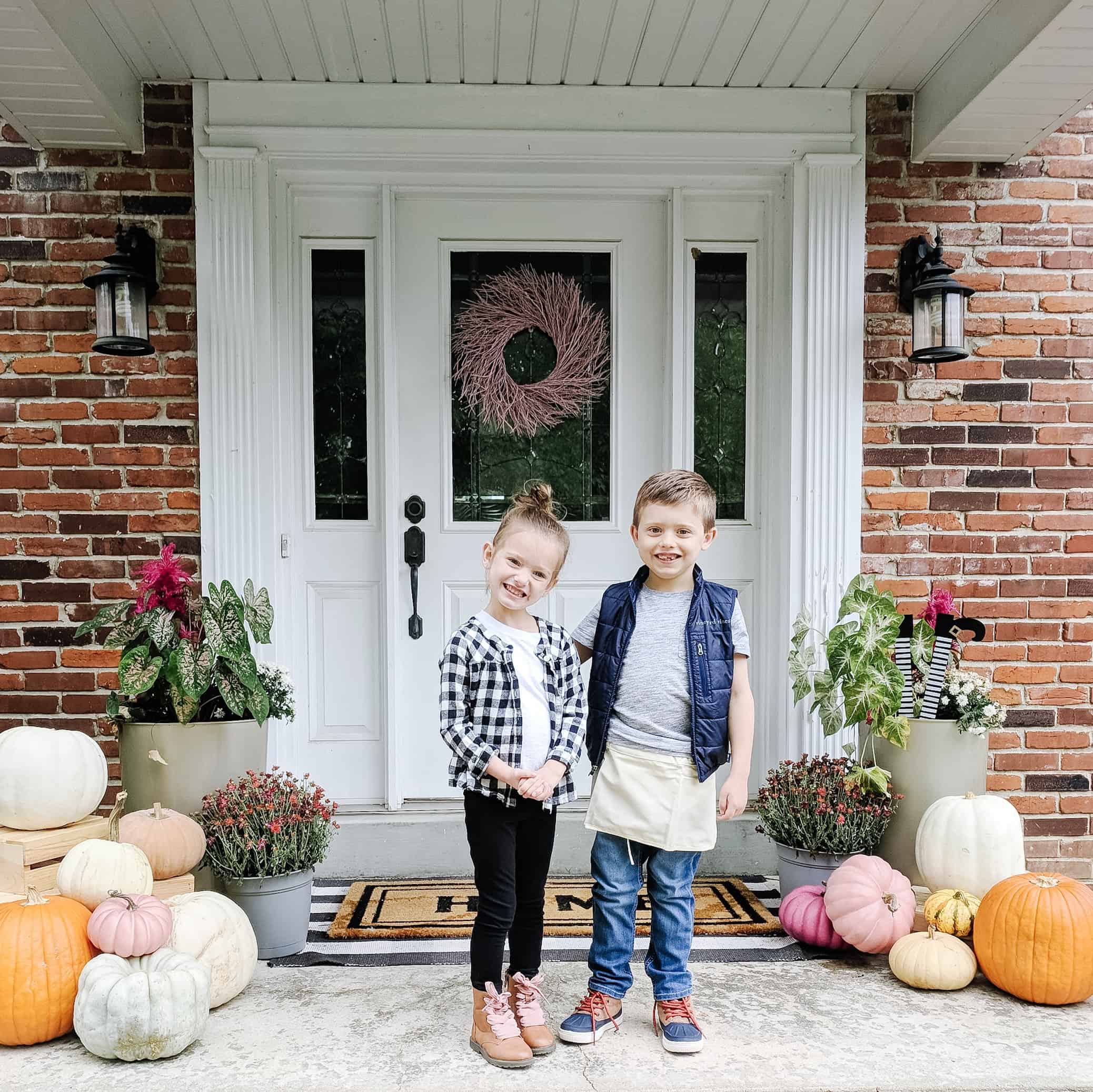 Mom Blogger
Again a costume that is basically ready to go with NO extras – I had everything for this costume. I dressed her good and stylish, added some of the must have items for the current times, and added a letter board. Have fun with this – you cold take this in a funny, mocking, or silly way.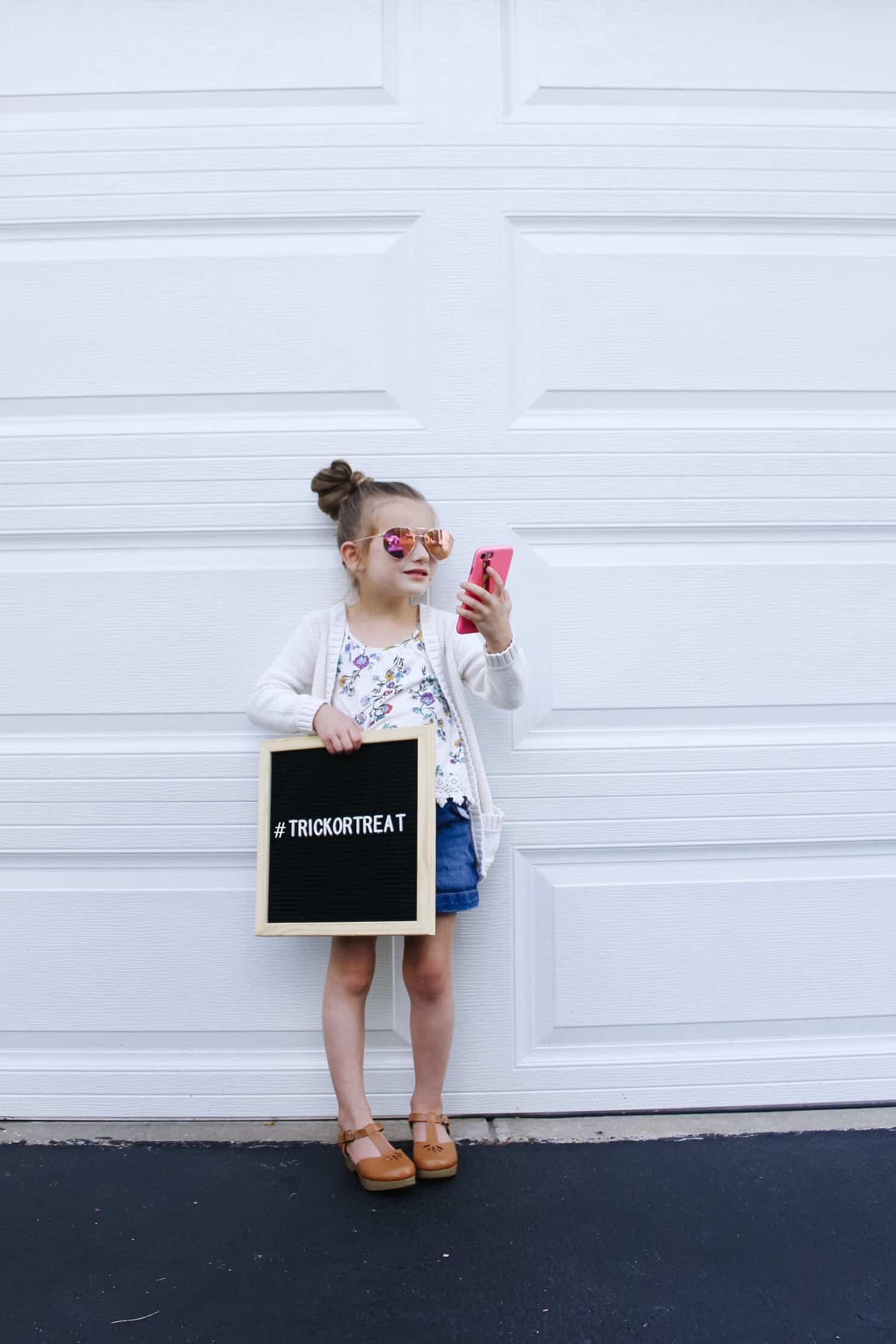 More Halloween Costume Ideas
This is just one of many last minute Halloween costume ideas posts I have floating around on my blog – so be sure to check out the others linked below!
Pin the Photo below for Later
Hopefully this helped you find a great last minute Halloween Costume – be sure to pin the picture below to find these later, and if you have any questions leave me a comment below or DM me on Instagram! (@arinsolange).