When it comes to buying for a baby, I am really big on buying more practical items. They are too little to understand, and I have learned from experience that you'll wish you didn't get them every toy for Christmas! Below is my baby gift guide for ages 0-12 months, but much of it would really easily go all the way up to two years old or older!
this post contains affiliate links and products in exchange for my honest opinion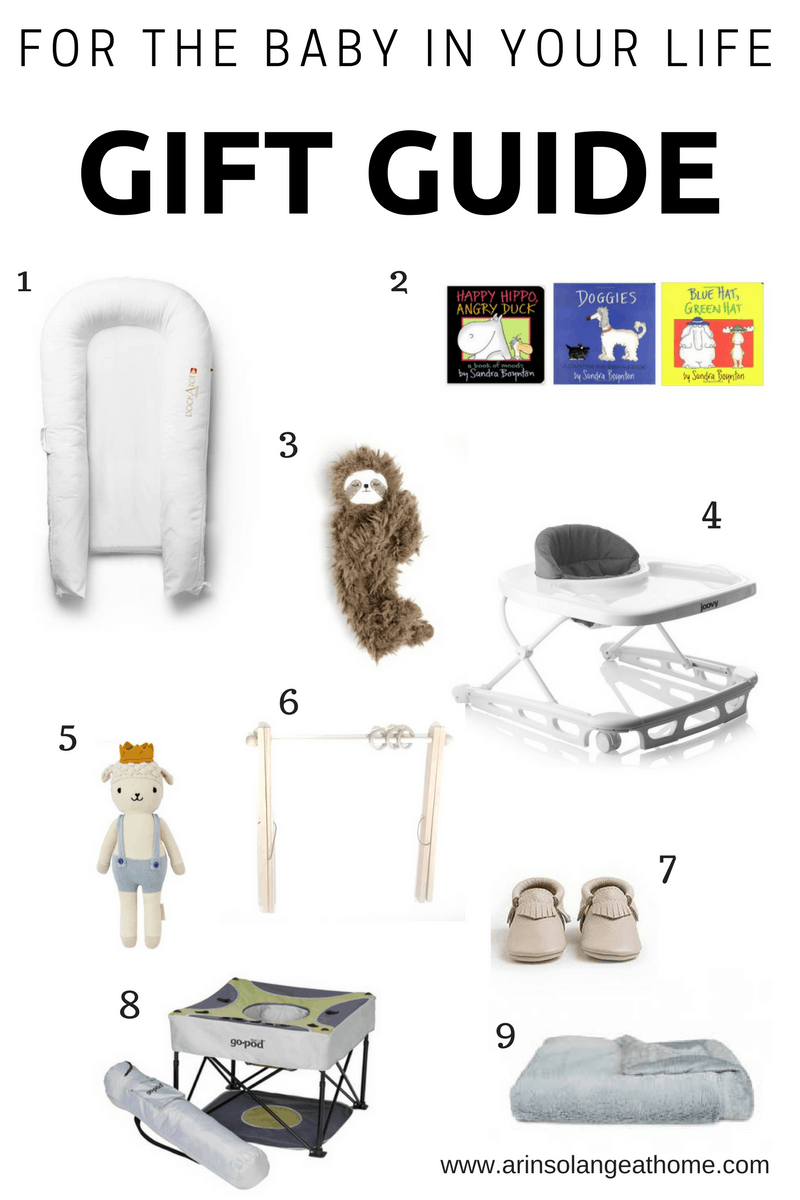 DockATot Grand – we LOVE our deluxe size, but by spring Walker will be ready for the Grand, and Christmas is the perfect time to buy it!
Board books – Books are the only thing I think you can't have too many of. I love the Sandra Boynton books and Usborne Books are my favorite for sure!
Slumberkins – Walker is obsessed with all things soft and these are just the cutest little lovey animals!
Joovy Spoon Walker – We live in a much less 'open concept' home than we did when our older two kids were babies, so I knew I needed something more portable that Walker could sit in. This walker is functional, simple, and stylish (which is super important to me). I love how big the tray is to put food or toys on!!
Cuddle and Kind Doll – We are obsessed with these! Cuddle and Kind dolls will be under the tree for all our kiddos. They are SO soft and the company is amazing, providing meals for kids with each doll purchased! We got one for Walker, and put it in his nursery, and I will forever be hooked.
Wooden Playgym – This has been one of my favorites for Walker so far. I love how cute it is, the fact that it folds up flat, and that I can add any toys I want to it! As a bonus its a super sweet family who owns the company!
Freshly Picked Moccasins – hands down my favorite baby shoes. They are worth the money, and my go to gift for my babies!
GoPod – I have posted about this before, but seriously this is such a great gift for the babies in your life. It is portable and provides a place for them to play inside or outside. By far one of my favorite baby gear items out there!!
Saranoni Blanket – We love blankets around here. Both Walker and Avé have Saranoni blankets and they are amazing!! It's a great gift for babies that they will love for years. But be prepared to want your own. haha.
Check back in a few days for gift guides for older kids, and please feel free to comment and let me know if you have any must have ideas for gifts for Walker this year! I'm ready to start stocking up on presents! I hope this guide helps you when you're buying for a baby in your life!
XO ARIN